Italy 2017

Show all days on one page (a long download!)
Day 1:&nbspNo fly zone (Saturday 22nd July 2017)
Day 2:&nbspTo the old Trout (Sunday 23rd July 2017)
Day 3:&nbspFrom a chateau Chillon to the Matterhorn. (Monday 24th July 2017)
Day 4:&nbspAround the Horn! (Tuesday 25th July 2017)
Day 5:&nbspZermatt goodbyes & to Venice for a bit. (Wednesday 26th July 2017)
Day 6:&nbspBridge of Sighs. (Thursday 27th July 2017)
Day 7:&nbspOur wedding anniversary and the beach we nearly went to. (Friday 28th July 2017)
Day 8:&nbspWe woke up in Stiffe! (Saturday 29th July 2017)
Day 9:&nbspRende to Francavilla di Sicilia and a room change (Sunday 30th July 2017)
Day 10:&nbspDay 2 in Francavilla Mount Etna here we come (Monday 31st July 2017)
Day 11:&nbspBusy doing nothing! (Tuesday 1st August 2017)
Day 12:&nbspBack to the mainland. (Wednesday 2nd August 2017)
Day 13:&nbspUp Pompeii. (Thursday 3rd August 2017)
Day 14:&nbspThe girls are coming! (Friday 4th August 2017)
Day 15:&nbspRoman Holiday. (Saturday 5th August 2017)
Day 16:&nbspThe Gypsy Curse (Sunday 6th August 2017)

Monday 7th August 2017
DAY
17

Vatican ventures & Gladiators!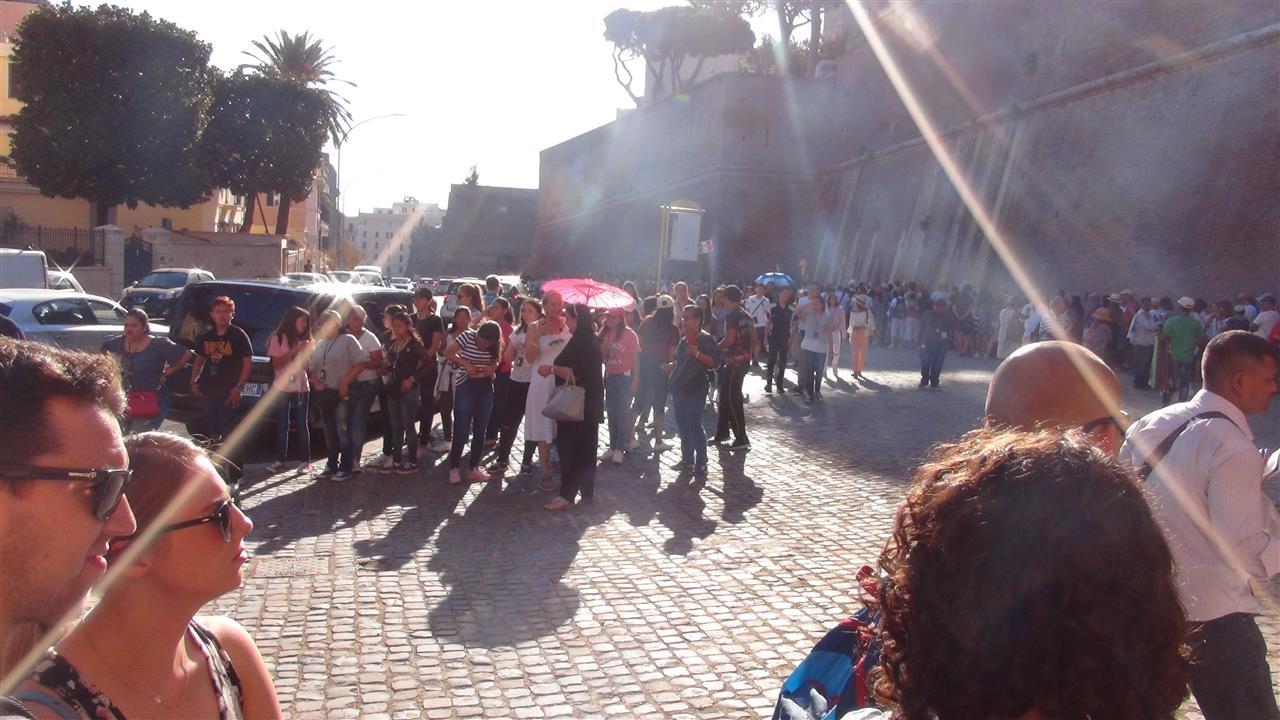 Our day began bright and early, we joined the queue to skip the queue.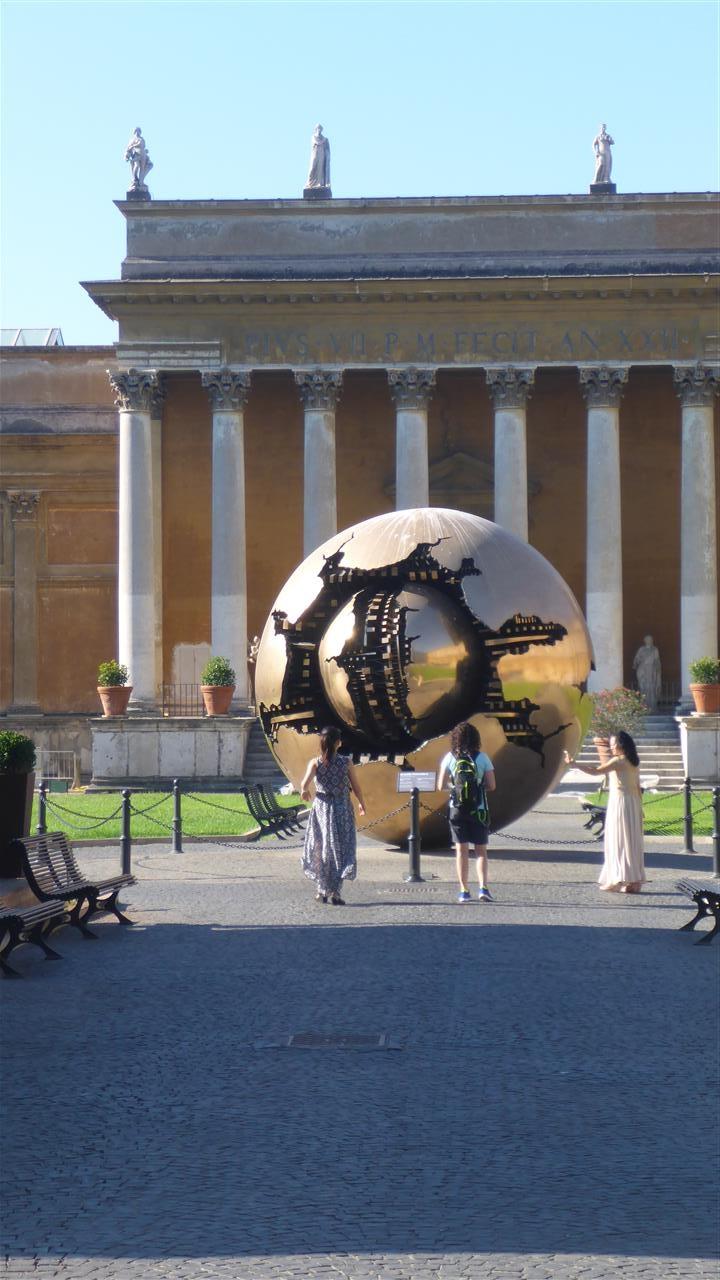 Within 20 minutes we had passed through vatican security & collected our head sets. The gardens were already warming up, this symbolic statue was a gift to Pope John Paul the 2nd.
The vatican is VAST, the gardens are built over the archives, which boast documents from antiquity including letters from Abraham Lincoln, mundane papel accounts & letters from Michael Angelo complaining he'd not been paid for the work on the Sistine Chapel.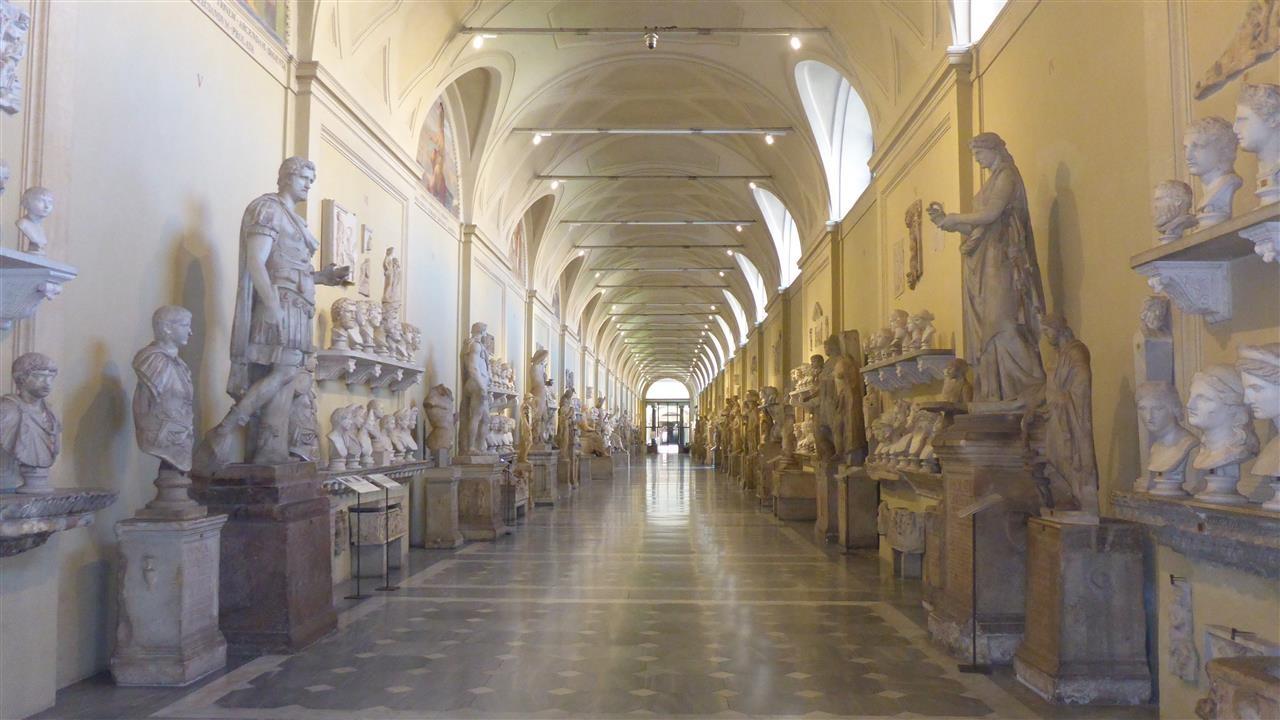 We were early enough to snap this collonade of statuary before the crowds arrived.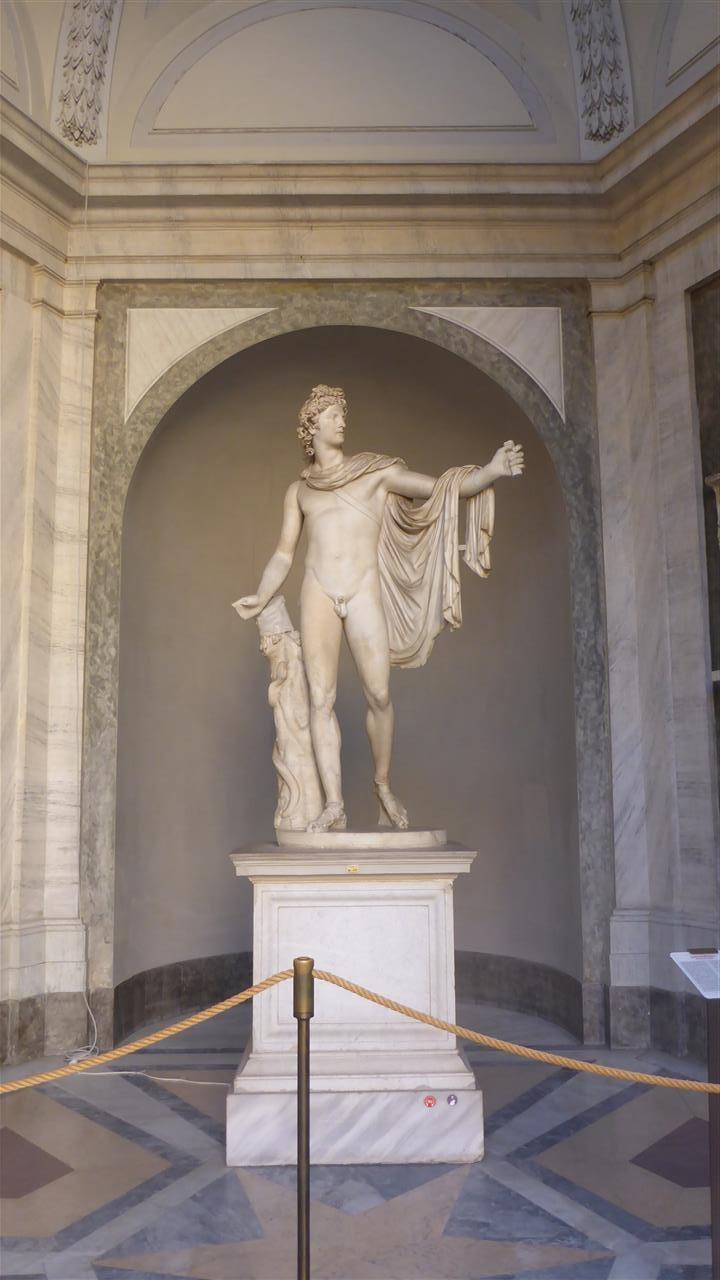 We saw so many famous statues, most of which we recognise.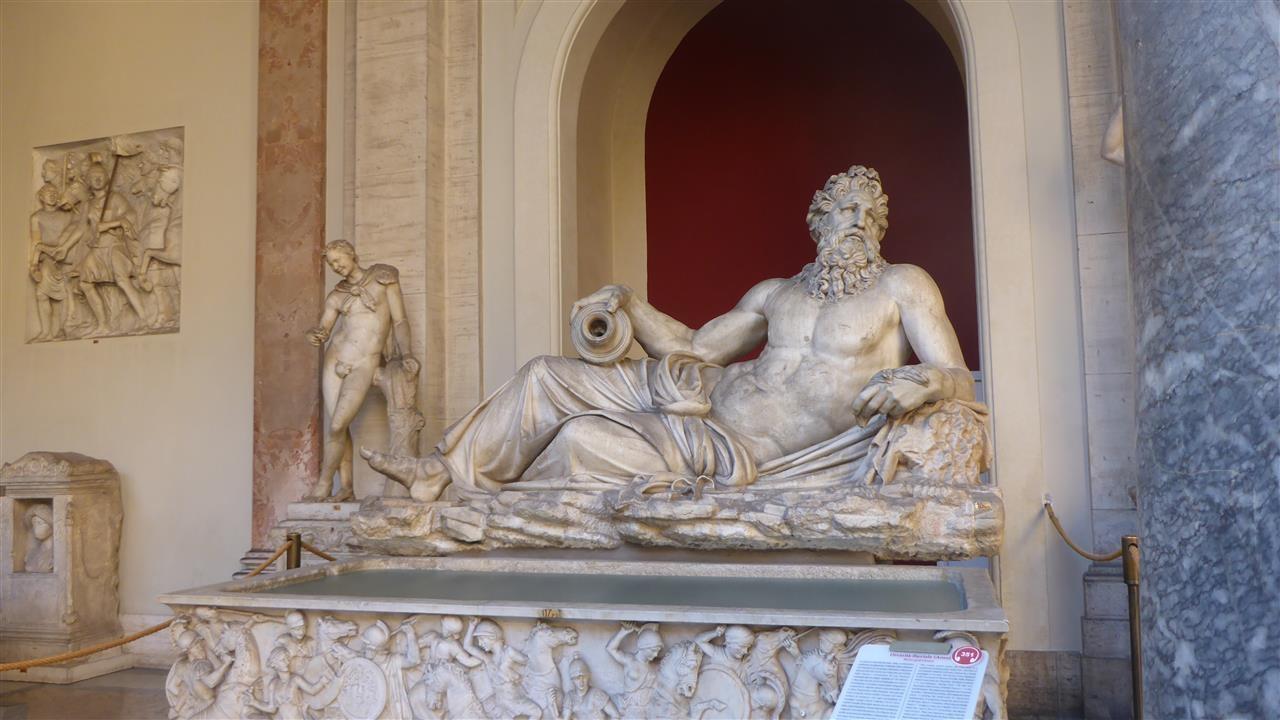 There is a tiny tiger in the jar being held by this fella.
In this gruesome scene there is a dead child on the left and a young man trying to disentangle himself from a snake on the right, which is biting the mans hip.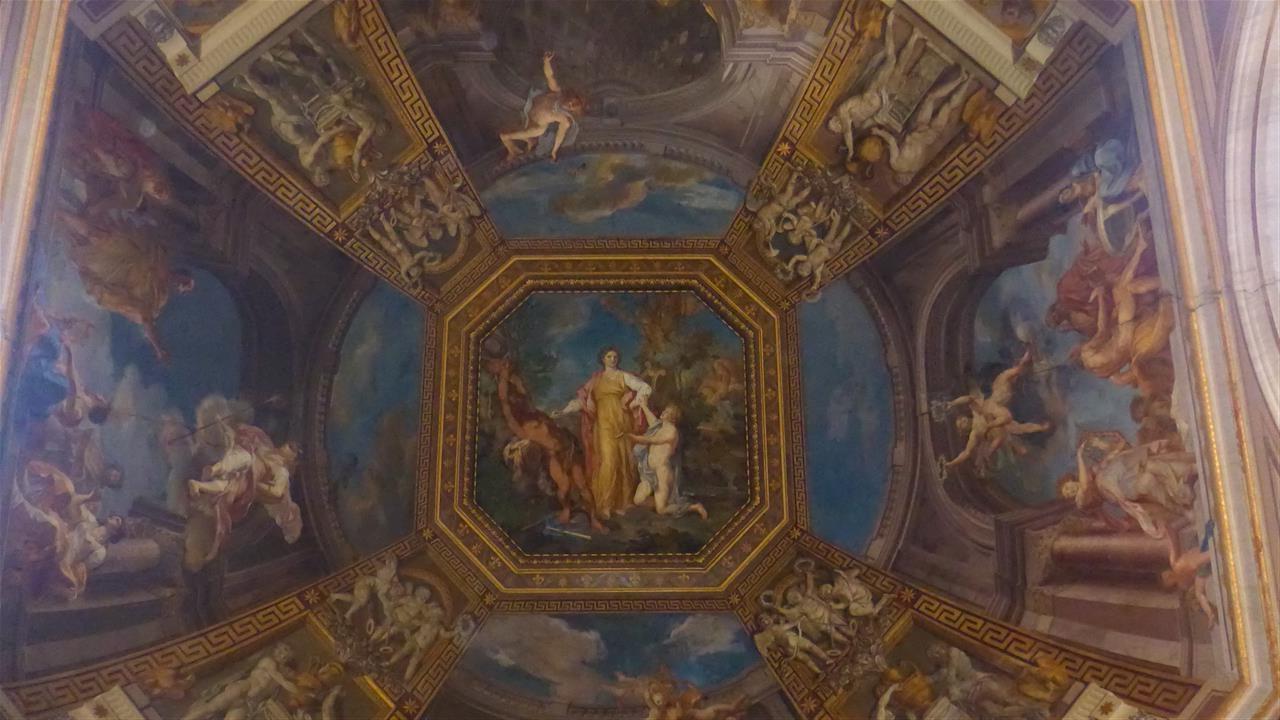 This is typical of the sumptuous ceilings and wall decoration throughout the palace.
Statues in bronze as well as marble and plaster.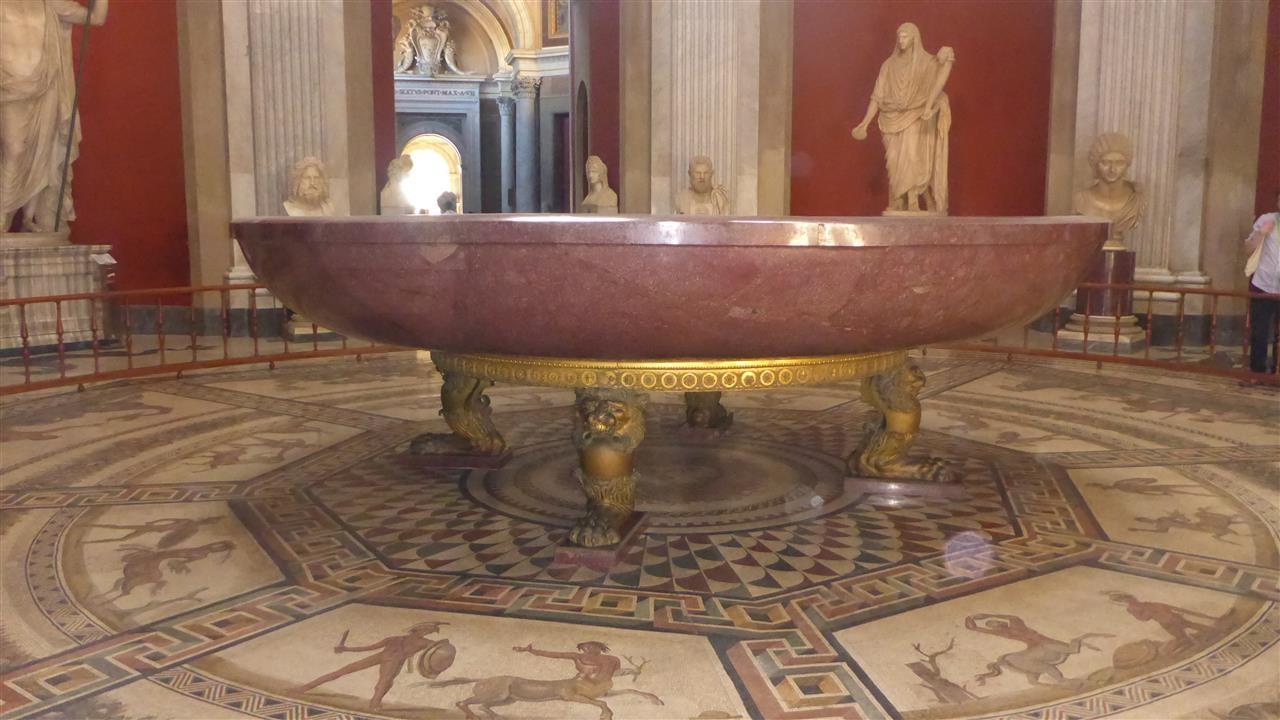 This 1800 yr old Nero's bath is made of Egyptian red marble, which is no longer available. Emperor Nero's wife used it to bathe in donkey milk (weird). The Vatican owns about 80% of this marble in the world. This stuff is worth about €80,000 per kilogram...note the size of this "bathtub", it can only be cut with Diamonds.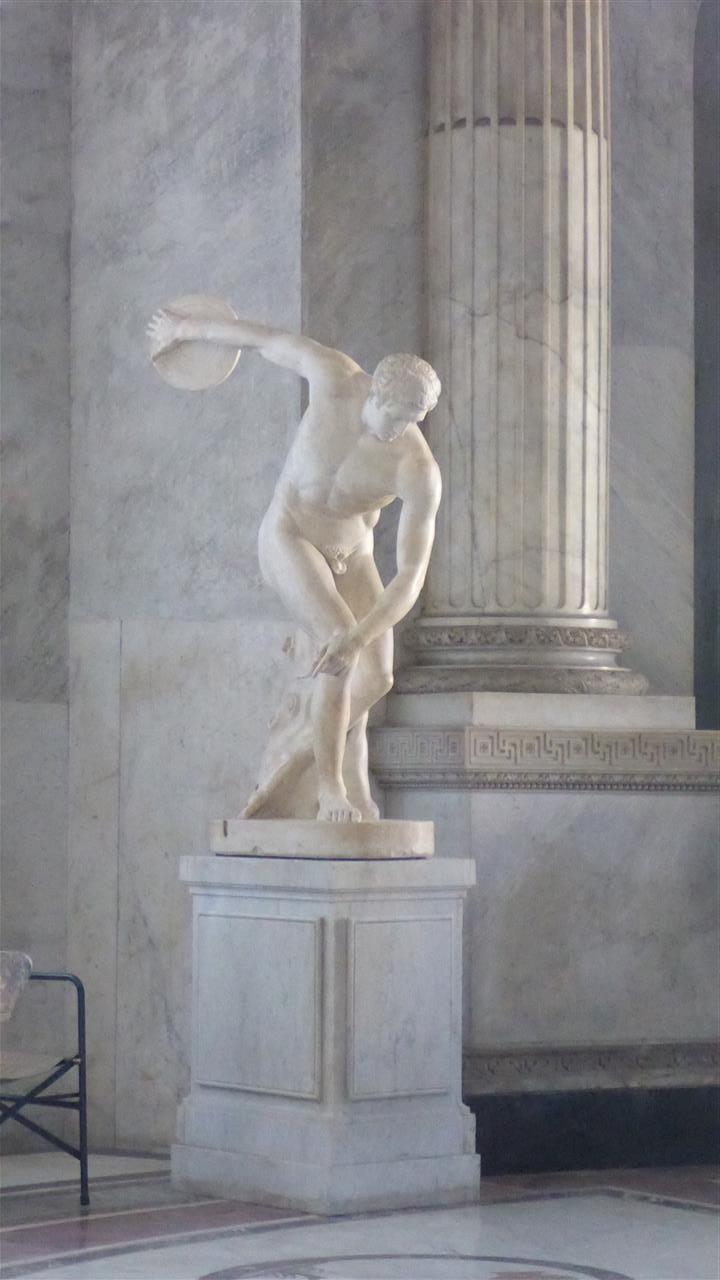 Statue of a Discobolus throwing the discus. made in the 2nd century.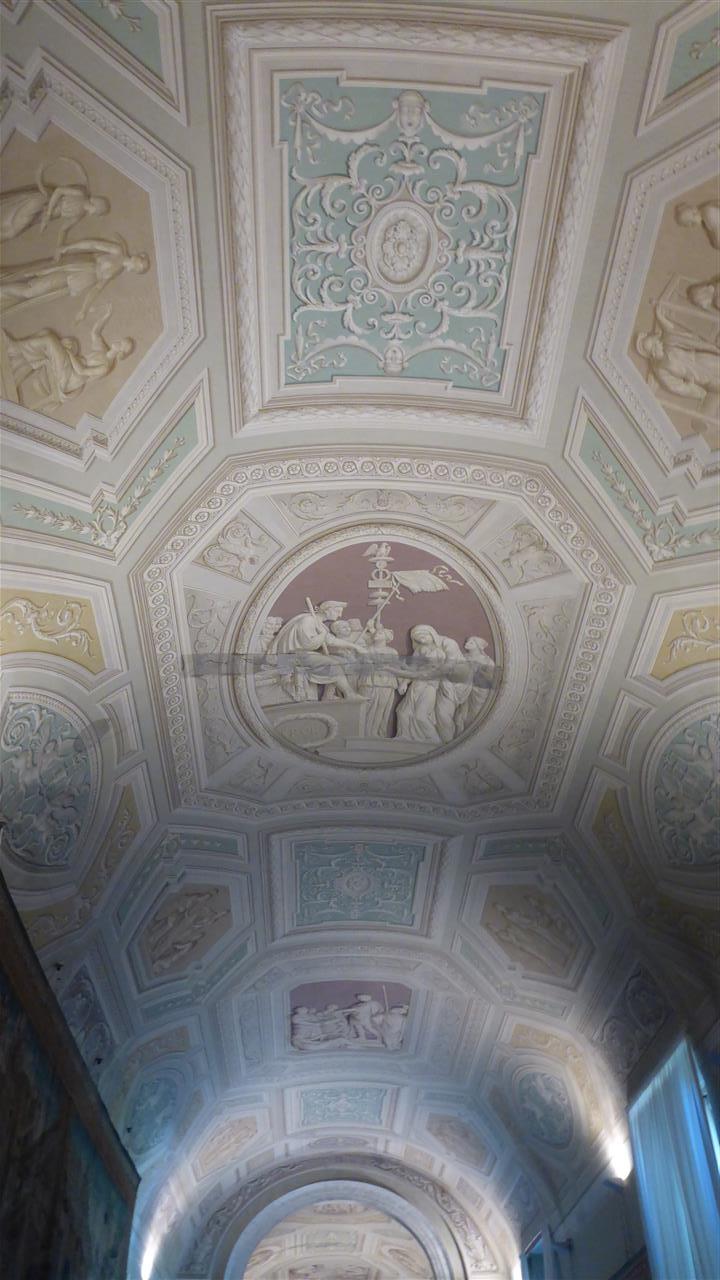 The photo doesn't do it justice, this fabulous 3D ceiling is so smooth you could skate board along it.
A series of biblical scenes lead us towards the Sistene Chapel.
No cameras allowed in, we enjoyed a quiet few minutes looking at the world famous ceiling, it's central panel depicting God & Adam is truly breathtaking.
A cheeky selfie in front of Mary holding Jesus after the crucifiction.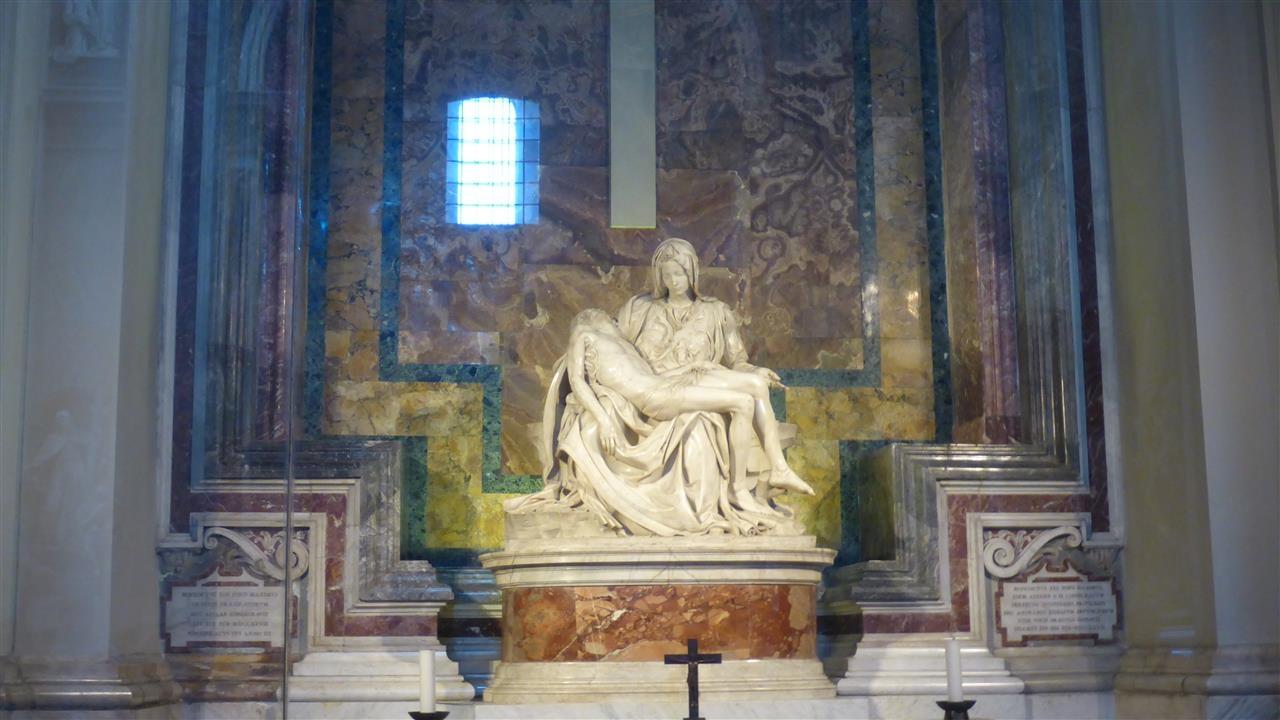 Without us grinning.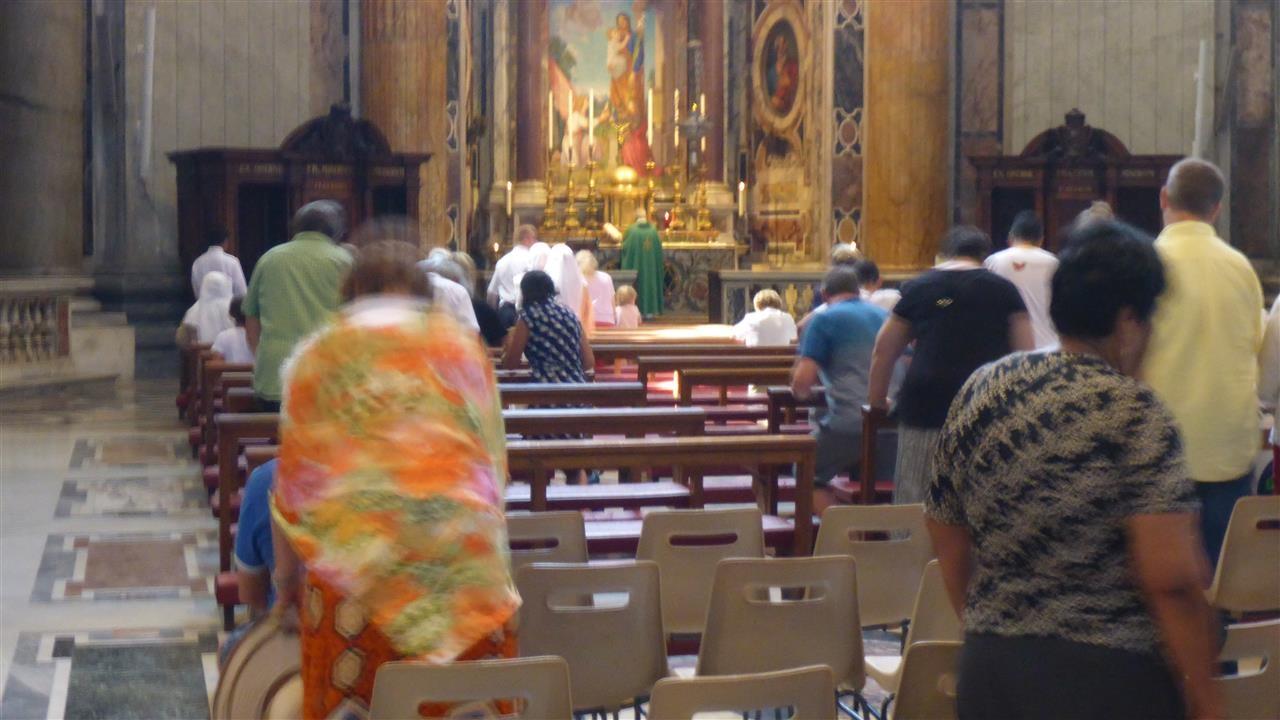 We were lucky enough to encounter a mass taking place in St Peters Basillica, Hollie snuck in for a blessing & sacrement.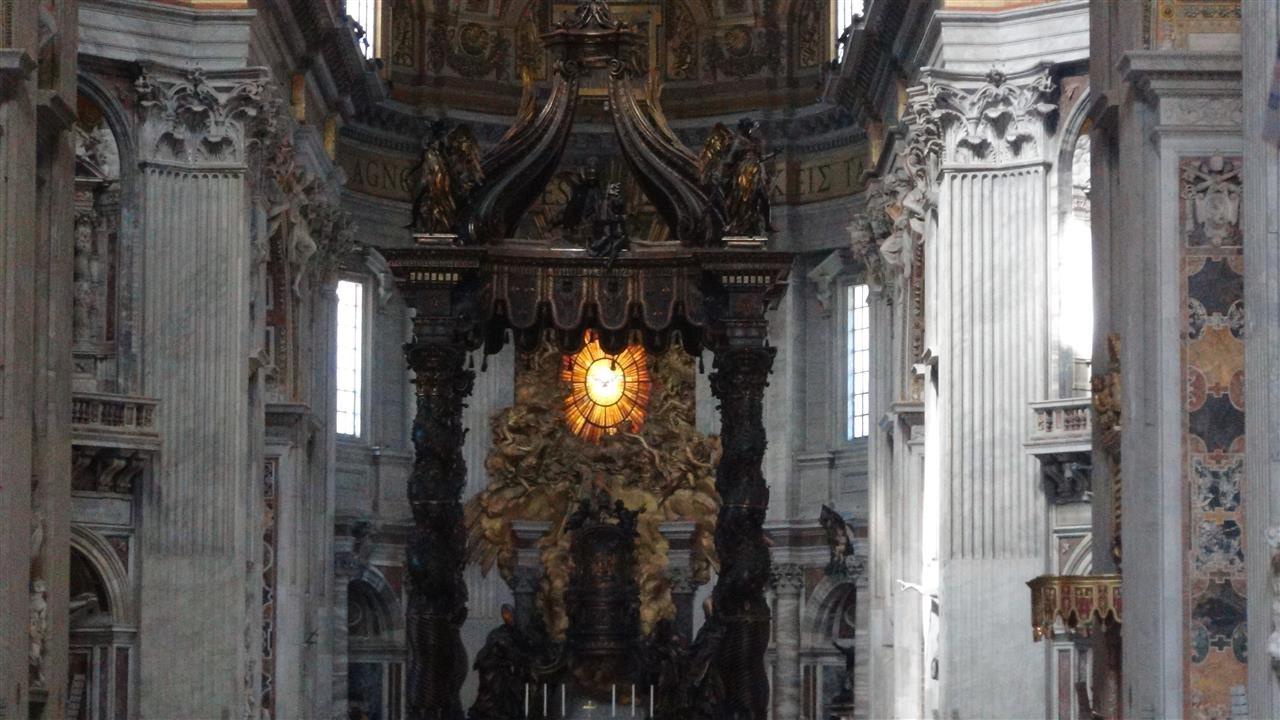 The huge Basillica with it's 42 metre dome is a formidable feat of engineering by Leonardo, as you look up the statues and features are deliberately getting bigger the further up the walls you gaze.
Just above our heads are placed 6ft high marble cherubs, at the feet if 16ft high saints, the gold latin letters below the dome are each 6ft high...As you look up the whole scene seems perfectly in focus.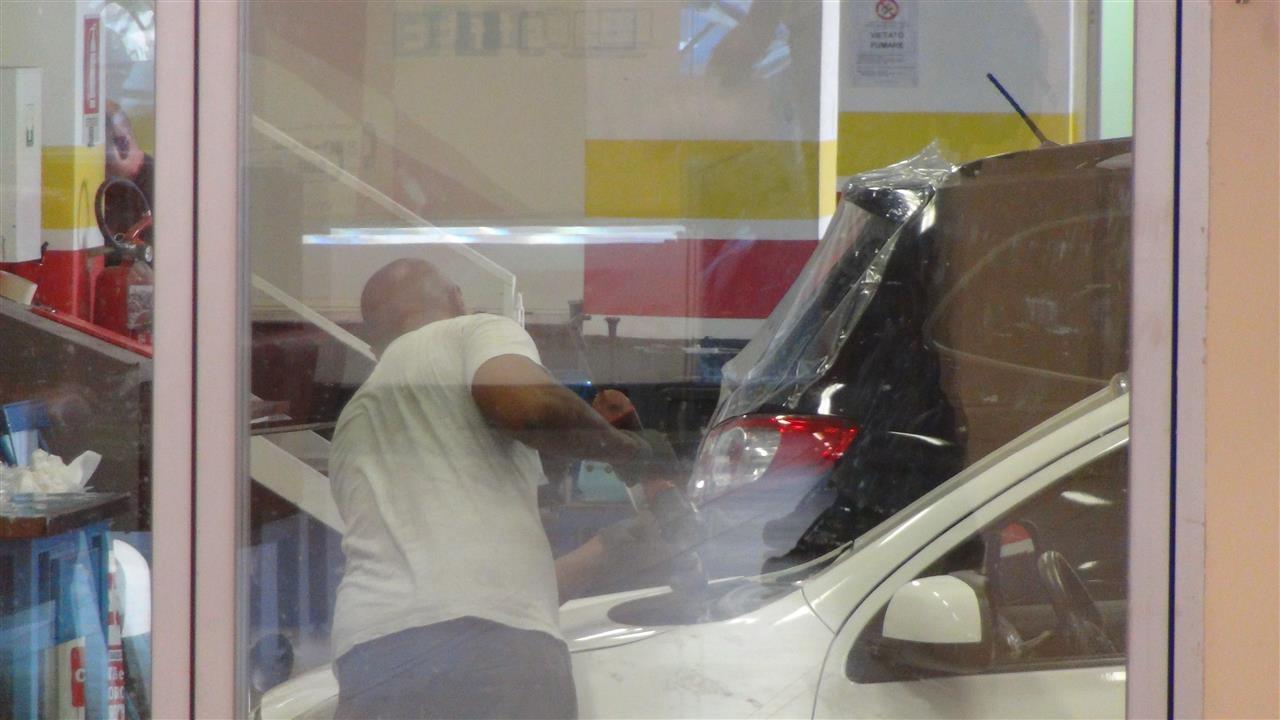 A trip out to Car Glass to get our back window cling filmed.
We went to "The Scollars Irish pub" before our colosseum tour. Ian had a bucket of Caesar salad, no chips as well tho..I had a baked potato.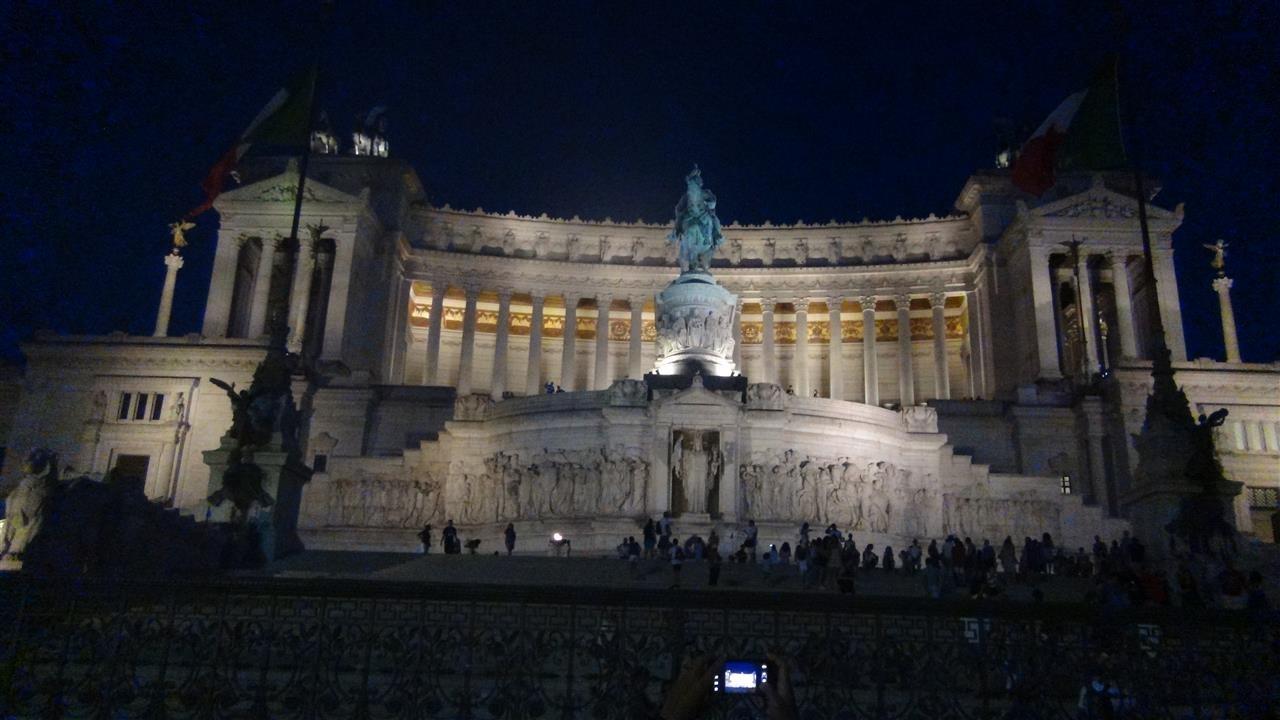 This magnificent & huge edifice, was taken over by Mussolini as a symbol of the triumph of his government to celebrate 10 yrs in power. It is opposite the building that housed his personal offices & the balcony he used to make speeches.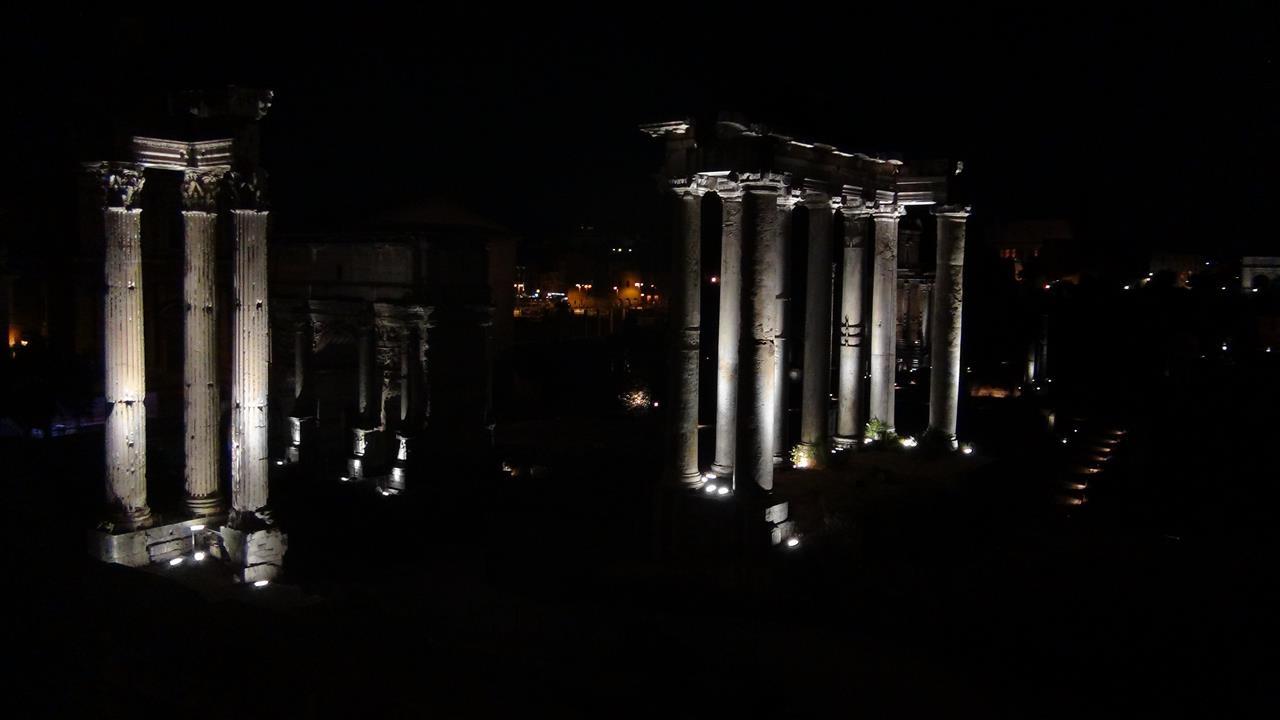 We studied at length the ruins of the forums very close to the place Julius Caesar was murdered on 15th March 44BC.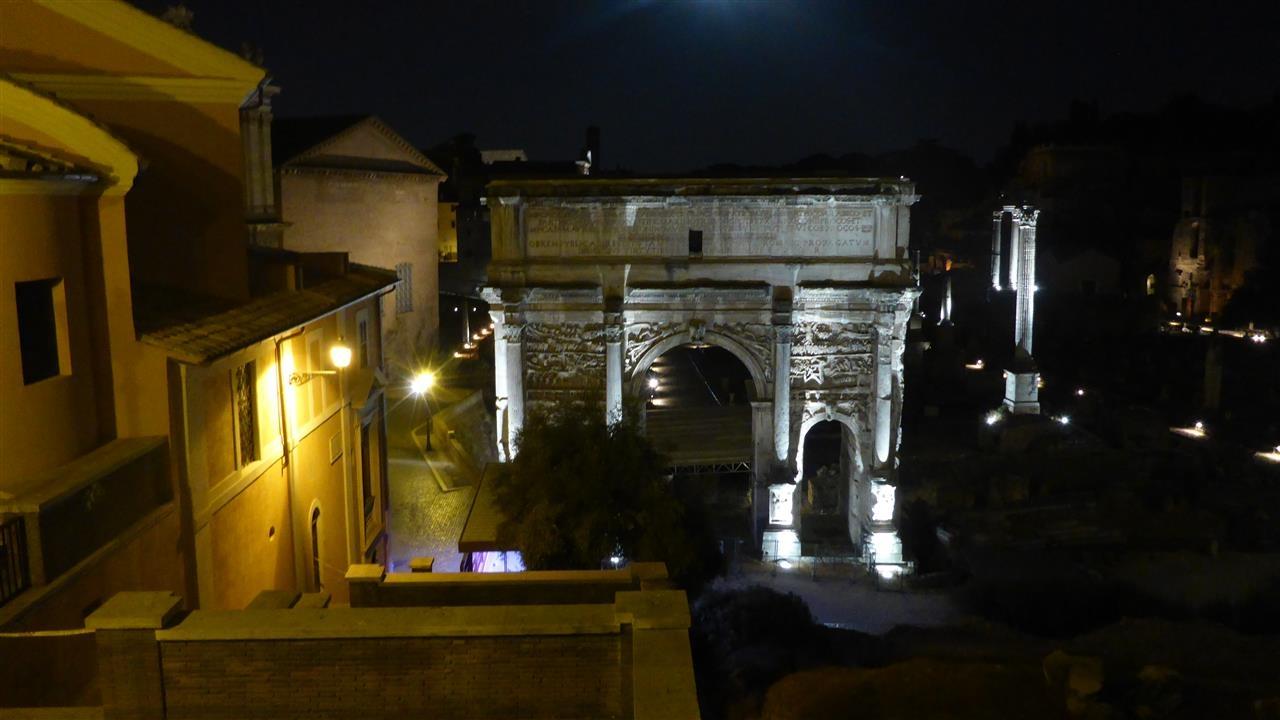 This is one of 3 Triumphal arches still visible in Rome, of the 14 that once stood.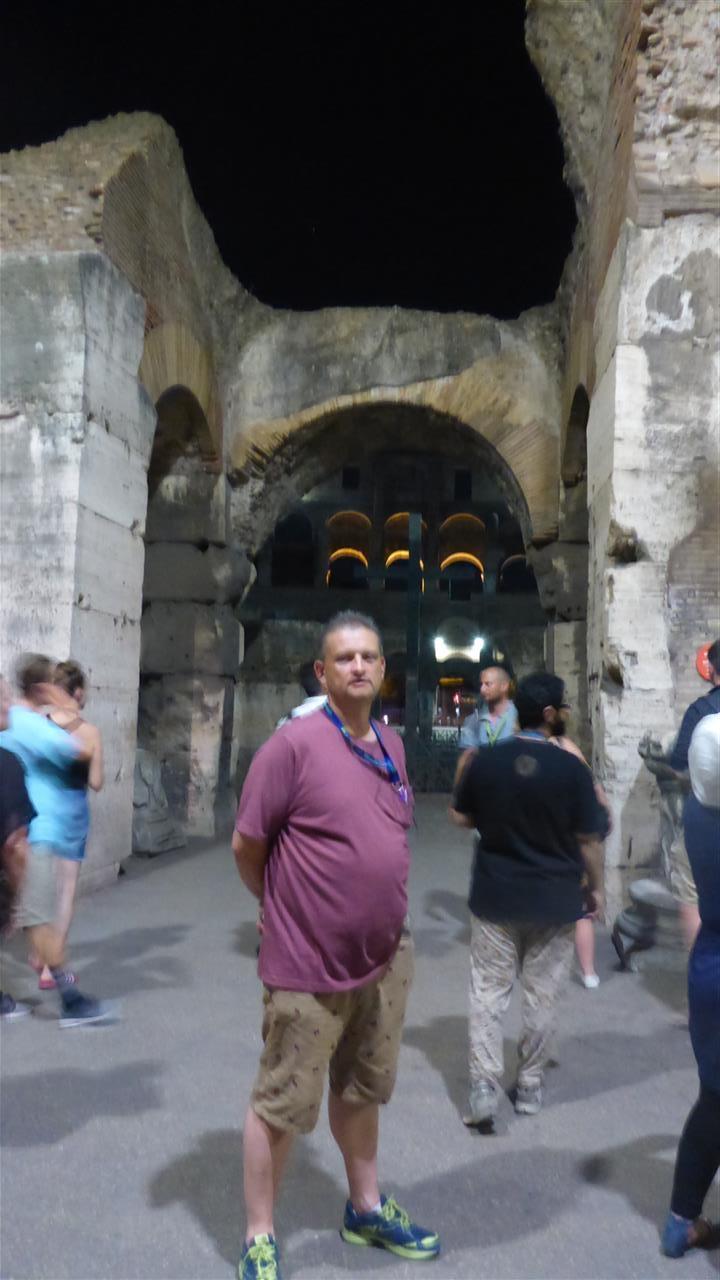 Into the Colosseum and we found out about Gladiators, strong handsome & virile slaves ( like this one ).
The " games" a gruesome blend of hunters butchering all manner of wild & local animals and Gladiators pitting their strength against each other.

The ultimate prize for a Gladiator would be his freedom to be granted, however every visit into the arena offered a 15% chance of death. Literally thousands of animals and people lost their lives in this place..Without even mentioning the morning entertainment...Execution in it's many interesting modes.
Some of the only remaining travatine marble, the senators seats, prime position.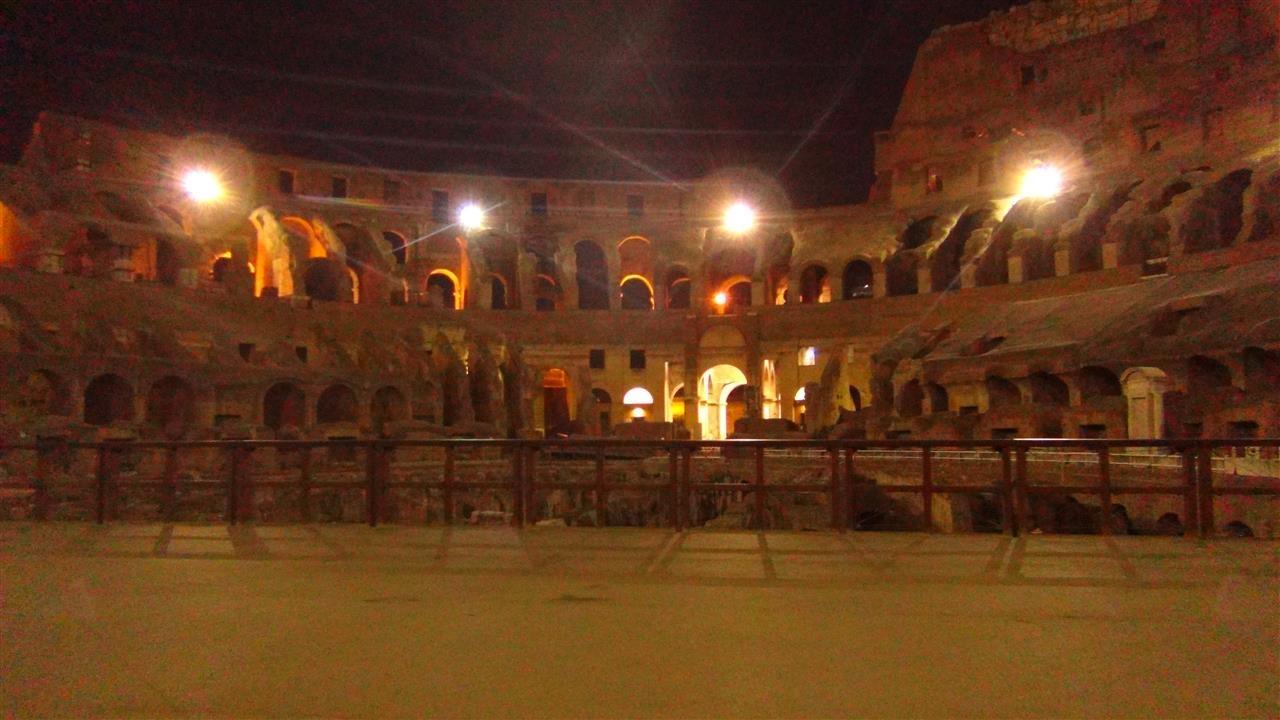 The whole building was covered with the white travatine marble at this time, after about 500AD the games ceased and the building materials were recycled as is the Roman custom.
The building having been left as only bones, was further damaged by the great earthquake of 1343.
A wooden stage covered in sand, would have covered the entire oval centre, hiding the warren of tunnels & rooms visible now. An elaborate trap door & lift system operated by pullies would allow the props & "contestants" to be delivered dramatically to the stage.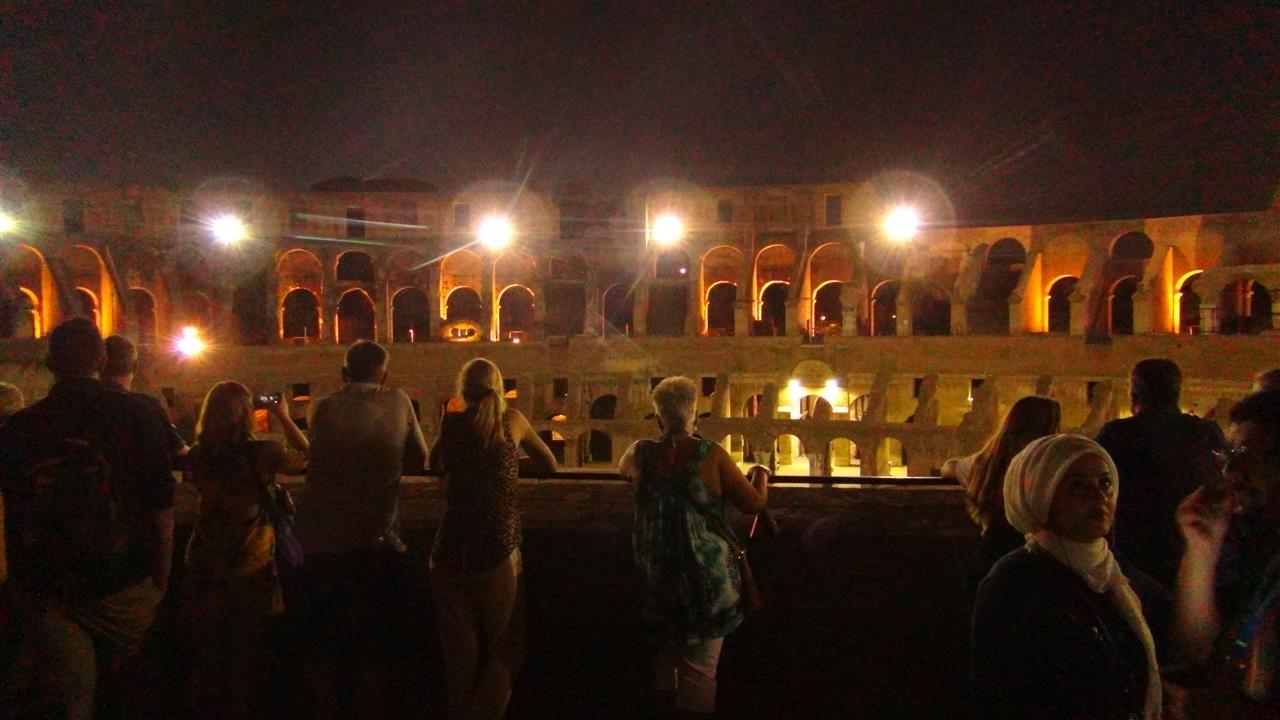 The night tour was certainly the right way for us to view this interesting place, sadly a lot of our snaps didn't work so well.
We were on our knees by the end & a taxi back to our beds was essential, another early start tomorrow dear reader.

Goodnight xxx


Day 18:&nbspAngels & Demons (Tuesday 8th August 2017)
Day 19:&nbspHello Pope, bye bye pixies. (Wednesday 9th August 2017)
Day 20:&nbspArt work overload. (Thursday 10th August 2017)
Day 21:&nbspOur own unguided tour of Florence. (Friday 11th August 2017)
Day 22:&nbspIan leans in Pisa. (Saturday 12th August 2017)
Day 23:&nbspSunny Sunday. (Sunday 13th August 2017)
Day 24:&nbspGoodbye Italy, It's been one hell of a ride. (Monday 14th August 2017)
Day 25:&nbspLong day driving...Hello Callais (Tuesday 15th August 2017)
Day 26:&nbspThe final stretch (Wednesday 16th August 2017)