Italy 2017

Show all days on one page (a long download!)
Day 1:&nbspNo fly zone (Saturday 22nd July 2017)
Day 2:&nbspTo the old Trout (Sunday 23rd July 2017)
Day 3:&nbspFrom a chateau Chillon to the Matterhorn. (Monday 24th July 2017)
Day 4:&nbspAround the Horn! (Tuesday 25th July 2017)
Day 5:&nbspZermatt goodbyes & to Venice for a bit. (Wednesday 26th July 2017)
Day 6:&nbspBridge of Sighs. (Thursday 27th July 2017)
Day 7:&nbspOur wedding anniversary and the beach we nearly went to. (Friday 28th July 2017)
Day 8:&nbspWe woke up in Stiffe! (Saturday 29th July 2017)
Day 9:&nbspRende to Francavilla di Sicilia and a room change (Sunday 30th July 2017)
Day 10:&nbspDay 2 in Francavilla Mount Etna here we come (Monday 31st July 2017)

Tuesday 1st August 2017
DAY
11

Busy doing nothing!
After a disappointing breakfast buffet, we head off to Isla Bella.
40 minutes from home this substantial cliff decent ( They don't have many beaches you can reach without a Sherpa & ropes! ) led us to the beautiful , natural island which you can wade to, then part with 4 euros each to take a stroll round.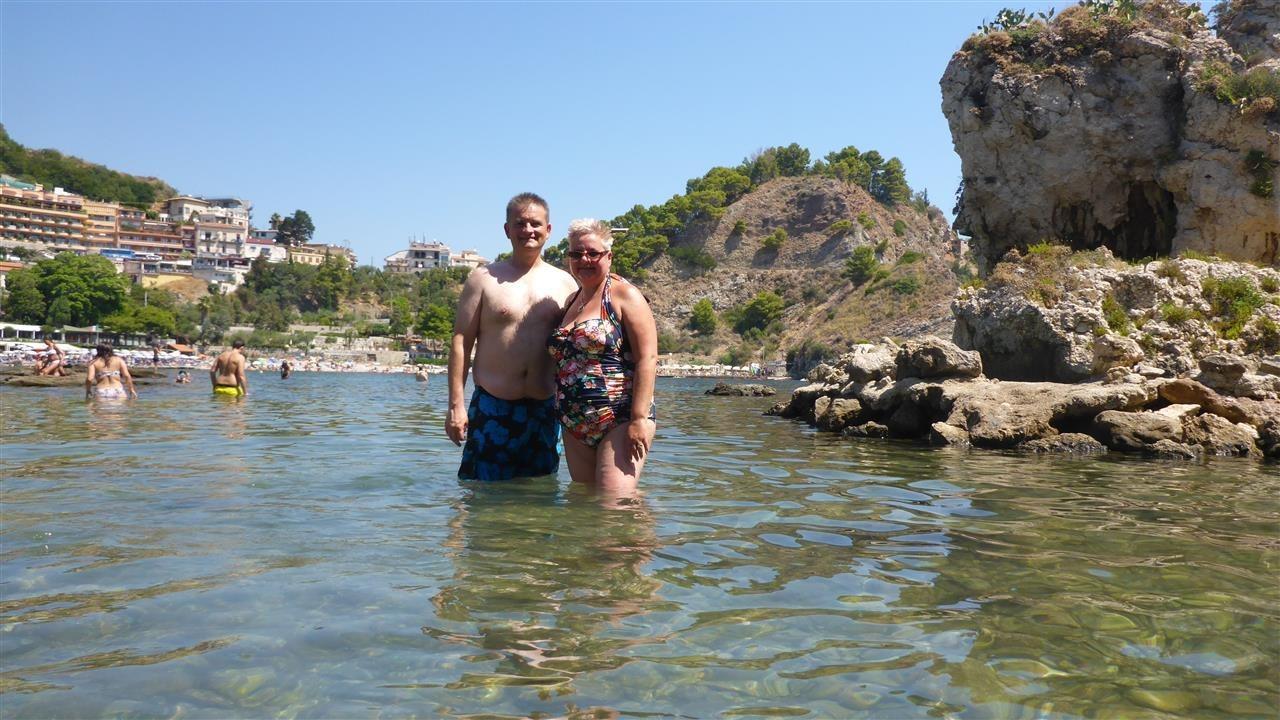 It was too chuffing hot so we opted for a wade in the crystal clear water.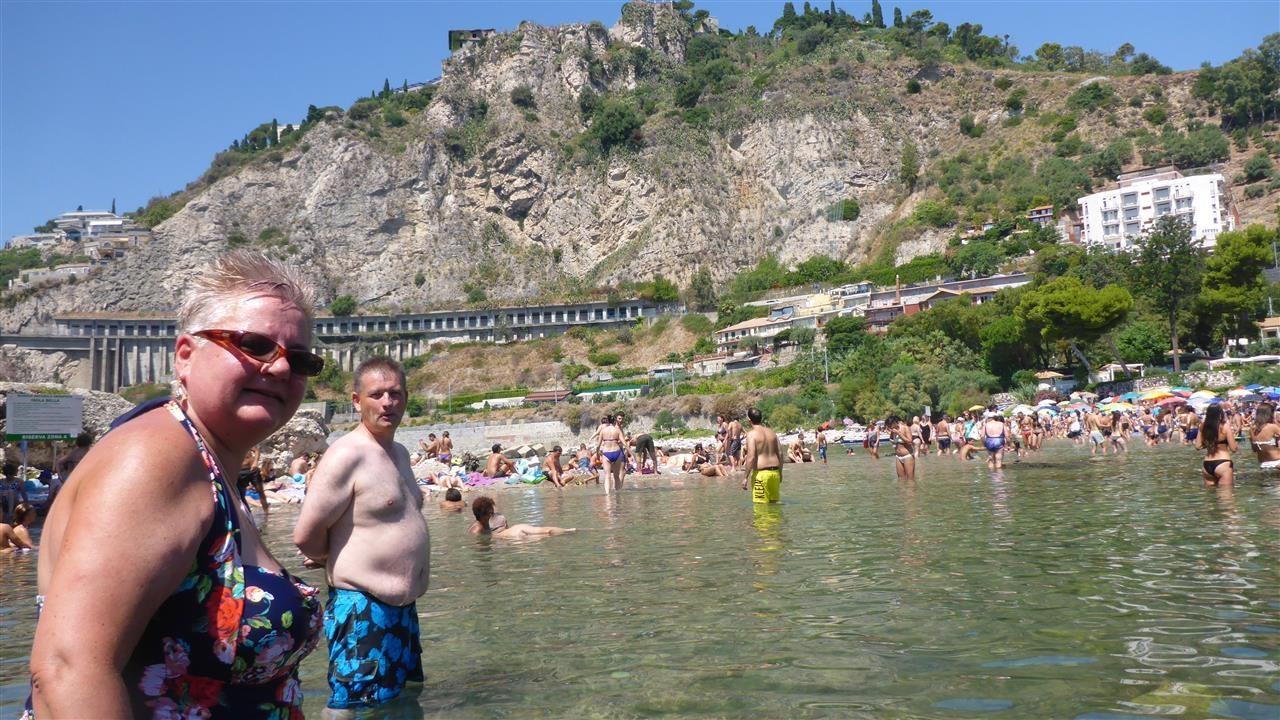 The tiny patches of shingle were covered with bathers & their belongings, something of a beach hell. We did however spend an hour enjoying the cool water.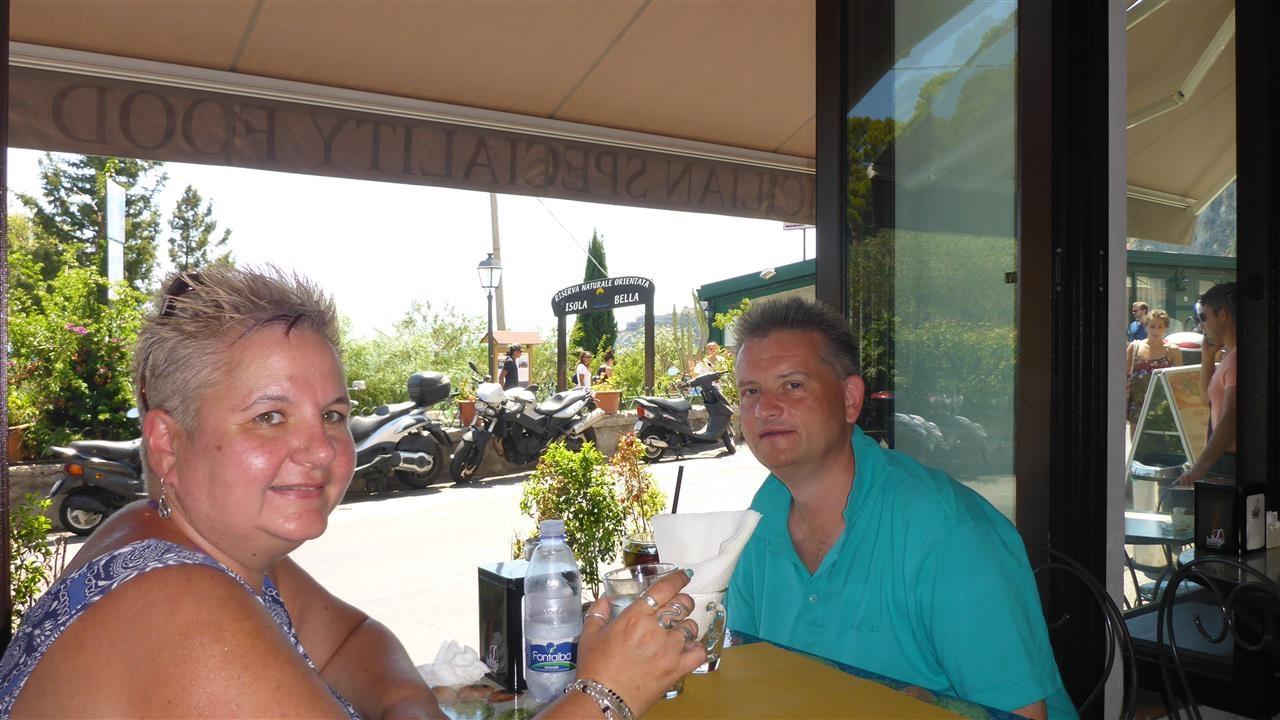 Having reached the top once more, a cold drink was very welcome.
Just by our parking area, we spot a cable car to Taormina, we hoped for an interesting village to wander through , however the cable car seemed to be an alternative to a bus for the locals, we enjoyed a few sweaty minutes at the top before taking the return part of the journey.
Our hotel menu has now exhausted its possibilties, so it was a last night drive to Castiglione di Sicillia. Maureen plotted us a path to one of trip advisors fave restaurants.
What she didn't take into account was the width of our vehicle or the narrowness of the castle towns alleyways ( road is a far too grand a word! )
I had to jump out on more than one occasion to guide the driver through, excessively narrow turns & passages. An oncoming car & another behind us ripped our nerves to shreds at one point, a slightly scuffed wing mirror was the only casualty.
Finally parked at a local car park we made our way to President restaurant where we enjoyed a lovely meal & calmed our frayed nerves.

Last night in Sicily, temperatures in the 30's today..
Goodnight kind reader xxx


Day 12:&nbspBack to the mainland. (Wednesday 2nd August 2017)
Day 13:&nbspUp Pompeii. (Thursday 3rd August 2017)
Day 14:&nbspThe girls are coming! (Friday 4th August 2017)
Day 15:&nbspRoman Holiday. (Saturday 5th August 2017)
Day 16:&nbspThe Gypsy Curse (Sunday 6th August 2017)
Day 17:&nbspVatican ventures & Gladiators! (Monday 7th August 2017)
Day 18:&nbspAngels & Demons (Tuesday 8th August 2017)
Day 19:&nbspHello Pope, bye bye pixies. (Wednesday 9th August 2017)
Day 20:&nbspArt work overload. (Thursday 10th August 2017)
Day 21:&nbspOur own unguided tour of Florence. (Friday 11th August 2017)
Day 22:&nbspIan leans in Pisa. (Saturday 12th August 2017)
Day 23:&nbspSunny Sunday. (Sunday 13th August 2017)
Day 24:&nbspGoodbye Italy, It's been one hell of a ride. (Monday 14th August 2017)
Day 25:&nbspLong day driving...Hello Callais (Tuesday 15th August 2017)
Day 26:&nbspThe final stretch (Wednesday 16th August 2017)