Italy 2017

Show all days on one page (a long download!)
Day 1:&nbspNo fly zone (Saturday 22nd July 2017)
Day 2:&nbspTo the old Trout (Sunday 23rd July 2017)
Day 3:&nbspFrom a chateau Chillon to the Matterhorn. (Monday 24th July 2017)
Day 4:&nbspAround the Horn! (Tuesday 25th July 2017)
Day 5:&nbspZermatt goodbyes & to Venice for a bit. (Wednesday 26th July 2017)
Day 6:&nbspBridge of Sighs. (Thursday 27th July 2017)
Day 7:&nbspOur wedding anniversary and the beach we nearly went to. (Friday 28th July 2017)
Day 8:&nbspWe woke up in Stiffe! (Saturday 29th July 2017)
Day 9:&nbspRende to Francavilla di Sicilia and a room change (Sunday 30th July 2017)

Monday 31st July 2017
DAY
10

Day 2 in Francavilla Mount Etna here we come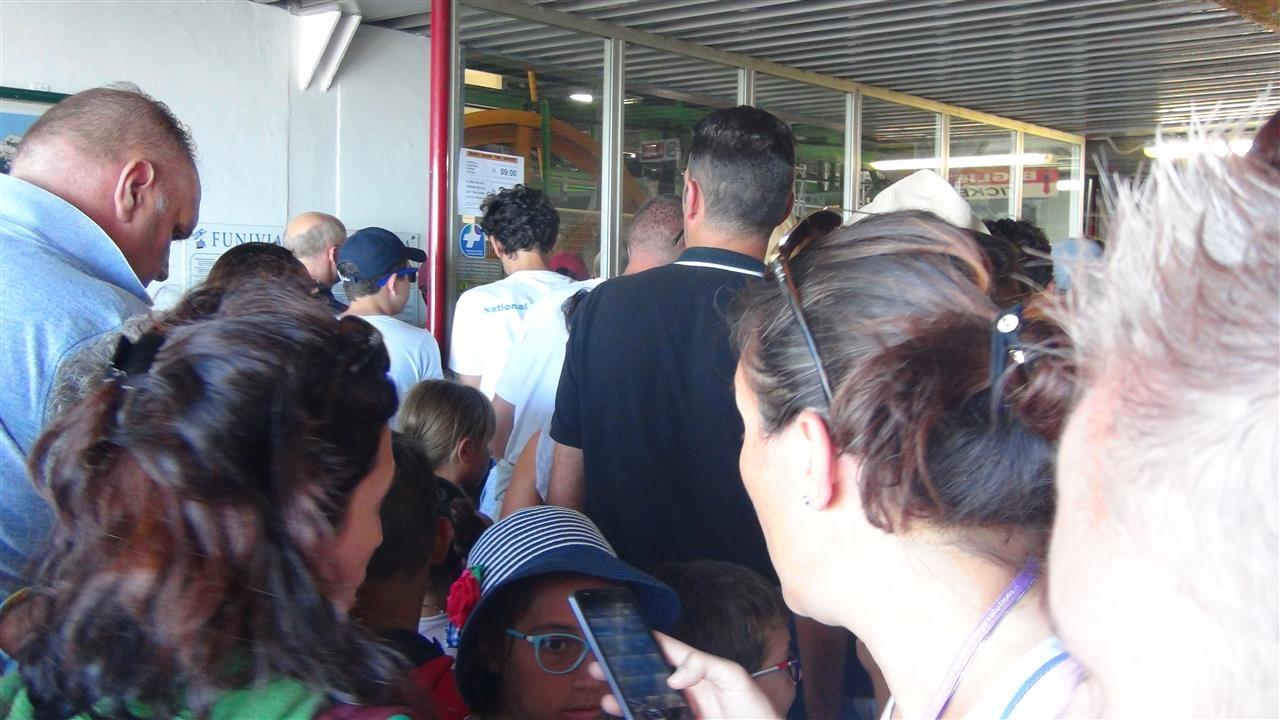 Ians very favorite activity, muscling through a crowd to buy tickets once we had travelled the 1 hour and a half to Mount Etna.
A tranquil cable car ride to the half way point, accompanied by some thankfully silent french folk.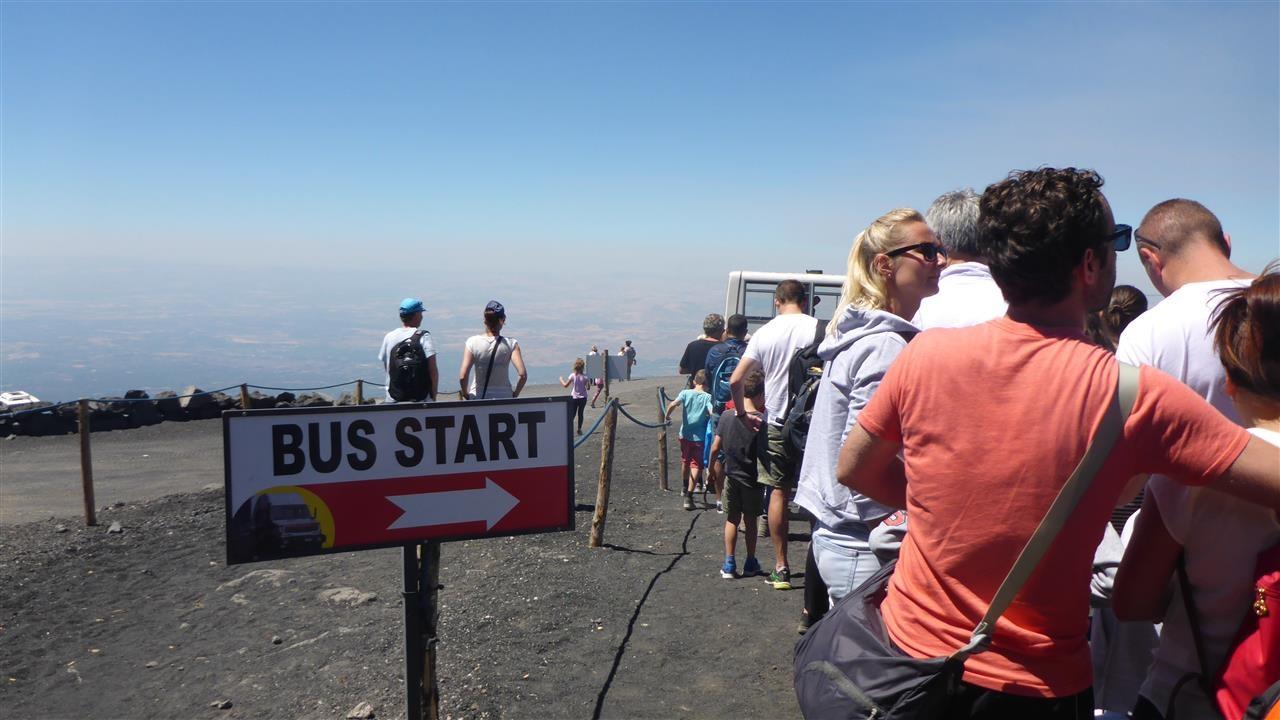 Now a swap to a bus to take us to the furthest point.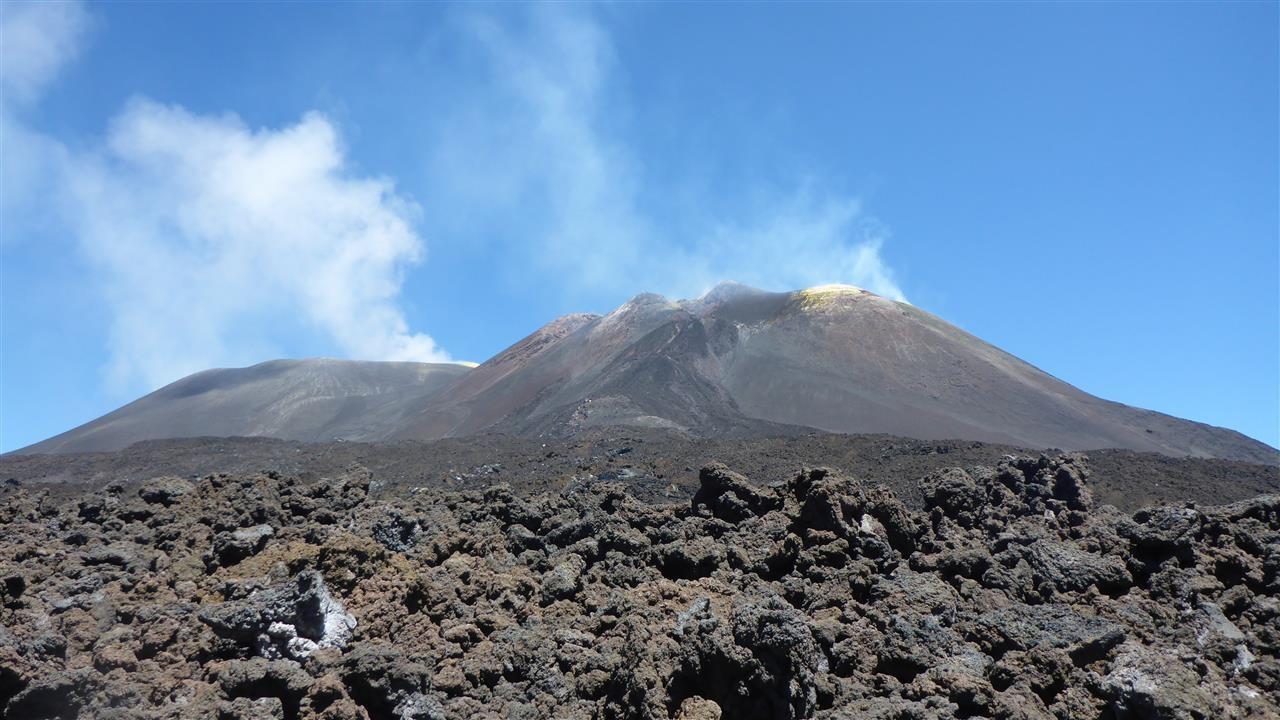 The North and south Craters of mount Etna our destination, the noth crater.
Ian is standing on the lava flow which was made this very April, when the north crater erupted.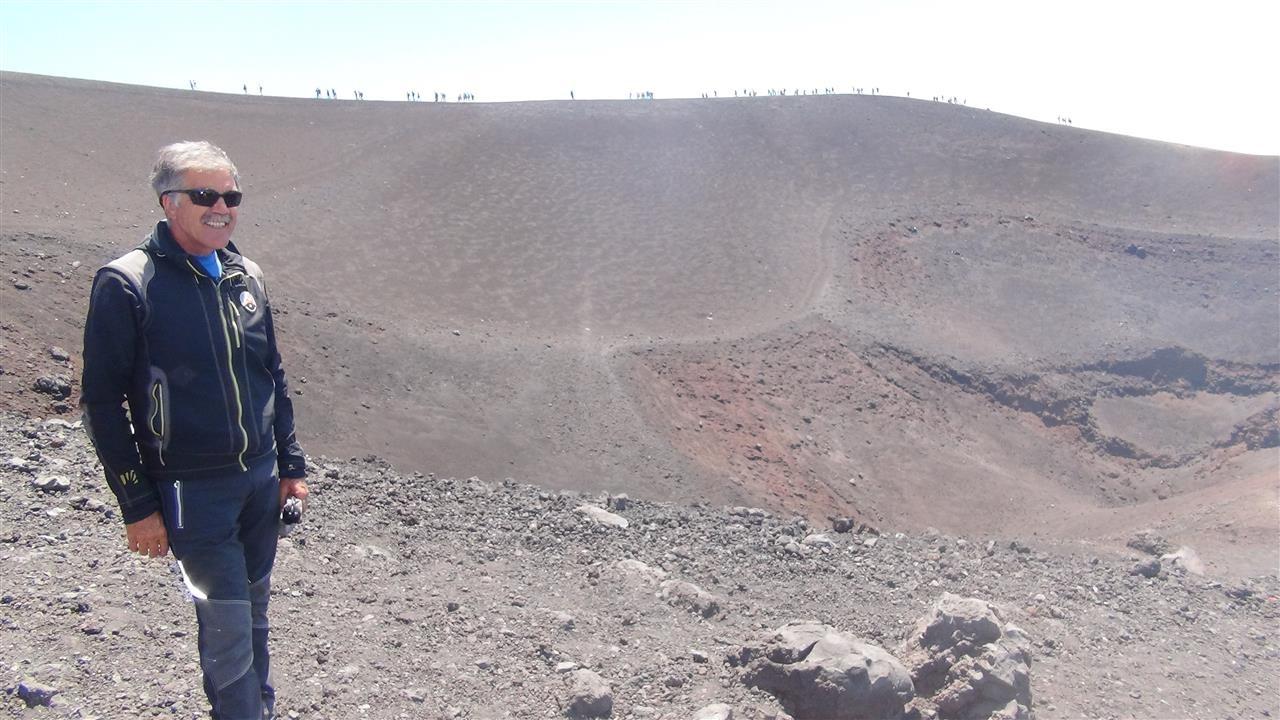 Here is our guide, who explained recent eruptions have destroyed the cable car system more than once & the parking area.
The entire area is the Mount Etna volcano, all of the small craters featured here are equally active & have been responsible for the 1991, 2001 & 2002 eruptions.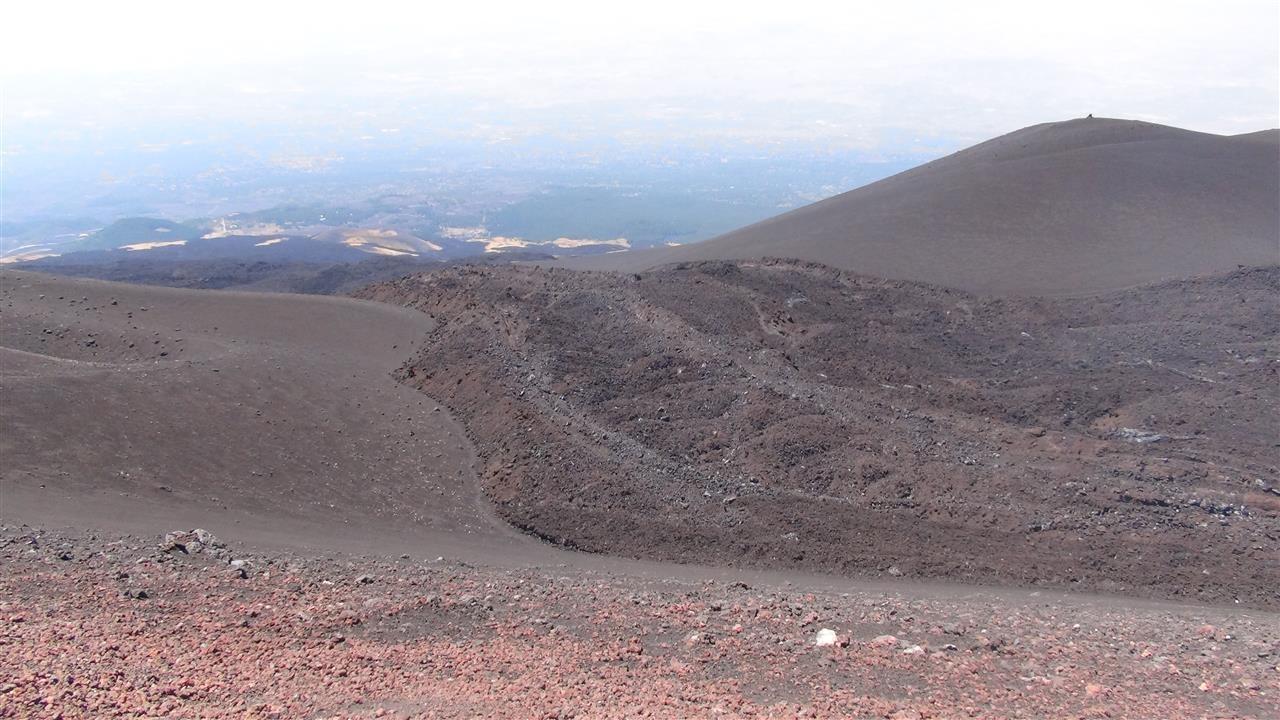 You can clearly see the path of the lava flow. Ian & I named this volcano the Dalek Volcano...Our guide informed us thet if it were to erupt today, we would have plenty of time to take some photos before leaving.. Means all you would need is the ability to walk at a brisk pace to avoid the Daleks or in this case lava flow.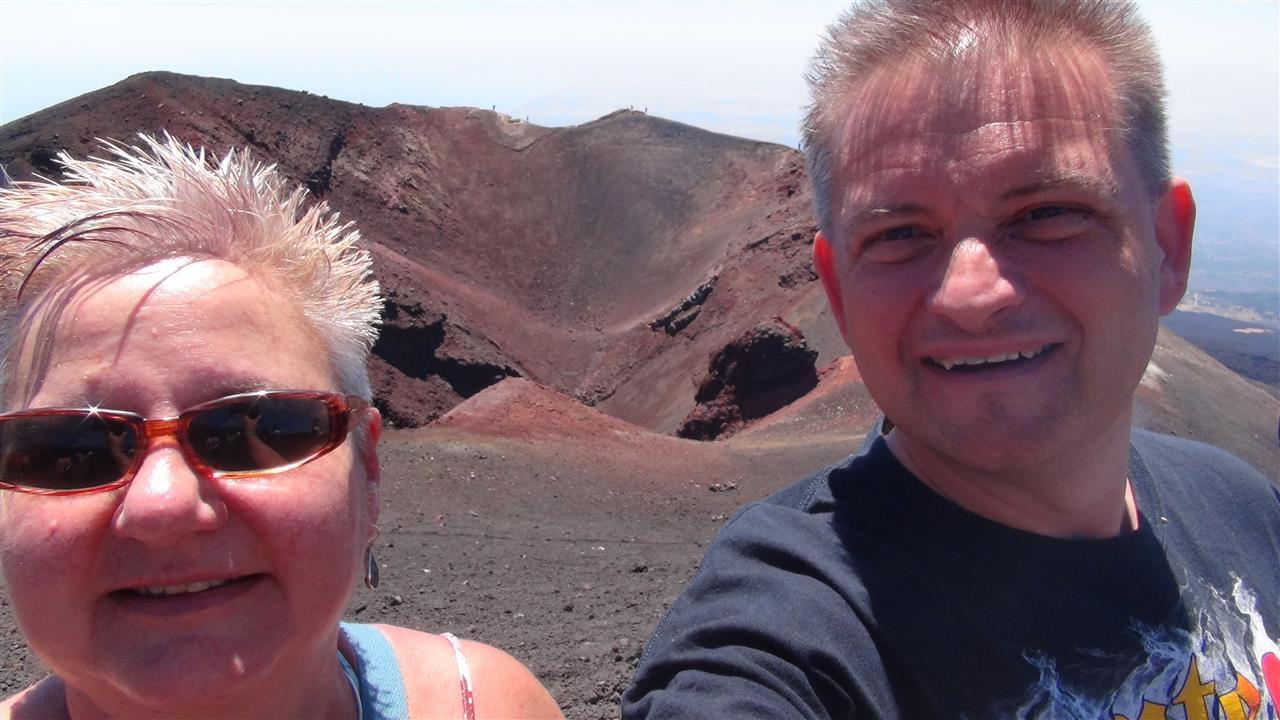 However you would likely be brained by the flying rocks.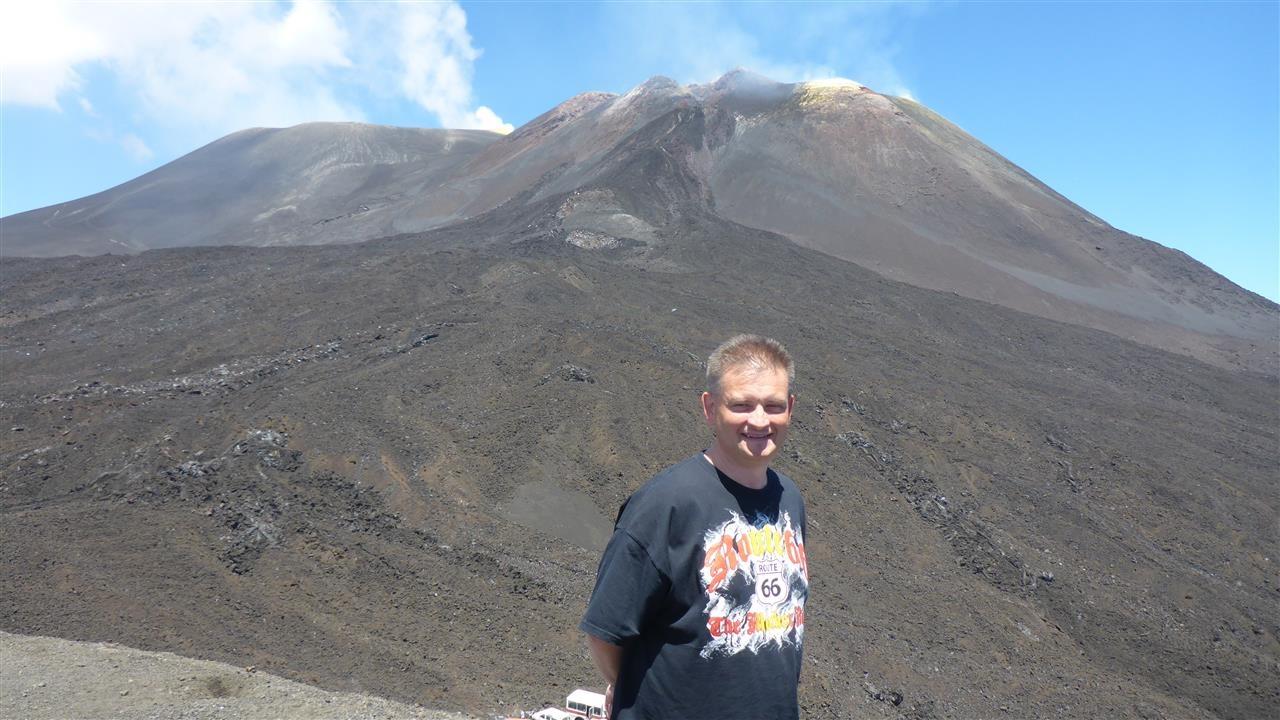 The Volcano erupted in the 1600's and engulfed a nearby village, no lives were lost even then!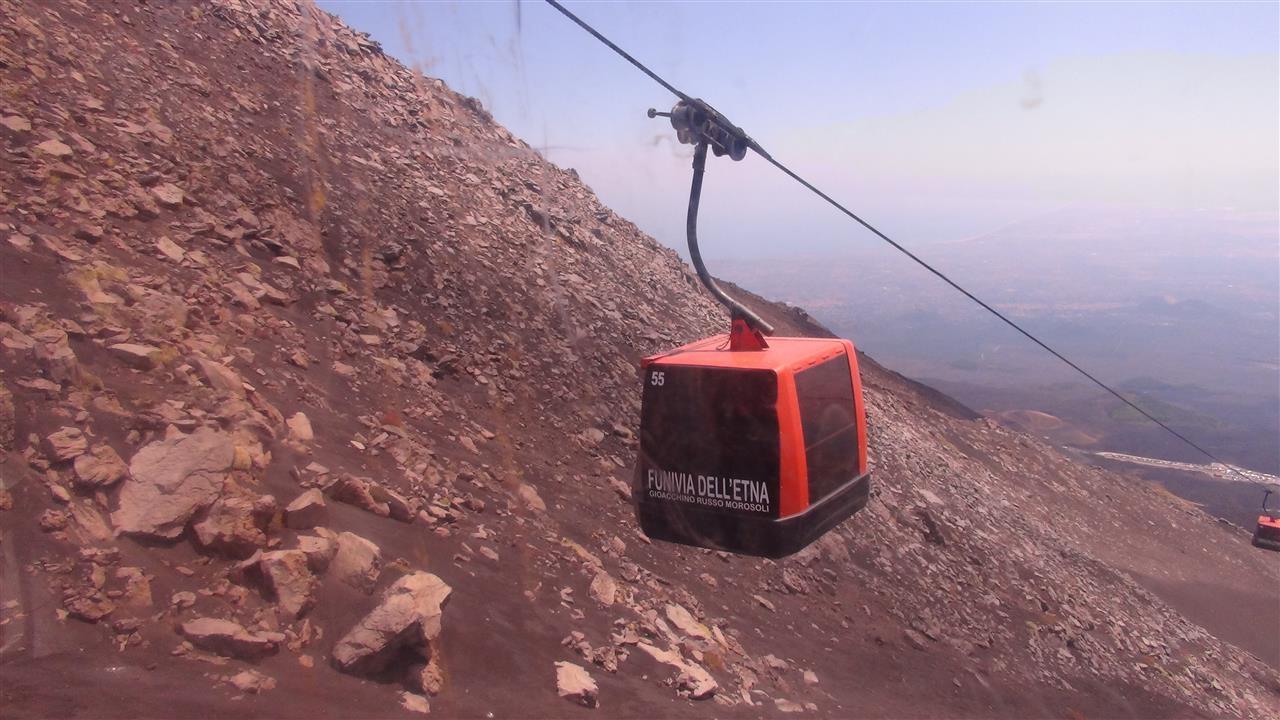 Our trip back down allows us to wonder at the sheer power of this mighty planet & its awesome underground restlessness.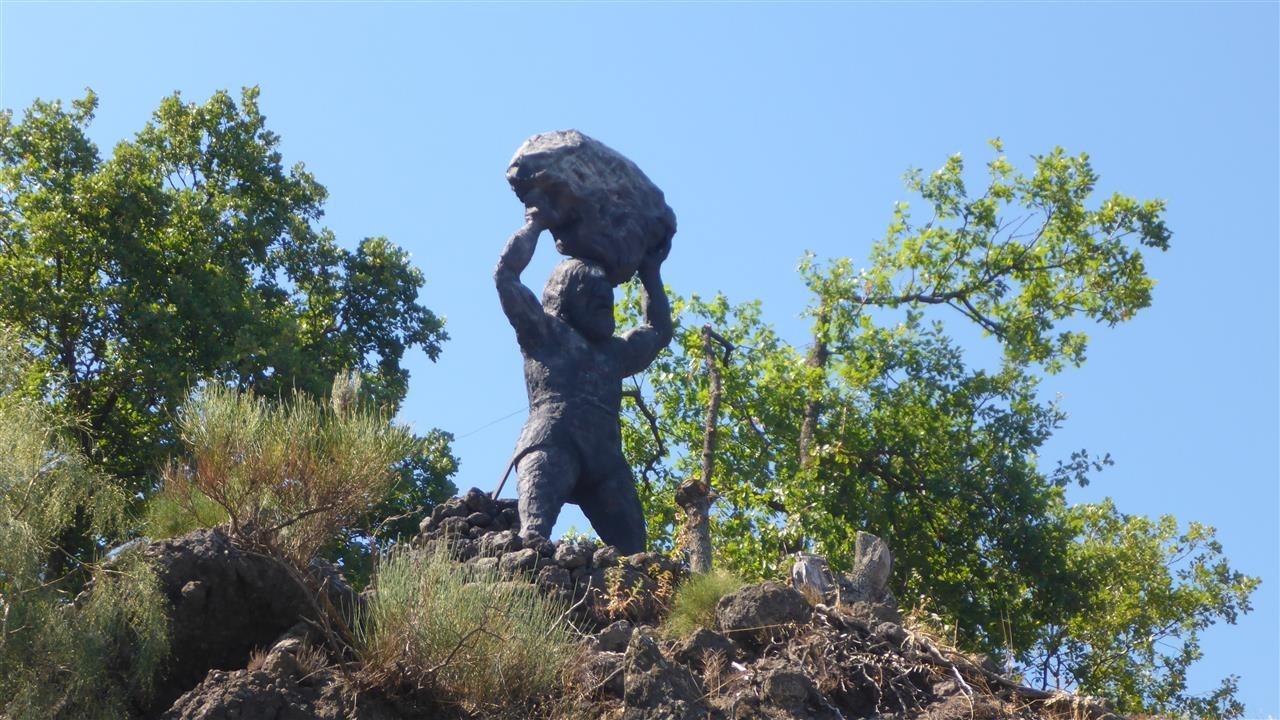 Maureen decided we should go home via the scenic route, this fella threatened to drop a boulder on us !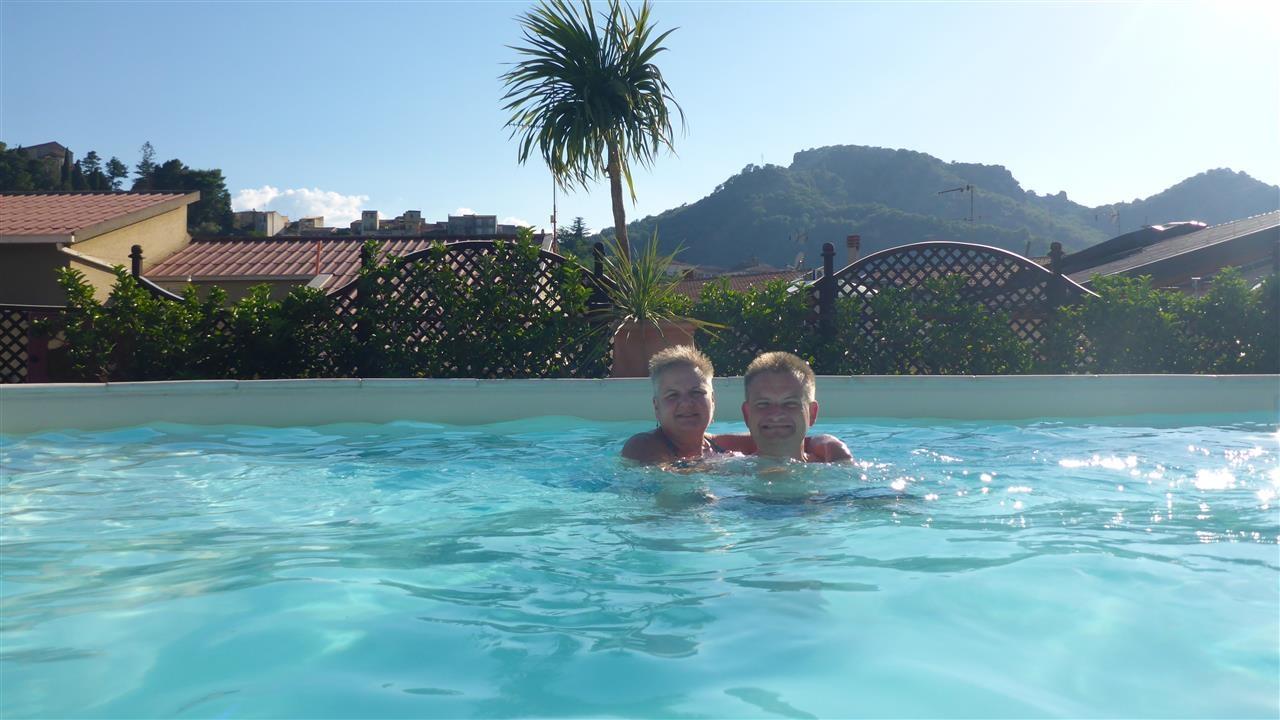 Back at our hotel, a beer & a swim in the rooftop pool. Dinner in our Hotel again as we are slightly knackered.

Just a moment out to mention the wonderful Edie Gale, who will be fondly remembered. Thank you Hollie for attending the funeral in our stead.

Love to you all..See you on the dark side...xx


Day 11:&nbspBusy doing nothing! (Tuesday 1st August 2017)
Day 12:&nbspBack to the mainland. (Wednesday 2nd August 2017)
Day 13:&nbspUp Pompeii. (Thursday 3rd August 2017)
Day 14:&nbspThe girls are coming! (Friday 4th August 2017)
Day 15:&nbspRoman Holiday. (Saturday 5th August 2017)
Day 16:&nbspThe Gypsy Curse (Sunday 6th August 2017)
Day 17:&nbspVatican ventures & Gladiators! (Monday 7th August 2017)
Day 18:&nbspAngels & Demons (Tuesday 8th August 2017)
Day 19:&nbspHello Pope, bye bye pixies. (Wednesday 9th August 2017)
Day 20:&nbspArt work overload. (Thursday 10th August 2017)
Day 21:&nbspOur own unguided tour of Florence. (Friday 11th August 2017)
Day 22:&nbspIan leans in Pisa. (Saturday 12th August 2017)
Day 23:&nbspSunny Sunday. (Sunday 13th August 2017)
Day 24:&nbspGoodbye Italy, It's been one hell of a ride. (Monday 14th August 2017)
Day 25:&nbspLong day driving...Hello Callais (Tuesday 15th August 2017)
Day 26:&nbspThe final stretch (Wednesday 16th August 2017)