* USA 2011 *

Show all days on one page (a long download!)
Day 1 :The Longest Day (Tuesday 26th July 2011 )
Day 2 :Yosemite..We've been away too long. (Wednesday 27th July 2011 )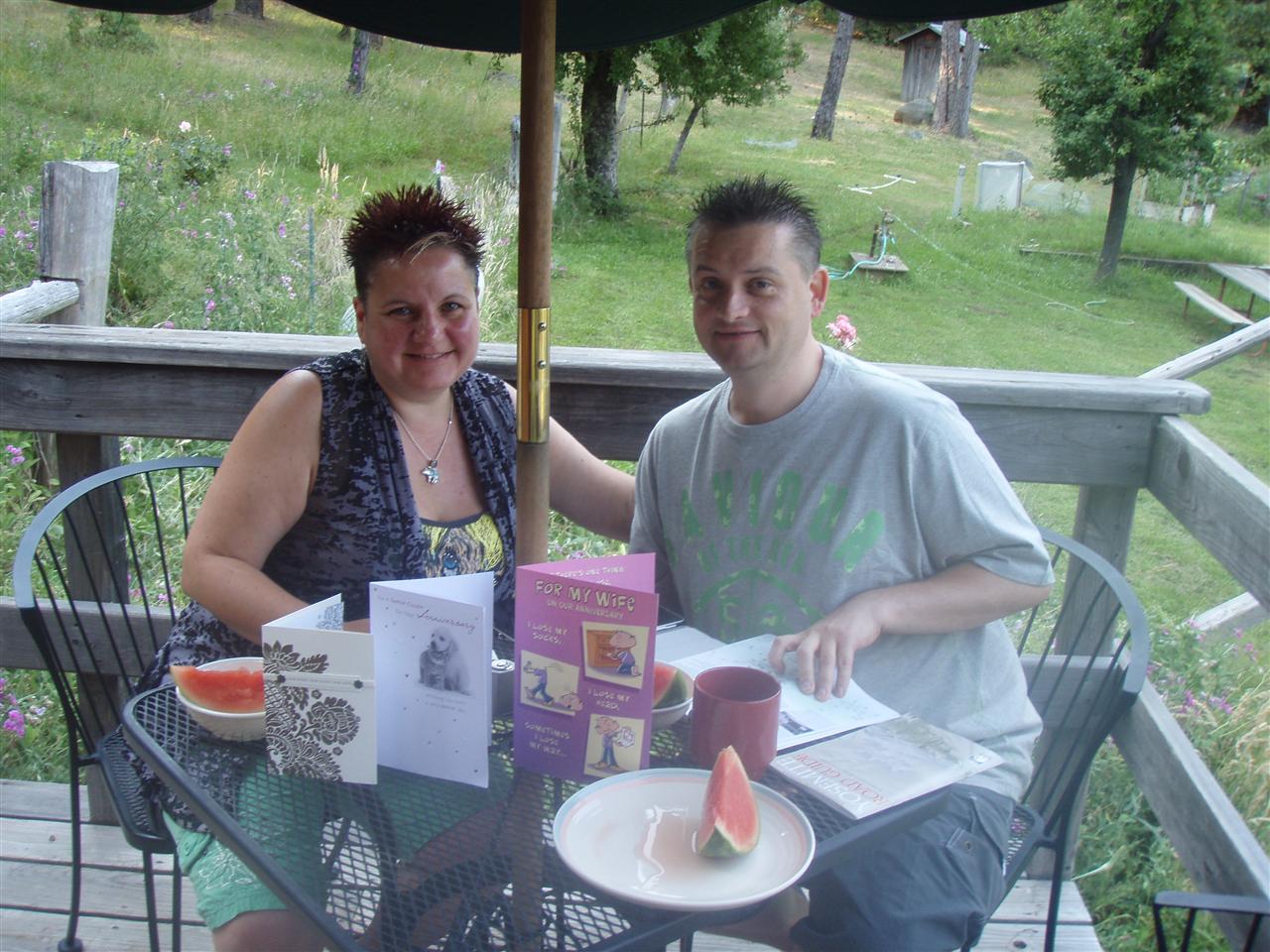 Lauren's cock had us awake bright & early ( some of us got up! )

The free eggs were a dream & filled a hole b4 we set off for Yosemite.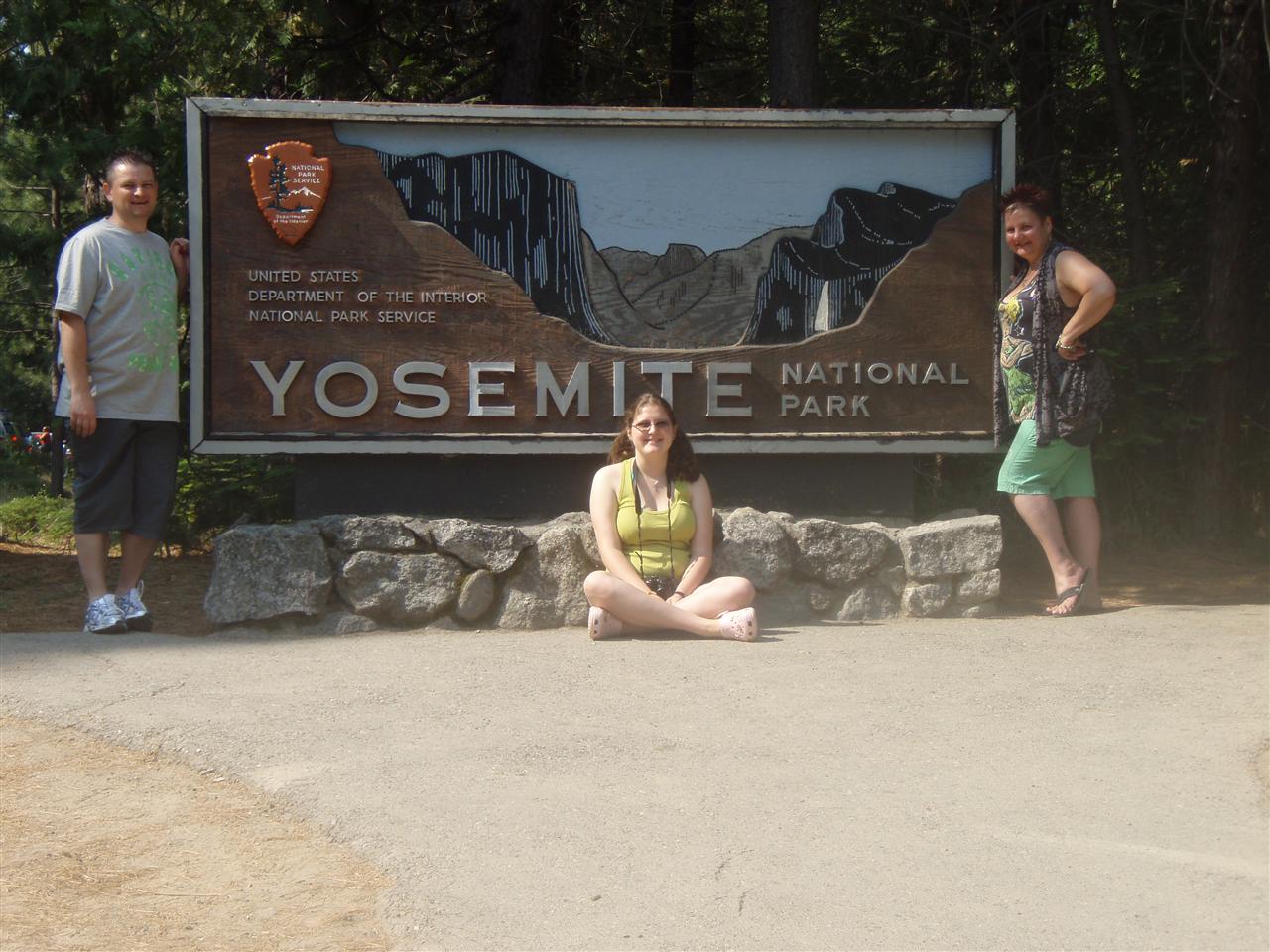 We posed in front of the iconic sign , much to the amusement of the queueing traffic on the highway.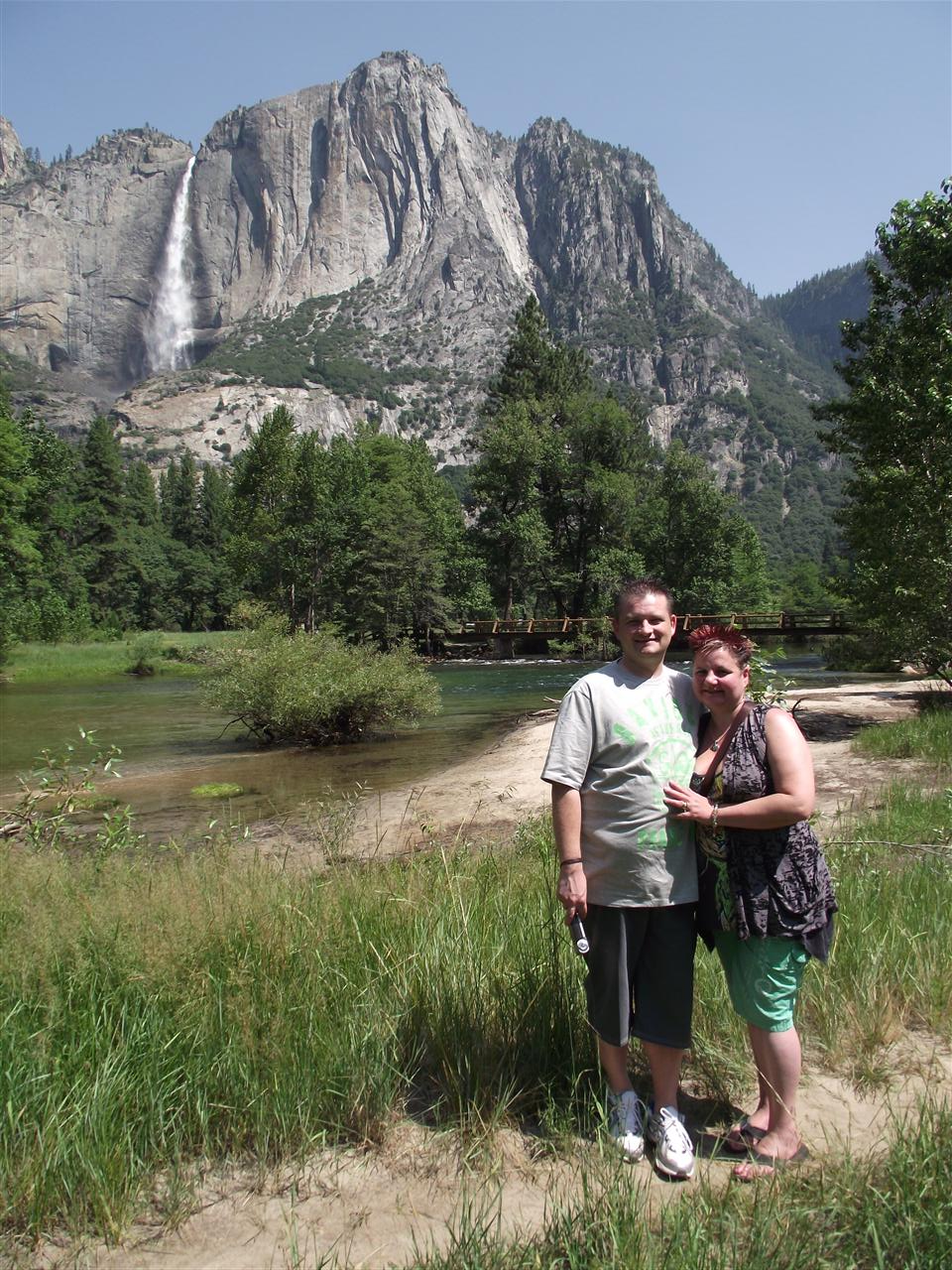 We headed straight for Yosemite Valley & Superintendants Bridge the site of our beautiful wedding.

We were suprised by how the meadow had matured. ( The base of the valley had been colonised & used as a rubbish dump for a century, b4 a recent incentive to return it to nature, The last building ..a bakery was removed in 1981).

We ventured to the edge of the river & the very spot where Ian & I along with Min & Mutton, listened to Rev Autrey & exchanged our vows.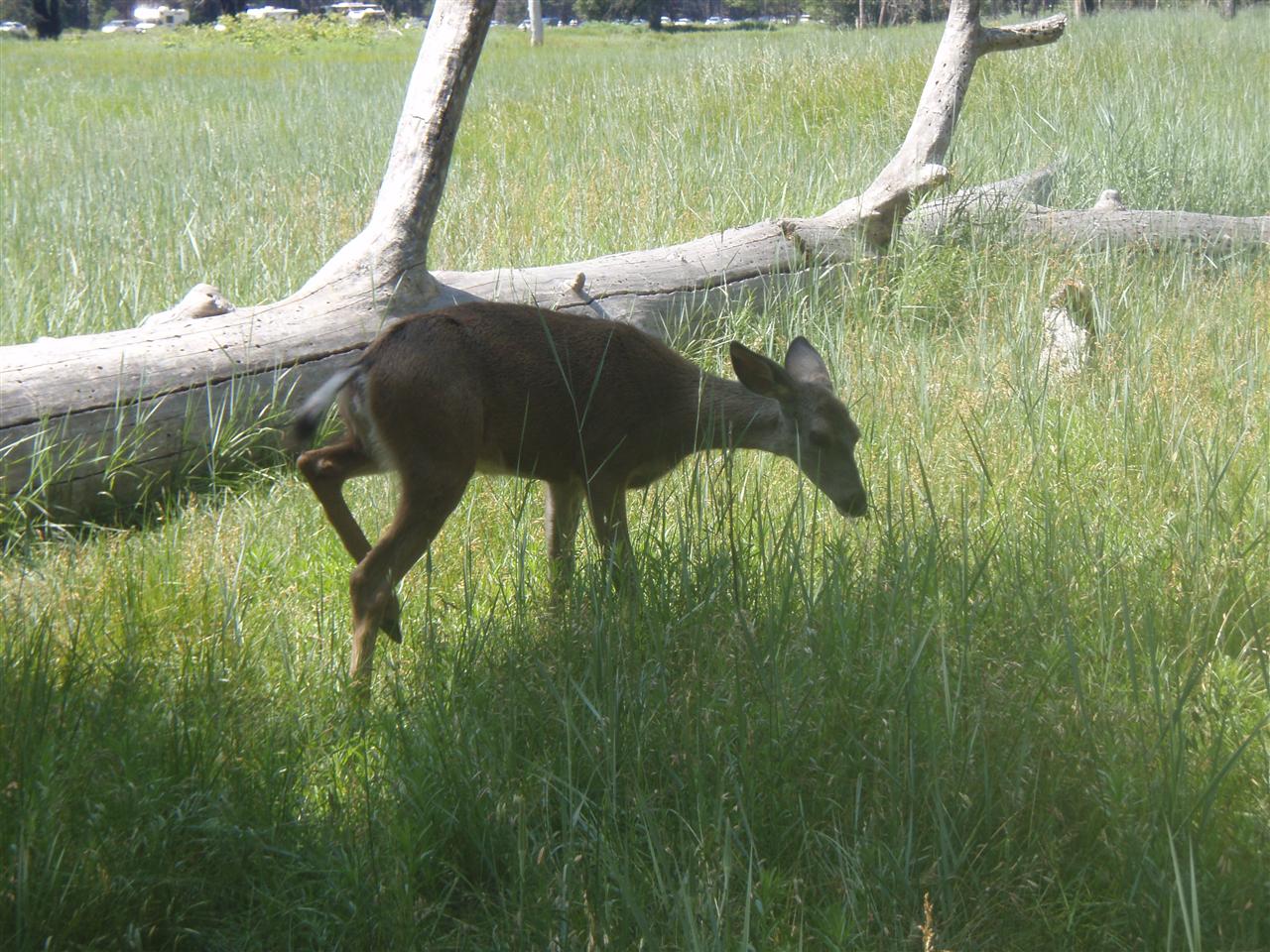 Bambi was there again, or one of his relatives.. The area is infested with an unusual amount of mosquitos, The majority of whom made a bee line for Min & me..They avoided Ian ( Very wise , tough as old boots !)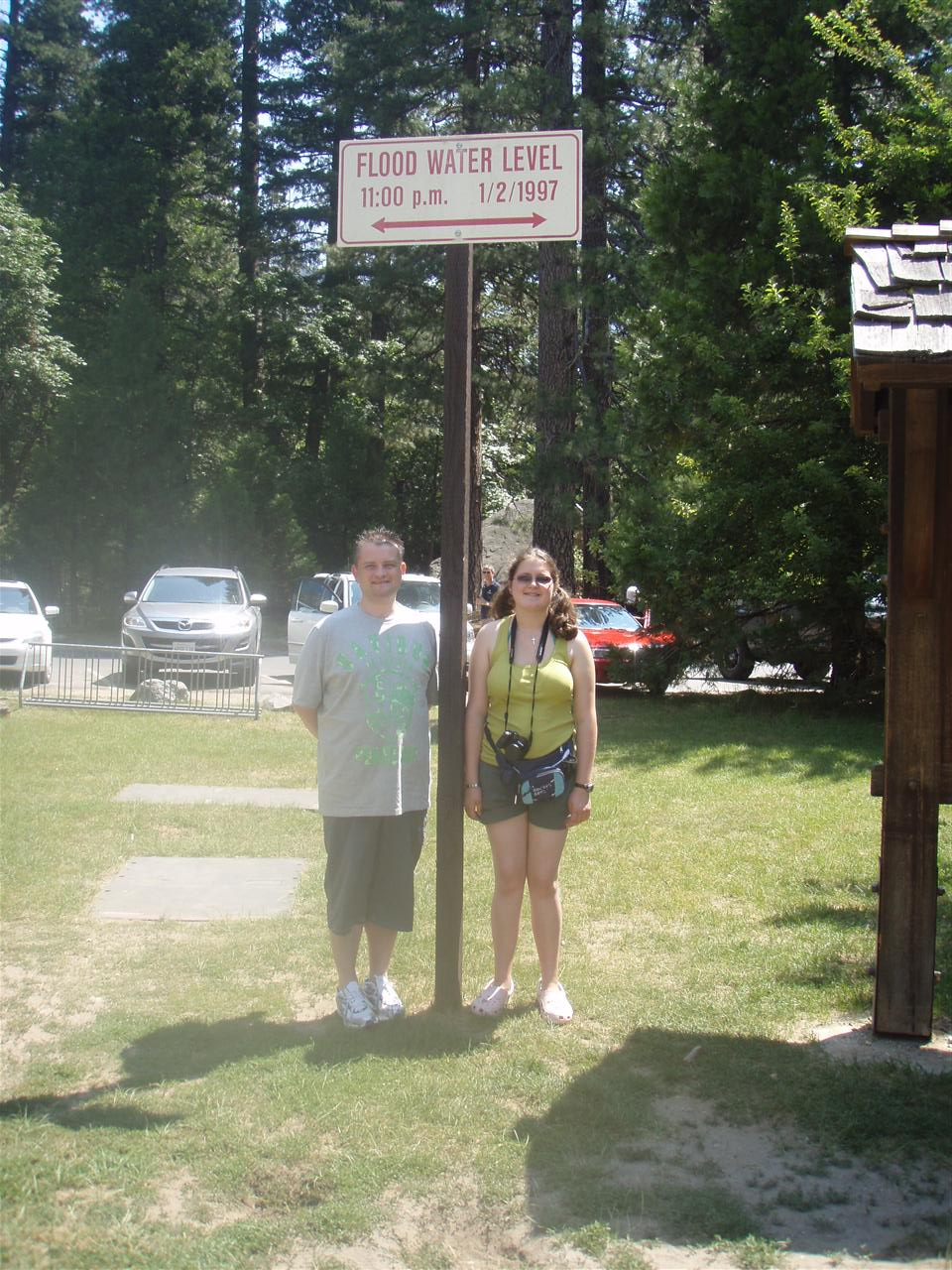 We stopped by the Chapel opposite for a quick pray. The sign tells of a high water level in the 90's.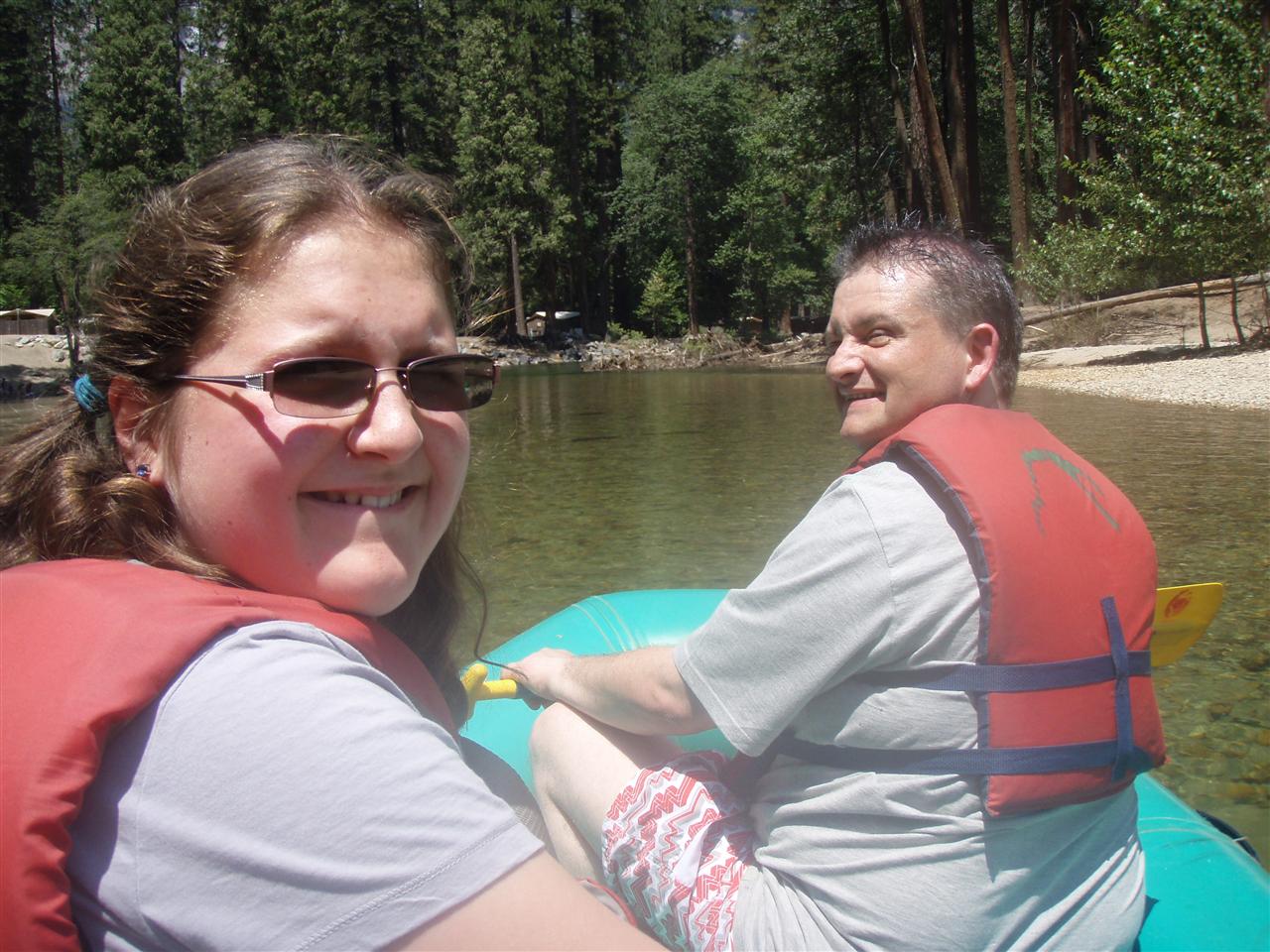 Ian & Min spotted some rafters on a quiet stretch if the Merced River & we tracked them down to a recreation area in Curry Village ( Sorry Ian Curry in name ONLY )

We Hired our raft , Ian & Min lugged it to the waters edge, My oars people navigated the river as I laid back & enjoyed the view..Occasionally whipping them if they slacked off !
Bearing in mind the river water was snow until very recently, of course you wouldn't expect anyone to take a voluntary dip..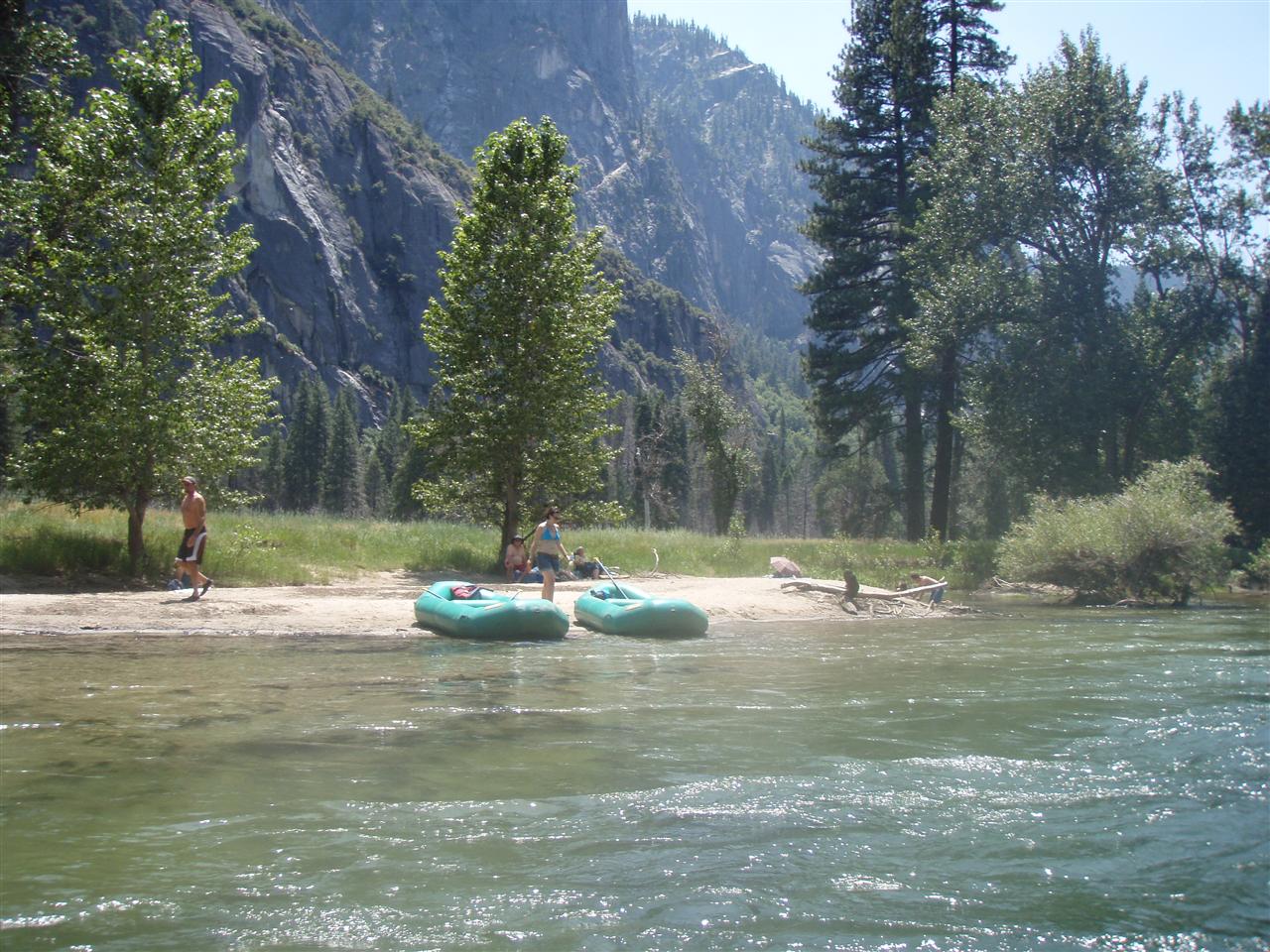 We passed under Superintendants bridge & got a view of our wedding site, we never expected to see : )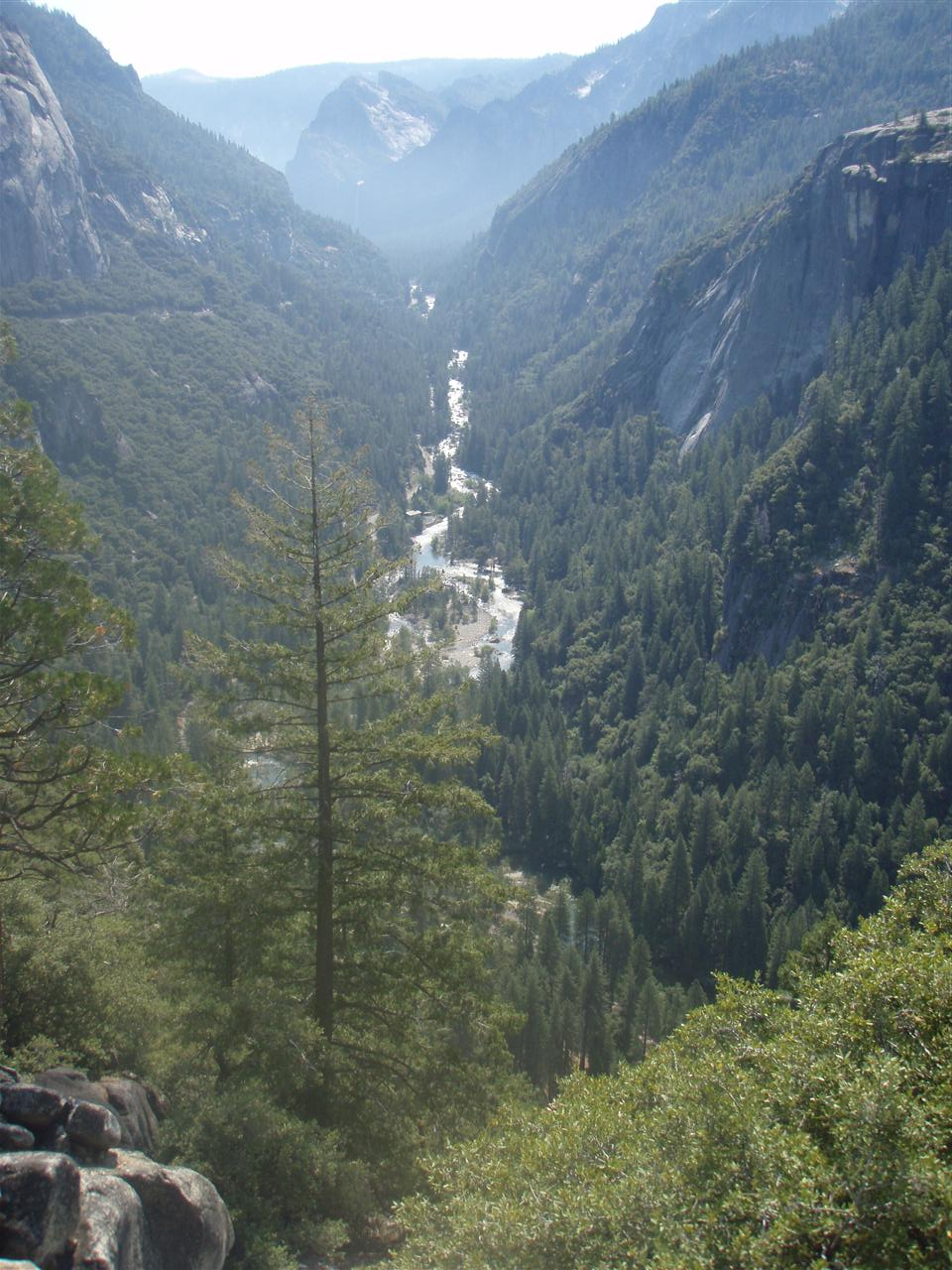 A bus ride back to the car, then on to a host of other viewpoints. Another Stunning view across the valley.
Our special fave " Lower Yosemite falls"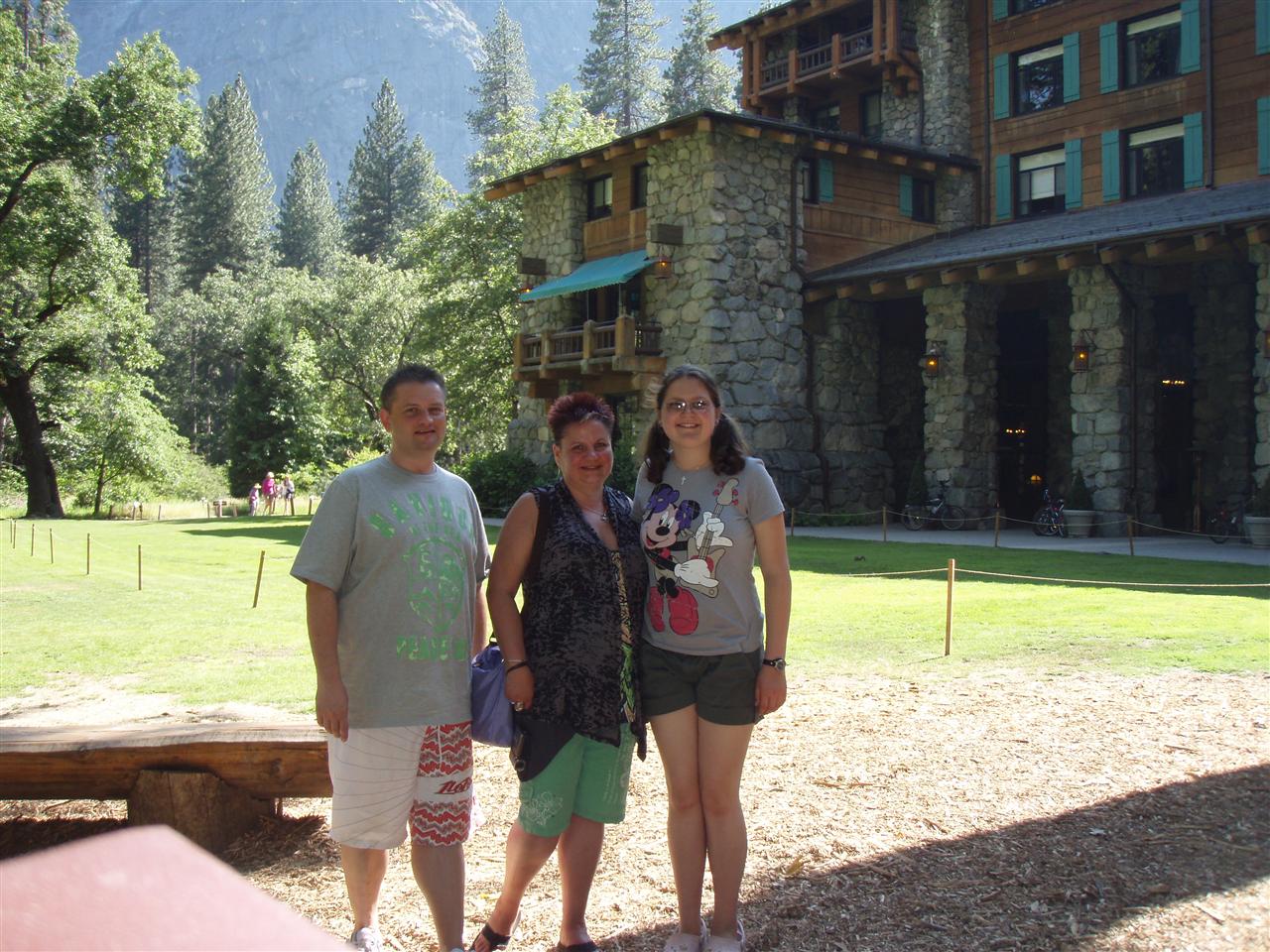 We stopped at the Ahawanee Hotel for a light lunch.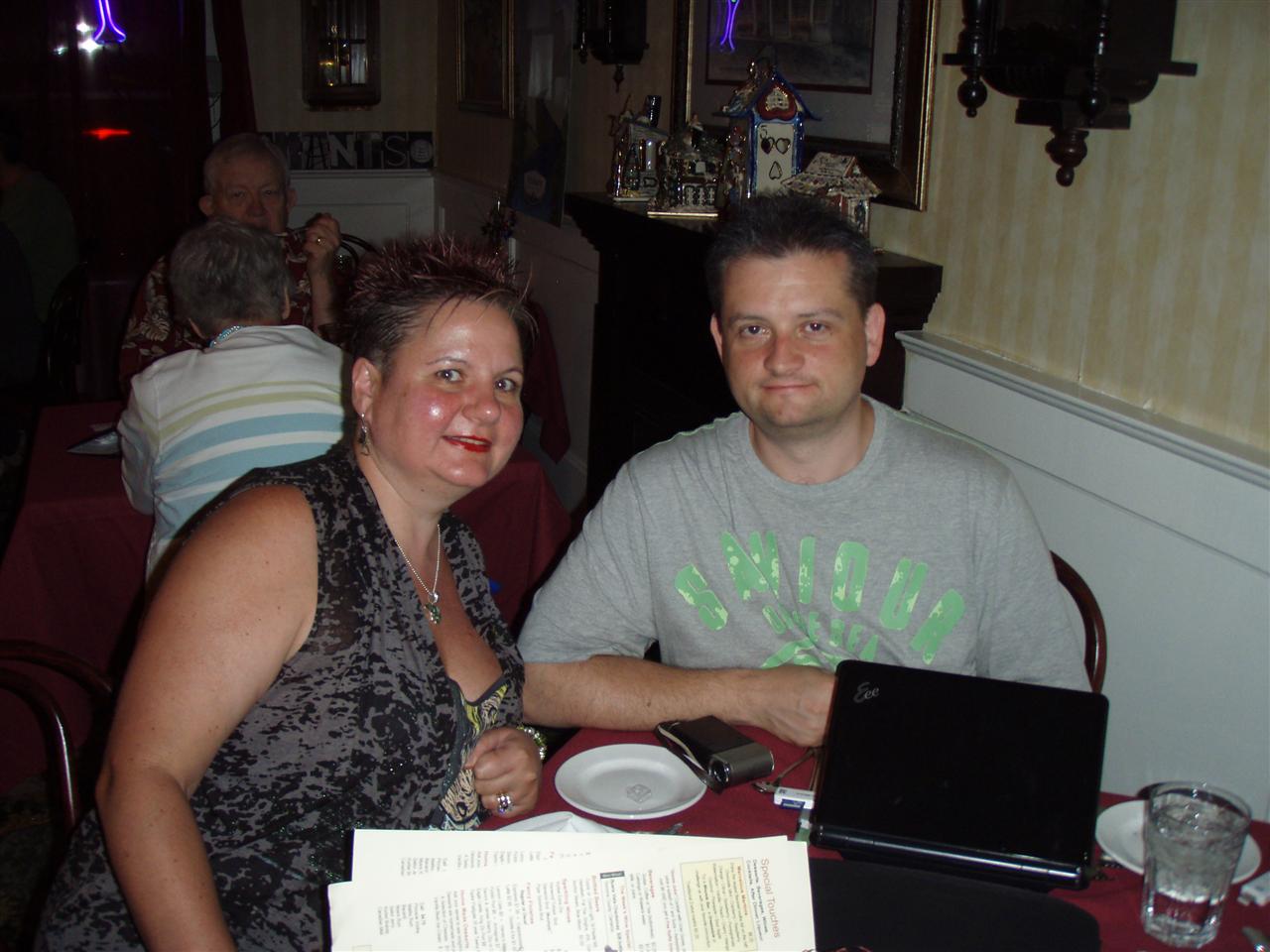 Back to base camp for a freshen up, then out another 20 miles to Groveland , a quaint old cowboy town with pretty cookie cutter trimmed houses & The wonderful Hotel Charlotte , for an anniversary meal..

Ian was stunned by his Thai Red Curry , min plumped for pasta I had fish & too many Margaritas ( well wadda ya expect ? )

The lovely lady gave us a complimentary desert in honour of our big day.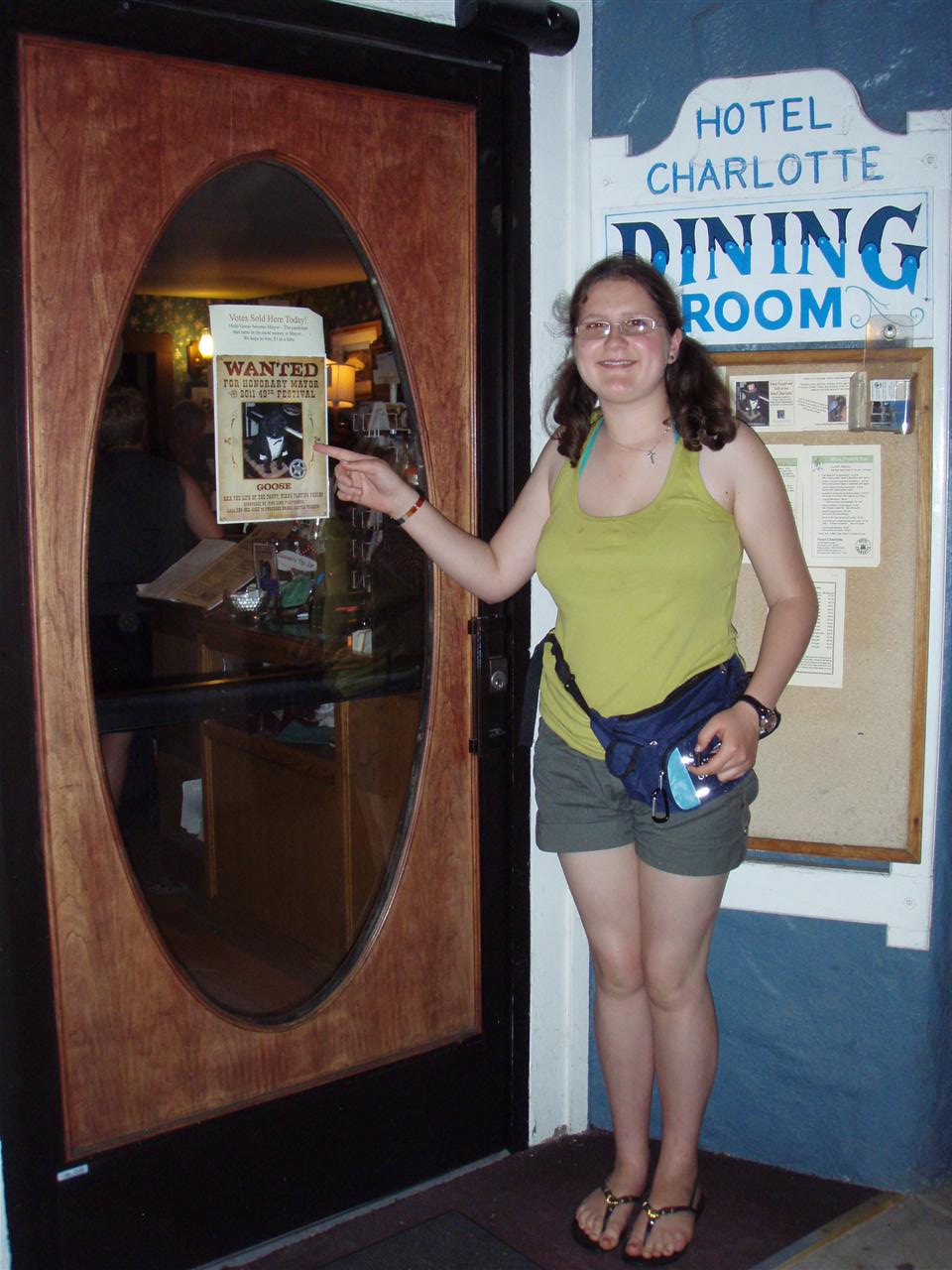 Seems there is a dog called " Goose " Running for town mayor of Groveland and for a dollar you can vote for him.. well good luck woofy pal !

Back home for a well earned kip for my slaves.

Goodnight Marmite & all xxxxx