* USA 2011 *

Show all days on one page (a long download!)
Day 1 :The Longest Day (Tuesday 26th July 2011 )
Day 2 :Yosemite..We've been away too long. (Wednesday 27th July 2011 )
Day 3 :Ian & Debbi...2 years today Congratulations! (Thursday 28th July 2011 )
Day 4 :Ian & Min take to the river..SEE NEW UPDATES (Friday 29th July 2011 )
Day 5 :Sunset Inn to Mammoth Lakes.. (Saturday 30th July 2011 )
Day 6 :Death by vegas (Sunday 31st July 2011 )
Day 7 :Bellagio Babes (Monday 1st August 2011 )
Day 8 :Leaving Las Vegas (Tuesday 2nd August 2011 )
Day 9 :Fiery furnace with a delicate arch. (Wednesday 3rd August 2011 )
Day 10 :Petrified to leave Moab! (Thursday 4th August 2011 )
Day 11 :Its your Tombstone.. (Friday 5th August 2011 )
Day 12 :Helllooooo down there.... (Saturday 6th August 2011 )
Day 13 :Tucson pictures present...Return of the Cactus (Sunday 7th August 2011 )
Day 14 :Route 66 From Sedona & a slippery rock! (Monday 8th August 2011 )
Day 15 :Highway to Hell..( For our bottoms ) (Tuesday 9th August 2011 )

We visited the Supai version of Morrisons..A small shack selling vastly overpriced essentials.

Stocked up on water and a basic DIY lunch, we set off.
The walk was dry & hard going, much of it deep with sand.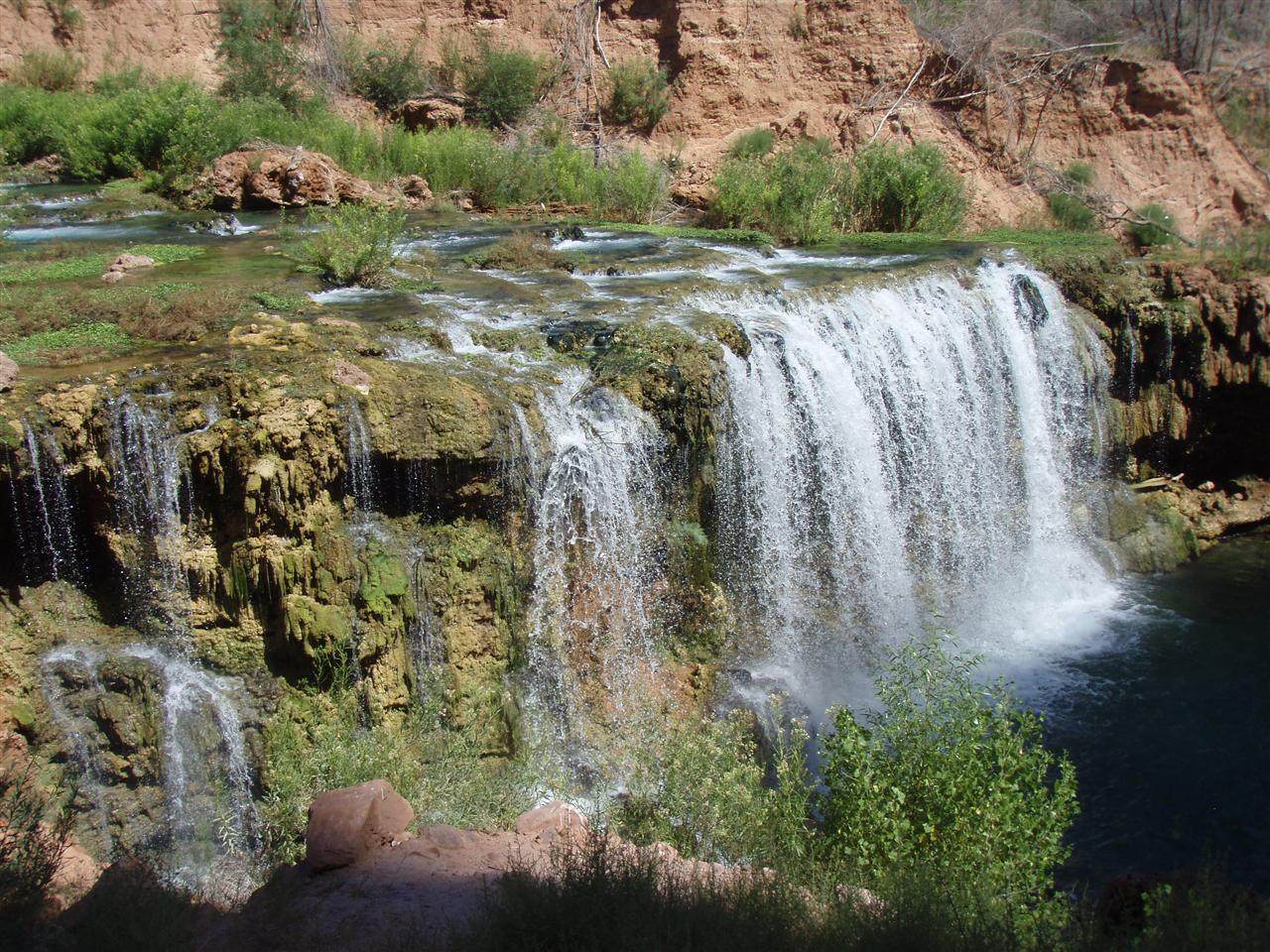 The heat began to take its toll & before "Navajo falls " we had to make a water stop.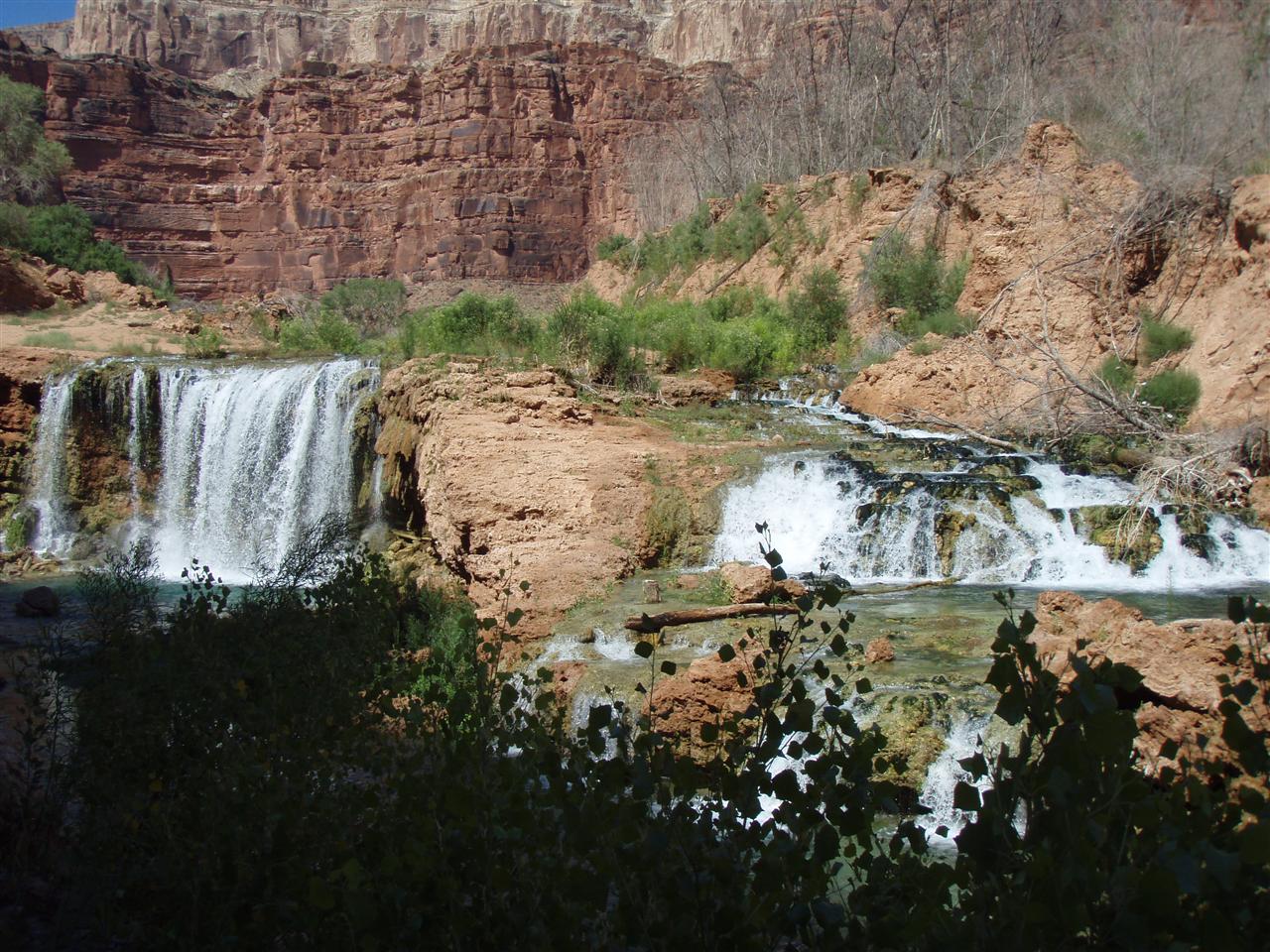 We walked to the edge of the river & admired this view , the smallest of the 3 sets of falls.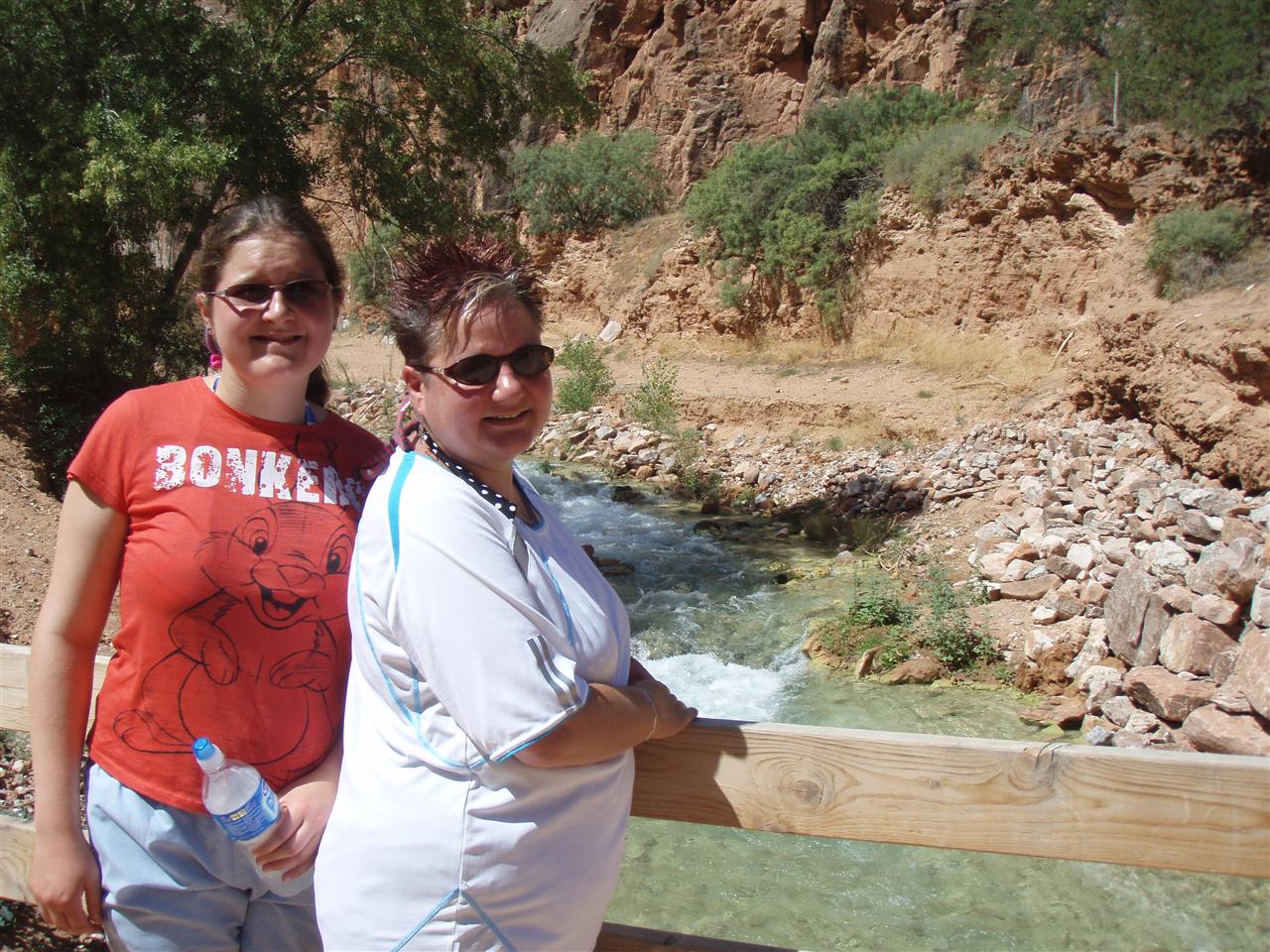 We met a puffed out young hiker , on his way back from the falls & got final directions...A quarter mile steeply downhill would bring us to our goal.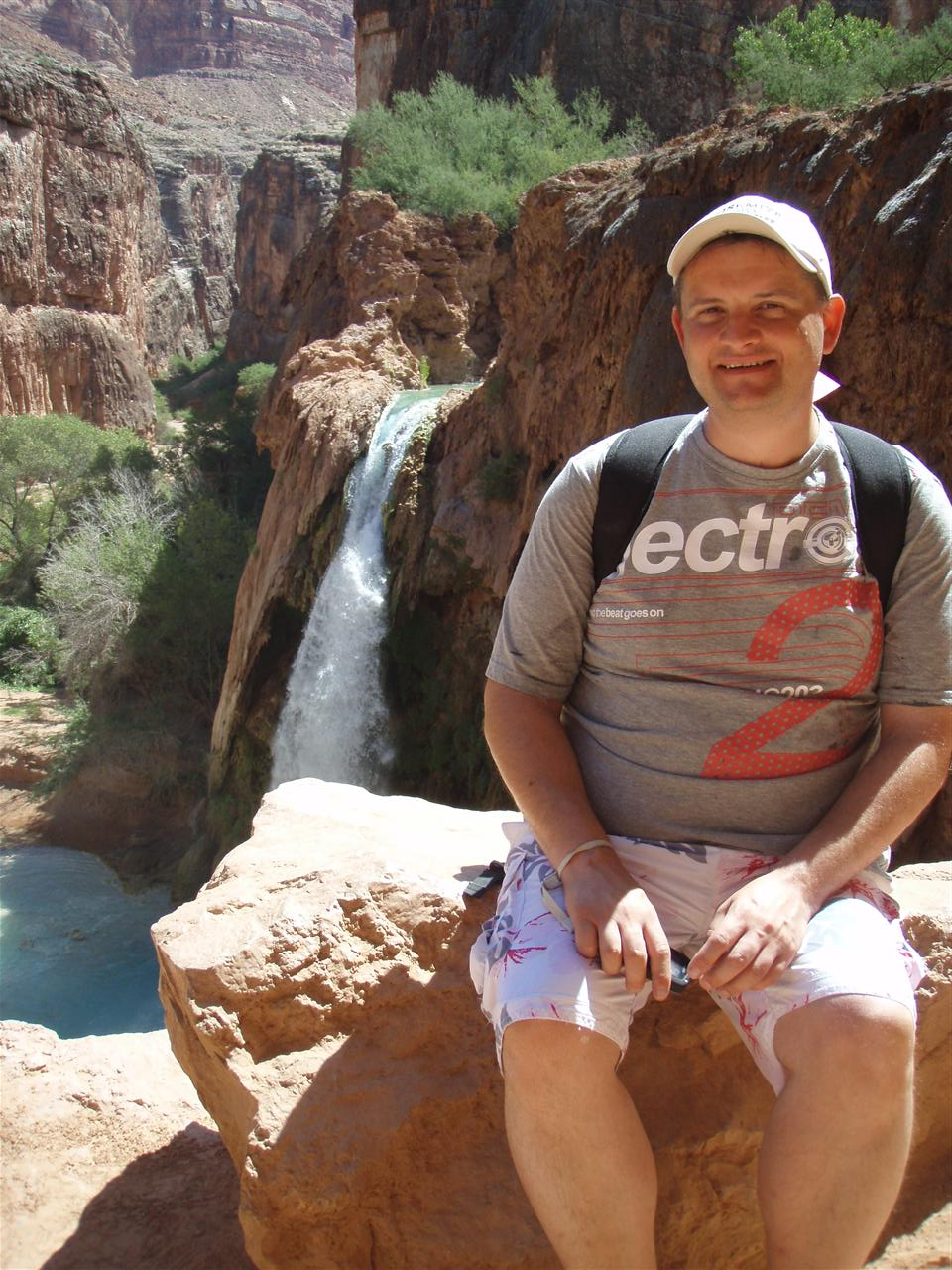 Ian takes a well earned break, as we arrive at the breathtaking falls.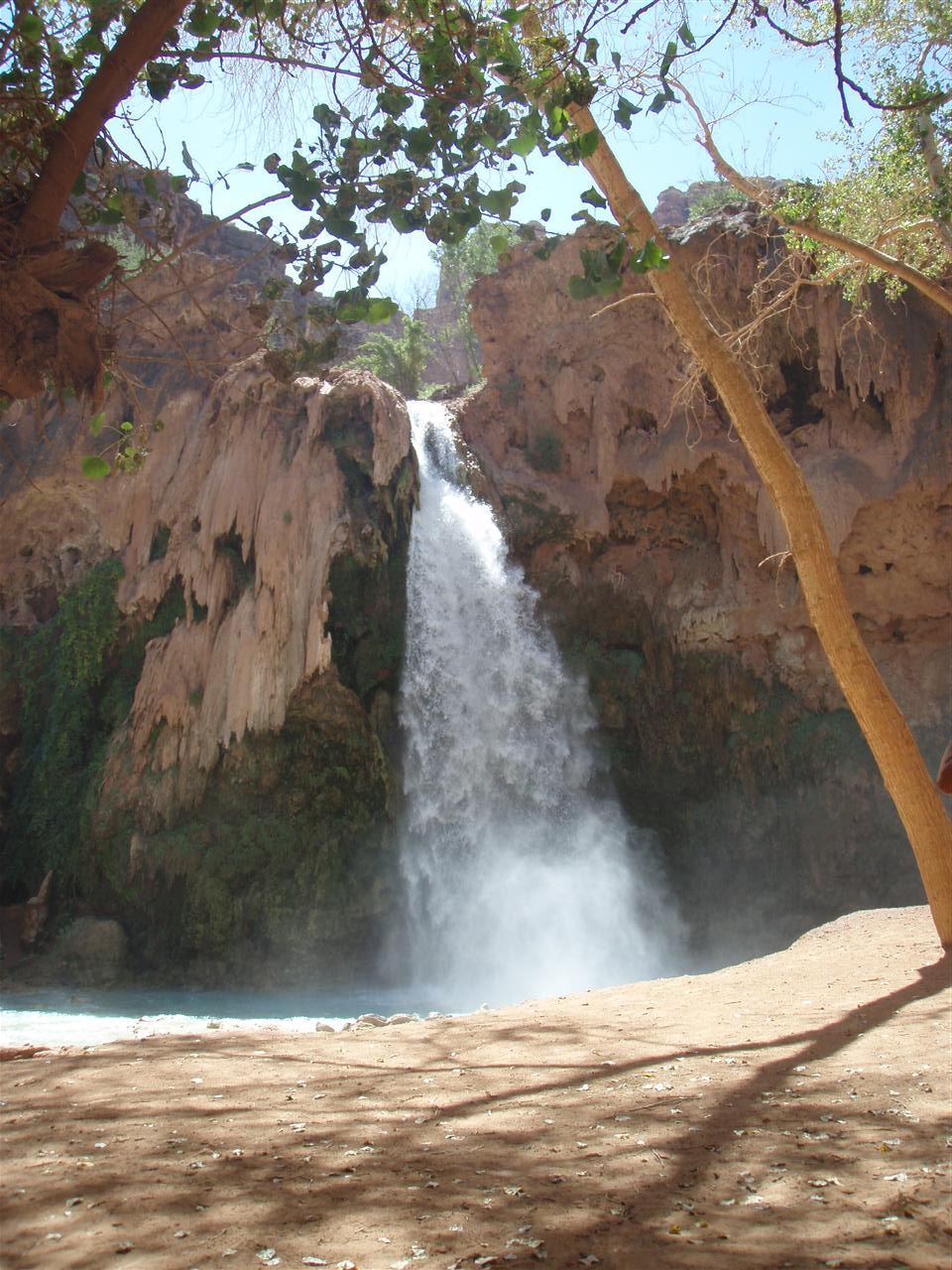 We take up residence at some picnic benches and admire the turquoise waters, sparkling before us.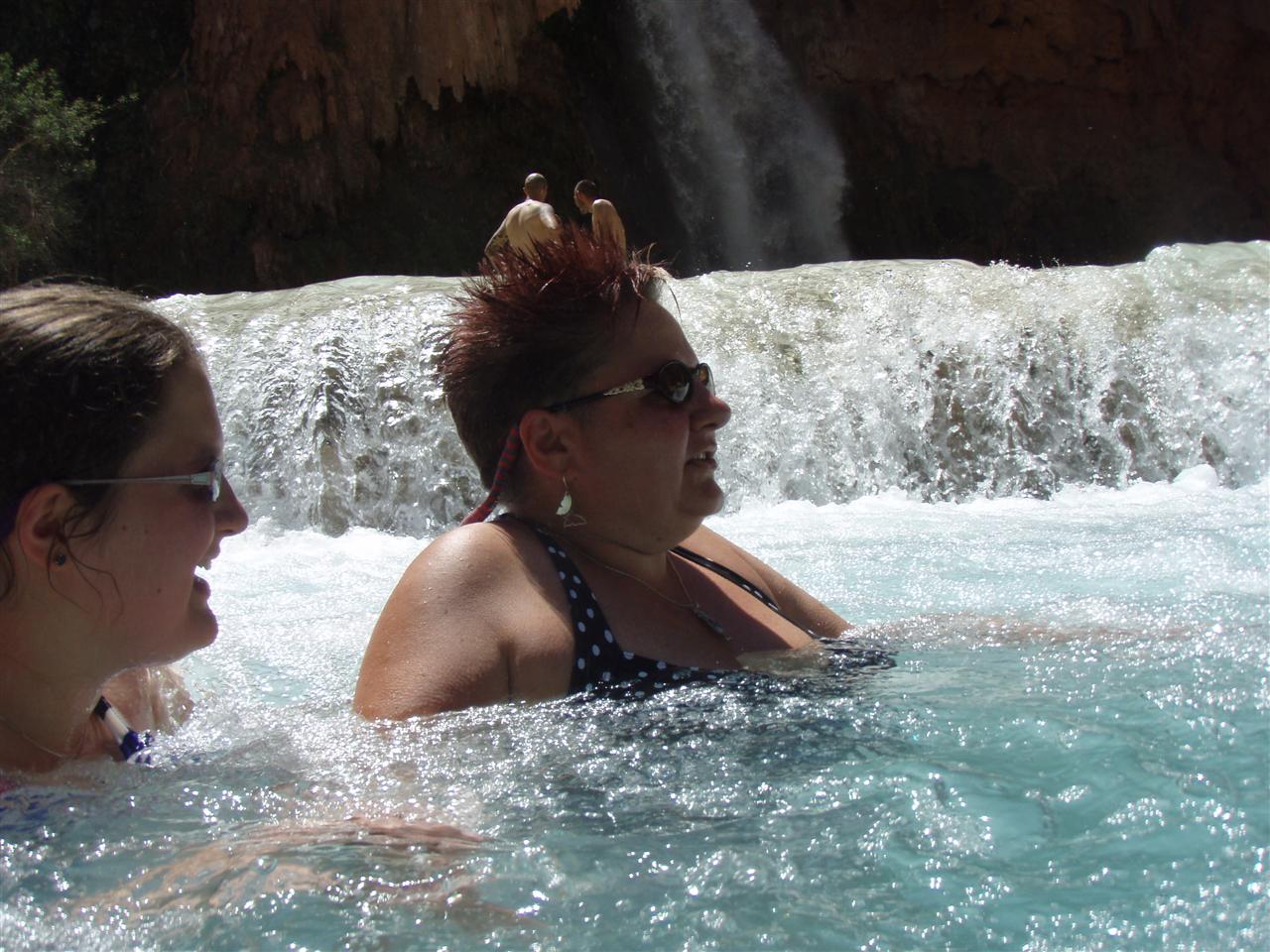 The temperature of the water takes your breath away at a mere 40 degrees.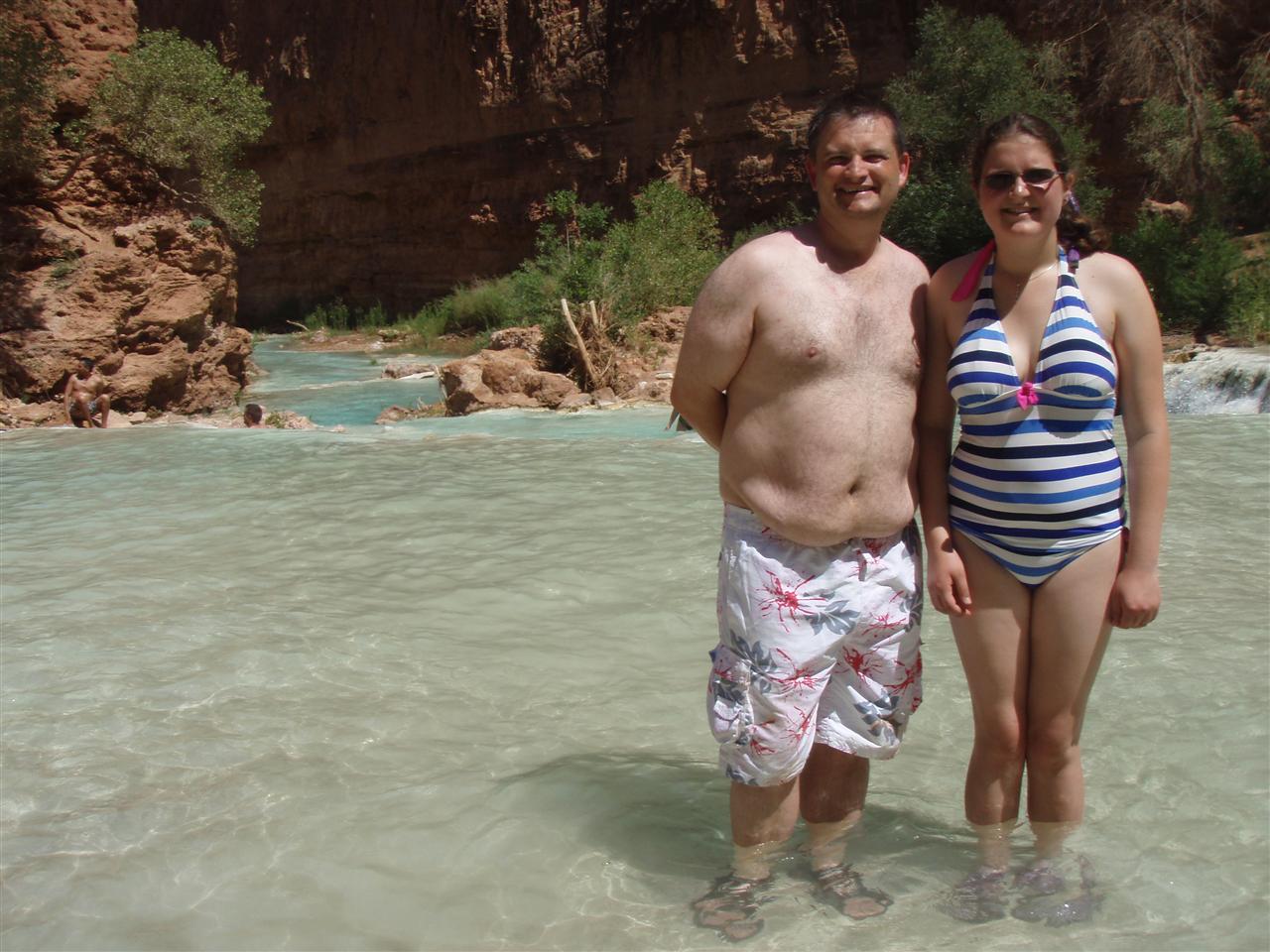 The falls seperate into 3 distinct layers. The turbulant upper falls area with swift currents guiding you towards the first step.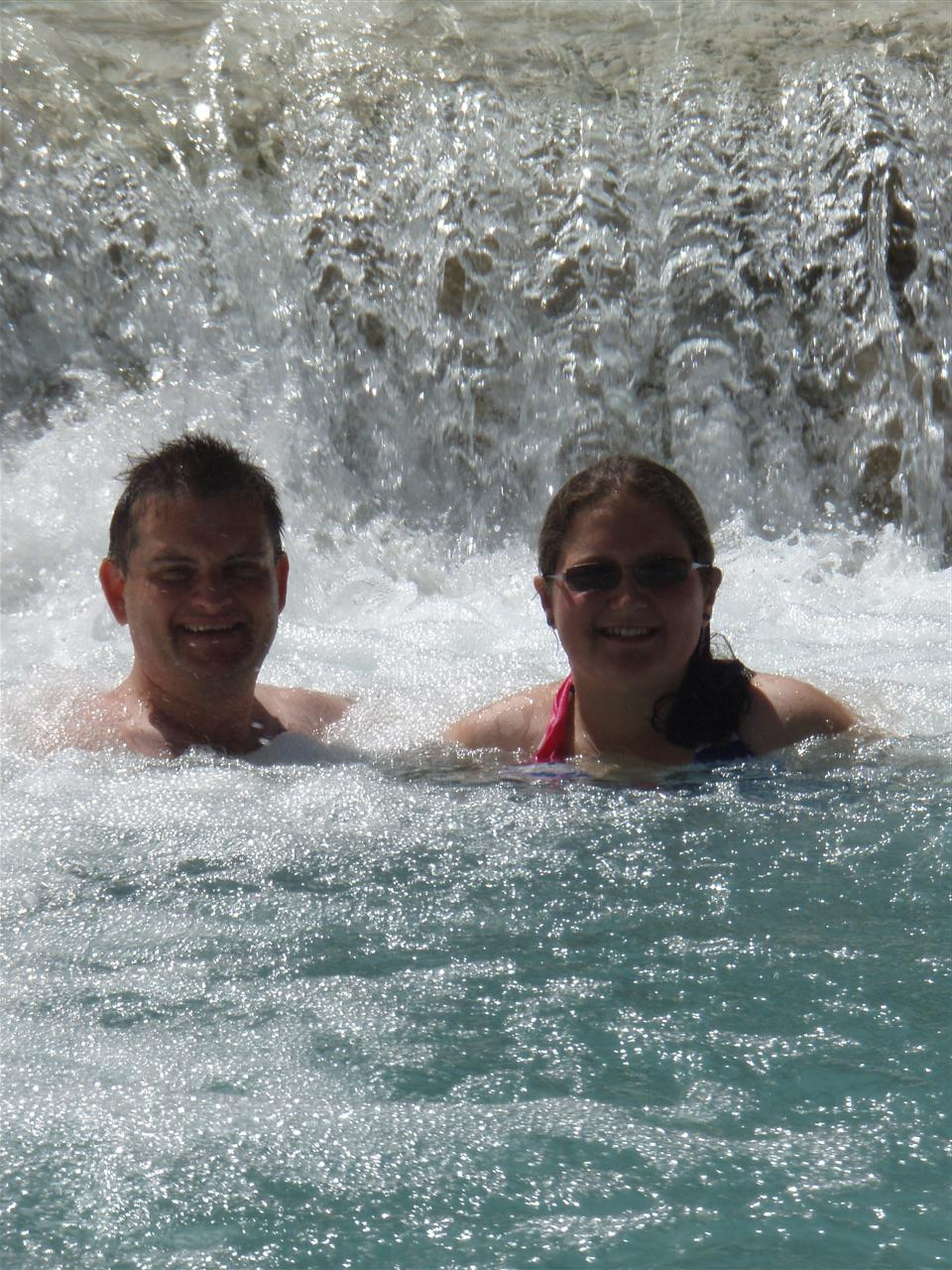 At the base of the first step , Min & Ian enjoy a water " Shoulder massage ".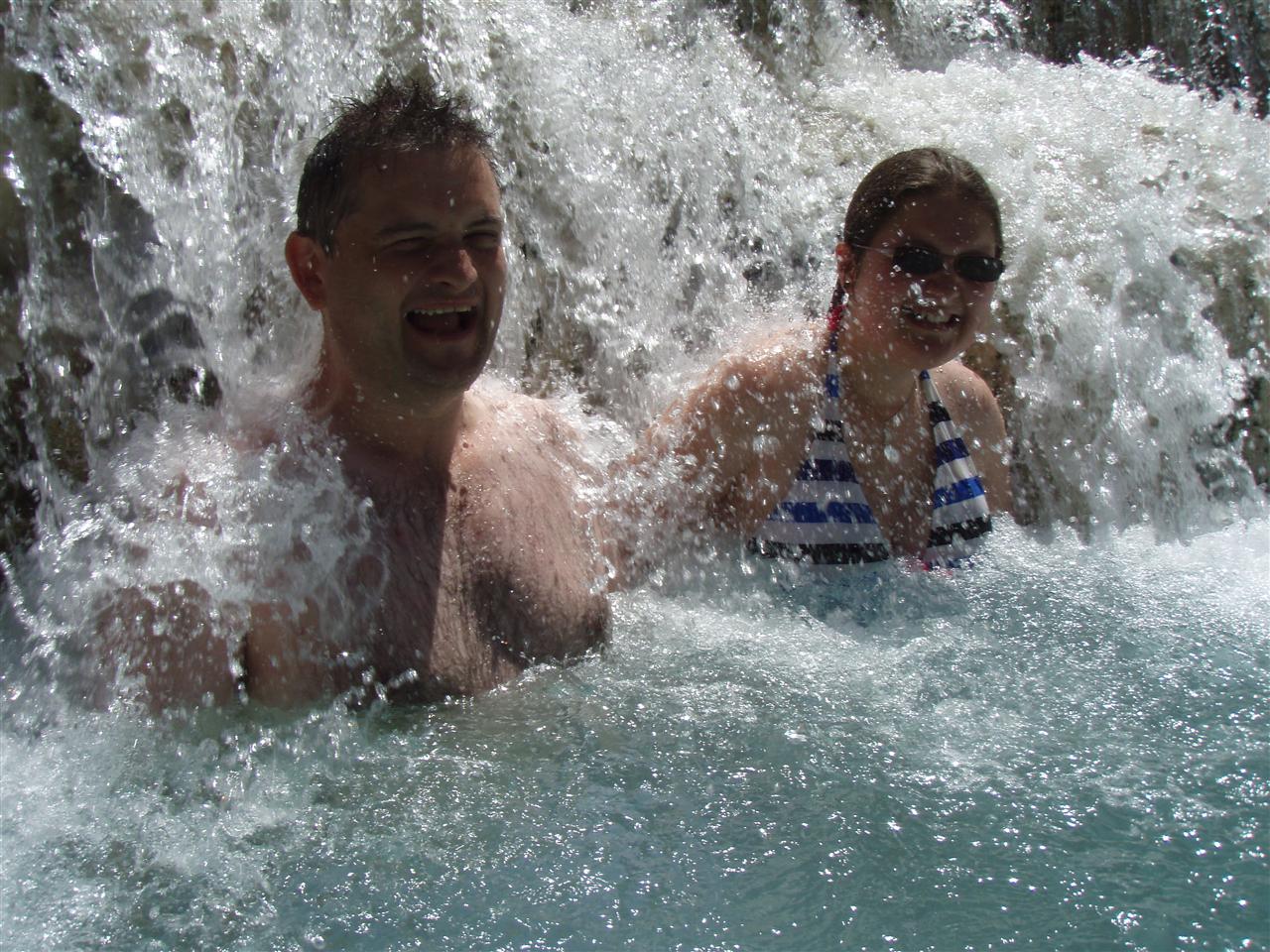 The green tinge to the water , comes from the high levels of lime found in it.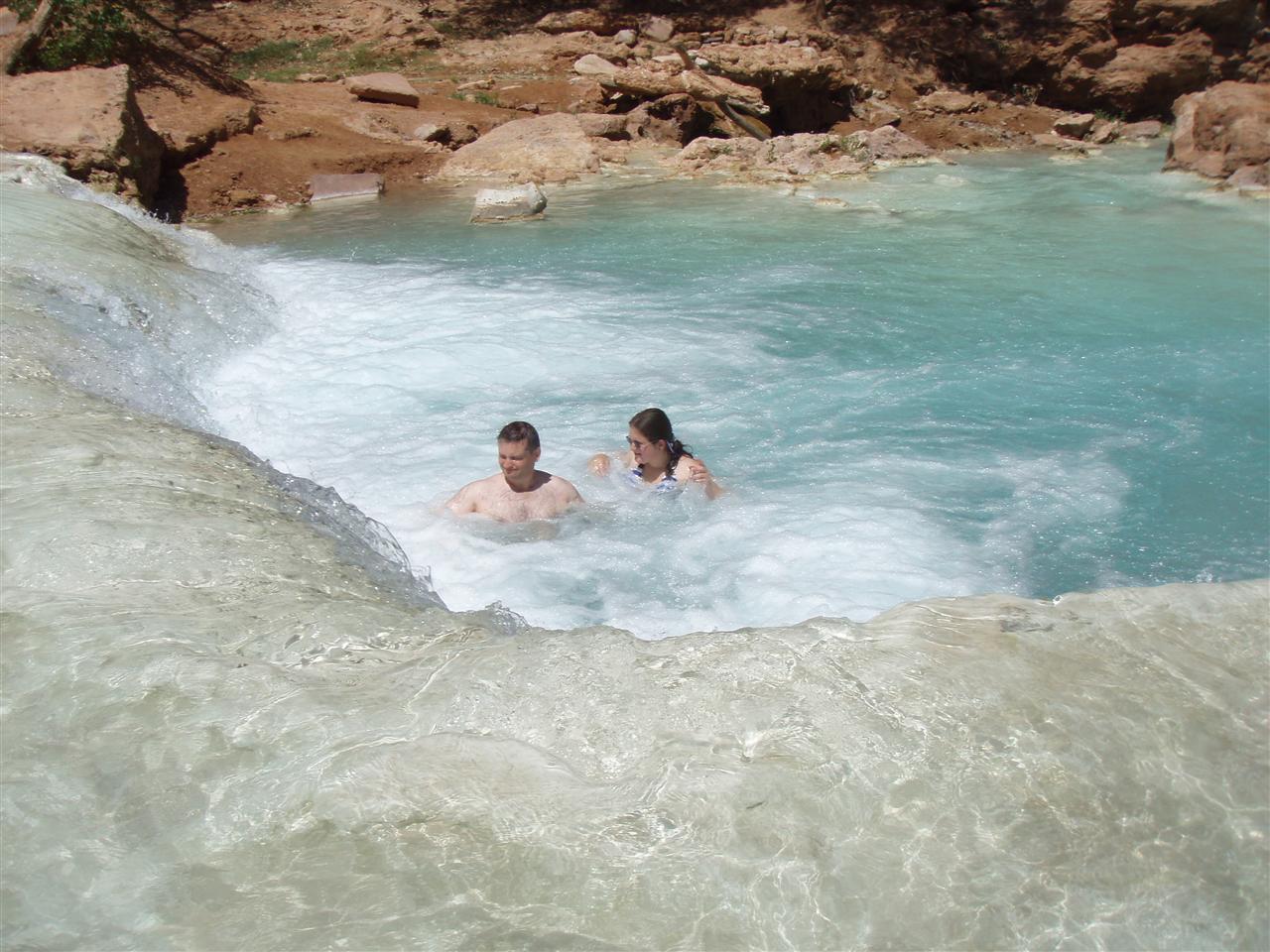 A third level at the lower end of the falls seemed the most trecherous..Swirling undercurrents, threatening to drag the unwary into a vortex of snowy bubbles.

All too soon its time to make the dreaded journey back up the steep paths.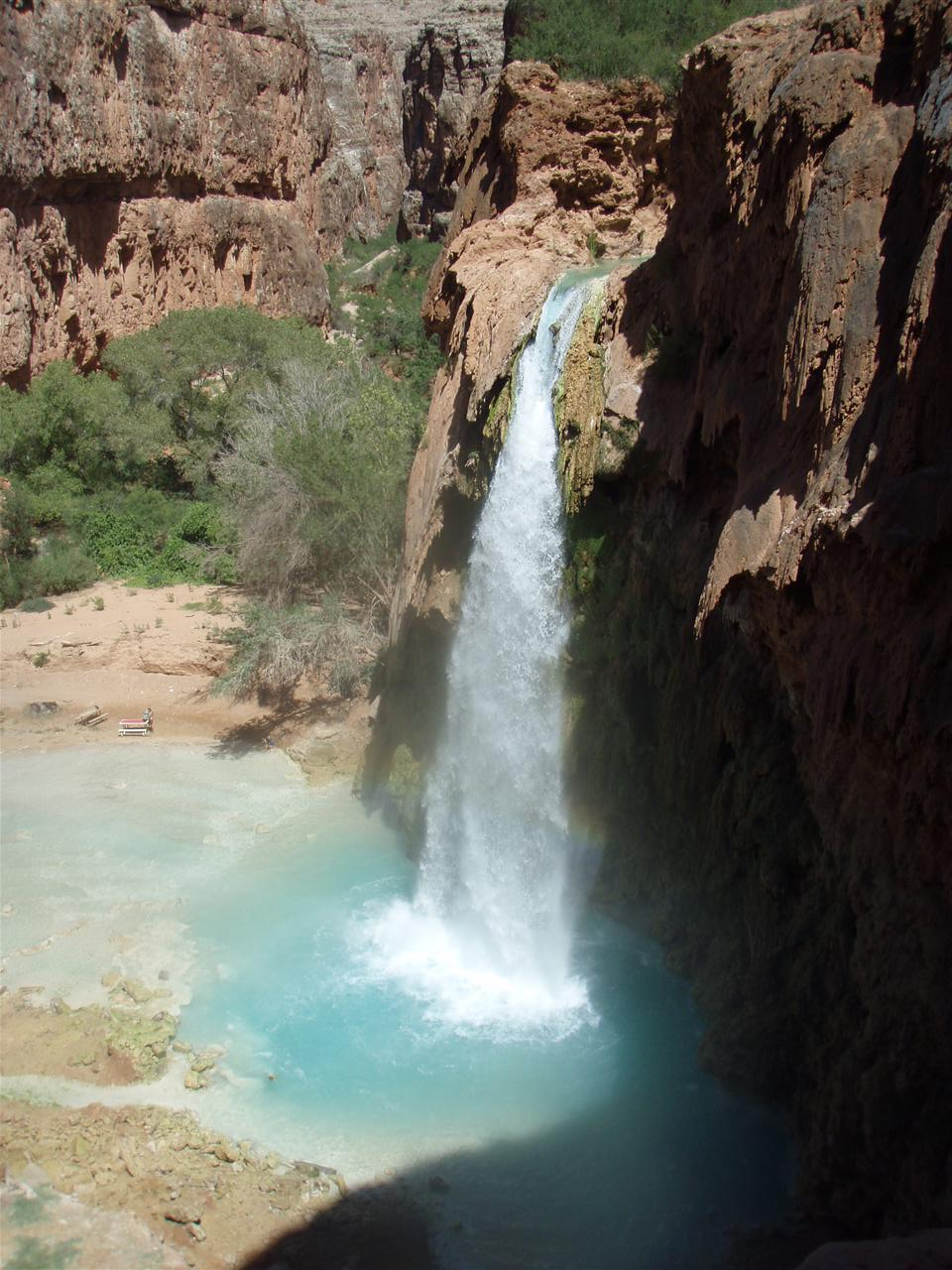 As we leave the falls , we can see a rainbow at the base.

The climb out was indeed harrowing, exhausted and soaked in sandy sweat , we battle towards the Luxurious No 16 ..Min kindly relieved Ian of his rucksack for the final stretch, much to his relief.

We are greeted by our glamerous receptionist , today sporting a voluminous Bob Marley tee shirt, his features picked out in leaves...." Dirty boots to be washed in outside faucet".

Showered & looking a lot less like sweaty beetroot, We headed over to the Ritz Cafe ( Supai style ) & banquetted on some sad looking burgers ( which the kind transvestite man/lady kindly took away & microwaved , Lettuce , bun & all after they arrived cold ) YUMMM

Well off to our suite, what will it be tonight ? To the Casino with the Henley - Smyths or out to the Opera??

Will probably settle for a game of cards on the balcony & an episode of Fawlty towers on the I Pad.

Well time to sign off , Sleep well pets & persons alike xxx