* USA 2011 *

Show all days on one page (a long download!)
Day 1 :The Longest Day (Tuesday 26th July 2011 )
Day 2 :Yosemite..We've been away too long. (Wednesday 27th July 2011 )
Day 3 :Ian & Debbi...2 years today Congratulations! (Thursday 28th July 2011 )
Day 4 :Ian & Min take to the river..SEE NEW UPDATES (Friday 29th July 2011 )
Day 5 :Sunset Inn to Mammoth Lakes.. (Saturday 30th July 2011 )
Day 6 :Death by vegas (Sunday 31st July 2011 )
Day 7 :Bellagio Babes (Monday 1st August 2011 )
Day 8 :Leaving Las Vegas (Tuesday 2nd August 2011 )
Day 9 :Fiery furnace with a delicate arch. (Wednesday 3rd August 2011 )
Day 10 :Petrified to leave Moab! (Thursday 4th August 2011 )
Day 11 :Its your Tombstone.. (Friday 5th August 2011 )
Day 12 :Helllooooo down there.... (Saturday 6th August 2011 )
Day 13 :Tucson pictures present...Return of the Cactus (Sunday 7th August 2011 )
Day 14 :Route 66 From Sedona & a slippery rock! (Monday 8th August 2011 )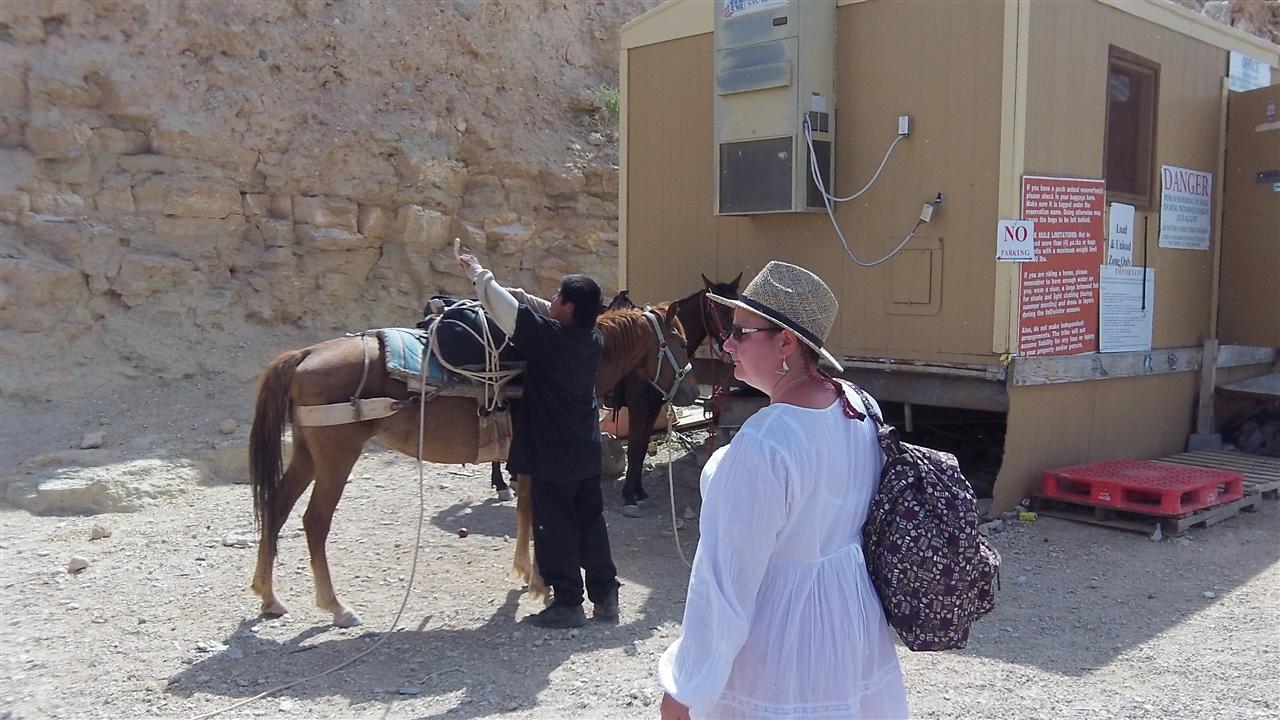 The legend of the 6am breakfast at our Canyon Lodge Motel , as promised by Mein Host ,didn't appear..So we headed off in search of long socks..

Due to an oversight by the packing committee, seems we all needed long trousers for the horse ride, Oops! Socks duly purchased We headed off for a 2 hour drive to The Supai Parking lot at the end of a very long, very bleak secondary road.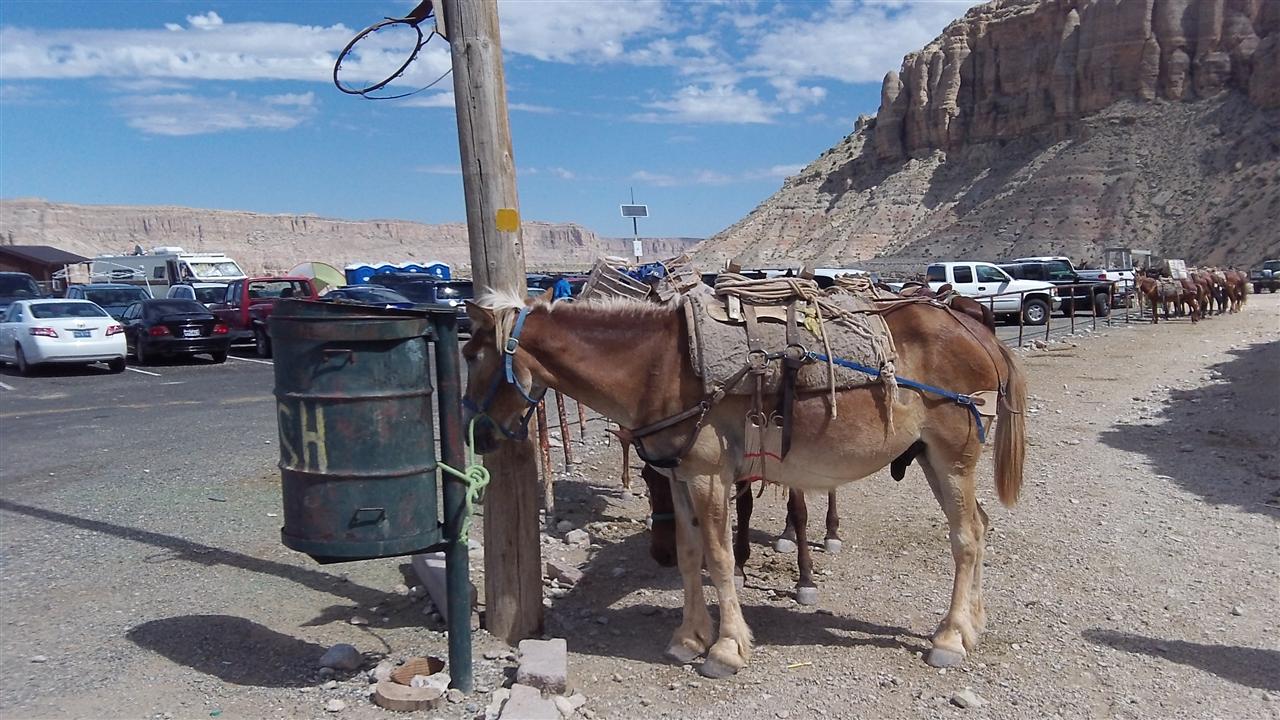 After waiting an hour or so Mule trains & finally some saddled horses came into view.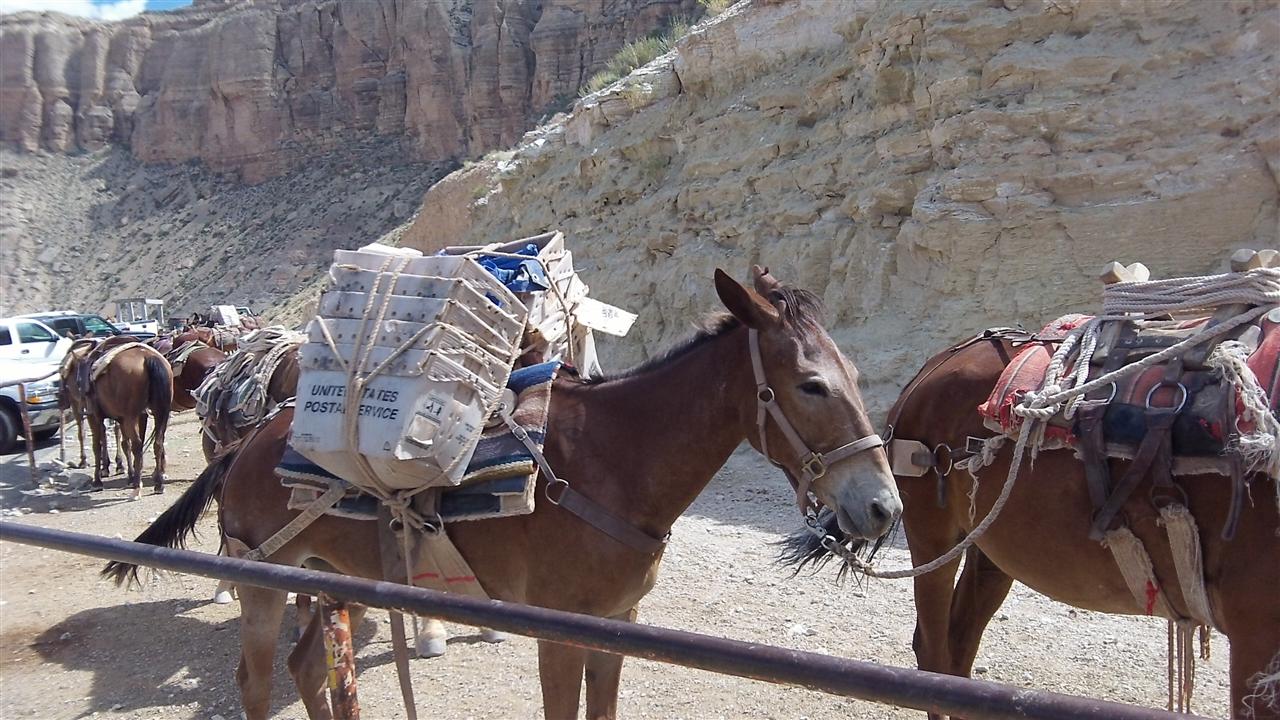 We had to wait a few minutes for our guide to pick up some horse feed on his pack mule, before saddling up and beginning our adventure... Min says " A man, who had been spouting about the bible had to come & help push mummy up onto her saddle, before she pulled the horse over . It was quite funny. Glad she didn't fall & squash him !"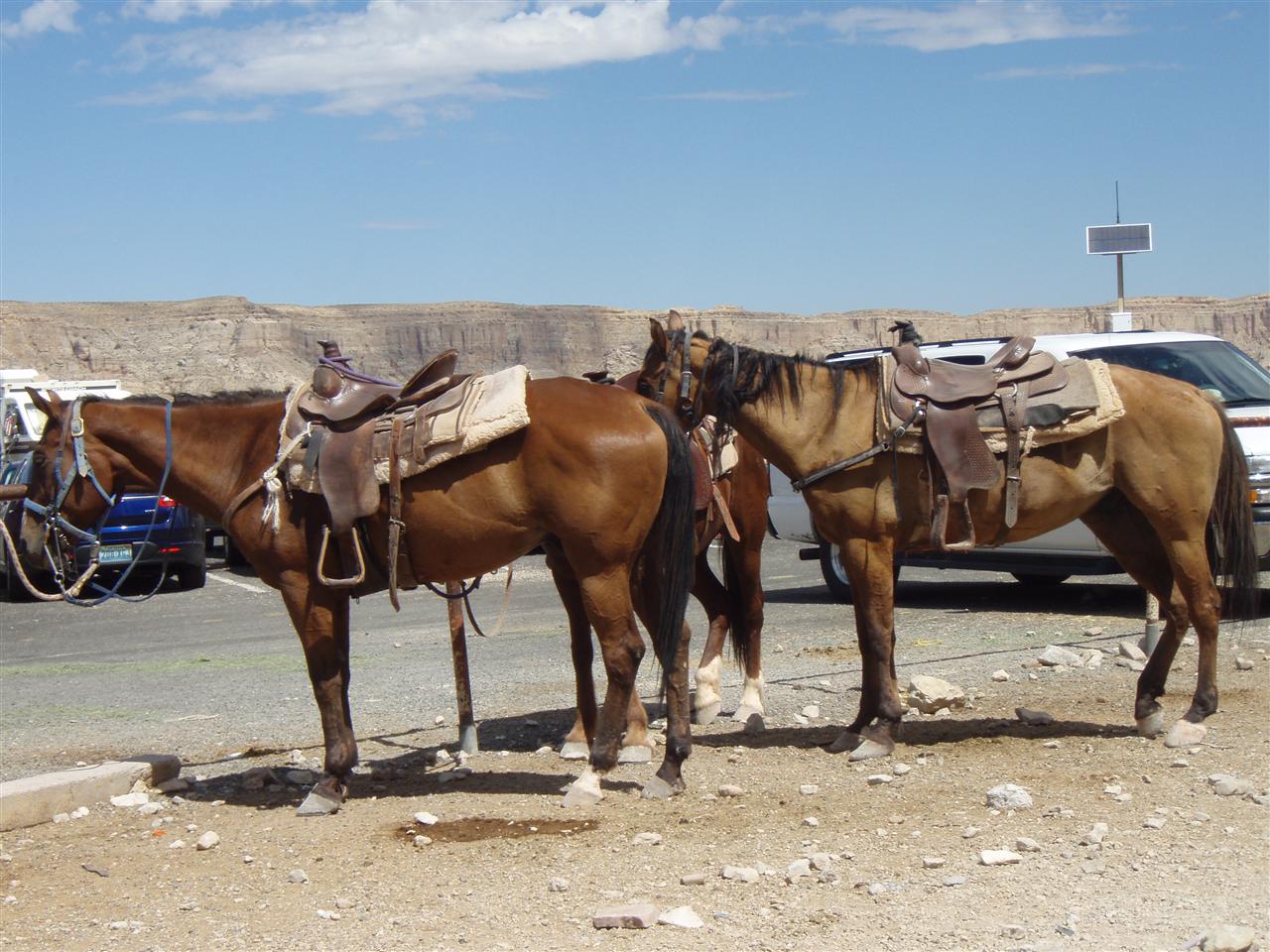 Our chatty guide ( not ) who appeared to be about 12 years old, didn't know what his own dogs name was, so getting any sense out of him as to the names of our mounts, seemed a fruitless persuit.

Min called hers Alex, mine seemed to respond ok to "boy" Ian called his a variety of names depending on how much it was misbehaving.

It all nearly came to a sad end before we really got underway, as the guide offered no advise to steering other than... " Turn it ! " and as to making it start .."Kick it "..It really was all quite sureal as at this point we were facing down a narrow and very steep cliffside path..The horses had entirely their own agenda as to speed.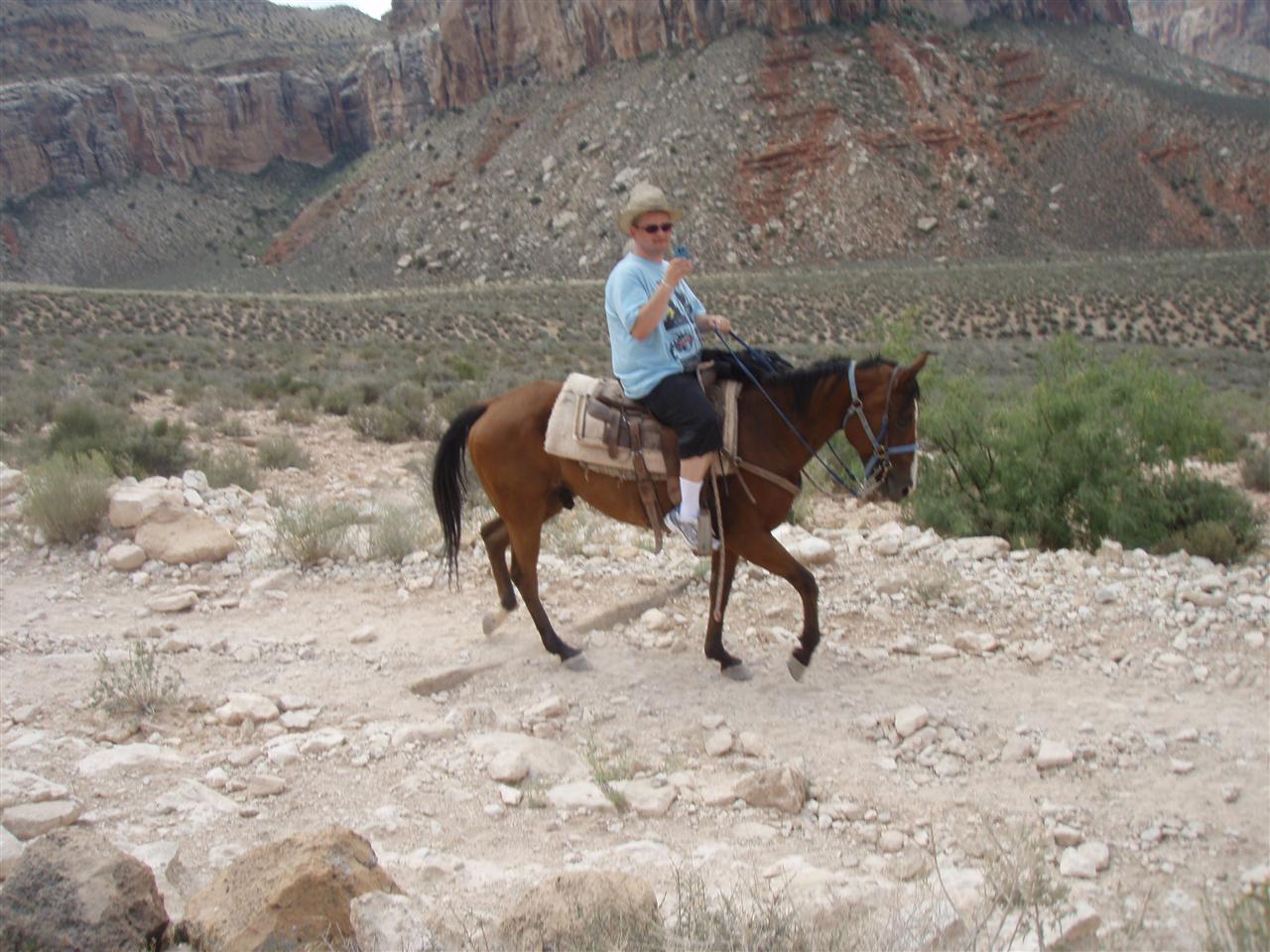 These fuzzy shots were the best we could muster whilst hanging on for dear life..Please say Hi to my companion..Ian The Gay Cowboy..Performing a bit part in " Brokeback Mountain " !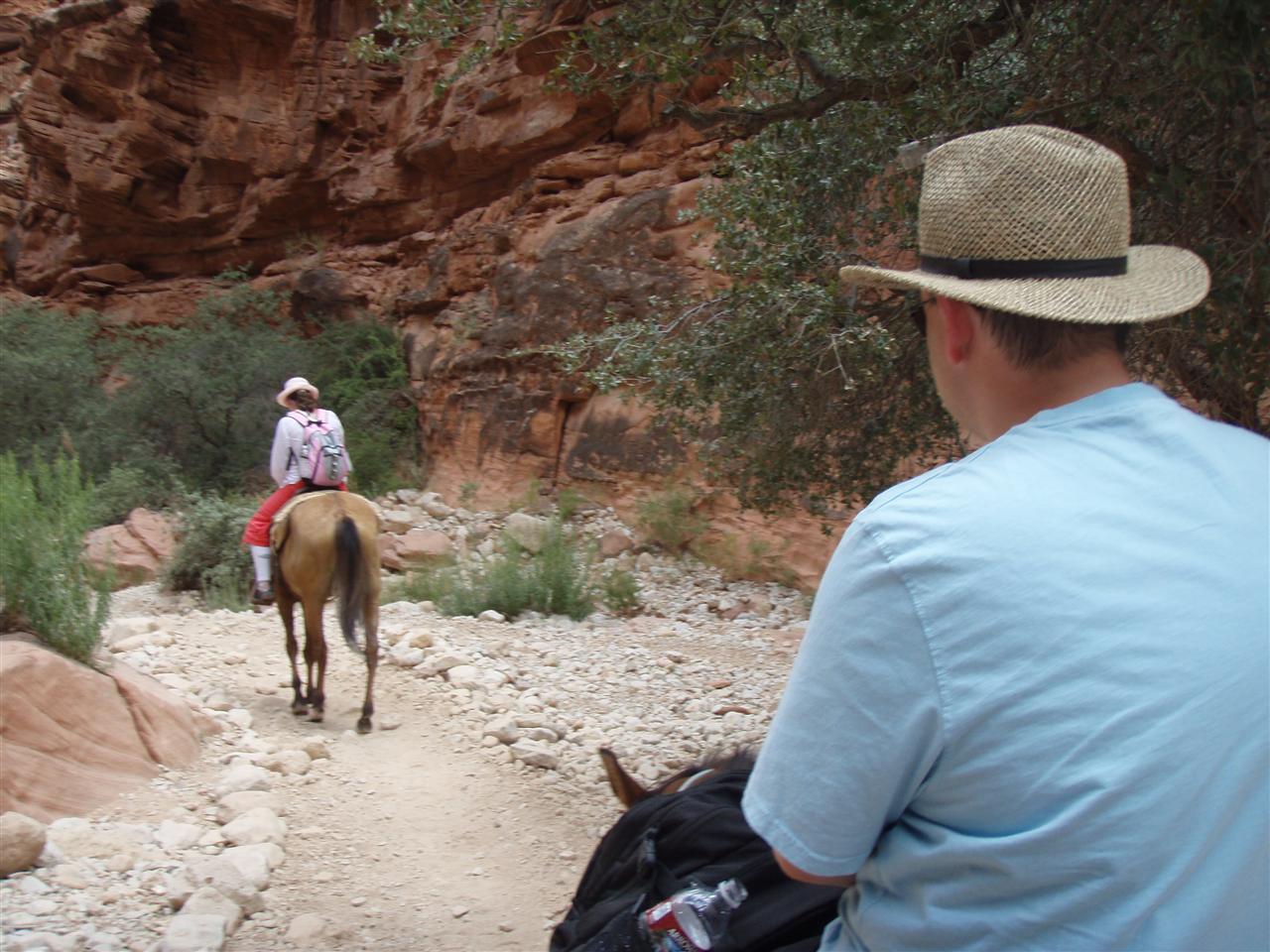 Our horses hadn't read the memo about playing nicely & constantly jockeyed for pole position.. Except Ians which seemed mostly happy bringing up the rear !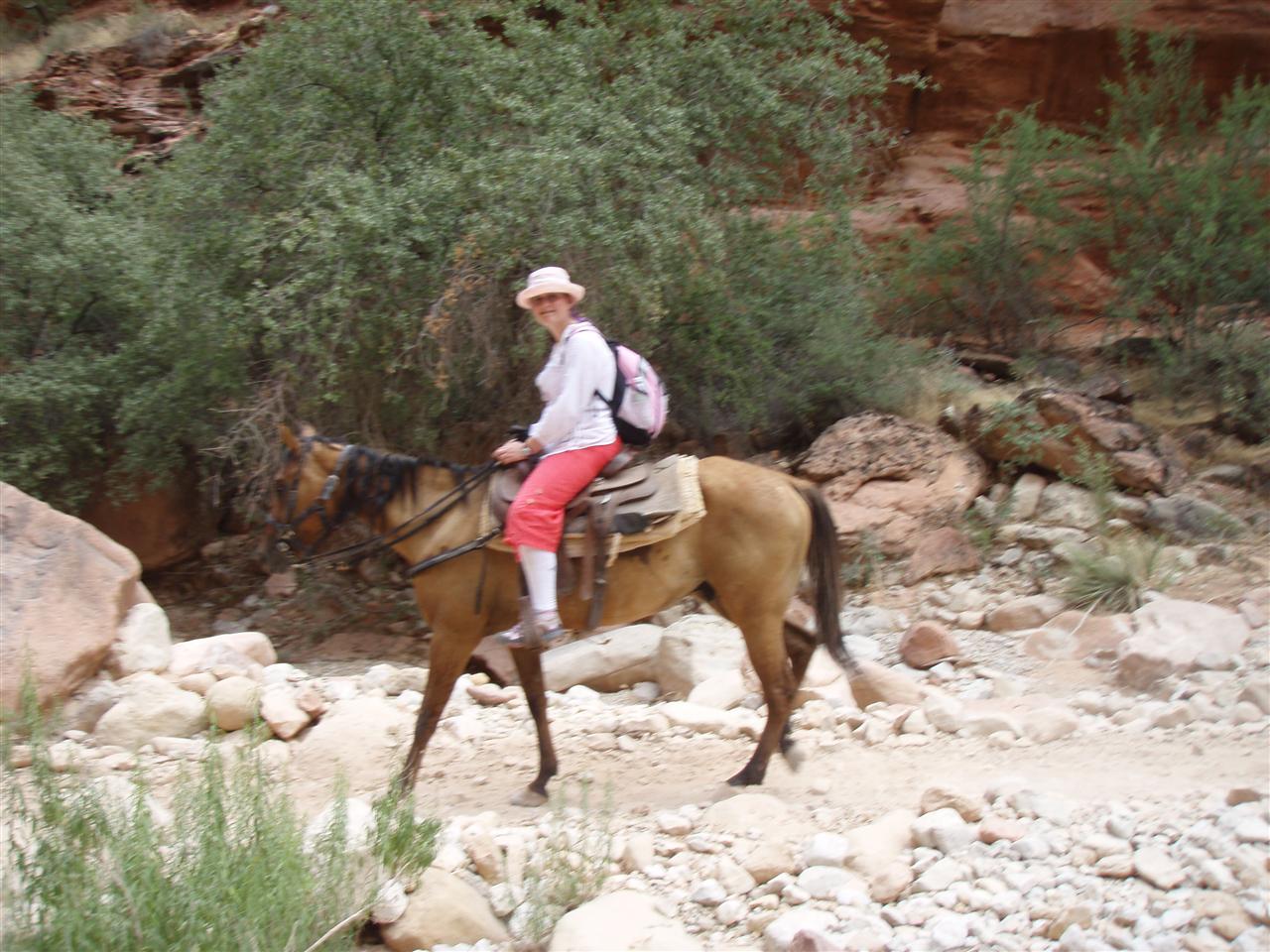 Miss Hollie " Calamity Jane " Marriott -Veck..Once the terror subsided, she was a real pro!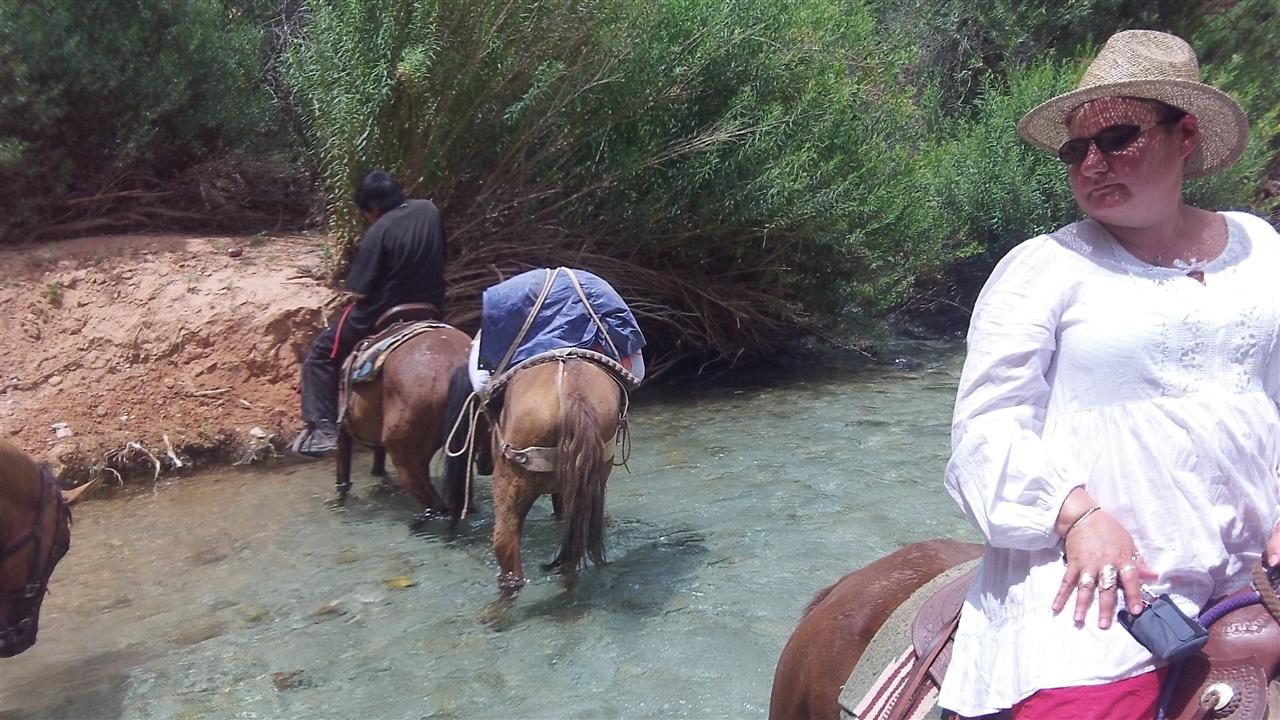 We suspected our painful 3.5 hour journey was nearing its end ,as the horses began a full steam ahead gallop , skidding to a holt at the river. 1 mile later we spied the very basic Havasupai village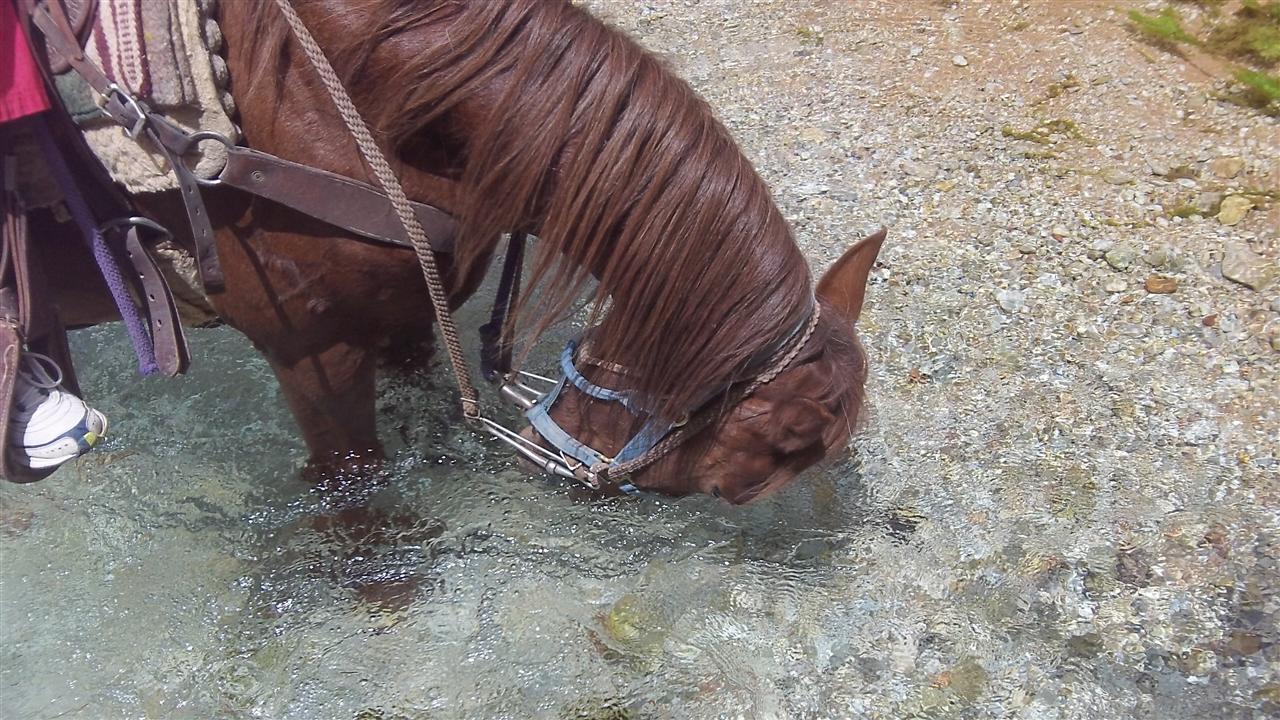 This reminds me of Ian at an all you can eat Indian buffett..

We gingerly dismount at the lodge , counting bruises & 2 nasty blisters from gripping onto the pommel for dear life! Saddle sore & knackered...Hot bath please : )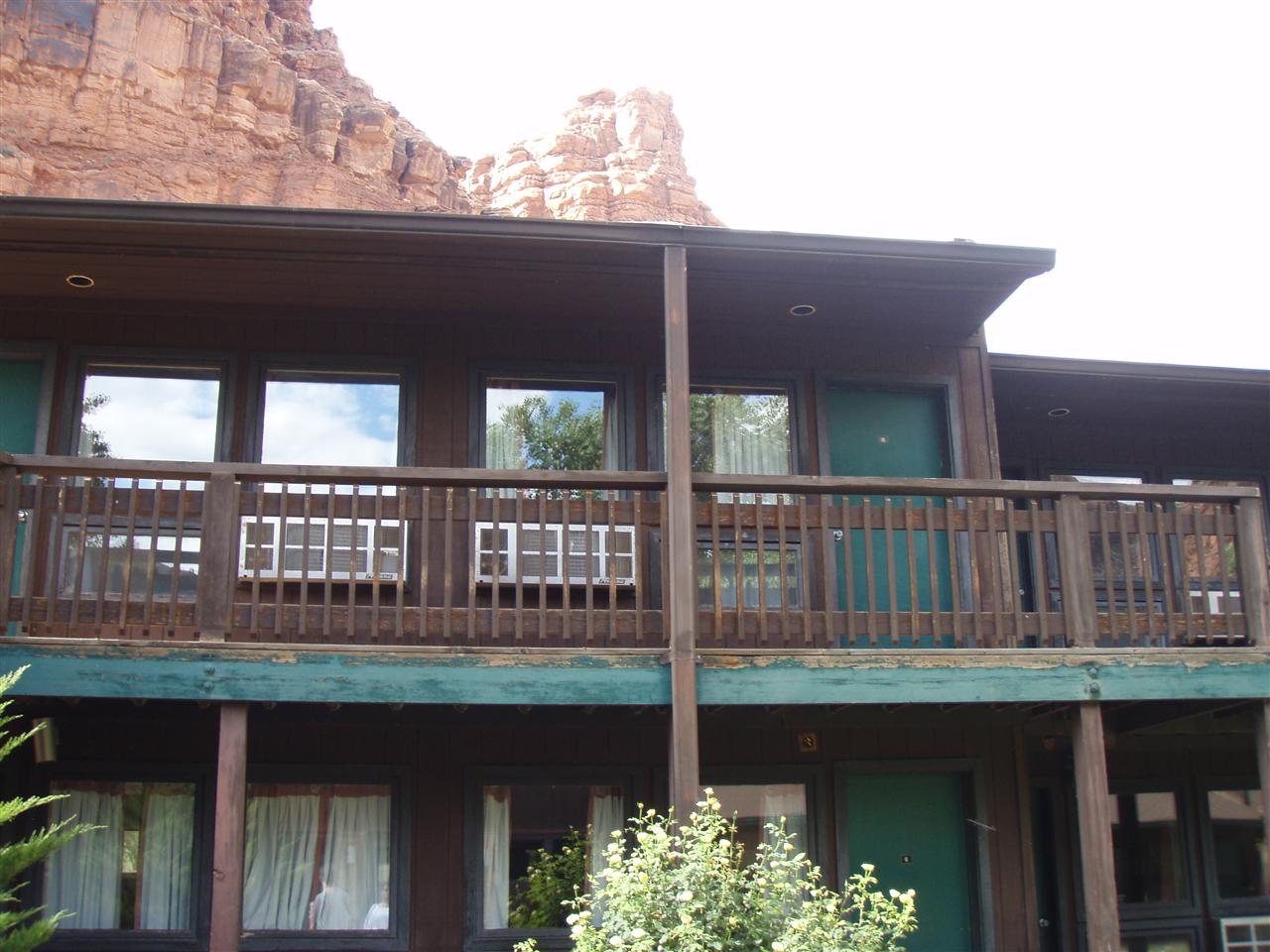 Having been checked in by the glamorous receptionist..a 20 stone local in a massive Bob Marley tee shirt. She laughingly told me that the horse I was riding had slipped & fallen earlier today, causing its lady rider to break her arm! We headed to our luxurious penthouse ( or number 16 as we call it ) Its the one with only 3 remaining curtain hooks holding up the tatty front curtains.

The air con shudders and coughs alarmingly..Ian however is chuffed to bits with the Wi-Fi signal.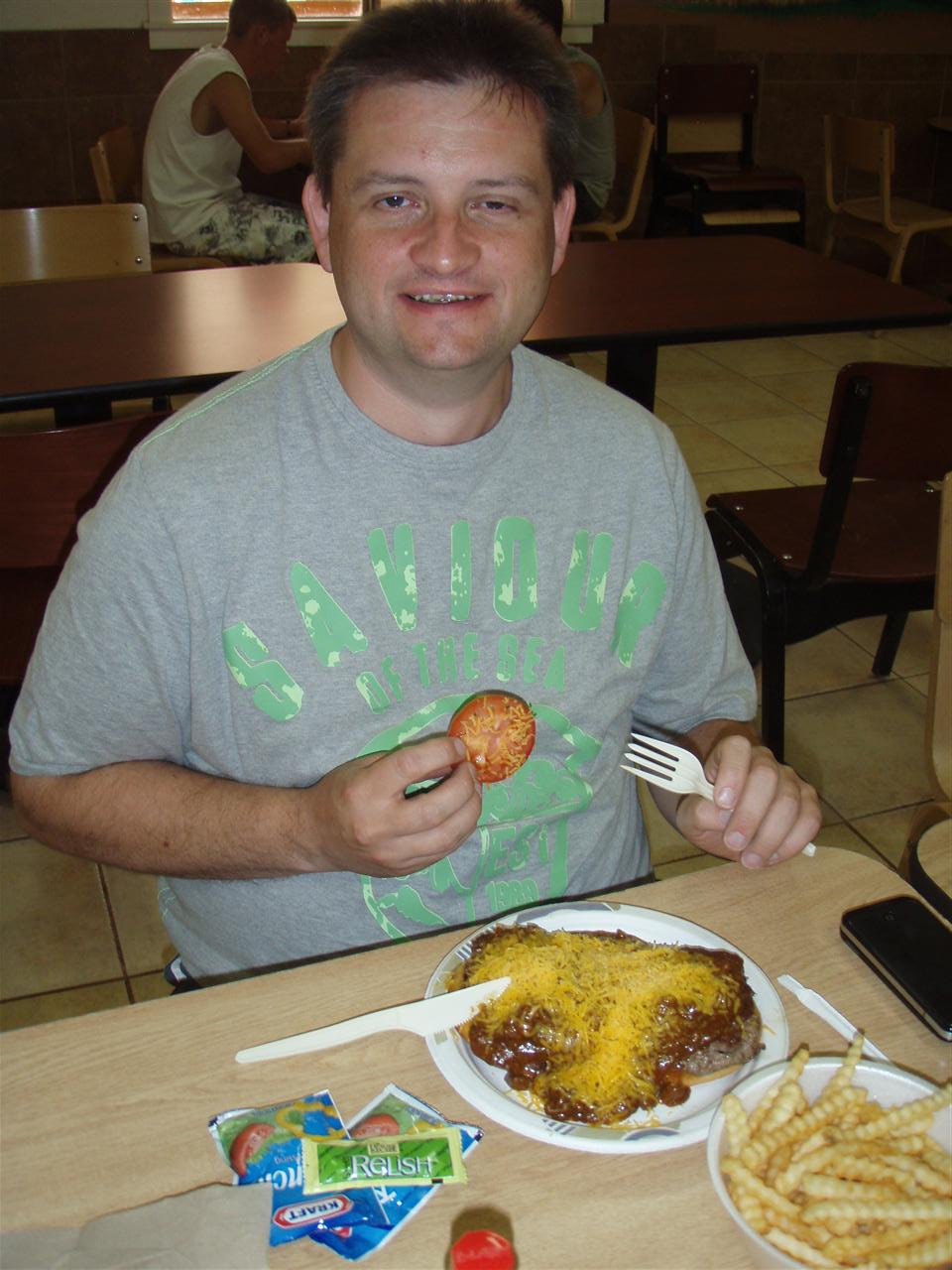 Ian appears to be consuming something his horse produced en route, at the village's 1 and only eatery.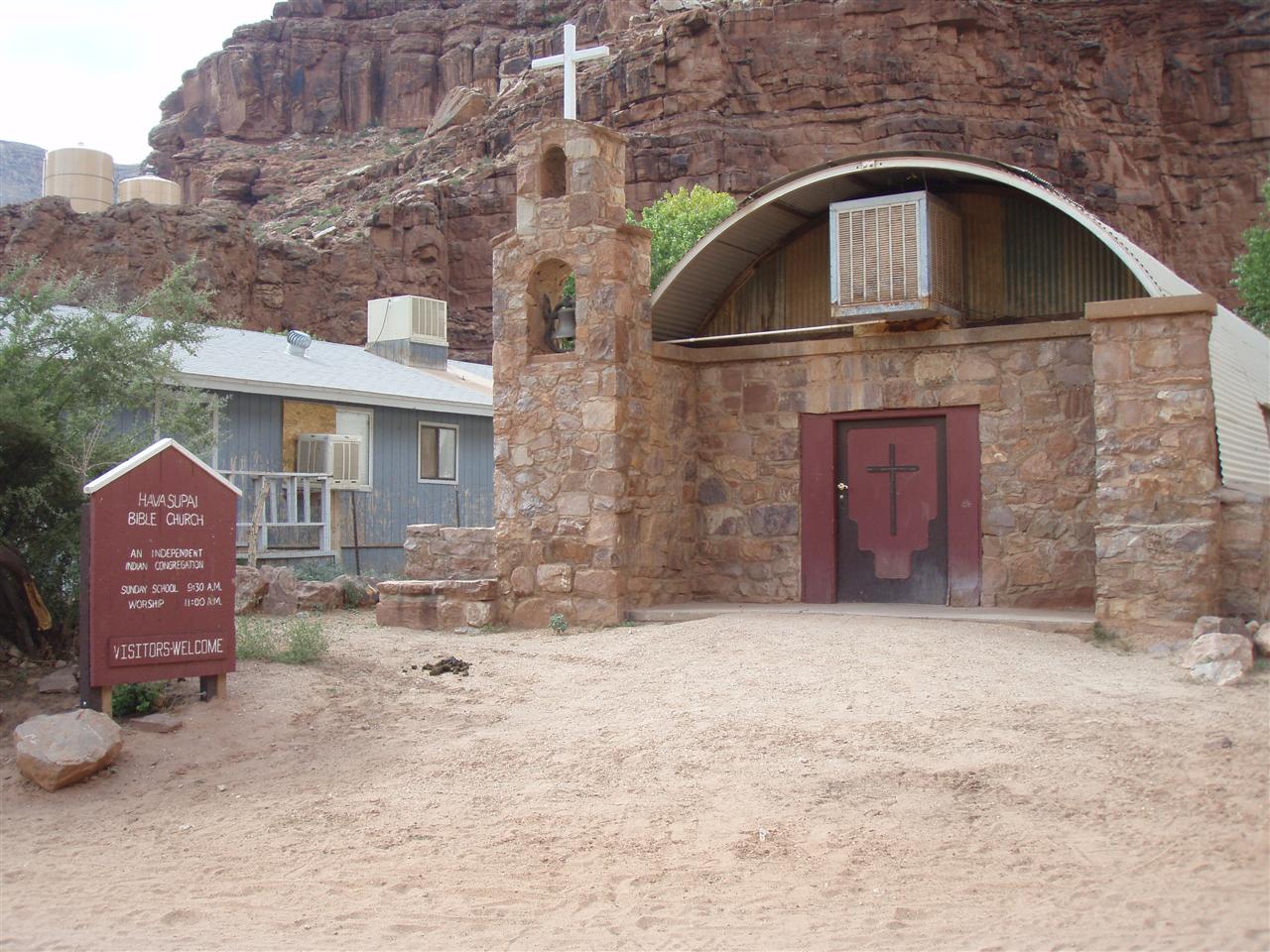 The village church .. Ideal if you had someone a bit religous in your party??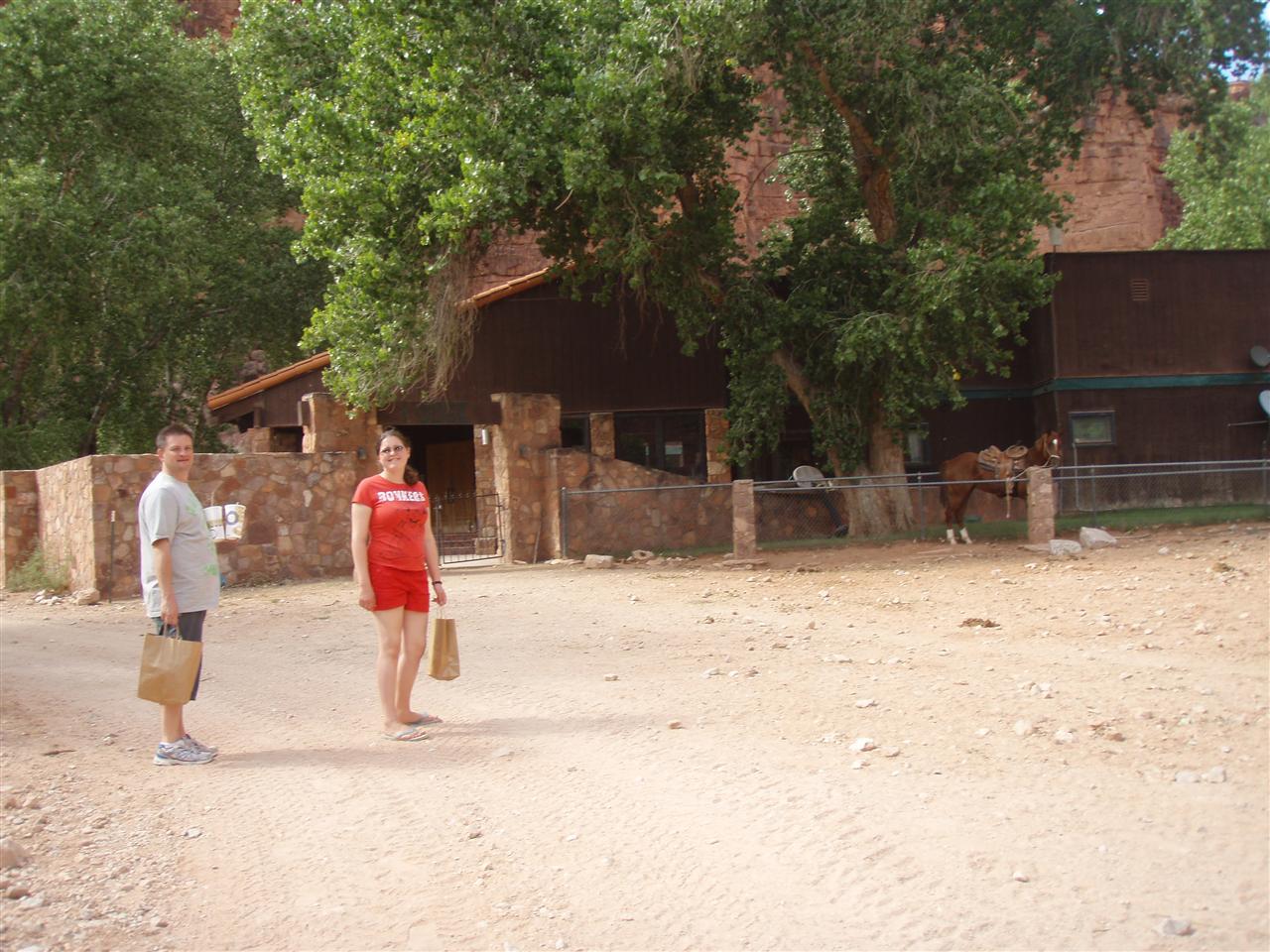 Back to our penthouse via The Havasupai Lodge, with supplies.

Tomorrow a mile + hike to the falls..Unless I fancy taking a horse? I have already mentioned to Ian ..any further Holiday suggestions with the phrase " Horse ride " involved, will invoke an instant DIVORCE!!

Goodnight "Pardners" sleep tight humans , woofers and meowers xxxx