* USA 2011 *

Show all days on one page (a long download!)
Day 1 :The Longest Day (Tuesday 26th July 2011 )
Day 2 :Yosemite..We've been away too long. (Wednesday 27th July 2011 )
Day 3 :Ian & Debbi...2 years today Congratulations! (Thursday 28th July 2011 )
Day 4 :Ian & Min take to the river..SEE NEW UPDATES (Friday 29th July 2011 )
Day 5 :Sunset Inn to Mammoth Lakes.. (Saturday 30th July 2011 )
Day 6 :Death by vegas (Sunday 31st July 2011 )
Day 7 :Bellagio Babes (Monday 1st August 2011 )
Day 8 :Leaving Las Vegas (Tuesday 2nd August 2011 )
Day 9 :Fiery furnace with a delicate arch. (Wednesday 3rd August 2011 )
Day 10 :Petrified to leave Moab! (Thursday 4th August 2011 )
Day 11 :Its your Tombstone.. (Friday 5th August 2011 )
Day 12 :Helllooooo down there.... (Saturday 6th August 2011 )
Day 13 :Tucson pictures present...Return of the Cactus (Sunday 7th August 2011 )
Day 14 :Route 66 From Sedona & a slippery rock! (Monday 8th August 2011 )
Day 15 :Highway to Hell..( For our bottoms ) (Tuesday 9th August 2011 )
Day 16 :The long trek to Havasupai Falls (Wednesday 10th August 2011 )
Day 17 :Back to civilization ( and manners ) (Thursday 11th August 2011 )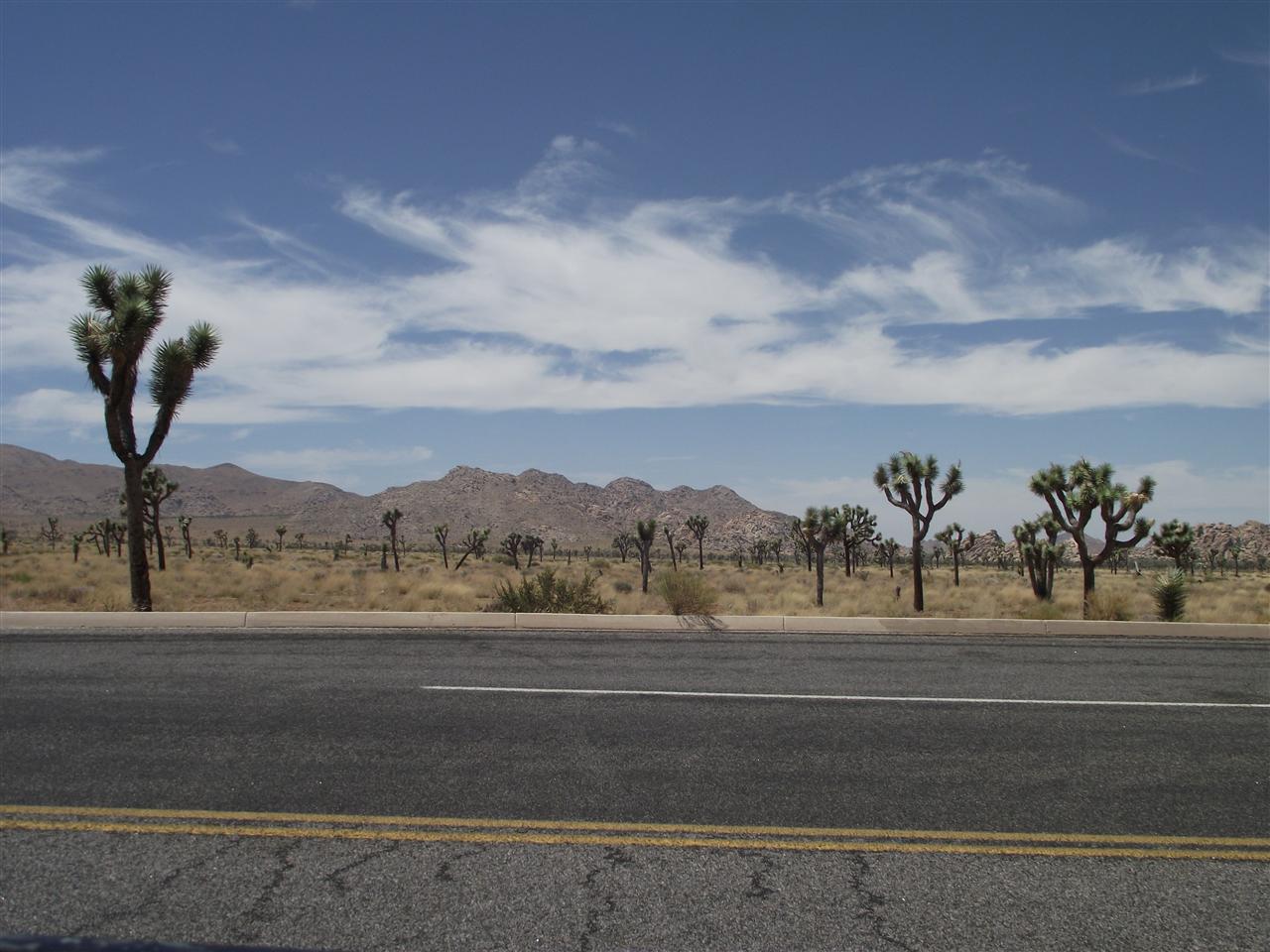 Having left the lovely "Christy" at her Best Western, loaded up with free ice..We headed towards Joshua Tree National Park.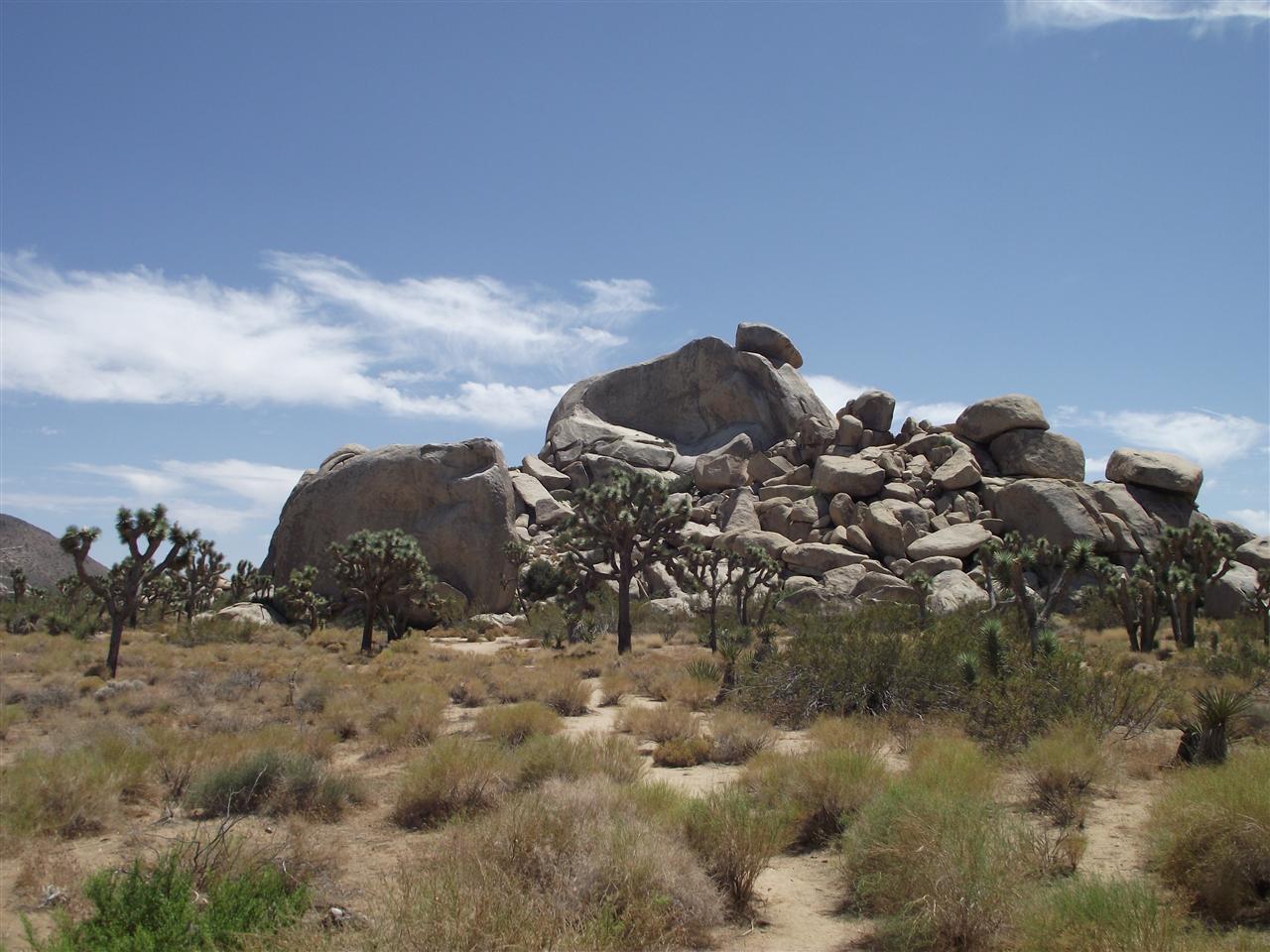 This is our second visit to the Park & the sight of acres of the prickly trees is very strange..almost like a Star Trek set.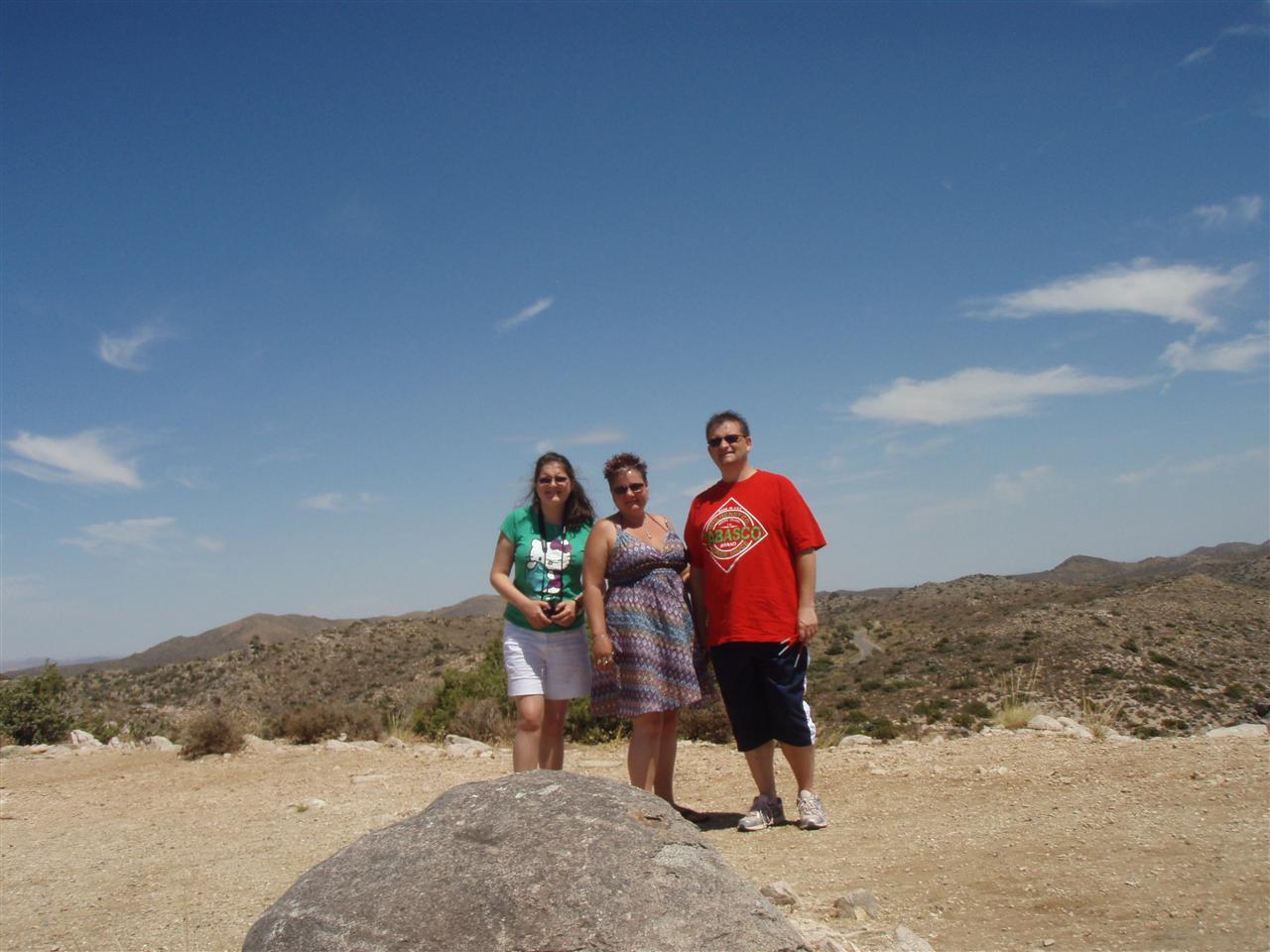 Our destination, an overlook from which you can see part of the San Andreas Fault line.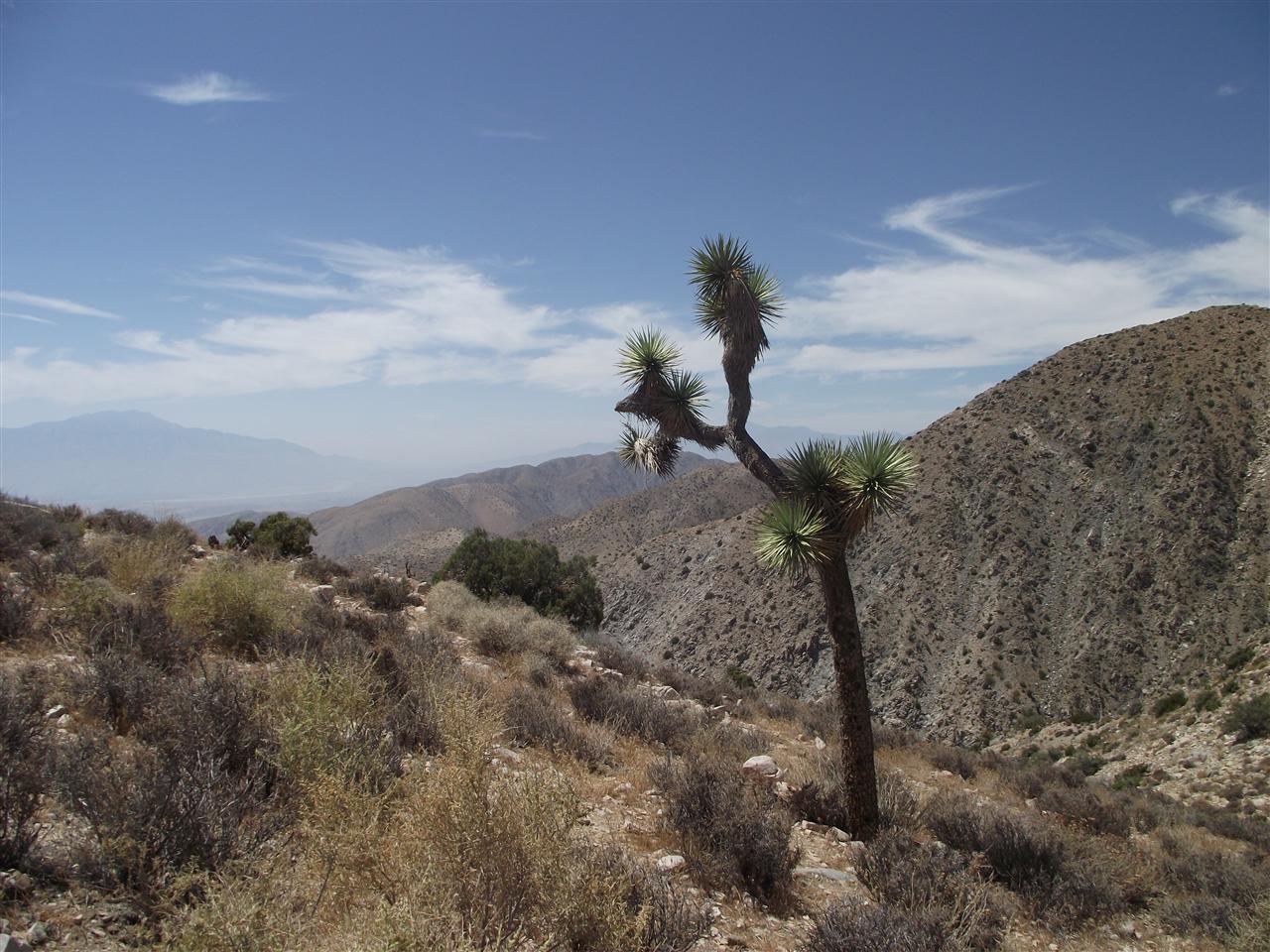 In The far distance , Palm Springs , shrouded in ever present smog..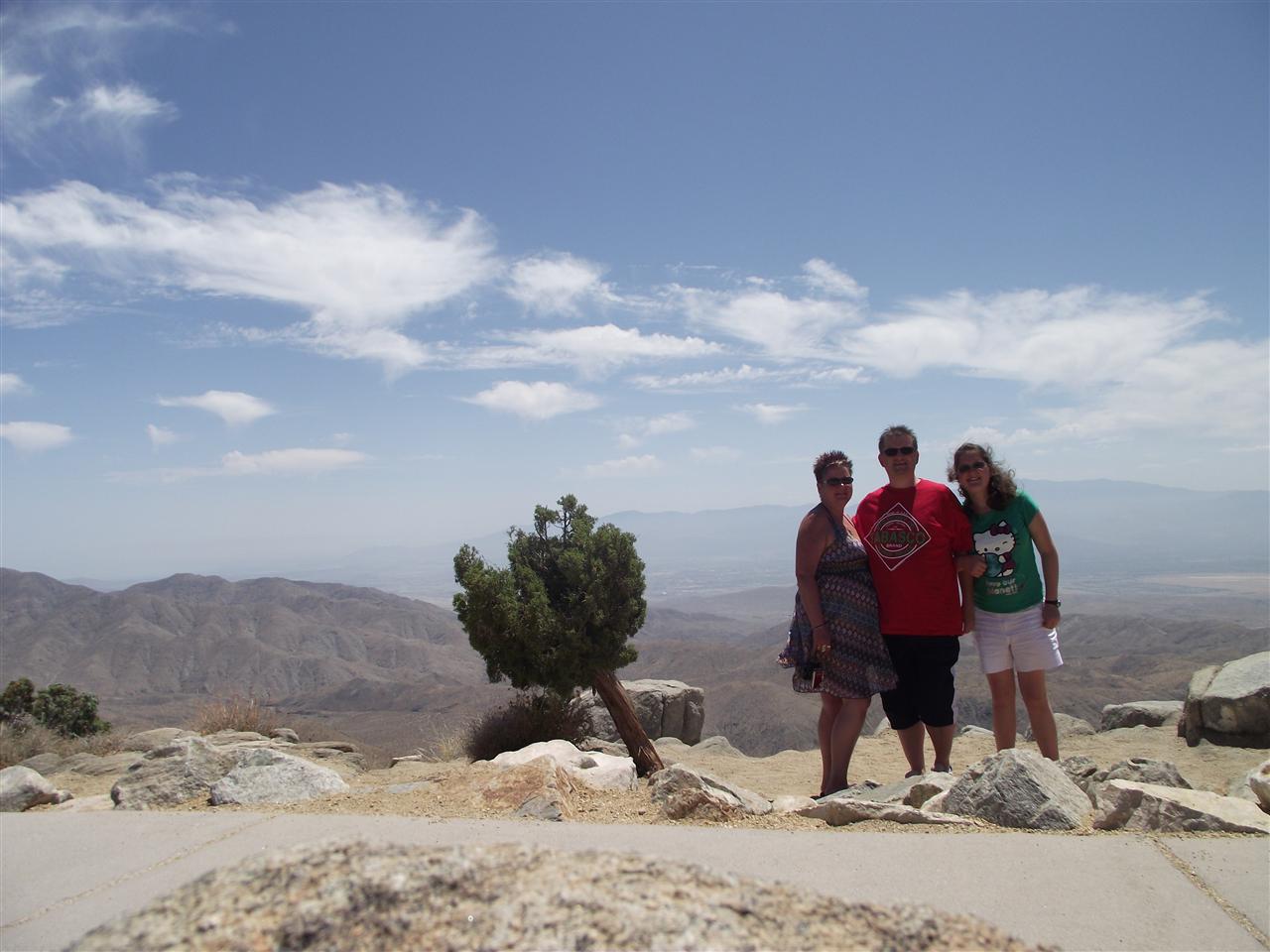 At the parking lot & observation deck , we were plagued by wasps..They seemed attracted to our feet , but were ever present & spoilt our visit to the viewpoint.

Upon returning to the parking lot , our car was surrounded by a swarm of these pesky critters.

Ian had no alternative but to make a run for it, he threw himself in & slammed the door, turned on the engine & sped away, trapping 3 or 4 in the car with him. He stopped at the car park entrance to collect Min & I & swat out our stow aways..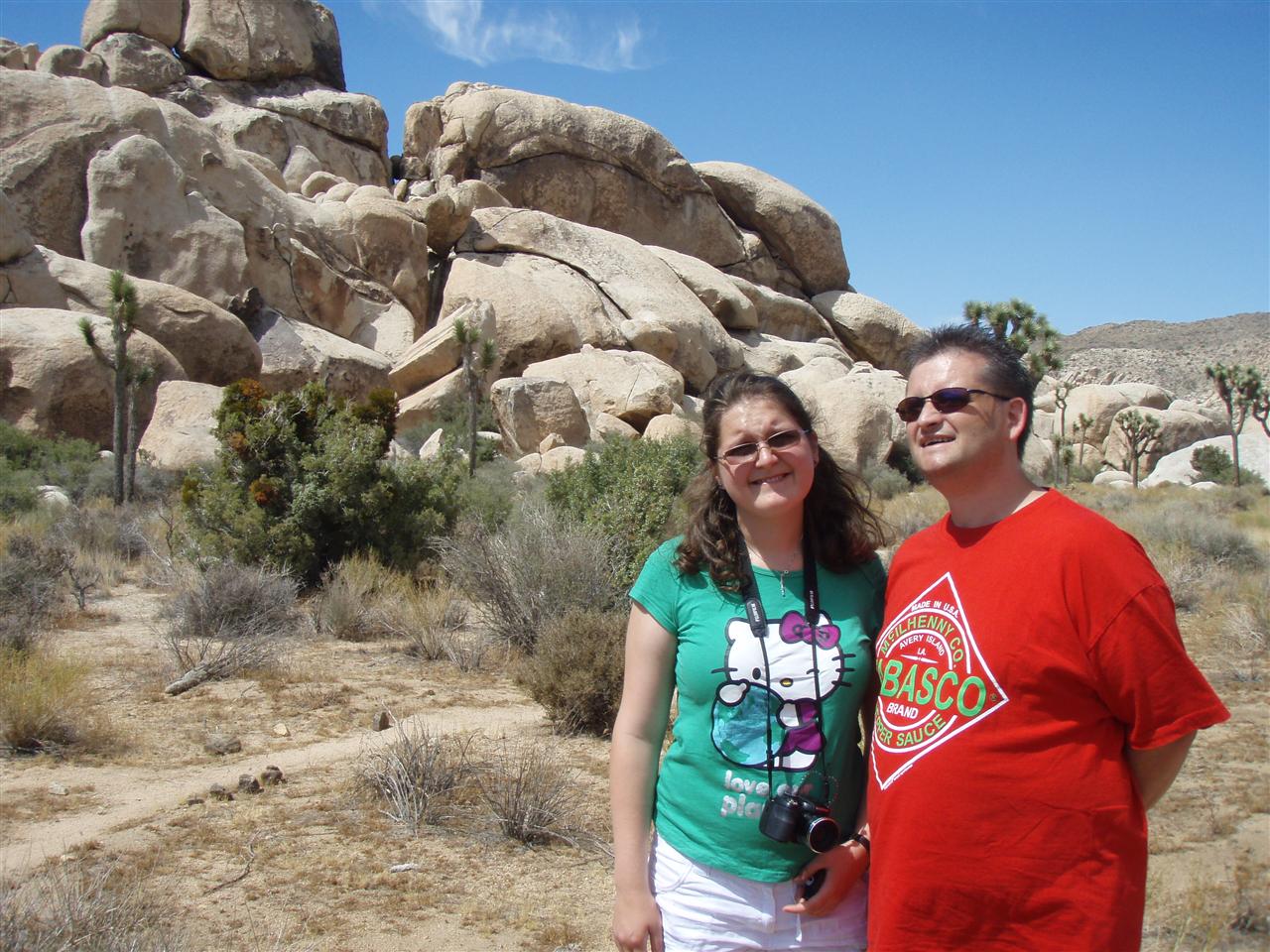 We found a short trail around this rocky outcrop.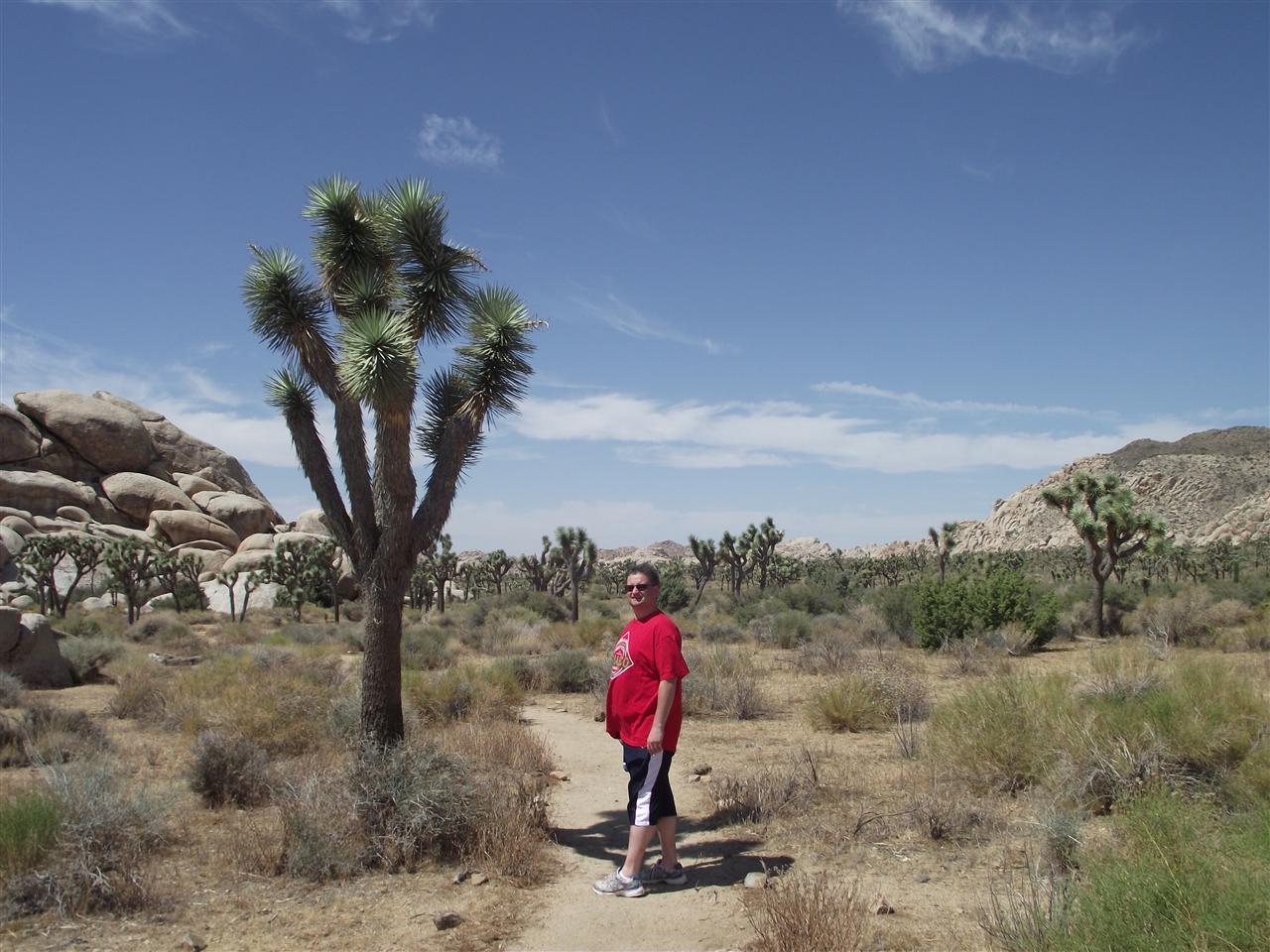 Ian poses in his " Miss world , Bikini shot " position..Lovely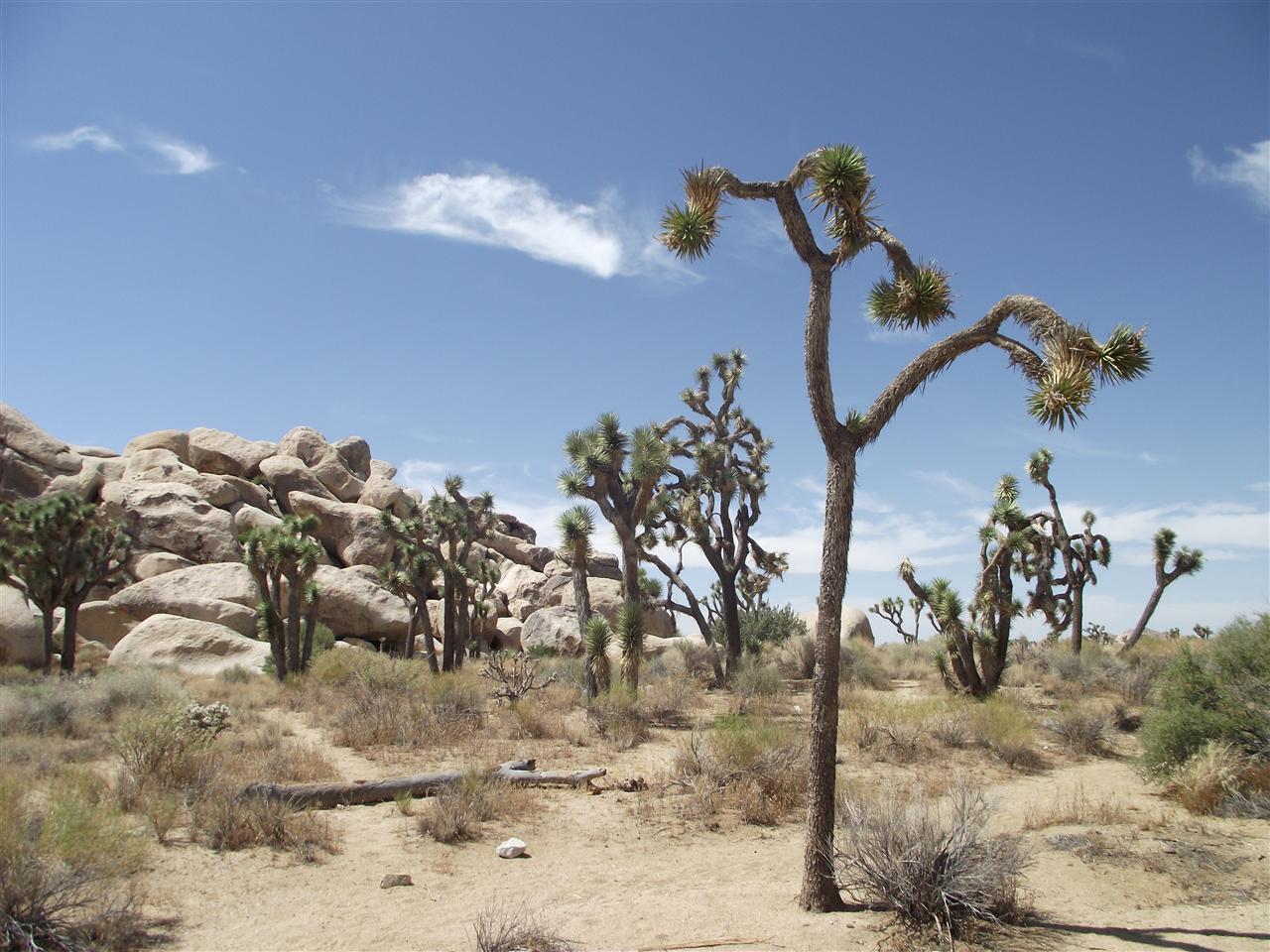 These weird trees are the symbol for The Mojave Desert.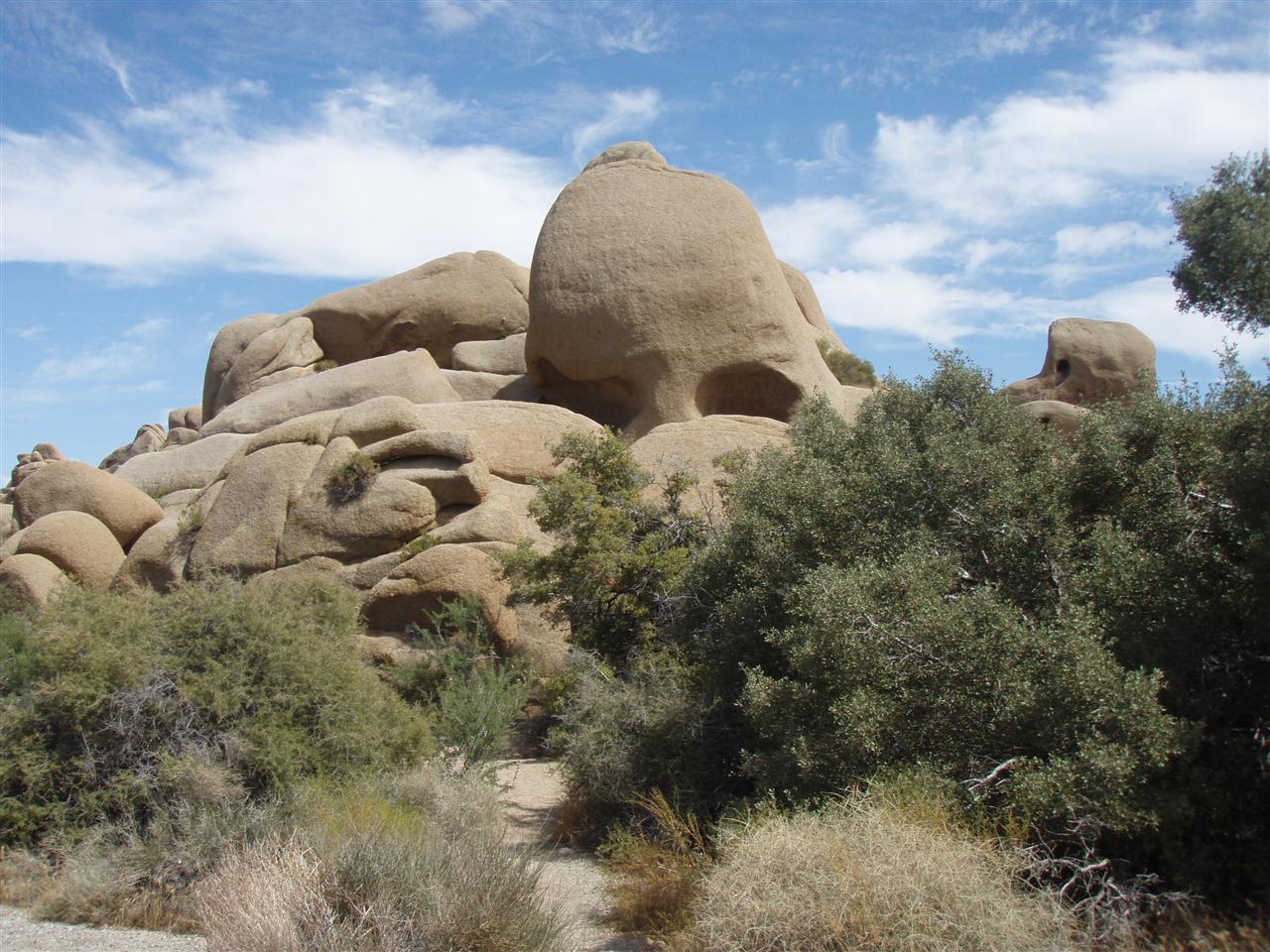 Skull Rock..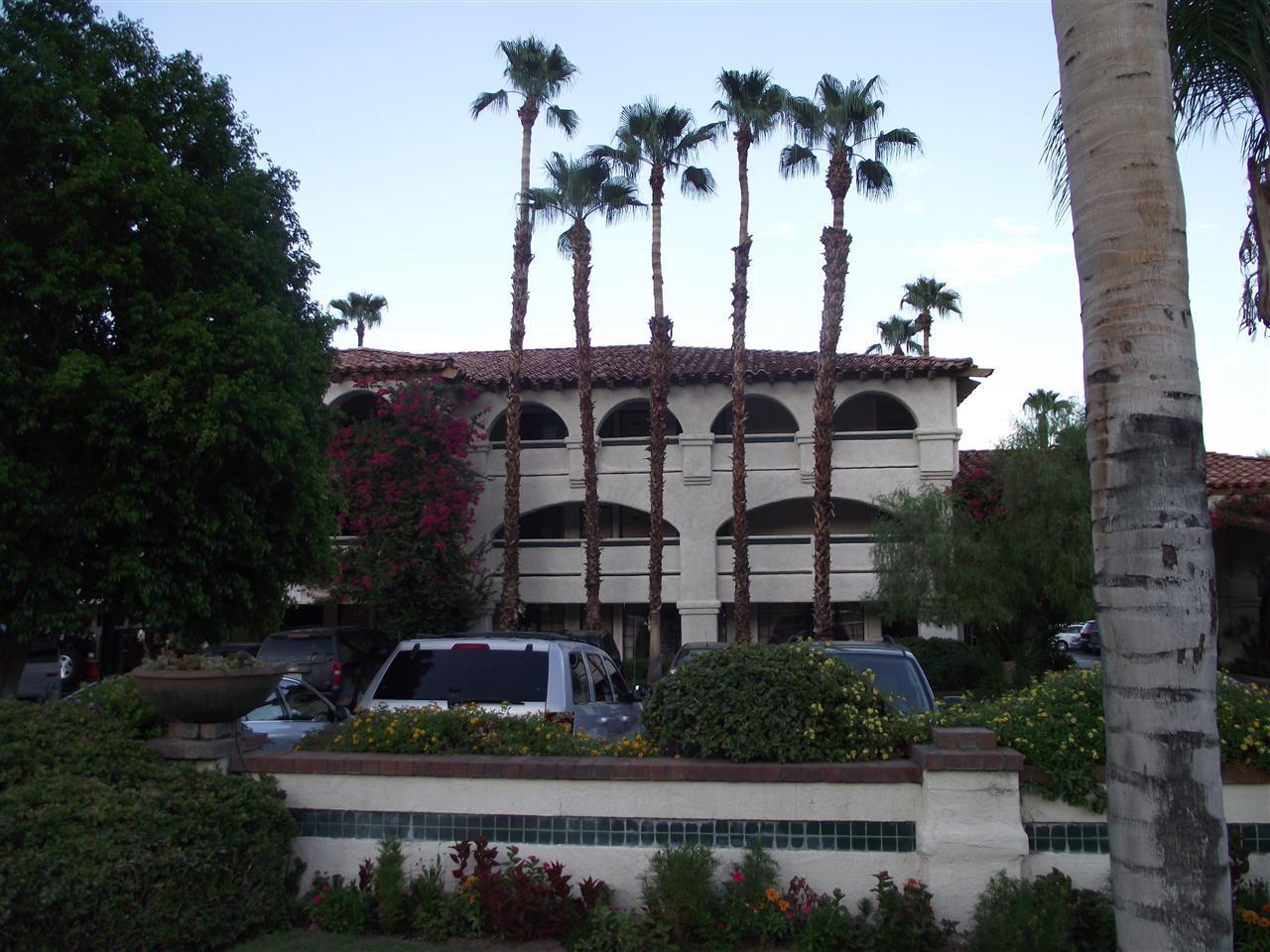 We arrived at our "Best Western PLUS Las Brisas" .

Ian appears to be brewing another cold, so we abandoned him & headed for the pool.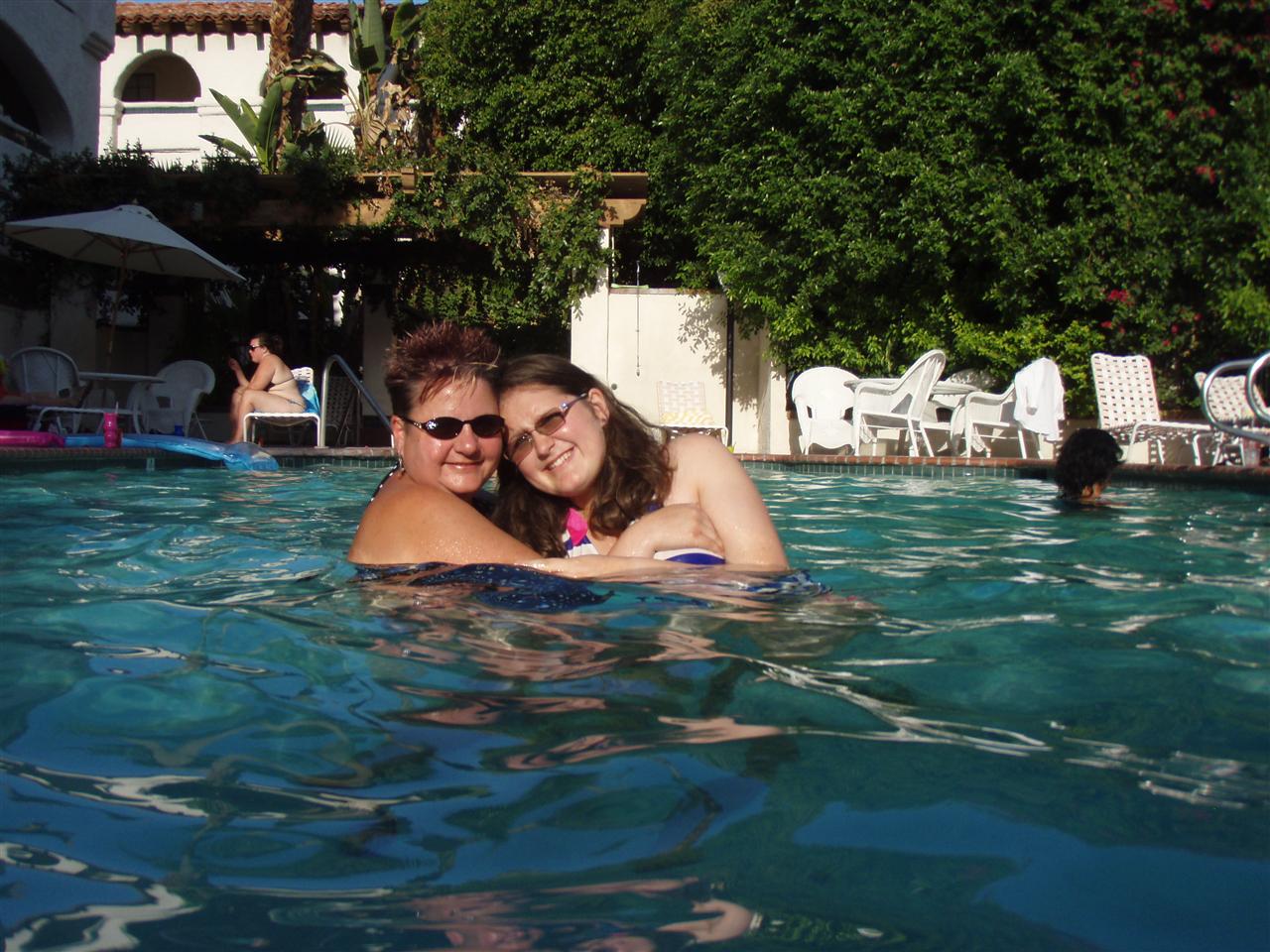 The evening drew in and we took a walk around the local eateries, The prices certainly reflected the Bentleys , Rolls Royces & Mazzerati's we saw driving by.

We eventually Settled on " Monsoon Indian Cuisine" Guess who's choice that was?

Amazing how much he cheered up once he had a chicken Vindaloo in front of him!

Well my lovelies a very good night to you all..furry & Human xxx

By the way The Photo contributions today were largely from our budding photographer MIN !