Holiday USA and beyond - 2013
Day 1 : From Lovedean to Columbus Nebraska in 22 hours!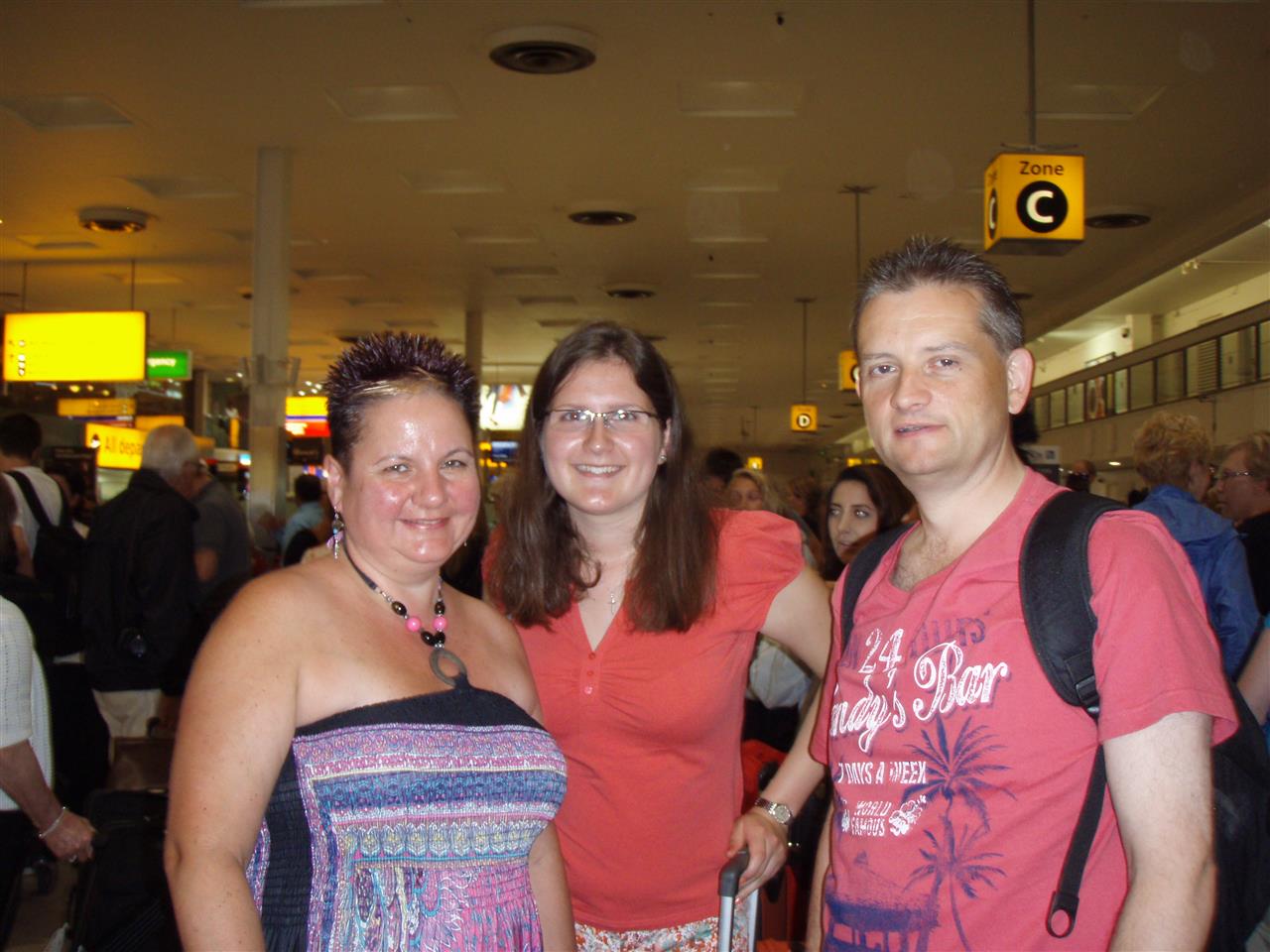 Our taxi arrived as promised & whizzed us to terminal 1 Heathrow, United Airlines take the prize for the most " Pointless queueing" on the planet. We eventually boarded our jet to Chicago..Due to a seating cock up I ended up seated next to a delightful Burmese Doctor lady who was full of cold,, Oh joy. Ians TV didn't work etc etc..You'd think things could only get better?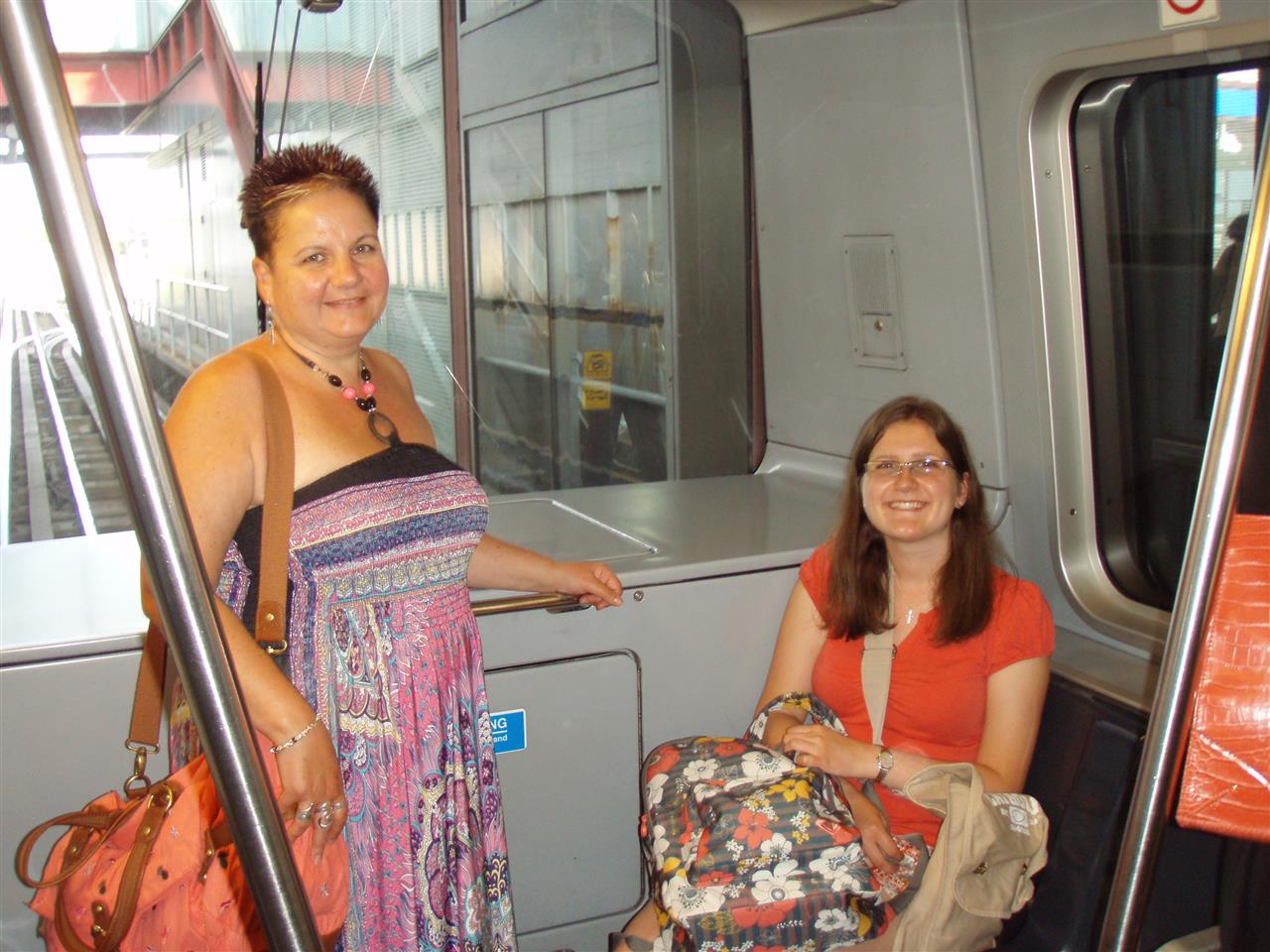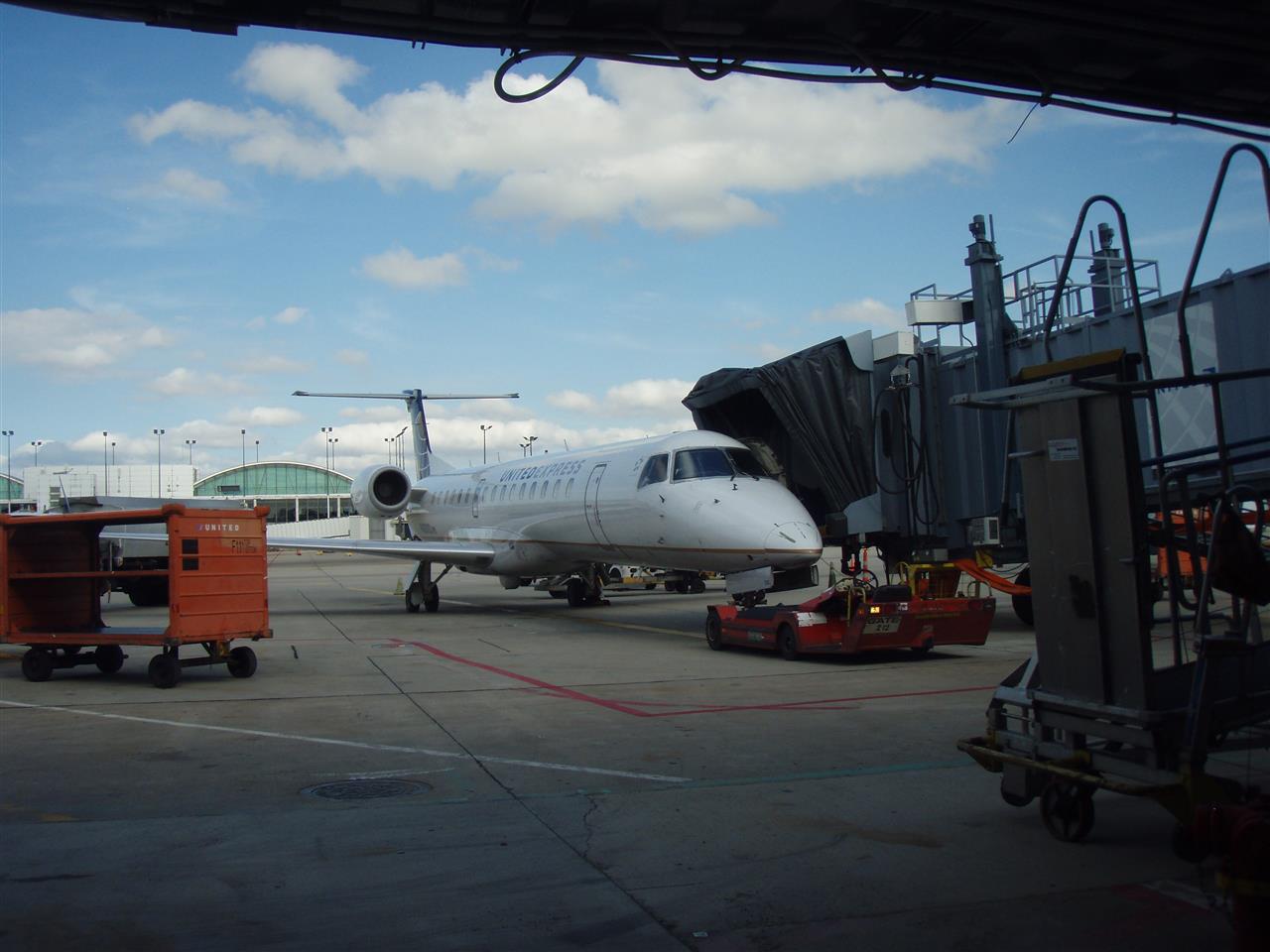 We left our big plane & made a mad dash to a tiny plane for the second leg of our journey, clearing customs , collecting our suitcases & re checking them ..Chaos,,The tiny plane was manned by a geriatric trolly dolly " Edith " Who gamely ..Mouthed along to the pre recorded Safety brief & served a selection of local beers & snacks from a miniscule trolley.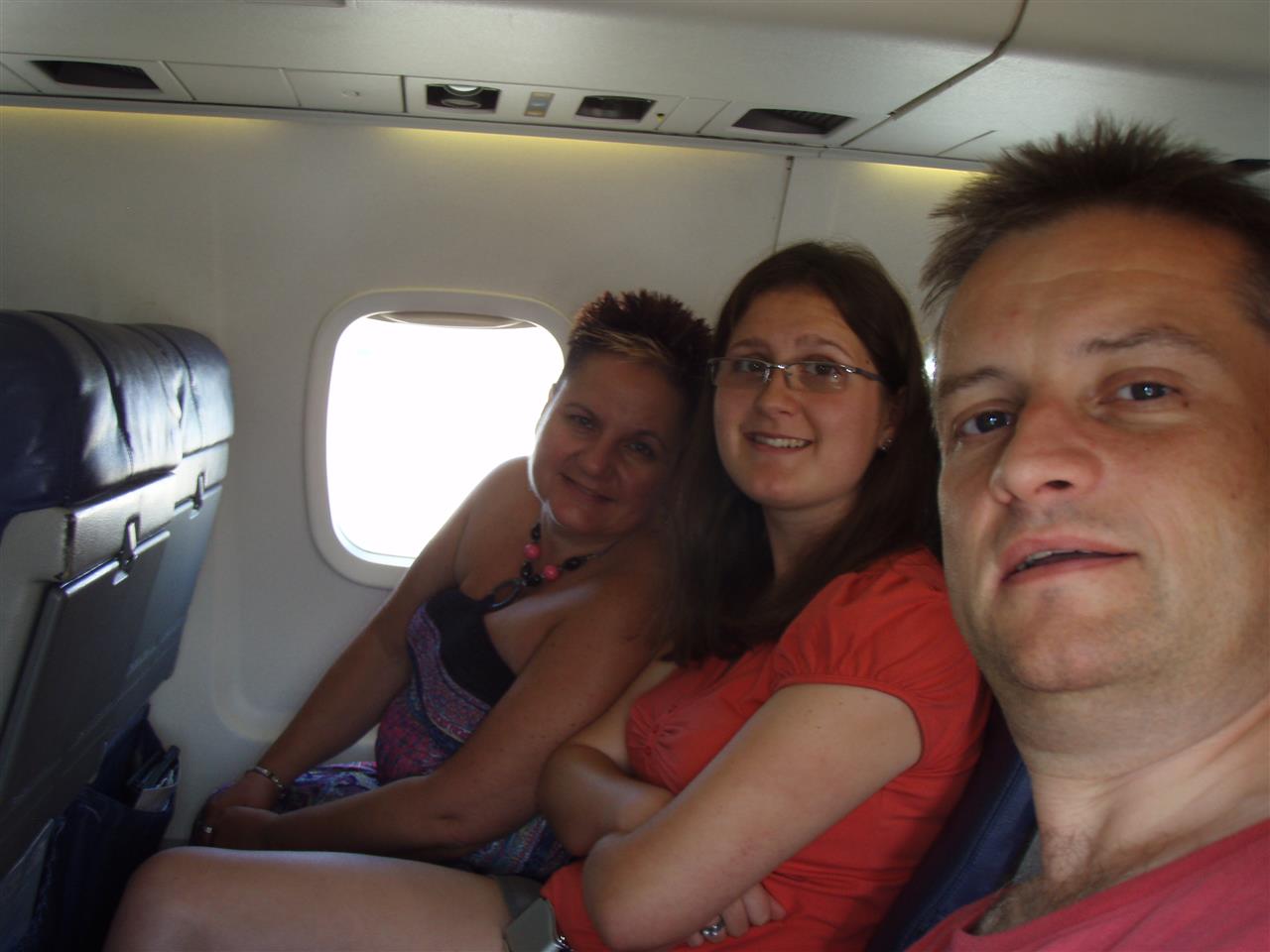 Hooray we are delivered safely to the tarmac in Omaha Nebraska,,with our 1,2.3 bags..Hang on we checked in 4...................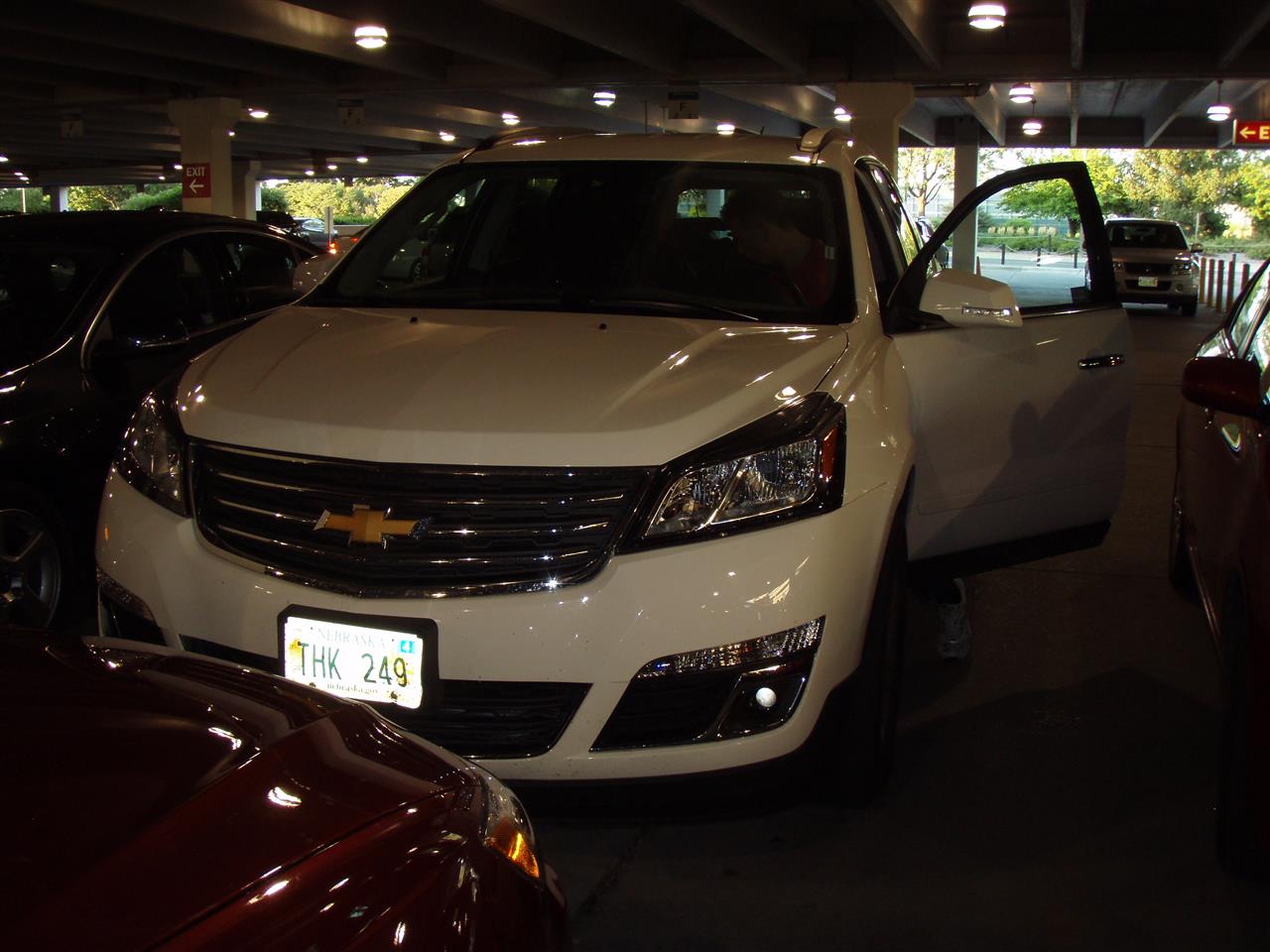 Car rentals appear to have a set of " Taxes " we are expected to pay without explanation..12 yr old Josh our happy assistant had no idea what these related to & with lack of a supervisor, or adult we begrudgingly paid,, Ian will do battle on our return : )

The car has no centre rear seat & min will enjoy a view of the back of Ians head for the next 3000 miles.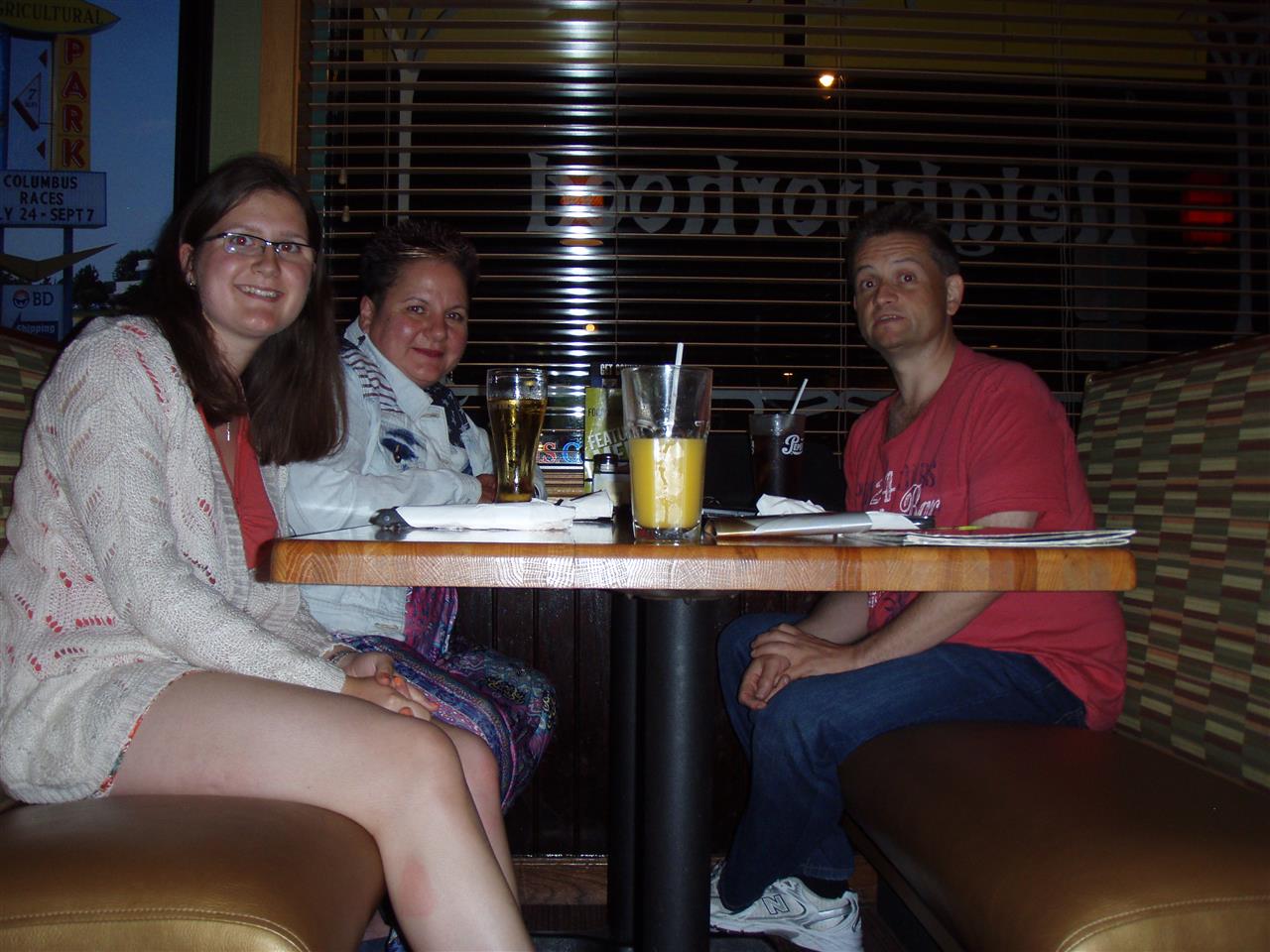 To us its now 04.27 & we are having dinner in Applebys In Columbus Nebraska ..Wherever the Hell that is!

Goodnight reader xx

We await the delivery of our missing case overnight, Lets wait & see how that works out..
---
Day 2 : Following the The Sandhills scenic route to Mullen..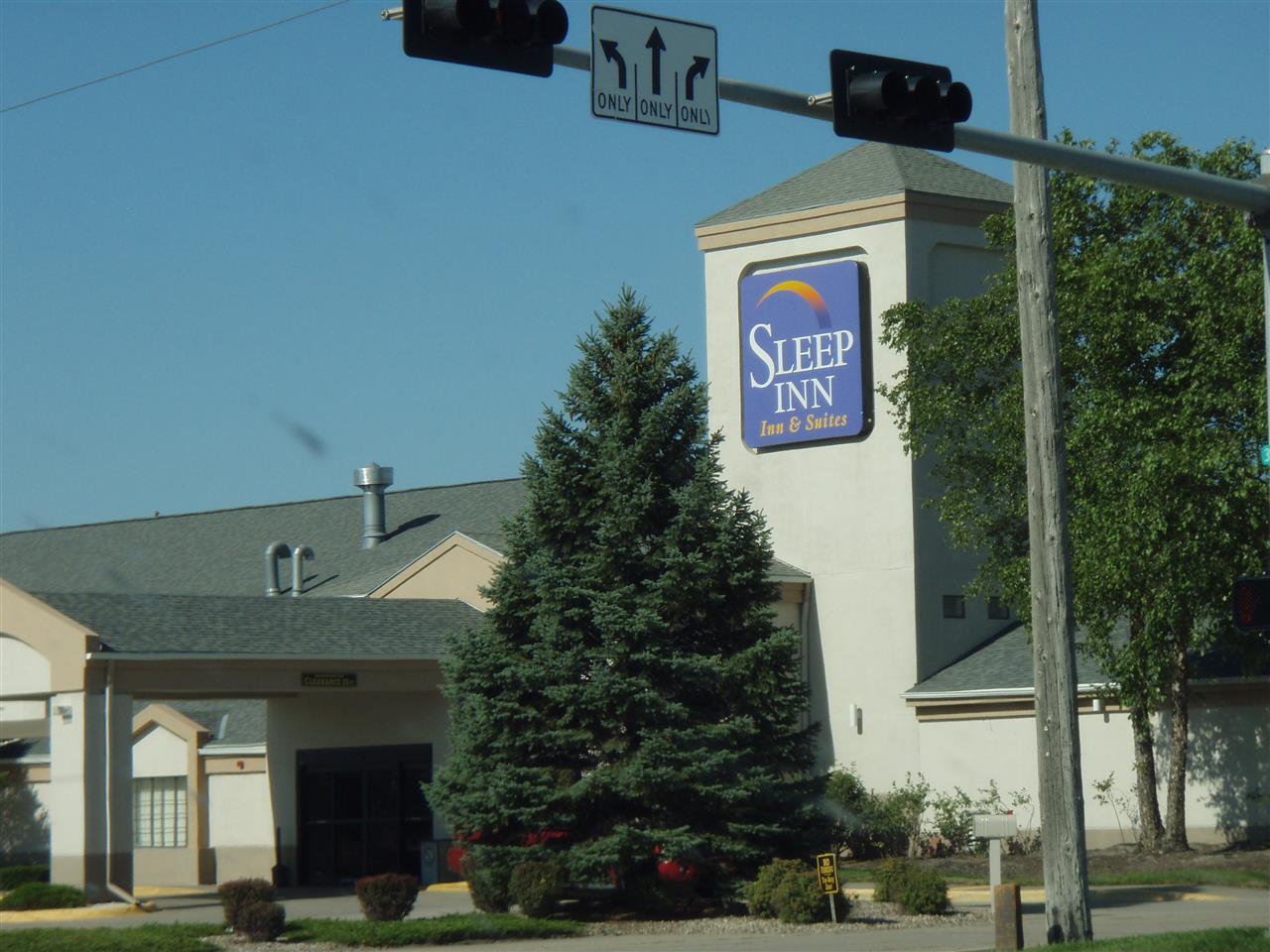 After a well earned sleep we left Columbus... We are travelling through a range of time zones this trip & a hotel room clock 1hr fast didn't help our fuddled brains!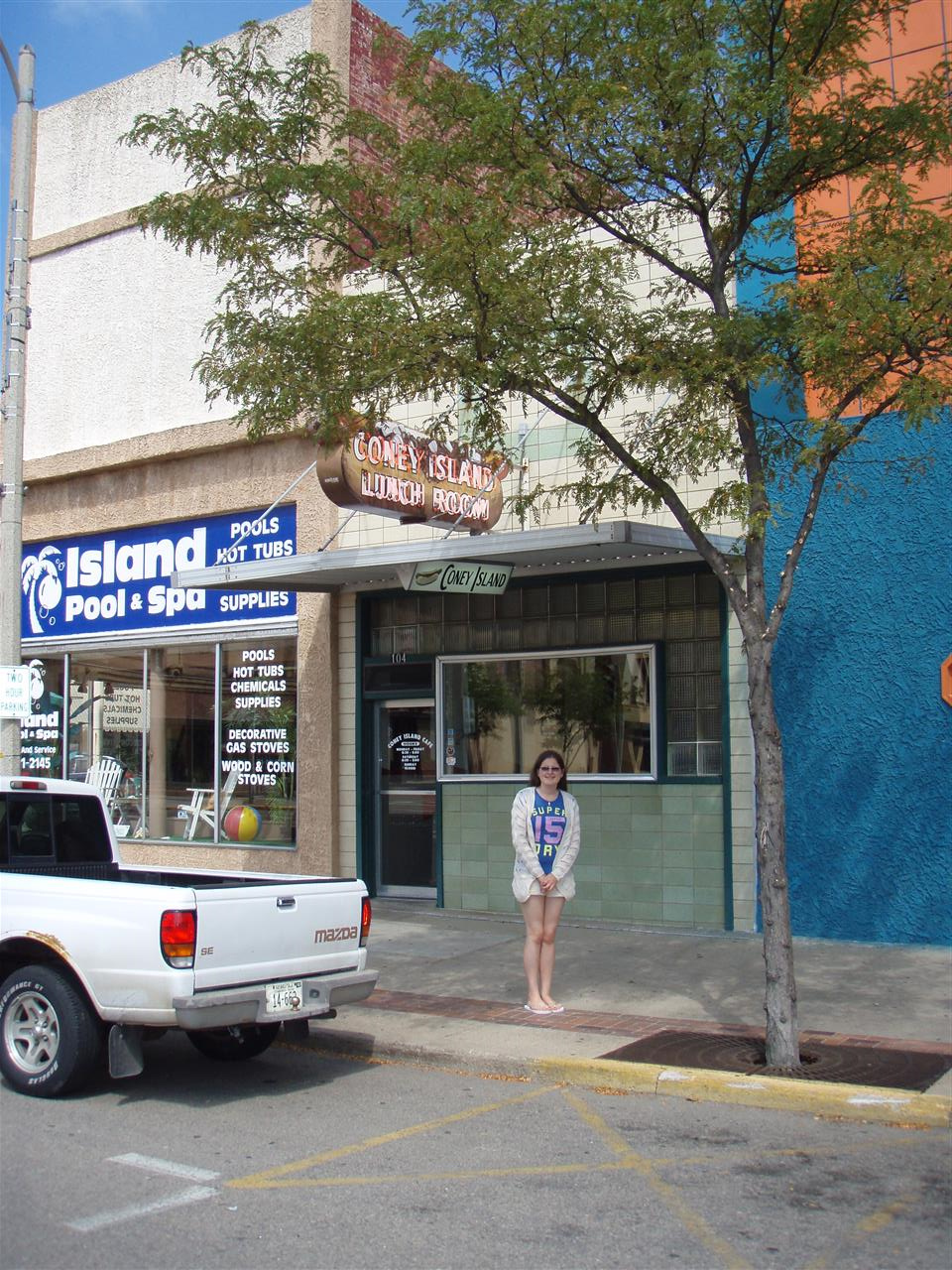 Grand Island , a rural town provided lunch at the Coney Island lunch room.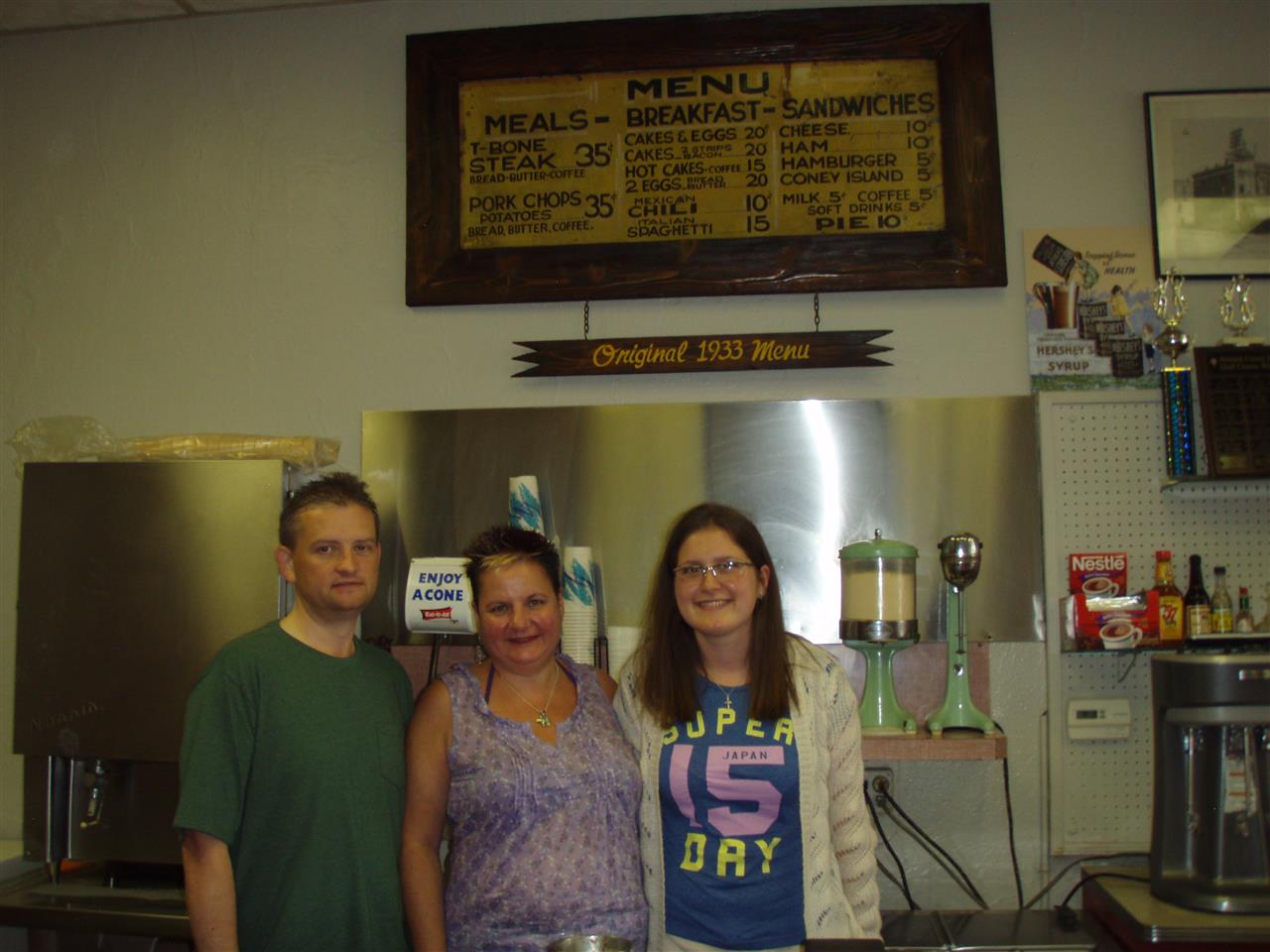 The welcoming staff told us of the long heritage of the business, the middle aged waitress & her octagenarian mum kept shop, 3rd generation George , our Greek cook was also fascinated by us " Brits" & proudly sent us behind the counter to have out pic taken with the original 1933 menu.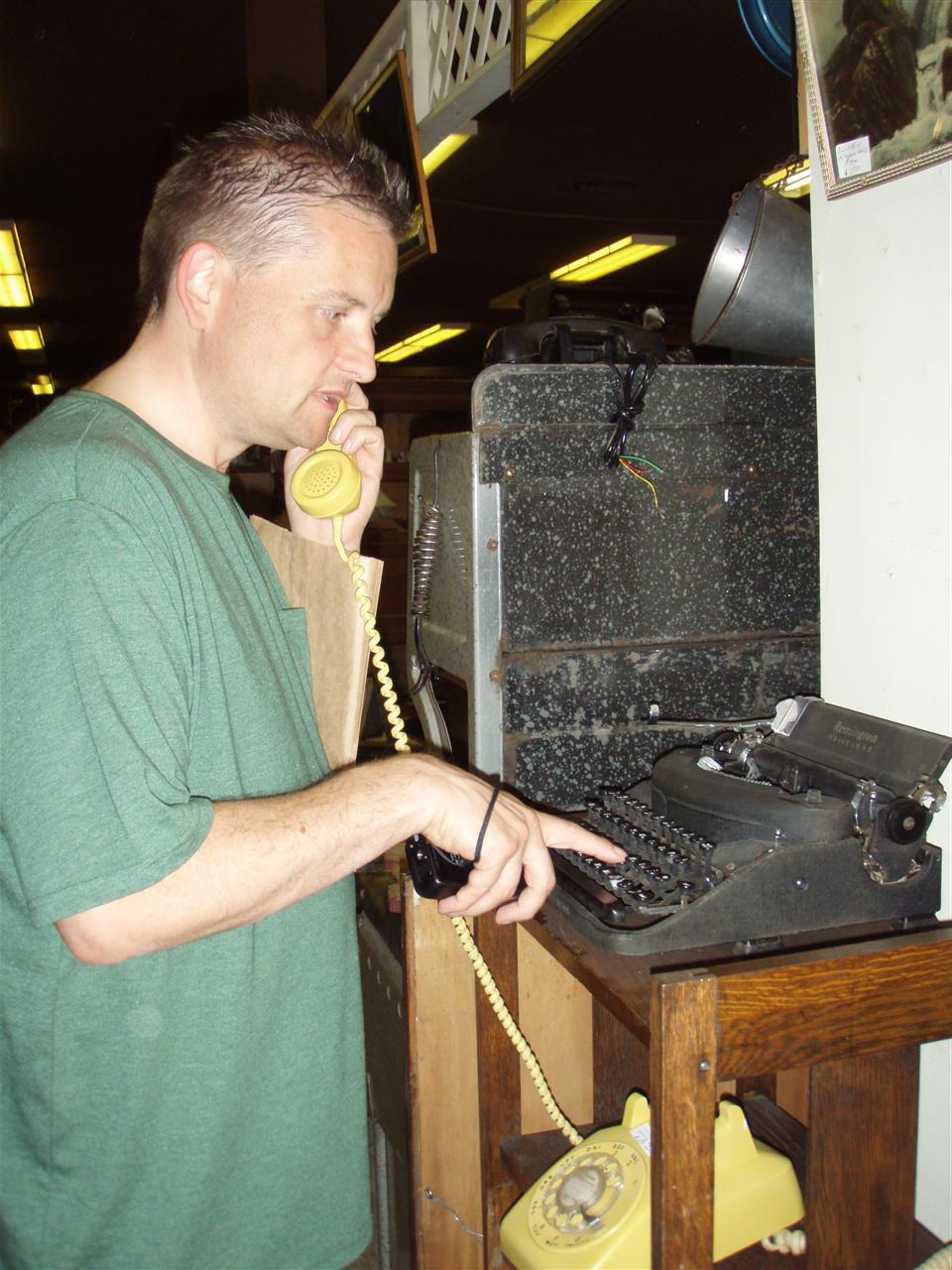 Ian recieved a call from the office ...Thank goodness he was able to log on & save the day!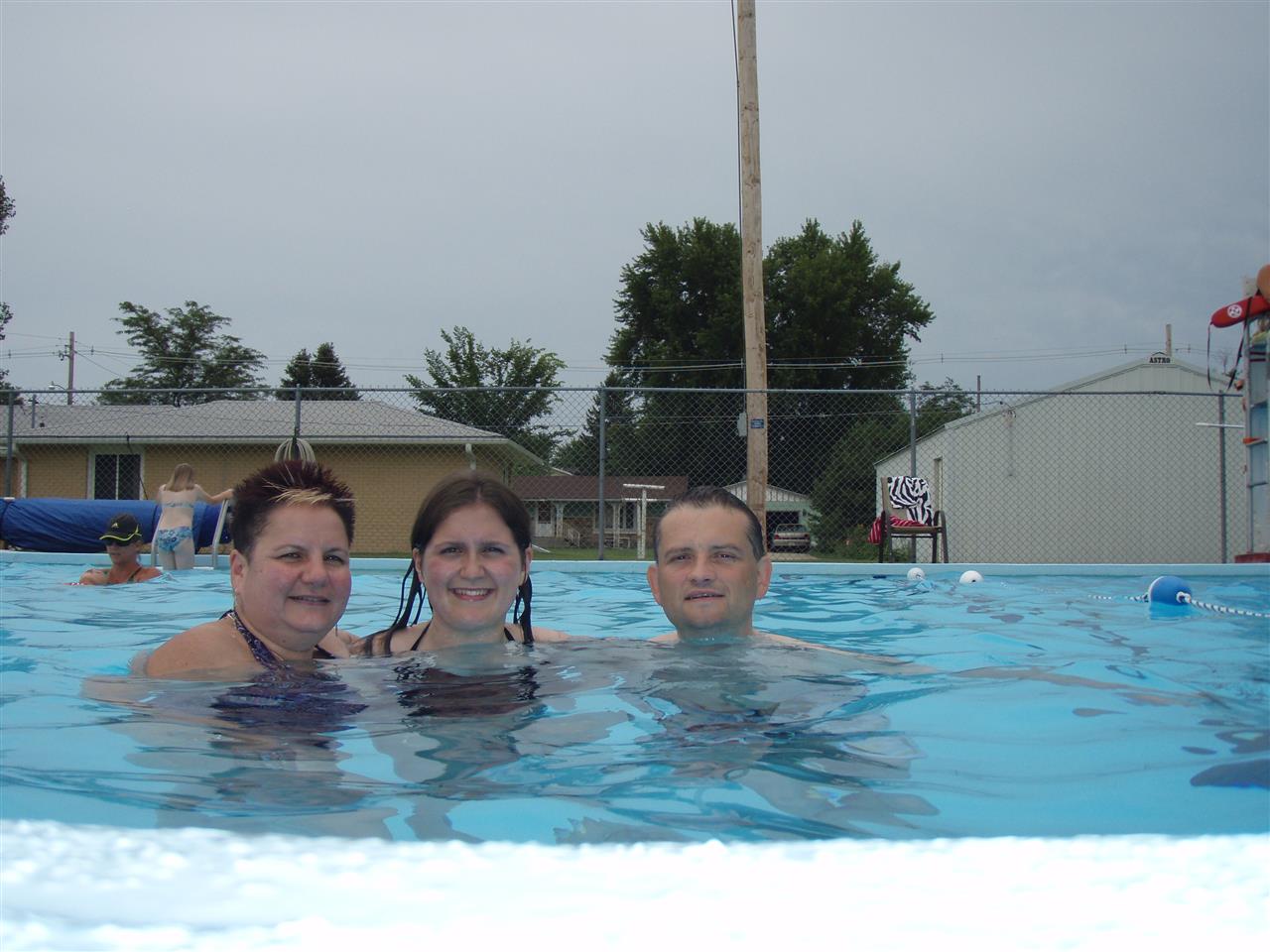 We arrived in Mullen & checked into our motel, very basic & the area offers a great line in flies, Just over the street we found the municipal pool , for a mere 4 Dollars a piece, we were able to swim for as long as we liked...The skies clouded over & we left the kiddies to their swimming lessons.
After a bath ( No surprise the shower didn't work) we headed off into what they laughingly call town. Dinner was served at the Rustic Bar & Lounge. Pretty much everyone from the pool was there. Ian had an enormous pizza. The baby had a baby pizza ! Lovely friendly people & an opportunity to pet a puppy.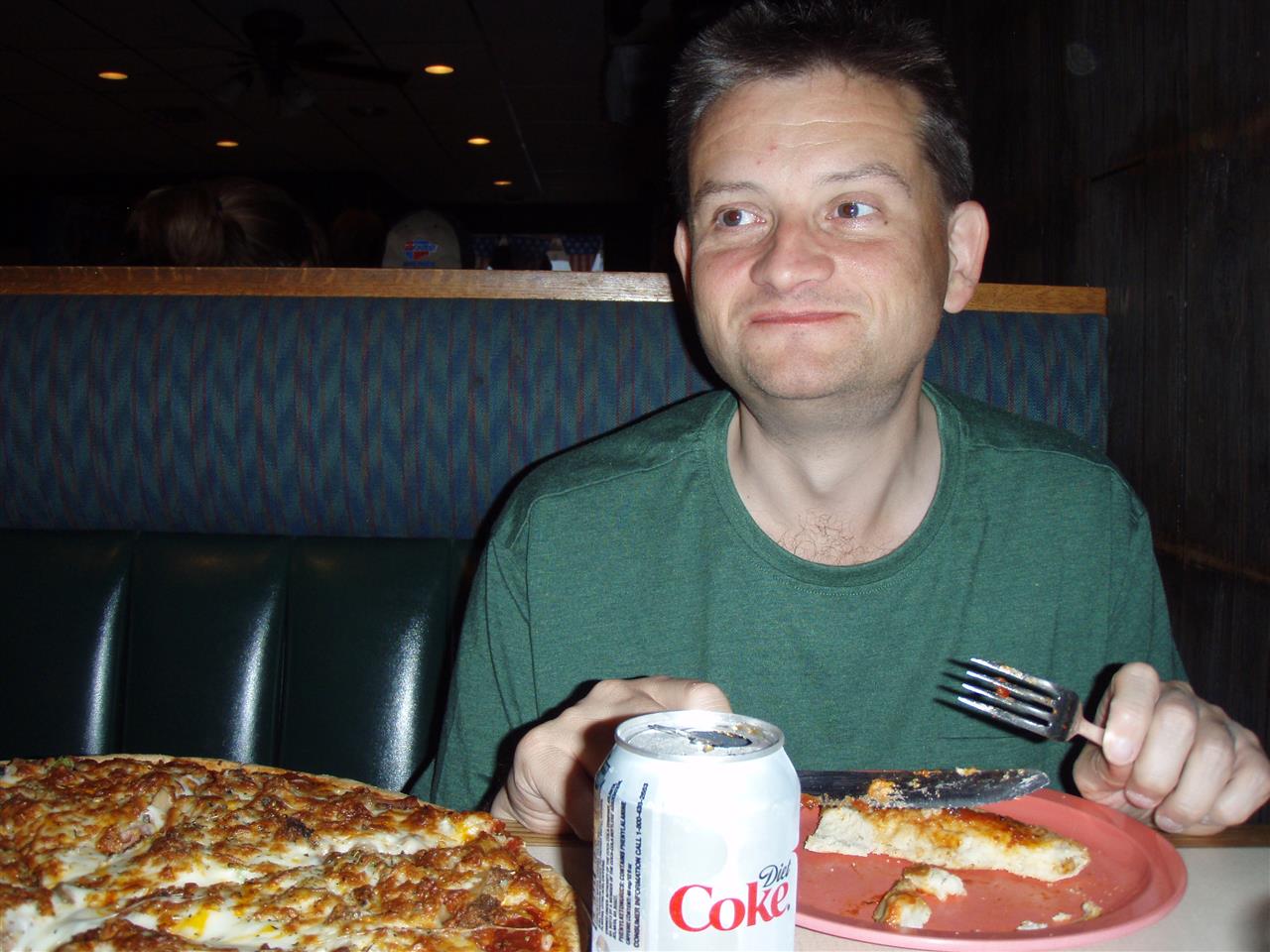 We will attempt to sleep in our motel, approximately 10 paces from the railway tracks, where 100 + carriage coal trains rumble past half hourly.

Spoke to Manuella , our contact at United airlines..Our case is currently thought to be in Delaware and is scheduled to land in Houston Lunchtime tomorrow. On the upside Ian is getting more used to wearing my underwear.

Good night reader

Jo & Marmite, Woof!
---
Day 3 : Tanking up the Middle Loup..and an Elks penis!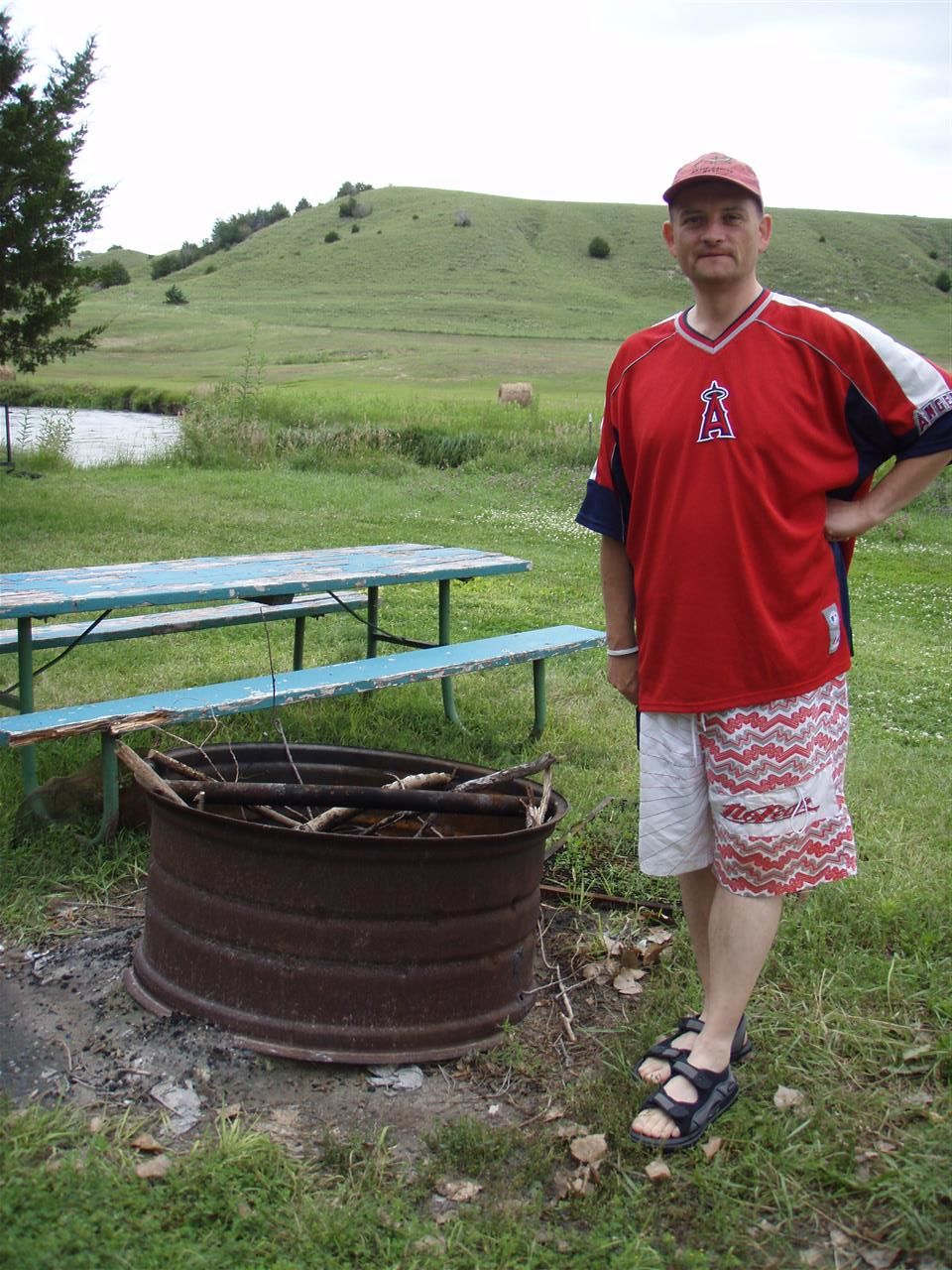 We arrived at Middle Loup River , via the usual school bus mode of transport, Ian was disappointed at the size & state of disrepair of our tank.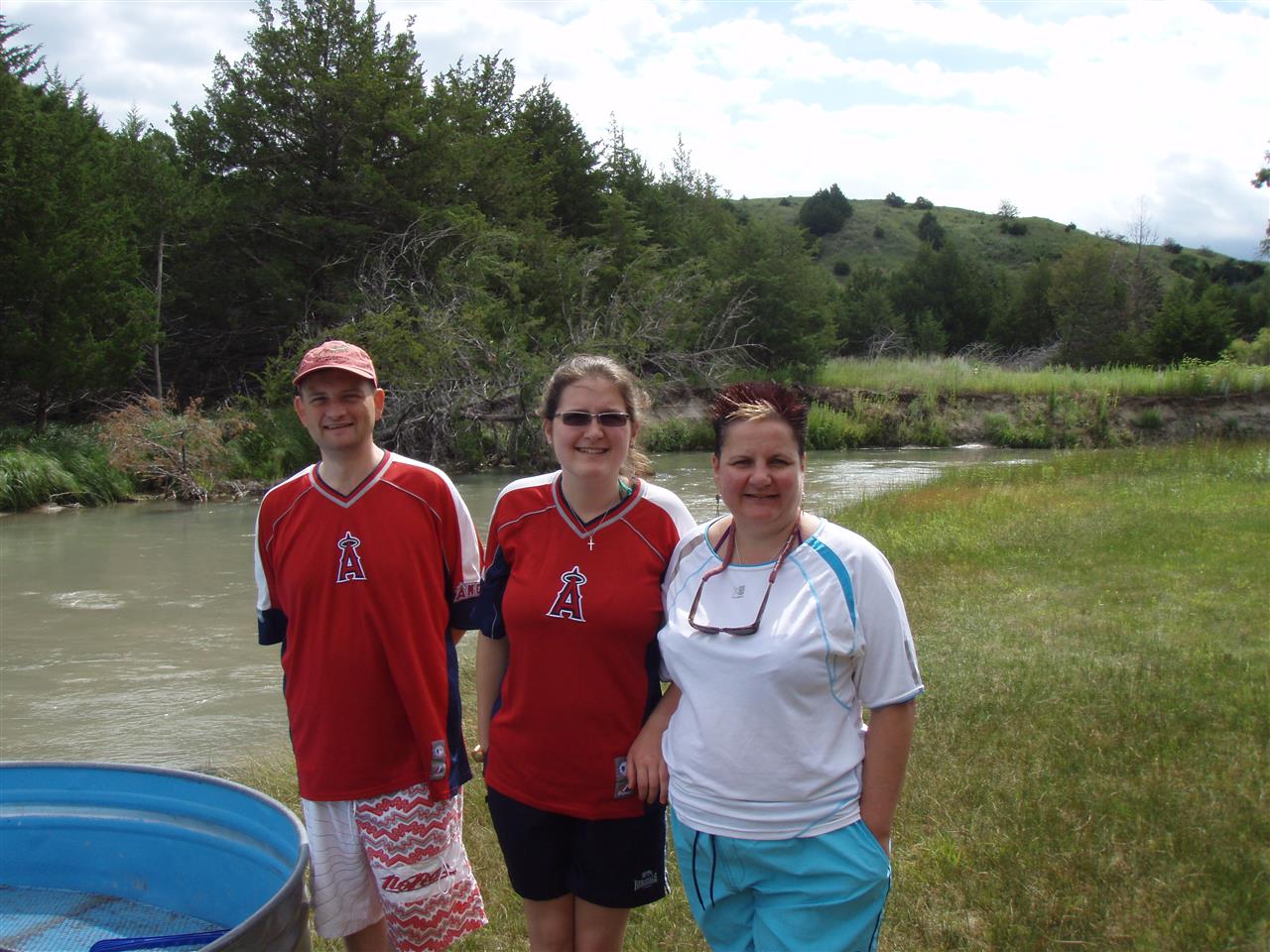 Fortunately the real Tank was in much better nick & we set off on the river.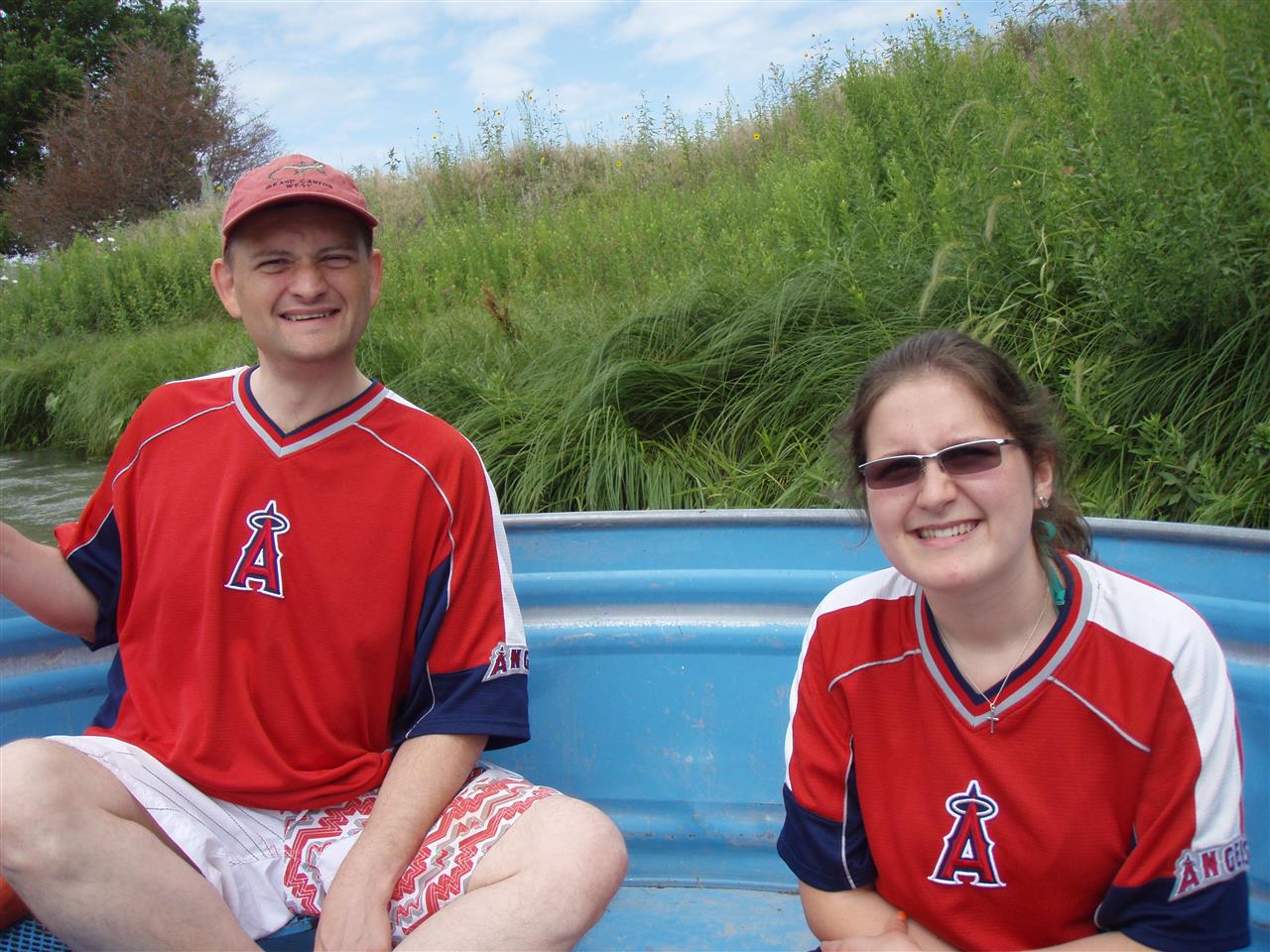 The weather quickly brightened up from overcast to scorching. The ride was not exactly hazardous, but required some manouvering around fallen trees & pushing off from the sandy shores.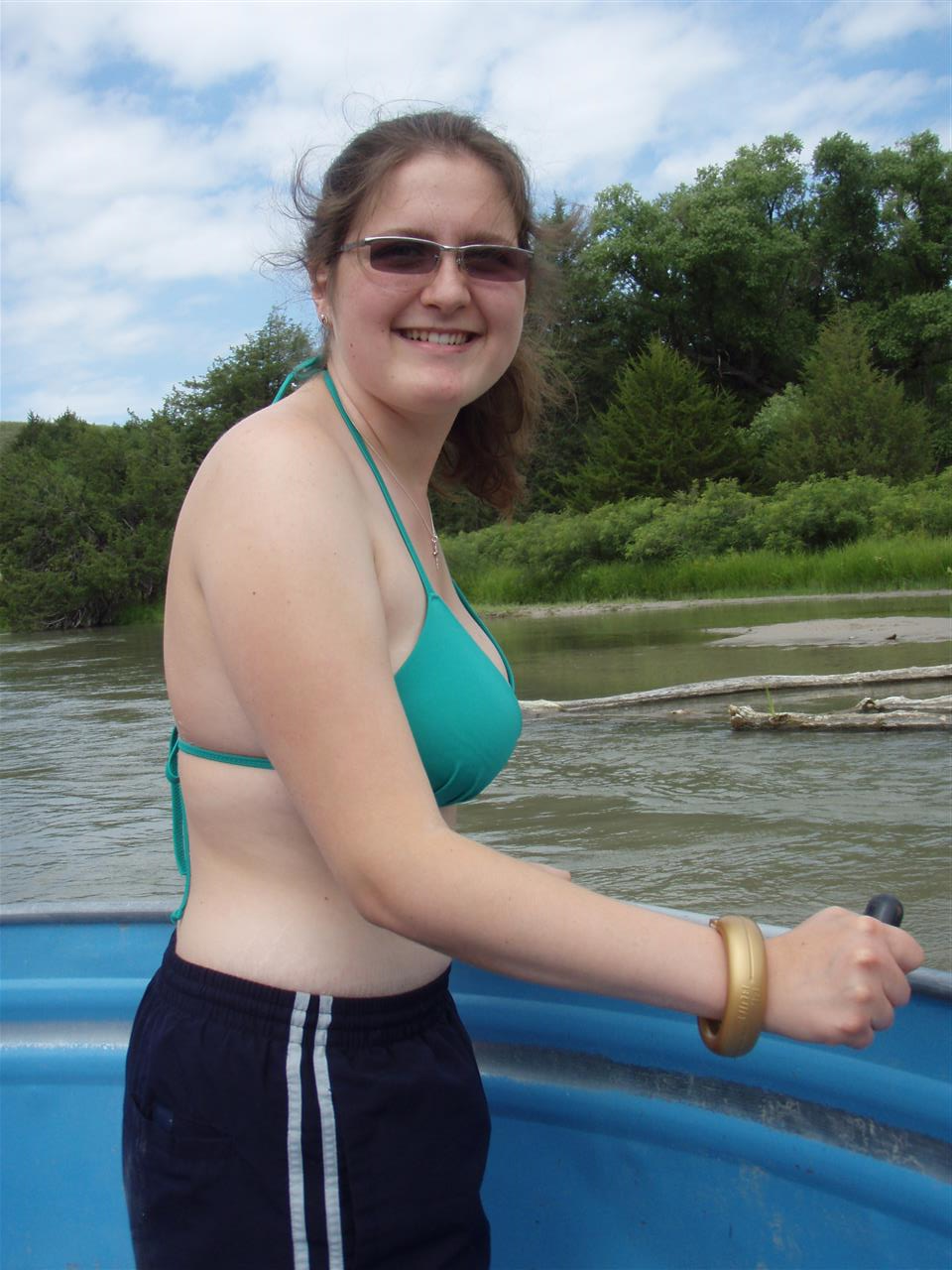 Hollie saved us from certain death at the blocked bridge!
Our first McDonalds of the trip..Even the "Dispicable me 2 "character was pleased to see us!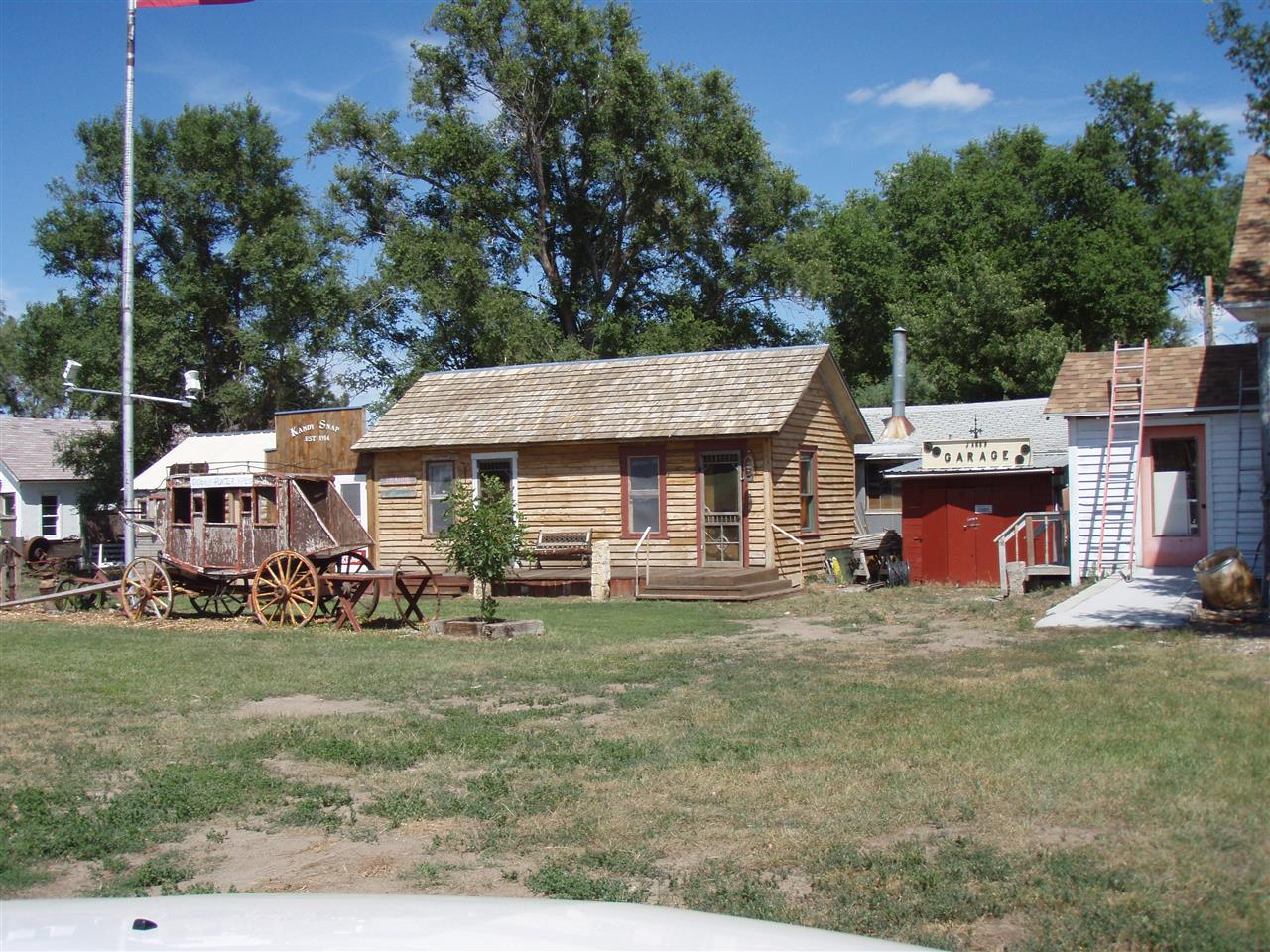 Next stop " Dobby's frontier town" WOW alI we can say is WOW!!
Ian was very disappointed that we weren't blown away by the historic value of Dobby's collection of dilapidated garden sheds.......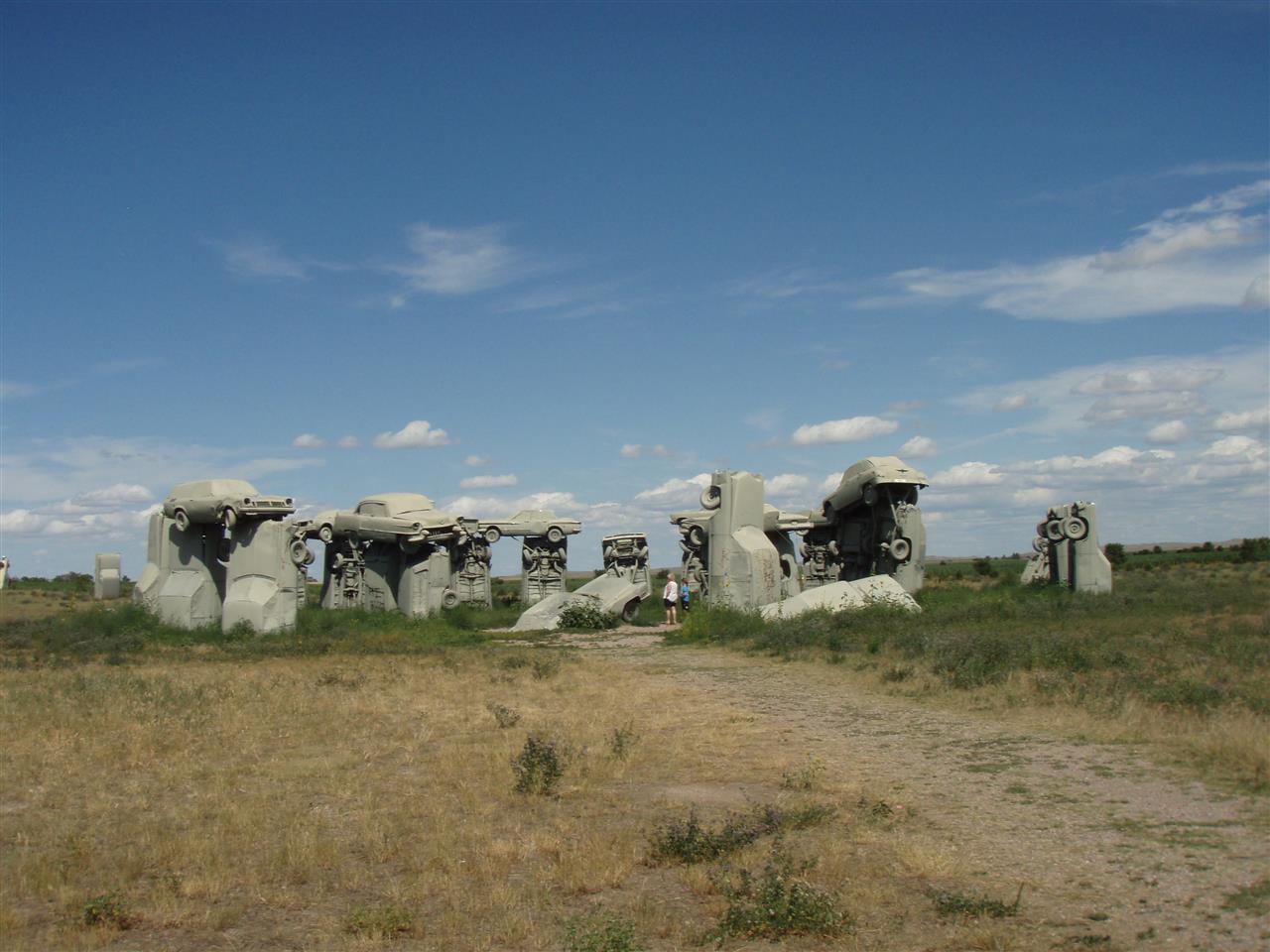 Next stop Car Henge..MUCH better some up-ended 1960's derelict cars fashioned into a replica of Stone henge. Art at its most high brow!!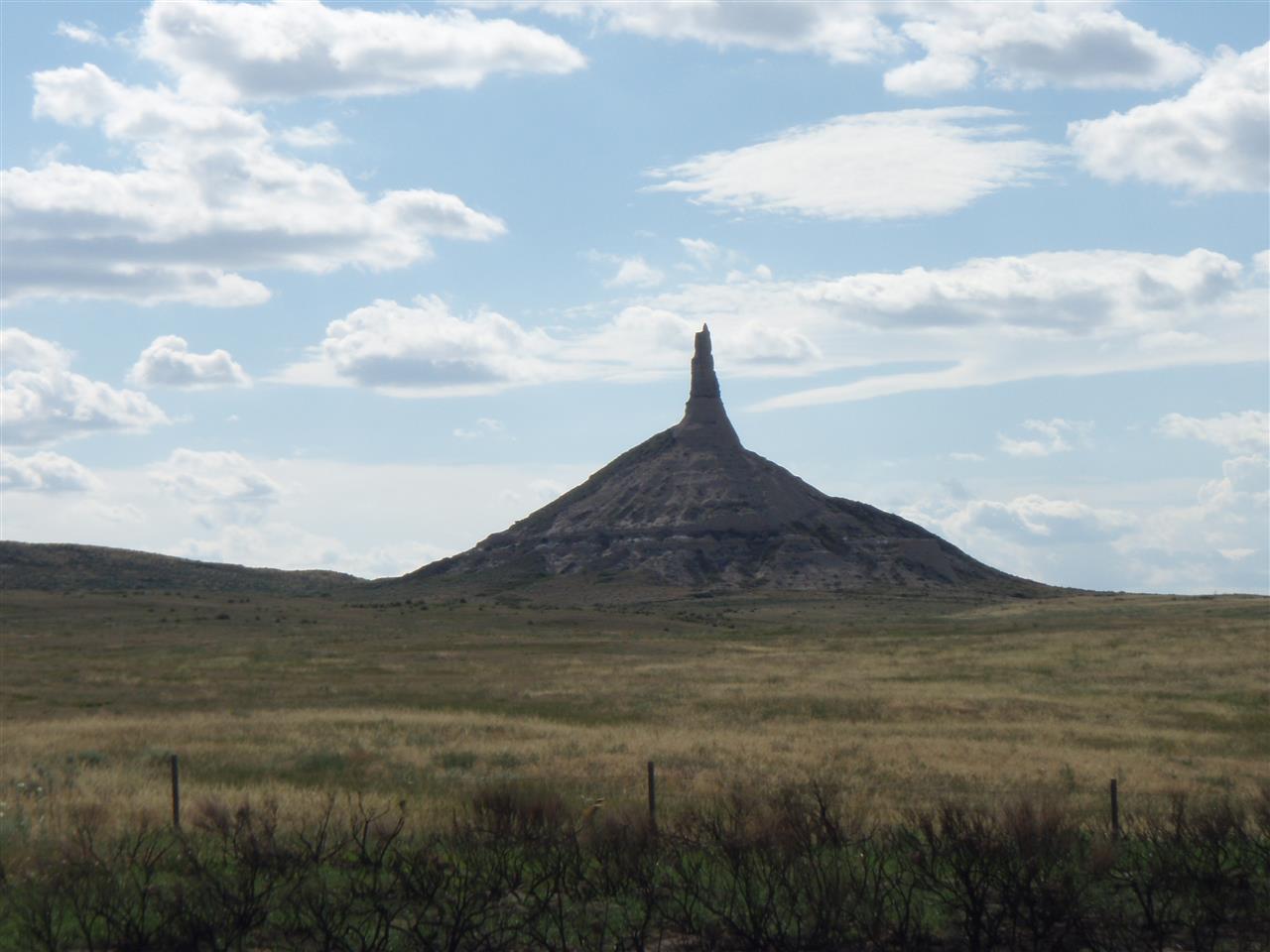 The day draws to a close & Chimney Rock.. A landmark on the Oregan Trail, Known by the locals as Elks Penis & renamed chimney rock by the settlers.
We paid $3 for Hollie to go into the visitors centre ( for a loo break ) She managed to watch the best part of an information video as well before Ian & I had her evicted by the Heritage lady!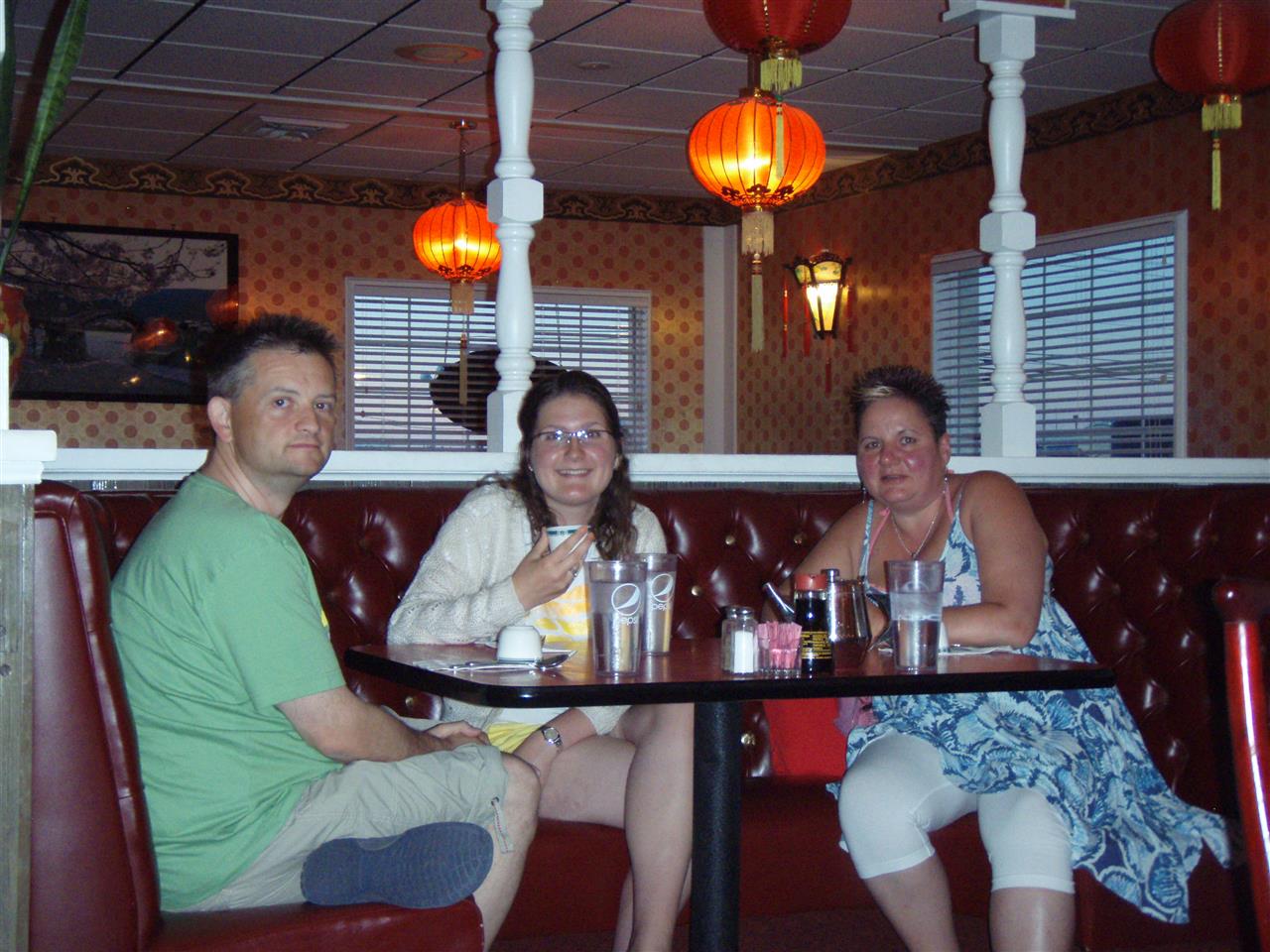 Well, having vowed to never spend the night in a Motel with a number in it's name, Motel 8 has lured us in, Ian is impressed with their cut price welcome..Min & I are less impressed with our Hispanic neighbours & the smell of cooking..My access to Laundry fascilities has been seriously disturbed by Pedro & his pals washing their smalls.

Dinner is being enjoyed at " Oriental house" next to the east village shopping centre, if you know it in Scotts Bluff.

Off to our beds shortly for a taco fragranced sleep & a fist fight for first dibs on the dryer..

Goodnight reader xxx

P.S.. Suitcase update, Spoke to Manuella.. Ians case was last scanned in New Orleans International airport 5am local time en route to Barcelona!
---
Day 4 : Taking the Oregon Trail with prairie dogs, Simples!
We Checked out of the epic Motel Super 8, Beating Mrs Pedro to the dryer in a photo finish event..meant that my undies were dry : )
The Historic " Scotts Bluff " Offers an insight into the early pioneers & their gruelling trek across the plains.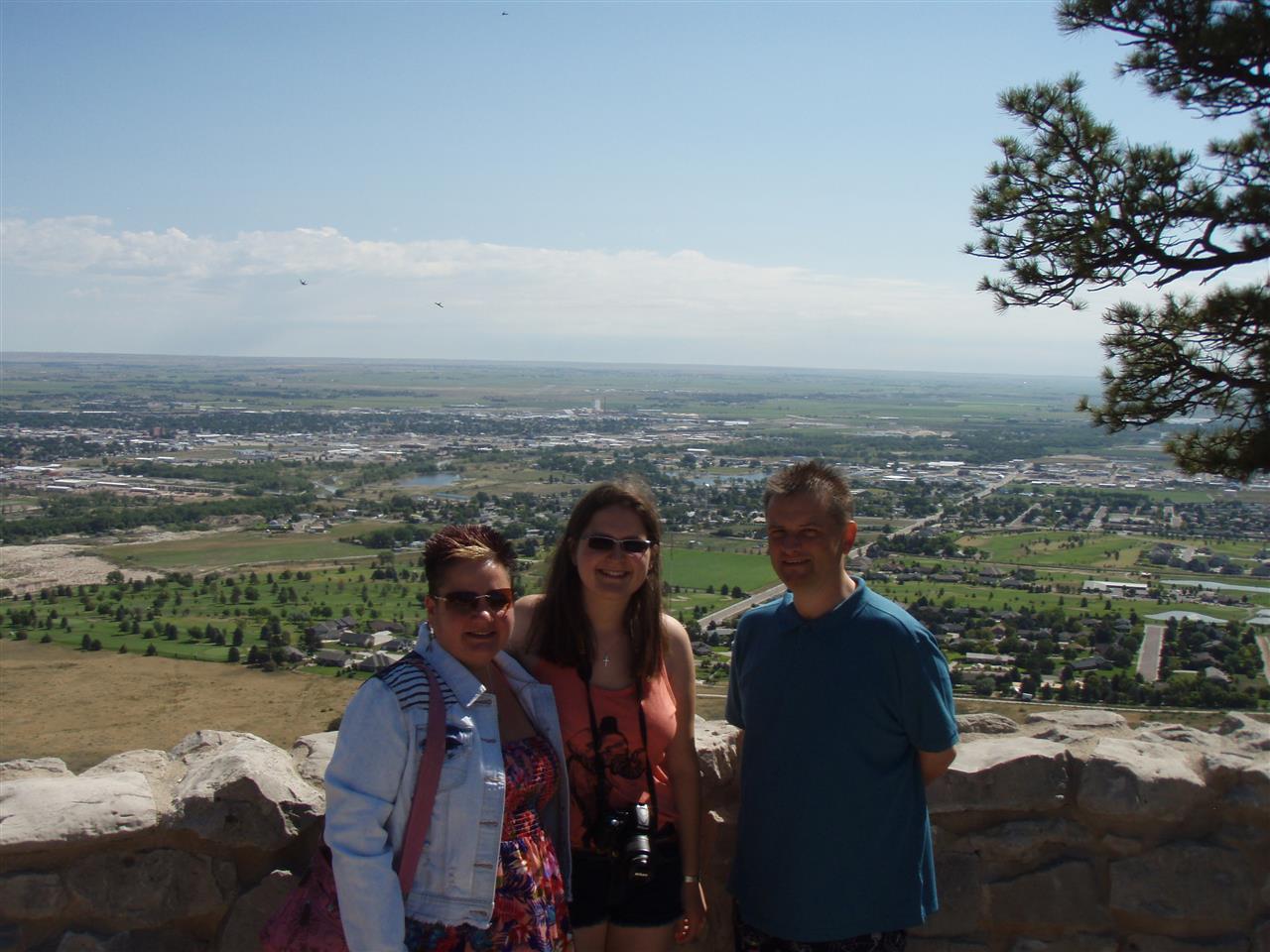 We took the car to the top, and made a series of walks out to the magnificent view points.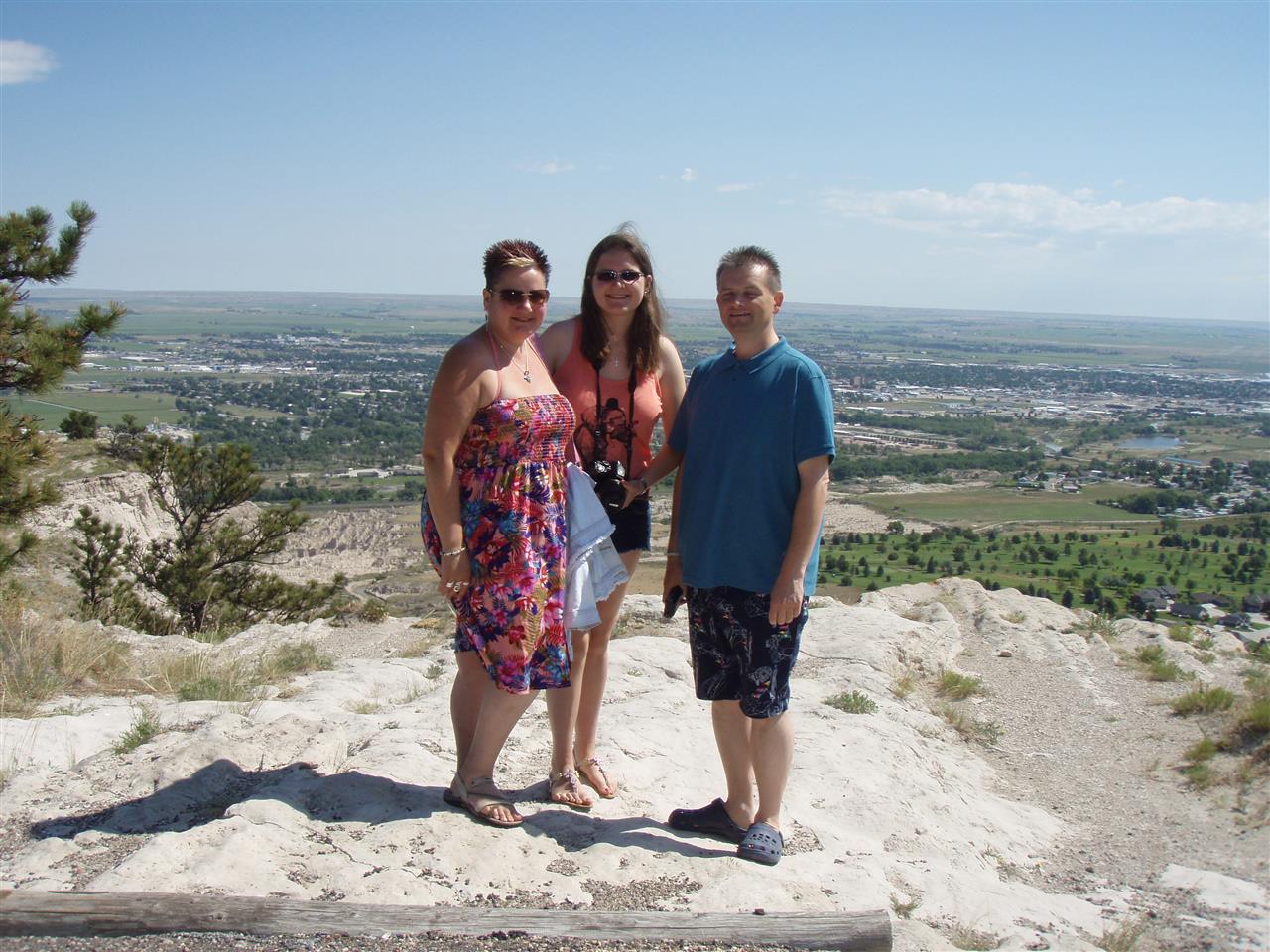 Some kind passers by took our pic.
Hollie tried her hand at some arty shots.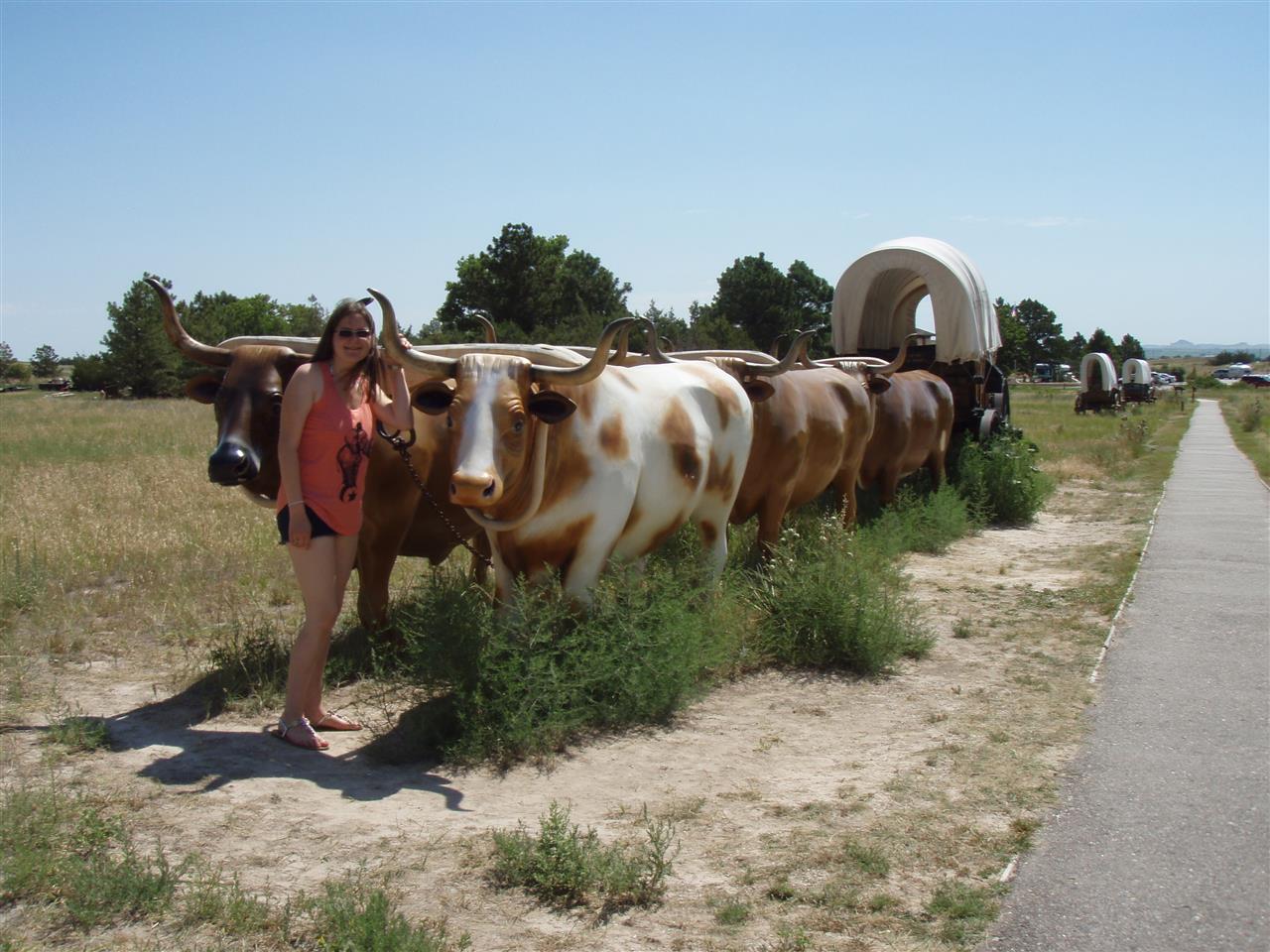 At the visitors centre, were replica wagons pulled by some rather sad looking Oxen.
Whats this you ask? Standing at the side of the road...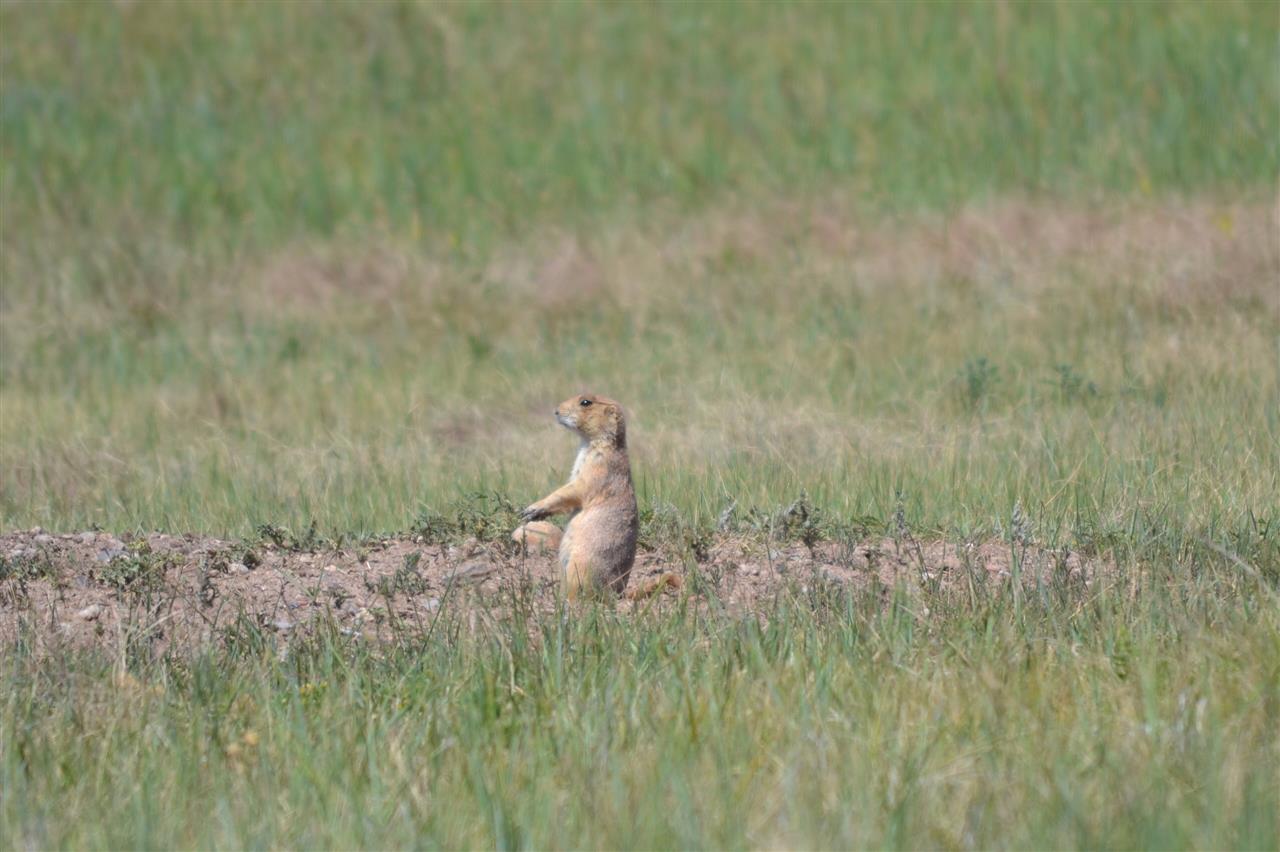 Americas very own version of the Meer cat..The Prairie Dog.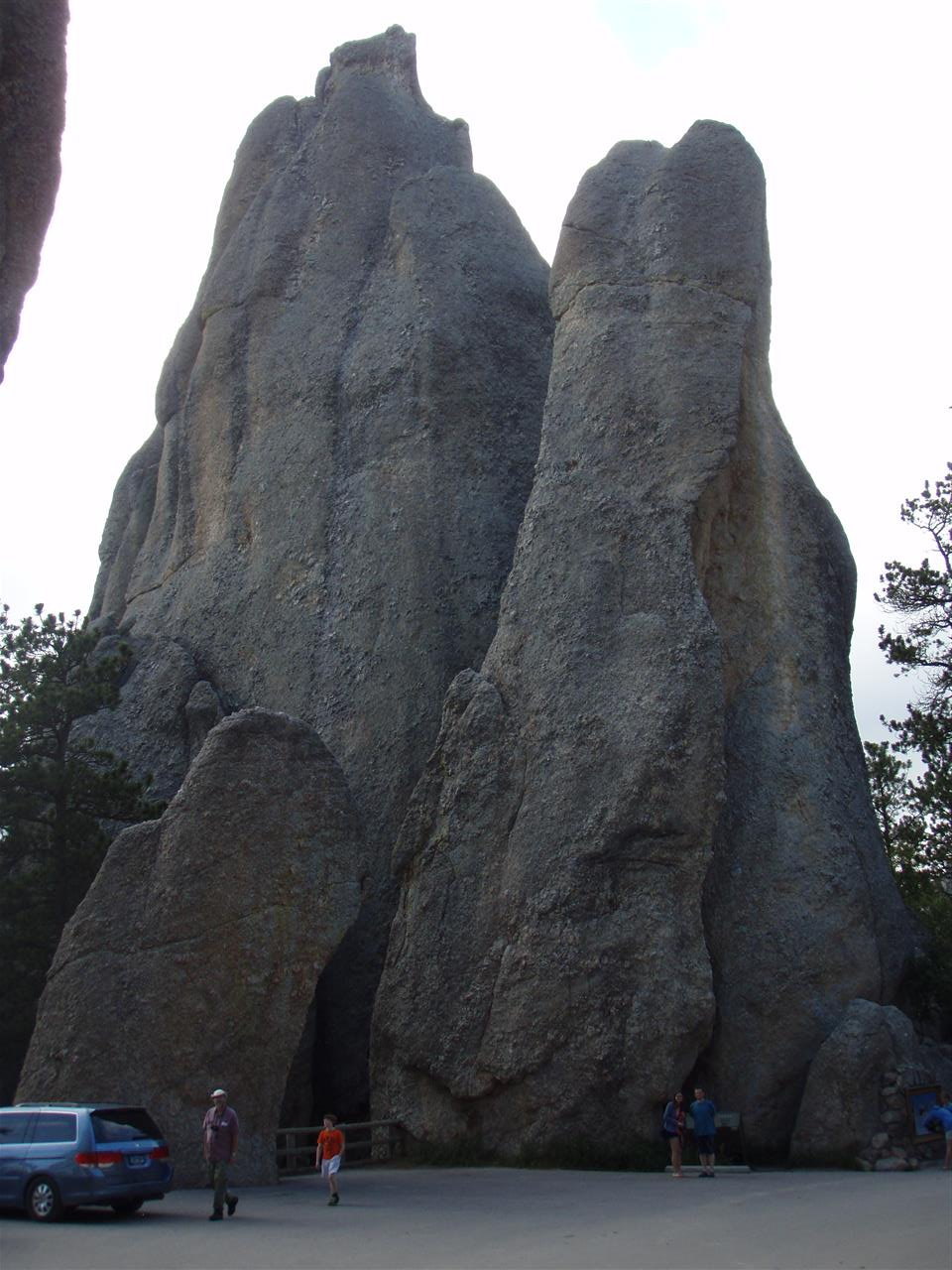 After a walk through Custer , We went to "The Needle" a geological marvel in the Custer state park..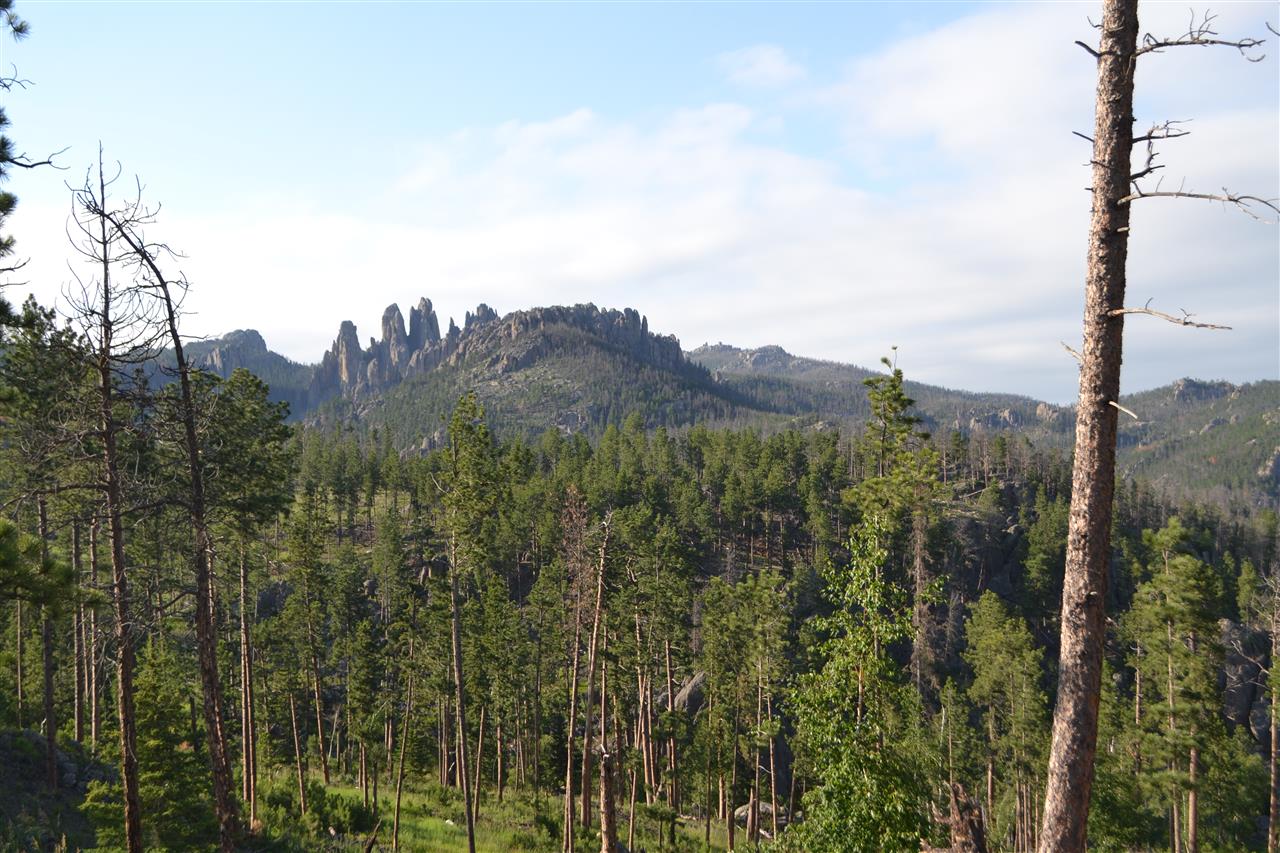 The forest provided some long distance view points for the phalic rocks.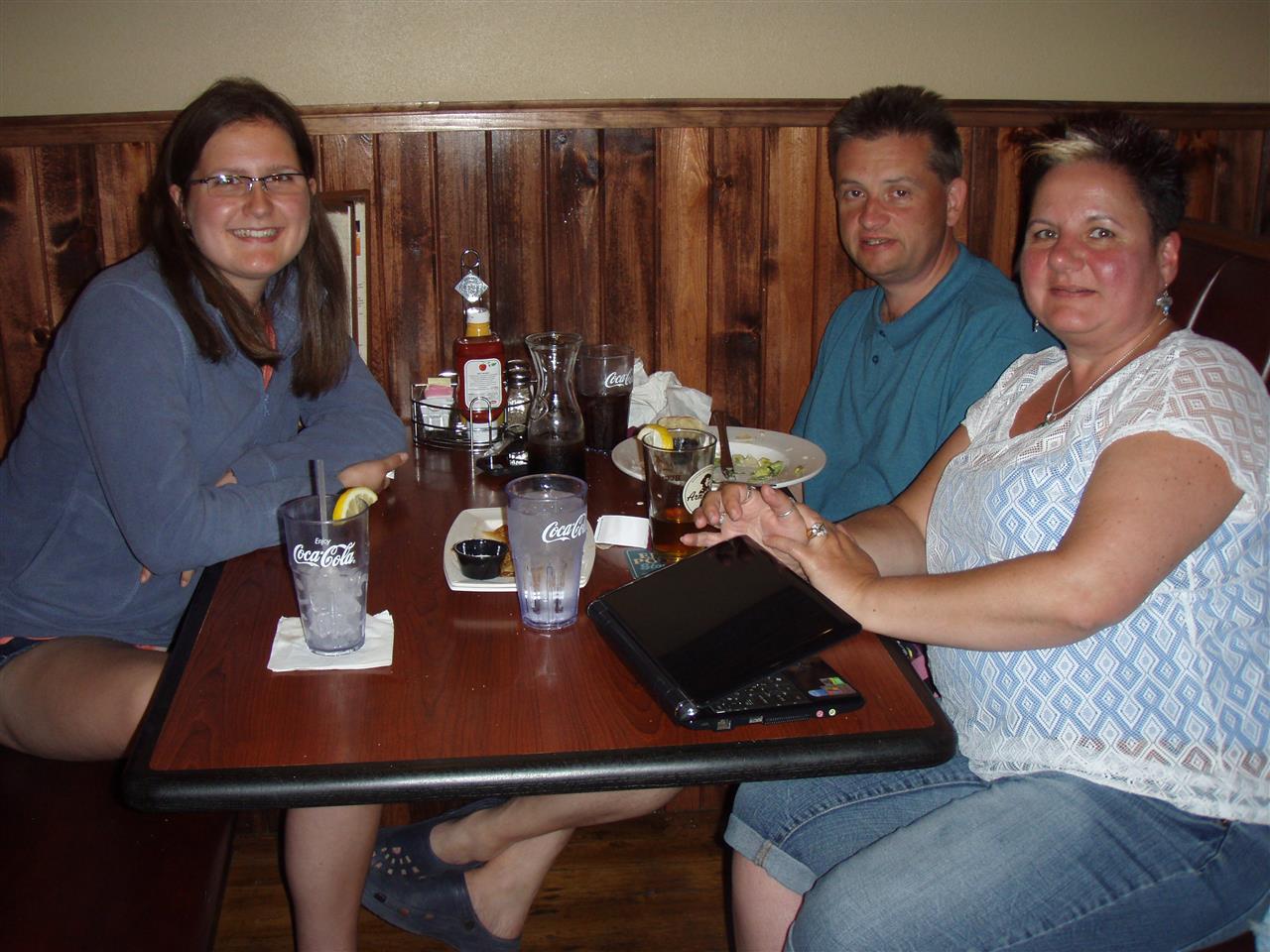 Tonight we plan a late night visit to Mount Rushmore..& a flood lit view up Lincolns Hooter!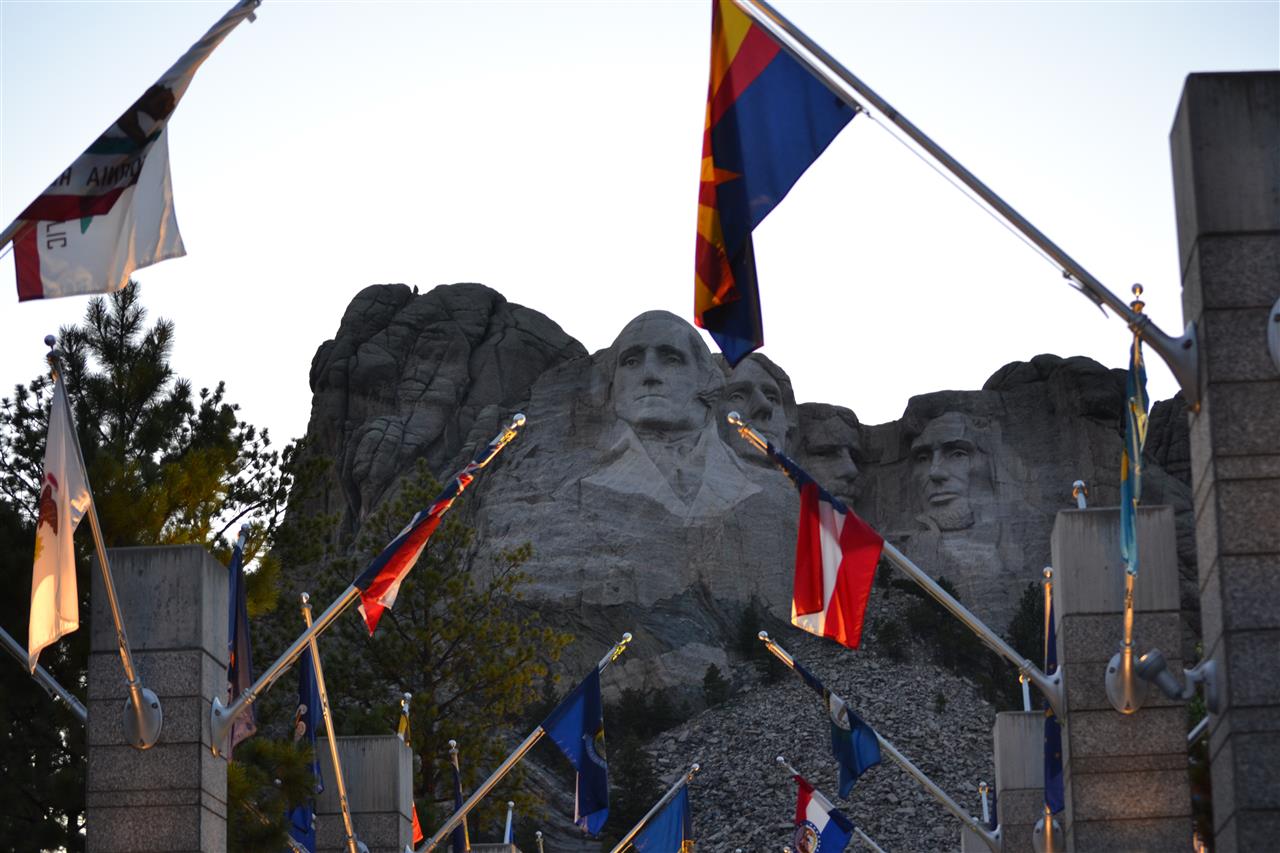 Half an hour later we arrived at Mount Rushmore. We were astonished by the sheer number of people packed into the amphitheatre, to see the spectacle.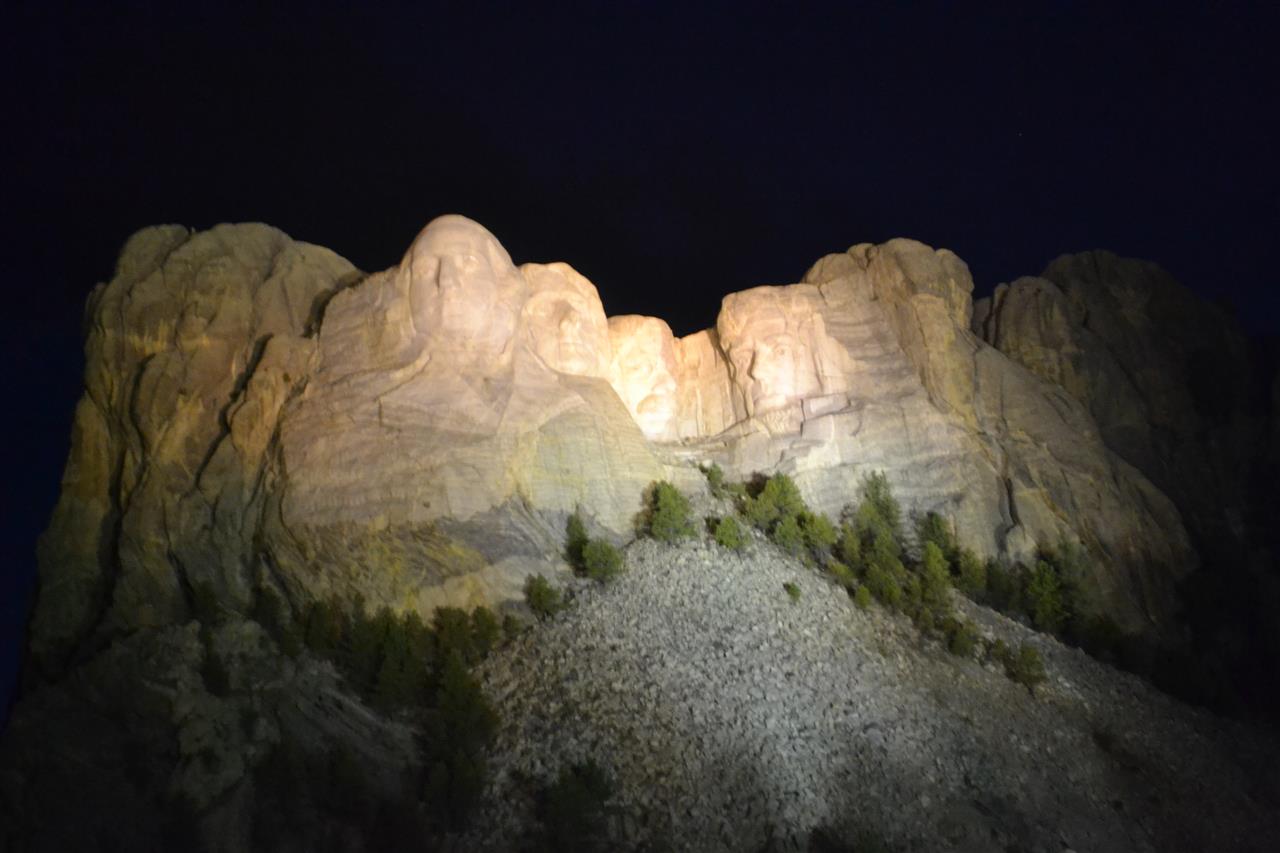 After a monologue from a member of the ranger service & a syrupy patriotic video , darkness had covered the monument.
The sight of the illuminations made the wait well worth while.

Back at our cabin we are tired out & have taken to our beds!

Goodnight reader xx

Suitcase update..Manuella's day off, spoke to Peter at United Airlines.
Ians bag has cleared customs in Barcelona & was taken by UPS to Madrid, where it was loaded on an overnight flight to Reykjavik.
---
Day 5 : Wind caves & a drive through Bison country.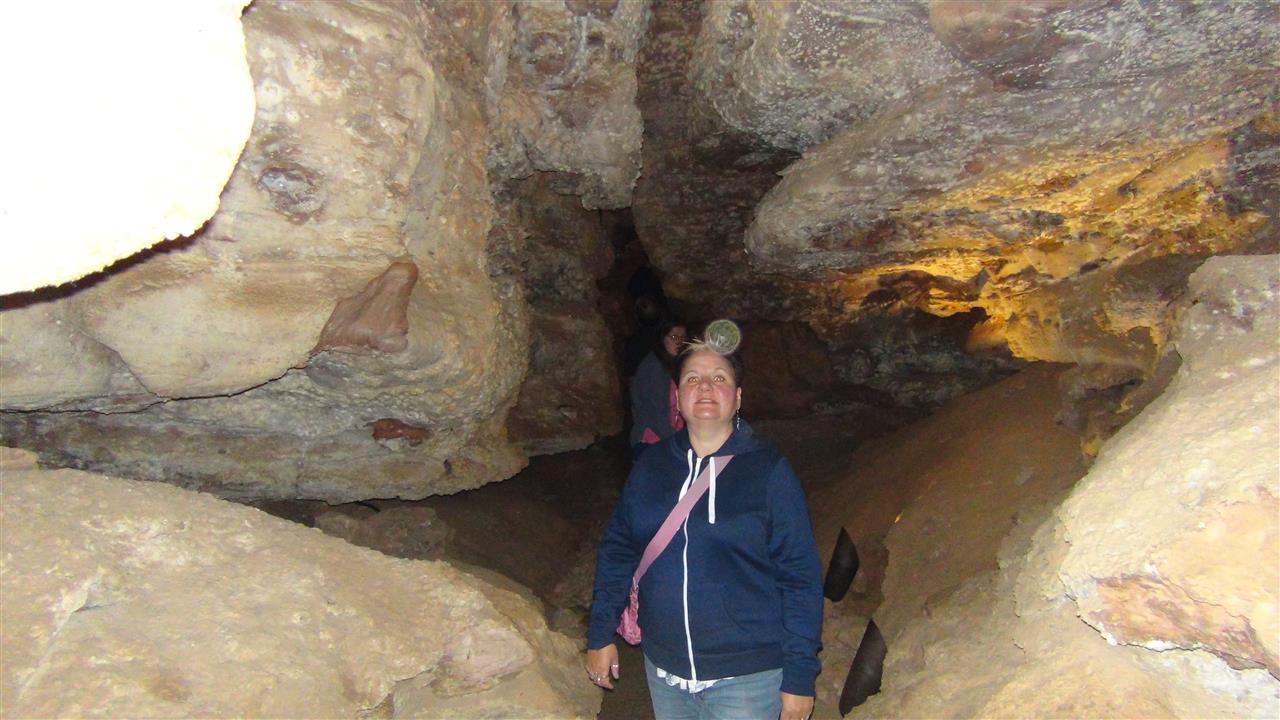 Wind Caves National park is the home to Wind Caves & Jewel Caves. We opted for a gentle down hill stroll via the natural cave entrance, as opposed to the daily 4 hour crawl thru tour!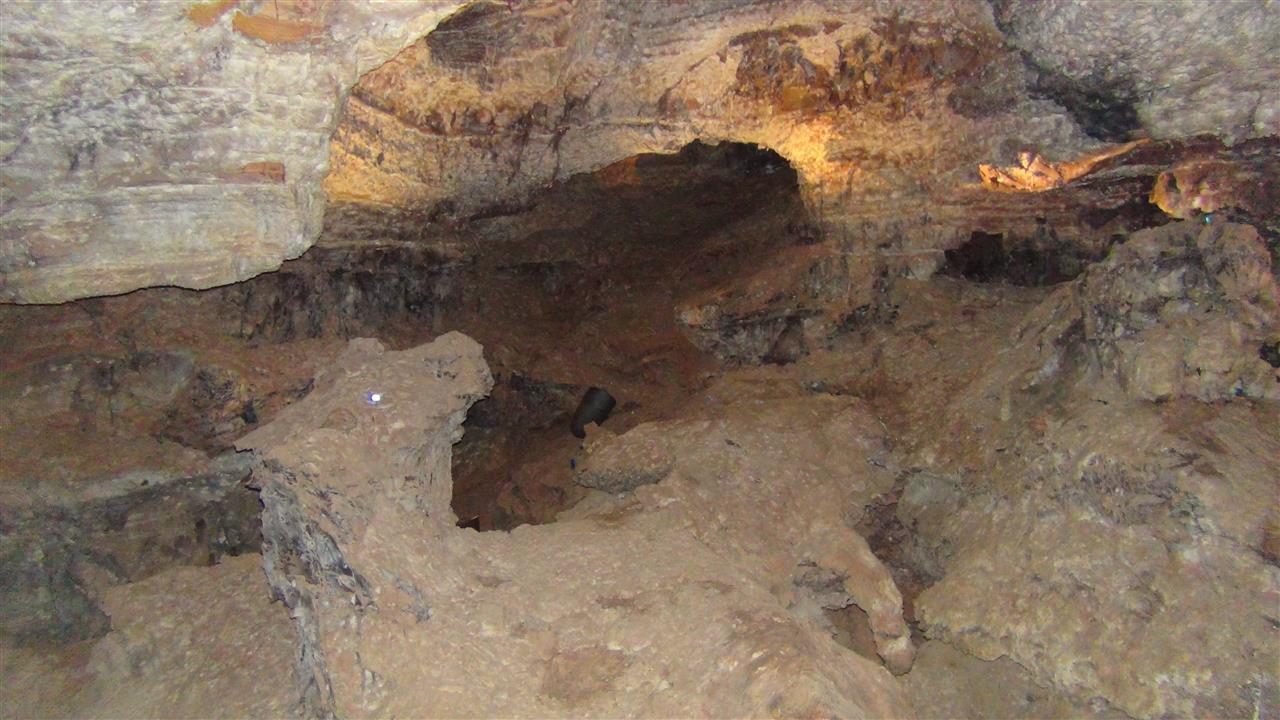 The massive cave system is thought to be only 5% discovered, so far 140 miles of tunnel over 3 levels have been mapped! The entire site is only about a mile square!!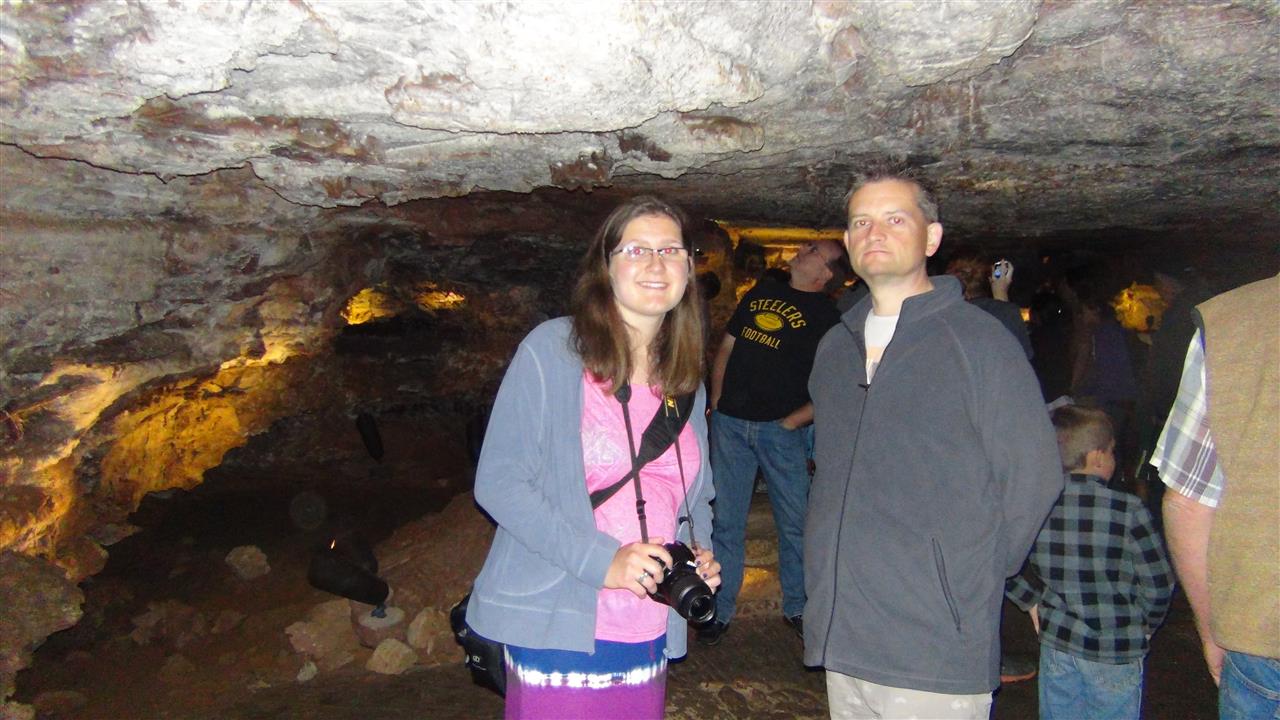 Our annoyingly chipper Ranger tour guide April , led our expedition..
She told how in the 1850's, hunters discovered a natural hole through which a great wind could be felt.. Later came 16 yr old Alvin McDonald who set out to map the caves, Armed with no more than a candle & a ball of string , which he let out to guide his way home, Alvin in his short life mapped 7-9 miles of the caves.
Alvin died of Typhoid at the young age of 20.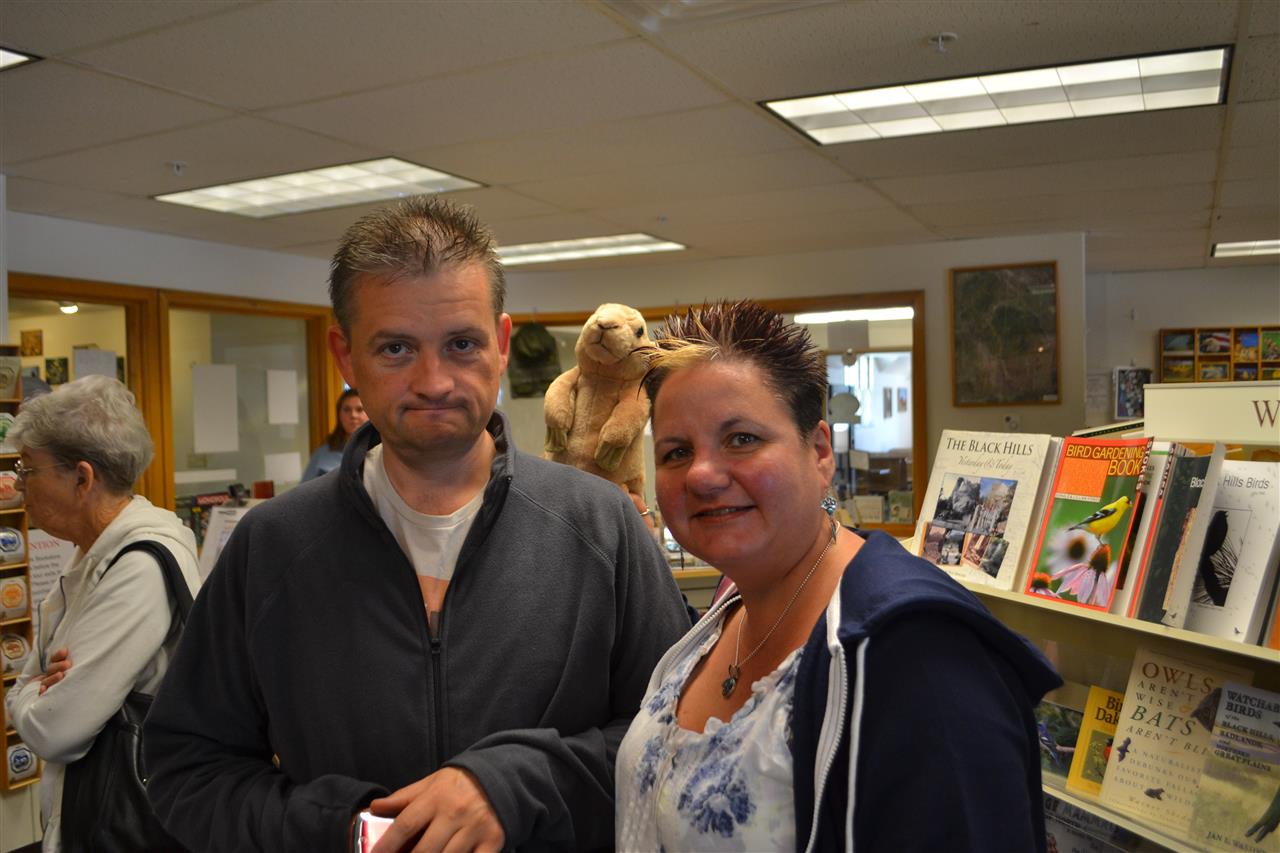 Seems those pesky Meer cat / Prairie dogs are photo bombing innocent book shop visitors!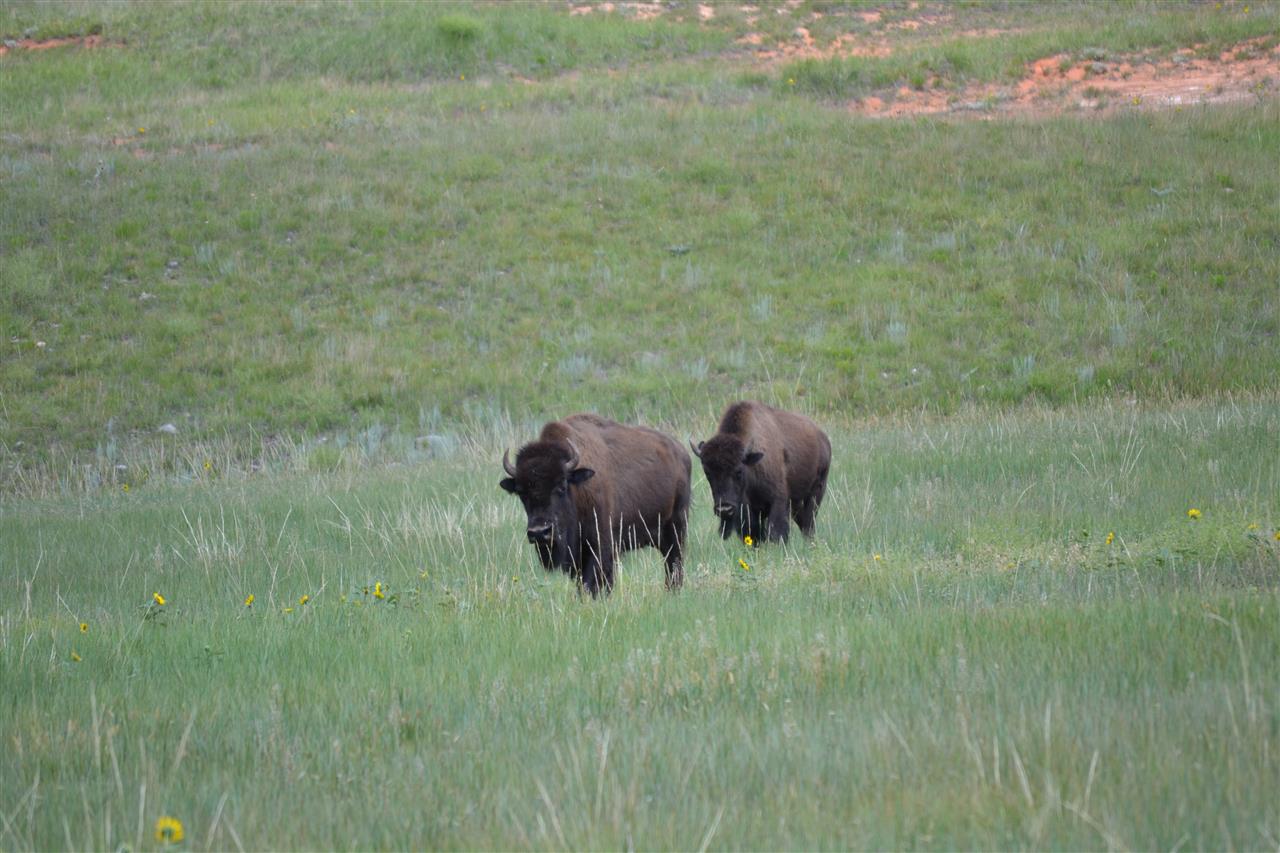 Upon Aprils advice we headed offroad in search of Elks.. But we soon stumbled into a herd of Bison.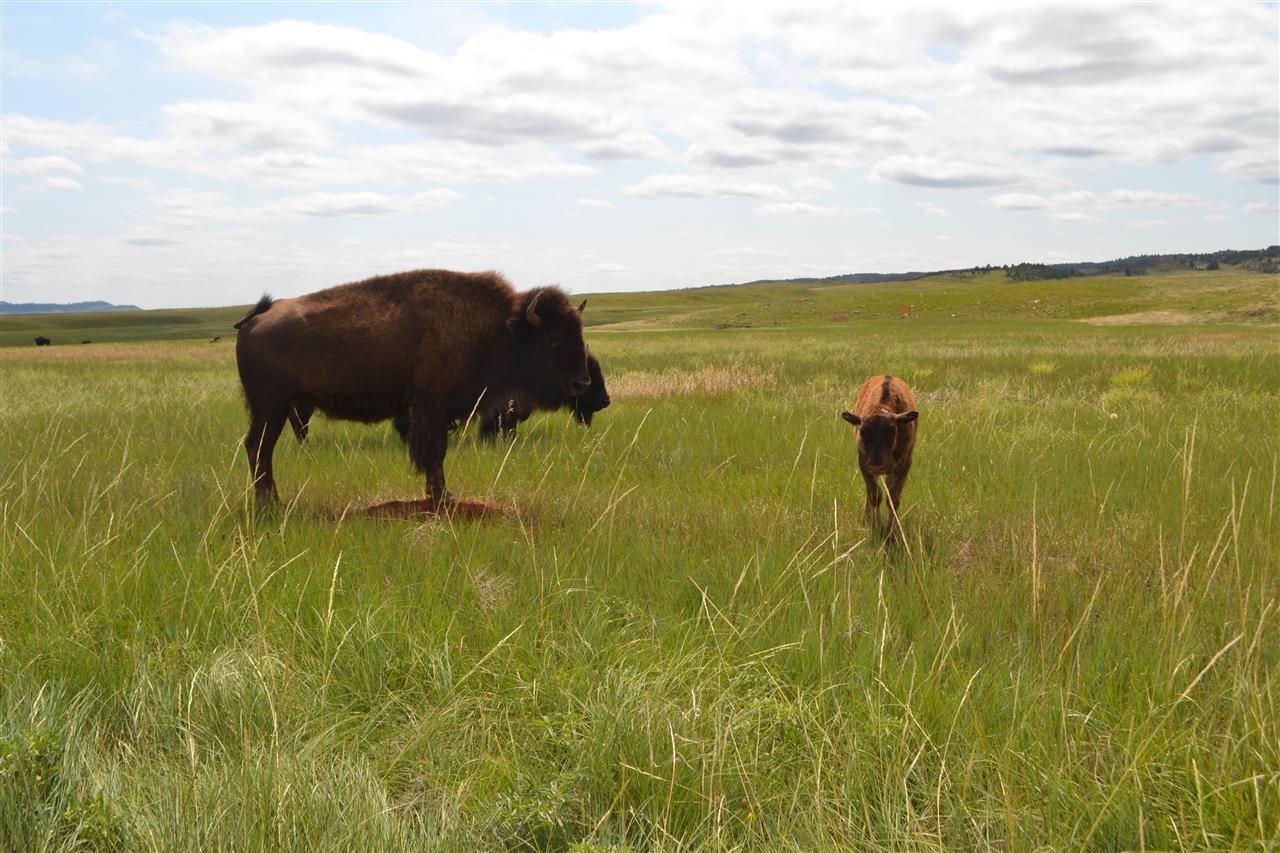 This year marks the 100th anniversary , of the re-introduction of Bison on the Black Hills prairie.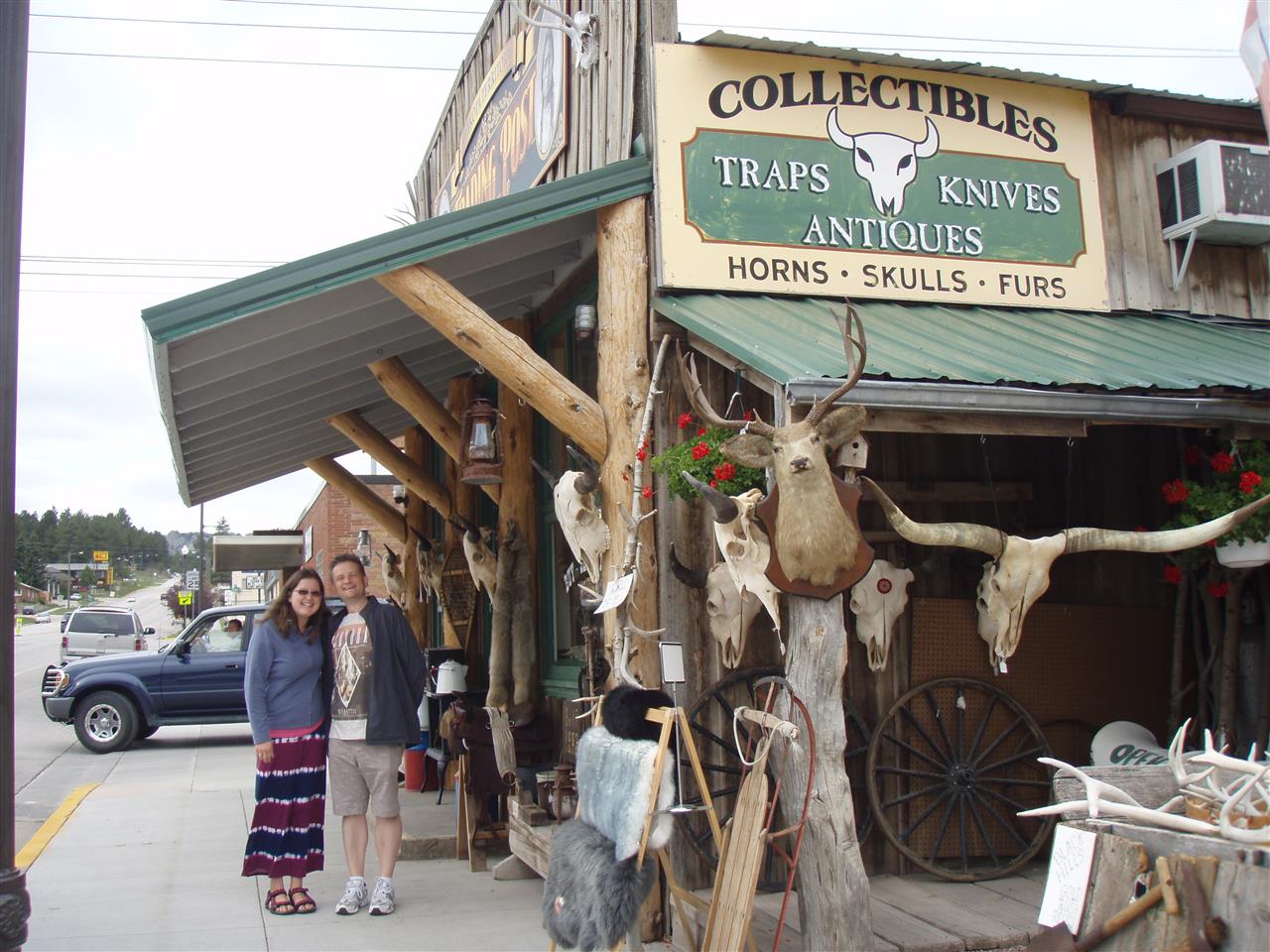 After the scorching heat the mid west has endured over the past weeks, we have arrived to unseasonably chilly temperatures.
Instead of the pool we explored Custers trendy shops !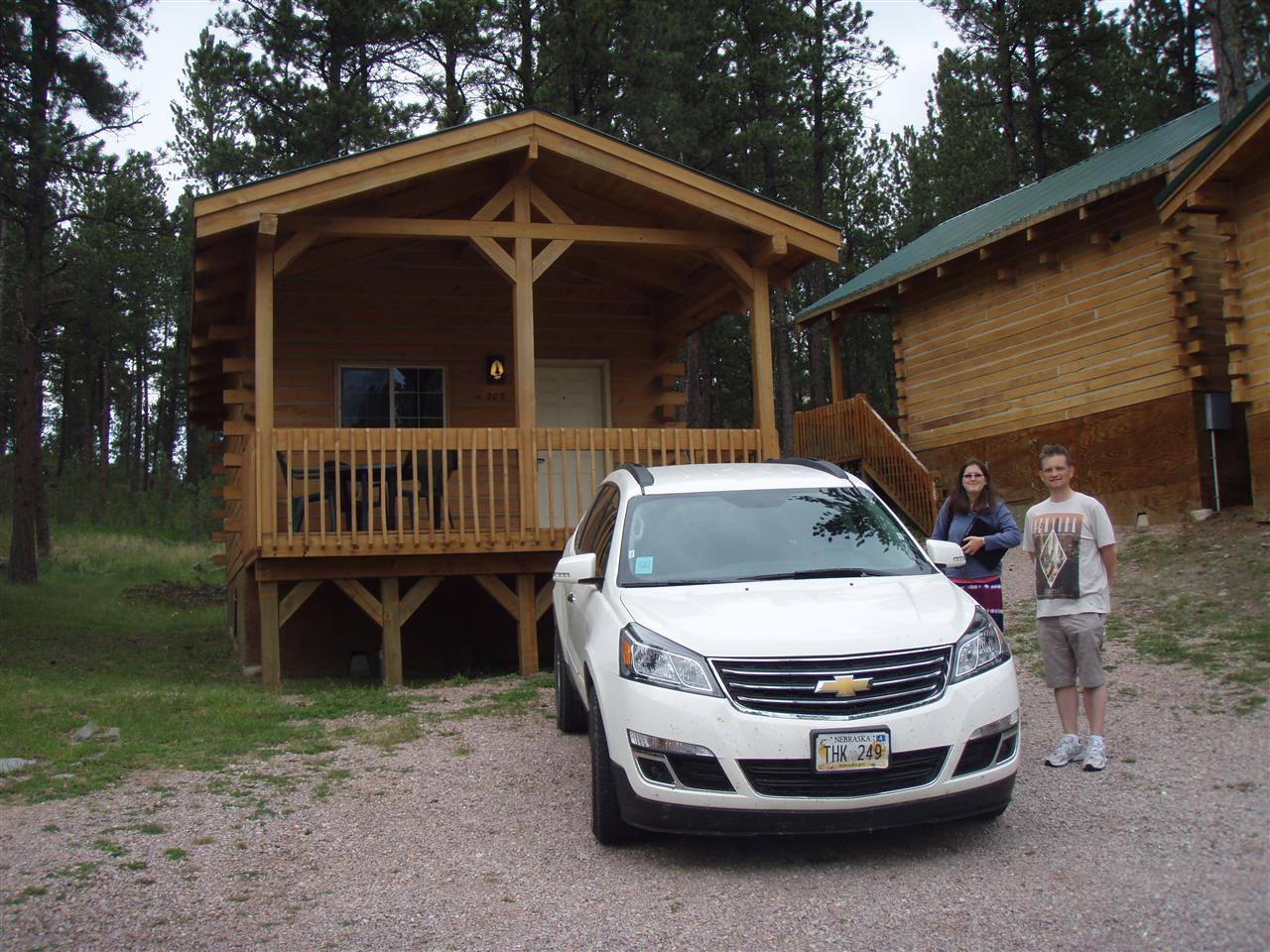 This is our cabin.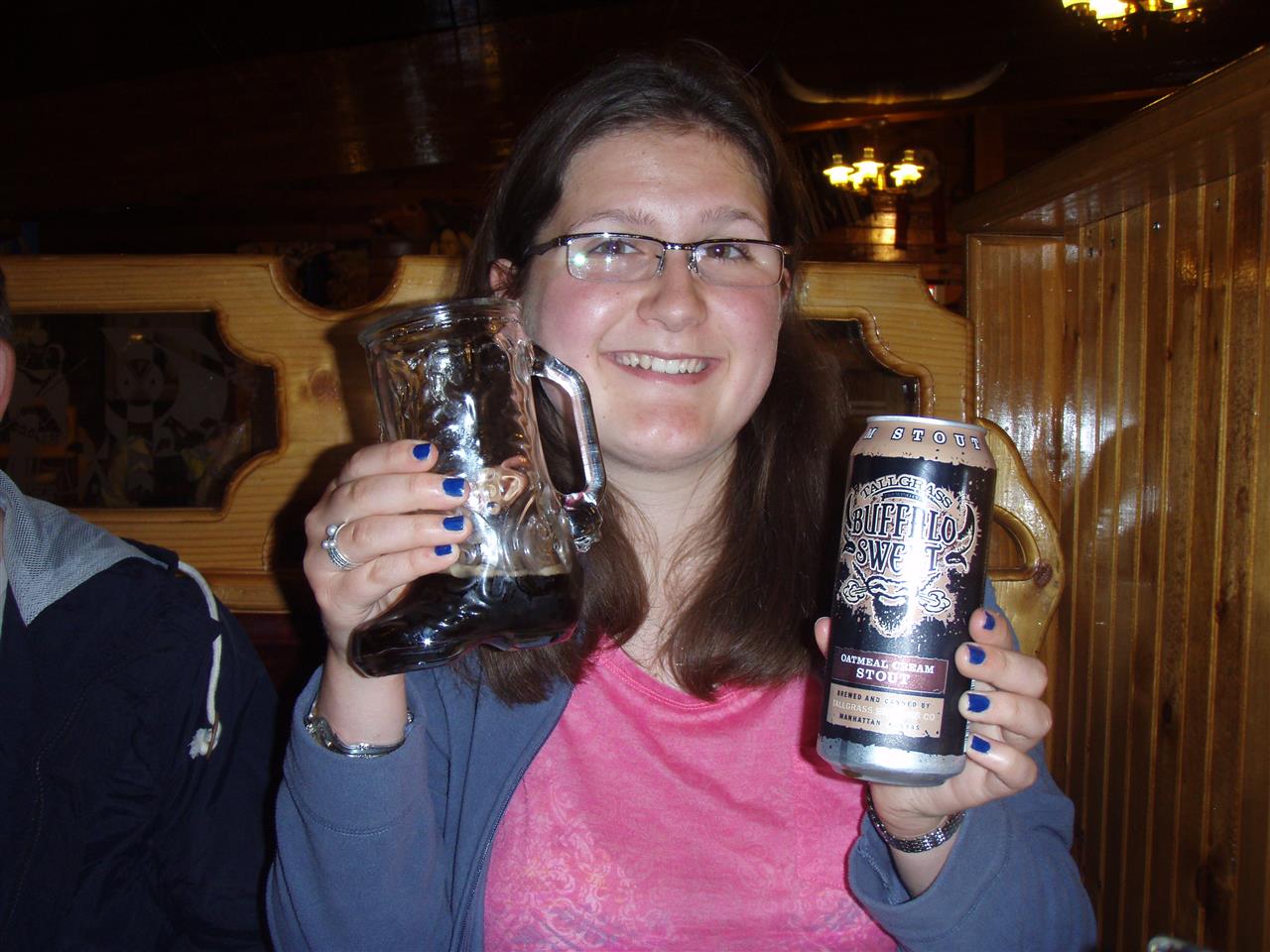 And from the drinks menu tonight, we bring you "Buffalow Sweat",,,hmm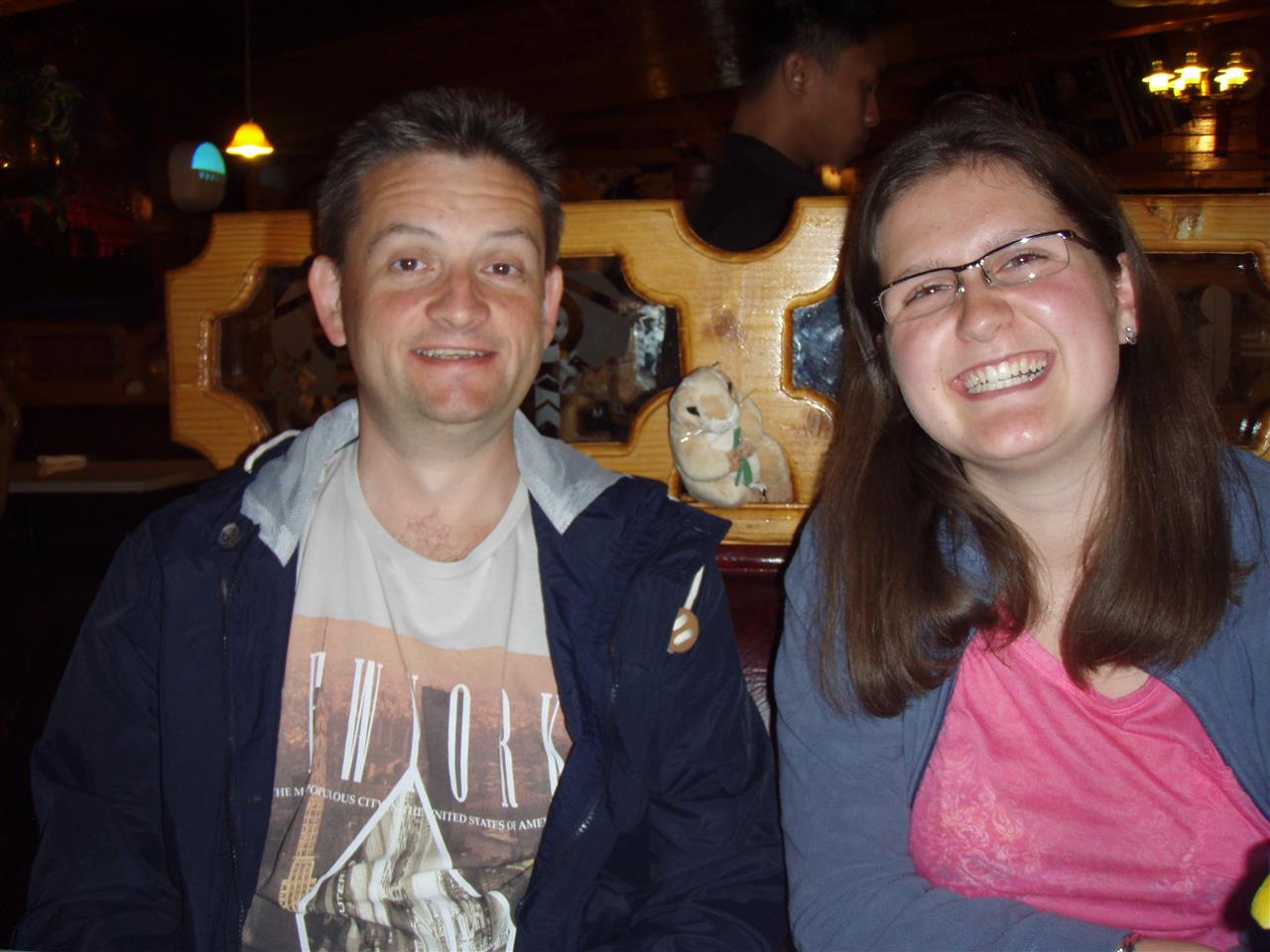 Dinner at the Cattlemans Cafe..a big success..Ian says his Pepper corn & gorgonzola steak was the BEST ever!!!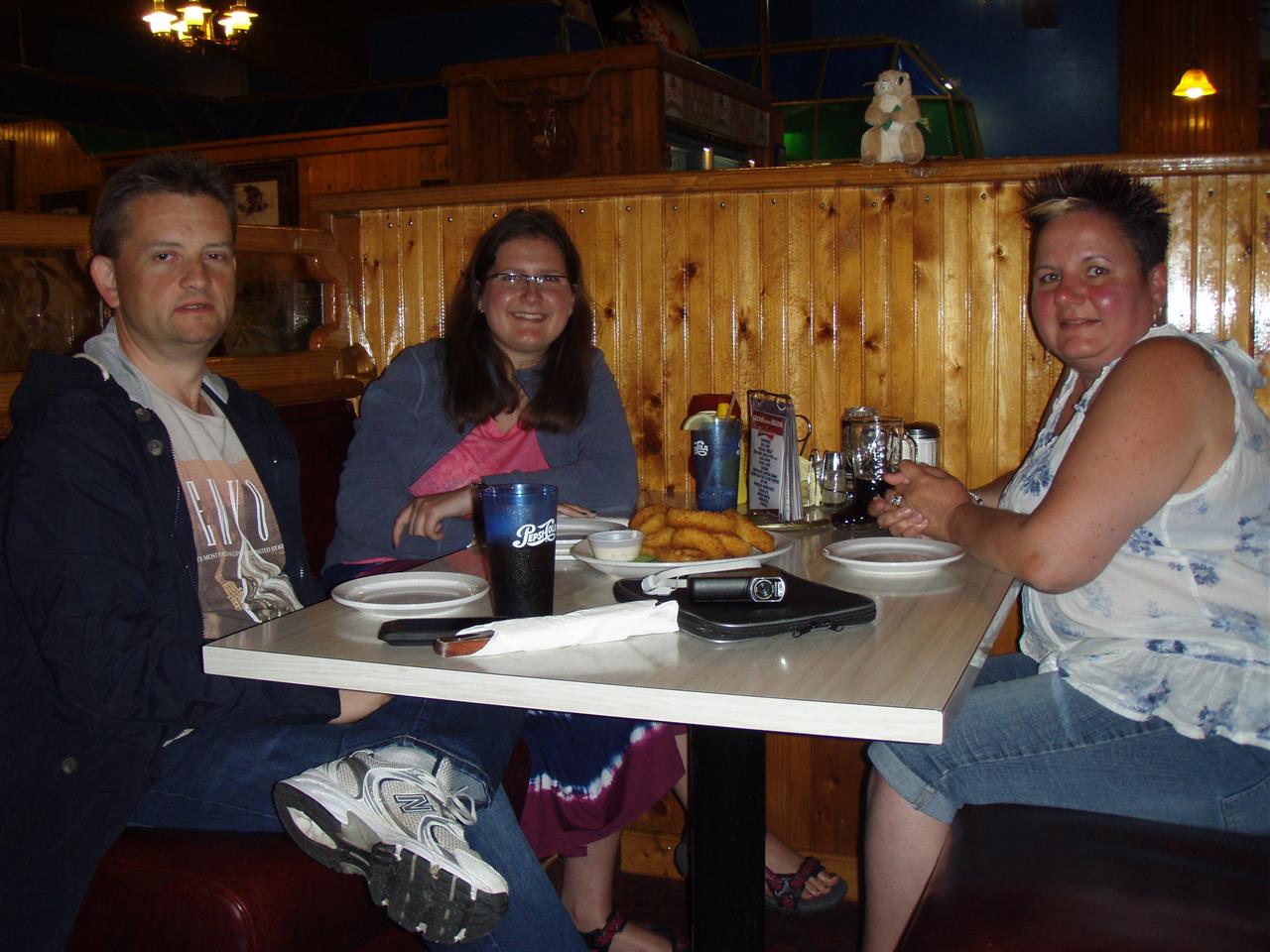 Back at Chez cabin we have put the heating on . We contemplate leaving Custer tomorrow & heading North to Deadwood. We have missed the Sturges Motorcycle rally by 1 week, but the town is gearing up for its annual influx of hairy bikers & their husbands ..

Goodnight happy reader. xxx

Suitcase update, we can now up load the position of Ians suitcase remotely ,as all the shaking about has activated Ians GPS gadget, It left Rekyavic at 10am & is due to land in Toronto 2pm local time..Its almost within our grasp, I will be glad to get my underwear back!
---
Day 6 : 4 years of Marriage..with Calamity Jane & Wild Bill Hickock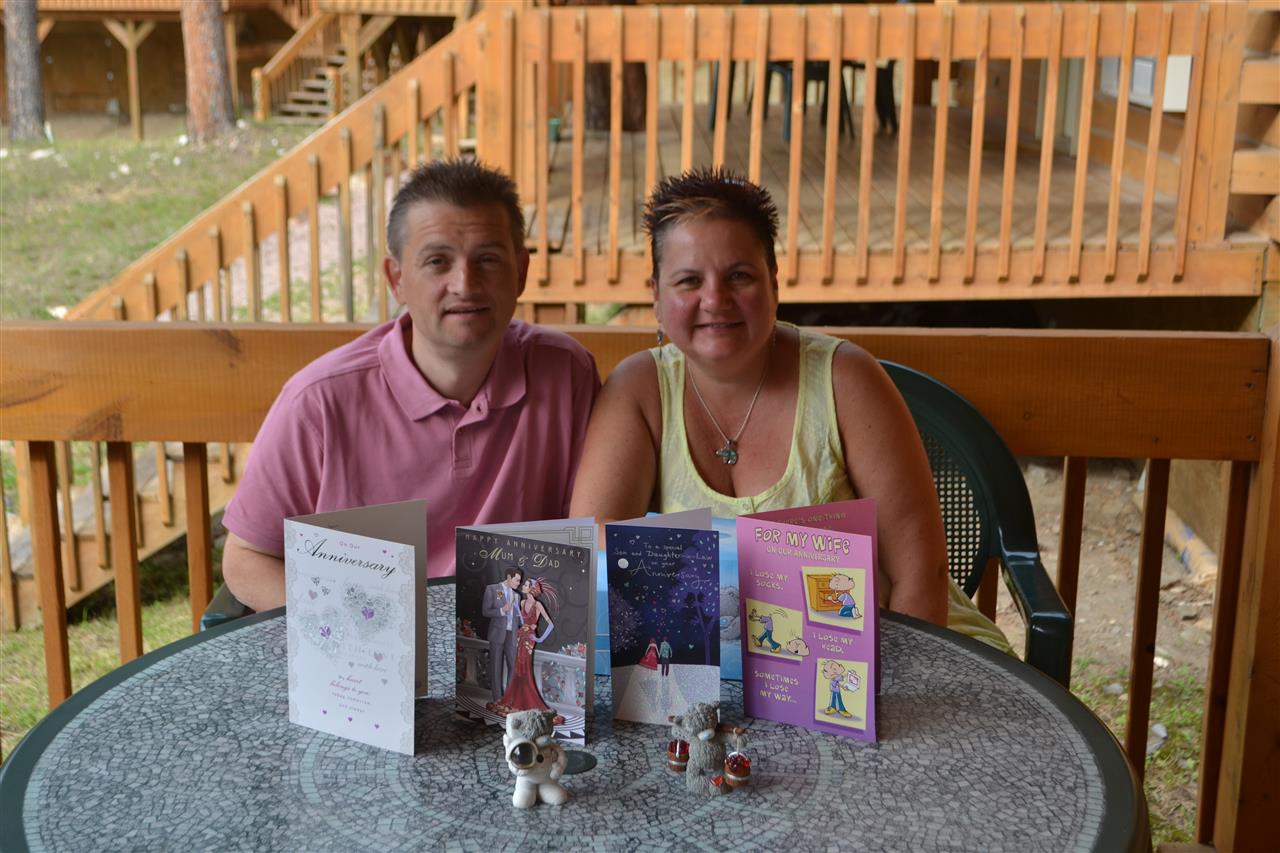 Our morning began with ritual anniversary cards & a wonderful surprise from some themed Me to You bears from Hollie xxx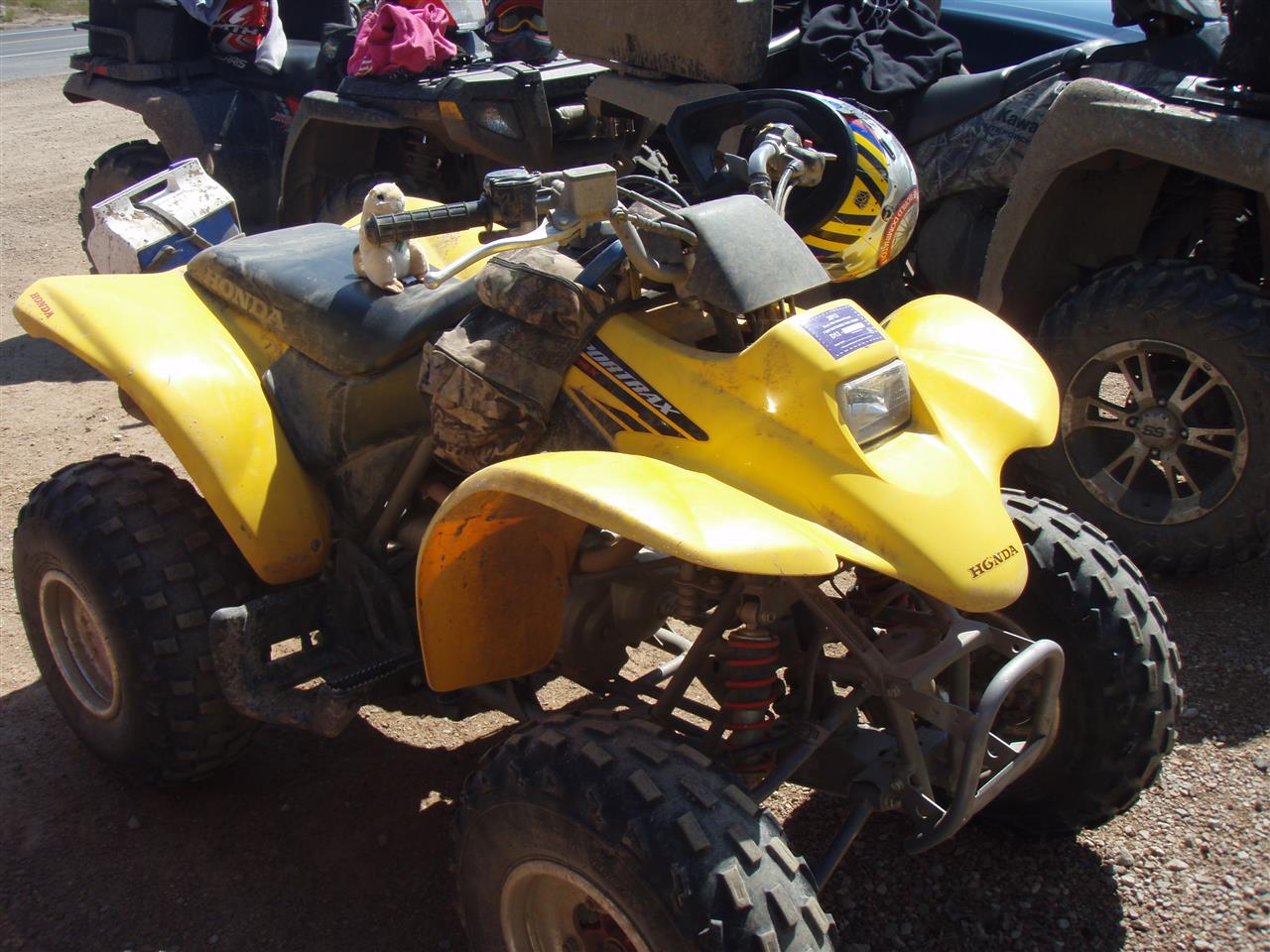 We have figured out how these damned Meer cat / Prairie dogs have managed to keep up with us on our road trip!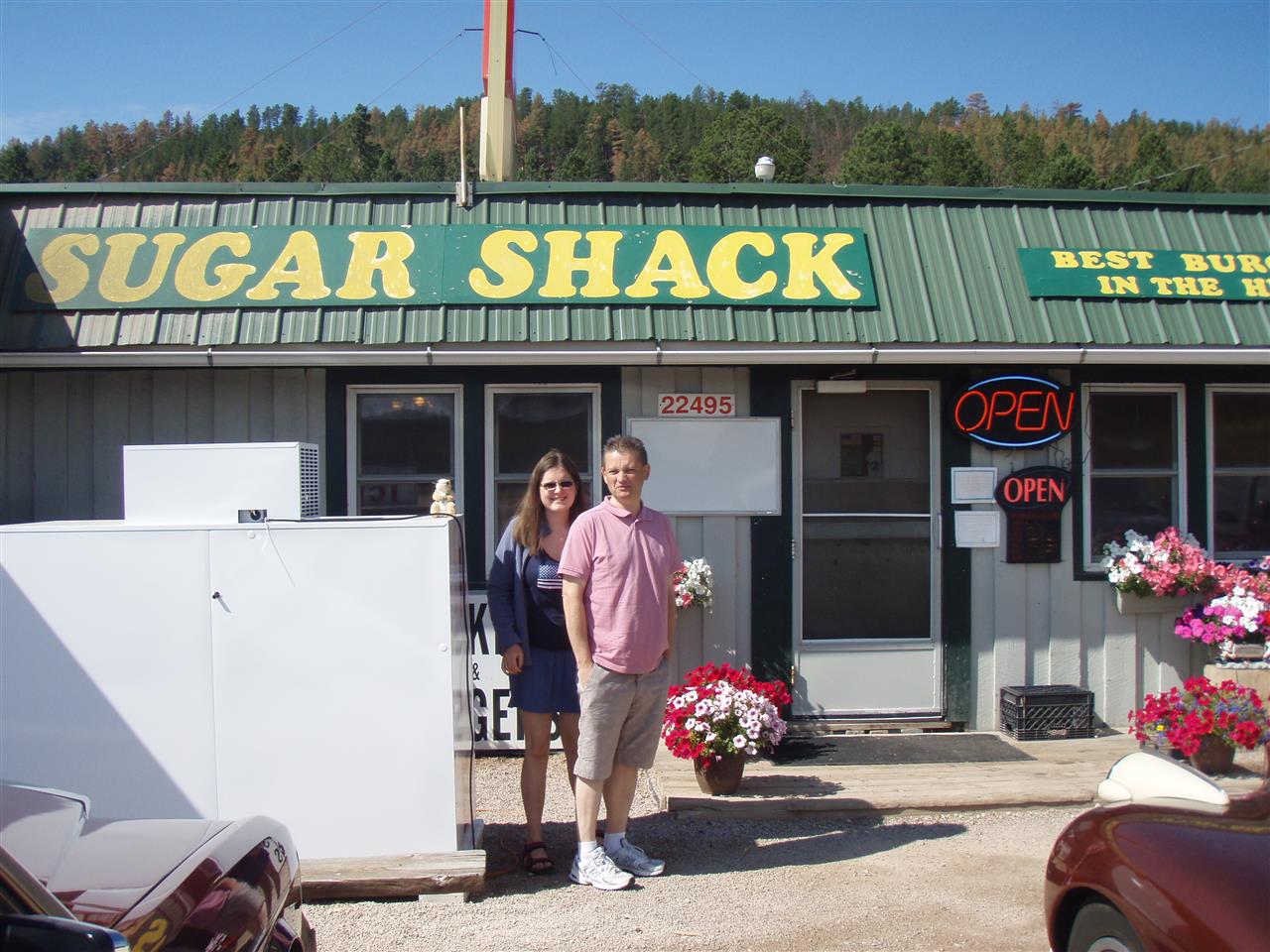 We stopped for a late breakfast at The Sugar Shack..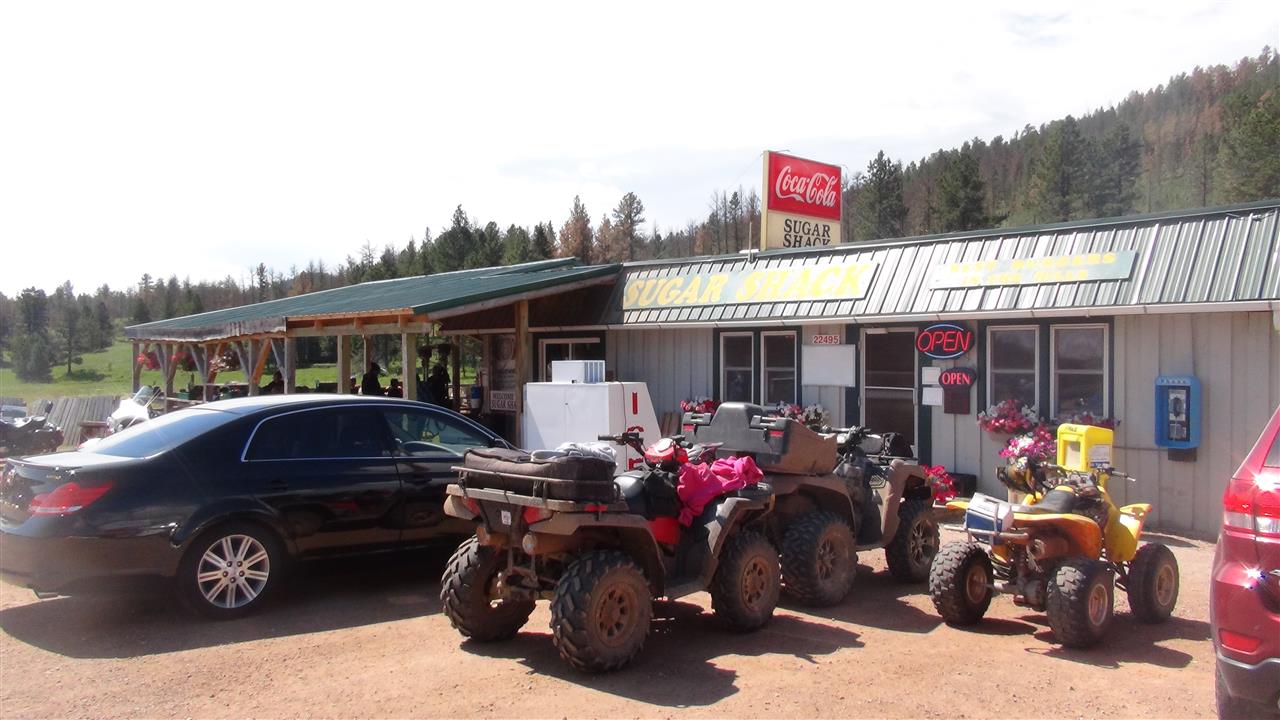 A popular watering hole for the Sturgis Bikers too.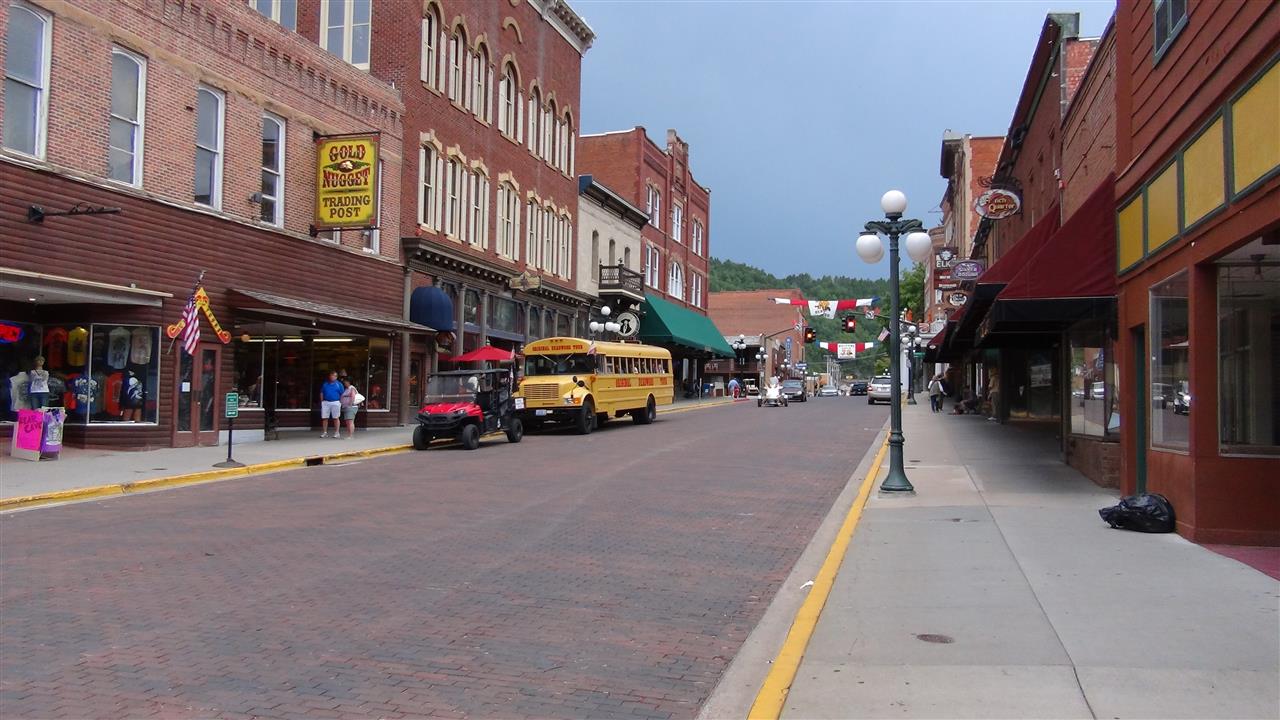 We arrived in the fabled town of Deadwood.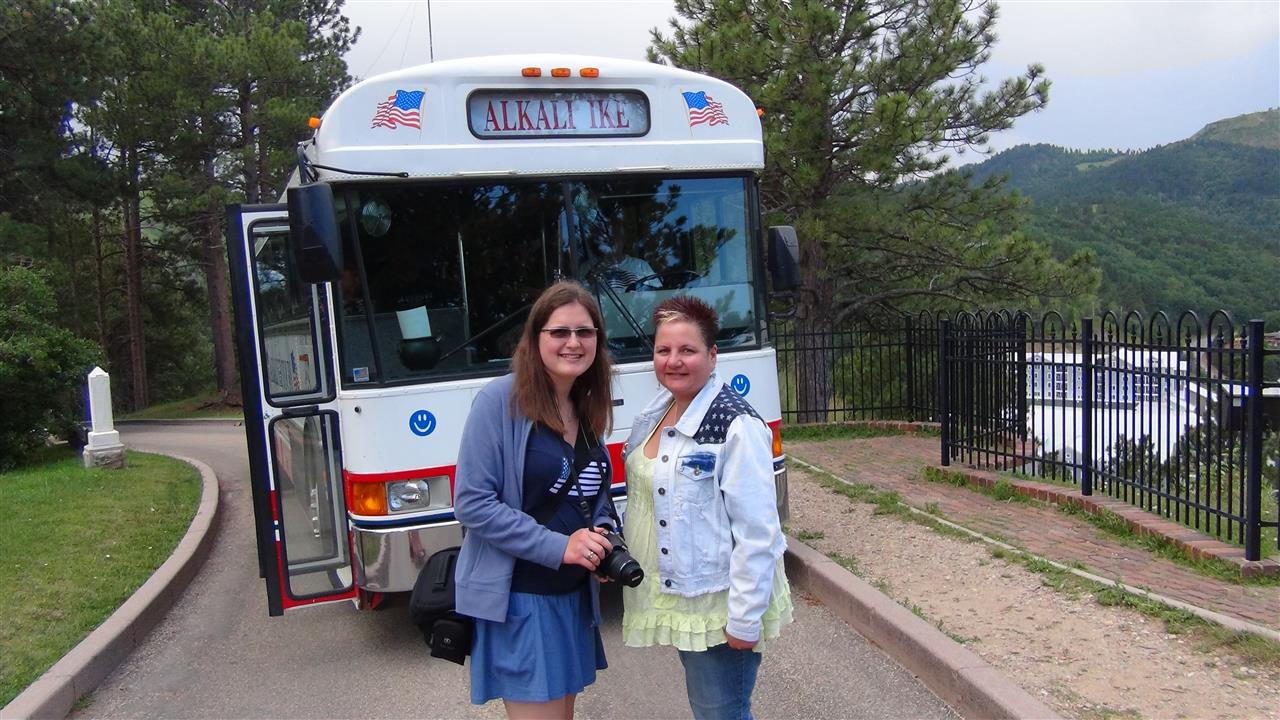 We signed up for a 1.5 hr bus tour, led by the very informative driver ( & fellow Catholic of Hollies ) Mike.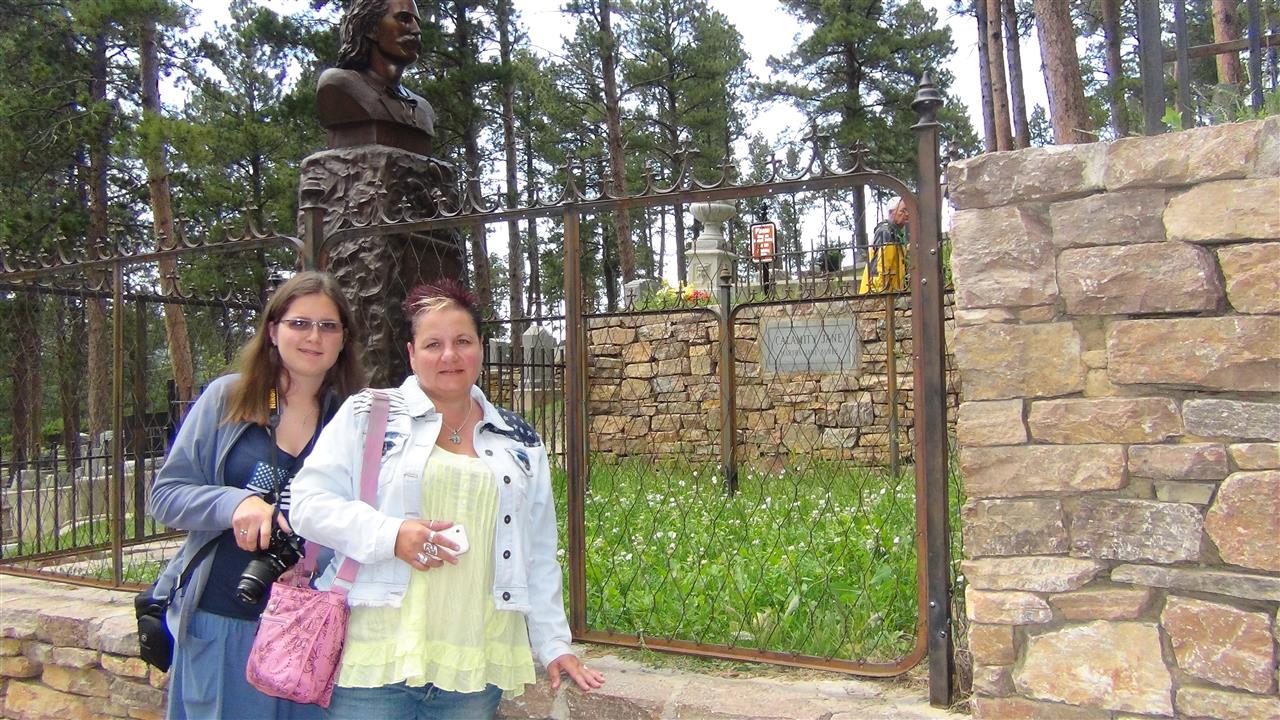 The tour took us around town before heading to Mount Moriah , where you can visit the graves of Calamity Jane & Wild Bill Hickock..
Mike explained that Calamity & Bill knew & respected each other, but were certainly not lovers as portrayed by Doris Day & Howard Keel in the Hollywood movie.
Calamity Janes looks were best described as "Homely " she was 5'10"+ and was often mistaken for a man..
Calamity is known to have stopped her heavy drinking and cussing, to volunteer as a nurse during an outbreak of Tuberculosis. Not one sick person died in her care..This made her well respected with the local gentry.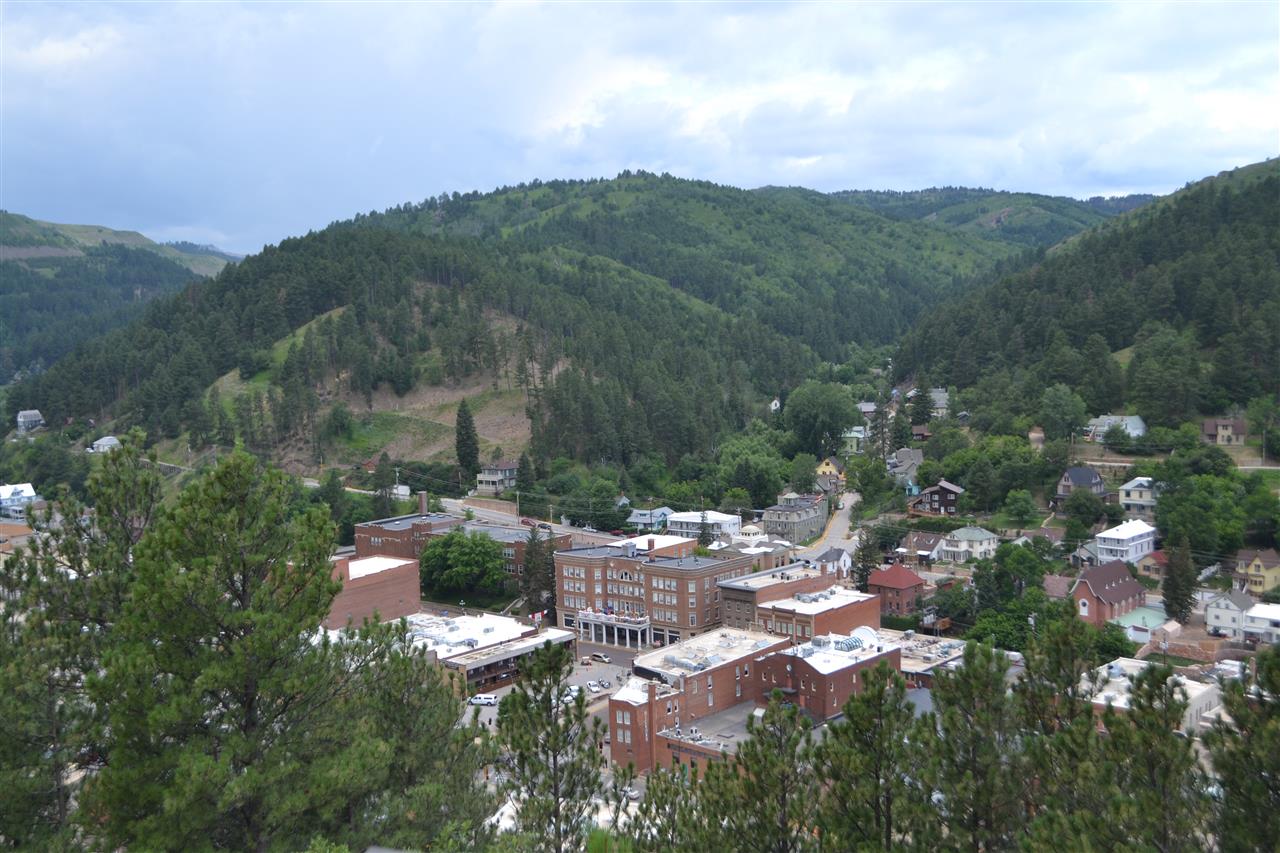 The Cemetery is a mile above the historic town & offers magnificent views.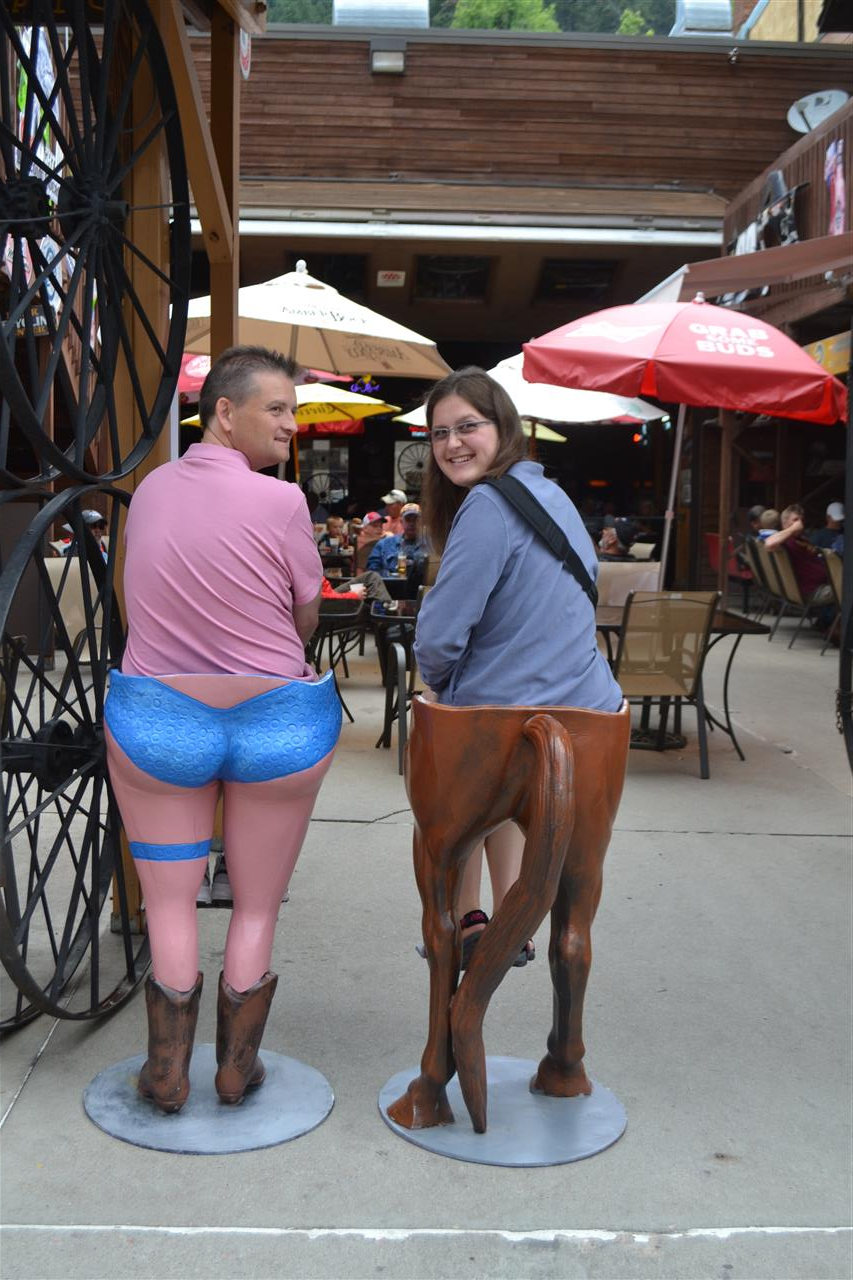 Hollie horses around, While Ian shows the type of underwear he's currently forced to wear!

The local traders are very particular about who gets a discount..seems you make greater savings in certain shops if you declare your Catholicism, Hollie saved 70 cents in one gift shop!!
Next stop number 10 Saloon..Relocated from downtown following a fire at the original site, the actors & some young volunteers re enact , The shooting of Wild Bill.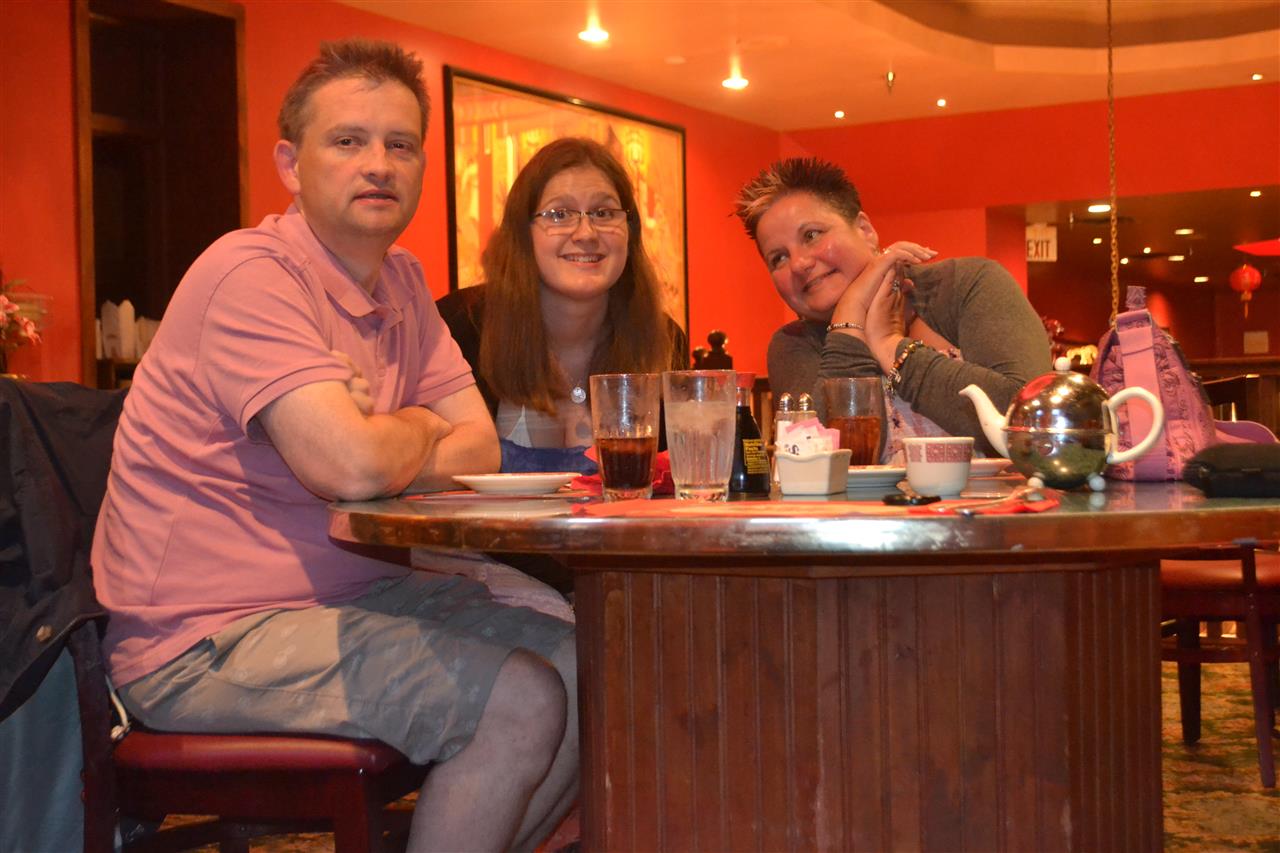 As the day draws to a close , we head off to the China Cafe..Dinner should be with us at some point.
We stroll home to our " Haunted " Hotel & prepare to be terrified by, Seth Bullock walking the halls.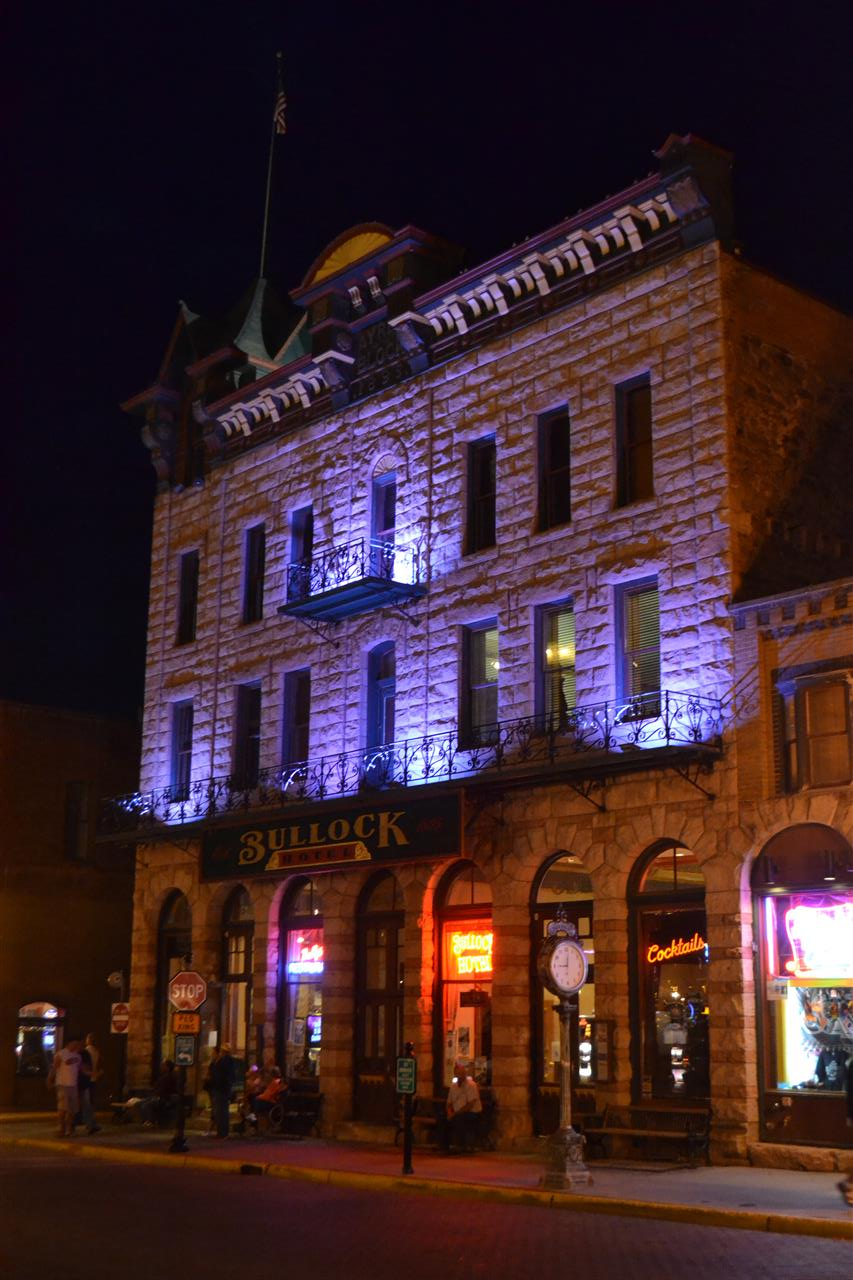 We should be in our beds soon enough, so Goodnight fair reader xx

Ians suitcase is now bound for Beijing..Hopefully it will get better service than us!!
---
Day 7 : Bear Country USA to the Badlands..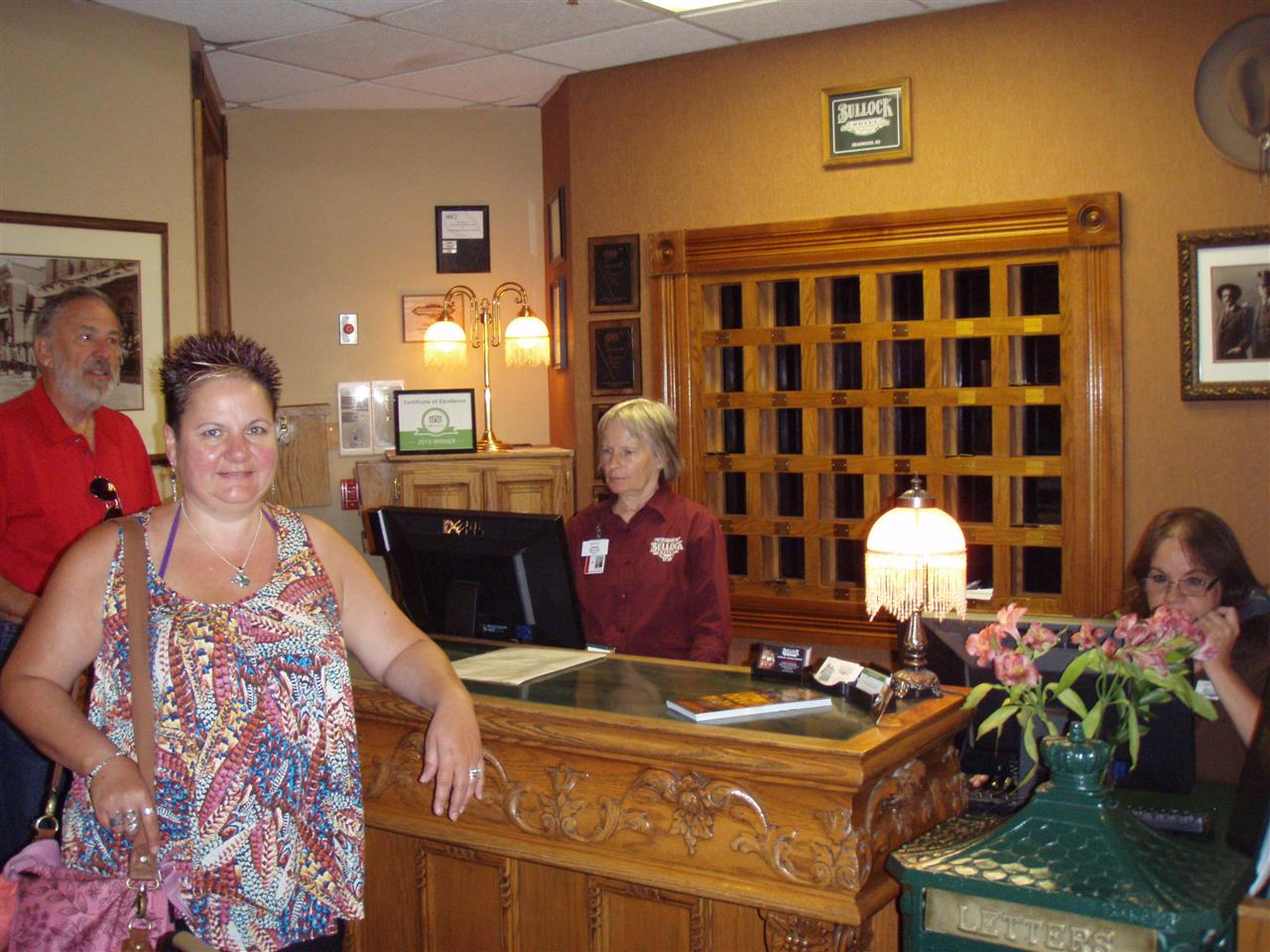 We checked out of the Bullock Hotel without a sniff of the ghostly Seth Bullock..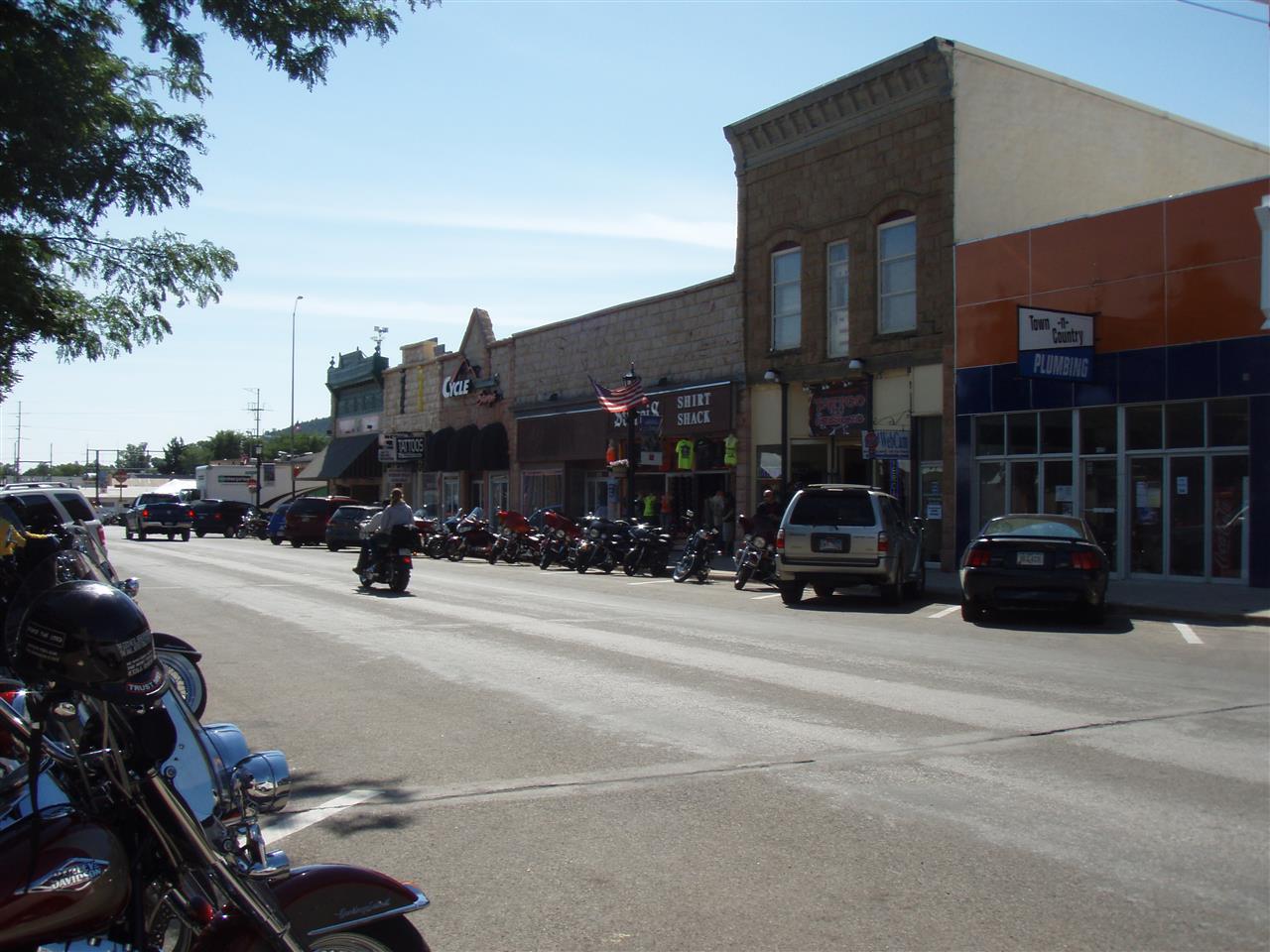 A short journey took us to legendary Sturgis..Home of the annual Budweiser sponsored madness, that descends on South Dakota, in the form of a motorcycle Rally.
We had a great breakfast in Bob's family diner.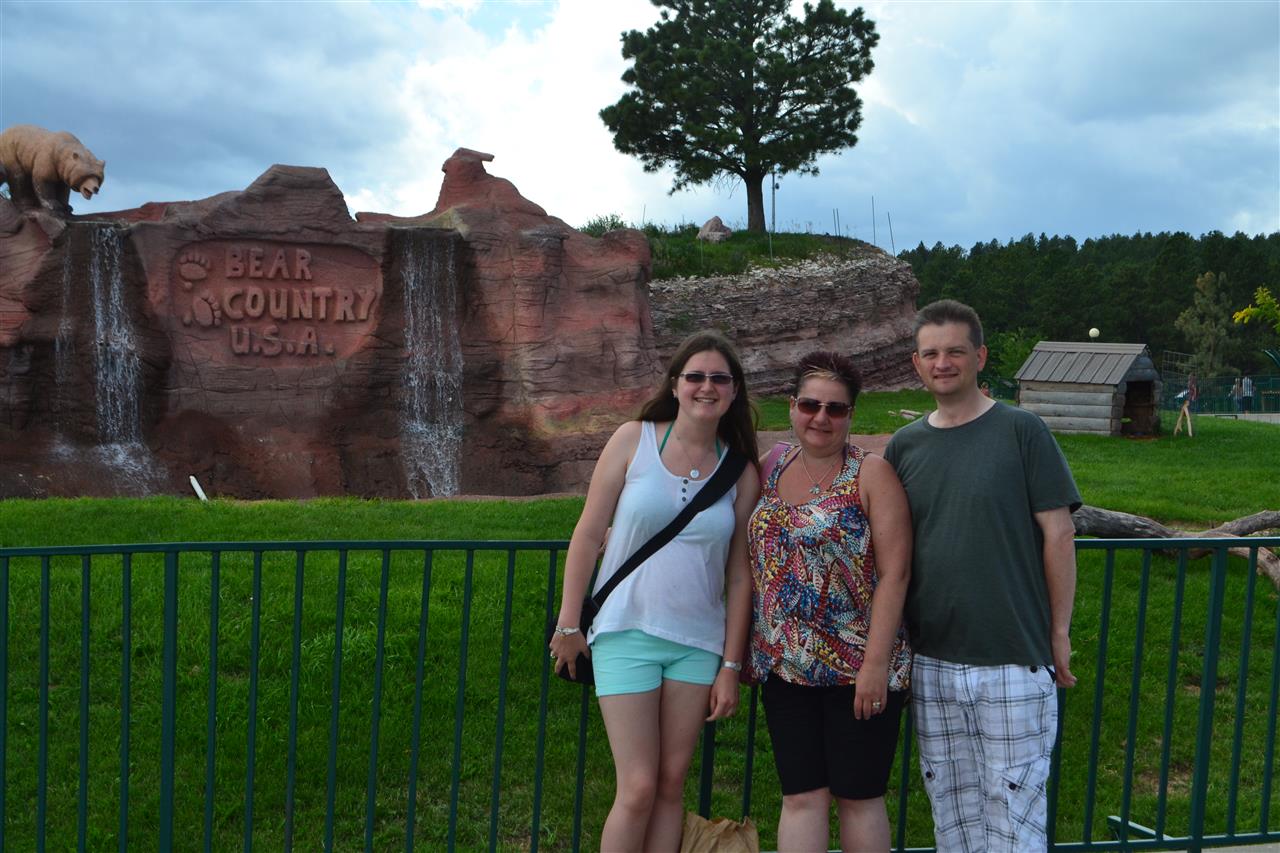 Next stop Bear Country USA.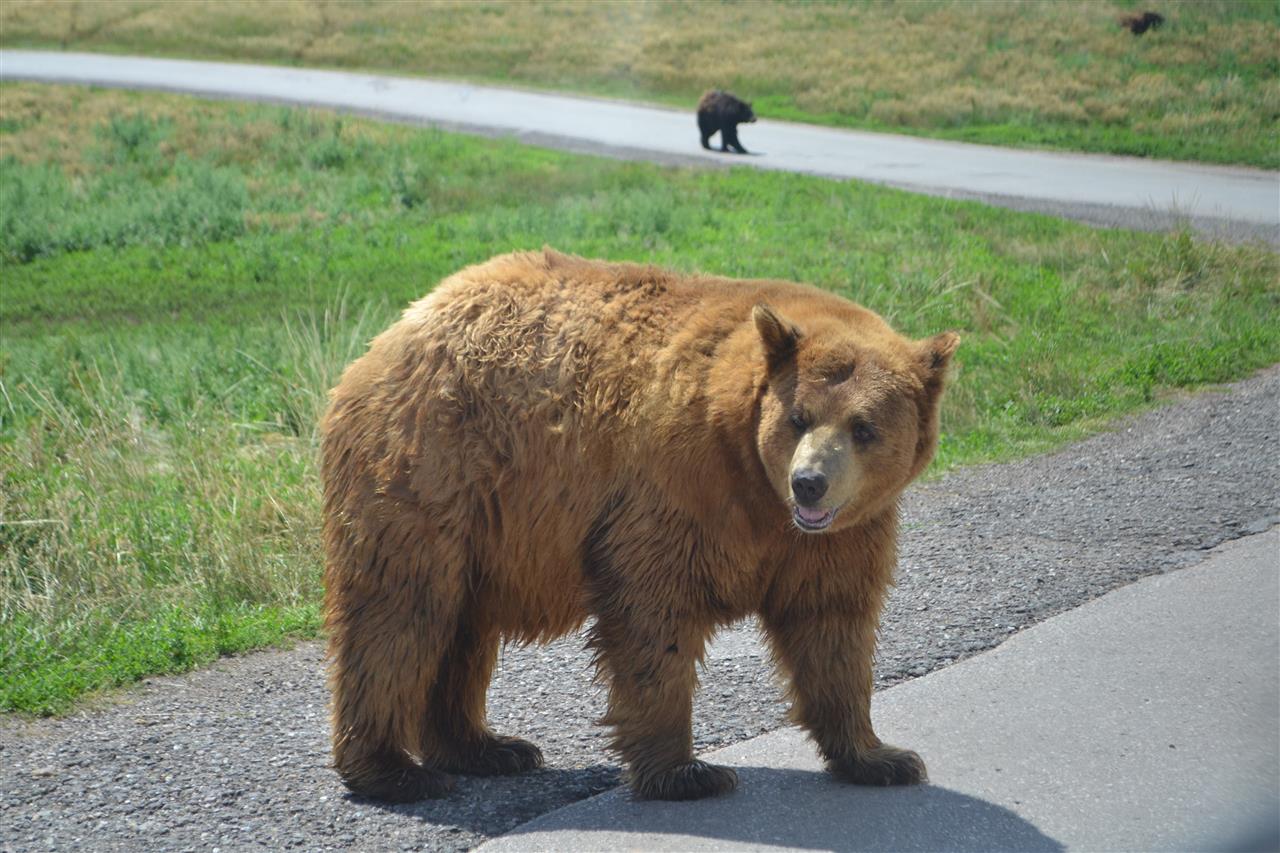 The park features, Elk , Wolves, Sheep & of course BEARS!!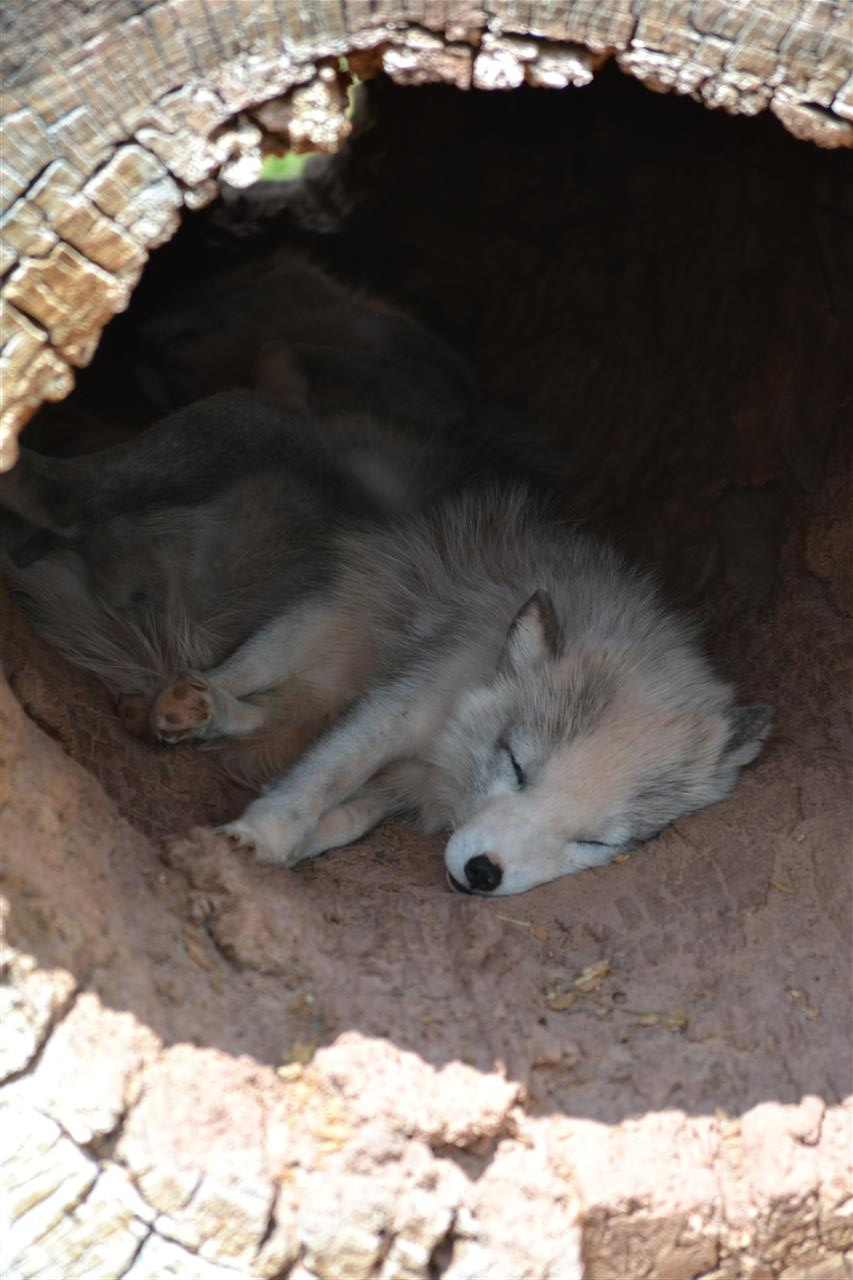 Plus Arctic foxes..ahhh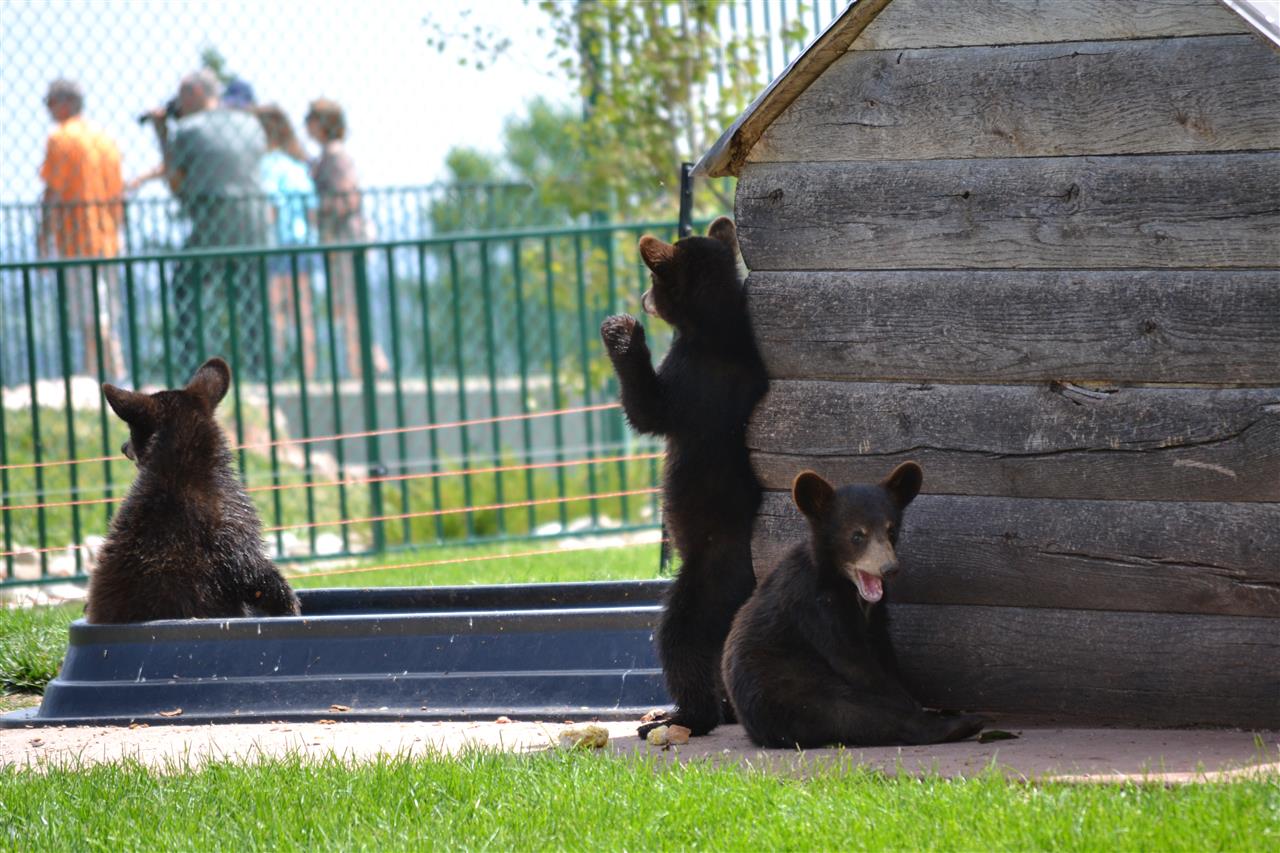 On to the babies, The zoo owner was in the enclosure with some lucky friends who were able to pet the little bears...get this wee fella scratching his back on the shed!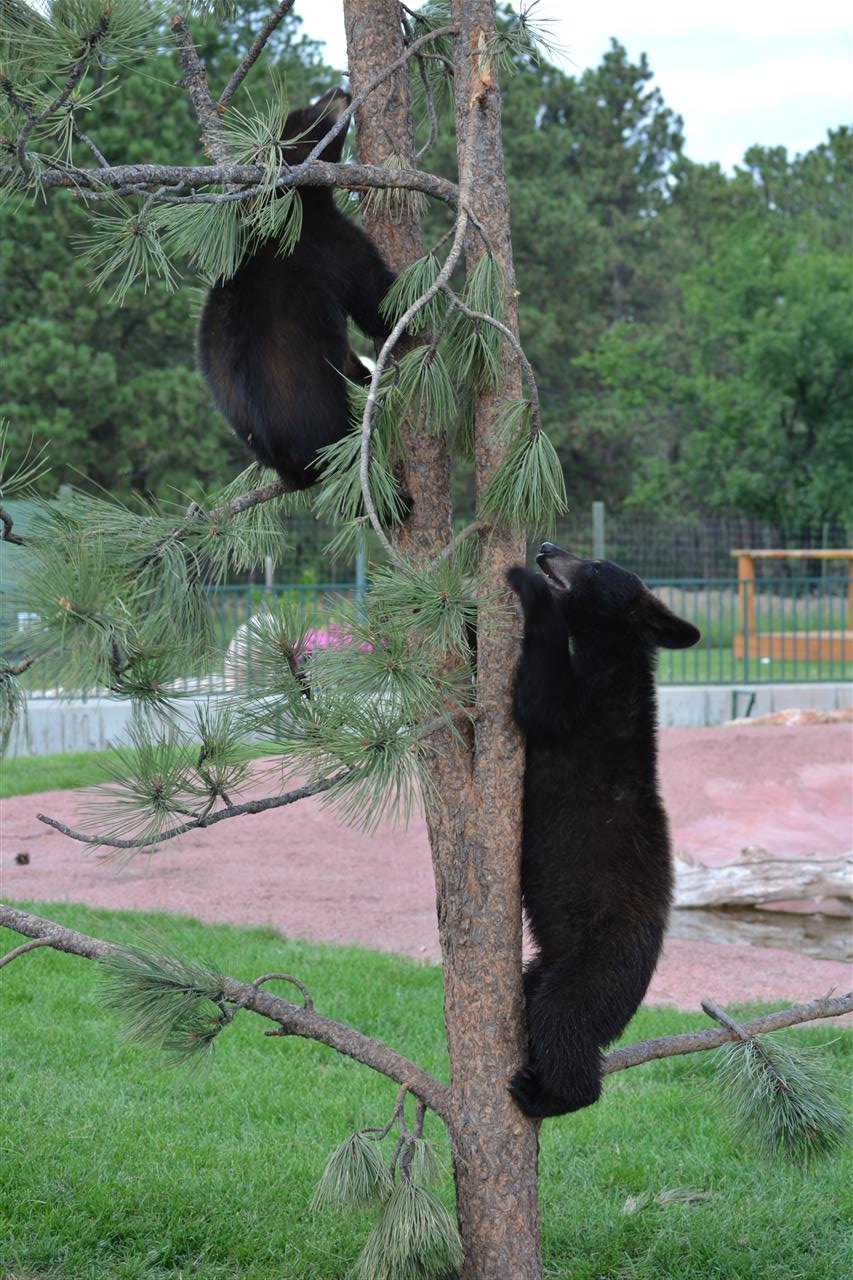 The Babies put on a fabulous tree climbing & wrestling show for us , before we headed to the gift shop.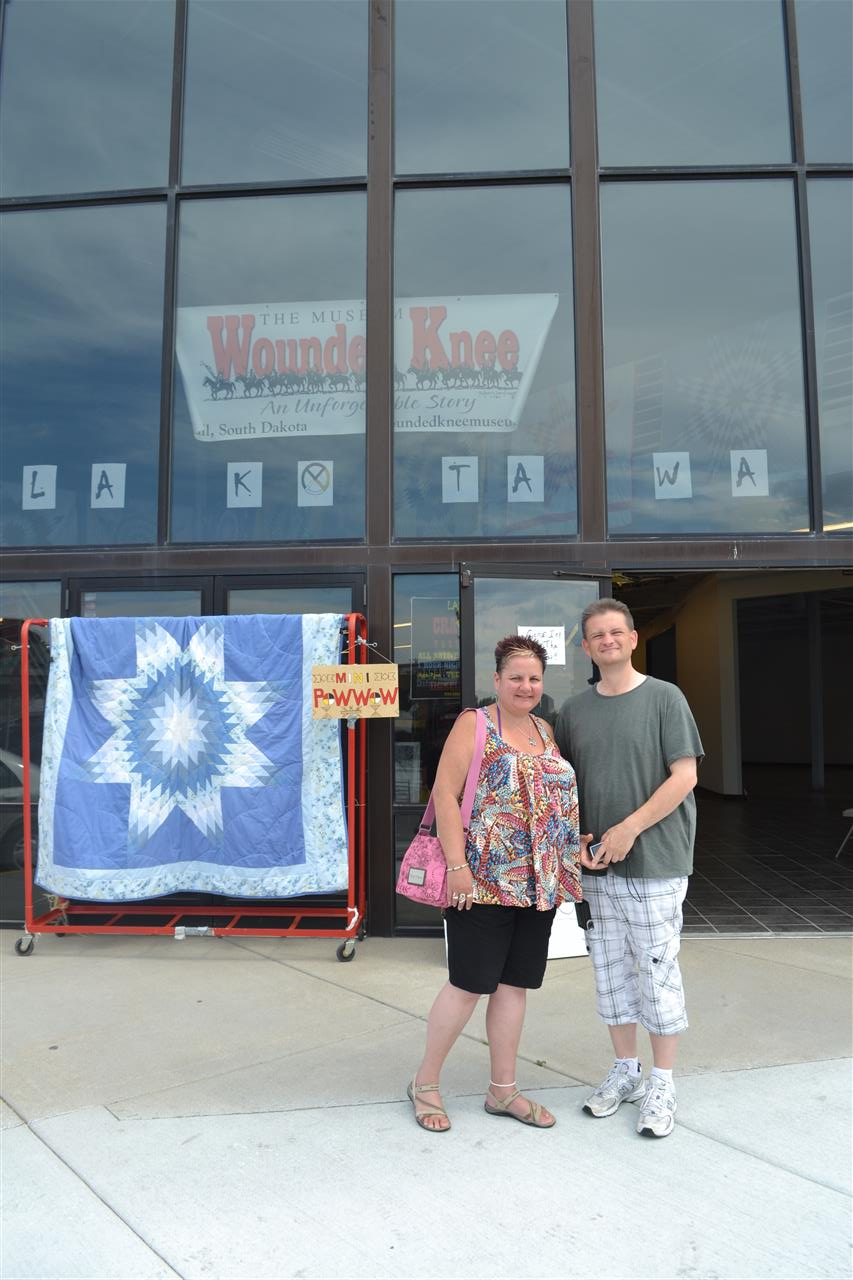 Next port of call , the town of "Wall".. Home to the Wounded Knee Museum, I have been following the progress of the museum on Facebook , since a fire destroyed its old premises a few years back..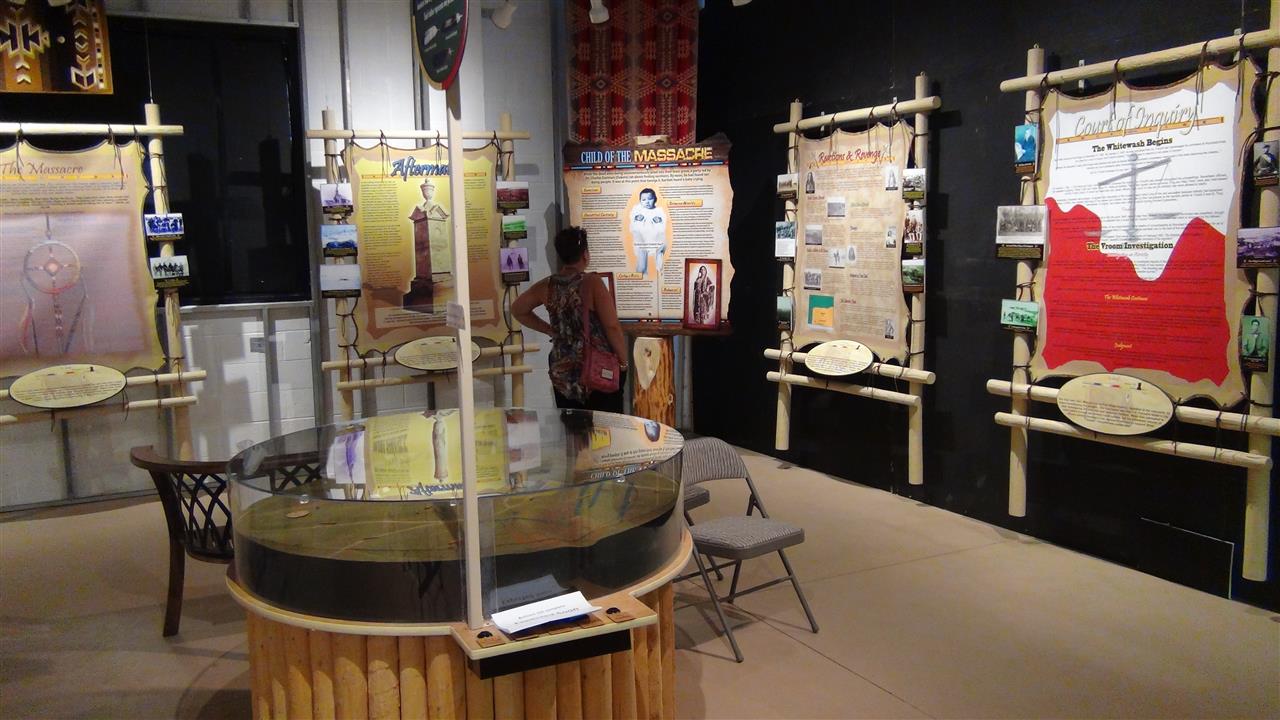 The exhibits tell the tale of the horrific wintertime massacre of almost 250 Indians, most of whom were Women & Children, travelling with Chief Sitting Bull. By US soldiers.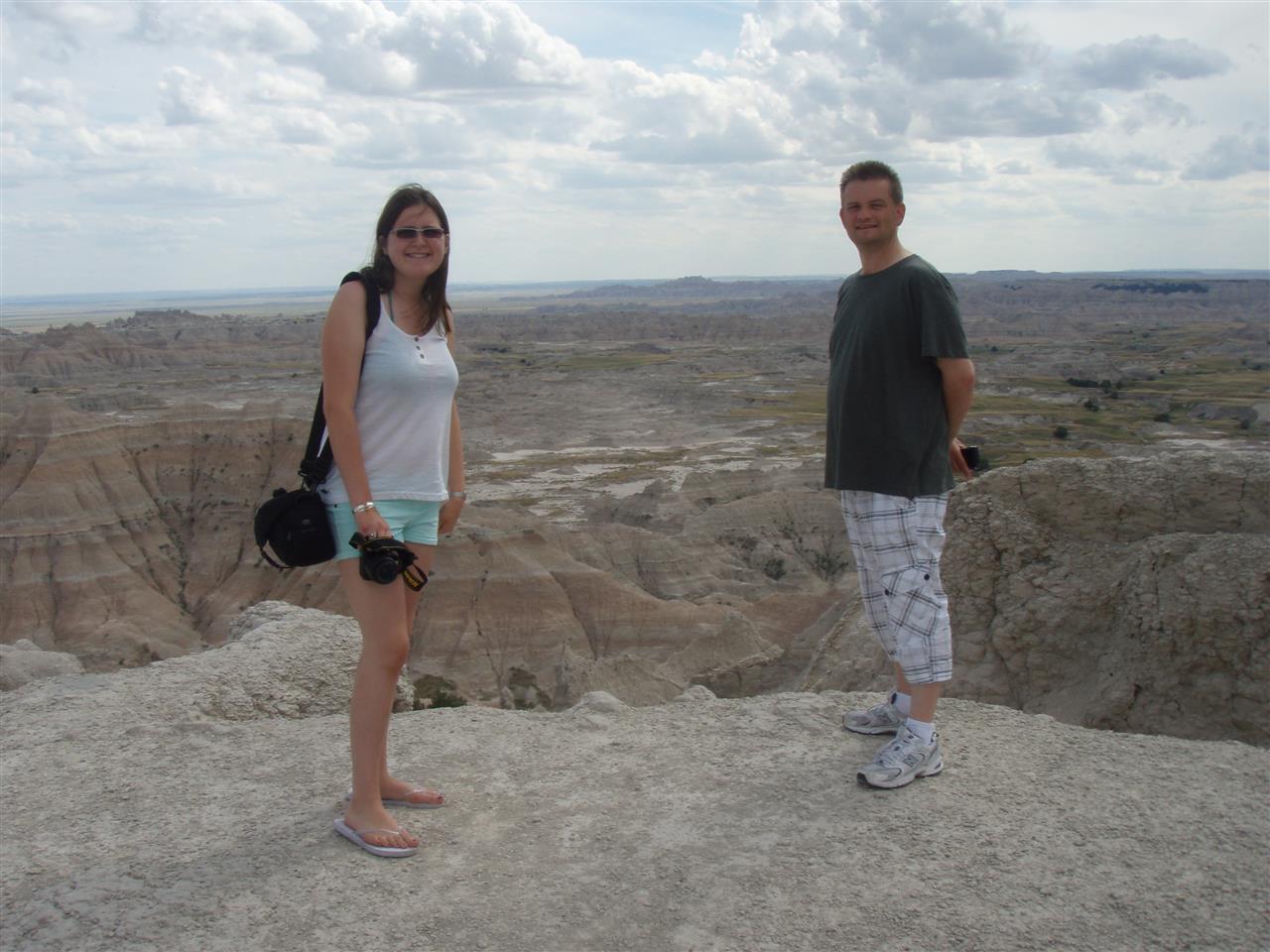 Finally to Badlands National Park & Grasslands..The desert landscape contains vast valleys of wind sculpted sandstone in pale grey & vivid pinks.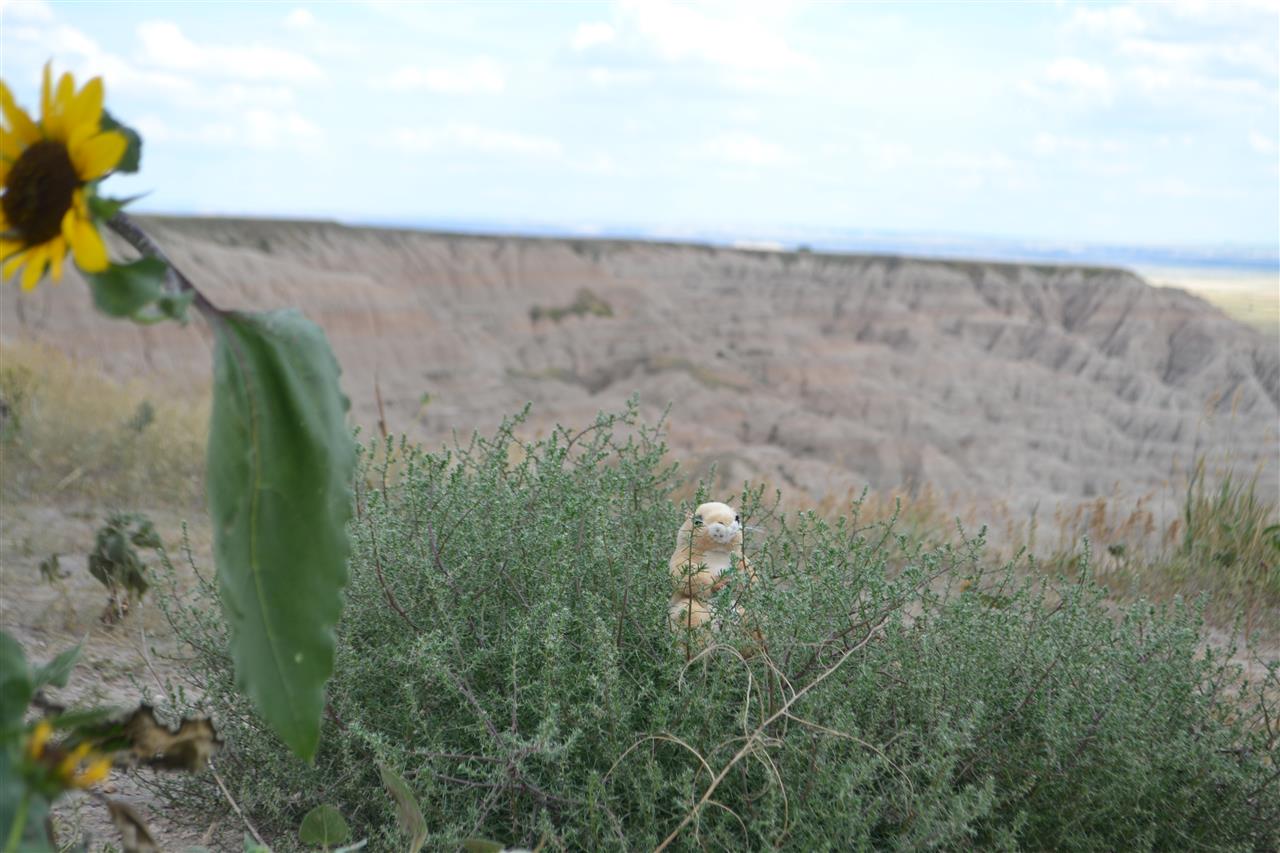 As we entered the park, a bold sign told us that the Meer cat/ Prairie Dogs have PLAGUE! No wonder this little chap was trembling in the undergrowth.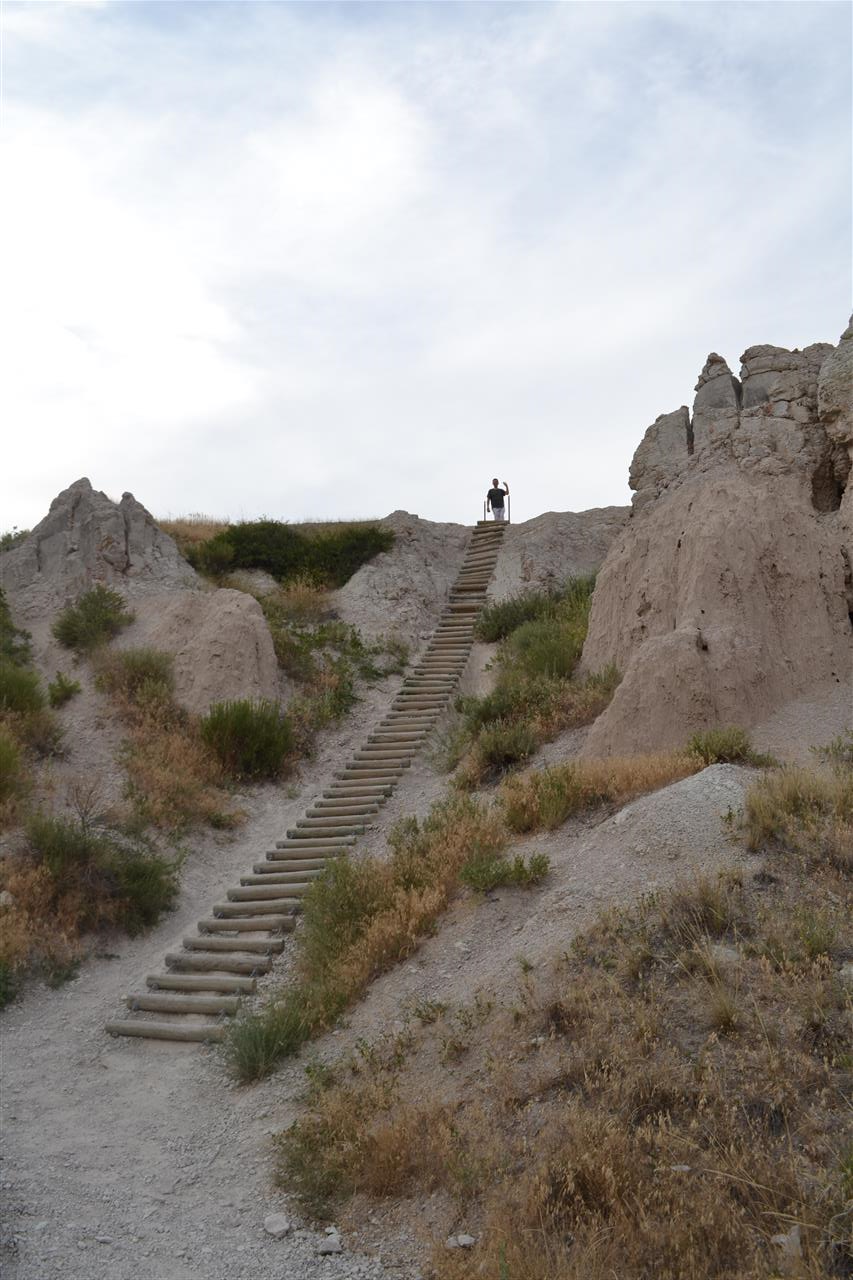 We went to The Notch.. a mile long trail that Ian thought we might enjoy.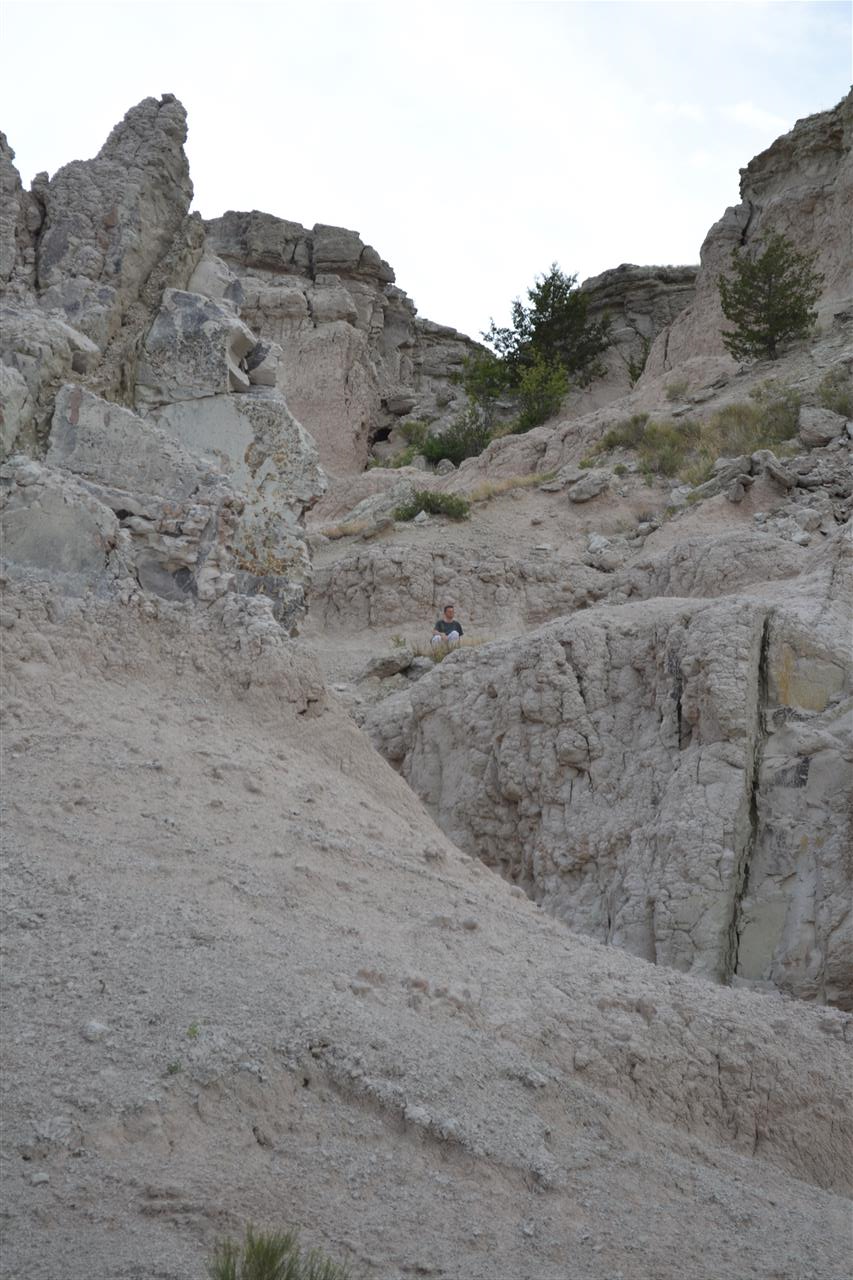 Hollie & I thought Ian might enjoy it more than us...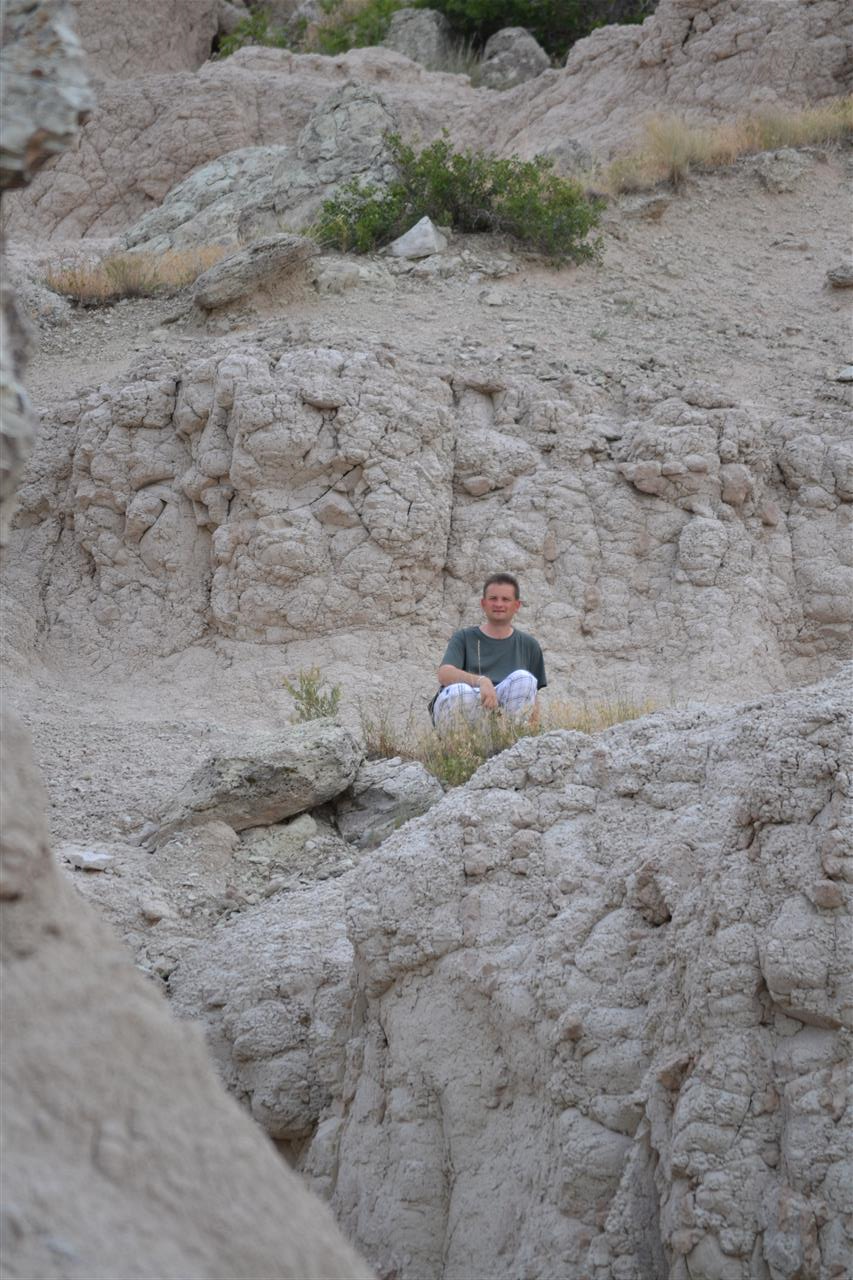 So we relaxed while he risked life& limb.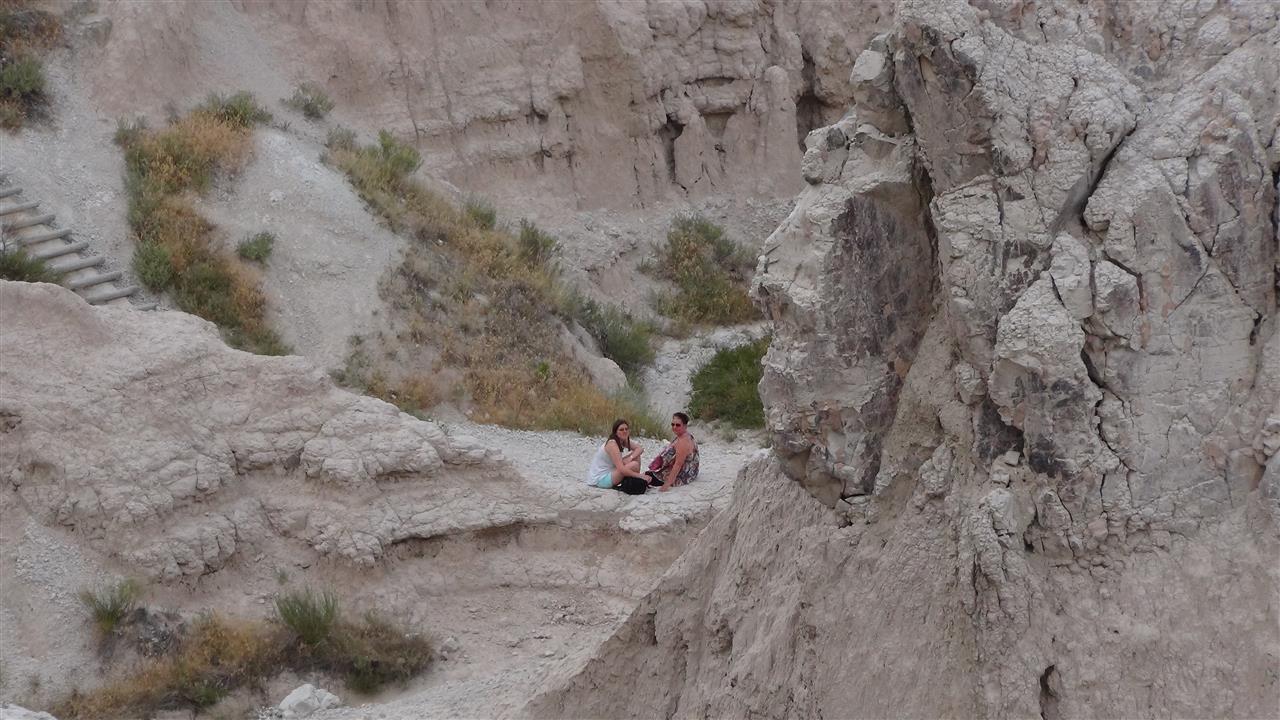 Fortunately he struggled elegantly ( Backwards ) down the log ladder, to safety...phew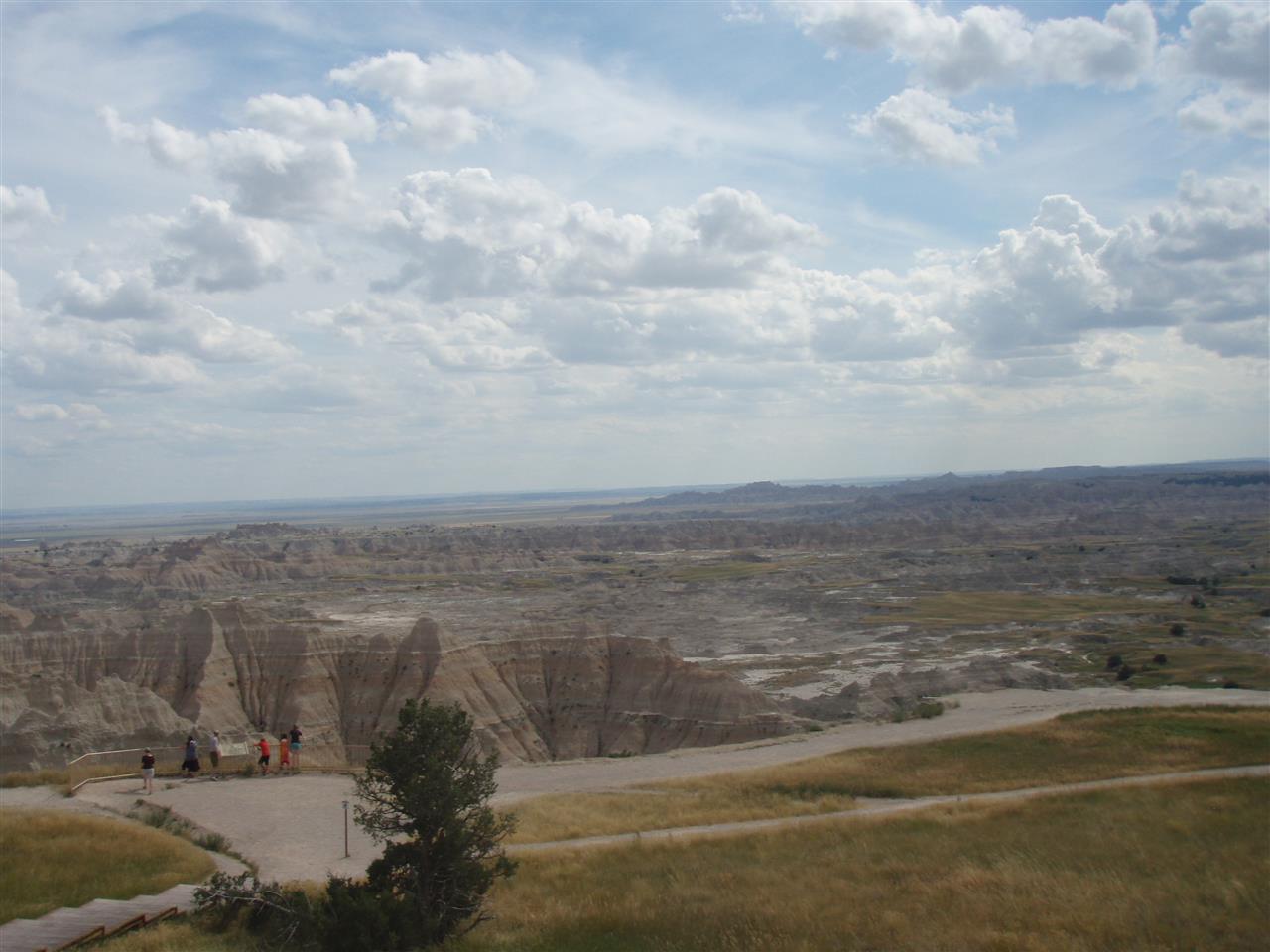 We checked into " The Badlands Budget Host " in time for a dip in the pool & some laundry..
We sped out at 7.30 & barely found H+H family diner open in a nearby town..it all closes early round here!

The room is old but functional, not unlike my good self!
I will bid you a fond goodnight fair reader xxx
Suitcase update..Ians case had its bar code scanned in Beijing & is bound for Bangladesh on the 2am..
---
Day 8 : Across the prairies to Bismarck ..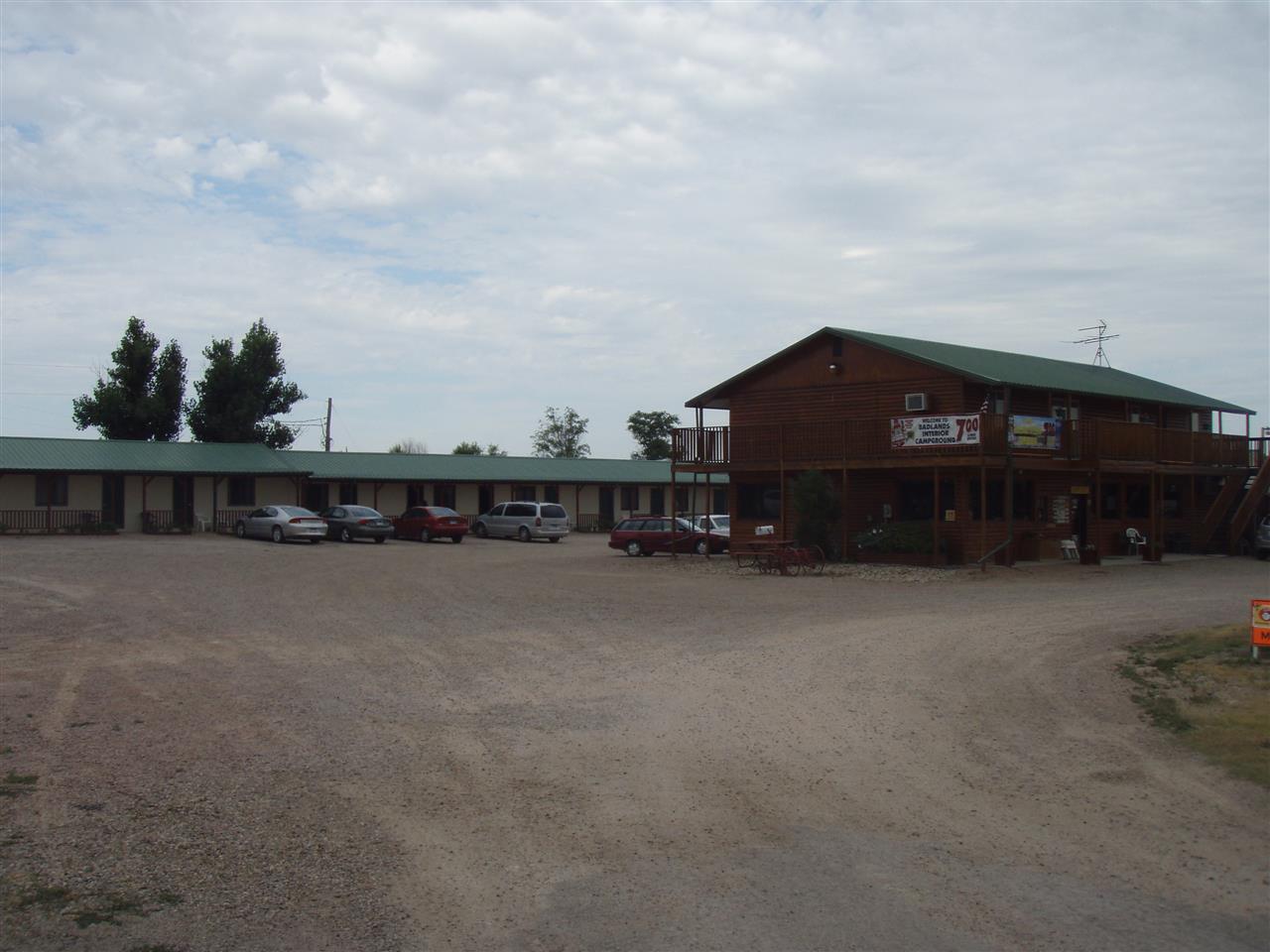 We made an early start, & left our Badlands budget host , Our 50+ yr old inn keeper , his Mum & dad, Bid us a fond farewell..The toilet having withstood Hollies usage & a jolly good plunging by Mein Host (Snr)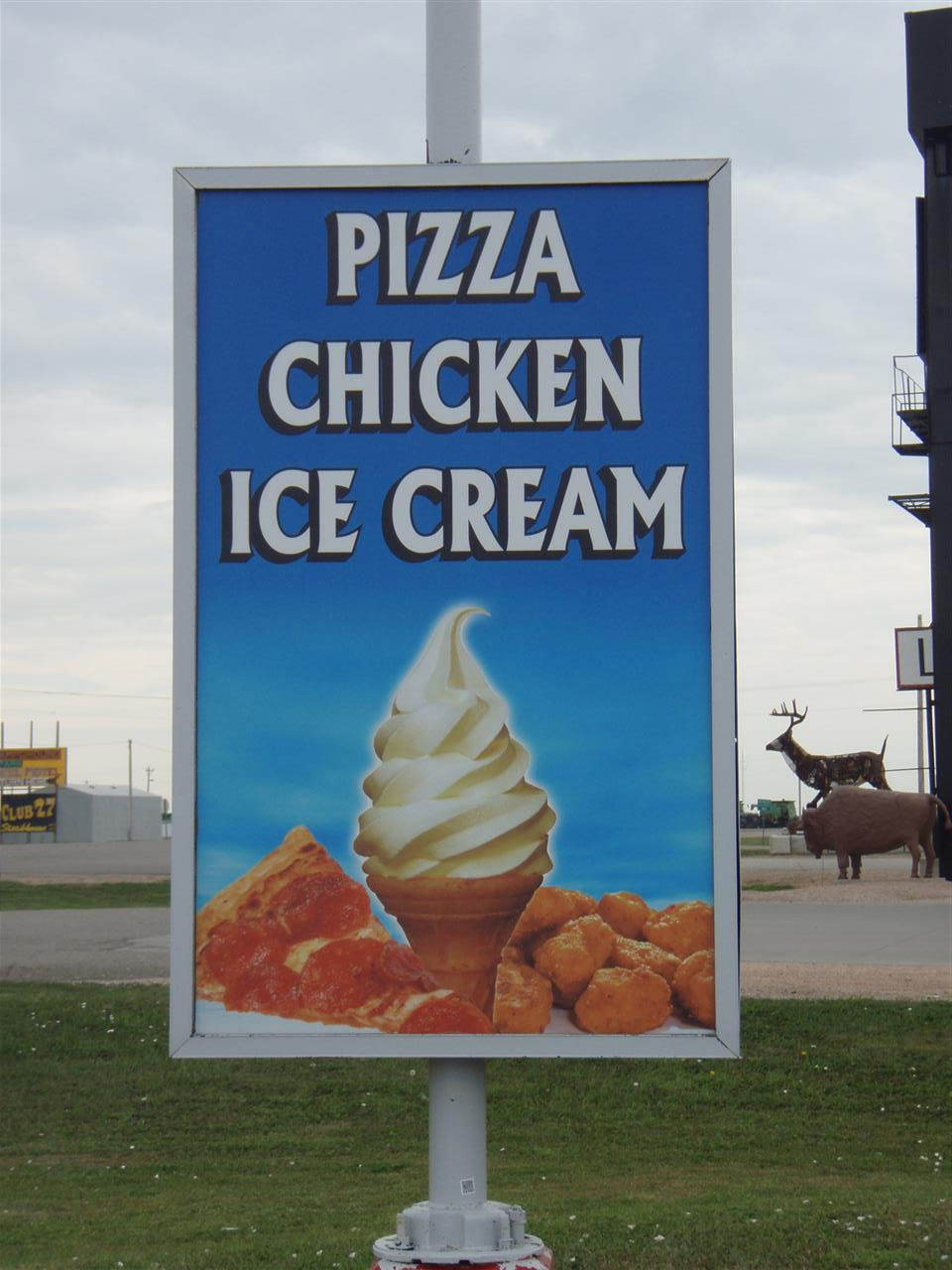 Stopping for fuel . we declined a coneful of North Dakotas favorite flavour.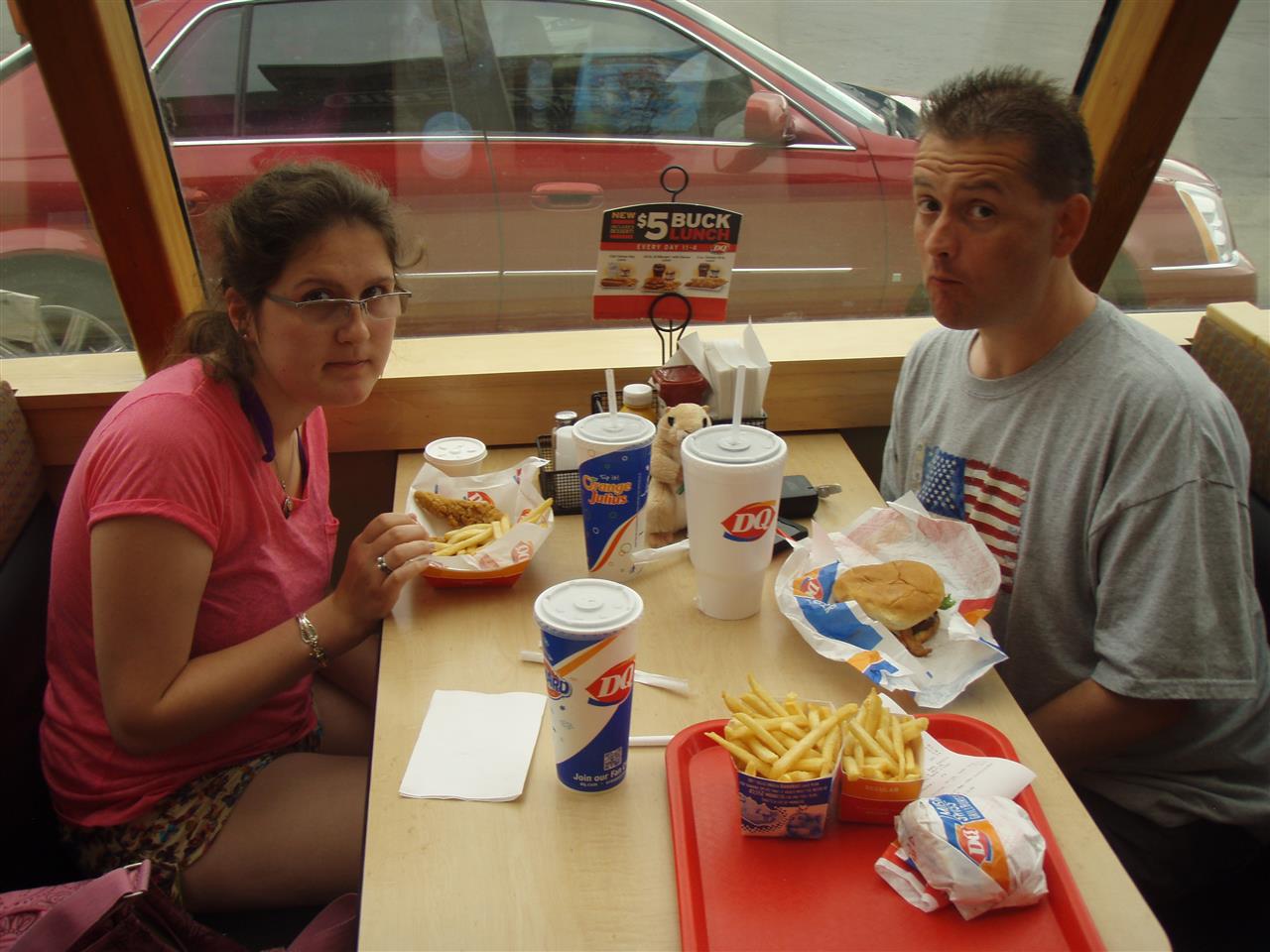 Lunch..A very nice burger at the worlds most remote " Dairy Queen ", in Butte which is in the middle of a Sioux Reservation.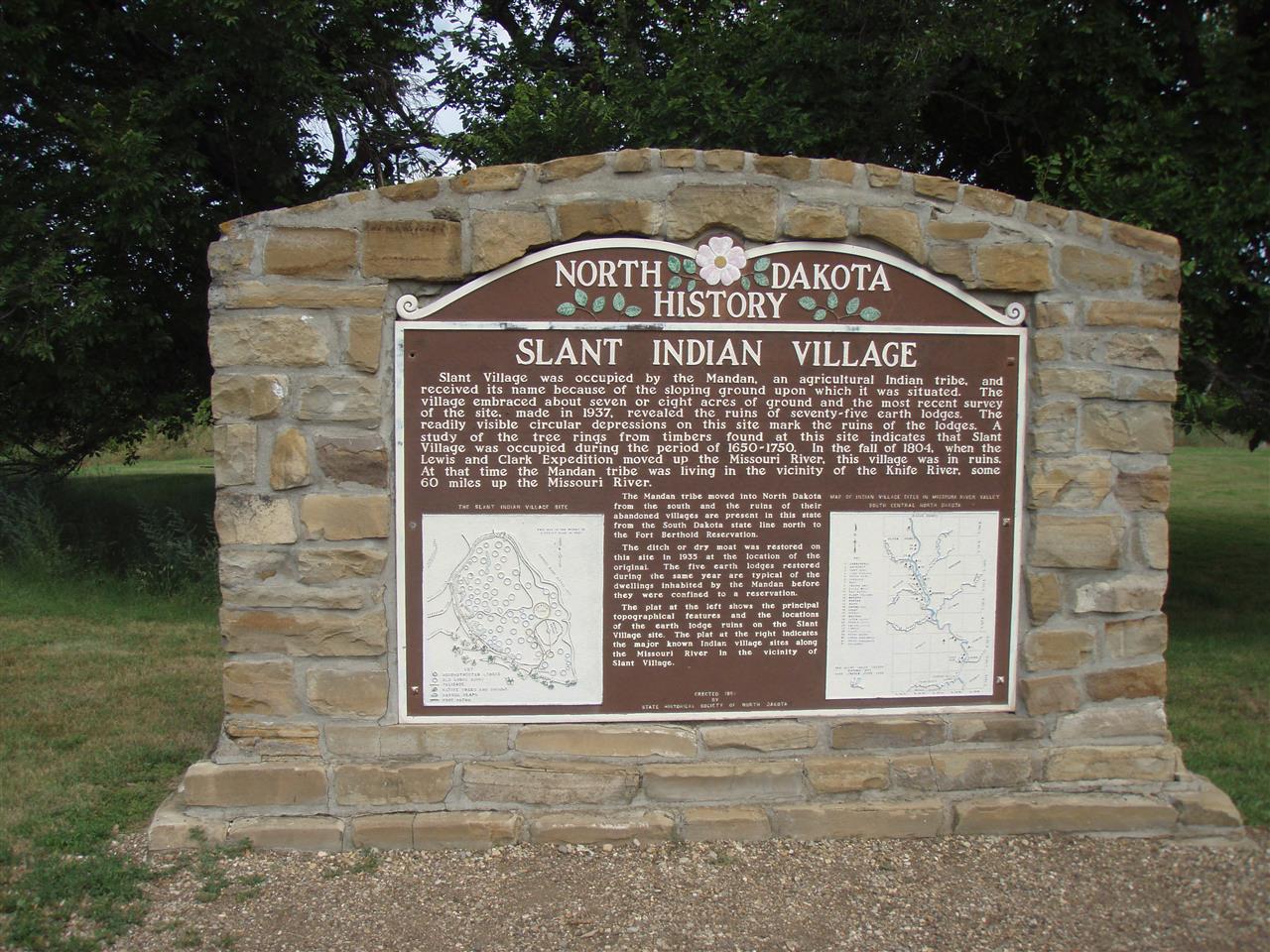 We paid our $5 arrived at Fort Lincoln ( another National Park)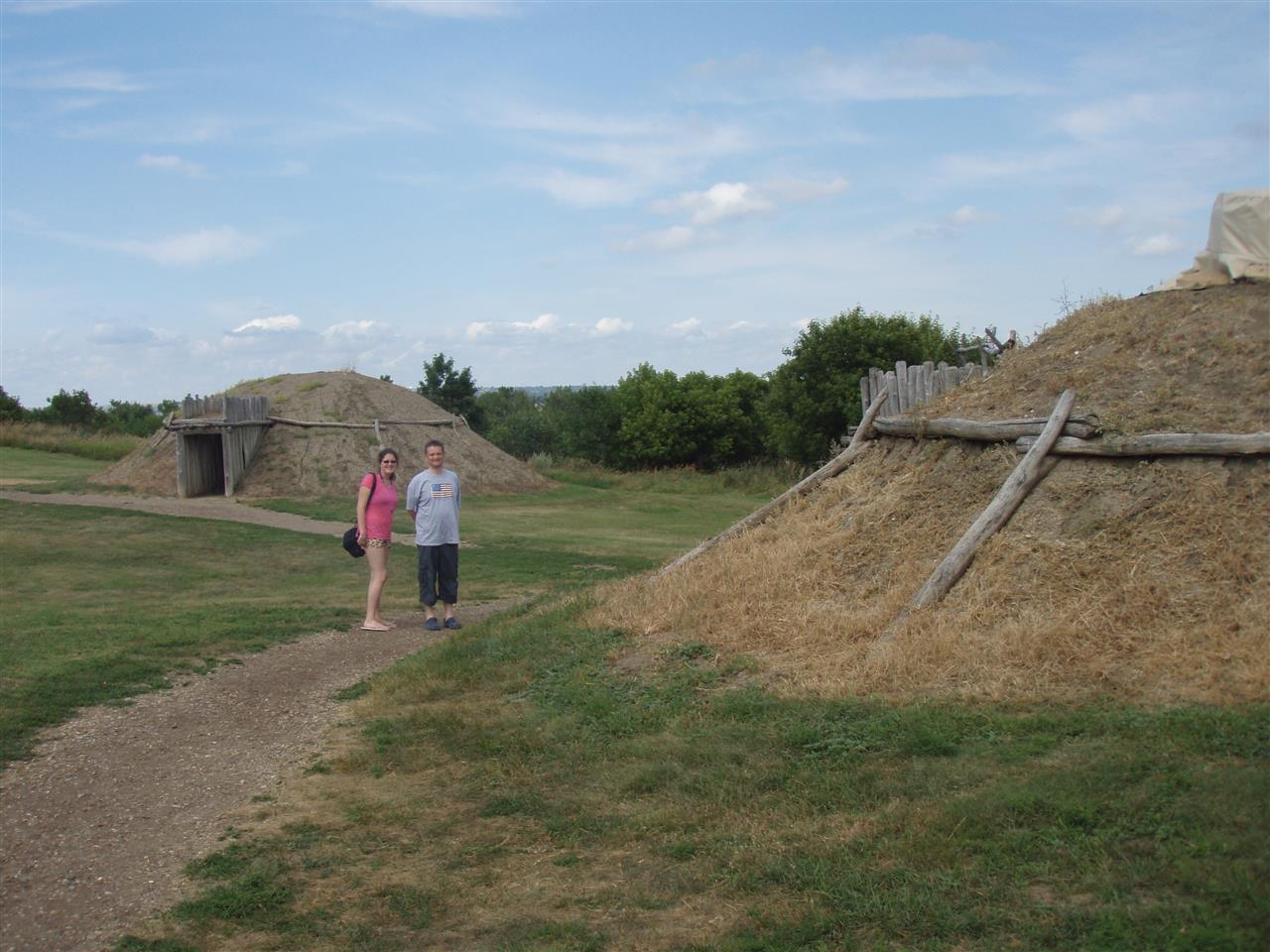 We narrowly avoided the compulsory Ranger tour, & opted to explore the reconstructed Indian village ourselves.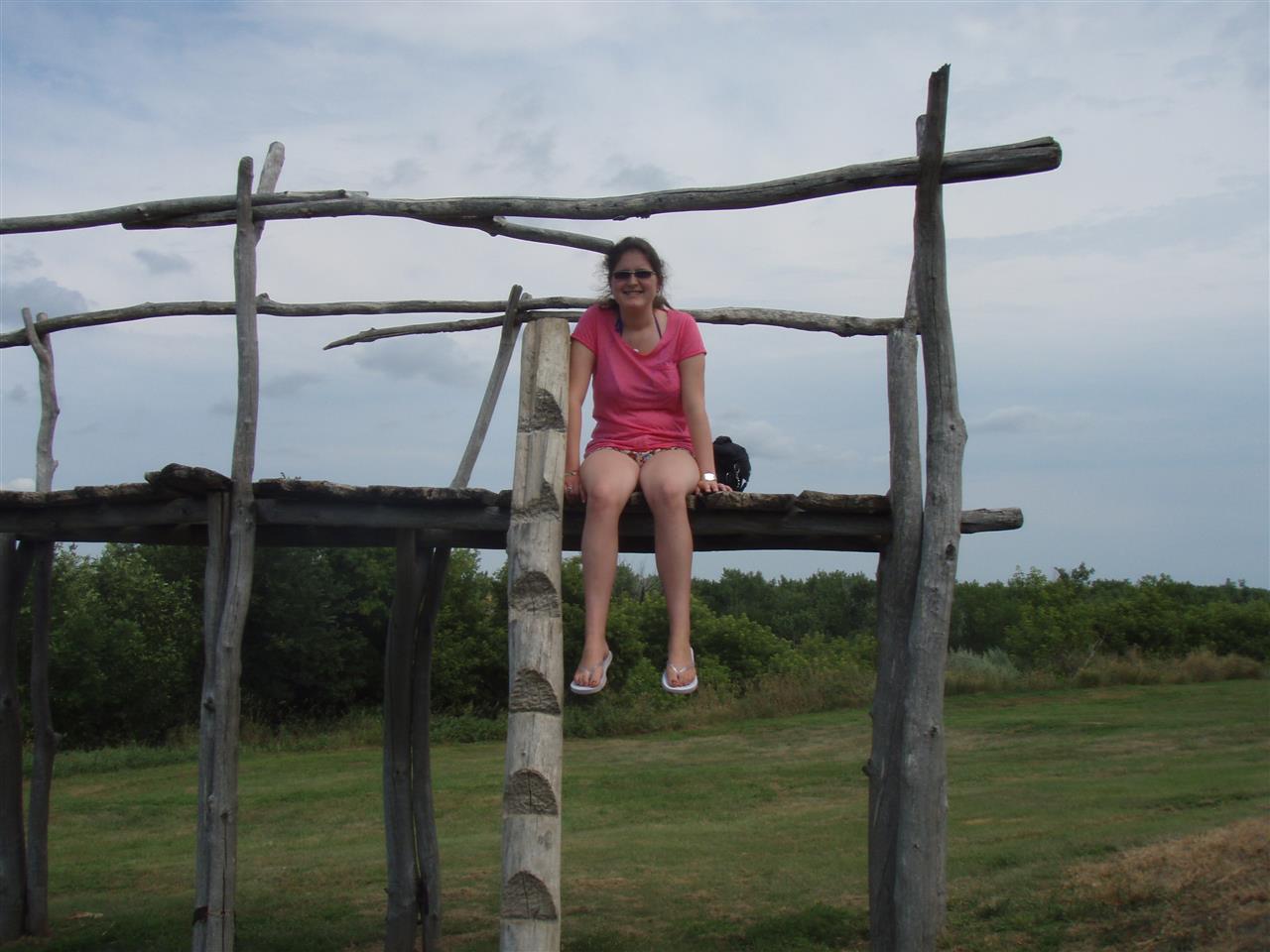 Hollie visited the drying racks, where the squaw would dry vegetables & meat, to see the villagers through the winter.
Some of the dwellings had lit exhibits inside.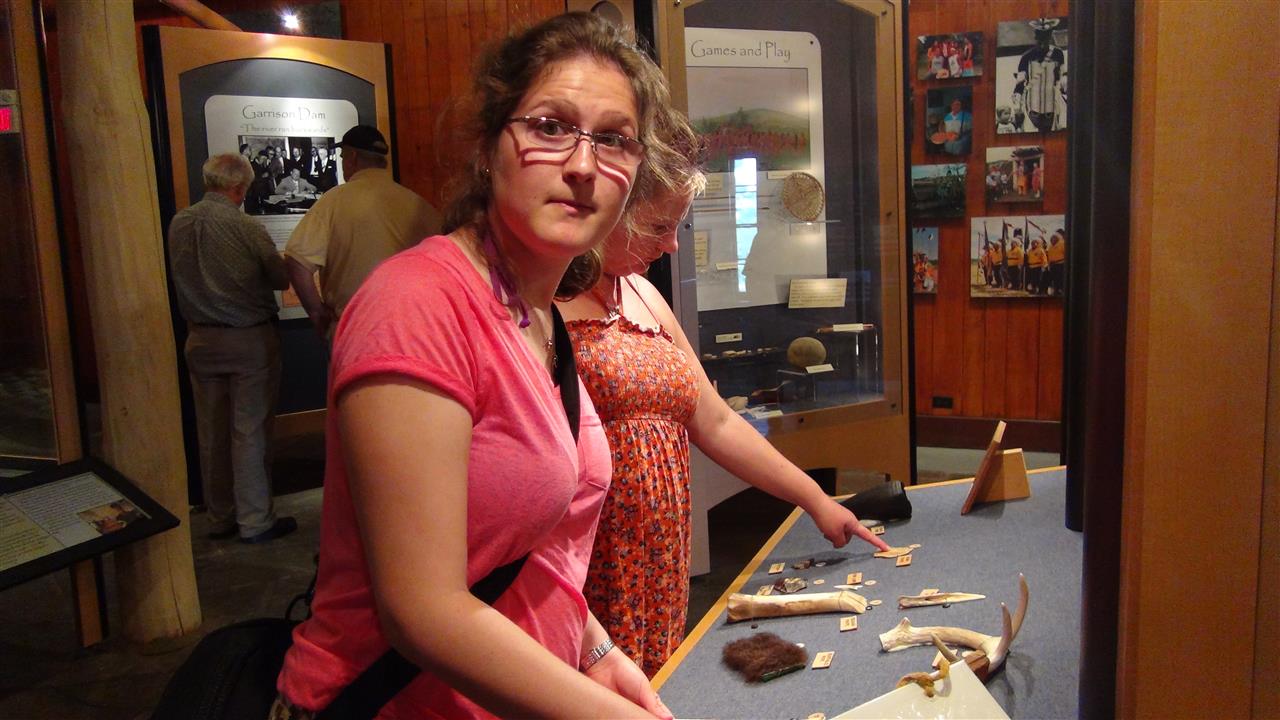 Hollie does a remarkable impression of Grandpop Marriott in the visitors centre.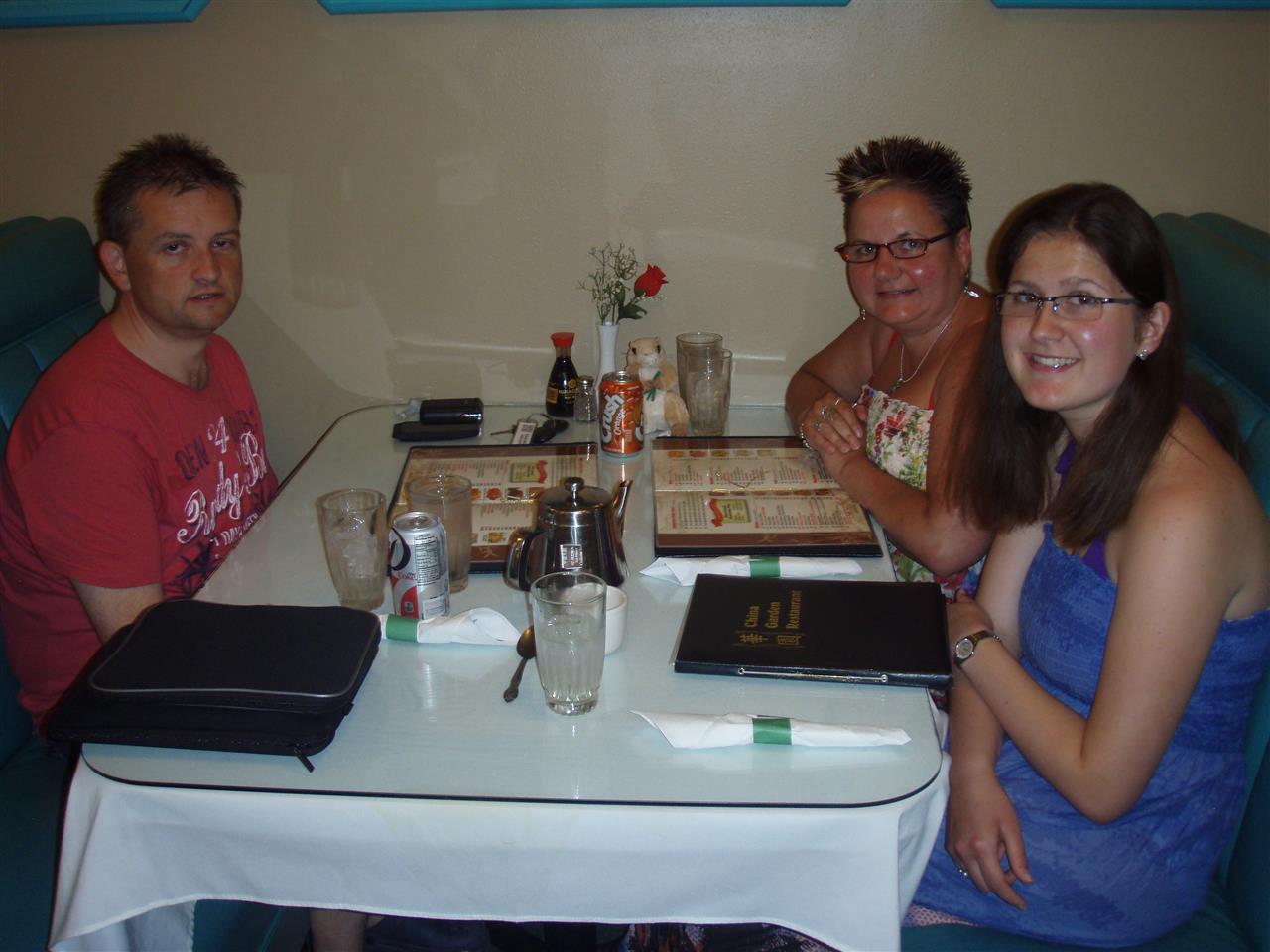 Bismarck is the biggest city we've seen all day..We checked into the expressway Inn, relaxed in our room & headed to the China Garden Restaurant for a very nice evening meal.

No sign of those plague ridden meer cat/prairie dogs today , thank goodness!

Goodnight faithful reader & thank you for your comments..Some of them even make sense... Good of you to join us Dawn!! xx

Suitcase update , Ians suitcase is currently enjoying a great Vindaloo in Bangladesh & Should be in Aberdeen by tomorrow teatime.


---
Day 9 : Fracking Hell in Wiliston.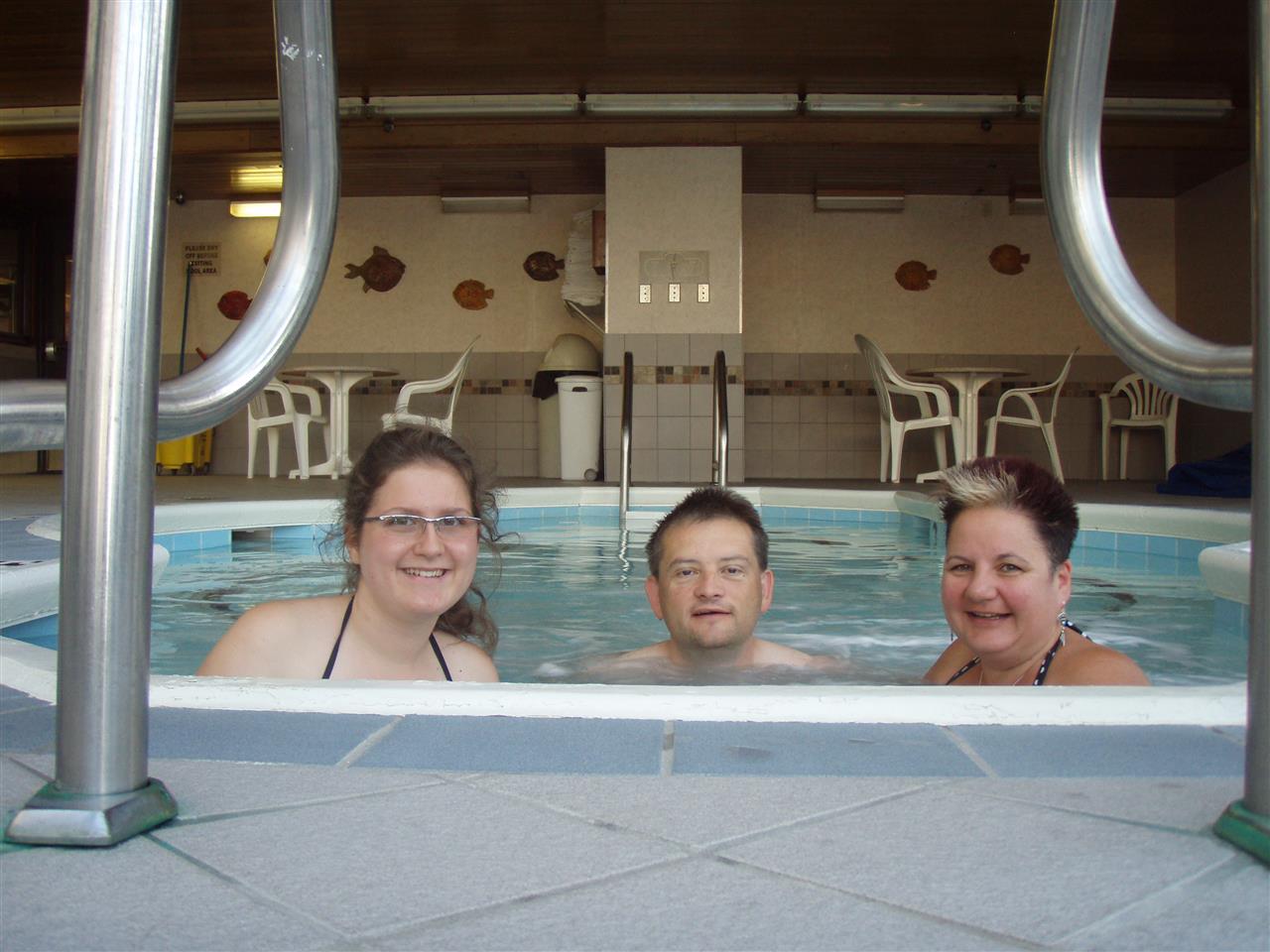 A 7am visit to the Gym for us ( well Doris anyway ).. Later we cooled off in the 105 Degree spa pool. Some bright spark thought it might be fun to try a dip in the shady outdoor pool to round off the morning.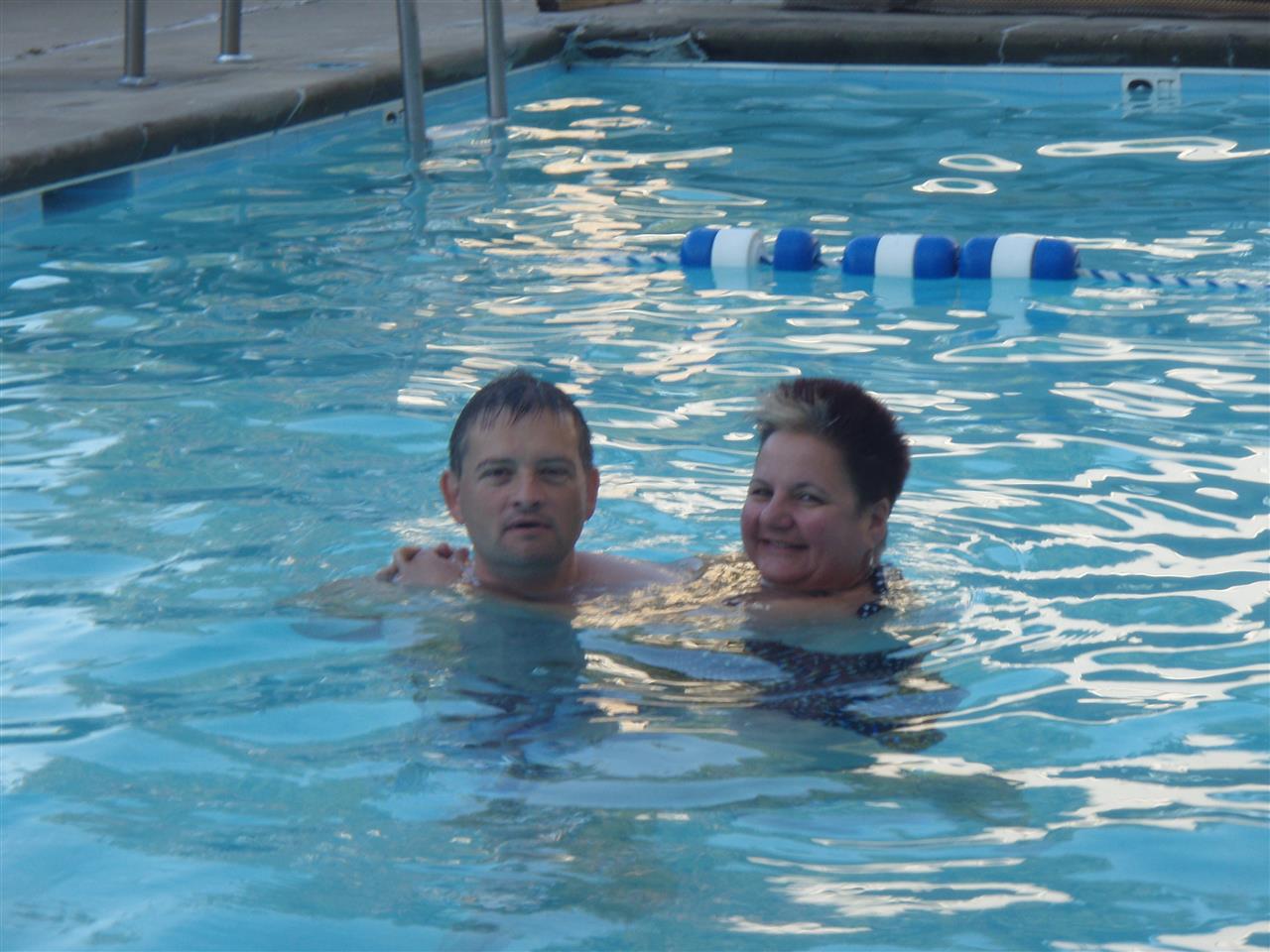 Its true what they say about a mans " Parts " in cold water.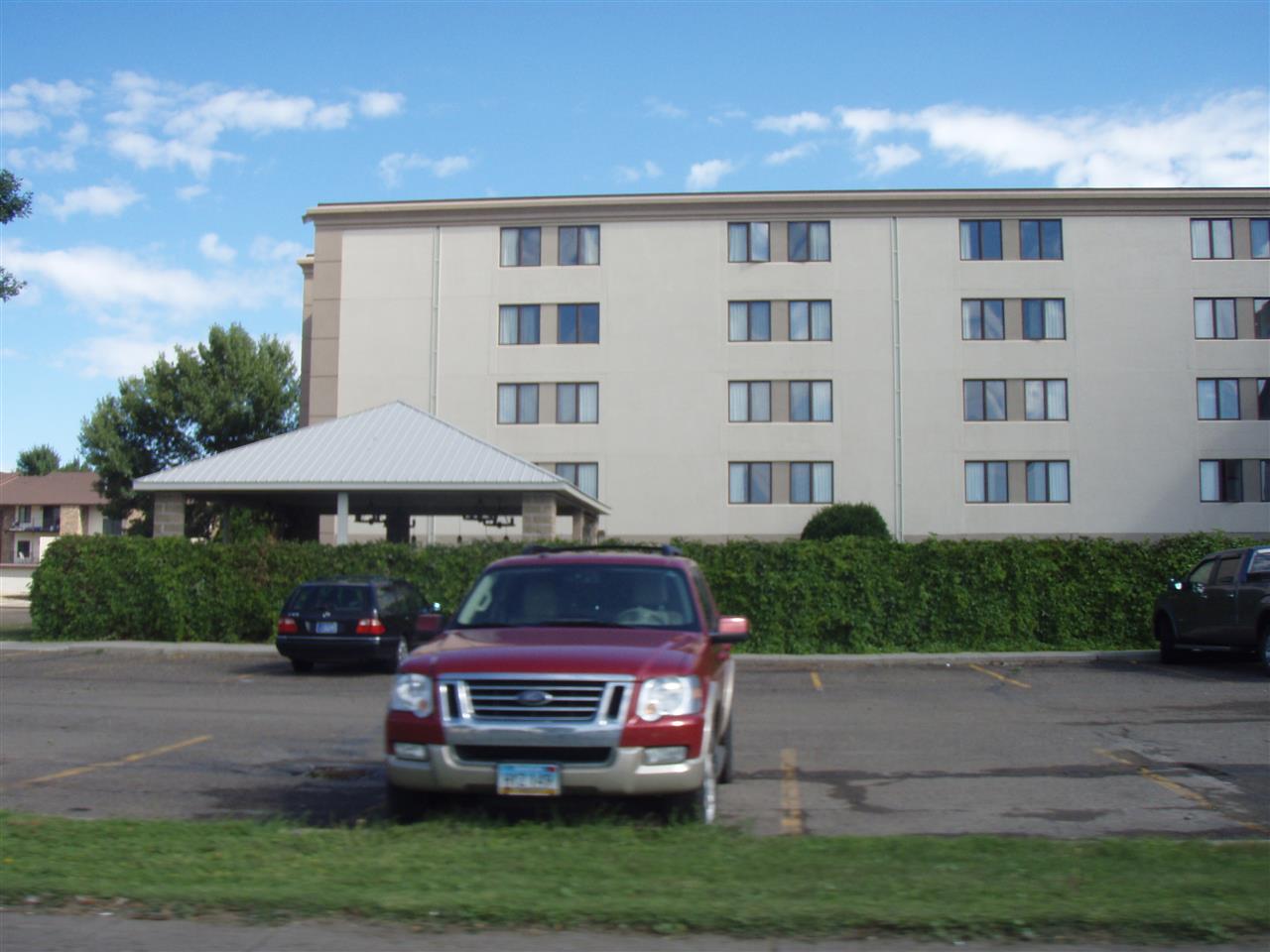 Goodbye Expressway Inn & your rude staff.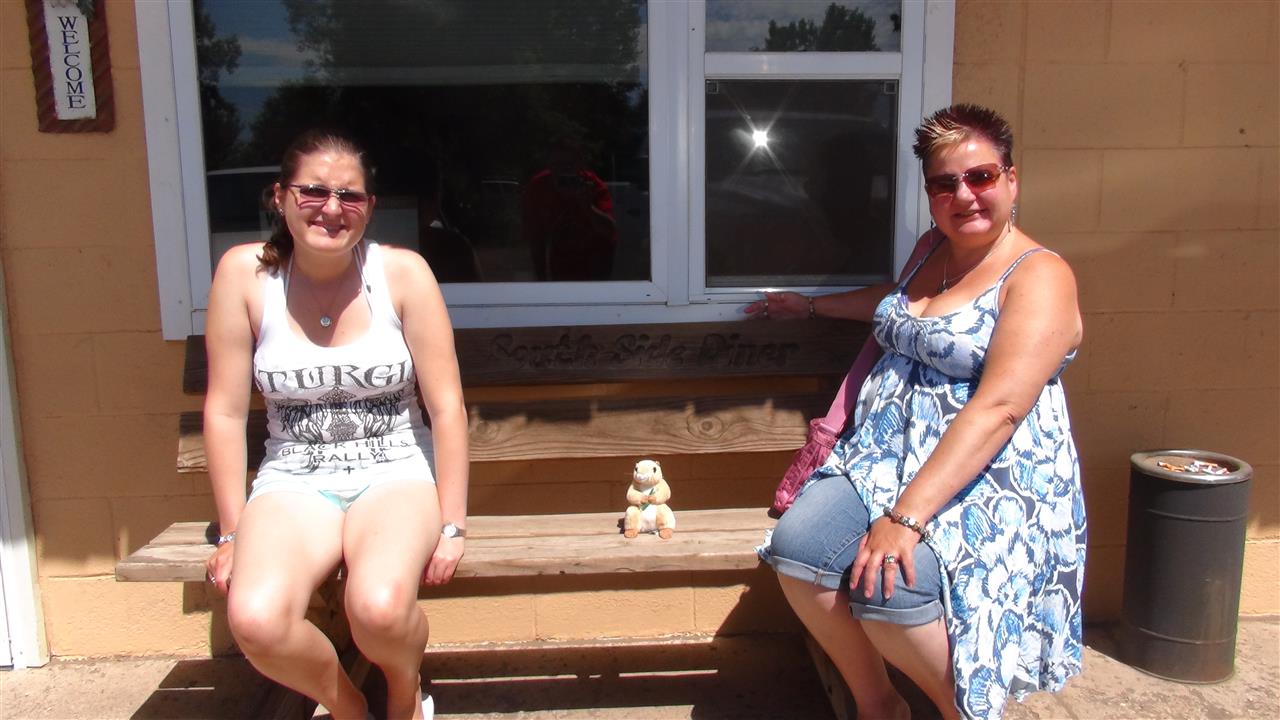 Lunch at the Southside Diner.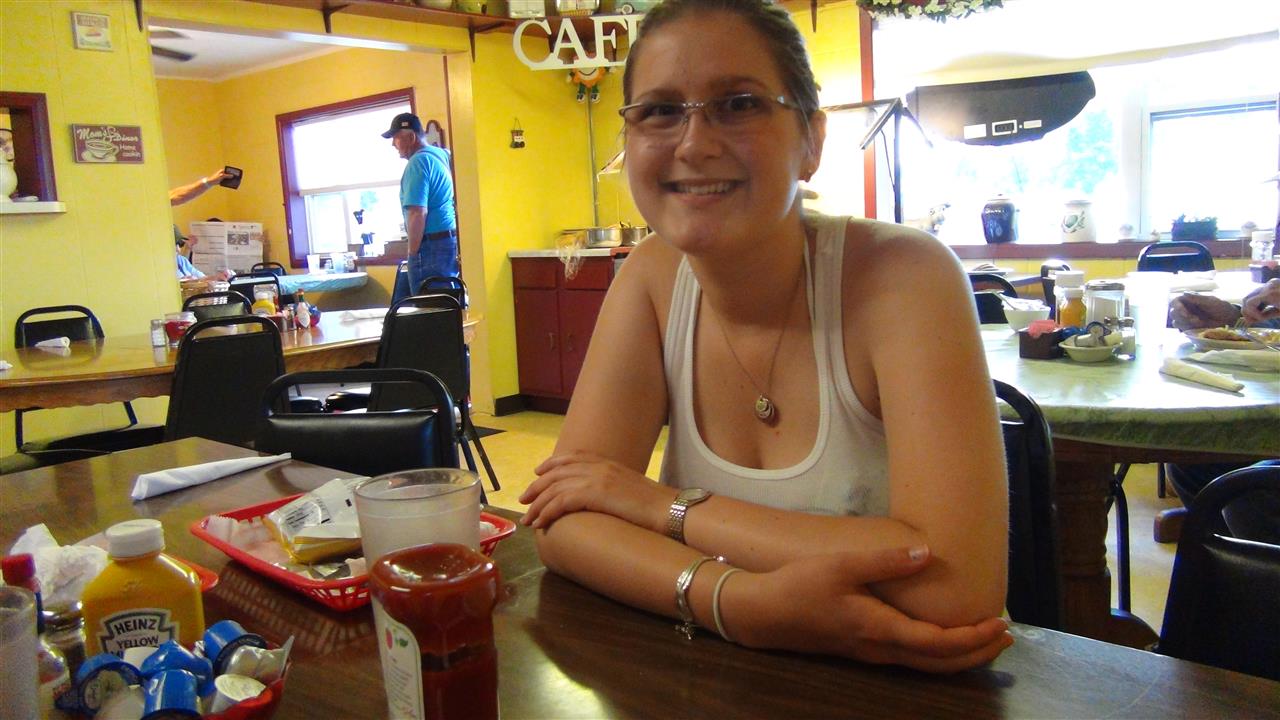 Somewhere in the back of beyond, Just past middle of nowhere.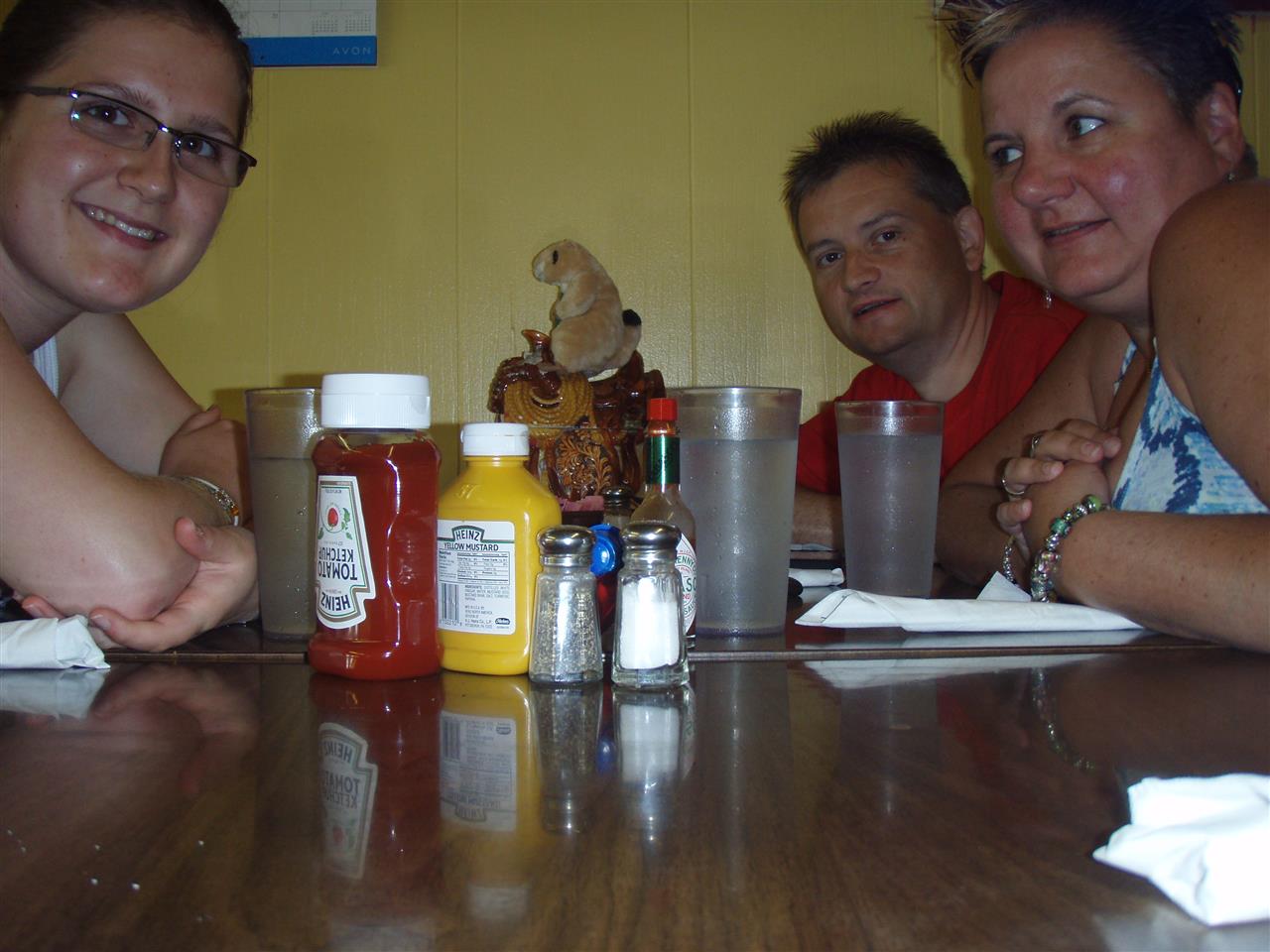 No diseased Critters in this part of the country.. The diner catered for the over 60's with a brown buffet of dry chicken , mac & cheese..plus several vats of unidentified slop that they frequently refilled their bowls with. We opted for the cooks specials a la carte burgers.. no food poisoning yet, although, I was asked if i was wanting the senior's menu.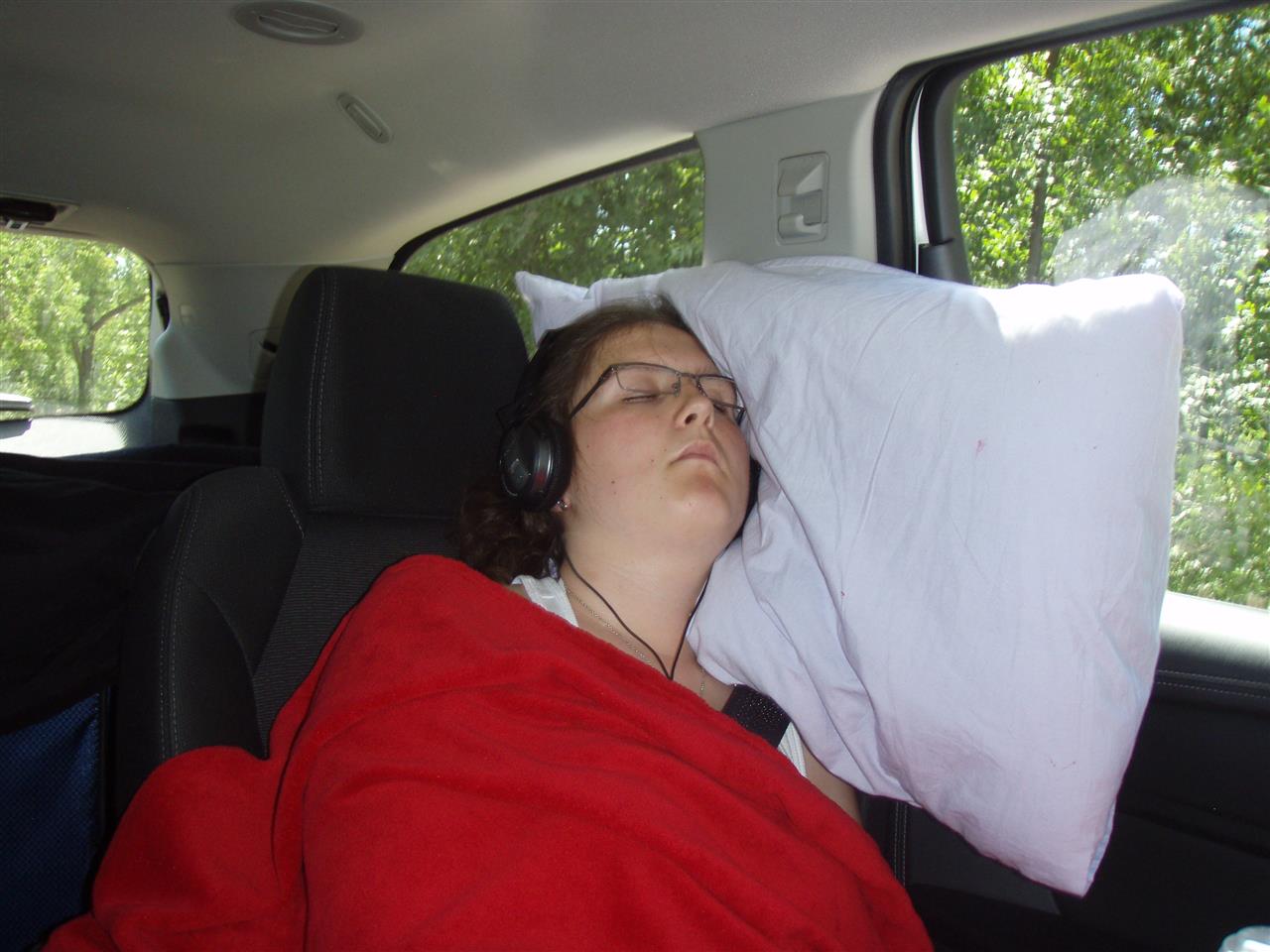 Hollie enjoys the scenic route through Roosevelt National Forest.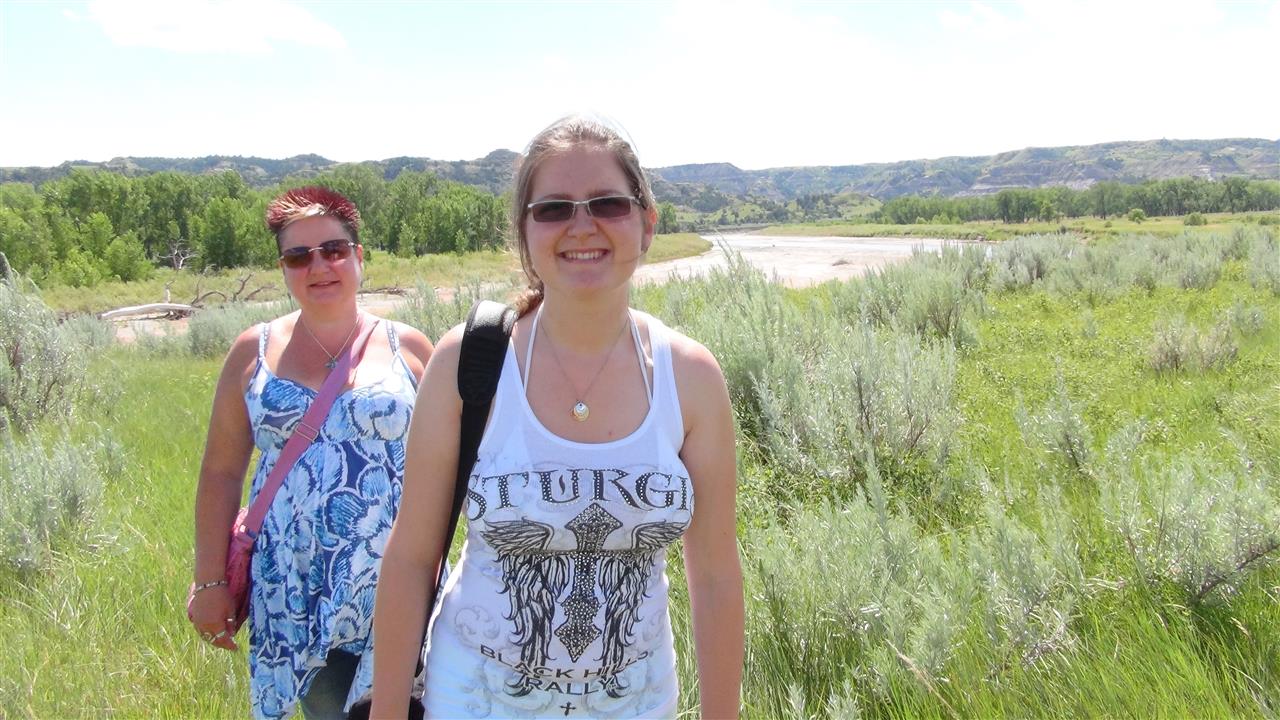 Roosevelt National Forest was a welcome relief from the never ending prairies.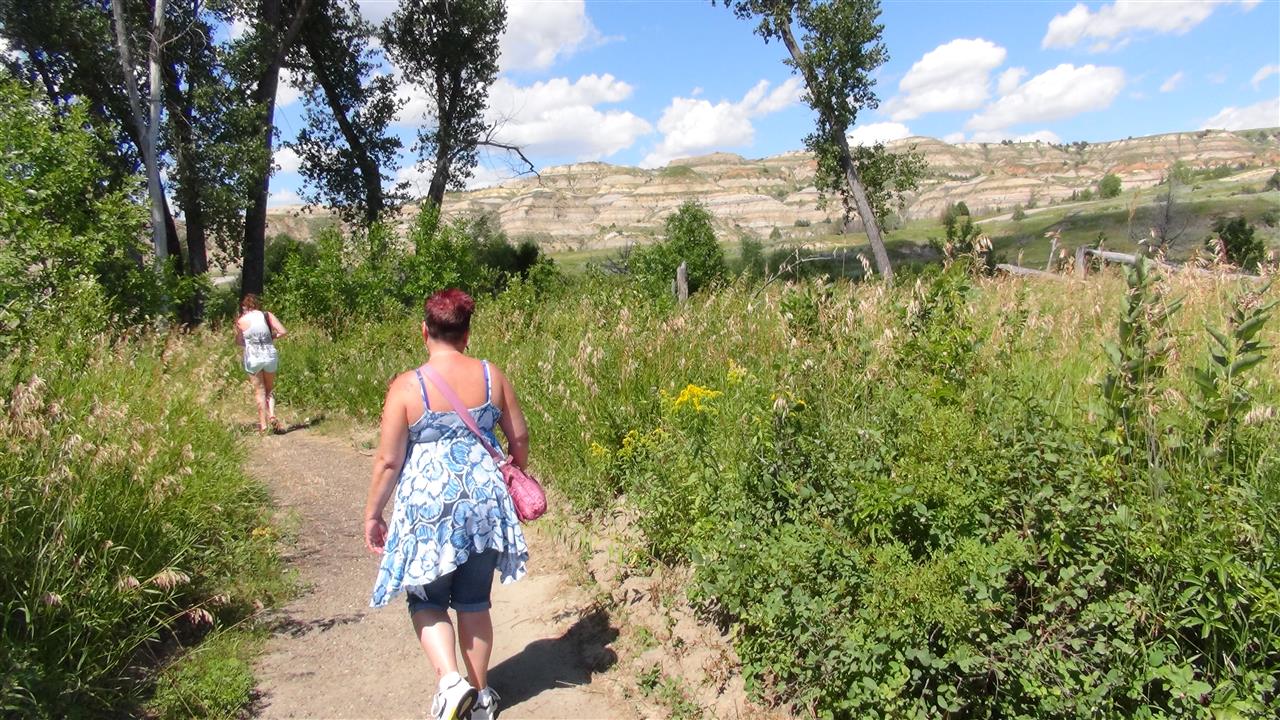 We chose the Little Mo trail..A leaflet explained the various points of interest on our route, sadly they omitted the clouds of mosquitoes that chased Hollie & I shamelessly throughout the tour..They totally ignored Ian!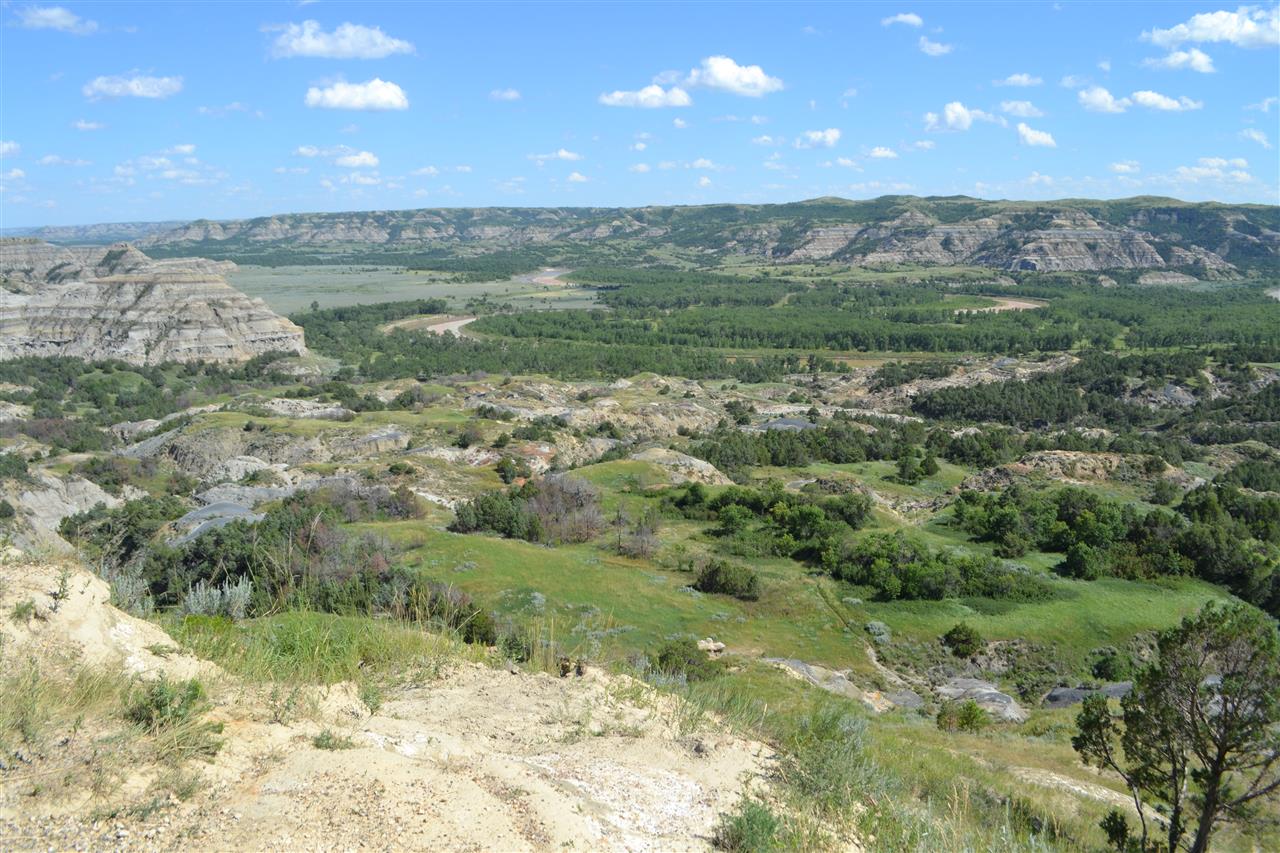 The landscape made up for our discomfort.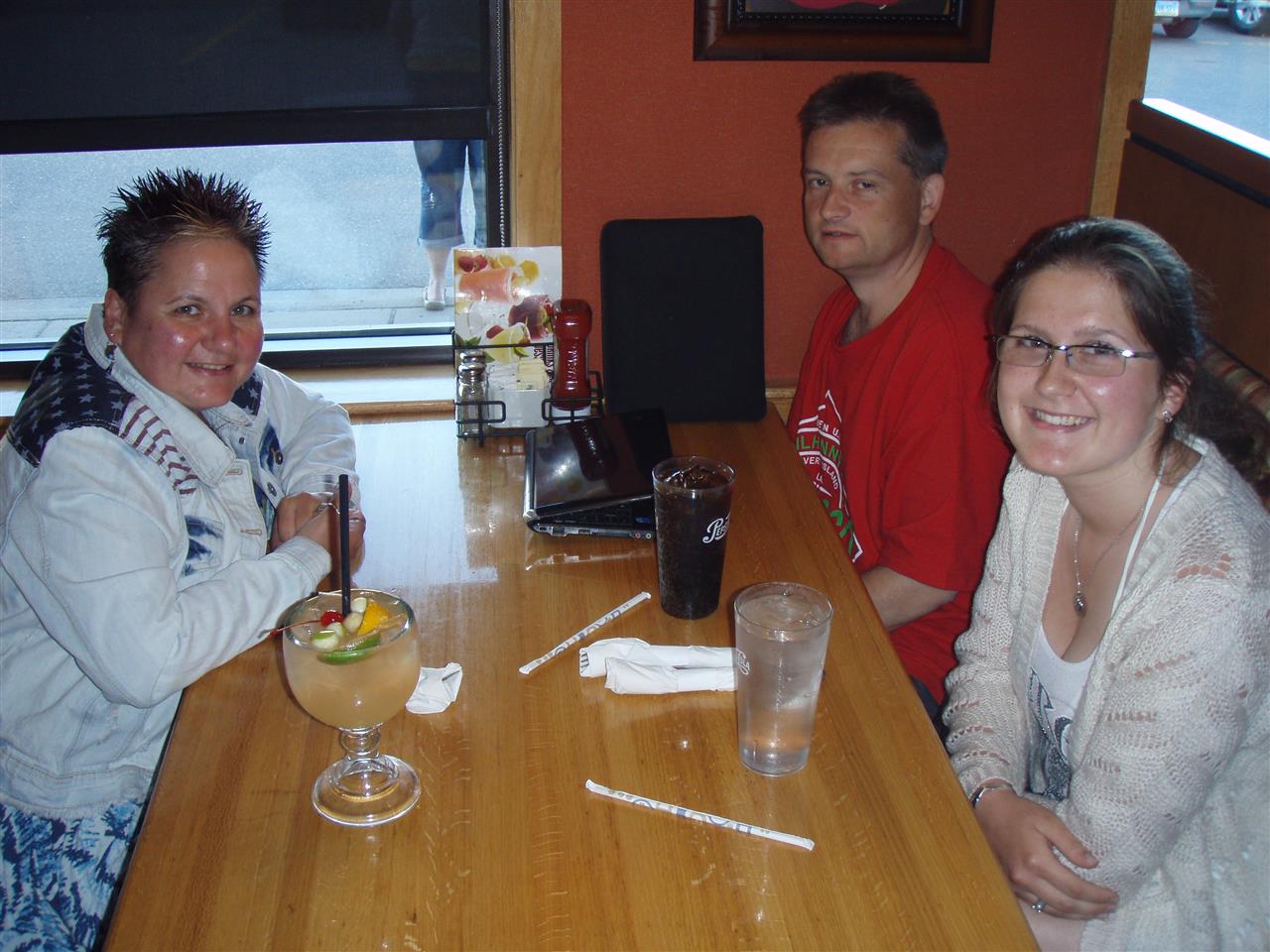 Our final destination Wiliston the fracking capital of the US, Fracking- a method of extracting natural gas from vast areas of rock, using a high pressure water system.
The area is hugely industrial & our hotel ( who alledged not to have our booking , but found us the last room in the house! ) was populated largely by construction workers..

Applebee's provided a welcome dinner of Steak, pasta & chicken for the weary travellers..Hollie spent the evening ogling our waiter , who she thought looked like Bradley Cooper.

Goodnight dear reader, tomorrow we SHOULD be in Canada ?? xxx

Suitcase update- Ians suitcase appeared in Amsterdam at 5pm & was onward routed to Aberdeen as originally expected.
---
Day 10 : Into Canada without a hitch & a night in Moose Jaw.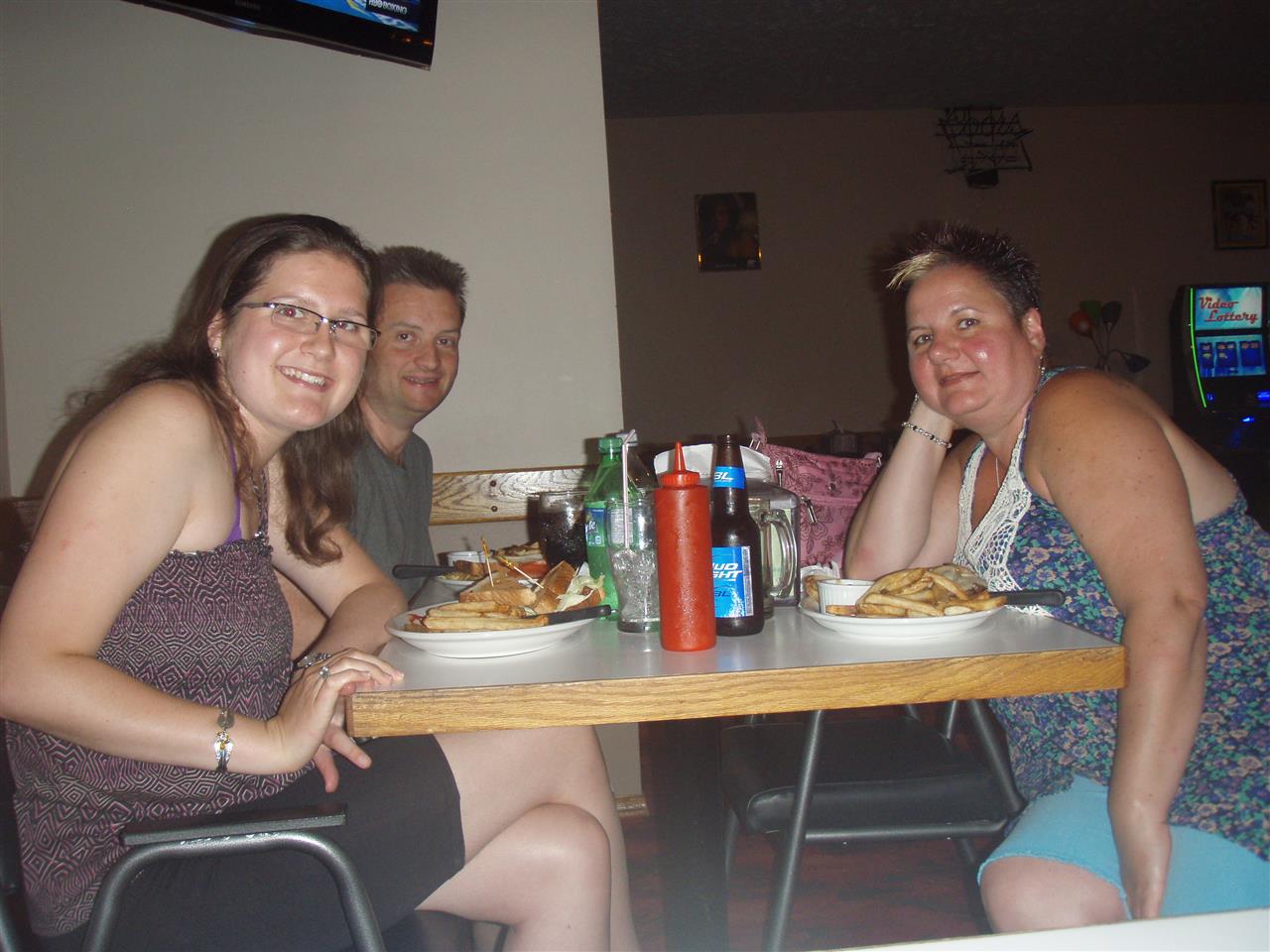 We left the truckstop " Missouri Flats Inn " without any regrets. Our journey to the Canadian border was uneventful &at the deserted checkpoint a nice lady customs officer, sent us on our way with a bunch of maps & a guide book. Another change of time zone & an early lunch at the CanAm Restaurant bar & grill.

Ian is LOVING the conversion to KM per hour, Canada offers ..the landscape seems to go by "Whoosh whoosh ..Jim " as the new speed limit seems to be near 100!!
Once again the terrain is flat & bleak..Hay bales, Rape seed & Corn crops line our route..A massive set of roadworks spanning a total of 24 miles caused something of a bathroom crisis..so eventually I had to water some roadside plans, i prey none of the constuction workers wondered why a partial eclipse had happened in their rear view mirrors.
Arriving in Moose jaw, we park up & explore the town.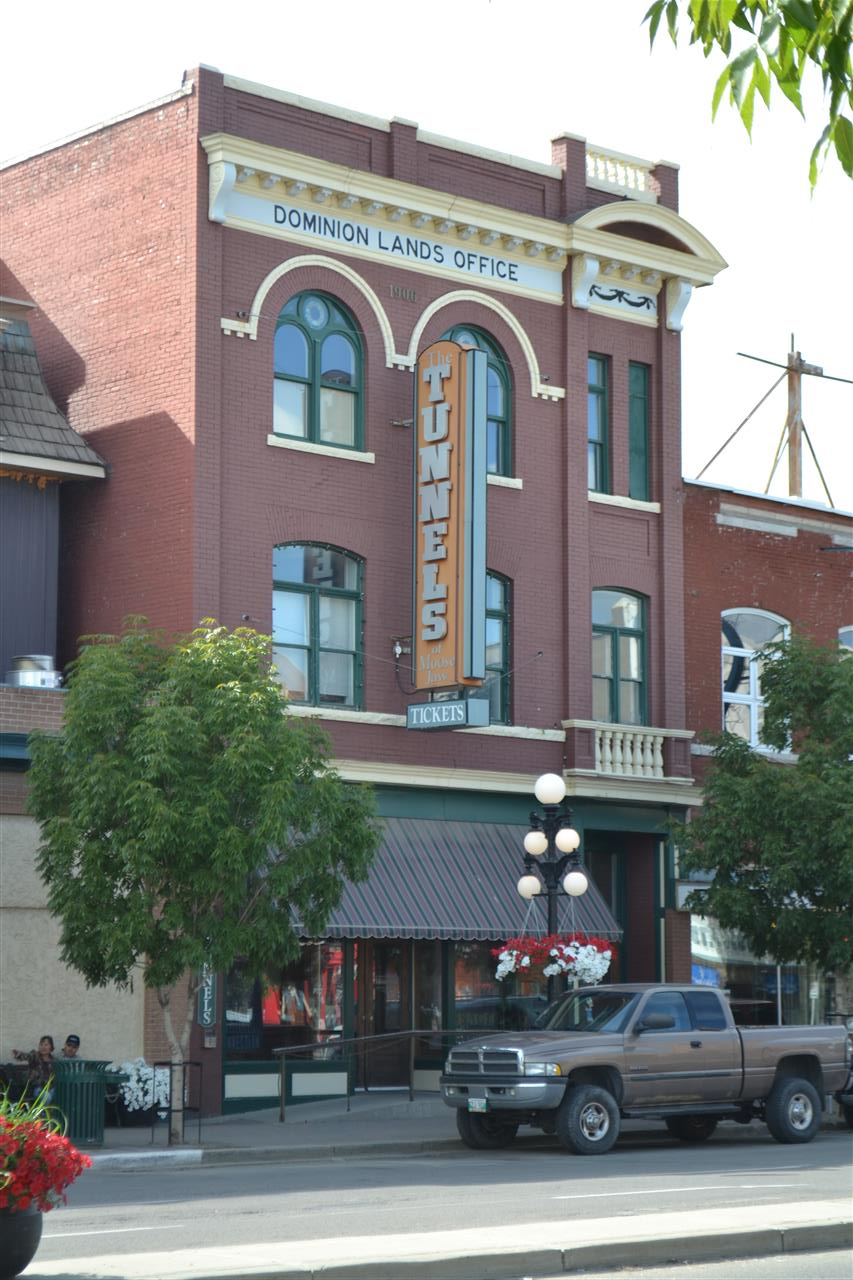 We paid our fee & opted to visit the set of Tunnels, detailing the hard life of the late 19th century Chinese immigrant workers.
Chris Our Bi - Polar Guide swiched between Narrator & Mr Hardy the steam engineer, to illustrate the hardships , medical, spiritual & monetary. Endured by these unfortunate souls.
We played our parts well.. Ian was chief door opener/ closer & I somehow became poo bucket emptier !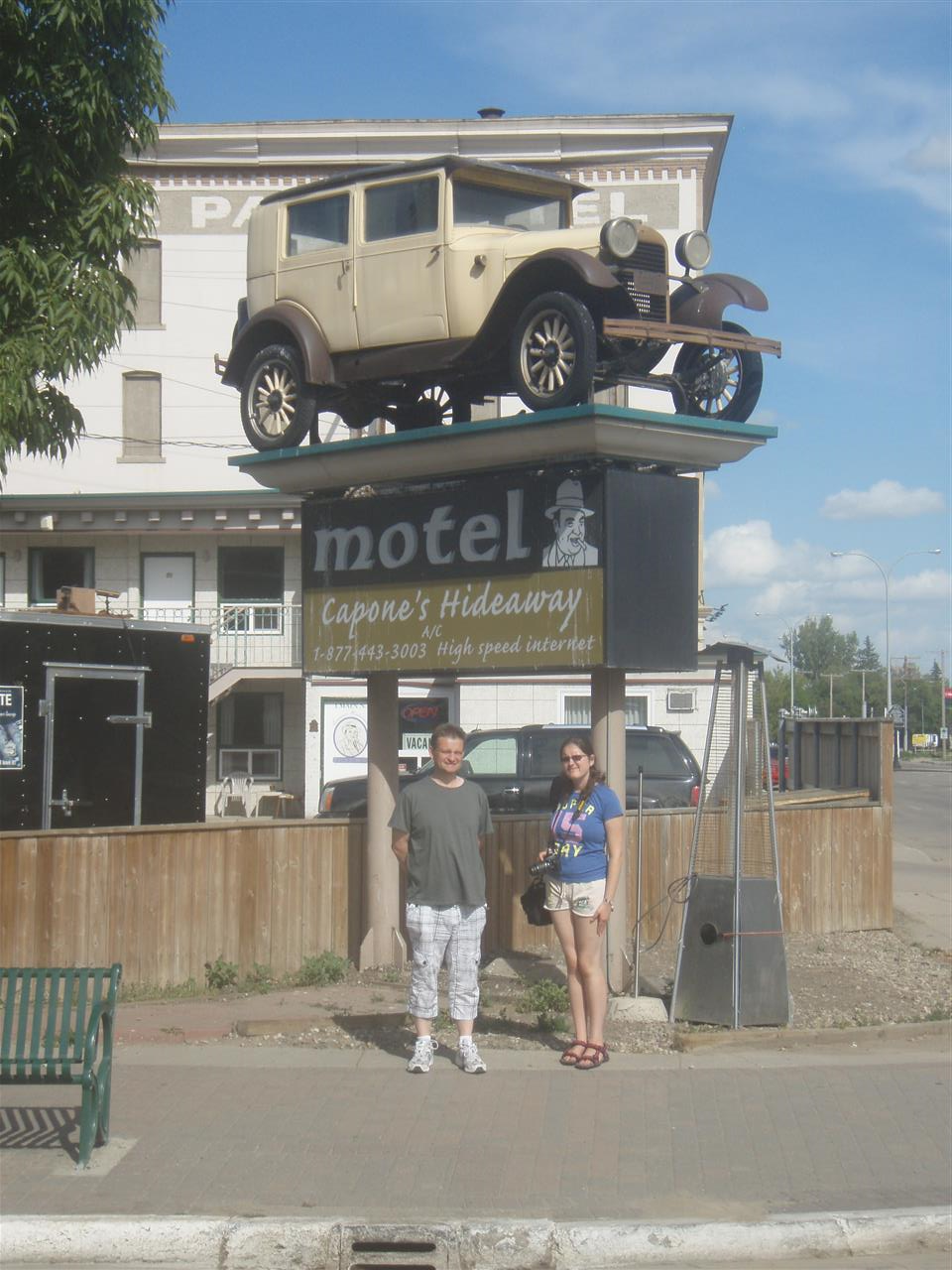 The area has very little history ..but, hey we make the most of what we have .. Seems to be the motto..possibly Al Capone passed by at some point, Leaving behind a motel named in his honour.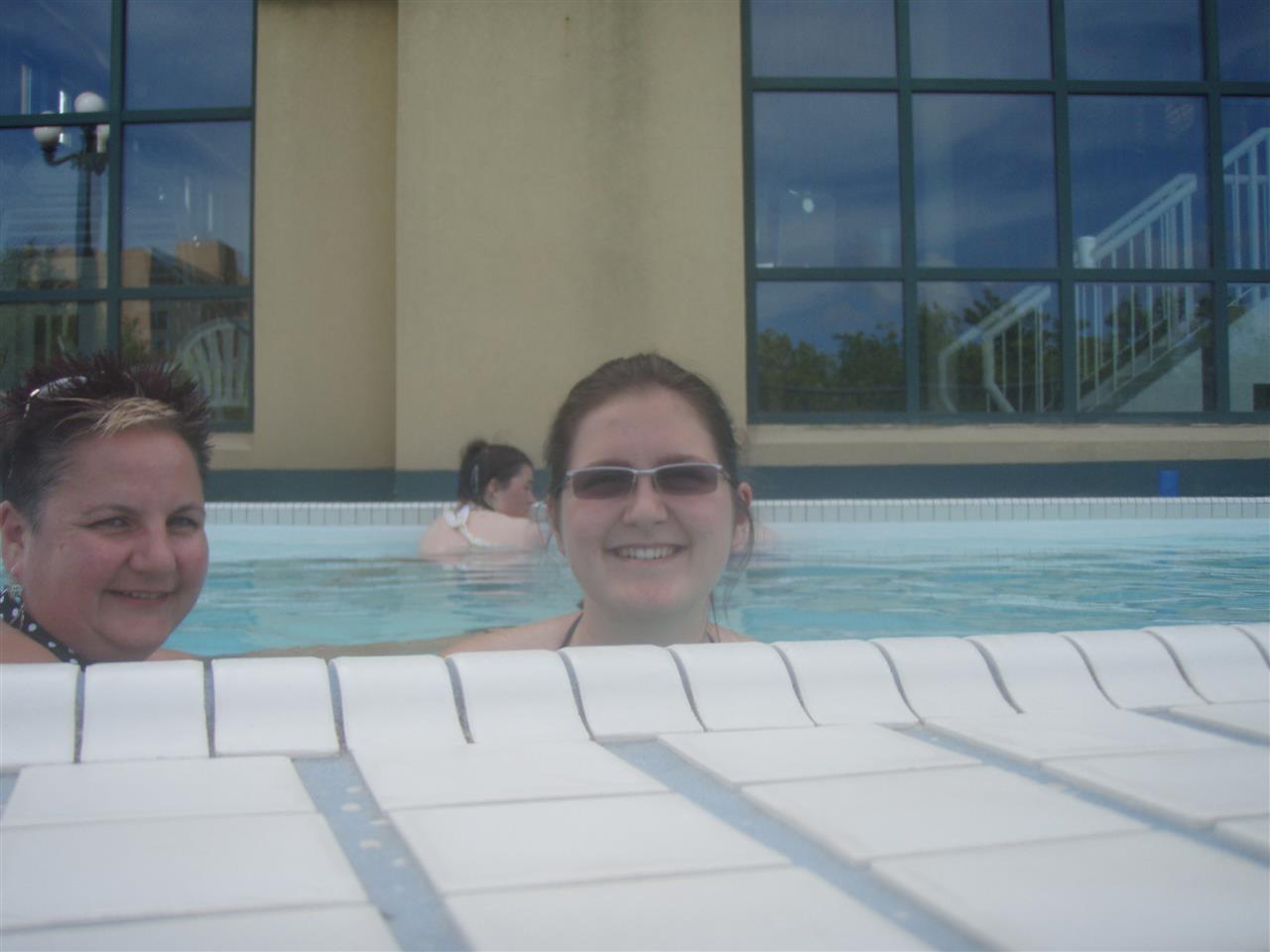 We have checked into our " Temple gardens resort & spa " .. Very posh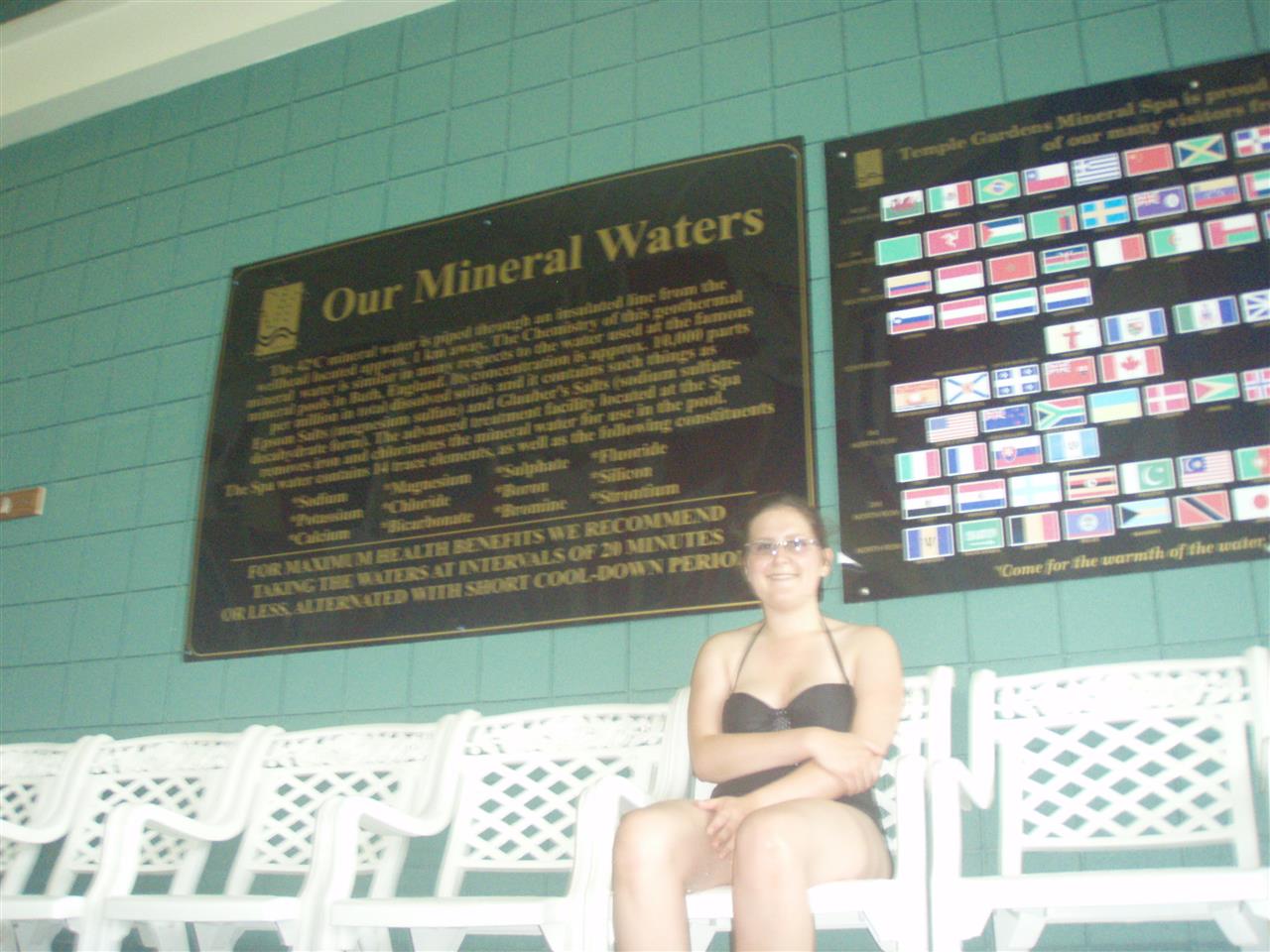 Hollie & I visited the roof top pool for the therapeutic mineral waters..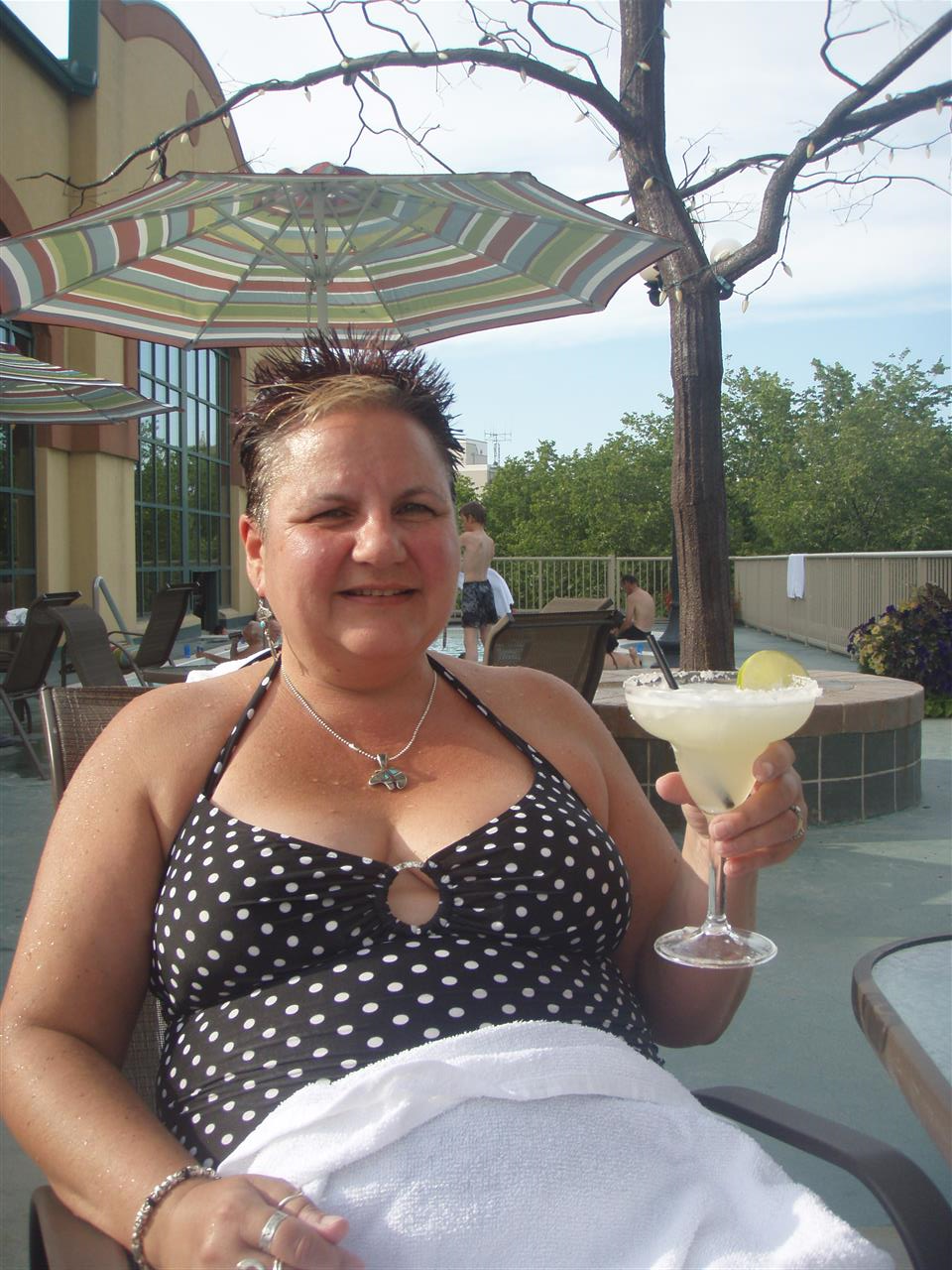 And a Marguerita!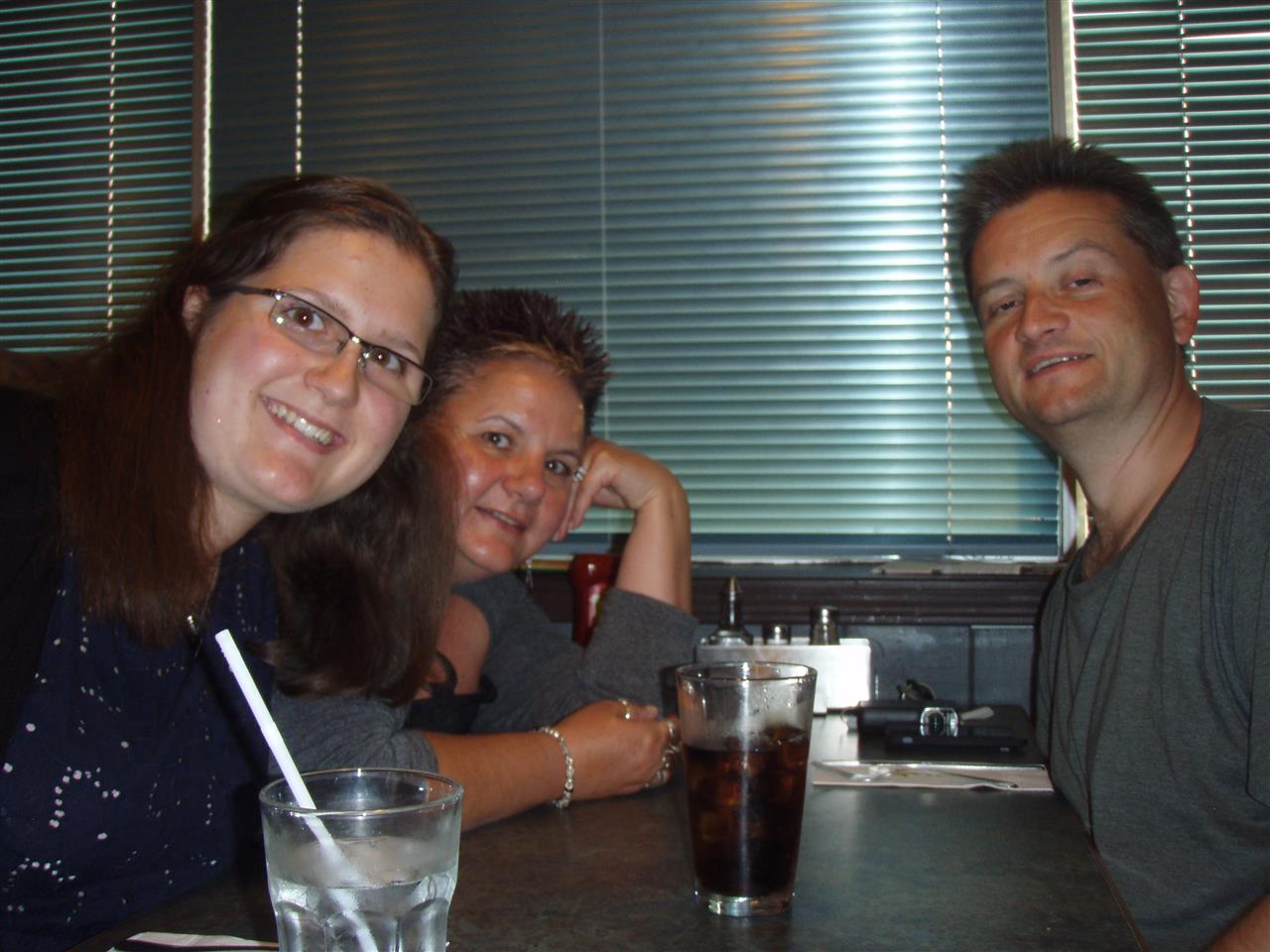 Dinner tonight is at Joey's seafood shack.. Haddock & chips YUM !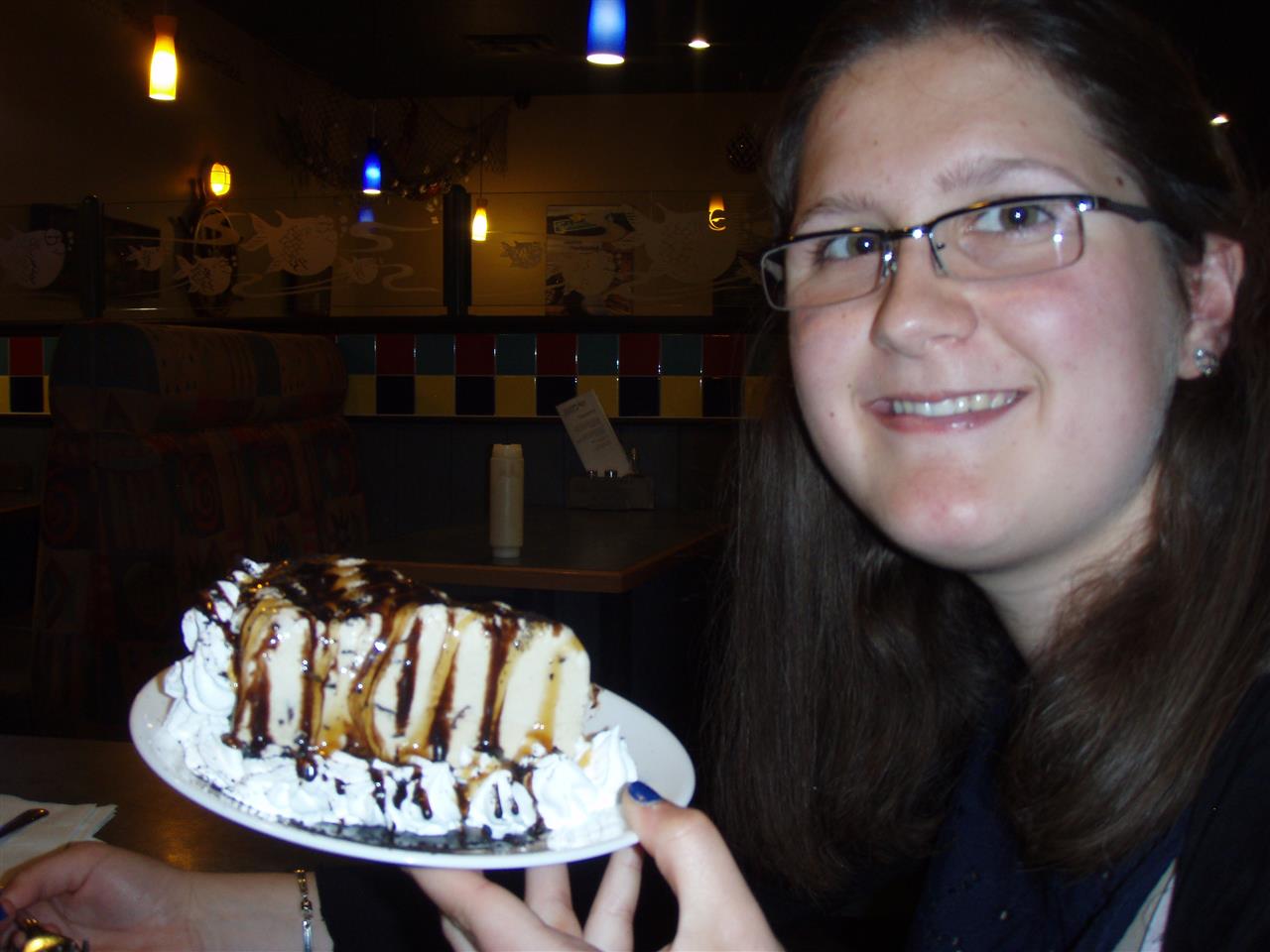 Hollies Mud pie was more than she could eat ..
Consolation of the day ..There is a god..Ian IS Peppered with Mozzie bites, so he cannot moan about us whinging about our itches. Ian claims that when he cleaned the car windscreen earlier, ALL the squashed Mozzies were on my side !! Go Figure?

Goodnight dear reader..WE LOVED the pics on facebook of Marmite on holiday with his siblings , awww bless. xxx

Happy Holidays to Caroline Bradley & Buster in La Belle France..Lots of hugs for Nanny & grandad France xx

---
Day 11 : Moose Jaw to North Battleford and thats about it!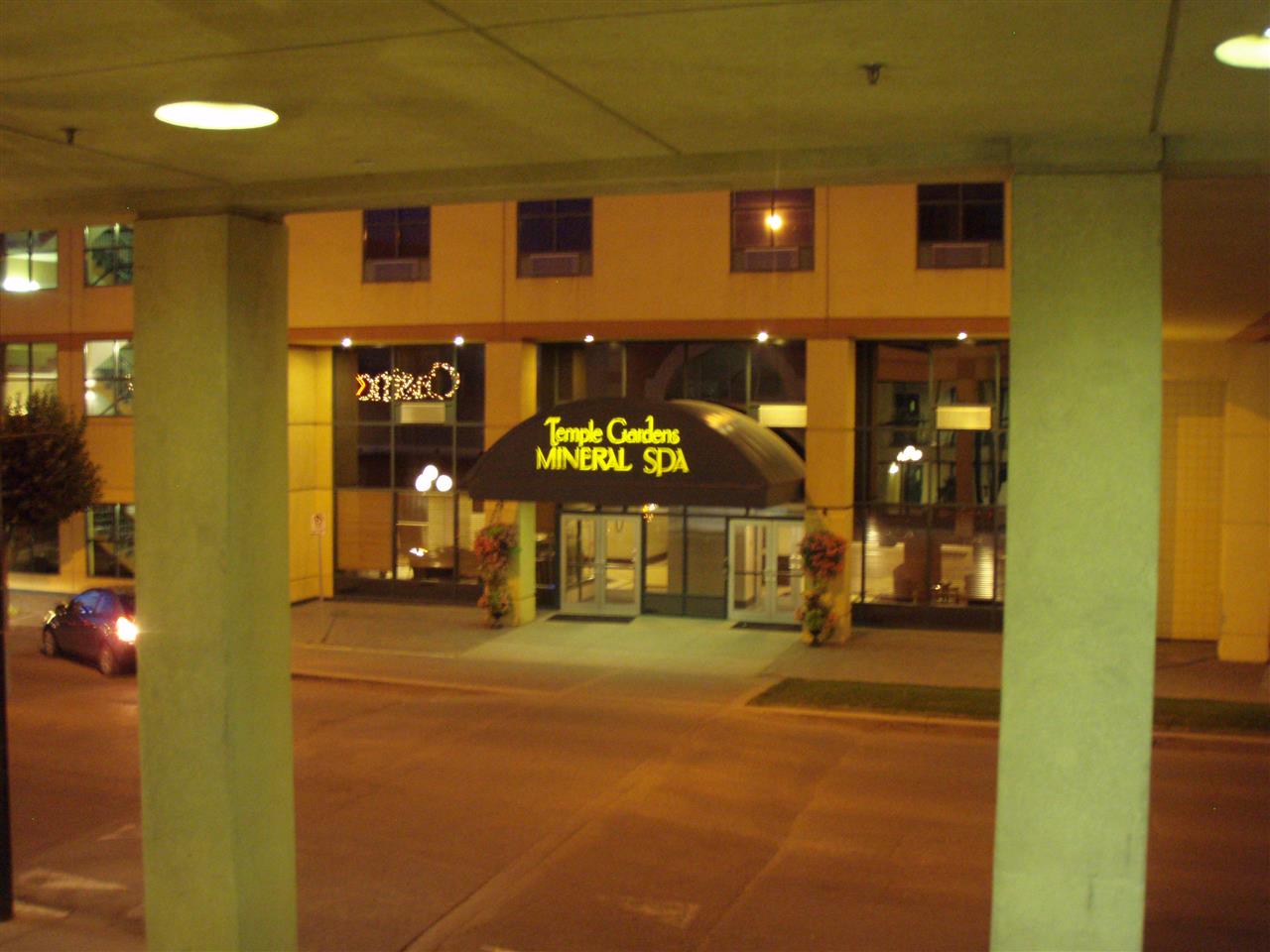 The Temple Gardens Hotel was by far the nicest so far!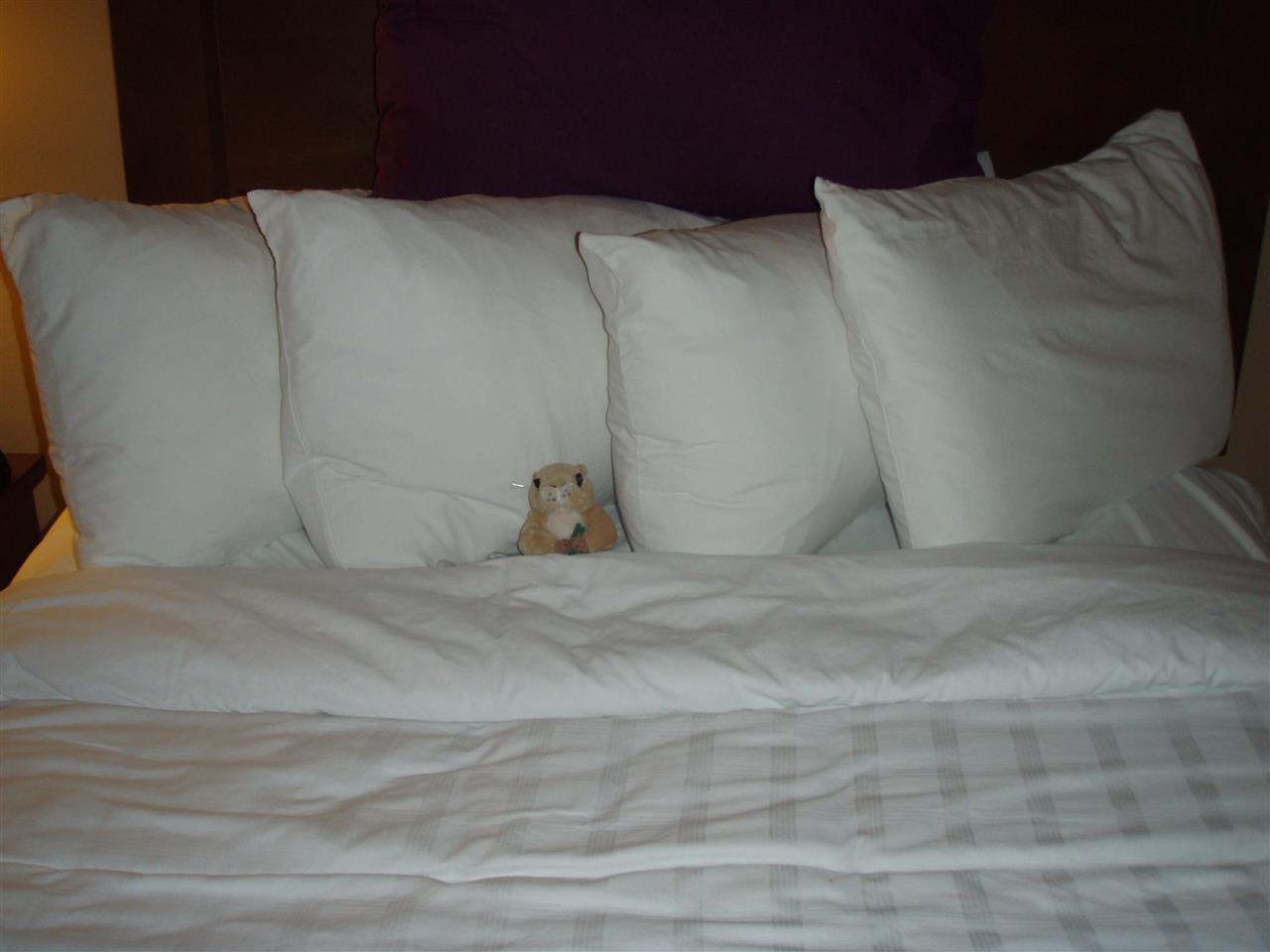 The front desk warned us they'd had a infestation of meer cat / prairie dogs..Fortunately we were unaffected in our room..Phew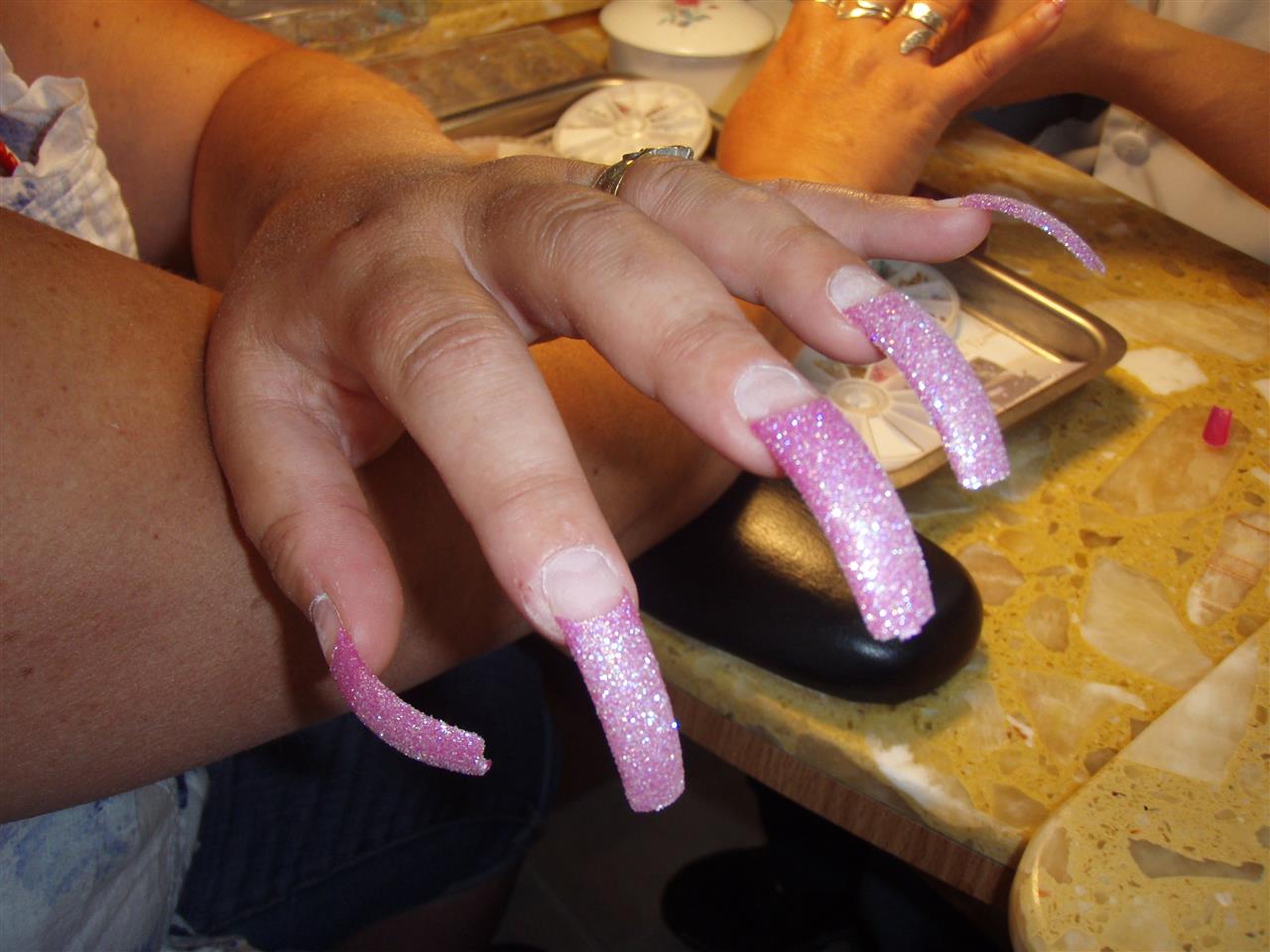 Doris & I took an early walk into town to get my nails done..EEEK !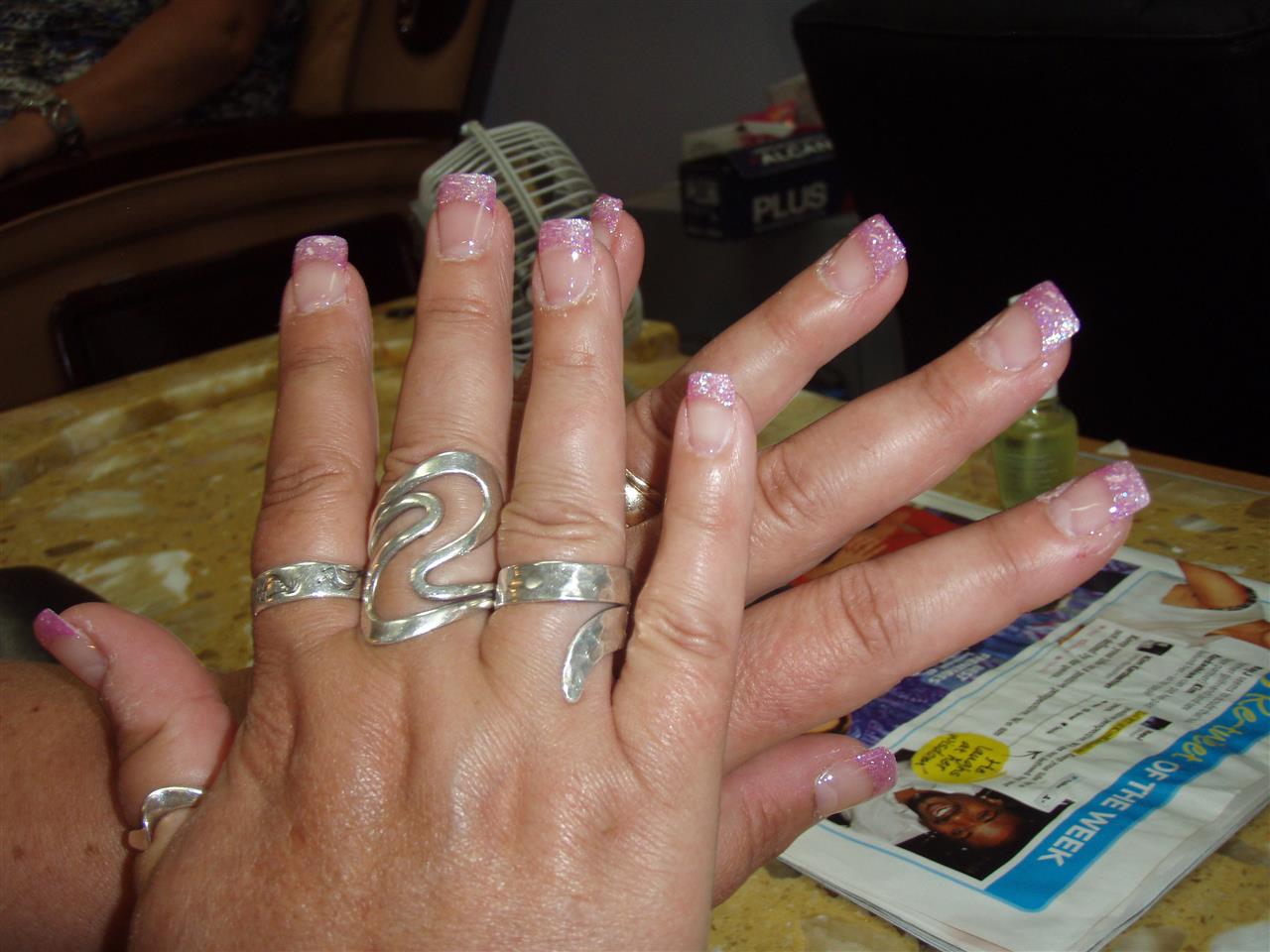 Fortunately the finished result was much better..Even when freshly opened the nail salon was very busy with people having their hooves sanded, toe nails painted and a variety of lurid designs on their fingers. All provided by our Chinese/Thai hosts.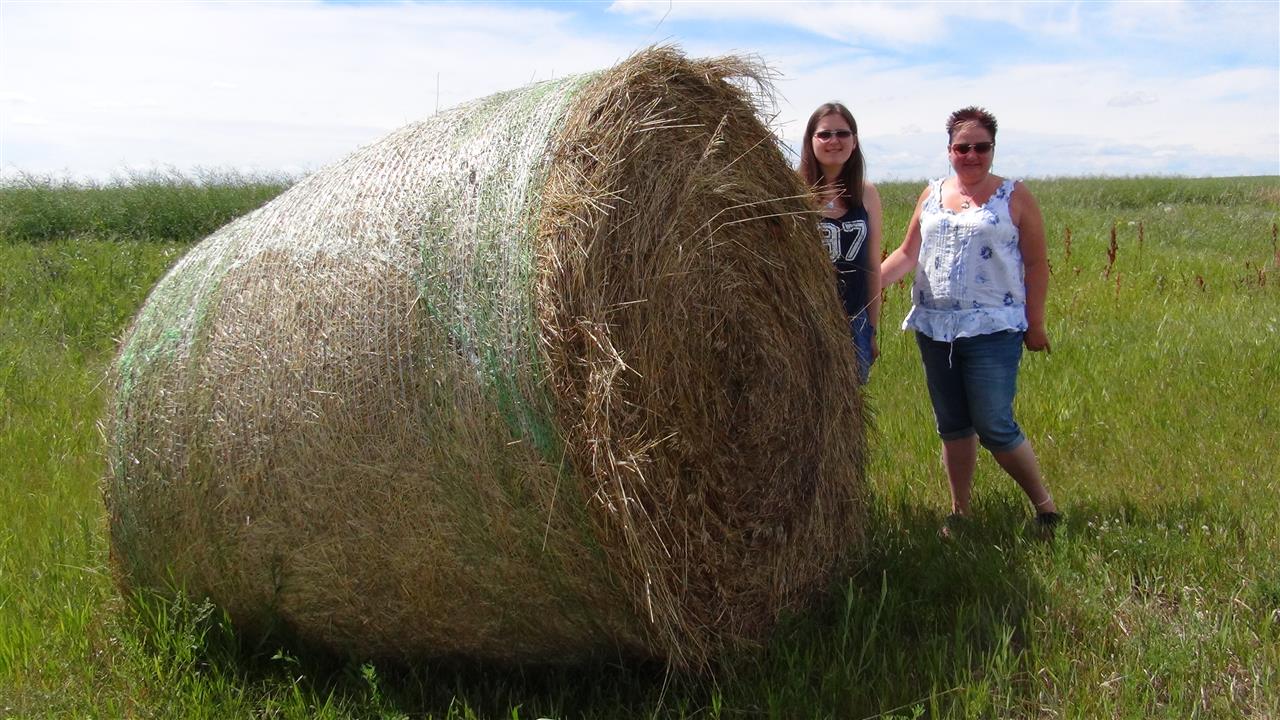 Believe it or not..We have probably passed a million of these enormous hay bales. Sometimes fields are peppered with these as far as the eye can see.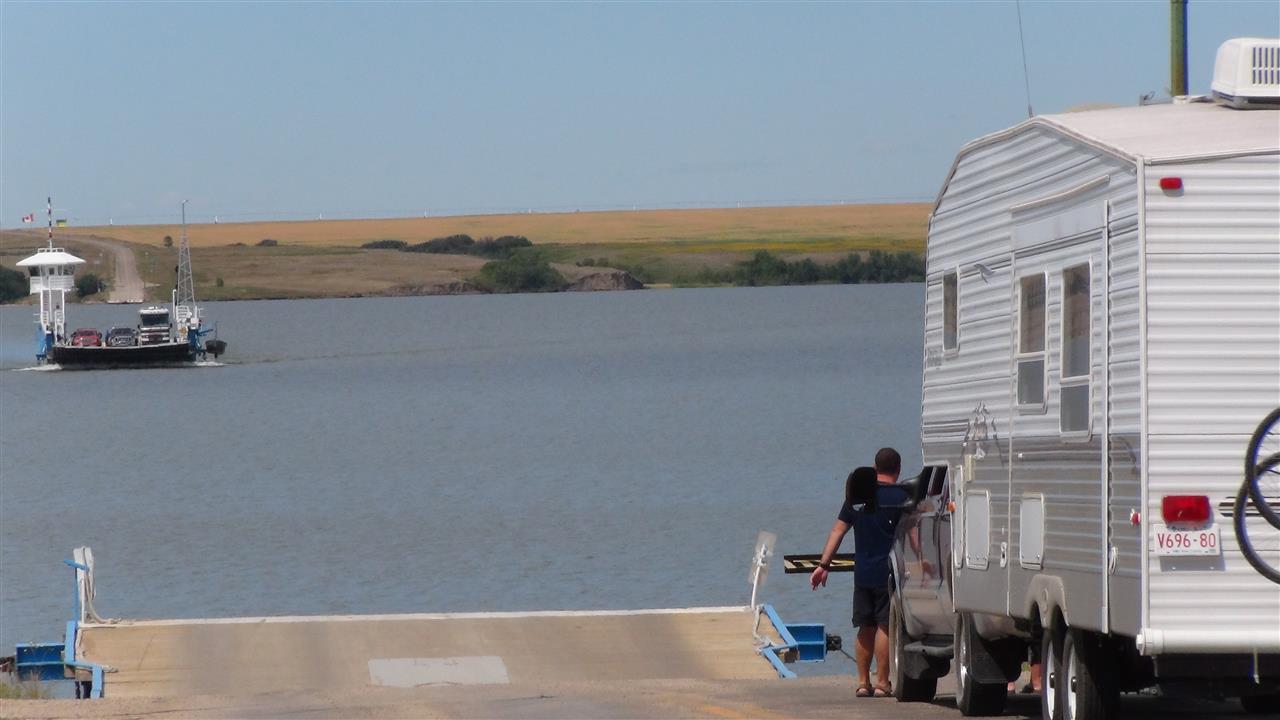 We awaited a ferry to take us on a 15 minute journey across this river.. " Riverhurst ".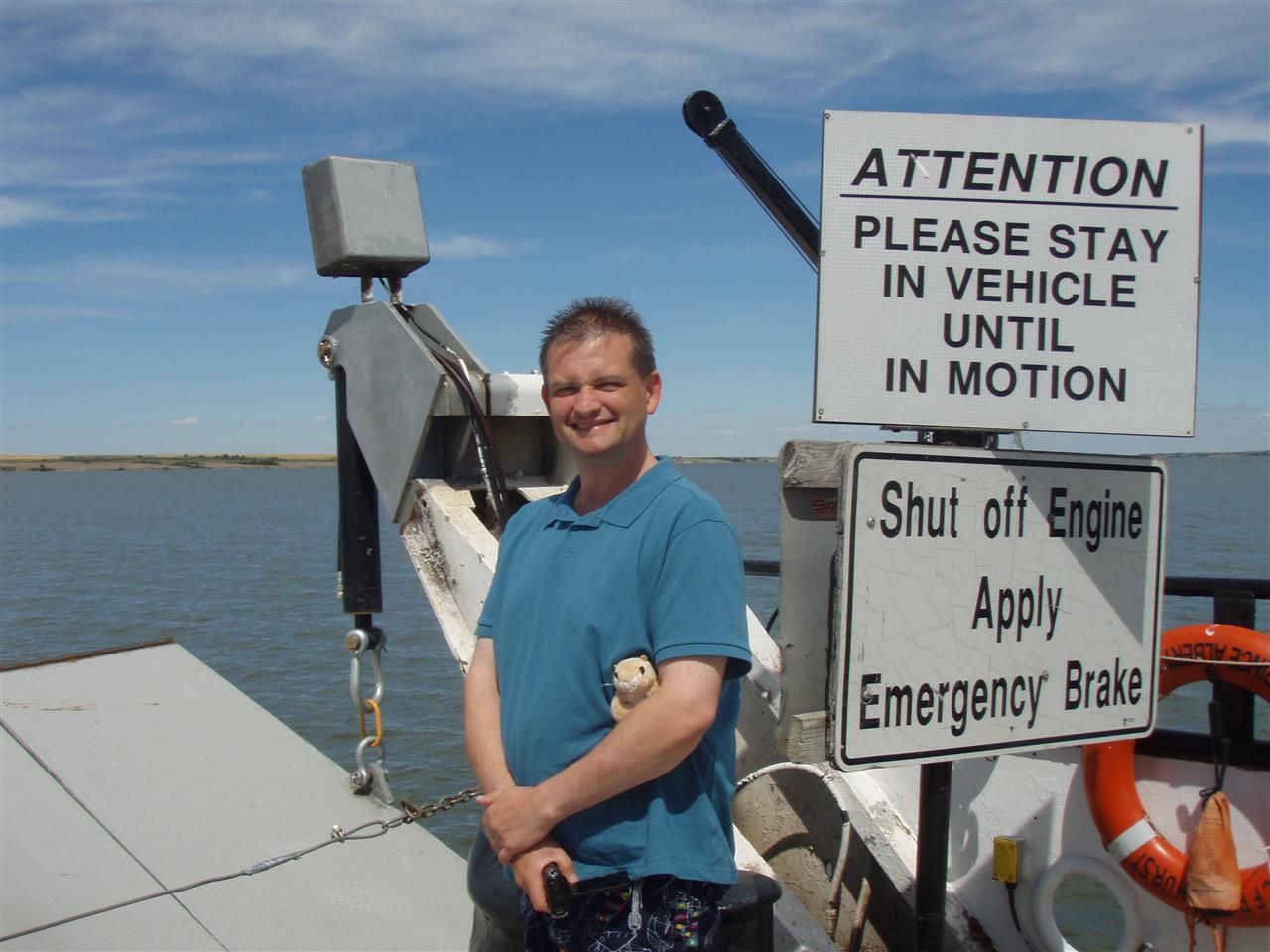 Captain Ian & second officer Meer cat / Prairie Dog, Navigated us safely to the other side ..Maureen sat patiently in the car directing us verbally across the vast ocean.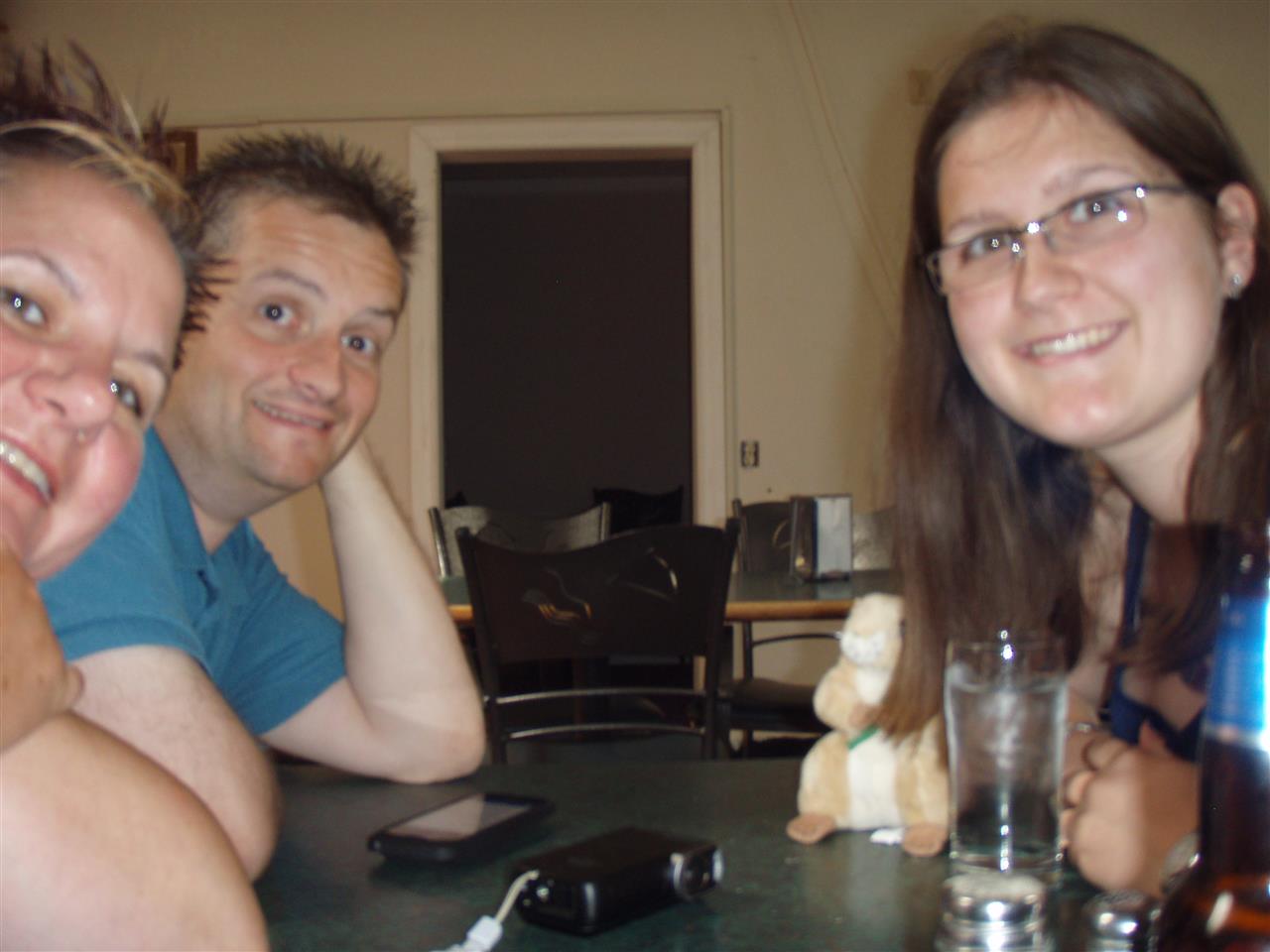 Another fly spotted lunch in " Motel , Food " , we found a place with a handwritten sign, looked like a portacabin in a place called Murston..Somewhere between Eyebrow & Elbow..You couldn't make it up!!!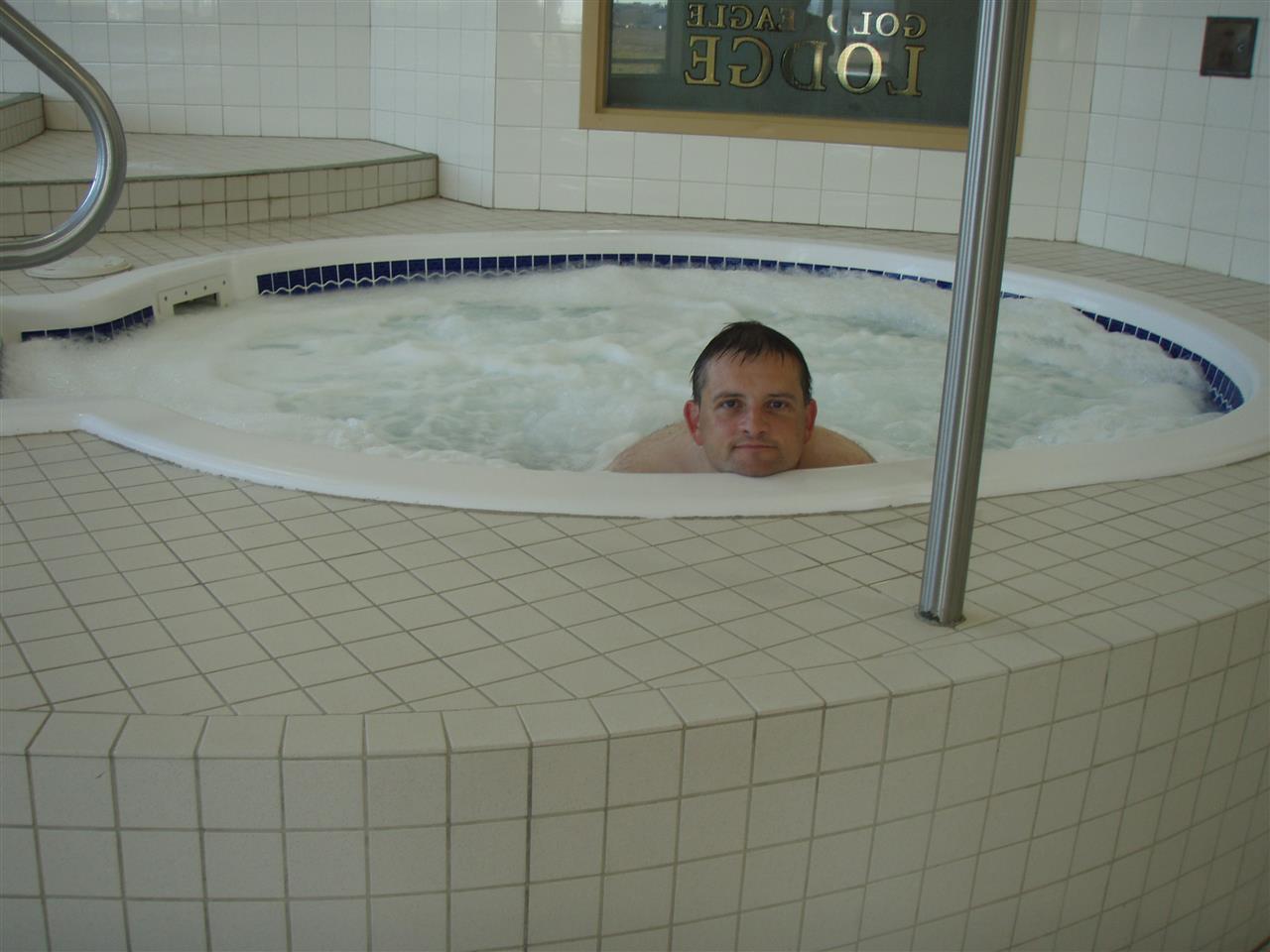 Our next Hotel, the newly built " Golden Eagle Lodge " Boasts a state of the art Pool ,Sauna, gym & steamroom etc.
We put Ian in the washing machine to give him a good scrub!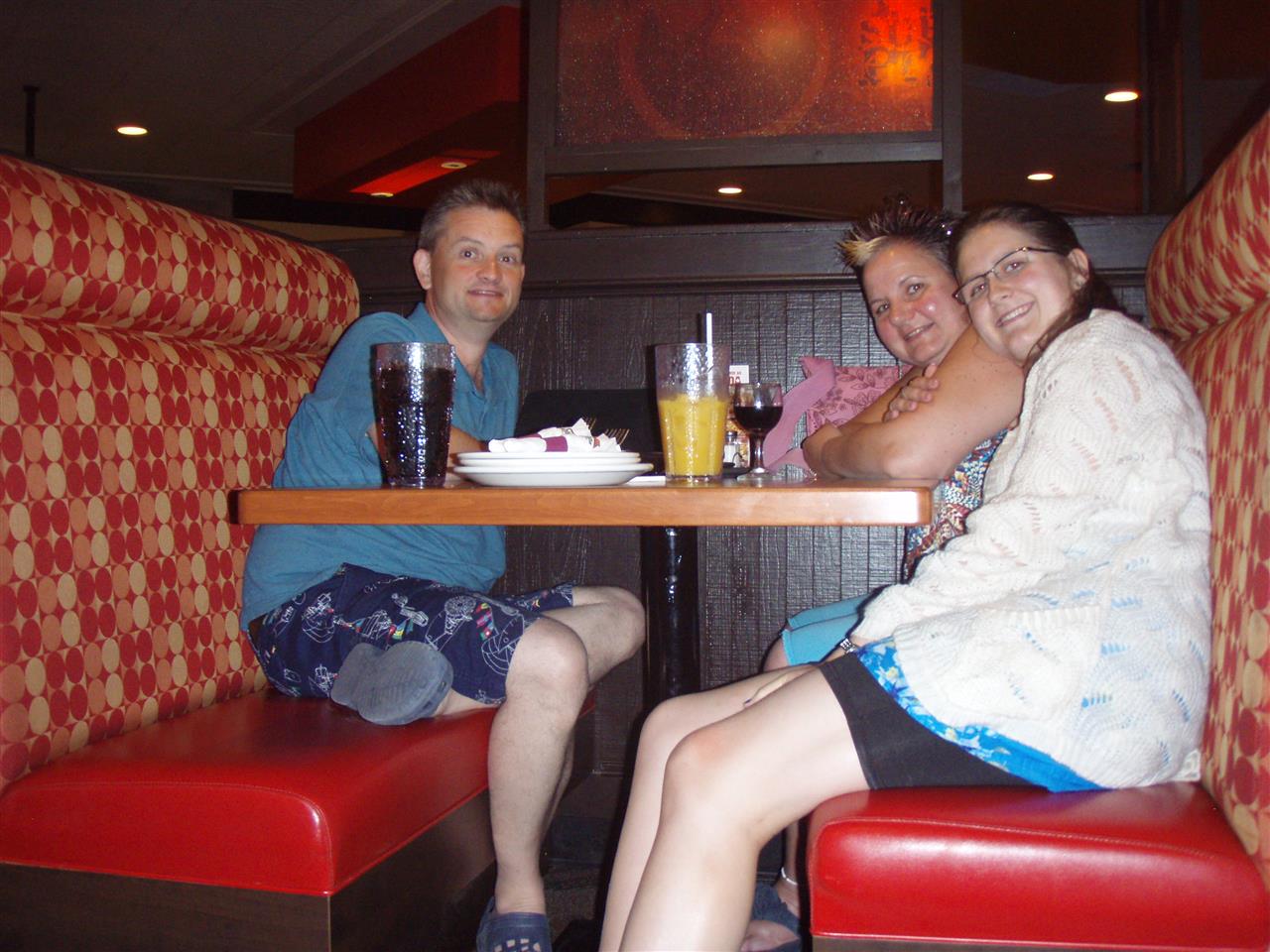 All clean & they persuade me into a Pizza Hut.. First time EVER!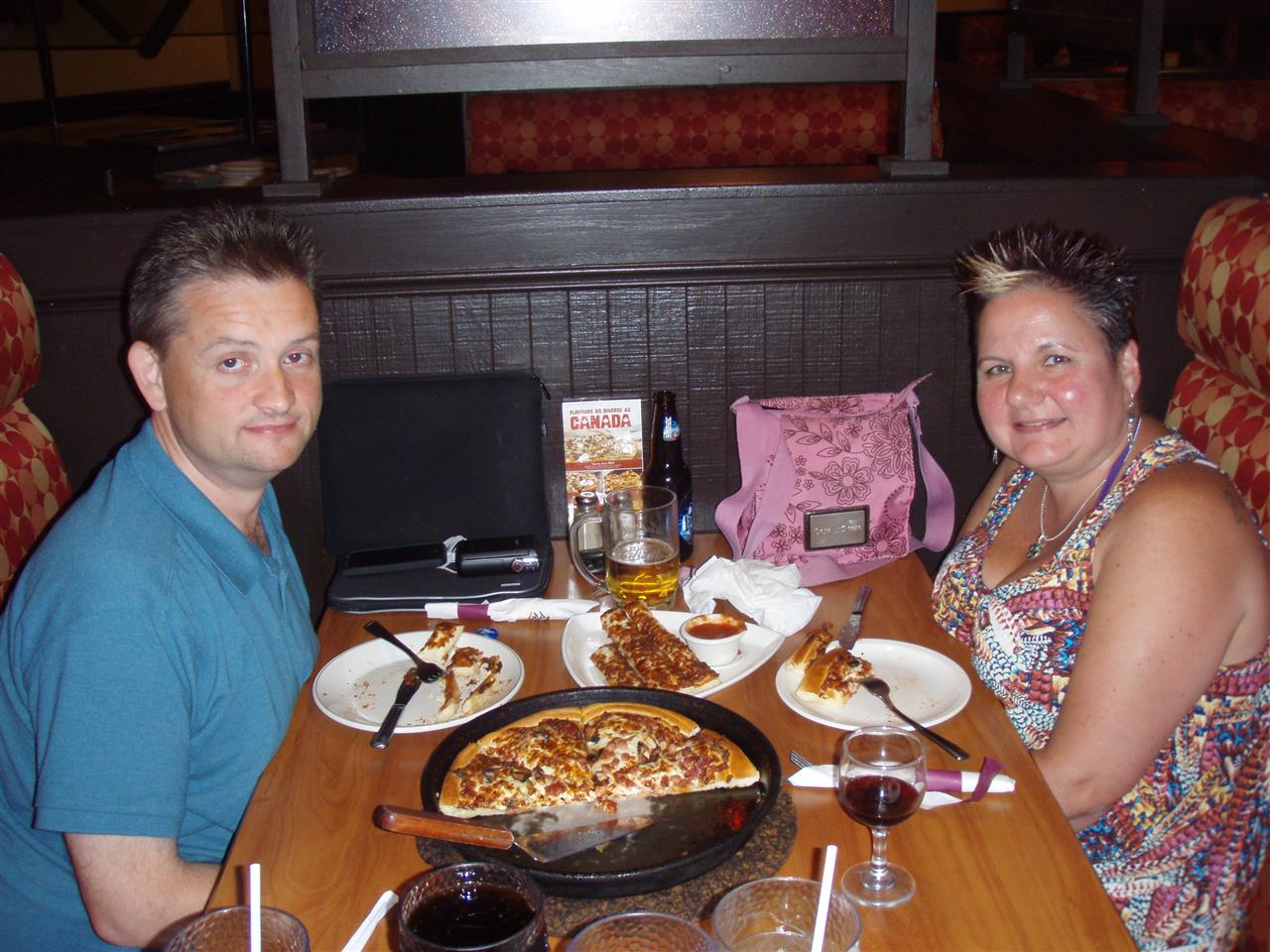 Pizza was duly eaten !

Goodnight dear reader , having driven 5+ hours today..Ian tells us its a LONGER driving day tomorrow..so no one better have any nightmares from cheese overload!!

Love to Nanny Ann & Jumbo xxxxxxxxxxxxx

Kisses for Marmite from Miss Hollie & also for Jo & co xxx
---
Day 12 : Plenty of Moo's but No Moose.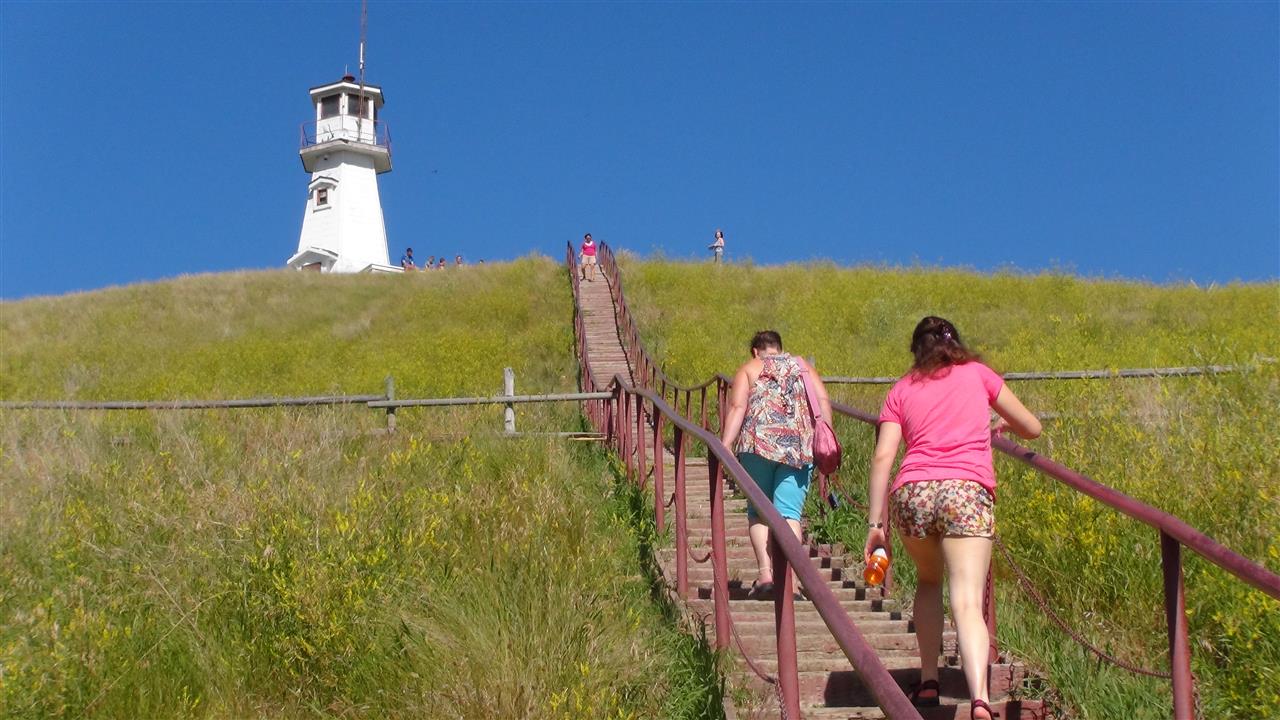 An early morning " Dollarama " visit satisfied Doris's shopping bug...

151 steps to the lighthouse at Jackfish Lake Cochin, afforded magnificent views..we watched a lad slide the length of the handrail on the way down, Ian wouldn't do it tho : (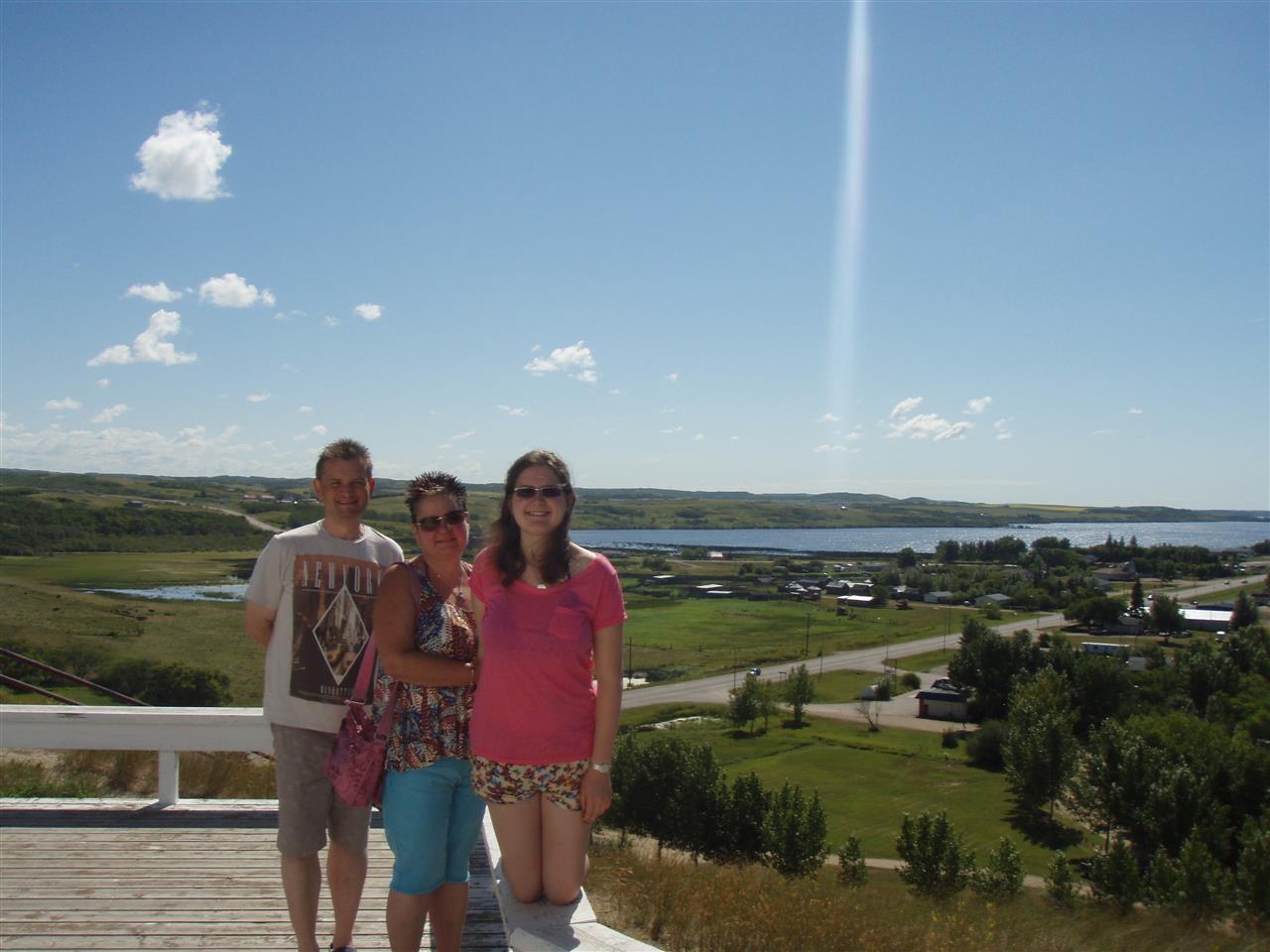 We couldn't work out why they would need a lighthouse on a lake though!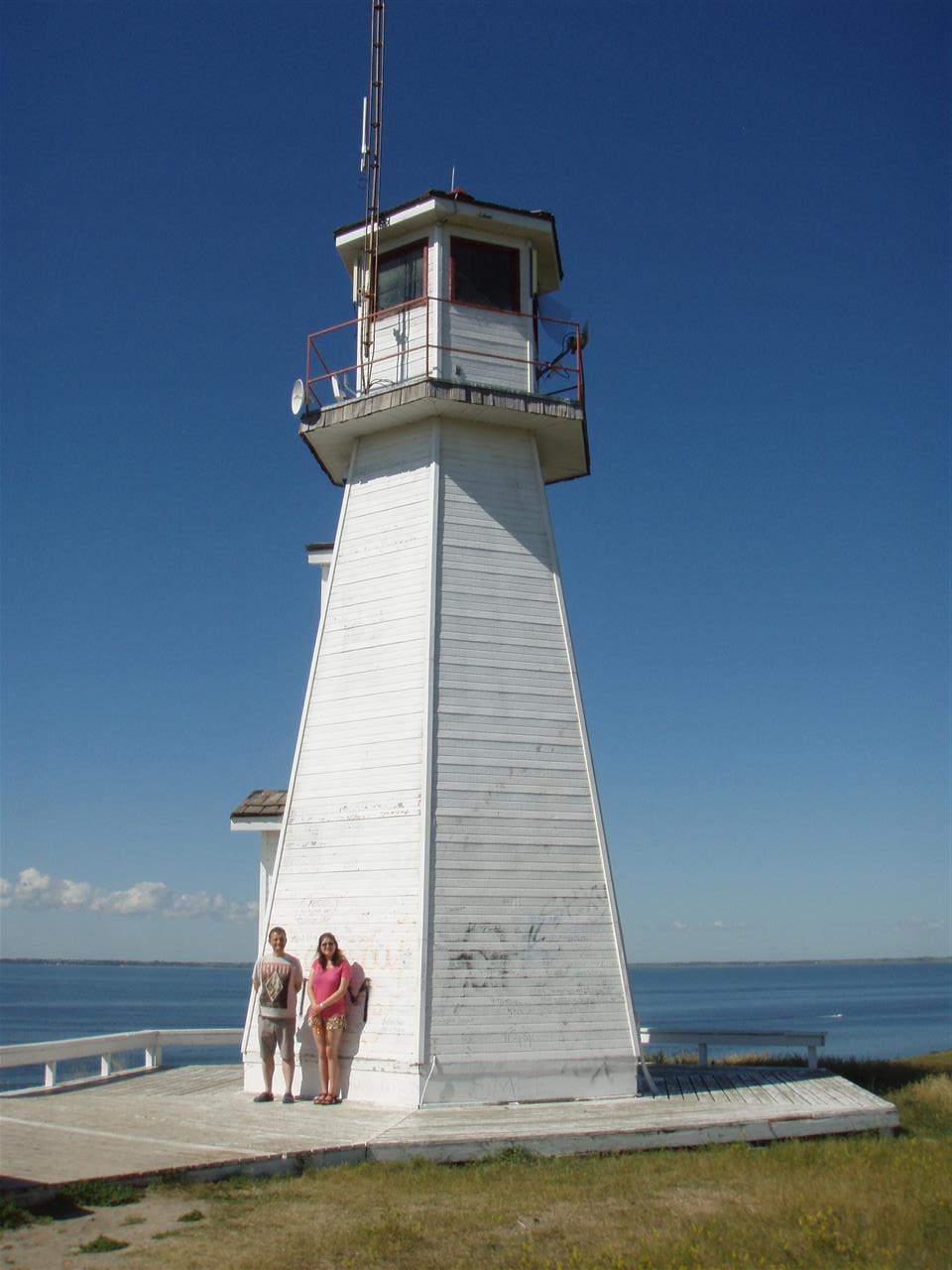 The lighthouse was suprisingly small.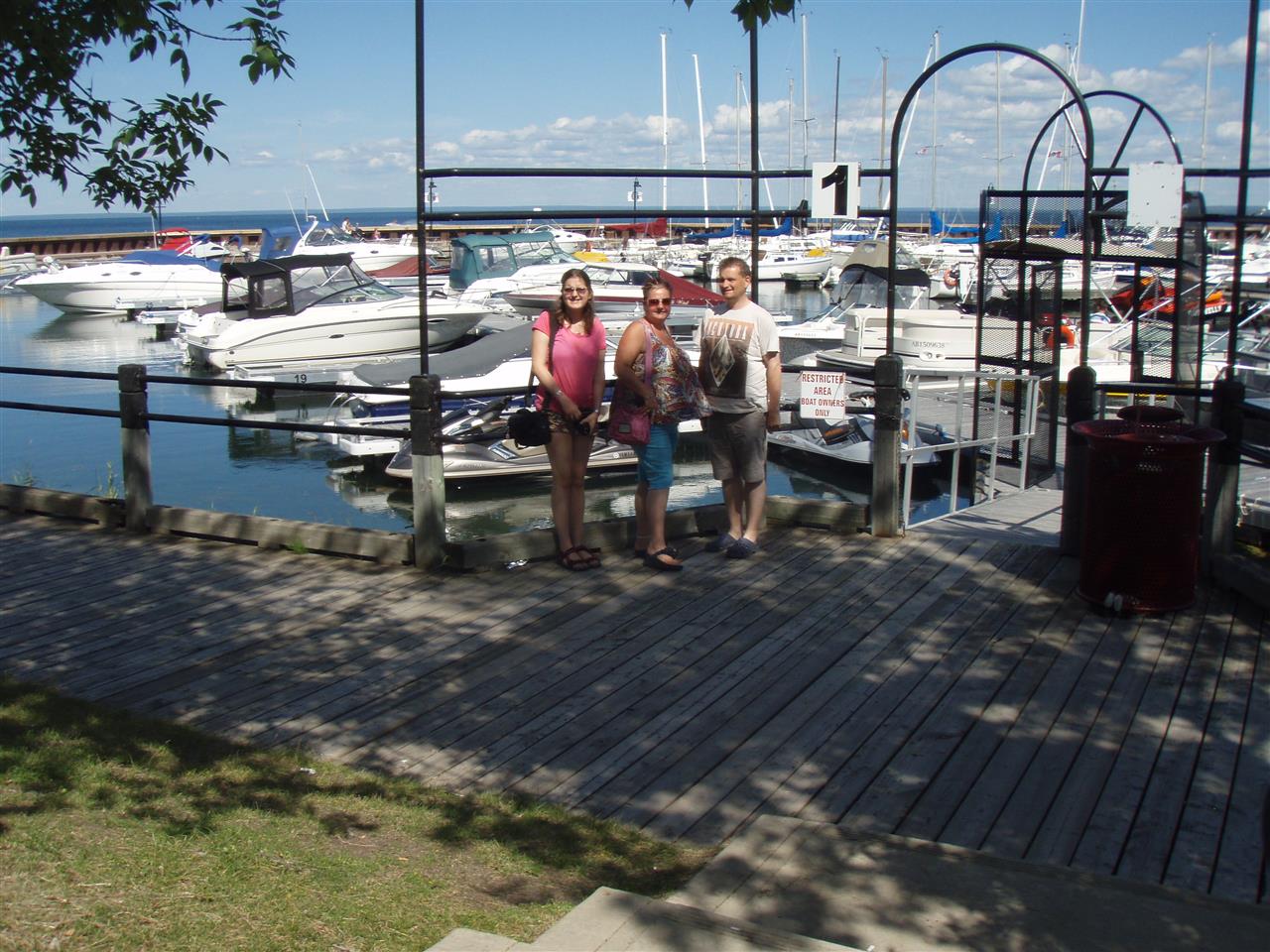 Next stop ,Cold Lake.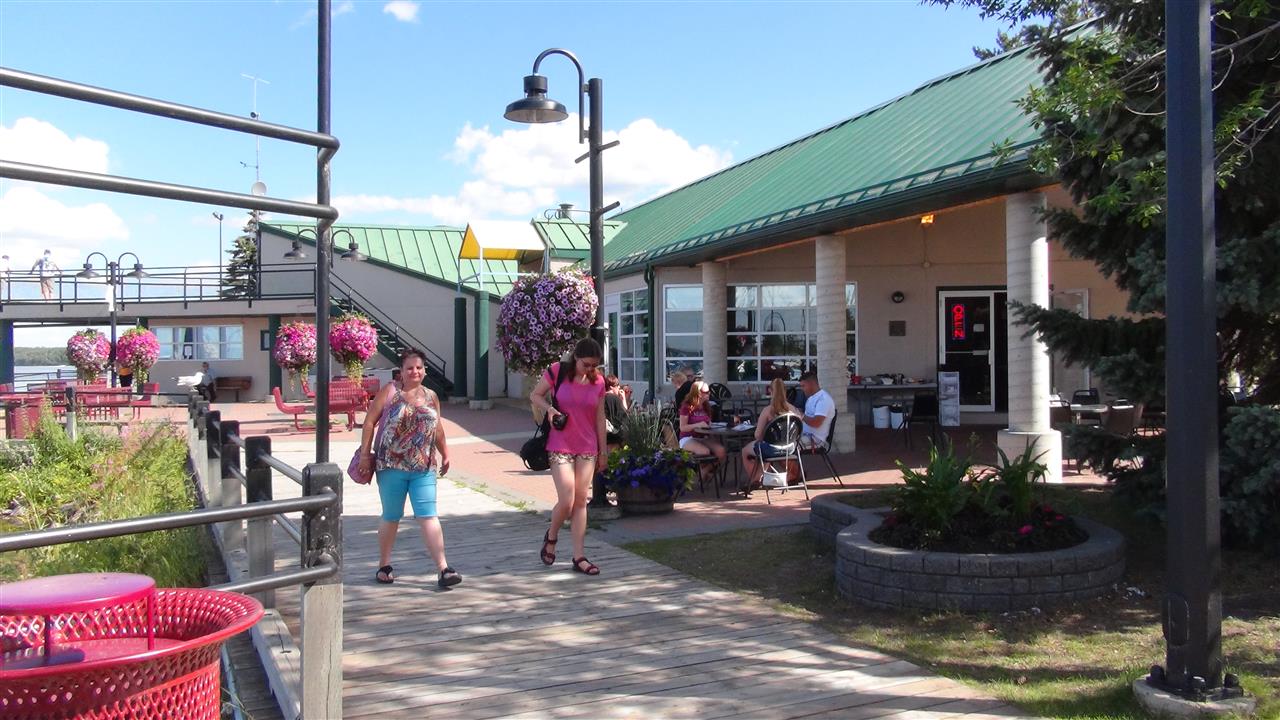 We had a late lunch at the cafe at the edge of the Marina.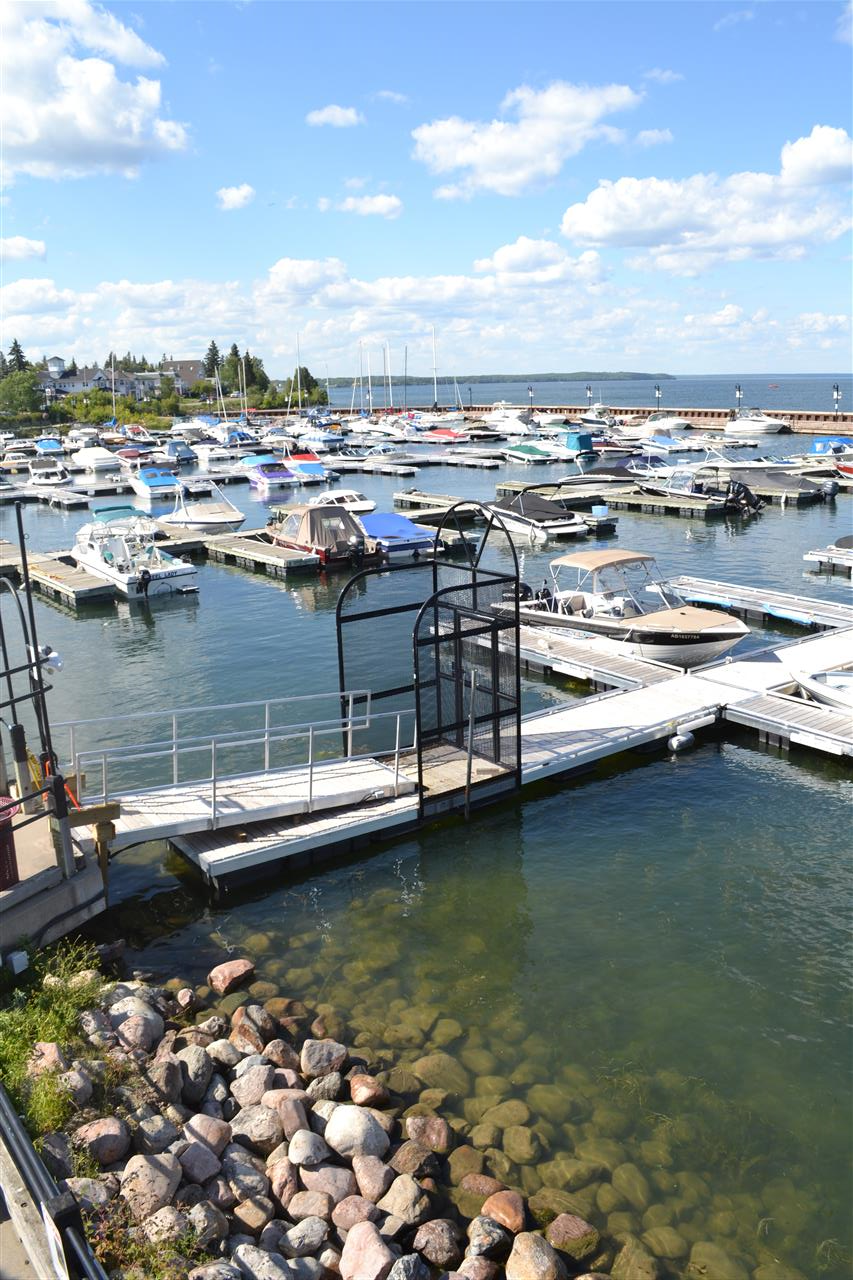 No million dollar yachts here, but nothing under 20K according to the for sale notice board.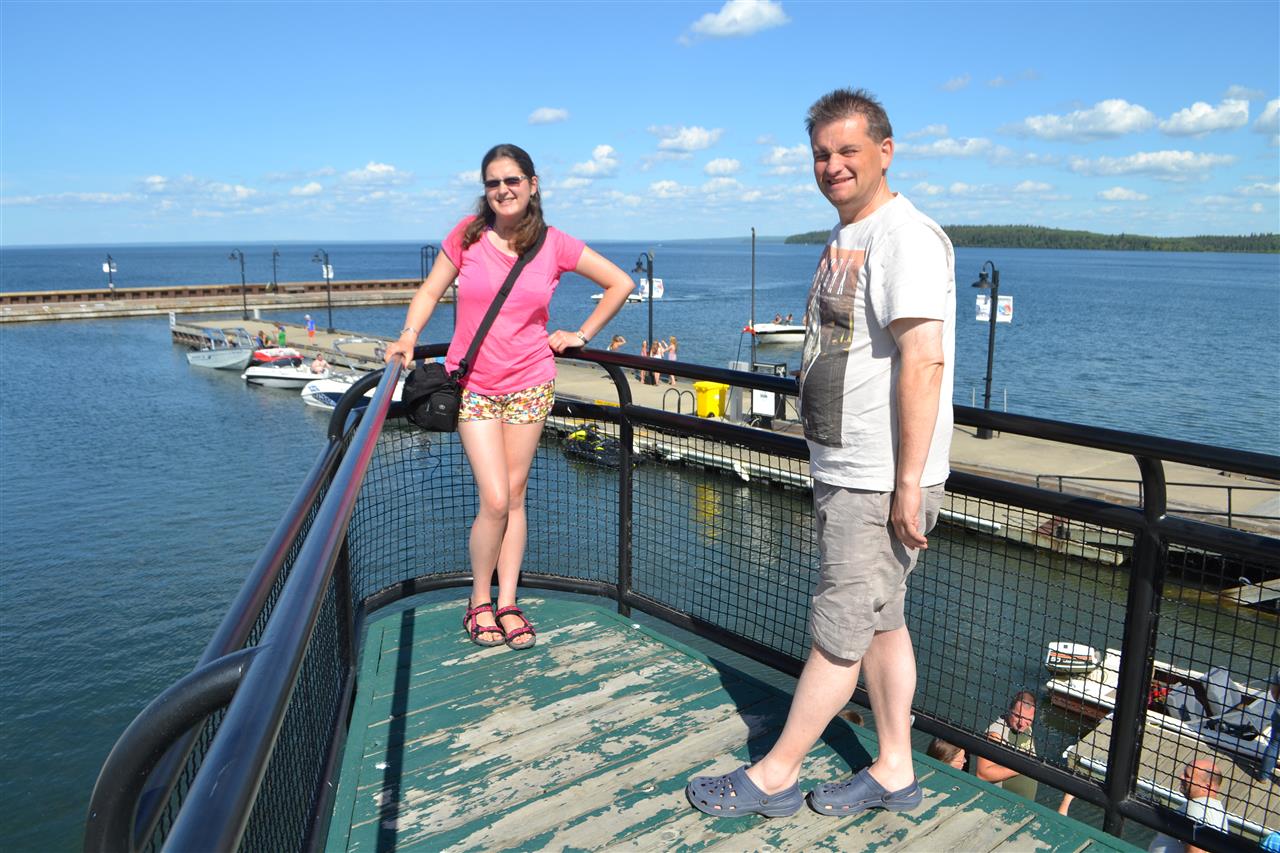 We watched a variety of boats launch.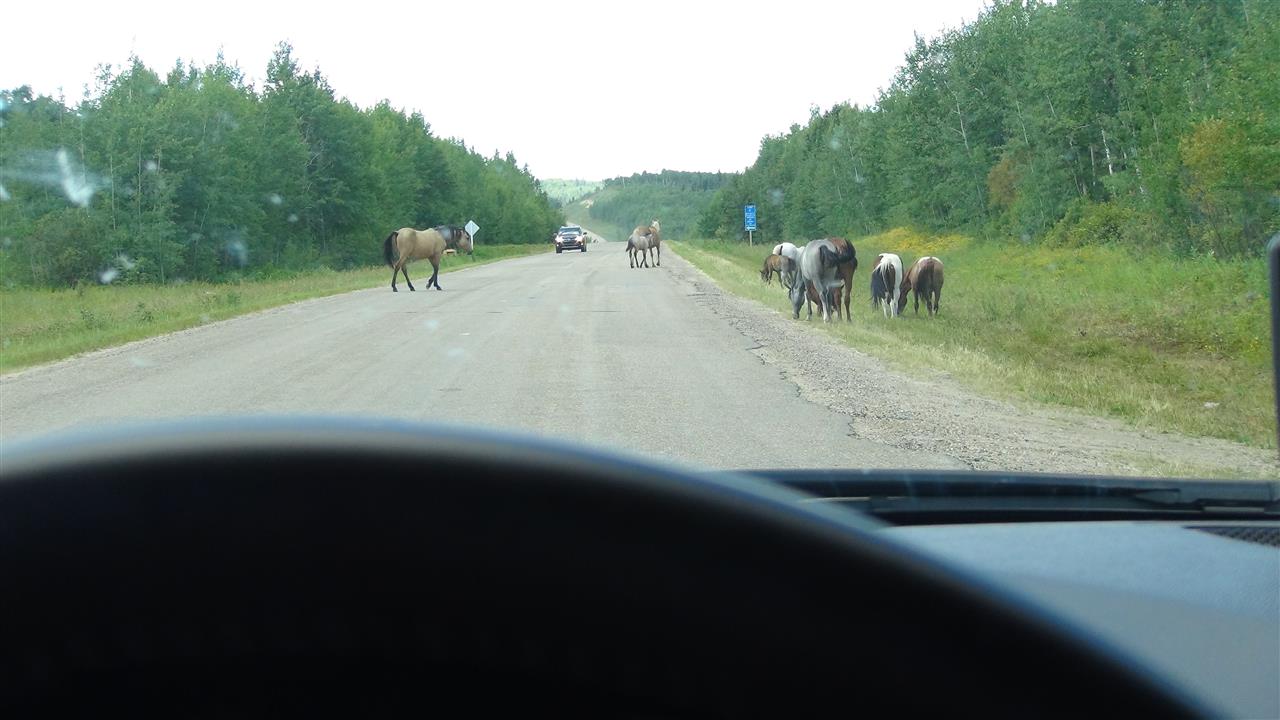 The Highways Ian chose for the latter part of our journey were largely gravel..or antiquated tarmac.
Sign posts warned of the illusive Moose...all we managed were acres of cattle & this herd of semi wild horses, browsing the carriageway.
Our next port of call, " The Smoky Lake Inn " at, guess where ? Yep, Smoky Lake the Pumpkin Capital of Alberta,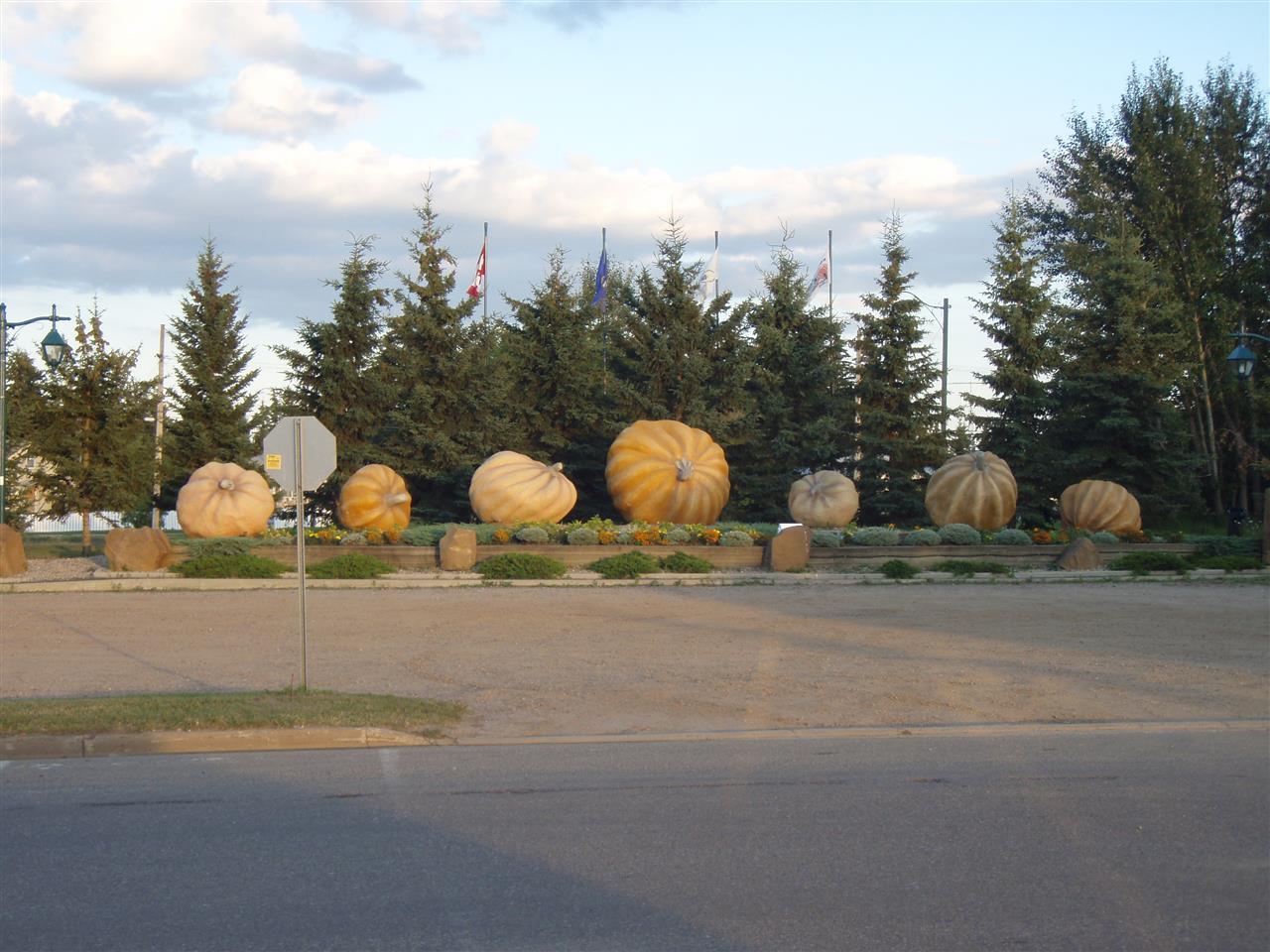 Our hotel / Restaurant appears to be under renovation & staffed by Thai people..The rooms connect & Ian should be free from my snoring tonight !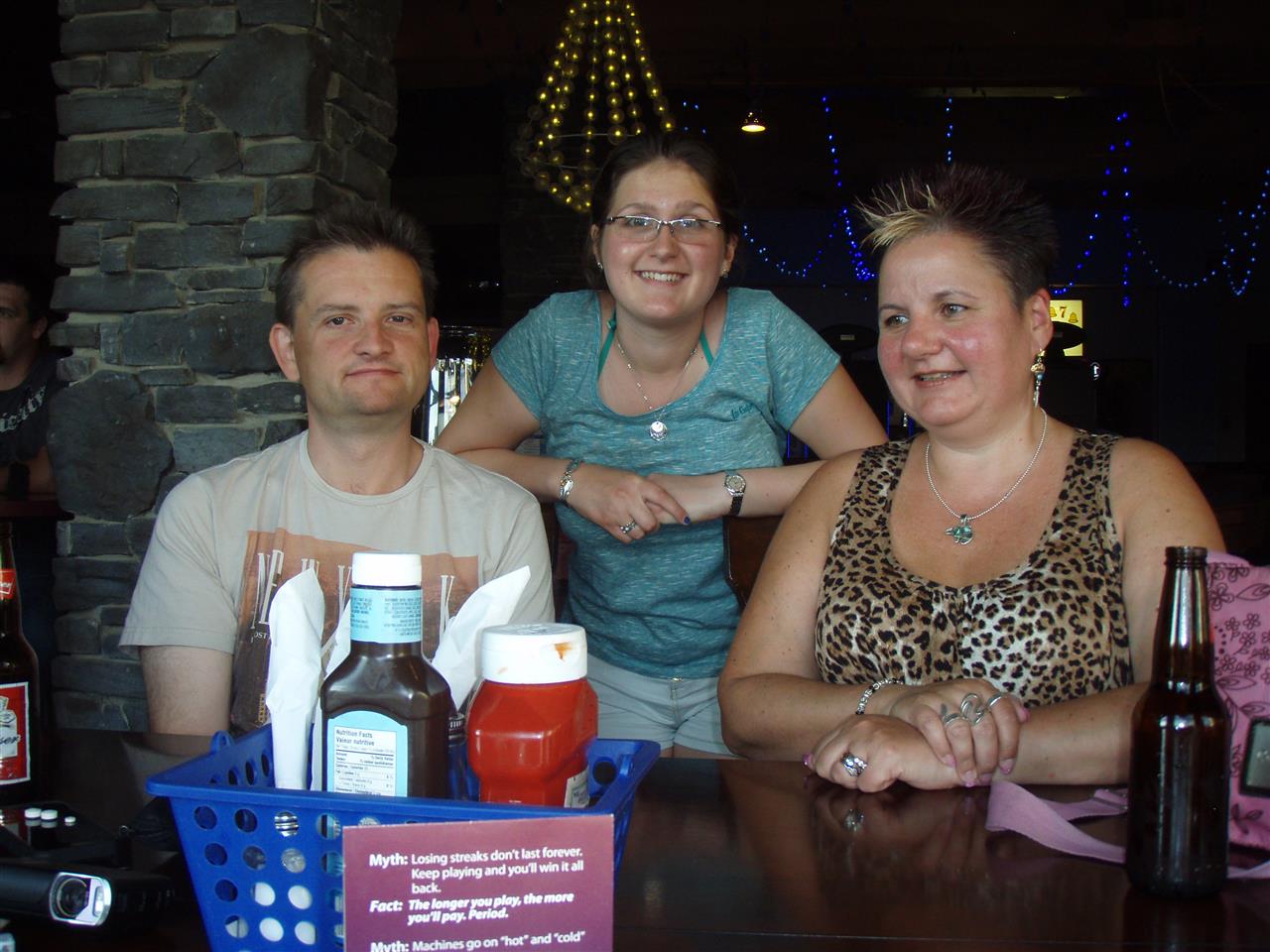 Our late lunch means no one is particularly hungry , so a beer & a salad are on their way.

Good night reader sleep well. xx

Hollie says hi to Marmite, Auntie Liz & Grandpop xxxxxxx hope he's keeping up with the blog !
---
Day 13 : Cabin in the woods ..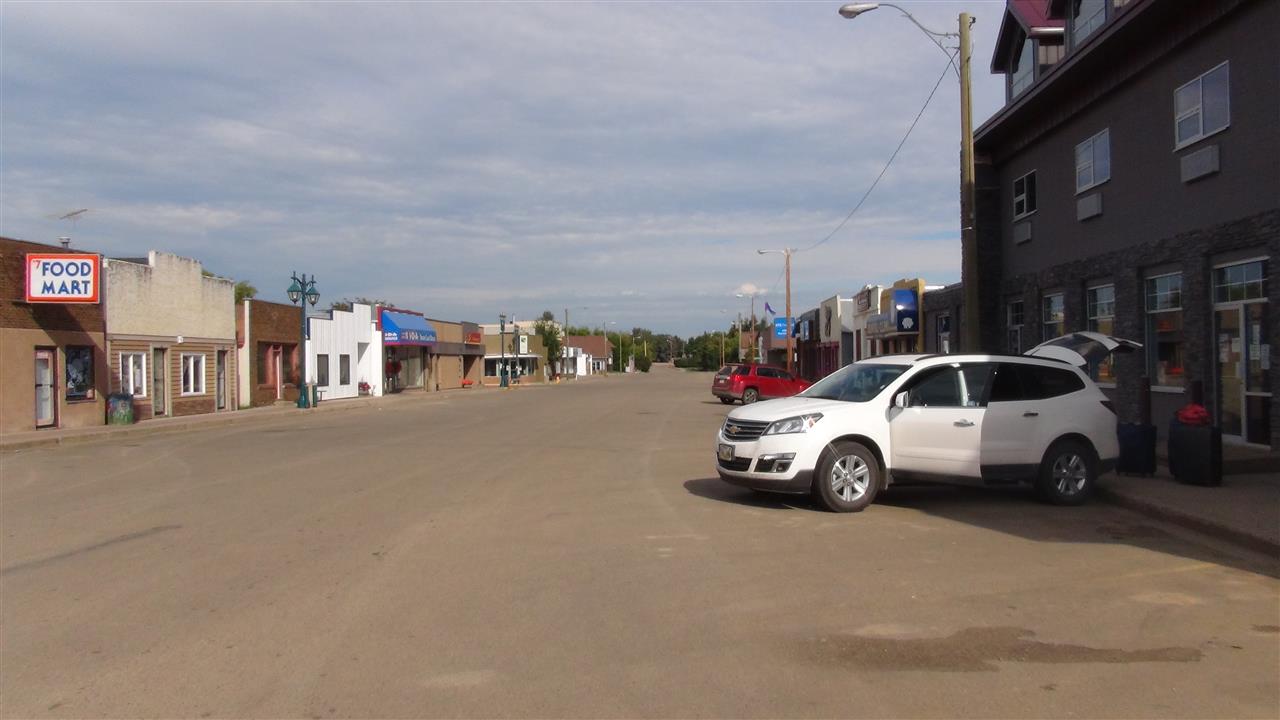 Goodbye Smoky Lake, ( We never saw your lake) again 4+ hours of driving..Good old Ian !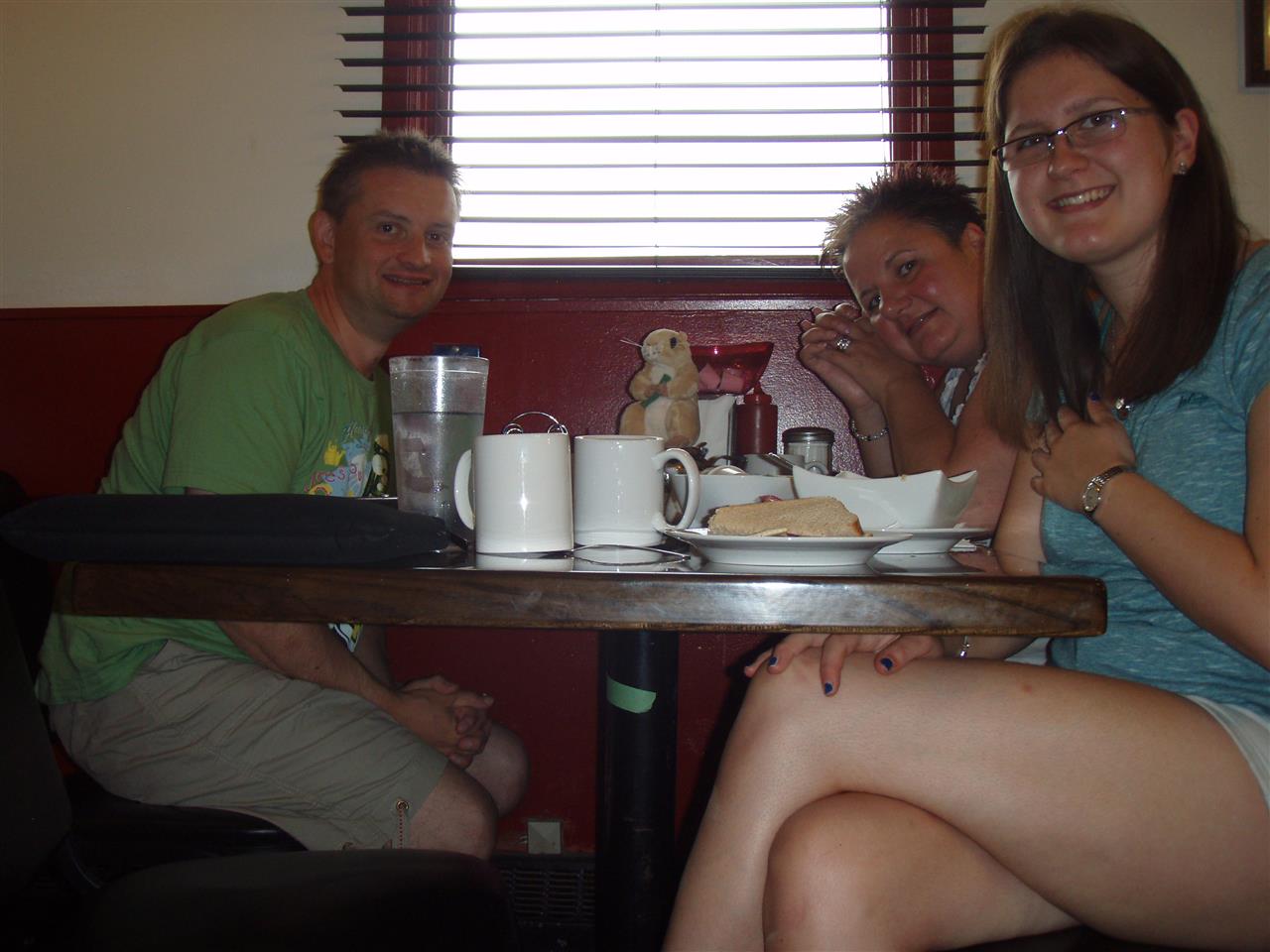 Meer cat / Prairie dog free lunch at Niton Motel & restaurant , still in Alberta.
We tried "Poutine" which it appears is, French fries, sprinkled with Mozarella cheese & drowned in beef gravy.
Nothing like taking a highly calorific food & loading on extra fat!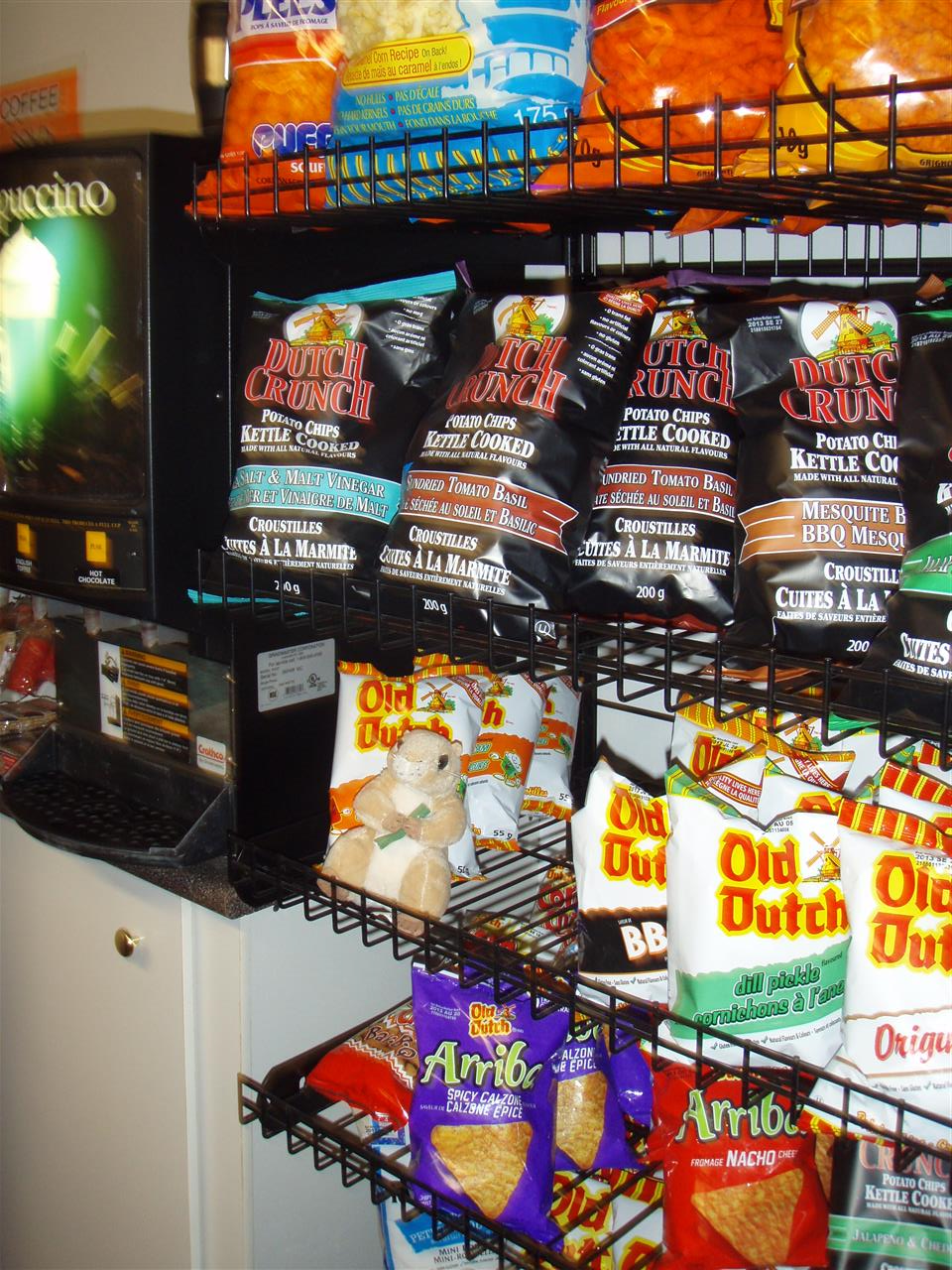 The foods in the mini mart are labelled both in english & french..Avec Marmite !

Avec Prairie dog?
The eagerly awaited Brown cabin at the " Old Entrance " of Jasper state park..4 heavenly nights in one abode!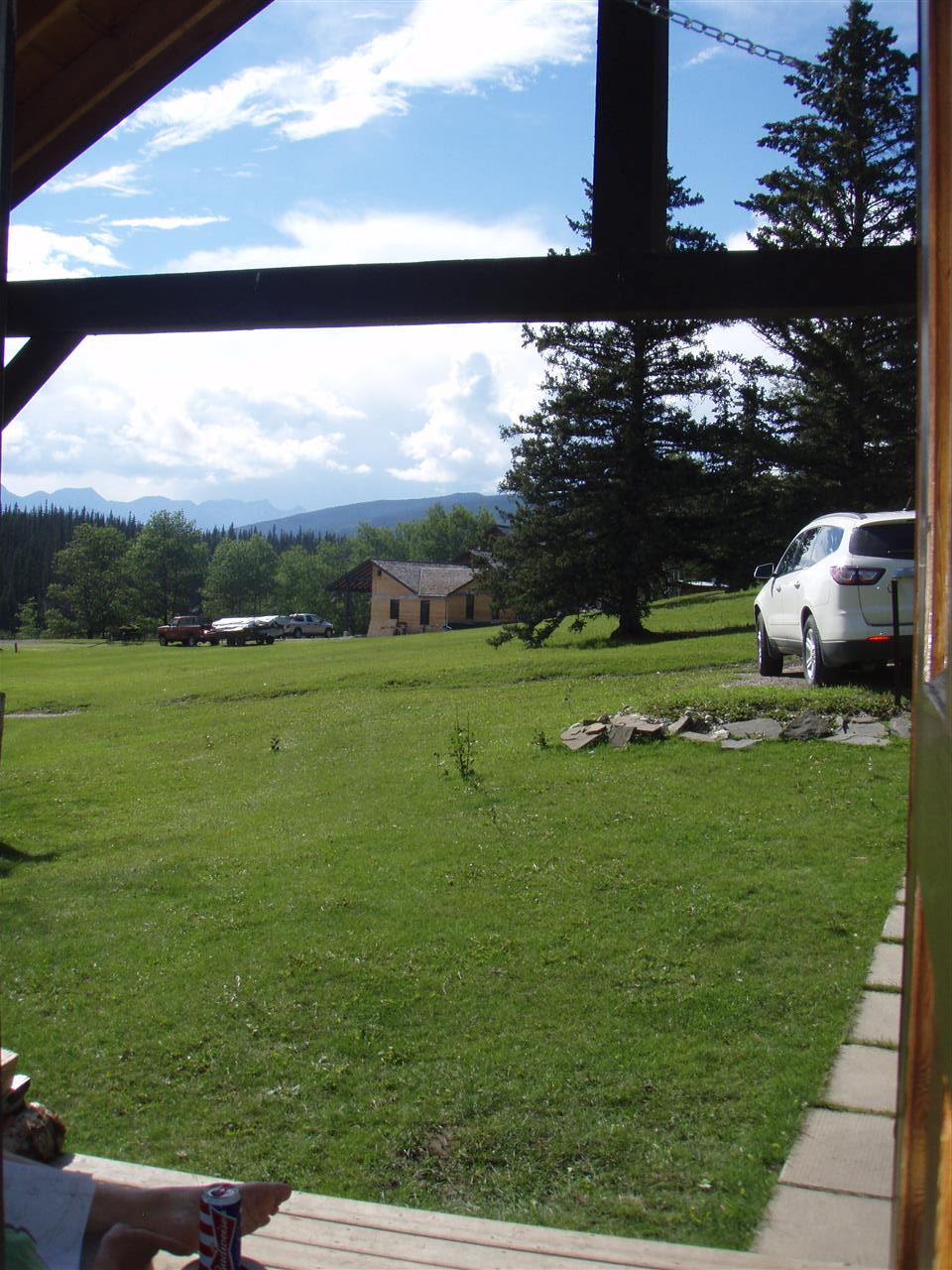 Not a bad view from our door?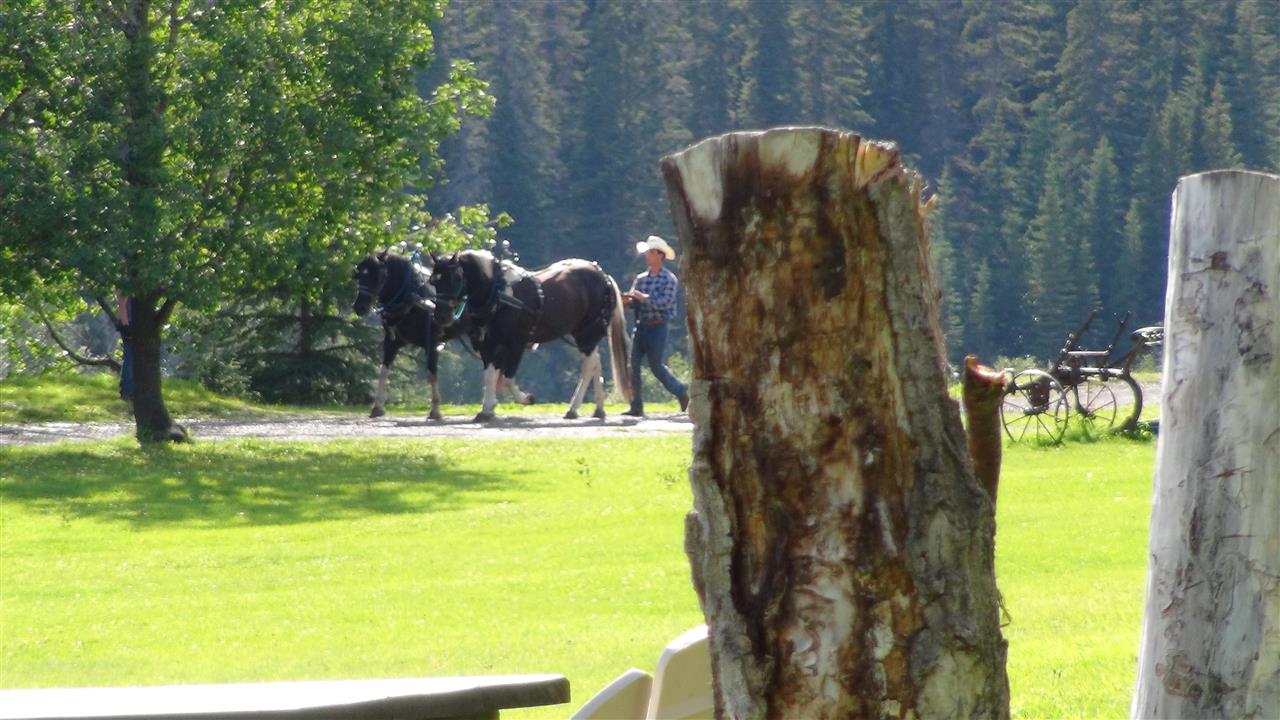 They offer horse riding here, as well as some intersting hikes.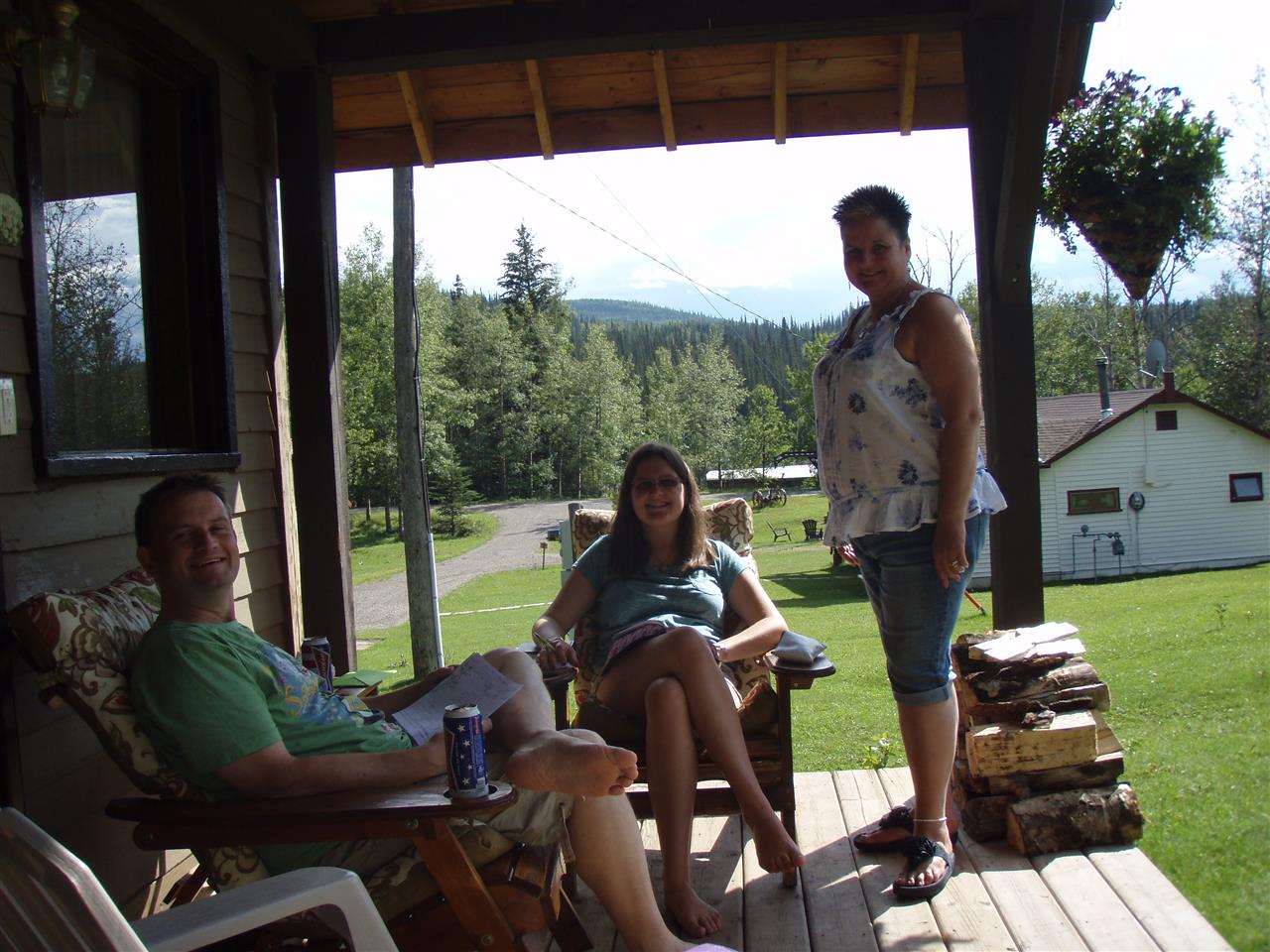 After a long drive, we put our feet up on our very own porch.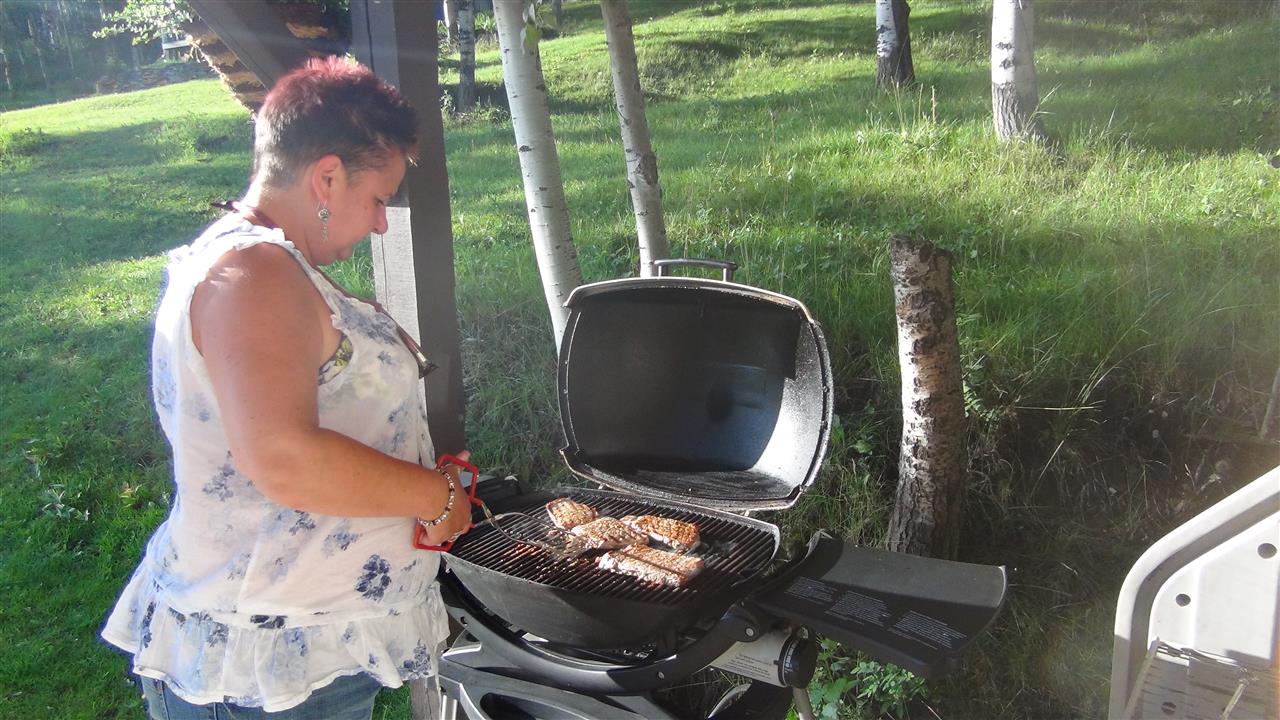 Thought I'd incinerate some steaks for dinner ..Yum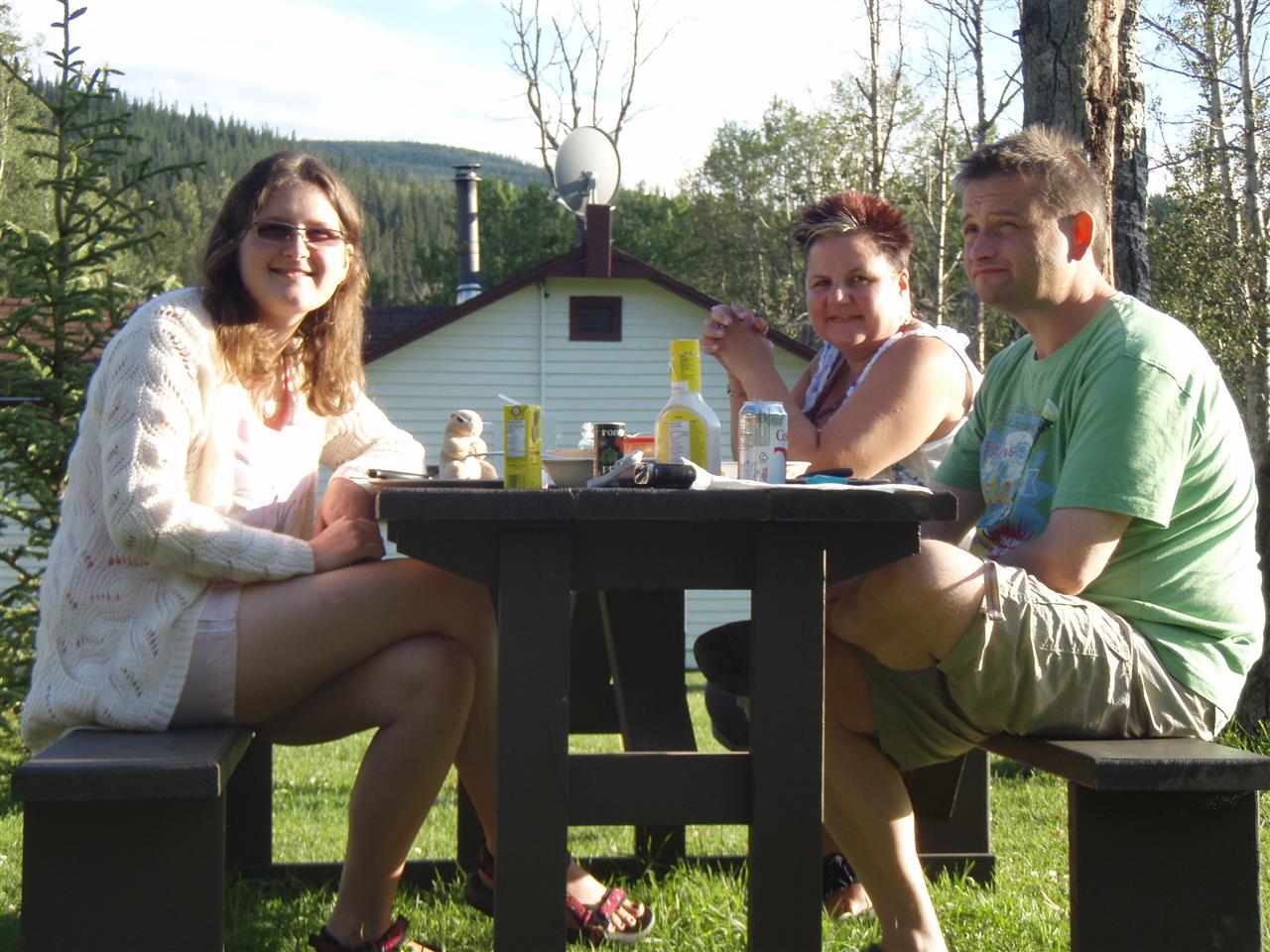 As the sun sets over the beautiful mountains, Ian leaps around the property Dongle in hand ( Ooh err Mrs ) trying to pick up a wi-fi signal.. If he succeeds you will be reading this sooner rather than later!

Anyhoo an exciting day tomorrow, we plan a rafting trip on the Abasanthe river.

Goodnight dear reader..keep yer hand on yer Dongle xxxx
---
Day 14 : Doggy day & Rafting through the Rockies.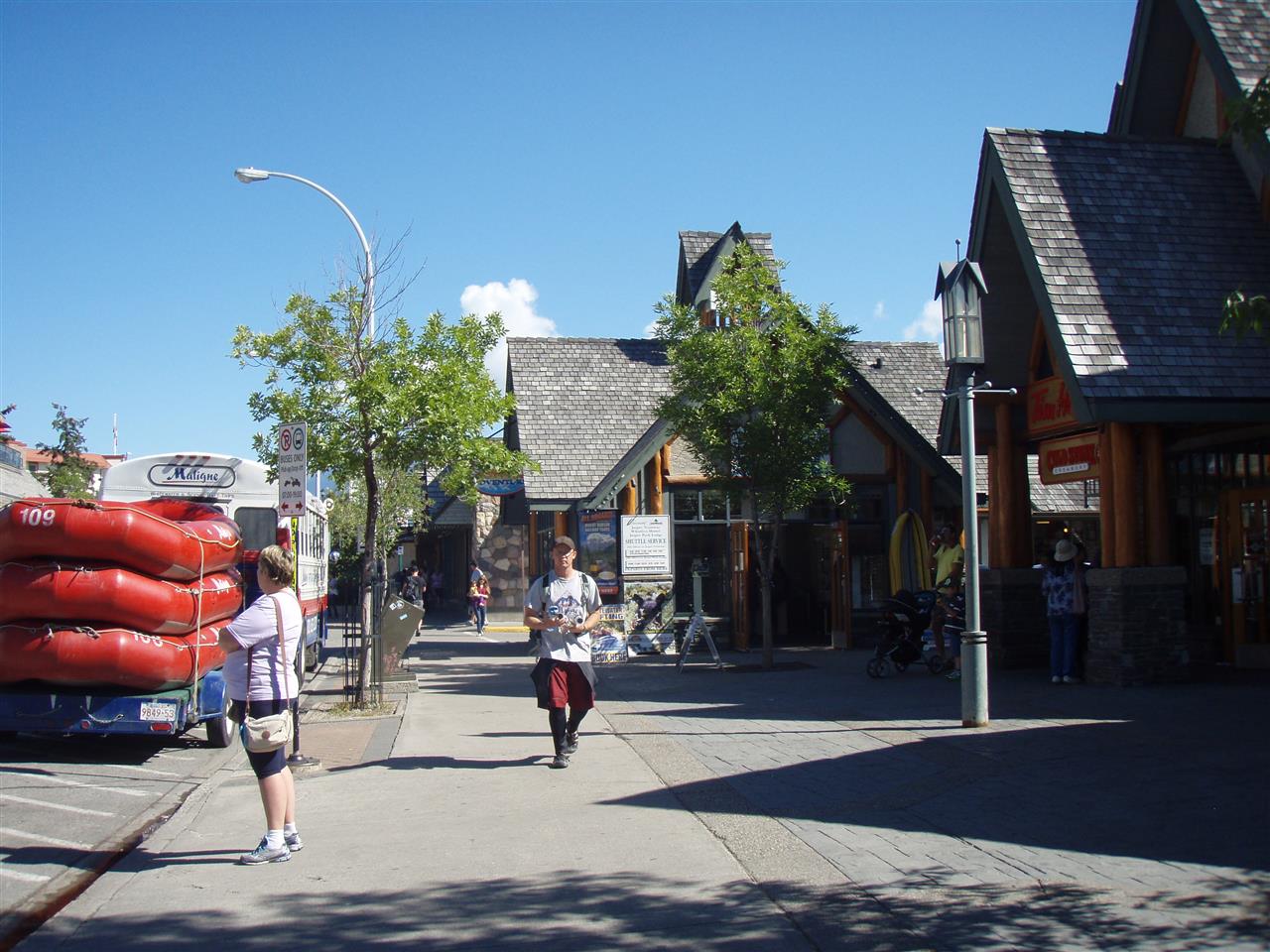 We had our breakfast at the main house, then headed to Jasper National forest an hour away, we duly paid our $19.60 ( why not call it 20 bucks??) & parked in Jasper central.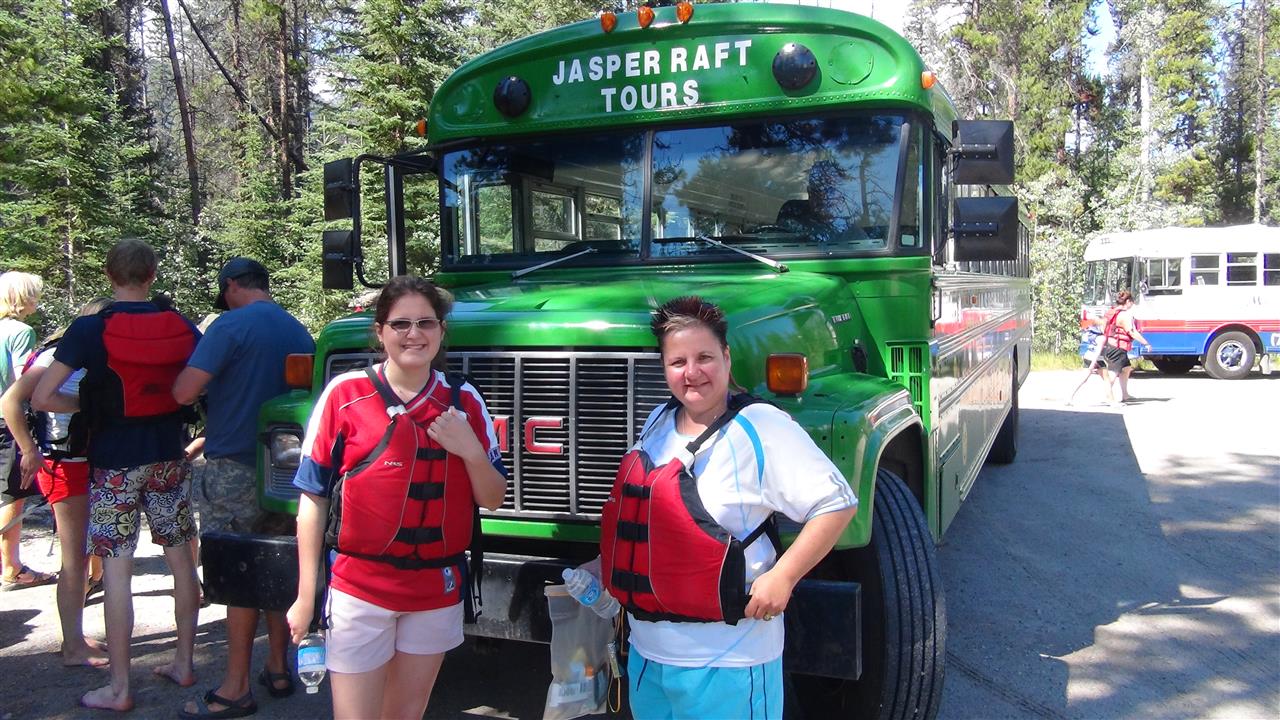 Usual format..a rather posh school bus took us deep into the woods, where we boarded our rafts, 15 in 1 & 16 in the other.
We lucked in with our rather tasty rafting guide "mike"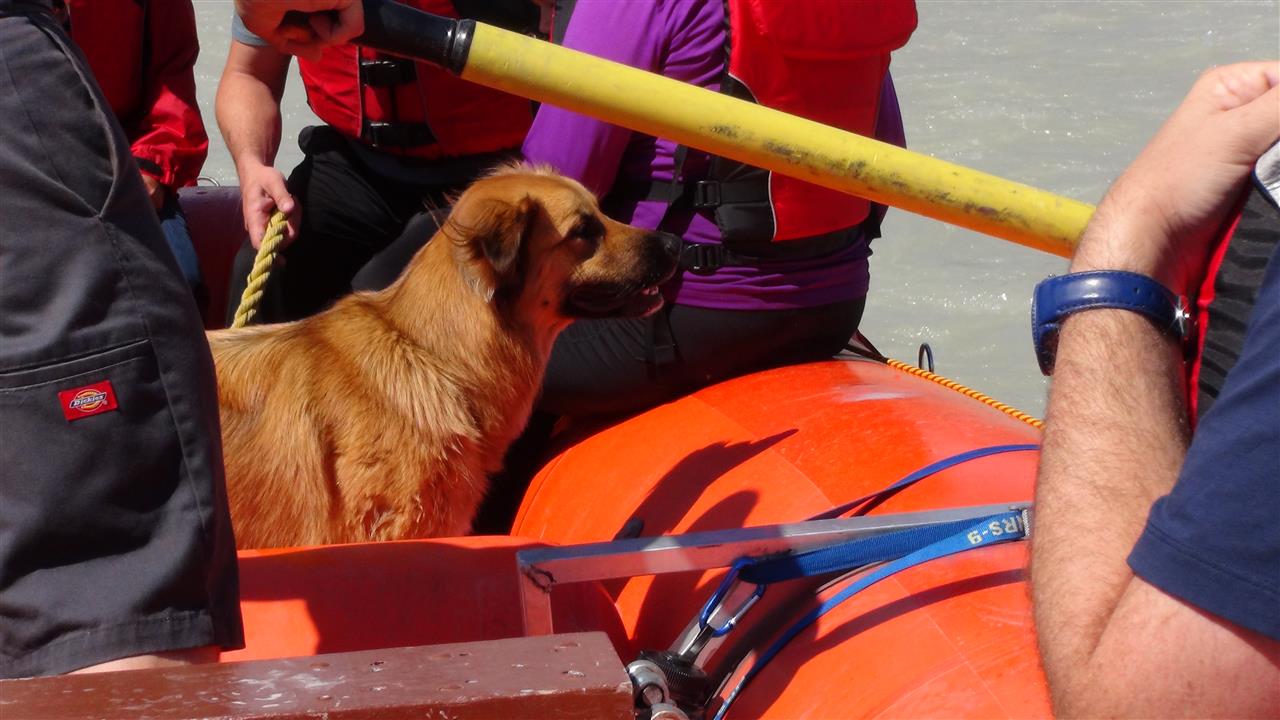 And his equally dashing side kick "Ginger ".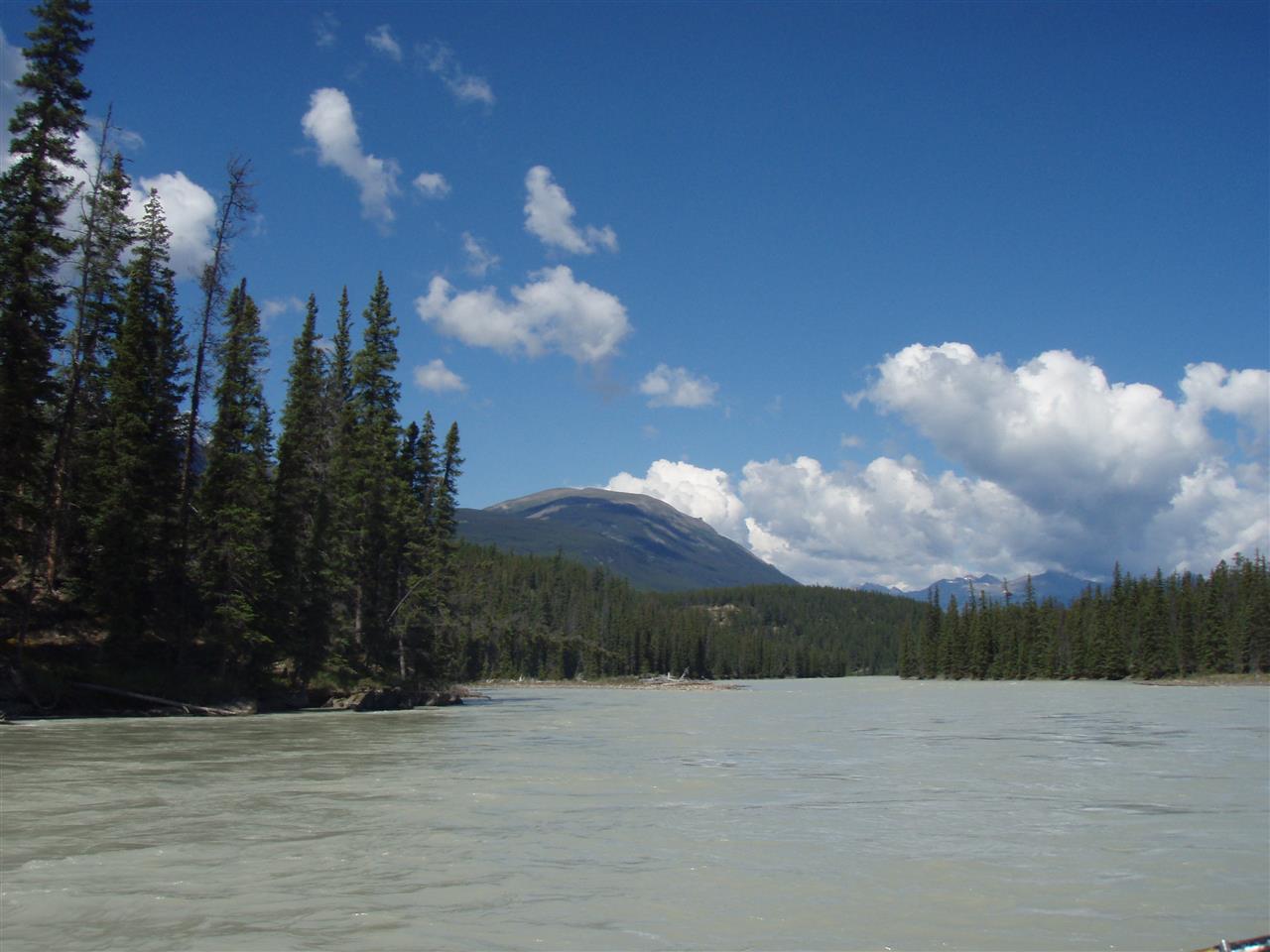 This gentle float down the river , lasted an hour and a half ,Mike explained all the places of interest..Various mountains & the rather limited amount of wild life we routinely see on these trips. Mind you, if you'd been here yesterday...Bears, Elk, Antilope etc etc sounded like we'd narrowly missed captain noah & his floating zoo !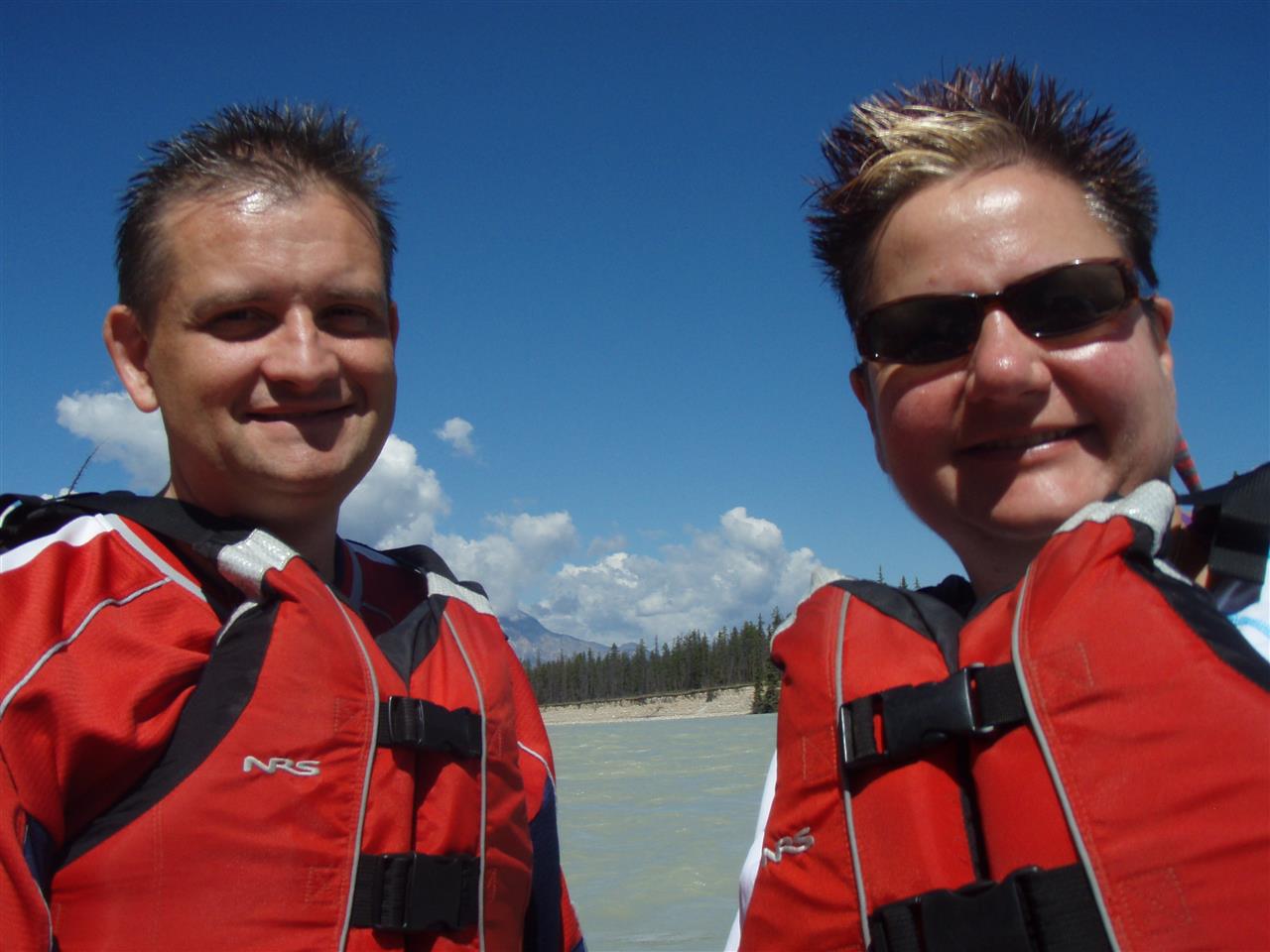 This rather handsome couple were on board.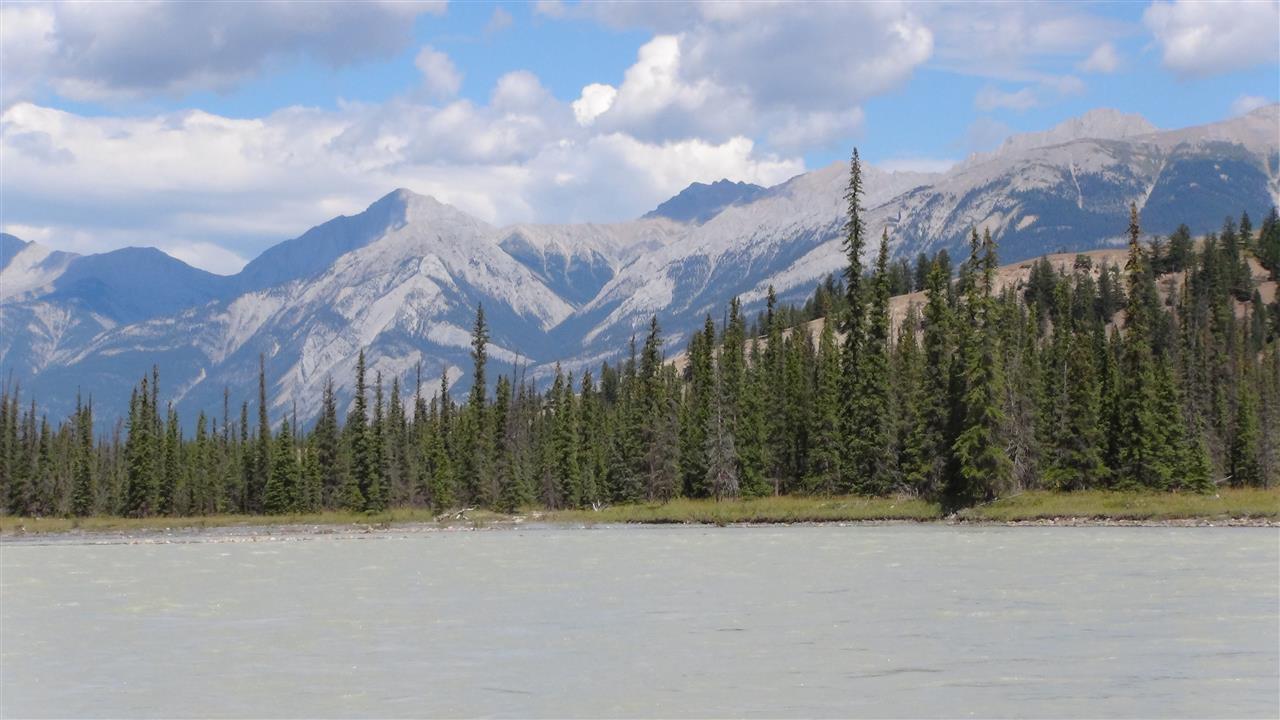 Wow.. Many of the Mountains are named after the Canadian recipients of the Victoria cross.
The rafting over, we returned to Jasper & took a stroll round the gift shops.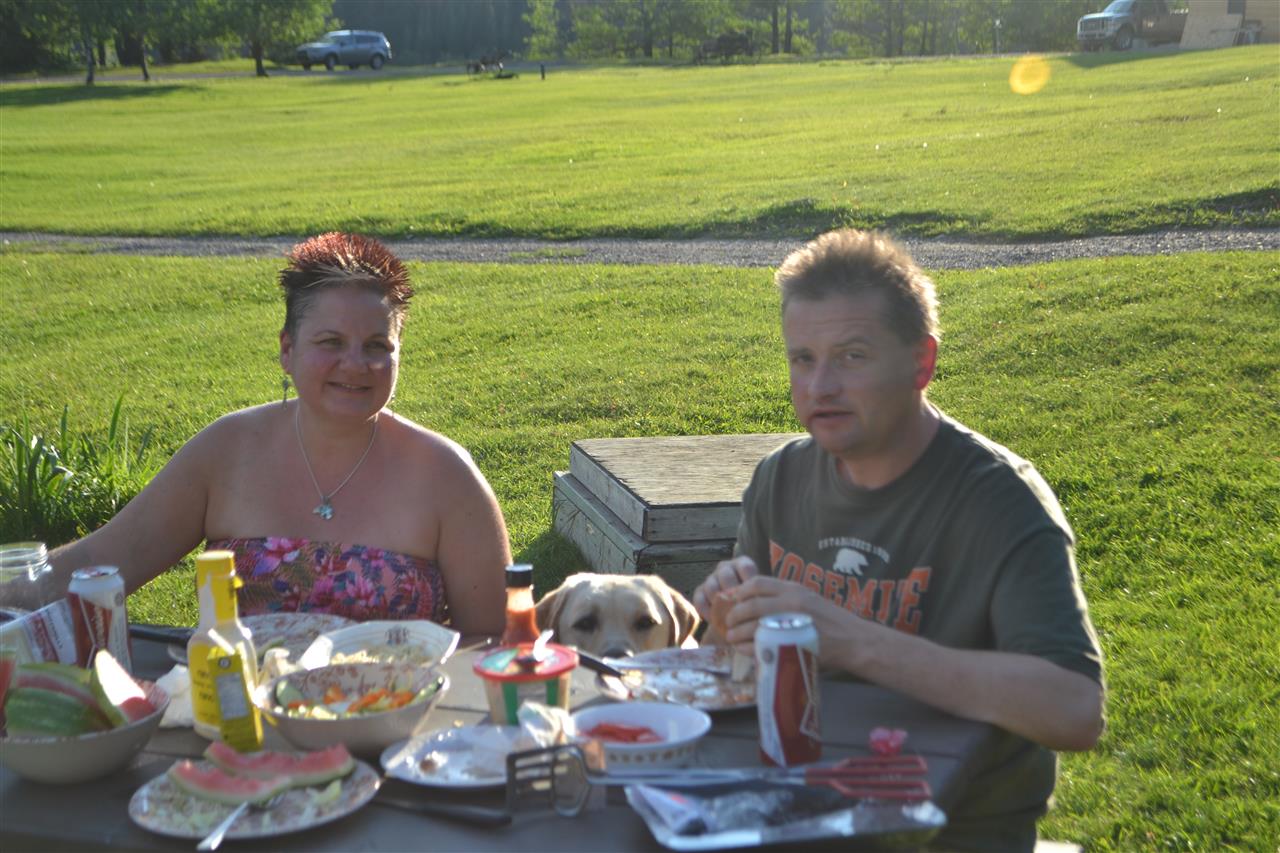 Another bbq incineration project this time some rather nice burgers. Our guest however , was not allowed to join us..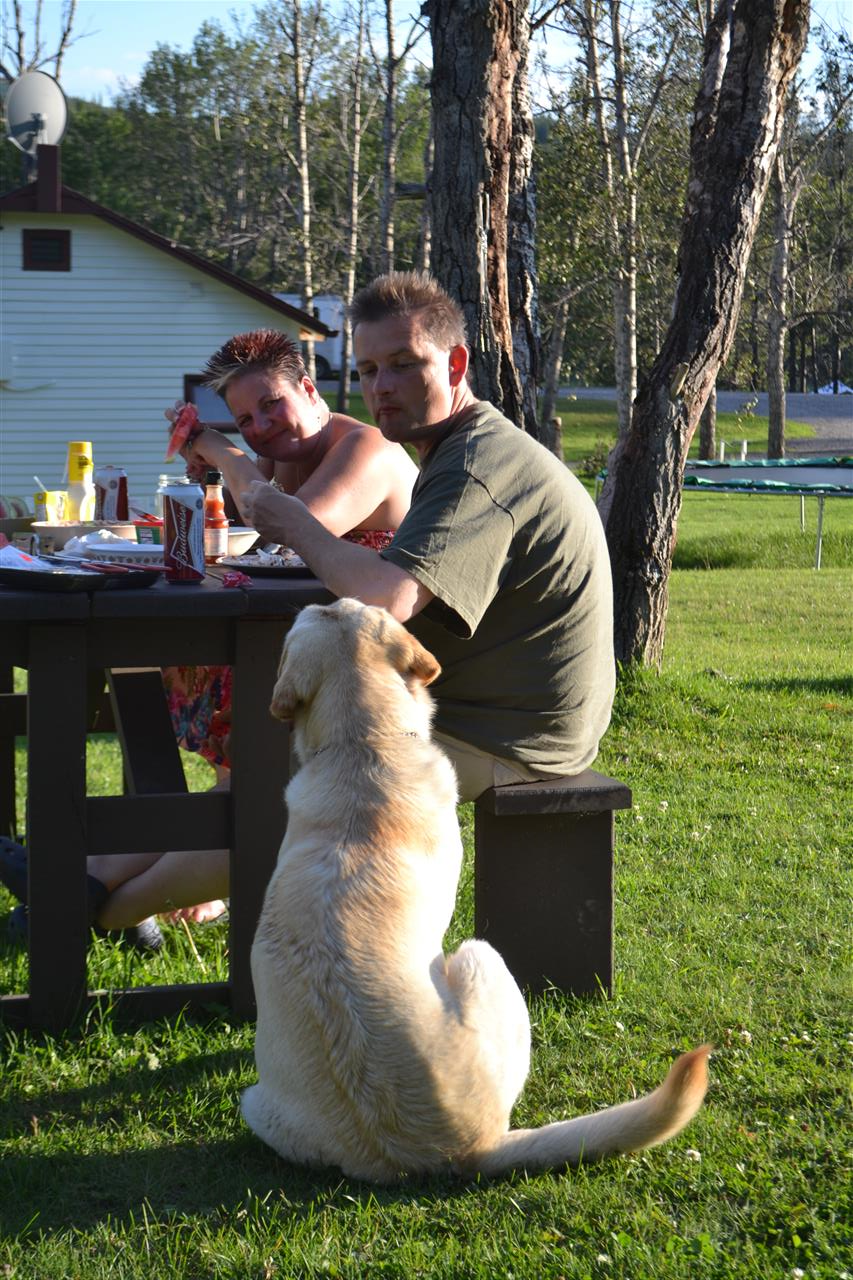 The owners dog " Sergeant" is forbidden any scraps : (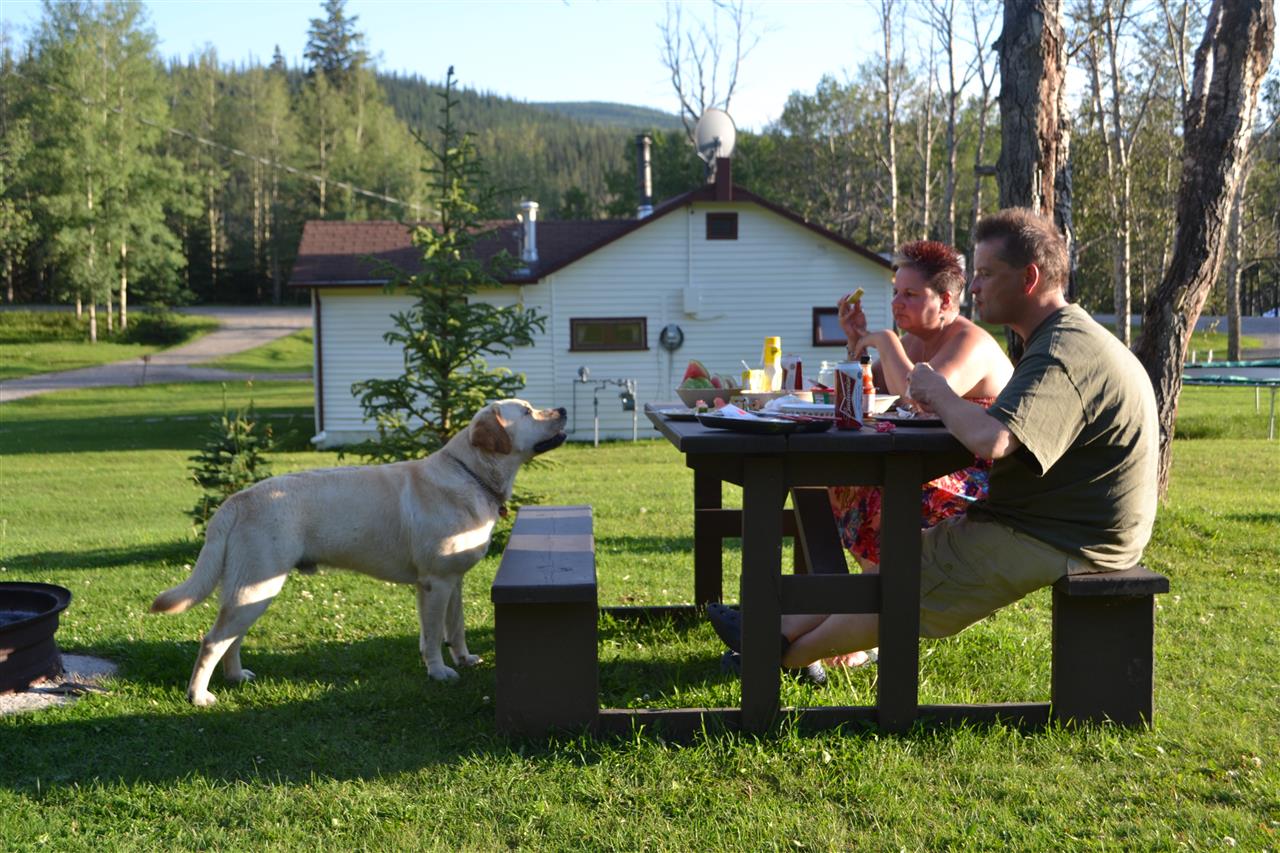 Dispite the puppy dog eyes!

Well reader another day well spent..We will bid you goodnight xx Love to all xx

Oh, and well done to eagle eyed Sharron Hopkins , who wins a £10 Blockbuster Video voucher for correctly spotting the lack of " Suitcase Update"..
Well, its all a bit embarassing really, seems the suitcase was delivered to our sleep inn & suites, in the early hours of 24th July..( Ian hid it in the car, seems he wanted to wear my underwear ! ) I failed to notice the seemingly inexhaustable supply of t shirts & shorts he was wearing though ! Silly me. xxx
---
Day 15 : Tramway to Heaven & The Athabasca falls.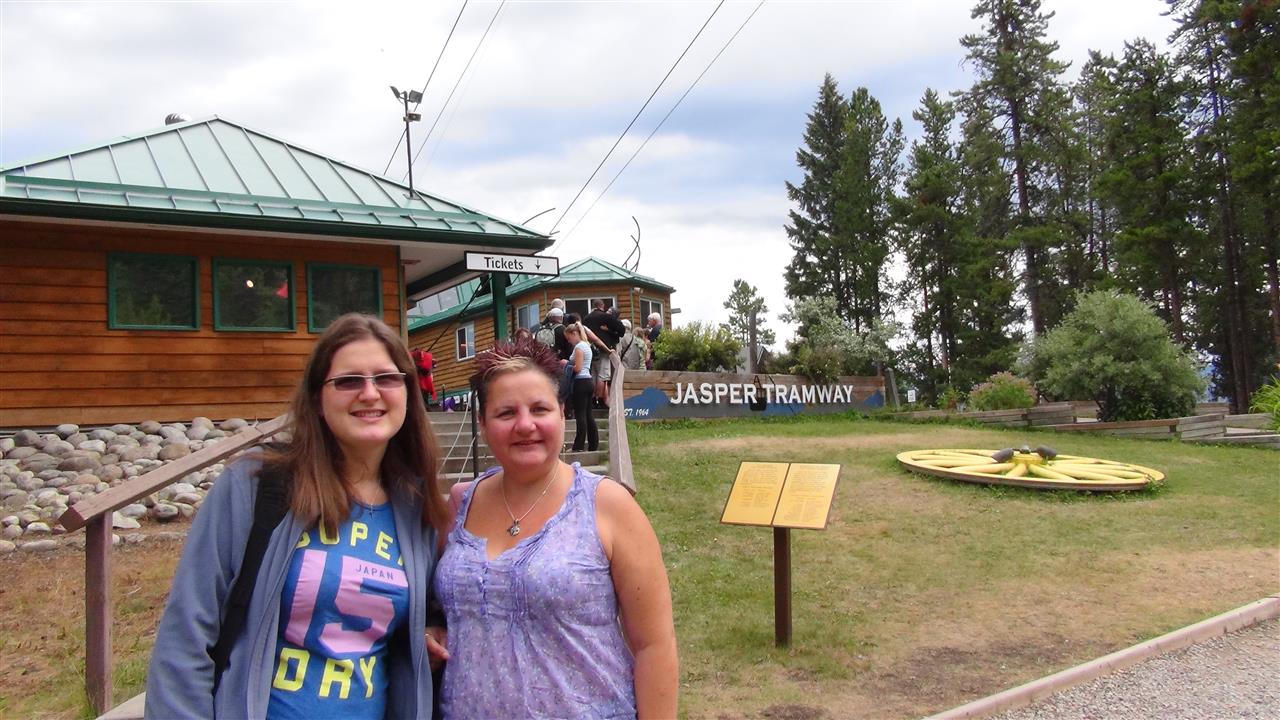 Another overcast day brings us to The famousAriel tramway.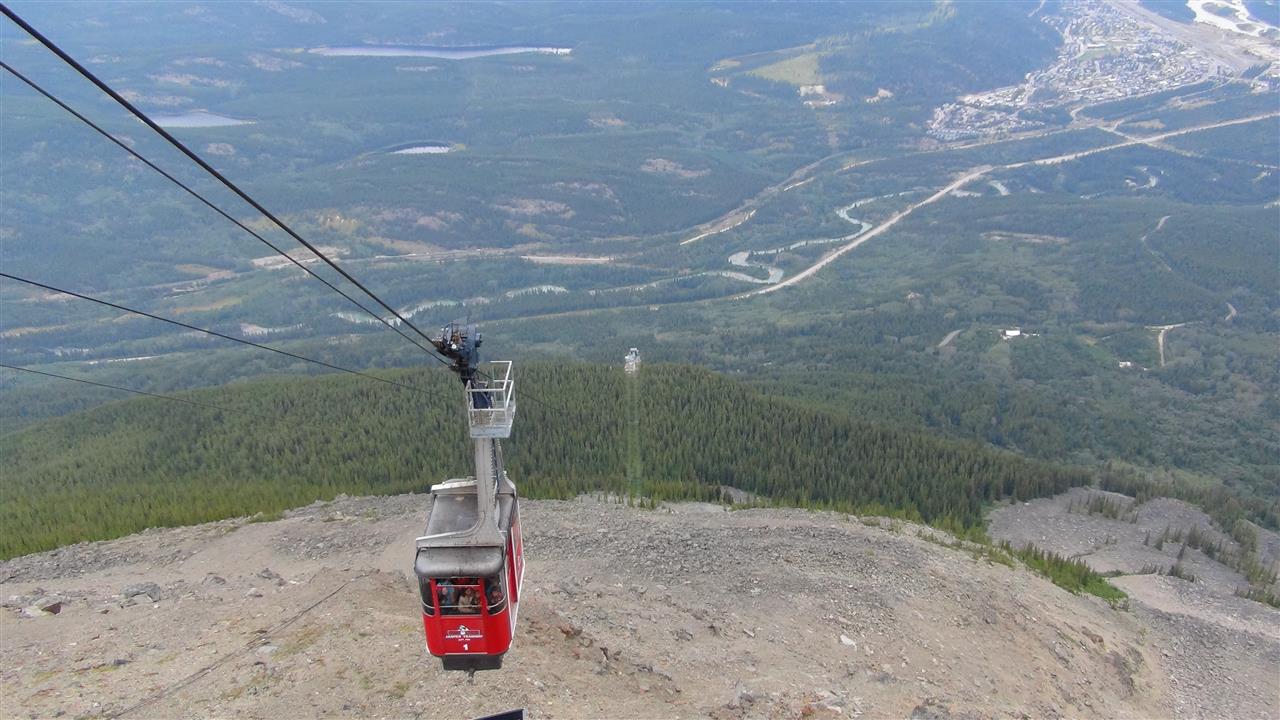 The tramway was built in 1964 & still uses the original carriages..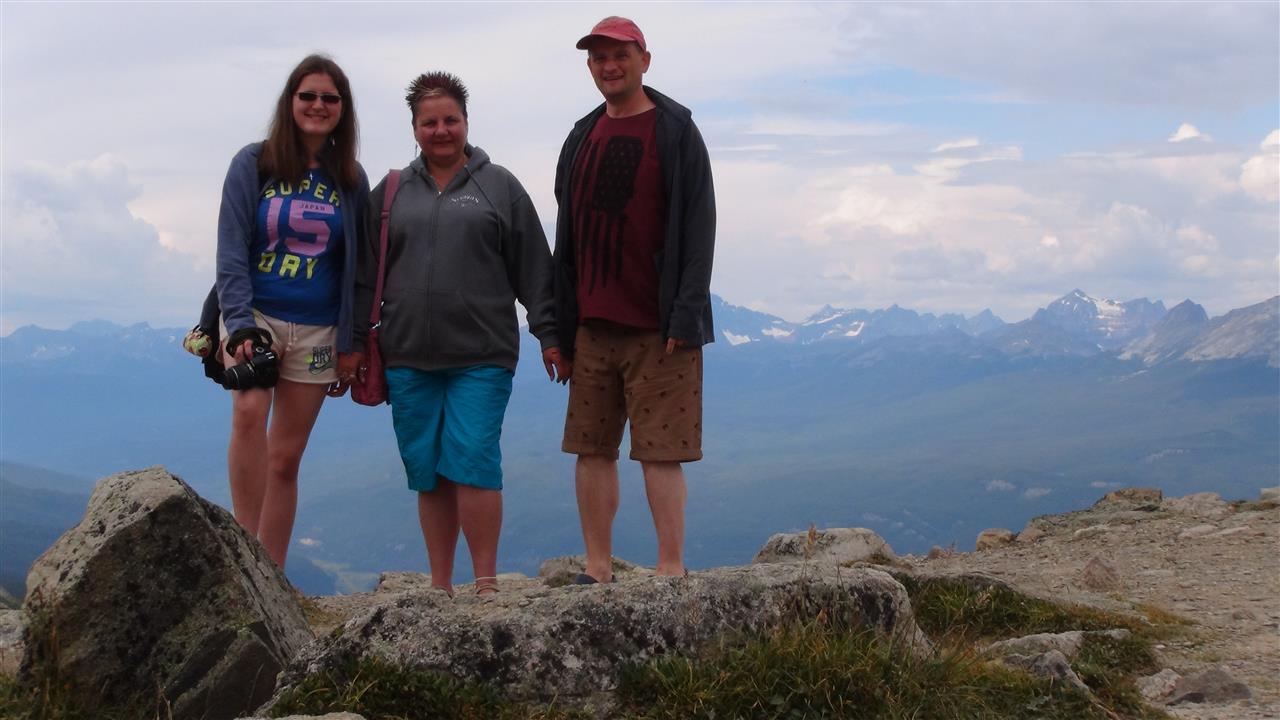 Once at the top of Whistler Mountain we enjoyed views over Jasper. 1005m up we can see over the clouds.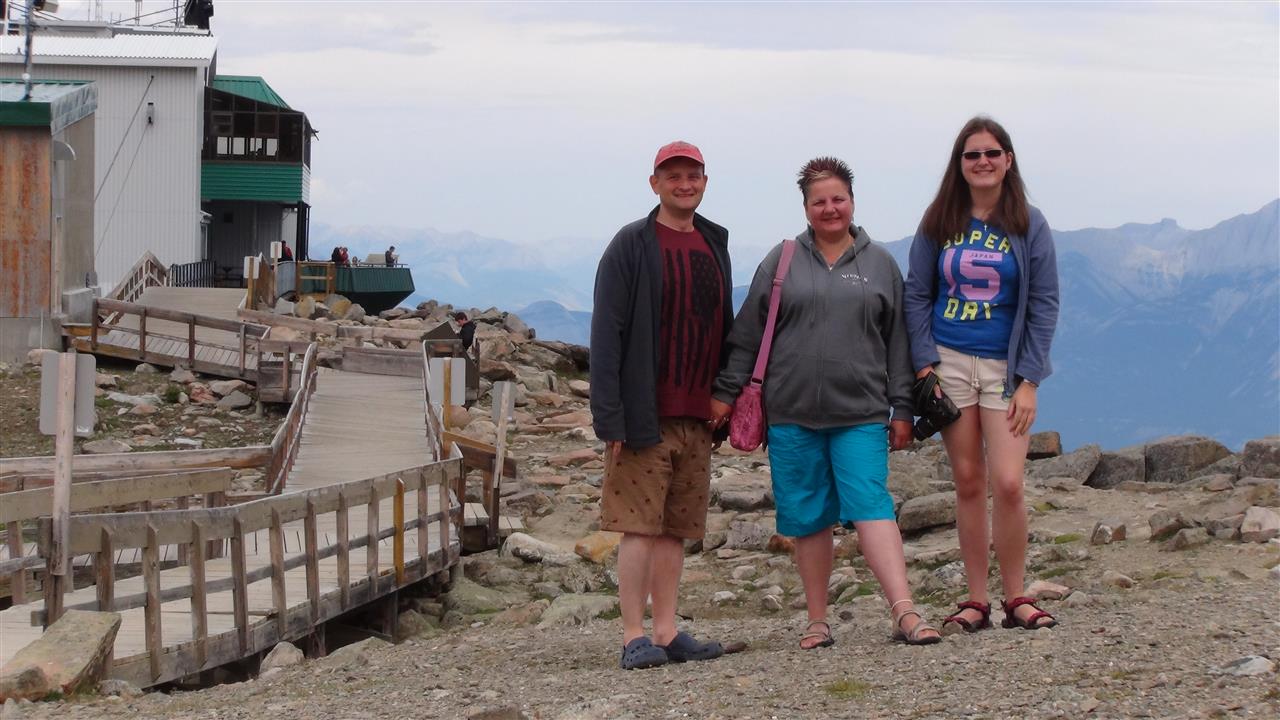 Then made our way further up the mountain on foot..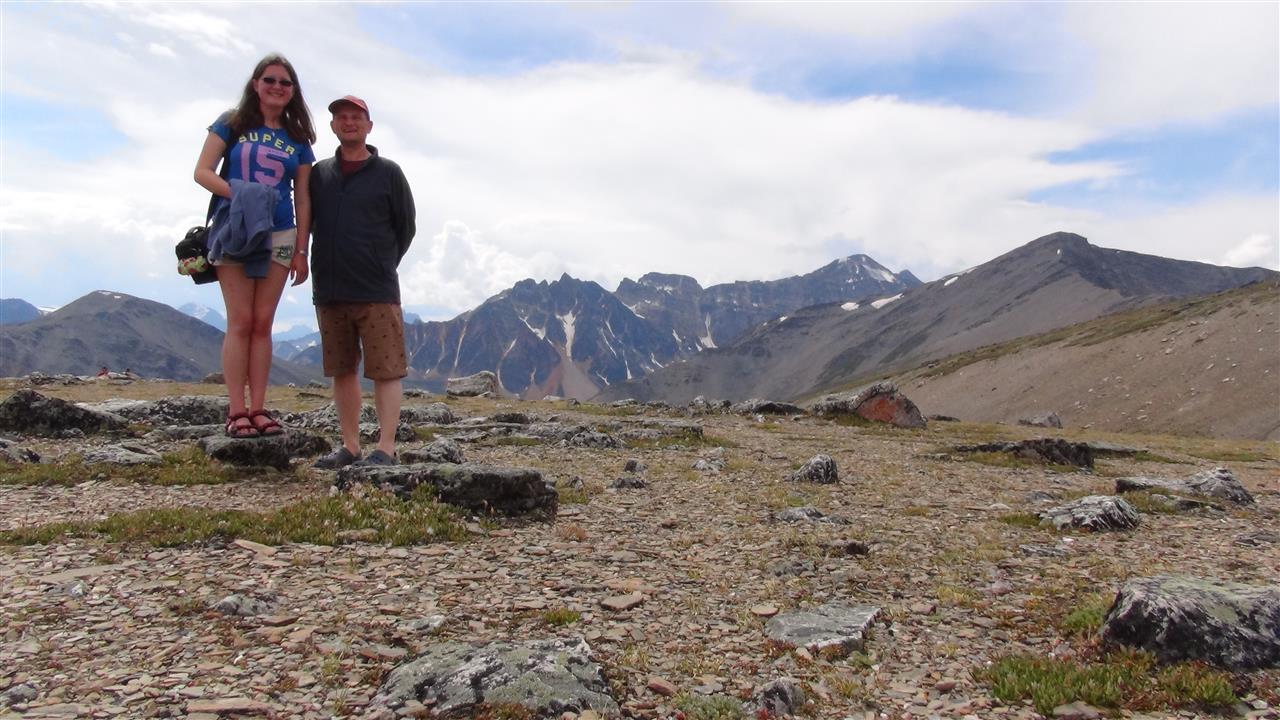 Some made it further than others..Sir Ian & Sherpa Hollie made it to the top of the world.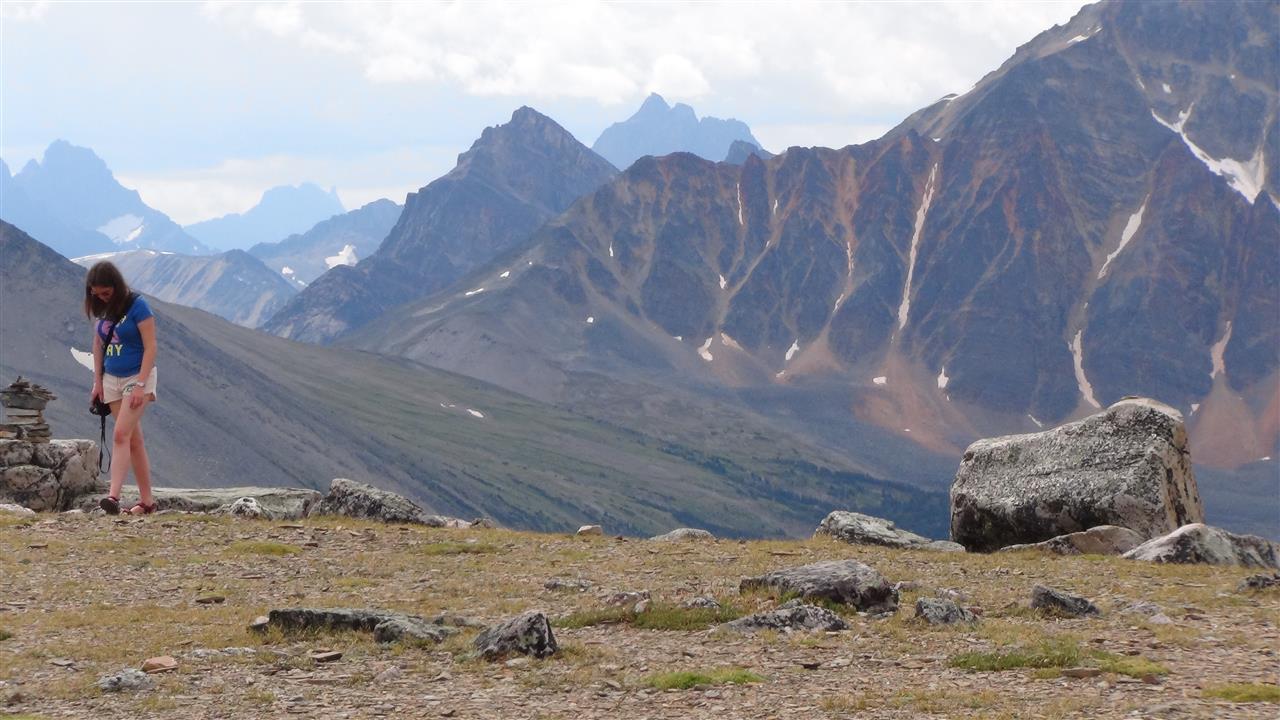 I was reliably informed by Ian that the view over the other side, was of "Brown Mountains" Thank God I didn't struggle right to the top, with a vivid description like that.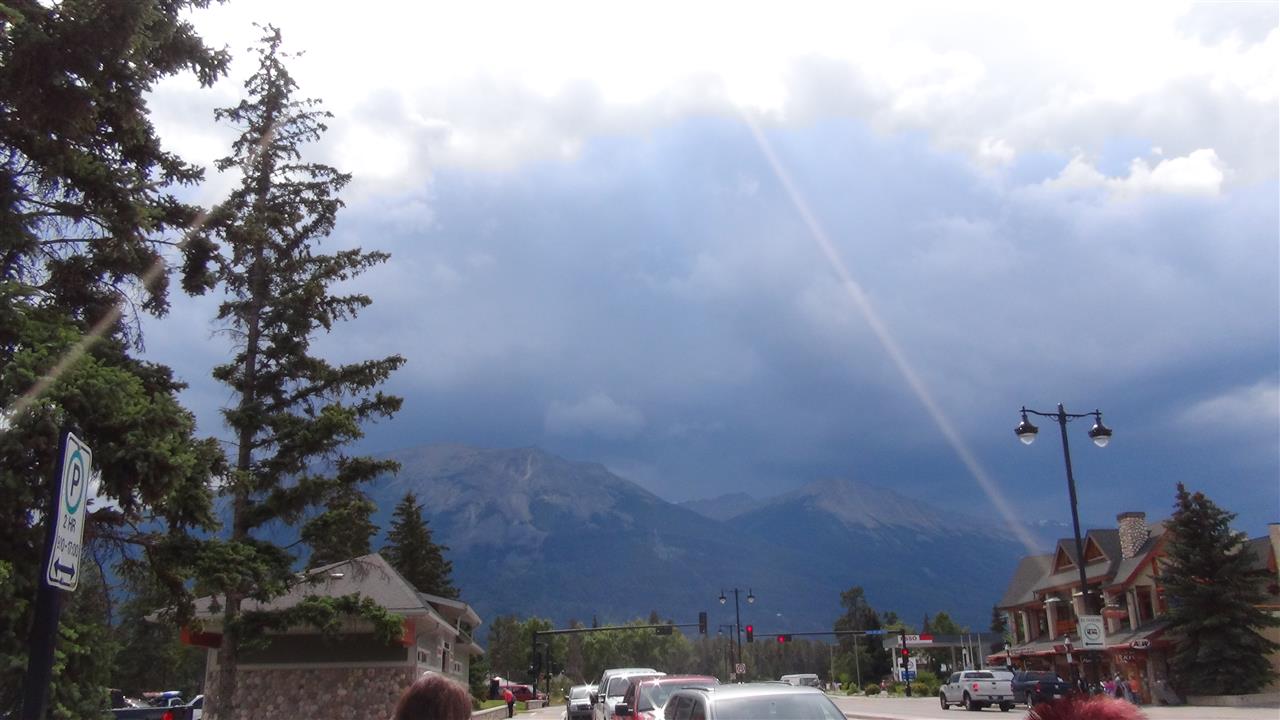 Back in Jasper the rain clouds clear slightly..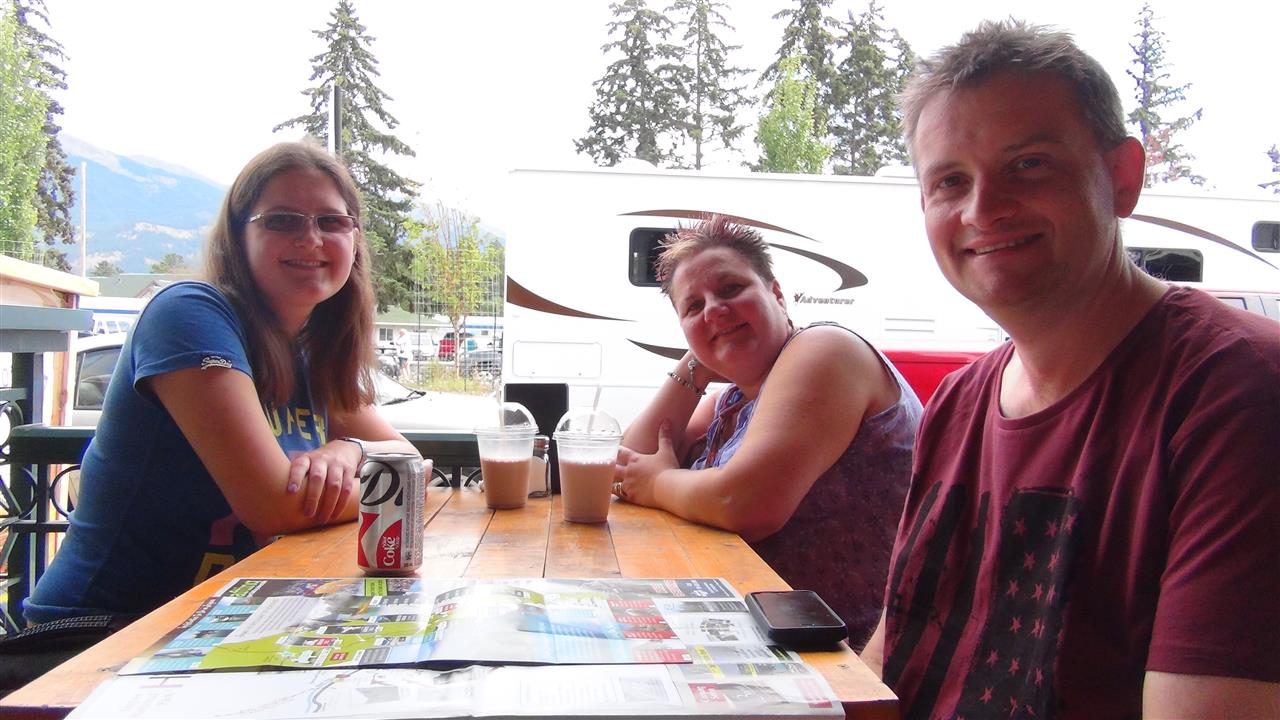 We find a nice cafe for soup & sandwiches,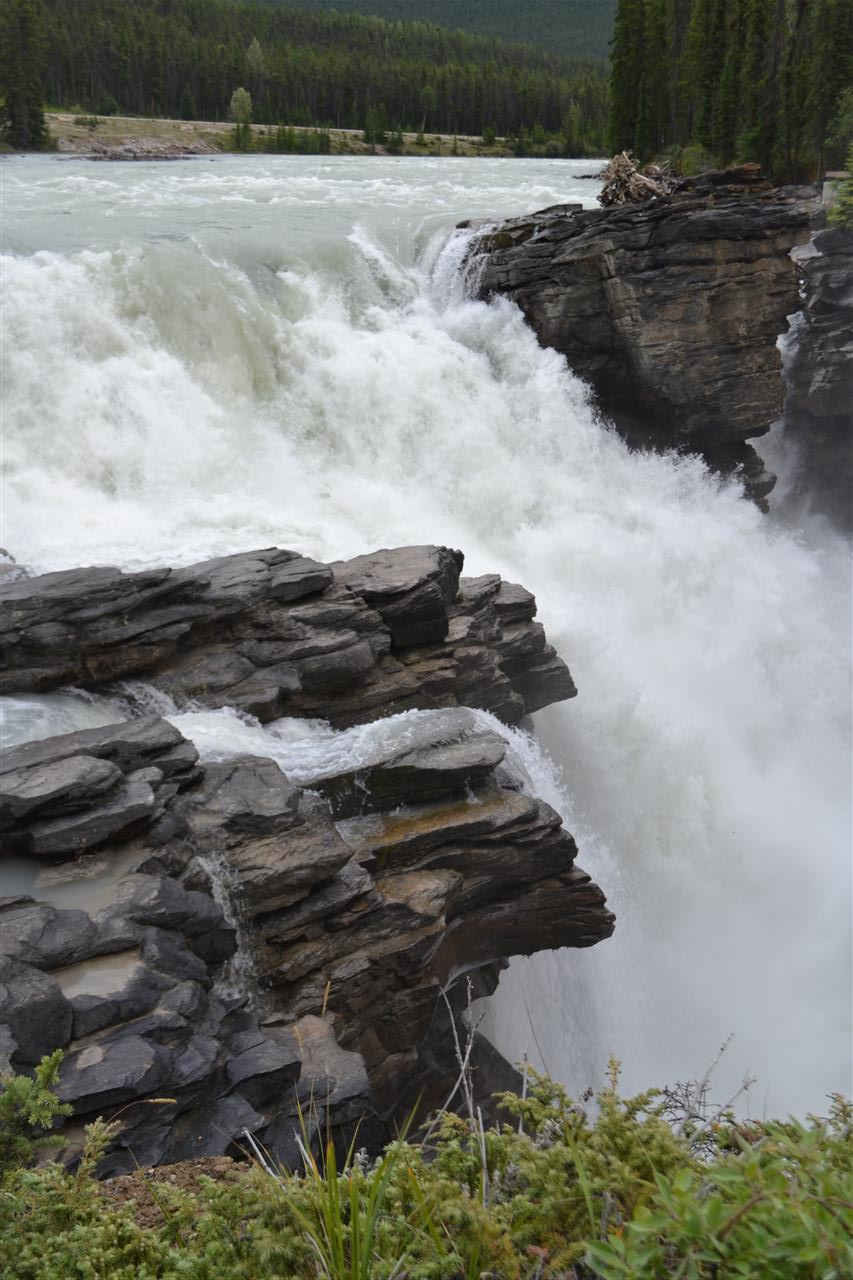 Next Athabasca falls..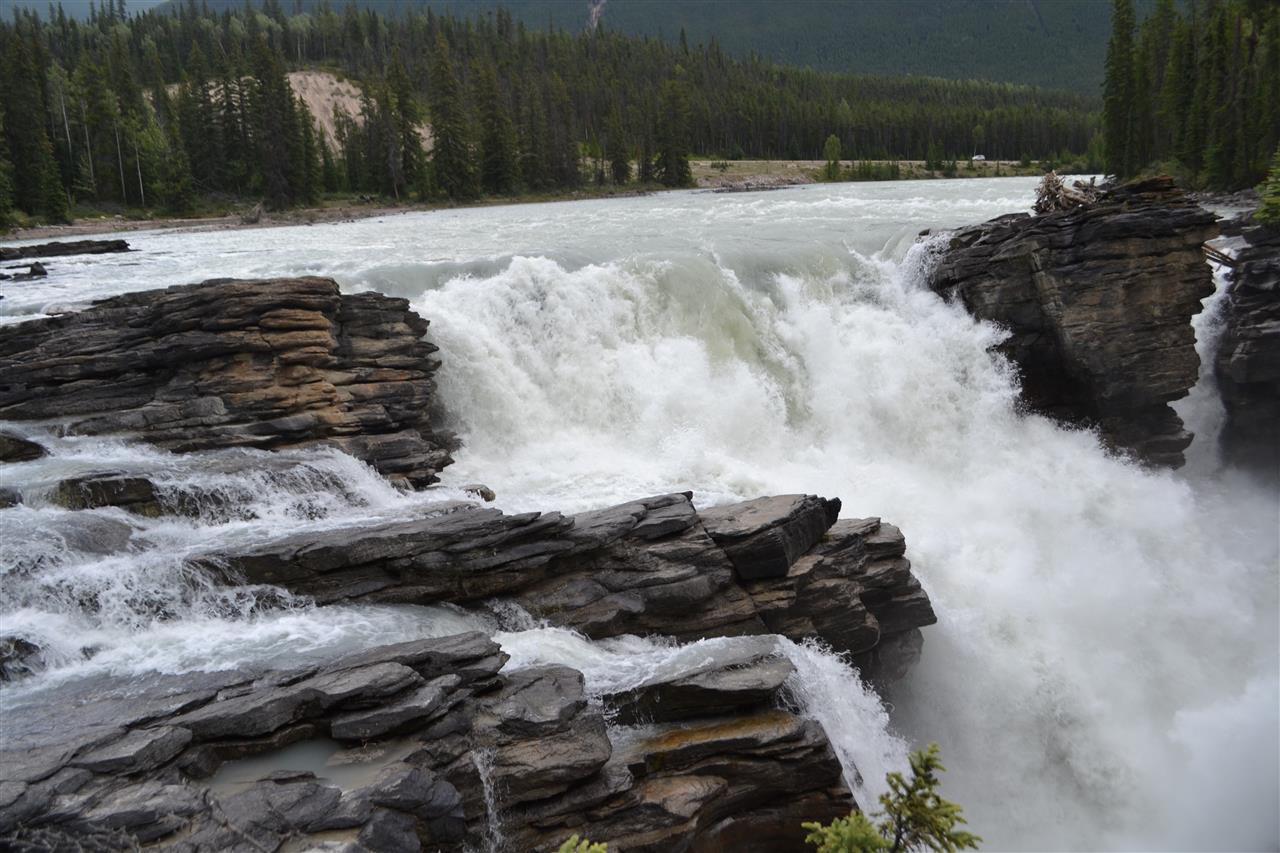 We were suprised by the intensity of these little falls..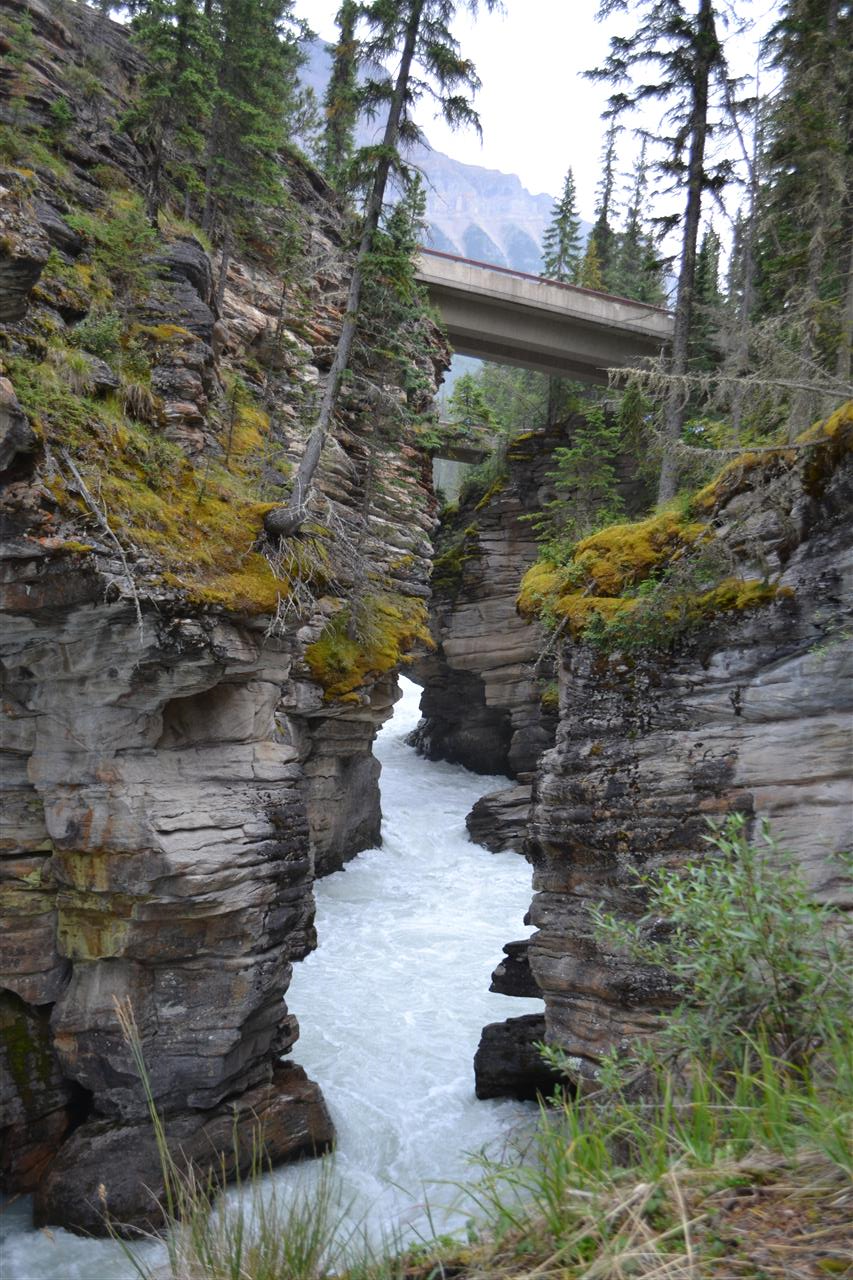 Ian & Hollie headed down stream and saw some intrepid rafters putting in for a late afternoon white water ride.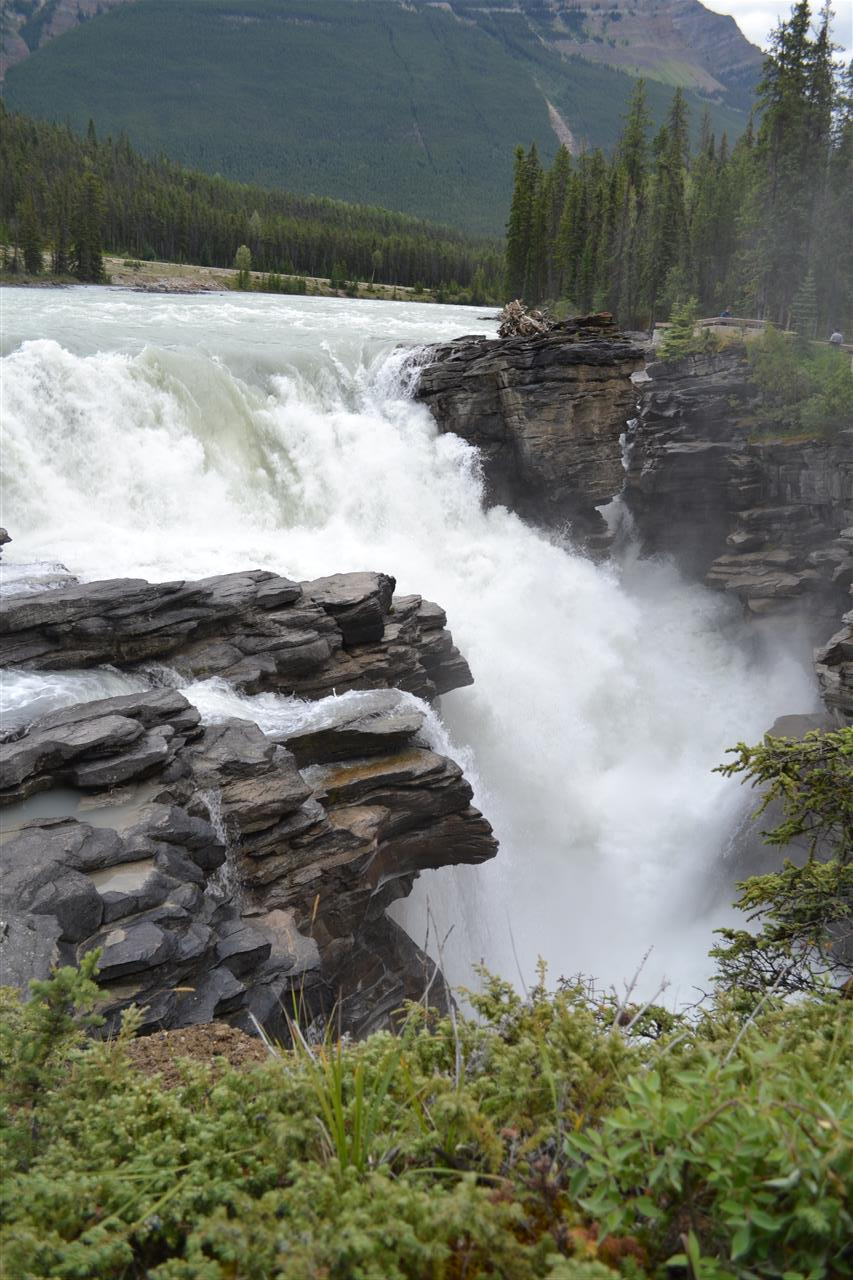 Foot bridges & trails allow you to view almost every angle, Signs warn visitors to stay off the slippery rocks as the falls claim a new victim every couple of years in the icy waters.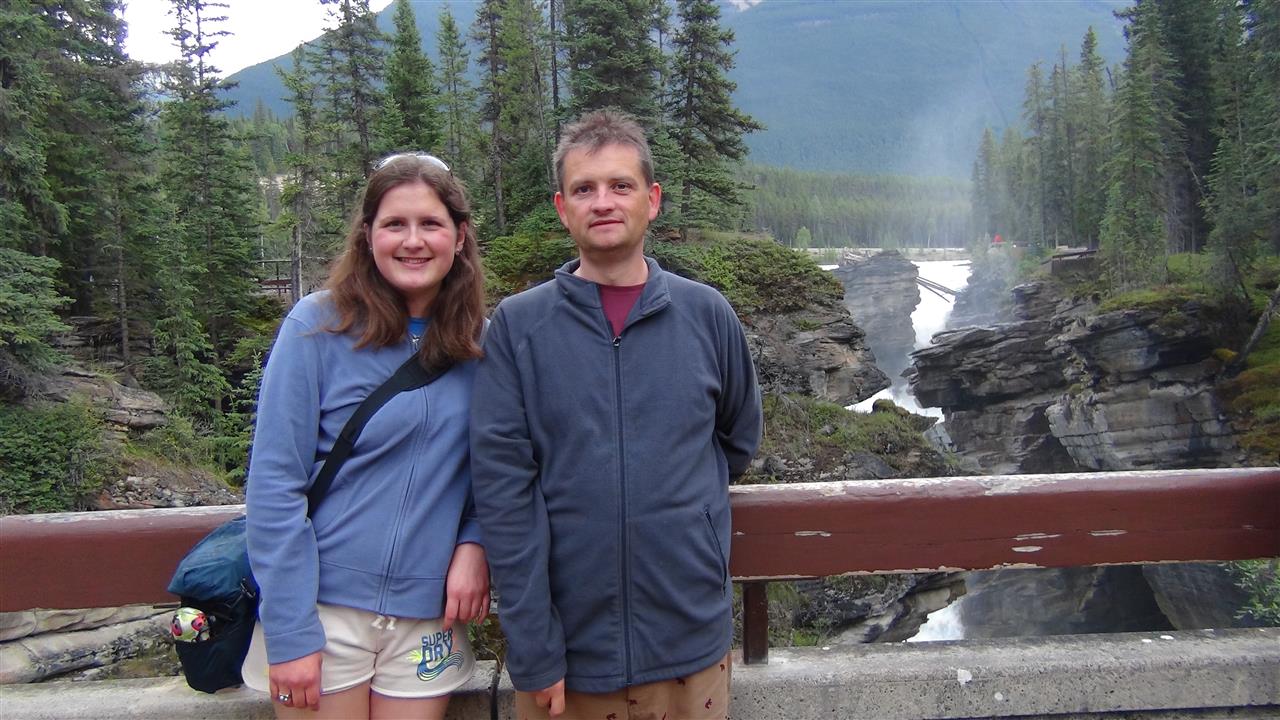 Then rain sent us scuttling for the car.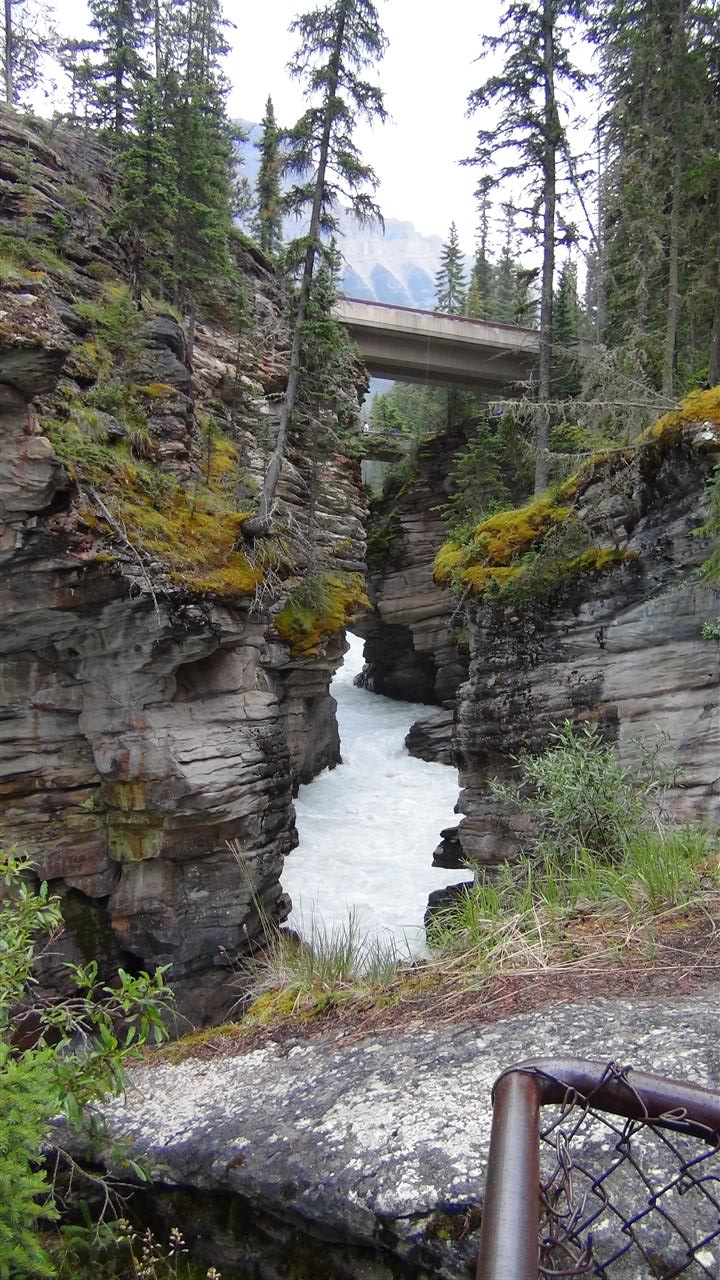 Bad weather means an inside dinner & some games of Cribbage.

Well Goodnight all sleep well xxx

& Jo we are not pleased thet Marmite seems to have unsupervised access the the internet..Hope he hasn't been looking at pics of semi clad lady doggies!!!
Baby Austin already seems to have worked out that nothing happens straight forwardly in the Austin household..Kisses for all xxx
---
Day 16 : Bear discovered on Mount Edith.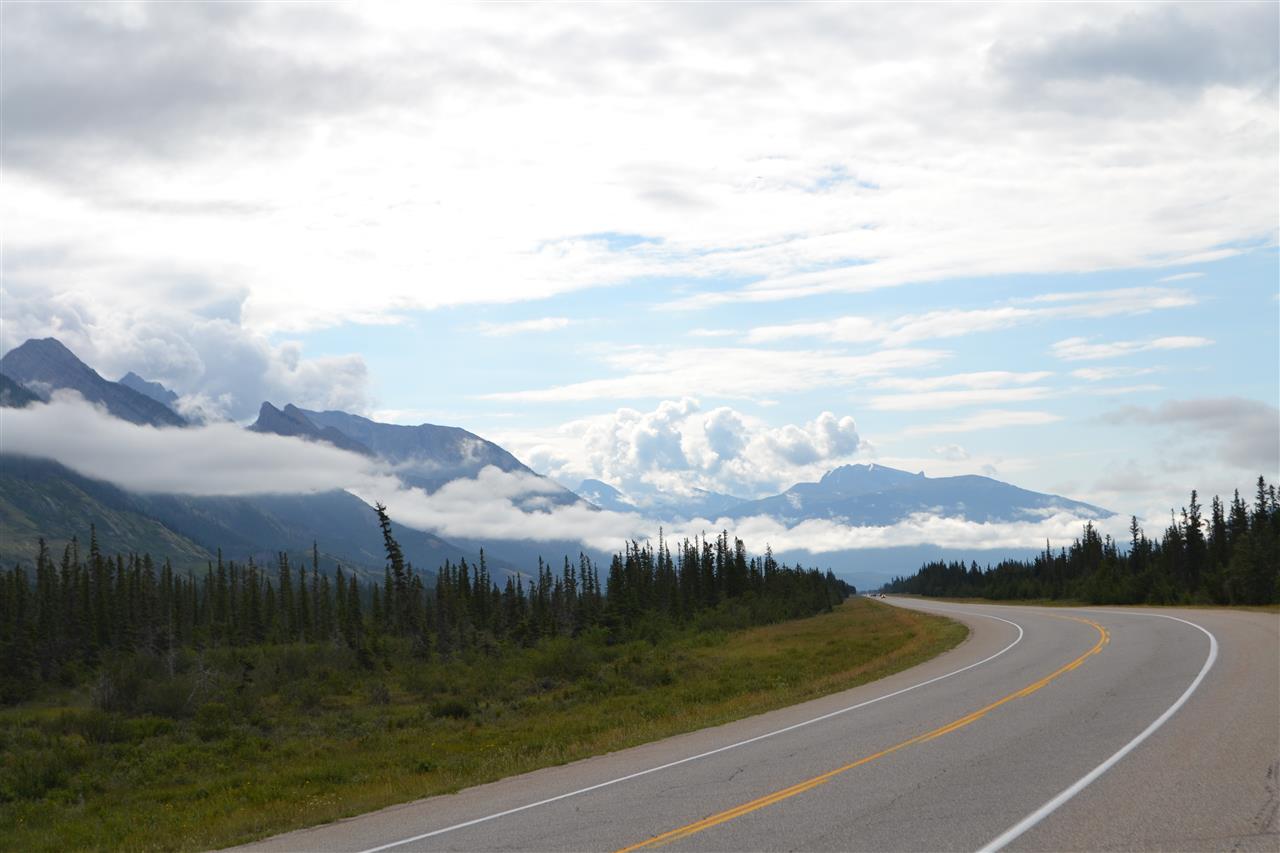 Another overcast & chilly start made for some spooky photo opportunities for Hollie.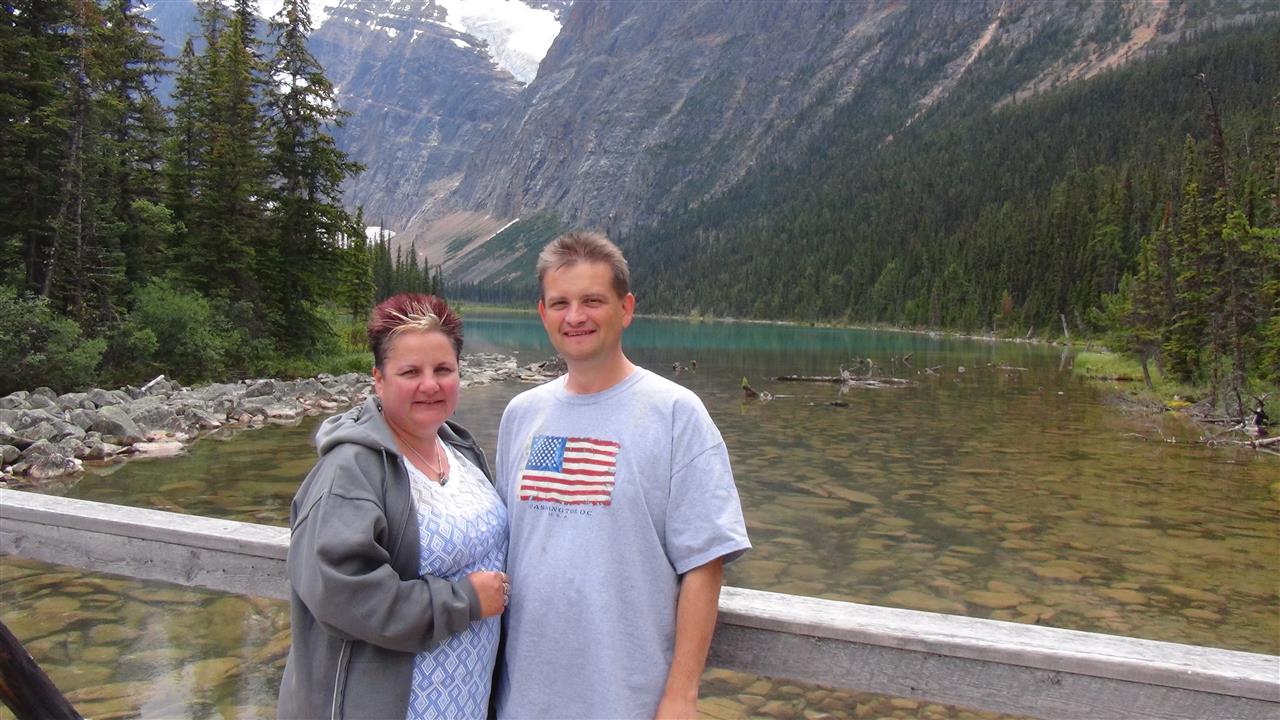 Today we visited Mt Edith Cavell the grandest mountain in Jasper.
Named after a WW1 nurse who elected to stay at her hospital in Belgium dispite orders to leave, Edith nursed soldiers from all sides bak to health & assisted in the escape of many allies.
Unfortunately she was found out, tried as a spy & executed in 1915.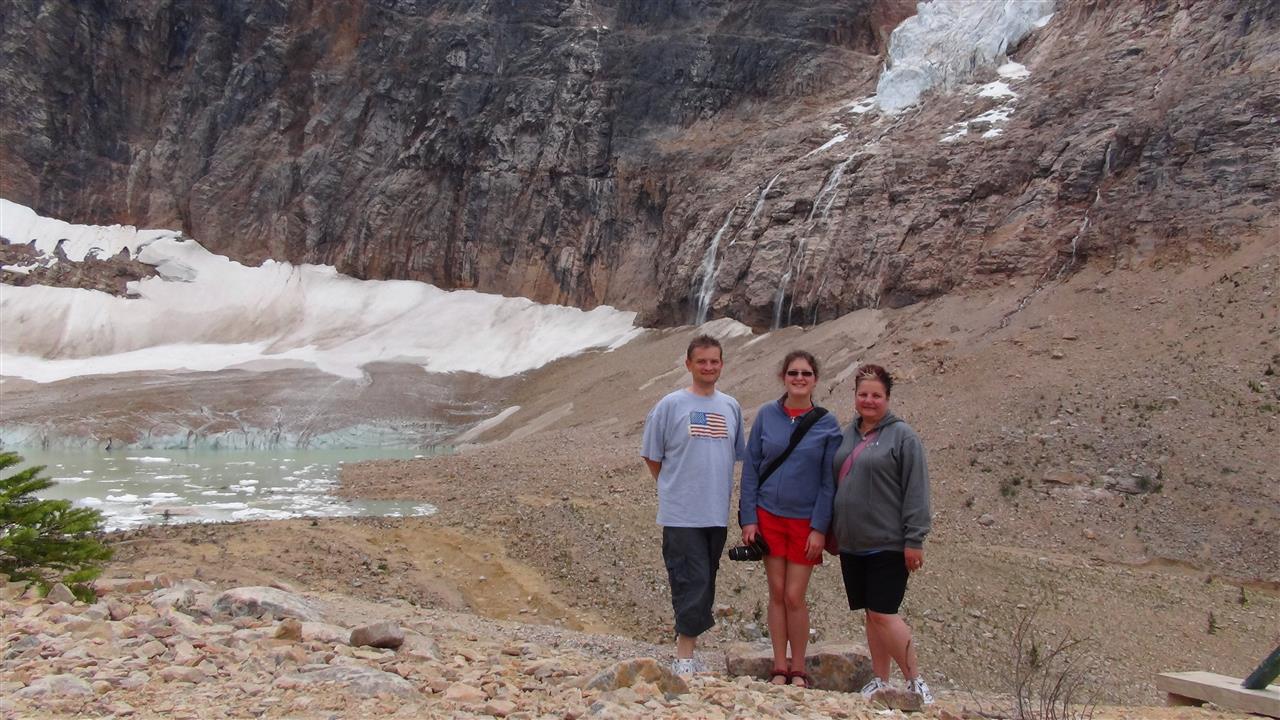 Our 45min hike up the mountain, took us to the "Angel Glacier" which spans the slopes of Mount Edith .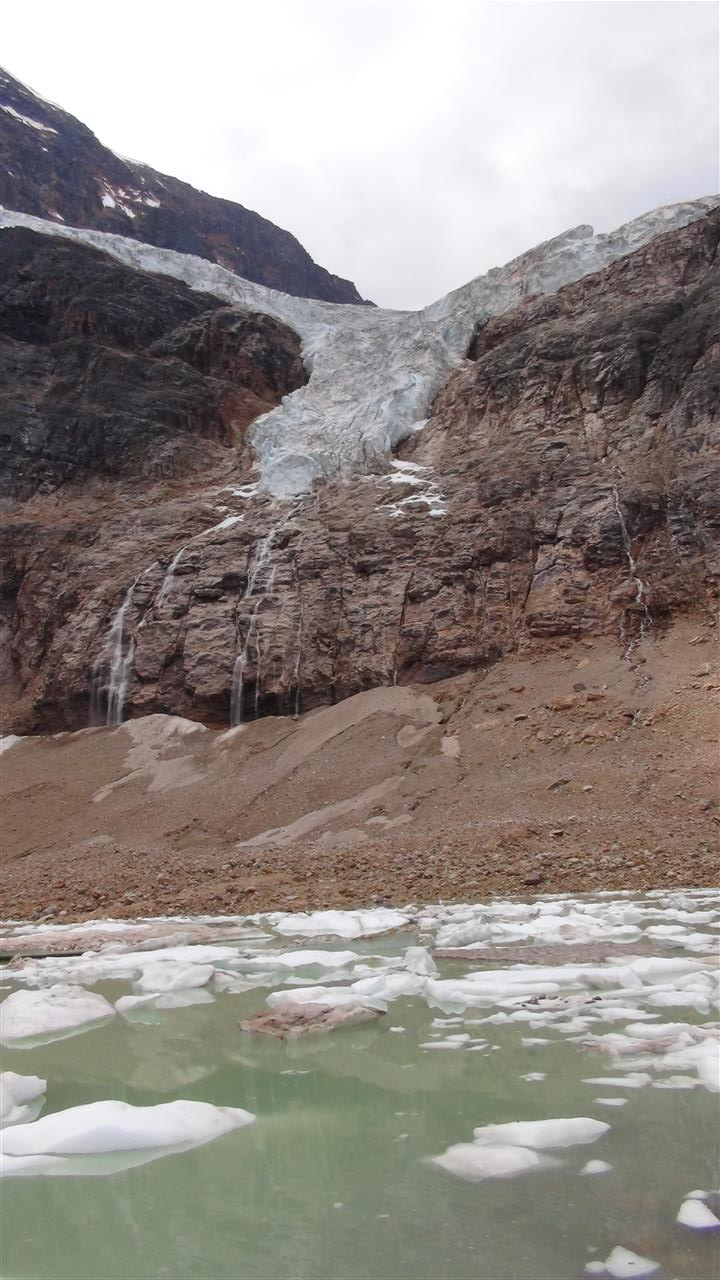 We could hear the Ice groaning and saw occasional showers of small ice rocks.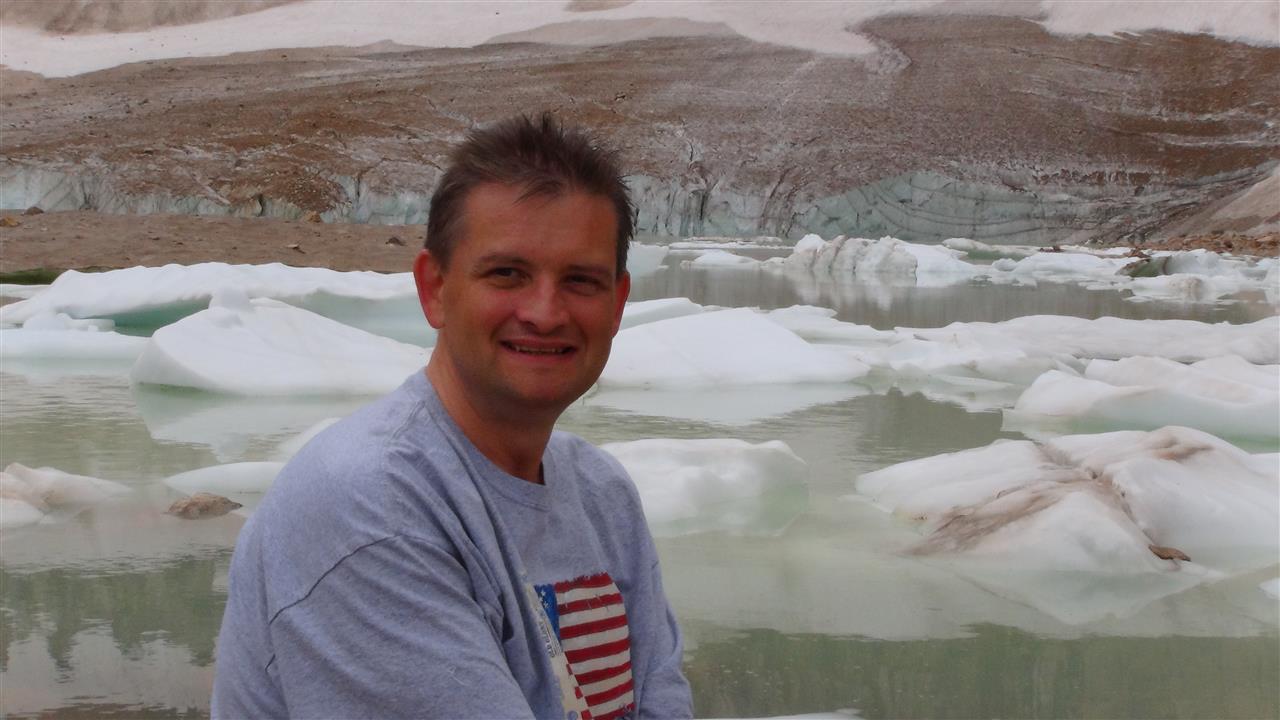 Ian scaled the last few hundred metres to the basin & took this rather handsome photo, of himself.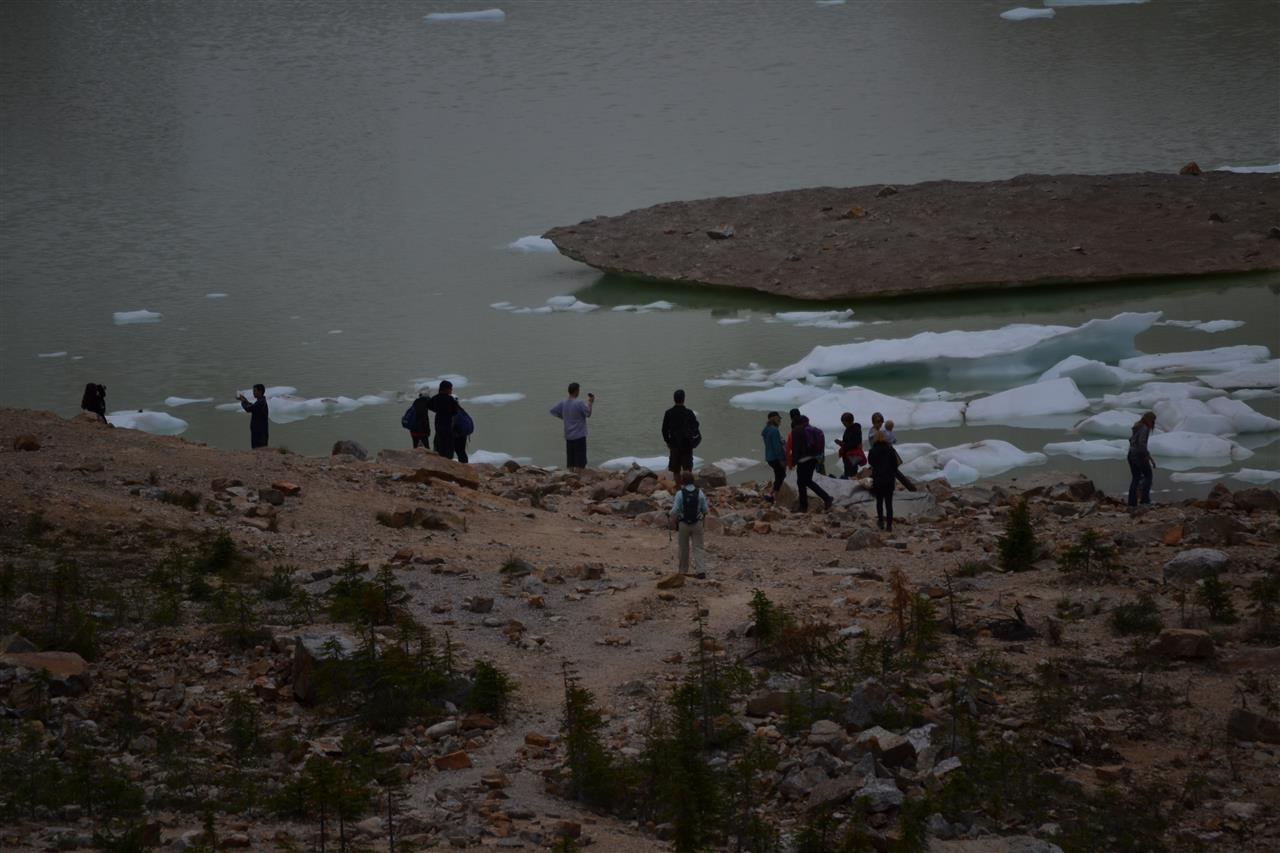 There he is in the distance, striking a Larry Grayson pose.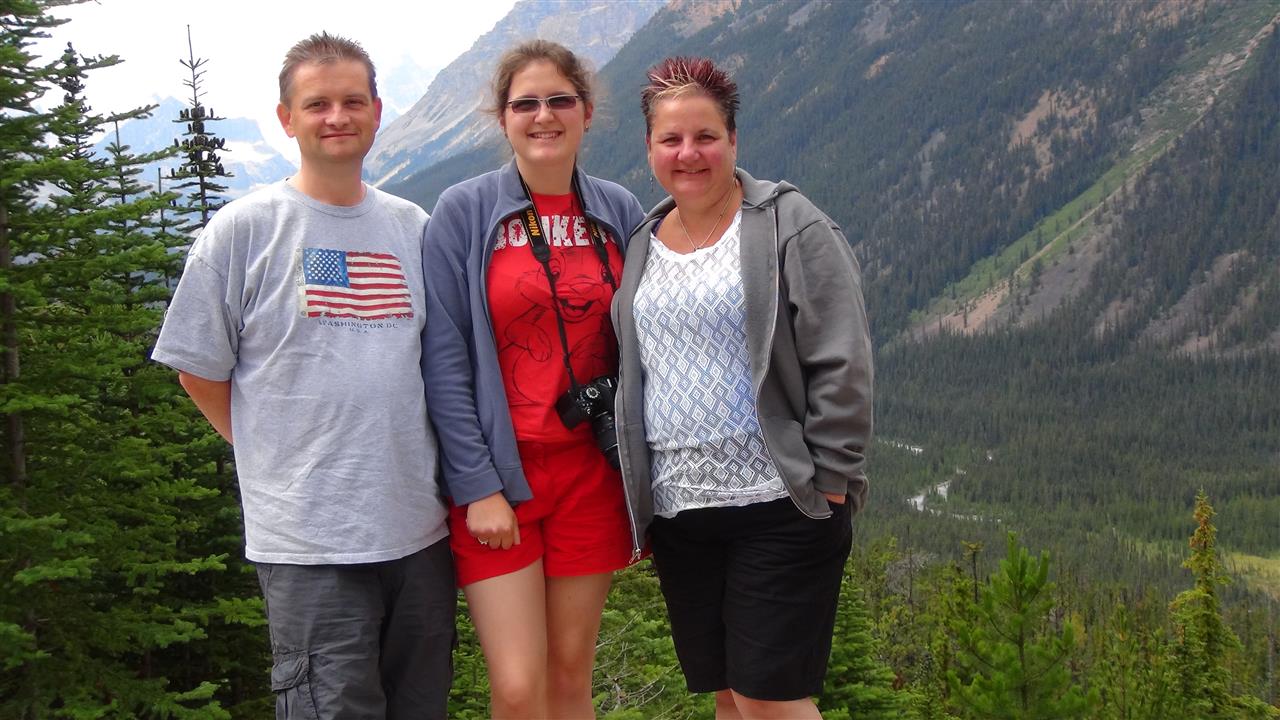 Mt Edith is over 3.4 KM above sea level , in 2012 during tourist season a massive lump of glacier fell in to the basin..equalling the size of 1423 city buses!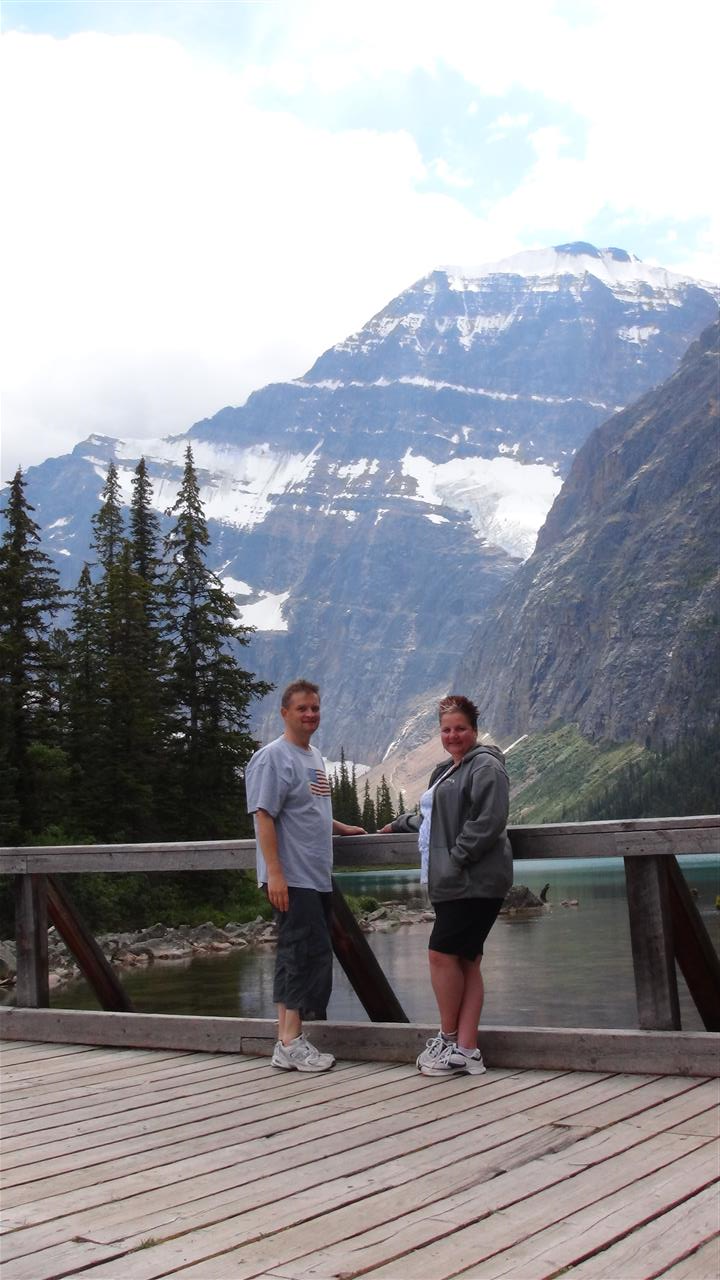 Ian & I went to a lake nearby which gave the very best view of the mountain above the turquoise lake.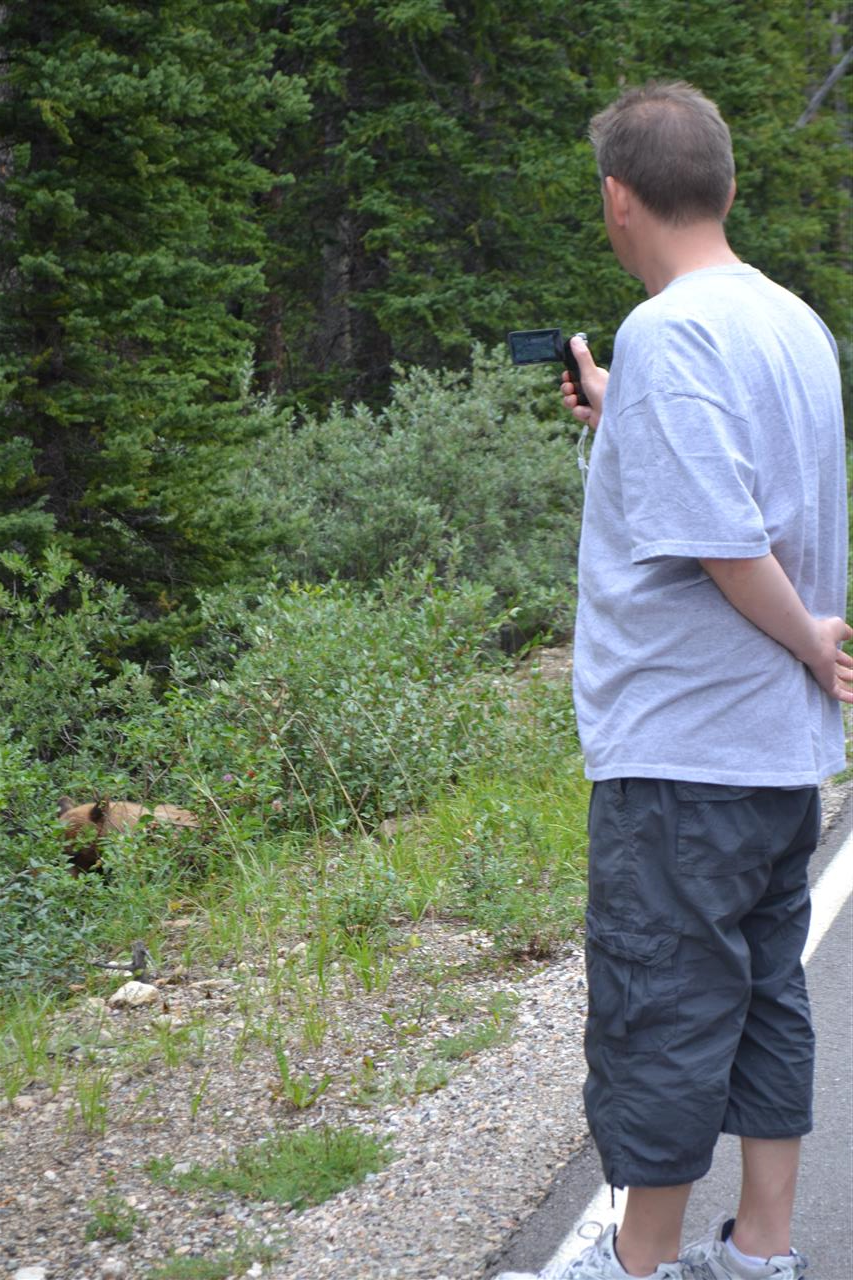 A row of randomly parked vehicles on the highway, are sure to signal a wildlife photo call.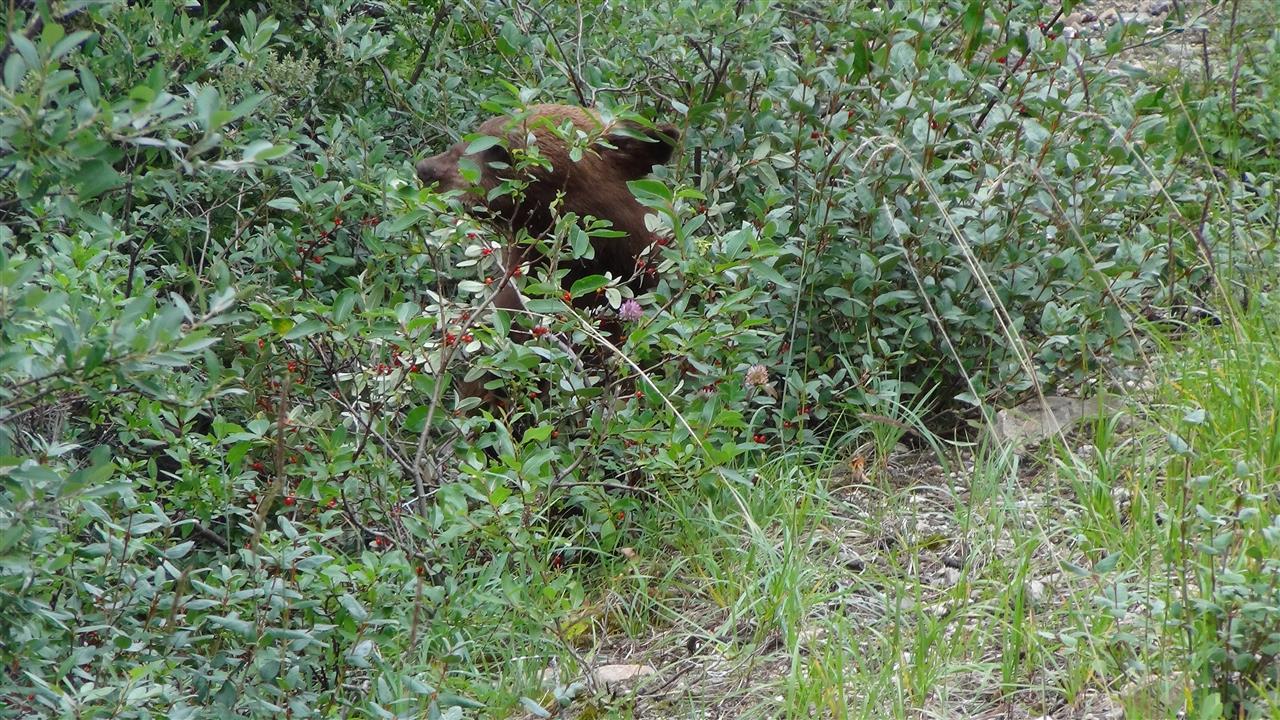 This young grizzley was stripping a roadside bush of its berries.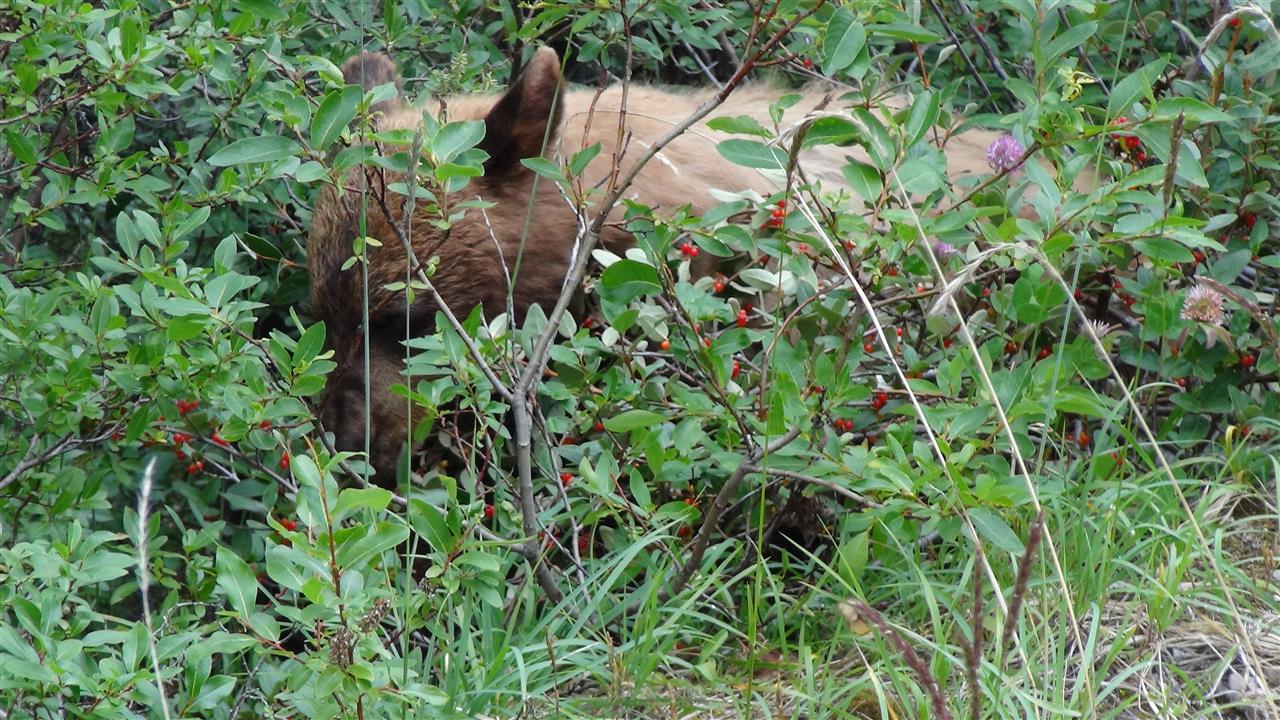 very cute..Glad his mum didn't come out to find him !!!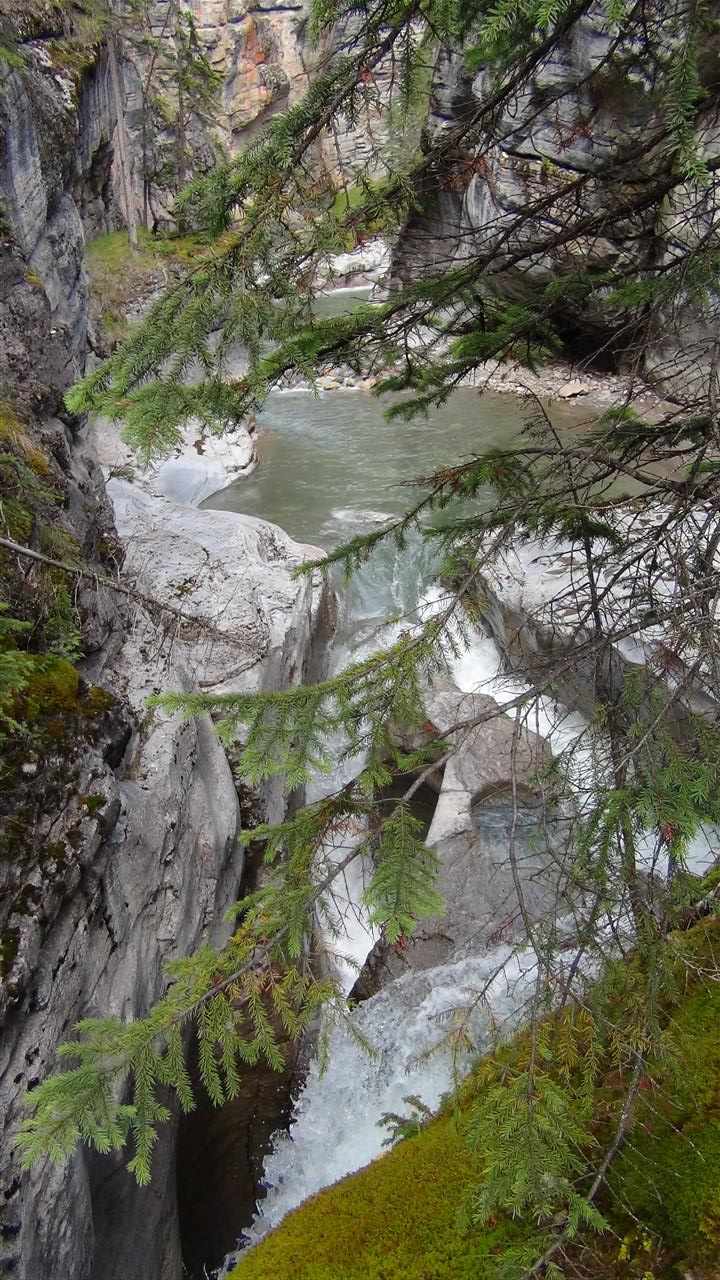 Next stop Maligne Canyon.. some more vicious tunnels, channeling water downstream.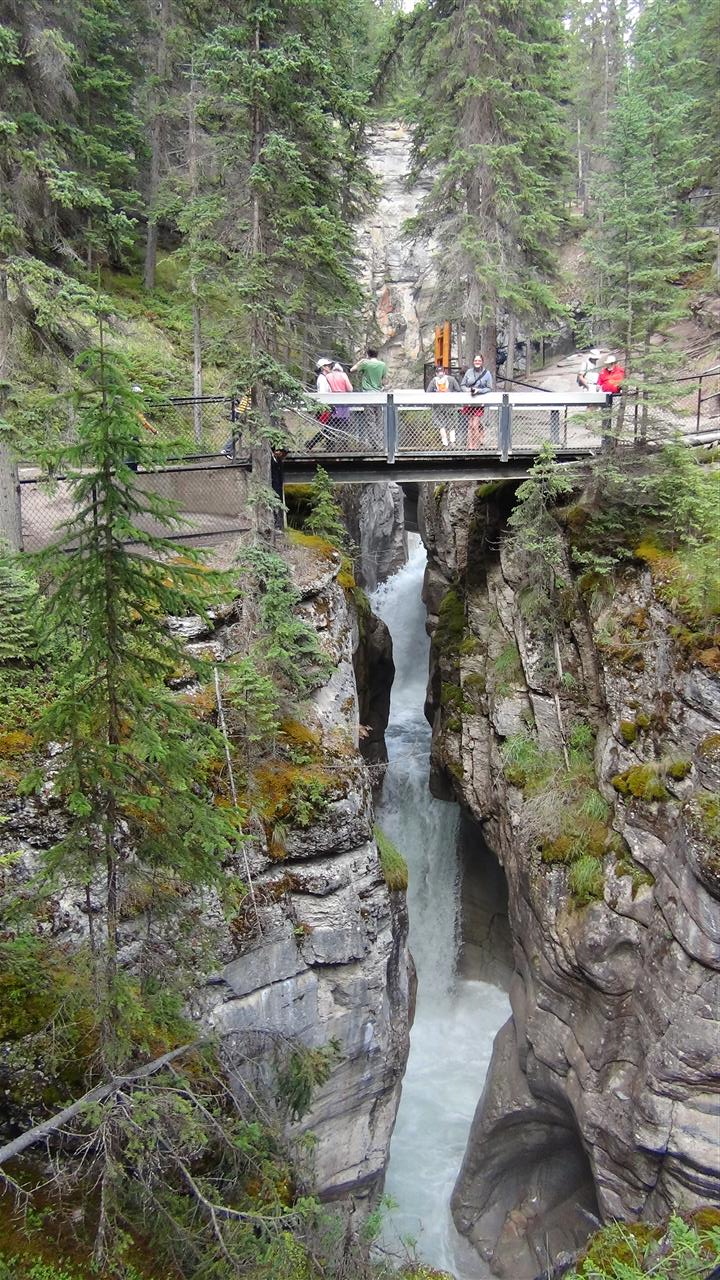 Hollie takes some exciting photos from the distant bridge, ( Unfortunately, having fiddled with her camera settings , they all appear to have been taken at night ! )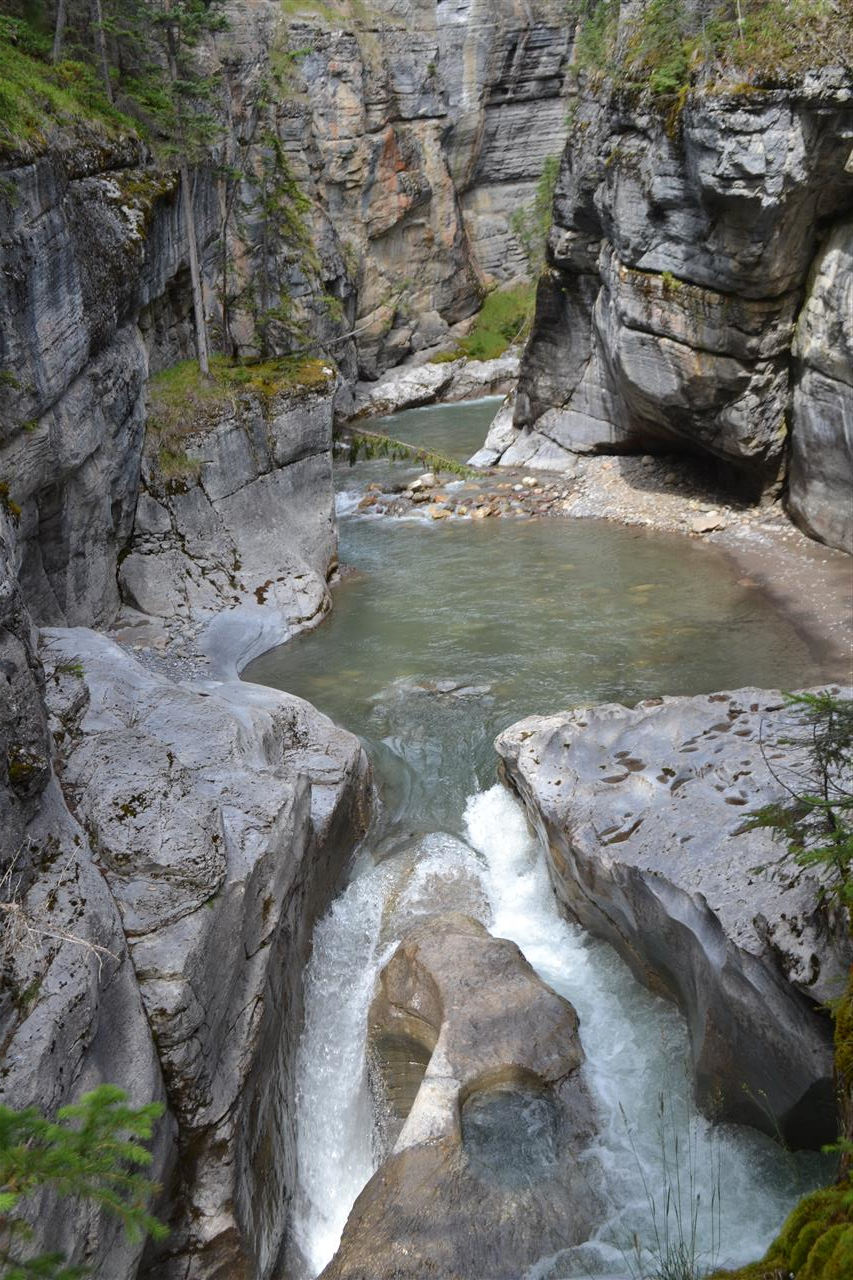 The falls area offers many examples of potholes , created by the relentless water.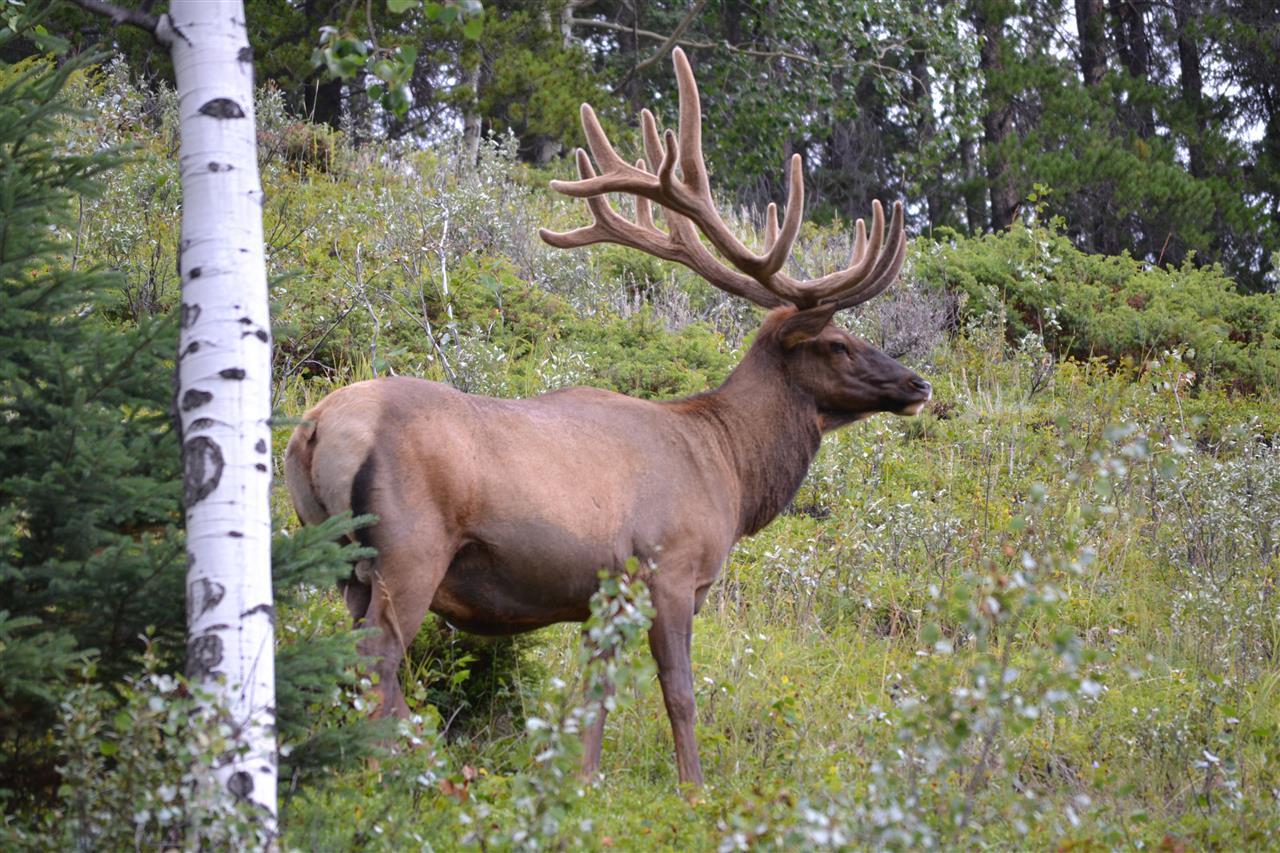 This magnificent Stag, held up traffic on our return journey.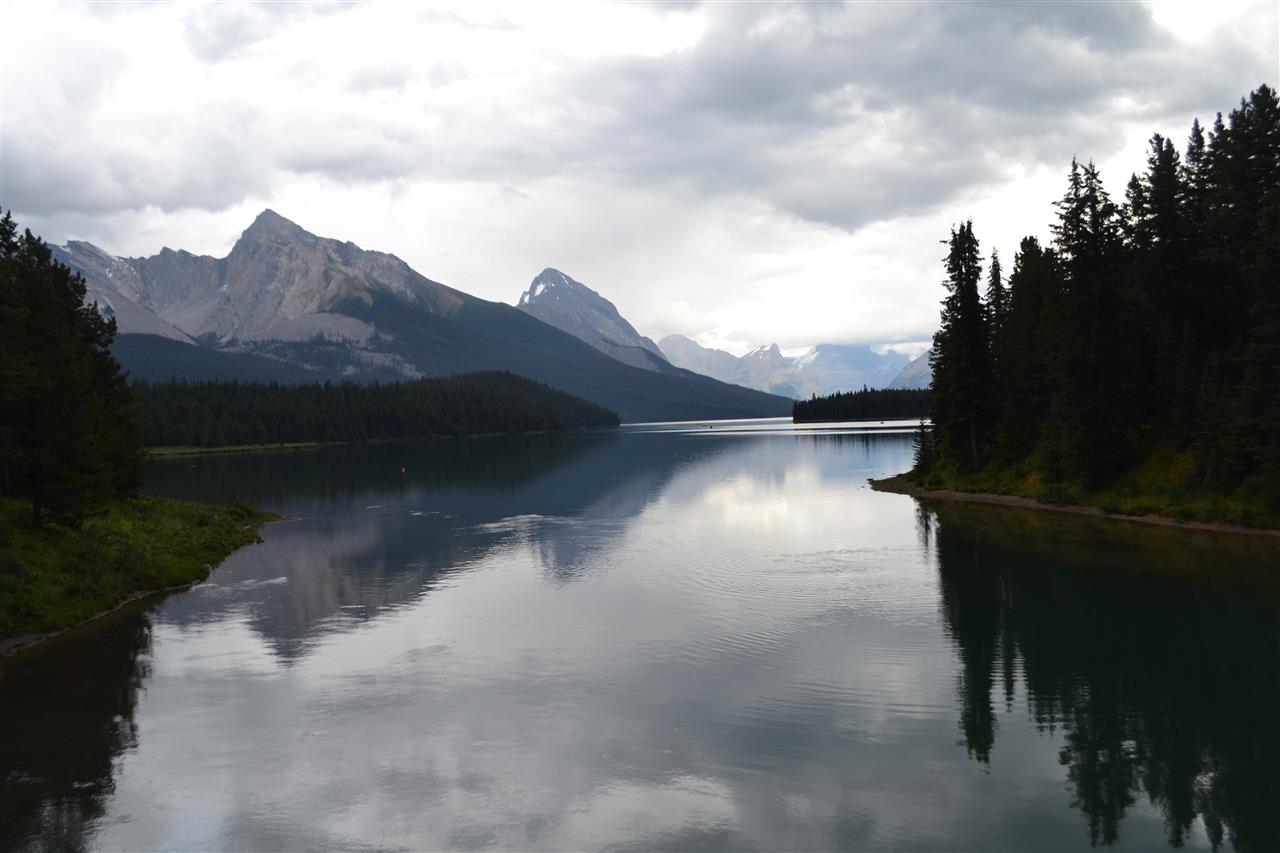 Final stop Maligne Lake, Hollie captured this beautiful reflection.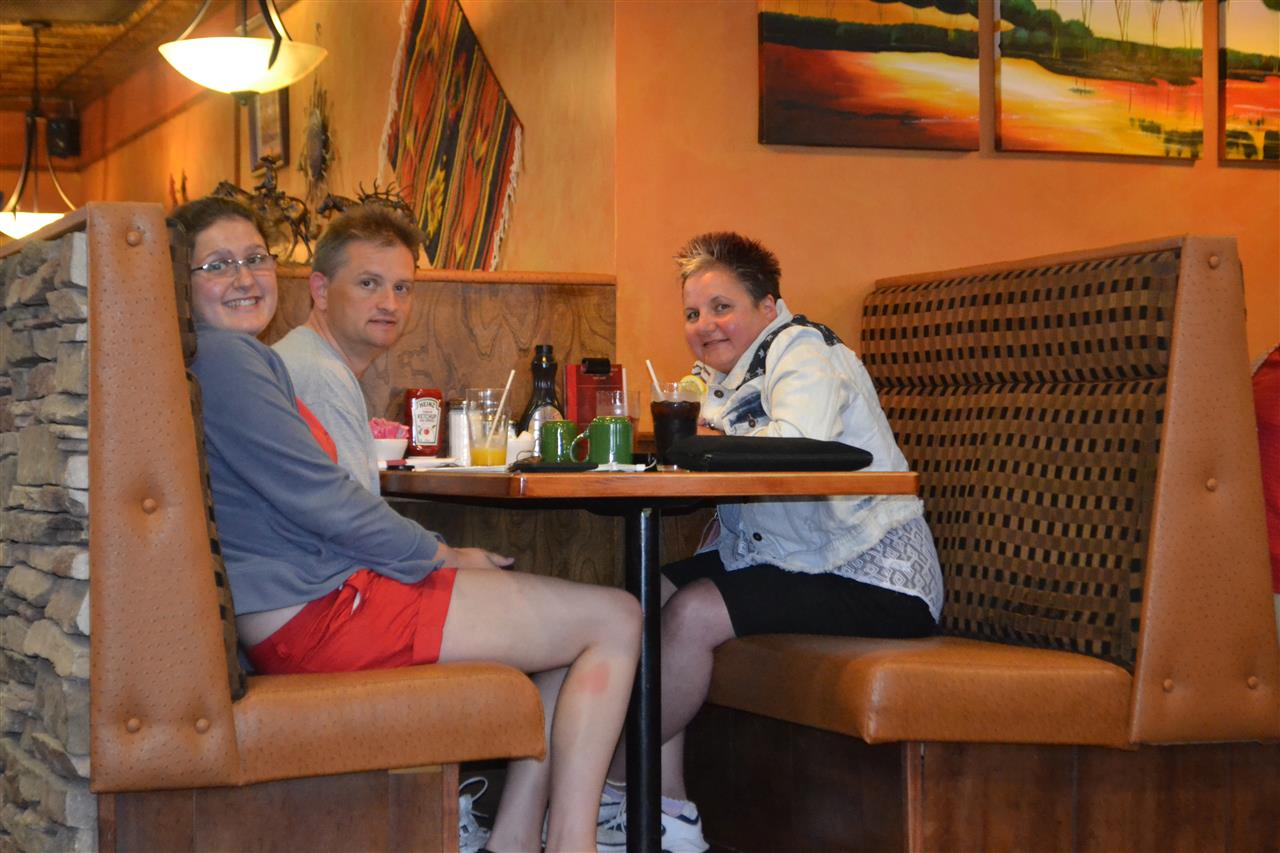 On the way home we tried Smittys Restaurant, in Hinton, not your Haute Cuisine, but it filled a hole!

Early start tomorrow dear reader..so we are away to our bed xxxx

Not such good news from home, seems the cat is contemplating leaving ! Suitcase packed we are told..should never have used the Nanny Ann & Jumbo cat sitting service..u just can't get the staff! xxxxxxx
---
Day 17 : The Ice fields & a beary good day..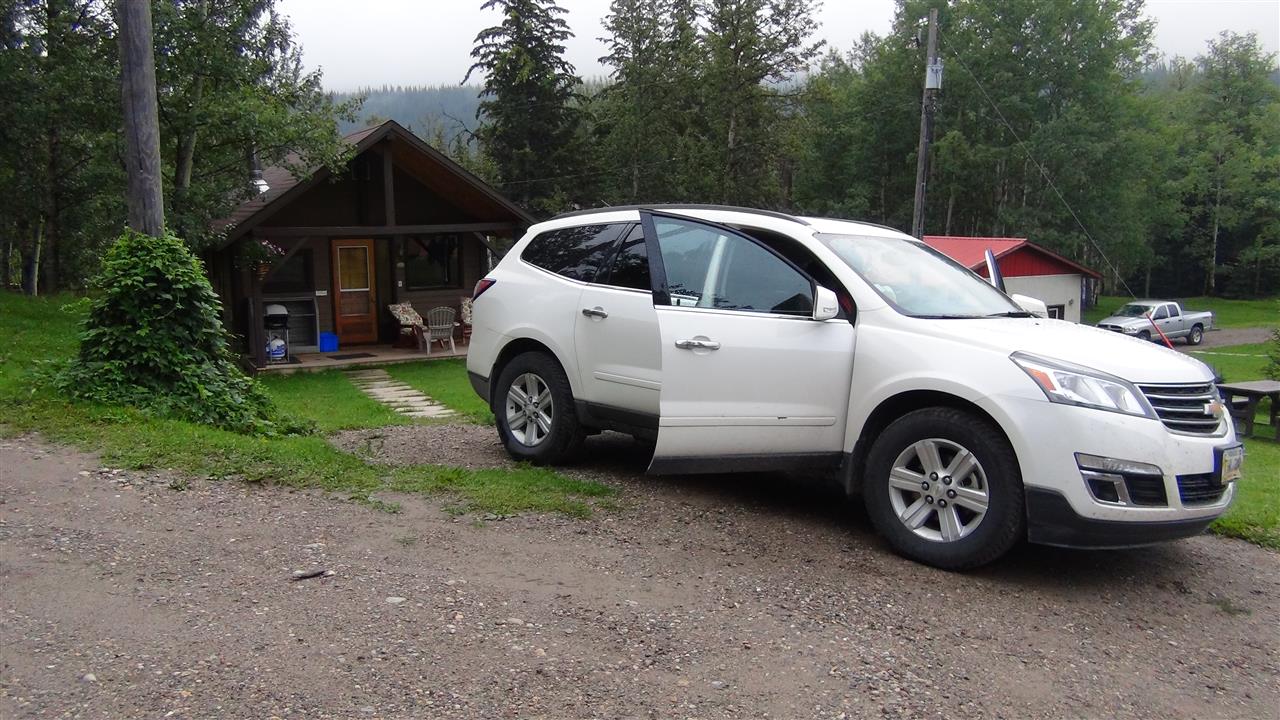 Goodbye Brown Cabin, Today started very wet & gloomy , after a night of rain.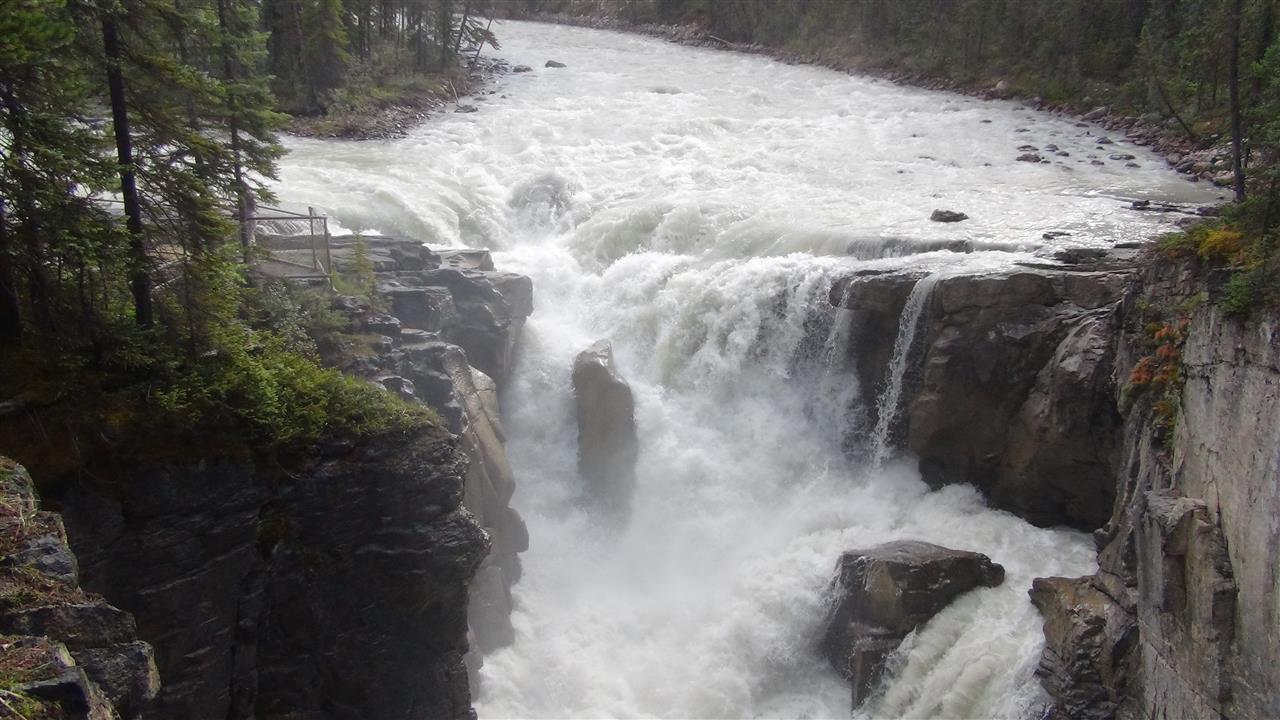 Ian had planned for us to visit Sunwapta falls, enroute to The Ice Fields.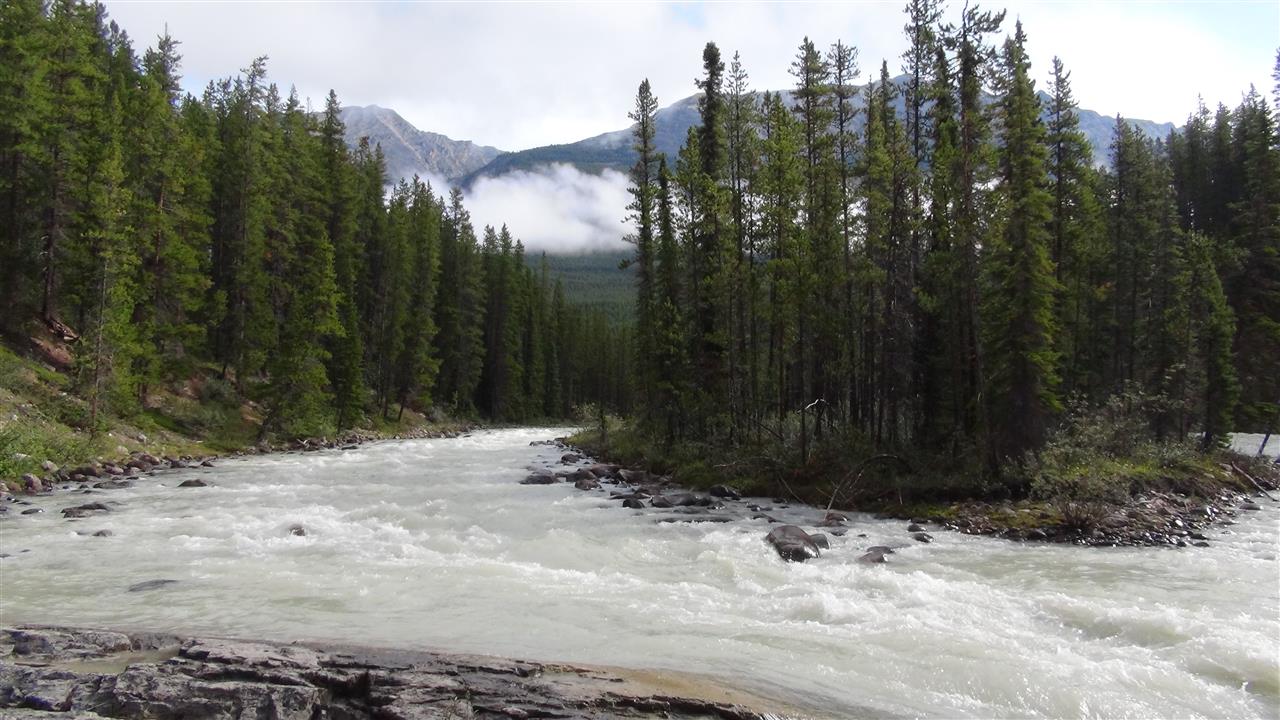 The falls take water to Sunwapta Lake.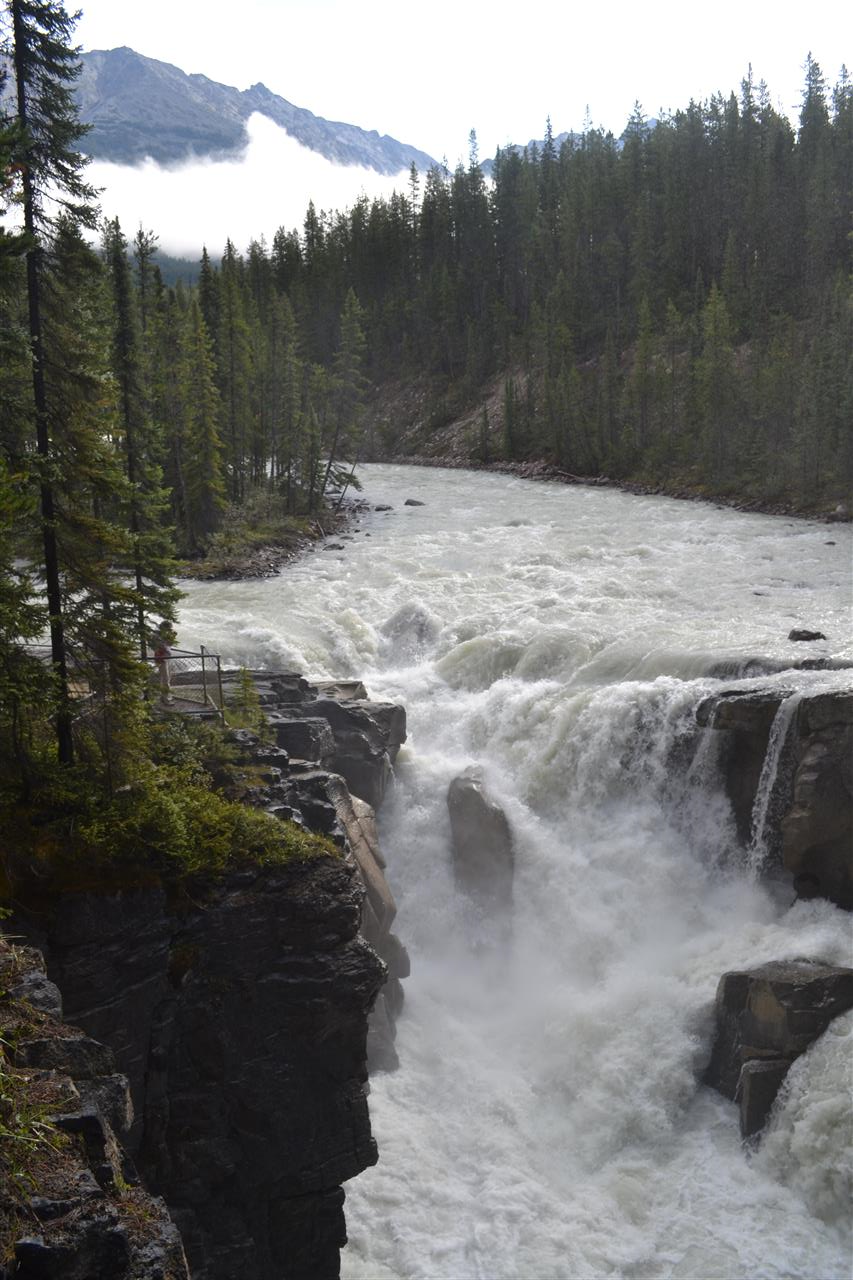 Sunwapta means,Turbulant waters.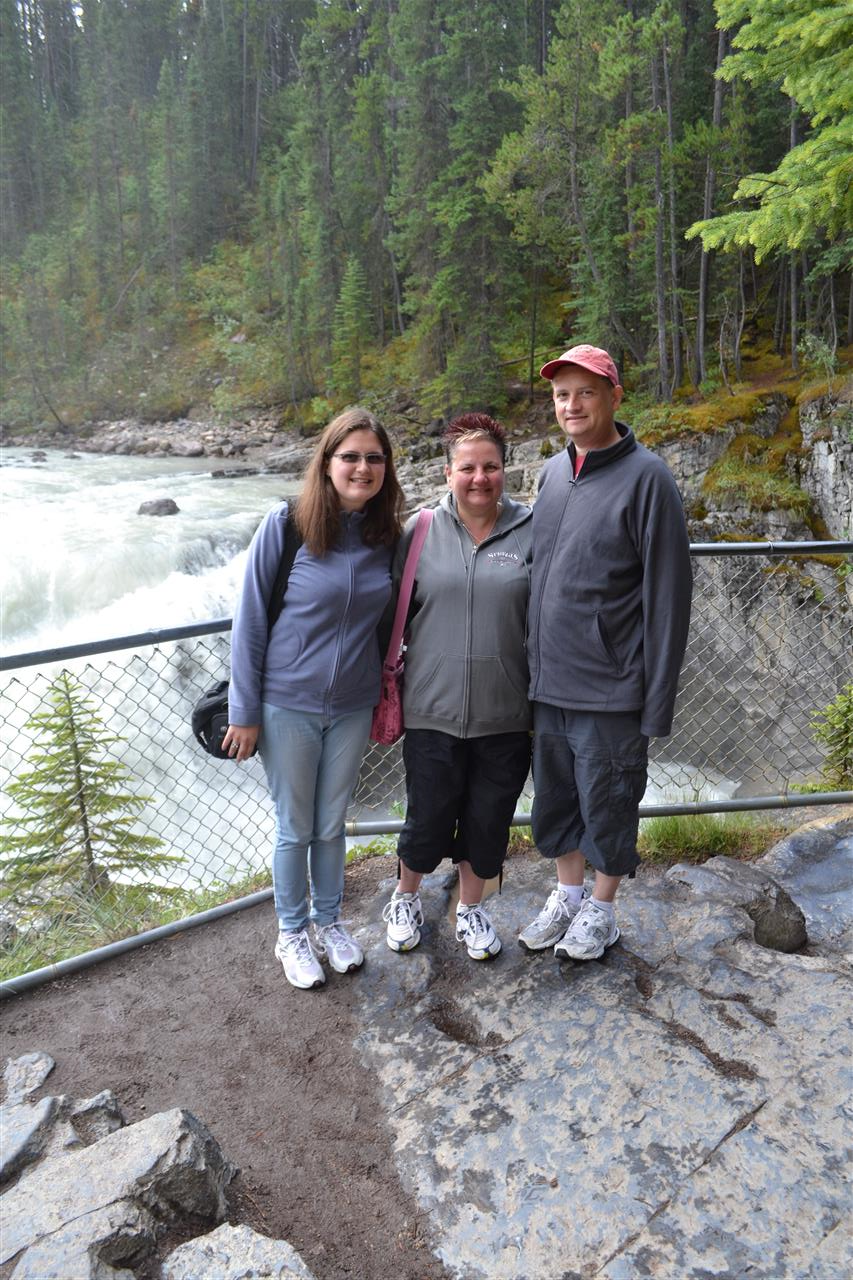 We met some nice lady cousins who took our photo.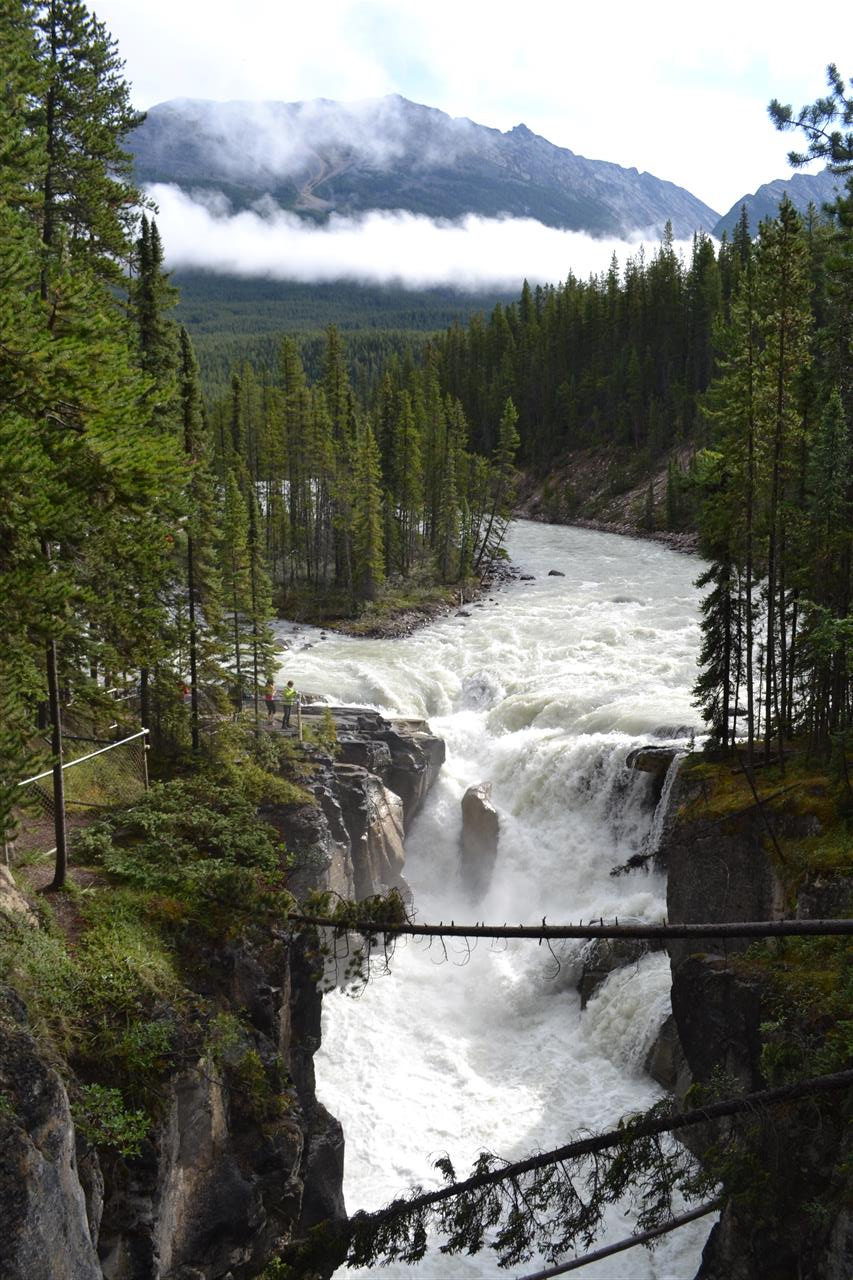 once again the violent falls create a deafening roar as they force their way downhill. Carving the landscape to suit their path.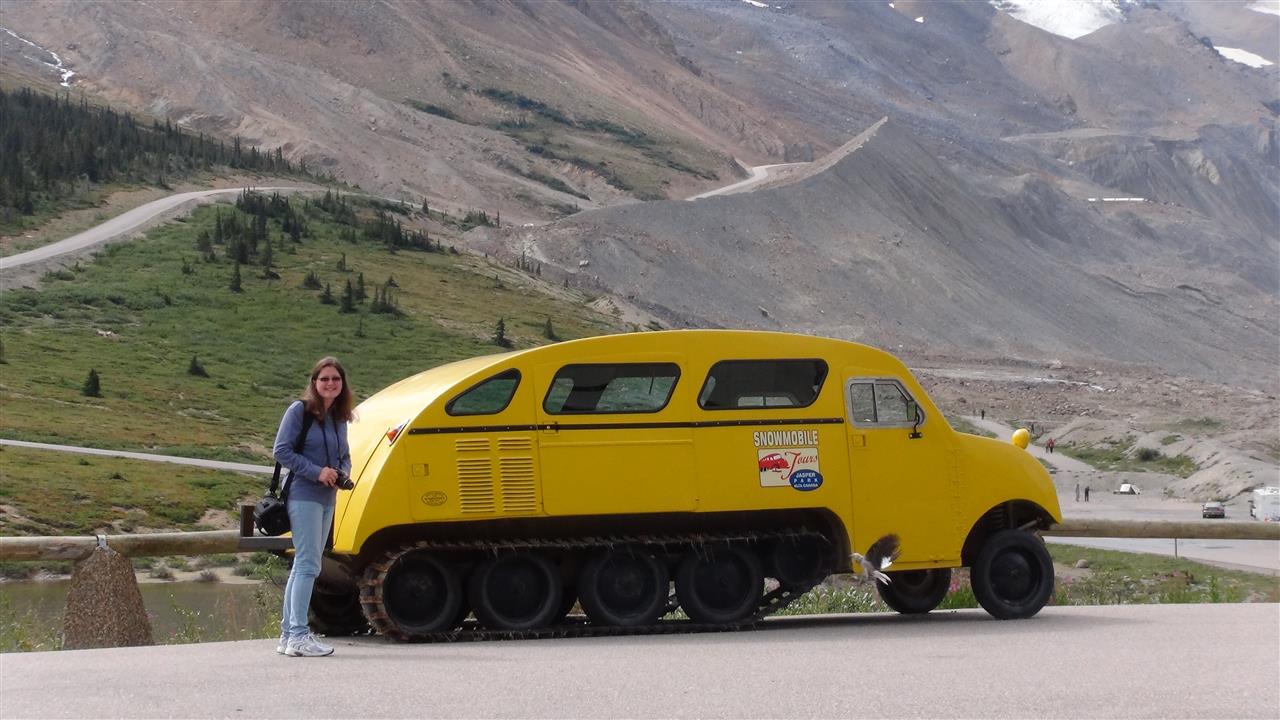 Hollie poses next to an original 1920's Ice explorer, built by snowmobile.
We took a regular bus to The Athabasca Glacier, we changed buses & finished our journey on a 1 million pound, 1981 Ice explorer..its 6 tyres inflated to 15 psi..each tyre 4'6" by 3'.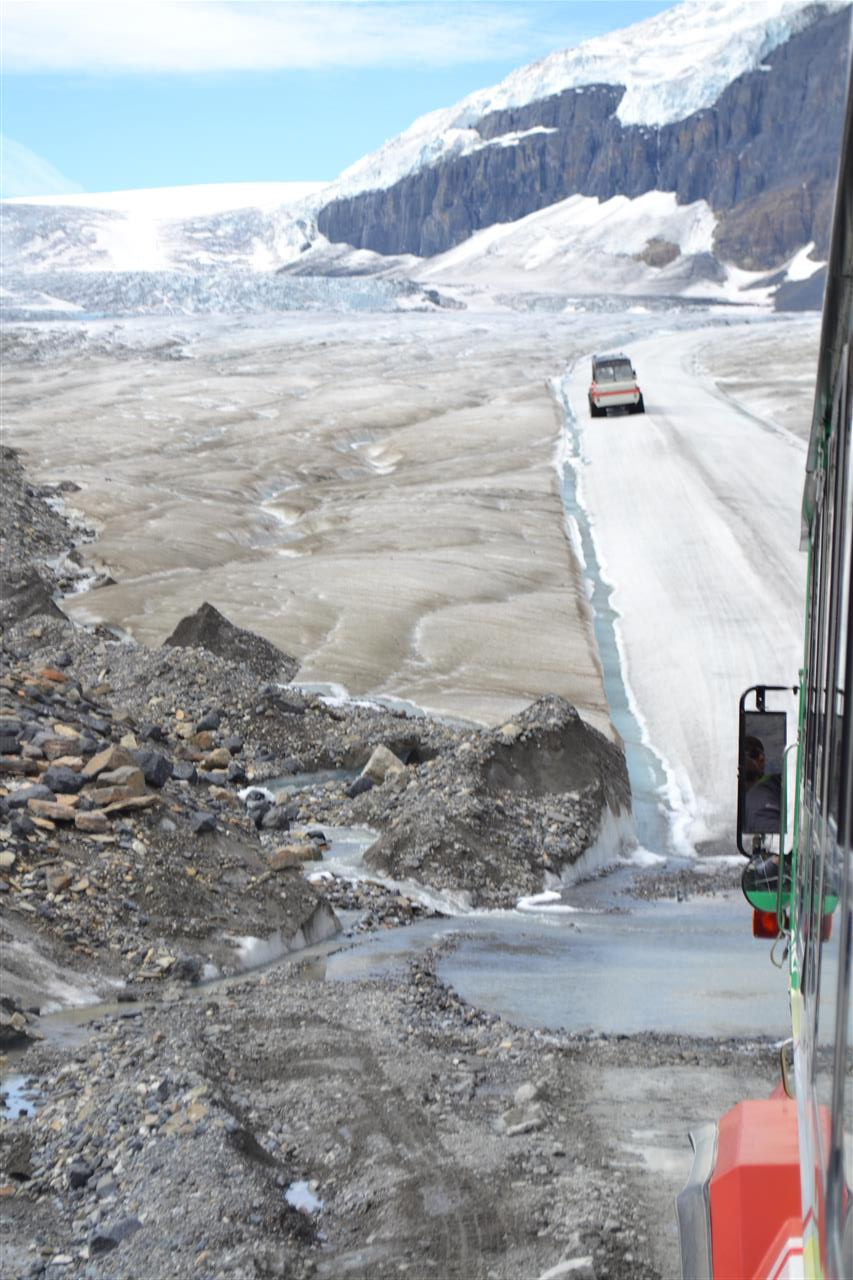 The vehicles are well able to cope with the 35 per cent gradient of the gravel road, which is laid over a 50ft thick slab of glacier.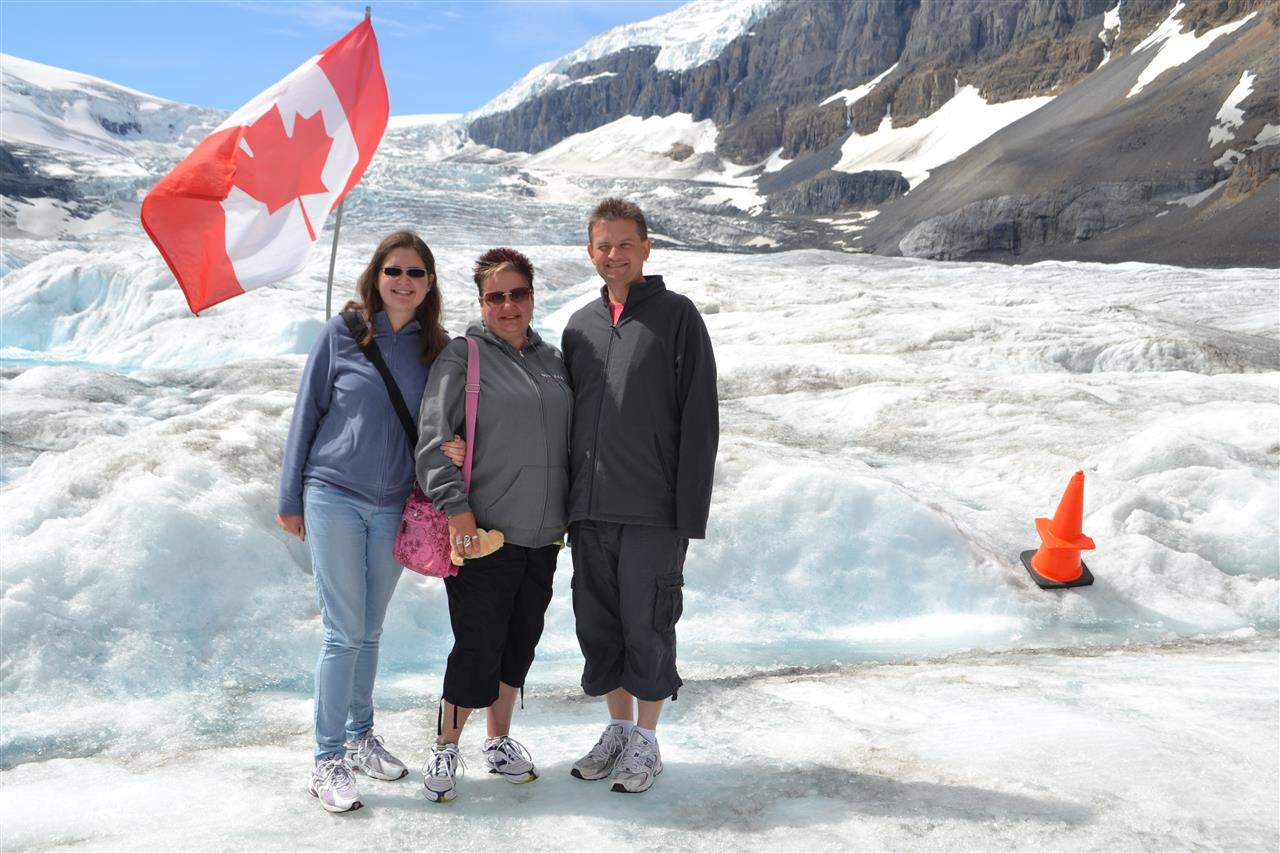 The Veck / Marriott-Veck family claim this glacier for Canada!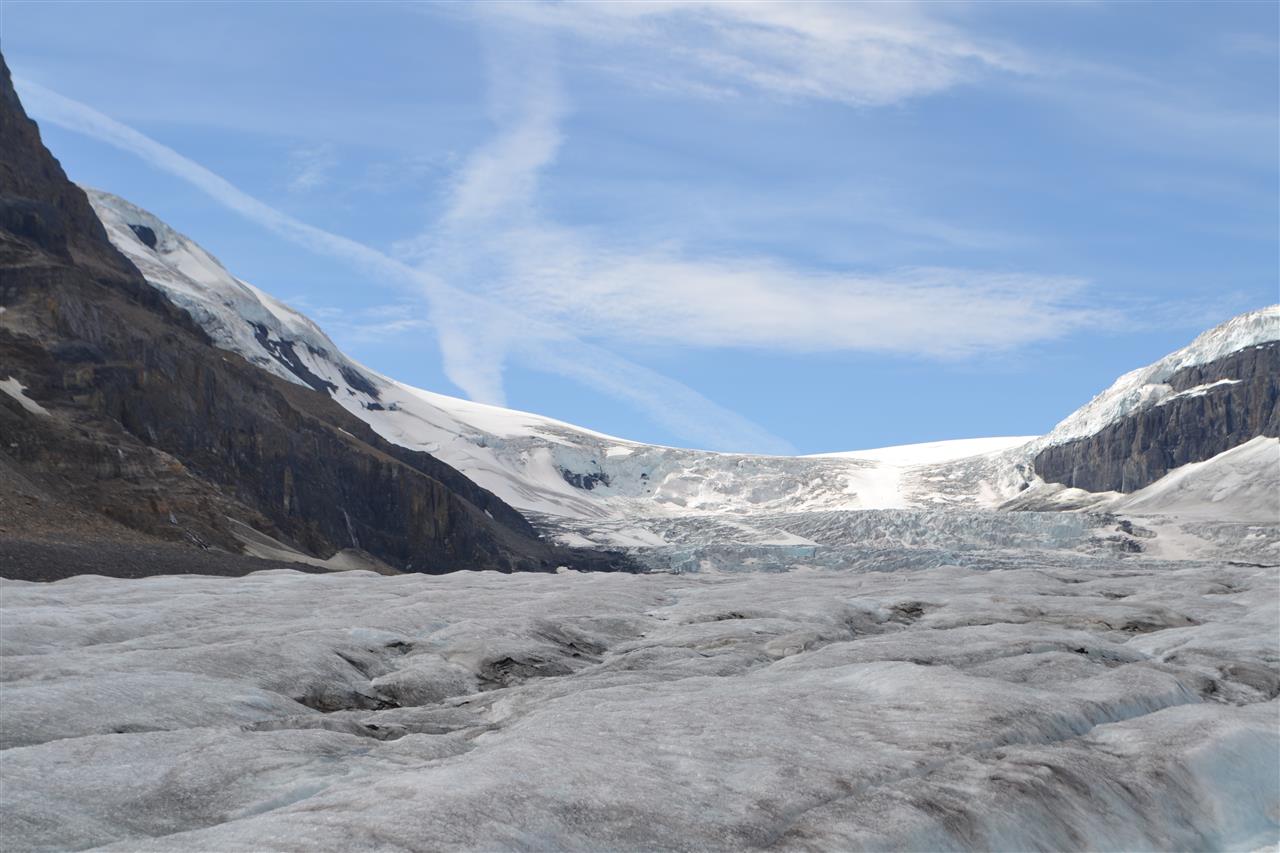 The glacier is shrinking and it is estimated that in 125 years it will be nothing more than a pond.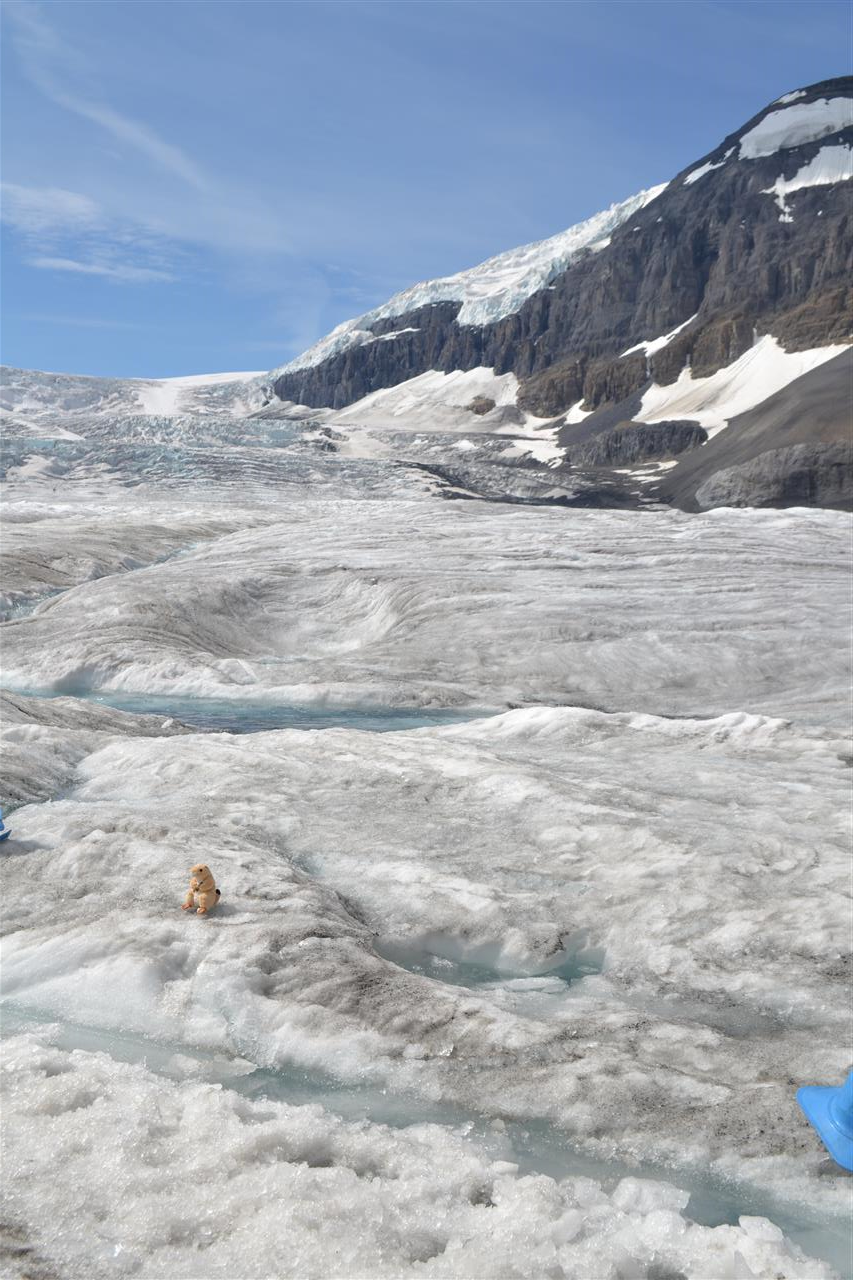 Damned Meer cat / Prairie dogs, have begun to invade this icy wilderness.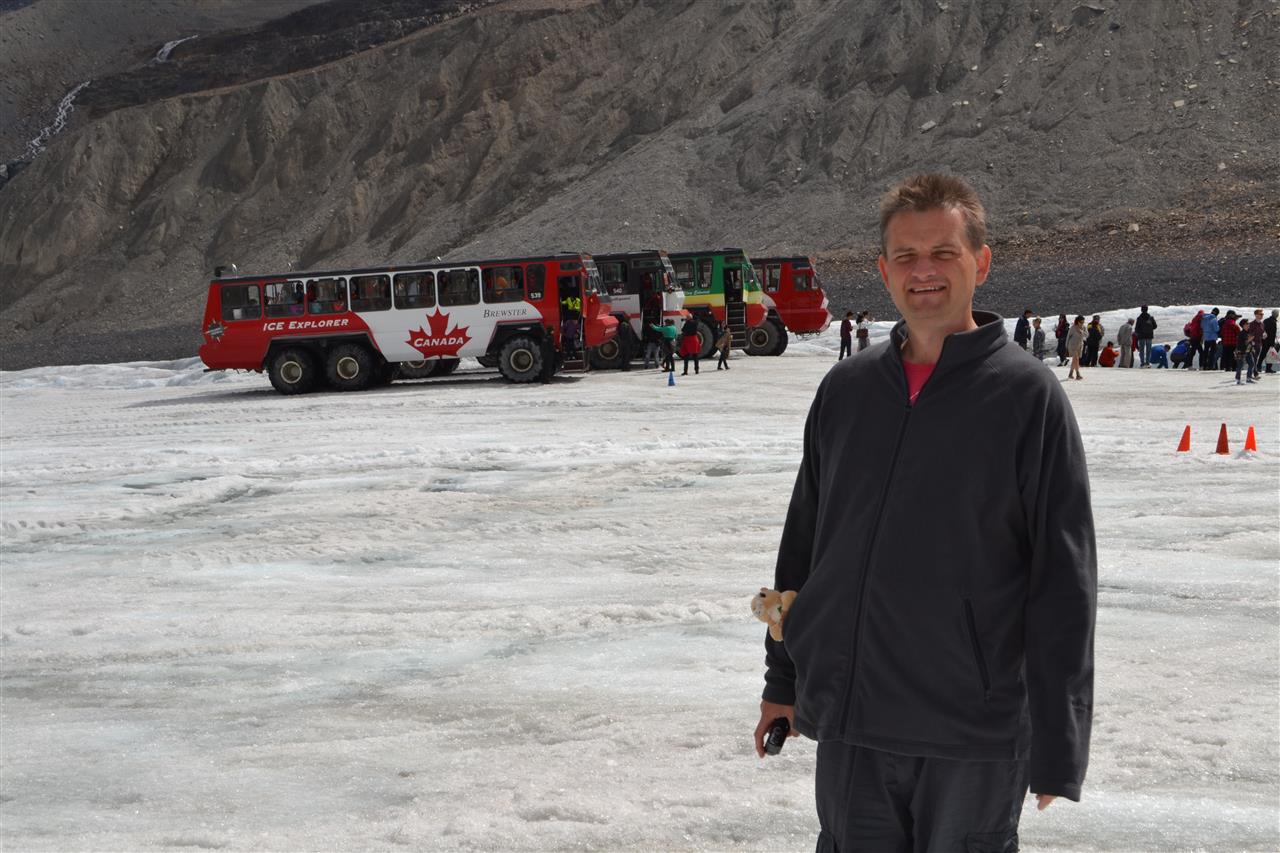 Ours is the explorer with the Rasta paint job.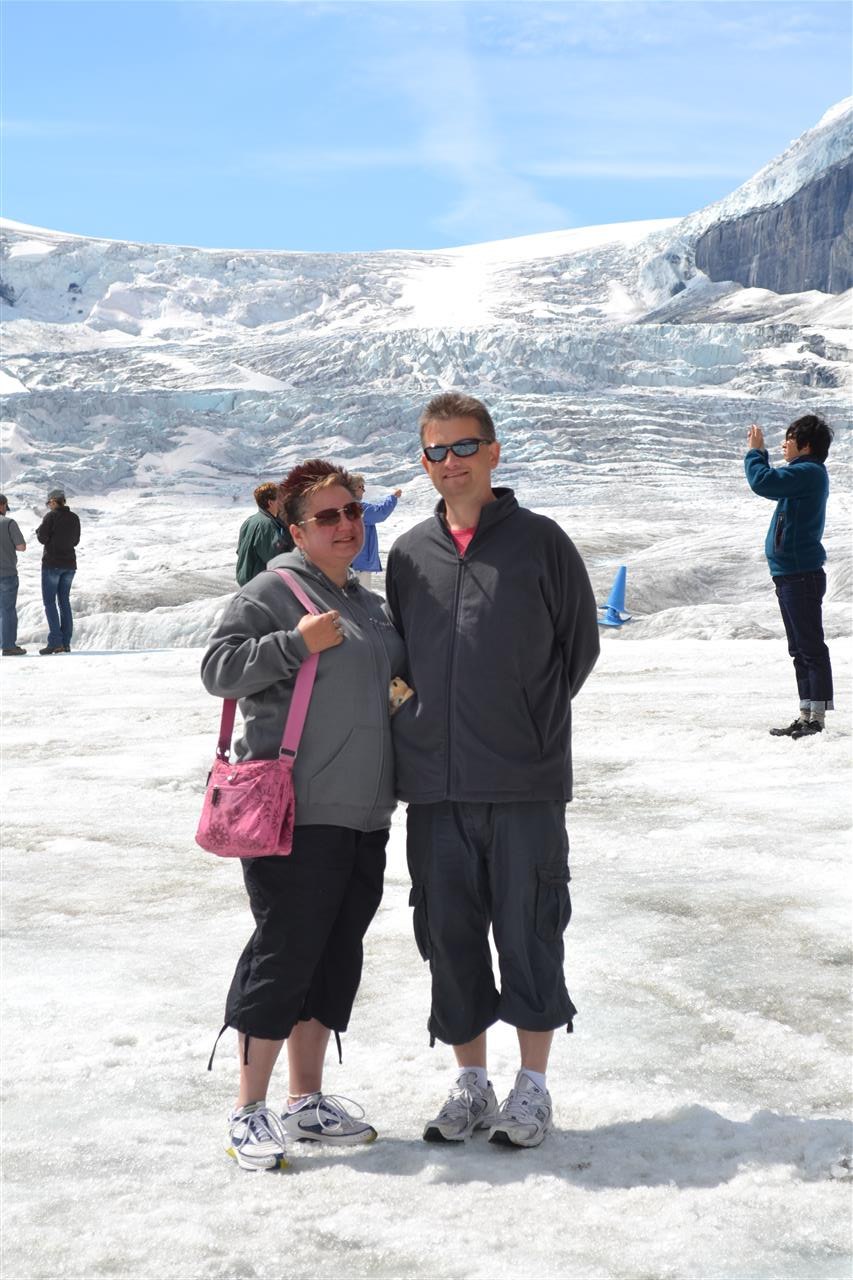 We loved this part of our adventure..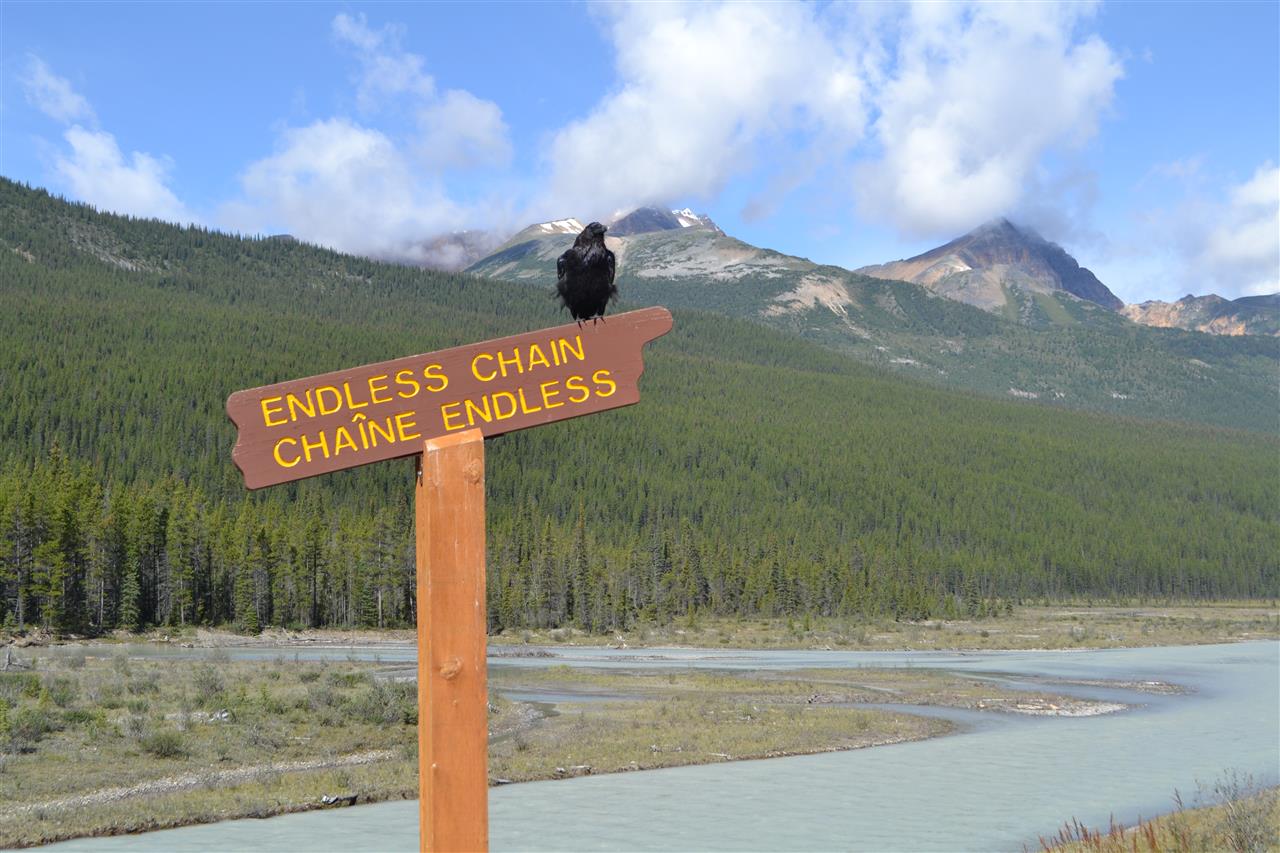 Now for the animal feature, brought to you by Blackie the signpost Raven.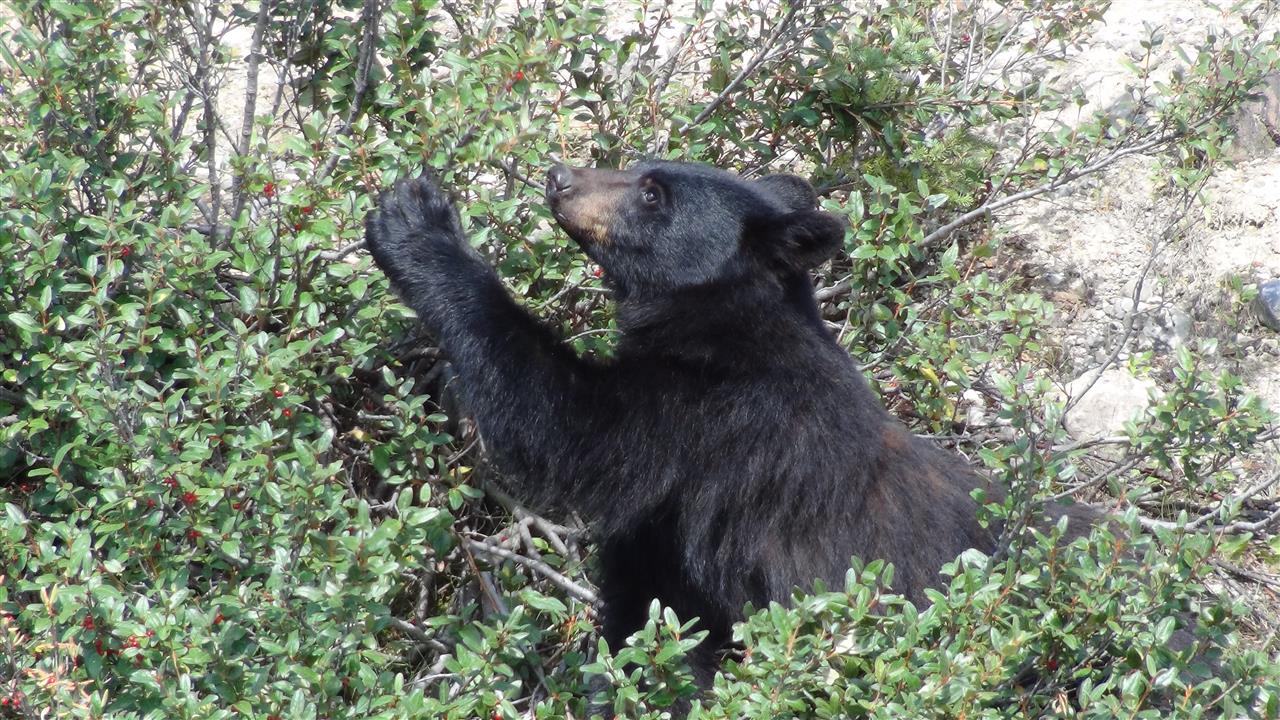 see who we found, entertaining the folks in a traffic jam he'd created !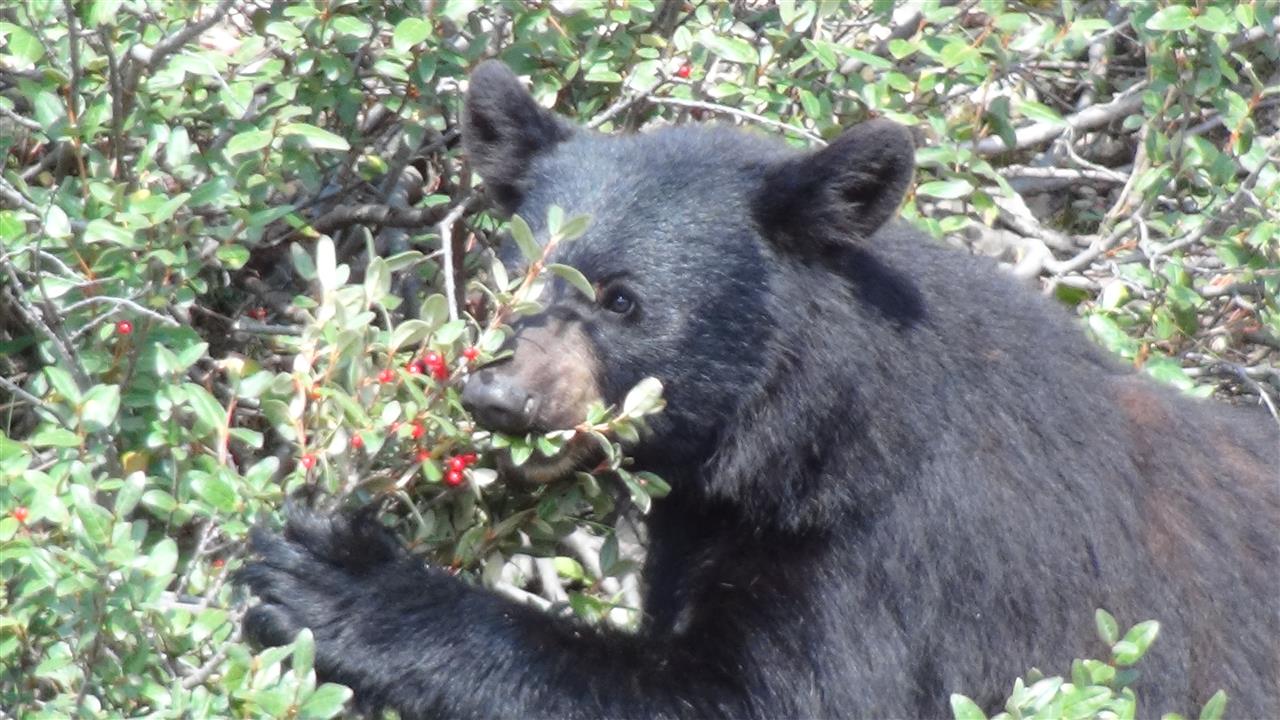 These Berries are Irresistable !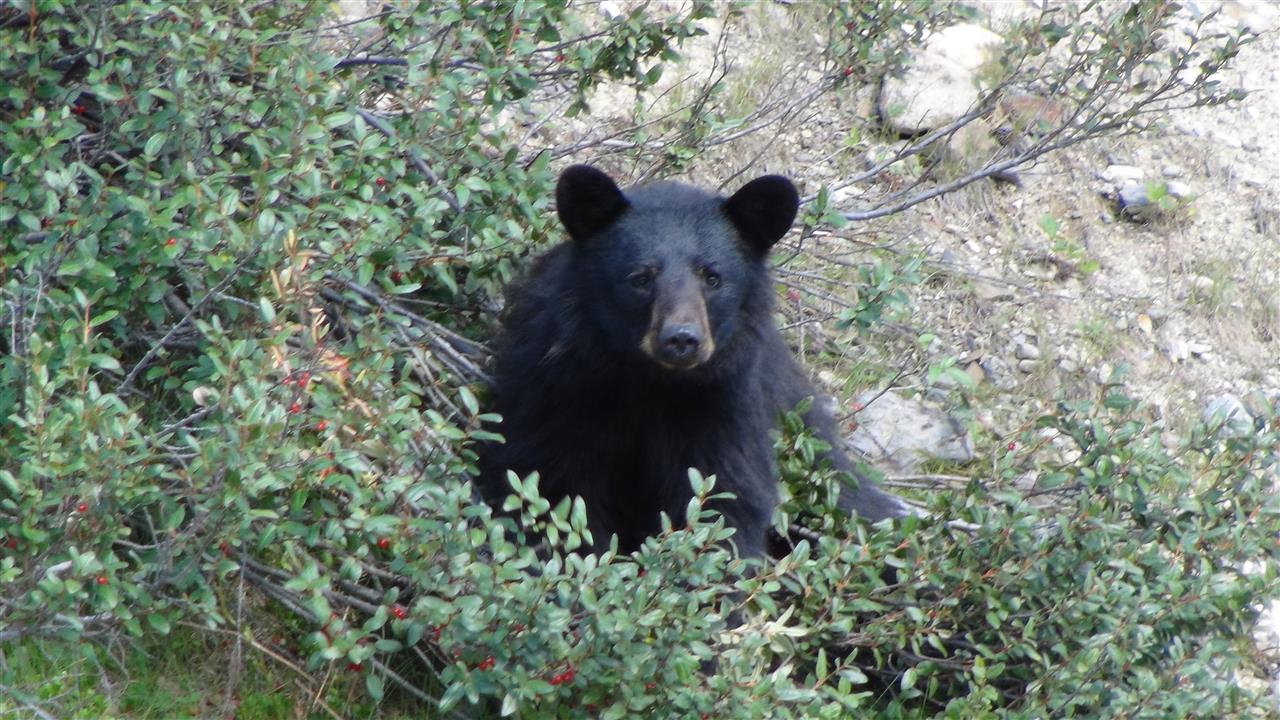 Come any closer and you are desert.
Dinner in The Red Diamond Chinese Restaurant..Best meal yet & we were ravenous.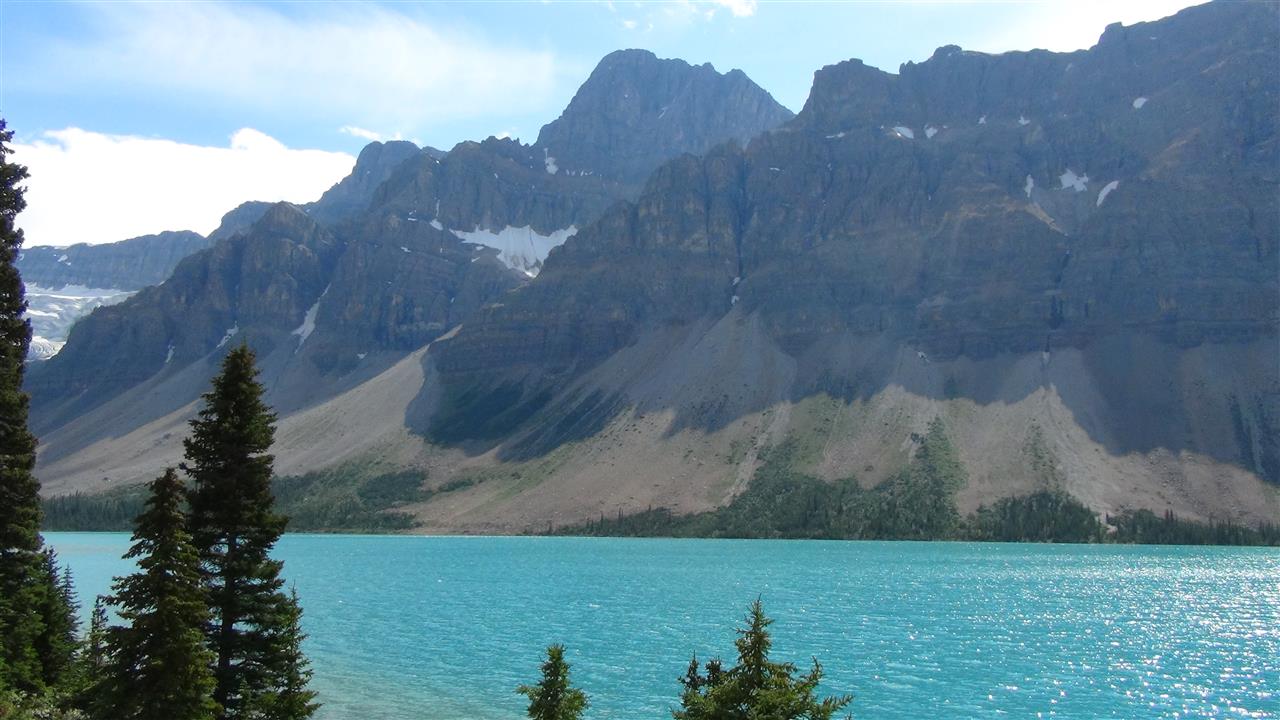 We have taken countless stunning shots in the Rockies..This is among our favourites.

Goodnight dear reader tomorrow more rafting ,so hopefully a good day xxx

Love to all & Yes Liz we have tried Poutine ( Chips , Cheese & Gravy ) yum
---
Day 18 : Kicking Ass on the Kicking horse..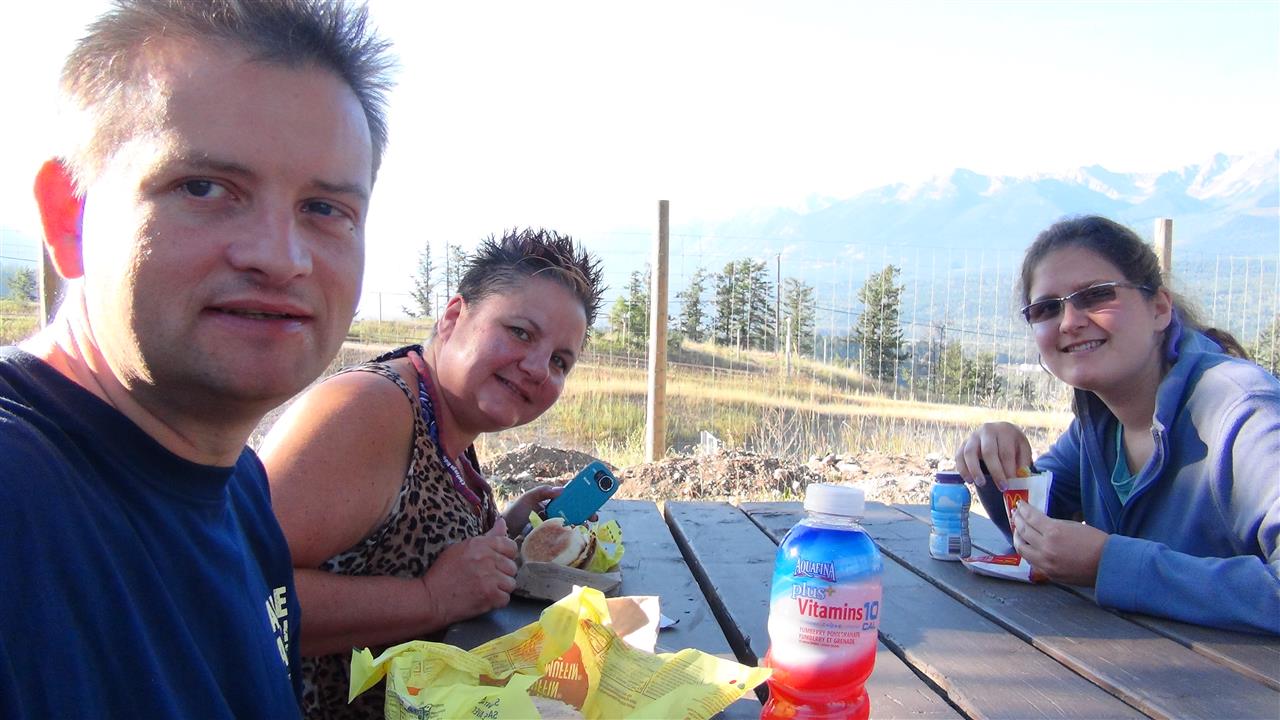 Up at the crack of stupid o'clock..we left the 5 star Rondo truck stop/motel & grabbed a Mc Breakfast to go!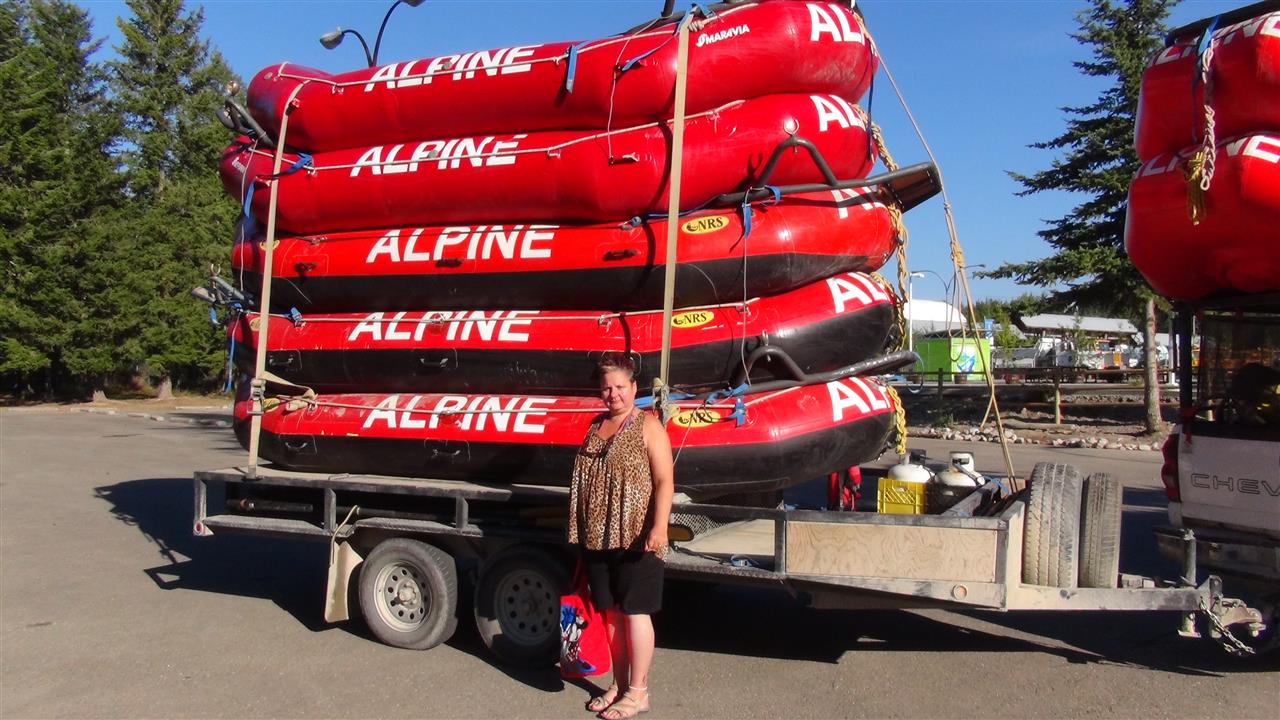 Our boats arrived..For our white water rafting trip on The Kicking Horse River.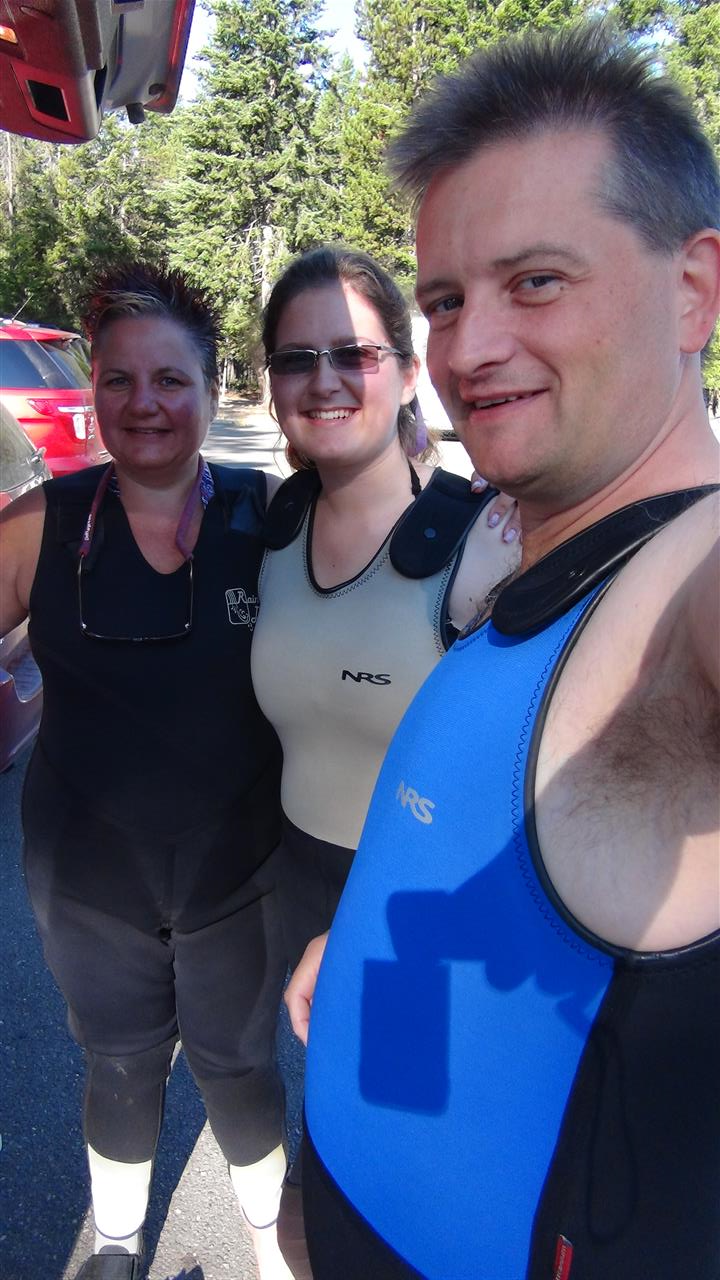 British Columbia was treated to Me ,Ian & min in wet suits, boots & Splash jackets.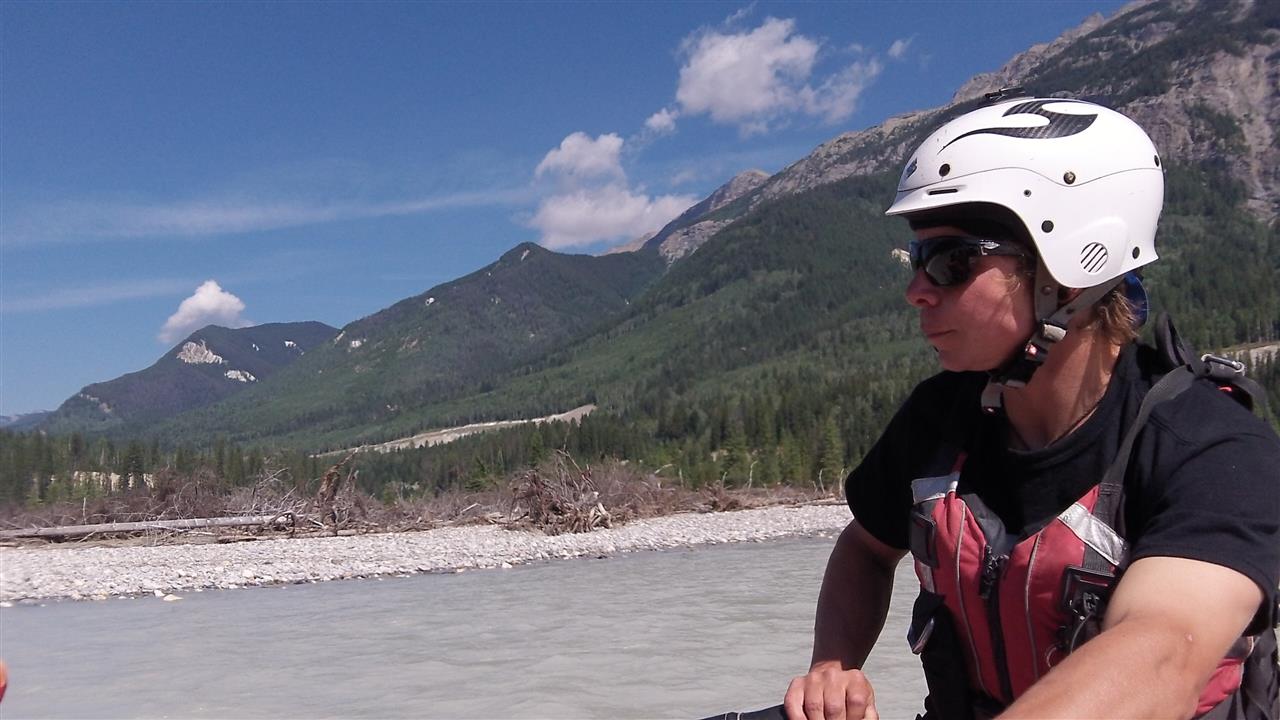 Our competant guide "Simon " from New Zealand, kept up the banter..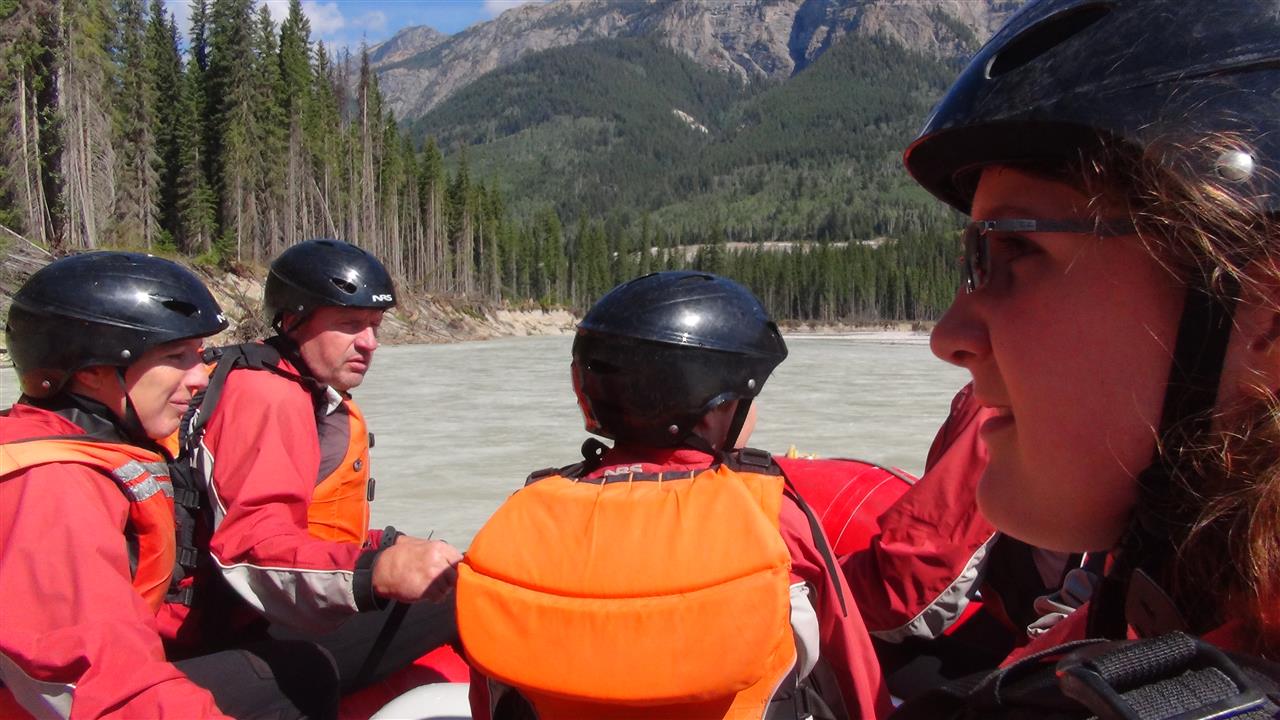 We were accompanied by a German family & Mark from Glasgow..Simon thought Hollie was by far the best oarsman & promoted her to front of the vessel, for the second, harder part of the voyage.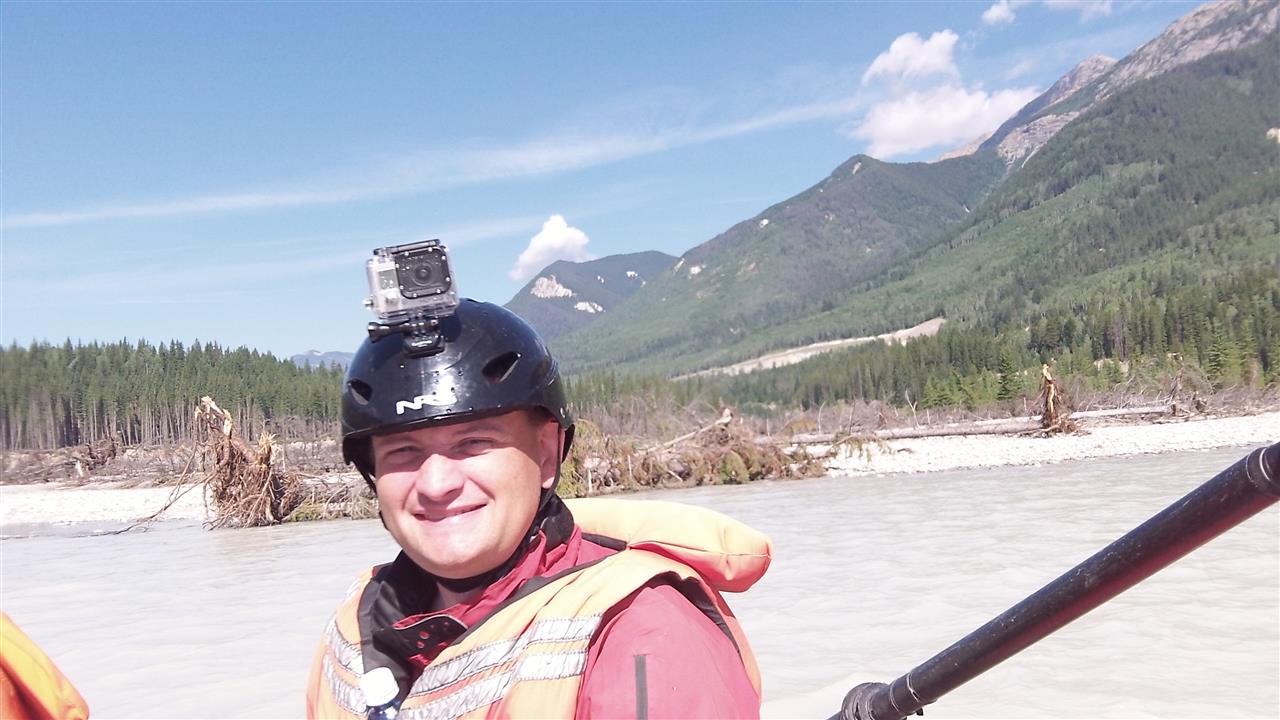 Ian hired a " Go-pro" head mounted camera. We hope the footage will be great ( and that he turned it off in the loo!!)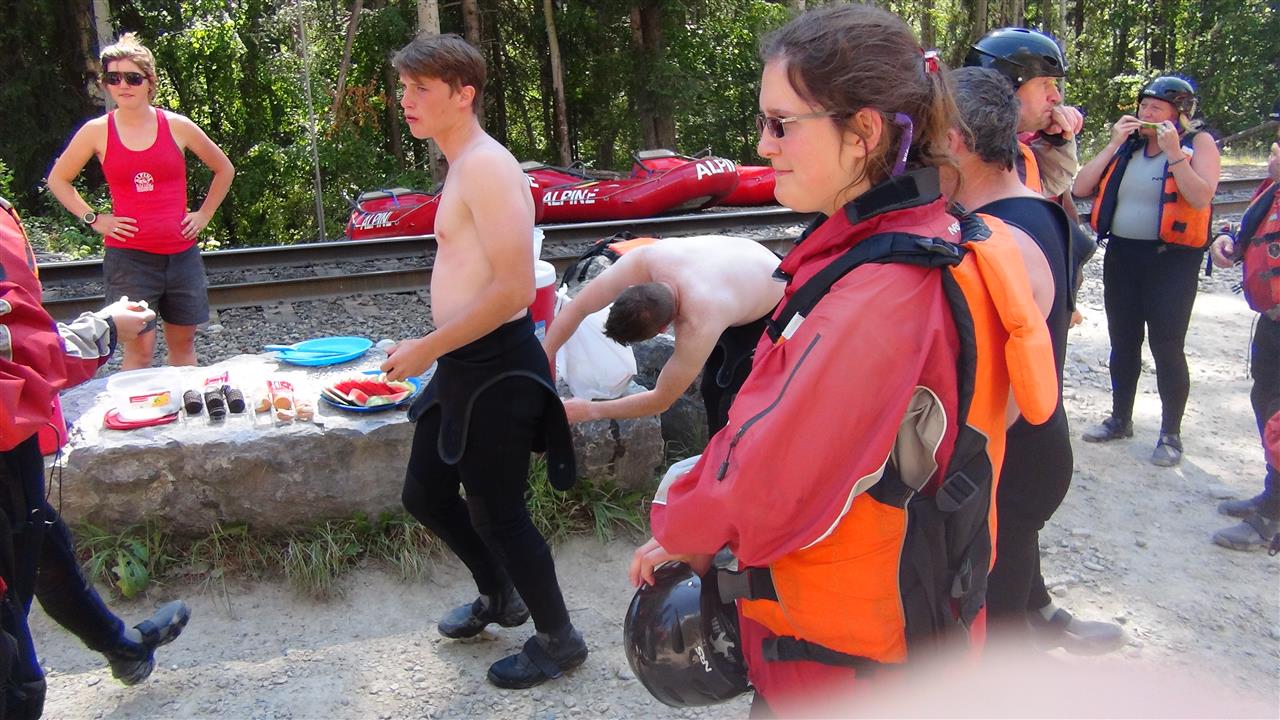 Lunch was a very impressive BBQ prepared by the guides.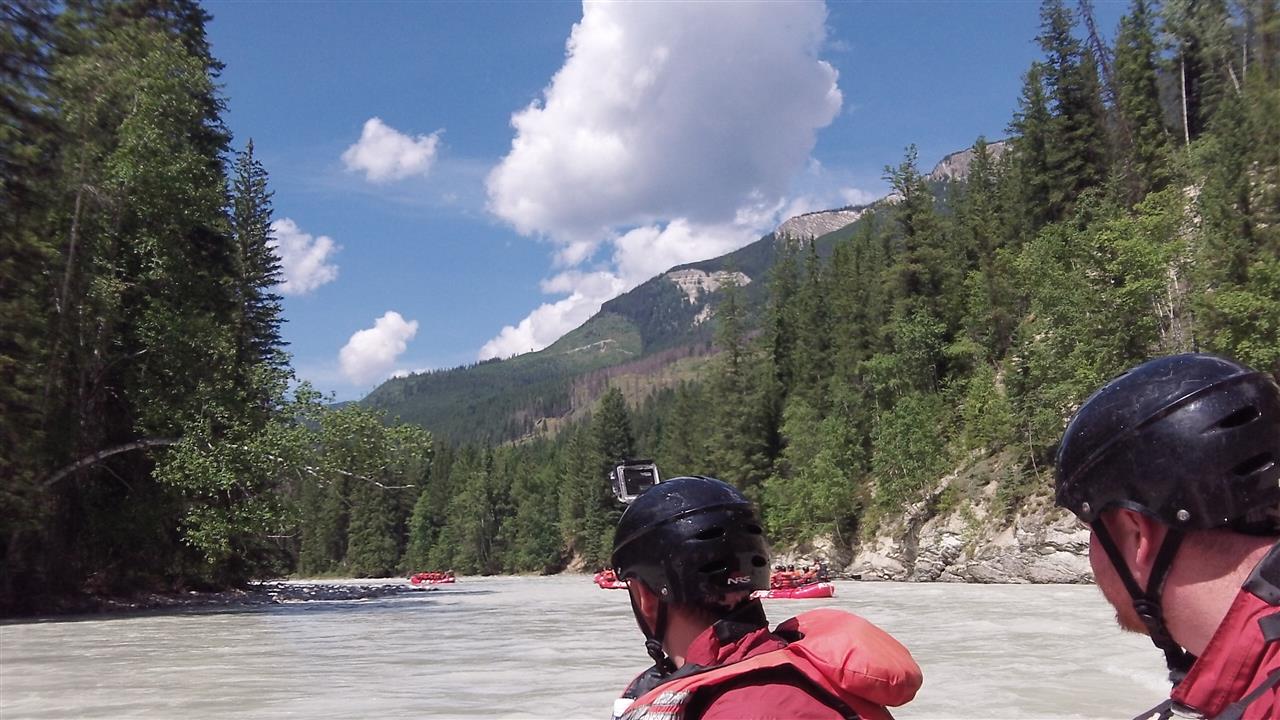 The 3 of us completed the upper & middle sections of the river..The scenery was again STUNNING.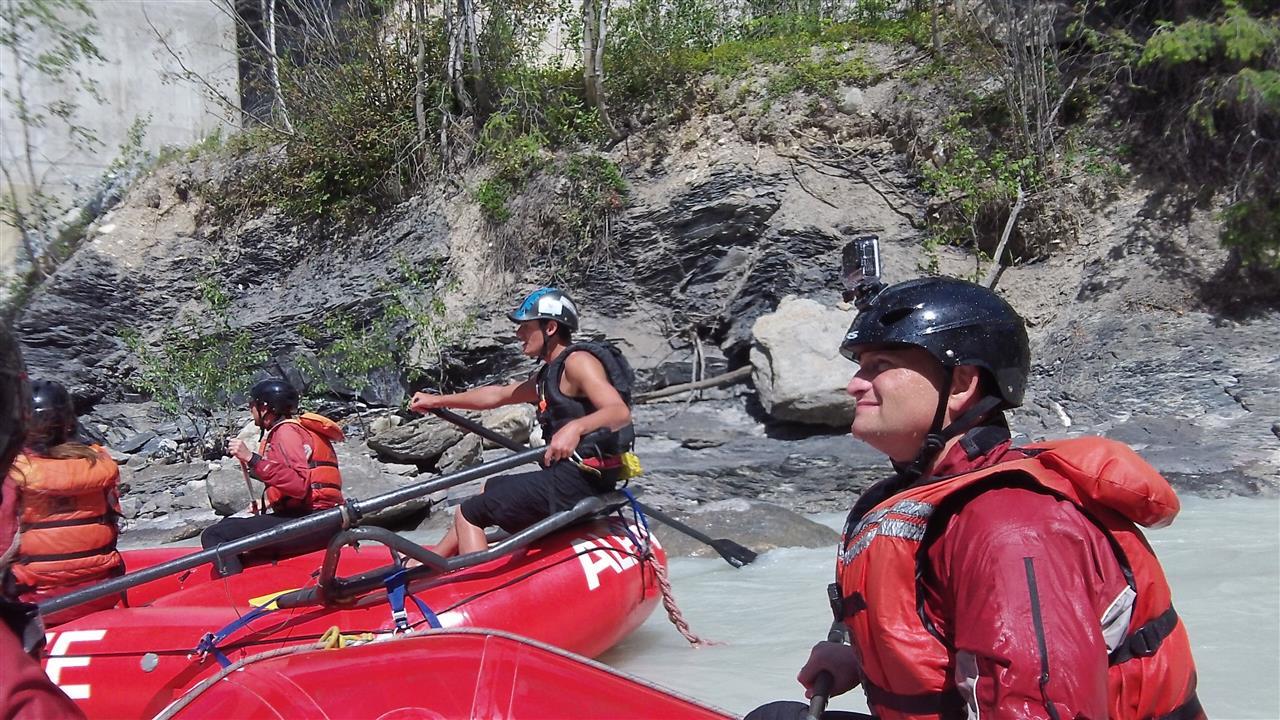 We had planned to leave at this point, but Hollie & Ian wanted to finish with a final intensive stretch of class 3-4 rapids.
I went back to the office with the less adventurous, & my elderley friend " Virginia" who at 70+ years would announce to anyone within earshot, that they KICKED HER OFF! Presumably cos she couldn't paddle fast enough.
Exhausted..Ian drives a further 4 hours to Kelowna for tonights hotel stop.

A late Burger King experience finished the day.

Goodnight noble reader, Hope all is well with you all xxx

A final message for Mr Jack Fryatt ..Whilst we don't have any pics of Ian in my pants, we do have one with me in his!!
---
Day 19 : Whistlers on the Kettle railroad.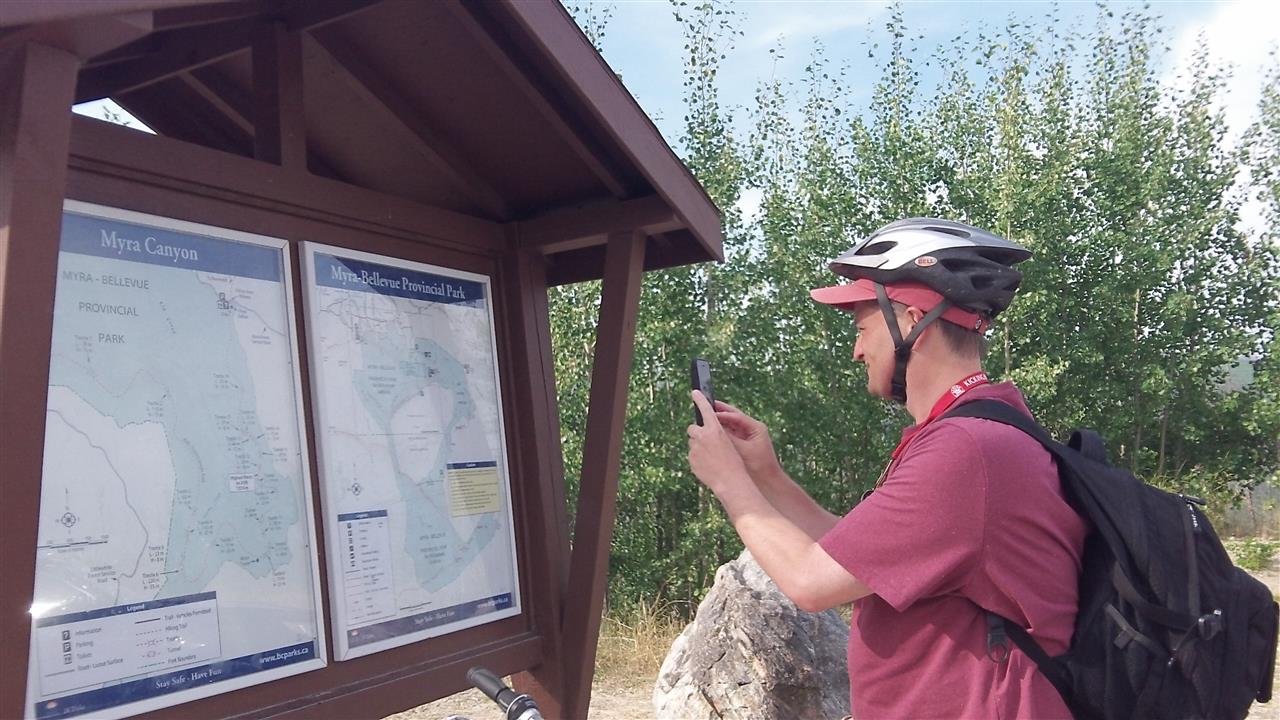 We would have loved an easy start to our day at Kelowna's Accent Inn, I missed a go in the Laundry & a swim in their lovely pool..
Another crack of dawn start, off to cycle the kettle railroad..The only instruction " follow the straight , flat railroad" Ian took a pic anyway.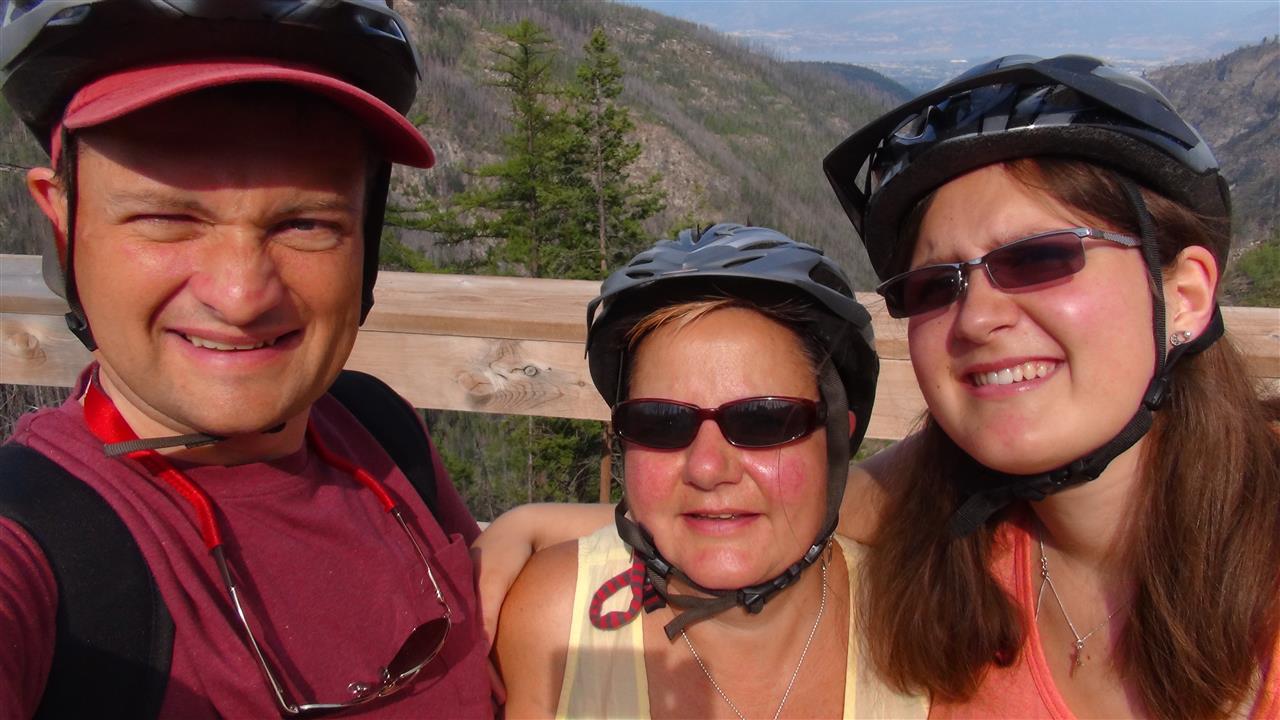 3 Super fit cyclists we met!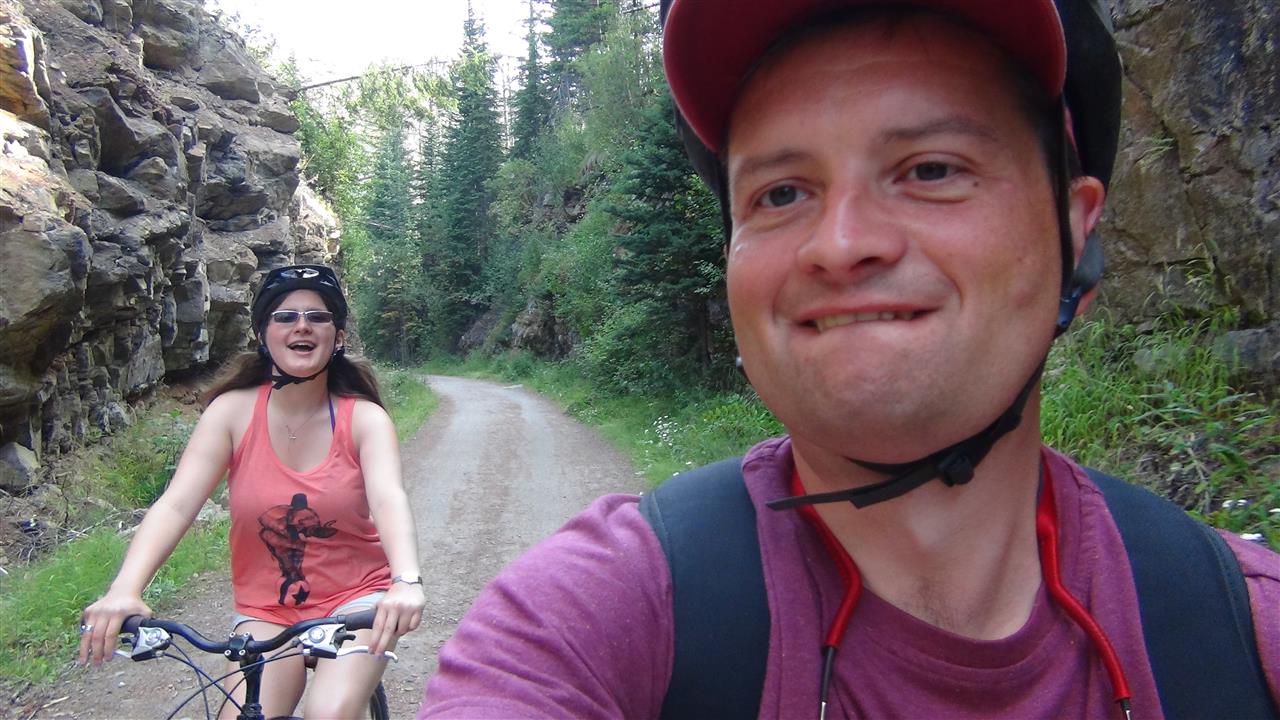 Ian looks like a gnome!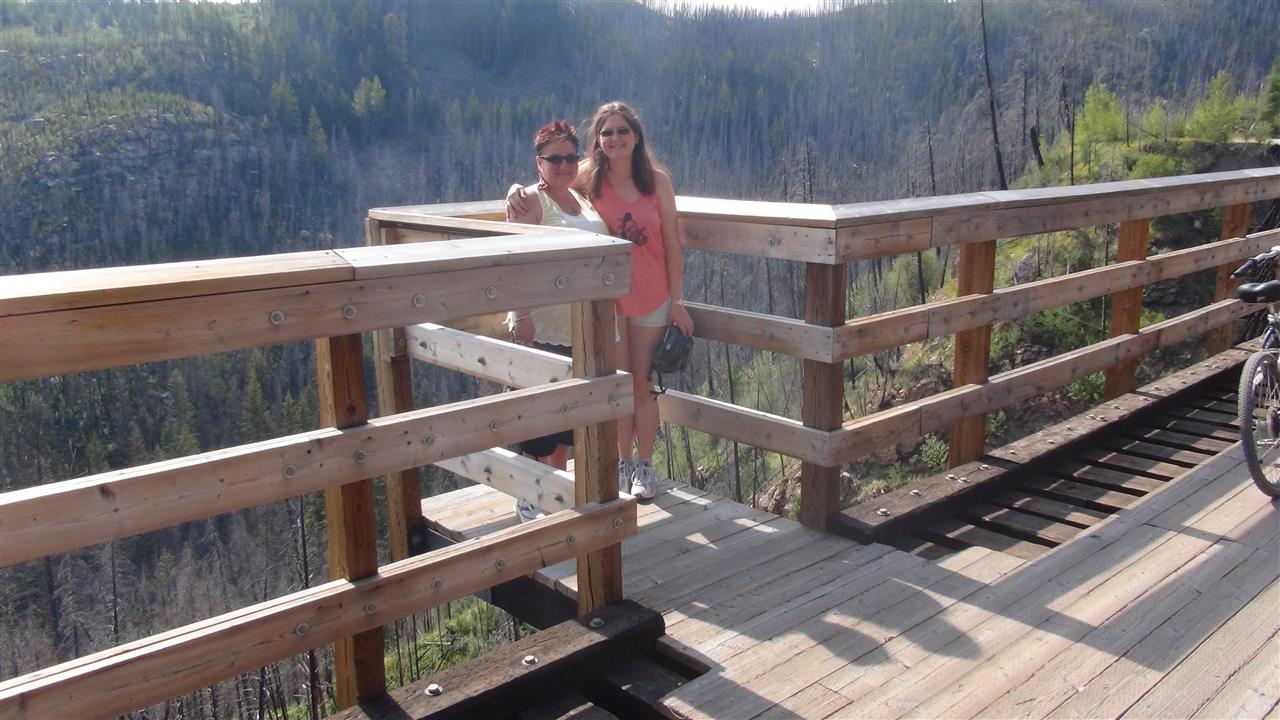 The route has been lovingly restored by a local restoration society, they added these usefull pull in / view points.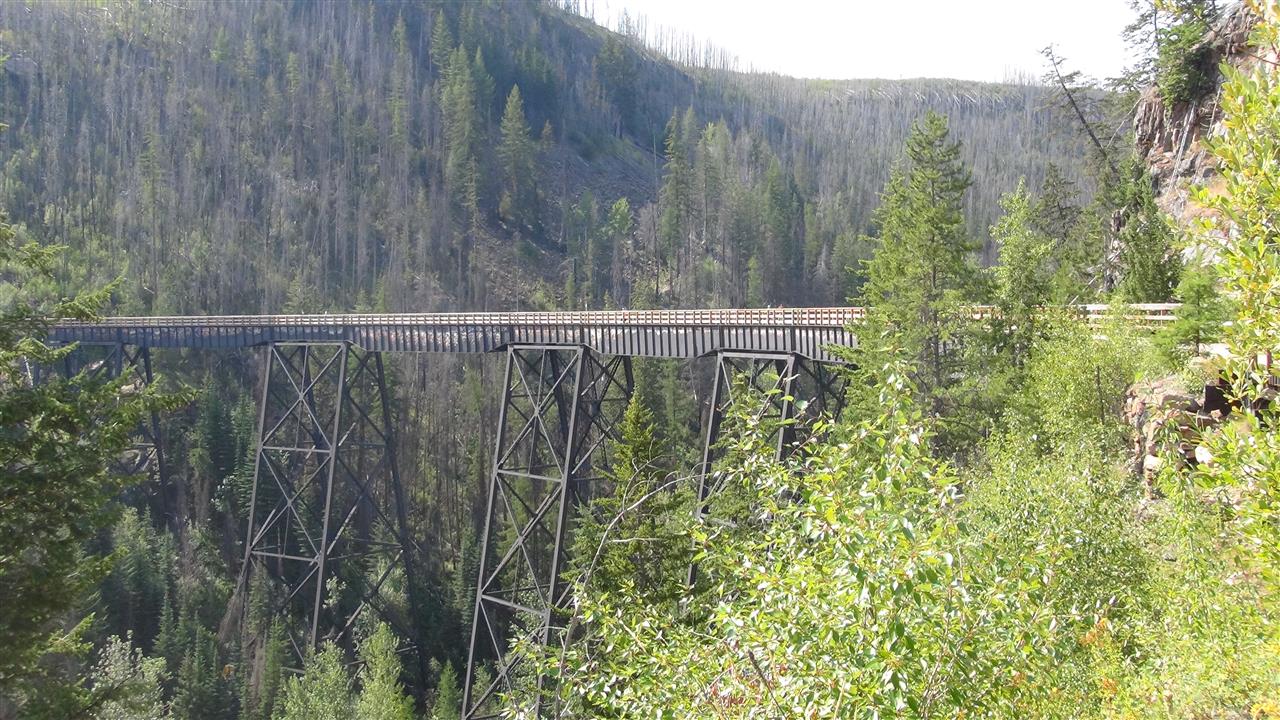 Just to scare you guys... these are the trails we cycled across. We could see them behind as we cycled on. They are the remains of the tressles of an old railroad track :)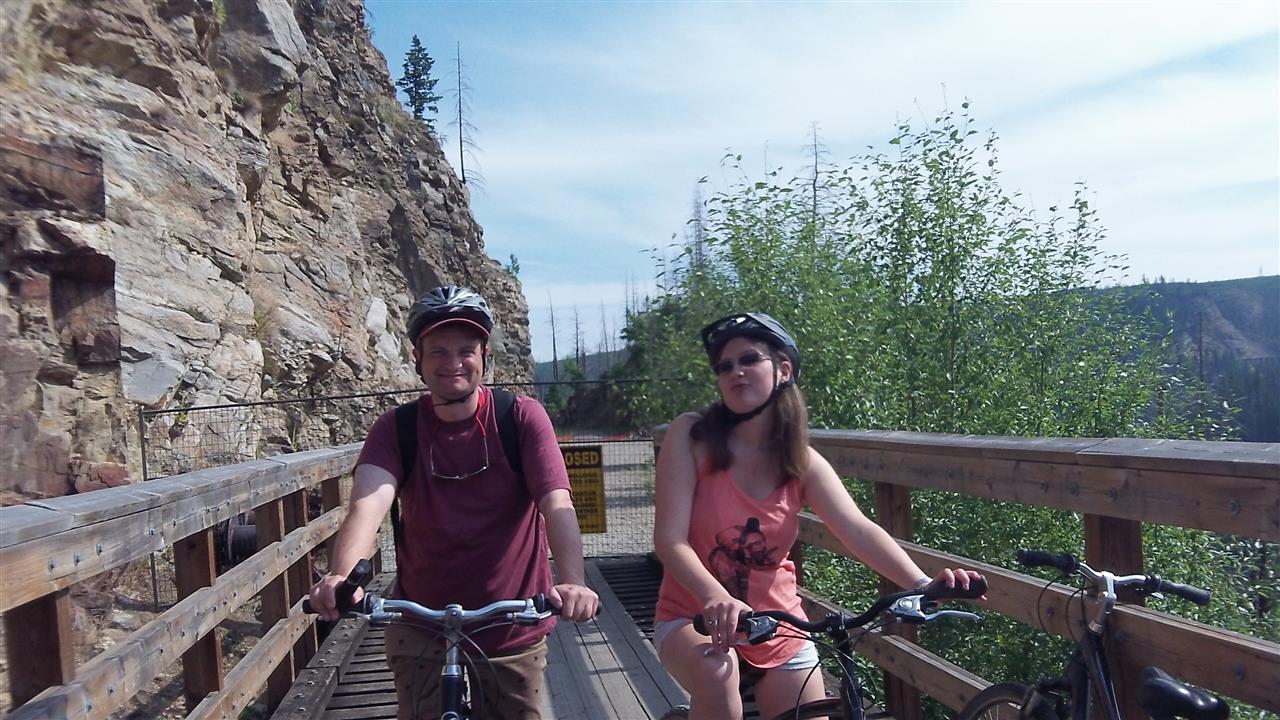 Min & Ian reach the 7.5 km point , time to cycle back .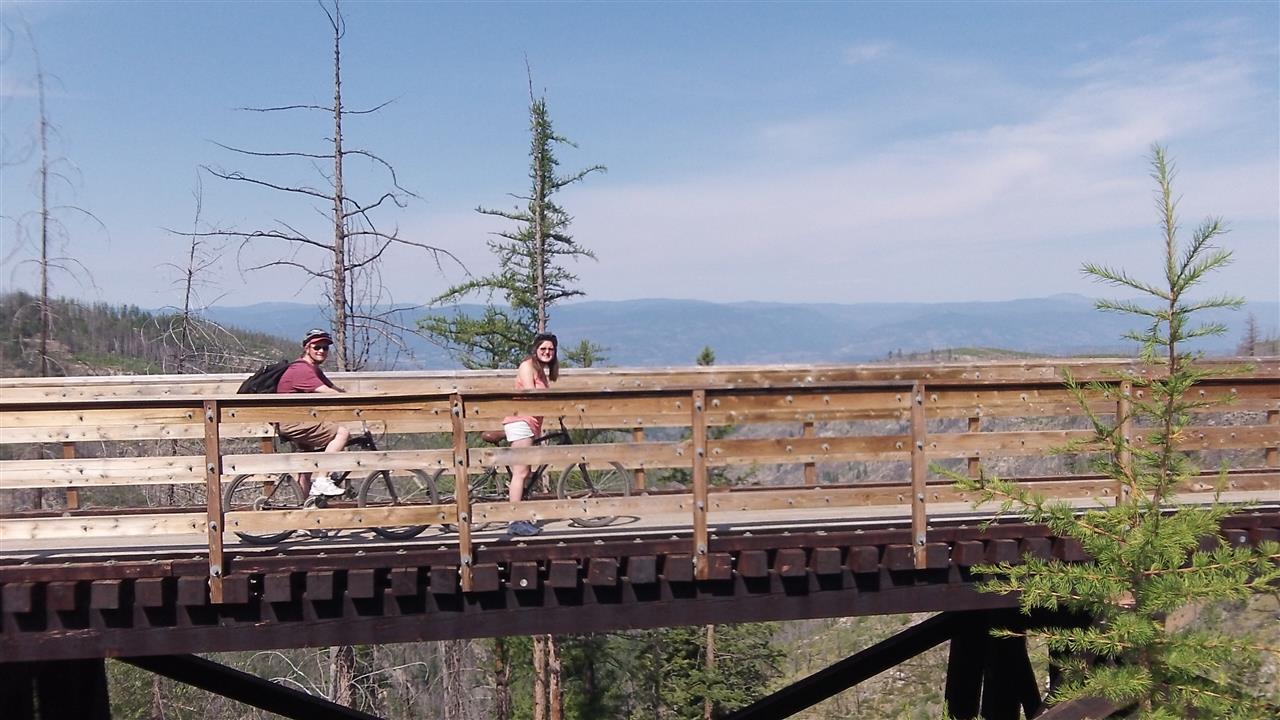 My intrepid explorers risk life & limb xx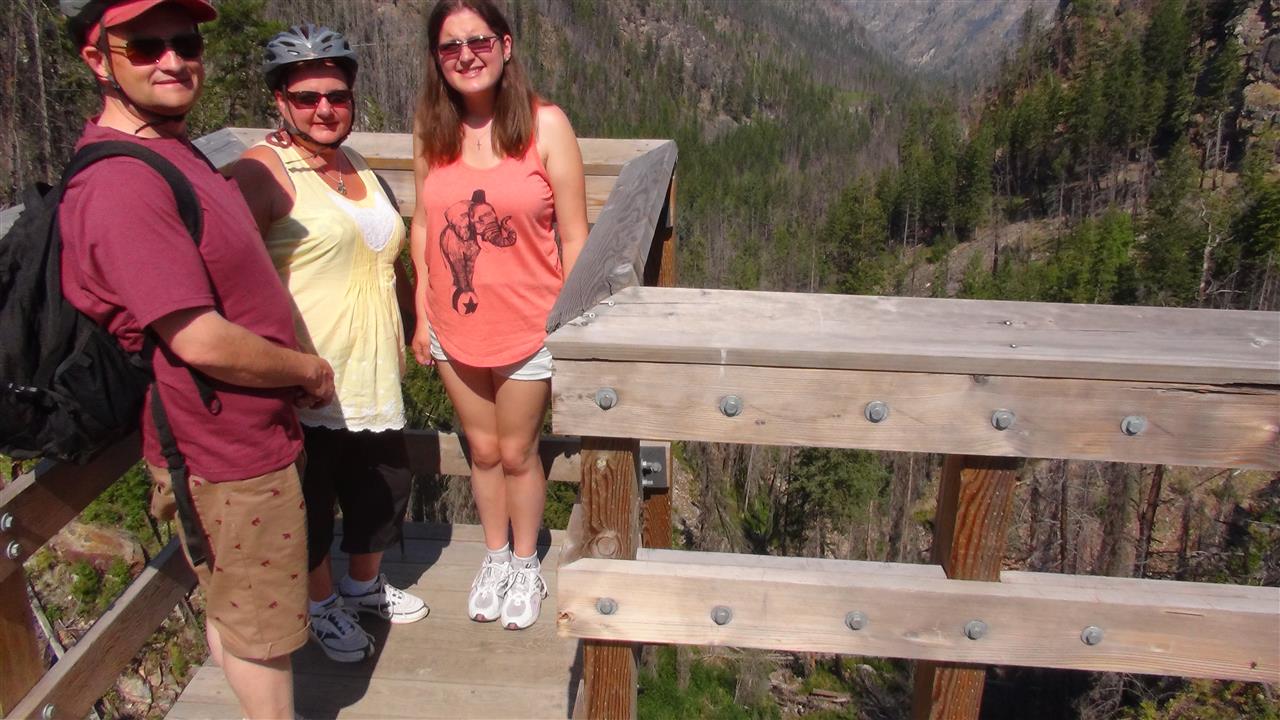 A nice older man took our photograph, he had a lovely doggy too... However he clearly didn't realise Ian had a head!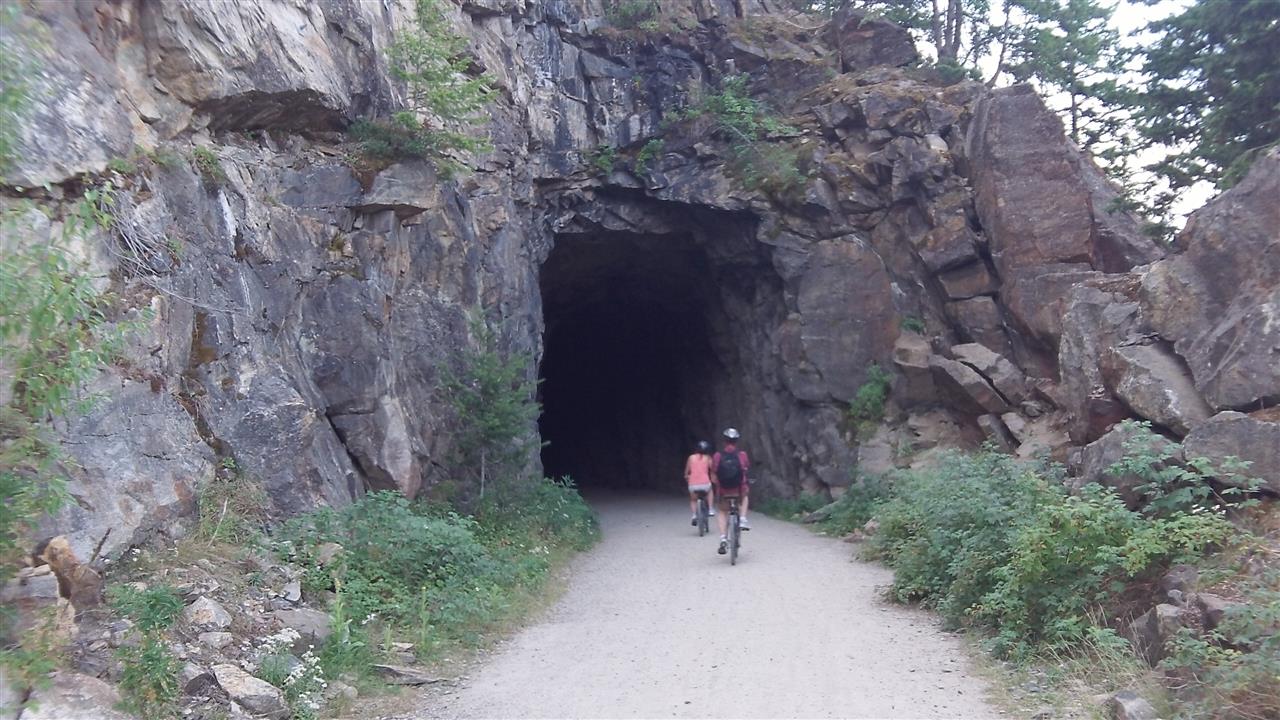 The trail sent us into a spooky tunnel which mum insisted on making ghost noises in to try and scare us in... However we could see light at the end :P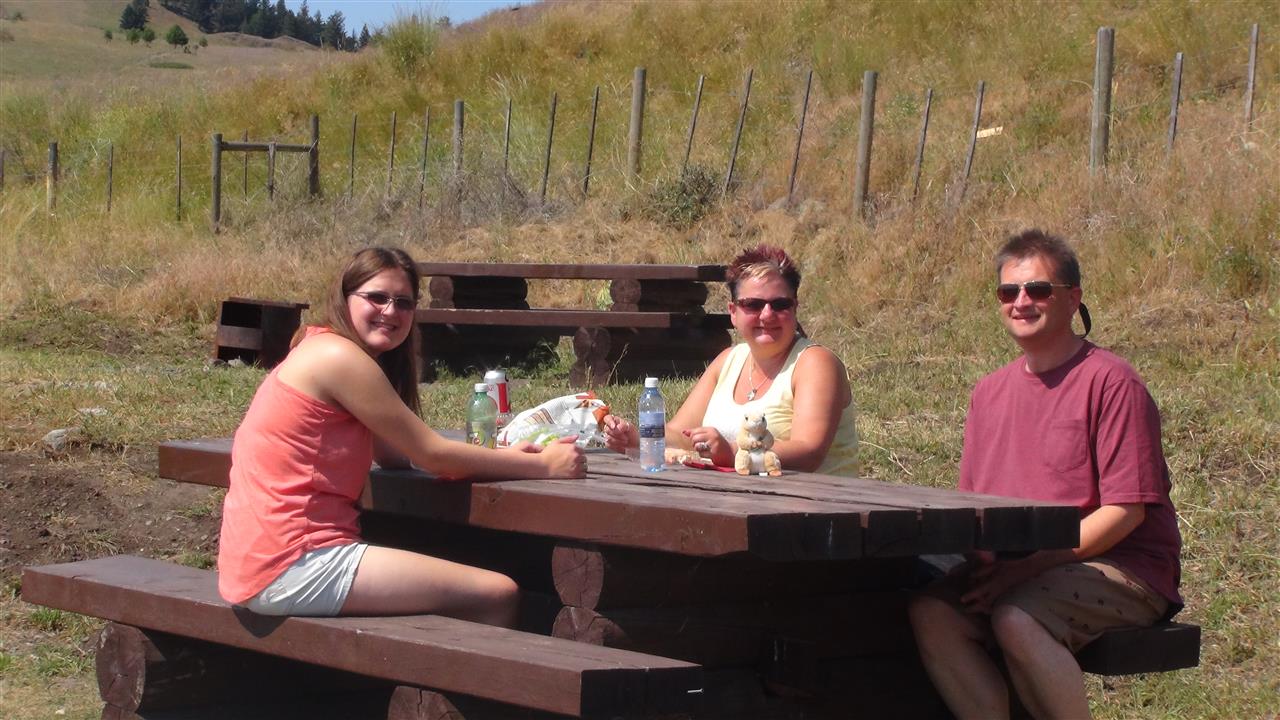 A picnic at Marquart Lake with the local meer cat/ prairie dog population.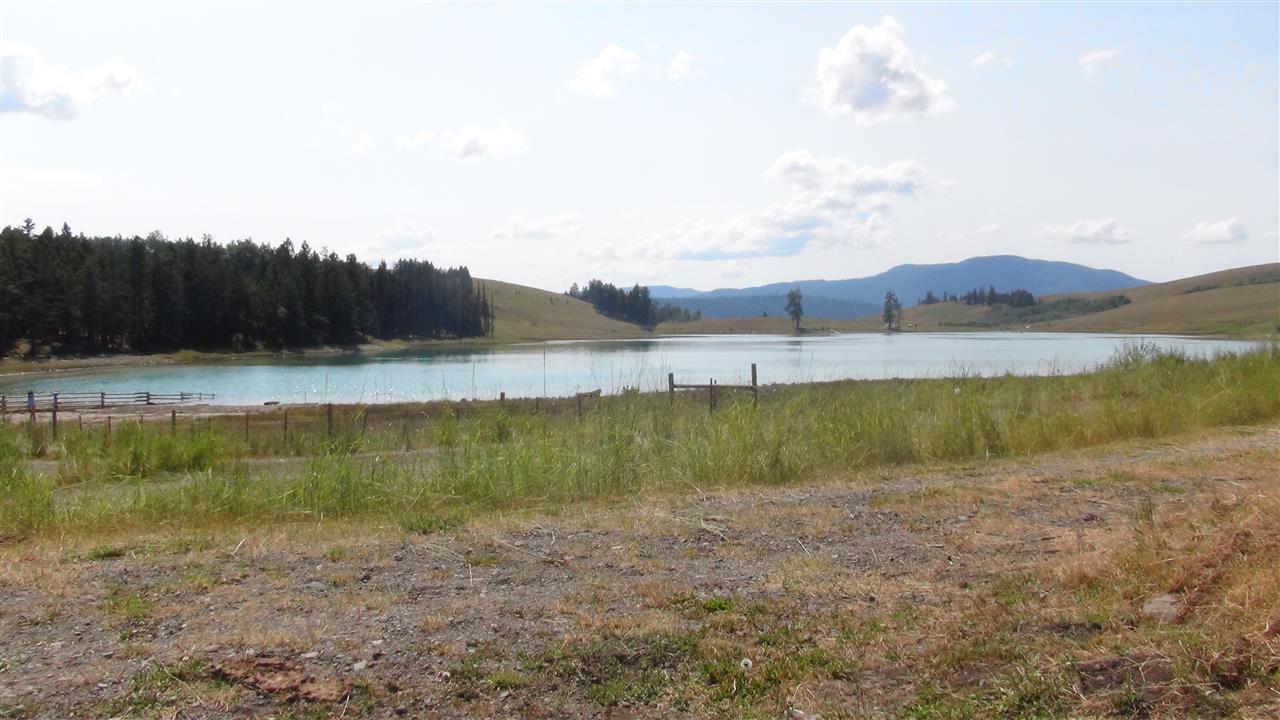 Marquart or Mosquito Lake!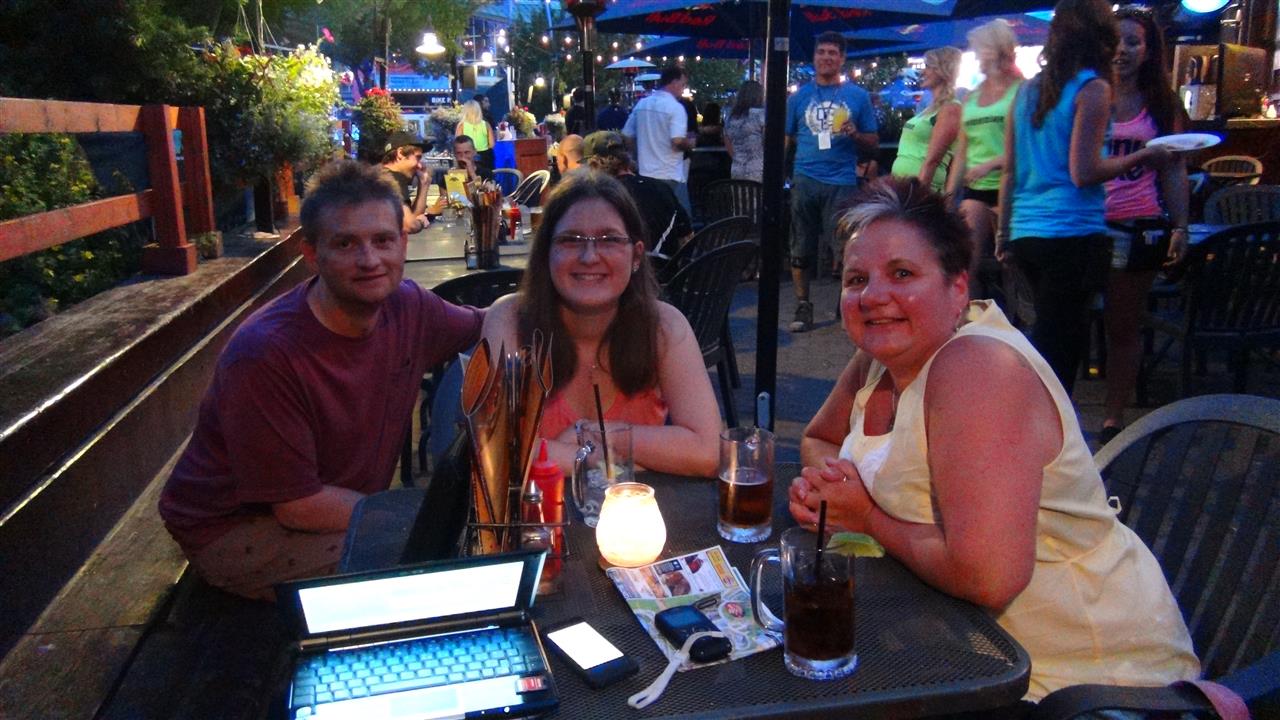 Another 6hr+ drive & Ian gets us to our ski house in Whistler.

We venture into the village for Dinner @ the longhorn Saloon & Grill..we are 20 yrs too old & Hollie 10 yrs too young for the mad Saturday night crowd.

Good night faithful reader..Jens photo's of Marmite look like he's having more fun than us !! xxx
---
Day 20 : Dusty Trails..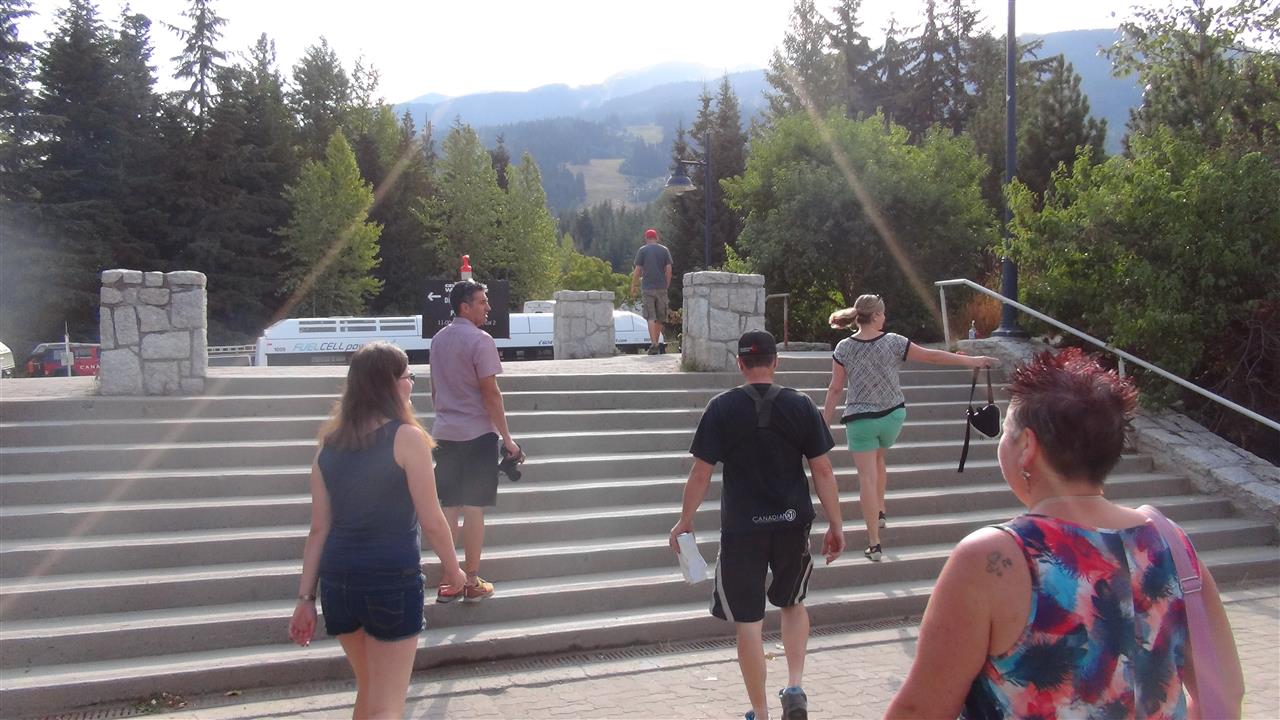 Early Sunday morning start at the village to take a jeep to the ATV centre.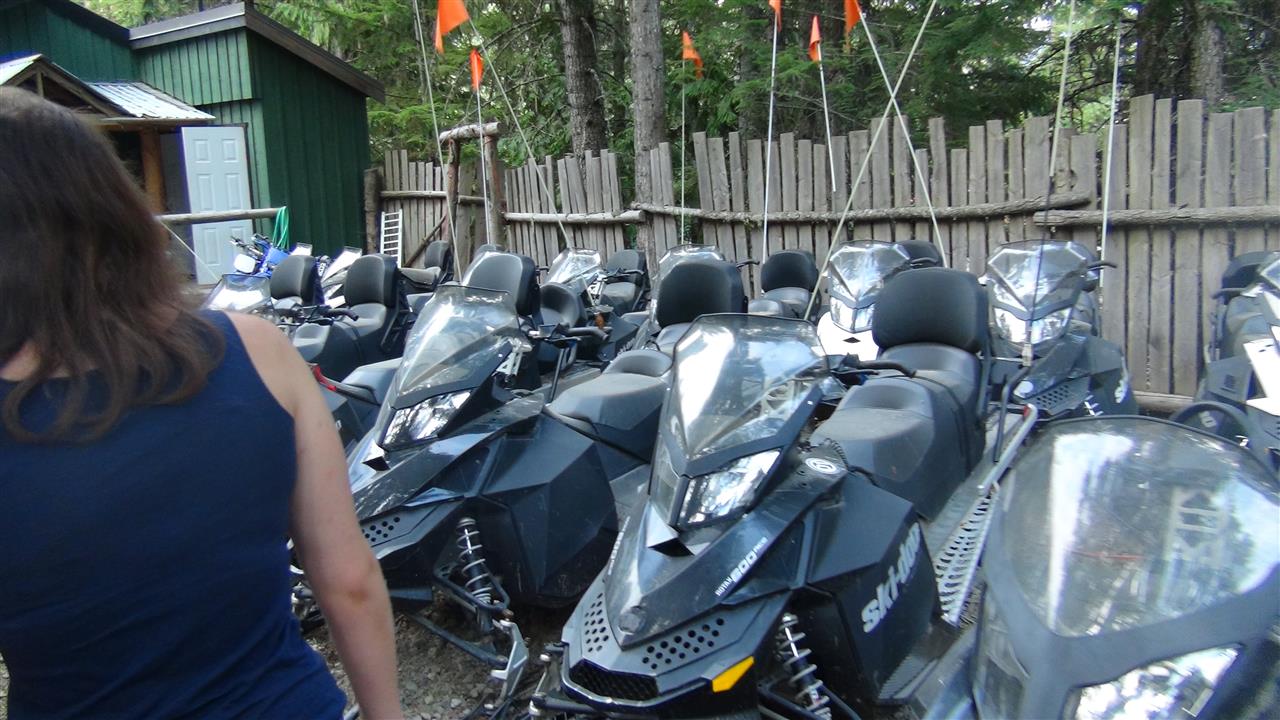 Dozens of skidoo's, snowmobiles & other recreational vehicles, are housed at the Canadian ATV Compound.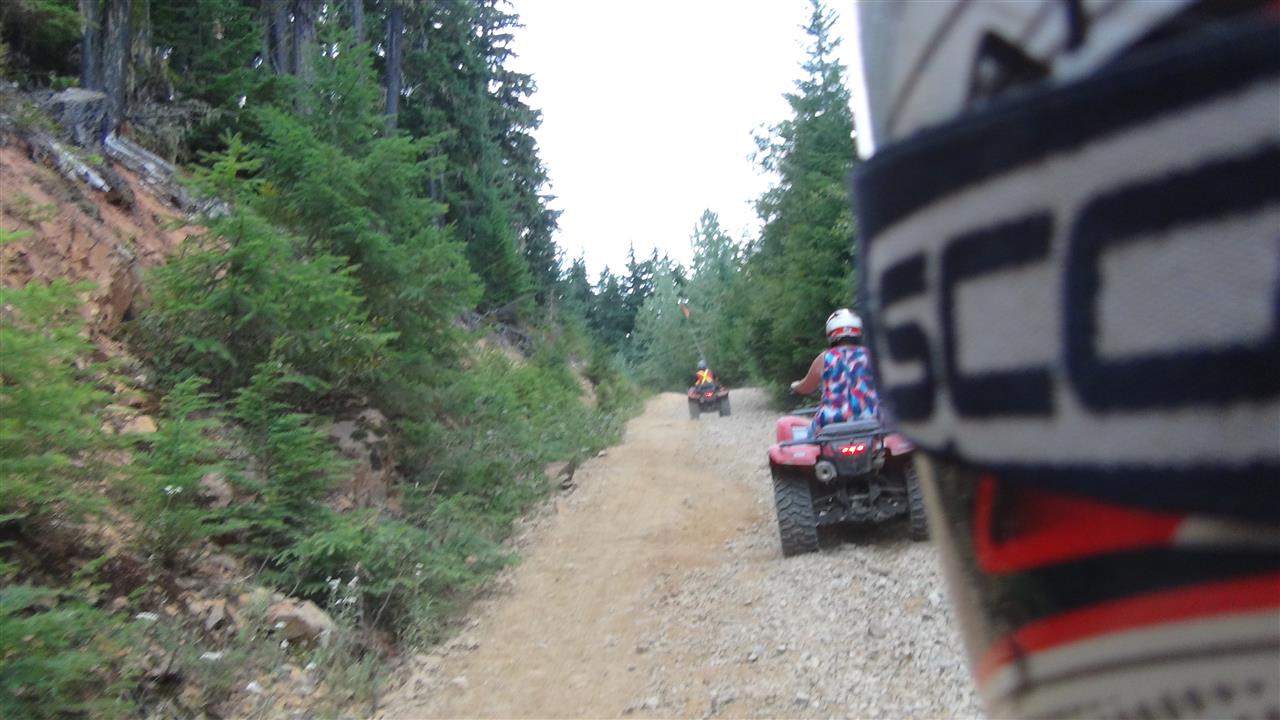 After a few lessons from our guide & the usual safety instructions, we were deemed ..Good to go !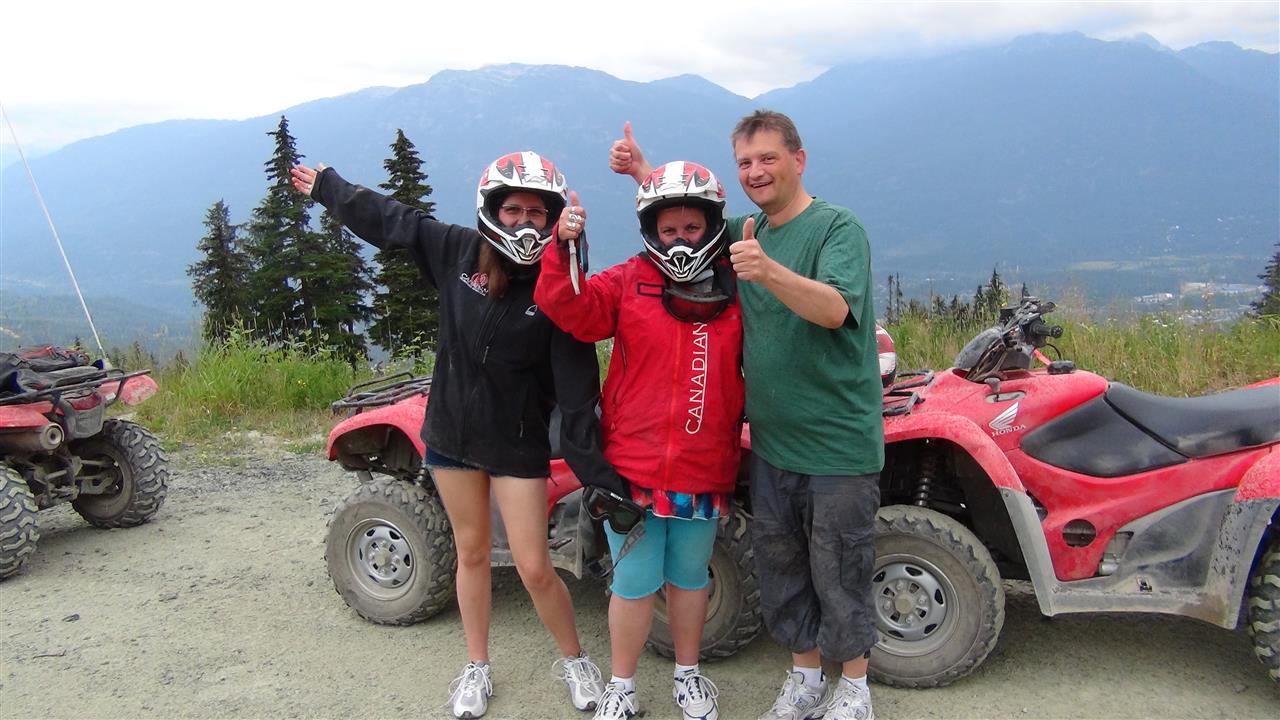 After a hesitant start ( on my part ) we arrived at the first view point.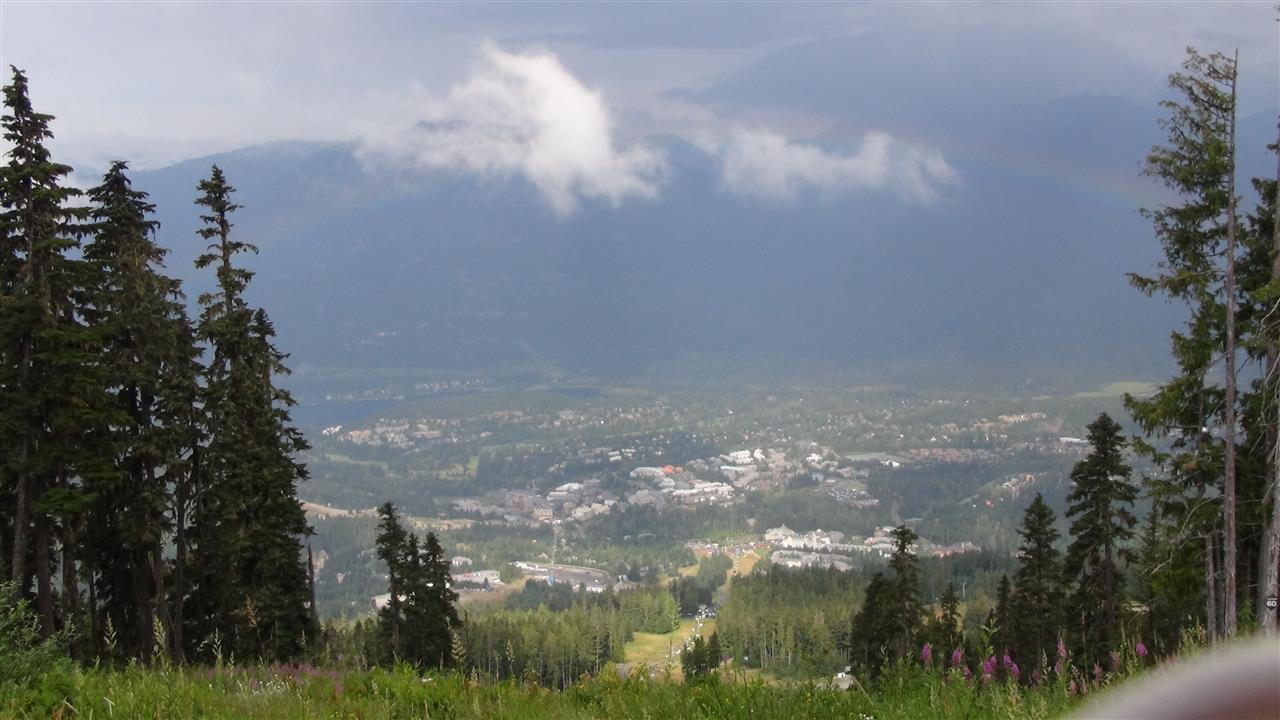 The overlook of Whistler, which seems to be in a valley was devine..
The weather took a turn for the worse & our guide raided his personal kit , to find gear for Hollie & me.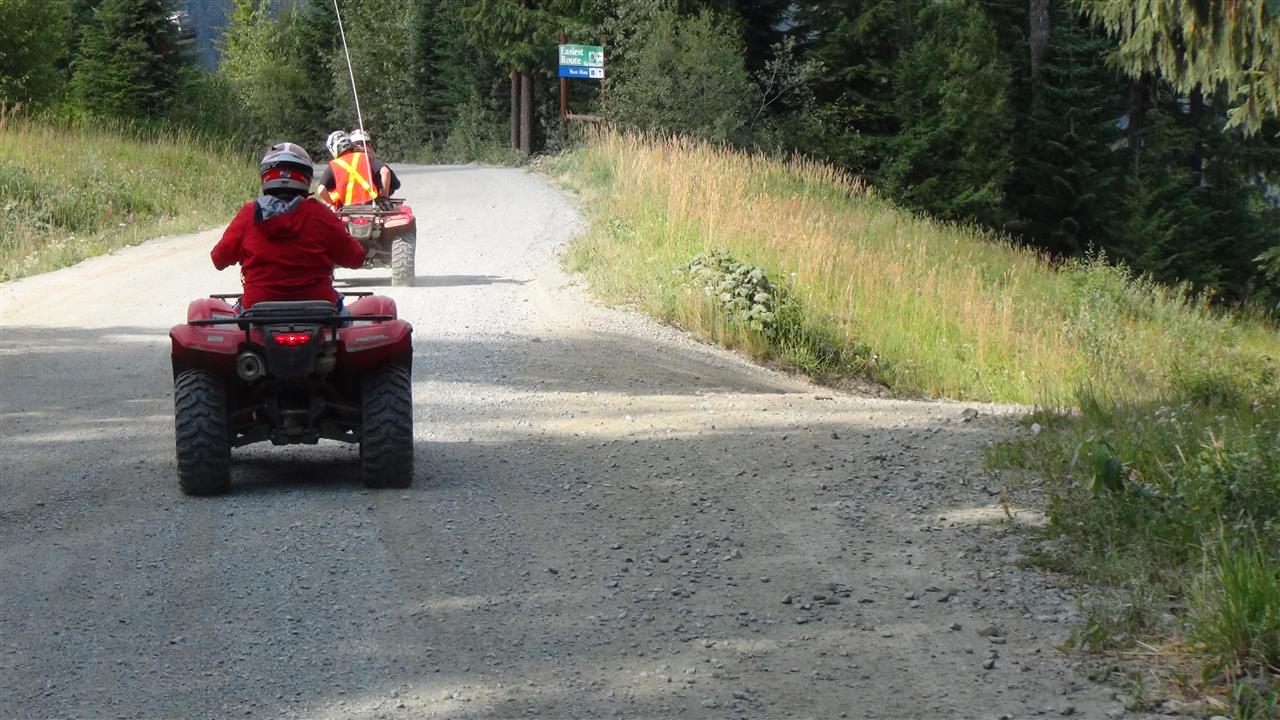 The showers didn't last long & damped the dust we were expecting. Carl stopped our ride & asked our permission for Hollie to take to the wheel, ( u need a drivers licence in Canada to drive an ATV ) Hollie was a natural & was delighted to have had a go.
We got up to some reasonable speeds, on the straight stretches.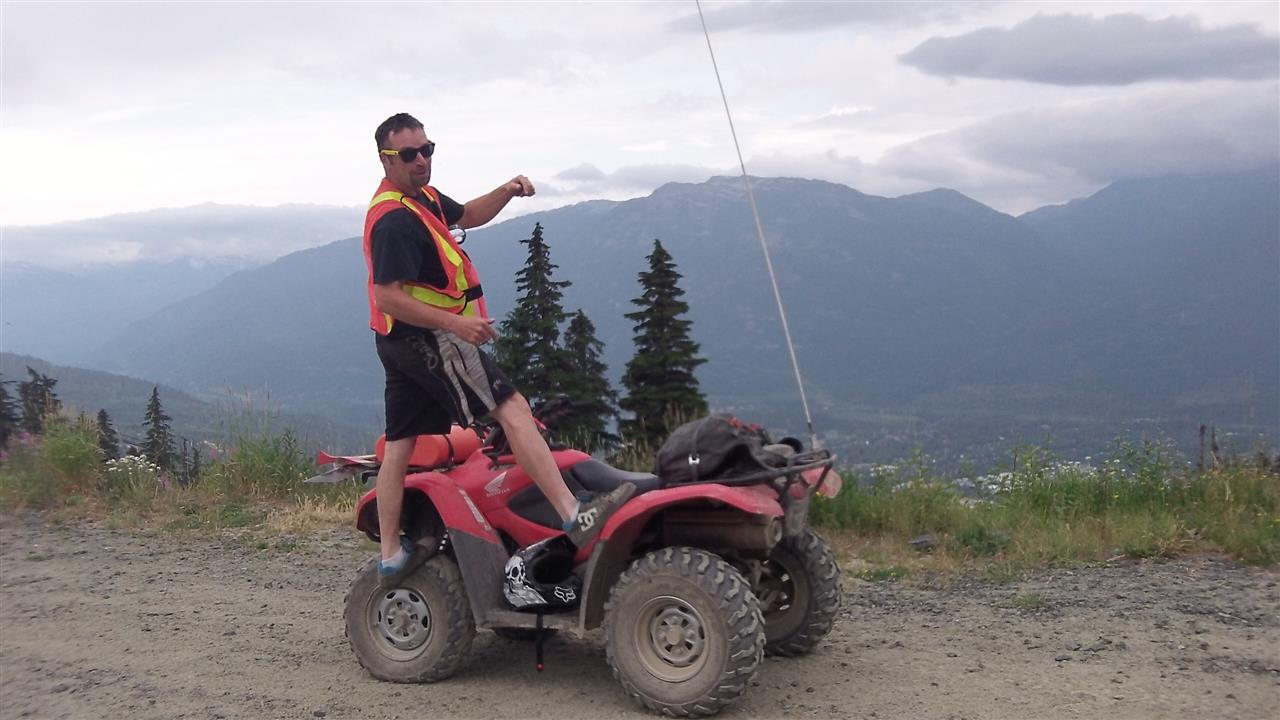 Our Brilliant Instructor & guide Carl ..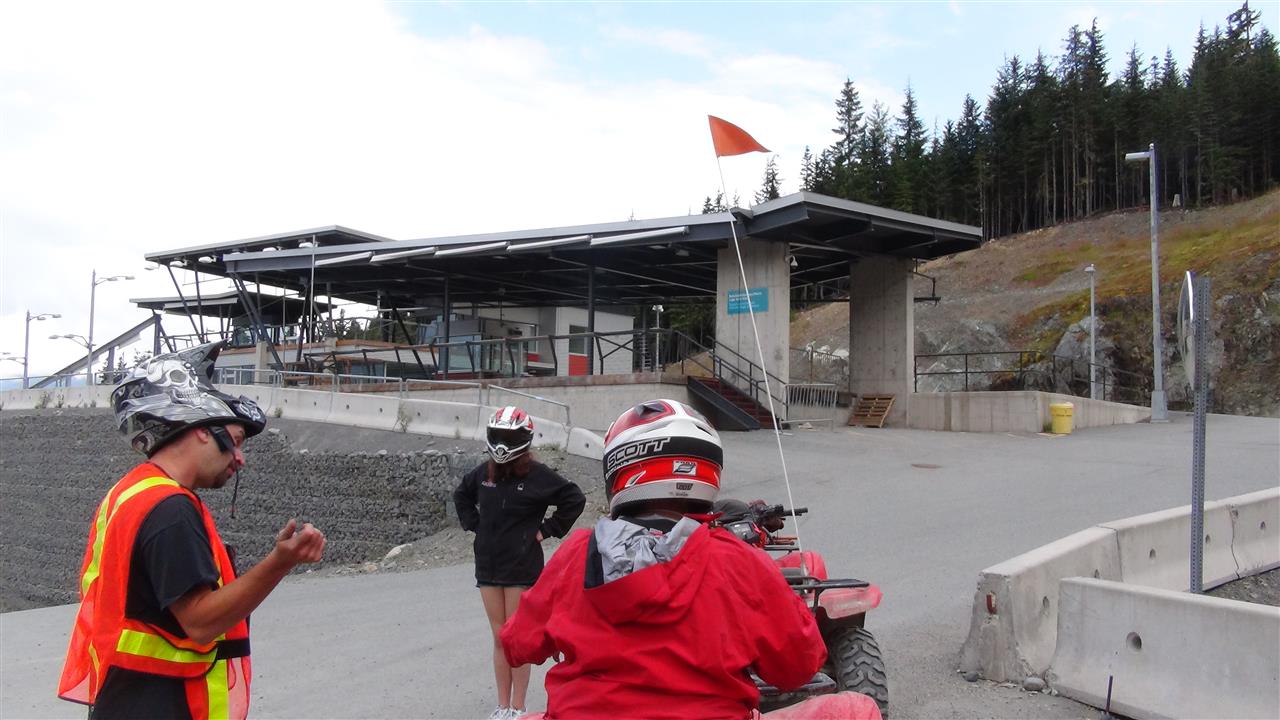 We arrived at the start point for the mens Olympic downhill skiing, regarded as the worlds most dangerous.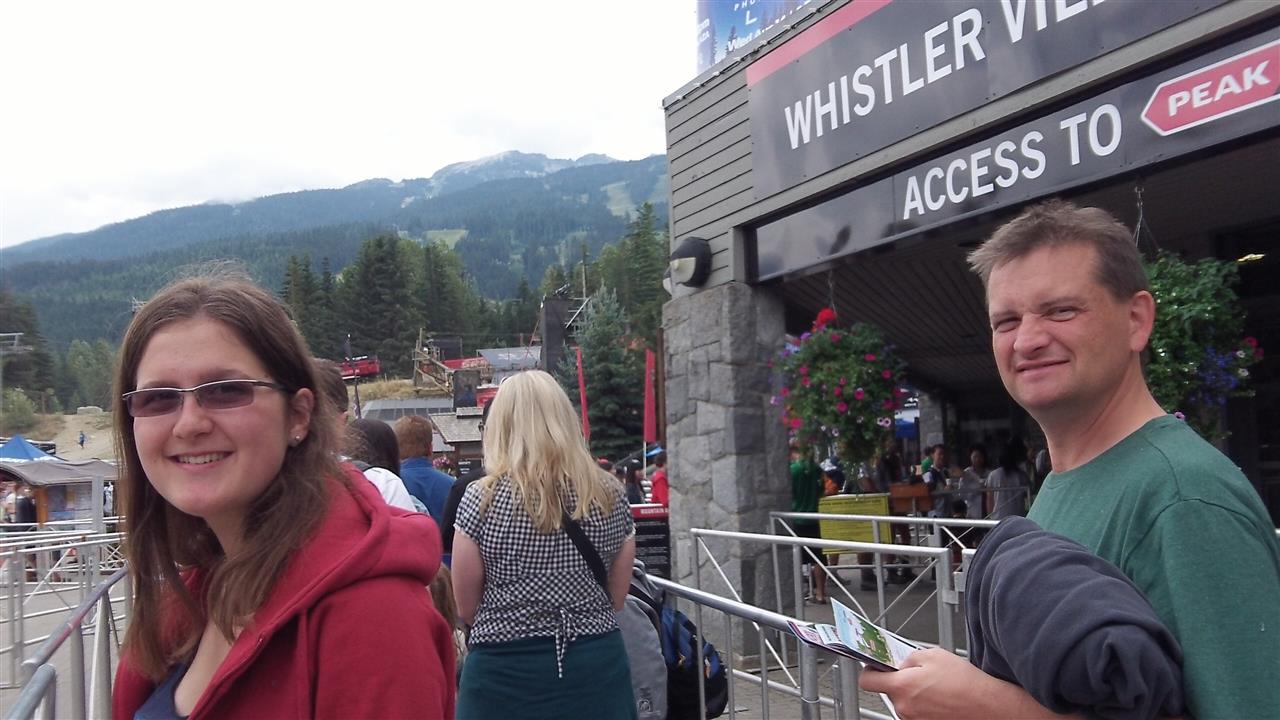 Phase 2... The Longest continuous cable car rides in the world.
The first carriages took us from Whistler village, to Whistler mountain..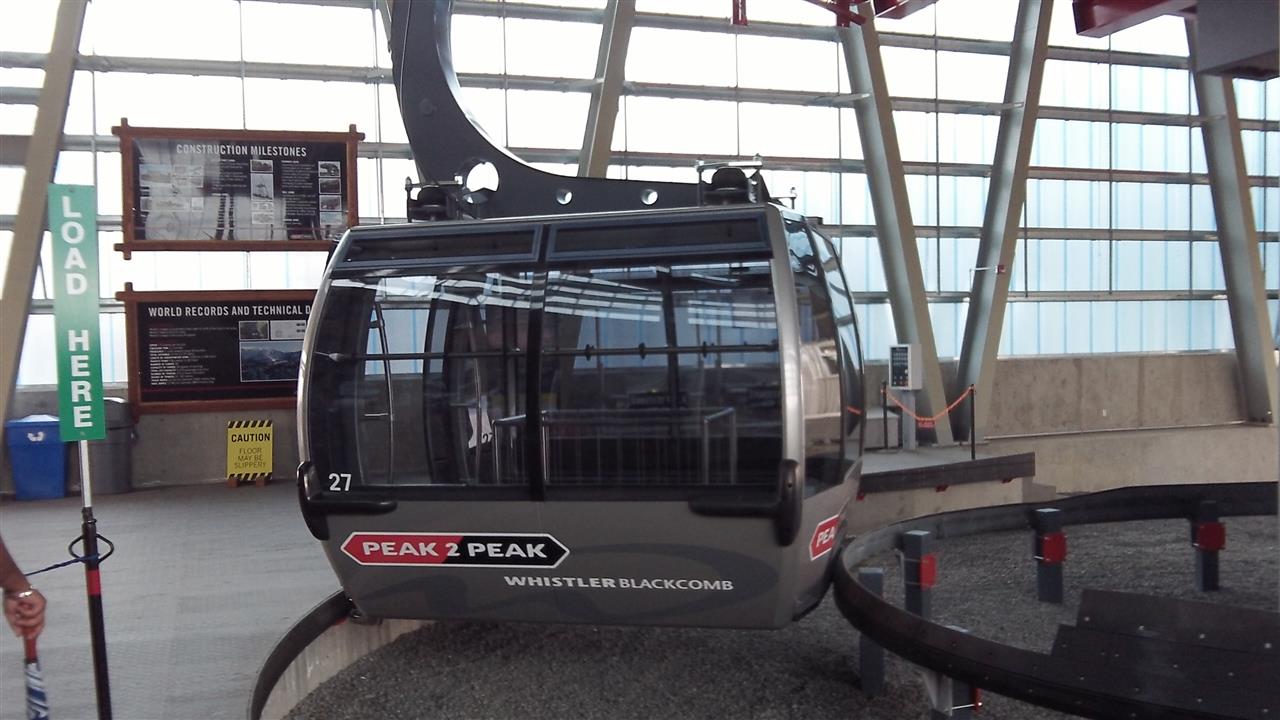 The next ride took us from Whistler Mountain to Blackcomb Mountain. We opted to wait for the Glass bottom carriage, which is fitted with a glass panel in the floor.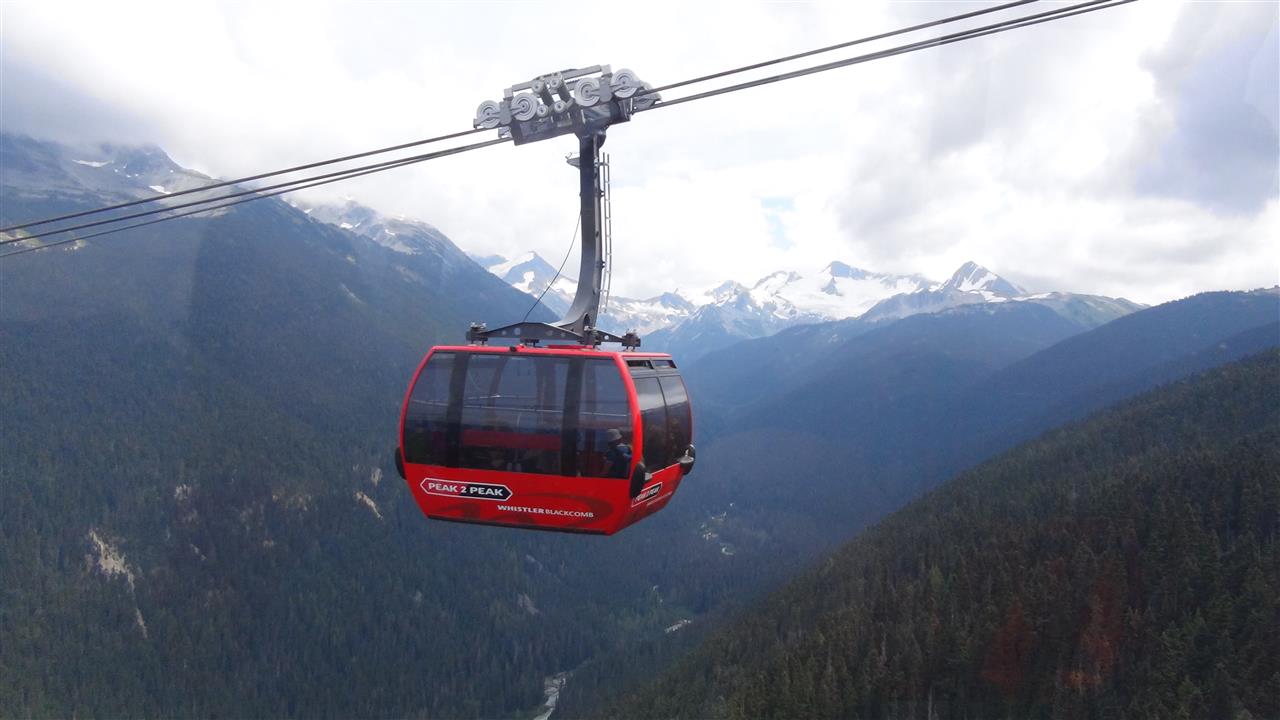 We took this ride 2 more times during our visit & used the regular red Gondolas which have a solid floor.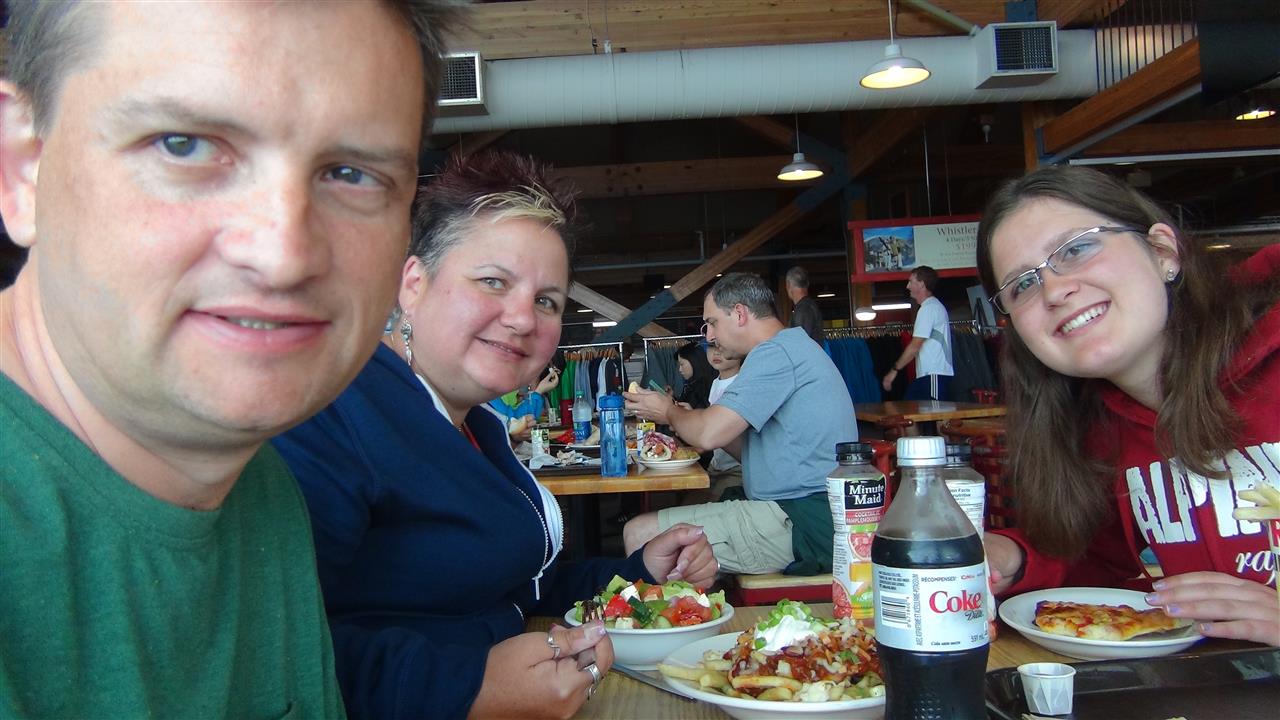 We stopped for lunch at the Rondezvous Cafe, at the end of the first Peak to peak ride..for a yummy lunch.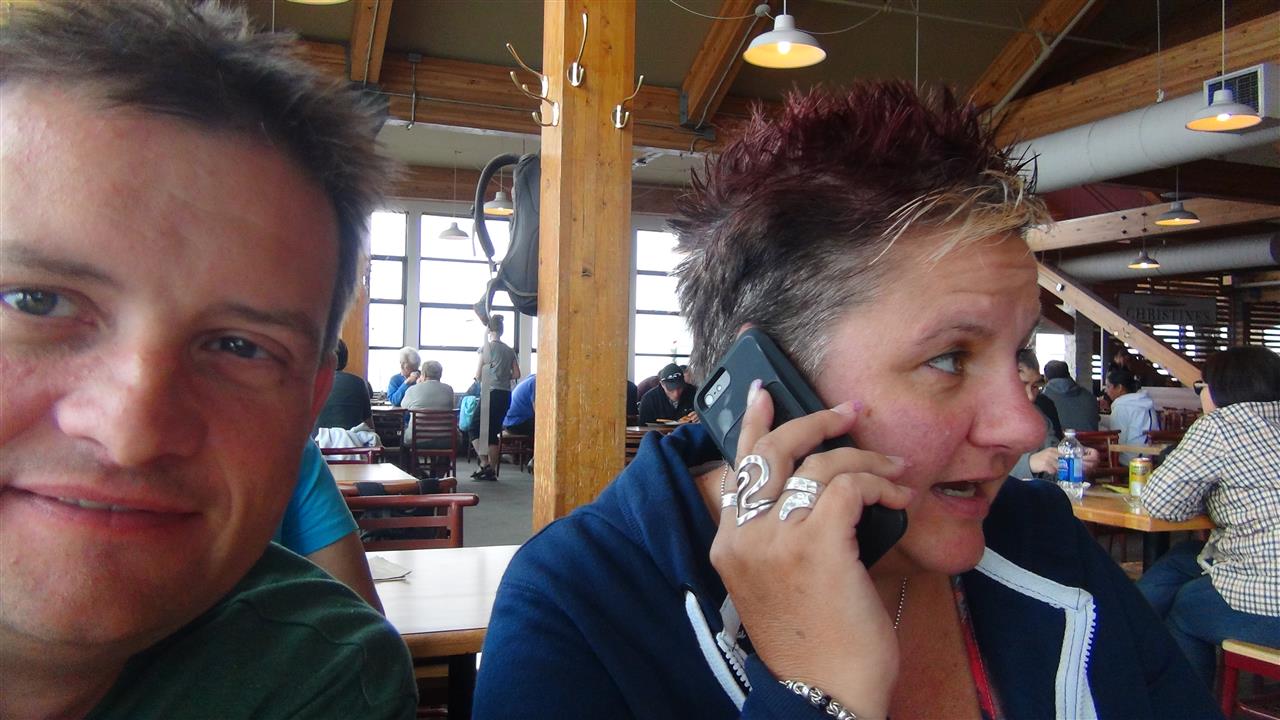 As there was a dirty great cell tower on top of the building, we were correct in thinking our skype link would be reasonable..we called the Nanny Ann & Jumbo pet sitting service to enquire on the mortality of our remaining pet.. Seems Casper is alive & scratching..Excellent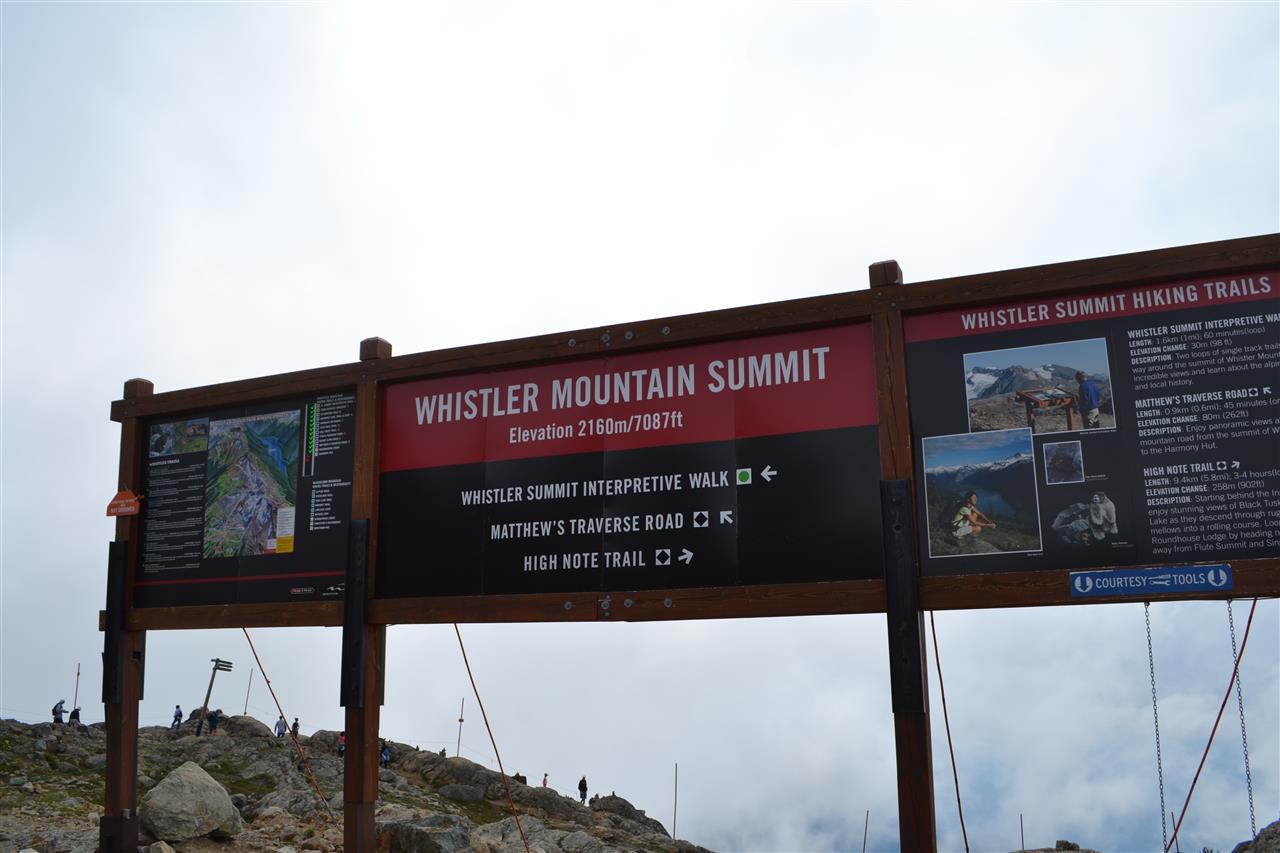 We arrived at Whistler Summit via a further Gondola ride & a massive downhill hike.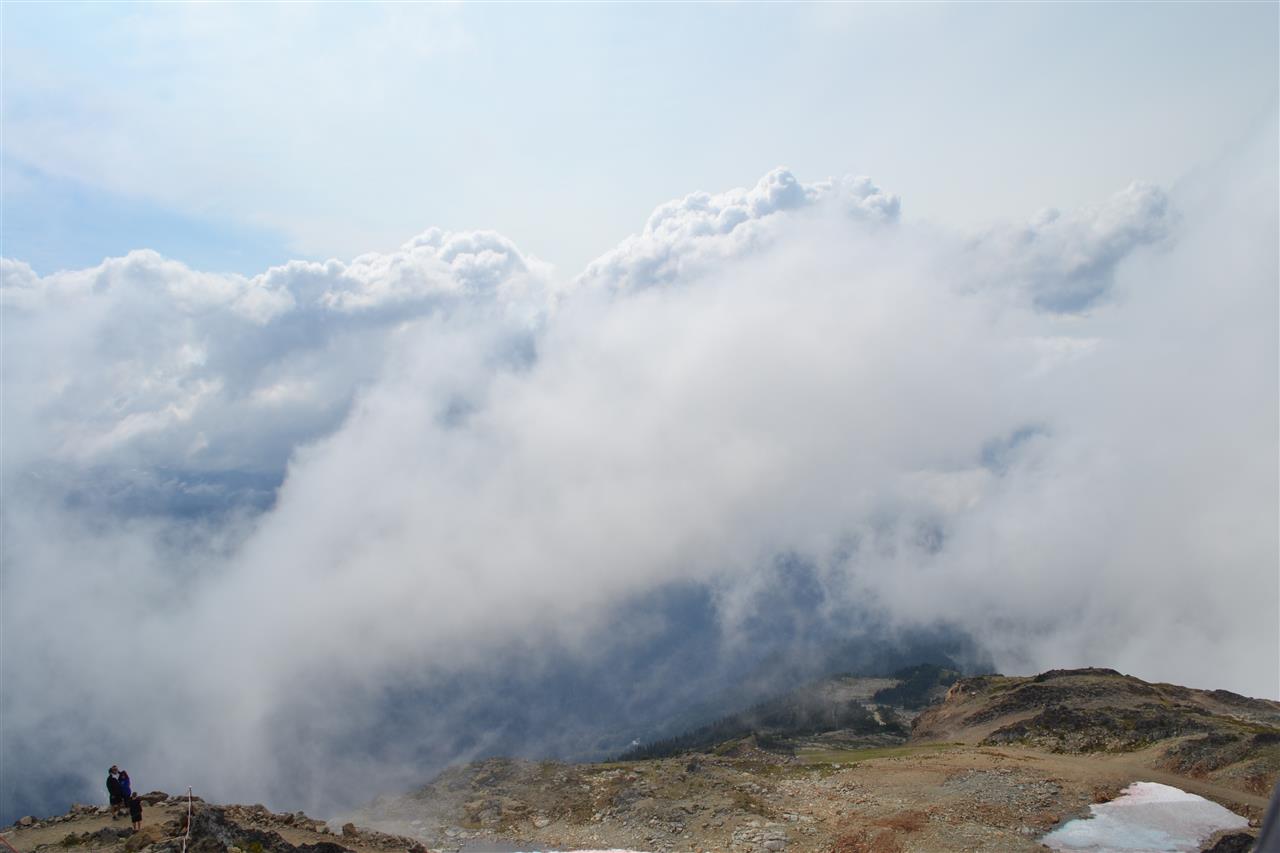 Courtesy of our earlier rainfall , low clouds had settled just below us.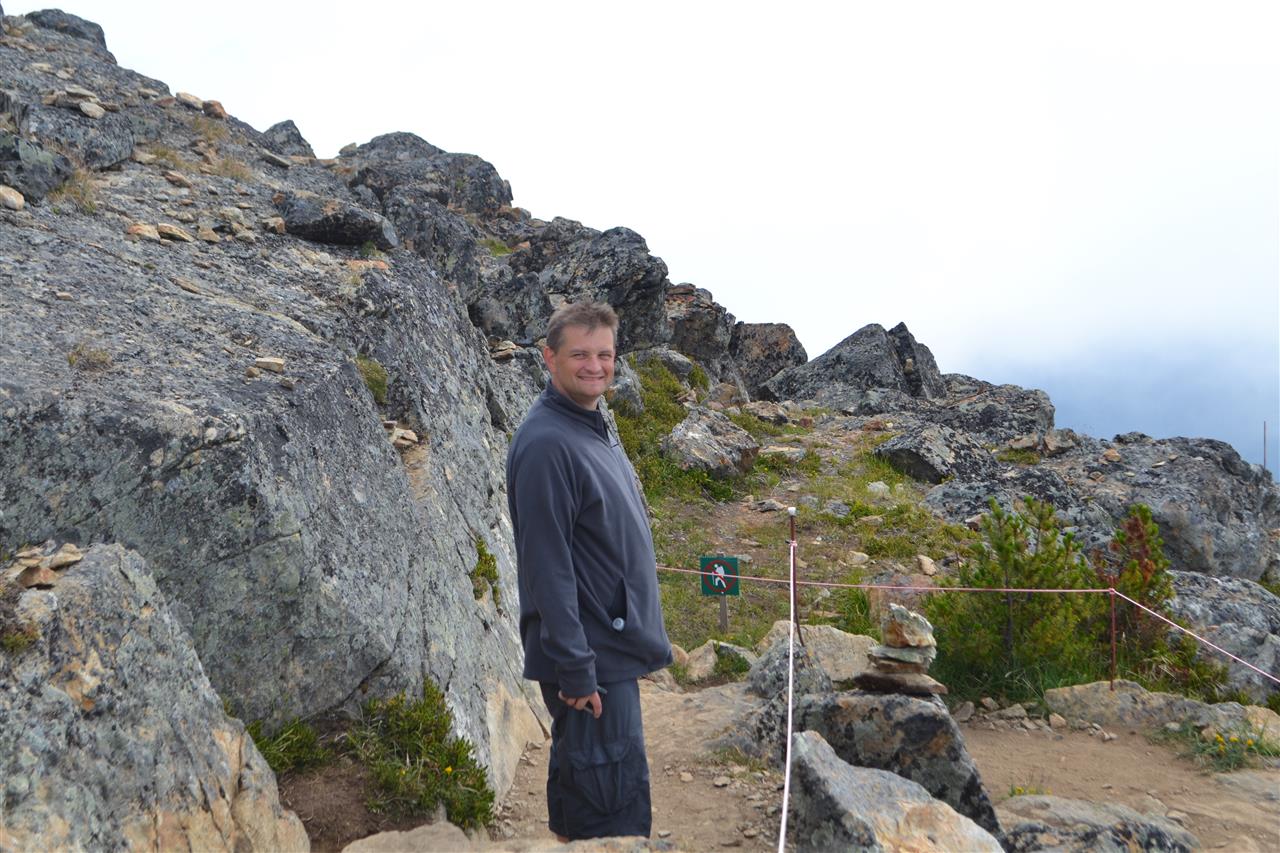 Ian decided to hike out to a further view point.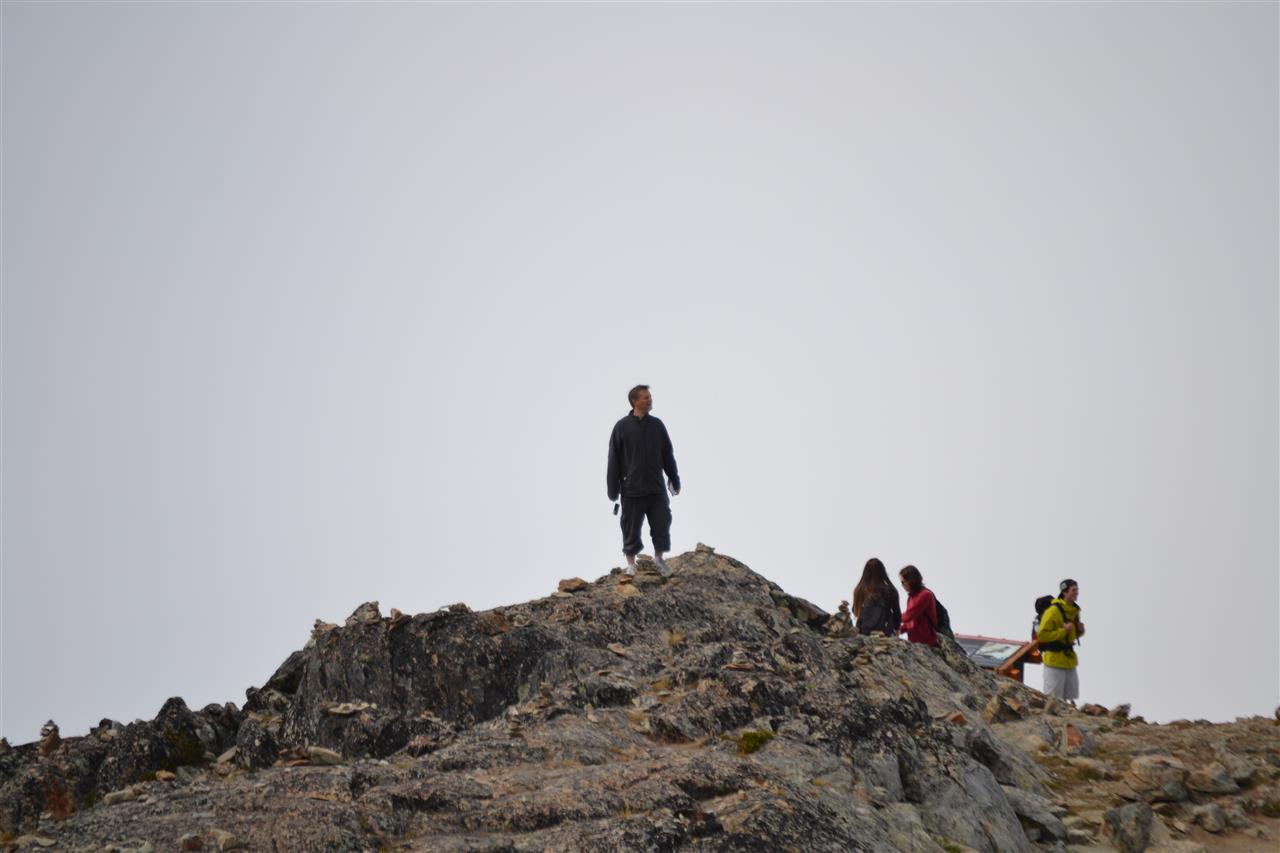 This pose reminds me of Bear Grylls..( Splutter, Splutter)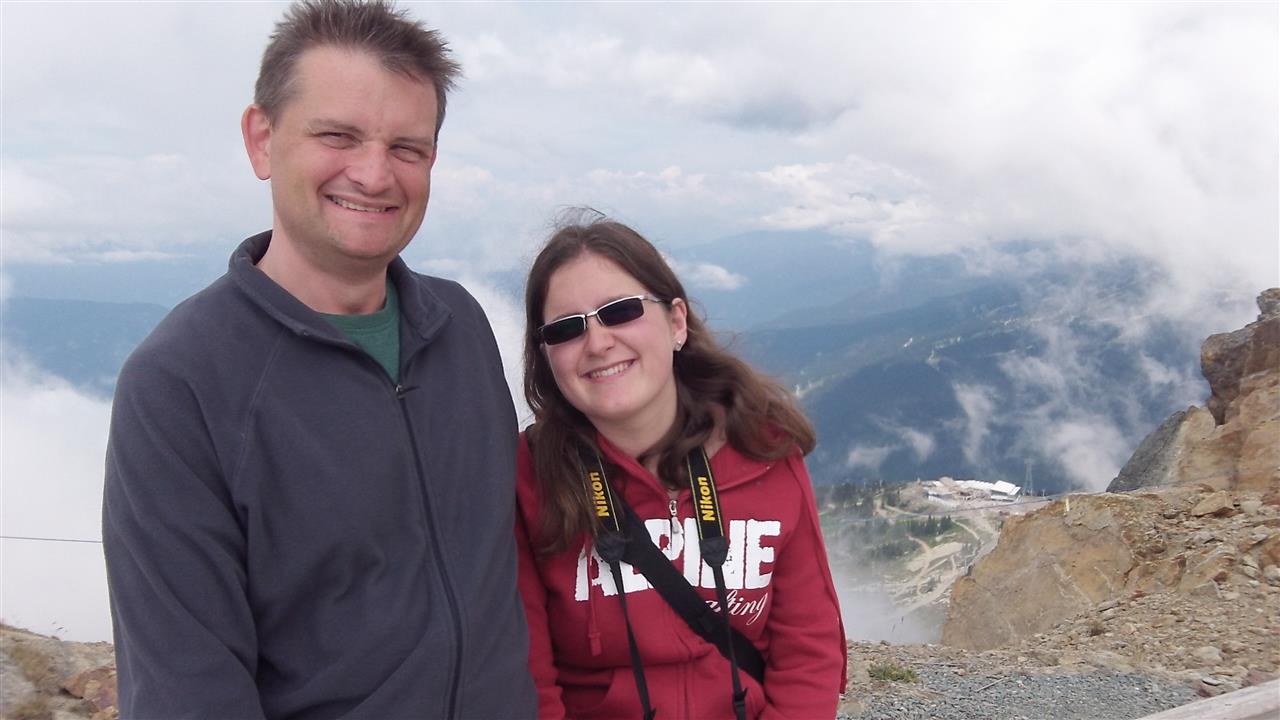 Phew, he made it back : )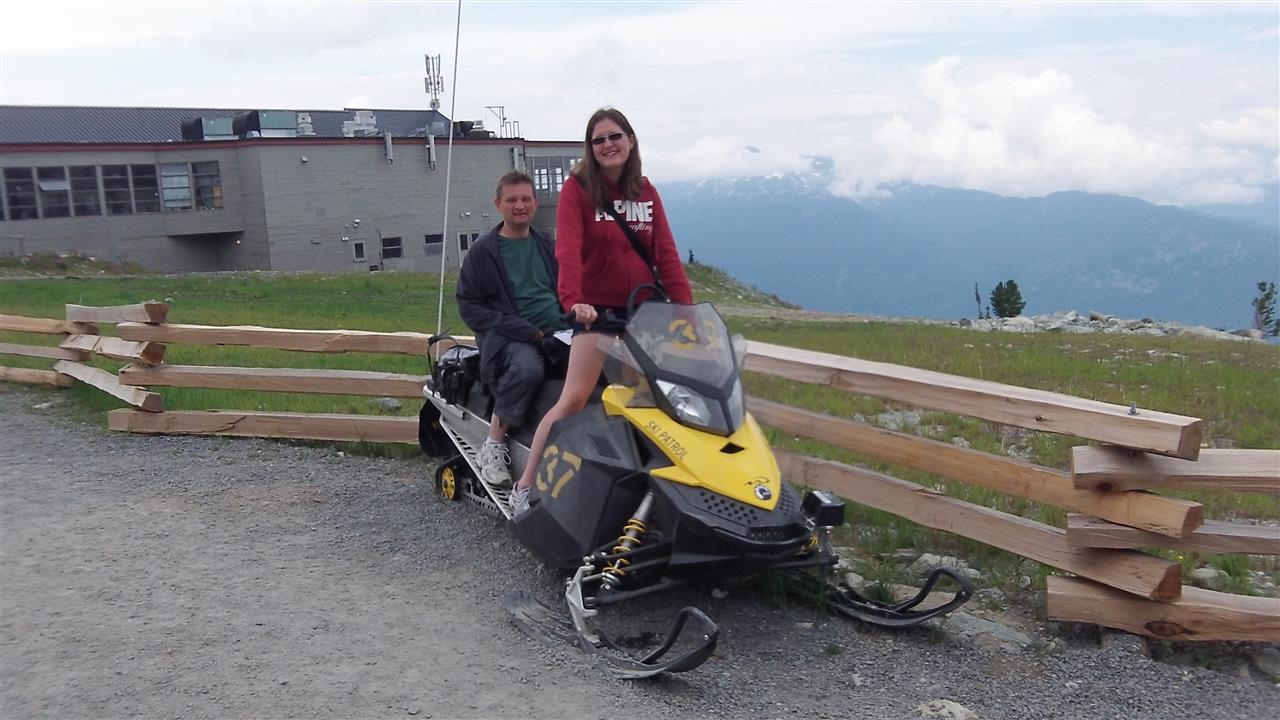 Ian & Hollie pose on an abandoned snowmobile /skidoo.
The Climb back up was a bit of a nightmare for those of us built for comfort & Gin ..A further series of Gondolas bring us down from the peaks.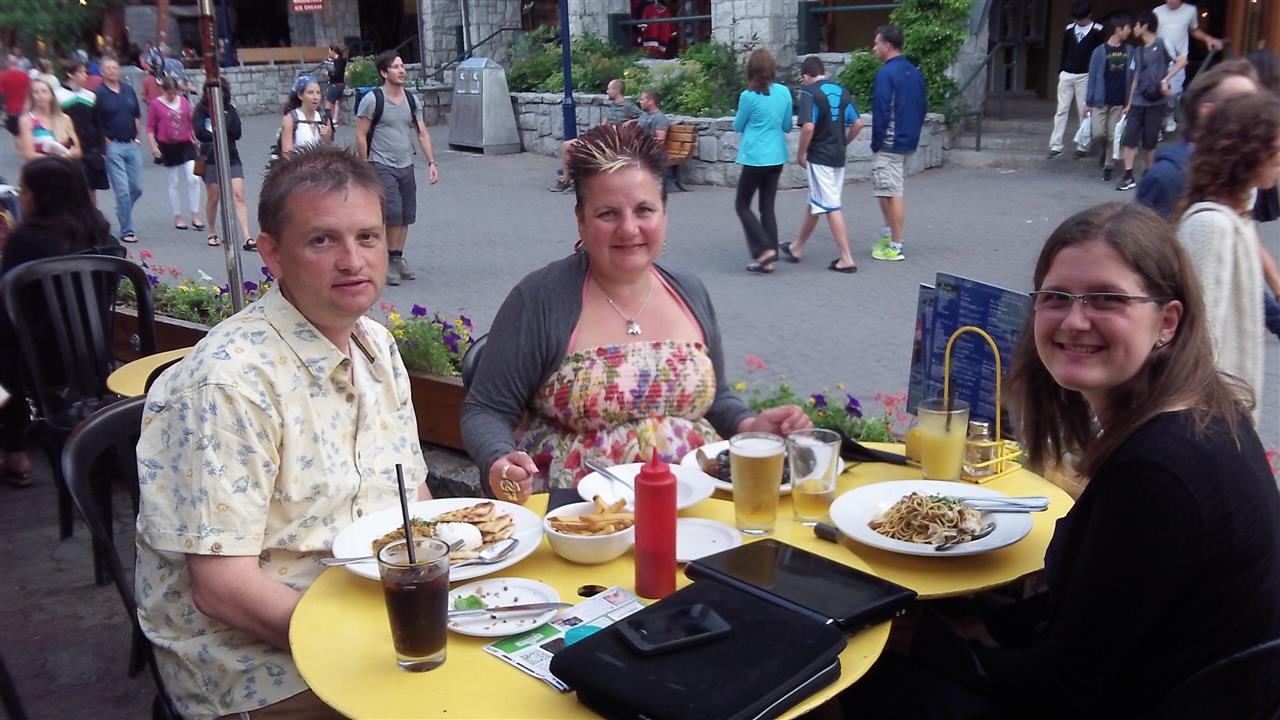 For once we had time to go back to our "Whistler House "for a scrub up before a gift shop & dinner experience.

La Brassere serves a great Moules & Frittes..Ian found Massala & Rice & Min Spaghetti Bolognese..Delish!!

Well Happy reader, our adventure nears its close..we shall see you all soon

Mum Get on & Book us a decent curry for thursday night if you would be so kind xxxx
---
Day 21 : Last day ..Canada & Back to good old USA.
We finally met Martin our host @ The Whistler house..He & Rescue dog Harley had been up the mountain to the gym. We grabbed fruit for a breakfast to go.

Bill paid we head off to the view point at Tantalus, as u can see it was foggy & Visibility poor, we missed out on the snowy peaks.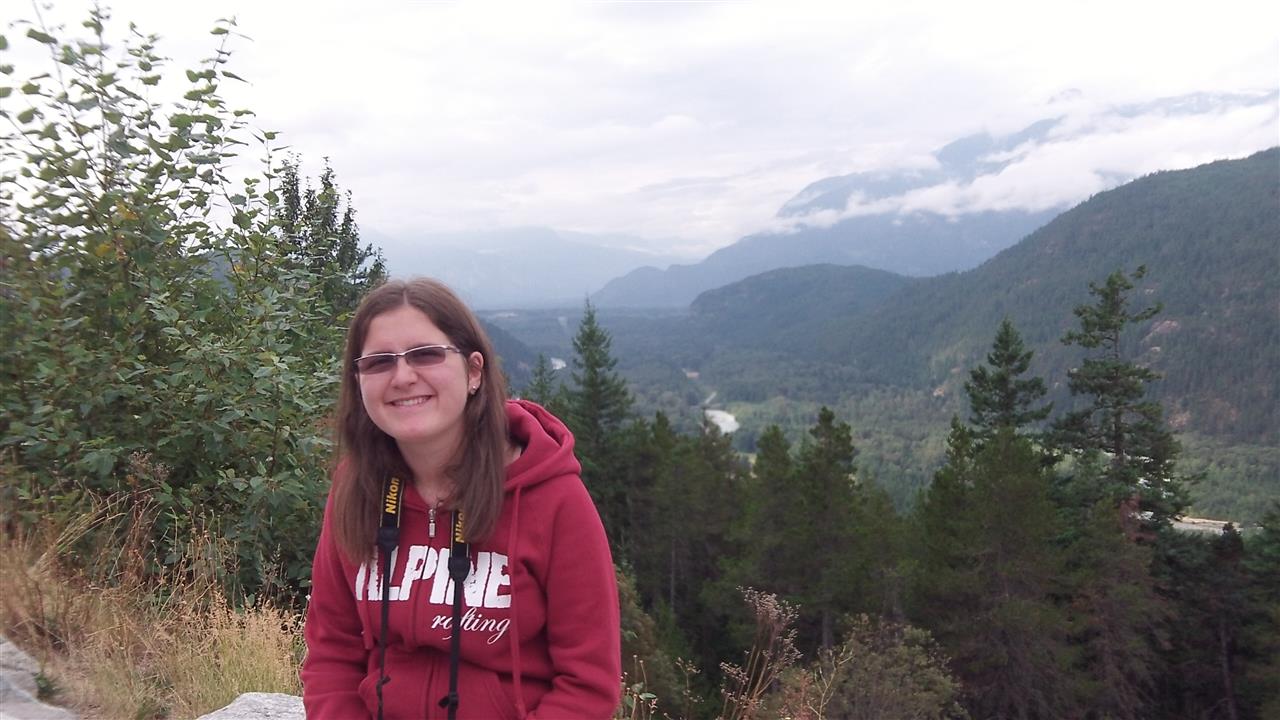 This little wildlife beauty took our eye.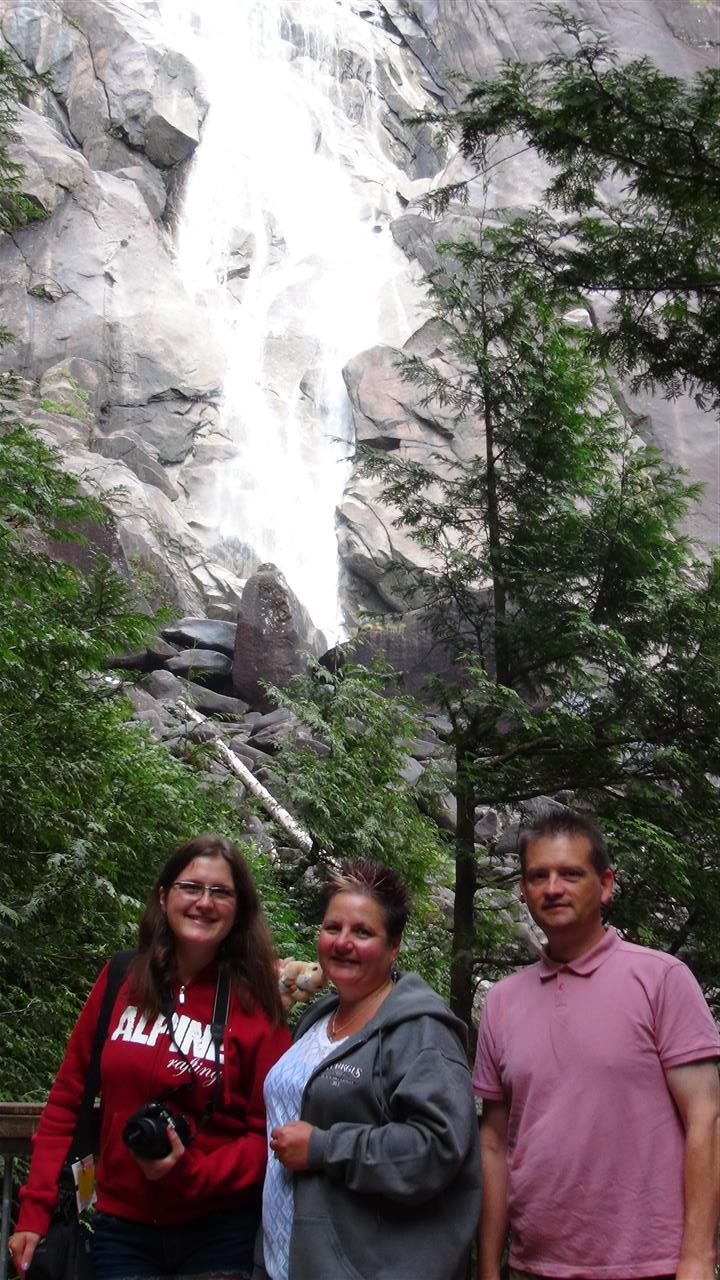 Next stop Shannon falls.Some kindly asian folk offered to take a pic for us.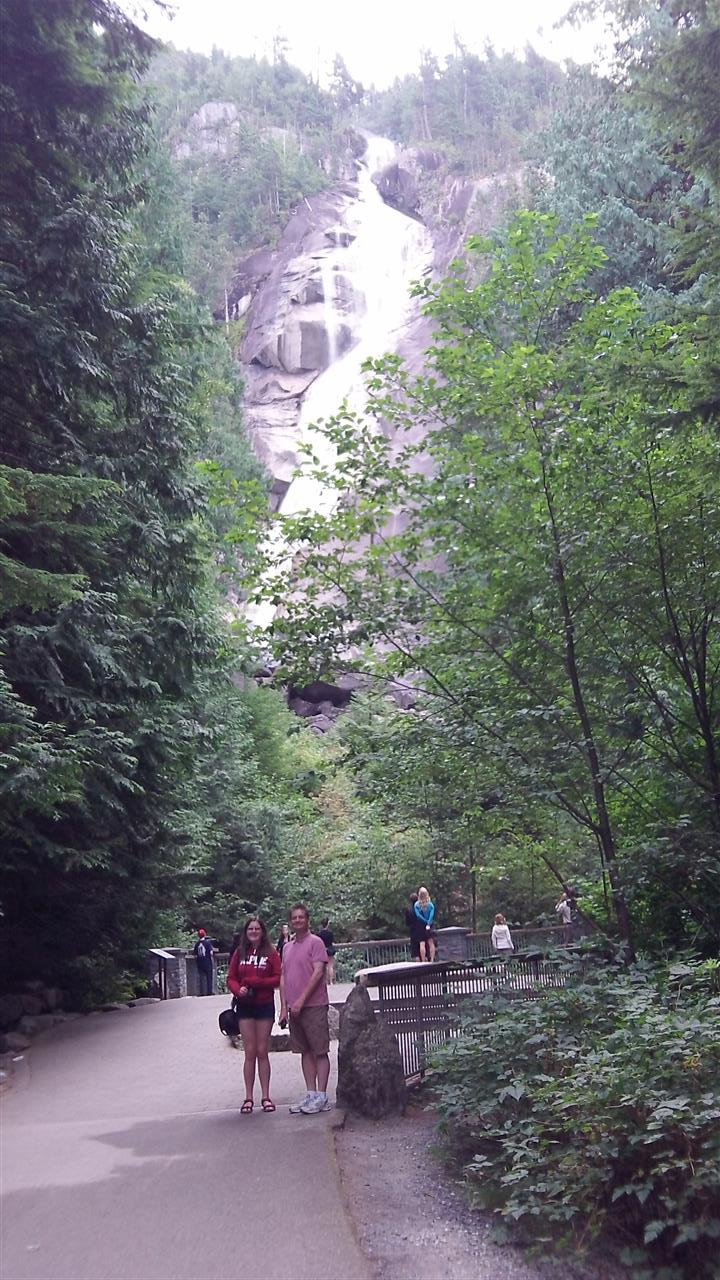 These mighty falls are owned by the local native tribe.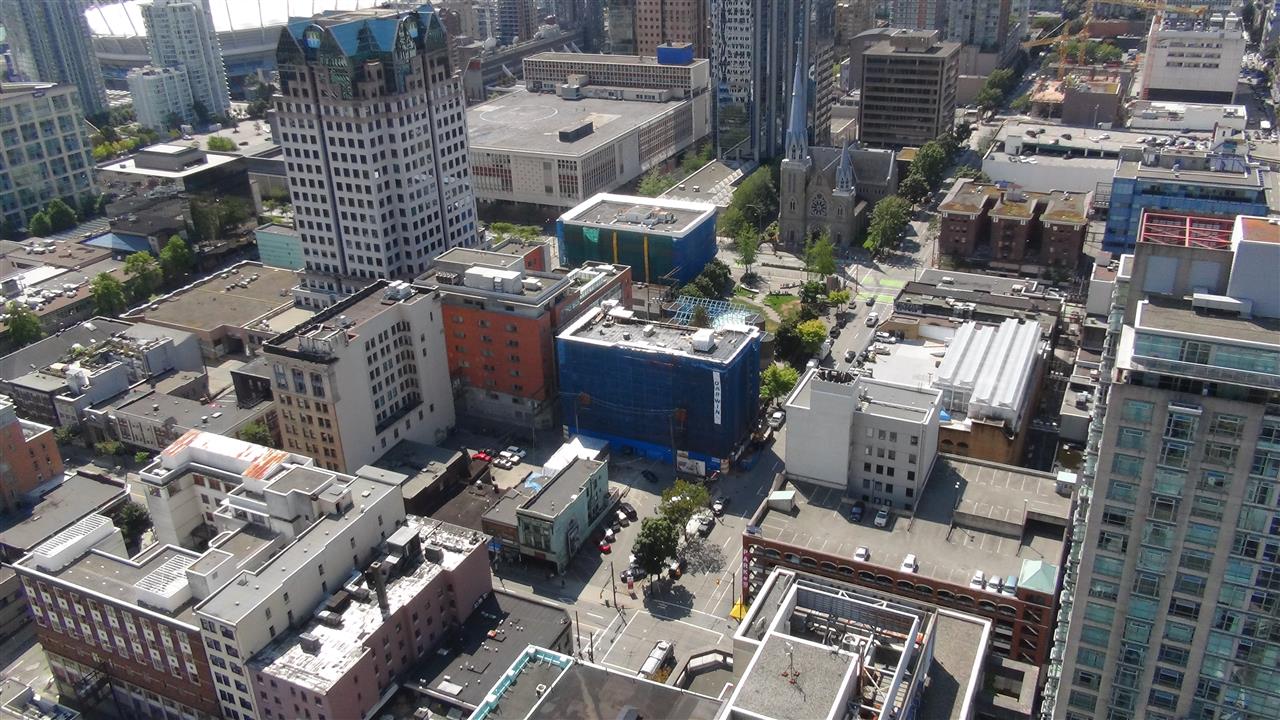 On to Vancouver & a trip up the Lookout Tower.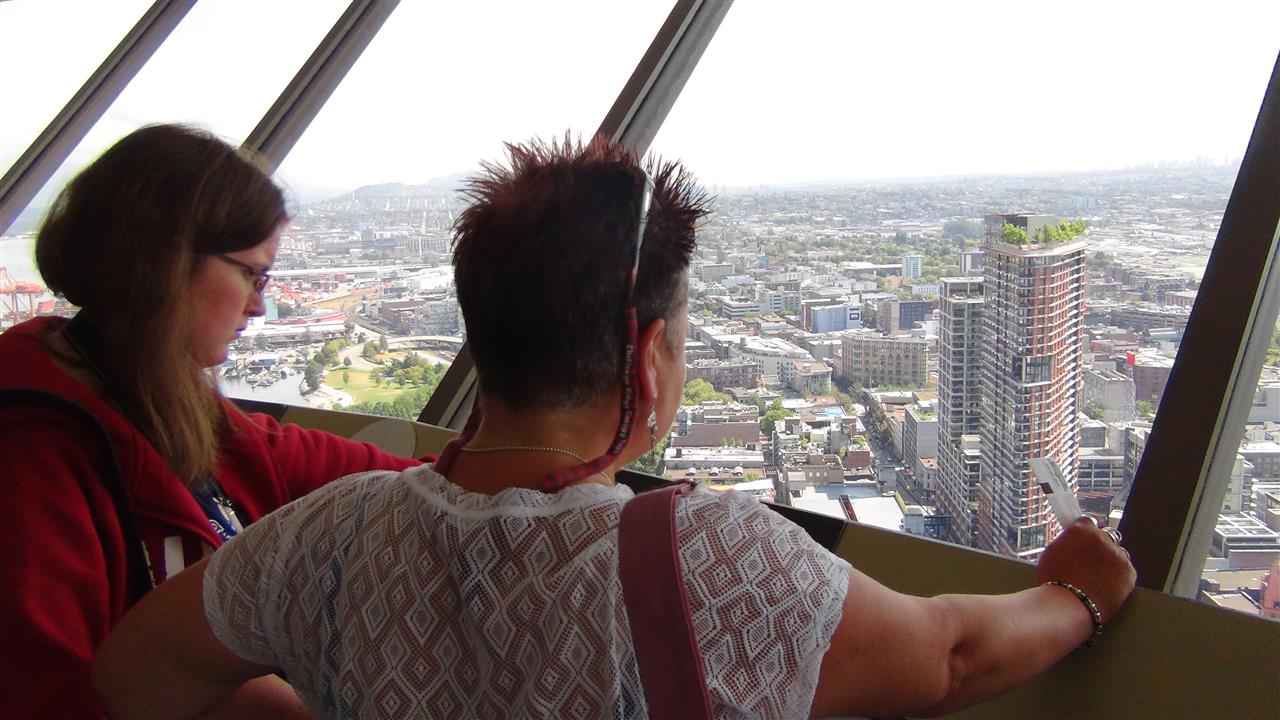 An illustrated story board takes you on a tour of the city form the tower, Including the sports stadium built for the 2010 winter olympics, with the worlds largest retractable roof, & views across the stunning bay towards some of Vancouvers priciest real estate.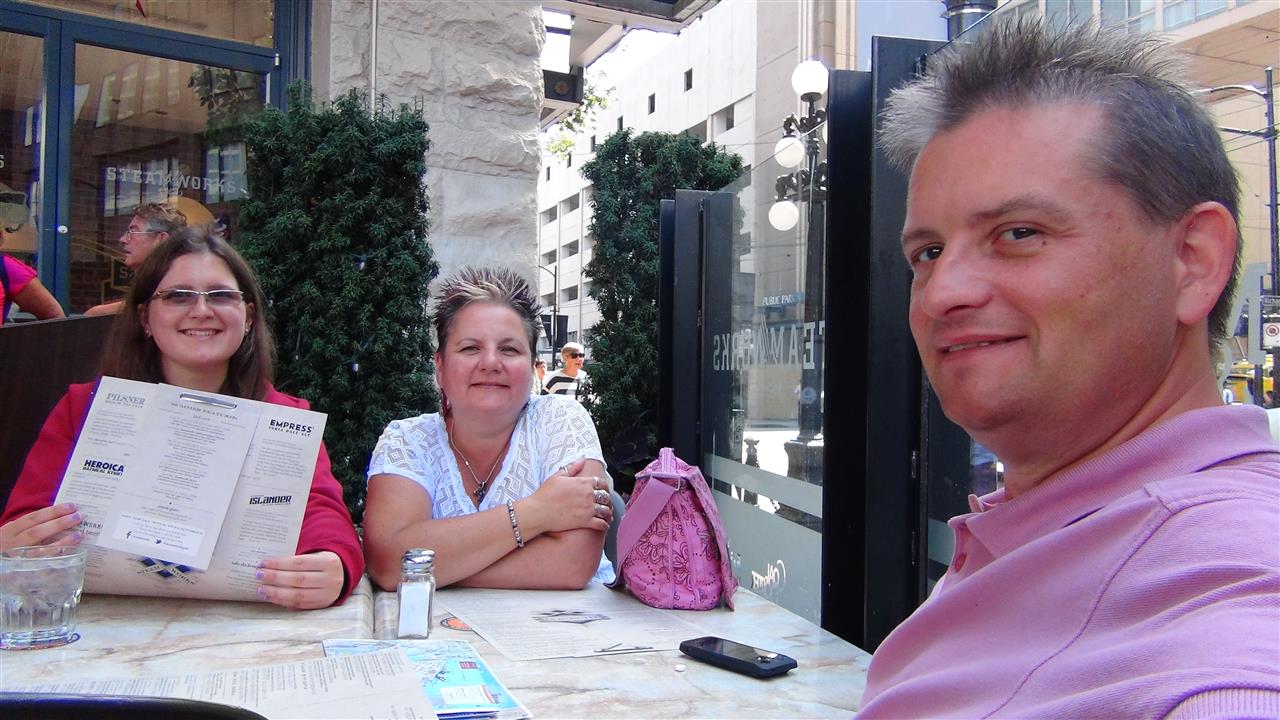 Lunch at the Steamworks..One of Vancouvers Micro brewery's. Believe it or not..Just Diet Coke for me !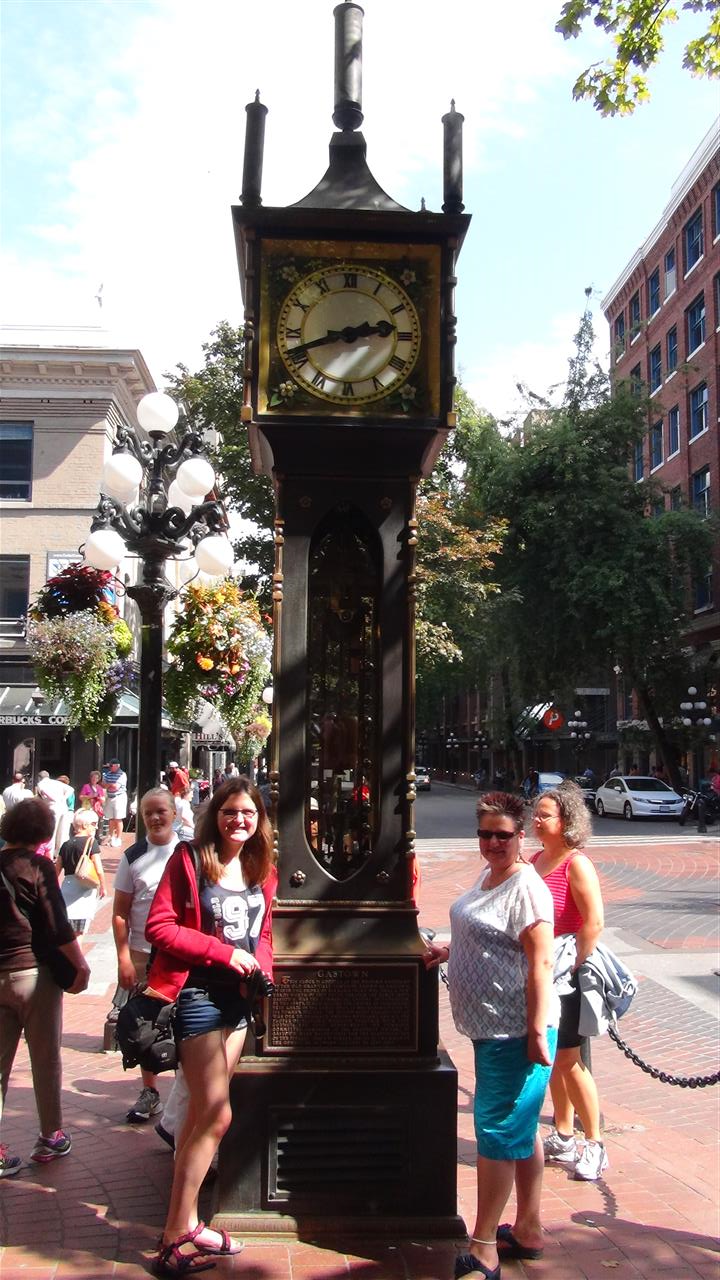 Next the world famous "Steam Clock" every 15 minutes it plays "Bow bells" from 5 steam pipes, mounted on it's top. The clock was donated to the city by an ex mayor in the 1900's. We were lucky enough to witness a countdown to a performance from one of the cities local homeless folk, who gave a very nice roadside talk ..For tips.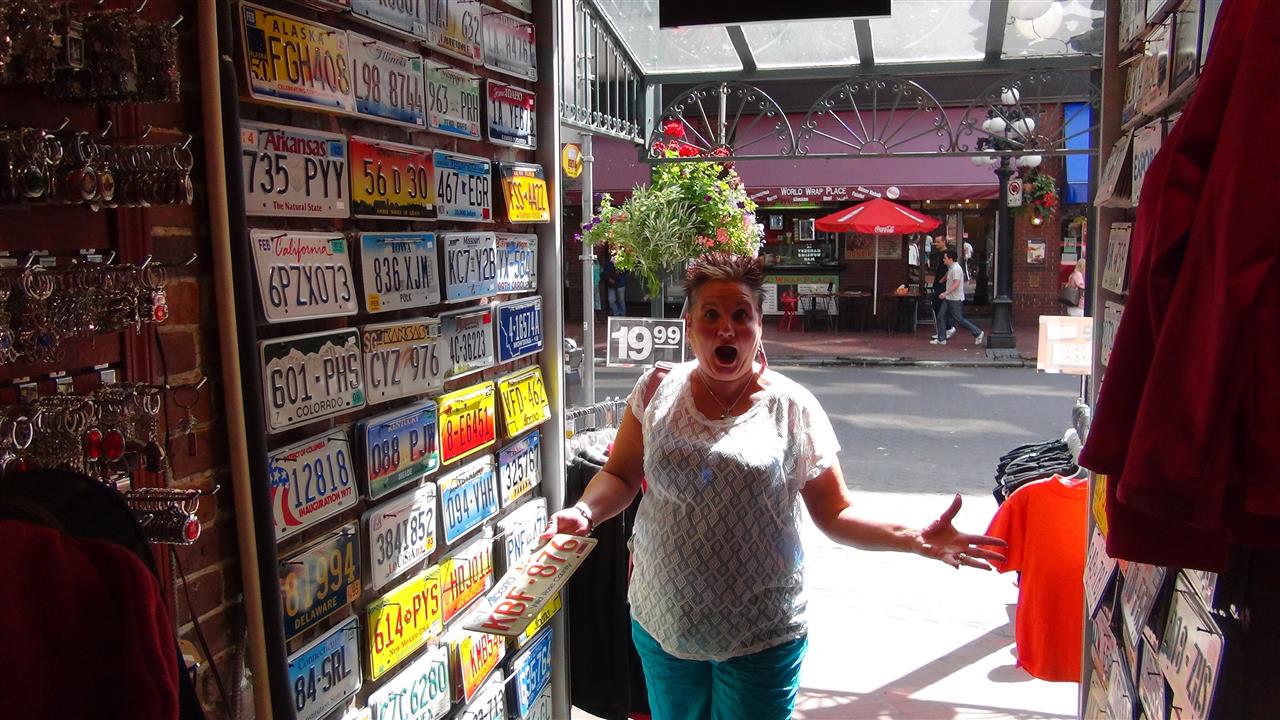 My idea of heaven..A store with a great selection of expired licence plates!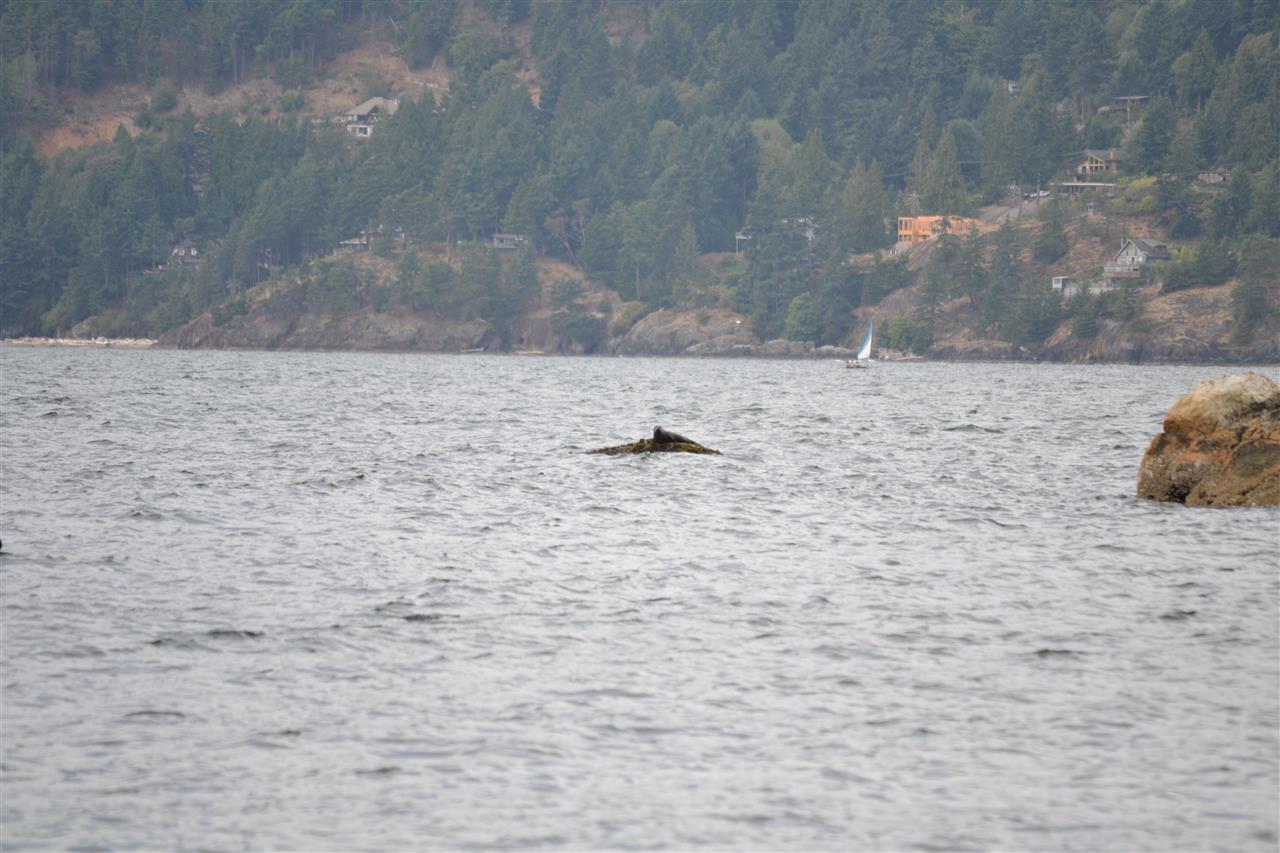 We stopped at a seaside spot & spied a seal basking on a rock!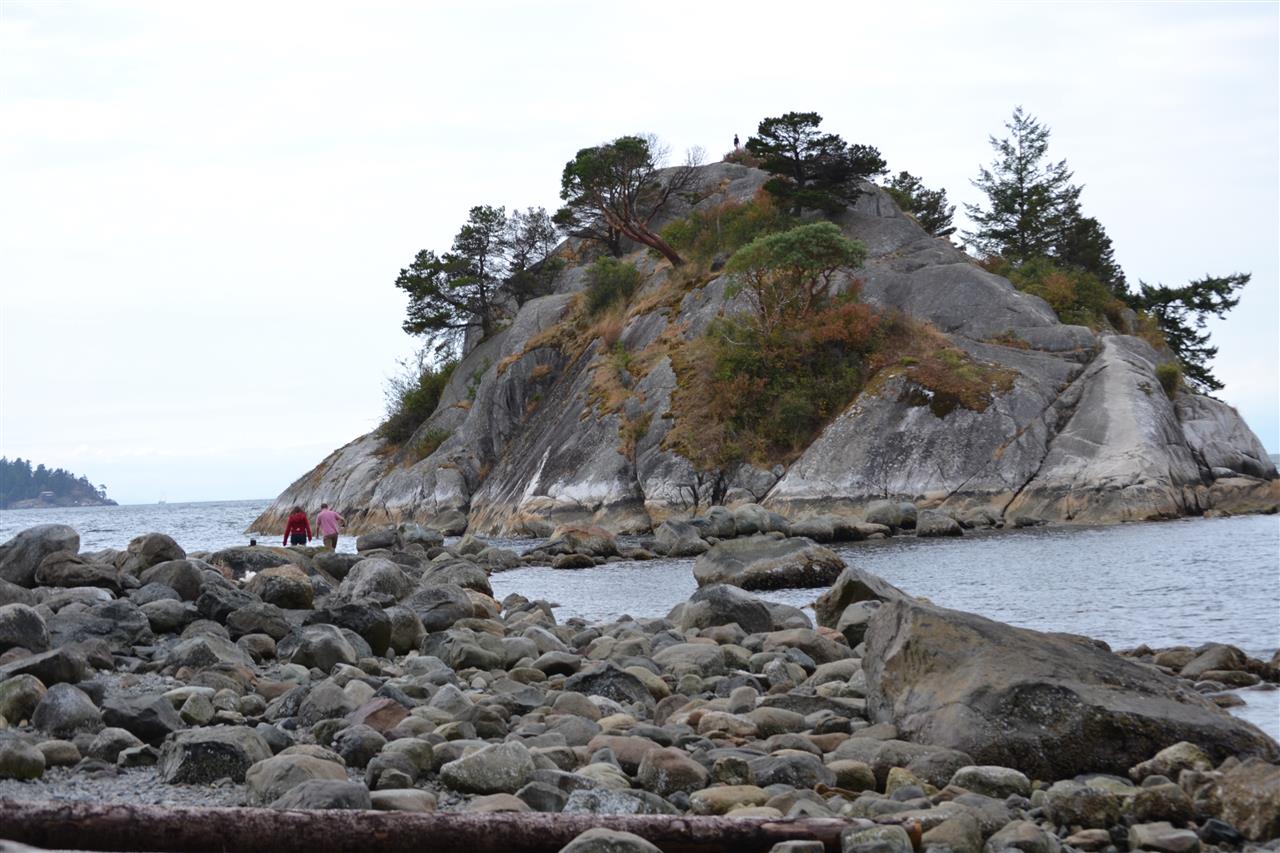 Ian & Min decide to venture out to this island.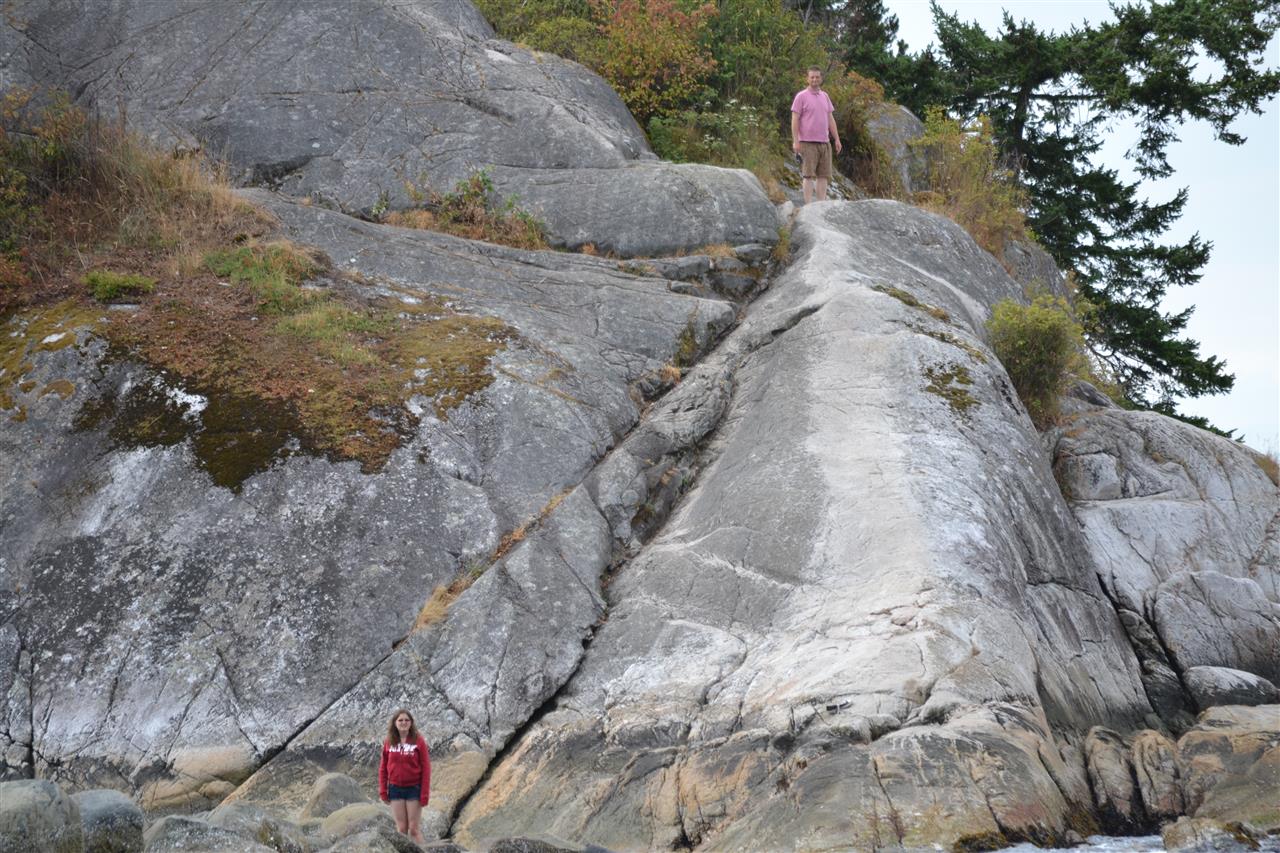 I stayed ashore with a bus load of Chinese folk & took photos.
After another 2+ hour drive ( With a Mall stop..Thank you Ian..Min found herself in an Abercrombie & Fitch outlet, goodbye the last of her holiday money! )

Bestie Westie Cascadia Inn ,& a suitcase sort out before dinner.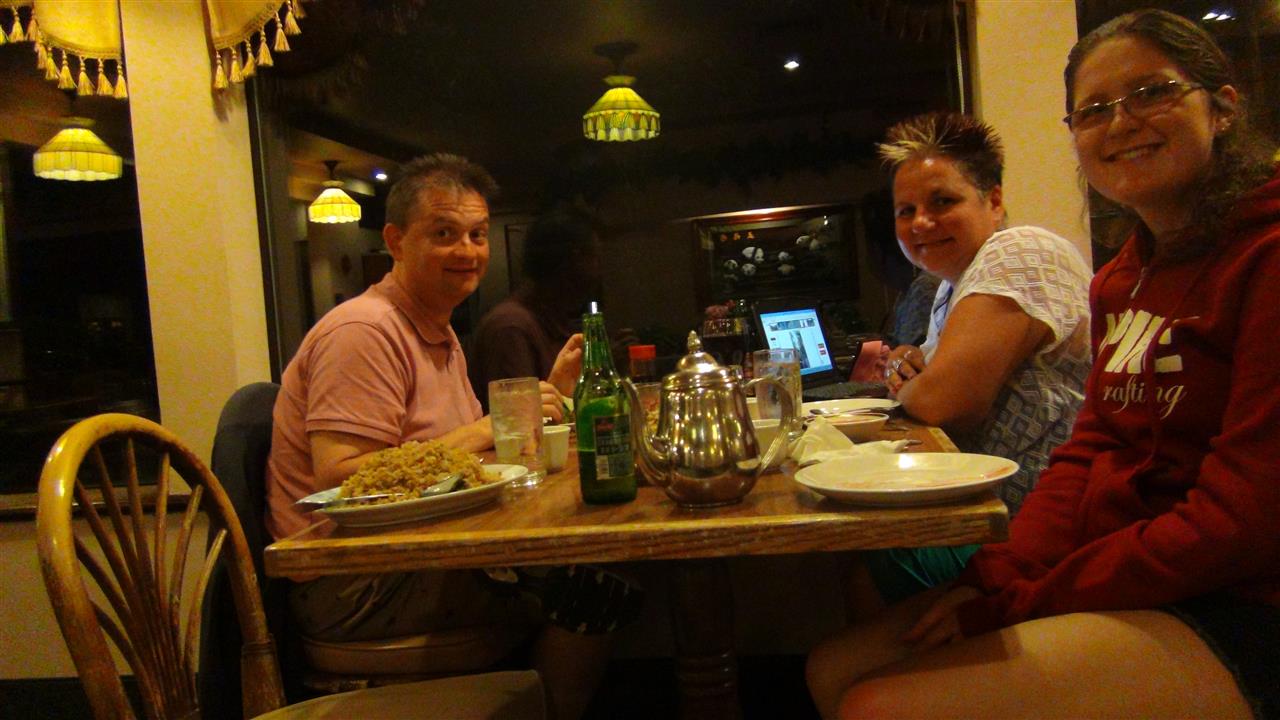 Mr Bean joined us for dinner, at The Hunan Chinese next door to our hotel.

Good night faithful reader for tomorrow we fly : ( xxx
---
Day 22 : Sad times.. Seattle to Uk via Vancouver .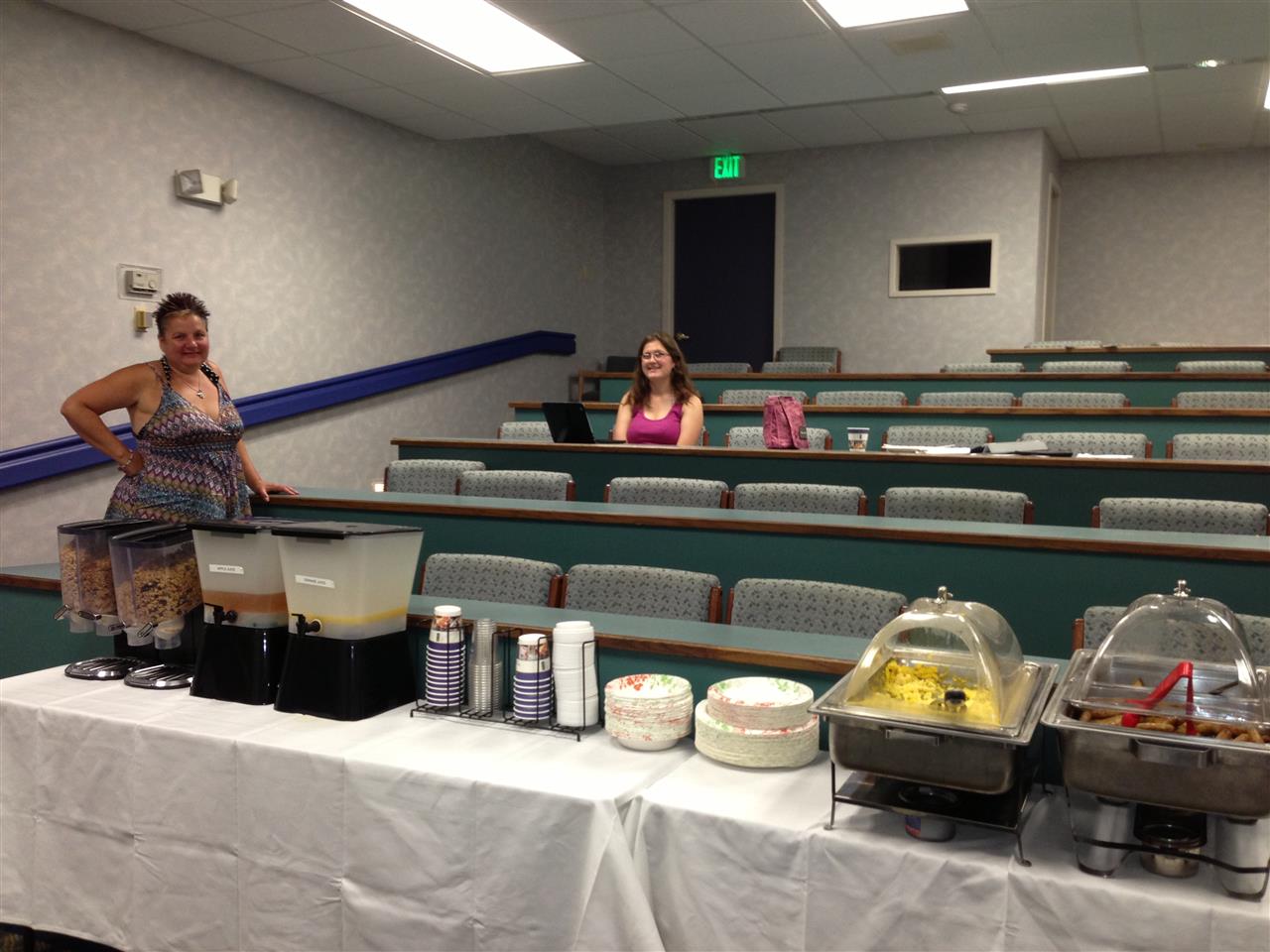 Nothing wrong with our Best Western..They were having a convention so breakfast overspilled into a lecture hall..all very bizzare : S
We had an hour to spare and once again lucked in with the weather, the sun was shining although the pool was in shade at 10am.. I checked out the hot boys poolside.......Unfortunately Ian got in the way .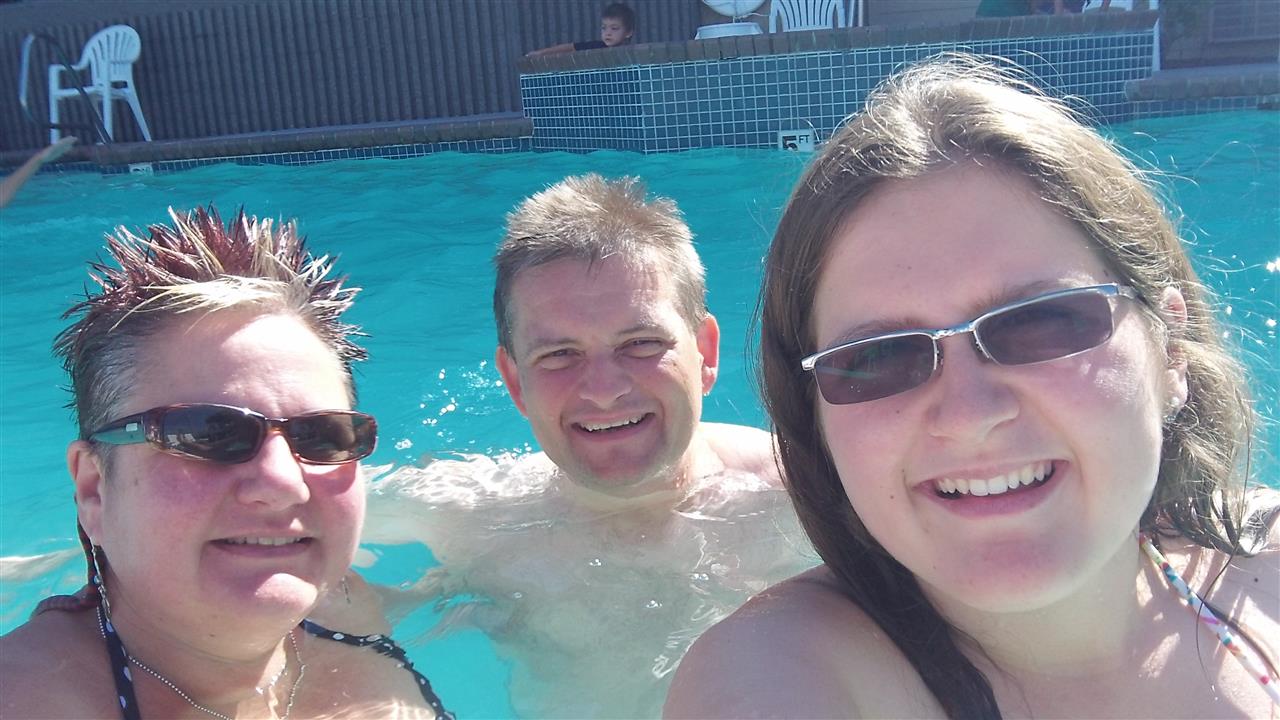 Cases closed, we enjoyed our last relaxing hour splashing around.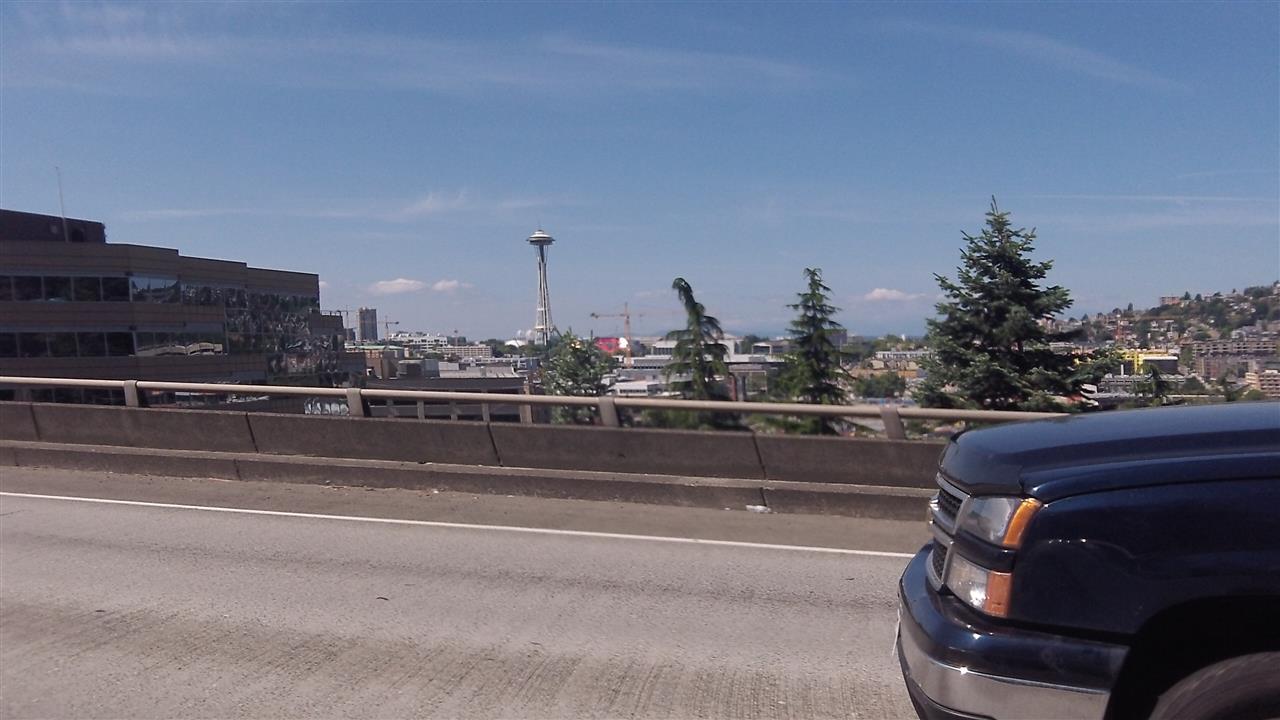 Ian had managed to run the petrol tank almost dry, as the car was to be returned empty..15 miles out we got cold feet & bought $5 of gas to see us safely to the airport.
We got close to the Seattle Tower.. It seems so long ago that we ate an anniversary ( almost ) dinner in their revolving restaurant..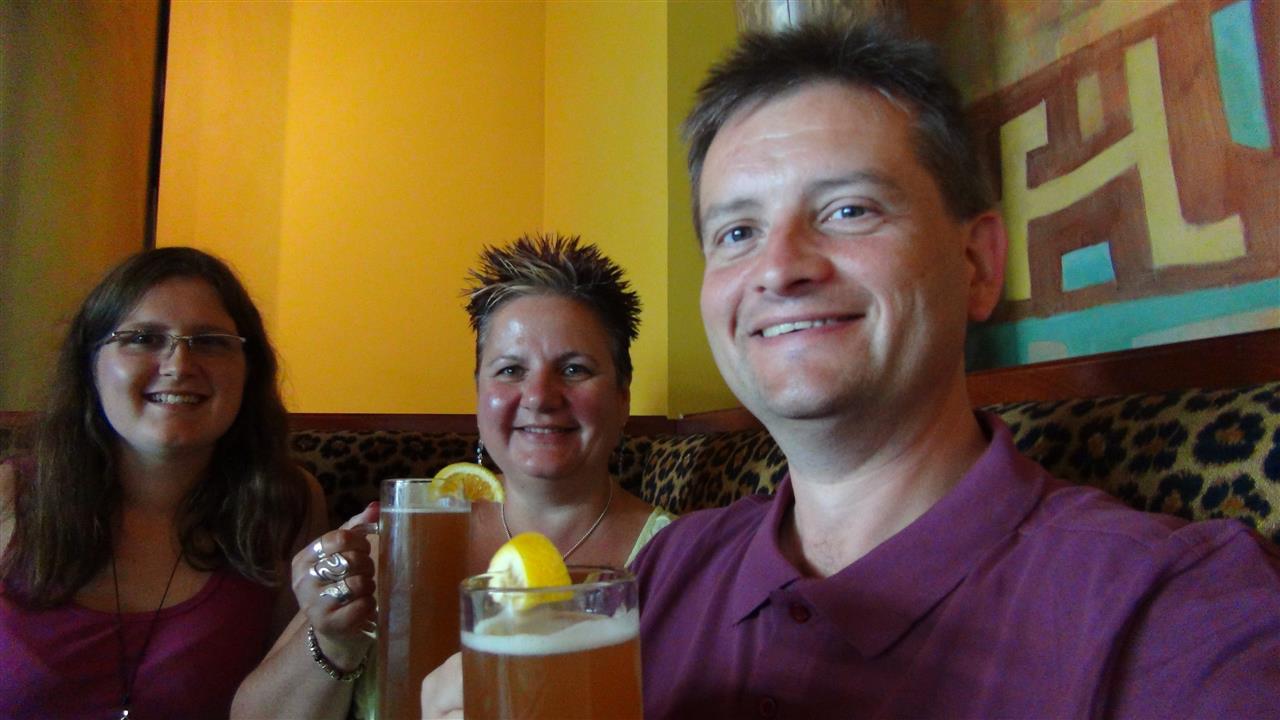 All checked in , we are travelling Air Canada home & they seem much more organized than manky United Airlines.

So off to the Africa Lounge for a beer & a burger before our flight to Vancouver & a change of plane to Heathrow.

Well dear reader.. See you when the fog lifts xxx
---