Holiday USA 2016

Show all days on one page (a long download!)
Day 1:&nbspChicago, Mission "free Hollie" Day 1 (Sunday 31st July 2016)
Day 2:&nbspA visit with our Amish friends. (Monday 1st August 2016)
Day 3:&nbspMission Hollie Complete ! (Tuesday 2nd August 2016)
Day 4:&nbspToday was mostly about churches (by Hollie). (Wednesday 3rd August 2016)
Day 5:&nbspLake Itasca to Lake Superior. (Thursday 4th August 2016)
Day 6:&nbspFeeling Superior (Friday 5th August 2016)
Day 7:&nbspSleeping Bear Dunes & 100 yrs of Coast Guard Aviation. (Saturday 6th August 2016)
Day 8:&nbspMeet me in St Louis (Sunday 7th August 2016)
Day 9:&nbspSix Flags (Part 1) (Monday 8th August 2016)
Day 10:&nbspSix Flags (Part 2 ) (Tuesday 9th August 2016)
Day 11:&nbspGrand Ole Opry , best seats in the house ! (Wednesday 10th August 2016)
Day 12:&nbspNashville (Thursday 11th August 2016)
Day 13:&nbspThe lost sea to Davy Crockett. (Friday 12th August 2016)
Day 14:&nbspOcoee wild water (Saturday 13th August 2016)
Day 15:&nbspHen pecked in Georgia on the way to Albama (Sunday 14th August 2016)
Day 16:&nbspSome bald old rocks & another lake. (Monday 15th August 2016)
Day 17:&nbspPanama city beach (Tuesday 16th August 2016)
Day 18:&nbspDolphin encounter. (Wednesday 17th August 2016)
Day 19:&nbspNew Orleans here we come ! (Thursday 18th August 2016)

Friday 19th August 2016
DAY
20

Oak Alley Plantation & The Natchez.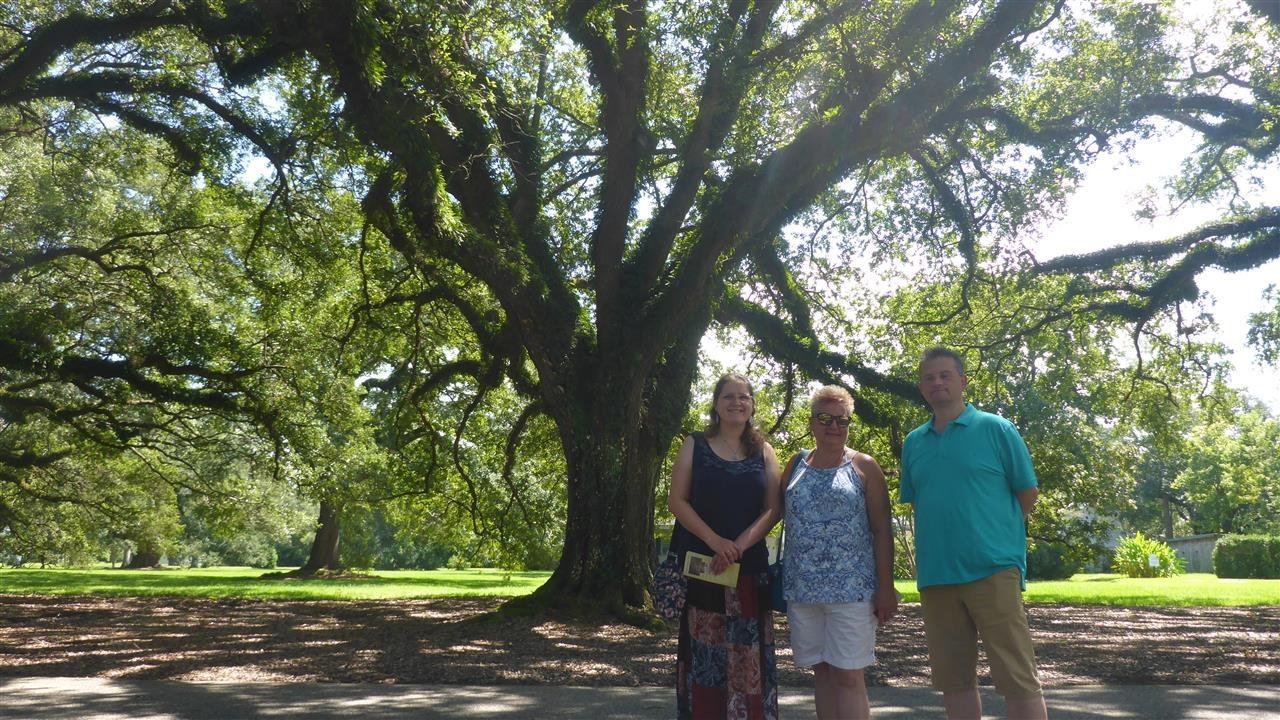 We drove out an hour or so to an area rich with history, the plantations of southern Louisianna.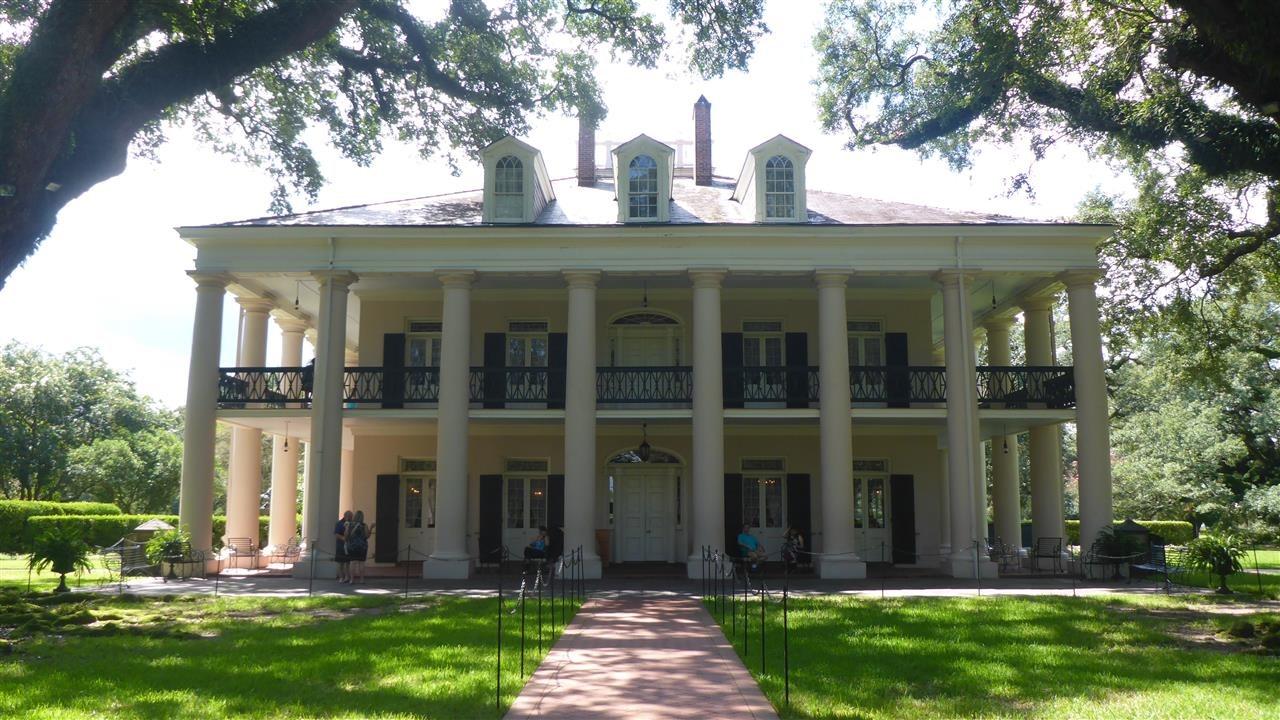 Oak Alley Plantation a beautifully restored 19th century house , built in the Greek revival style.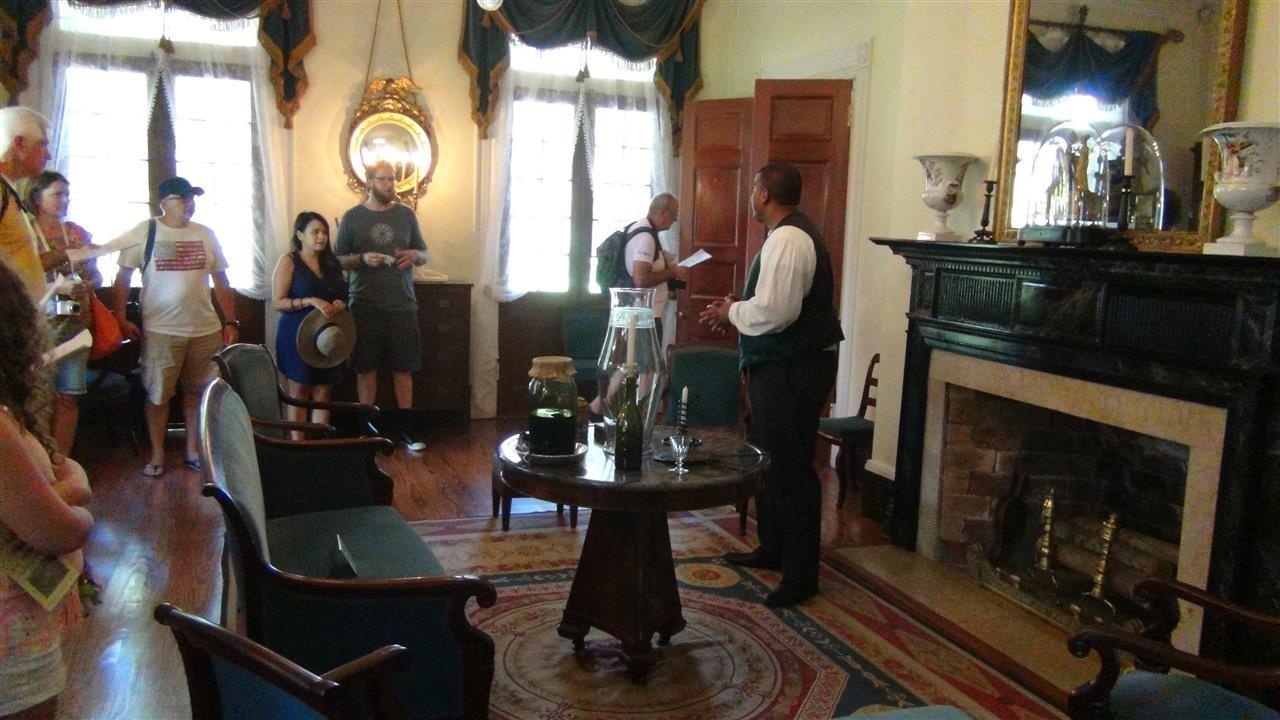 The house was built by Jacques Roman & his wife Selina. The structure is built with mud bricks formed from the mud of the nearby Mississipi & baked onsite. The House took 2 yrs to build, all of the labour performed by the landowners slaves. ( Note Mr Yellow tee shirt far left. )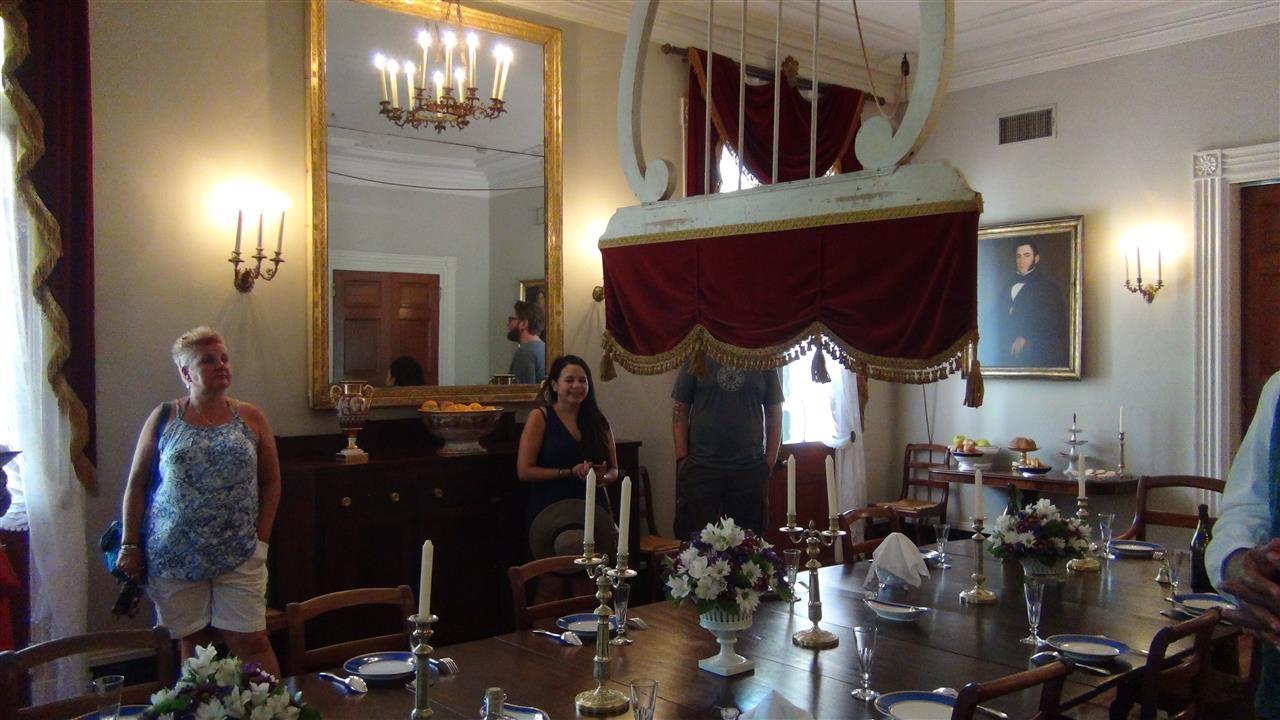 The dining room with its massive fan , a young slave would operate the fan whilst the diners ate. Some of the Roman families original china is displayed here.
The bedroom recreating a scene where there might have been a death, mirror covered with black gauze , so that the departing soul doesn't get stuck on this side.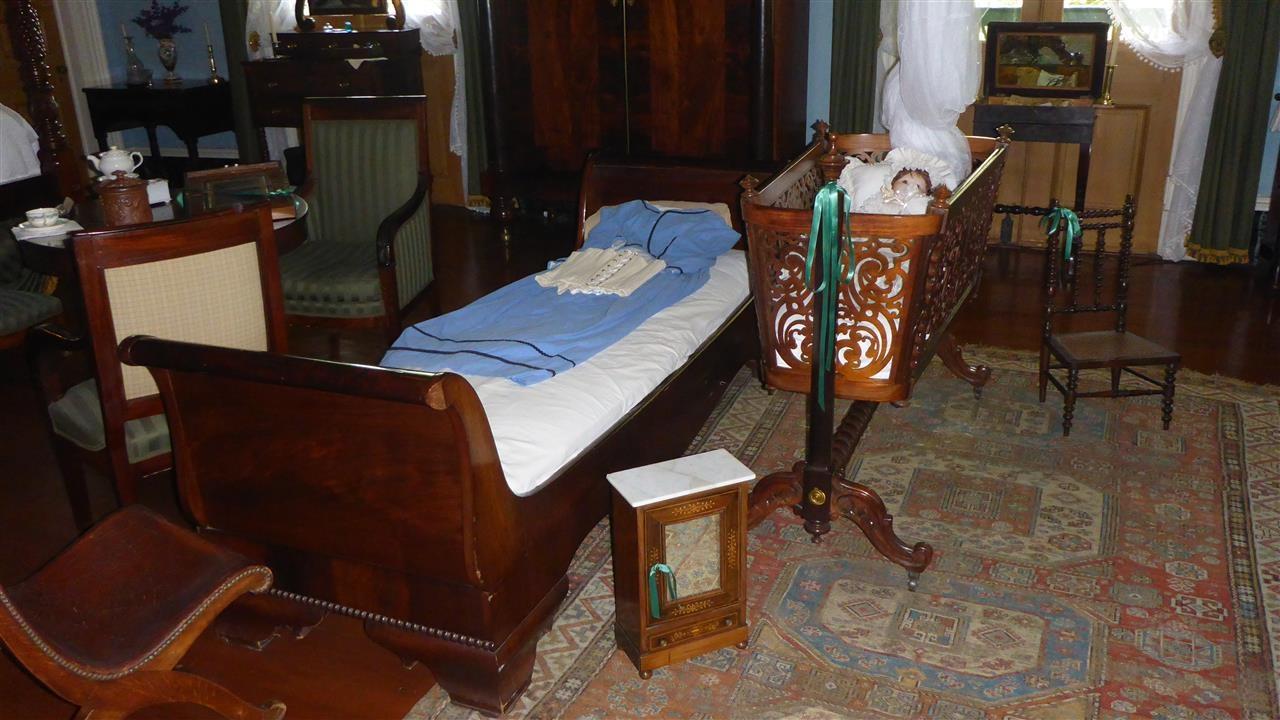 The green ribbons denote Items from the original house , not reproductions.
Our guide told us many tales of the house & its occupants, including a time around 1900 when the abandoned house was invaded by cows , seeking shelter, they occupied the ground floor for 12 yrs!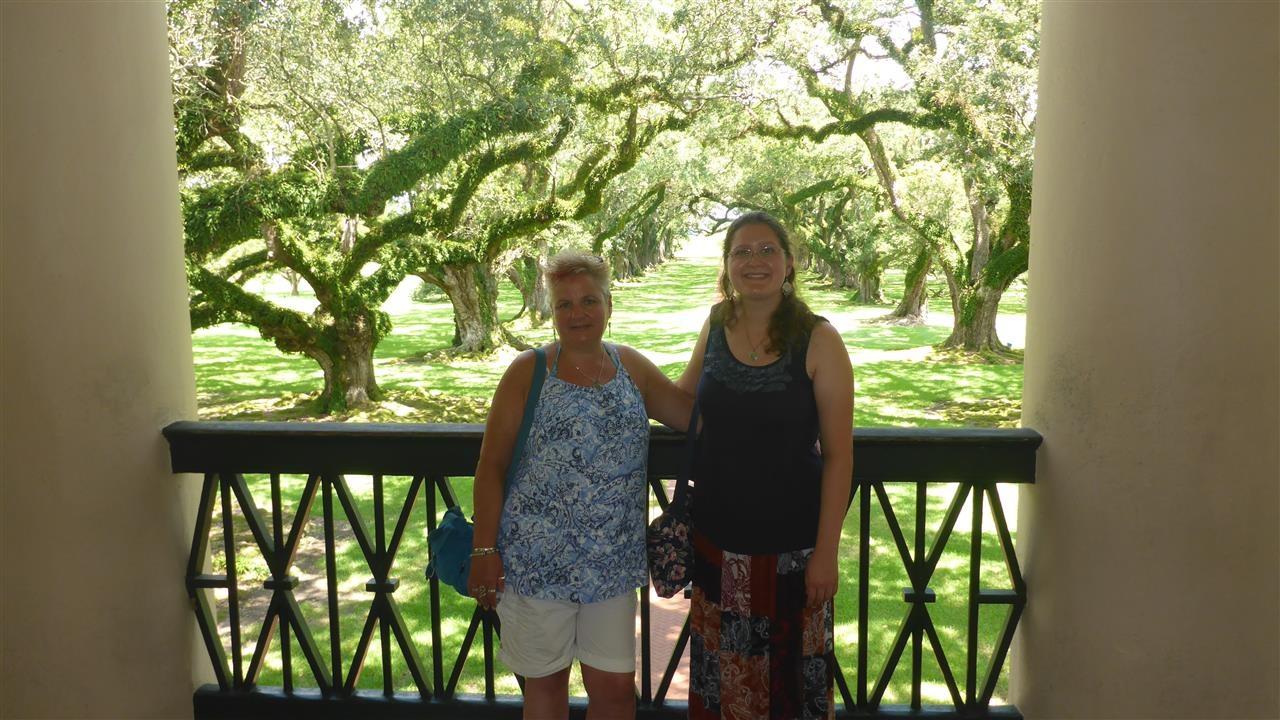 In 1923 Andrew Stuart & his wife bought the house for nearly $50,000, they invested another $60,000 & lived in it for 40 + yrs..they are buried onsite, with their dogs Diane & Sandy & their cat Batman.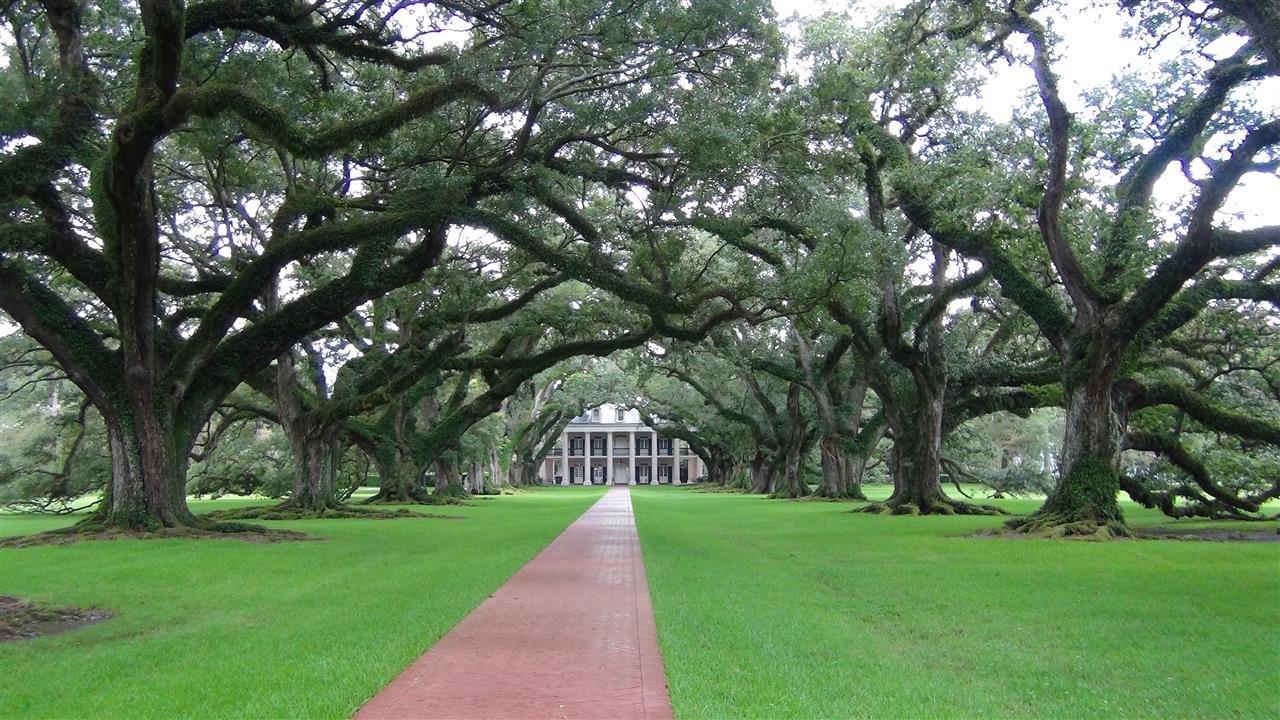 Oak Alley takes its name from the rows of Virginia Live oaks that flank the pathway, 28 in total.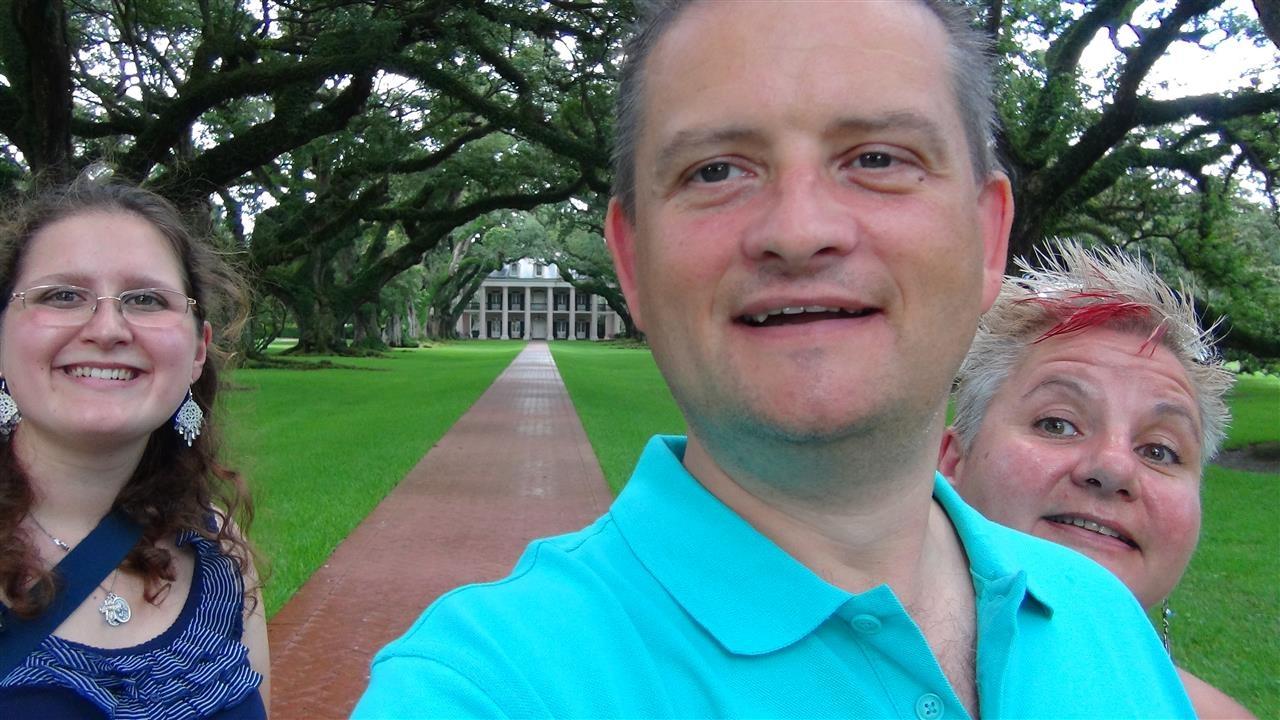 The plantation supported the rich families & a total of at least 200 slaves over the years.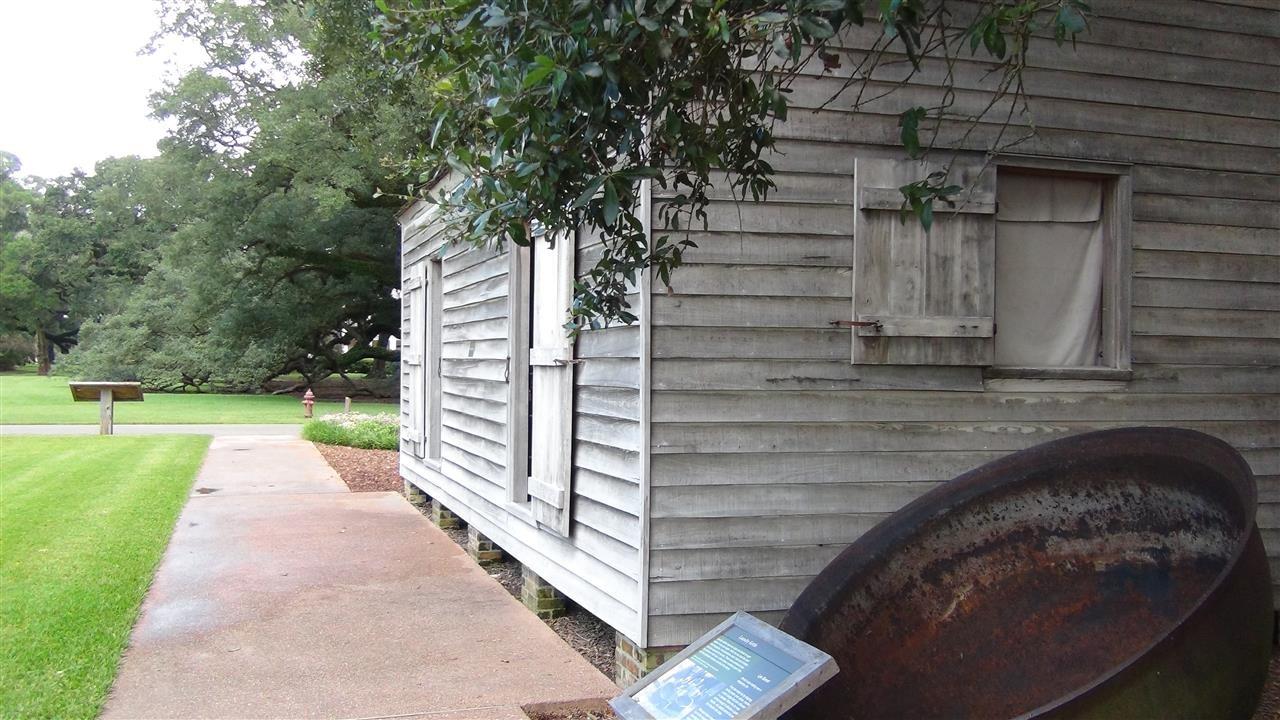 The massive cast iron dishes were used for Laundry , or when the sugar cane was harvested , as boiling pots to extract the sugar from the cane.
We watched an interesting video on modern sugar production.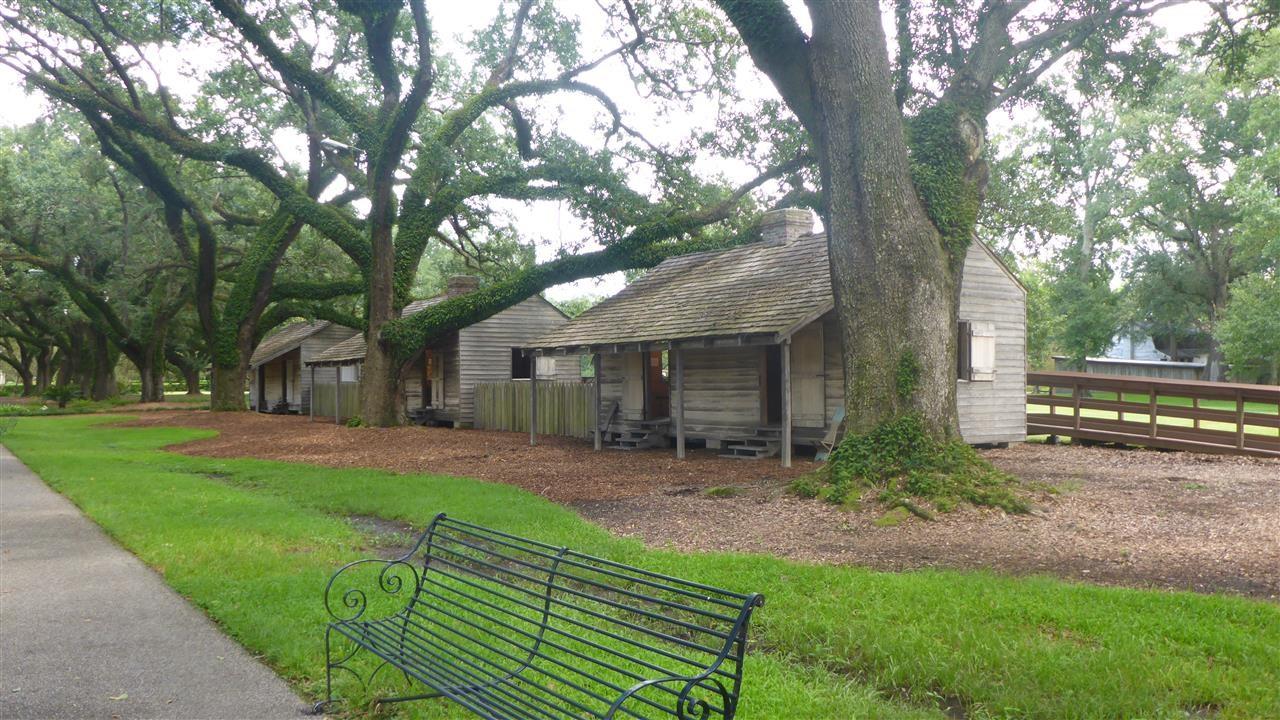 These replica slave quarters , helped depict the appalling conditions the slaves lived under, how they suplimented their rations by keeping animals and planting small areas of crops.
Finally legislation & the chaos of civil war bringing an end to slavery, in turn forcing the plantations to fall into debt as they lost their free workforce.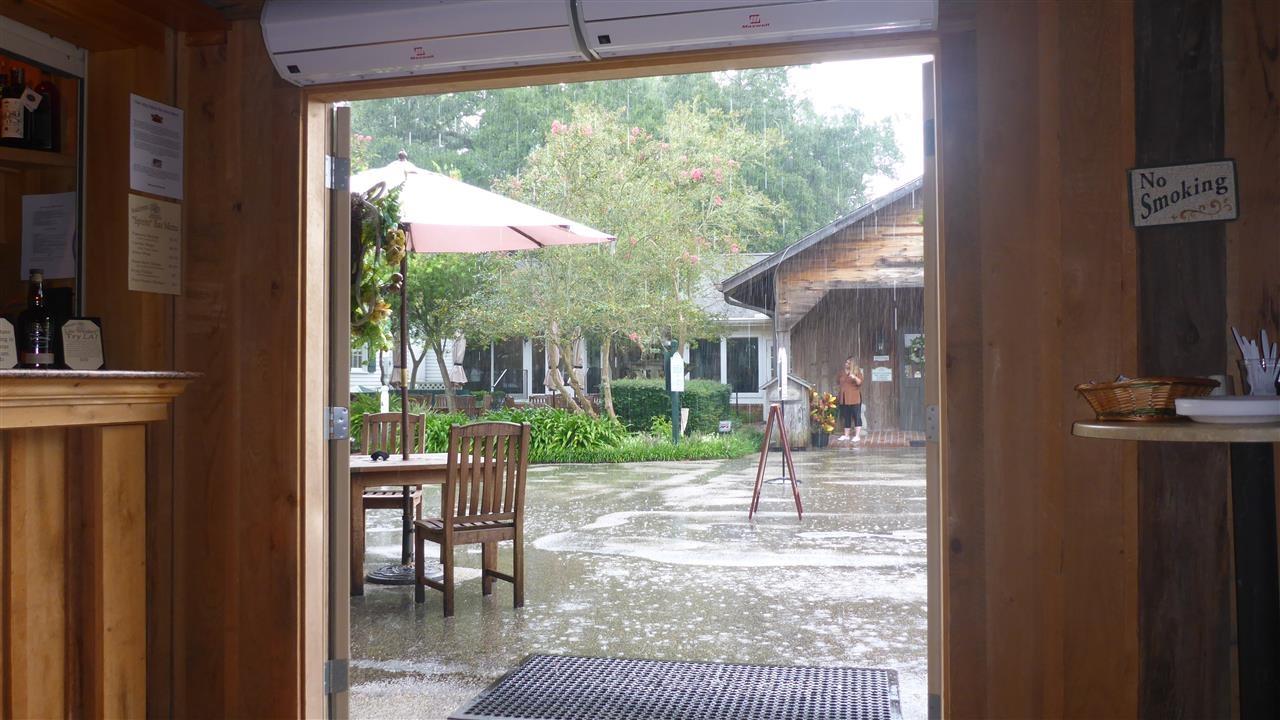 A pub type lunch on site, as the heavens opened.
Just time for a change of clothes, we walked to the Natchez , just a few blocks away.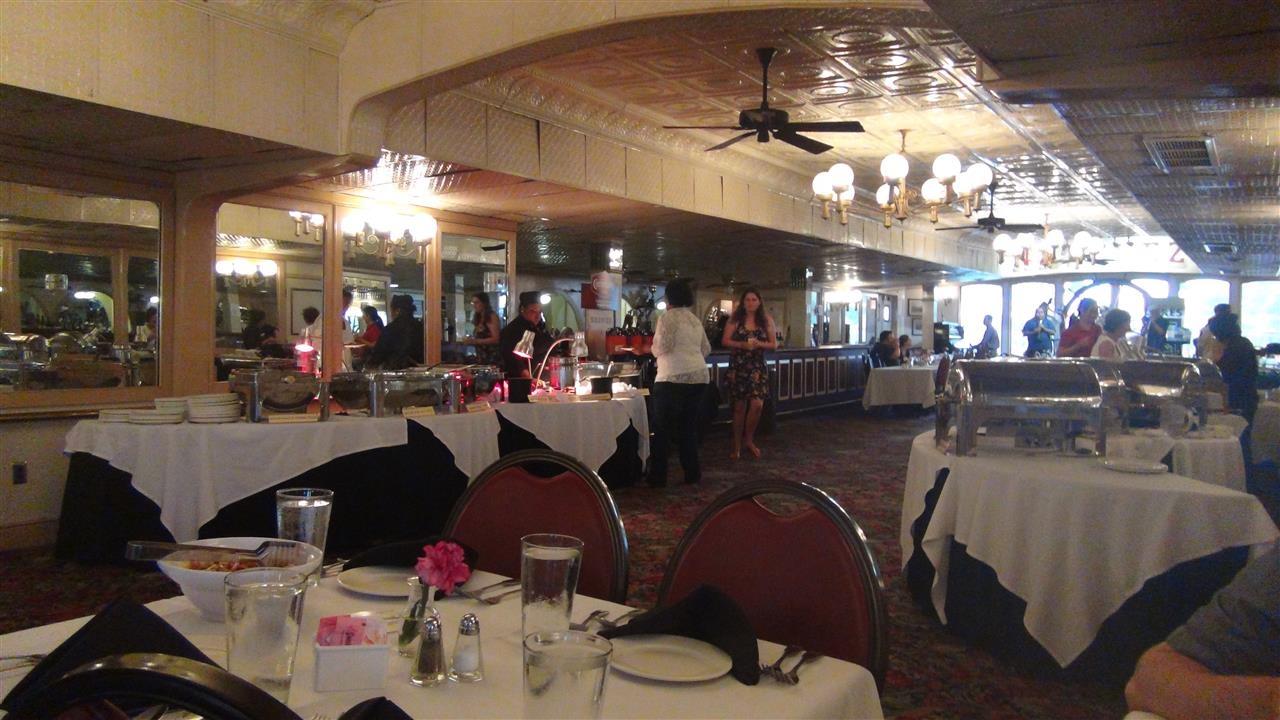 Our buffet style dinner , once again enjoyed to the sounds of "The Dixie Dukes ".
The weather stayed dry for our 7 mile voyage , dispite a few rumbles of thunder.
( Is that a yellow tee shirt beside Ian ?)
Beautiful girlie & a beautiful pink sunset.
Before long we were headed back to the dock, having listened to stories & facts about the ship & the river, as well as the Jazz.
(Yep, Mr yellow tee shirt & his party were indeed next to us for most of the voyage, we might have attempted to chat , but it soon became obvious they were french !)

We headed back via the brightly lit gift shops, Hollie wanted to sit outside & read but its really humid & damp , meaning all the bugs are out tonight : (

Well goodnight dear reader...Until tomorrow xxxx




Day 21:&nbspAirboats & baby alligators (Saturday 20th August 2016)
Day 22:&nbspNew Orleans & Ghostly happenings... (Sunday 21st August 2016)
Day 23:&nbspRace to the space shuttle. (Monday 22nd August 2016)
Day 24:&nbspA fond farewell from Houston (Tuesday 23rd August 2016)