Holiday USA 2016

Show all days on one page (a long download!)
Day 1:&nbspChicago, Mission "free Hollie" Day 1 (Sunday 31st July 2016)
Day 2:&nbspA visit with our Amish friends. (Monday 1st August 2016)

Tuesday 2nd August 2016
DAY
3

Mission Hollie Complete !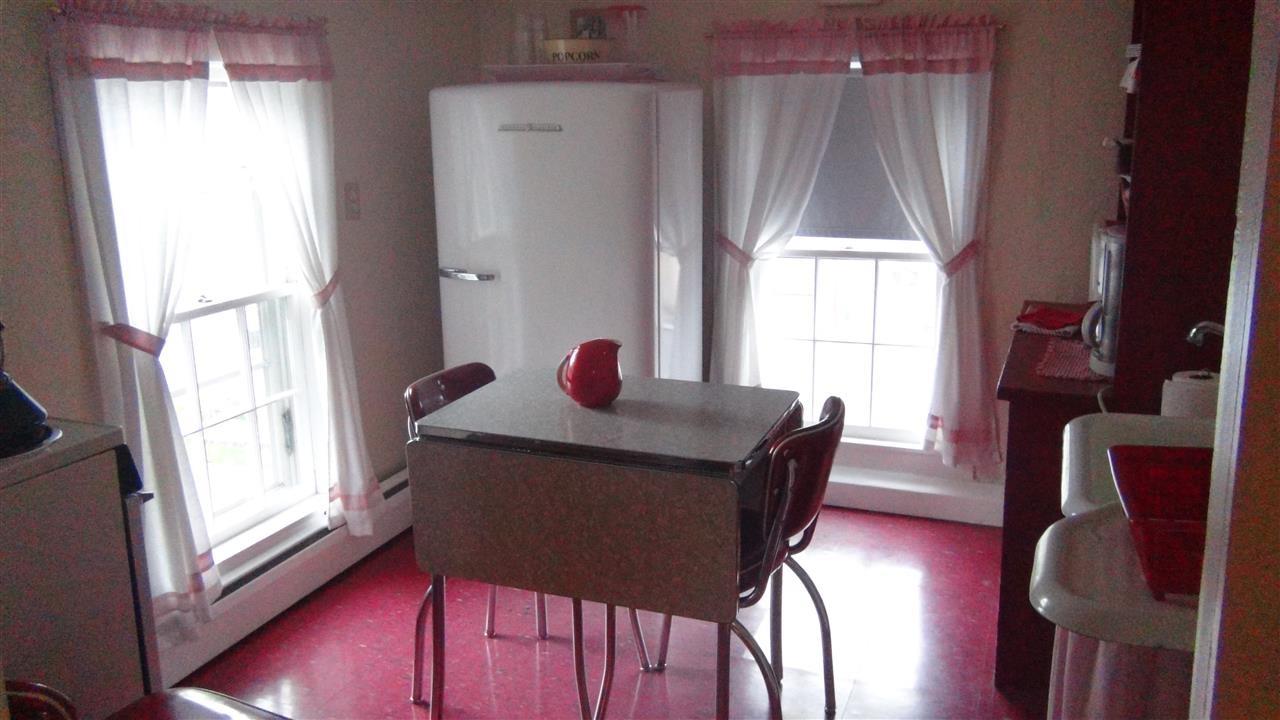 A great nights sleep in our old jail house.
6am and view of the road from our bathroom window, owners english bull dog standing in the highway , cars navigating round him.. I grabbed my flip flops and wearing nothing but a nightie, hurtled down stairs to rescue said pooch !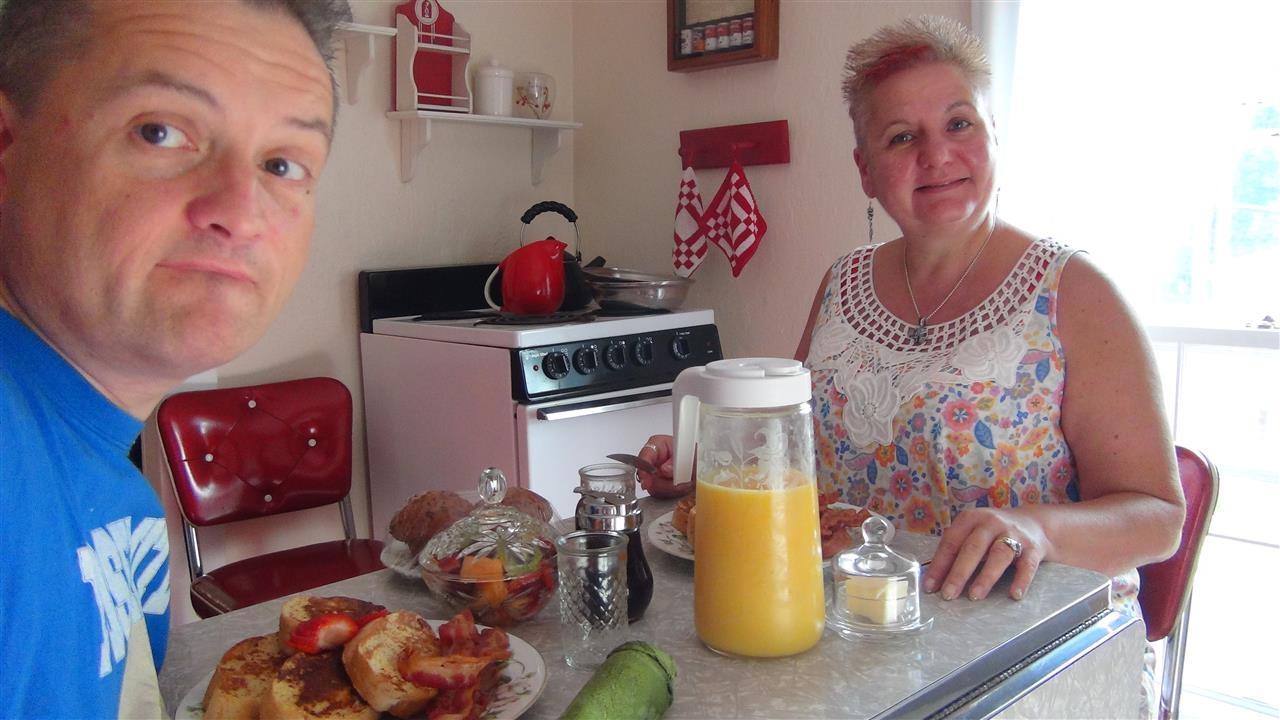 Home made breakfast served in our funky kitchen. Bacon , french toast , fresh fruit & fresh squeezed orange juice.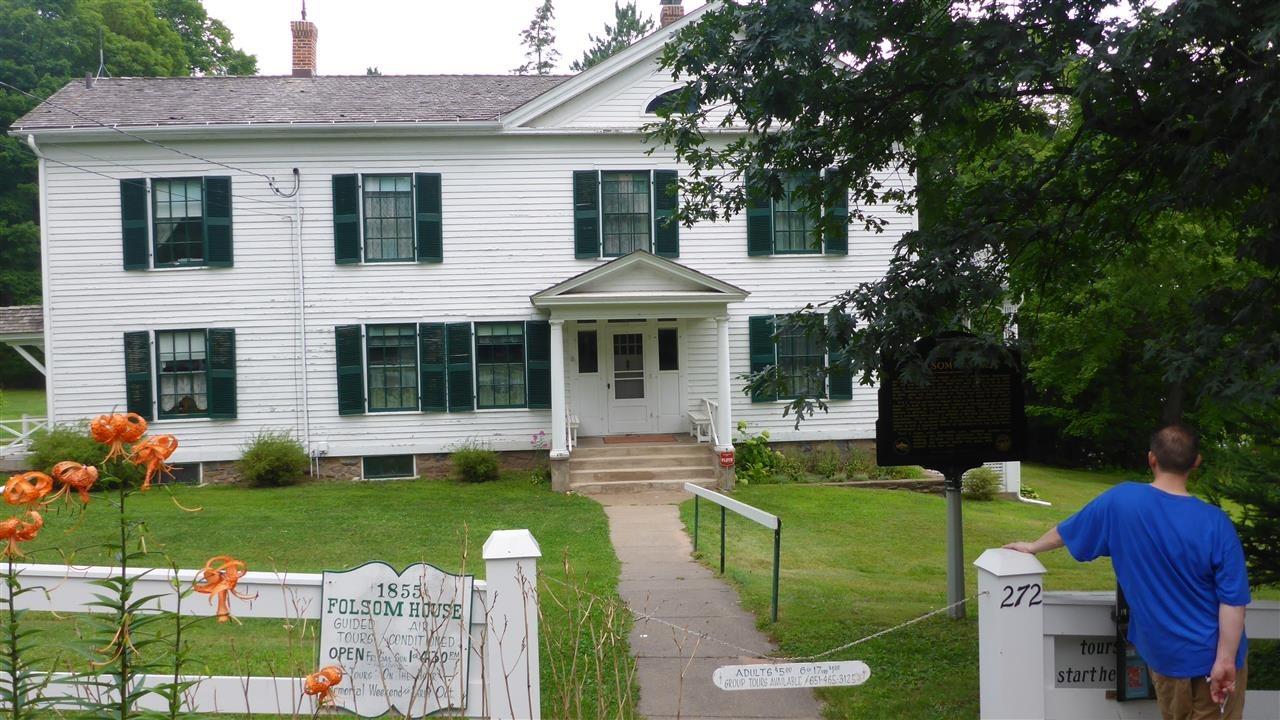 With a couple of hours to spare , we battled the heat , bugs & humidity . The Fulsom House built in 1855 by a wealthy merchant , ( no idea why he wanted to build it at the top of a steep hill ) the house & many artifacts remain in good condition & guided tours are available.
We explored a short river walk & the tiny Main Street.
Next stop the river cruise, an 80 minute excursion up the St Croix river on a modern paddle steamer.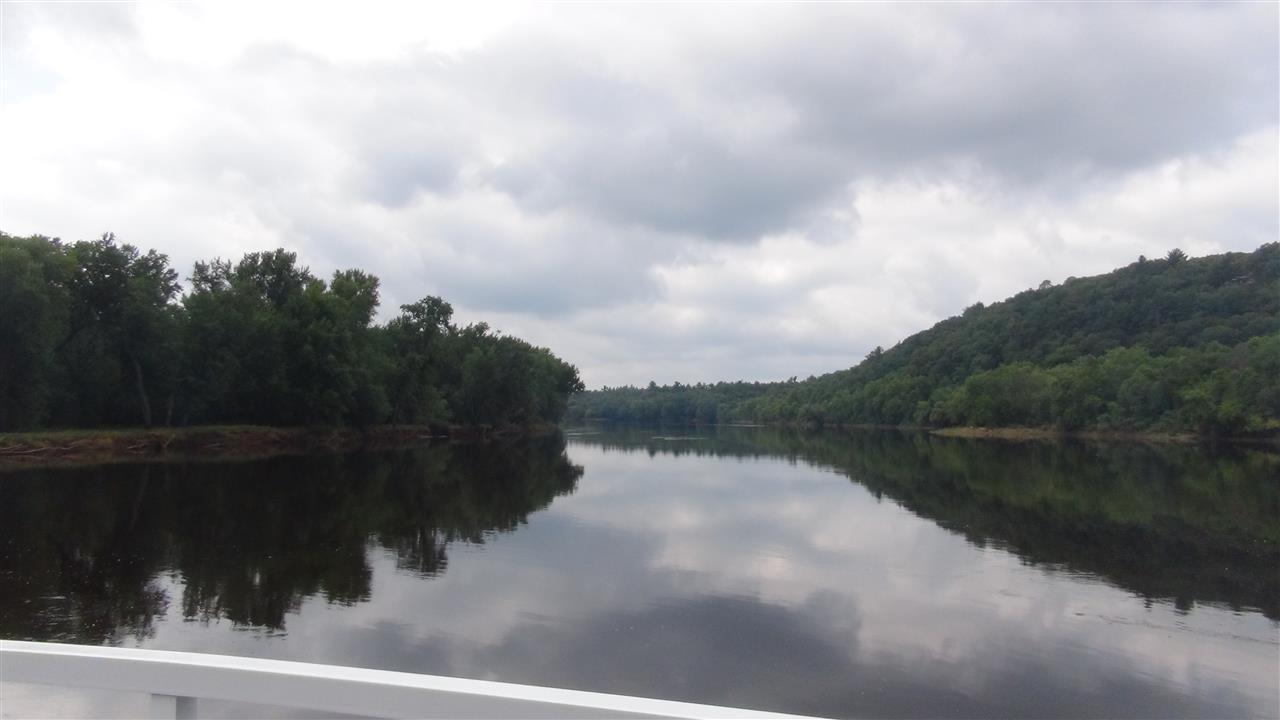 Without the slight breeze it would have been unbearable.
Our host Ryan , jack of all trades told us about the ship , one of only 16 in the world, made entirely from aluminium with a shallow 17 inch draft , its flat bottomed design making it incredibly efficient.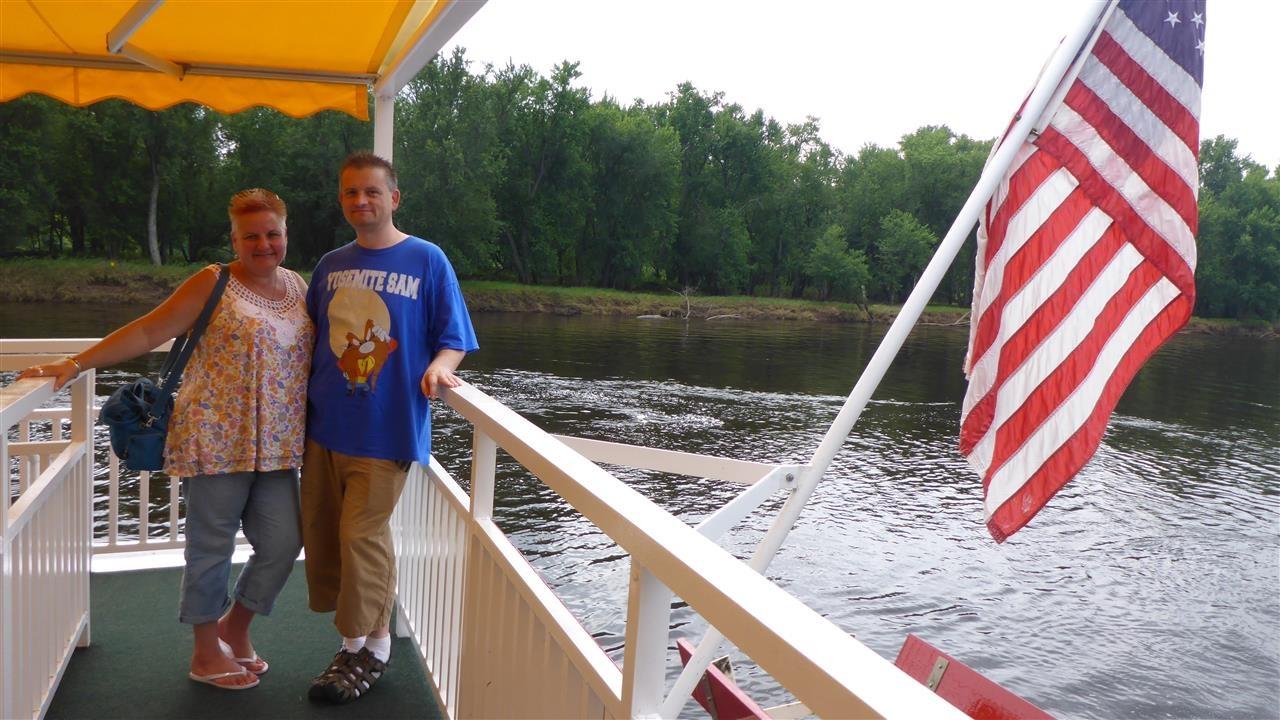 My excitement building as the day progressed , only a 3.5 hour drive to Fargo , between me & Hollie.
After much hugging and a good catch up, Hollie , Terina , Ian & I head for Applebee's.
Much to our delight 15 of her fellow deciples , the co ordinators & trainers turned up to celebrate with us.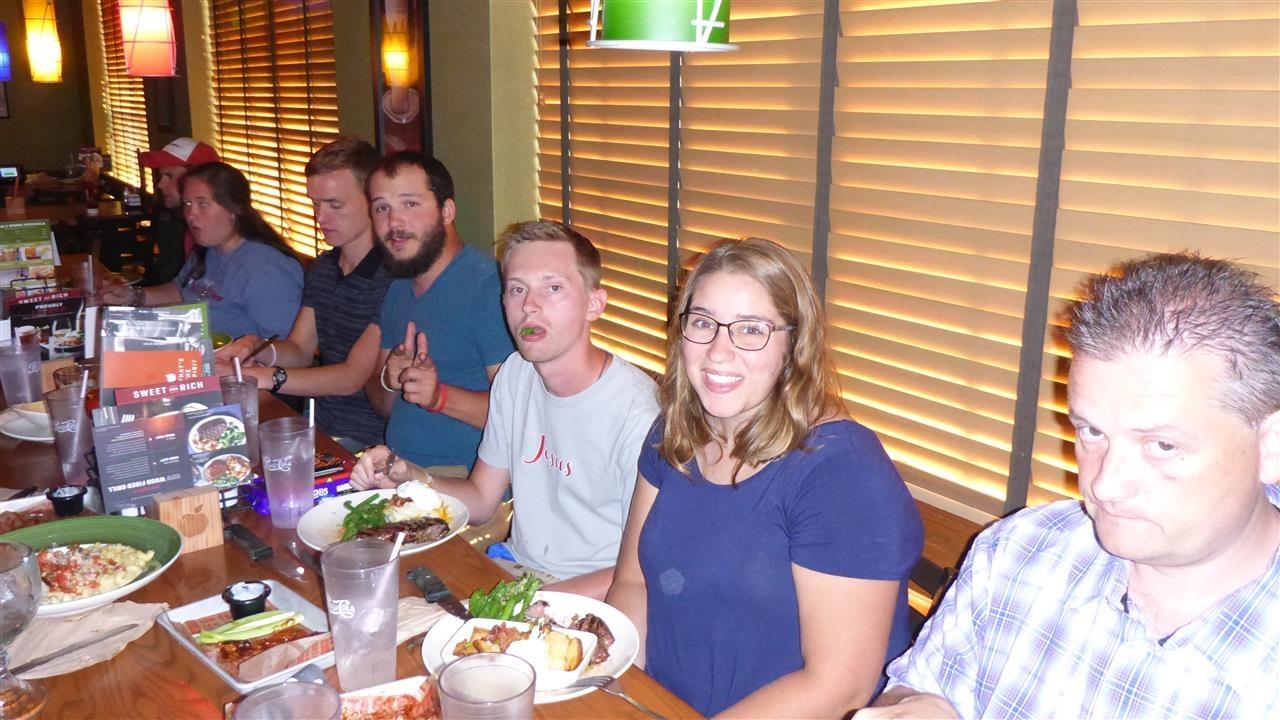 Terina next to Ian & Casey next to her Corey , Vlod ,Sarah & Ethan.
To the right Mary Hanbury and Mary Evinger, then Ashleigh & Thomas.

These wonderful people all came to speak to us & sang Hollies praises. I can't imagine how dull her life will be without these wonderful people.

Lots of cuddles & another adventure about to begin..

Love to you all Hollie , Ian & Debbi xx


Day 4:&nbspToday was mostly about churches (by Hollie). (Wednesday 3rd August 2016)
Day 5:&nbspLake Itasca to Lake Superior. (Thursday 4th August 2016)
Day 6:&nbspFeeling Superior (Friday 5th August 2016)
Day 7:&nbspSleeping Bear Dunes & 100 yrs of Coast Guard Aviation. (Saturday 6th August 2016)
Day 8:&nbspMeet me in St Louis (Sunday 7th August 2016)
Day 9:&nbspSix Flags (Part 1) (Monday 8th August 2016)
Day 10:&nbspSix Flags (Part 2 ) (Tuesday 9th August 2016)
Day 11:&nbspGrand Ole Opry , best seats in the house ! (Wednesday 10th August 2016)
Day 12:&nbspNashville (Thursday 11th August 2016)
Day 13:&nbspThe lost sea to Davy Crockett. (Friday 12th August 2016)
Day 14:&nbspOcoee wild water (Saturday 13th August 2016)
Day 15:&nbspHen pecked in Georgia on the way to Albama (Sunday 14th August 2016)
Day 16:&nbspSome bald old rocks & another lake. (Monday 15th August 2016)
Day 17:&nbspPanama city beach (Tuesday 16th August 2016)
Day 18:&nbspDolphin encounter. (Wednesday 17th August 2016)
Day 19:&nbspNew Orleans here we come ! (Thursday 18th August 2016)
Day 20:&nbspOak Alley Plantation & The Natchez. (Friday 19th August 2016)
Day 21:&nbspAirboats & baby alligators (Saturday 20th August 2016)
Day 22:&nbspNew Orleans & Ghostly happenings... (Sunday 21st August 2016)
Day 23:&nbspRace to the space shuttle. (Monday 22nd August 2016)
Day 24:&nbspA fond farewell from Houston (Tuesday 23rd August 2016)