Holiday USA 2016

Show all days on one page (a long download!)
Day 1:&nbspChicago, Mission "free Hollie" Day 1 (Sunday 31st July 2016)

Monday 1st August 2016
DAY
2

A visit with our Amish friends.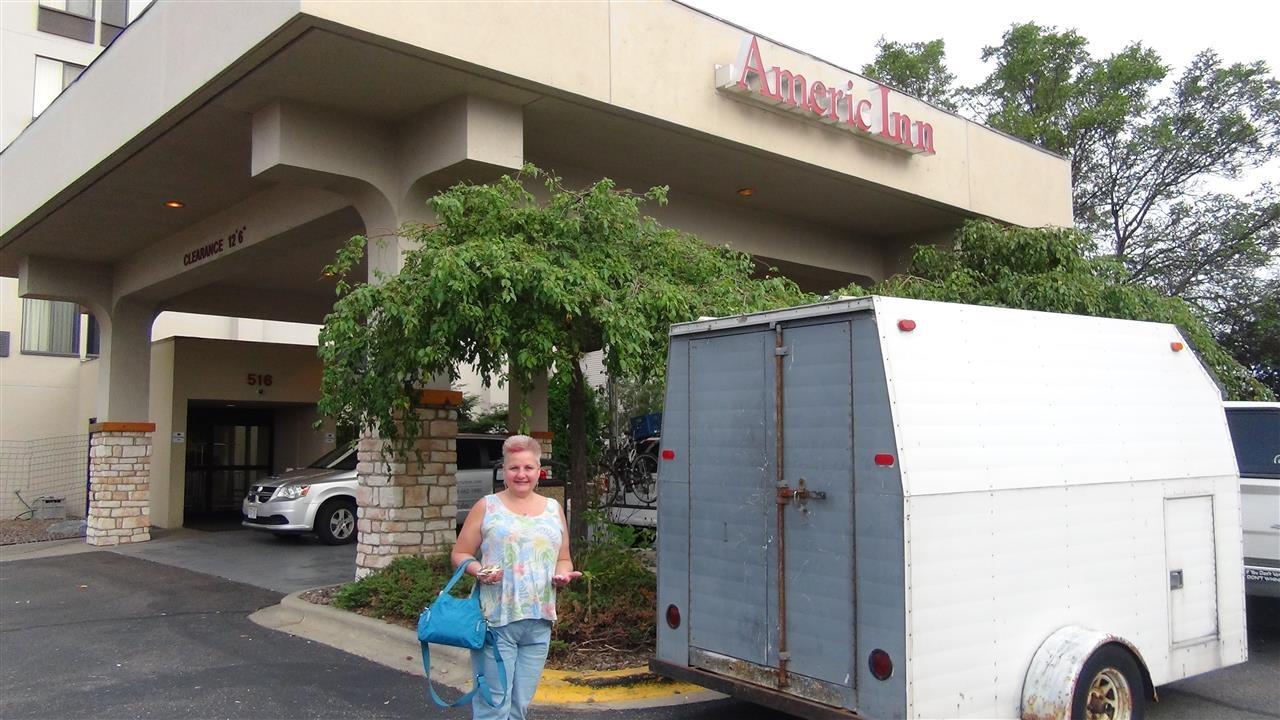 Ian slept well but my silly head cold kept me awake : (
The Americinn offered a great breakfast but we settled on juice, A muffin & banana to go..
A long drive through corn heaven towards Harmony & its famous amish community.
The sweetcorn crop is currently being gathered & roadside stalls groan under the weight of their wares, priced at various levels, the most bizarre being 12 dollars for 4 dozen..not sure who would want 48 fresh ears of corn.
We had a self guided tour via a CD Ian had bought in advance from Harmony.
Our knowledgable tour guide took us from 1 rural home to the next, giving the names of the farming families & their trades, highlighting schools & imparting a fascinating glimpse at the archaic life style & customs of these devout folk.
we stopped at a couple of their craft shops, ( a shed next to their farmhouse ) and were served by a lady in full amish outfit , bare feet , bonnet & all .

The amish do not allow photography, but we got a shot of the family car.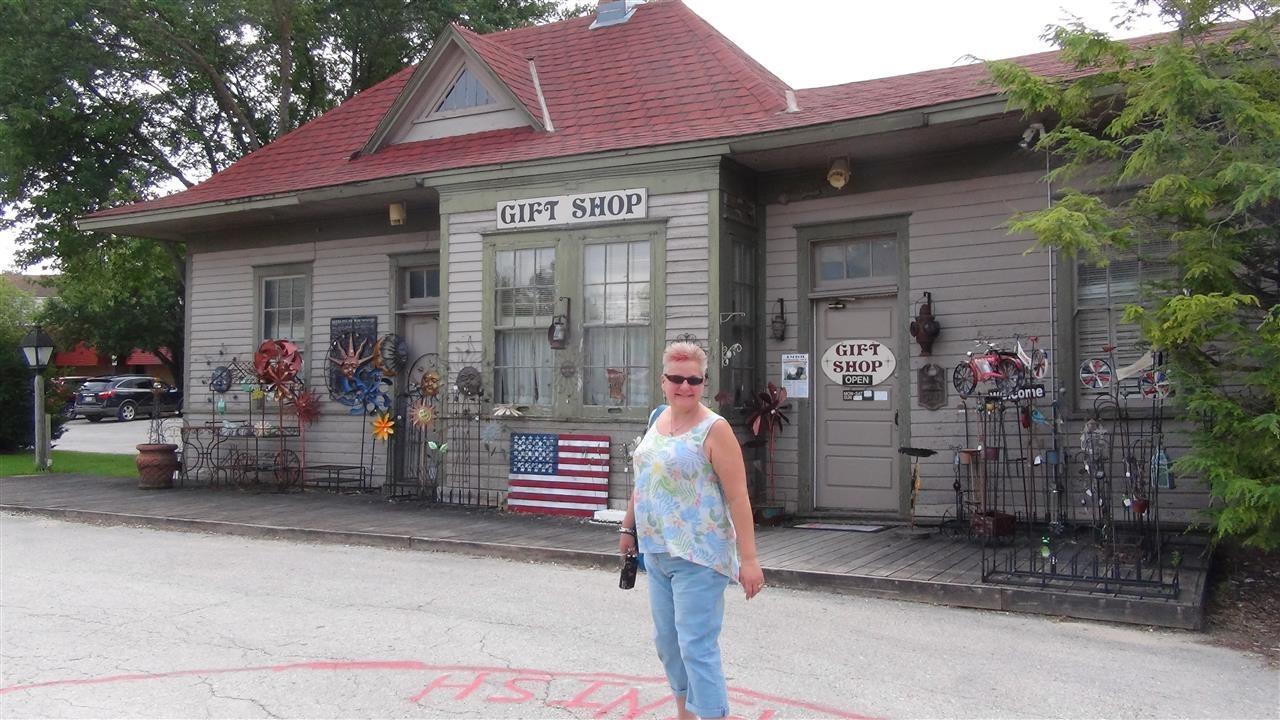 I'm not sure many people were lucky enough to have this experience, most of the other visitors were clustered round the gaudy , non amish owned gift shops in town.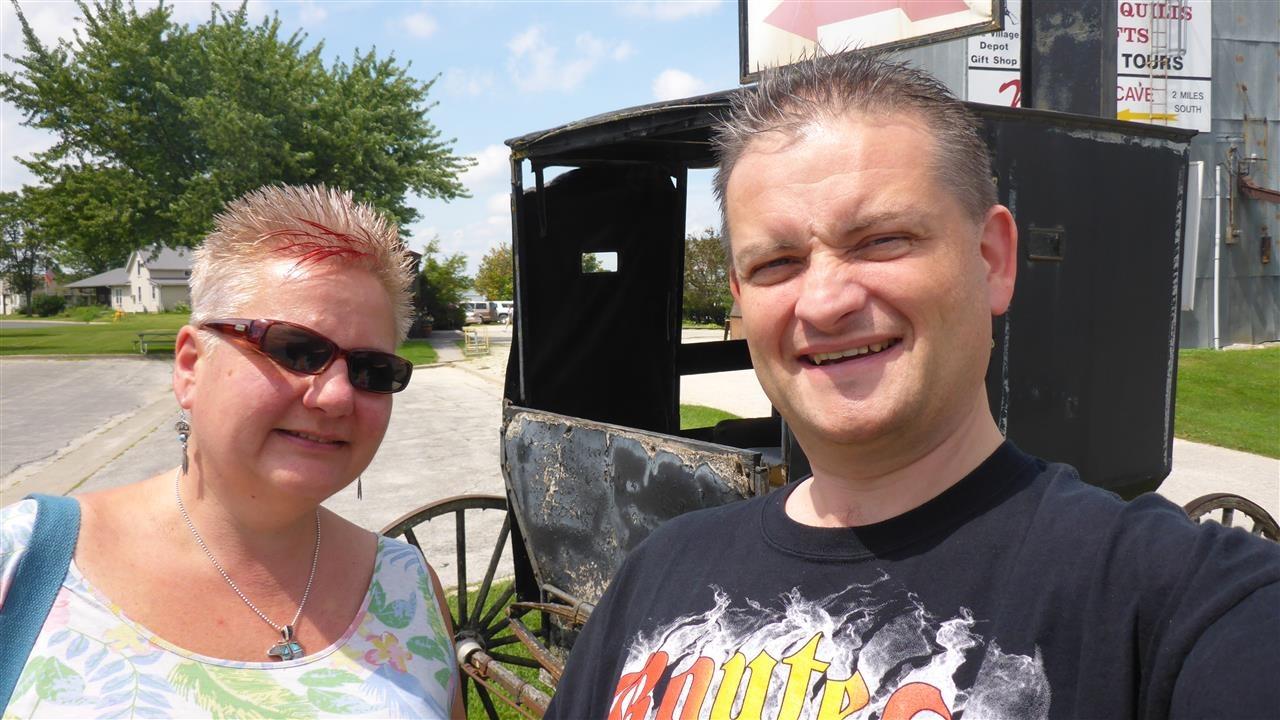 Our audio guide told us much about how the Amish came to settle this area, why they dislike technology & that they will use hospitals & neighbours cars if an emergency occurs , but revert back to the old ways once a crisis is over.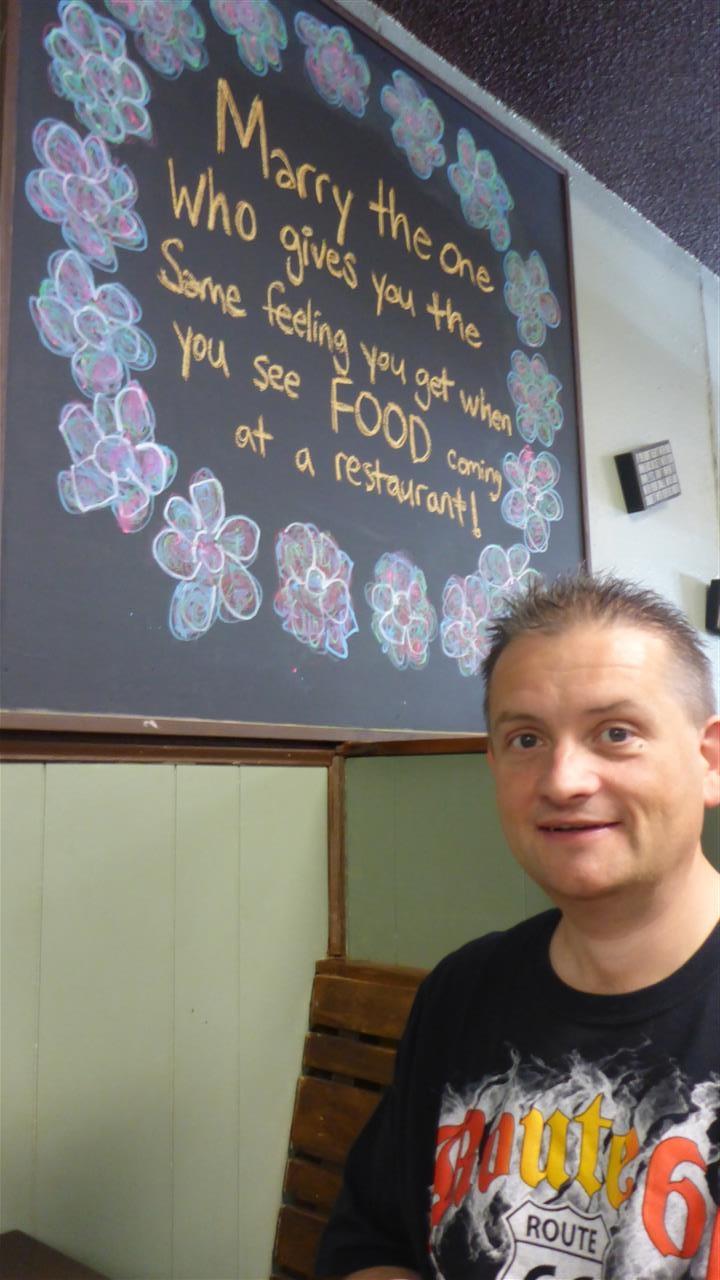 Julies cafe , great food & lots of meaningful slogans on the walls.
A beer at lunch time .. well I am on holiday!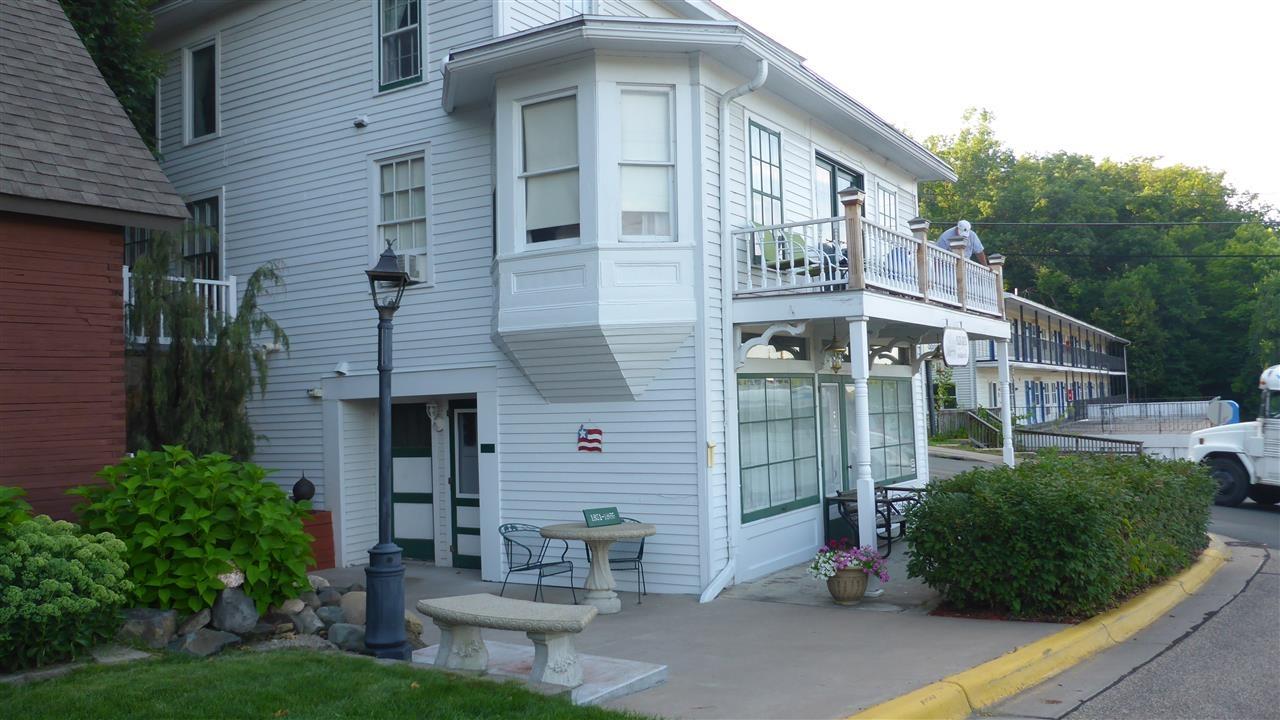 Another rural 3+ hr drive for Ian to Taylors falls, our hang out for tonight & the overlook suite at The old Jail house.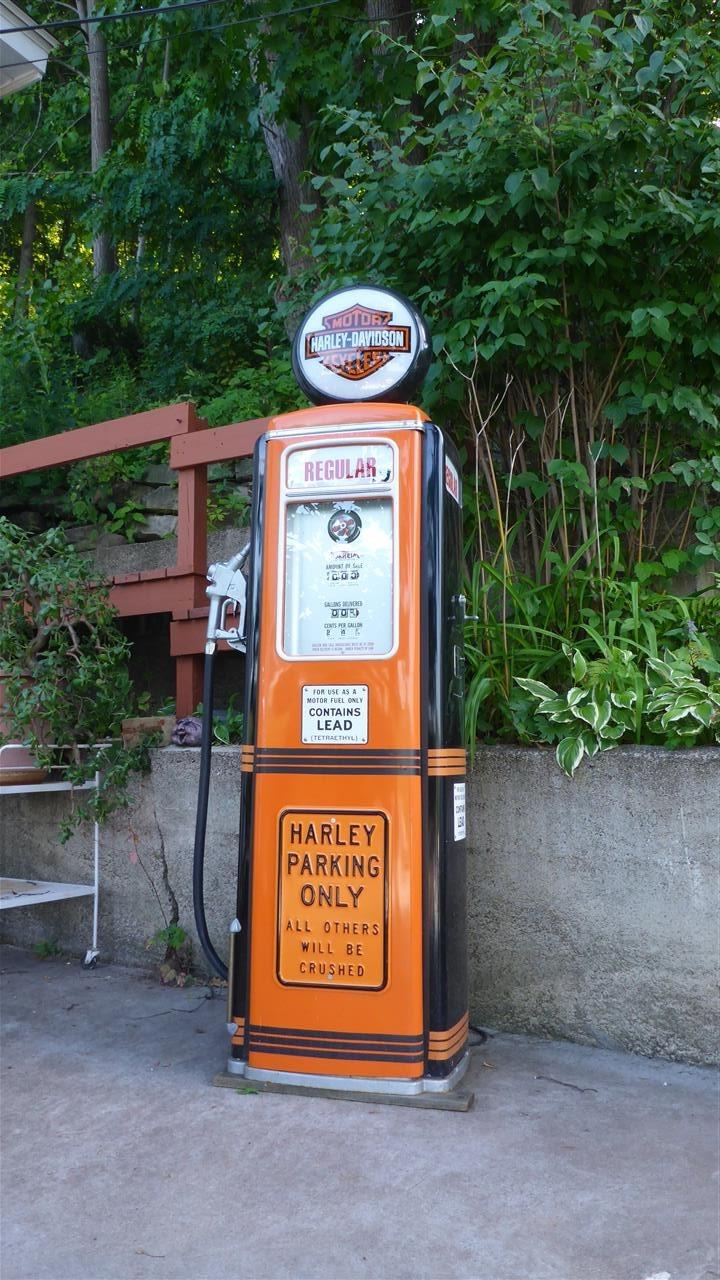 A full size gas pump at the top of some very " health & safety " crazy paved steps.
Very atmospheric suite , this is my bed, Ians room is at the back of the propery just off the bathroom, the whole place has a slightly creaky , wobbly and creepy air to it.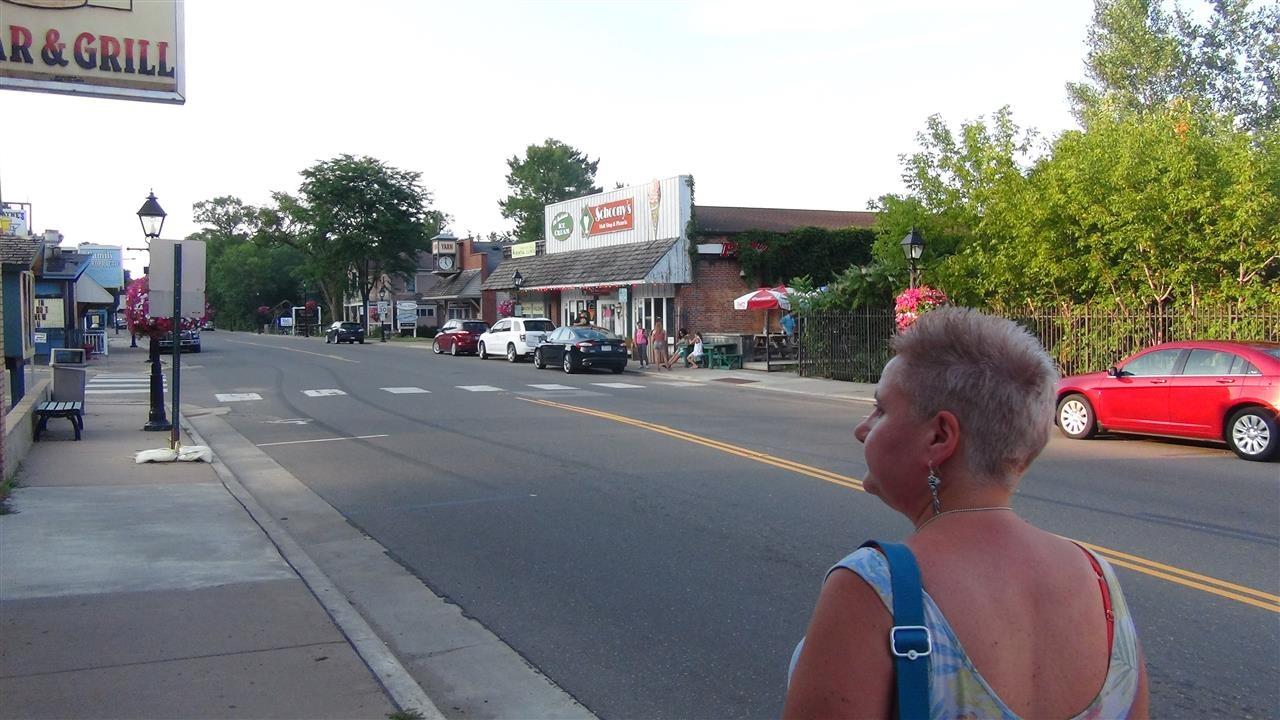 Finally an explore of the tiny village & a couple of beers in Romaynes bar & grill, we nipped over to the Chisago house restaurant for a spot of tea between beers & a lovely chat with Miss Hollie who is ony 3.5 hrs away from us now ..Whoop Whoop !!!

Counting the hours til we meet up !

Goodnight reader xxx


Day 3:&nbspMission Hollie Complete ! (Tuesday 2nd August 2016)
Day 4:&nbspToday was mostly about churches (by Hollie). (Wednesday 3rd August 2016)
Day 5:&nbspLake Itasca to Lake Superior. (Thursday 4th August 2016)
Day 6:&nbspFeeling Superior (Friday 5th August 2016)
Day 7:&nbspSleeping Bear Dunes & 100 yrs of Coast Guard Aviation. (Saturday 6th August 2016)
Day 8:&nbspMeet me in St Louis (Sunday 7th August 2016)
Day 9:&nbspSix Flags (Part 1) (Monday 8th August 2016)
Day 10:&nbspSix Flags (Part 2 ) (Tuesday 9th August 2016)
Day 11:&nbspGrand Ole Opry , best seats in the house ! (Wednesday 10th August 2016)
Day 12:&nbspNashville (Thursday 11th August 2016)
Day 13:&nbspThe lost sea to Davy Crockett. (Friday 12th August 2016)
Day 14:&nbspOcoee wild water (Saturday 13th August 2016)
Day 15:&nbspHen pecked in Georgia on the way to Albama (Sunday 14th August 2016)
Day 16:&nbspSome bald old rocks & another lake. (Monday 15th August 2016)
Day 17:&nbspPanama city beach (Tuesday 16th August 2016)
Day 18:&nbspDolphin encounter. (Wednesday 17th August 2016)
Day 19:&nbspNew Orleans here we come ! (Thursday 18th August 2016)
Day 20:&nbspOak Alley Plantation & The Natchez. (Friday 19th August 2016)
Day 21:&nbspAirboats & baby alligators (Saturday 20th August 2016)
Day 22:&nbspNew Orleans & Ghostly happenings... (Sunday 21st August 2016)
Day 23:&nbspRace to the space shuttle. (Monday 22nd August 2016)
Day 24:&nbspA fond farewell from Houston (Tuesday 23rd August 2016)