Holiday USA 2016
Sunday 31st July 2016
DAY
1

Chicago, Mission "free Hollie" Day 1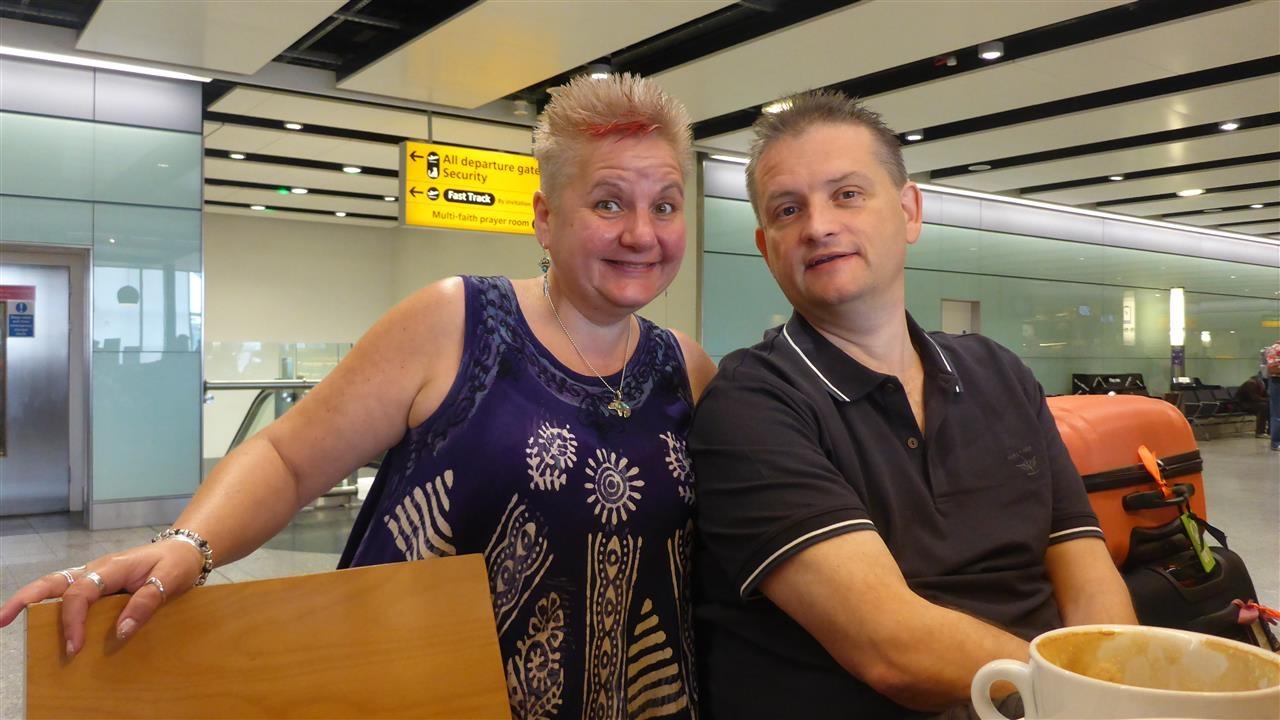 Timing is everything!
Our taxi arrived early & whisked us off to T3 Heathrow to meet our plane to Chicago & Miss Hollie.
Duty free was painless for me , but not Ian's credit card..

Then a leasurely coffee before check in, we were assisted by a nice young man at the American airlines area who sent us to check in on the " executive traveller" desk, sadly I couldn't blag an upgrade but the ease & lack of queueing was refreshing.

The cramped airliner got us into Chicago O'Hare airport half an hour early. A welcome phone call from Hollie from her end of season camping trip, made our day.

Avis rent a car , offered a predictable queue & shambolic service , once in our massive Chevy Suburban Ian drove us effortlessly to Madison Wisconsin, only once attempting to drive on the wrong side of the road , a real achievement bearing in mind the early start & jet lag !

The Americinn is our sleeping spot for tonight & the Swagat Indian restaurant offers us refreshment & a not half bad curry.

We will add some extra photos tomorrow , tonight the spirit & flesh are knackered..

Love to all humans & pets on the other side of the pond..Goodnight xxx
Monday 1st August 2016
DAY
2

A visit with our Amish friends.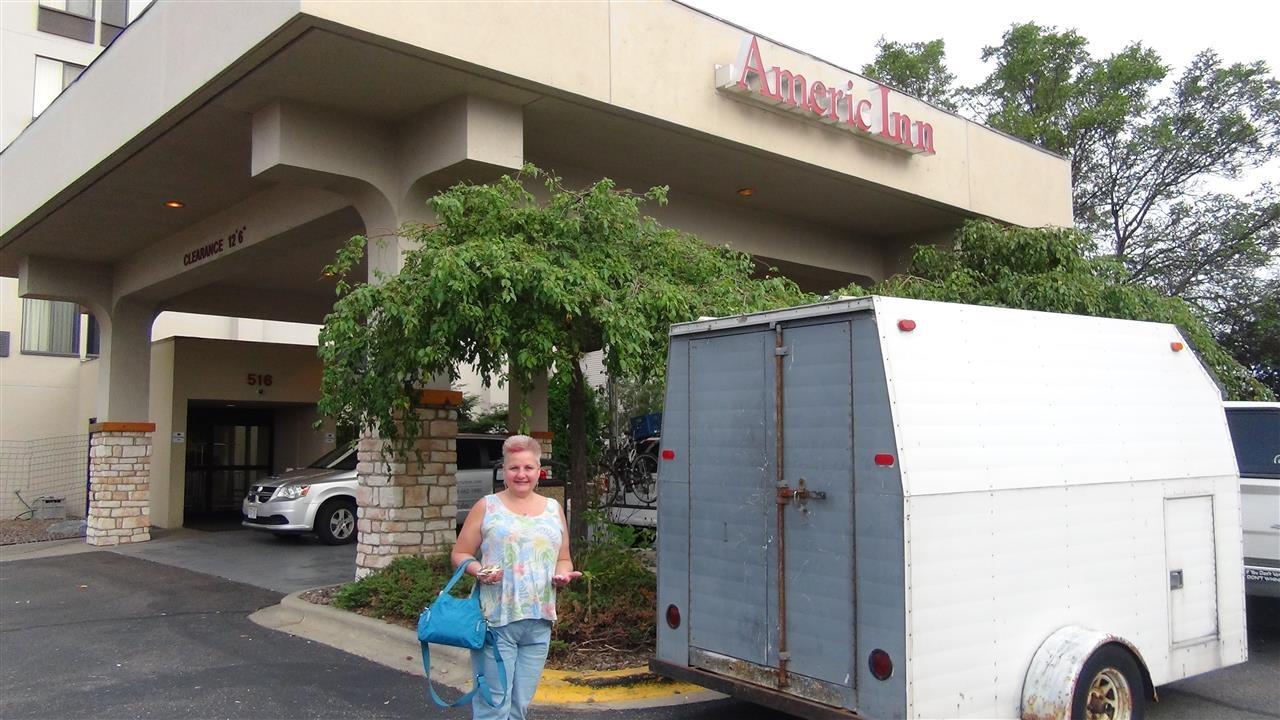 Ian slept well but my silly head cold kept me awake : (
The Americinn offered a great breakfast but we settled on juice, A muffin & banana to go..
A long drive through corn heaven towards Harmony & its famous amish community.
The sweetcorn crop is currently being gathered & roadside stalls groan under the weight of their wares, priced at various levels, the most bizarre being 12 dollars for 4 dozen..not sure who would want 48 fresh ears of corn.
We had a self guided tour via a CD Ian had bought in advance from Harmony.
Our knowledgable tour guide took us from 1 rural home to the next, giving the names of the farming families & their trades, highlighting schools & imparting a fascinating glimpse at the archaic life style & customs of these devout folk.
we stopped at a couple of their craft shops, ( a shed next to their farmhouse ) and were served by a lady in full amish outfit , bare feet , bonnet & all .

The amish do not allow photography, but we got a shot of the family car.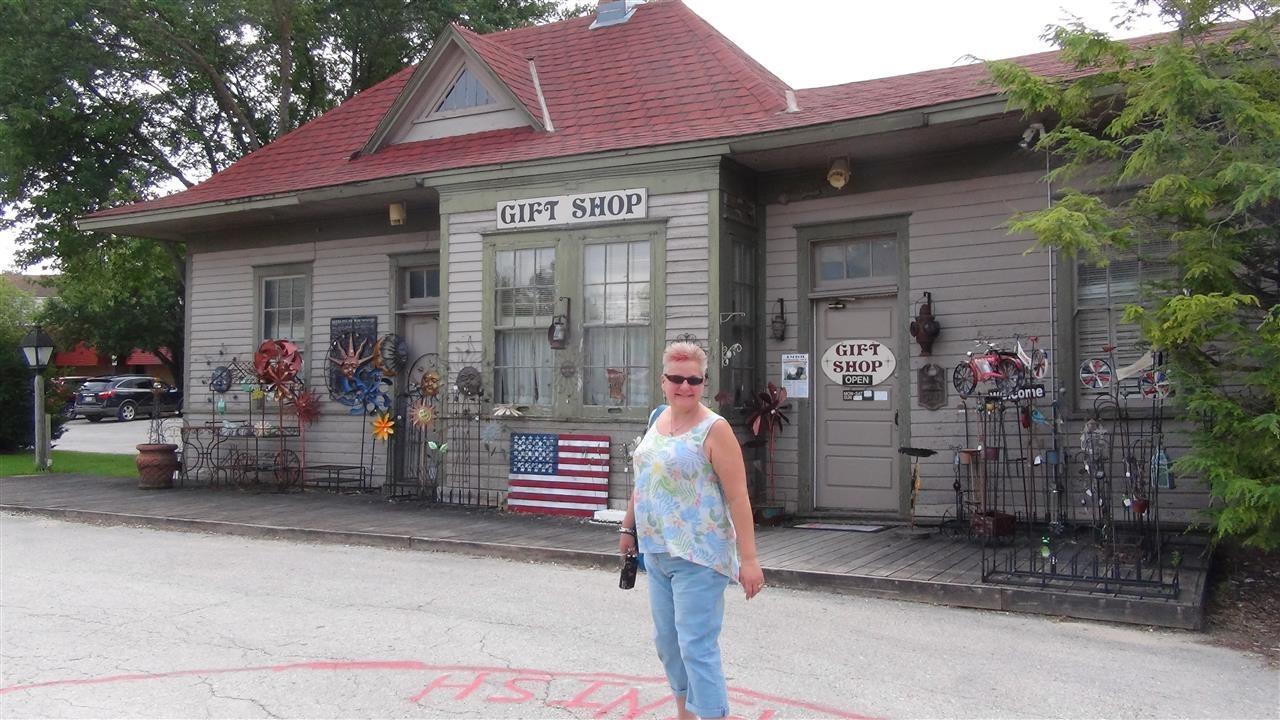 I'm not sure many people were lucky enough to have this experience, most of the other visitors were clustered round the gaudy , non amish owned gift shops in town.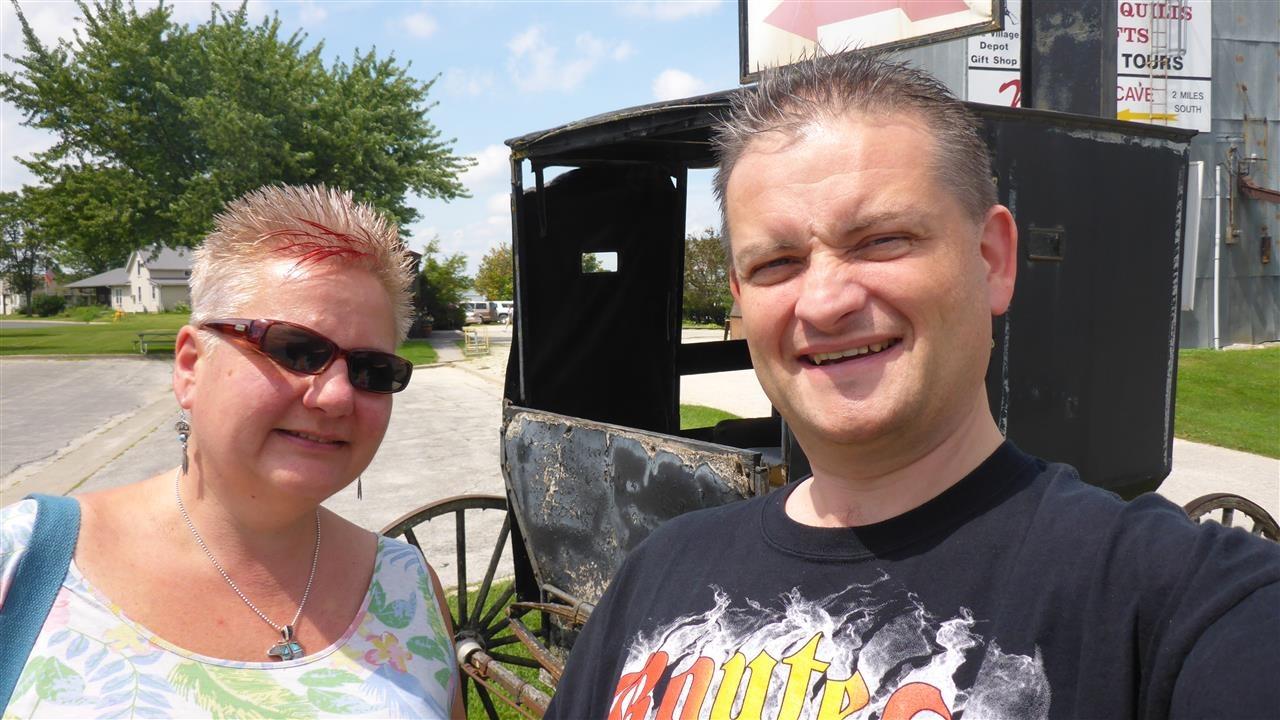 Our audio guide told us much about how the Amish came to settle this area, why they dislike technology & that they will use hospitals & neighbours cars if an emergency occurs , but revert back to the old ways once a crisis is over.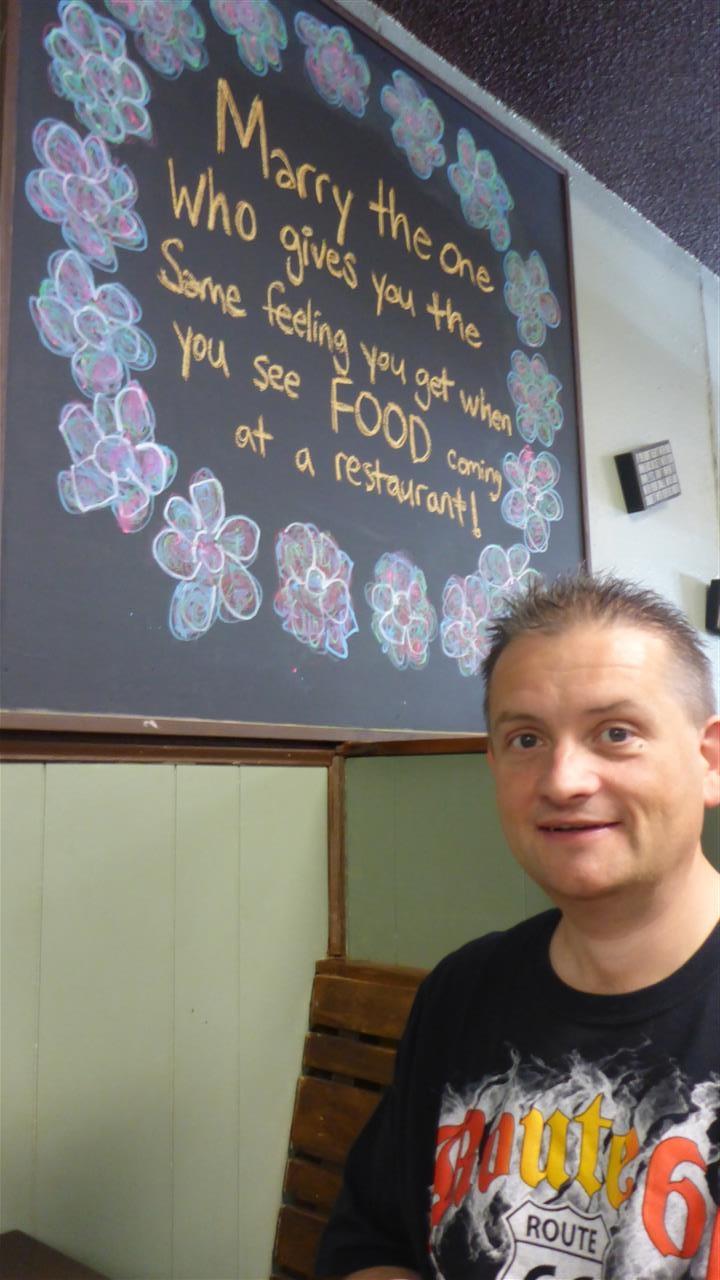 Julies cafe , great food & lots of meaningful slogans on the walls.
A beer at lunch time .. well I am on holiday!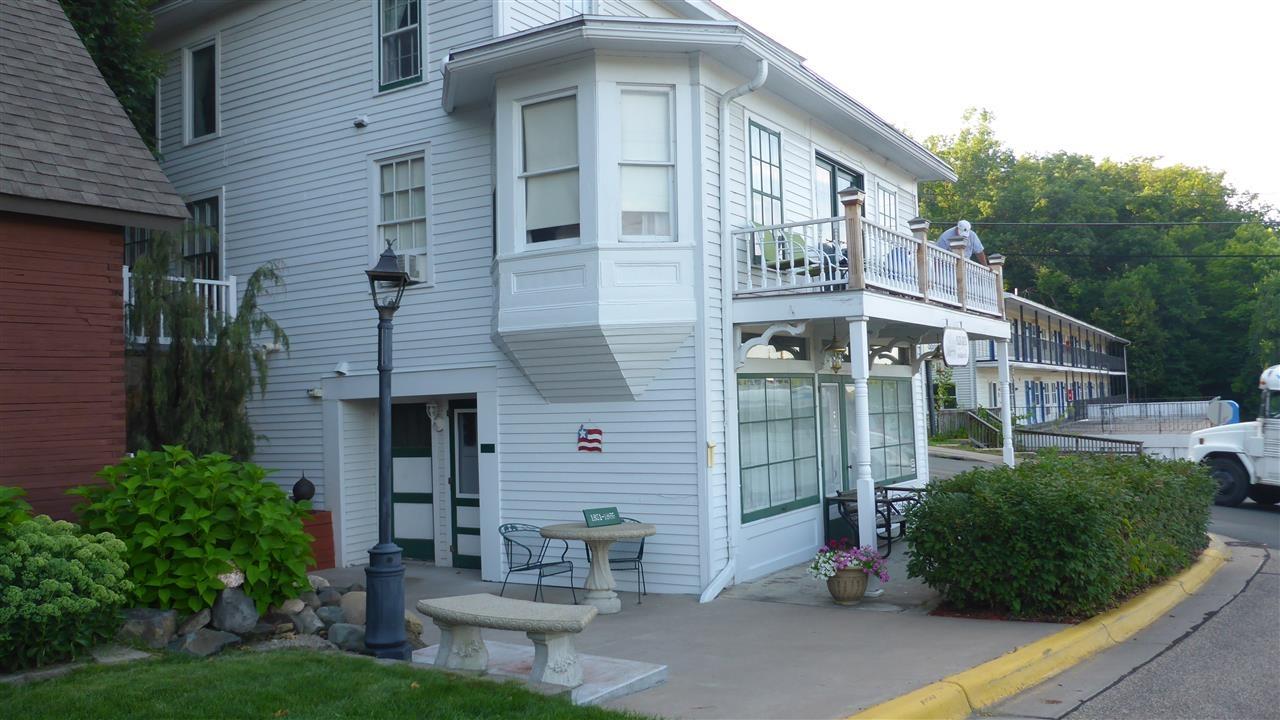 Another rural 3+ hr drive for Ian to Taylors falls, our hang out for tonight & the overlook suite at The old Jail house.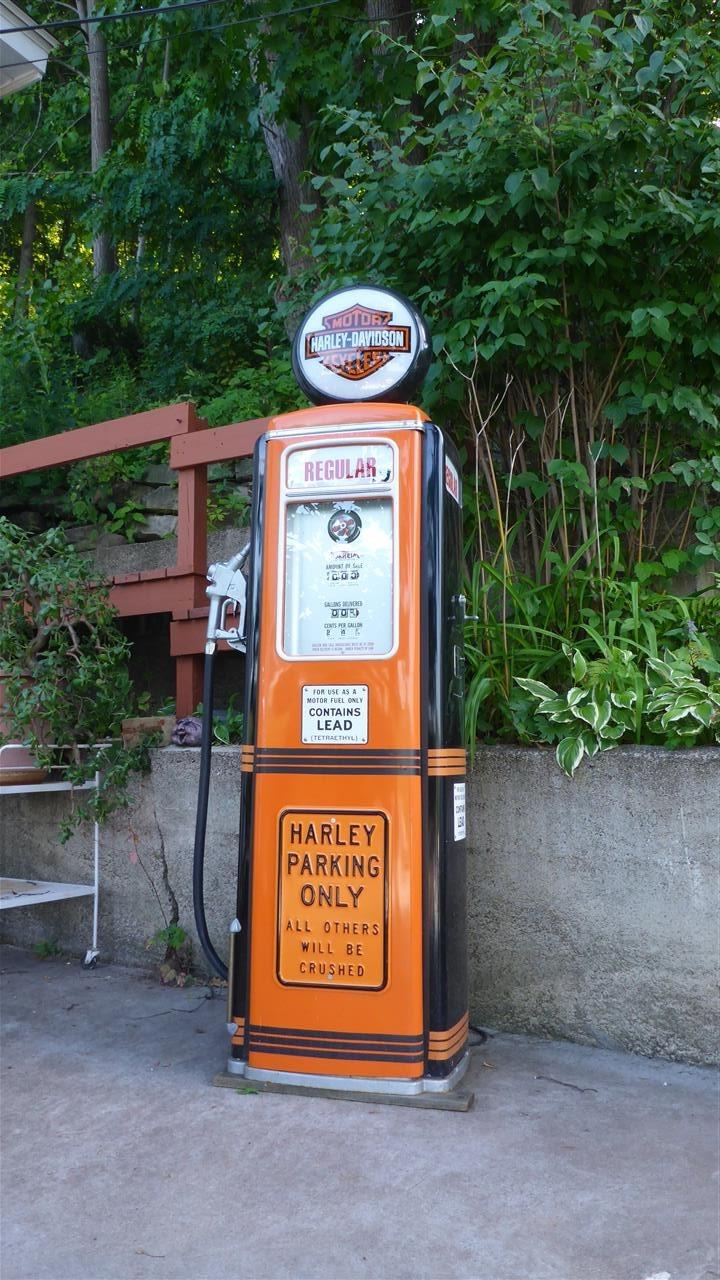 A full size gas pump at the top of some very " health & safety " crazy paved steps.
Very atmospheric suite , this is my bed, Ians room is at the back of the propery just off the bathroom, the whole place has a slightly creaky , wobbly and creepy air to it.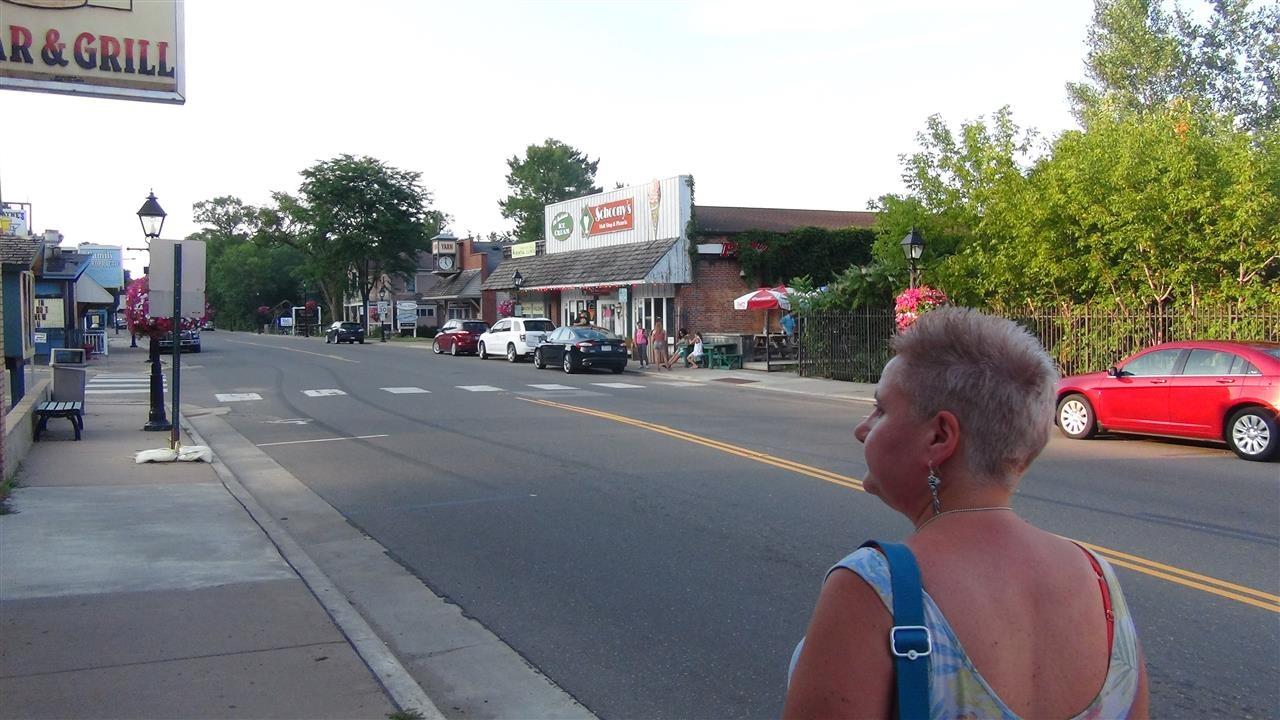 Finally an explore of the tiny village & a couple of beers in Romaynes bar & grill, we nipped over to the Chisago house restaurant for a spot of tea between beers & a lovely chat with Miss Hollie who is ony 3.5 hrs away from us now ..Whoop Whoop !!!

Counting the hours til we meet up !

Goodnight reader xxx
Tuesday 2nd August 2016
DAY
3

Mission Hollie Complete !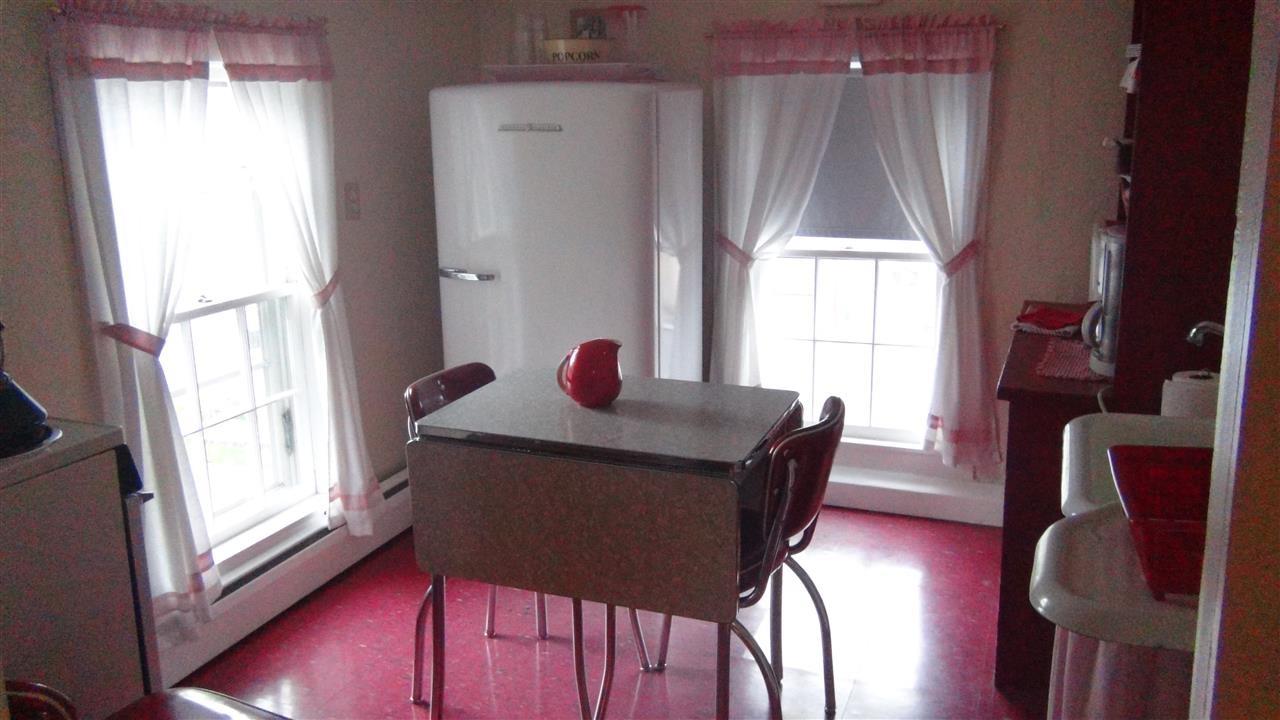 A great nights sleep in our old jail house.
6am and view of the road from our bathroom window, owners english bull dog standing in the highway , cars navigating round him.. I grabbed my flip flops and wearing nothing but a nightie, hurtled down stairs to rescue said pooch !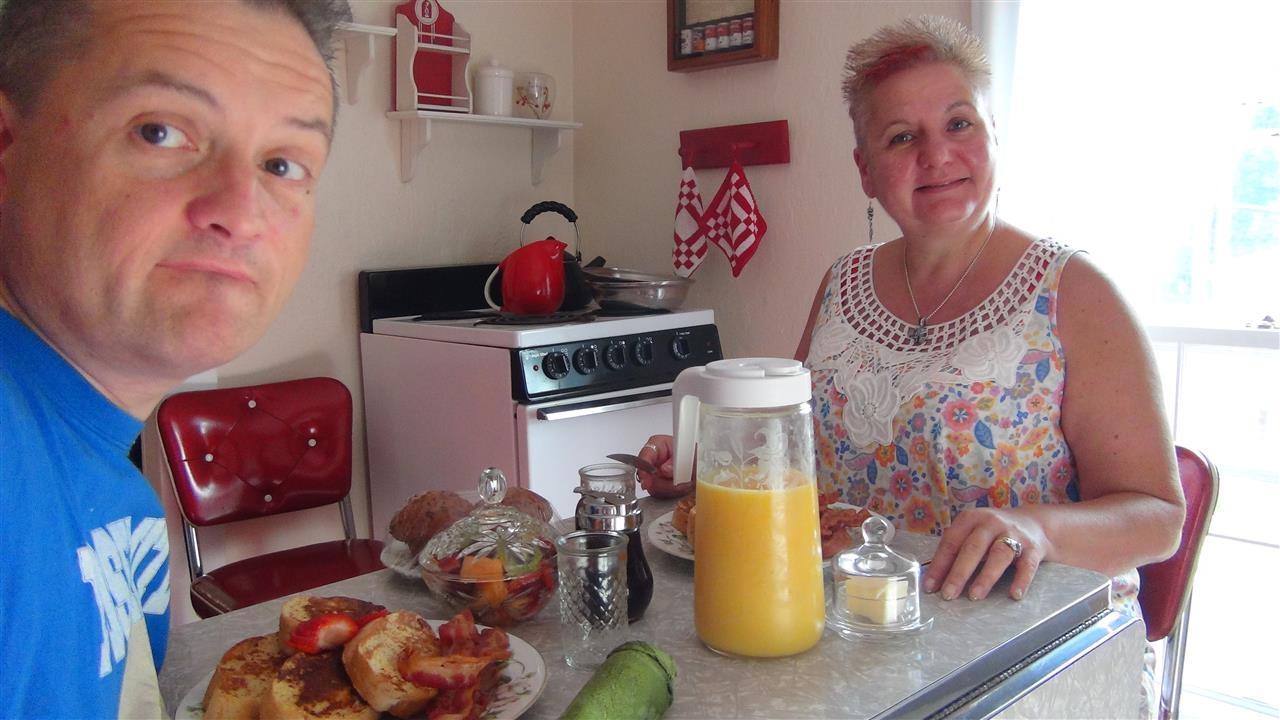 Home made breakfast served in our funky kitchen. Bacon , french toast , fresh fruit & fresh squeezed orange juice.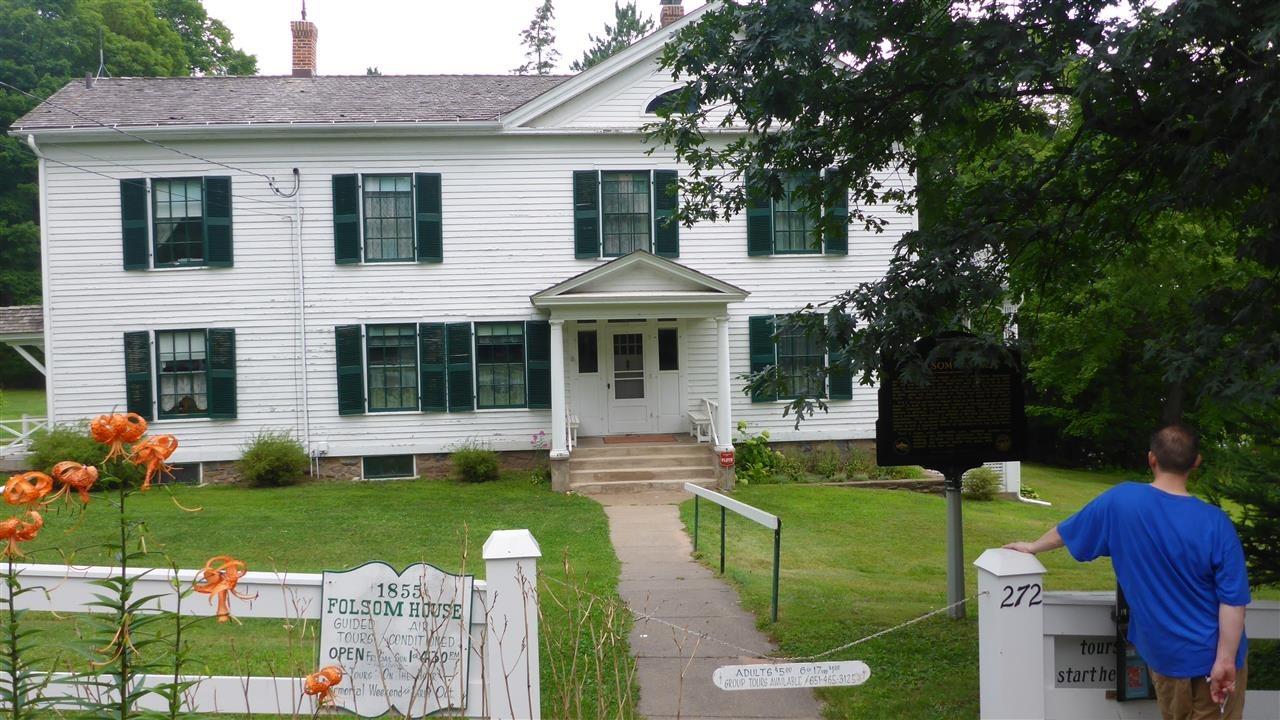 With a couple of hours to spare , we battled the heat , bugs & humidity . The Fulsom House built in 1855 by a wealthy merchant , ( no idea why he wanted to build it at the top of a steep hill ) the house & many artifacts remain in good condition & guided tours are available.
We explored a short river walk & the tiny Main Street.
Next stop the river cruise, an 80 minute excursion up the St Croix river on a modern paddle steamer.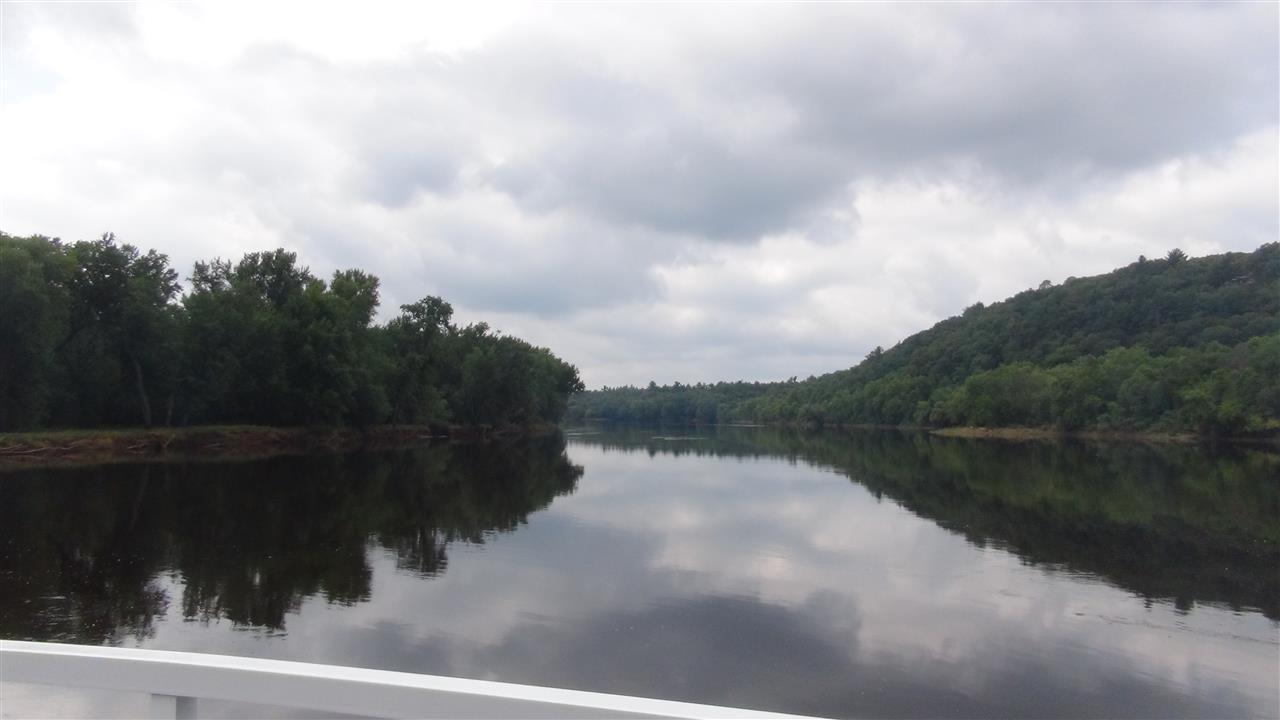 Without the slight breeze it would have been unbearable.
Our host Ryan , jack of all trades told us about the ship , one of only 16 in the world, made entirely from aluminium with a shallow 17 inch draft , its flat bottomed design making it incredibly efficient.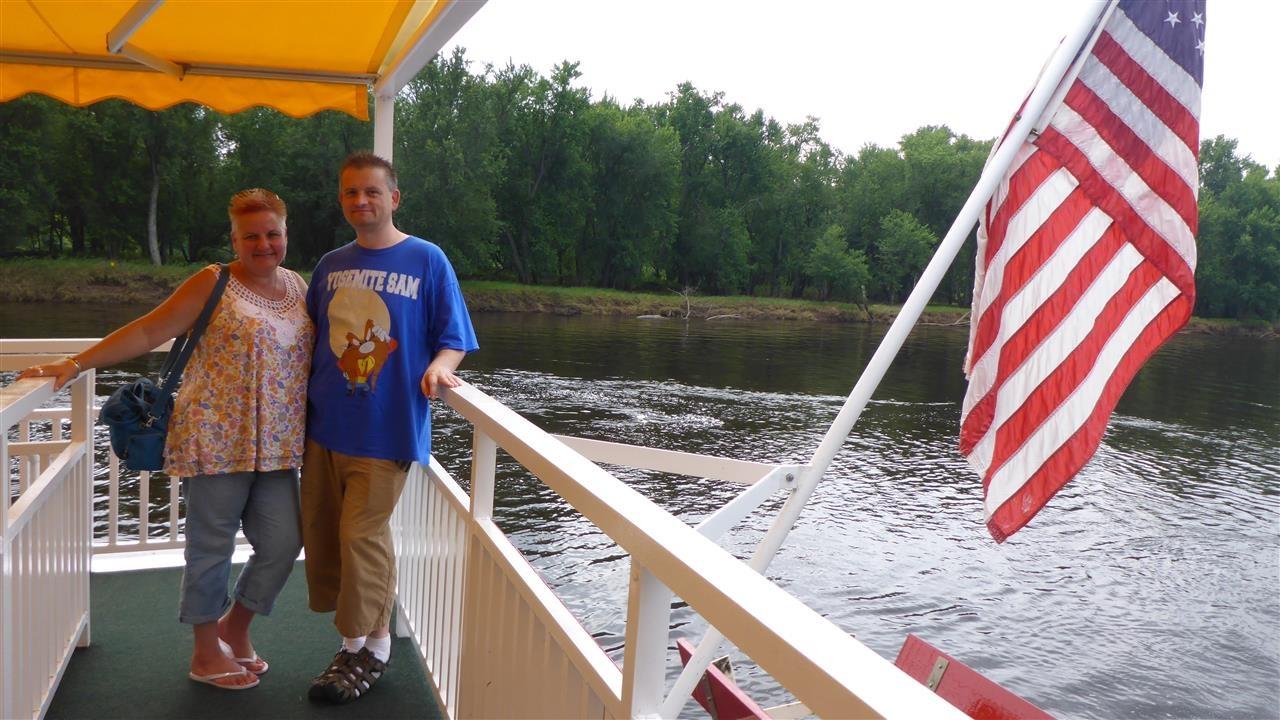 My excitement building as the day progressed , only a 3.5 hour drive to Fargo , between me & Hollie.
After much hugging and a good catch up, Hollie , Terina , Ian & I head for Applebee's.
Much to our delight 15 of her fellow deciples , the co ordinators & trainers turned up to celebrate with us.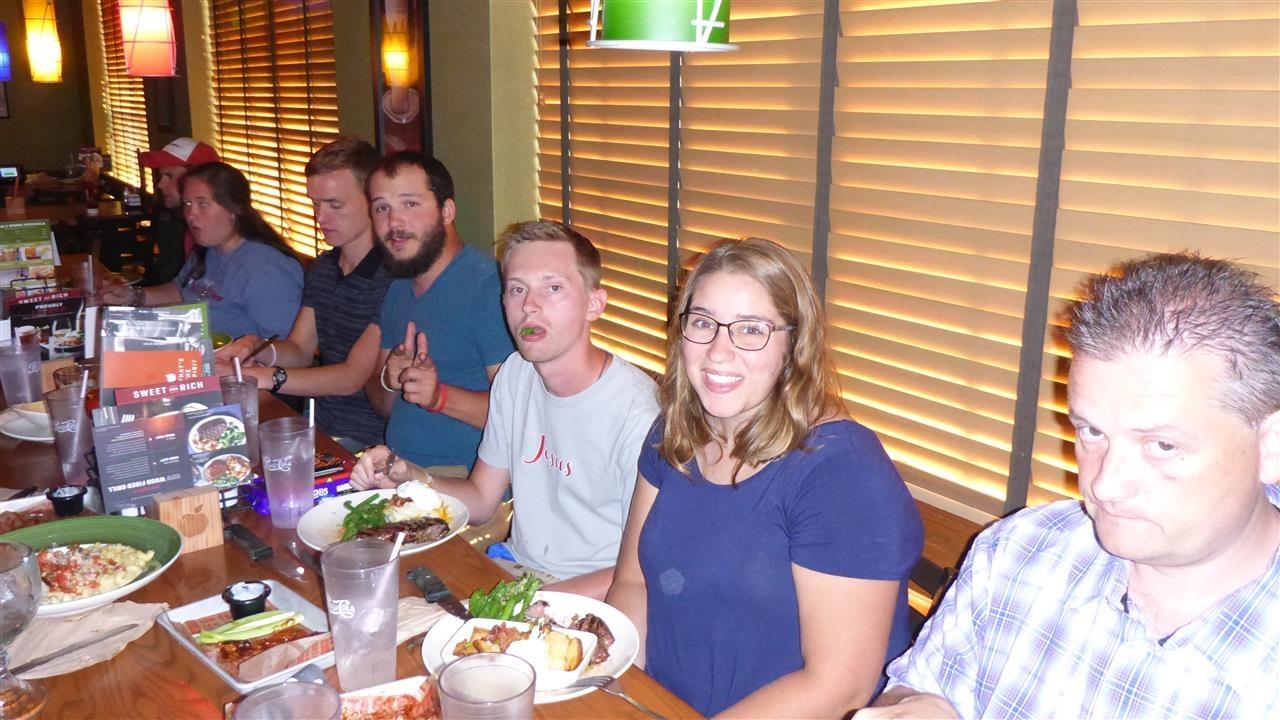 Terina next to Ian & Casey next to her Corey , Vlod ,Sarah & Ethan.
To the right Mary Hanbury and Mary Evinger, then Ashleigh & Thomas.

These wonderful people all came to speak to us & sang Hollies praises. I can't imagine how dull her life will be without these wonderful people.

Lots of cuddles & another adventure about to begin..

Love to you all Hollie , Ian & Debbi xx
Wednesday 3rd August 2016
DAY
4

Today was mostly about churches (by Hollie).
Today was my guided tour of Fargo and surrounding area.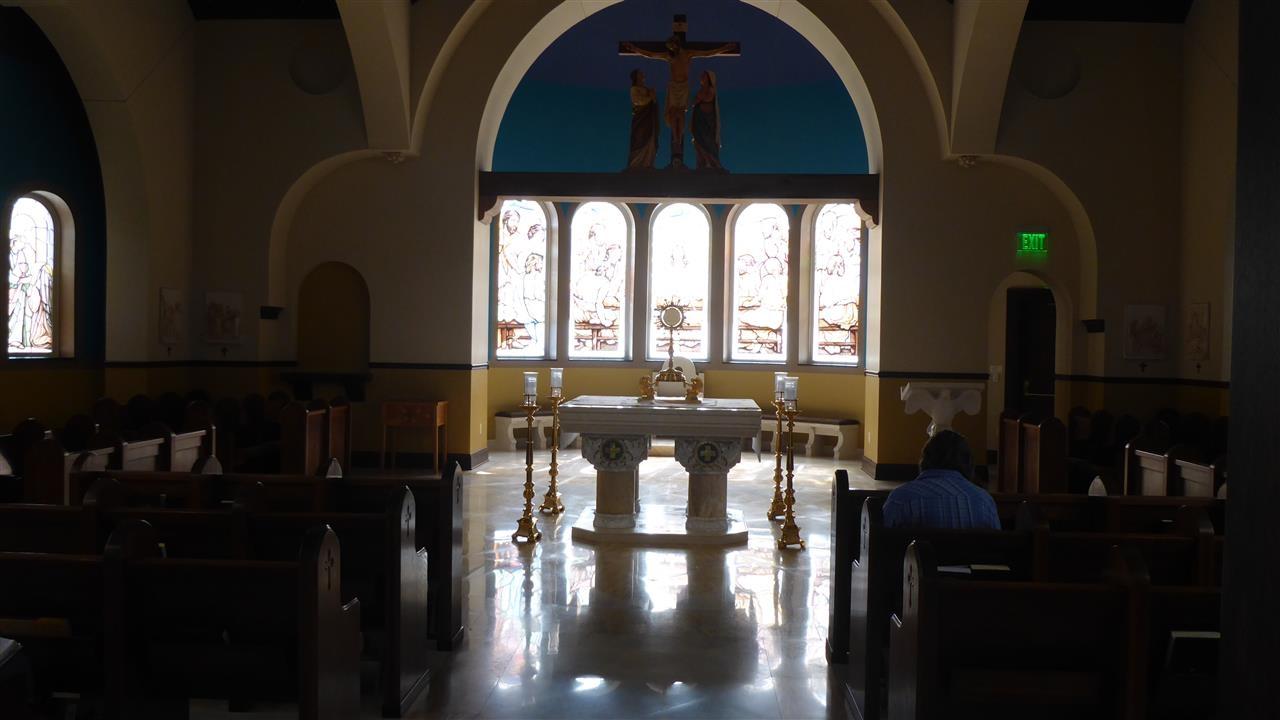 Welcome to St Marys Cathedral, Home of Bishop John Folda, This is the perpetual adoration chapel, this chapel is NEVER left unattended. 24/7 It was my favorite prayer spot in Fargo.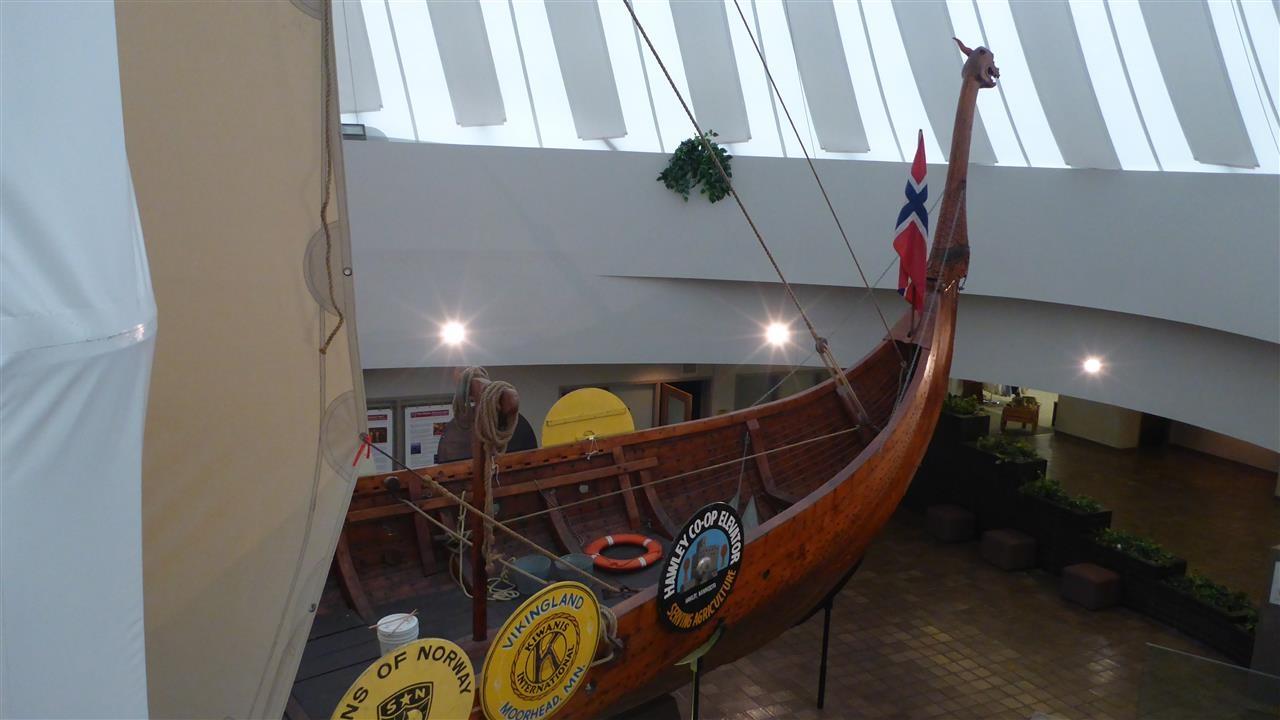 Next stop the Hjemkomst Centre..Home to the wonderful hand built "Hjemkomst" Viking long ship , the dream and lifes work of Robert Asp ..Sailed from the USA to Norway in 1982 by a crew of 12 including his daughter & several sons. Sadly Bob did not live to see the successful voyage.
The ship sits in the centre of the museum .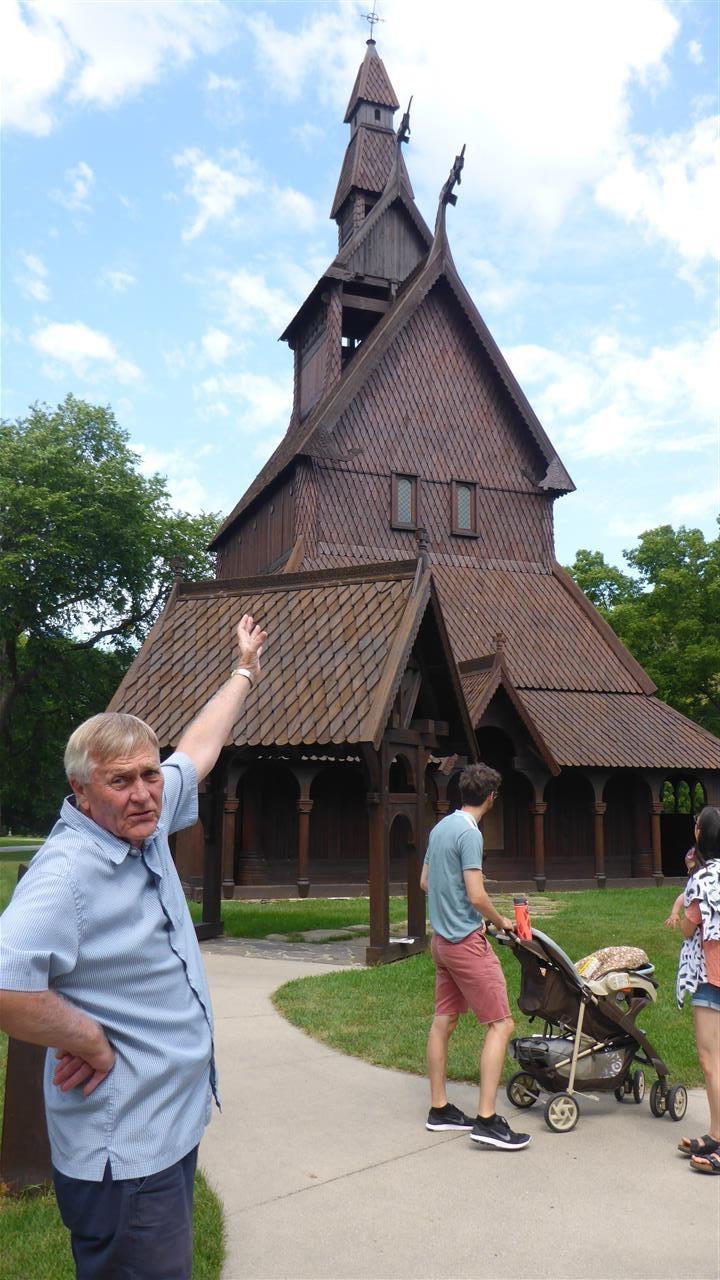 We also saw a replica of a 900 yr old Norwiegan Church built & financed by a local benifactor.. Guy Paul, co financed by his wife & sister.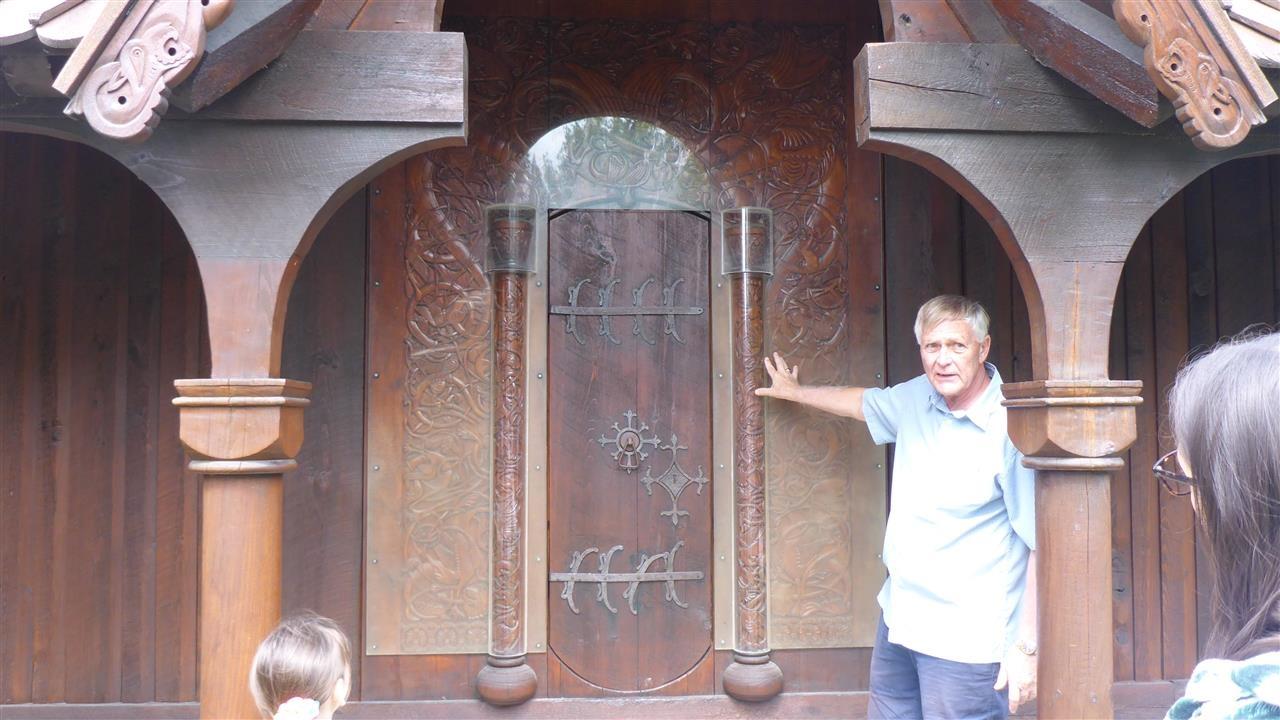 Our guide showed us the ornate carvings & authentic iron work undertaken by Paul himself.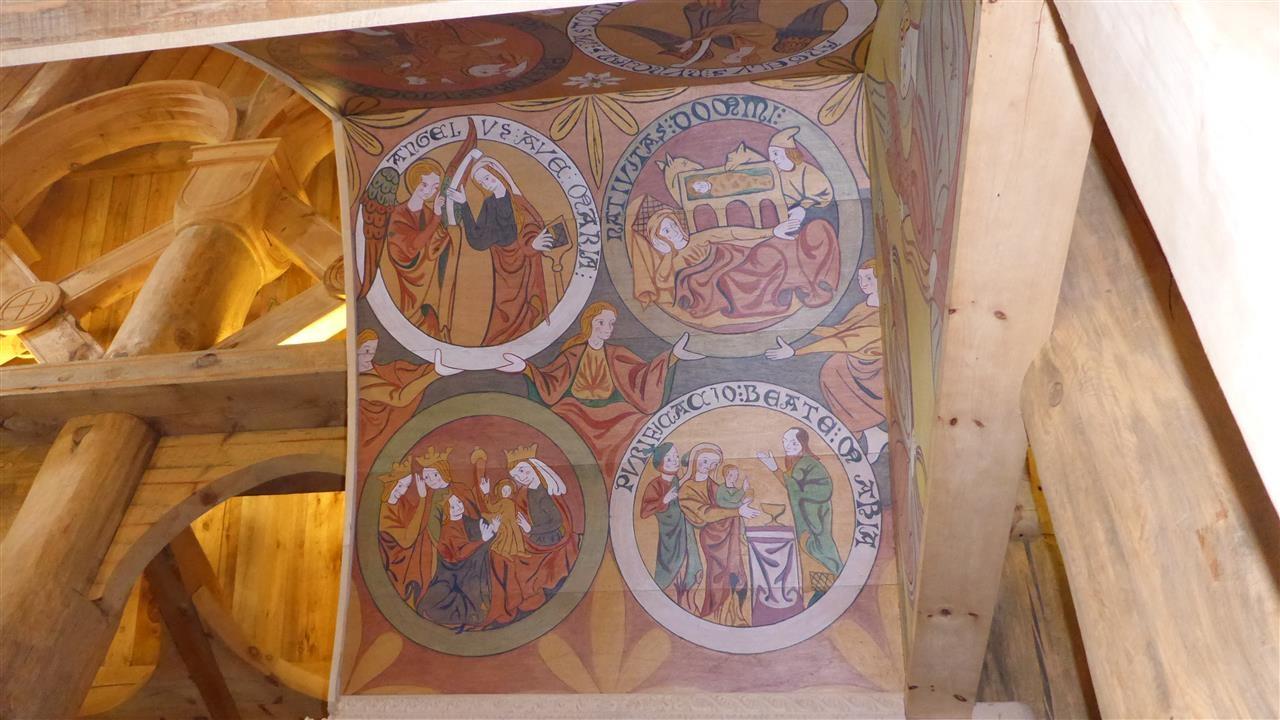 Guy Paul also mixed authentic pigments & hand painted the scenes in this little structure.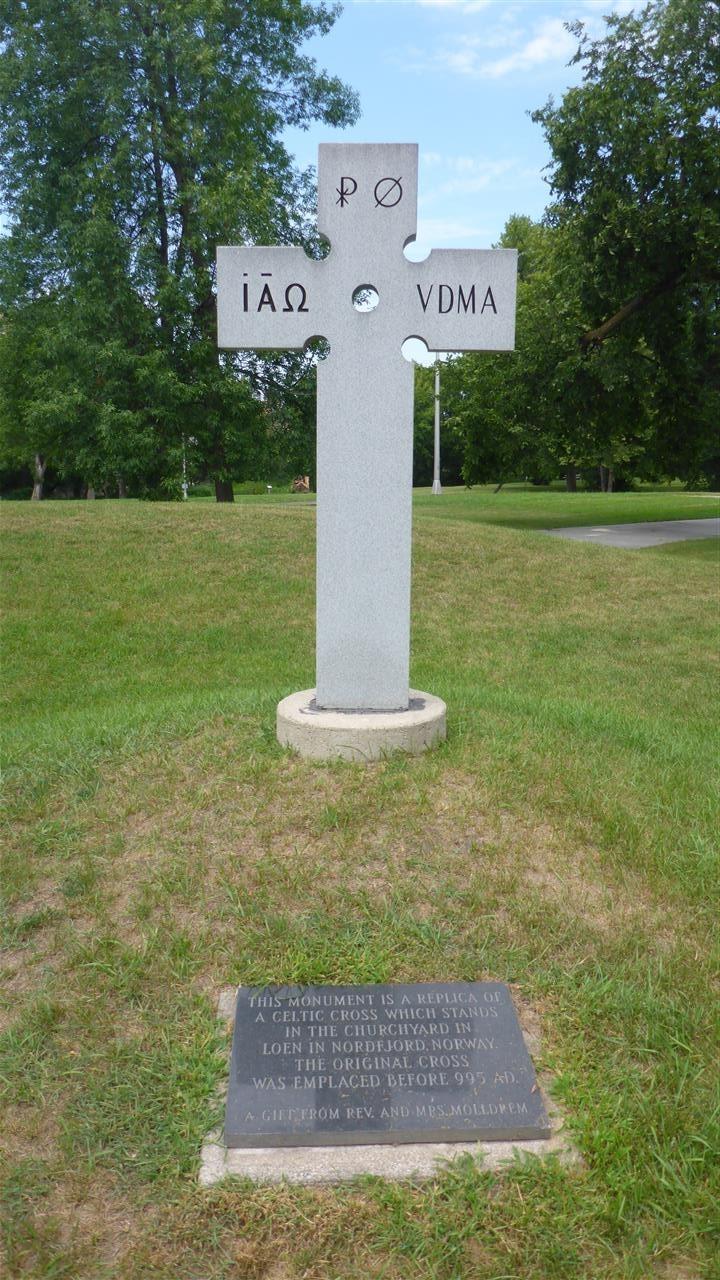 This replica Irish cross, is also identical to the one in Norway situated adjacent to the historic church.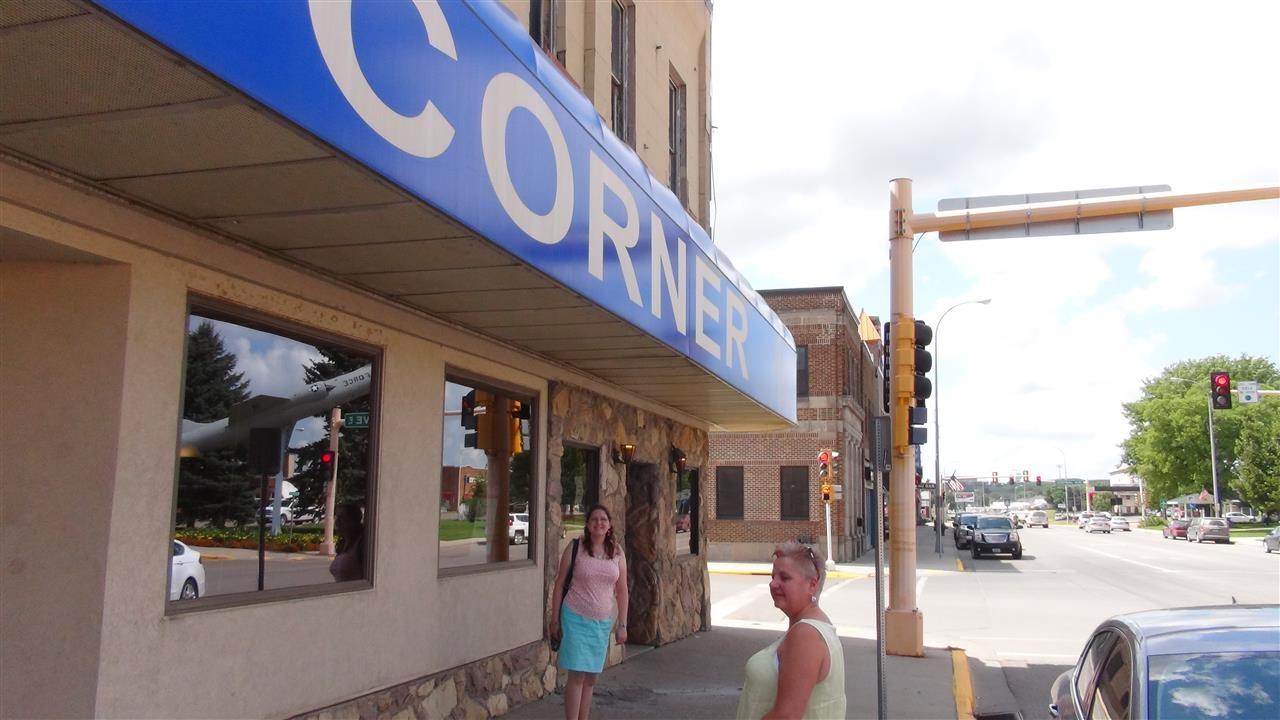 My choice of lunch destination was North Dacota Famous "Pizza Corner".
The company originally produced frozen Pizza for local supermarkets , now the shop is a small scale production for locals & has outsourced its major production ... They forgot Ians Jalapenos & he says the medium pizza is really too big for one person , but he did his best.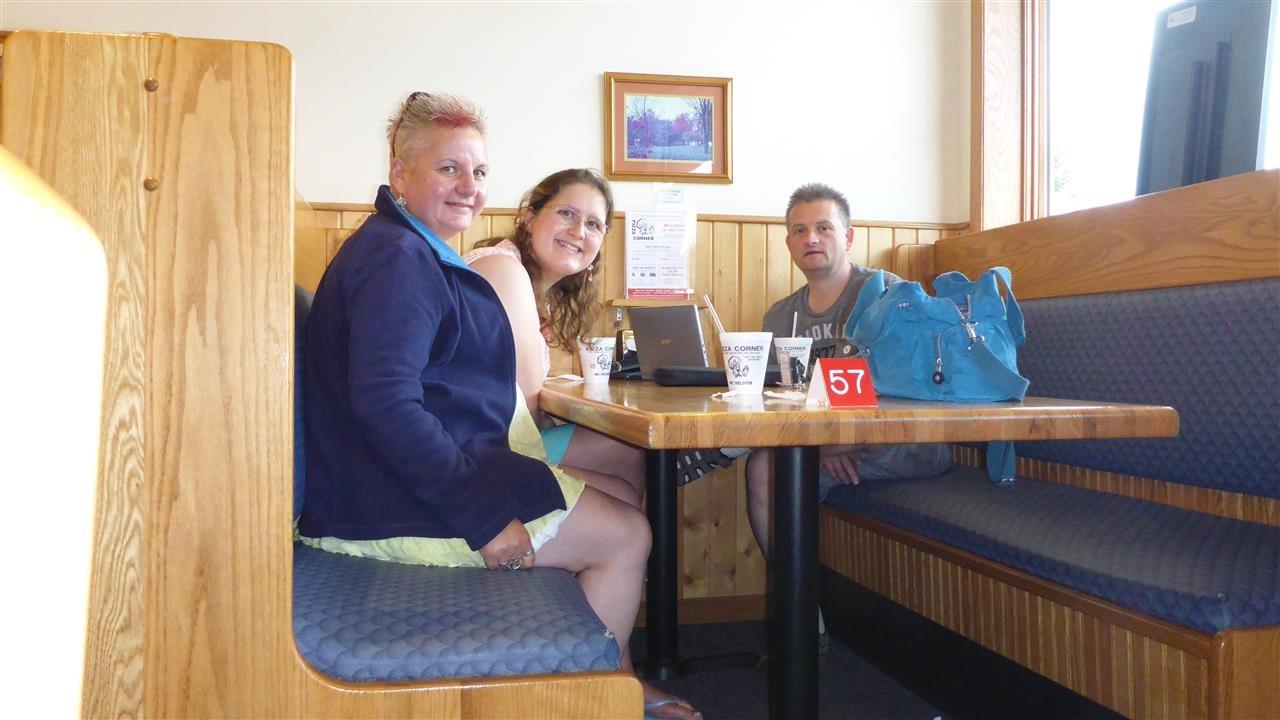 We had an ice cream afterwards.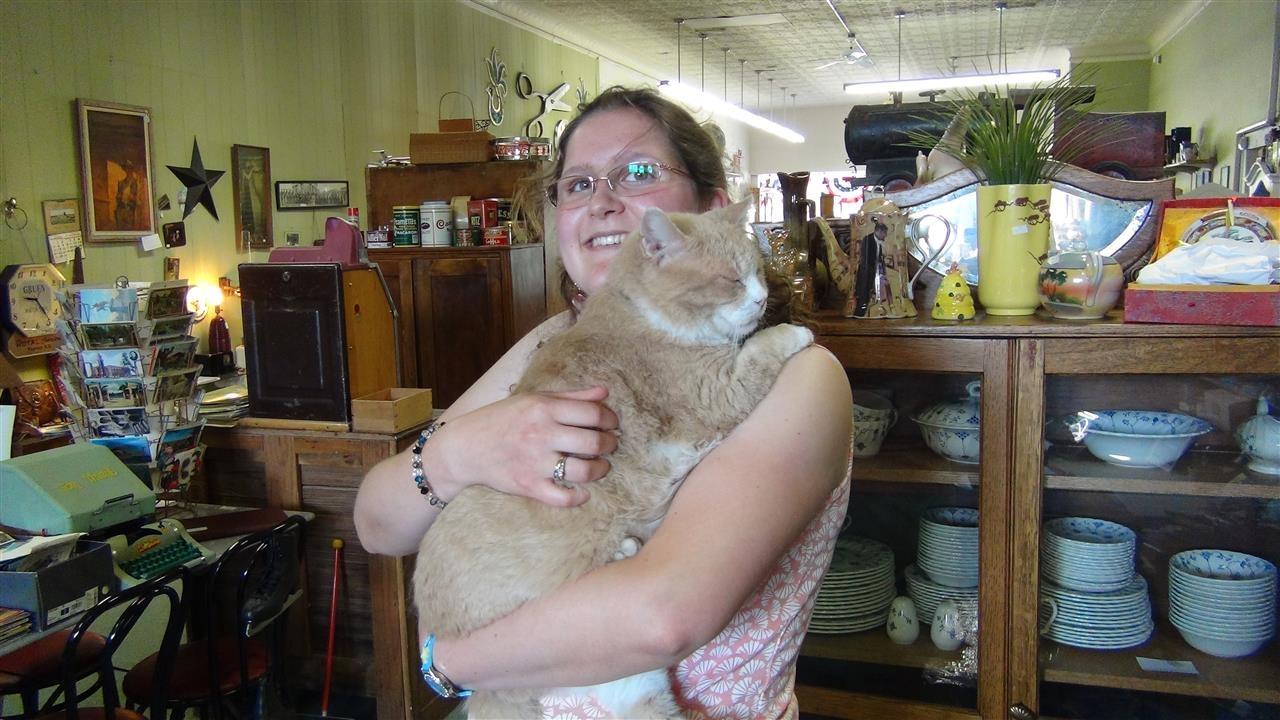 Meet Jack , the resident antique shopcat , he loves Cuddles & I was happy to oblige.
St Catherines church Valley City ( St Catherine, of wheel fame ) Monsiegnor Sconsing & Deacon Paul Khun look after this parish.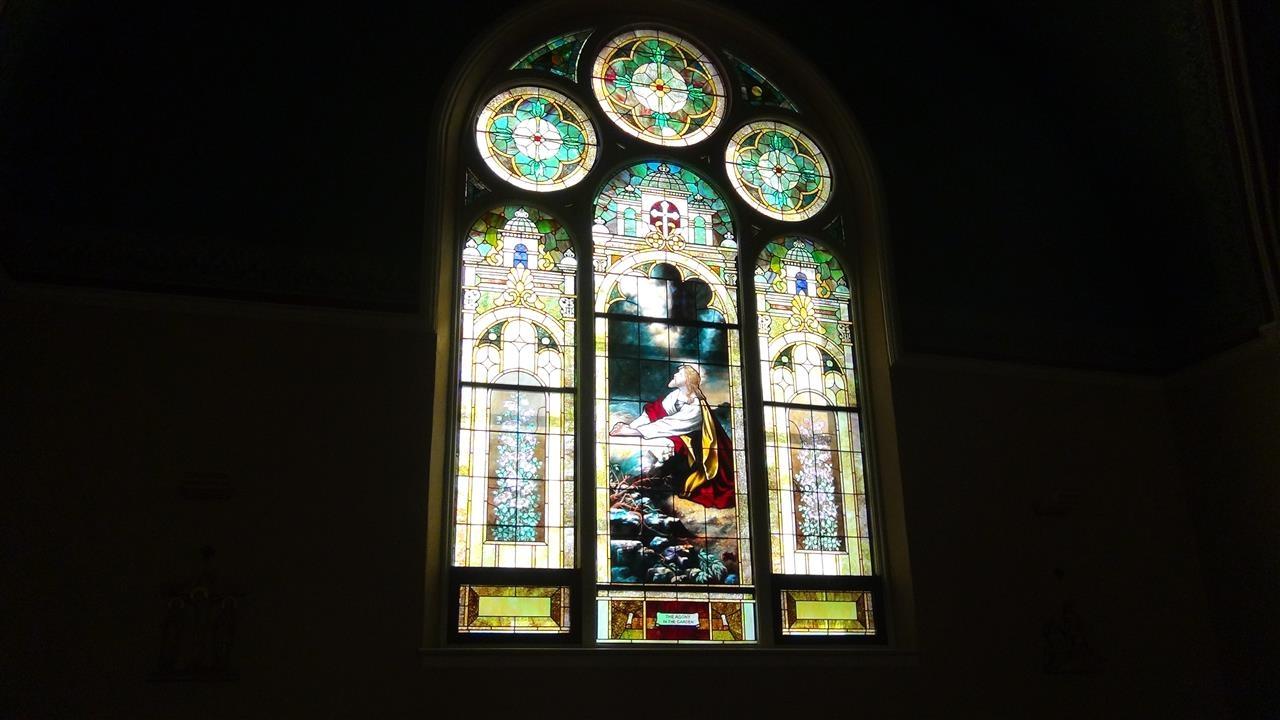 This was Mums fave window " Moody Jesus " .
Anouncements of my friends on the Seminarians poster.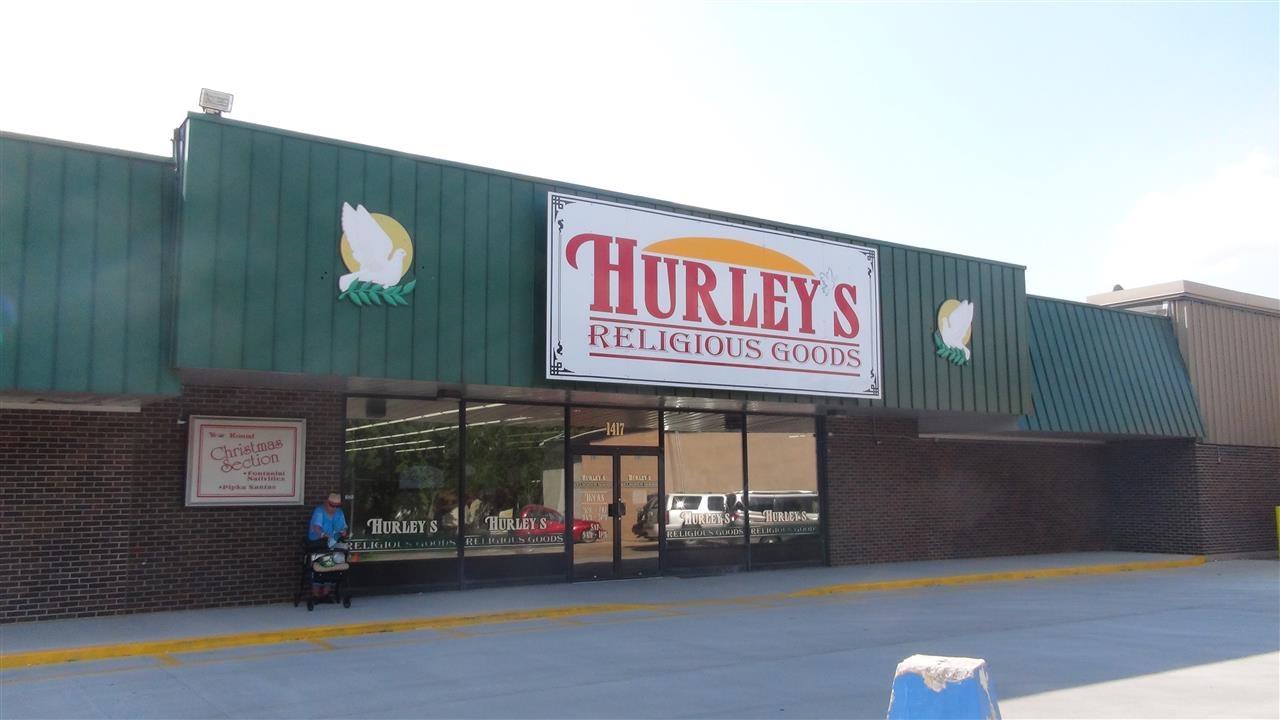 Amazing Hurleys Religous SUPERSTORE..whoop whoop, 3rd time lucky ..it was open ! I bought some cool stuff : )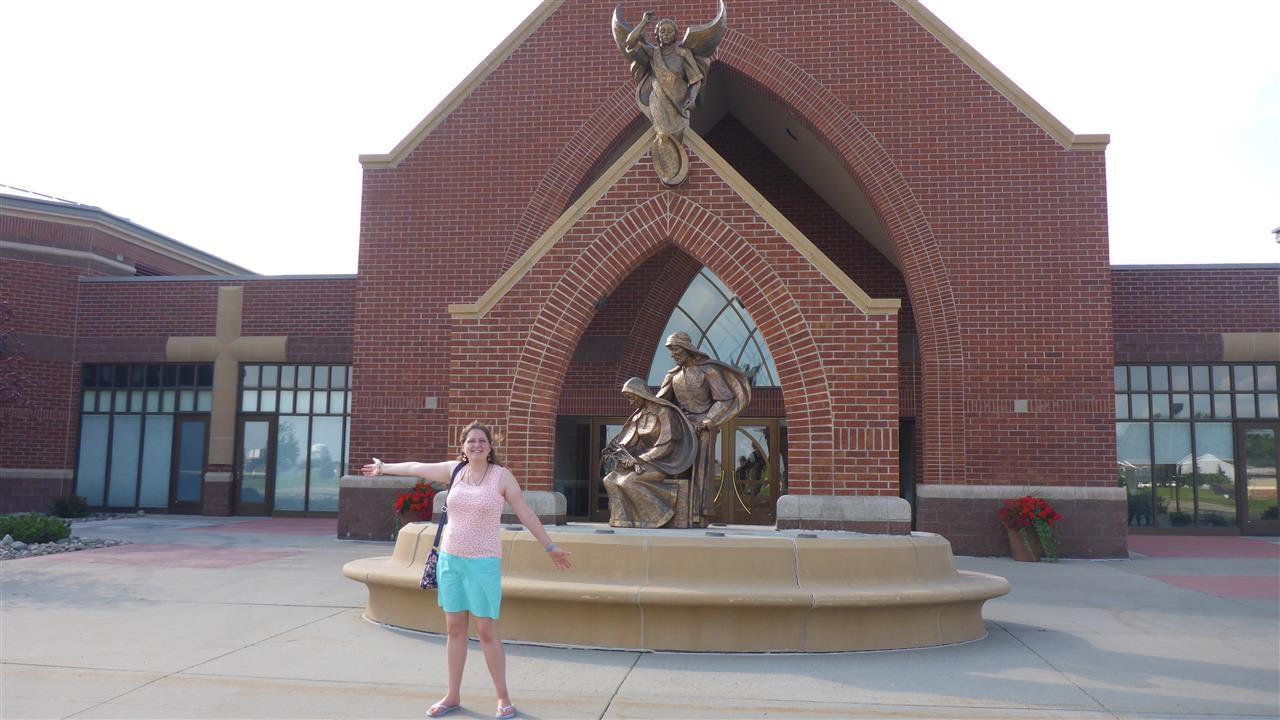 Coming home to Fargo Diocese . This amazing church was constructed in 2010.
St Ann & Joachim's ( Jesus's Grandparents , Nanny ! )
This is the centre where I was trained for young disciples.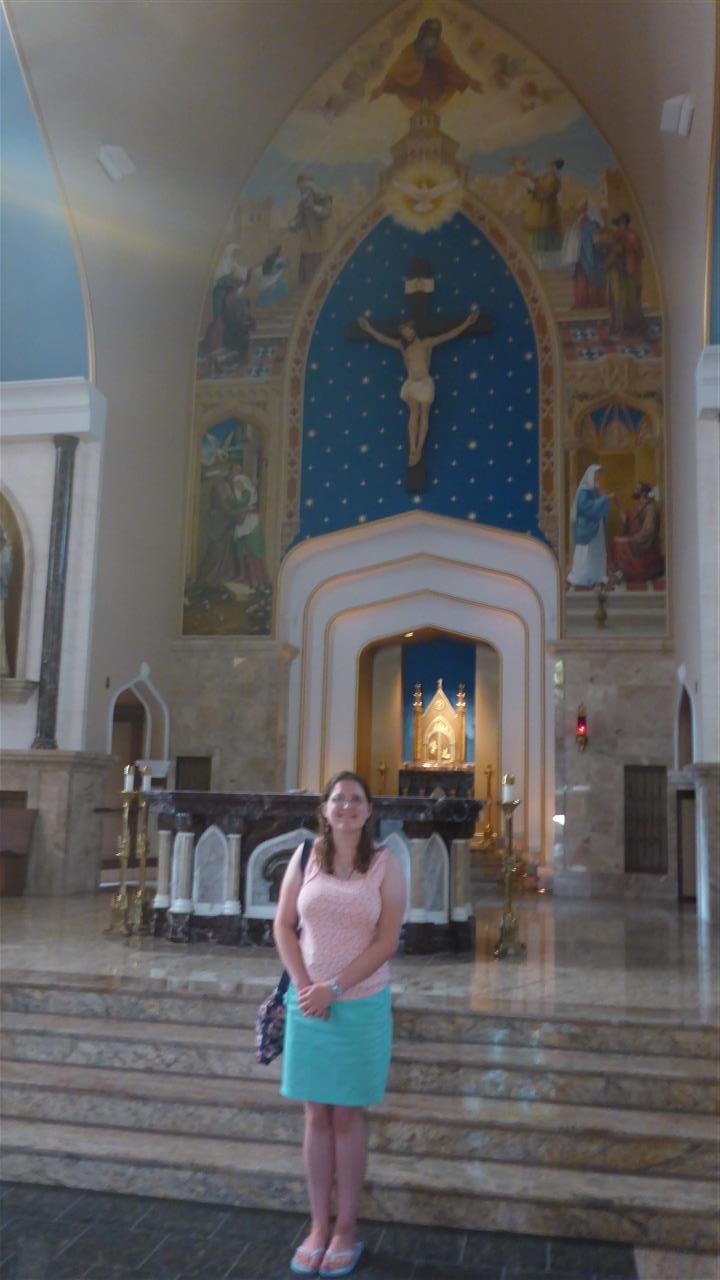 I love this beautiful sanctuary.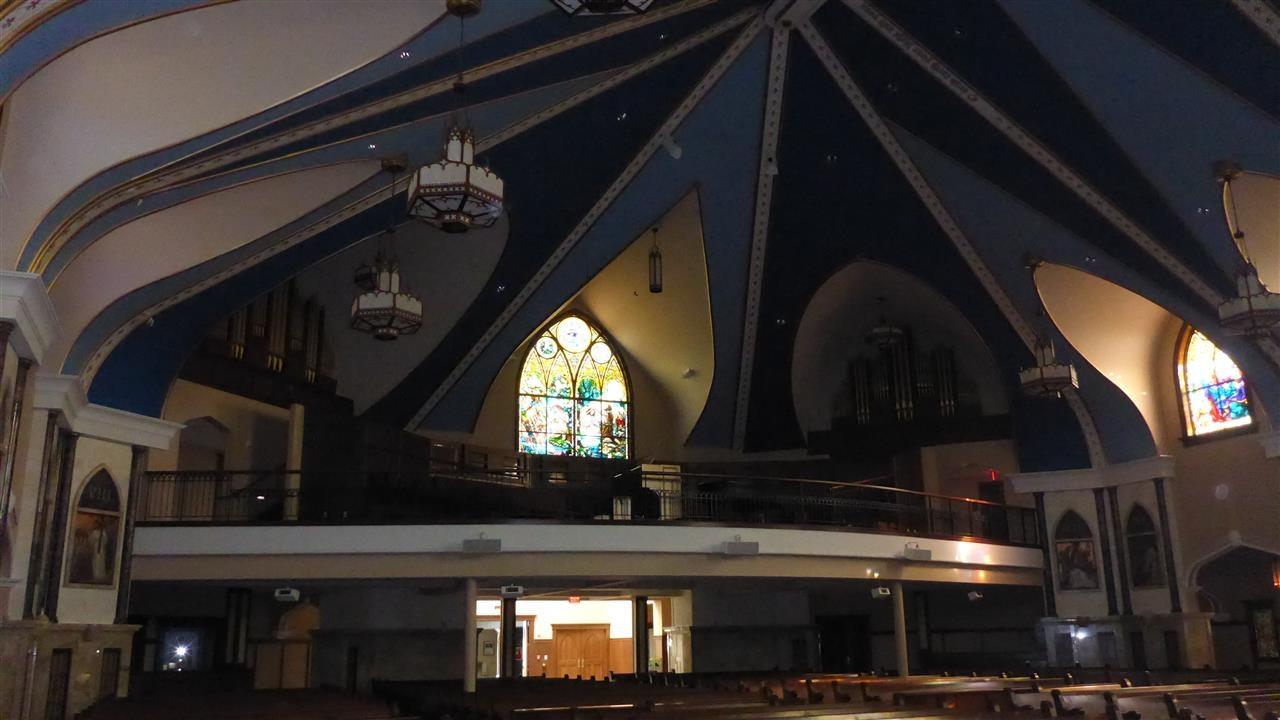 Stunning architecture , blending traditional with modern.
This aisle is my absolute favorite thing, with designs in marble of the vertues.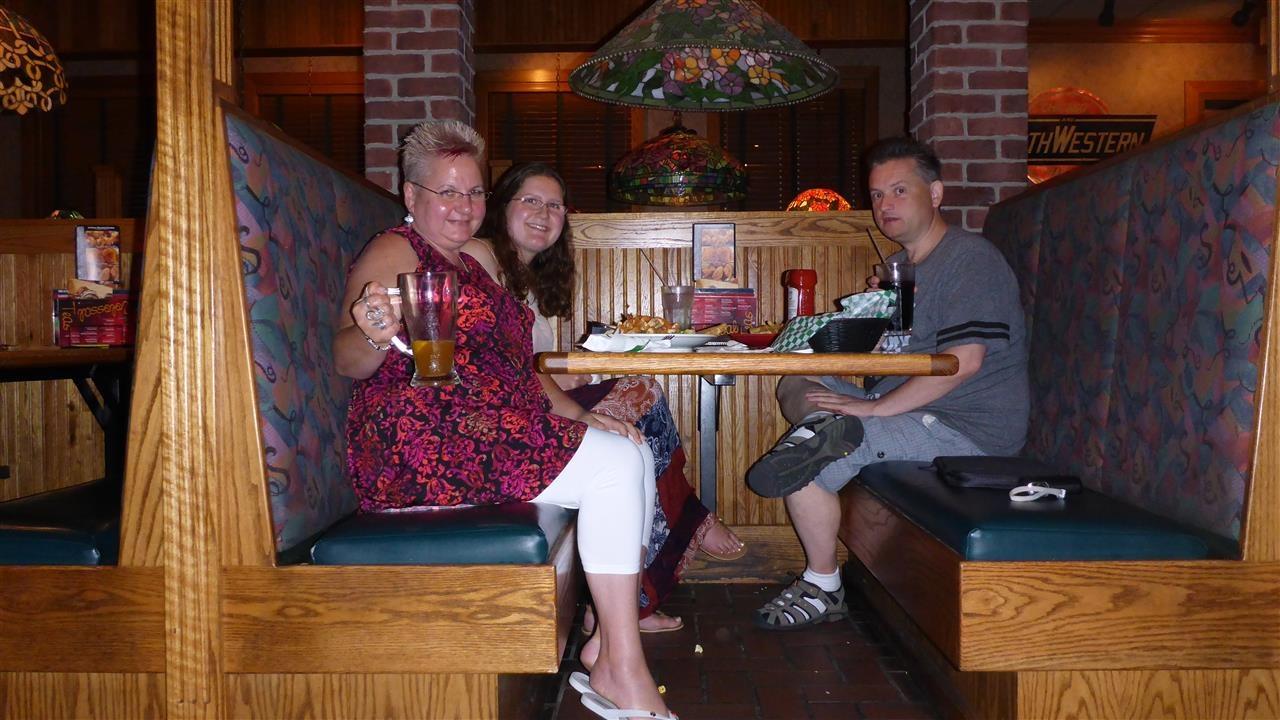 What a stunning family I have ! We ate dinner at Ground round & met our waitress Naomi, who's neice went to world youth day in Poland, Naomi is Catholic & Native American from the Aniishiinabae tribe.

Thank you for reading about my day..Love to all.


Hollie xxx
Thursday 4th August 2016
DAY
5

Lake Itasca to Lake Superior.
A rain shower hit as Ian loaded the car & we left Fargo's Country inn & suites.
1st stop Itasca National Park , home to Hollie & her pals July 4th holiday break.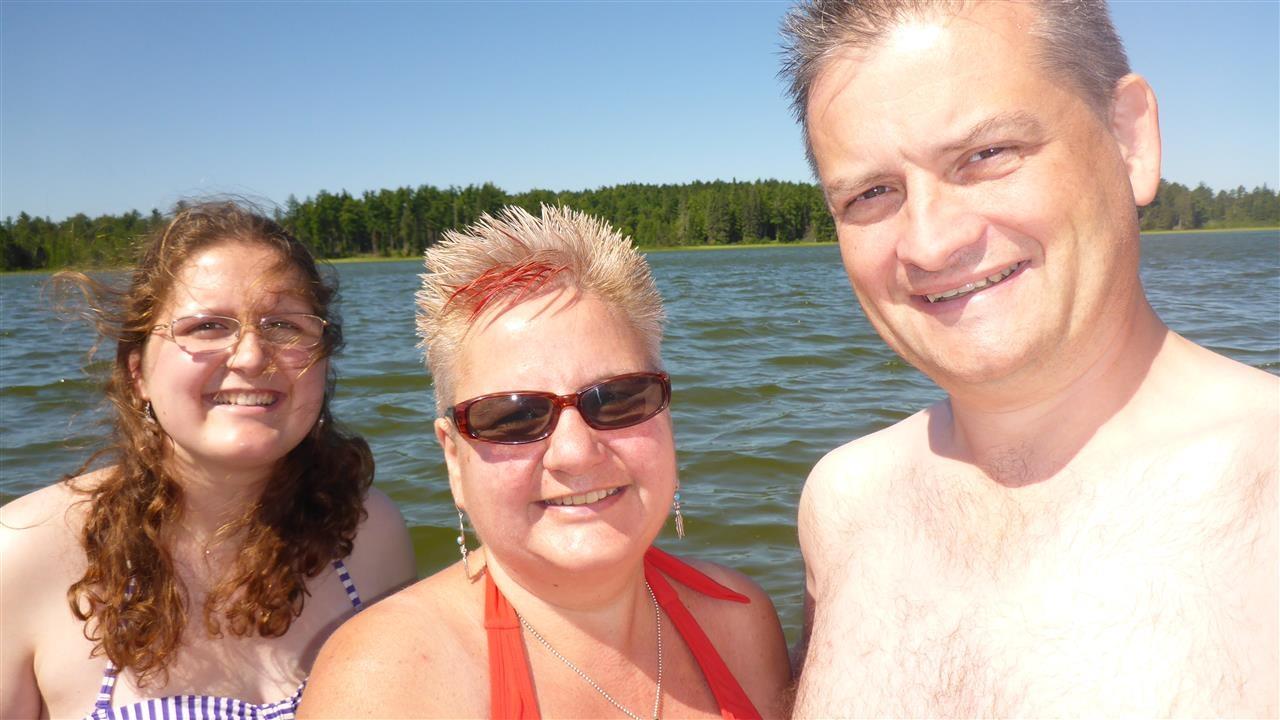 The small beach on the windy Lake made a perfect spot for a cooling dip.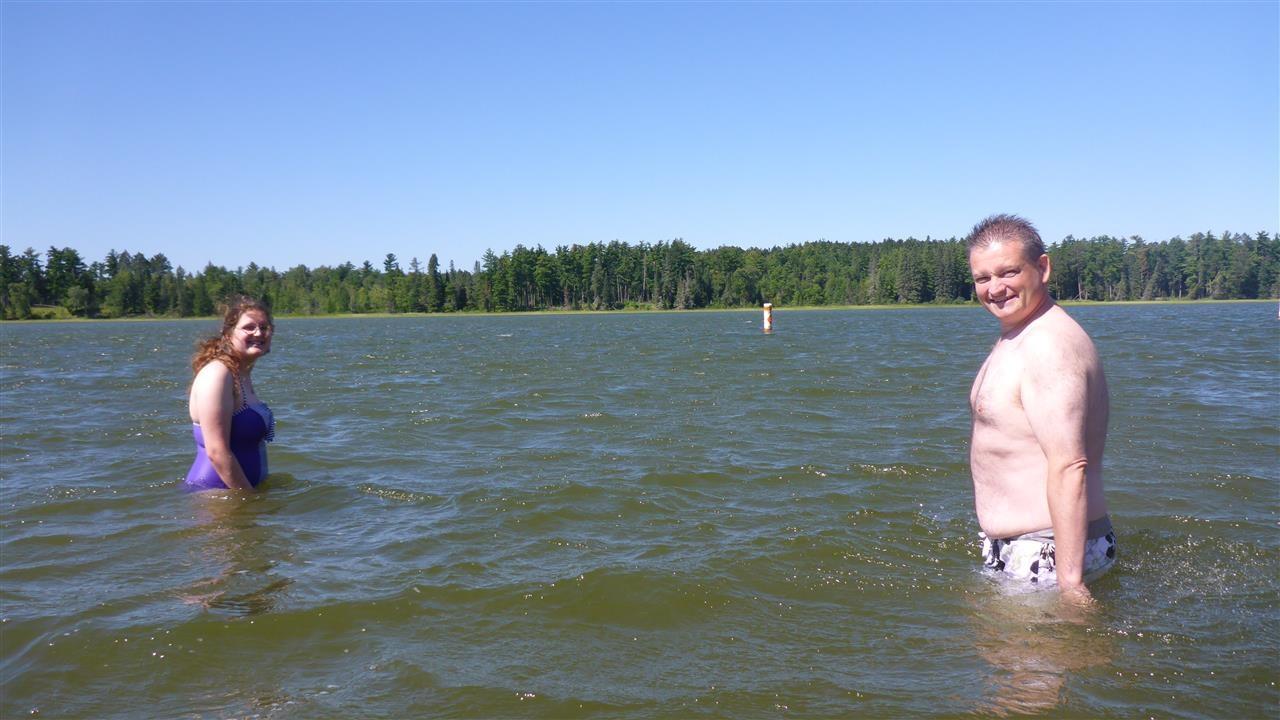 Hollie took us to to the very spot she & her friends camped out.
The Mississippi Headland is a short walk away , Hollie told us some interesting facts, including Itasca means "Truth head" .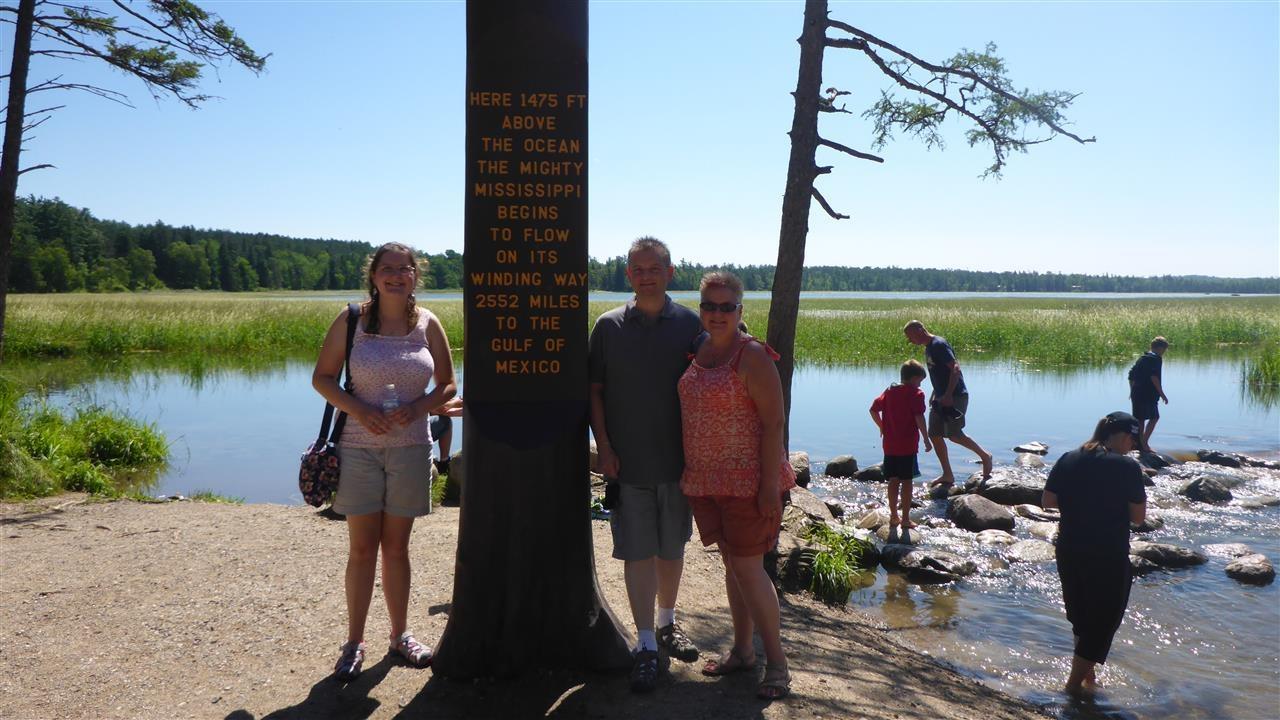 We saw no further rain & the cooling breeze meant we could walk in comfort.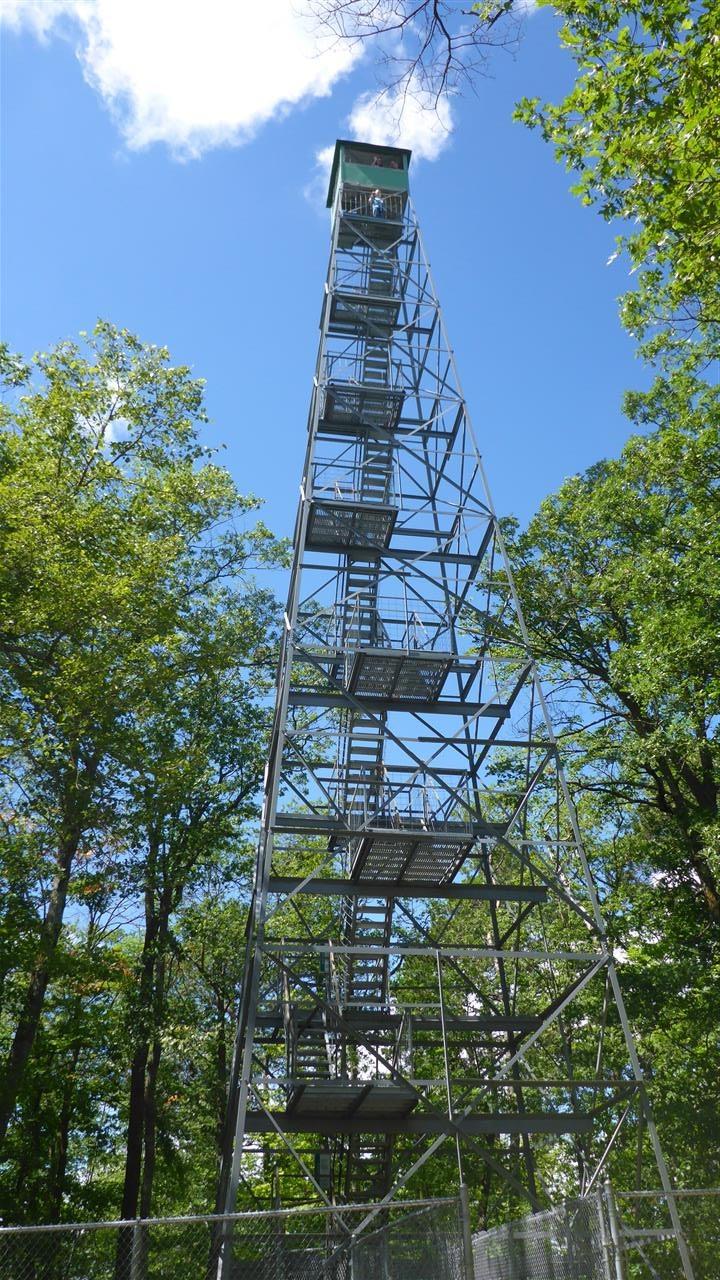 We drove to the lookout tower, originally one of 6 built to help map the area, in the 1940's the towers became fire lookouts.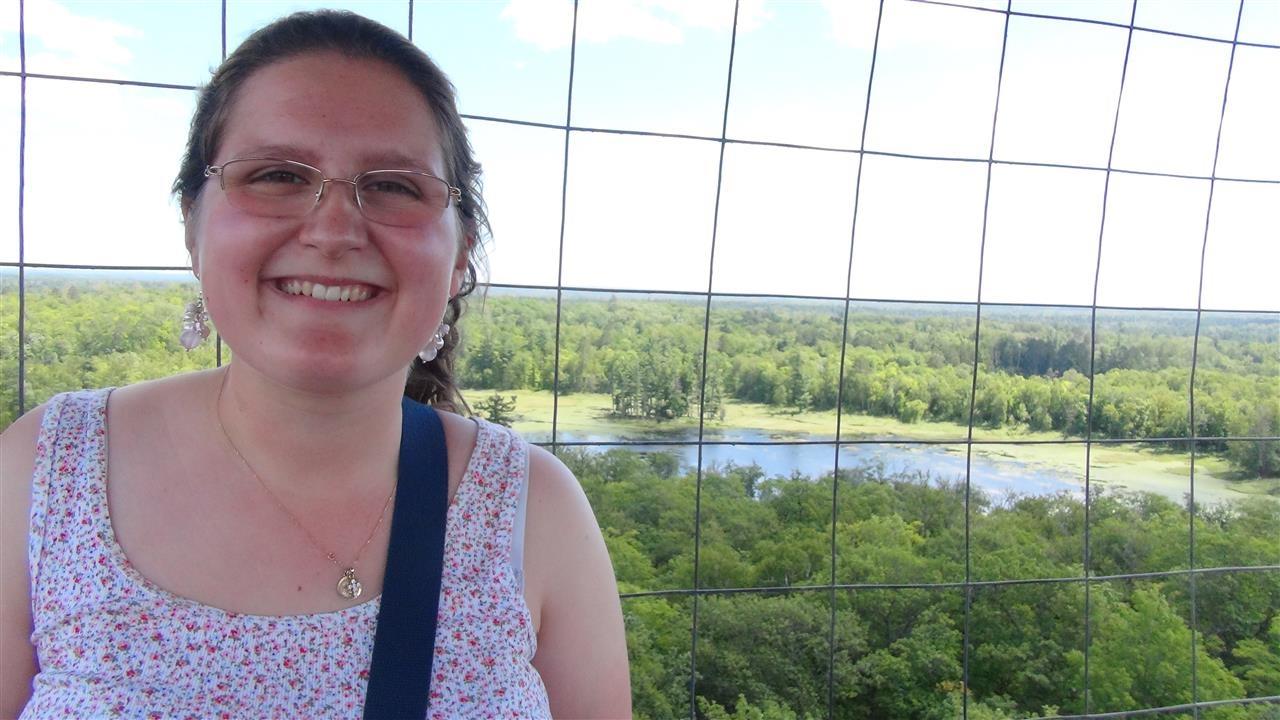 Now tourists scale the wobbly structure in groups of no more than 6.
The stunning views make the climb well worth the effort, however the wind at the top made a mess of Ians hair do.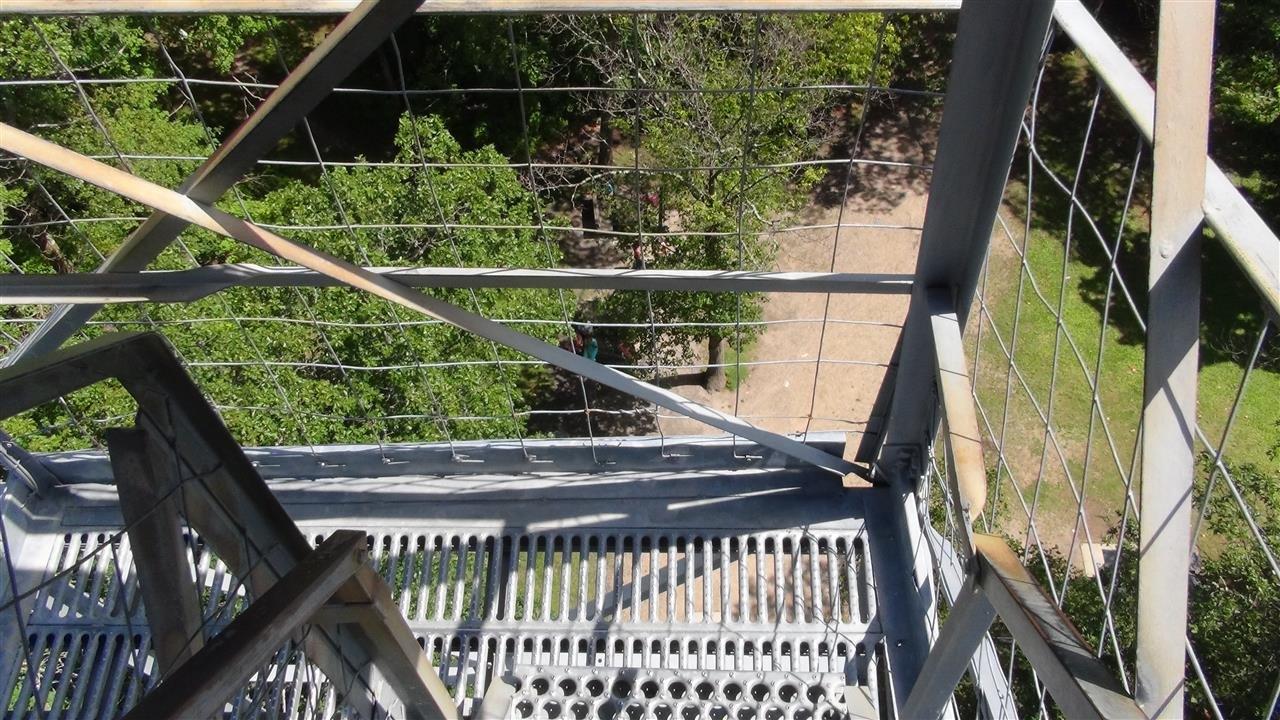 From the ground you can clearly see the tower flexing.
Finally a great view of our car , a Chevy Suburban, next to the classic Burger King sign ..Yum lunch!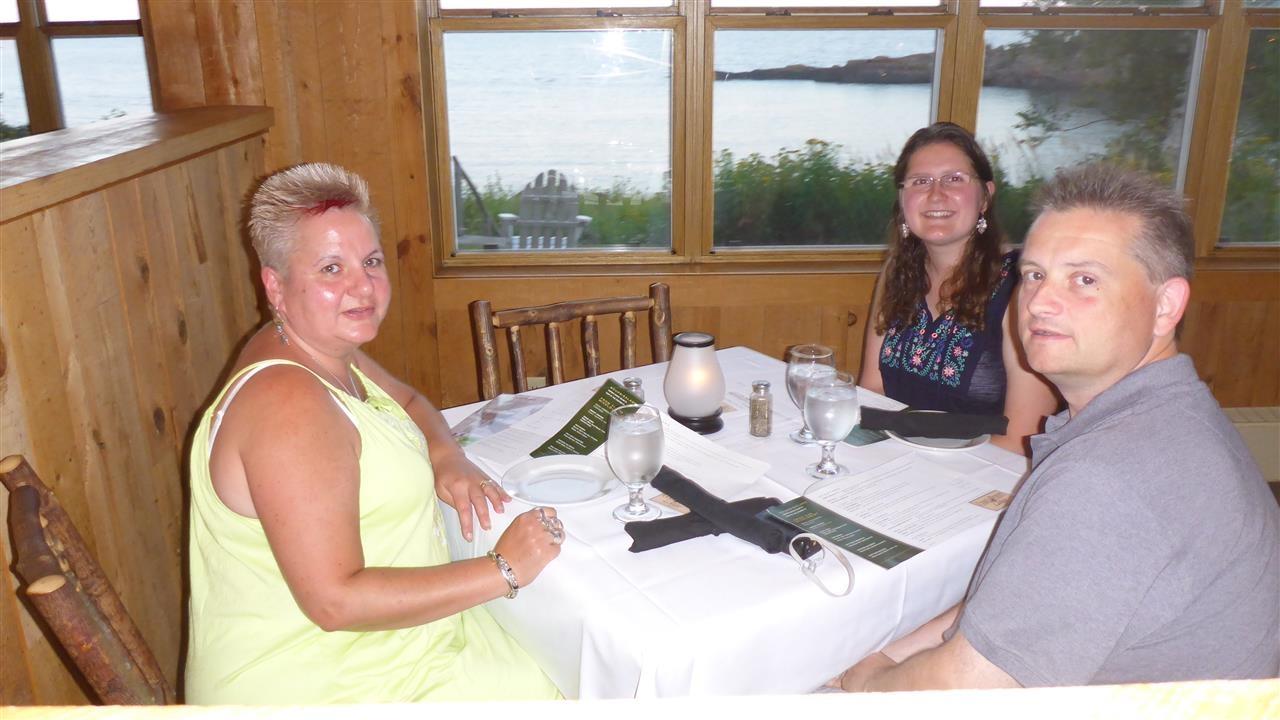 Last stop Beaver Bay , Our Cove Point Lodge , on the shore of Lake Superior ..This massive body of water looks to all intents to be an ocean.
Dinner was delightful in the fine dining restaurant..

We plan to find a comfy sofa & relax , Ian has driven for nearly 6.5 hours today , his brain needs beer !


Goodnight all from lovely Lake Superior xxx
Friday 5th August 2016
DAY
6

Feeling Superior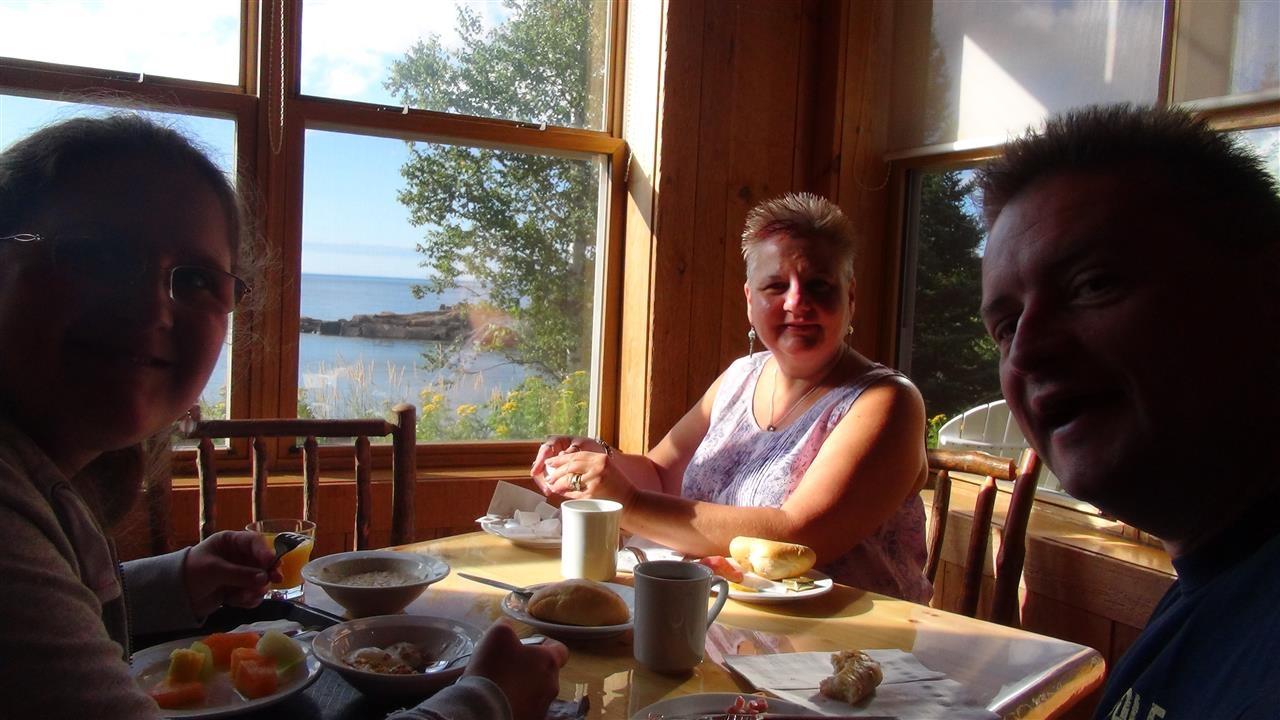 The day started with a traditional Norwegian breakfast. Bread, cheese, fruit and other European style items were on offer. However we skipped the pickled Herring.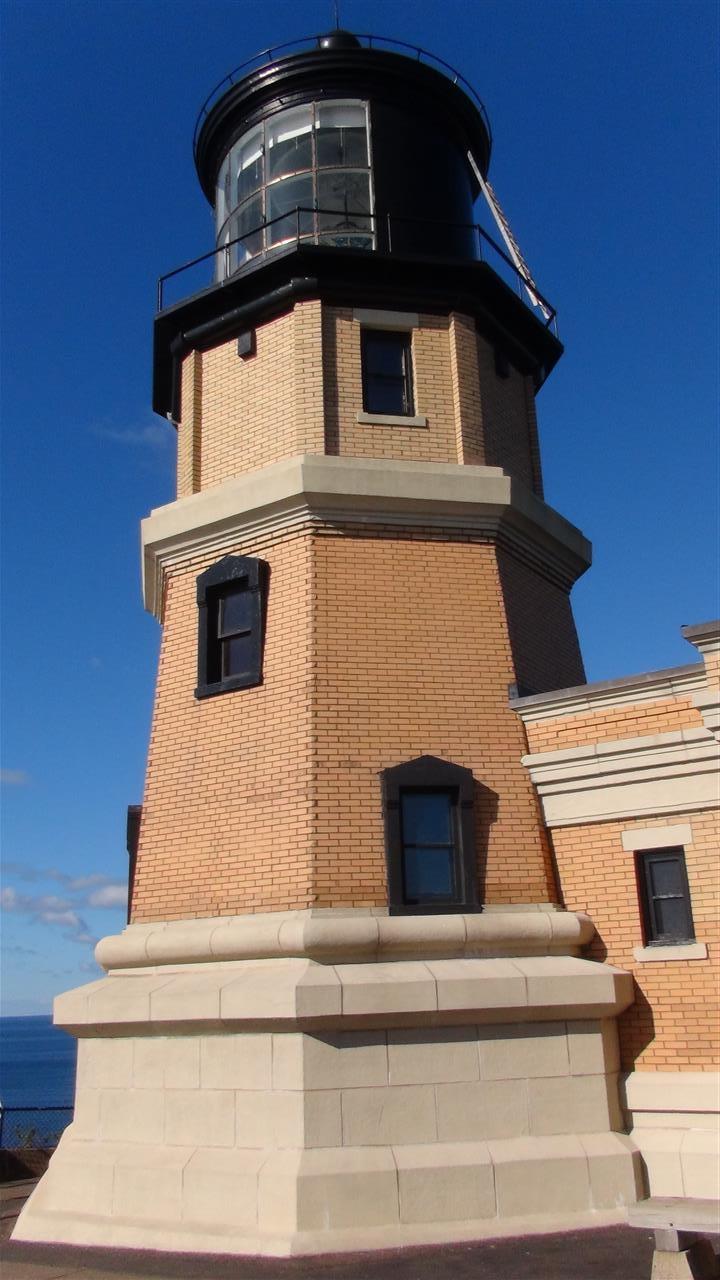 Our first stop of the day was Split Rock Lighthouse. Built in the 1900's the lighthouse served to keep ships clear of the coastline of Lake Superior. Sadly many ships were sunk here prior to the lighthouses erection.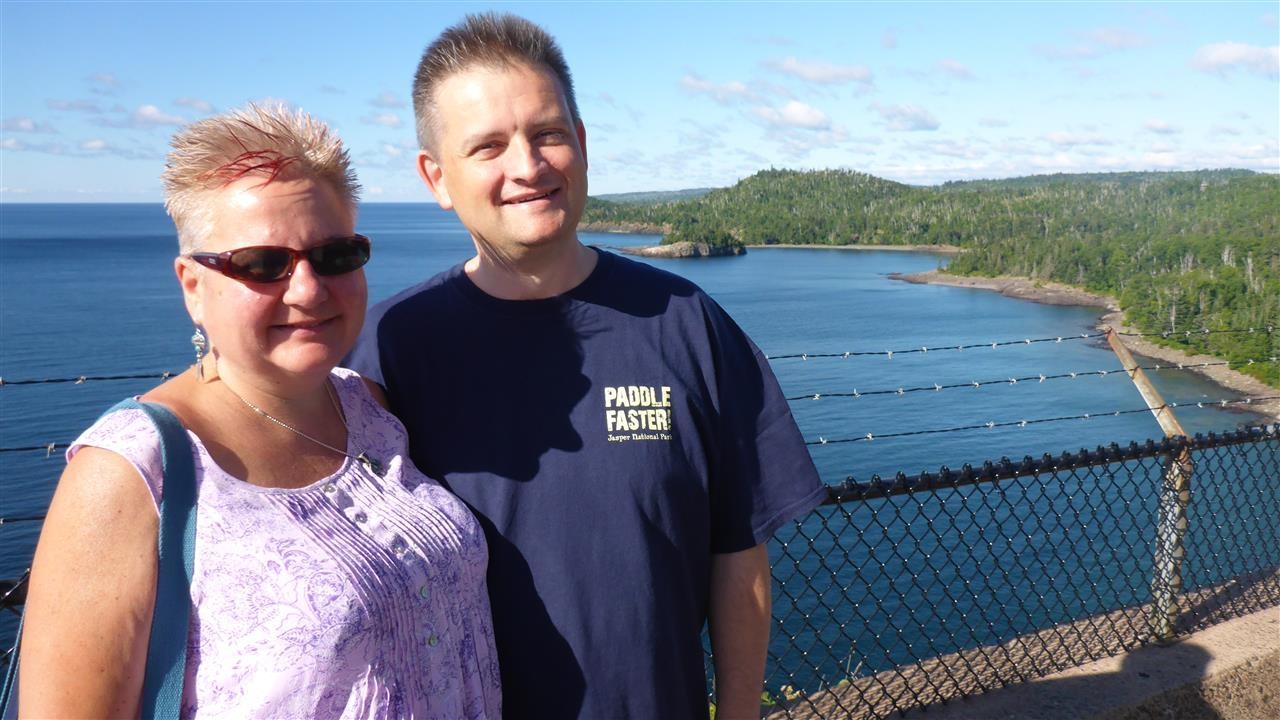 The views were stunning... not sure I can say the same about this funny pair!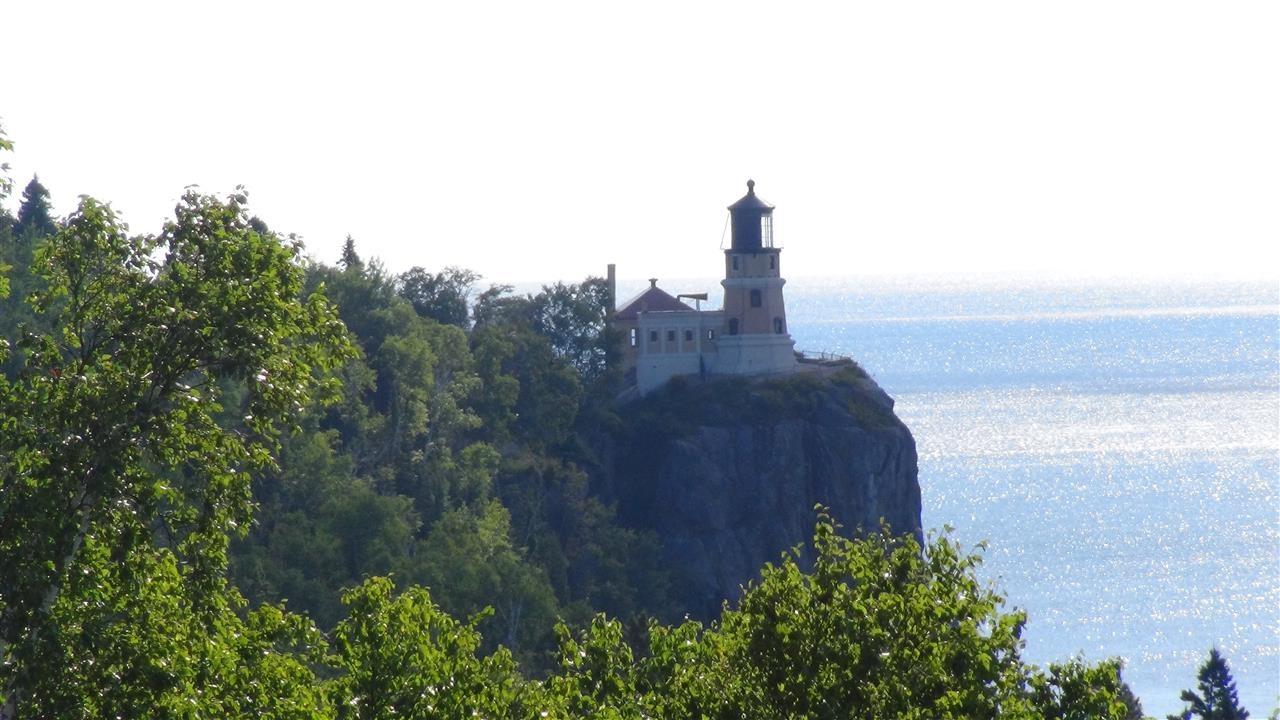 We saw the lighthouse from a different angle further up the scenic highway.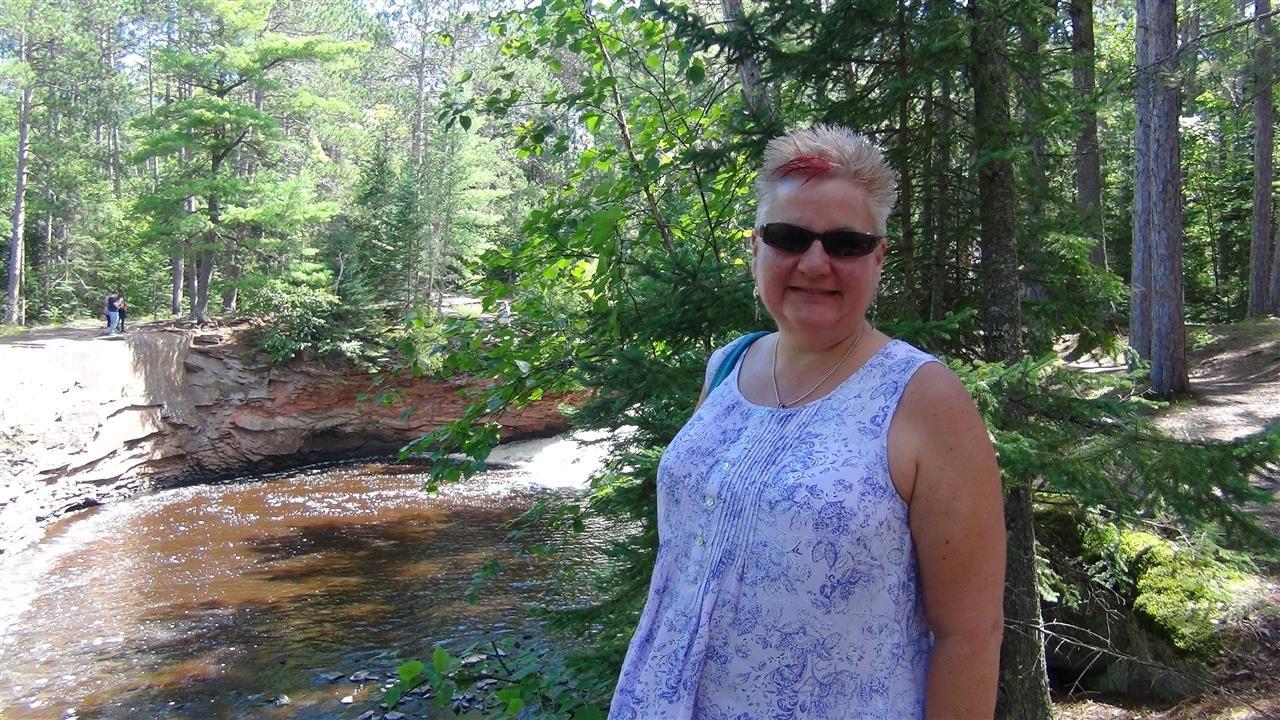 A couple of hours into our mamoth journey we stopped at Amnicon Falls State Park Wisconsin.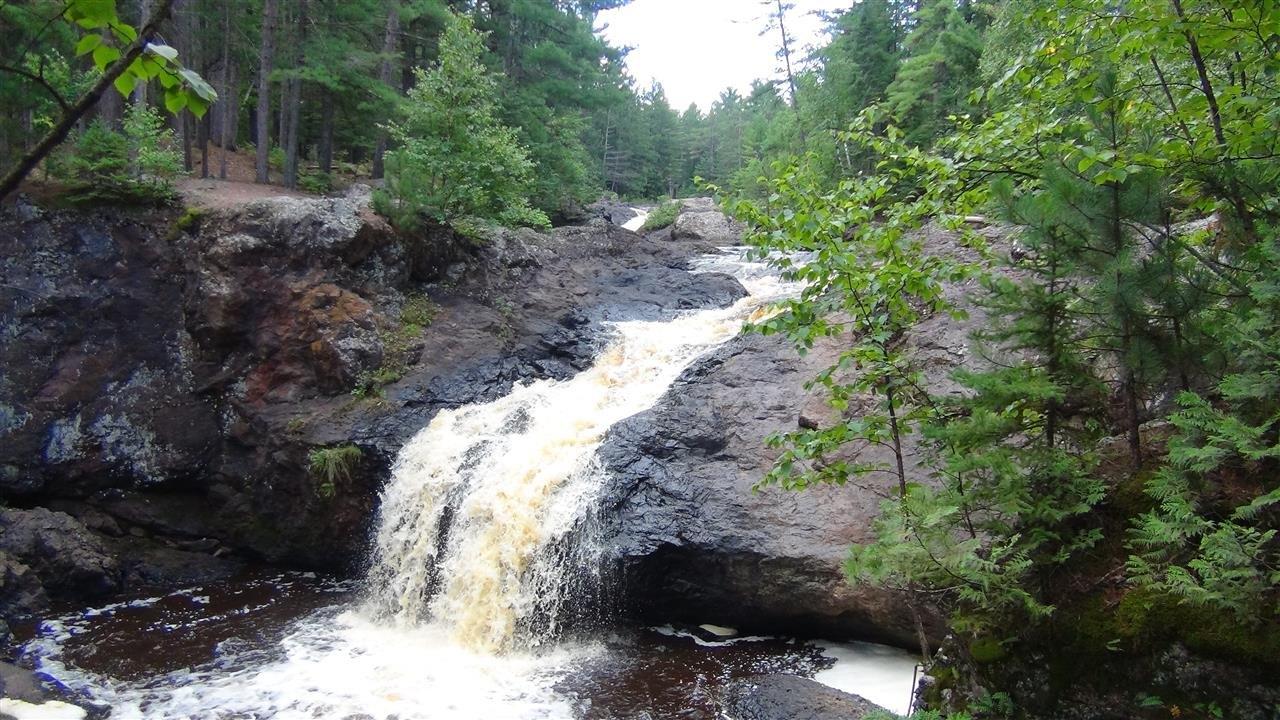 The Lower & Upper falls were viewed from an island, perfect for a morning stroll. Doggies would have loved it.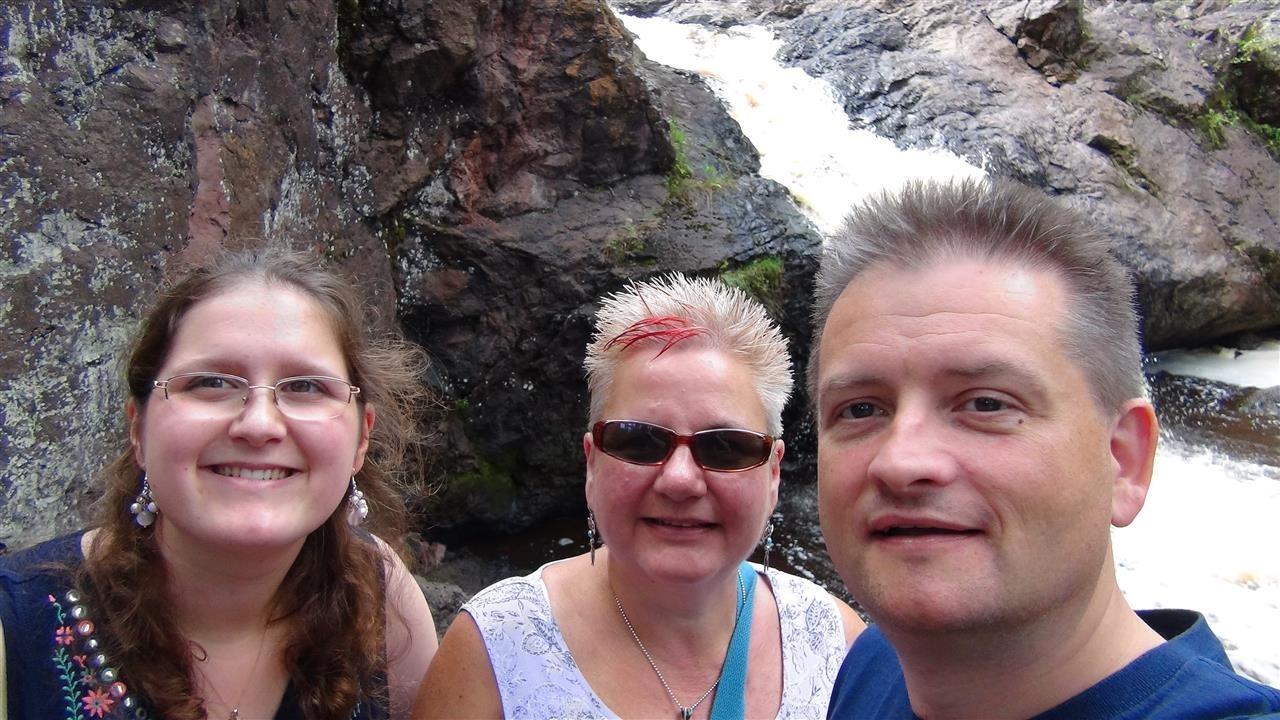 The tea coloured water is stained by a plant root at the river source, not by algae or Iron ore.
After a brutal 6.5 hour drive ( including a time zone change ) we arrived in Sault Ste Marie, litterally on the Canadian border.
As it was after 9 we happily stopped at " China Cate" a trip advisor rated chinese cafe..
On to the local Best Western , for a load of laundry, a whirlpool bath & a very late blog entry.

Hollie & I are just finishing this as our driver snores !

Goodnight all xxxxx
Saturday 6th August 2016
DAY
7

Sleeping Bear Dunes & 100 yrs of Coast Guard Aviation.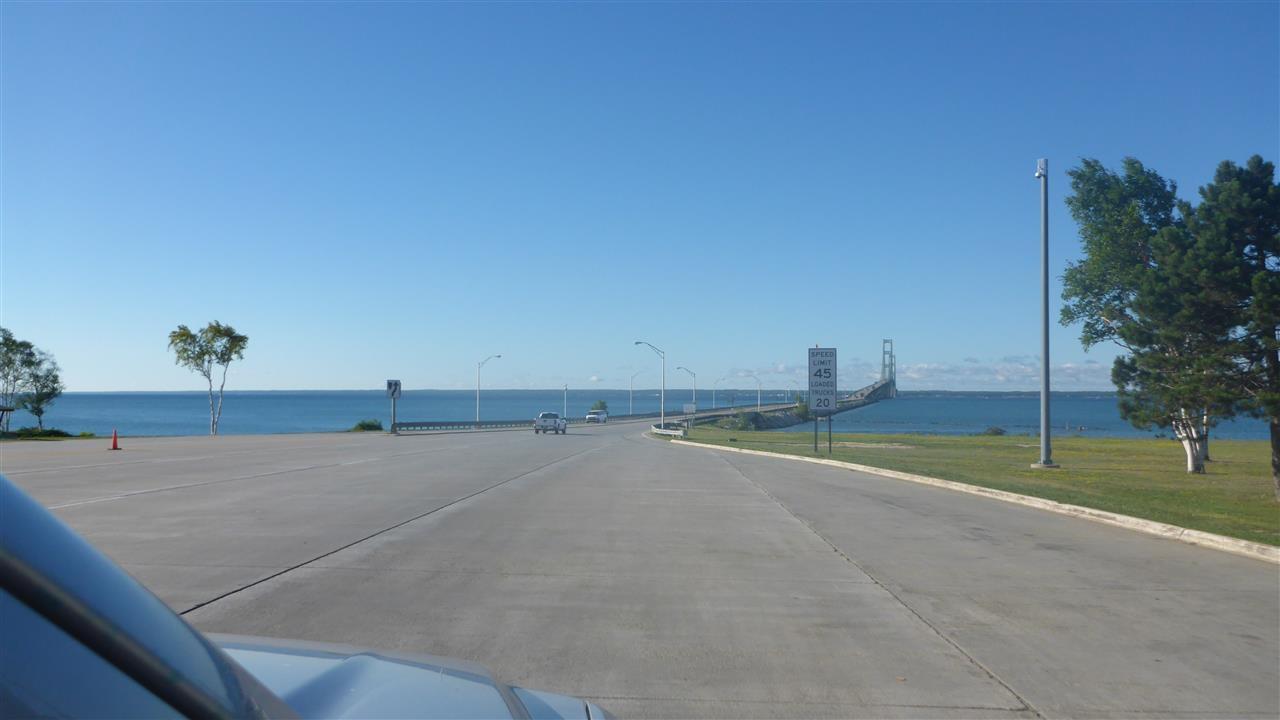 After a refreshing nights sleep, we head across Lake Michigan towards "Sleeping Bear Dunes".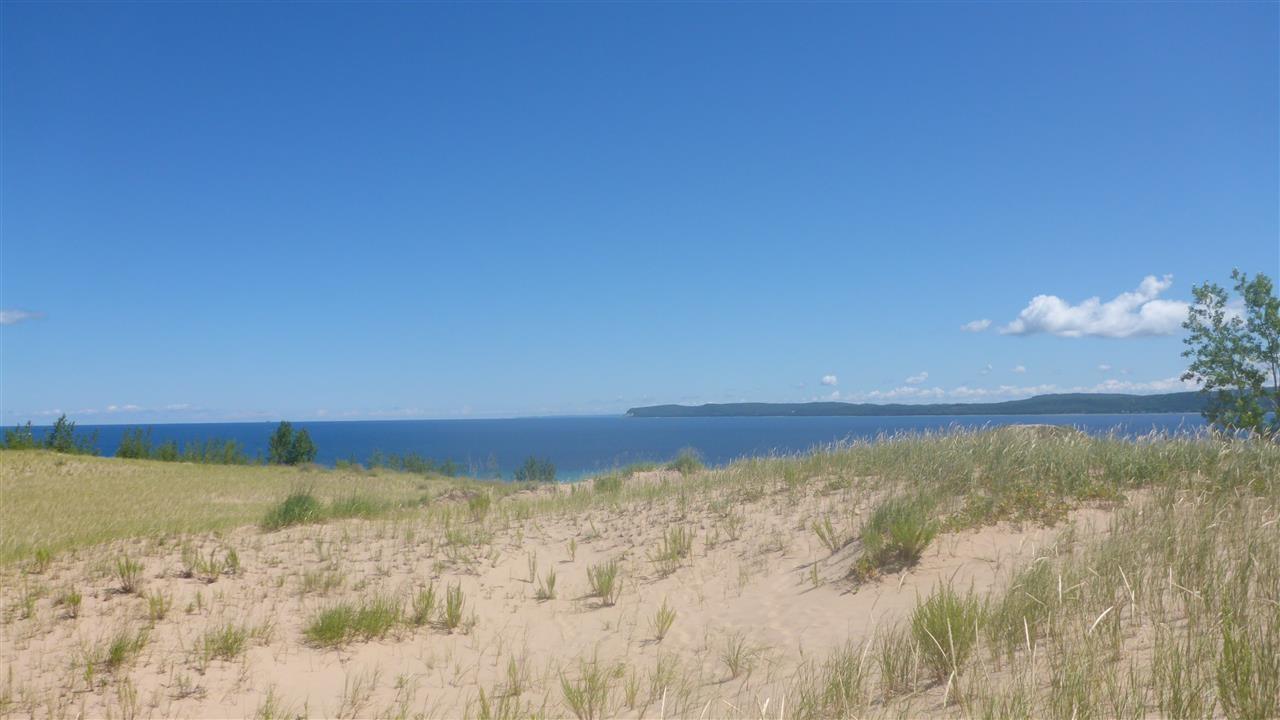 After a visit to the visitors centre, we began a hike across the dunes.
Having barely begun we realized how slow the going would be, through this deep sugary sand, we stopped at the 1st view point & decided to cut our losses.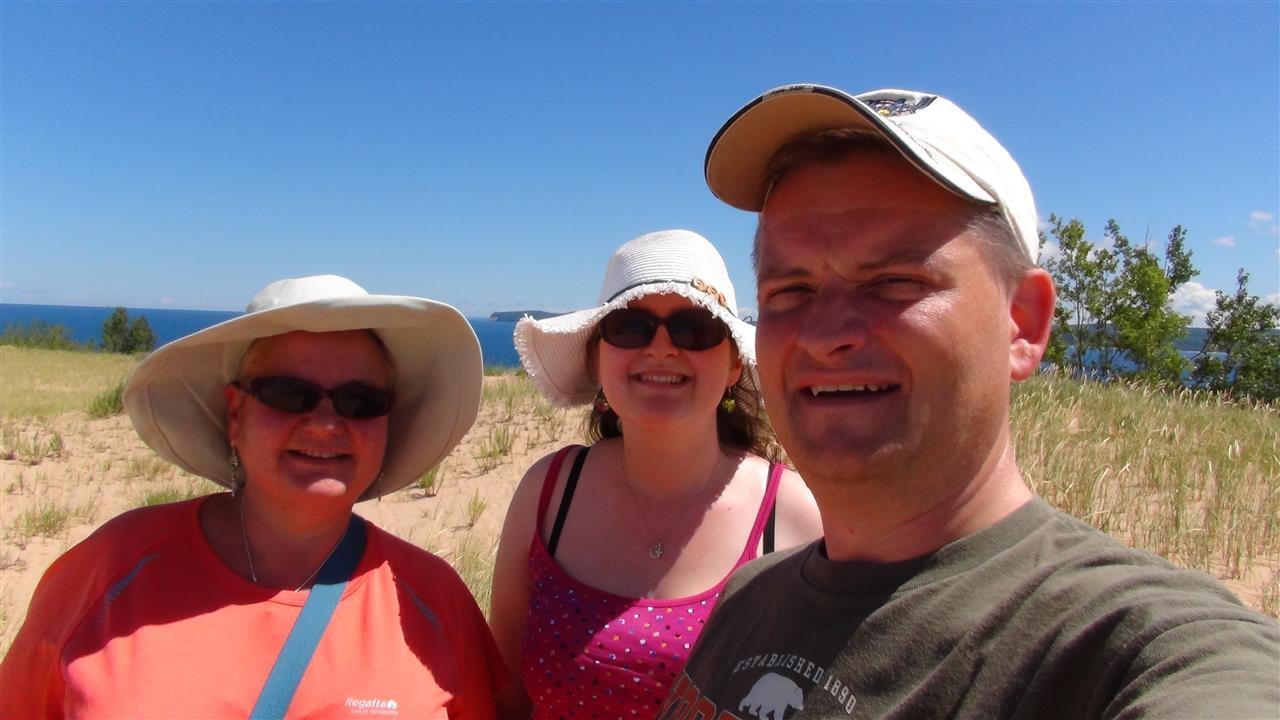 The breeze from the vast lake, made the heat more bearable.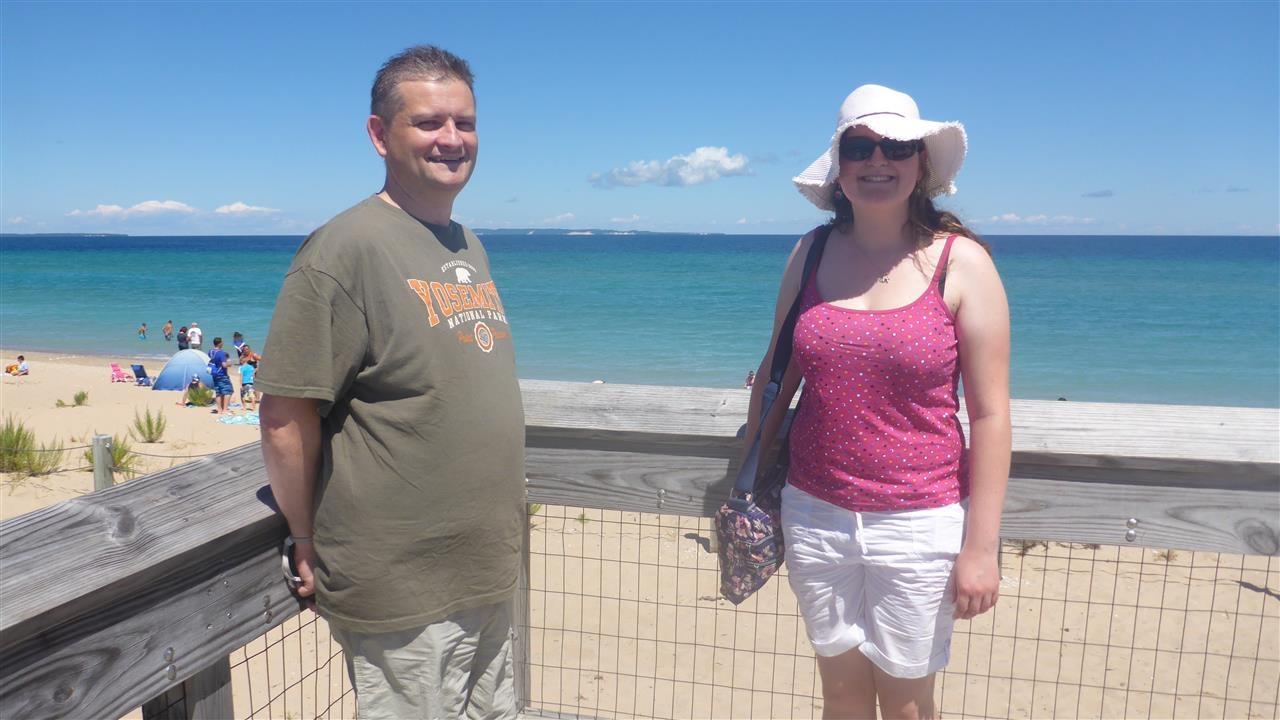 The natural beach areas had drawn the crowds.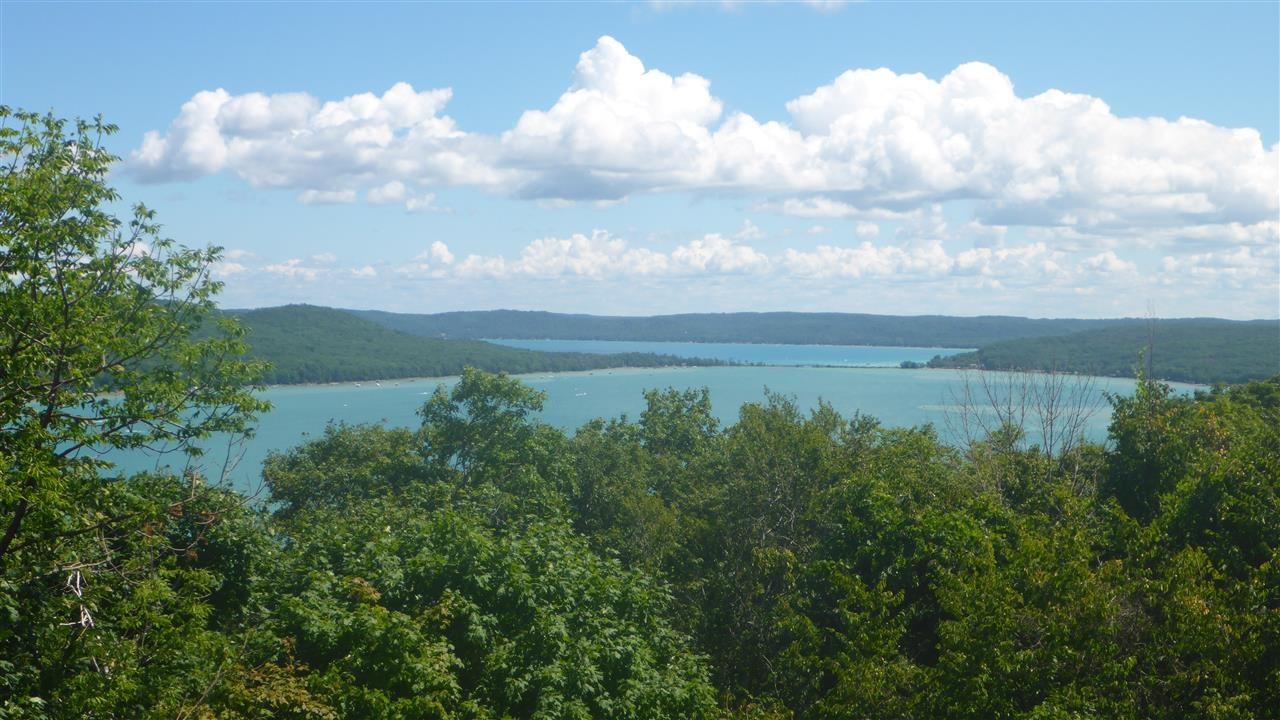 Next stop Inspiration point, a steep climb to a vantage point over the bay.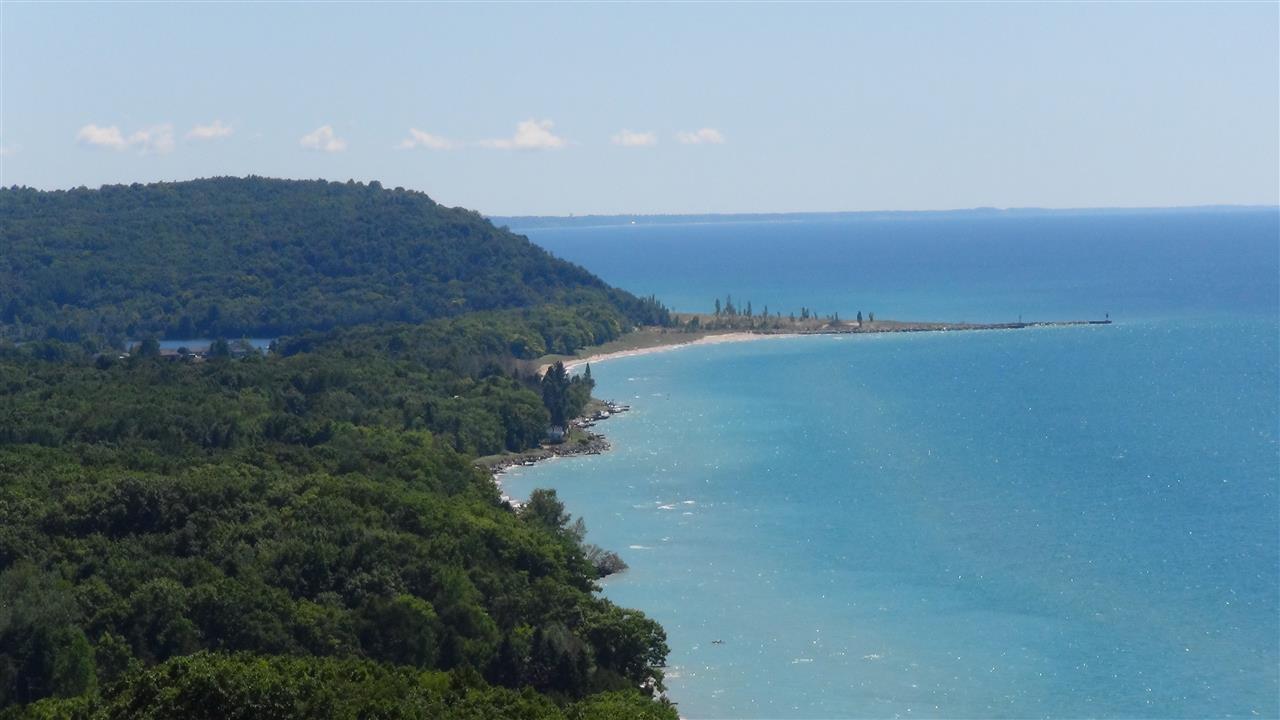 A crowd of well dressed folks were gathered at the base of the steps, including a minister to perform a wedding ceremony, we left before the bride arrived.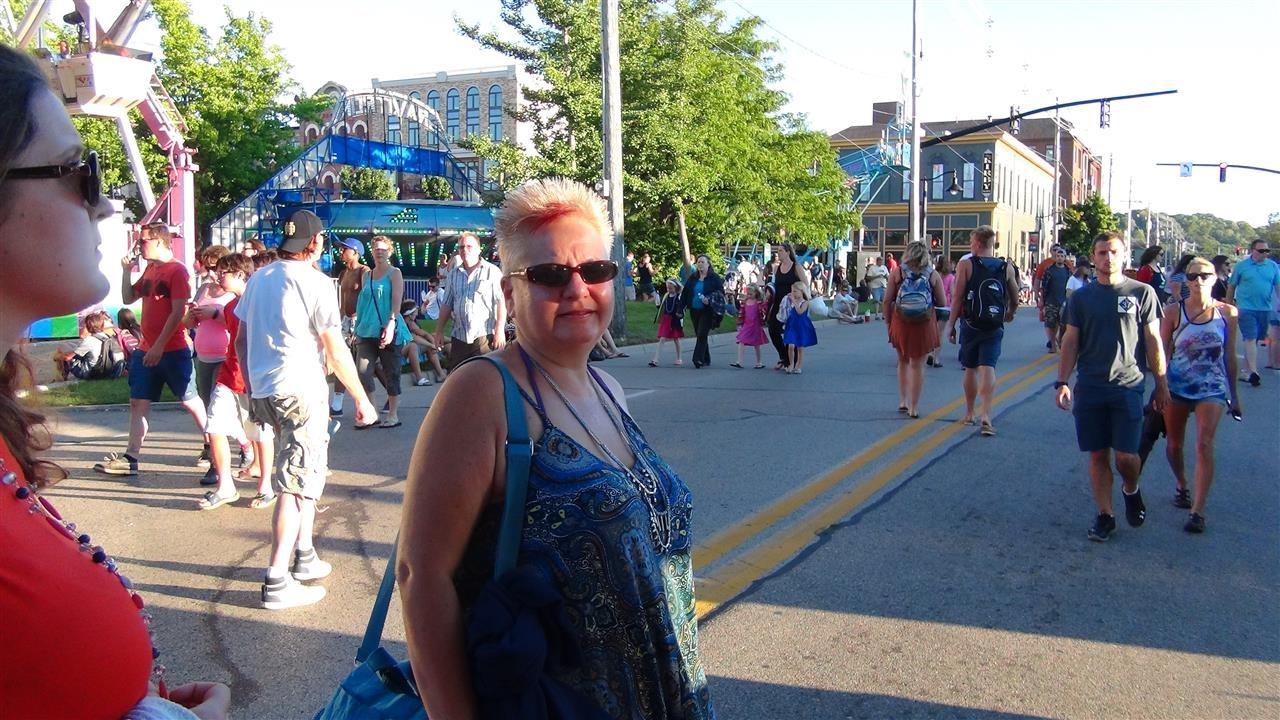 On to Grand Harbour, we arrived to collect our tickets & find parking, the town was packed out with revellers celebrating the finale of National Coast Guard Week.
We parked back on the main road for $10 and made a 20 minuite walk back to the harbour.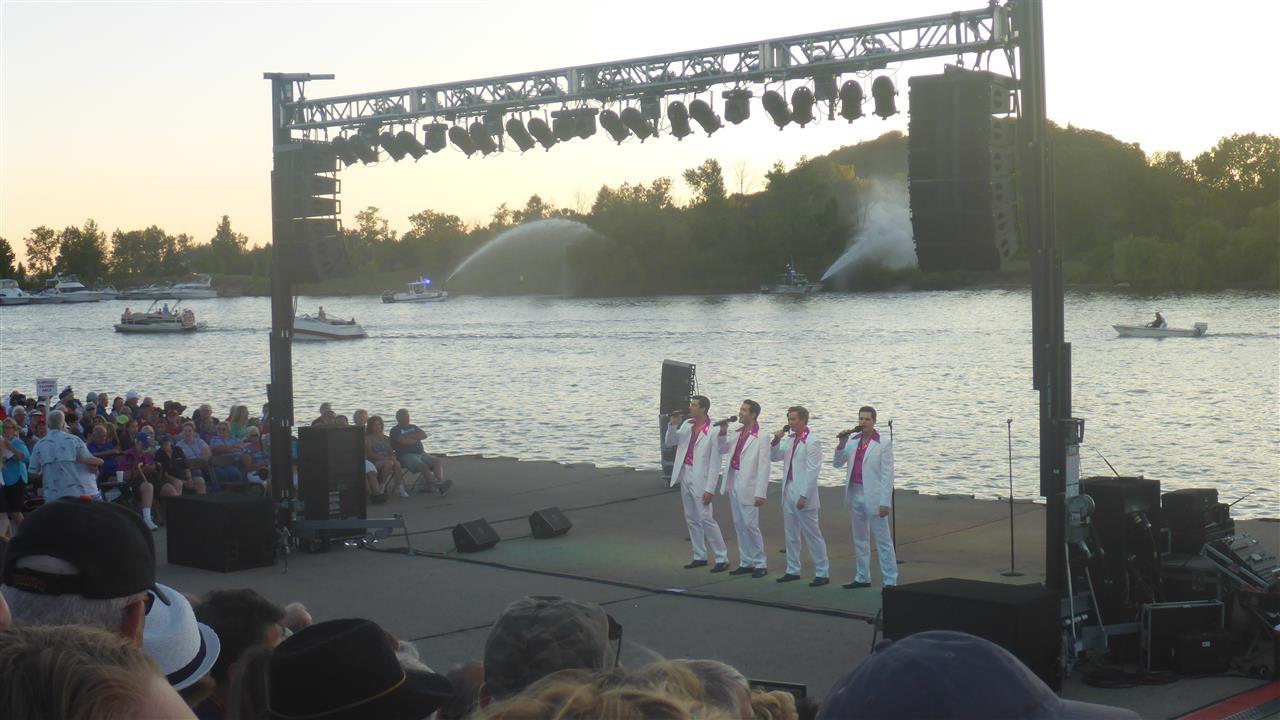 Once in our seats " Four by Four" a tribute act entertained us with their versions of hits from stars like The Bee Gees, Beach Boys, various Motown artists, They were excelent.
Lots of audience members got up to dance on the Dockside , including some tipsy ladies who set their sights on the Coast Guard Helicopter pilots, who attended in full uniform.

This is the 92nd Grand Harbour Coastguard festival , Celebrating the coast guard in general , but especially the 100th anniversary of coast guard aviation.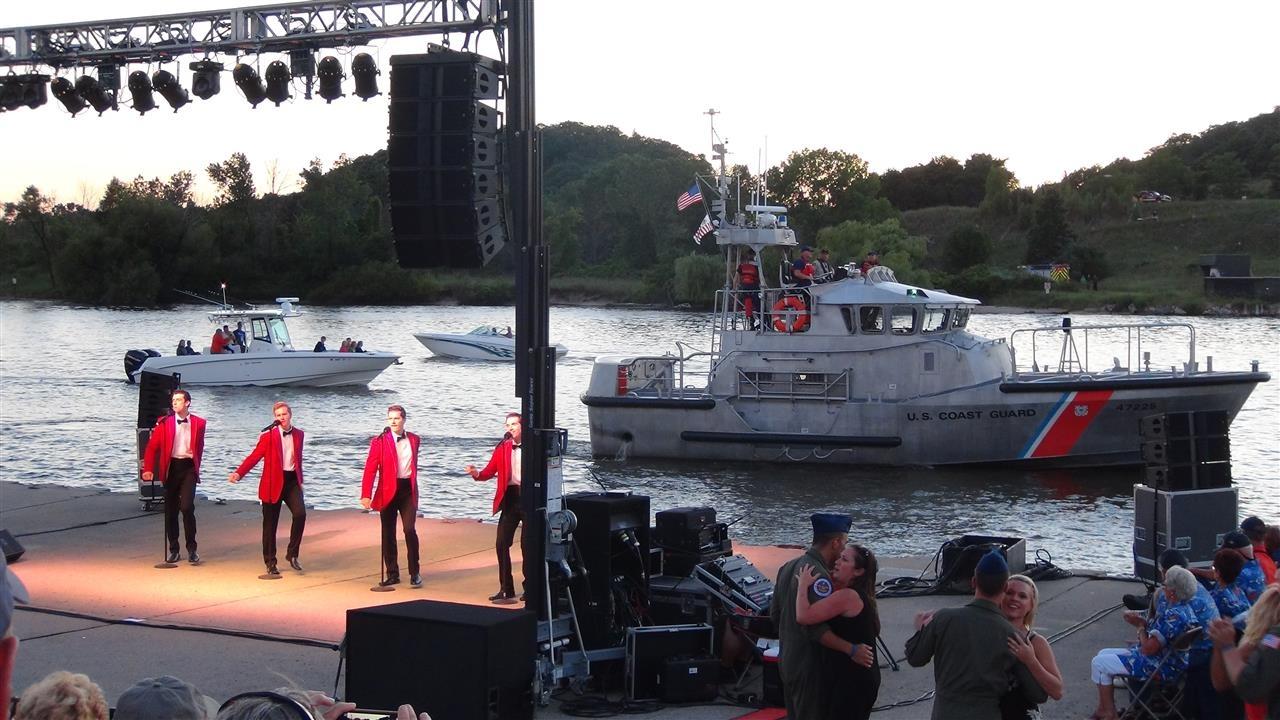 As the light faded, the waterway was shut off in preparation for the highly patriotic , Fountain show & Firework display.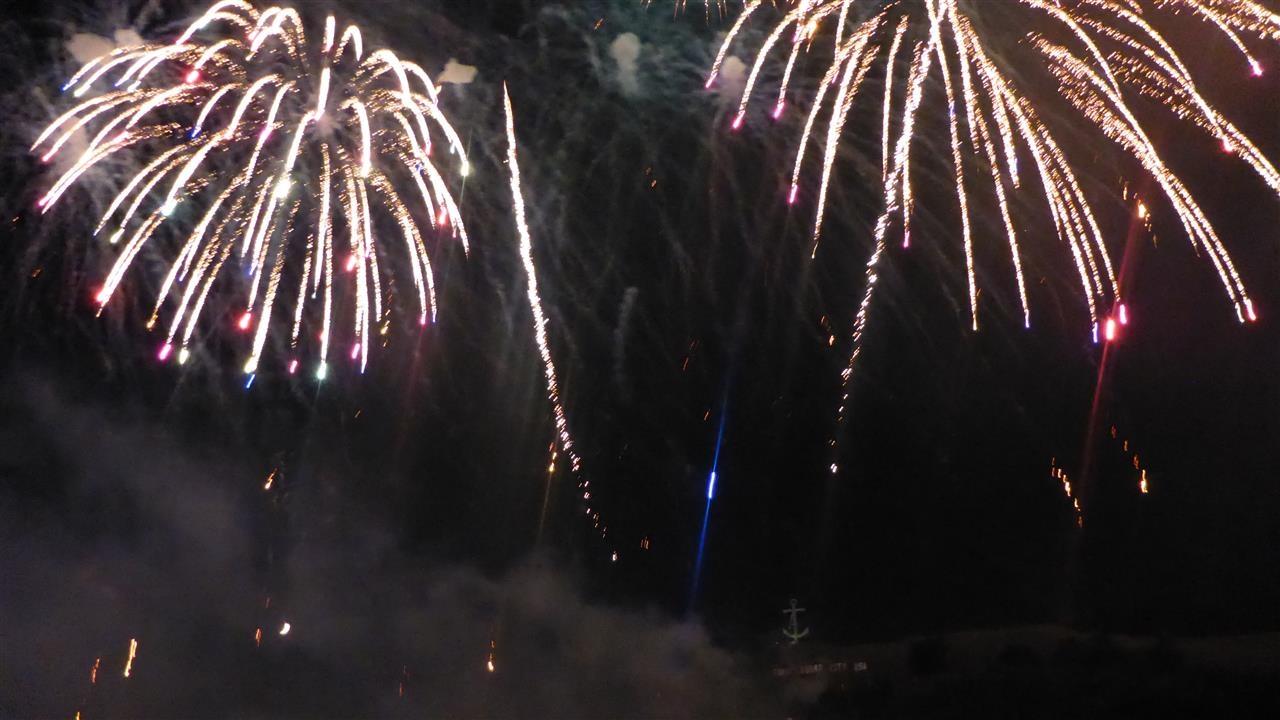 The 20 minute + firework display was stunning.
Once the festivities finished we headed back to the car through the packed streets, set out with funfair rides & food & drink stalls. The.town was gridlocked, it took us over an hour just to get out onto the highway.

No blogging was done last night hence the delay in posting , having left The Days Inn ( Bedbug central ) we are on our way again , St Louis here we come.

Love to all xxx
Sunday 7th August 2016
DAY
8

Meet me in St Louis
Today was mostly about driving , we retraced our steps to Grand Harbour and beyond.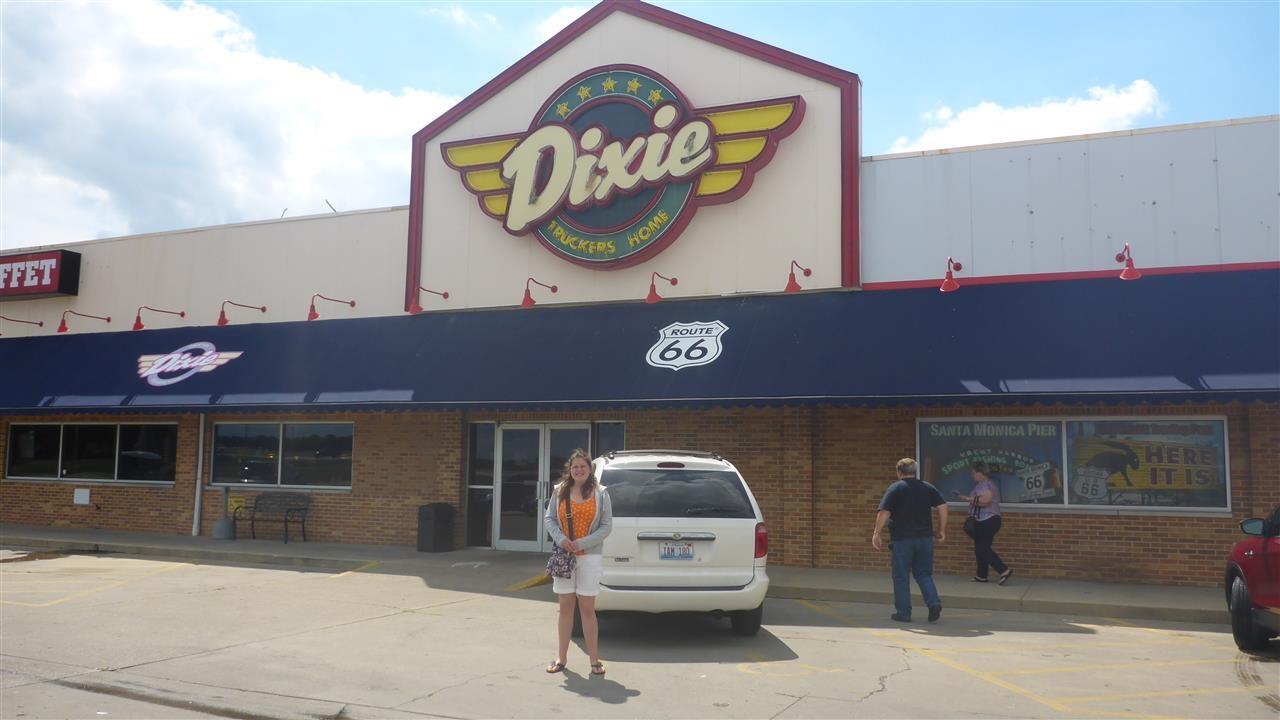 We found a promising truck stop for lunch, Dixies offered a large menu or the $12.99 buffet, we opted for soup & Greek salad.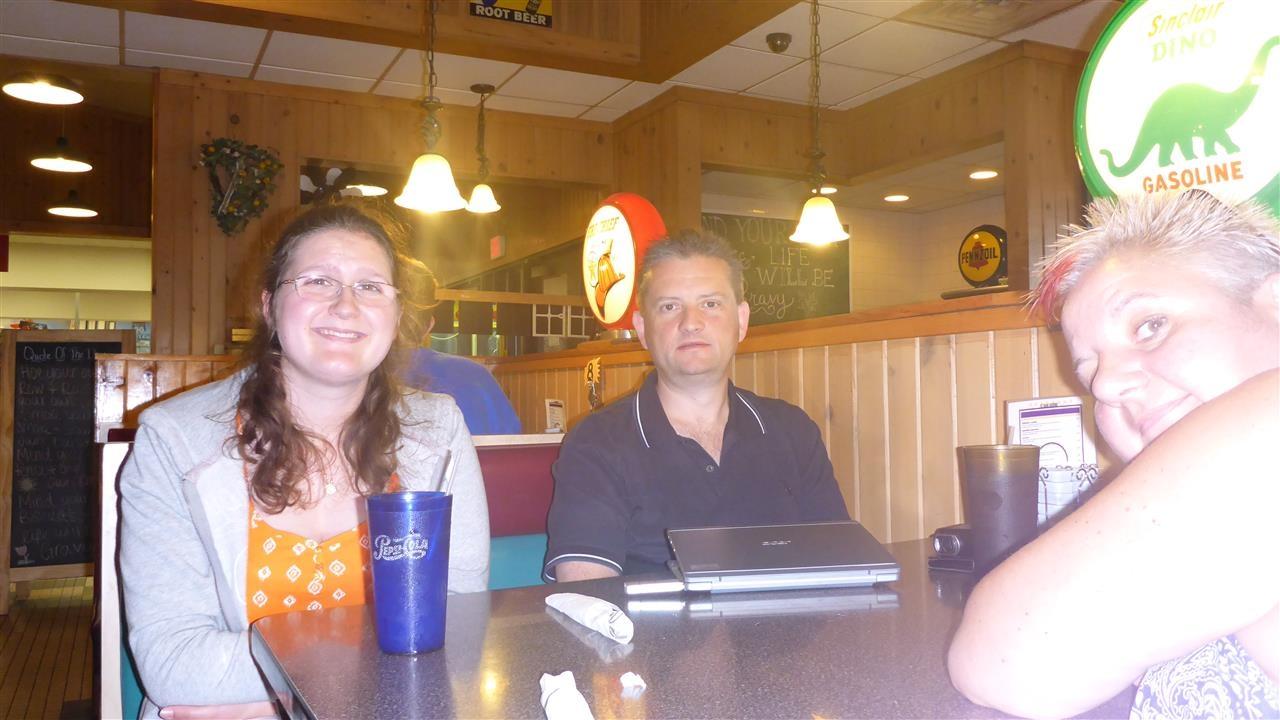 We sat amongst the locals in our retro booth..People watching. The road we are travelling is part of historic Route 66.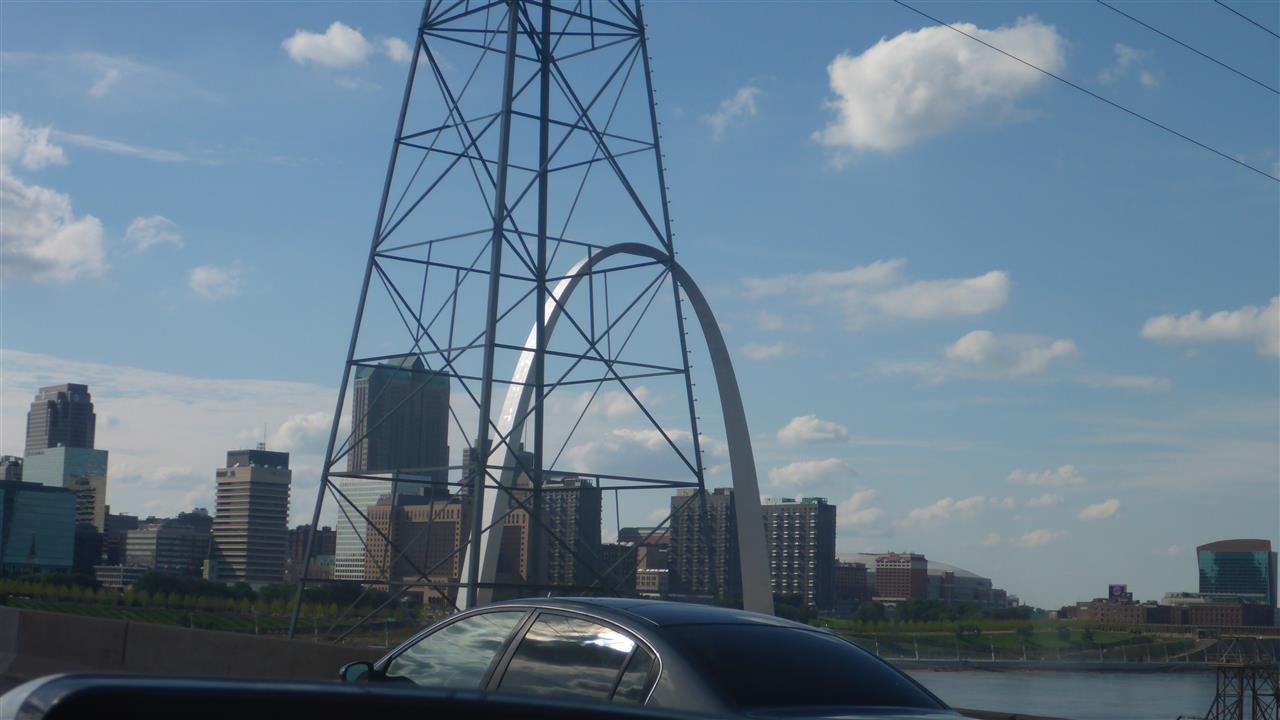 A few hours later the city of St Louis.
The Arch dominating the skyline.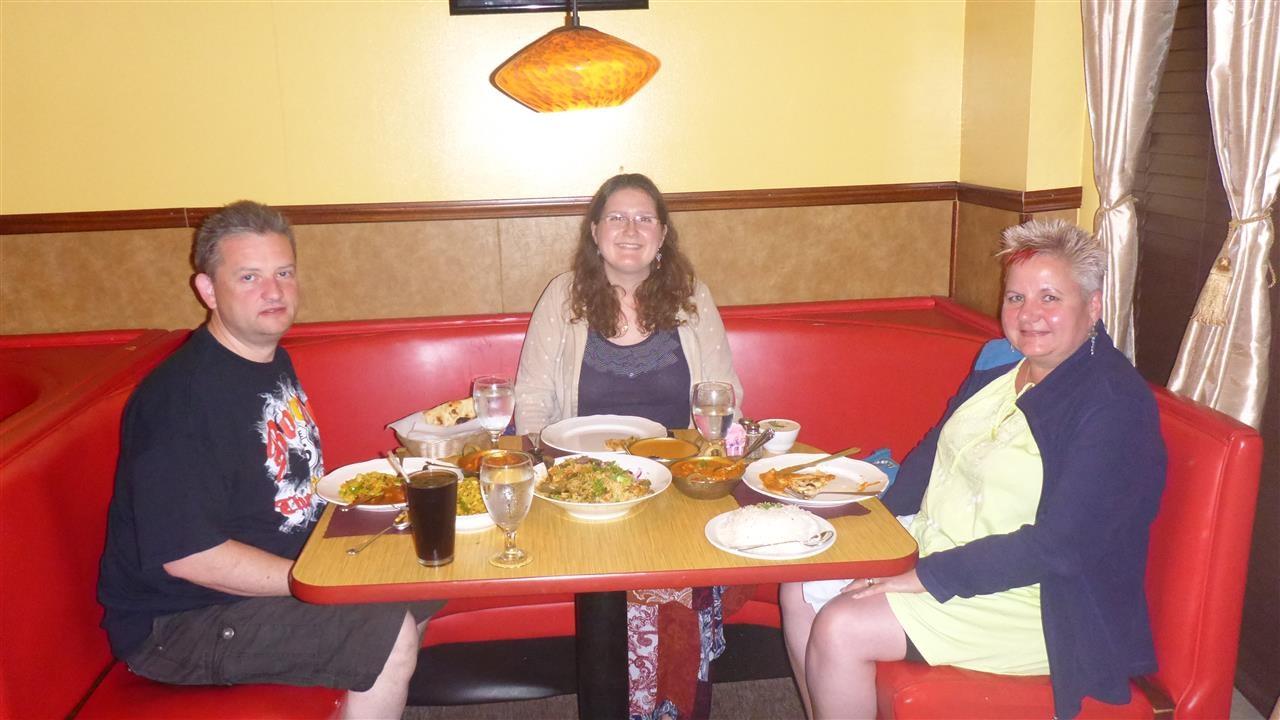 Eventually we arrived at the luxurious "Wildwood Hotel" part of the very new town of Wildwood, basically built round a shopping mall.

Laundry duty and a quick swim , before venturing out to Indian Kitchen, 7 miles down the dead straight road.
So far the painfully slow service , compounded by " We have run out of Popadums" , doesn't bode well..The water delivery was exceptional. Eventually the food arrived, lots and lots of it , our host was mortified we didn't want boxes to take out our left overs.

Hey ho! We are on holiday !

Good night one & all xxx
Monday 8th August 2016
DAY
9

Six Flags (Part 1)
Not so early start & here we are at 6 flags.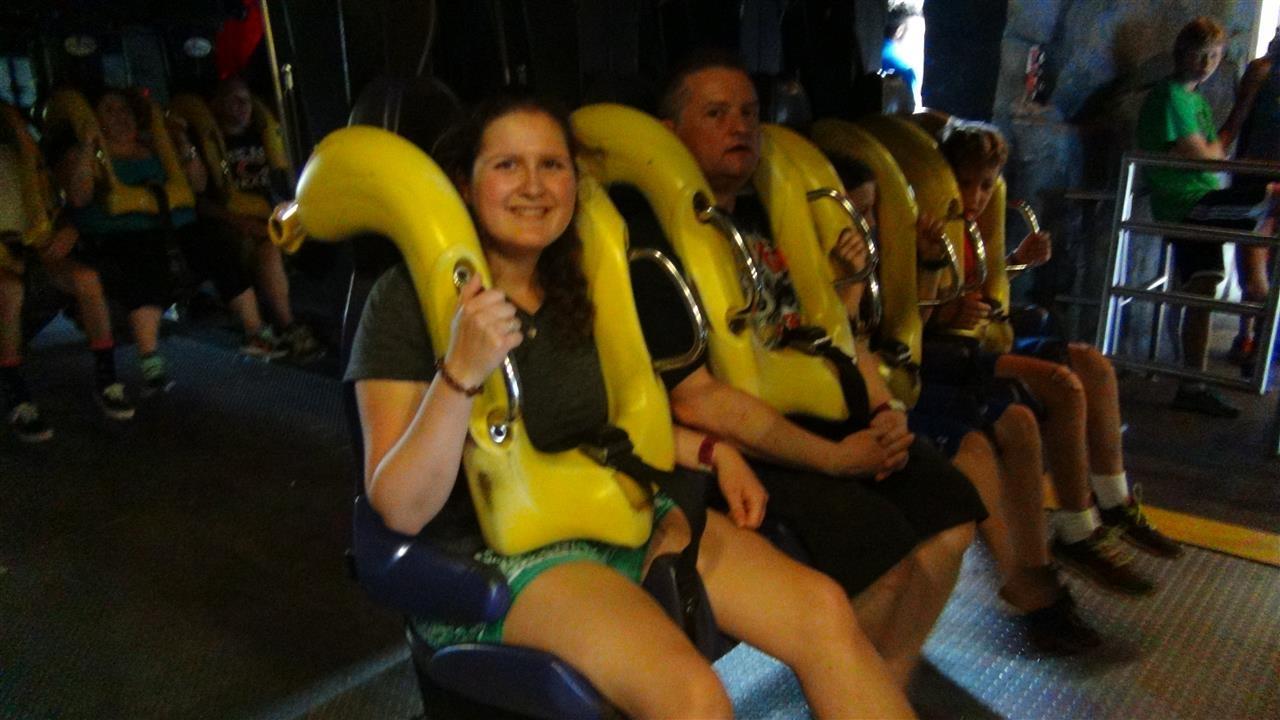 1st ride Batman, reminded me why we don't do theme parks anymore !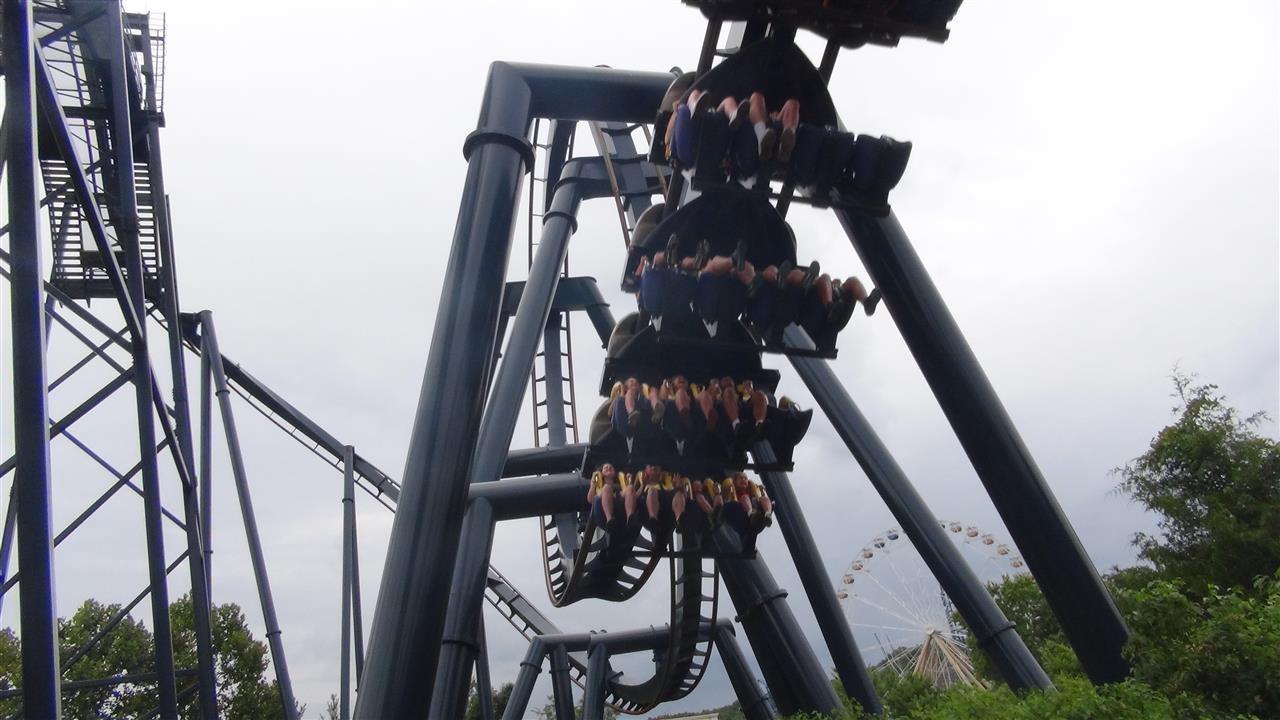 A 2 minute adventure of nausia & disorientation.
Ice cream break mid morning.
Pandemonium, a 4 person car which not only followed the track , but spins independantly.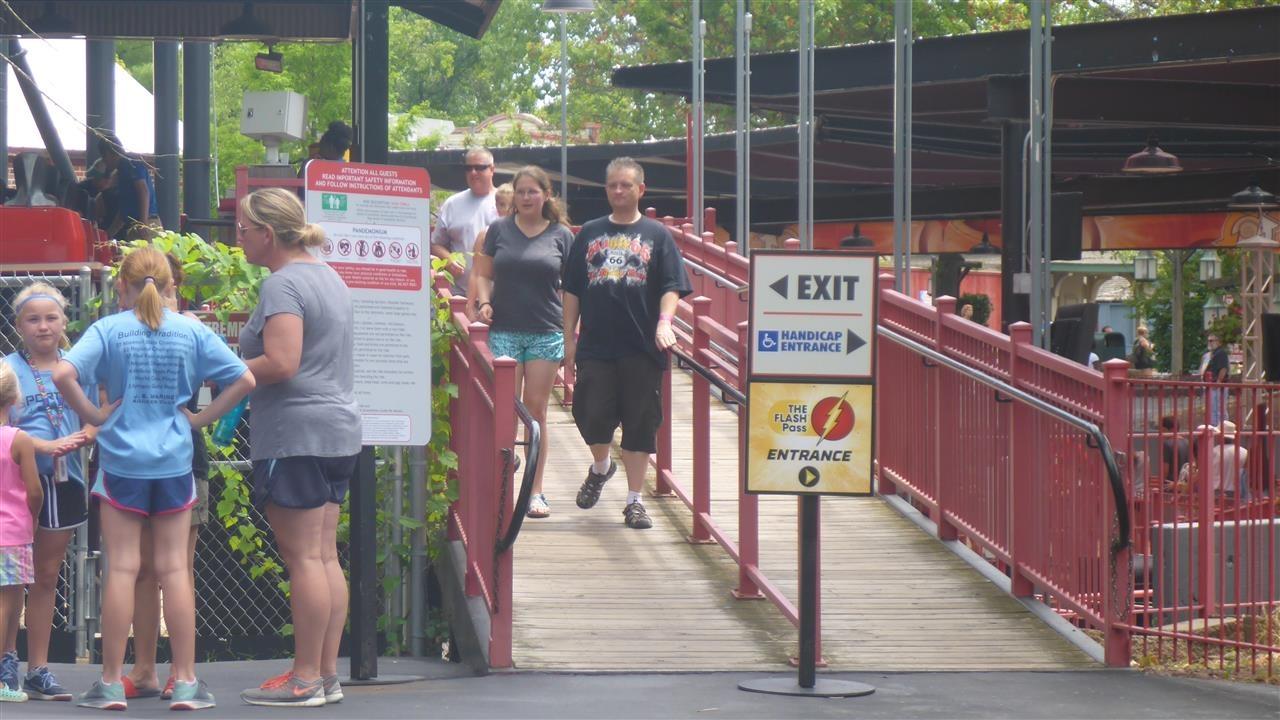 A wobbly disembarcation.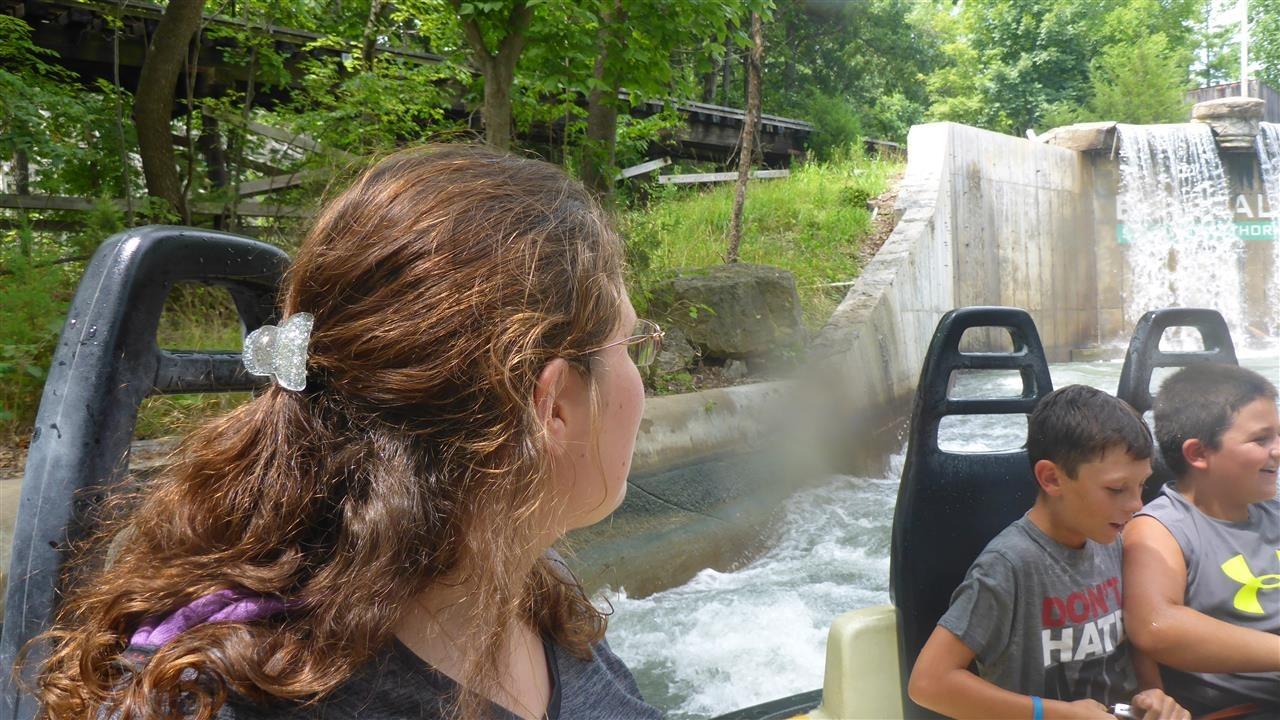 The wild water ride , made us very wet..took ages to dry our shorts out !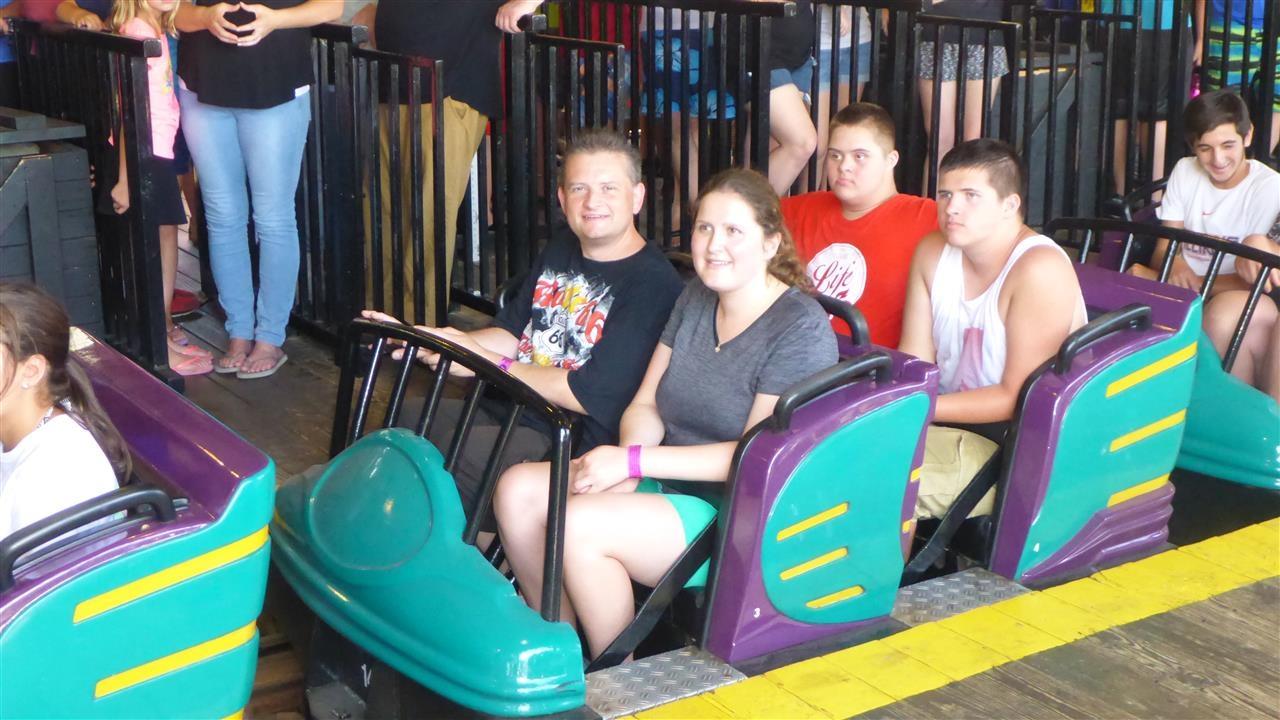 Ian & min enjoy another roller coaster possibly "The Boss".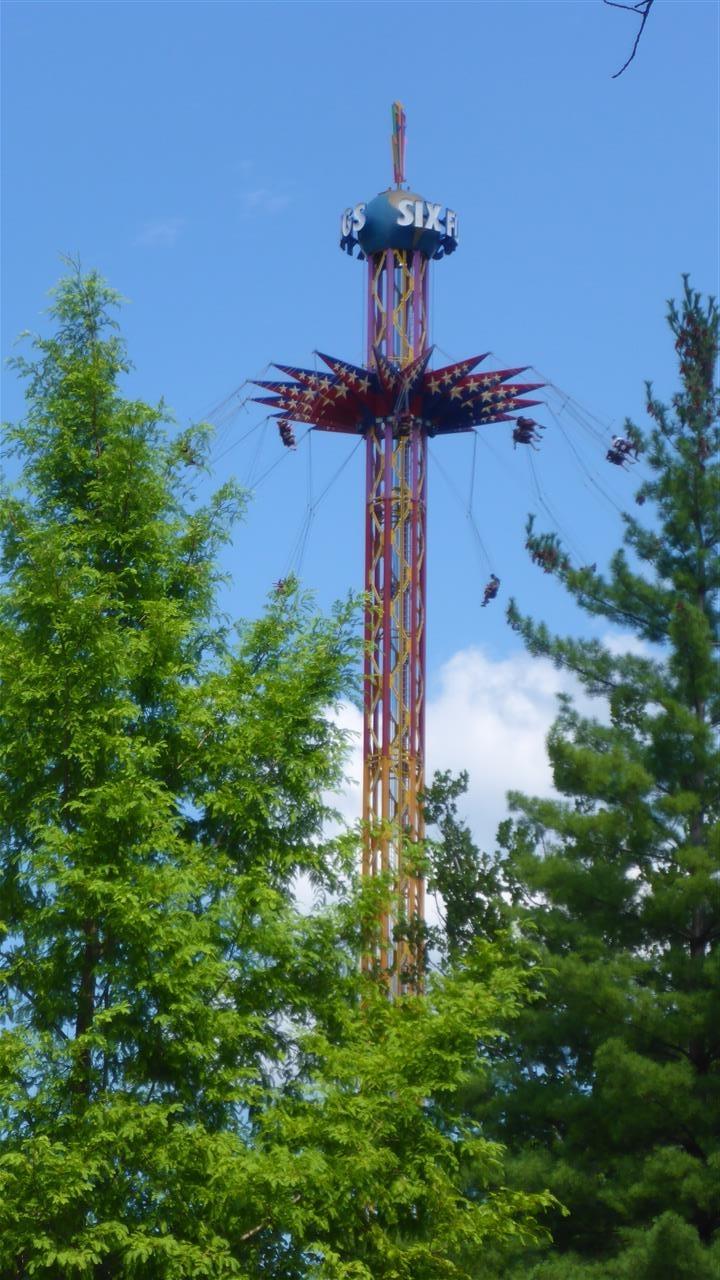 We all went on this gut curdling swing ride..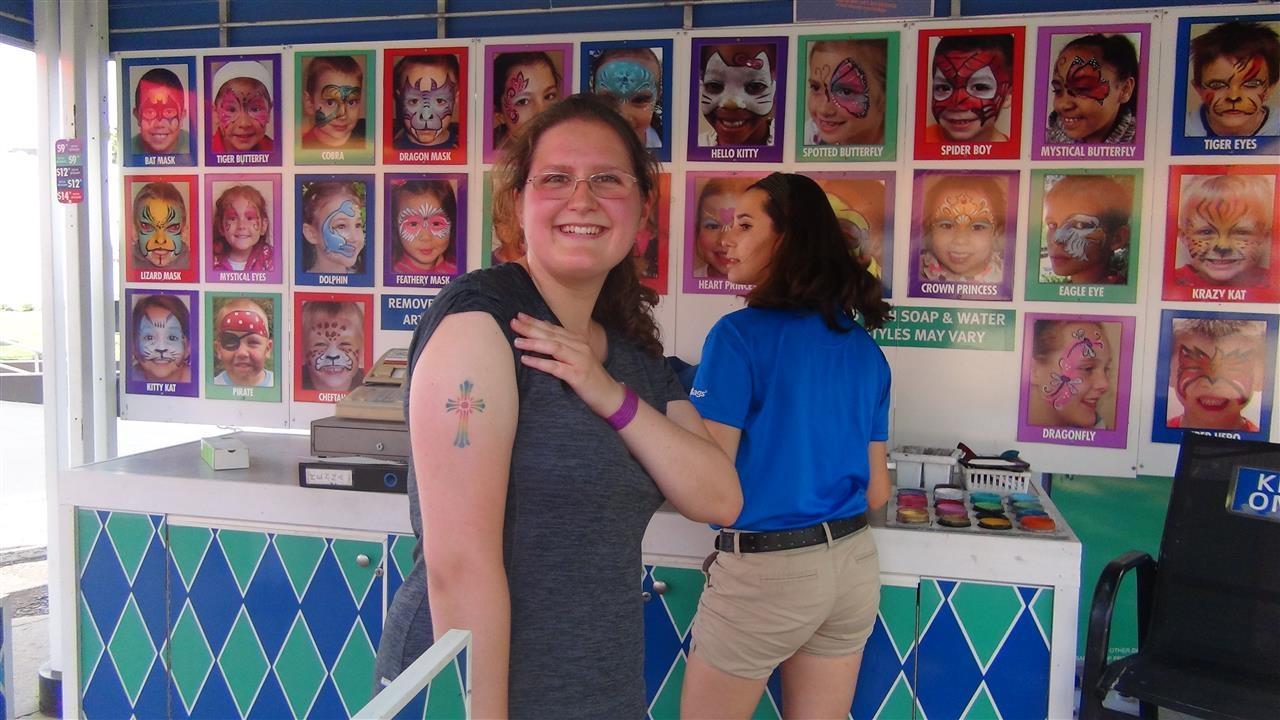 Hollie gets herself a tattoo.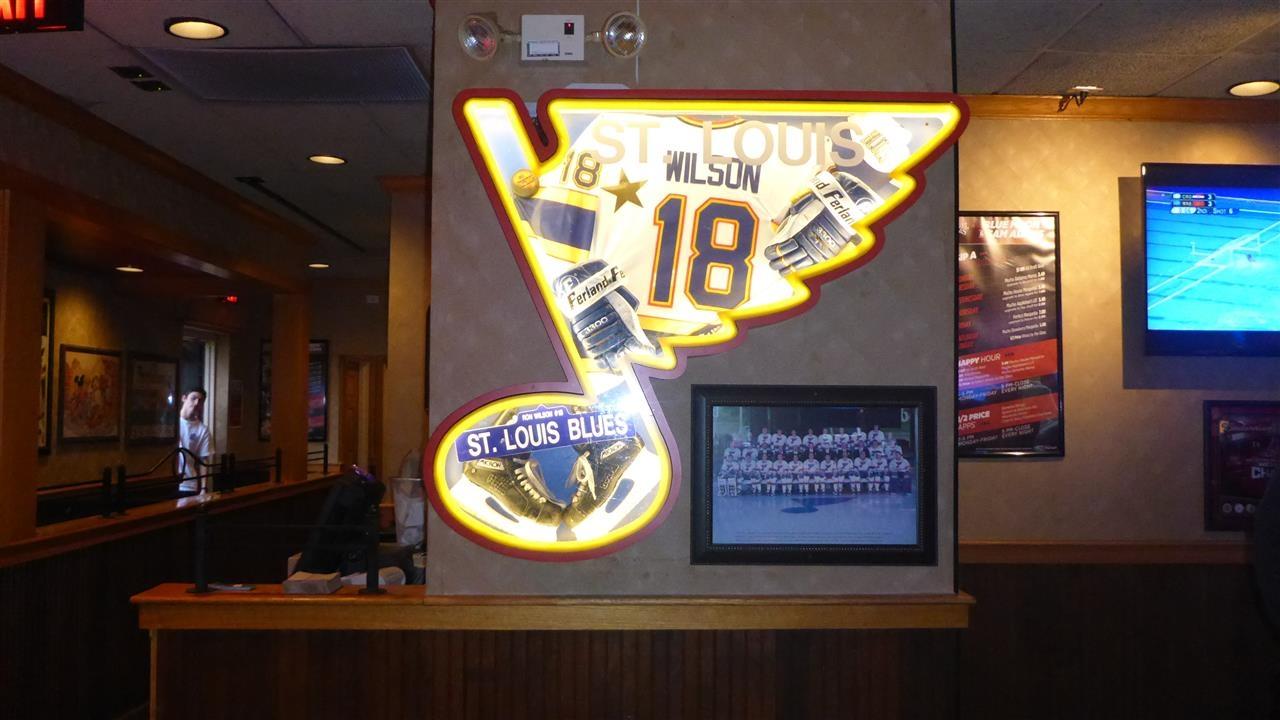 Applebees on Manchester road is our evening destination.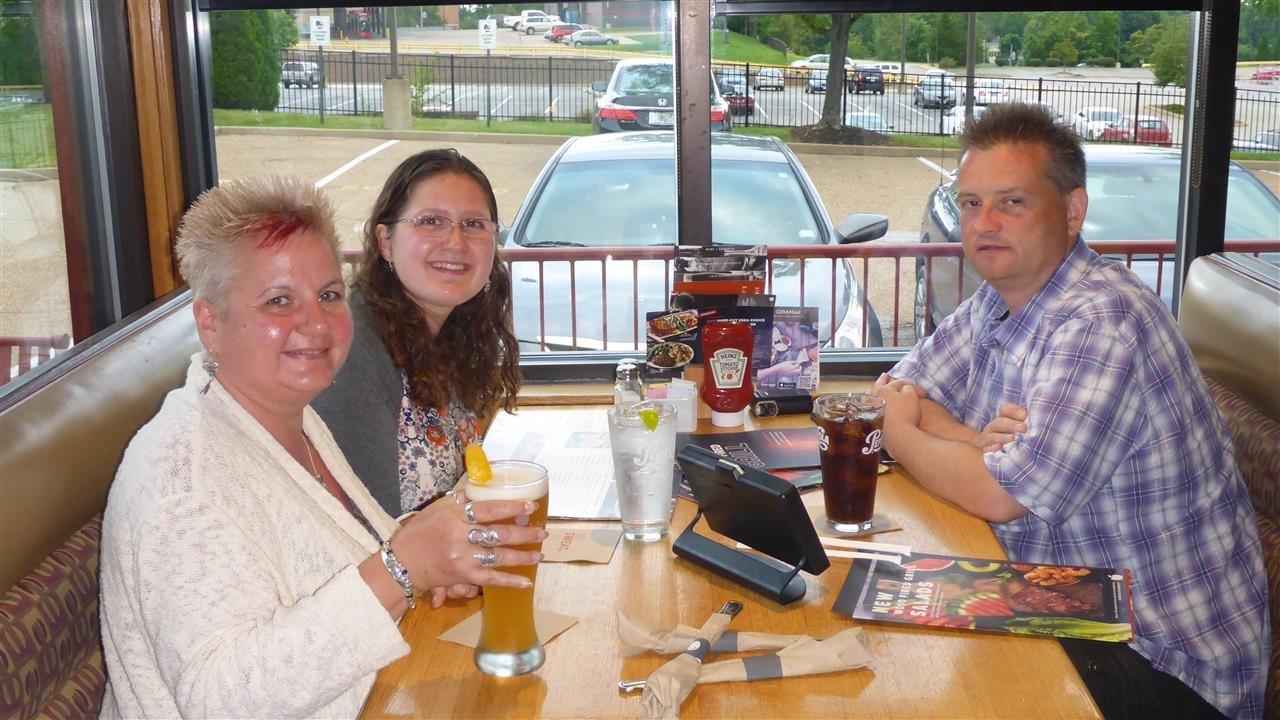 A filling meal of salads , wings & steaks ( plus a beer or 2 for me ).

A nice early night lies ahead.

Love to everyone xxxxxxx Goodnight xxxxxx
Tuesday 9th August 2016
DAY
10

Six Flags (Part 2 )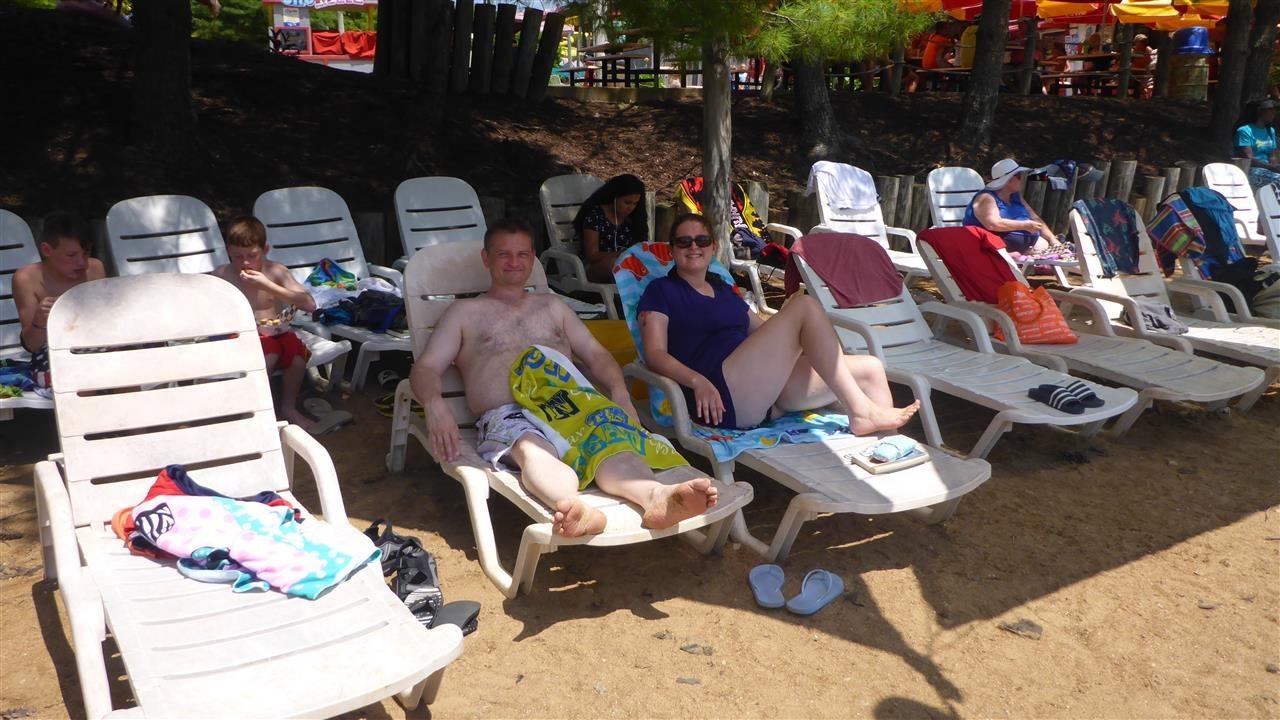 We set ourselves up in a shady area for our day in " Hurricane Harbour " Six Flags.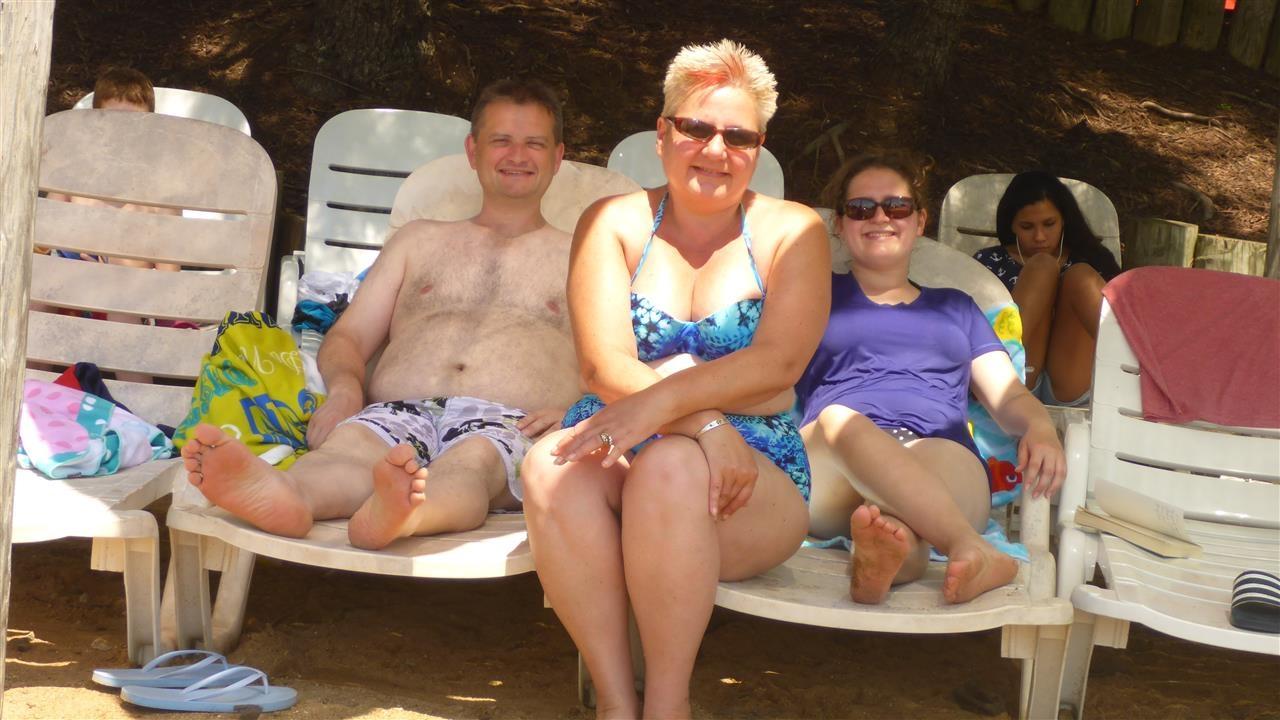 We started early & managed to do the best rides before the queues became ridiculous.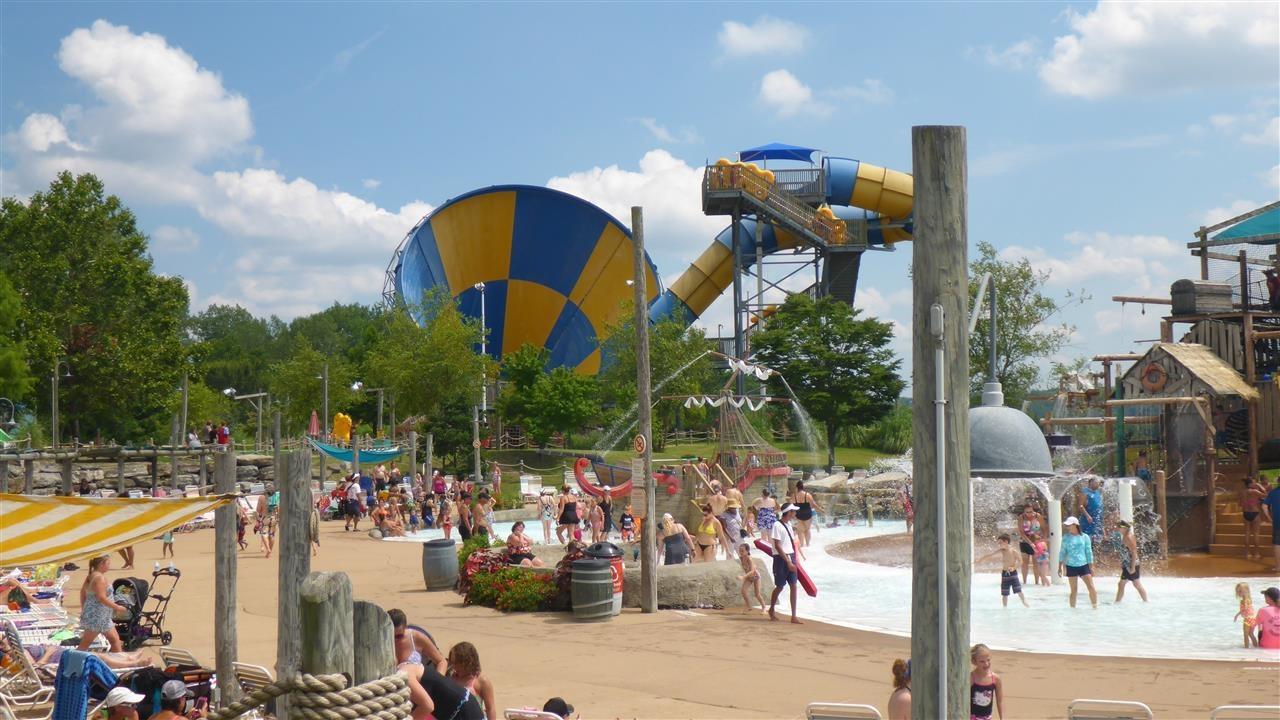 This bizzarre looking contraption involved us, climbing aboard an up to 4 person inflatable and being pushed off into the thinner tube, once you had spun around like you were in a washing machine, the tube widened out into the gramophone trumpet for a massive swing up the sides ( Min thought she would be flipped out into thin air )..I loved it , no one else was up for a 2nd try : (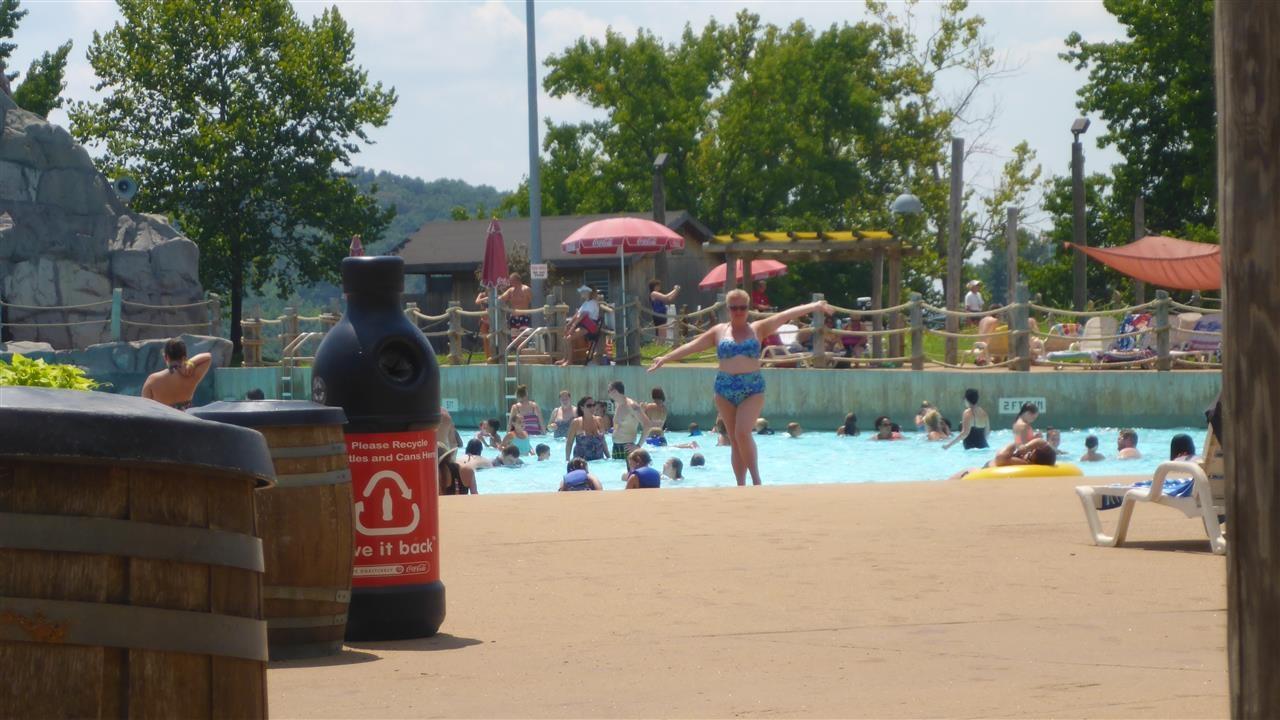 This beautiful woman was posing next to the wave pool, every few minutes a claxon would sound & an aritficial wave machine made the pool rough.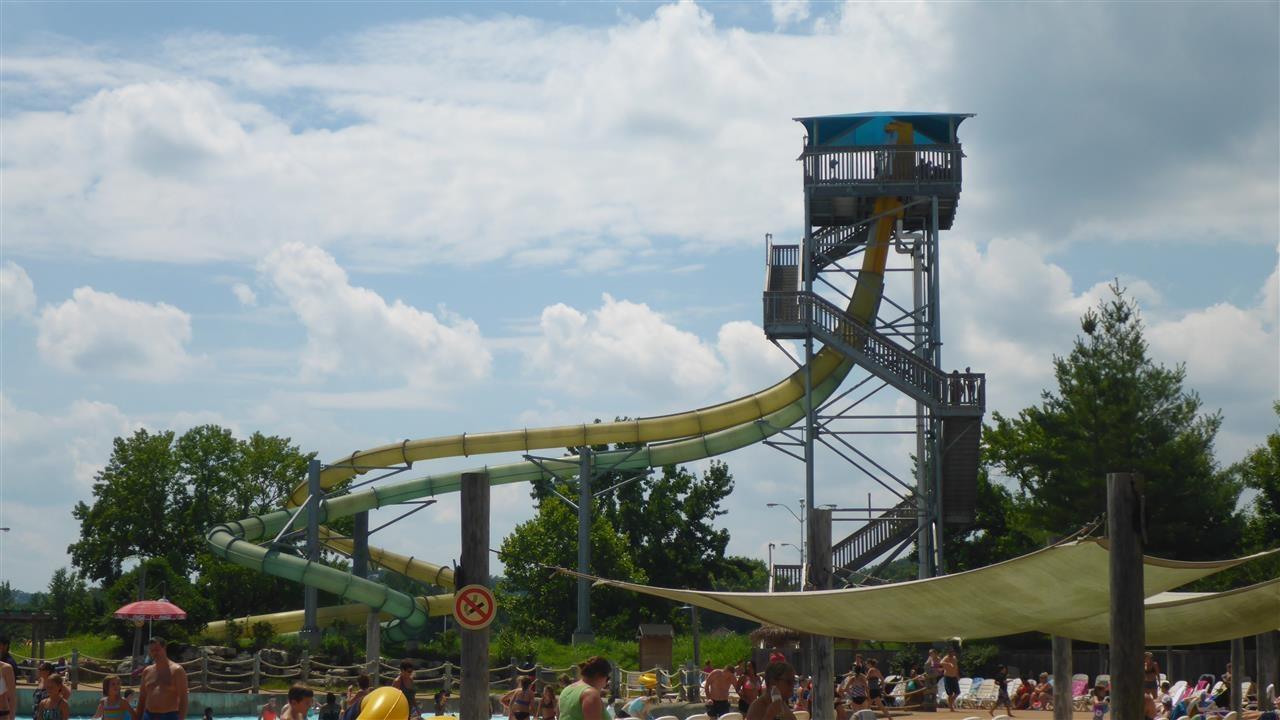 Ian was the only brave soul to try this..Stand in a tube & the bottom falls away..He says he's not planning to do that again anytime soon !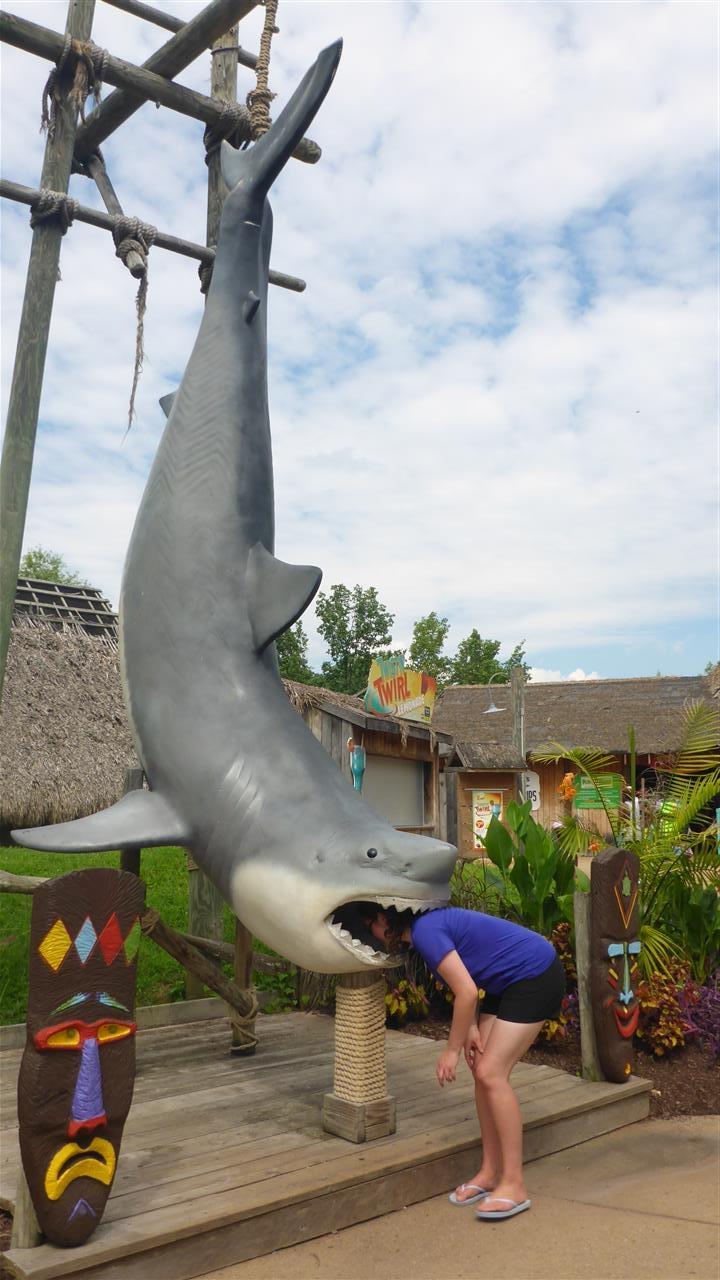 Sadly Min got eaten by a shark on the way to the car .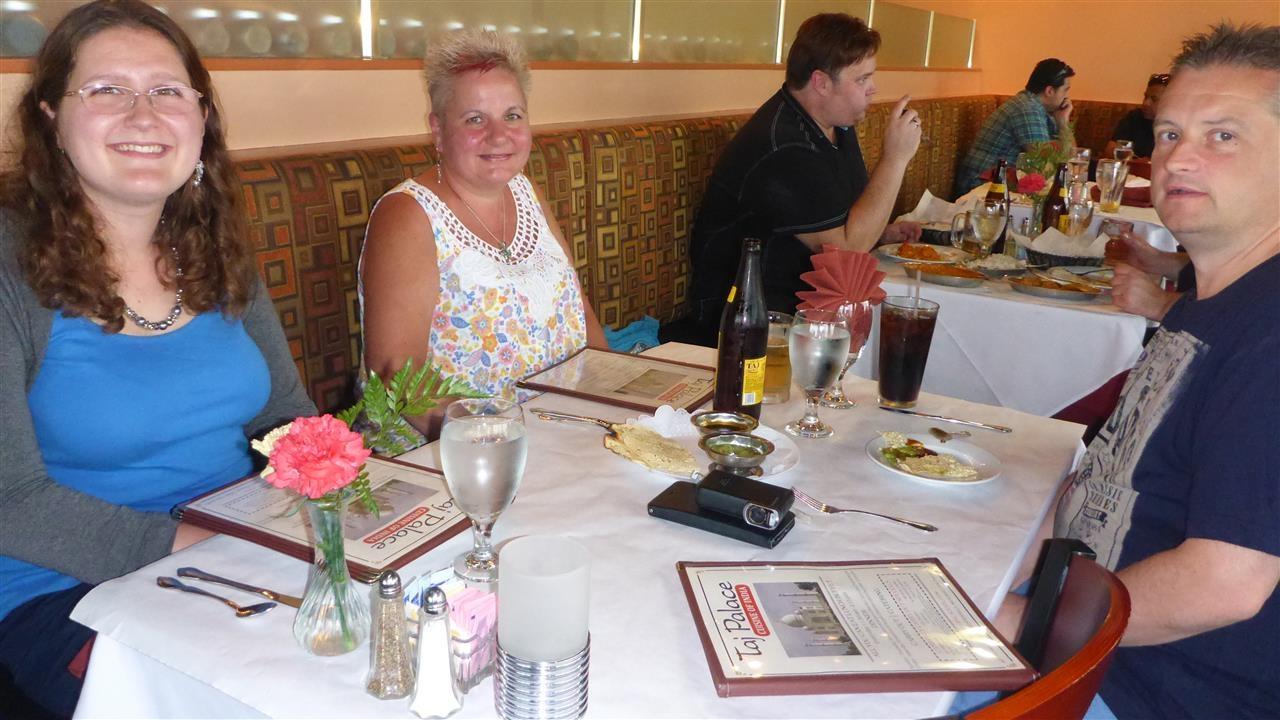 Dinner was at Indian Palace, Chesterfiled , a 20 minute drive from our hotel.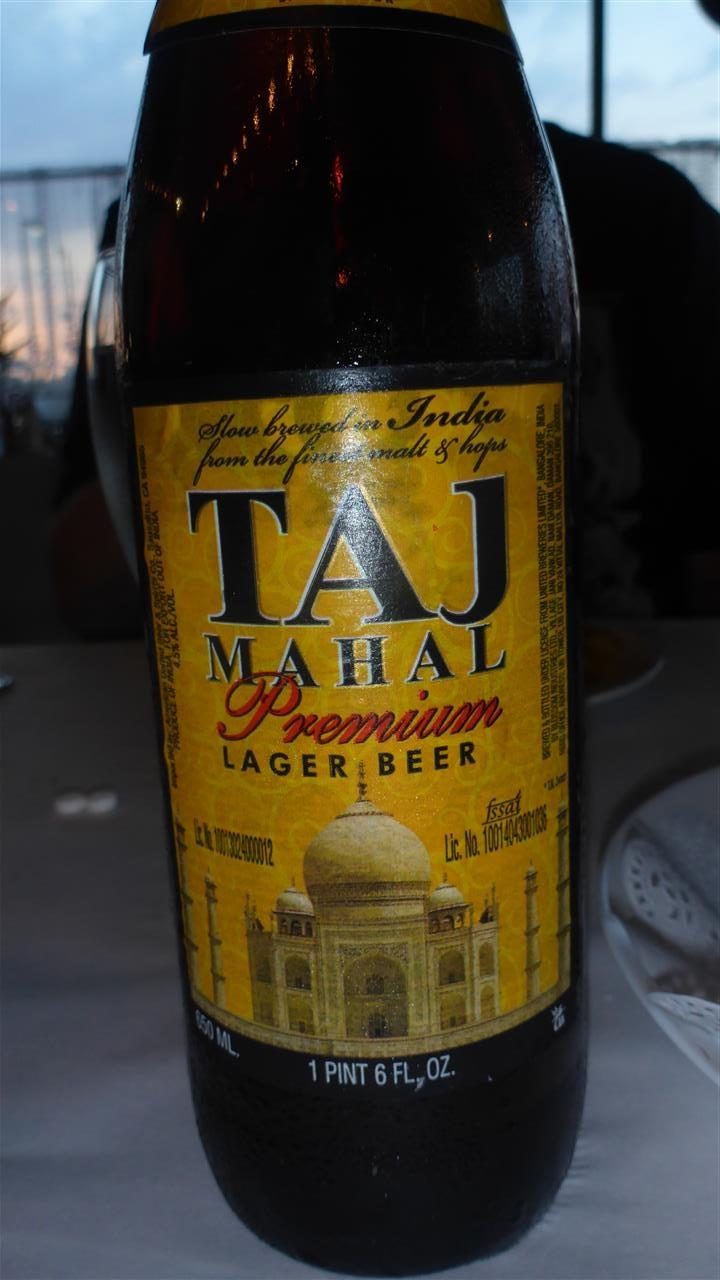 New indian Beer experience..Very nice thank you.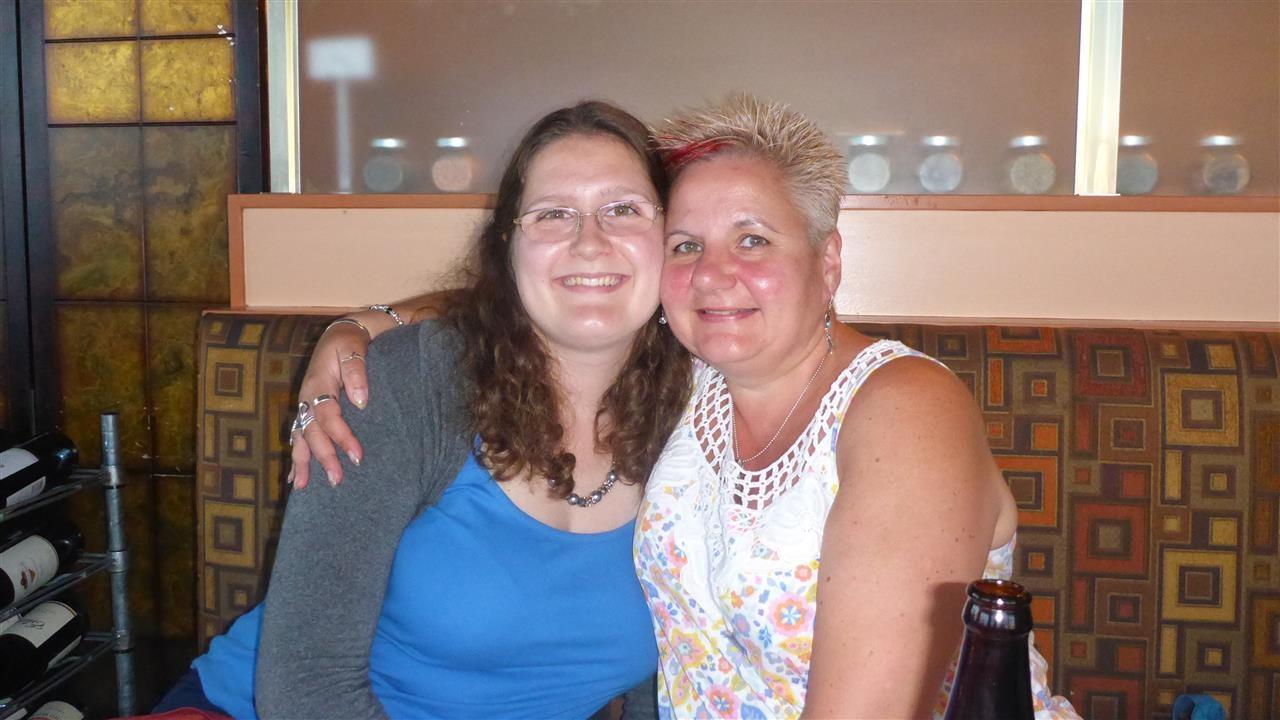 It's1 full week since I got my baby back ..Normal service has been resumed.

Love to you all at home , furry & human . ESPECIALLY to Mum who has mastered messenger ..Get in !!!


Goodnight reader xxxxxxxx

(Listen to us at the Oprey. Click here )
Wednesday 10th August 2016
DAY
11

Grand Ole Opry , best seats in the house !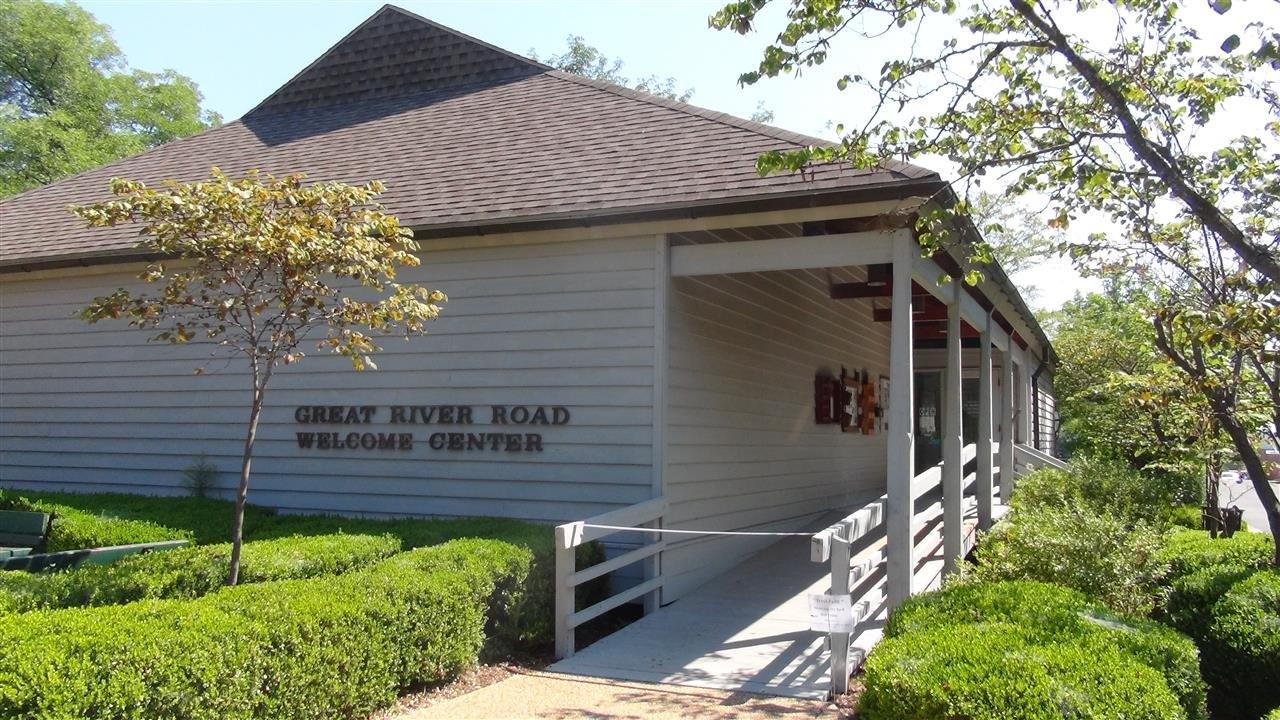 After a 1hr 45 minute drive , we arrived in Ste Genevieve, Historic town for many reasons,mostly for its preserved architecture.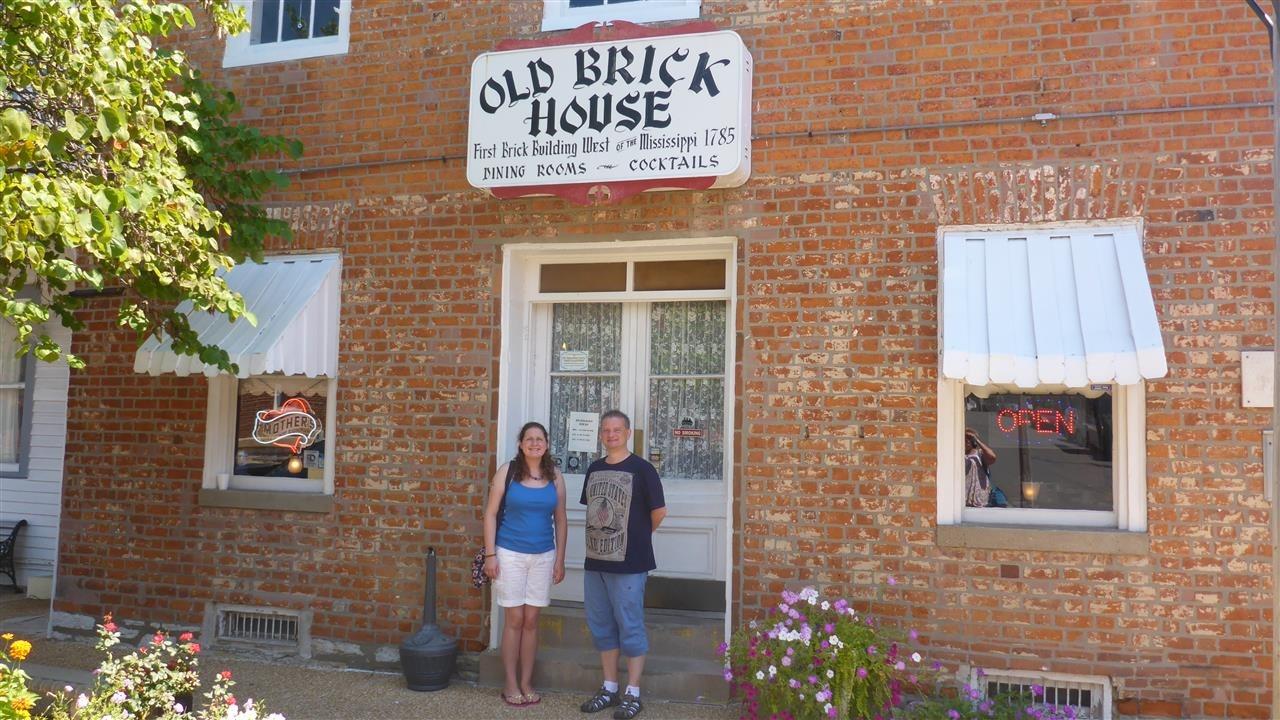 Brunch in the "Old Brick House" Oldest/first brick building , north of the Mississipi.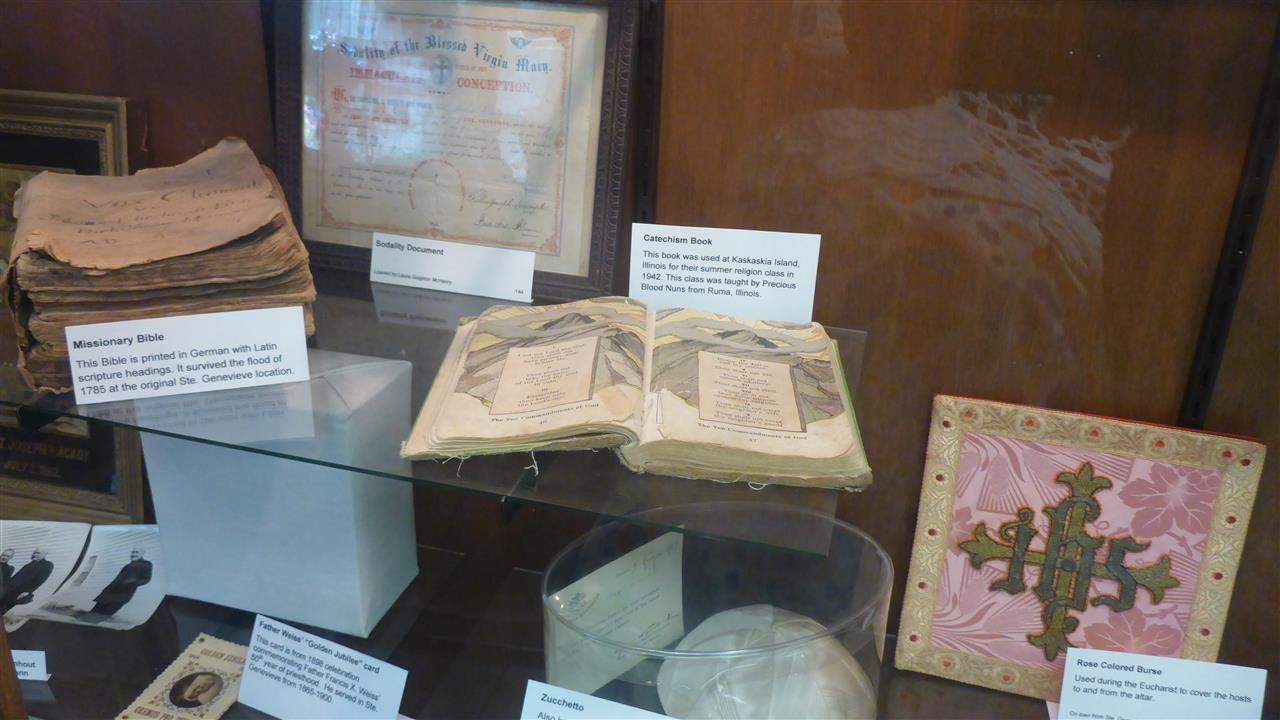 Ian & I went to the Museum, a fascinating insight into life during the 1800's.
Hollie checked into Ste Genevieves church ,for a catch up with him upstairs.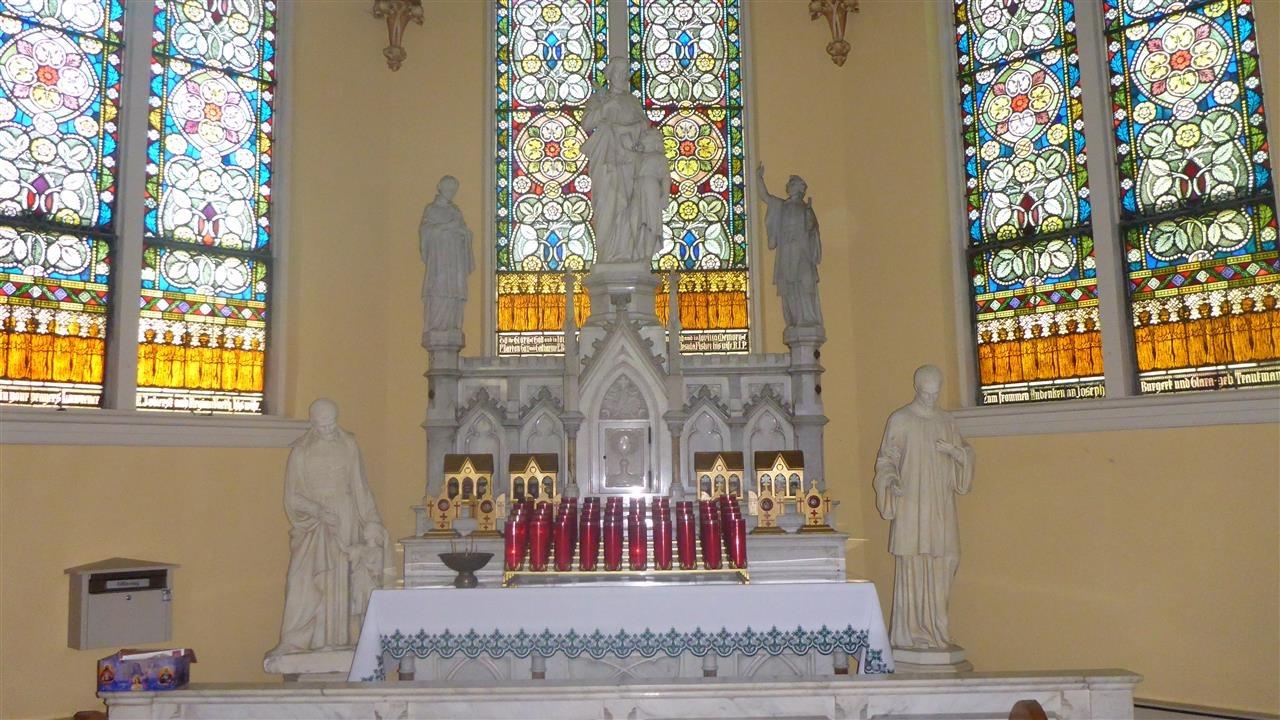 The church is home to an incredible number of religous relics.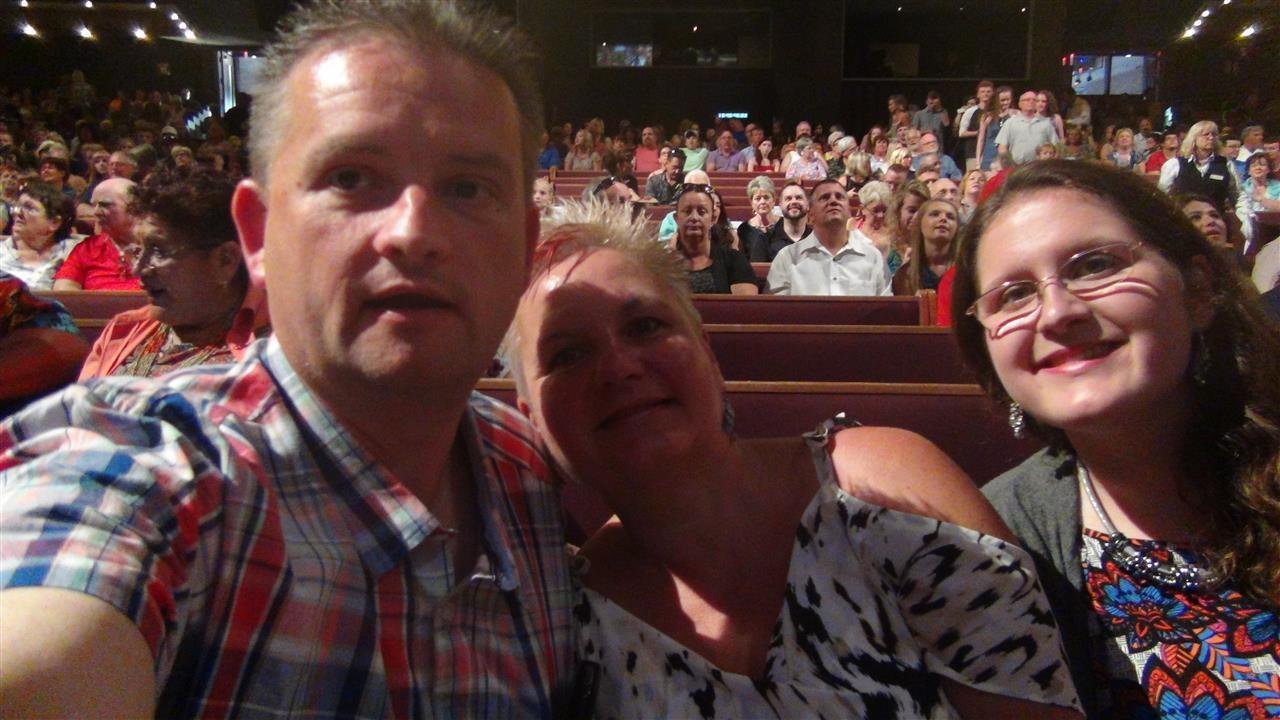 We found our Bestie Westie, Pakistani \stylie on music row, we made ourselves lovely & headed off to Opry land.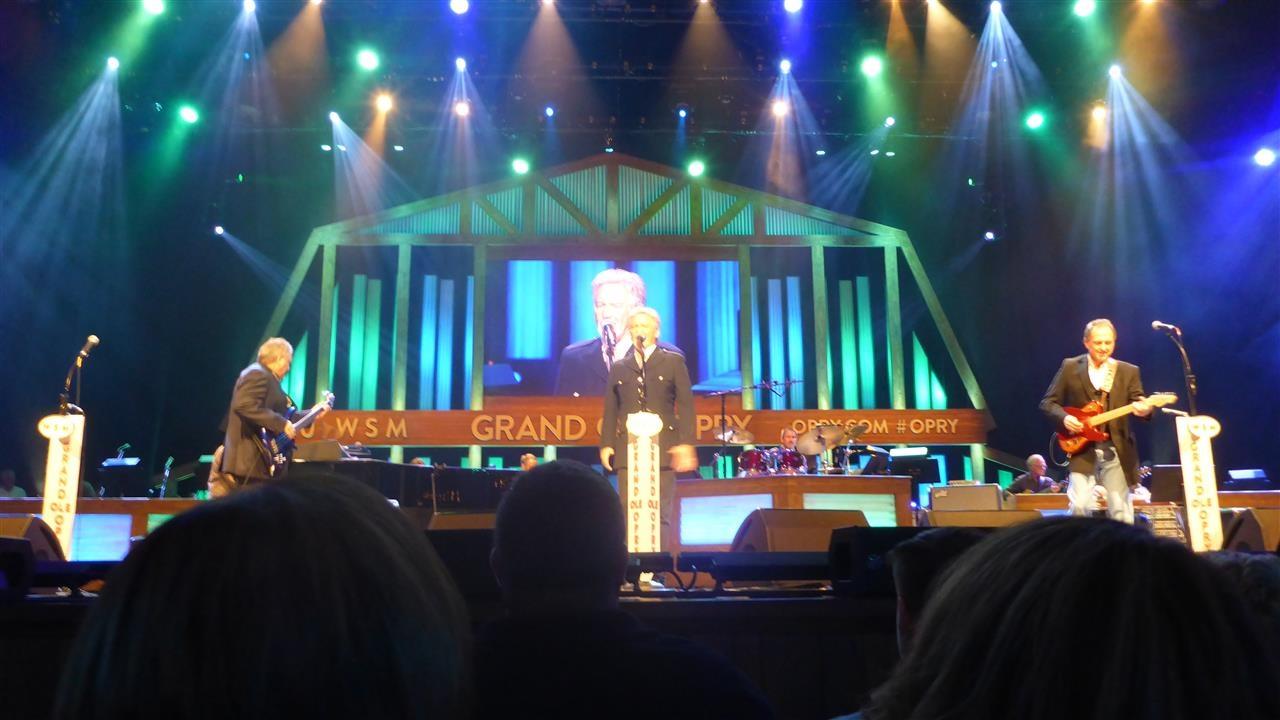 With mum listening at home & communicating via text, Our opening act The Gatlin Brothers.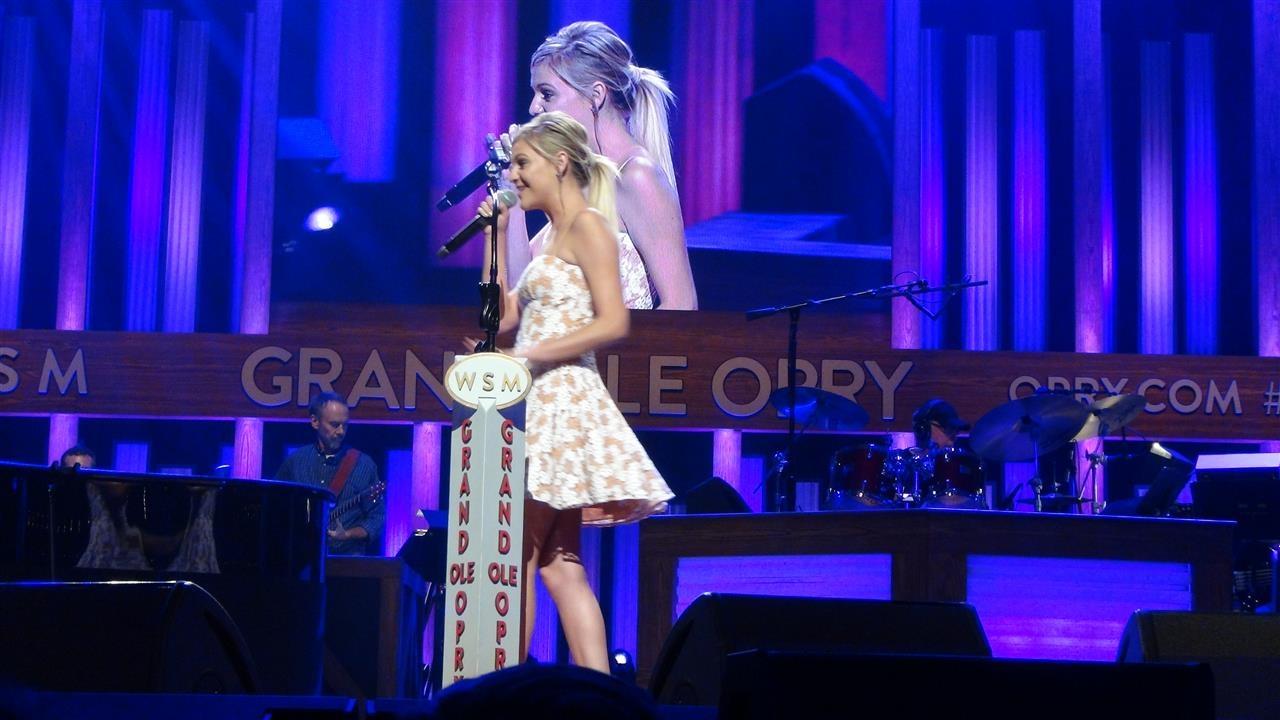 Kelsea Ballerini, an up and coming young star.
She sang her current single " Peter Pan ".
Old Crow Medicine show , an intoxicating mix of Fiddle , Harmonica & banjo's!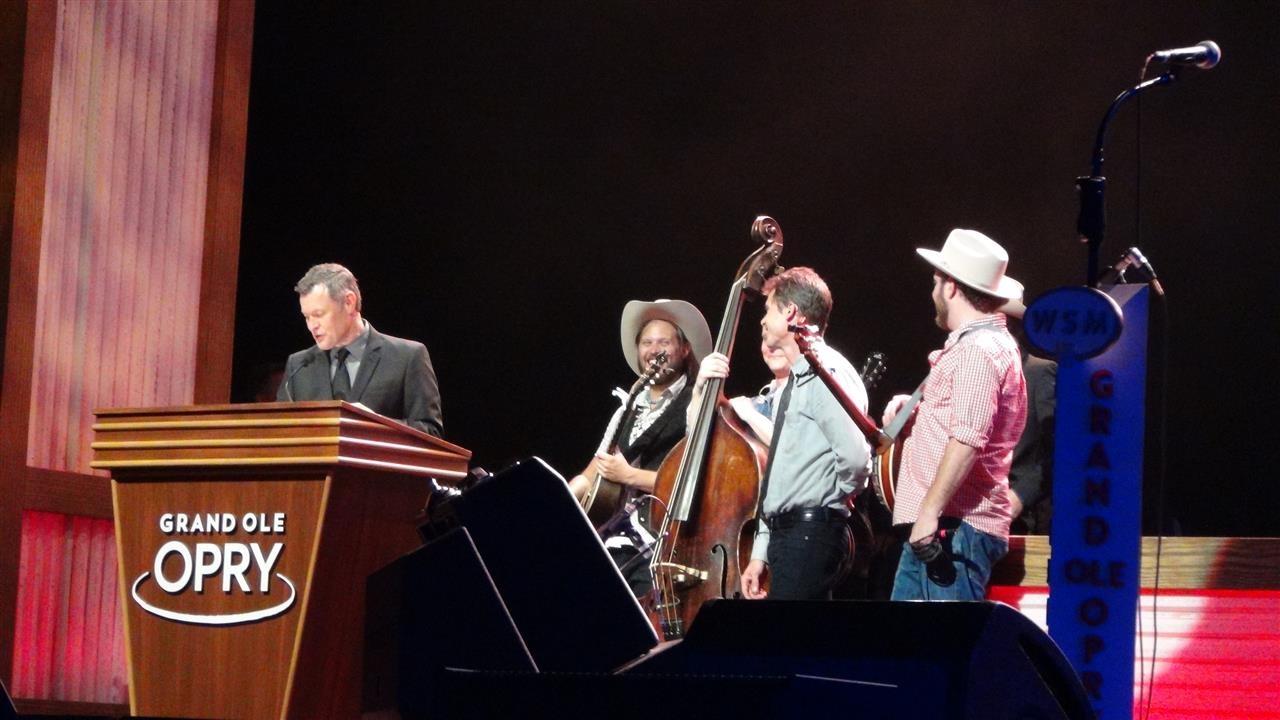 They were awarded a replica bronze brick to celebrate 90 yrs of Opry.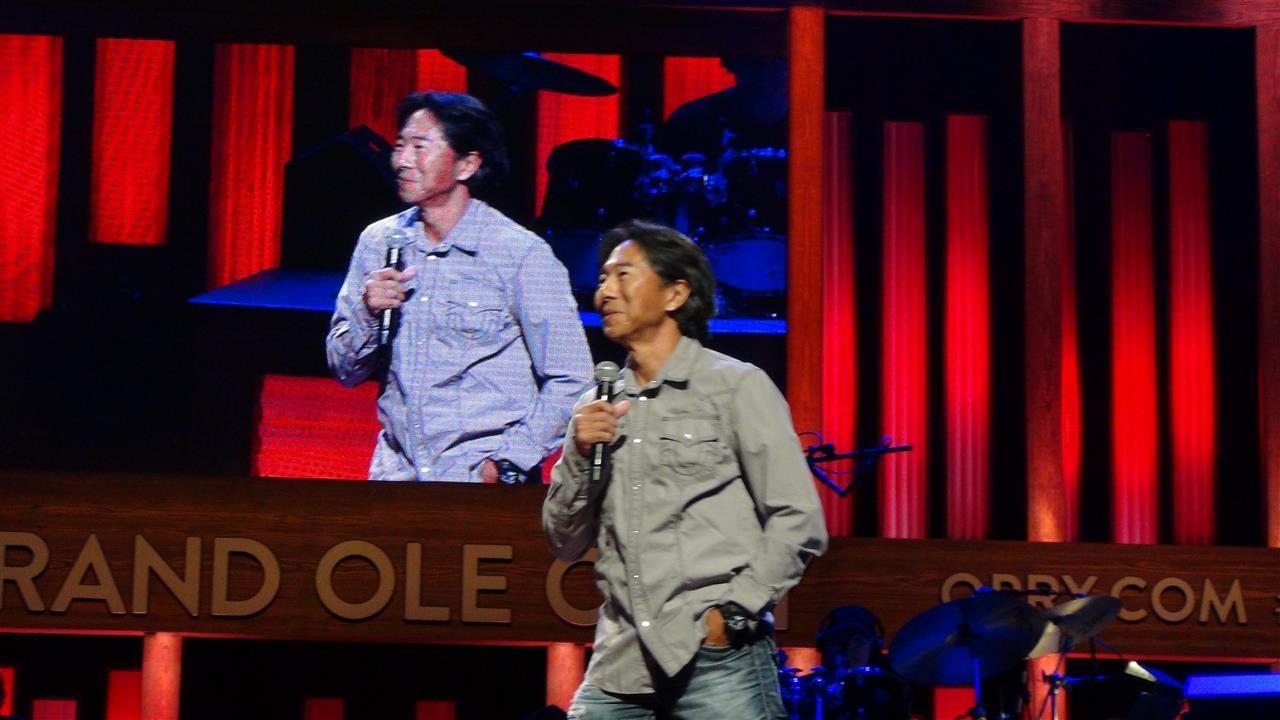 Henry Cho a Vietnamese comedian was very funny with his take on American life & Jokey racism.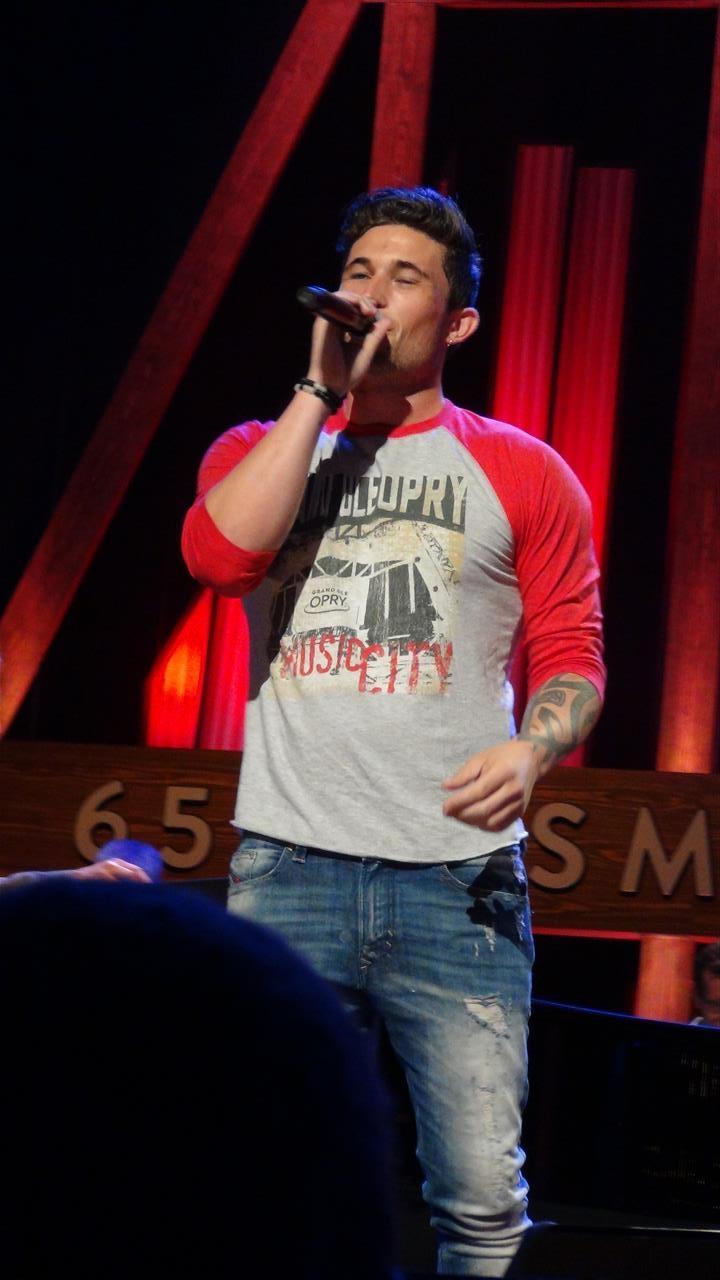 Michael Ray, was a sexy young thing , had the girls screaming!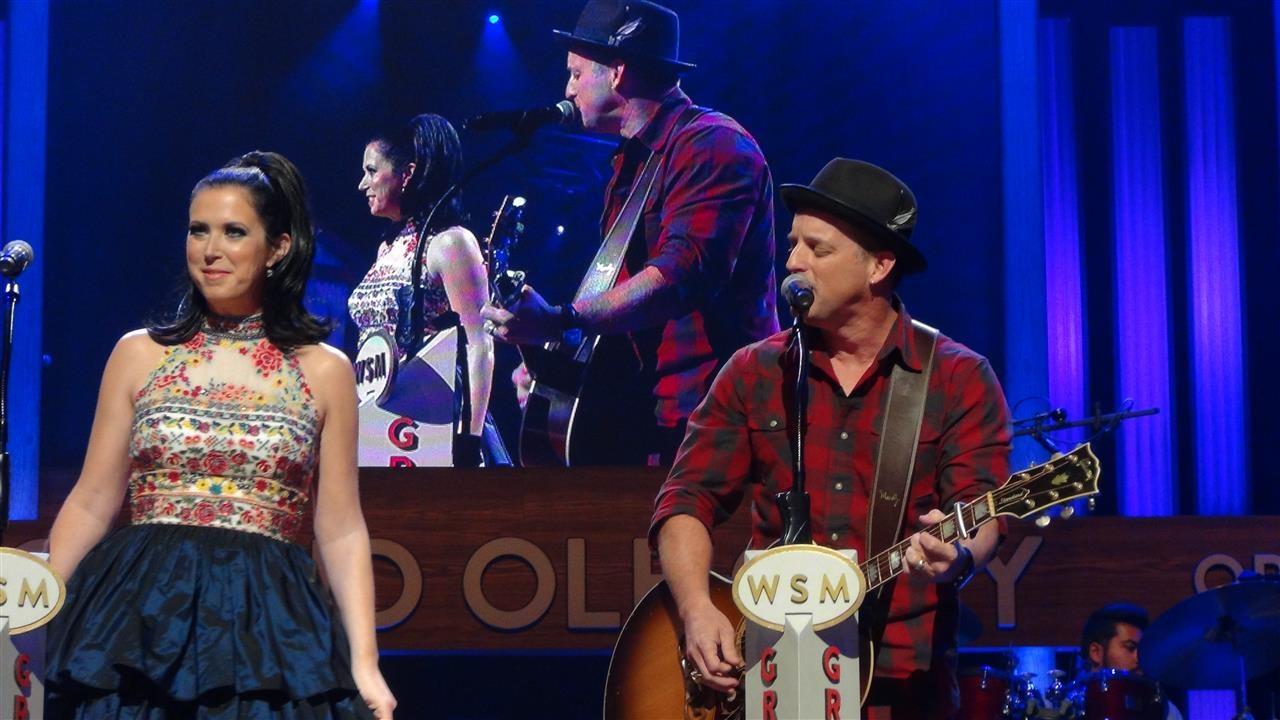 Husband & wife award winning duet, Thompson Square.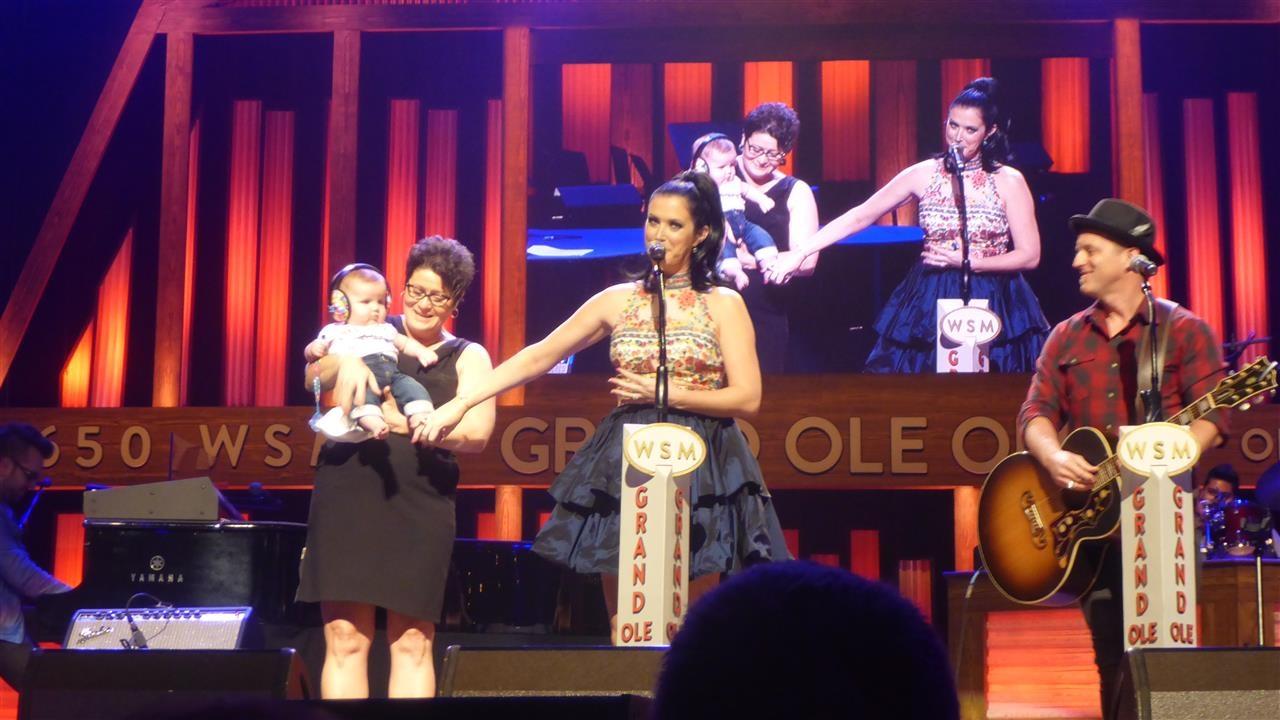 Introducing their baby Cooper, now 8 months old.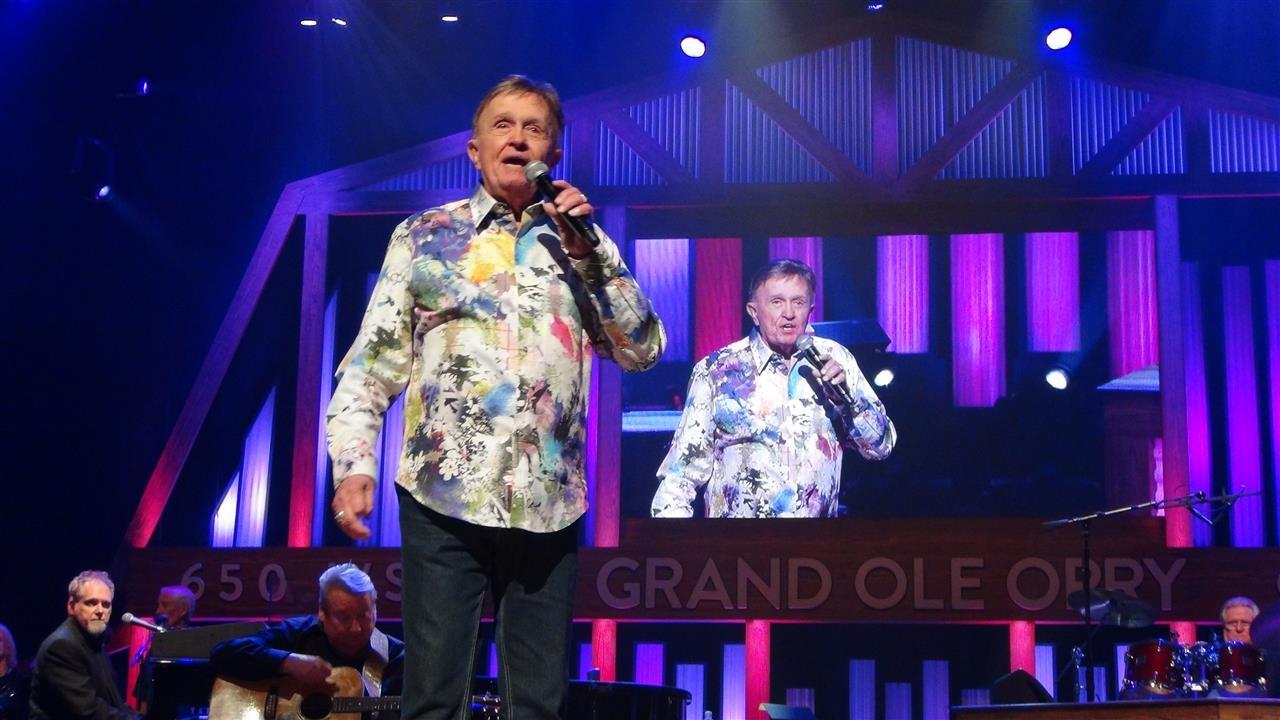 The very funny Bill Anderson with his unique look on life & love... : )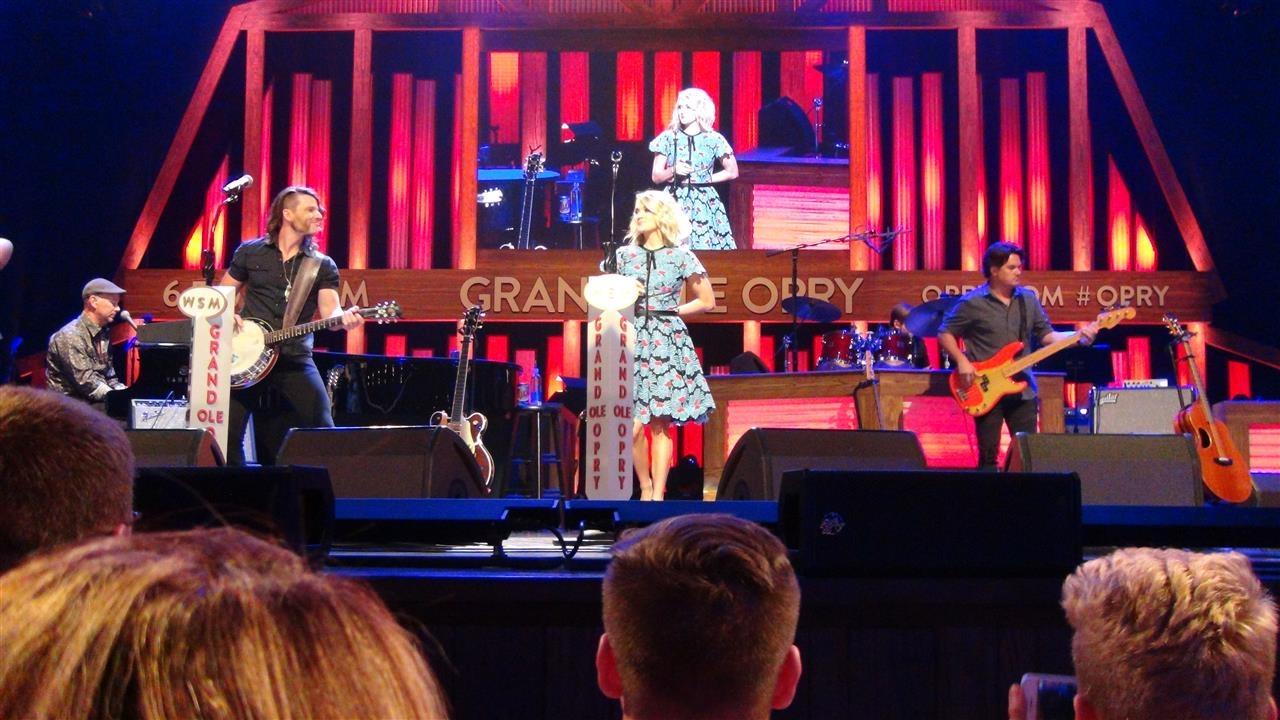 And finally our headline act Carrie Underwood.
A 3 song set finished our spectacular evening.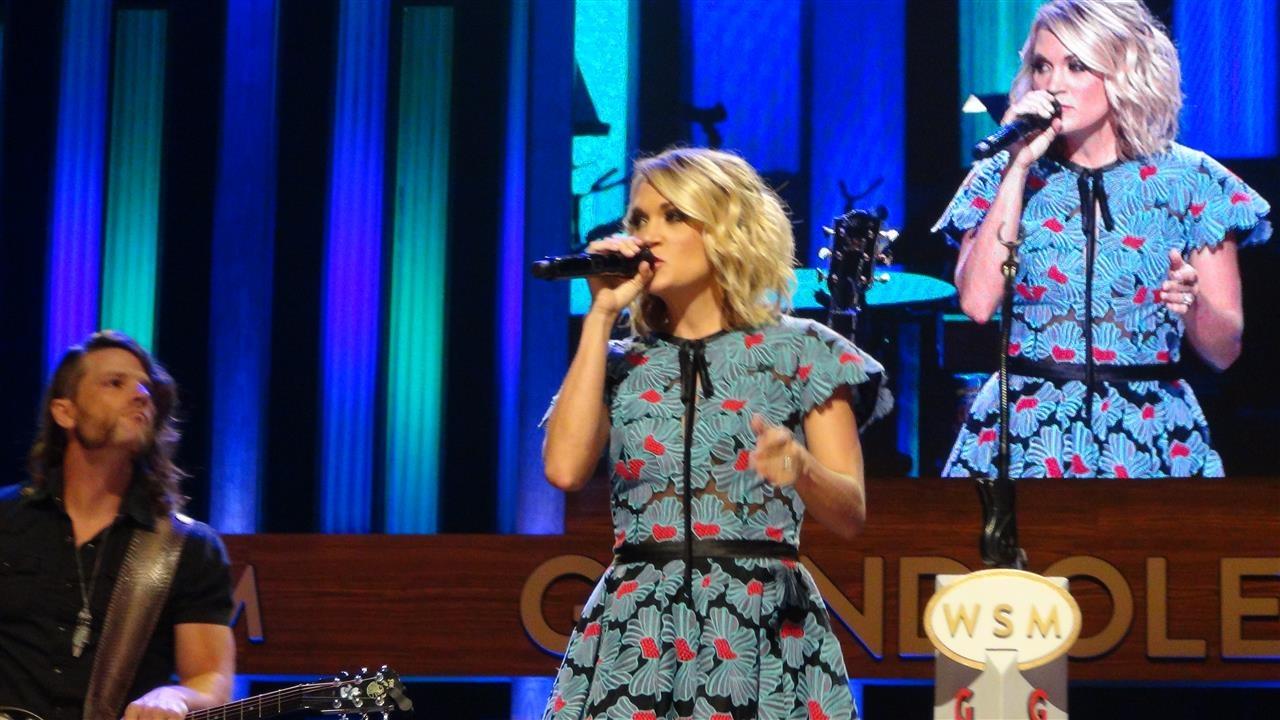 We were so close we could almost touch her , lots of fans pushed forward to try for selfies.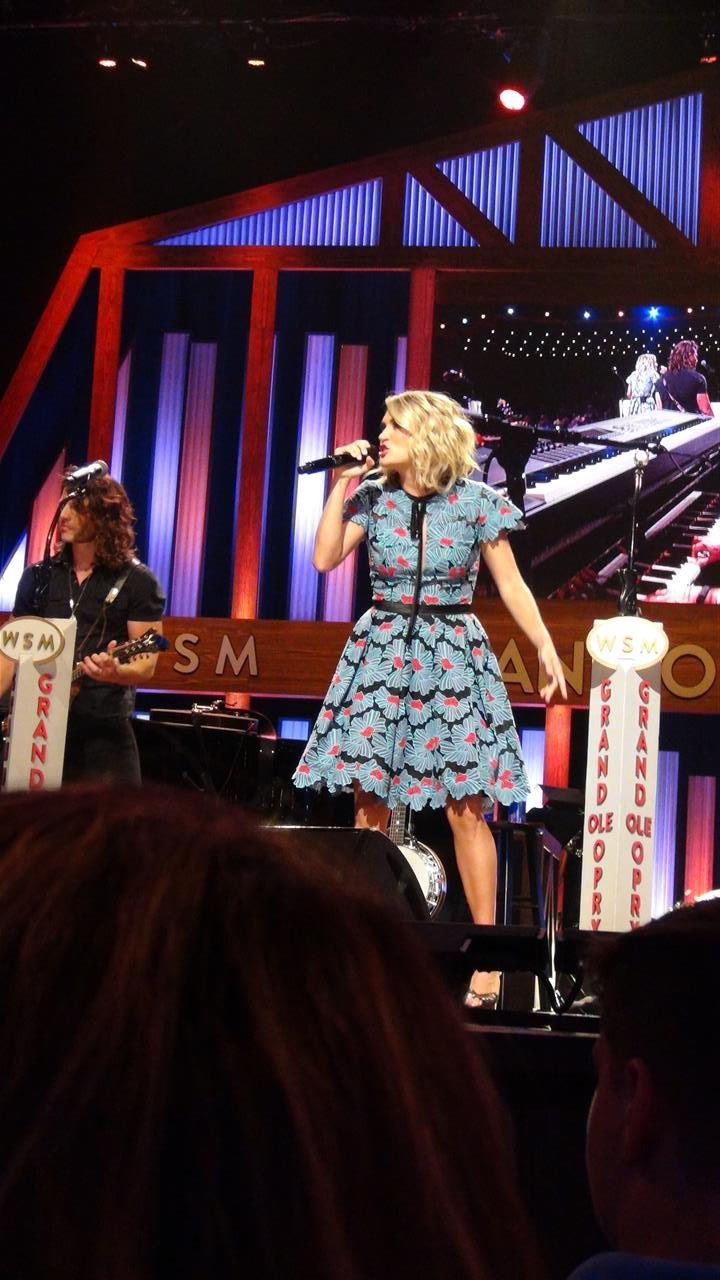 All too soon the evening was over & we are ushered out to make way for a 2nd performance.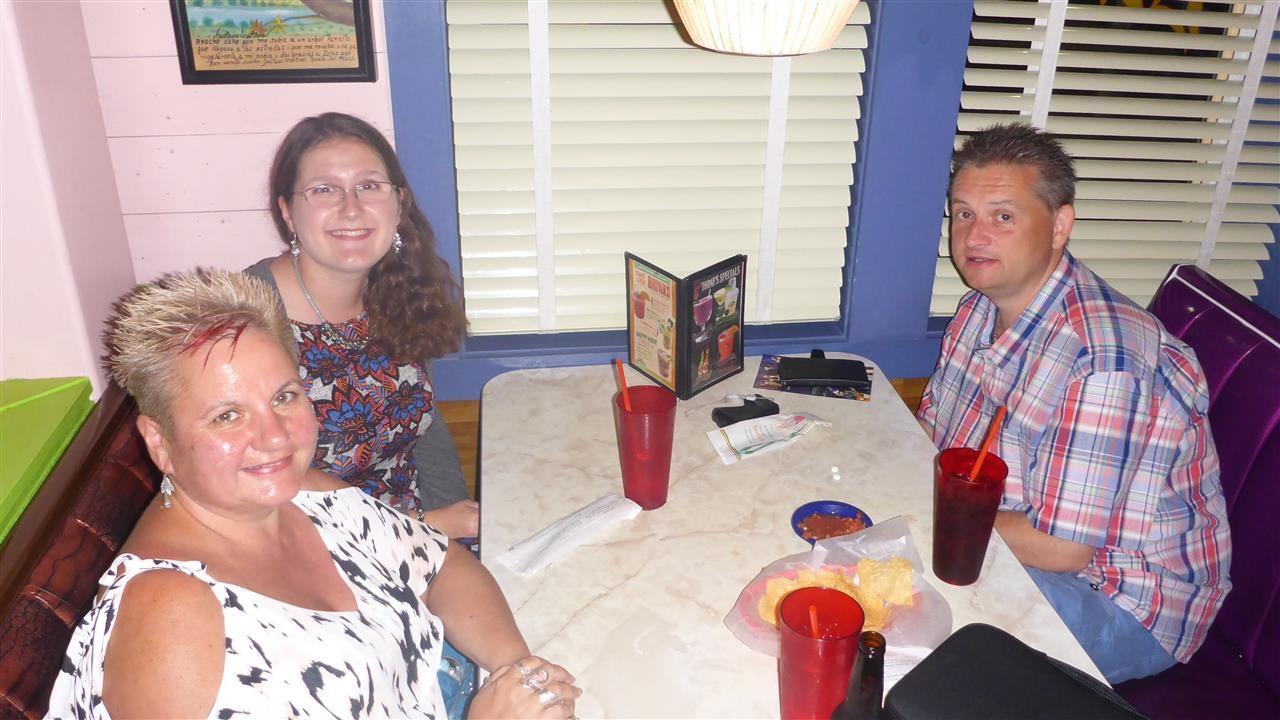 A late dinner in Chuy's mexican diner, lots of food we didn't recognise, in this busy joint !

Lovely day ! time to journey back to the Bombay Best Westie.

Goodnight all xxx
Thursday 11th August 2016
DAY
12

Nashville
We headed to the Opry house for our 10.30am tour.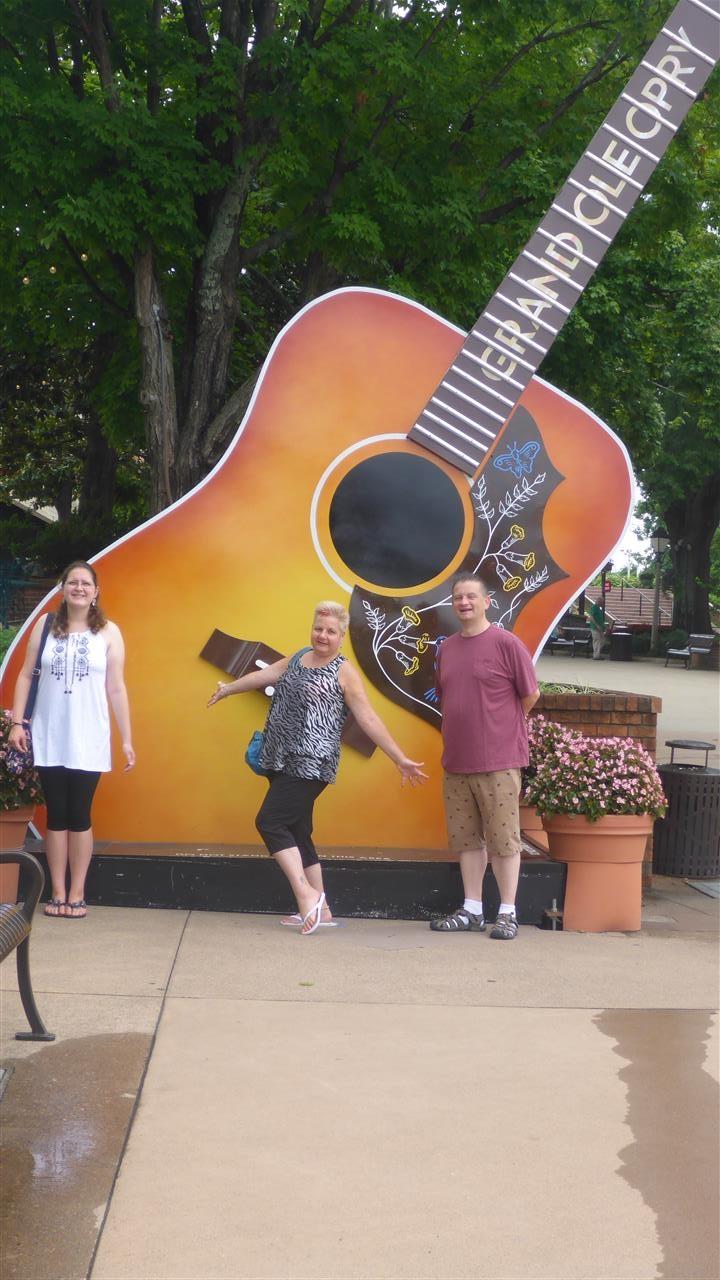 Posing outside the auditorium.
A wall of brass plaques listing the members of the Opry. This is just half of it, The elderley gent in the pic was the reason the opry started.

In the 1920's WSM radio played a show every Saturday night directly after a Grand Opera broadcast..One Saturday night the band failed to arrive & this old Gent played his fiddle for 1hr + & so was born the Grand Ole Opry.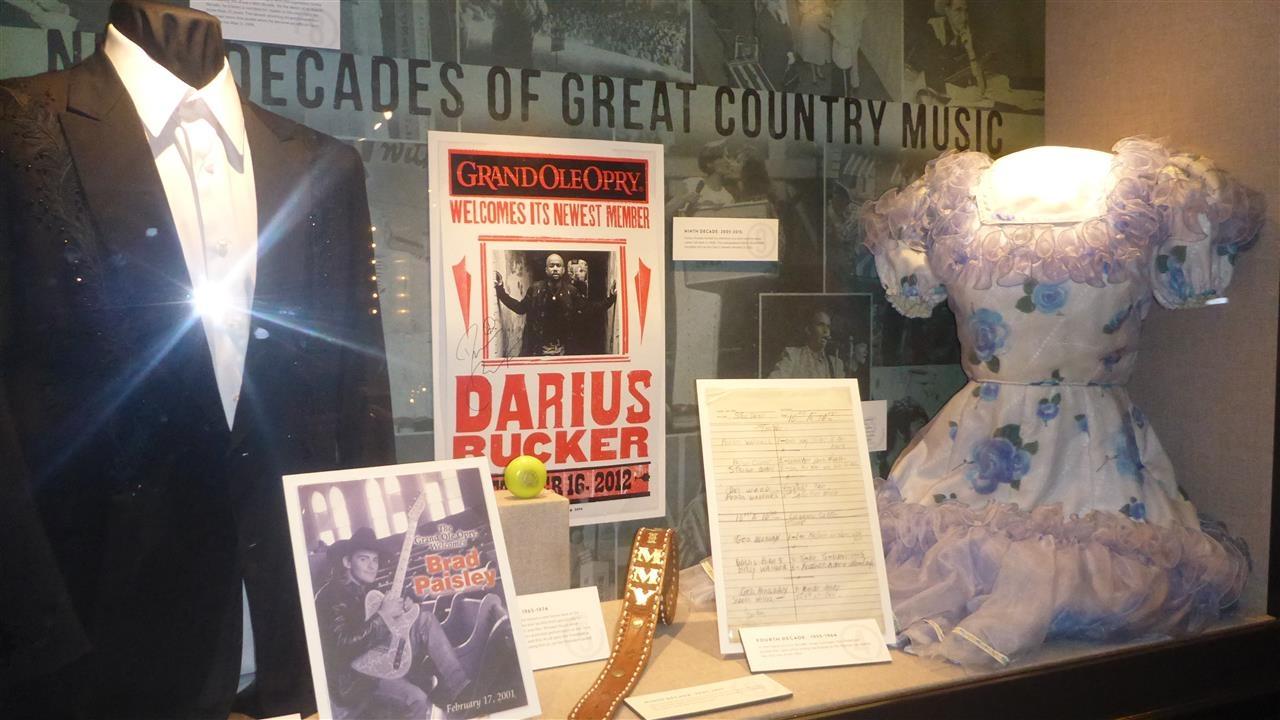 Many artists are invited to perform at the Opry , the management decide who will be invited to join the Oprys a permanent membership,the last person or group joined in 2014.
The stars & stripes dressing room.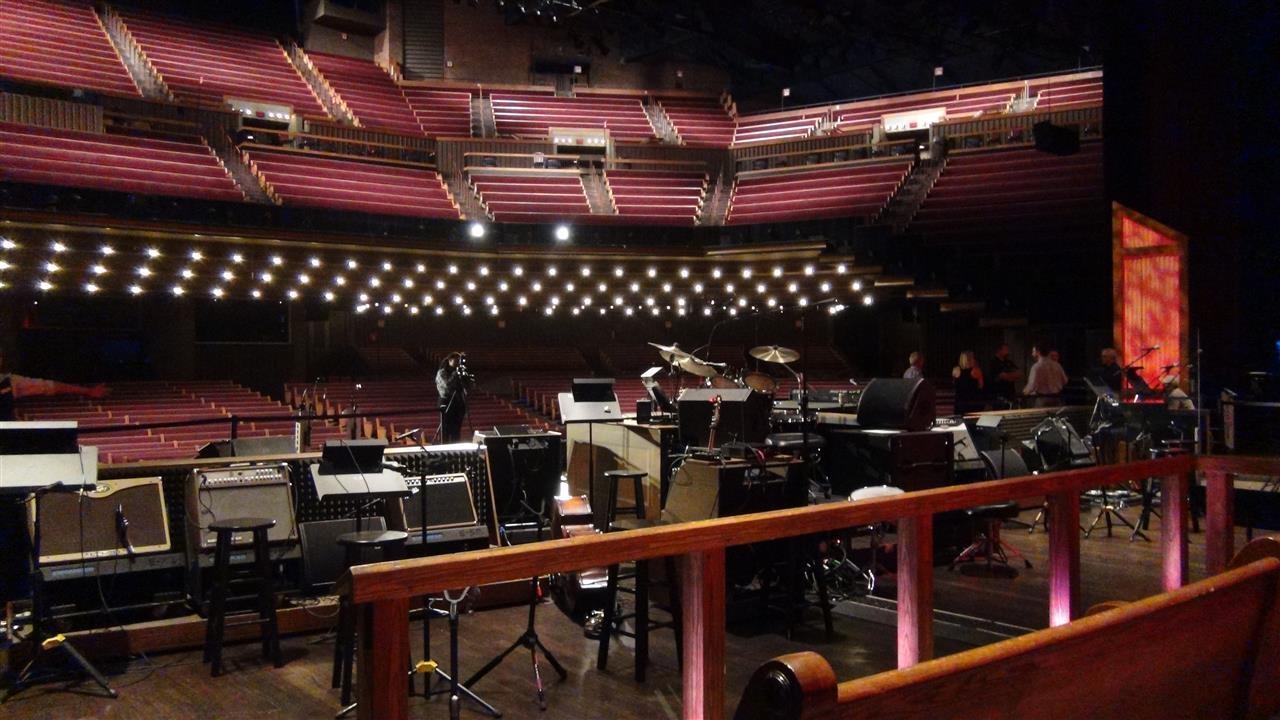 The auditorium from the stage.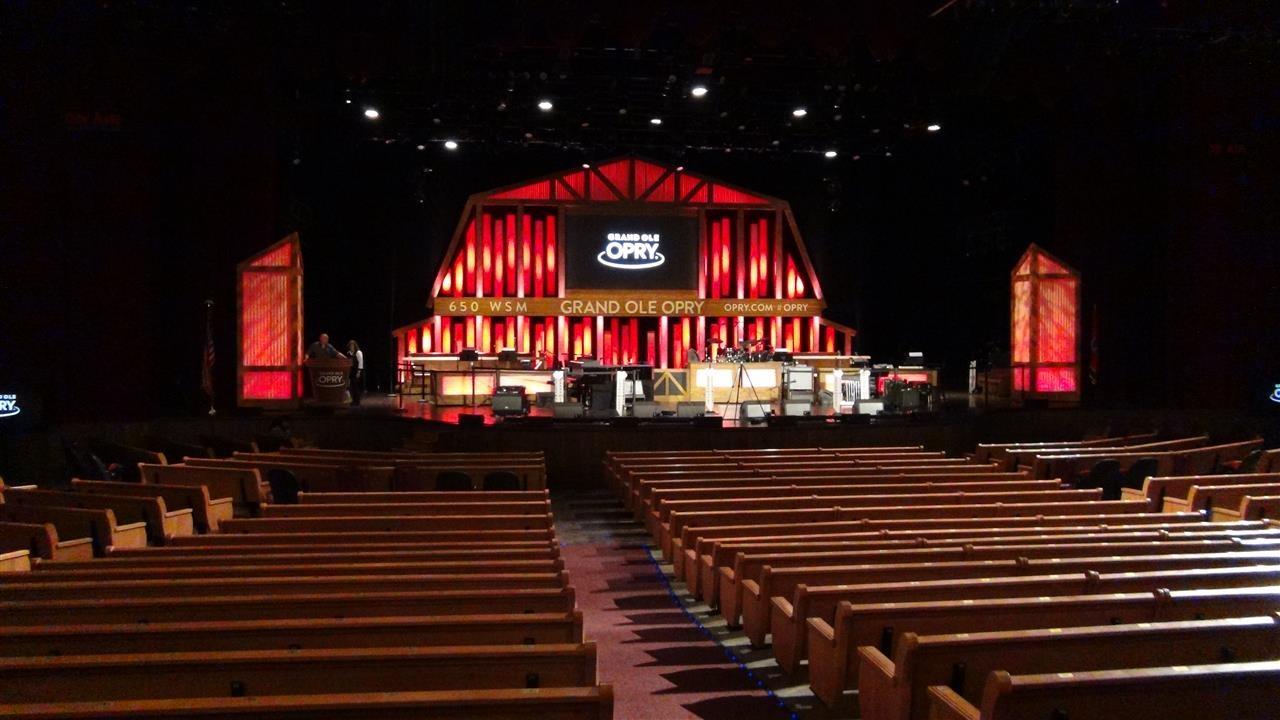 The quinticential barn shape , has beenthe logo of the Opry for 90 yrs.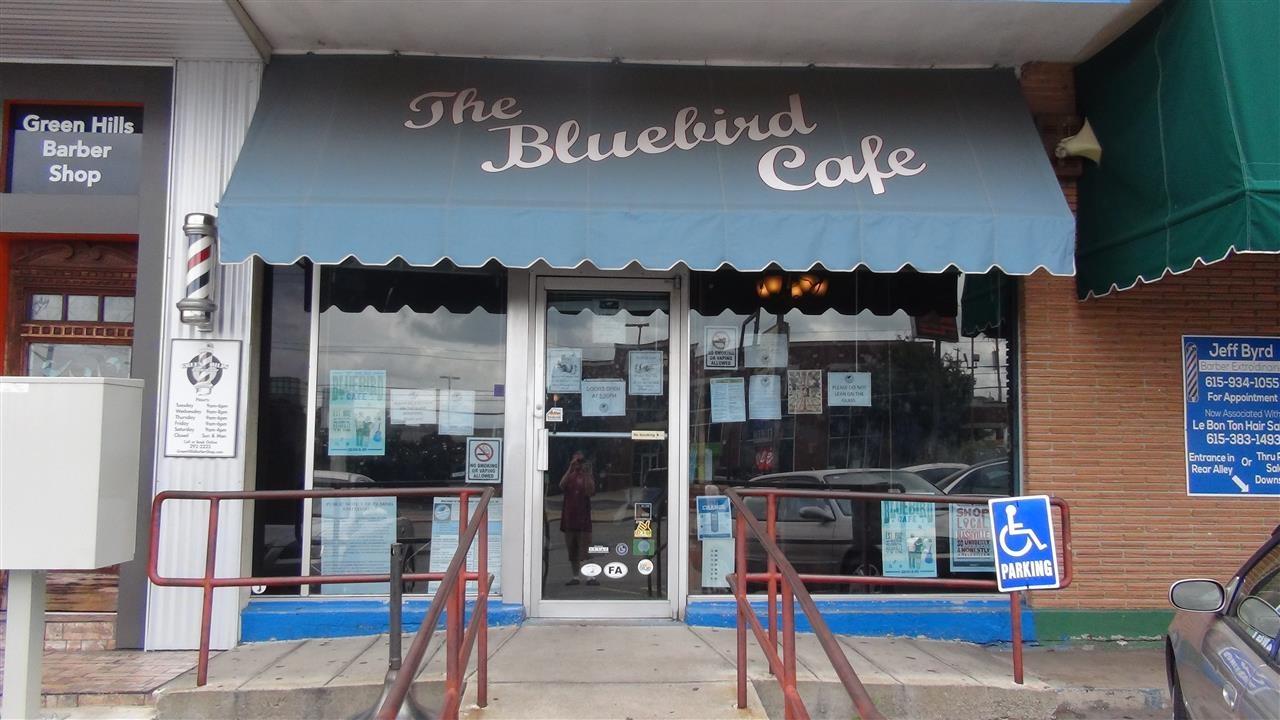 A very slow drive round Nashville to visit the Bluebird Cafe ( closed ) another Nashville must see.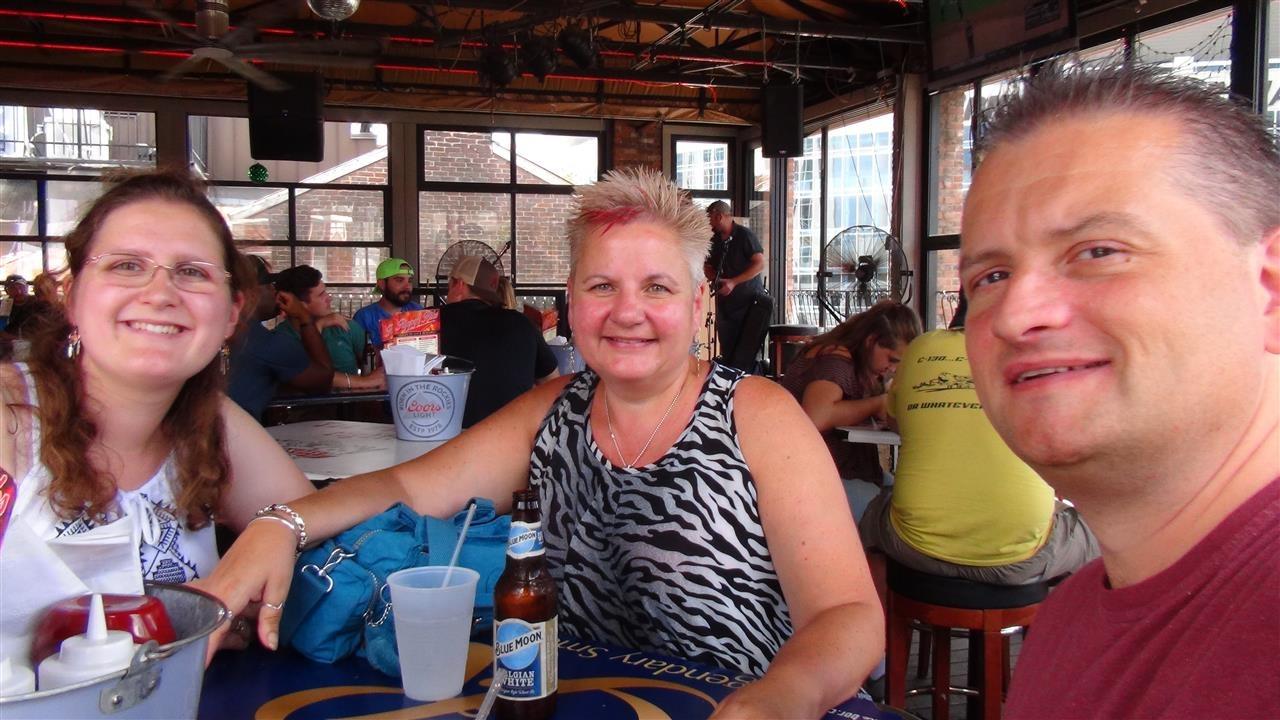 Back to Broadway and lunch at Ribbys an upstairs bar with views over the strip & " live music " of sorts...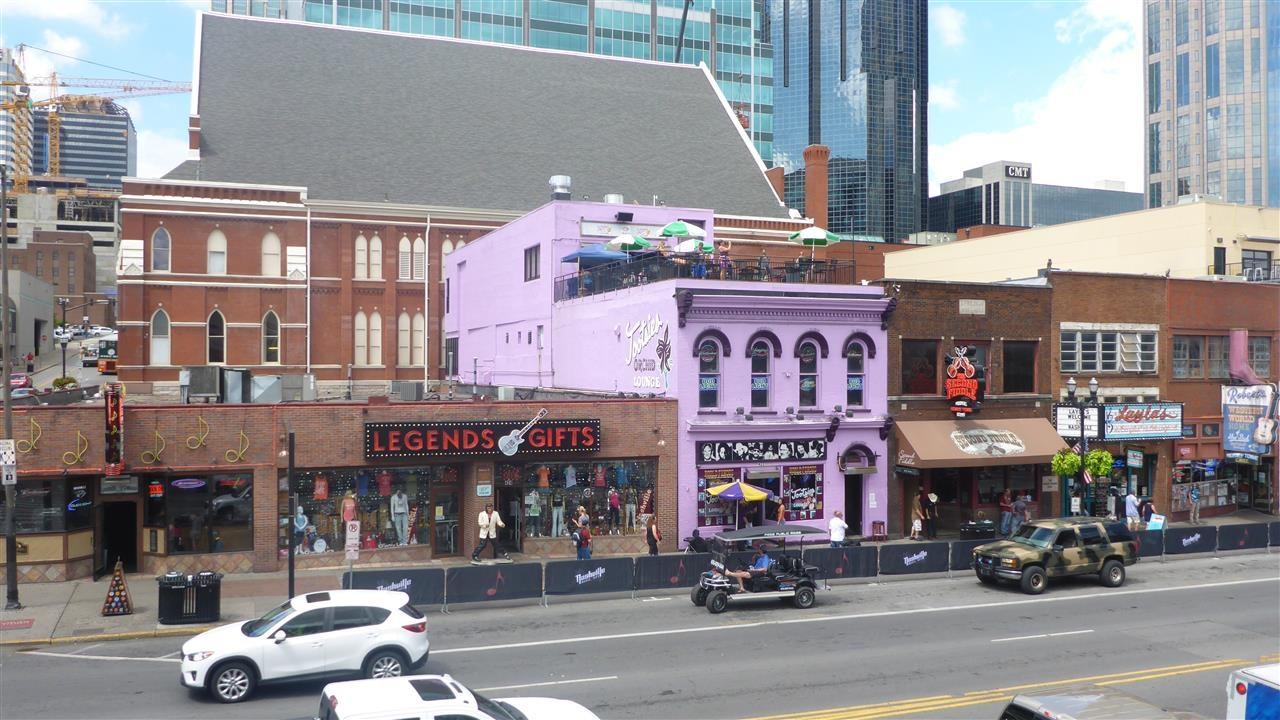 A view of Broadway " Downtown" where it all happens.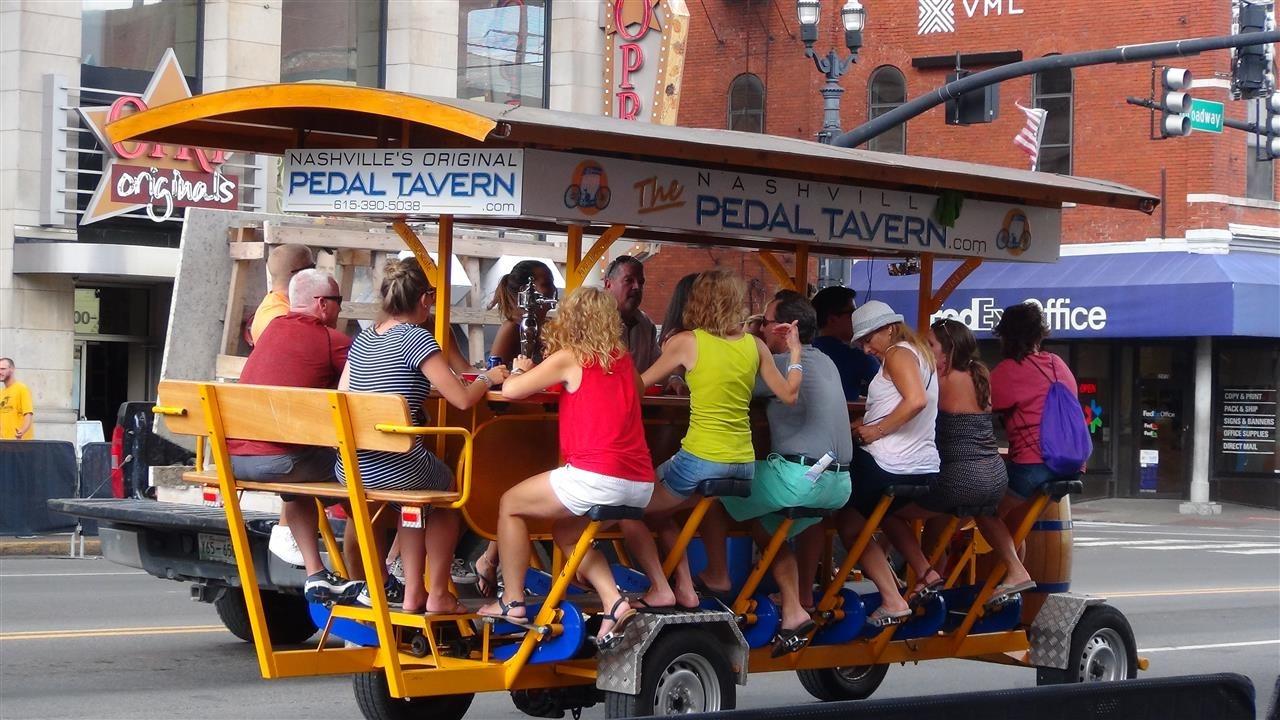 This bizzare looking contraption is a pedal powered bar, guests chug beer whilst pedaling , a sober driver /host steers the carriage through the city, on some suprisingly busy roads & intersections.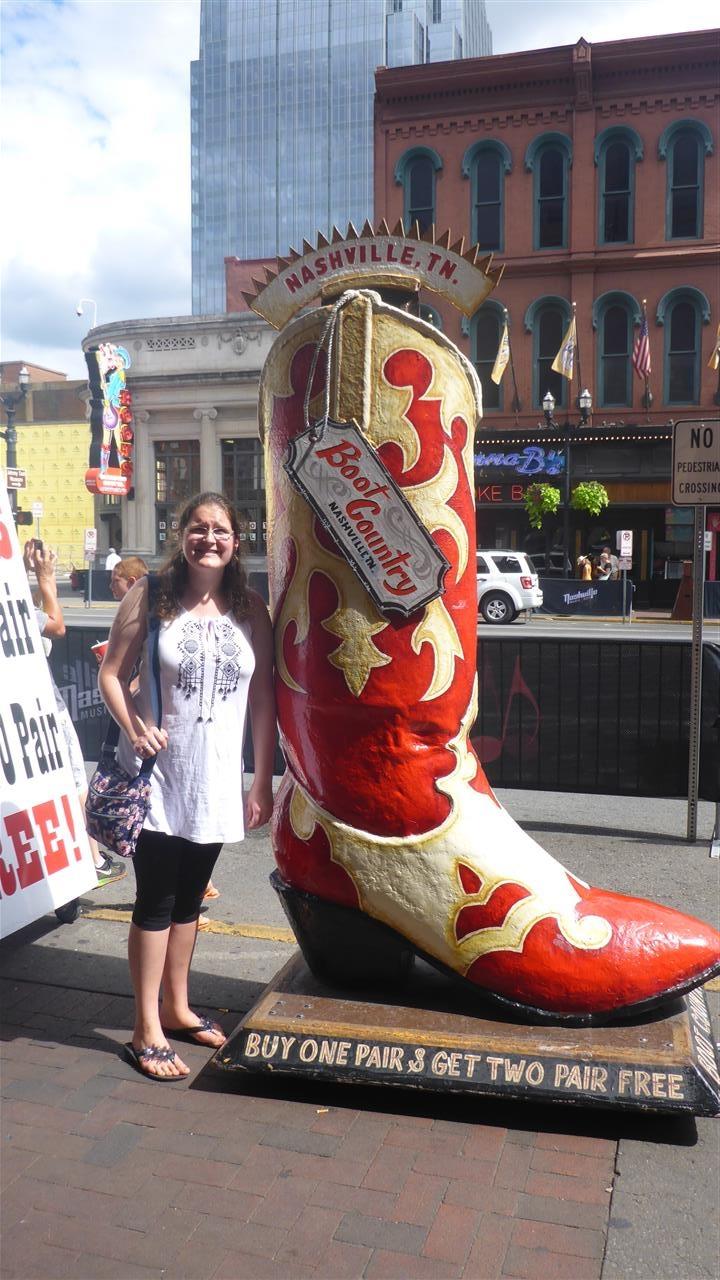 6 yrs on we pose " little Hollie " next to the boot.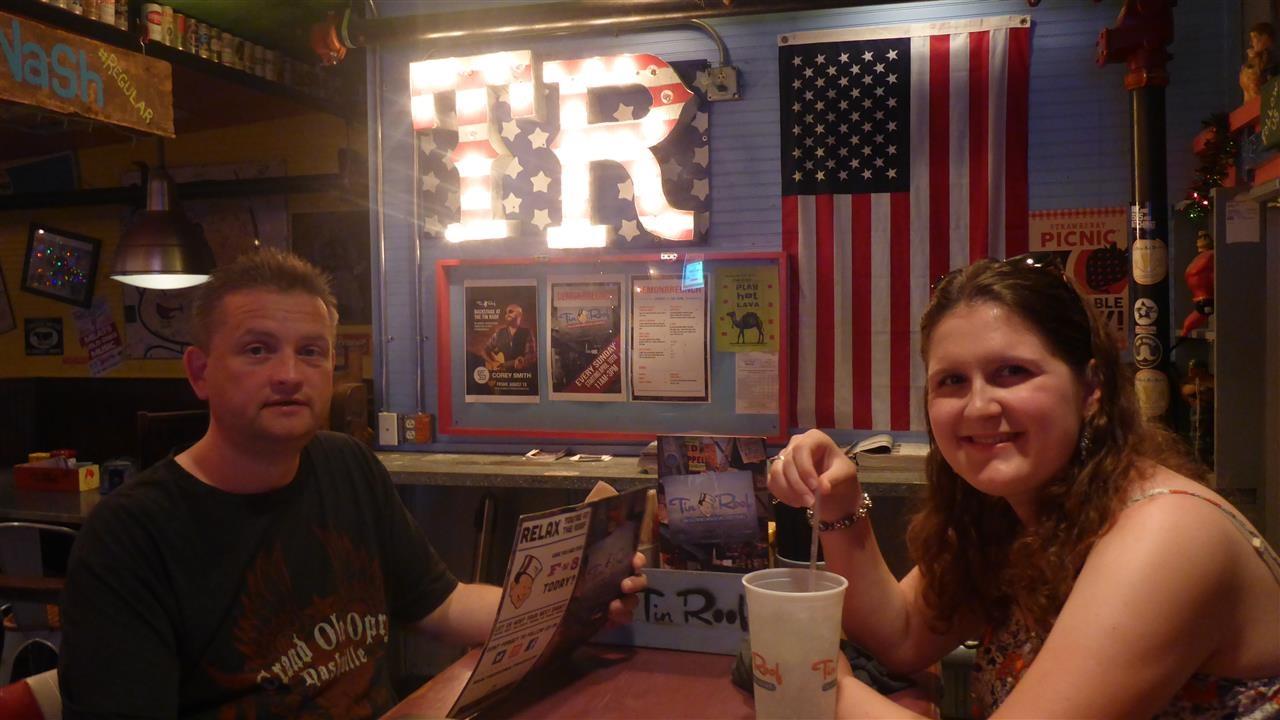 After a lovely swim, we head out on foot to Music Row, a pint in the Irish Pub & on to Tin Roof, no live music tonight but some more beer & a reasonable meal.

Goodnight all
Loving our travels, hope you enjoy reading xxx
Friday 12th August 2016
DAY
13

The lost sea to Davy Crockett.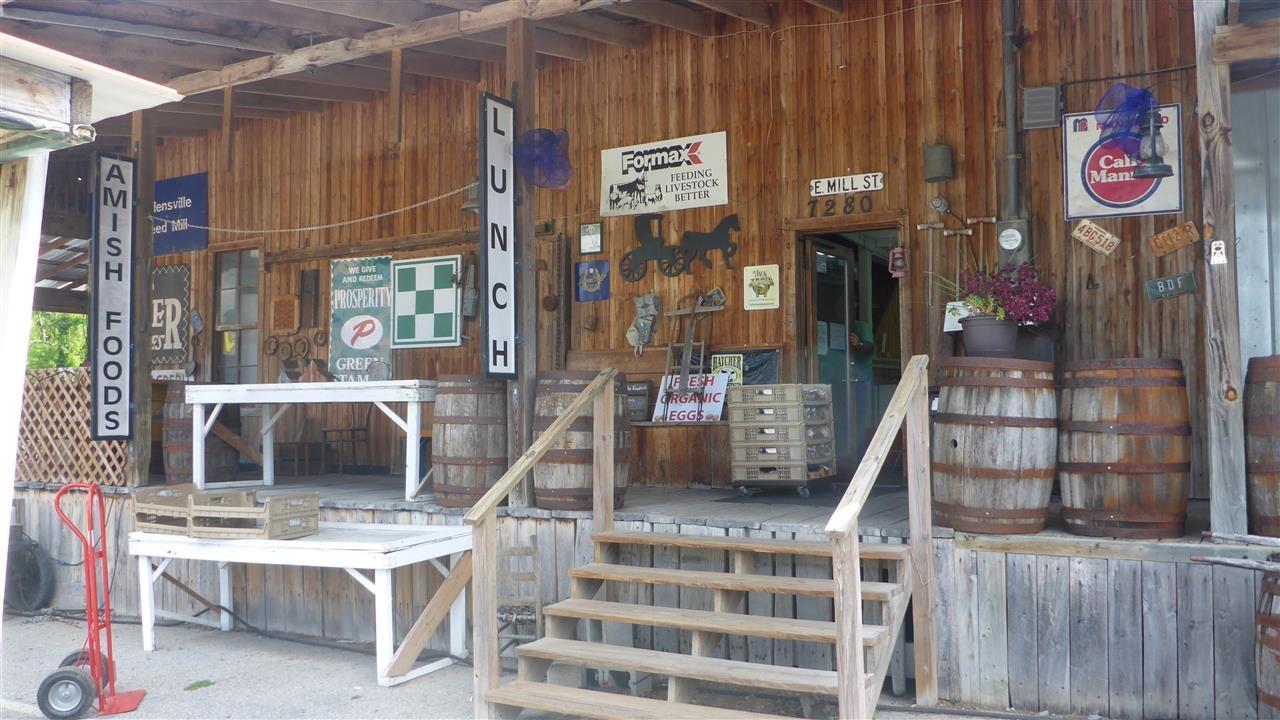 We left Nashville & took a route via Nolansville's Amish store, where a very nice fella sang to us in 2010. Predictably no sign of nice fella & the store was disappointingly different.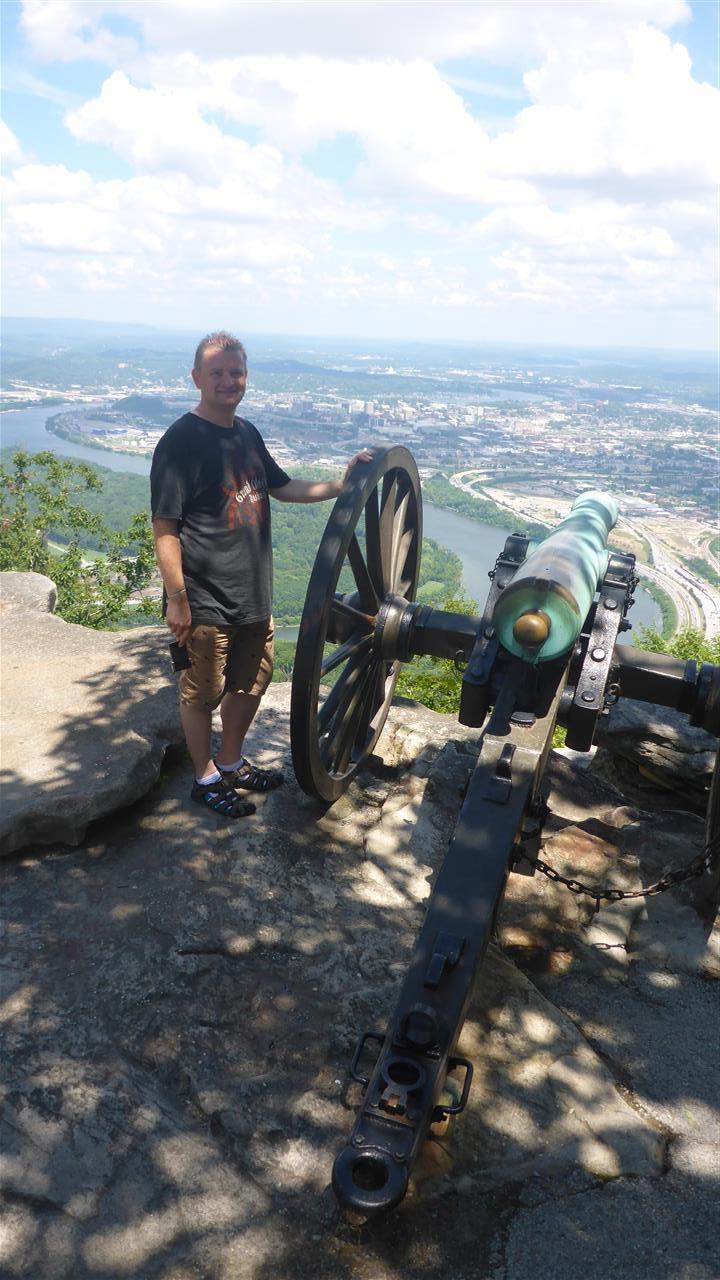 Next stop Point Park , a war memorial for the area of lookout mountain.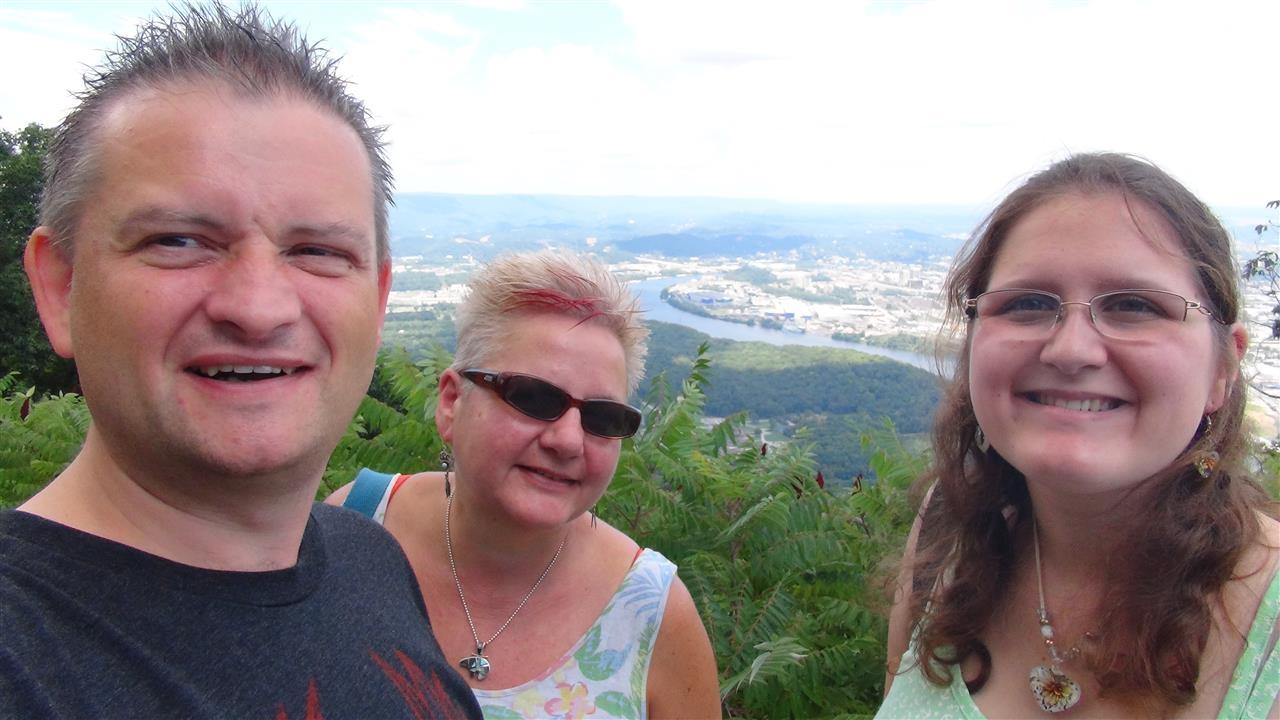 Spectacular views over Chatanooga.
We sneaked past the unmanned barrier without paying the required $5 entry fee...Nope no guilt yet. Thats another £10 for Sharrons Doggies !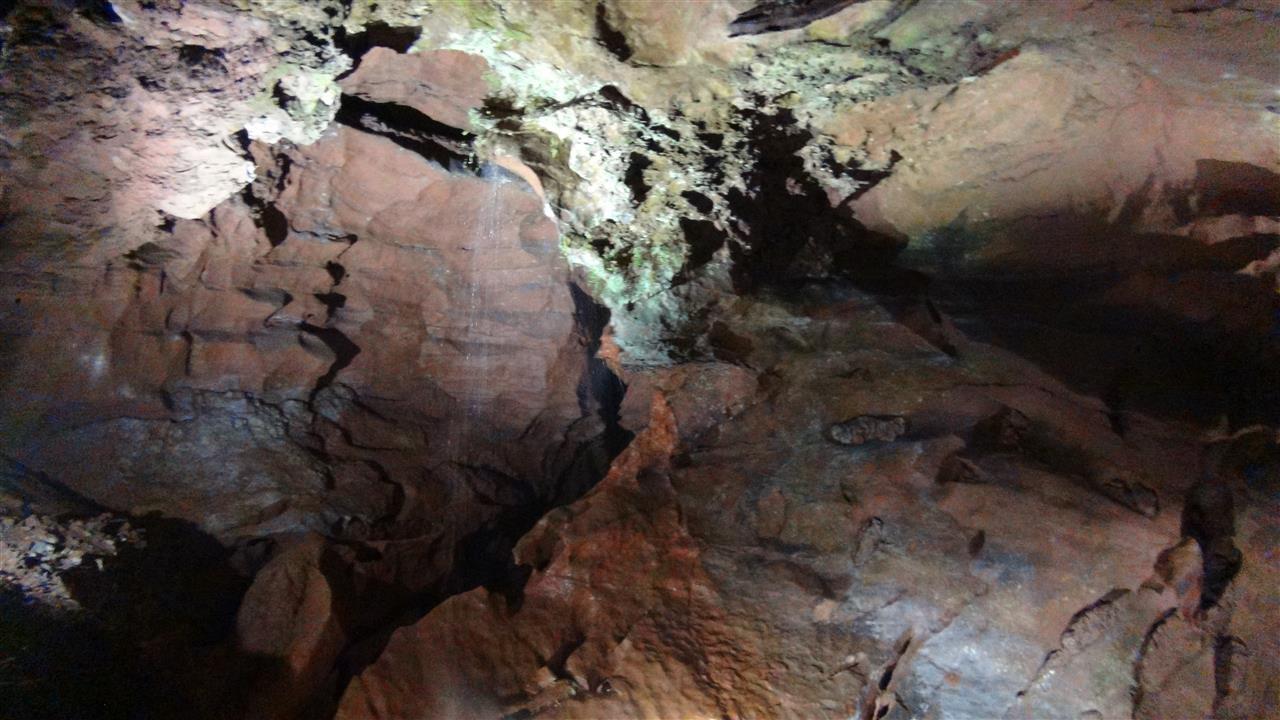 Next stop The Lost Sea , Cave structure & underground lake.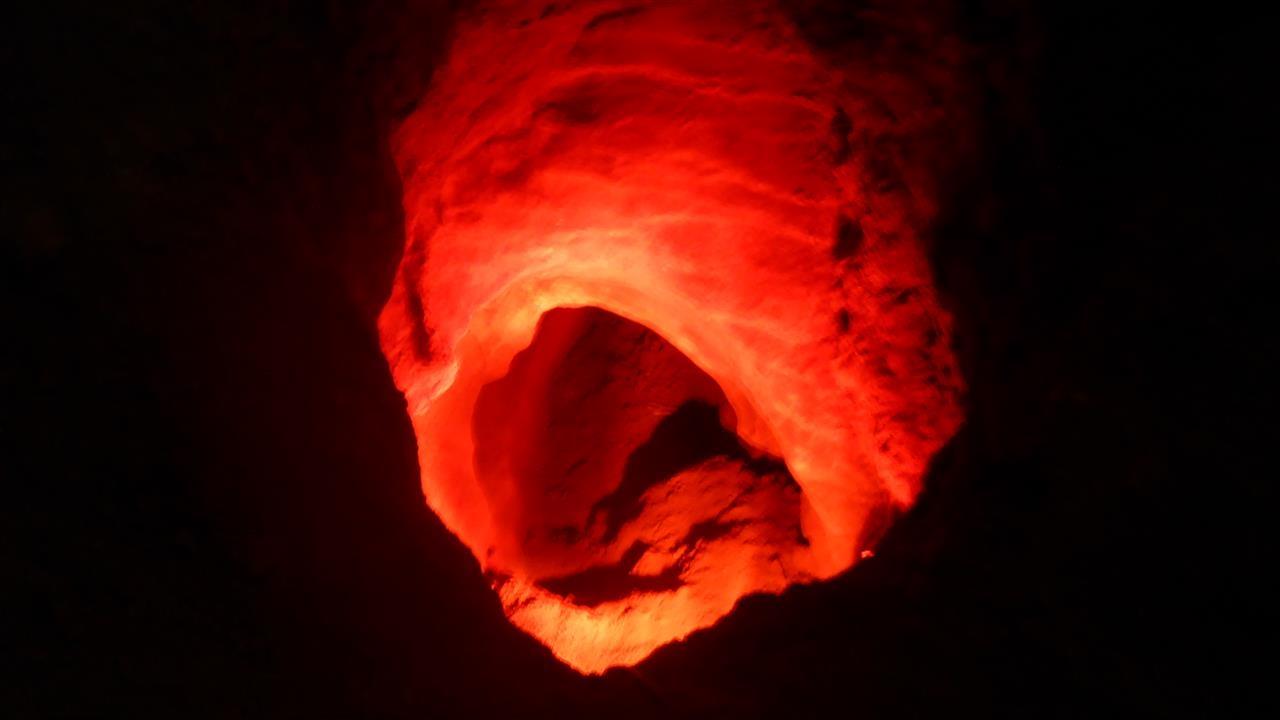 We saw some interesting geological features including " Thw Devils Hole" If you stare down & see the devils face you have been bad.
The highlight of the trip being, a 2mph boat ride across the underground lake , the temperature a year round , 58 degrees was very welcome , the massive lake , some 230 ft by 800 ft , boasts depths from 15 to 65 feet , our enthusiastic guide Zack took us on this interesting tour with his 7 yr old " assistant" Hayden ( another tour guest ) who got to hold the flashlight .
A trip to Walmart to stock up on provisions for the next 4 days of self catering.
We arrive at the Tennessee cabins to be greeted by our host Mrs Chicken, our late arrival meant our key was in the cabin.
Our Davy Crockett inspired cabin boasted all mod cons, the maid service had failed to hoover the rug or empty the bathroom bin after the last guests but I think we will get over it!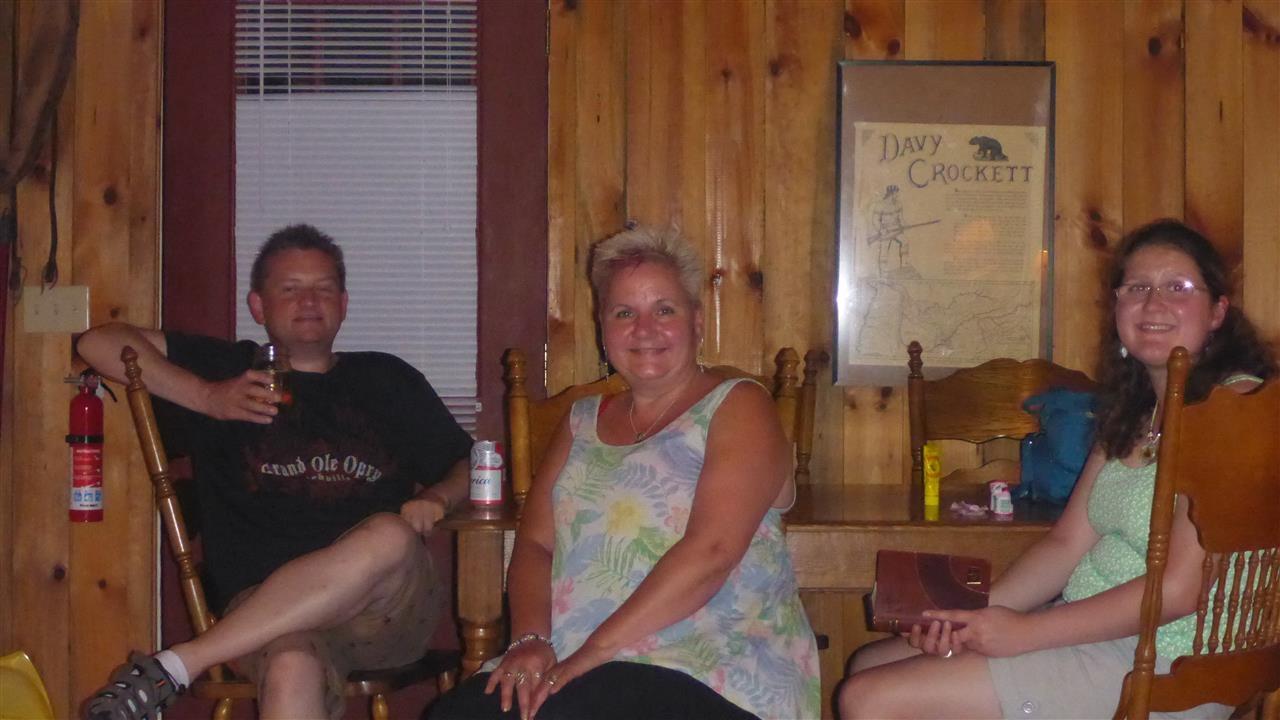 Steak & salad for tea, the family ate well tonight.

Whie water tomorrow so an early night is in order.

Goodnight peeps xxxx
Saturday 13th August 2016
DAY
14

Ocoee wild water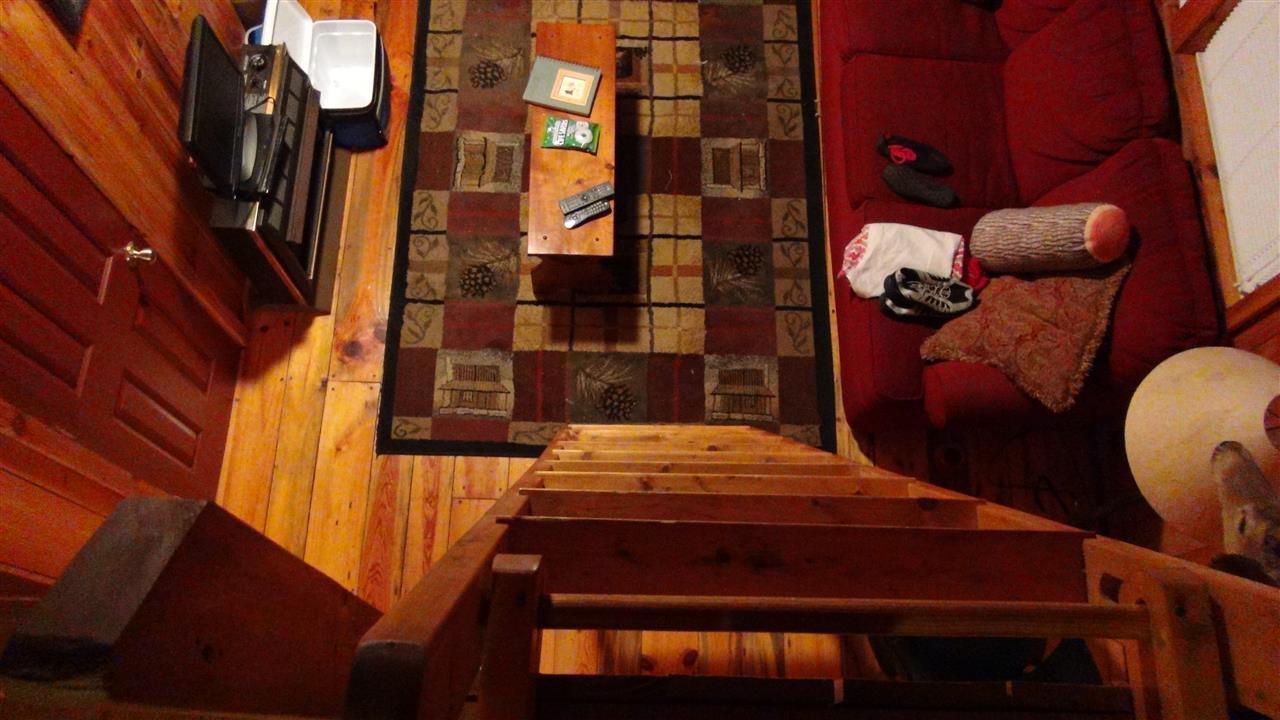 Good morning world, Ian's journey from his room at 05.45 this morning.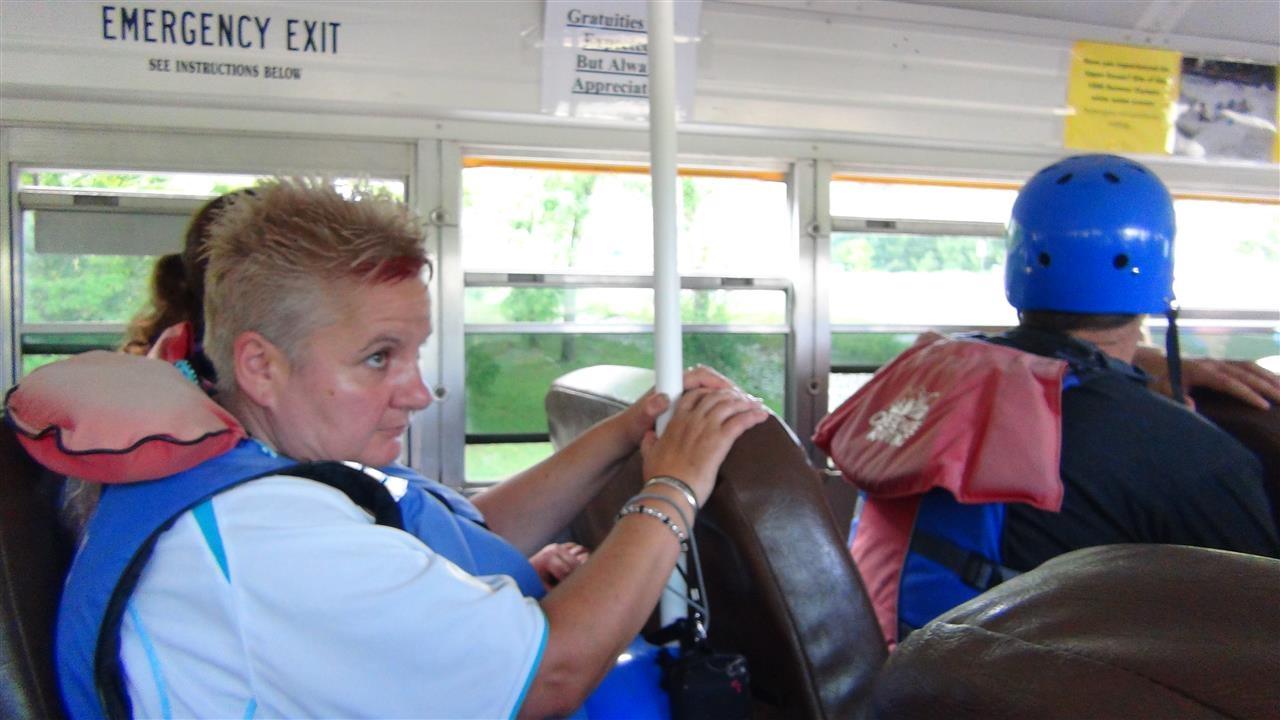 We met at Cherokee Rafting & after a safety briefing from Lance , the expedition leader ( touch of the Oliver Reeds) we set off on a 40 minute bus ride to our put in point.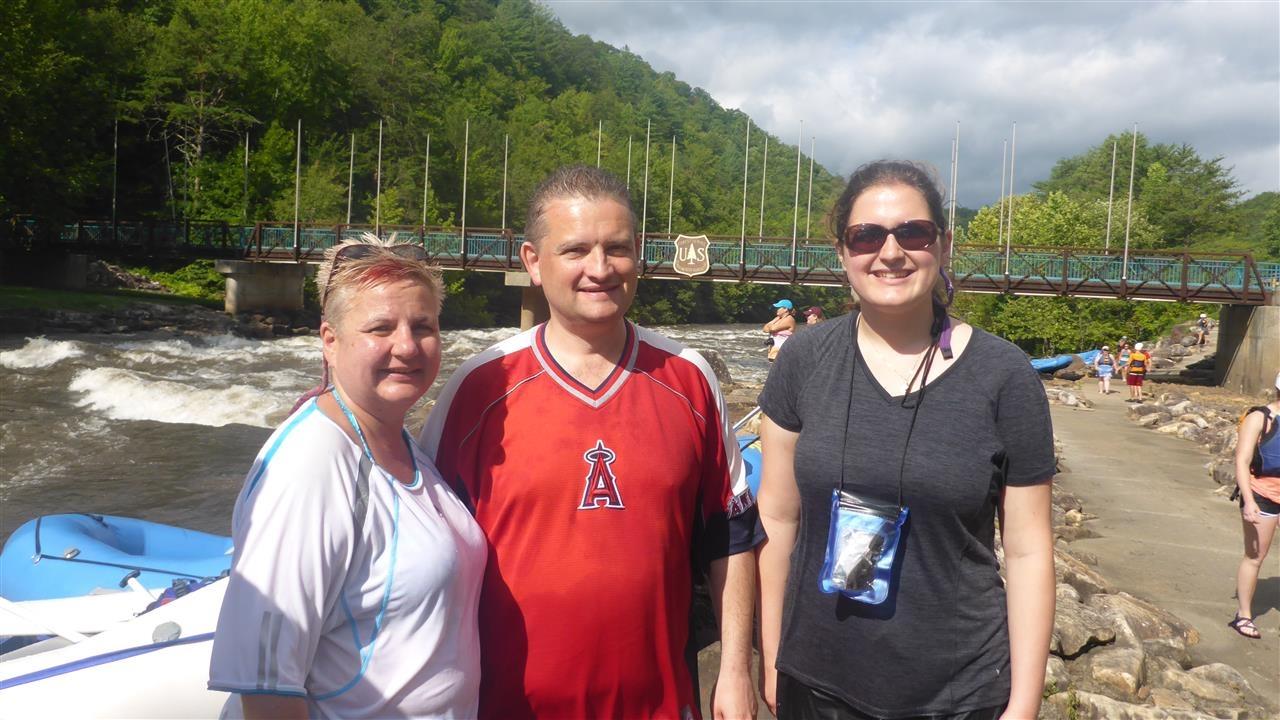 The Ocoee is split into several sections , today we will be travelling the upper & middle sections.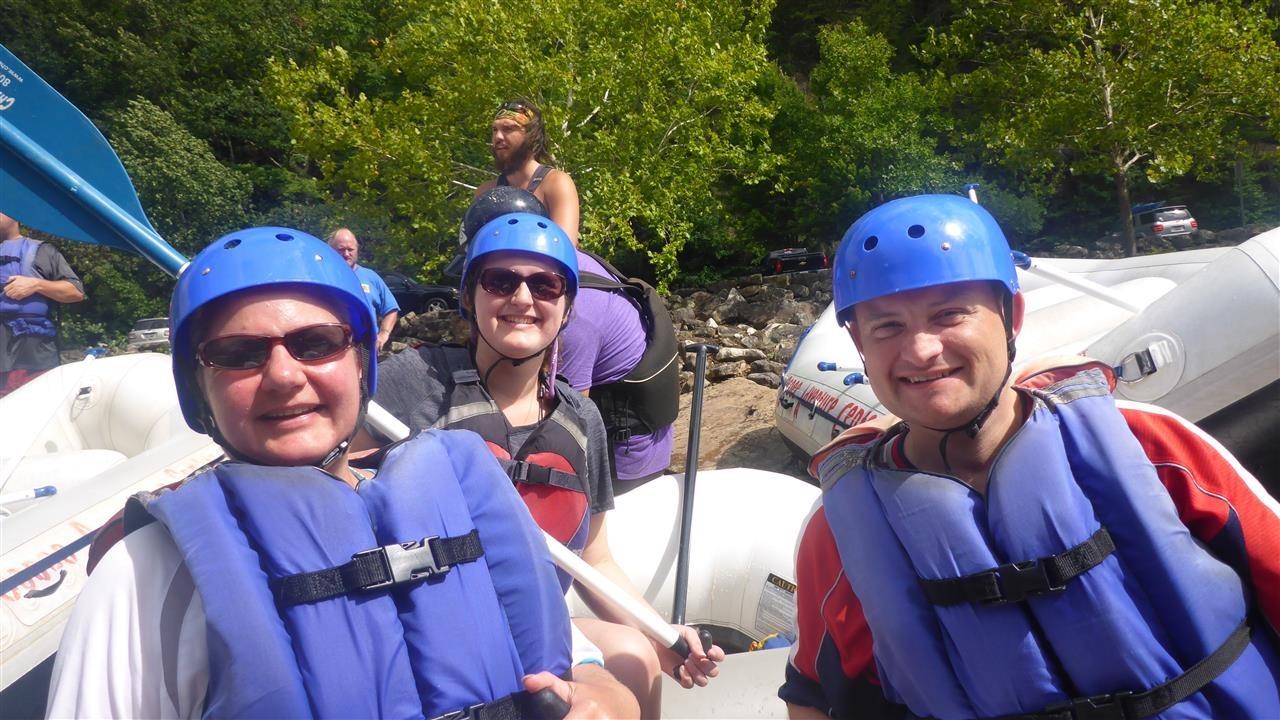 The weather began overcast , but blossomed into full sun by noon.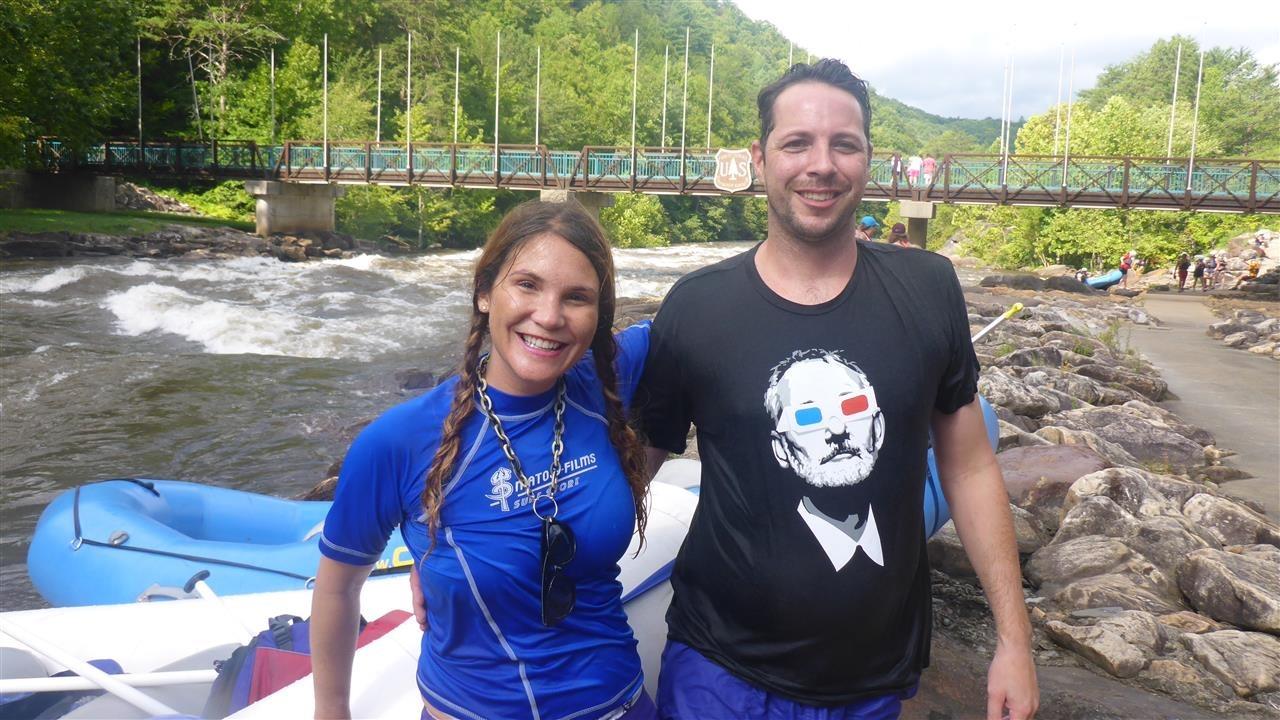 We were in a group with another couple " Lyle & Carly " who had rafted this river several times before
Our guide gave the impression that this river was going to be a serious challenge. The water is dam controlled & therefore fairly constant..Unlike most rivers which suffer from high & low water. The rapids offered plenty of face fulls of water, but at no point did we feel we were in serious danger of taking a tumble, unlike Carly who fell in twice & Lyle who tumbled out trying to save her one time.

We were lucky enough to be with Lance , the elder statesman of the company , having joined initially part time, in 1985 when he was a senior at college.
Lances unorthodox approach gave us much amusement , he was a great fan of hitting large boulders head on & ricocheting the raft into the flow, this resulted in us being in the right place on the river with far less rowing.
Carly & Lyle at the front got to see a lot of rocks in close up !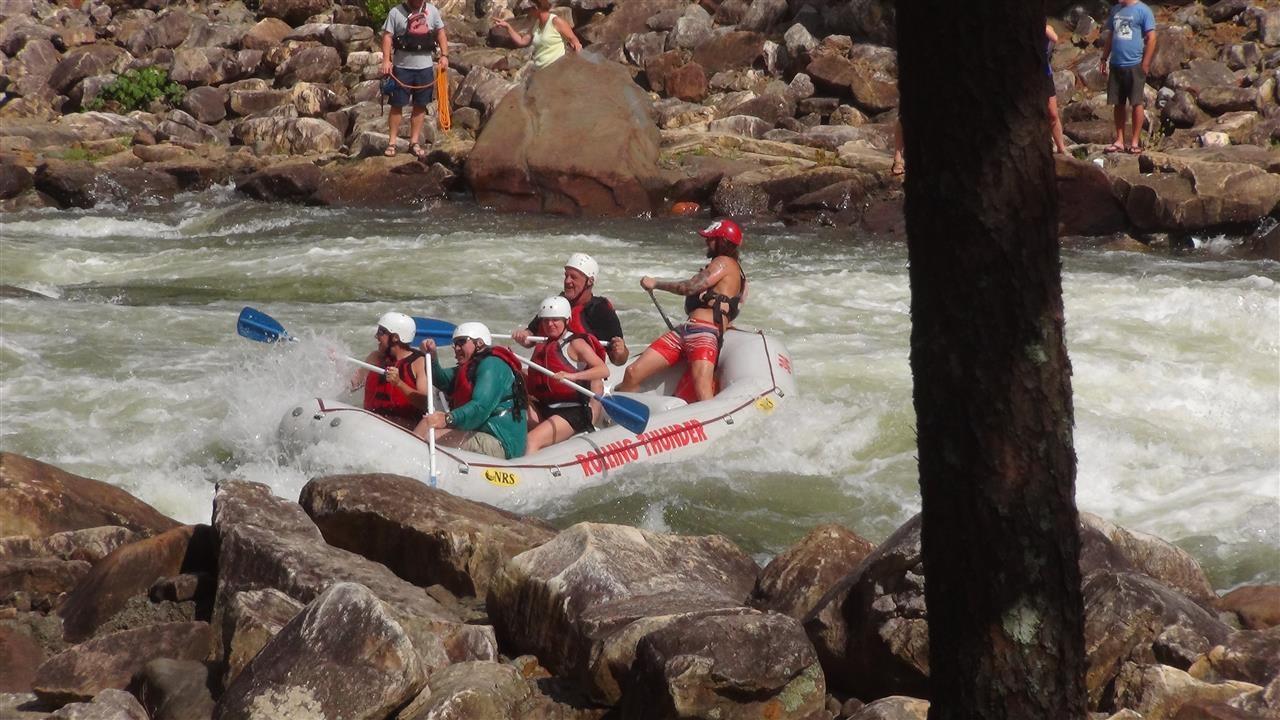 The middle section boasts the "Olympic course " built for the 1996 Summer games. Intended to put Canoes & Kayaks through their paces, the section is a favourite with the rafting companies.
Here was also the place we stopped for an early lunch , plenty of time to watch the other companies negotiate the rapids.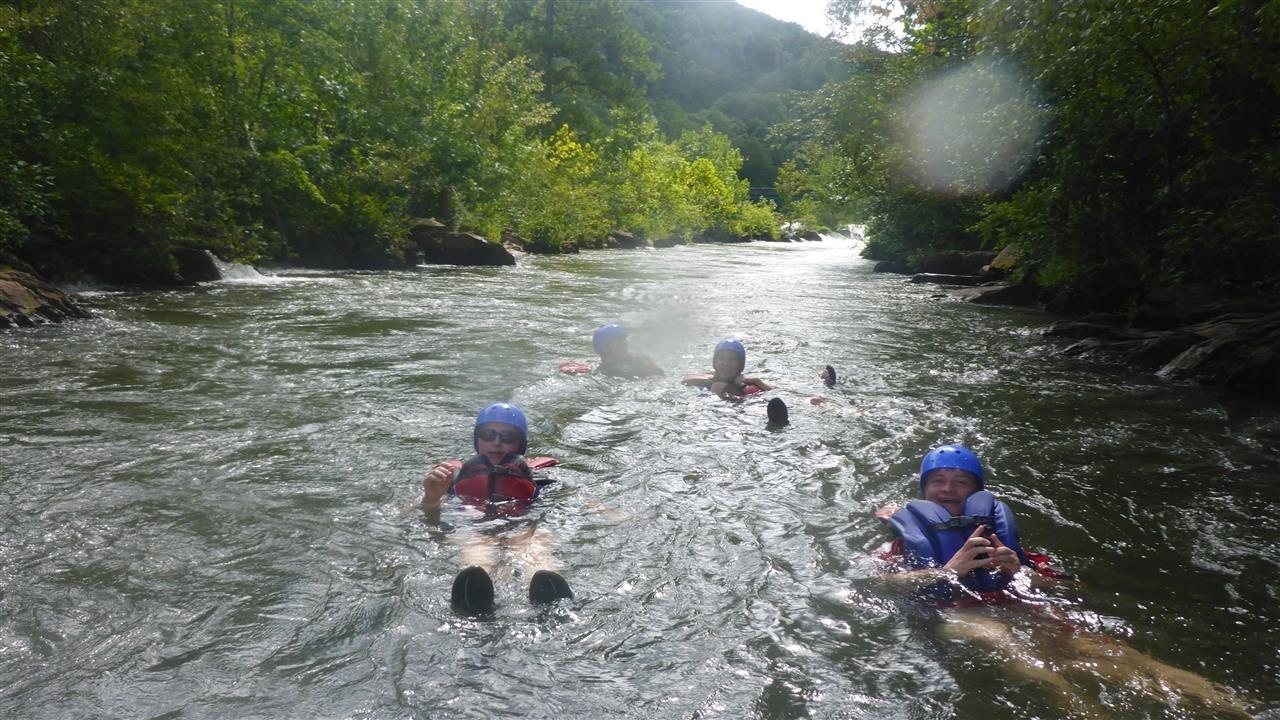 Time for a relaxing dip and float in the cool waters.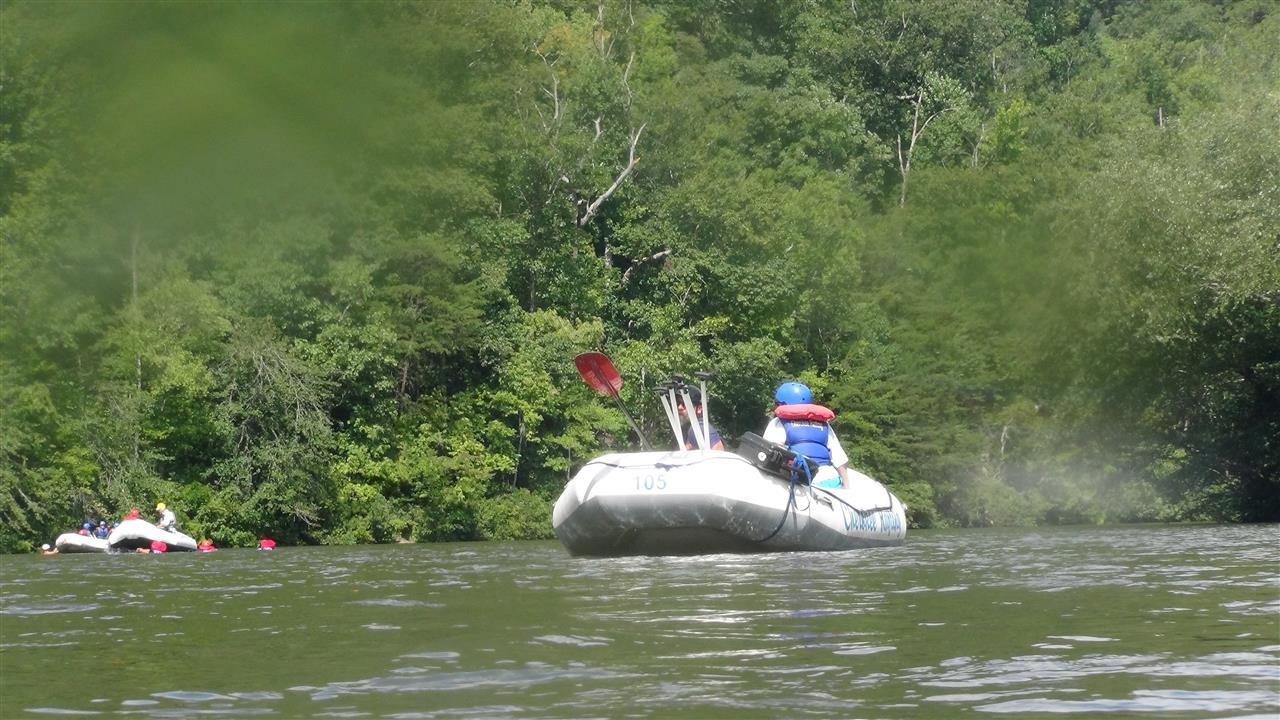 Errr hang on a minute ..Where is the guide ?
Lance decided to take a dip himself & leave me in charge of the raft !!!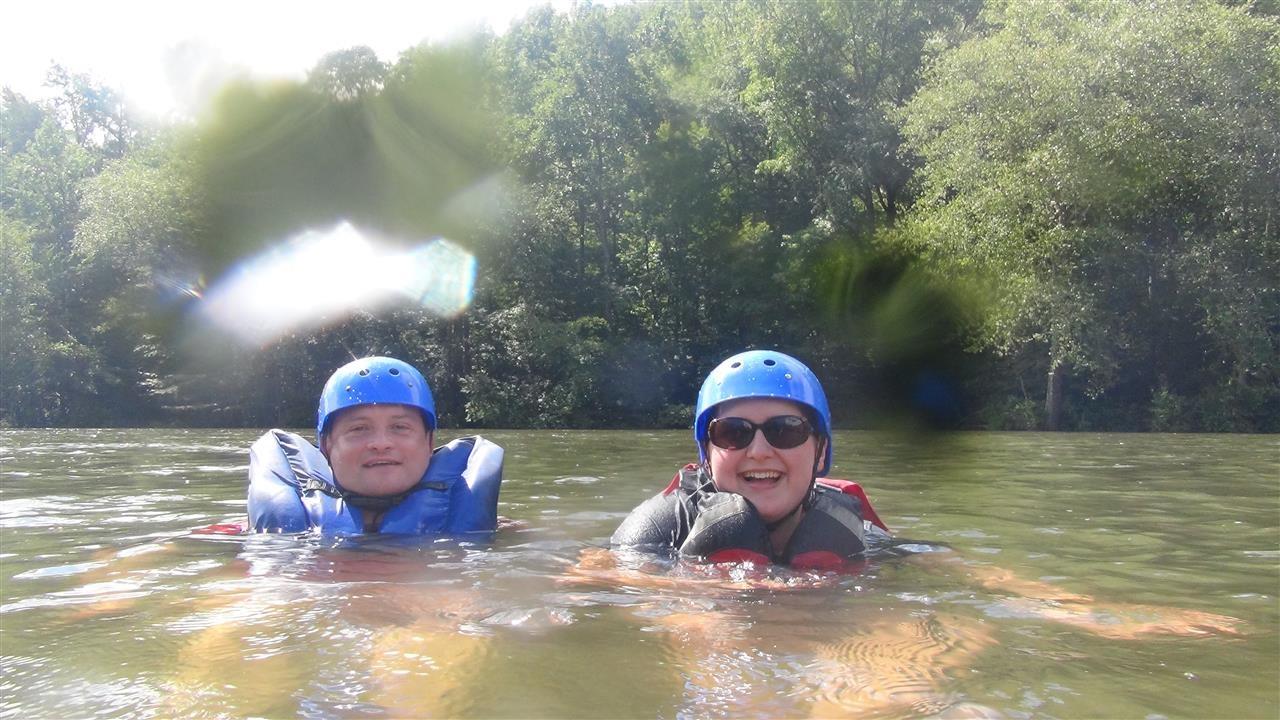 The water babies enjoyed their float.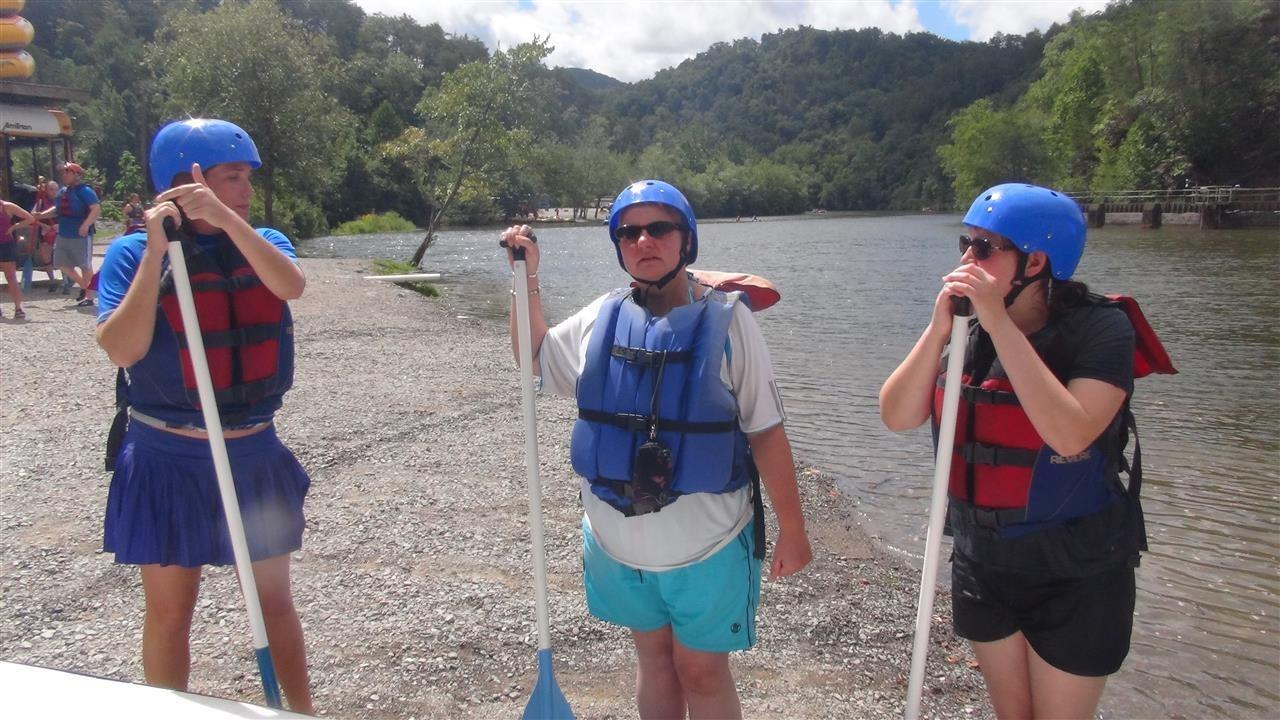 Back on terra firma , its time for a trip to the gift shop & back to our cabin for some dry clothes.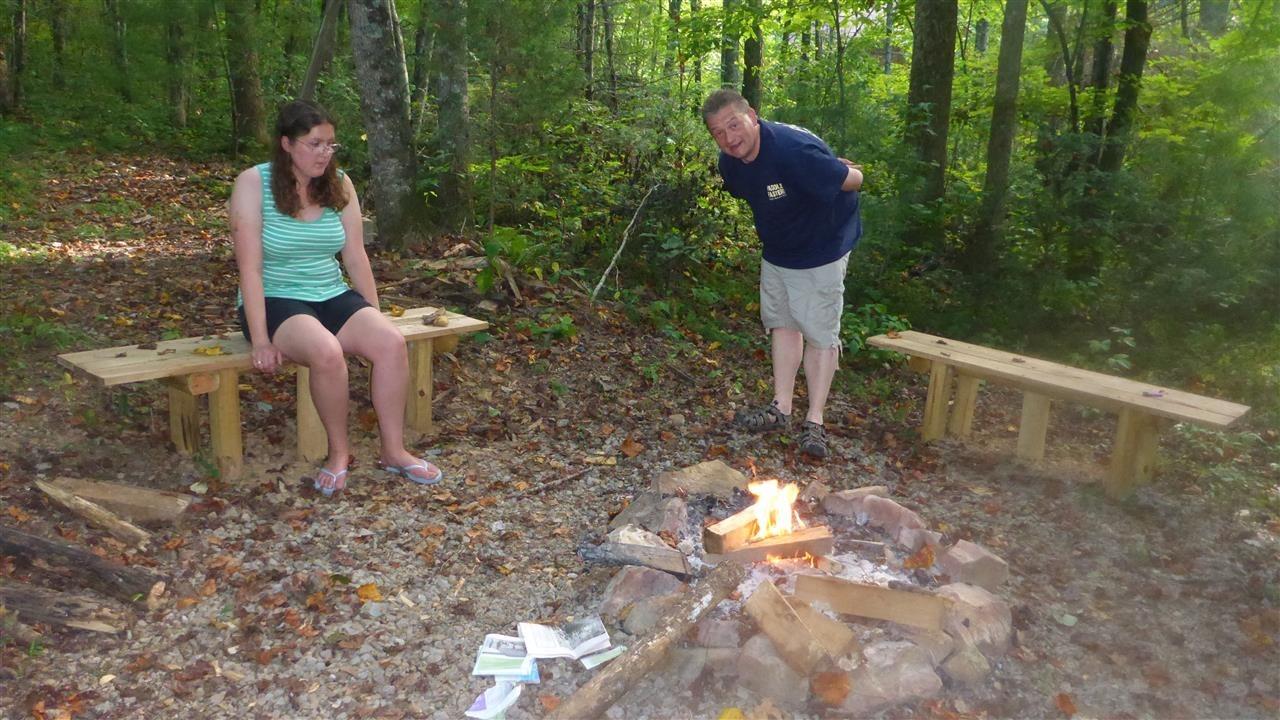 Ian & Hollie make fire, this is a highly scientific process..Not just any idiot can do it !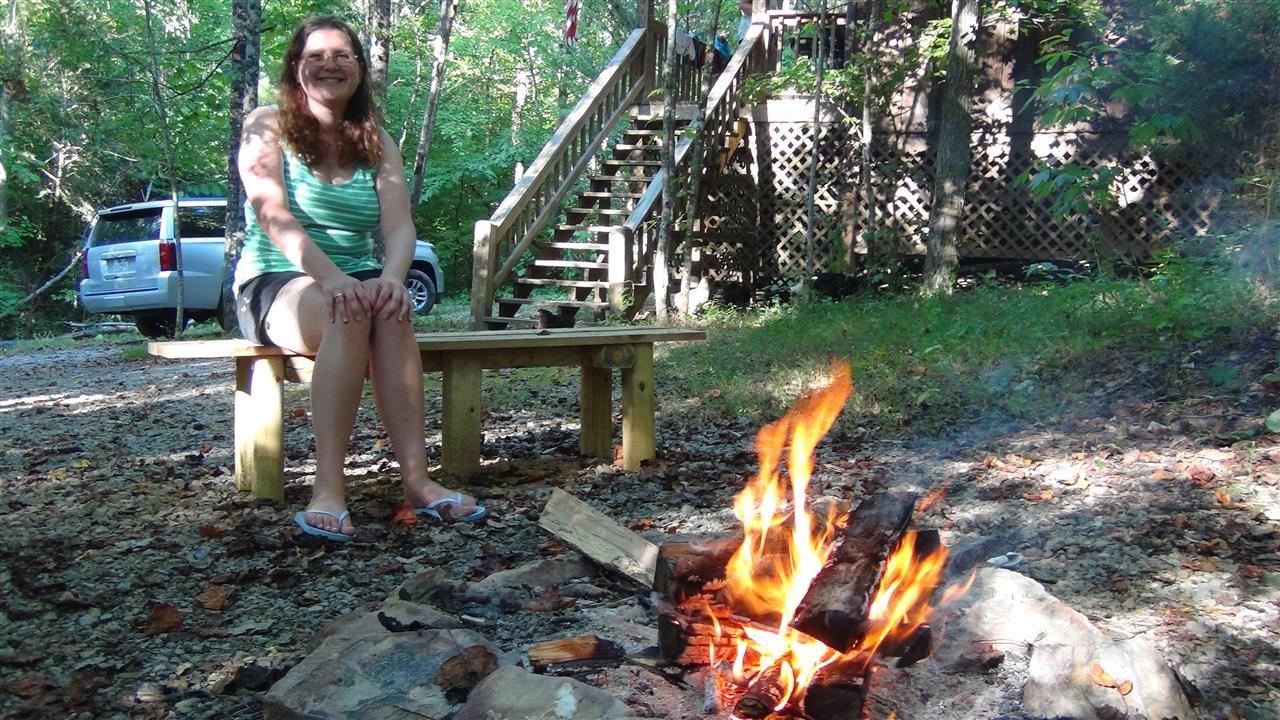 Success !!
I prepared some food to burn on our BBQ, burgers & sausages tonight.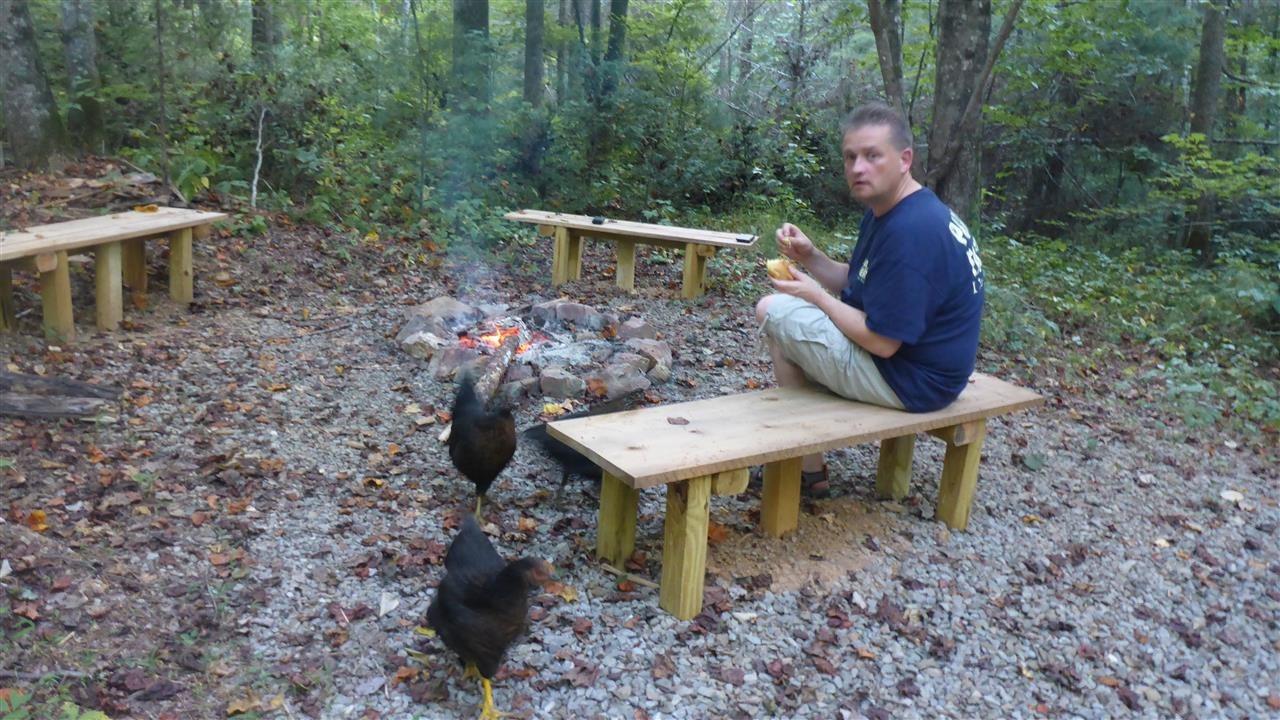 Dr Doolittle feeds the camp chickens with some left over bun.

Well folks a fab day , we are exhausted.

So goodnight one and all with much love xxxxx
Sunday 14th August 2016
DAY
15

Hen pecked in Georgia on the way to Albama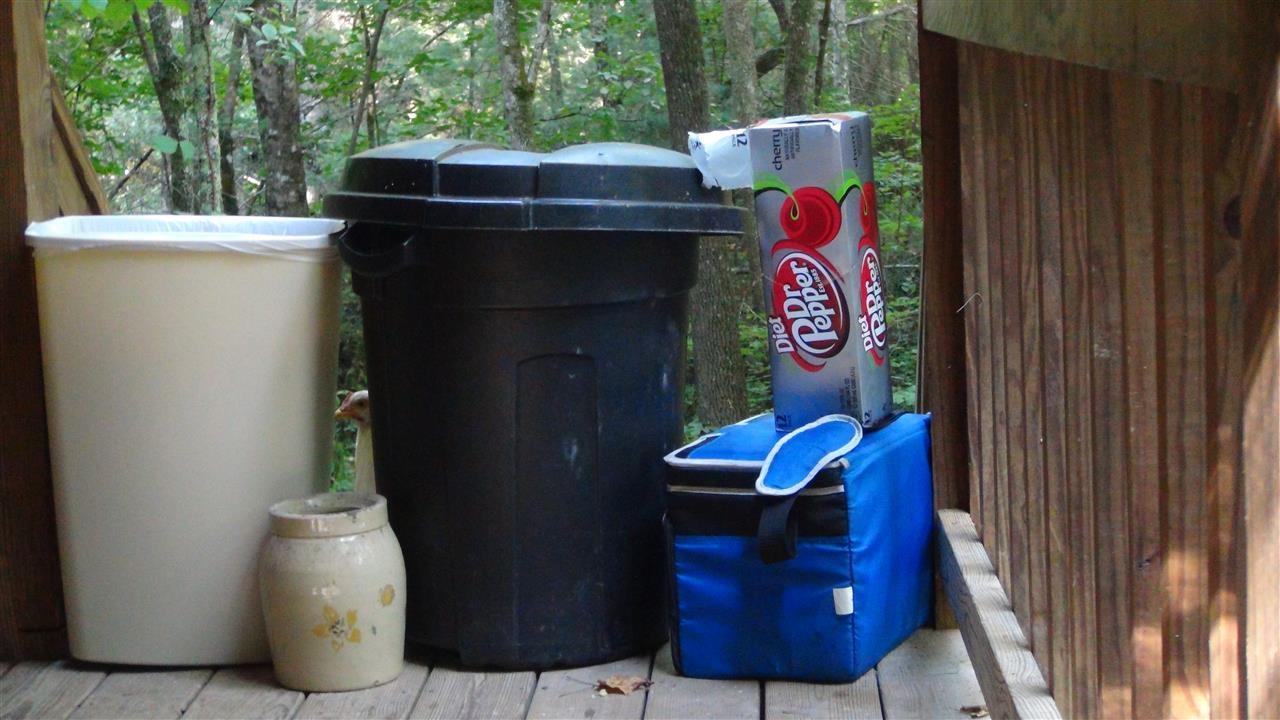 Peek - a - boo Mrs Chicken . He's a genius, Dr Dolittle the chicken feeder has created a monster..We had to barricade our deck area as the hungry hoards decided to join us for breakfast , peck my toes & generally terrorize us.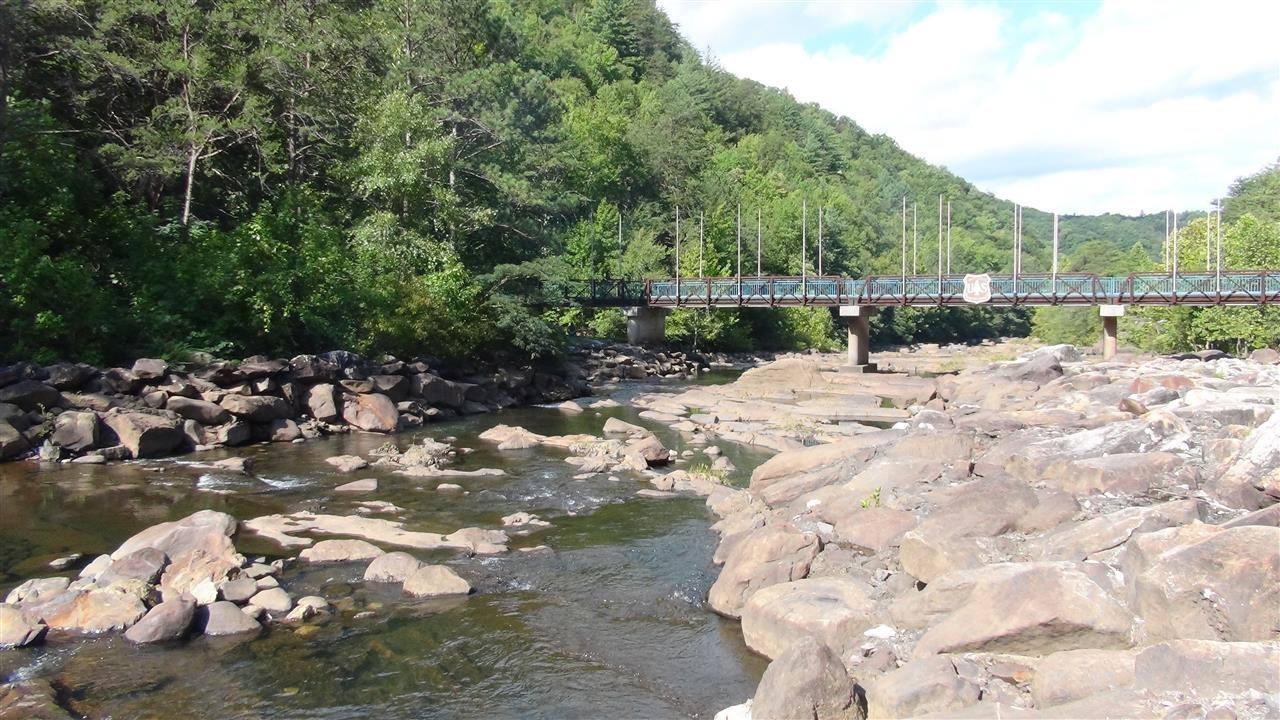 Our exit route took us along the Ocoee river & we accidentally timed it right to see the opening of the dam.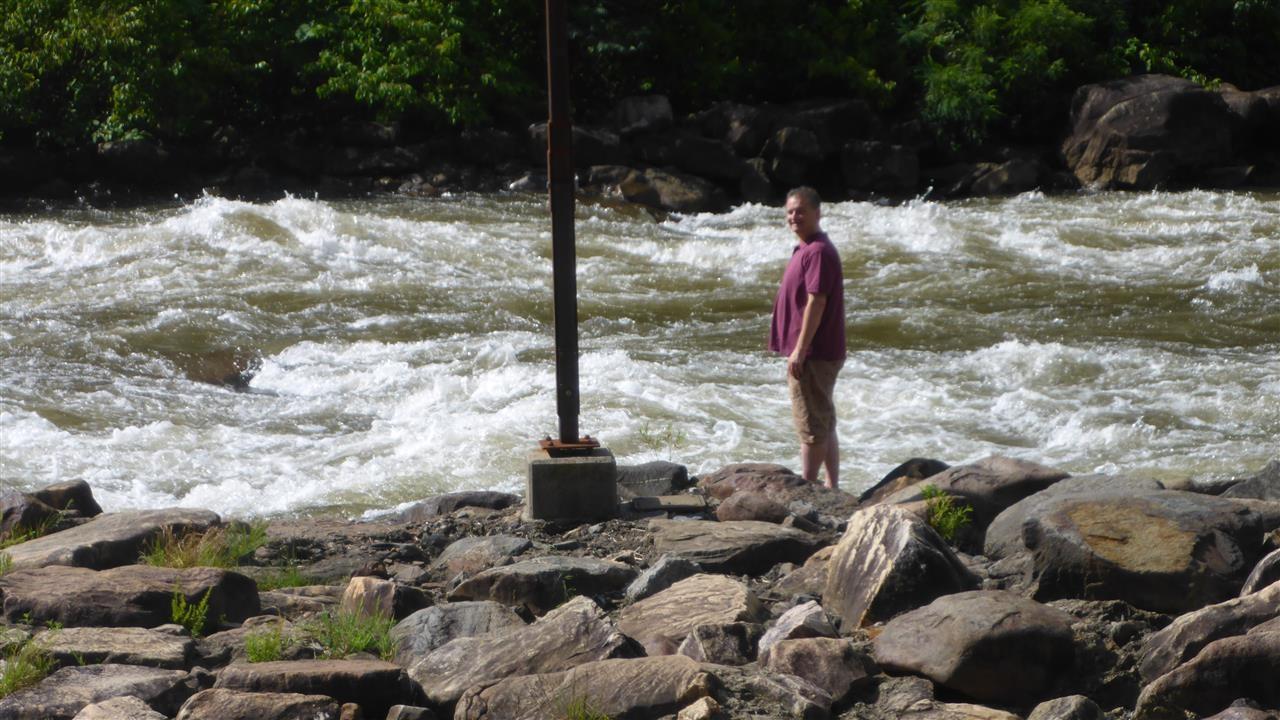 The dry rocks ( & Ians foot ) were quickly engulfed by the raging torrent.
Within minutes , the first of the rafters appeared.
Folks take folding chairs & a picnic to populate this " Olympic portion" of the water course, we agreed it would certainly offer a few hours of entertainment.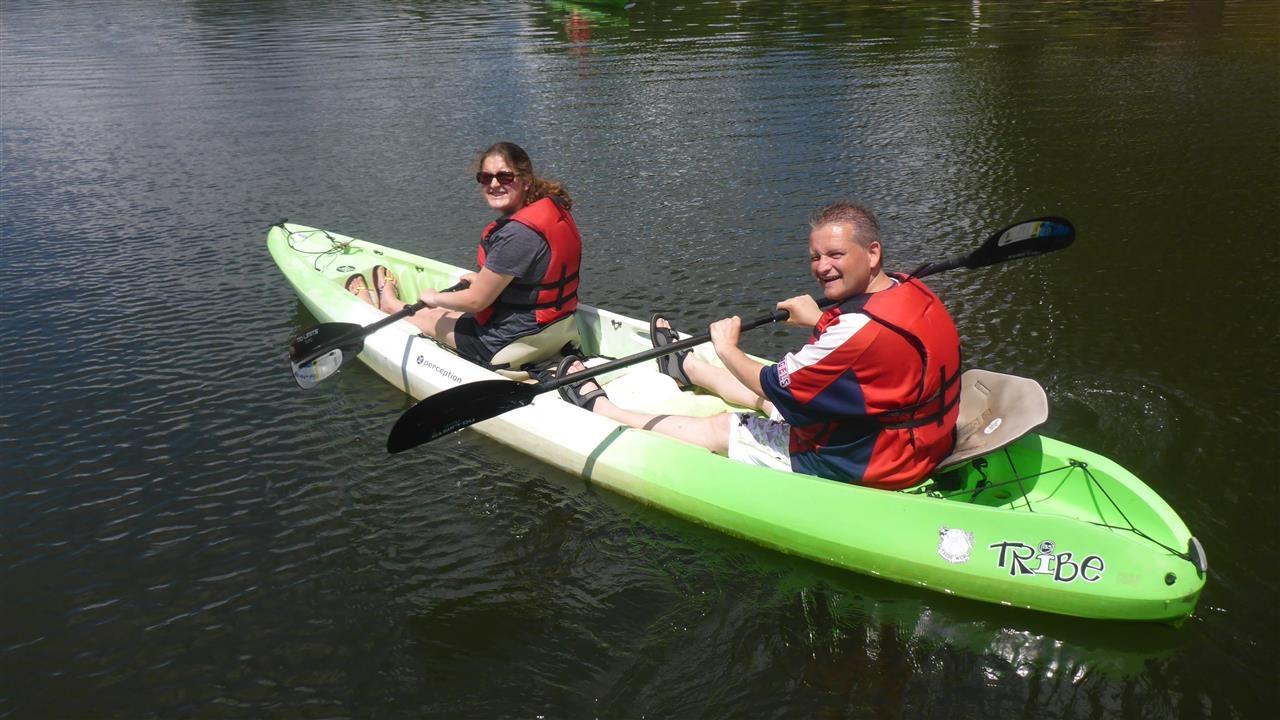 We stopped at Fort Mountain state park fo a swim, we spotted a "rent a Kayak " stand, manned by charismatic Carly , a park ranger.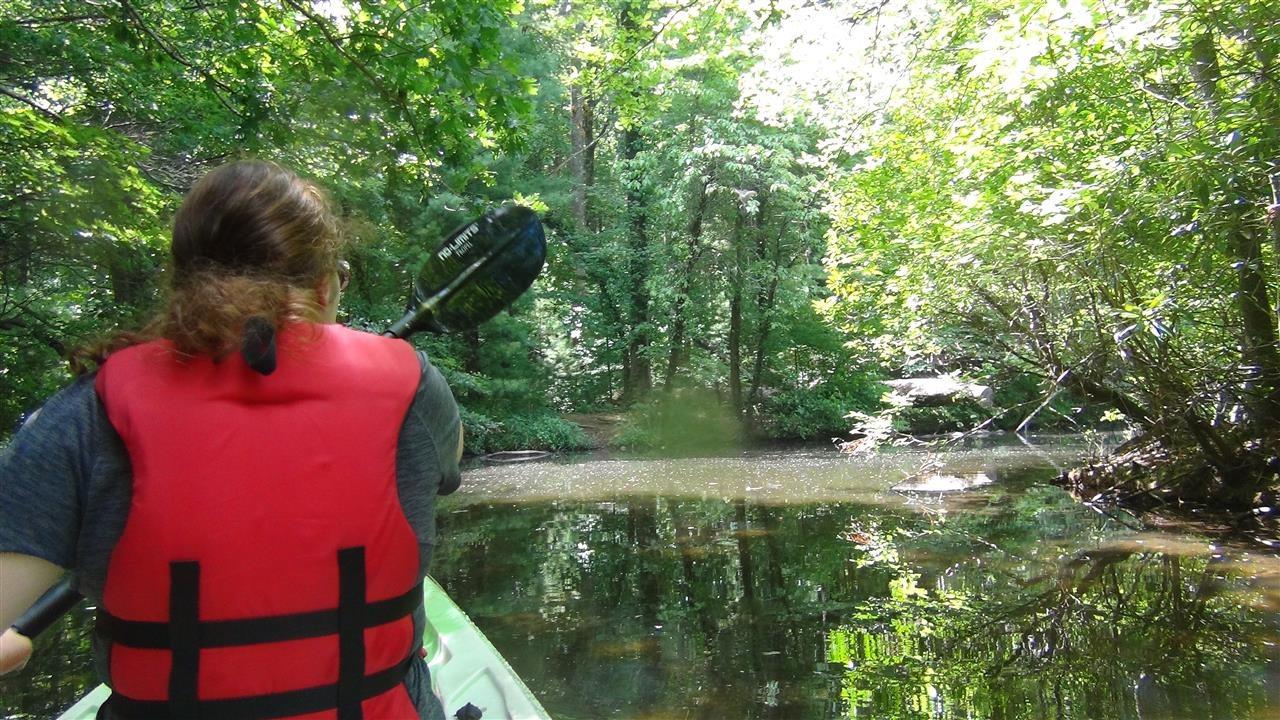 Hollie & Ian decided to take to the lake.
The lake wasn't huge , so I sat in the shade & waited , some families enjoyed the swimming area & set up BBQ's in the shaded areas.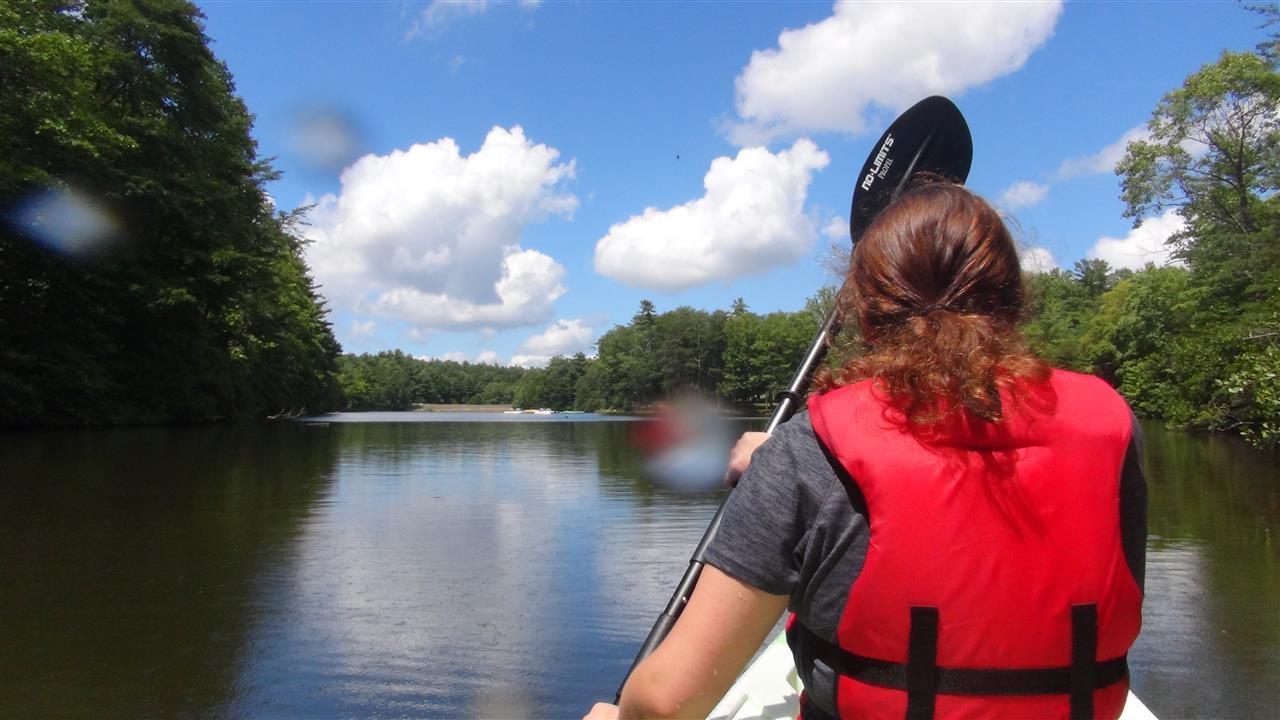 The photos give a clue to who did the work & who sat back & memorialized the trip on film.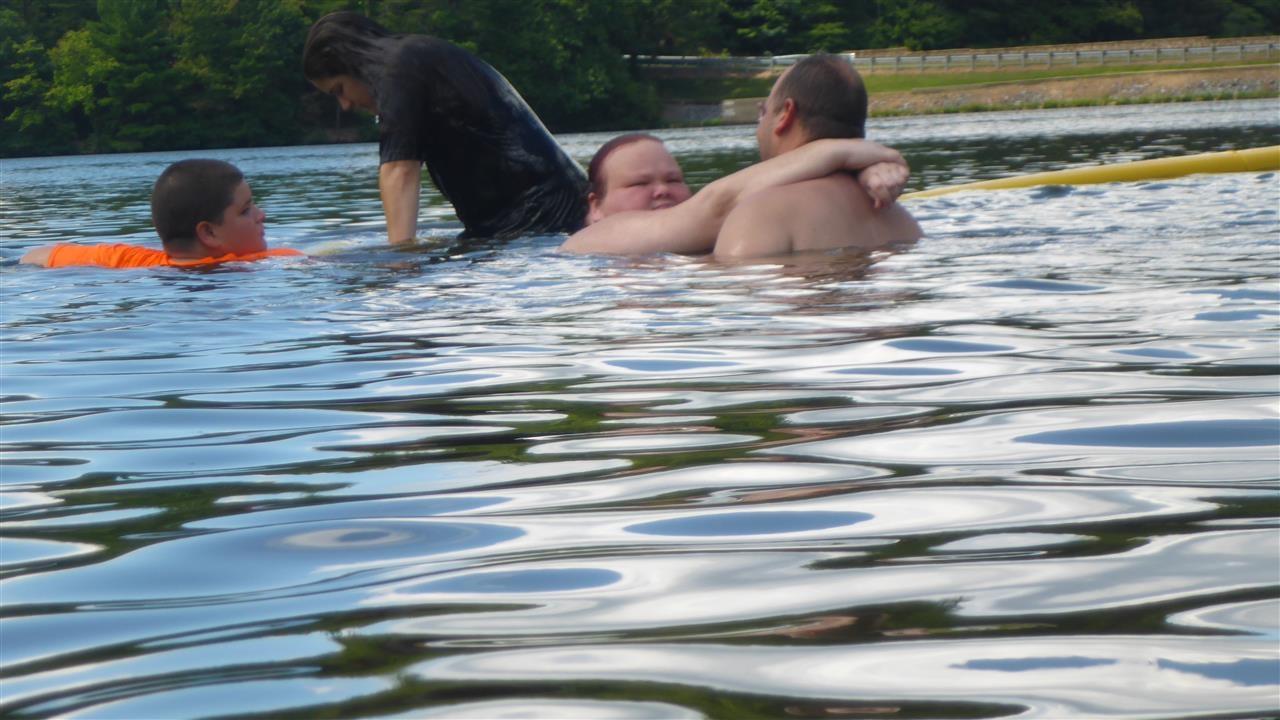 People of all shapes & sizes enjoyed the pleasant waters.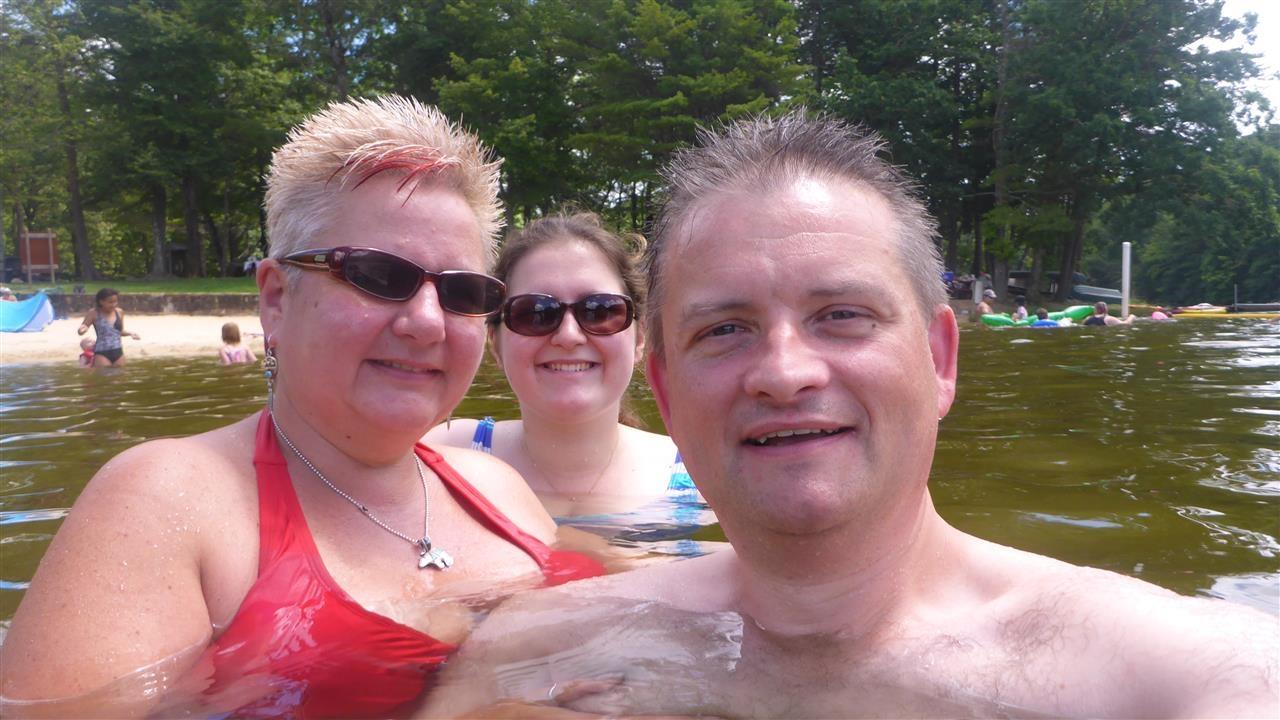 These 2 fat folk & their gorgeous daughter were there too.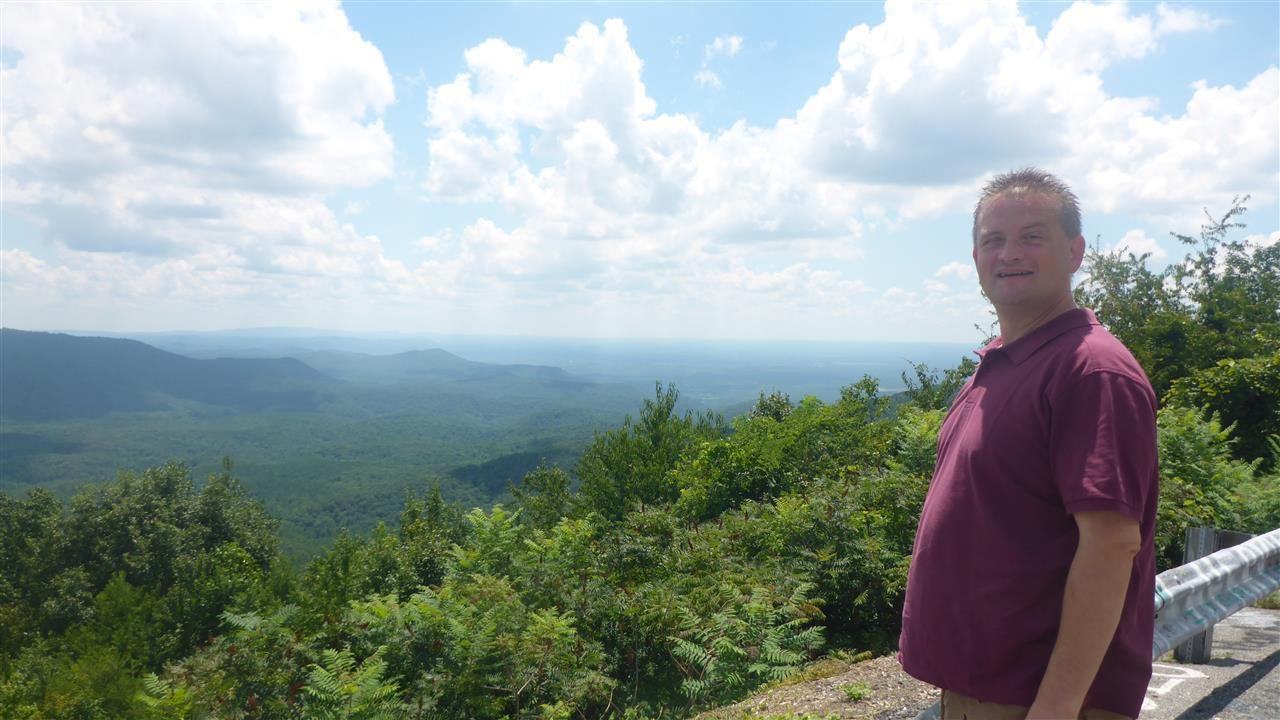 We stopped at a couple of scenic overlooks as we progressed south. The panorama highlights the beautiful green tree canopy & voracious Japanese Cudzu.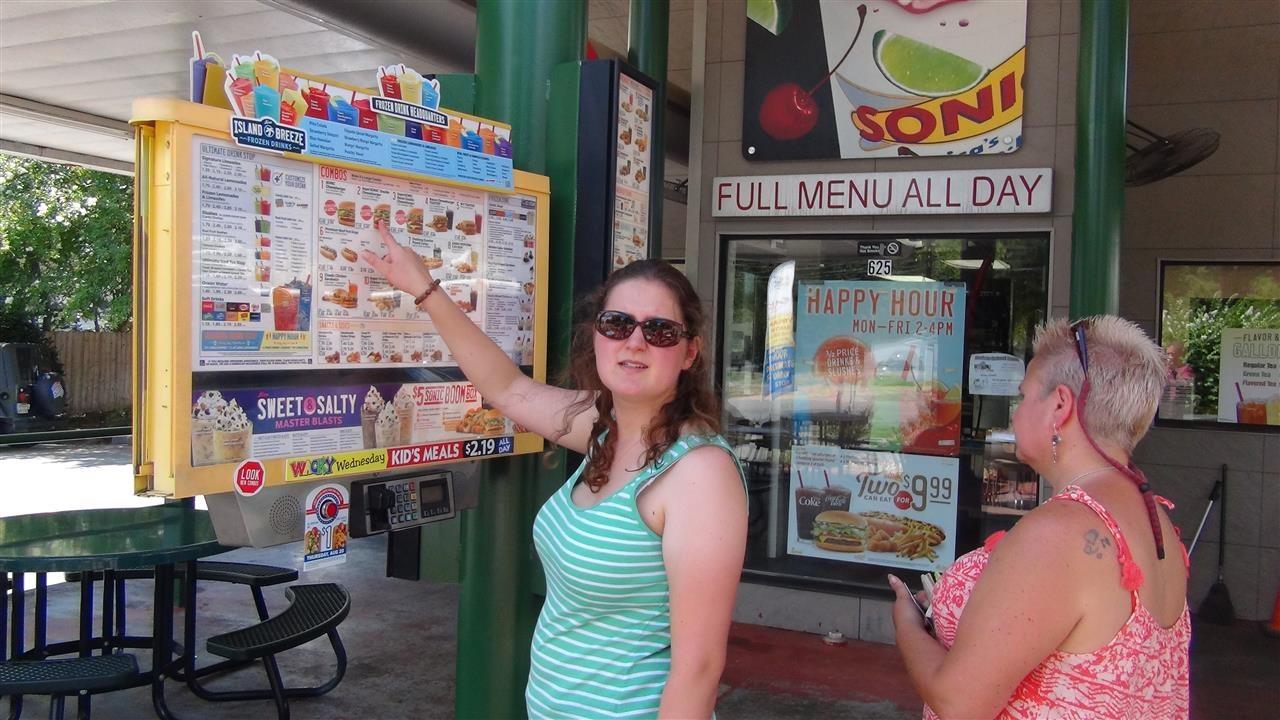 A lunch break at Sonic Burger. Press the big red button , guy speaks to you, order from the menu , pay by card & someone brings you the food as soon as its ready .....Fabulous !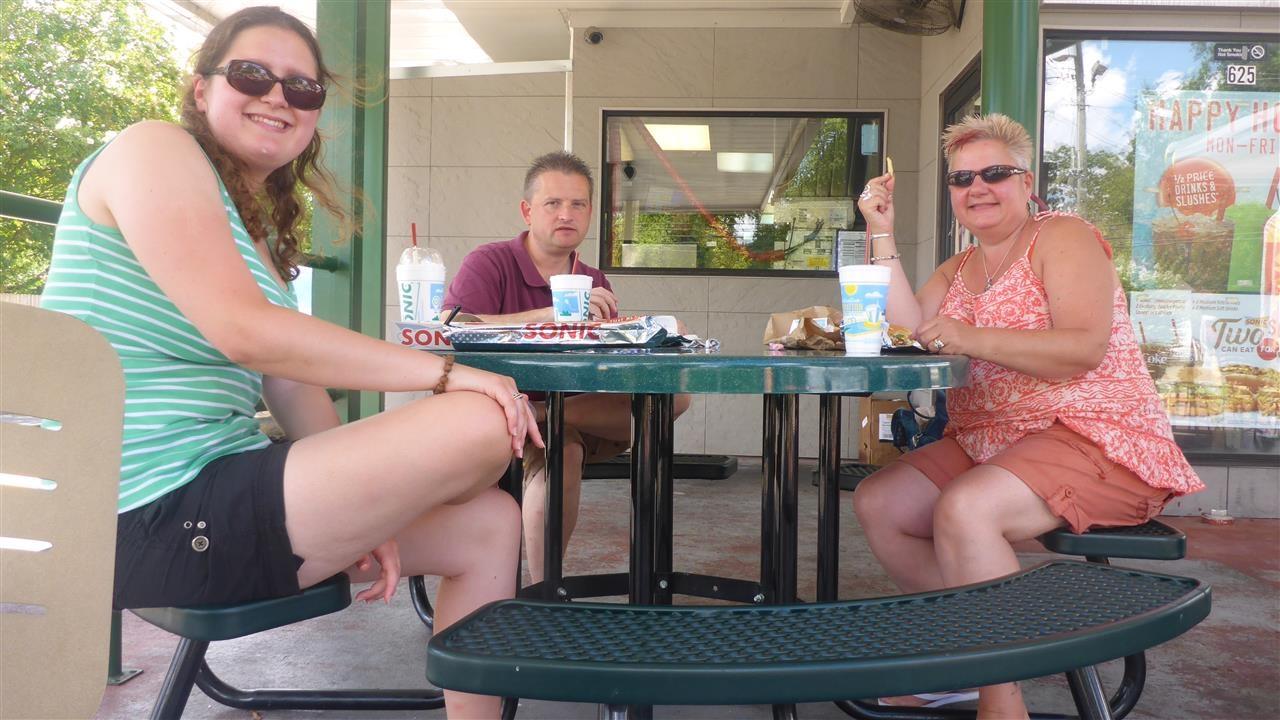 A cooling breeze fanned us as we tucked into the worlds sloppiest burgers !
Finally we arrive at Cheaha State Park Alabama..We unloaded the left over food from the car, carefully stowed in our cooler, into our new funky chalet.

Dinner of spicy chicken & rice.
Hollie has found the god channel on TV , we've just done the rosary with a nun so old I was unsure she'd make it to the end of the broadcast. Alarms are set for a mass at midnight.

Goodnight one & all love u lots xx
Monday 15th August 2016
DAY
16

Some bald old rocks & another lake.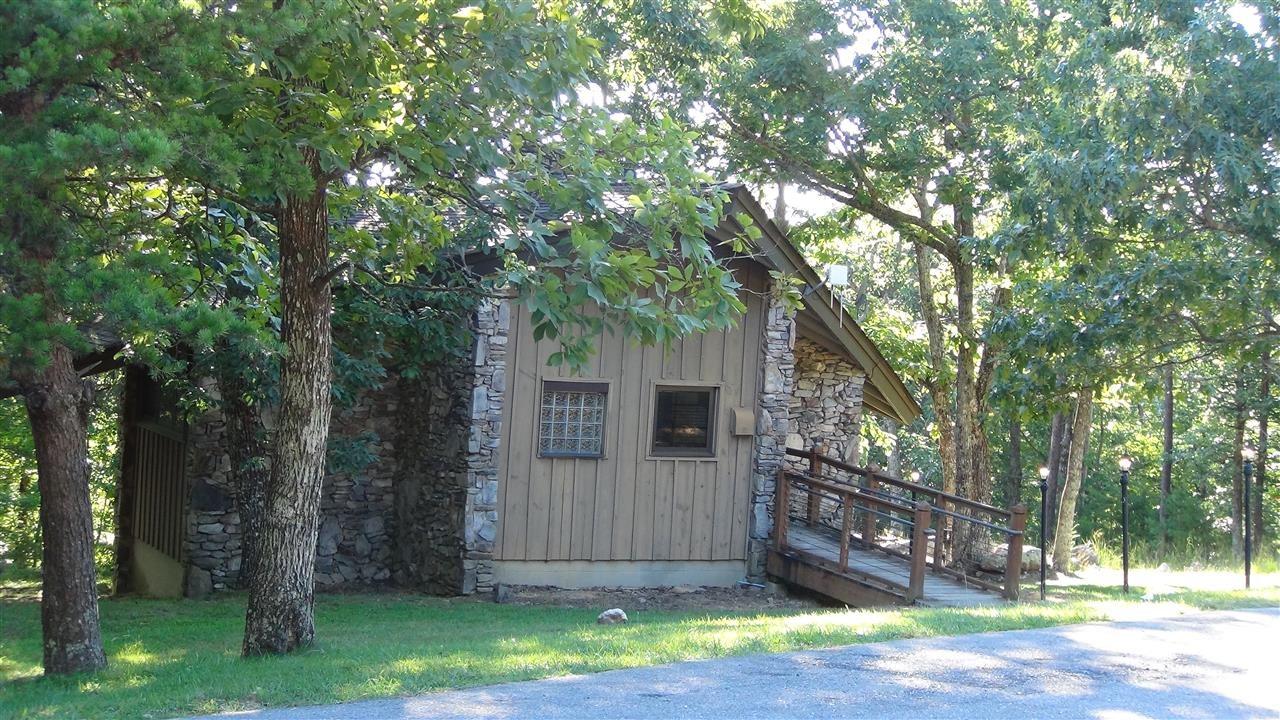 This is our cabin , its a substantial structure , 2 bedrooms & a sizable lounge, a great big deck & fire pit to the rear , its at the very top of Alabamas highest mountain.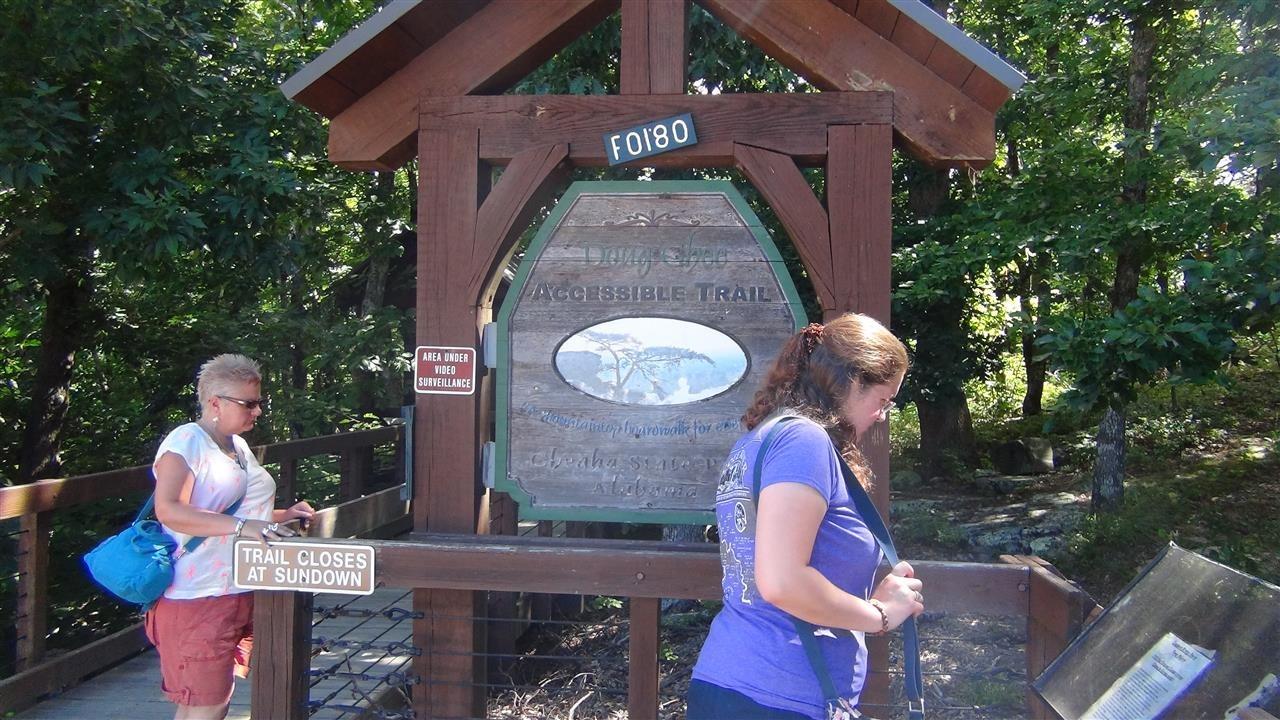 Our day begins with toast & fruit with yoghurt on our deck.
A few minutes away was our first stop Bald Rock trail , a convenient boardwalk to a stunning view.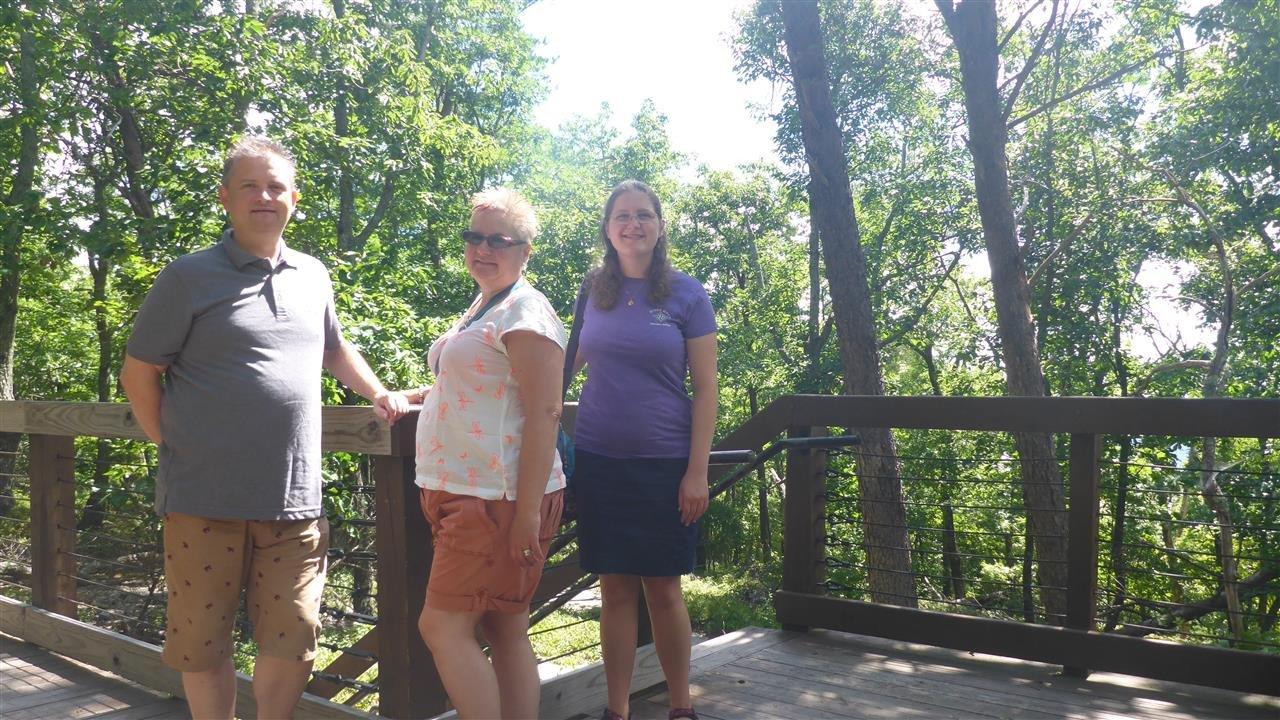 The sun peeped through the canopy , the breeze keeping us cool on our journey.
We passed another few people & after a gruelling quarter mile we reached the end.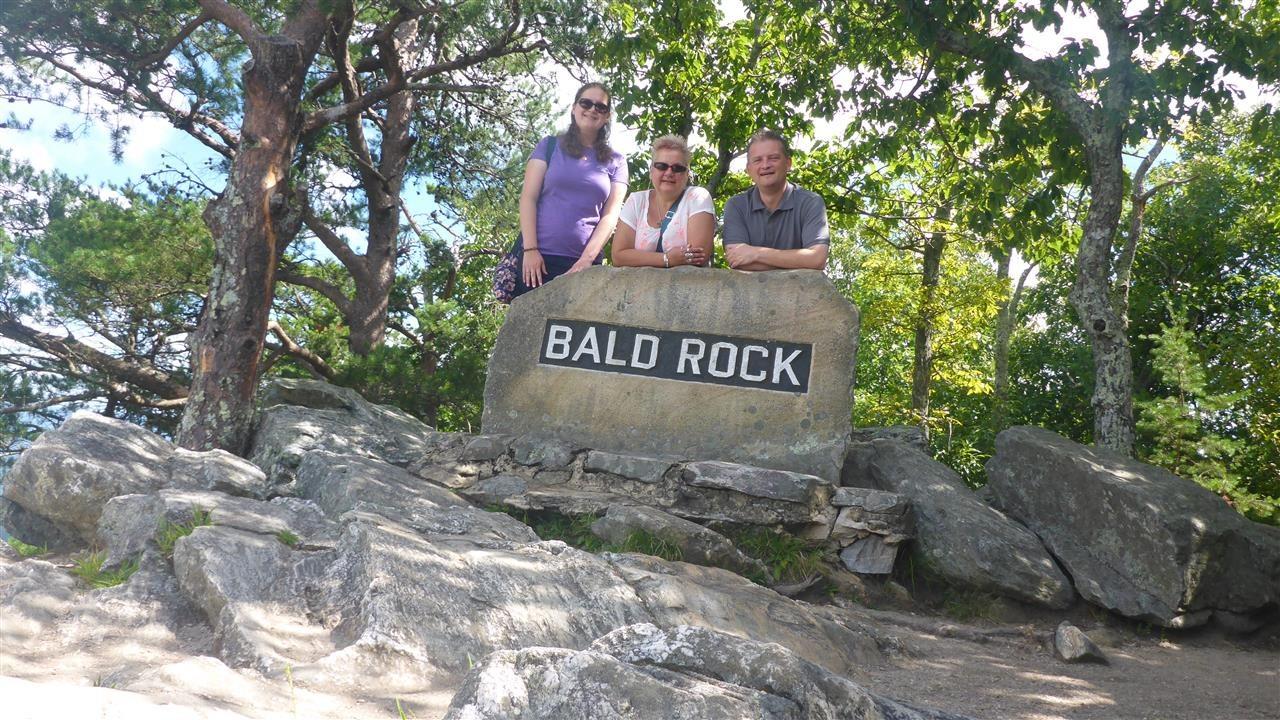 Bald Rock. An elderly gent ( a la Pat Marriott ), was offering tour advice to any comers.
Next stop "The Devils Den " a slightly more taxing & sweaty hike to some minor falls.
Low water meant, the water barely moved , our instructions were to proceed upstream, took us a while to work out which way that was !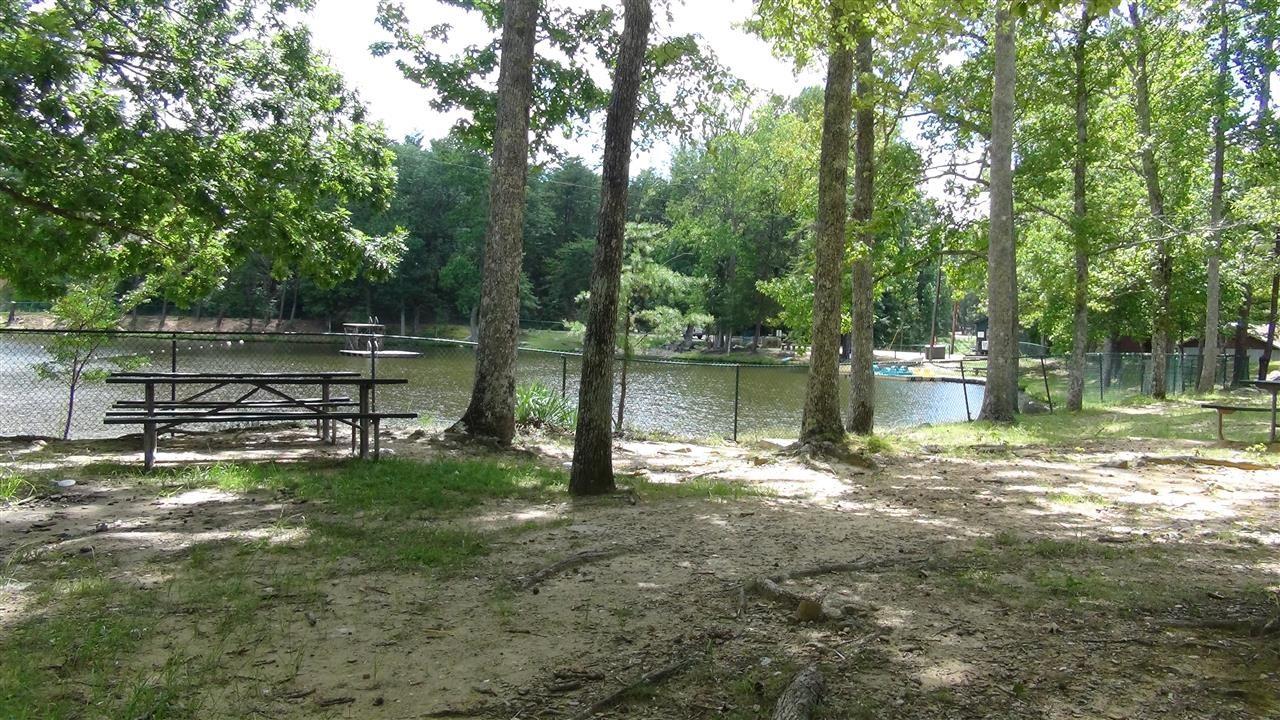 Our picnic lunch was enjoyed at Cheaha Lake , or poo lake as Ian named it, based on its unusual colour.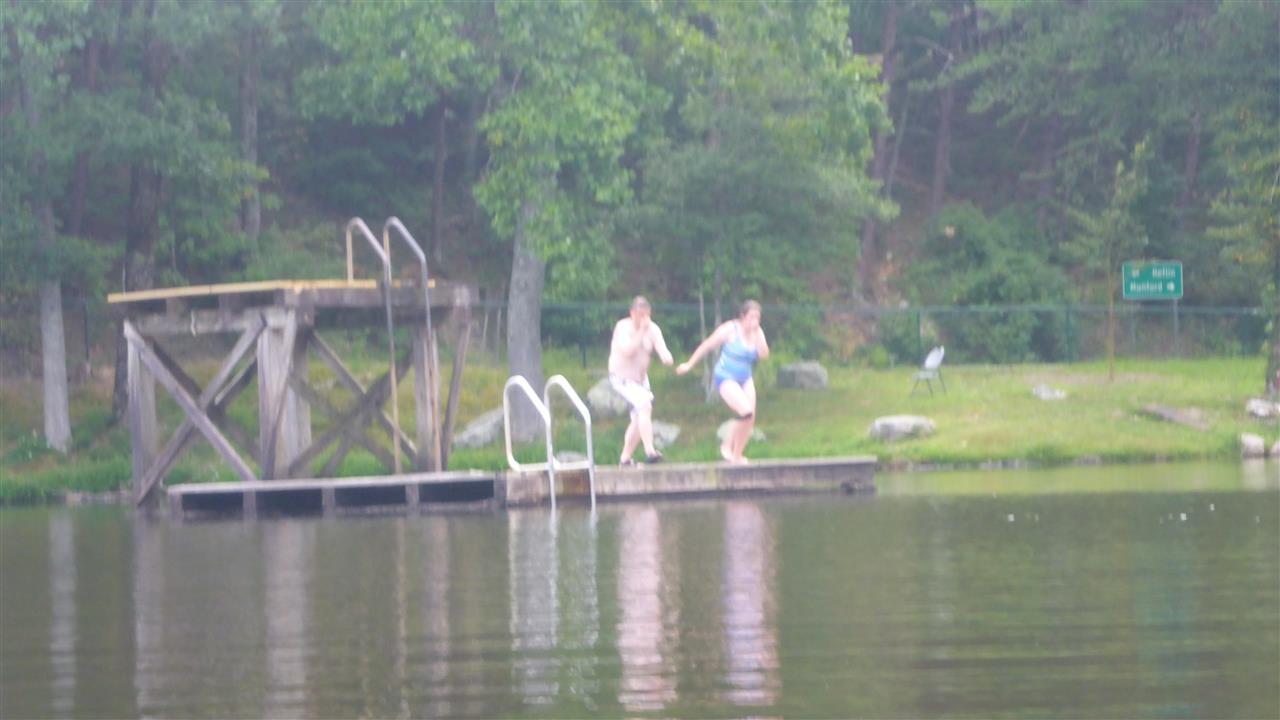 Some blurry pics of Ian & Hollie , jumping from the pontoon into the water.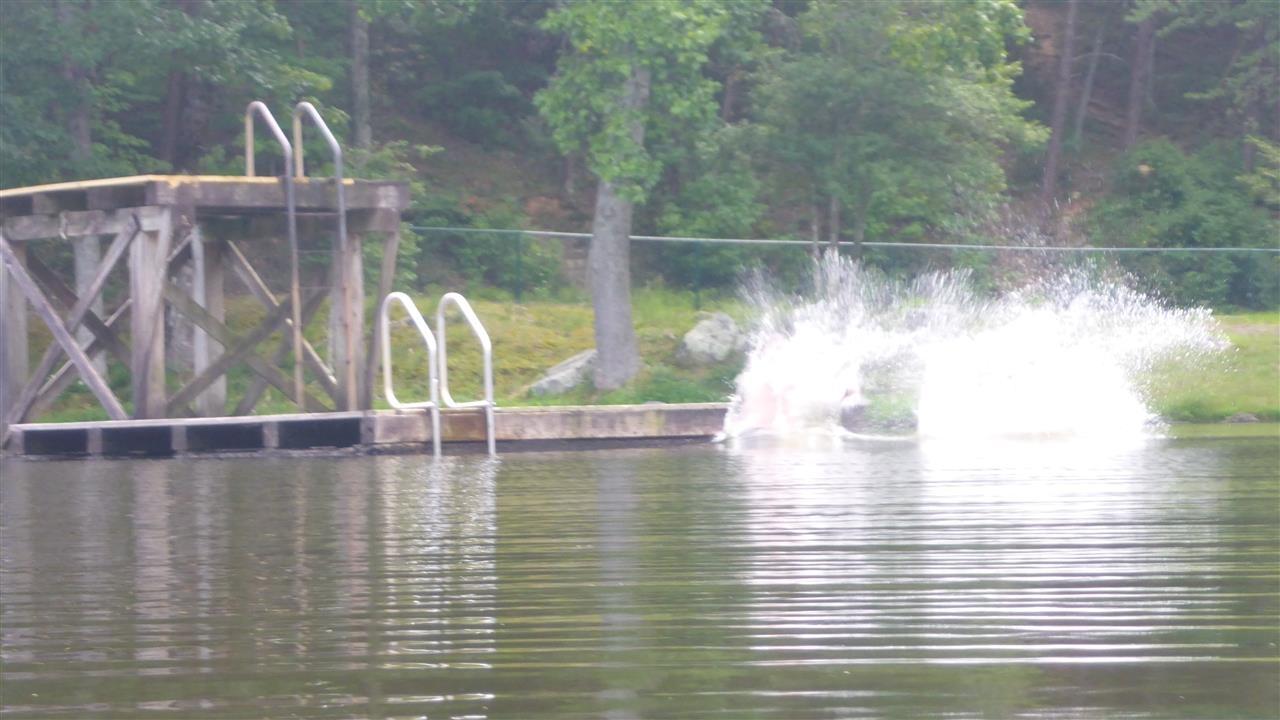 Tsunami !
Ian was determined we would eat Chinese tonight, after an exhaustive search , we discovered this little gem.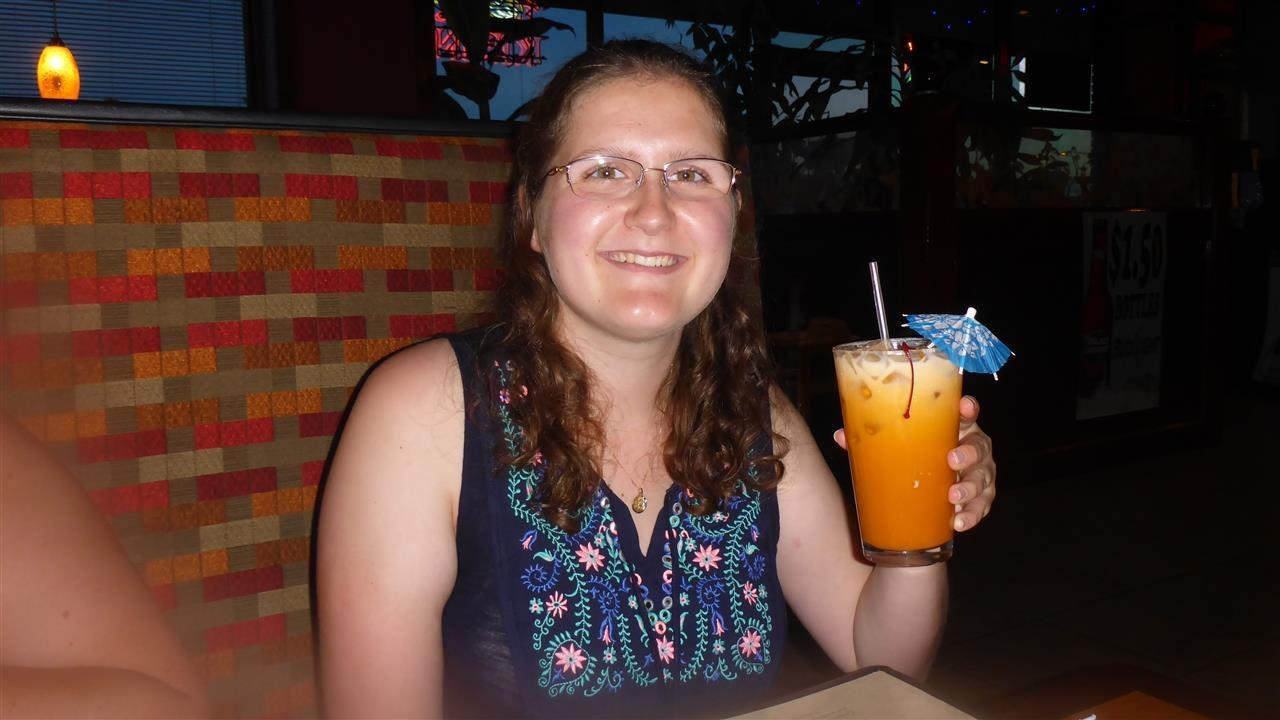 Hollie tried some Thai tea..
Our meal was lovely , well done Ian for finding this joint & driving us. Tomorrow we move south , Houston & Baton Rouge are experiencing significant flooding & bad weather. Hopefully things will be better by the time we arrive.

Goodnight all xxxx


Tuesday 16th August 2016
DAY
17

Panama city beach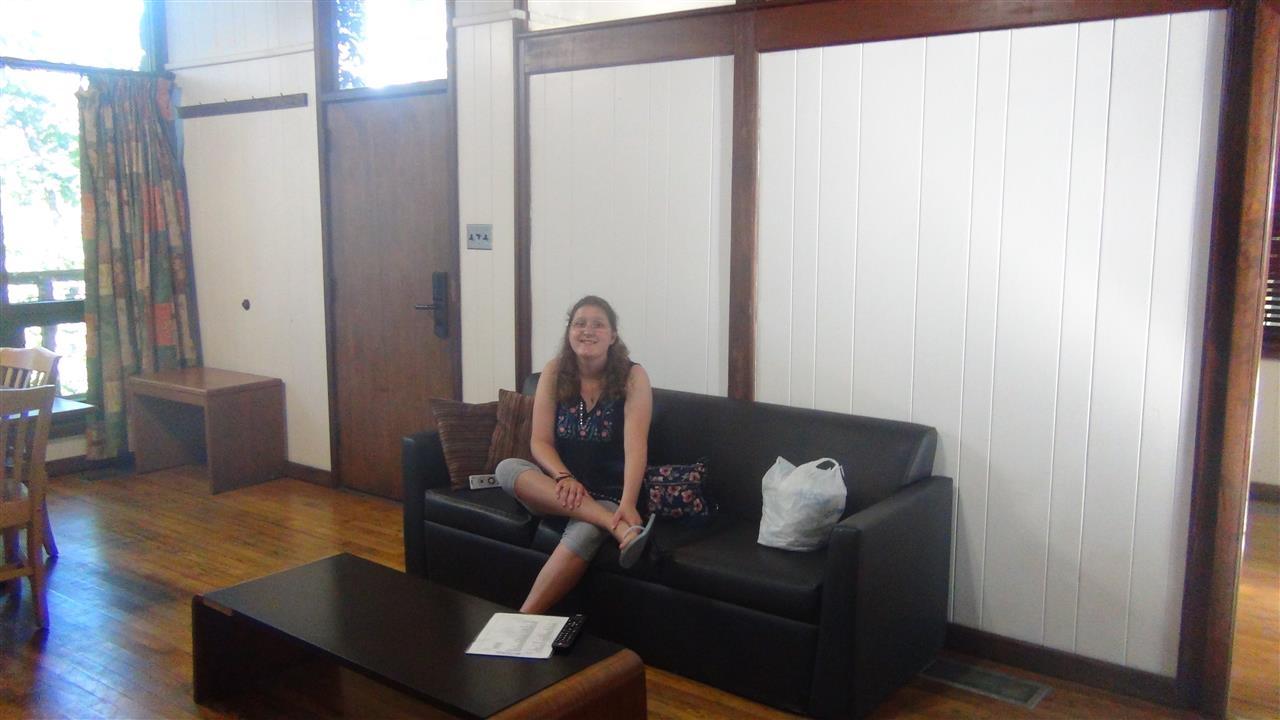 Goodbye Cheaha State Park Alabama. Our cabin served its purpose & allowed me to dry all my Laundry : )
After a few hours driving , we revisited an old friend Hardees..We loved their fresh burgers , Ian felt cheated by the lack of lettice...He's such a healthy eater.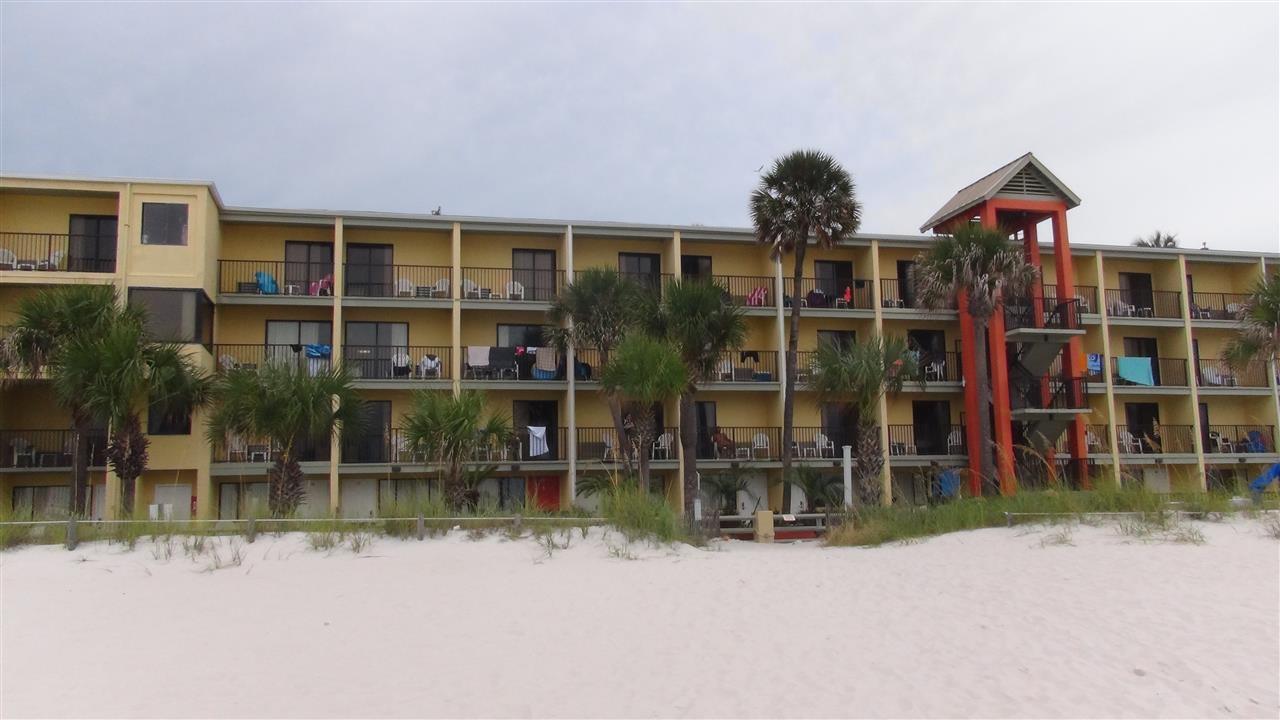 After a fairly spectacular thunder storm we arrived at Panama City Beach & our Beachbreak by the sea Hotel.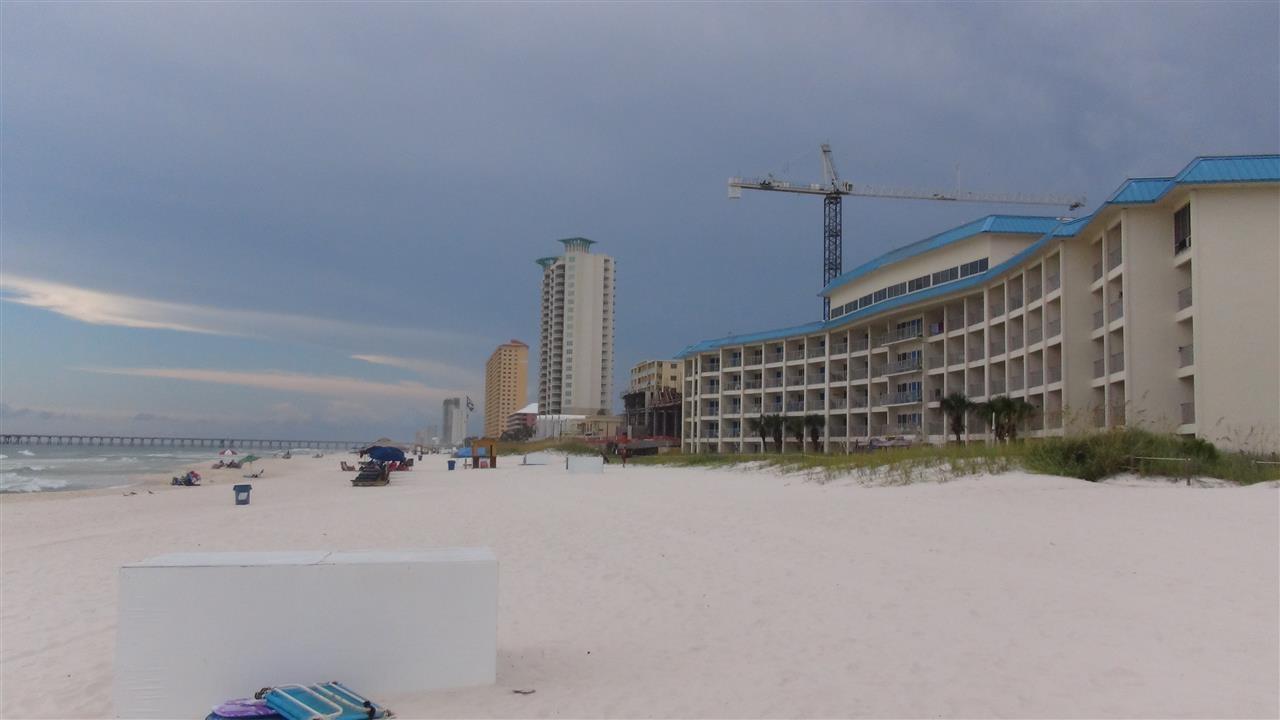 The overcast skies meant that our visit to the beach was bearable.
We saw this old alcoholic woman swigging Budweiser on the sand , it's all very sad.
The Surfer height waves made for great jumping !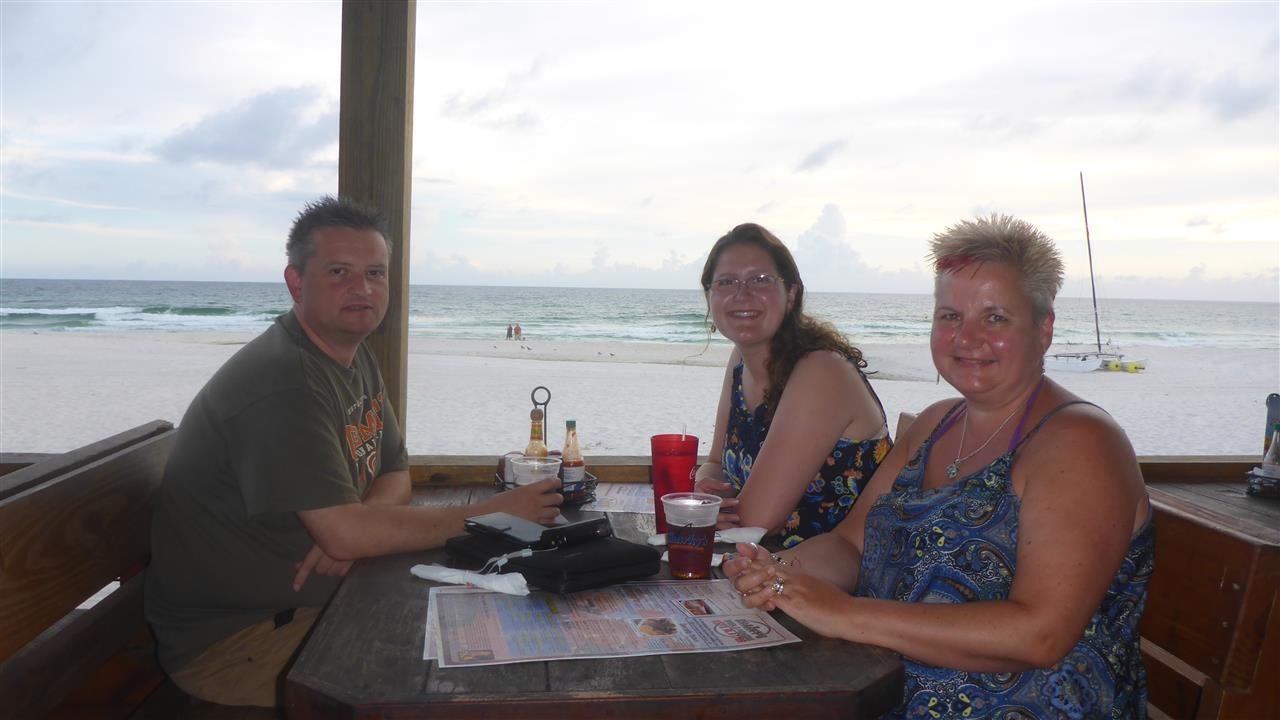 After our frolics we showered off and headed down the roadto Sharkeys for a few beers and hopefully some dinner.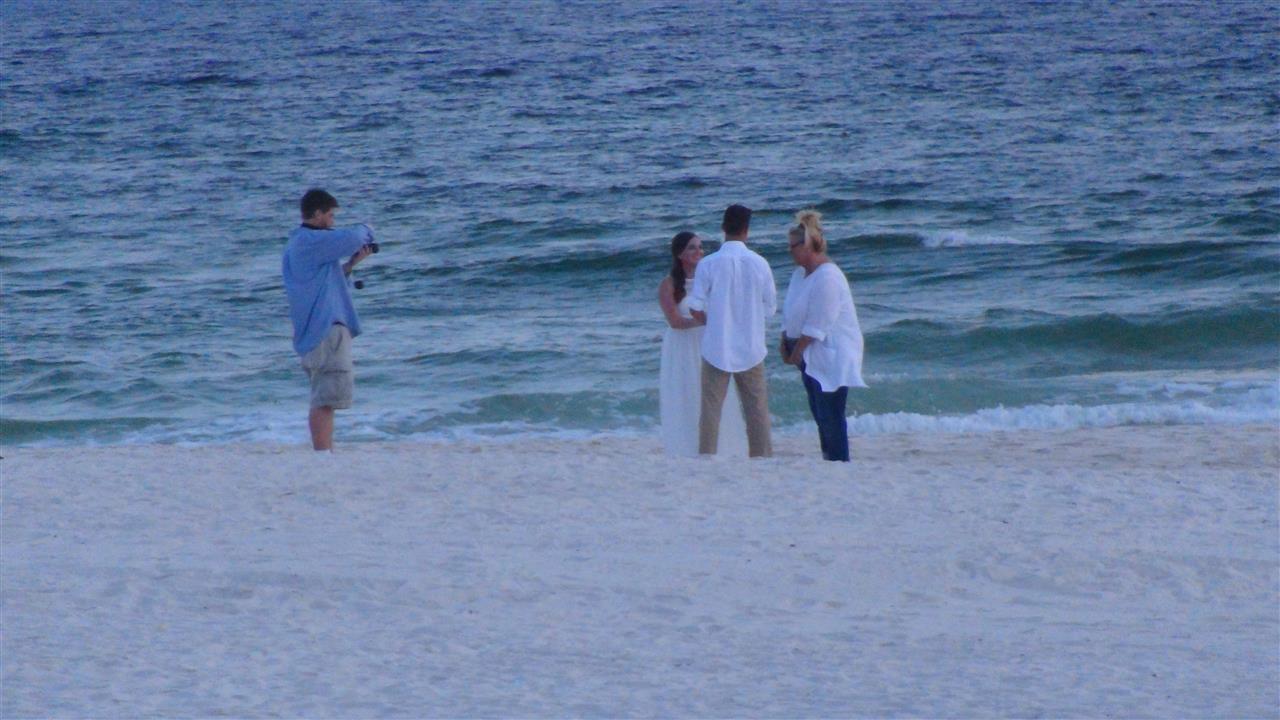 We saw a wedding taking place right outside our noisy restaurant!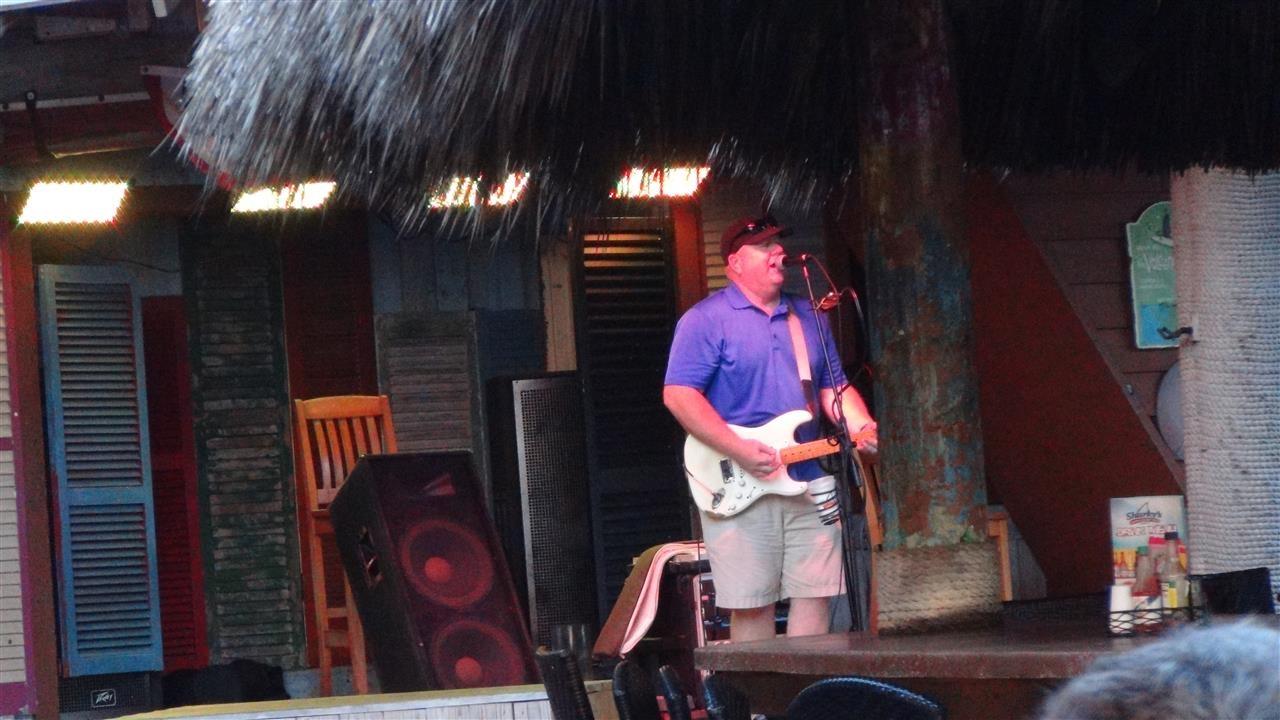 Our live music provided by this fine fellow.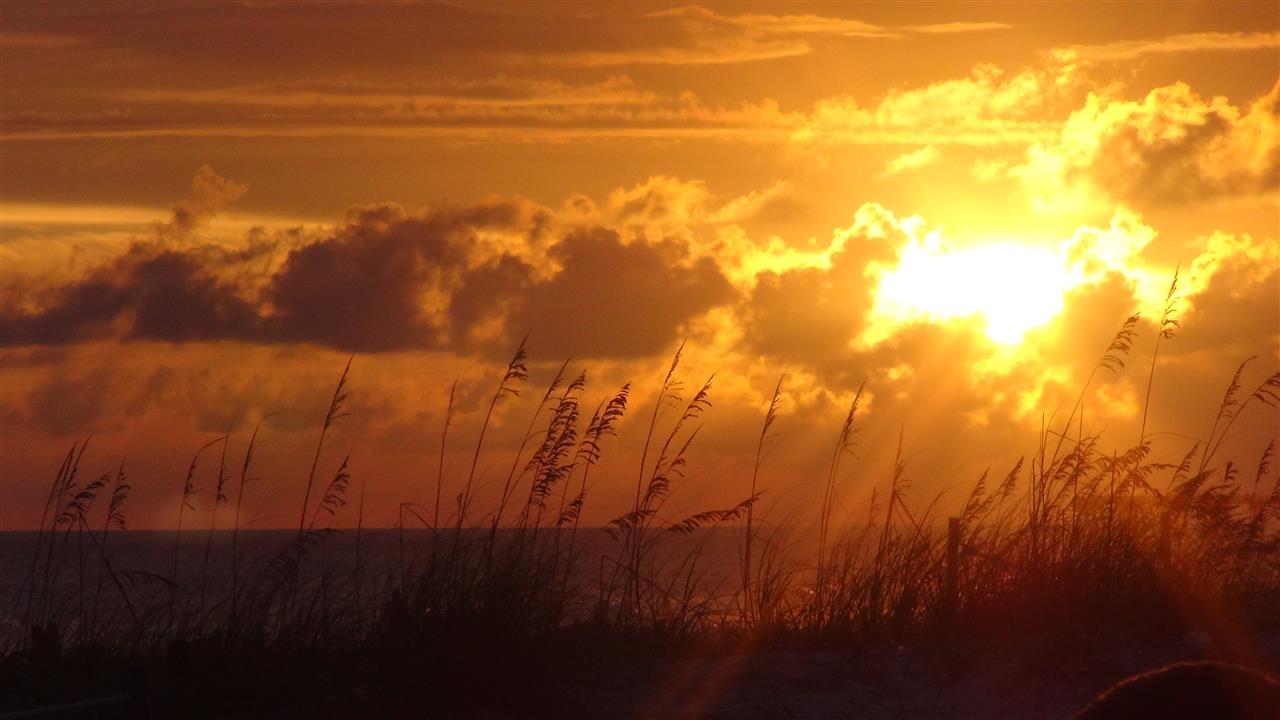 Ian captured some beautiful sunset snaps.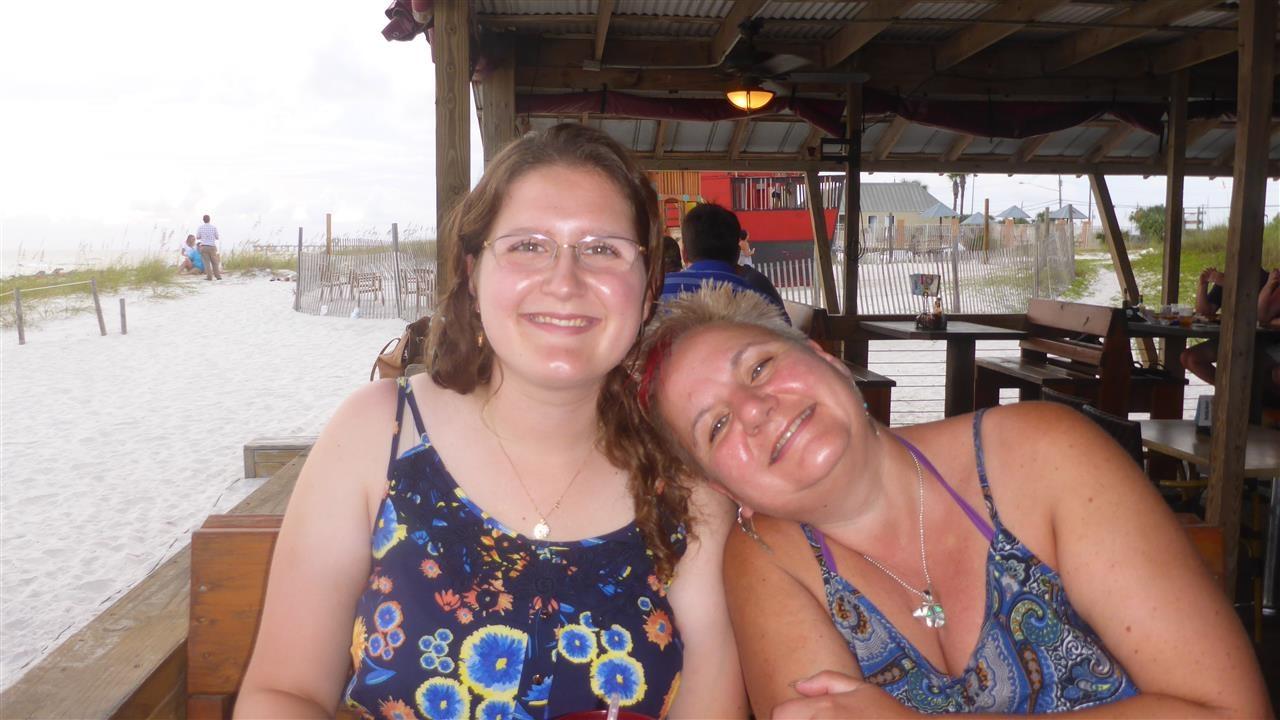 Happy 2 week anniversary to the bear family ..

Missing everyone at home , but loving our adventures .

Goodnight all xx
Wednesday 17th August 2016
DAY
18

Dolphin encounter.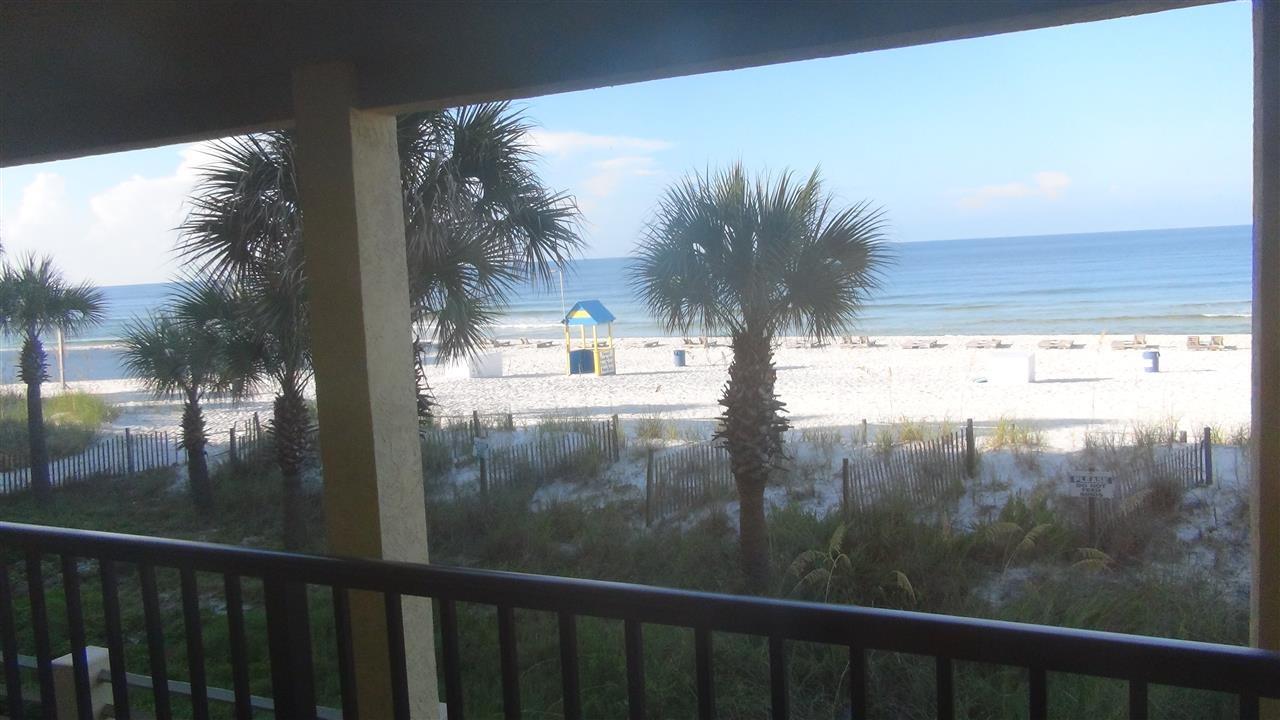 Not a bad view to wake up to?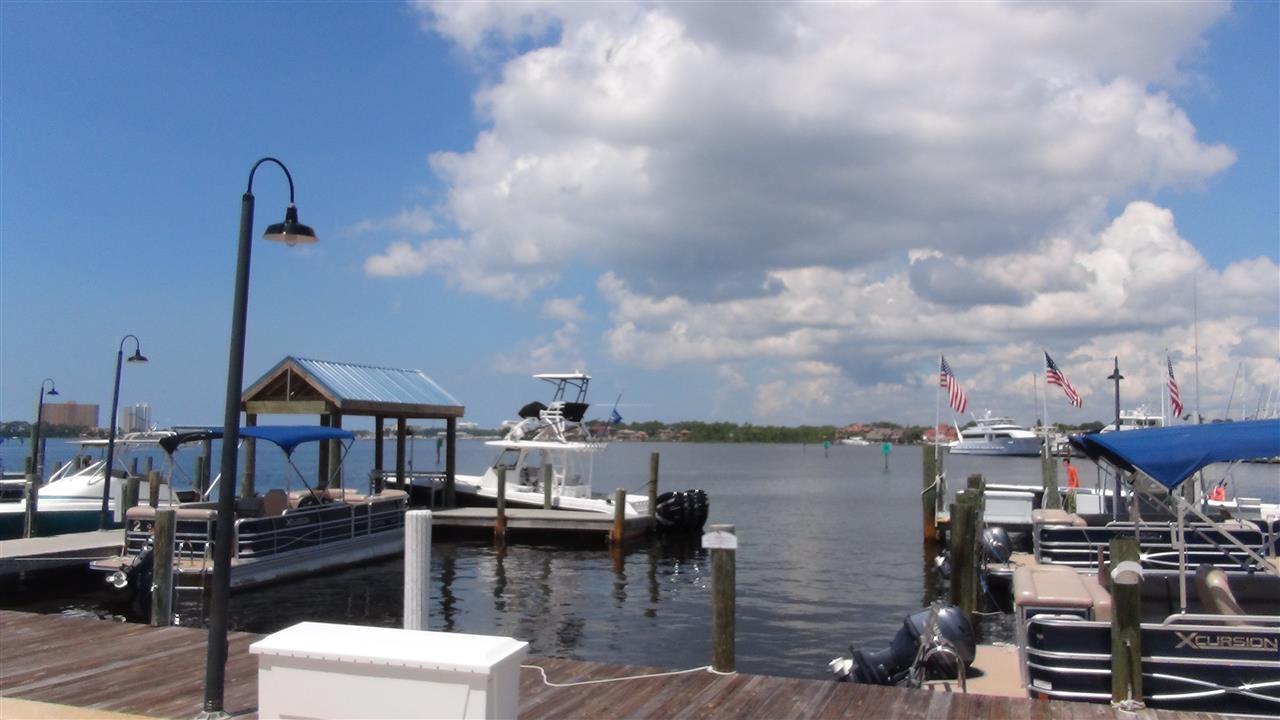 Bay Point Marina was our destination to meet our Captain Scott for our Dolphin adventure.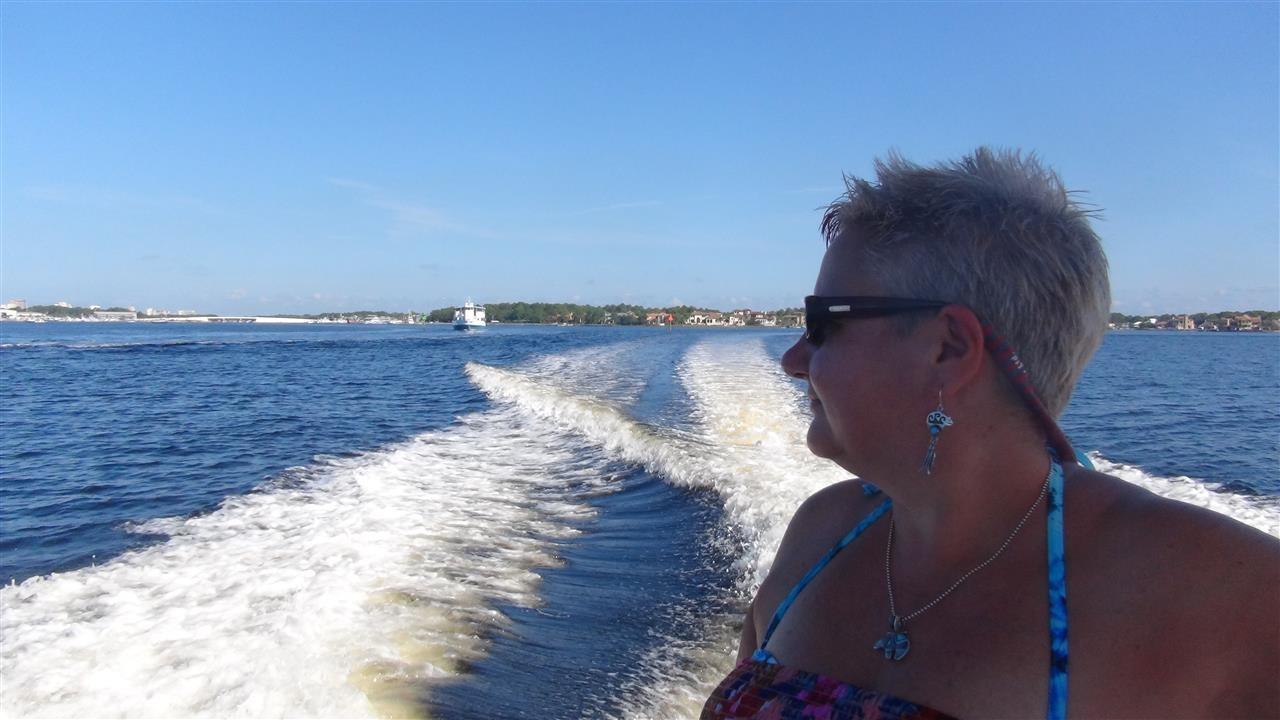 And we are off !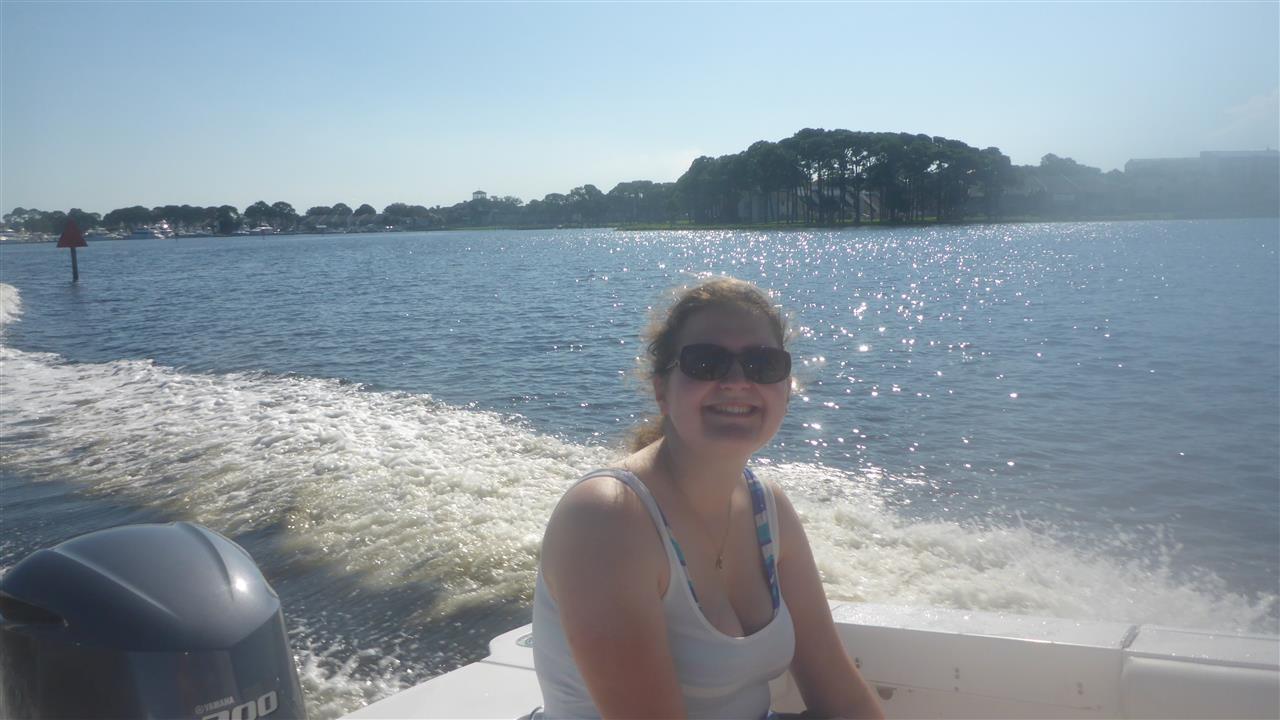 We were the only passengers on Scotts 6 seater boat.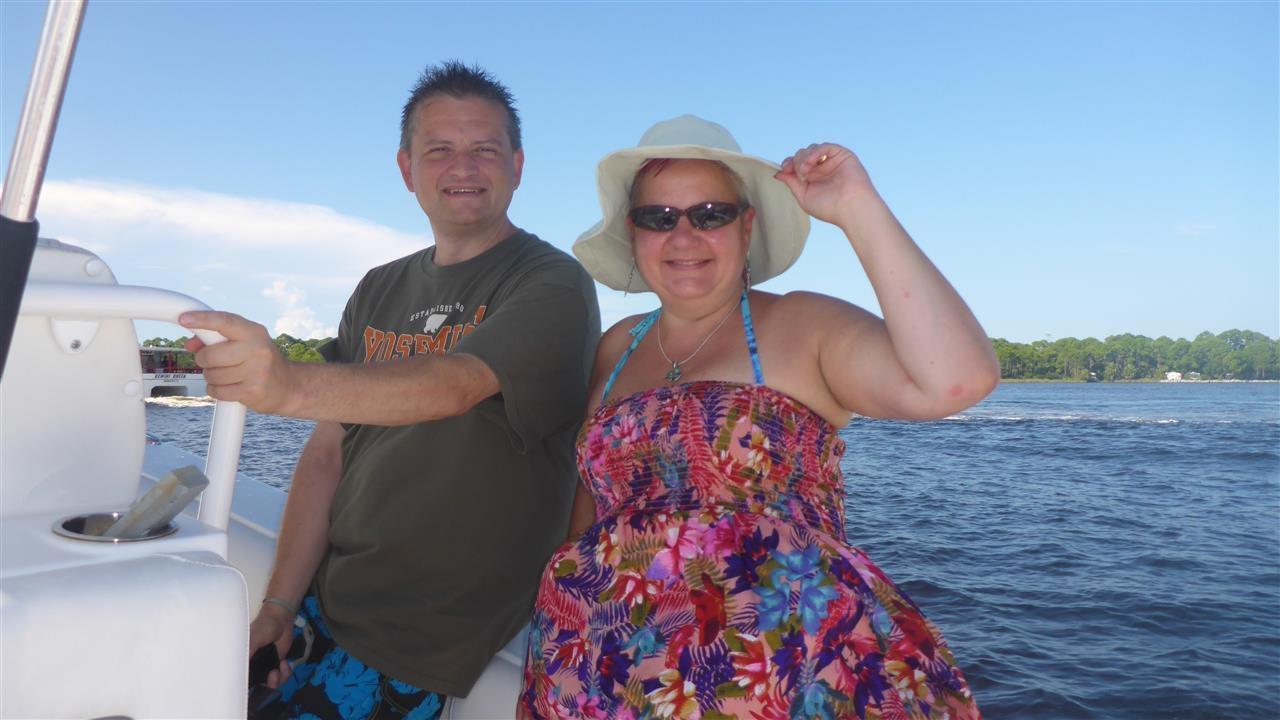 The day was beautiful & warm.
As we motored along a brisk breeze cooledus off.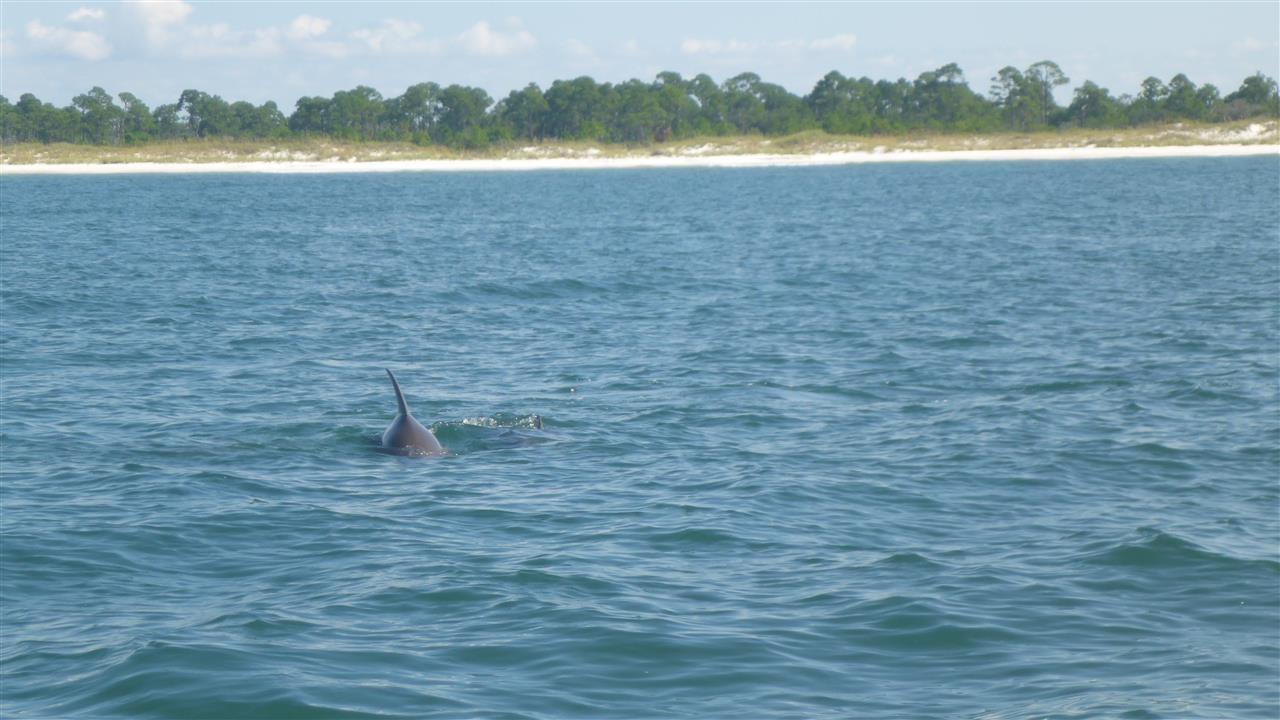 We met some isolated pairs of Dolphins , they seemed shy of our boat.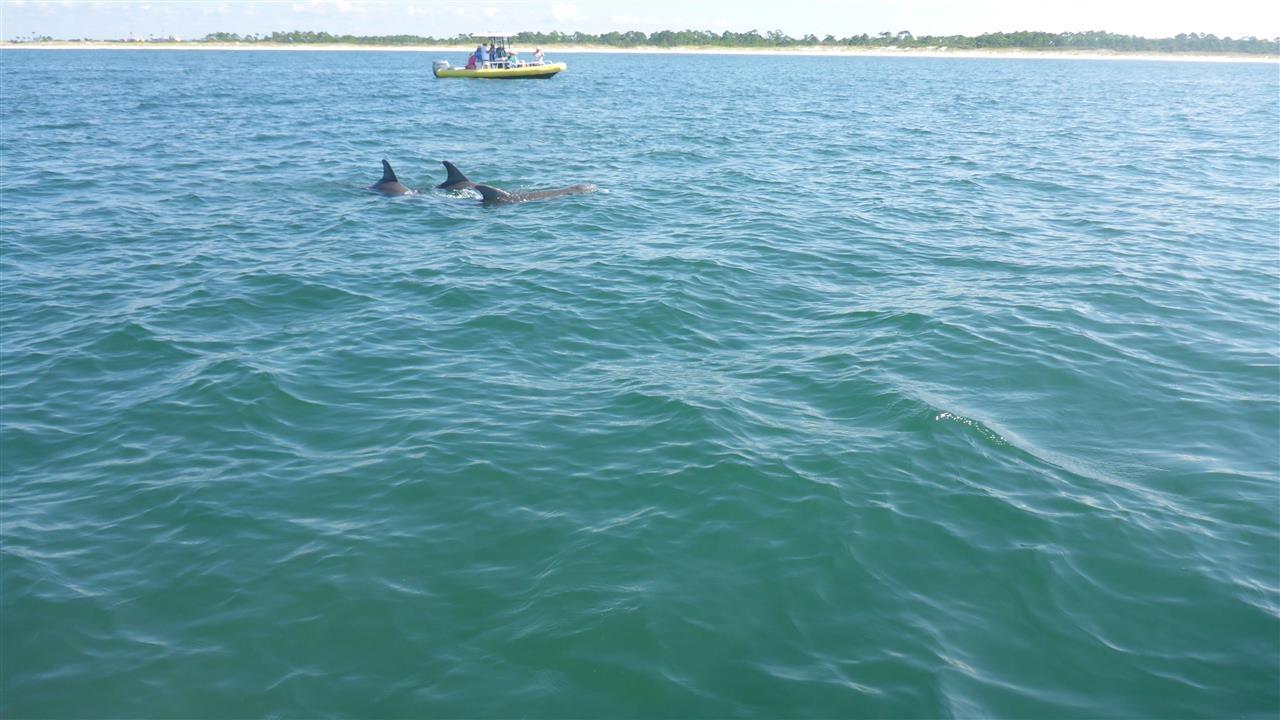 Scott pointed out we may have interupted some mating ..Opps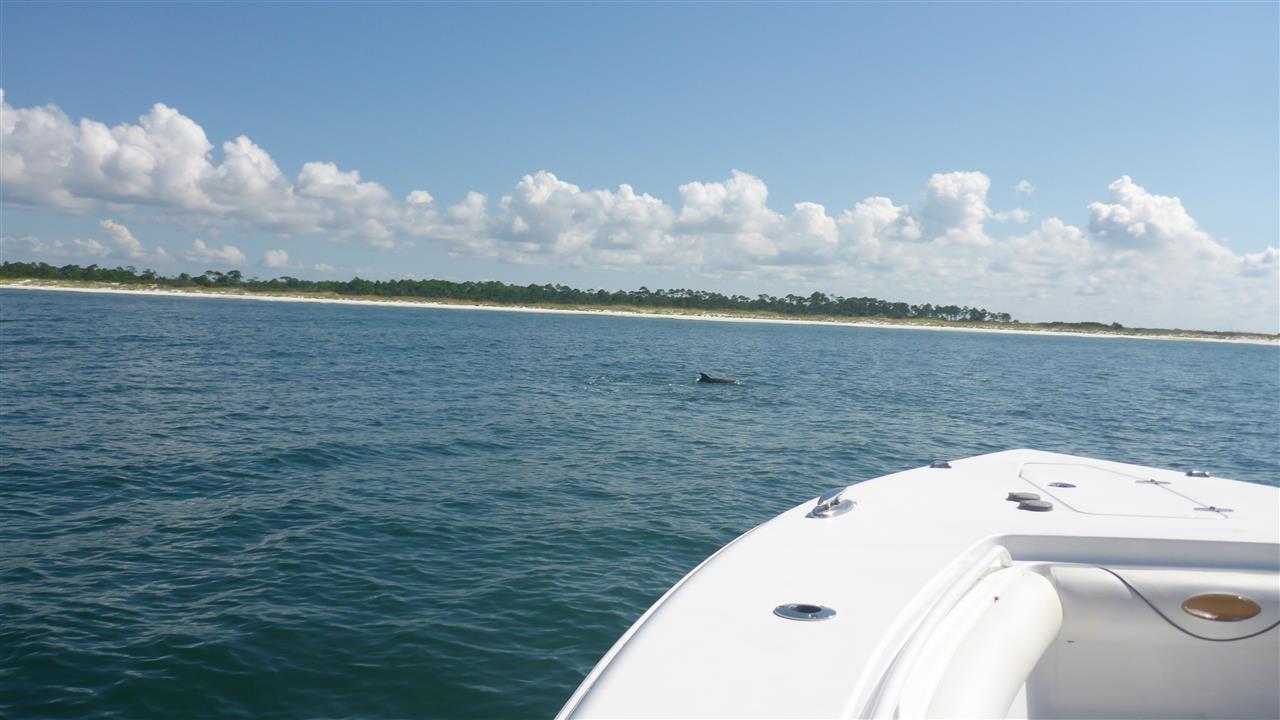 The bay was calm & we were happy to drift with the dolphins.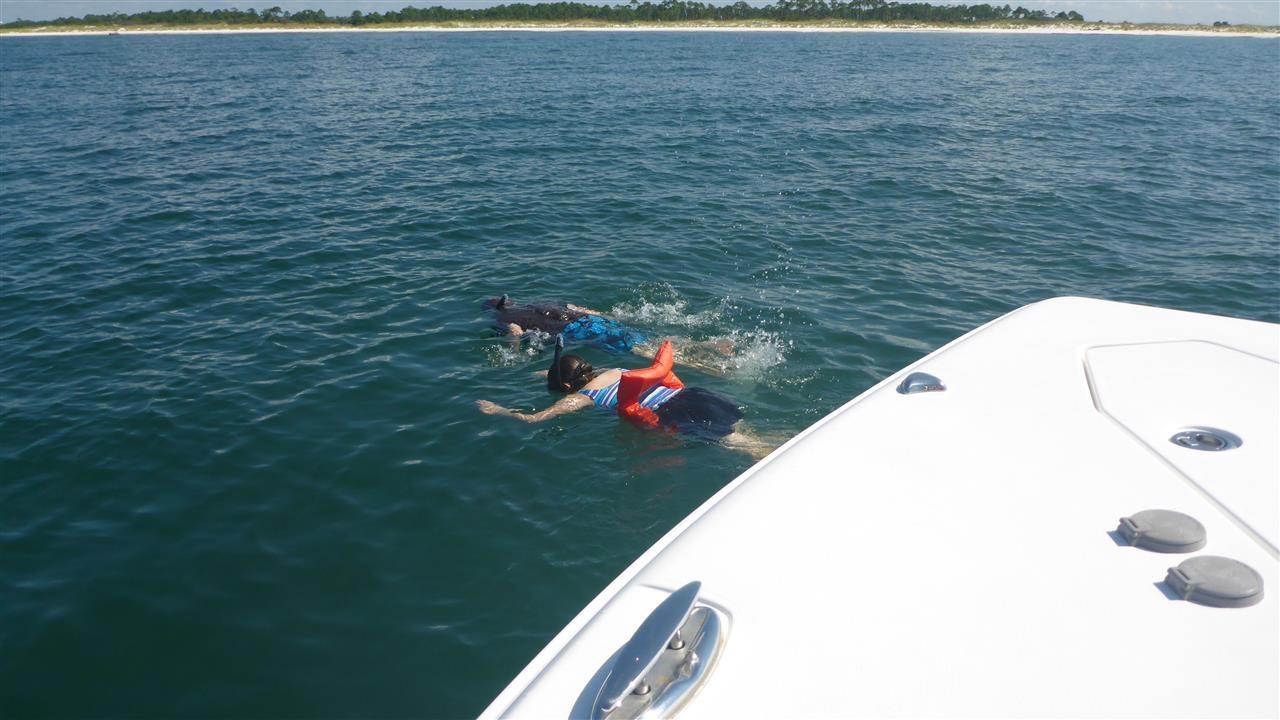 Ian & Hollie ventured into the water as Scott placed the boat in line with the swimming pod. Unfortunately ,whilst it looked like a few Dolphins were within 8-10 feet of our swimmers, they didn't manage to get up close & personal with Mr or Mrs Dolphin.
I joined the adventurers for a cooling dip, the water wasn't as clear as normal due to the recent storms & bad weather.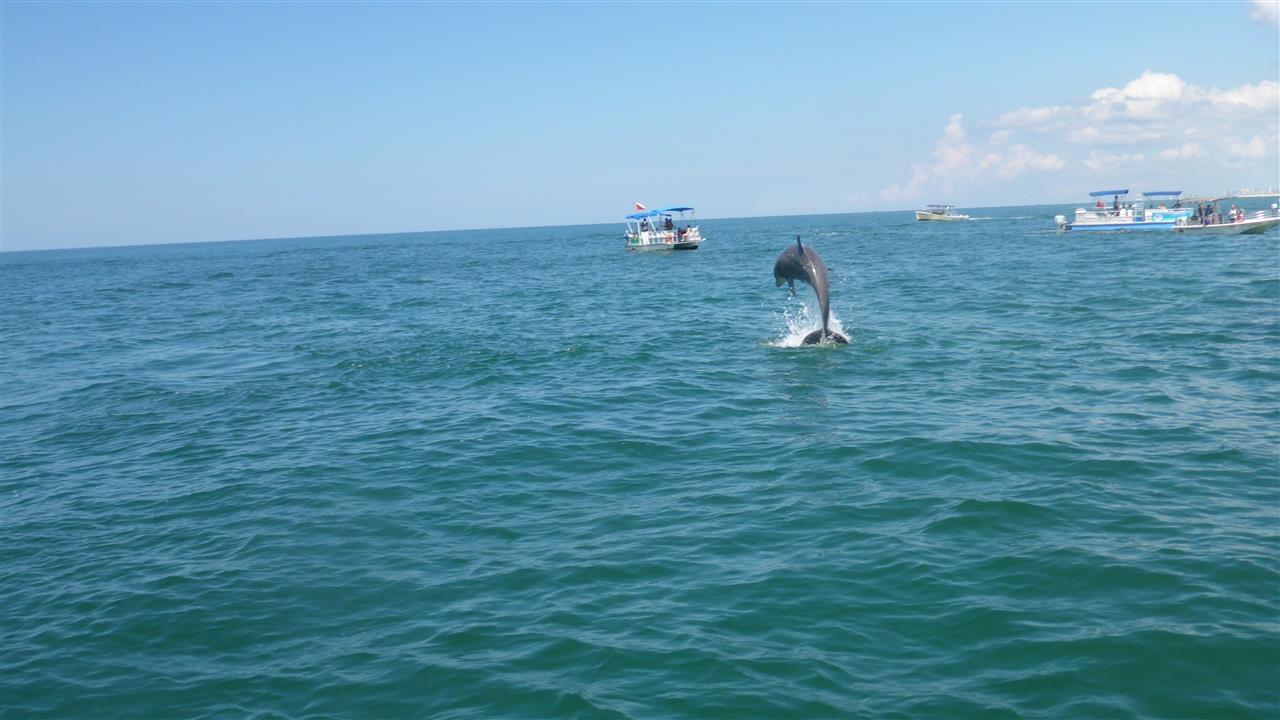 This beauty jumped at just the right moment for my camera.
We were lucky enough to encounter a larger group towards the end of our trip.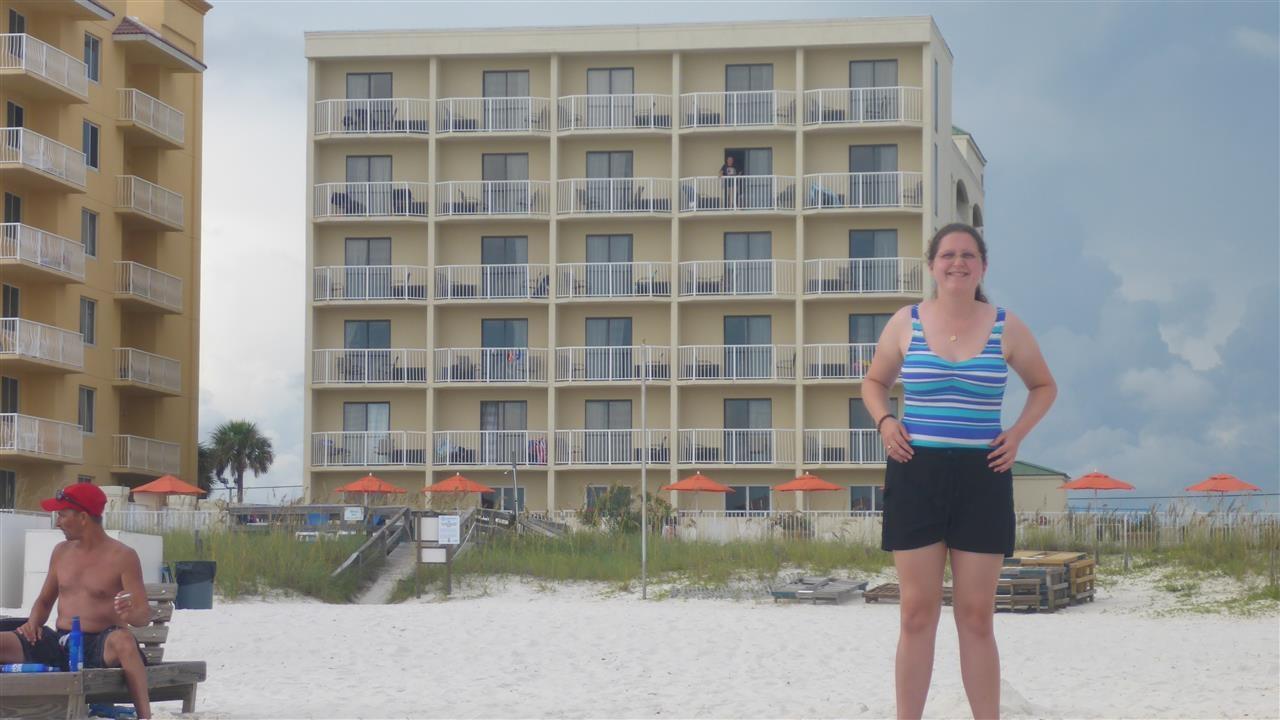 Back at our hotel Hollie & I venture into the water. Notice the weirdo on the balcony behind us, I think he has a camera.
Yep, he was photographing us !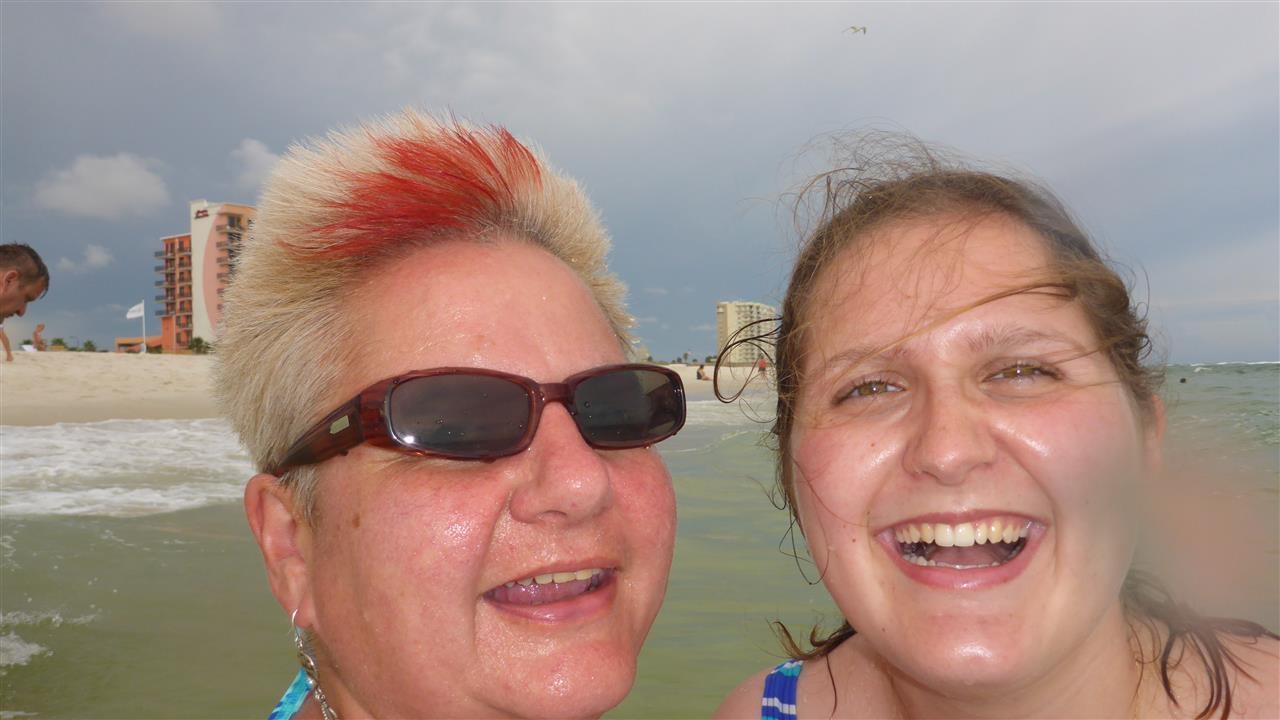 Windswept selfie xx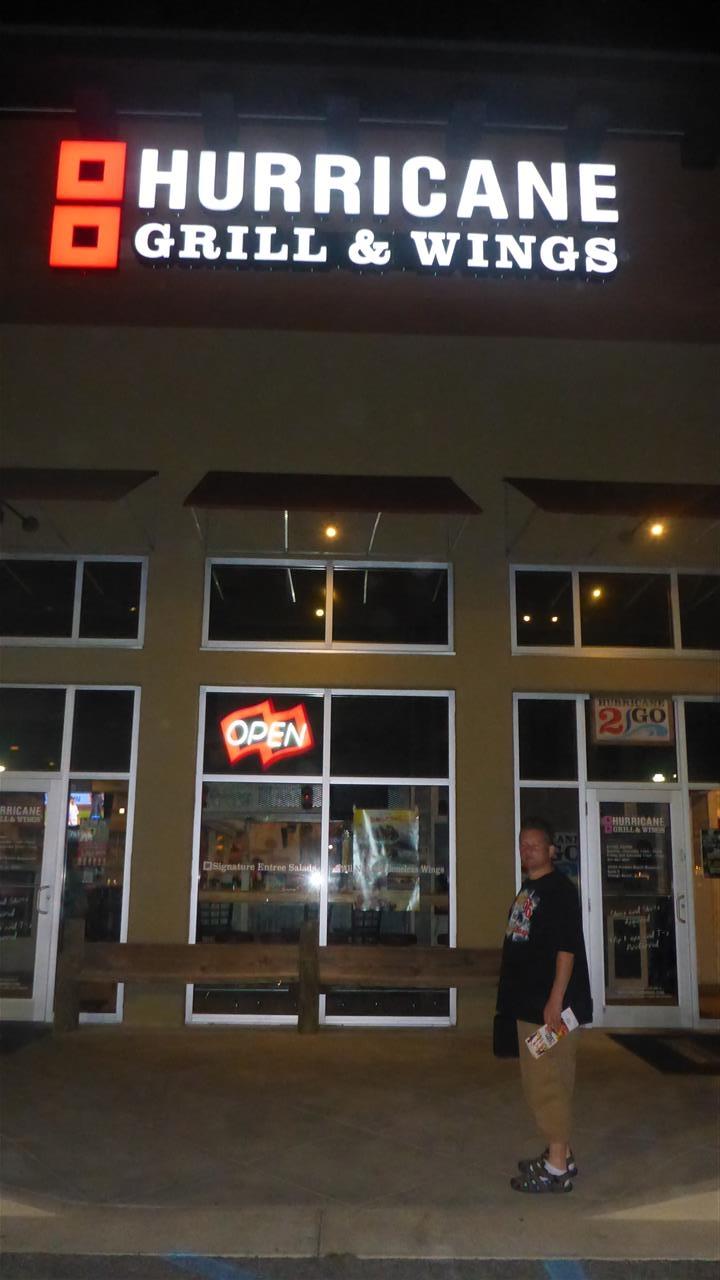 After a couple of false starts , we end up here for some salads & Calamari.
Well I have a white sunglasses mark and a red nose. we are tired & happy.

Goodnight dear friends

xxx
Thursday 18th August 2016
DAY
19

New Orleans here we come !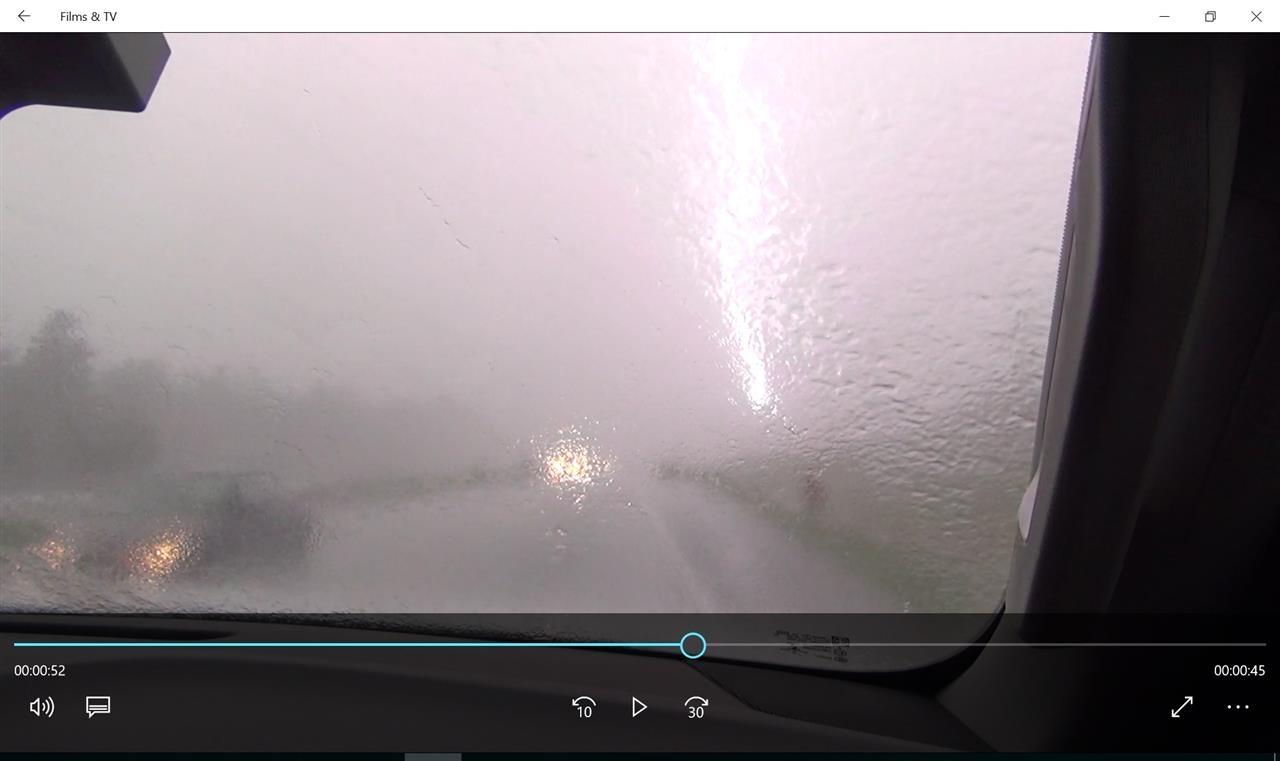 Back in time to our journey into Panama City beach and a shot of a lightening strike, which hit a telegraph pole just a few feet from us, Ian isolated this still shot from my video footage.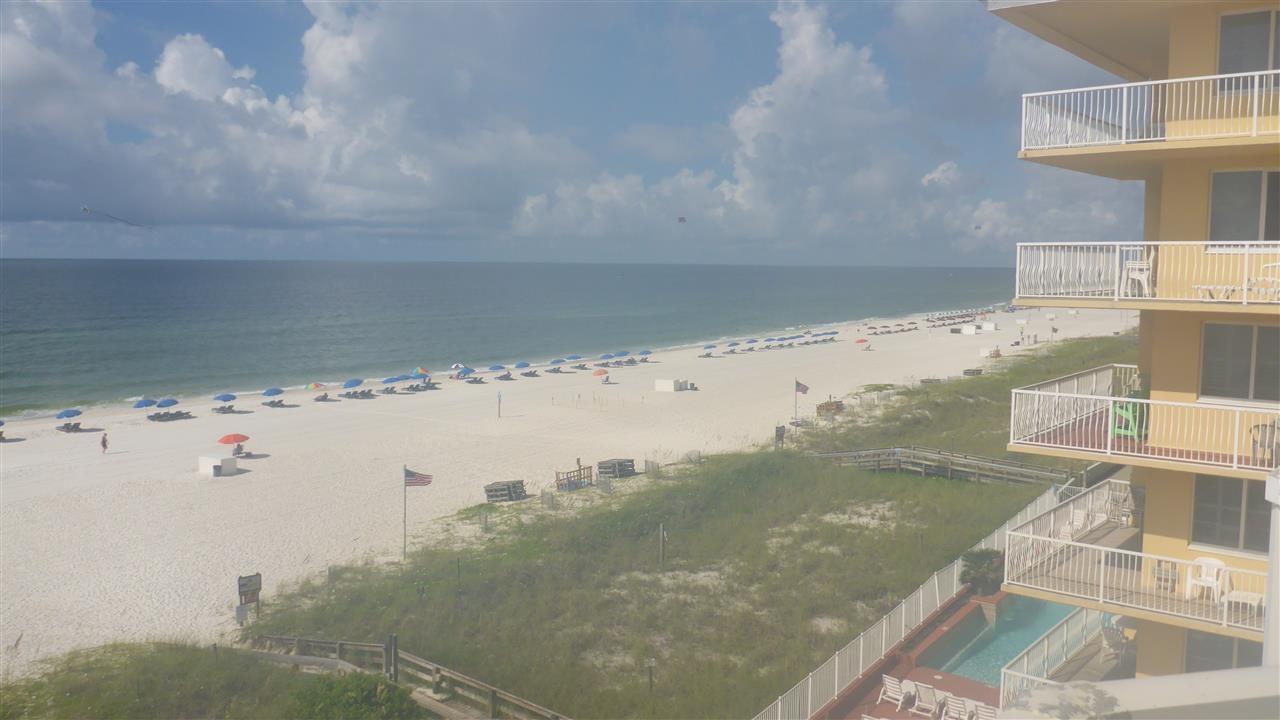 Orange beach gave us another brilliant wake up view , but no time to enjoy the beach .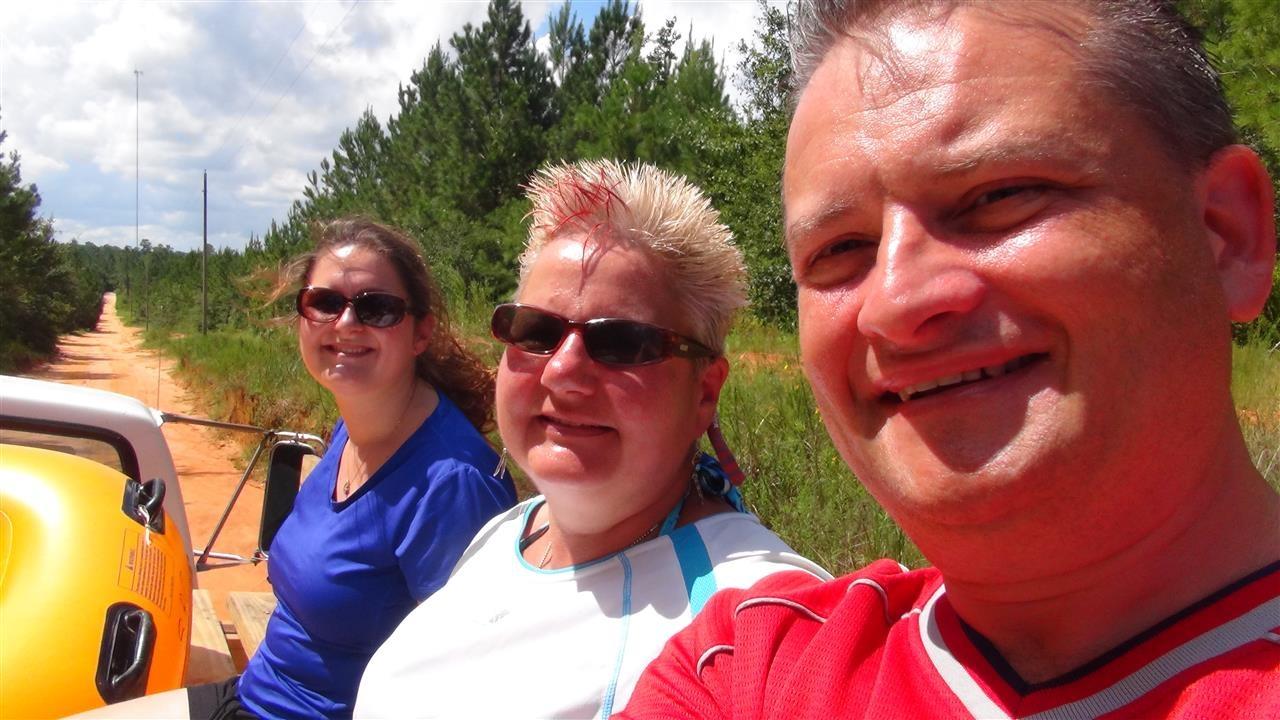 Styx river , an hours drive away .. We paid our money and were driven 4 miles upstream for a lazy river ride back to our car.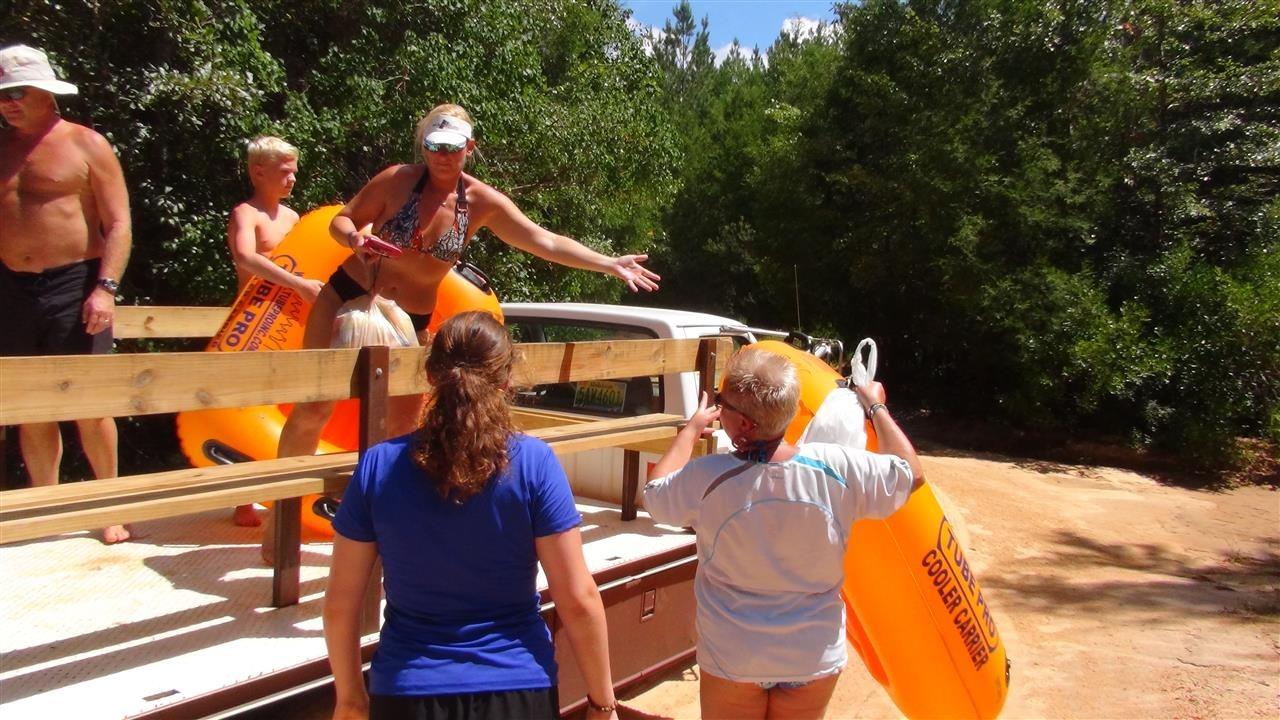 This unorthodox method of travel, seats made from 2x4's bolted to the flat bed of the owners truck.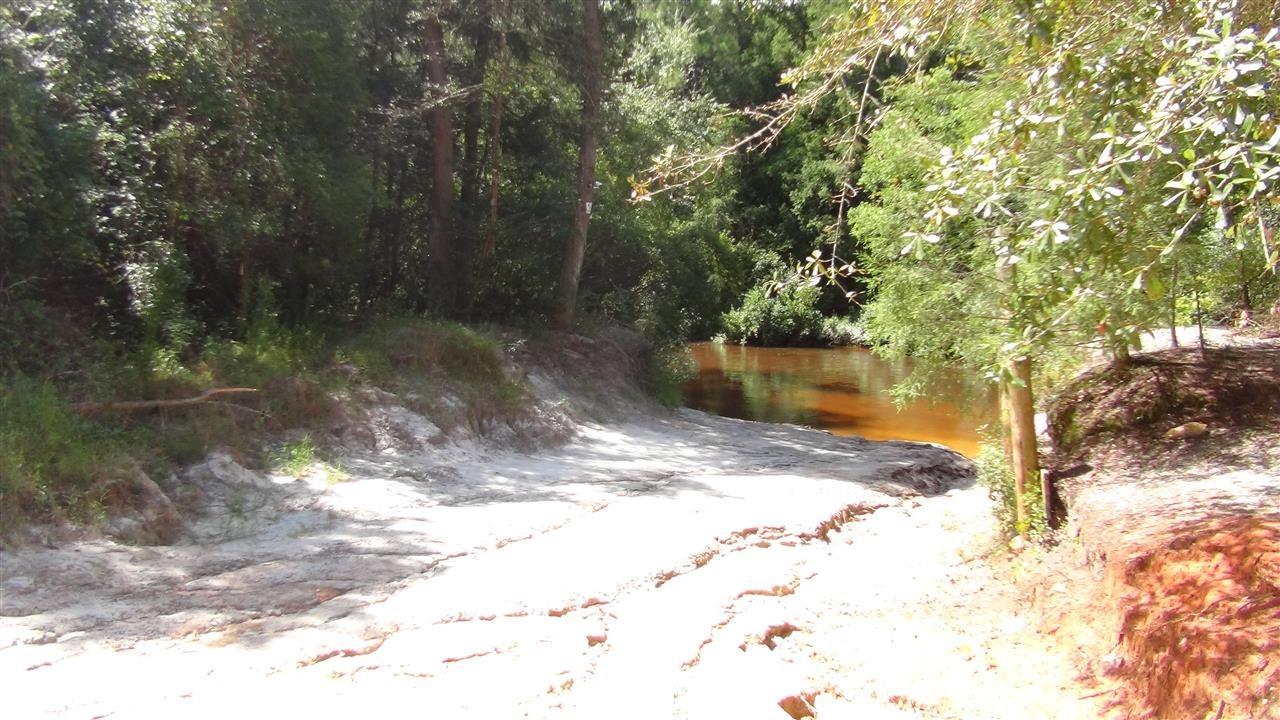 Again the cold tea coloured water boasted " no jellyfish" well thats a relief !
Our extra orange floatie, was designed to hold our cool box & was tied to one if us with string. Certainly big enough to hold a small grandmother carrying a port & lemon.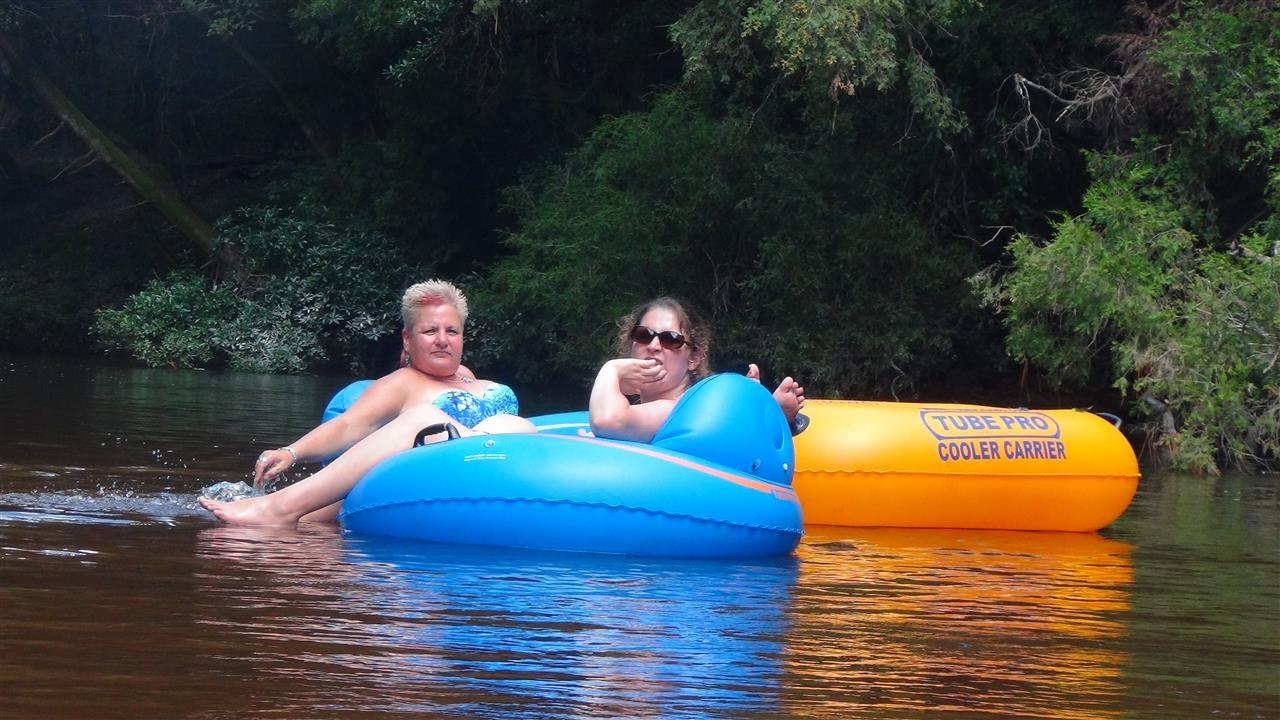 We had a few encounters with bushes and low hanging branches, which deposited dry leaves , spiders & assorted bugs on the unlucky rafter.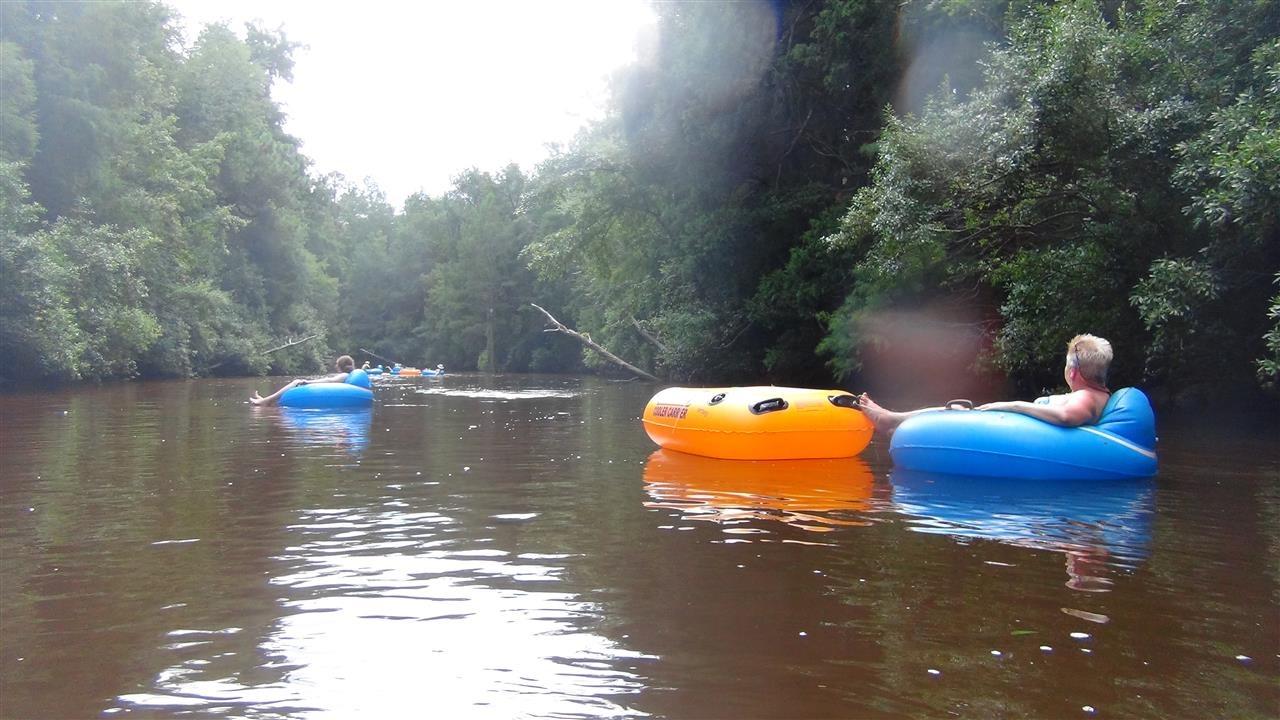 After about 30 minutes the sky began to rumble & fat rain drops splattered us, we pulled out onto a small beach for a while.
The storms didn't seem to be getting closer so we continued on, glad to see the finish line after our 2 hr+ float.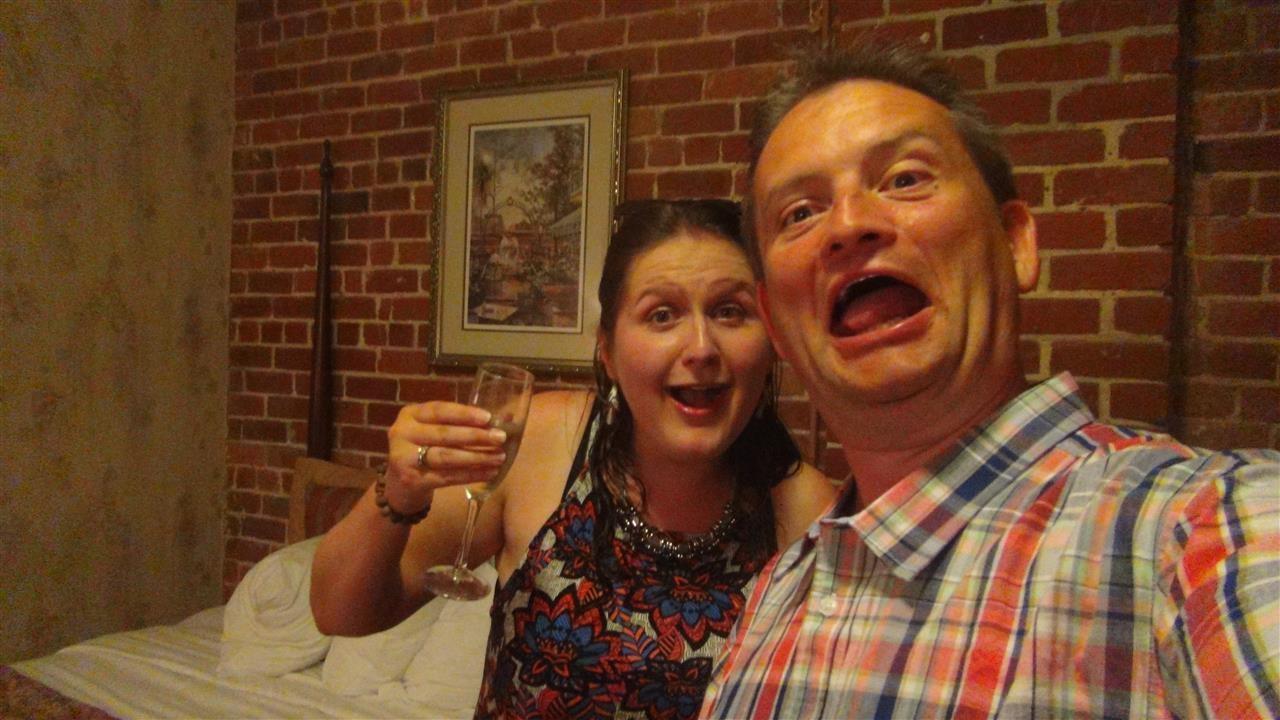 Well as they say , a little bit of bull goes a long way.
Having requested a private balcony as it was our "anniversary " ( Not ). The balcony was not possible , however our bell boy delivered a card & bottle of champagne.
These 2 idiots were on their 2nd glass, before I was even out of the shower !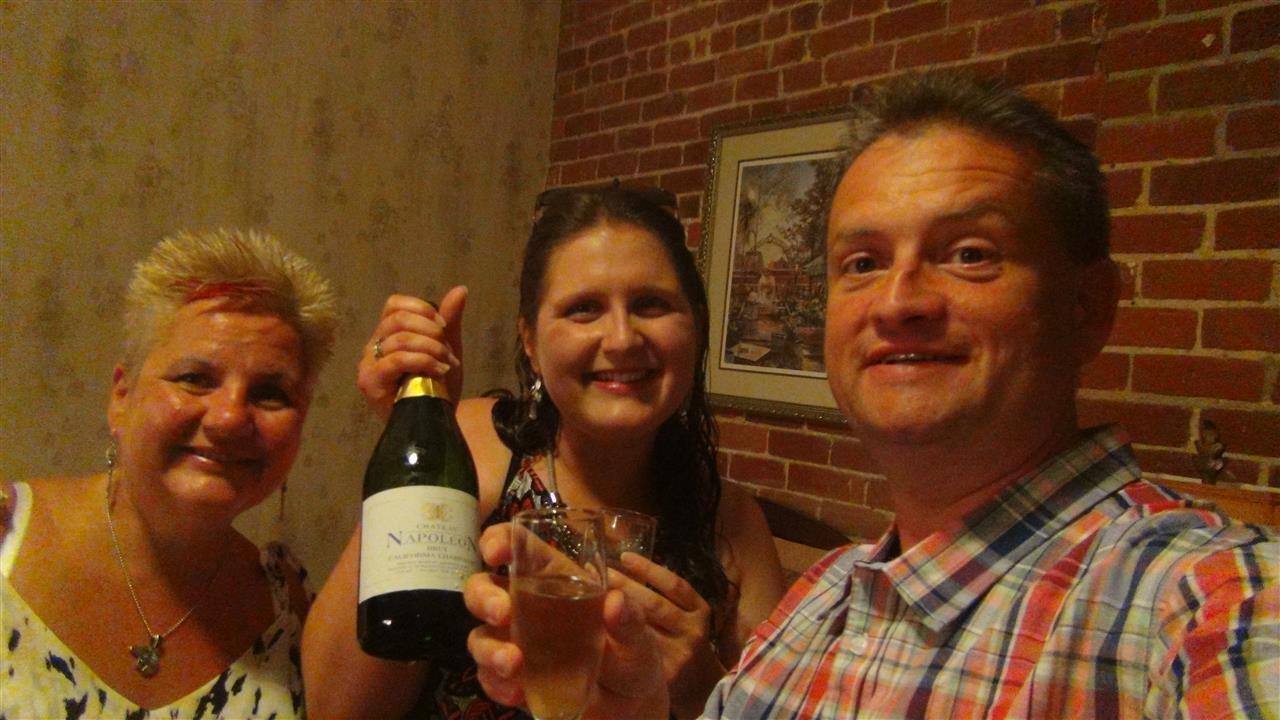 Fortunately there was a glass left for me !
Hollie comented that it was easy to see how a place like Bourbon Street , could scare the beejeezus out of a 13 yr old kid, which she was on our last visit.
I think grown up Hollie was much more chilled , particularly with 2 glasses of my champagne & a cocktail or 2 inside her !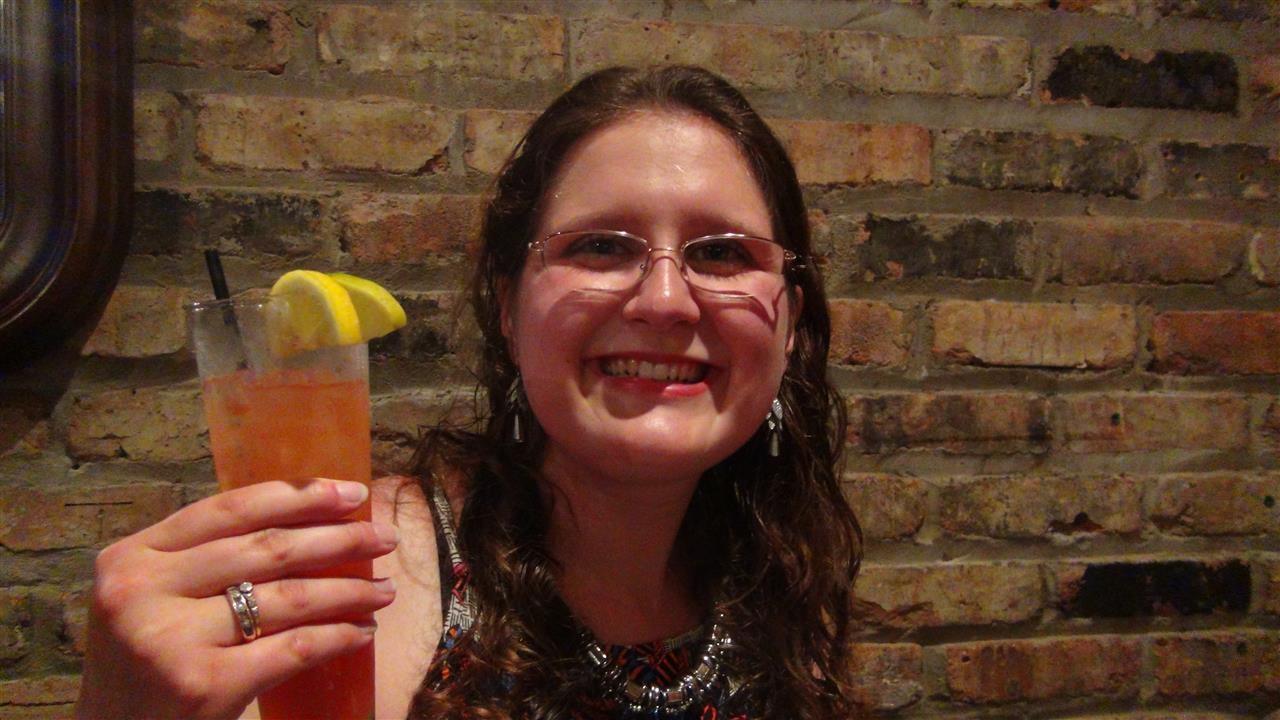 Cheers all , dinner at Pier 24 , the usual fare of pasta , seafood, Salad & fries.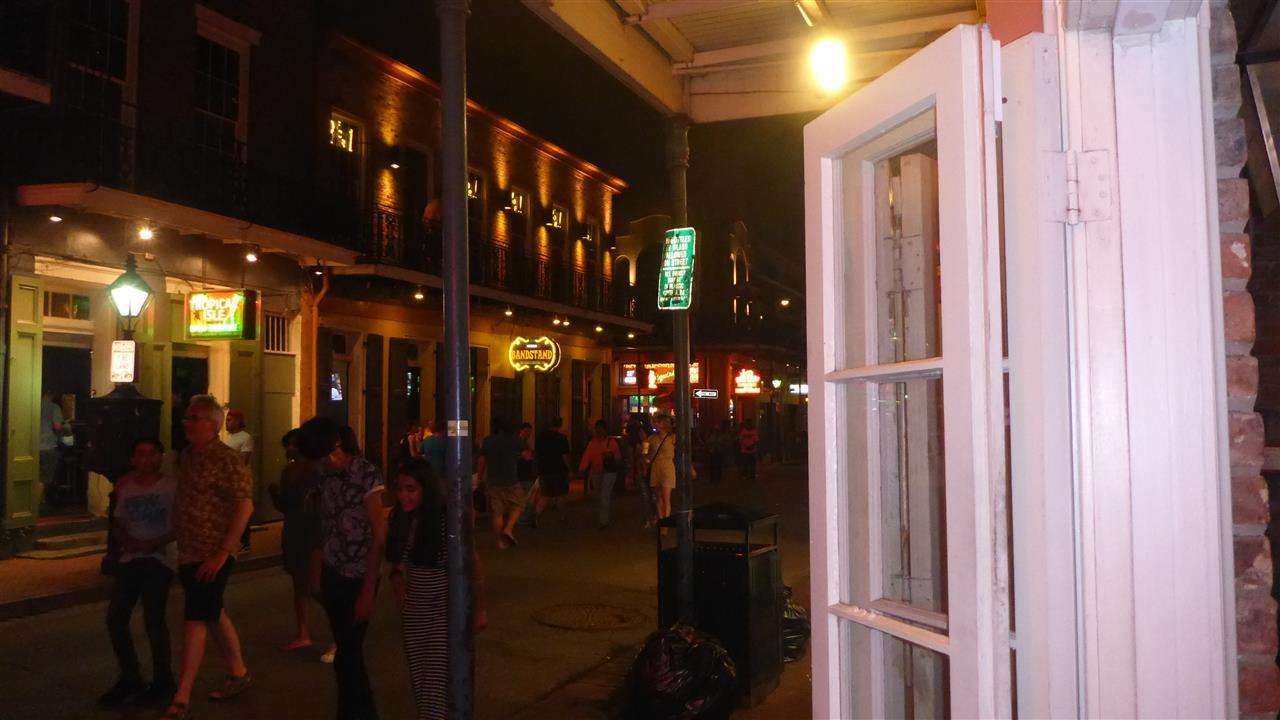 A stroll home through the revellers, to our Place De Armes Hotel deep in the French Quarter to enjoy the rest of our "Not anniversary"..

Good night all xxx
Friday 19th August 2016
DAY
20

Oak Alley Plantation & The Natchez.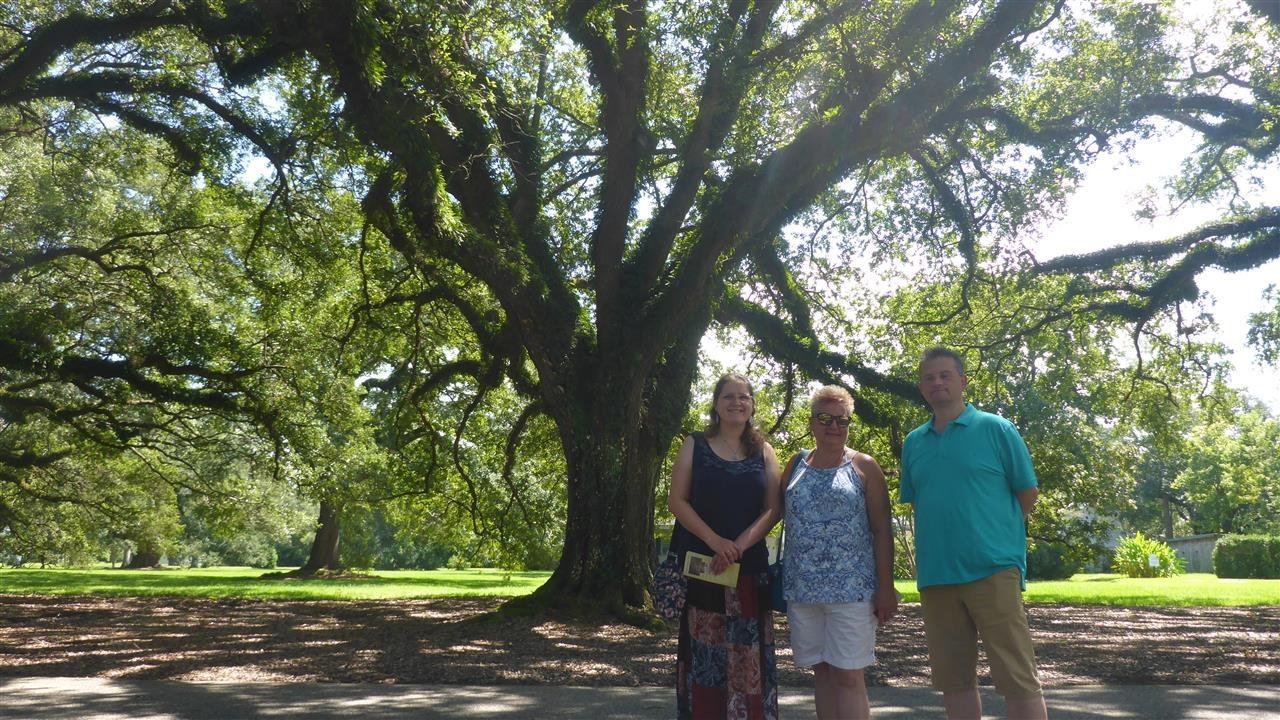 We drove out an hour or so to an area rich with history, the plantations of southern Louisianna.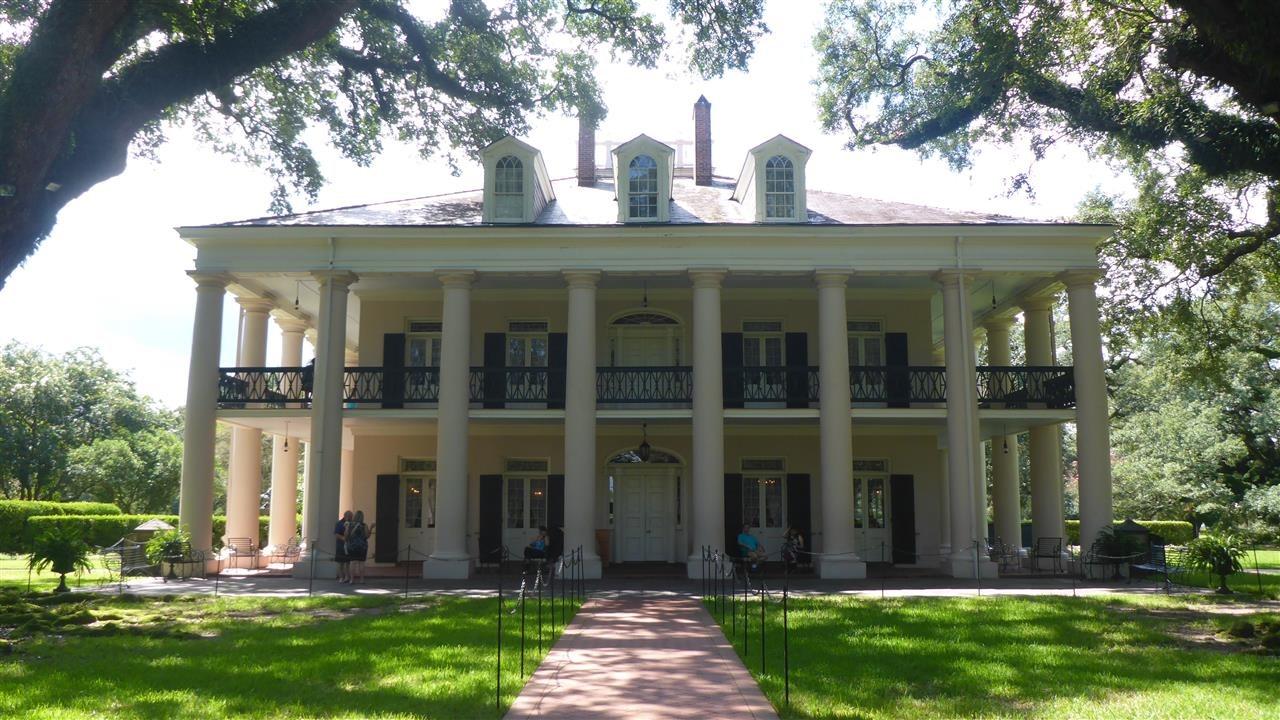 Oak Alley Plantation a beautifully restored 19th century house , built in the Greek revival style.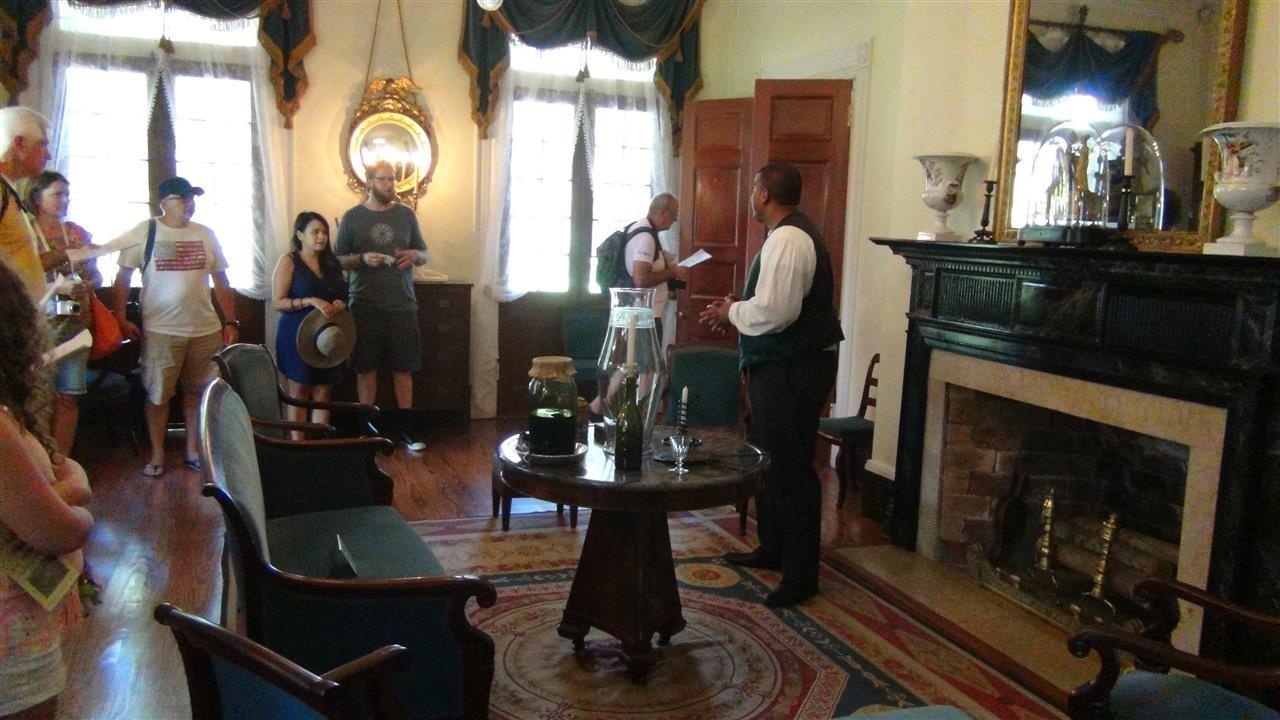 The house was built by Jacques Roman & his wife Selina. The structure is built with mud bricks formed from the mud of the nearby Mississipi & baked onsite. The House took 2 yrs to build, all of the labour performed by the landowners slaves. ( Note Mr Yellow tee shirt far left. )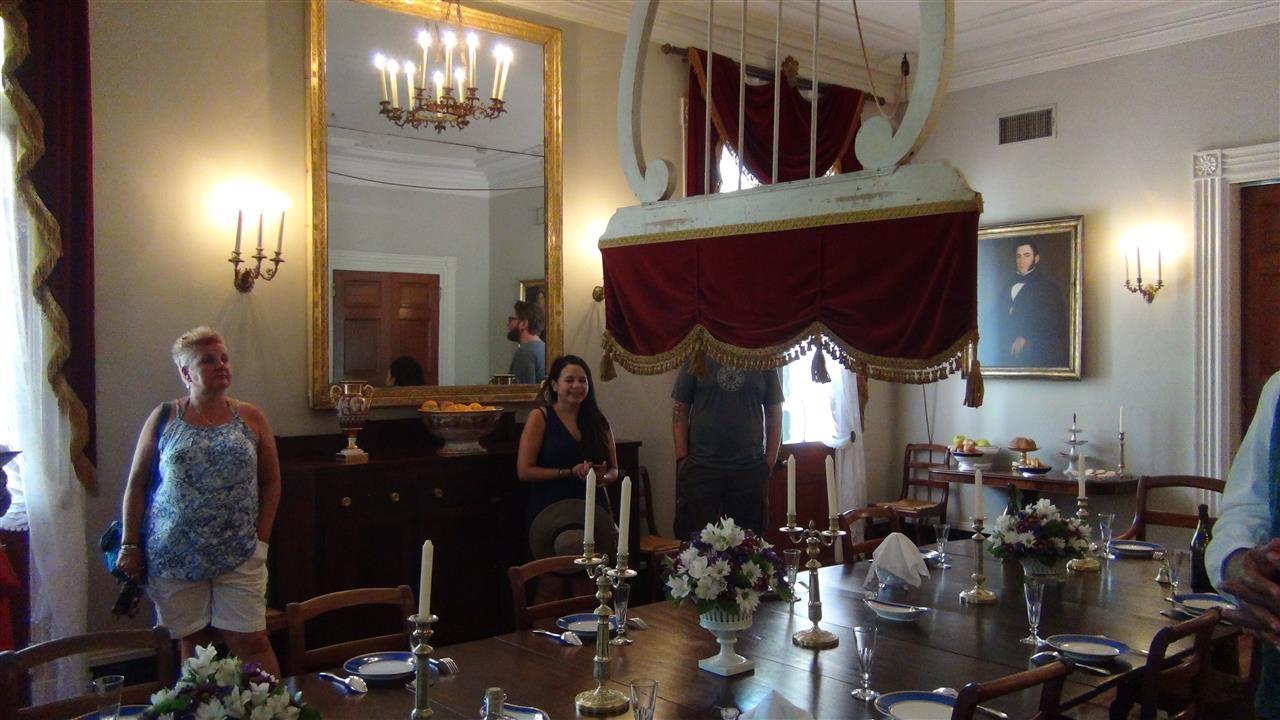 The dining room with its massive fan , a young slave would operate the fan whilst the diners ate. Some of the Roman families original china is displayed here.
The bedroom recreating a scene where there might have been a death, mirror covered with black gauze , so that the departing soul doesn't get stuck on this side.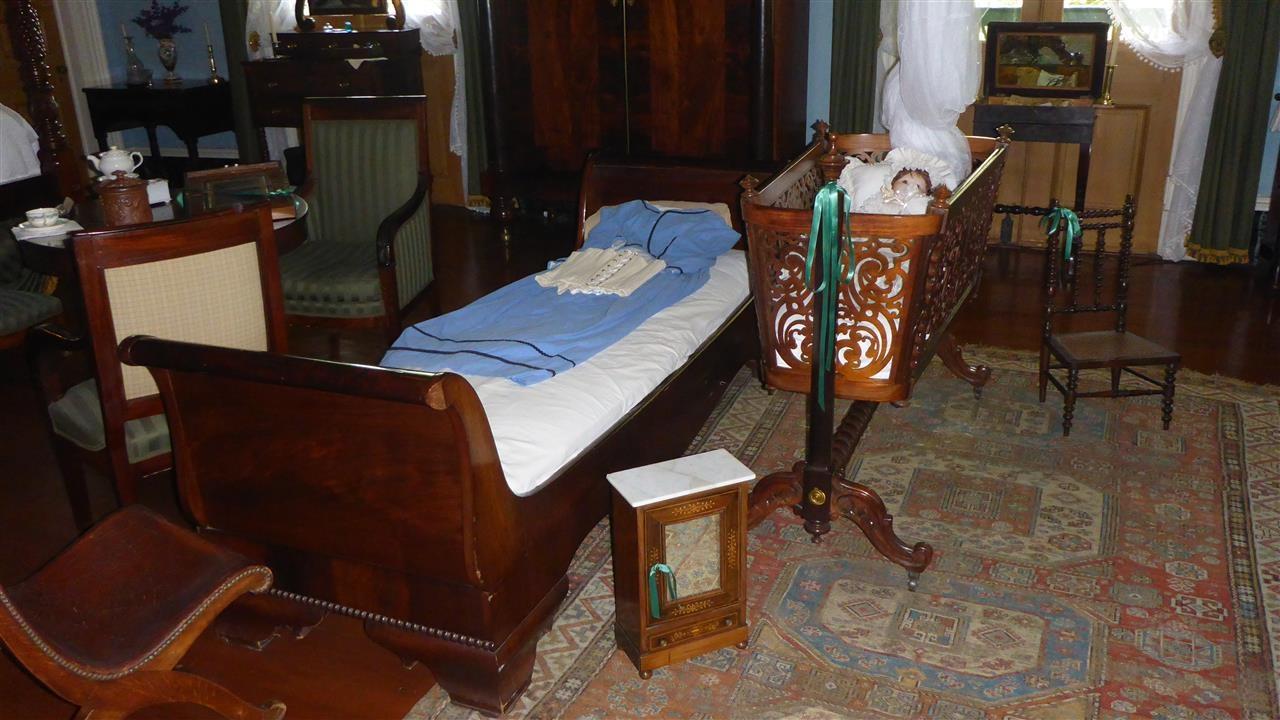 The green ribbons denote Items from the original house , not reproductions.
Our guide told us many tales of the house & its occupants, including a time around 1900 when the abandoned house was invaded by cows , seeking shelter, they occupied the ground floor for 12 yrs!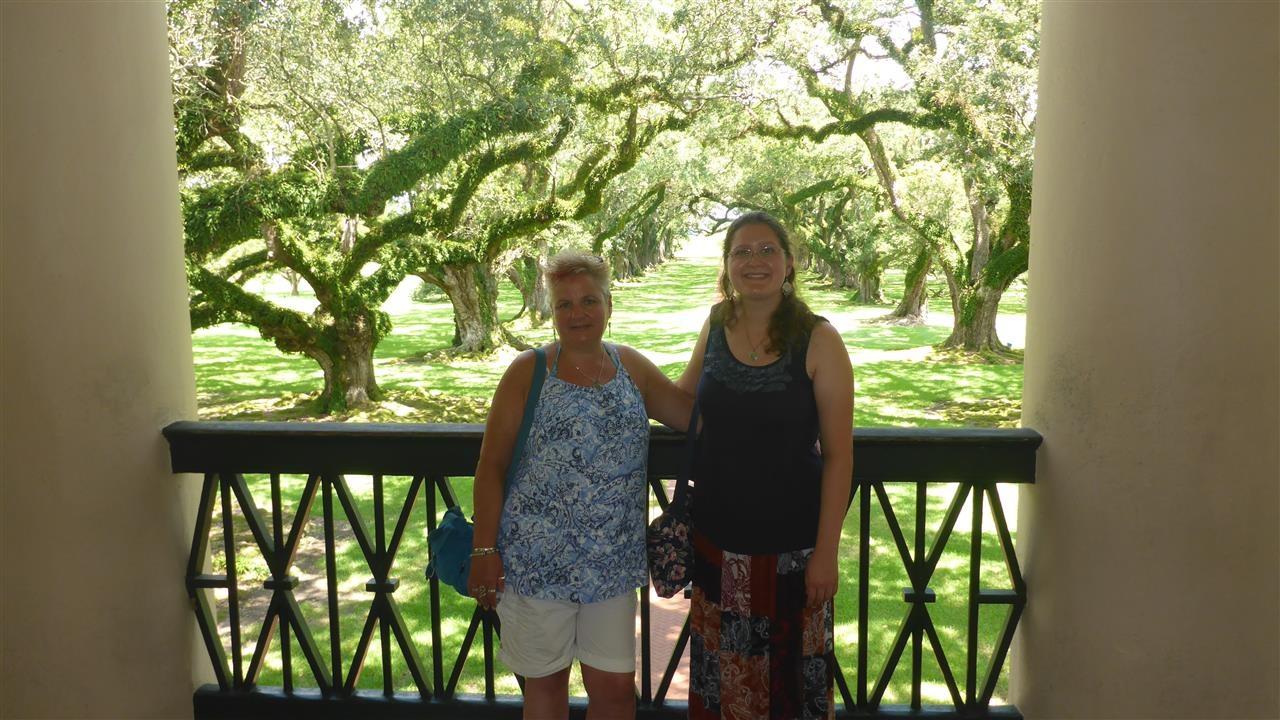 In 1923 Andrew Stuart & his wife bought the house for nearly $50,000, they invested another $60,000 & lived in it for 40 + yrs..they are buried onsite, with their dogs Diane & Sandy & their cat Batman.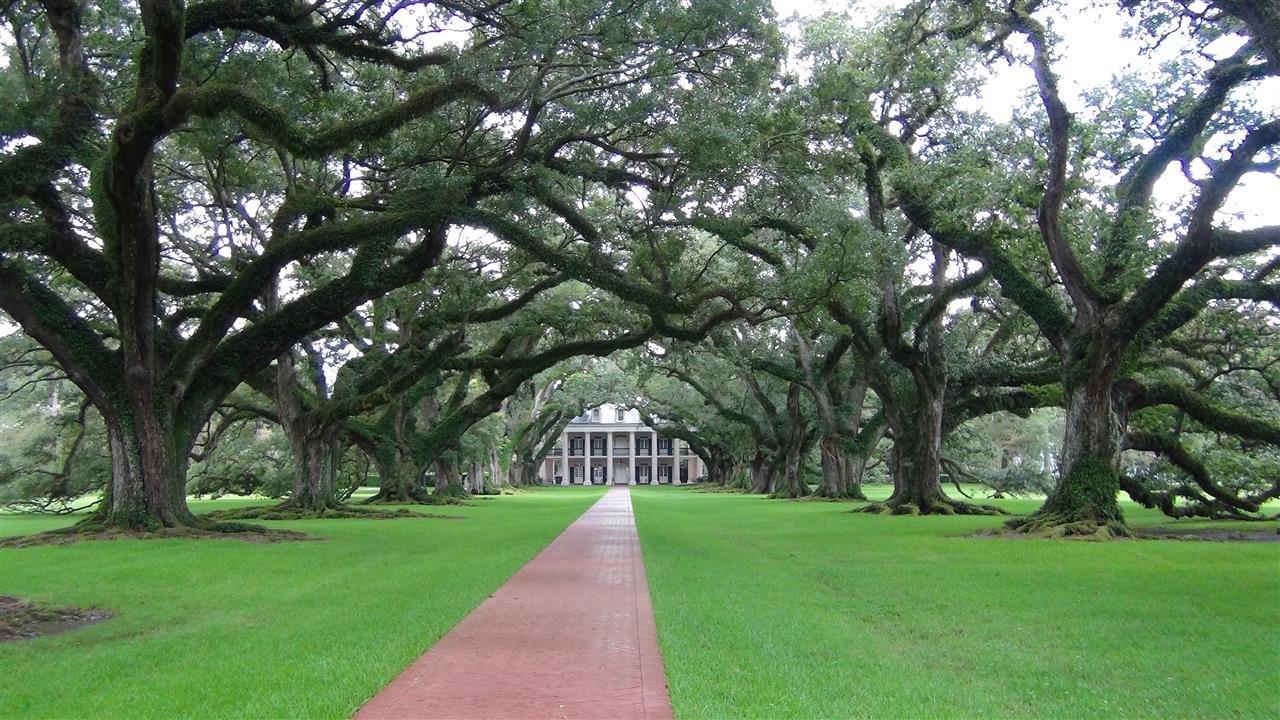 Oak Alley takes its name from the rows of Virginia Live oaks that flank the pathway, 28 in total.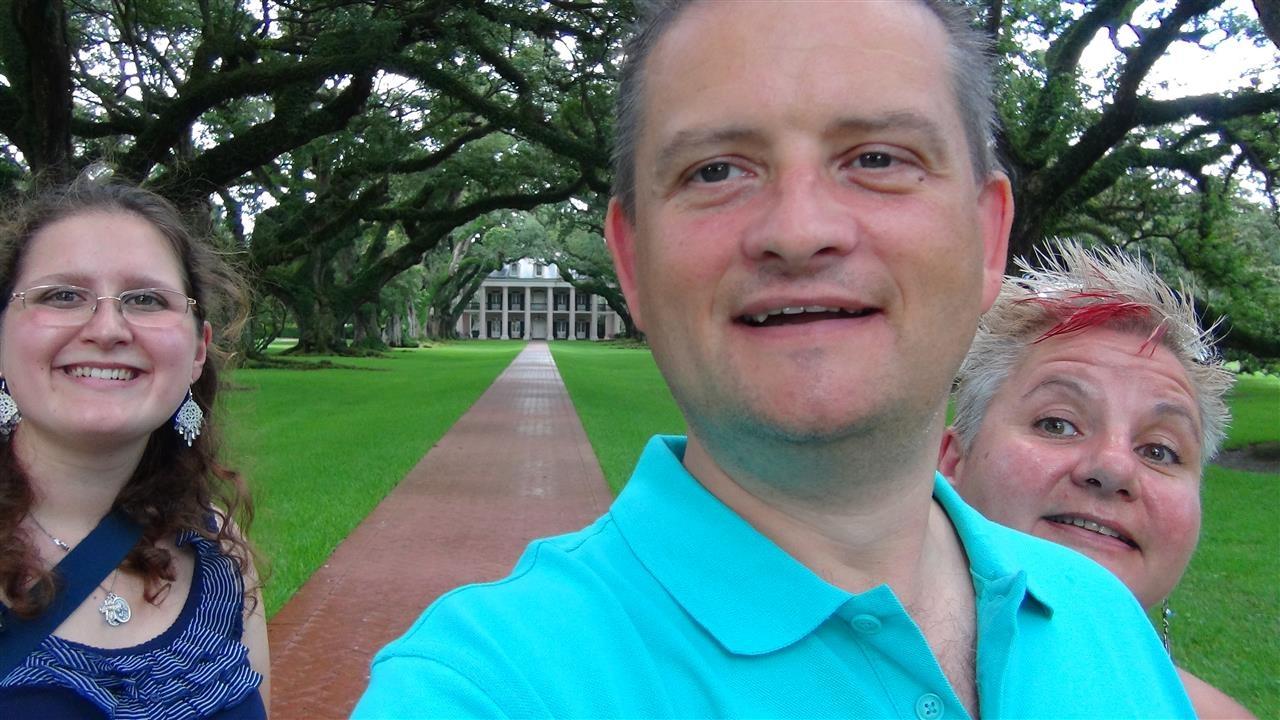 The plantation supported the rich families & a total of at least 200 slaves over the years.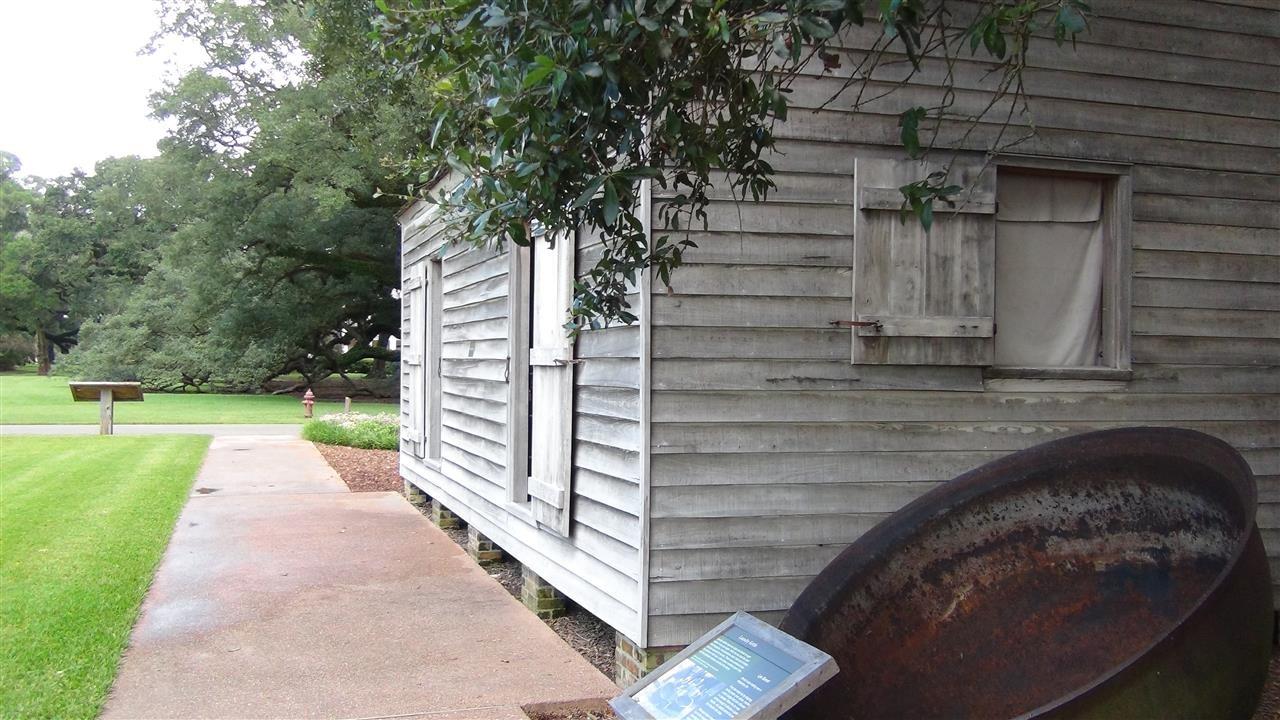 The massive cast iron dishes were used for Laundry , or when the sugar cane was harvested , as boiling pots to extract the sugar from the cane.
We watched an interesting video on modern sugar production.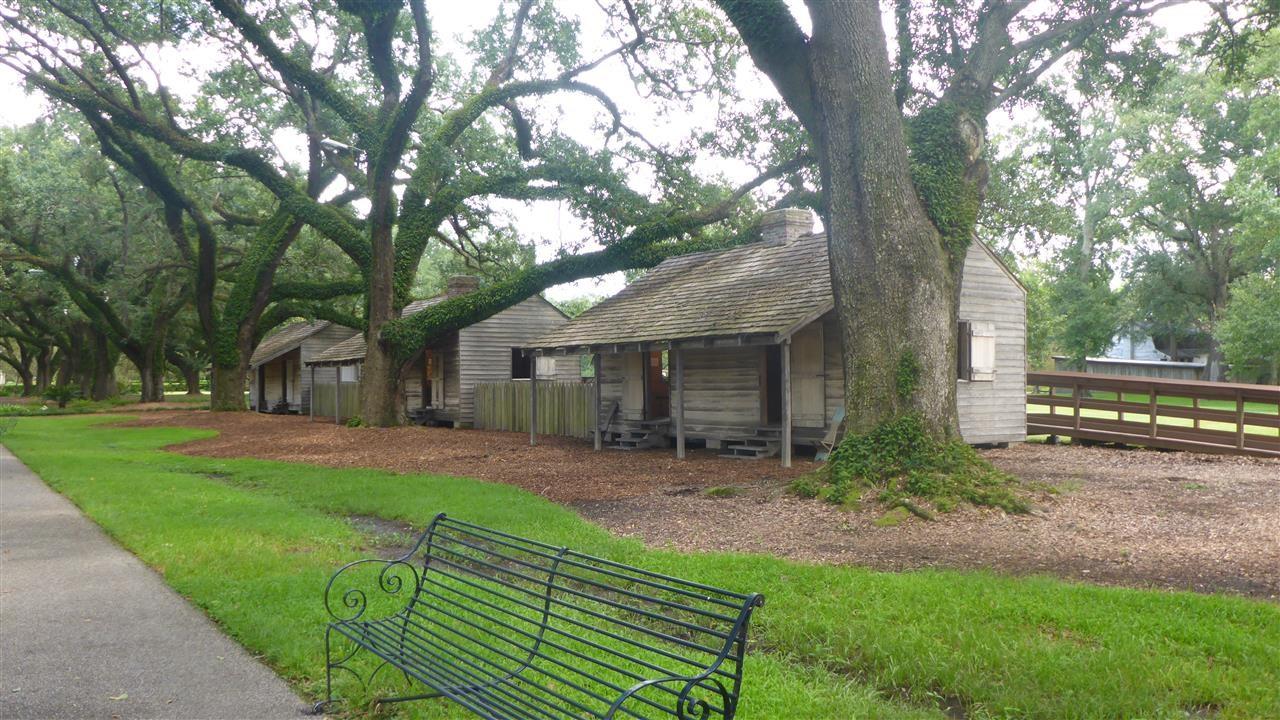 These replica slave quarters , helped depict the appalling conditions the slaves lived under, how they suplimented their rations by keeping animals and planting small areas of crops.
Finally legislation & the chaos of civil war bringing an end to slavery, in turn forcing the plantations to fall into debt as they lost their free workforce.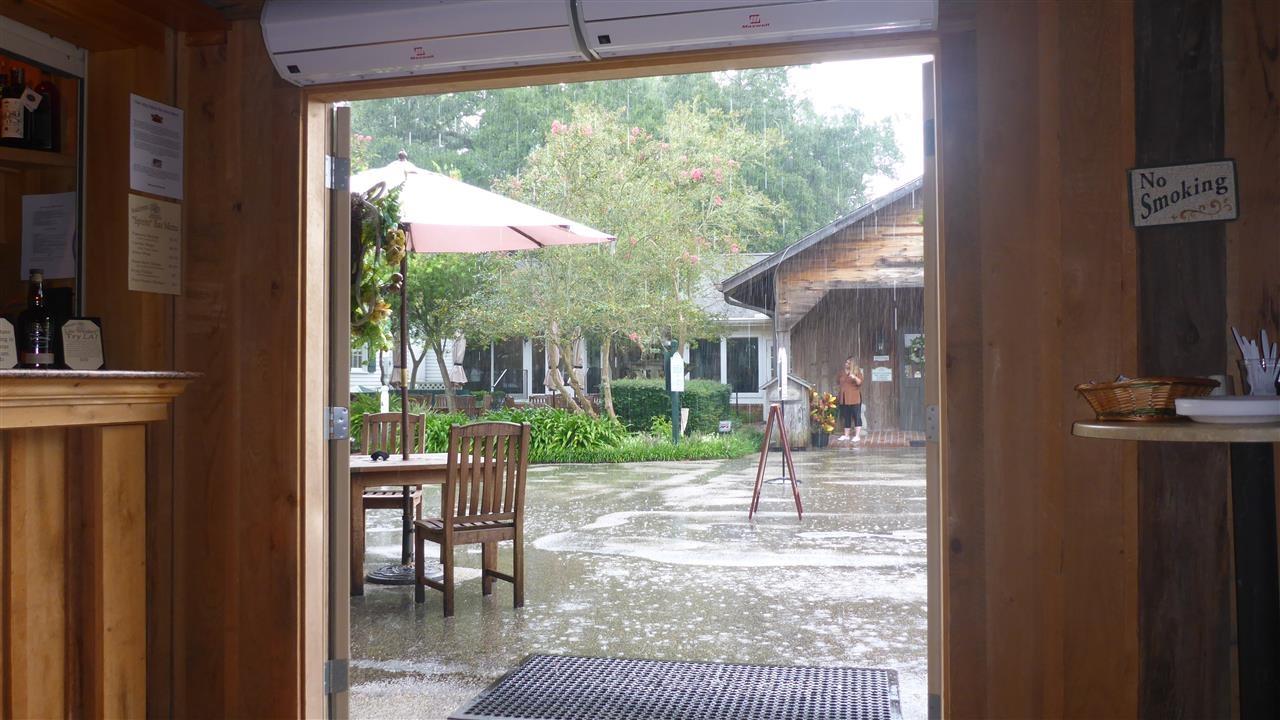 A pub type lunch on site, as the heavens opened.
Just time for a change of clothes, we walked to the Natchez , just a few blocks away.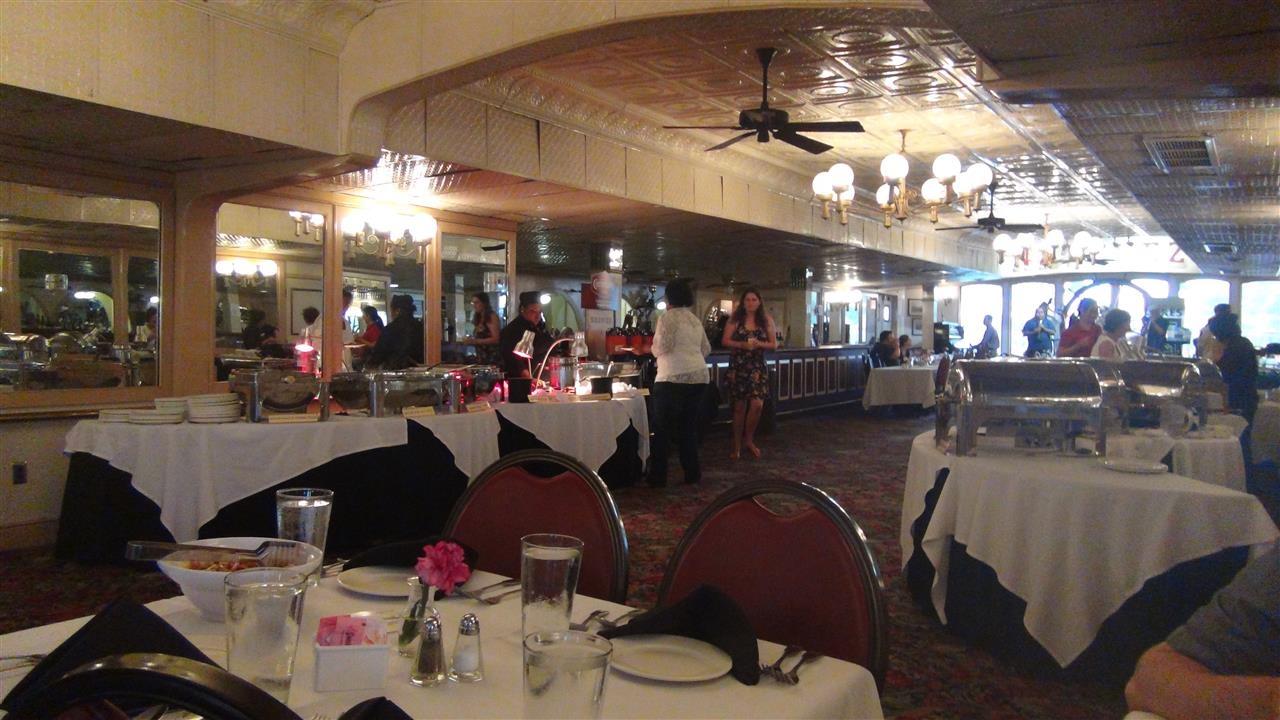 Our buffet style dinner , once again enjoyed to the sounds of "The Dixie Dukes ".
The weather stayed dry for our 7 mile voyage , dispite a few rumbles of thunder.
( Is that a yellow tee shirt beside Ian ?)
Beautiful girlie & a beautiful pink sunset.
Before long we were headed back to the dock, having listened to stories & facts about the ship & the river, as well as the Jazz.
(Yep, Mr yellow tee shirt & his party were indeed next to us for most of the voyage, we might have attempted to chat , but it soon became obvious they were french !)

We headed back via the brightly lit gift shops, Hollie wanted to sit outside & read but its really humid & damp , meaning all the bugs are out tonight : (

Well goodnight dear reader...Until tomorrow xxxx


Saturday 20th August 2016
DAY
21

Airboats & baby alligators
Airboat adventures 45 minutes away is our destination.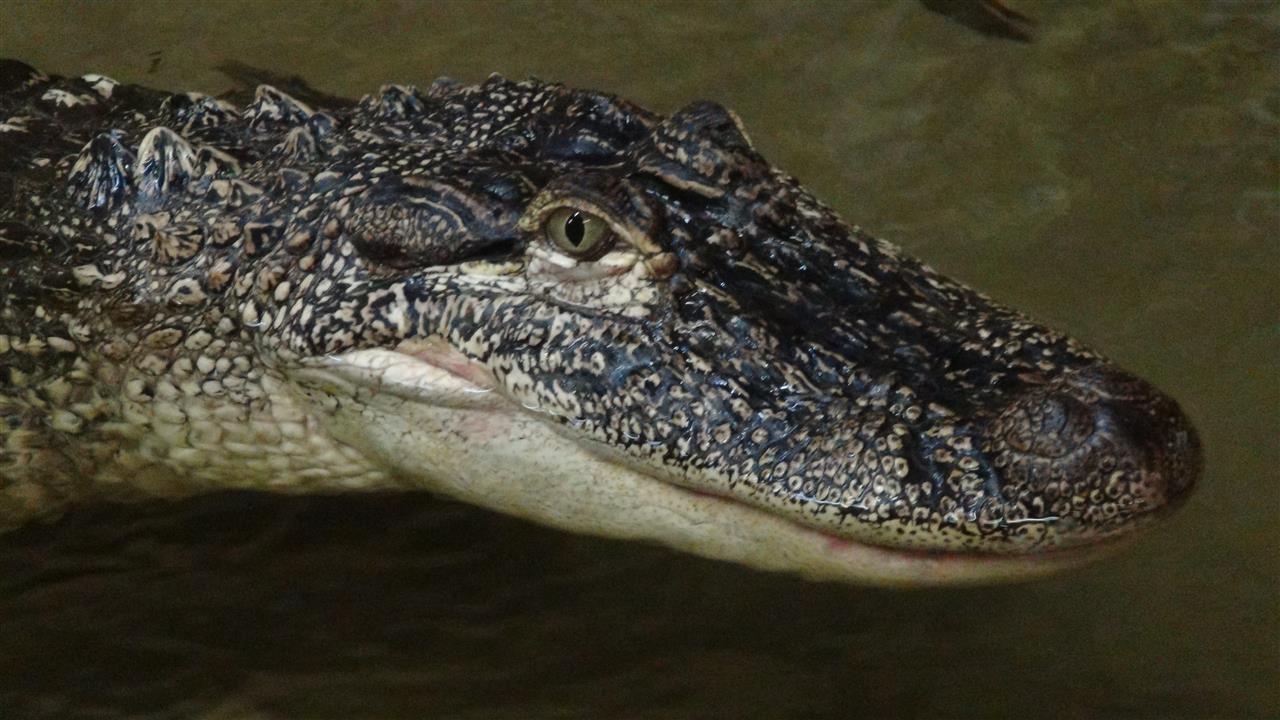 The fascility collects the Alligator eggs & ensures the 80% natural wastage doesn't happen. 20% of the hatchlings are returned to the swamp.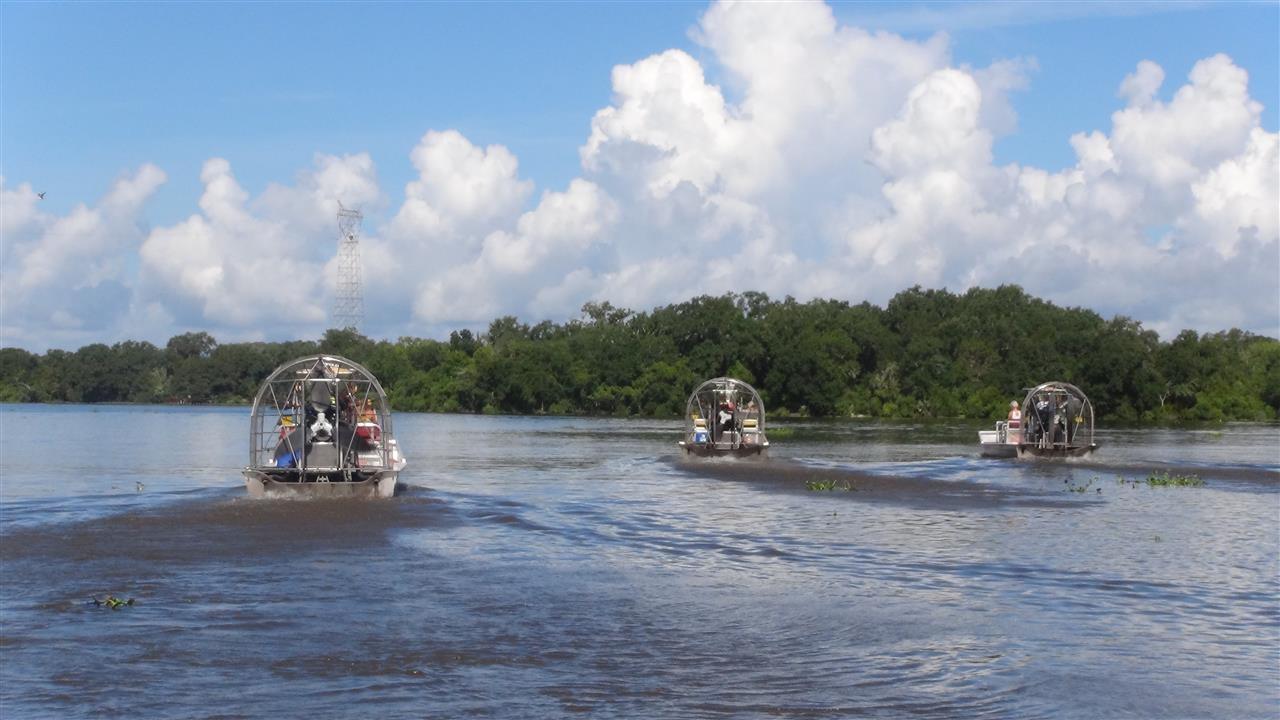 A hot & clear start to our adventure , the flotilla of airboats speed off.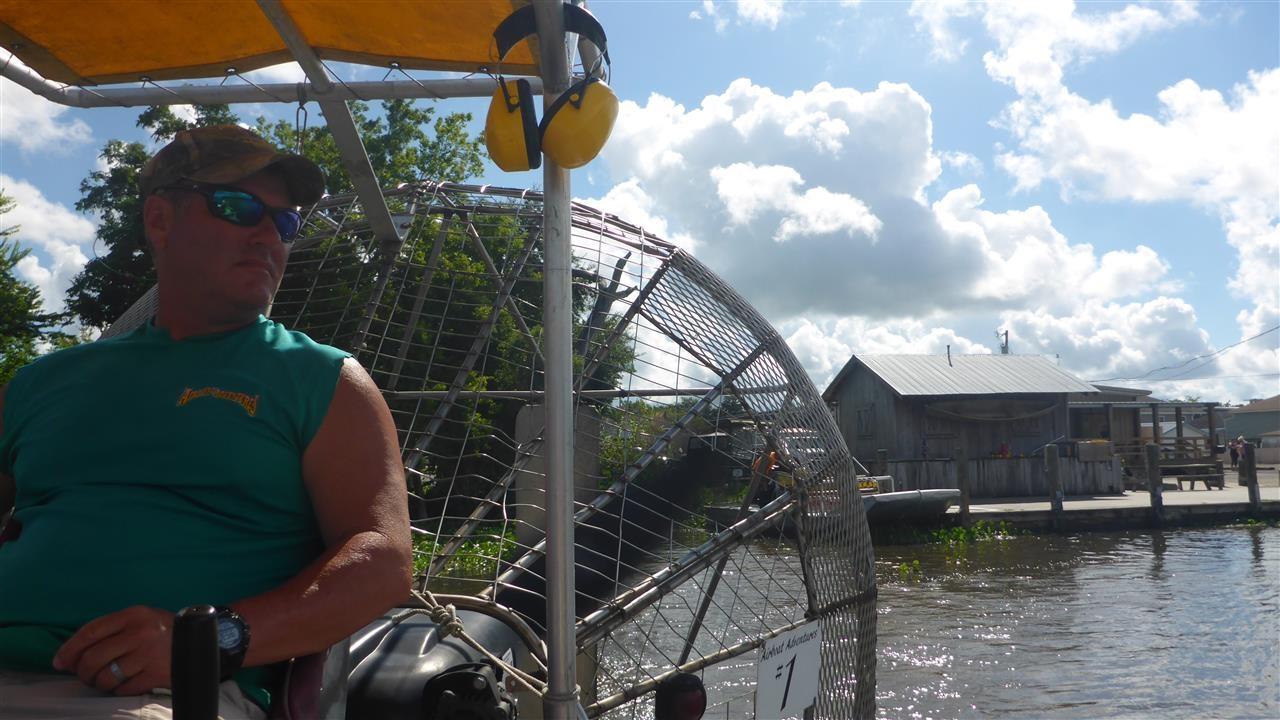 Our guide Jay was knowledgable & funny.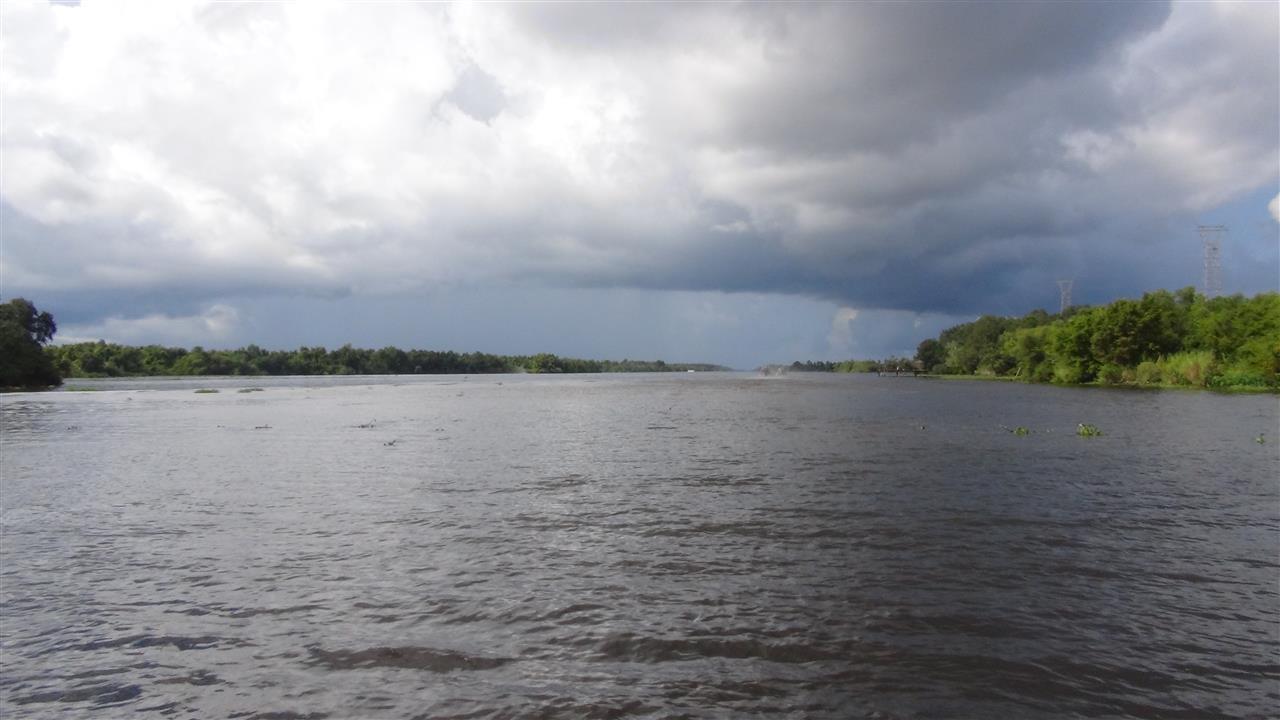 The localized storms of yesterday have followed us again.
After a few minutes the heavens opened, we got utterly saturated & although Jay steered us away from the rain , we spent the rest of the journey trying to dry out.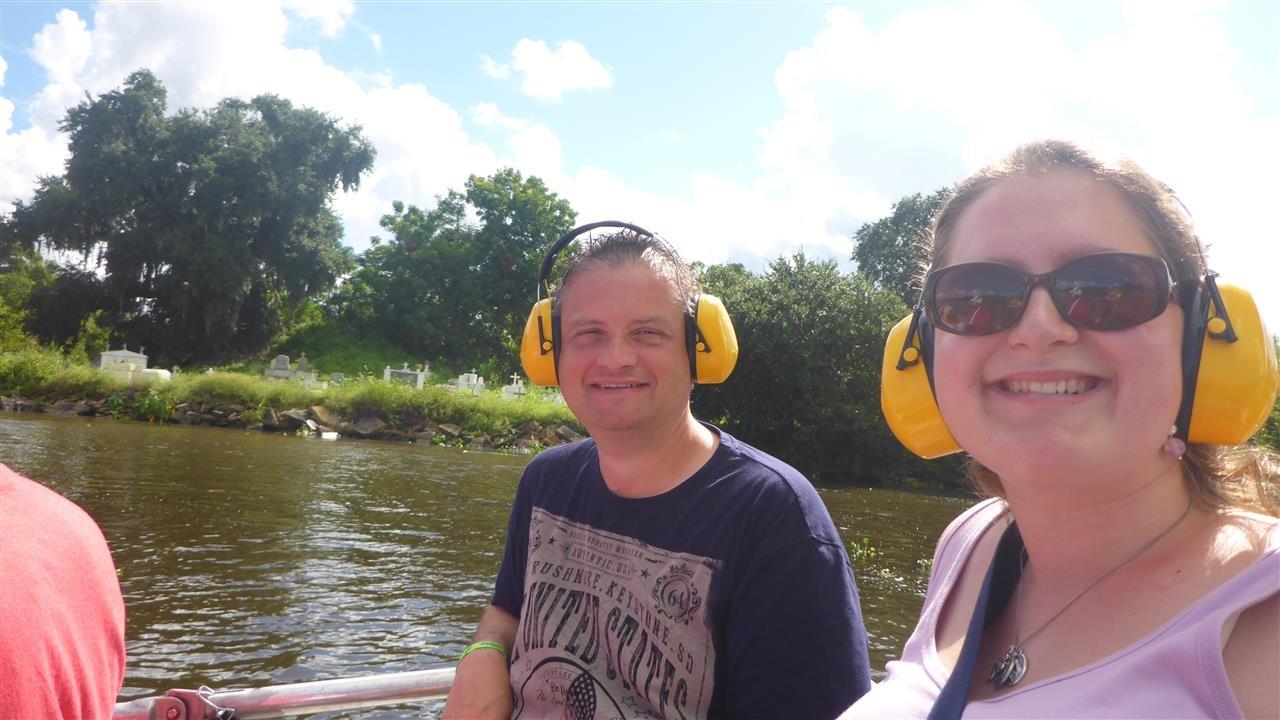 I didn't realize my chatting had got so bad.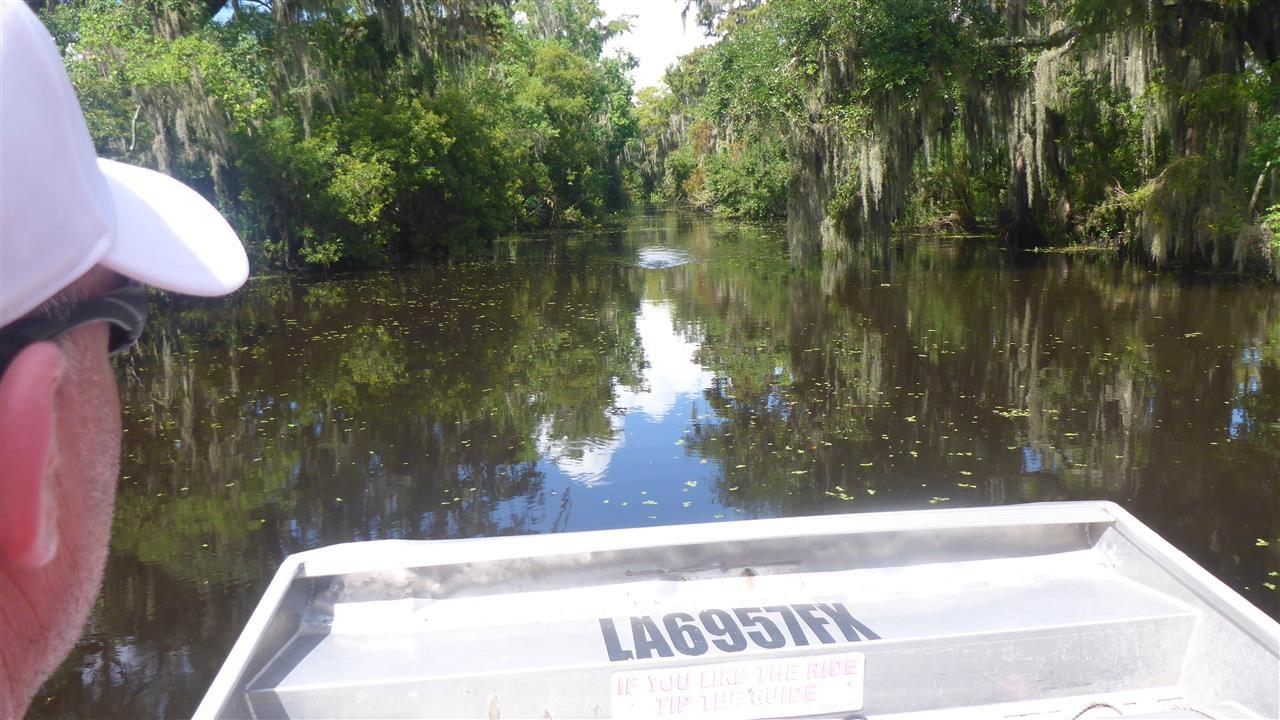 This is a natural bayou, many of the wider chanels through the swamp were made by the oil companies.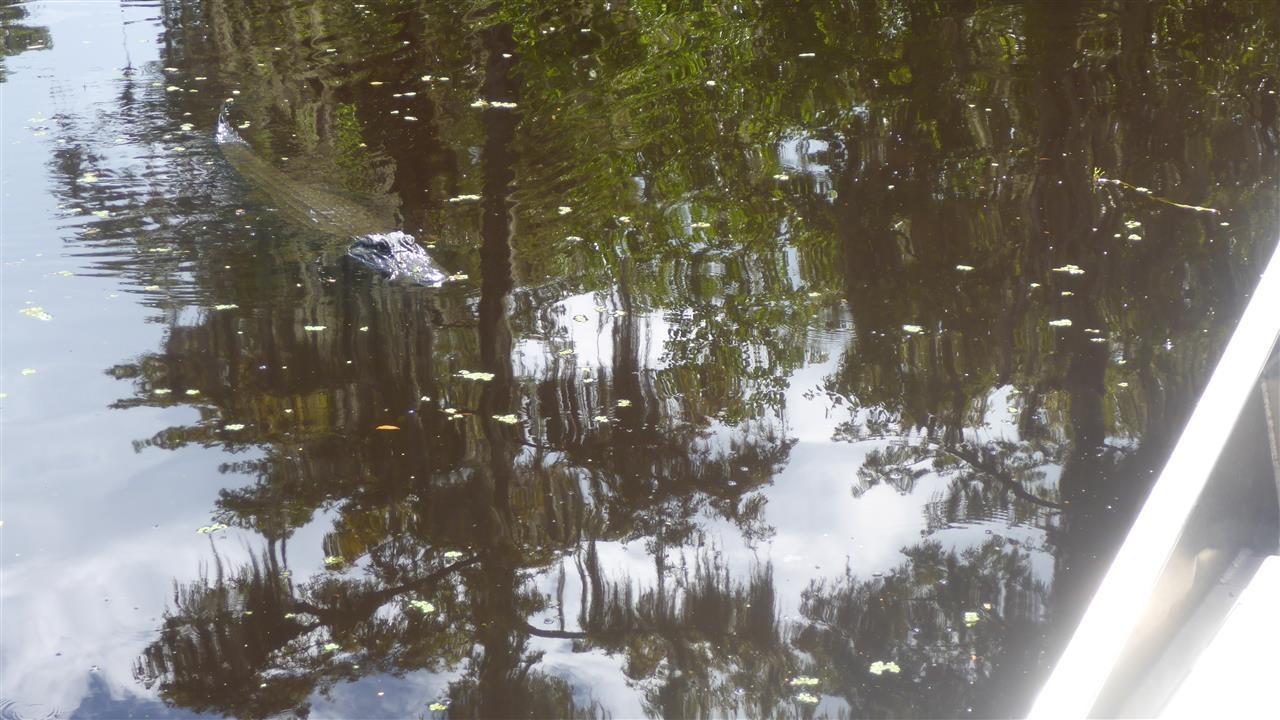 Meet Rex , he & his lady love have built a nest near the bank , we were lucky enough to meet them both.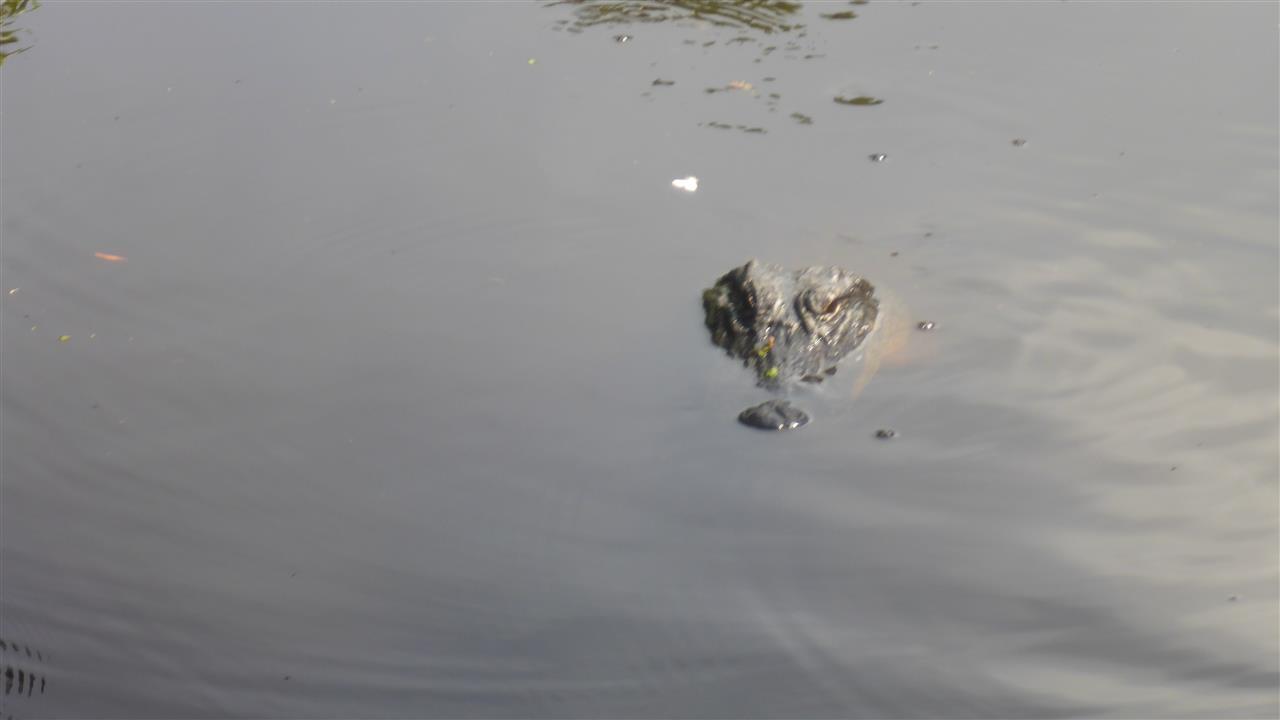 He didn't seem to like us very much.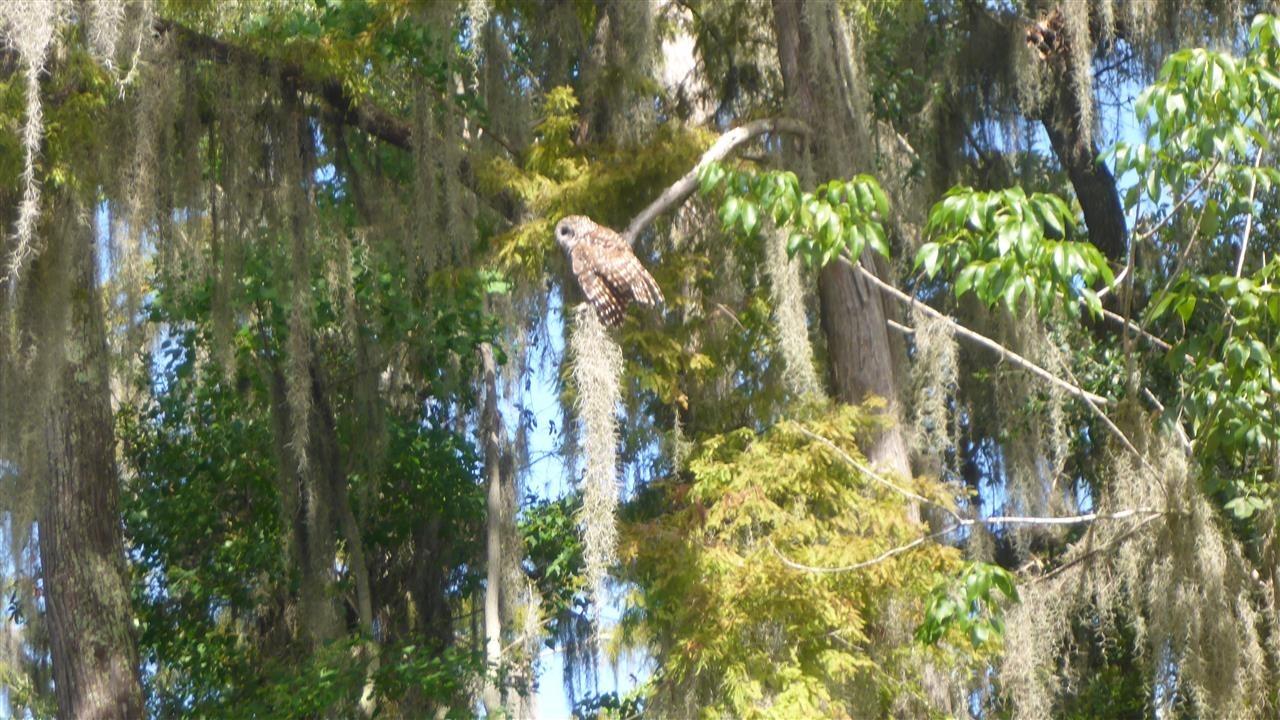 We spied a fabulous Owl.
Our guide suggests these Alligators , that can grow up to 9 feet , are not likely to attack a human , he says, he swims in these waters & has NEVER heared of anyone being bitten.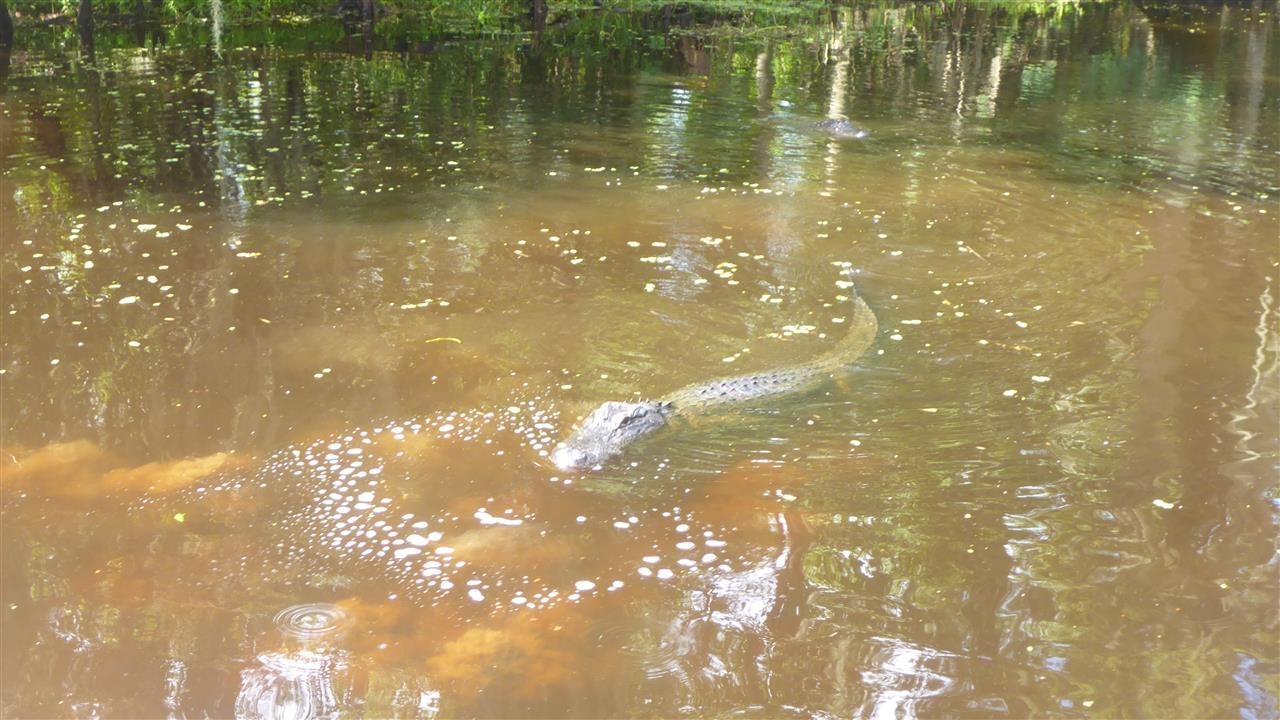 After you Jay.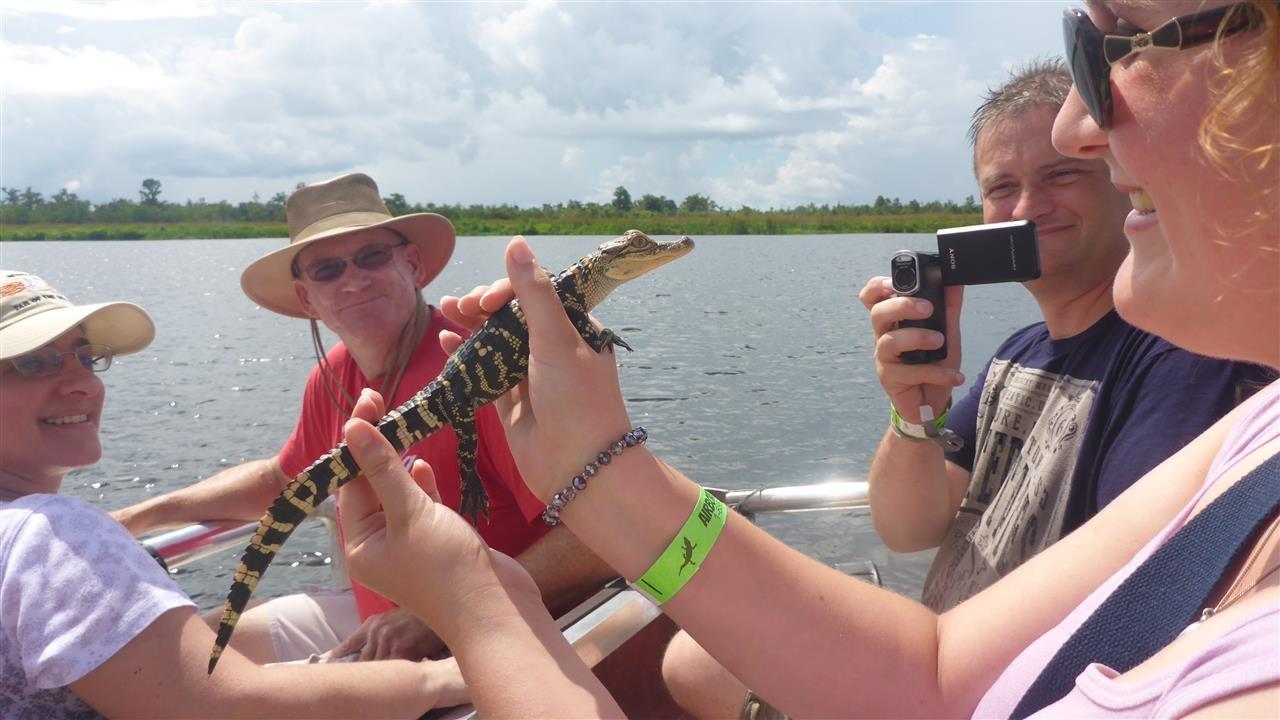 Jay had a baby Alligator for us to meet.
Ian nearly got his nose nipped.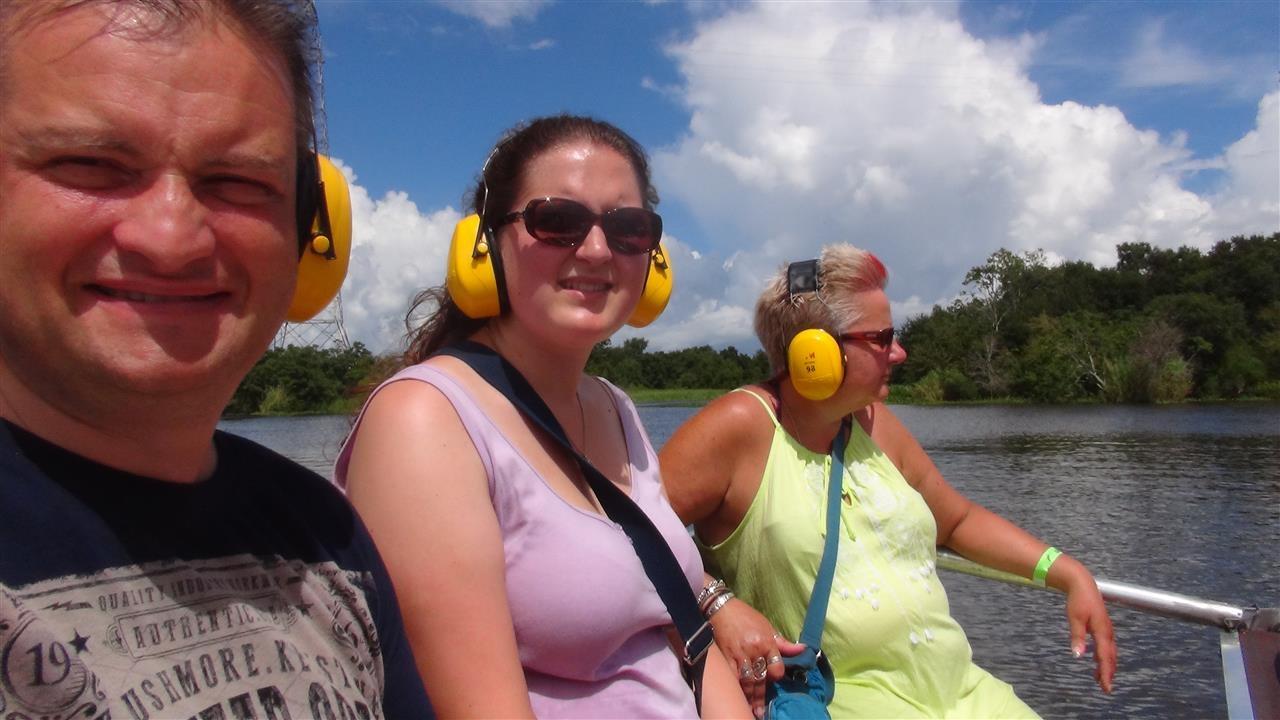 All too soon our adventure was over.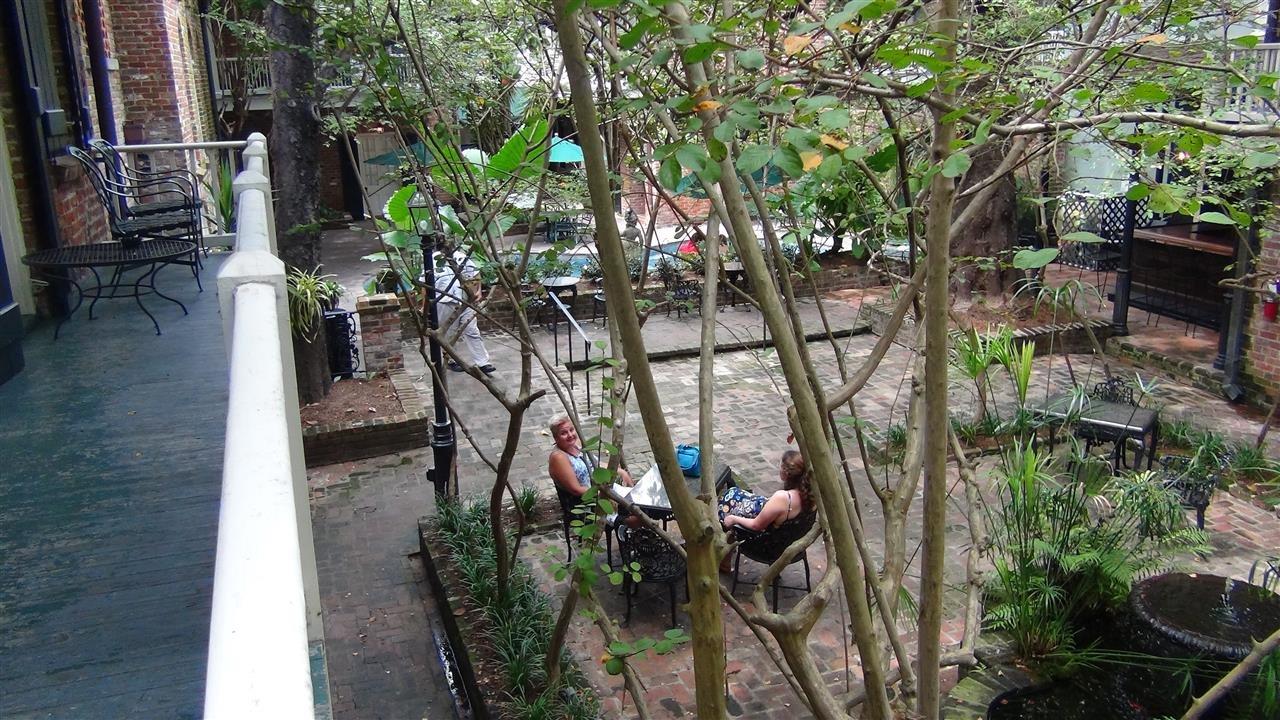 A breif relax in the hotel courtyard before venturing out sight seeing, ( and shopping ).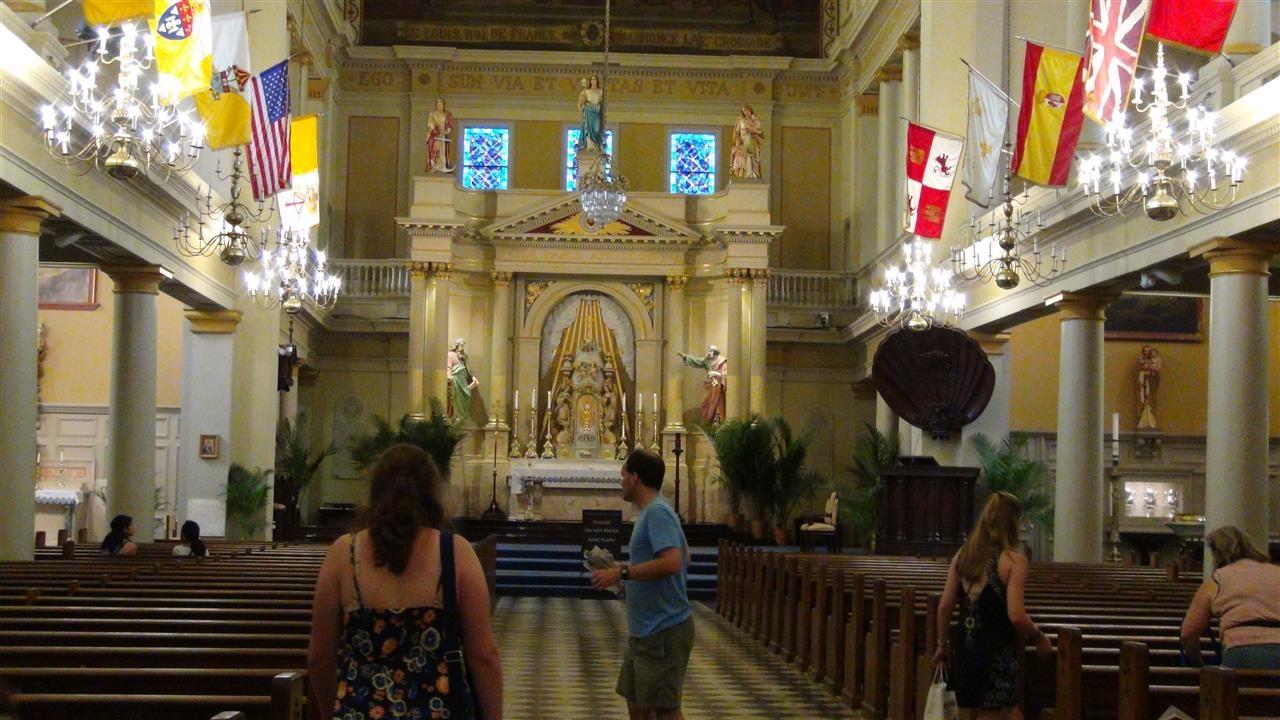 The beautiful Cathedral Basilica St King Louis.
Hollie came to visit with us , then returned at 5 for mass.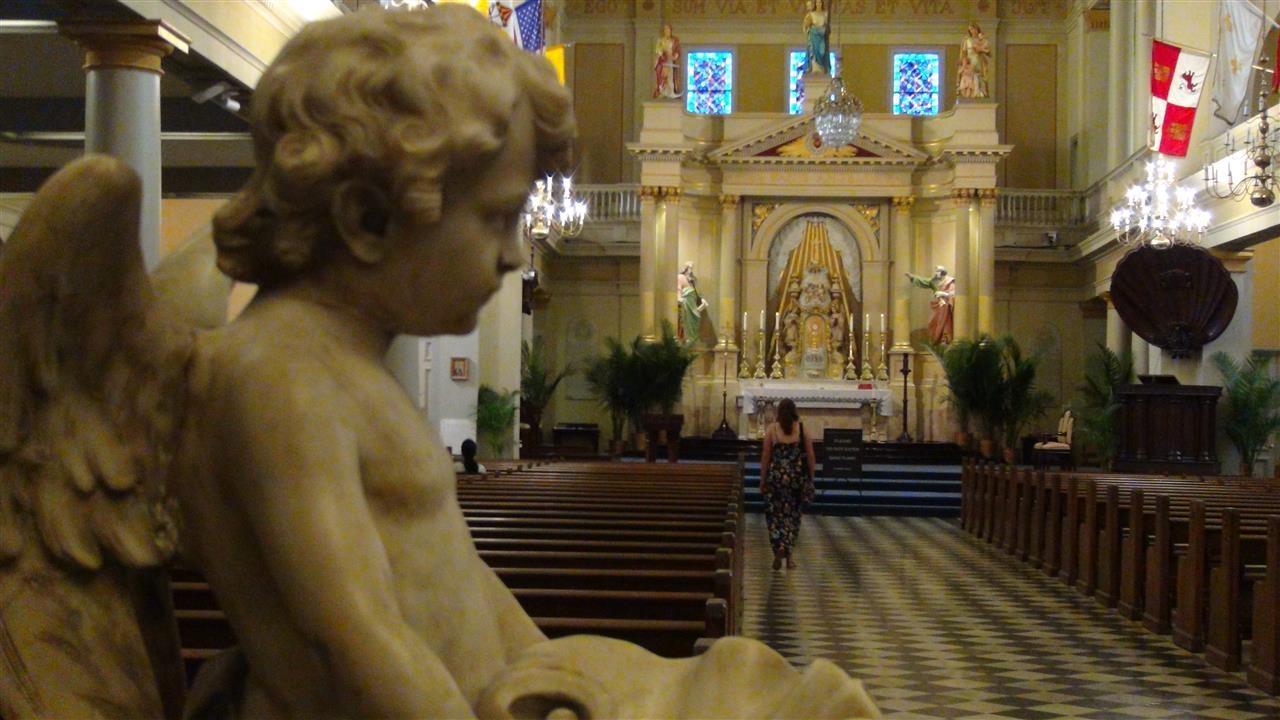 Stunning architecture.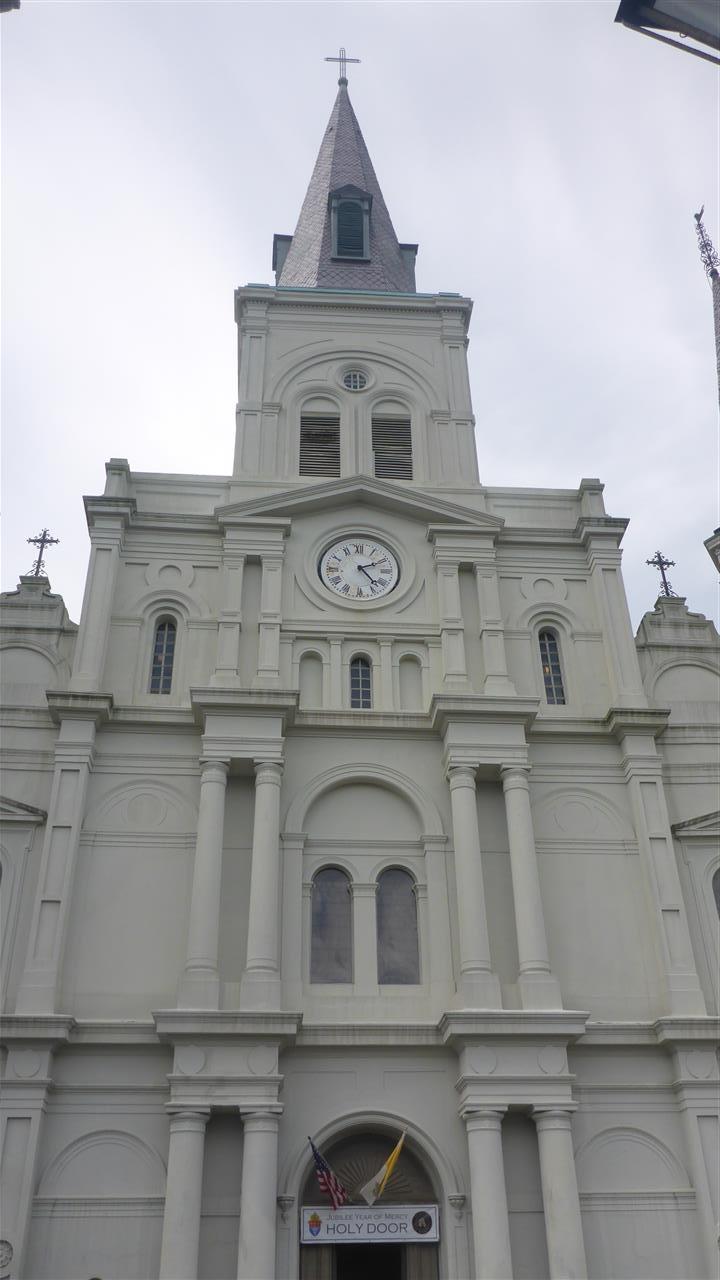 The cool interior gave way to the sweltering & humid outside.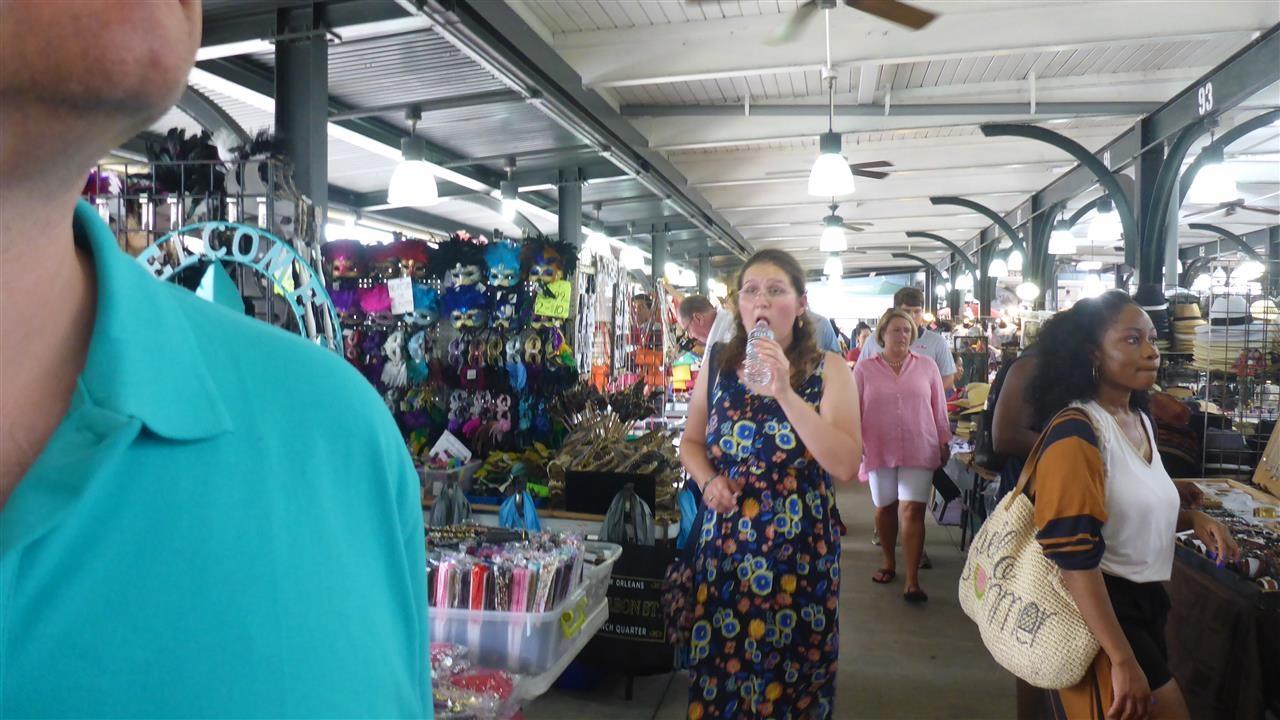 We wandered through the French Market .
We may have to pay a fee to get our hire car back to its original condition,Its been Mardi Gras'd !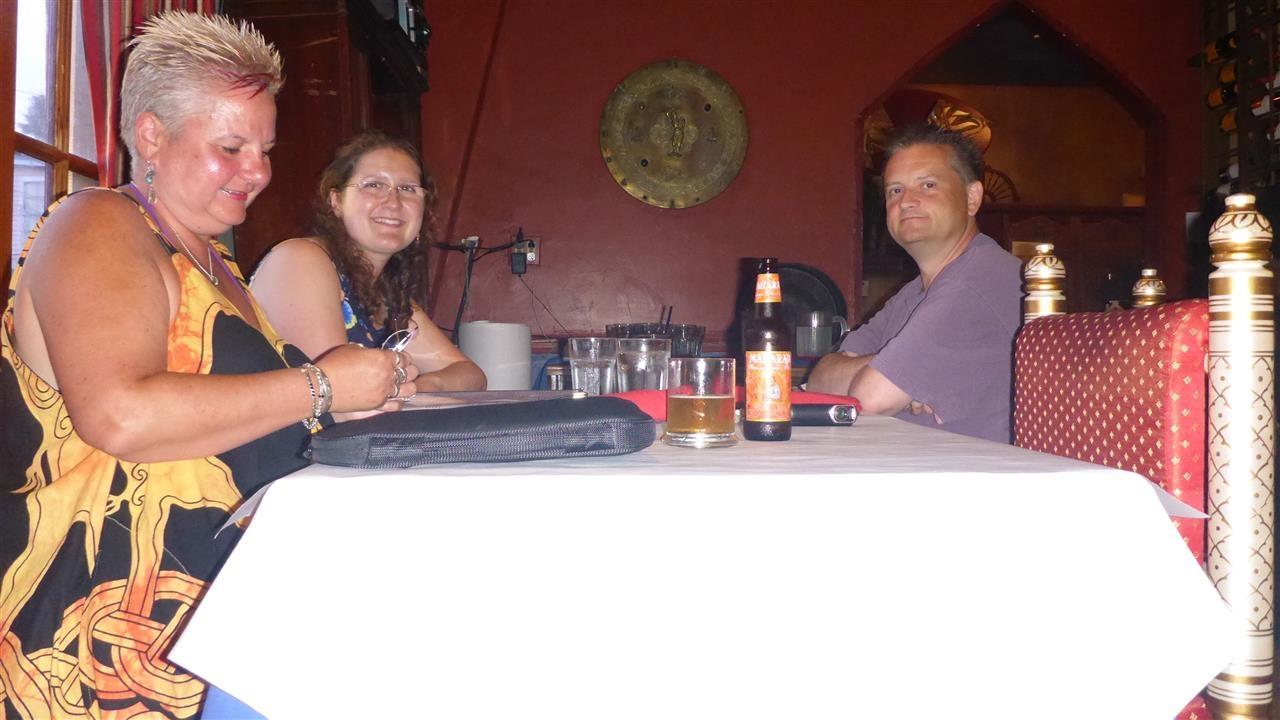 Dinner was enjoyed at The Taj Mahal Indian Restaurant, very nice.

We raised a glass to Grandad Jumbo on the occasion of his birthday xxx Miss u loads xxx

Goodnight all xxx
Sunday 21st August 2016
DAY
22

New Orleans & Ghostly happenings...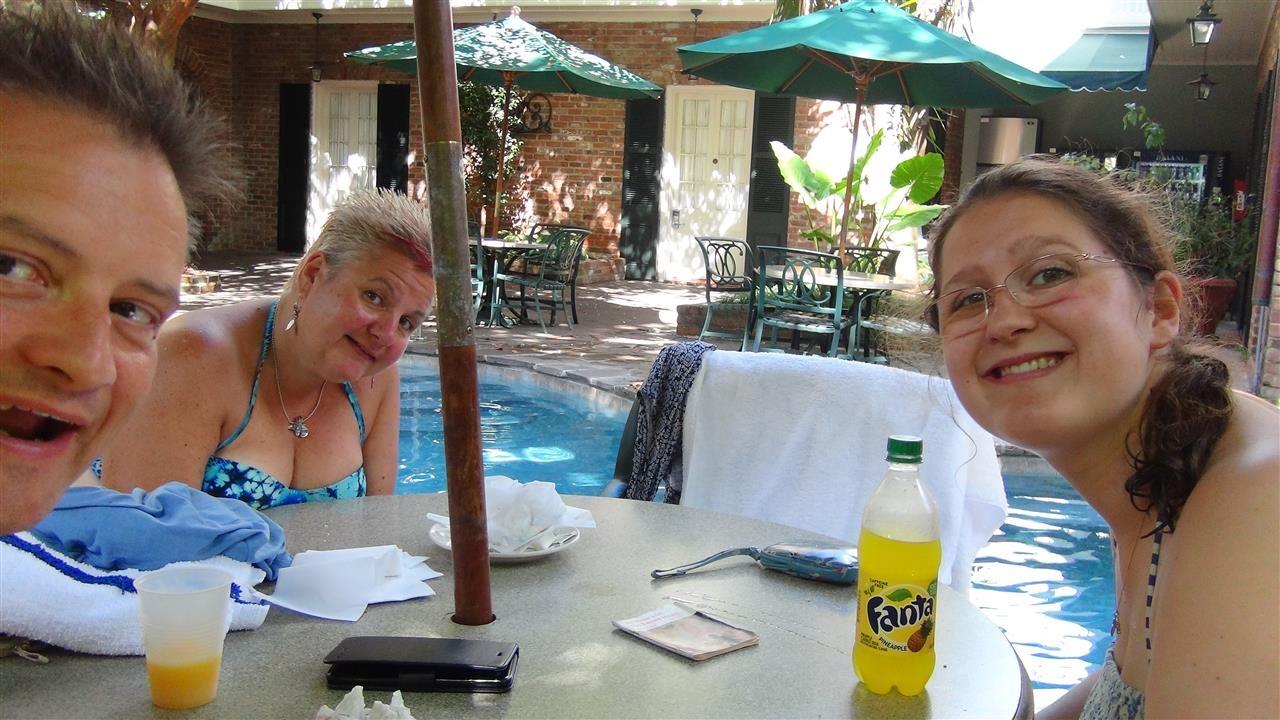 Lovely relaxing morning by the pool, got chatting to a couple from California , John & Erin, while we cooled down in the refreshing water.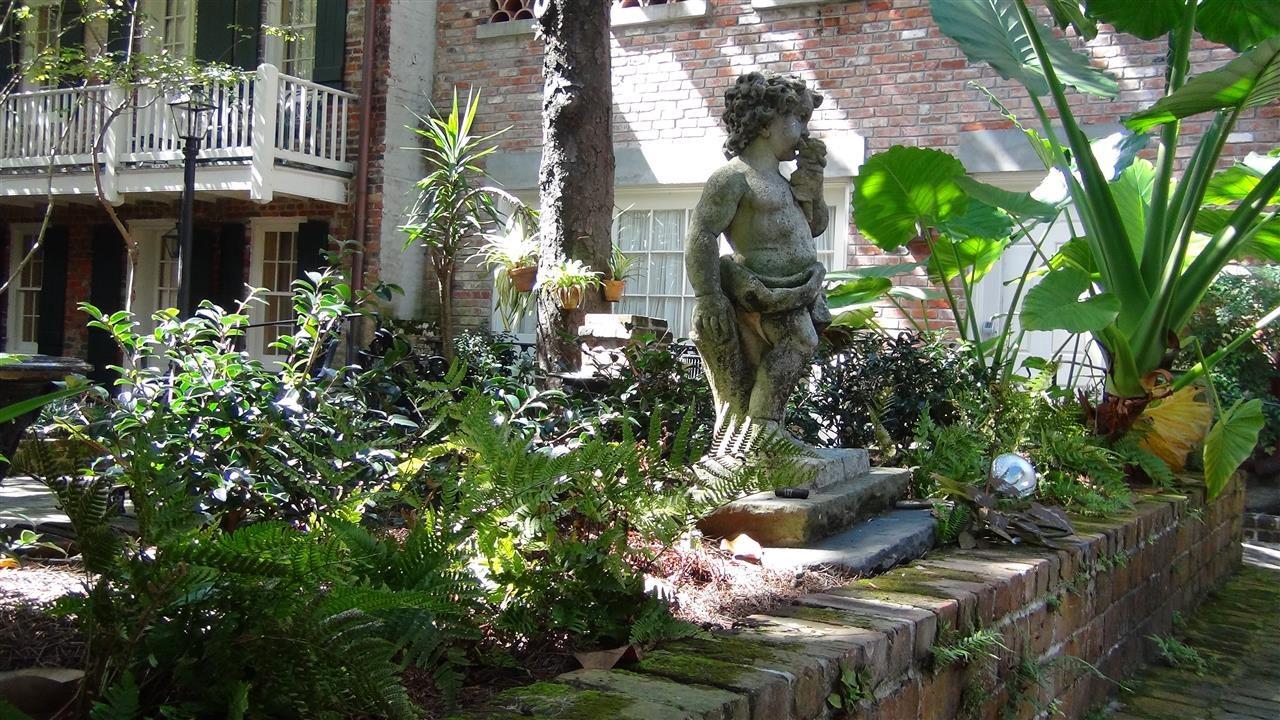 The shady courtyard is damp & humid, smelling of wild garlic.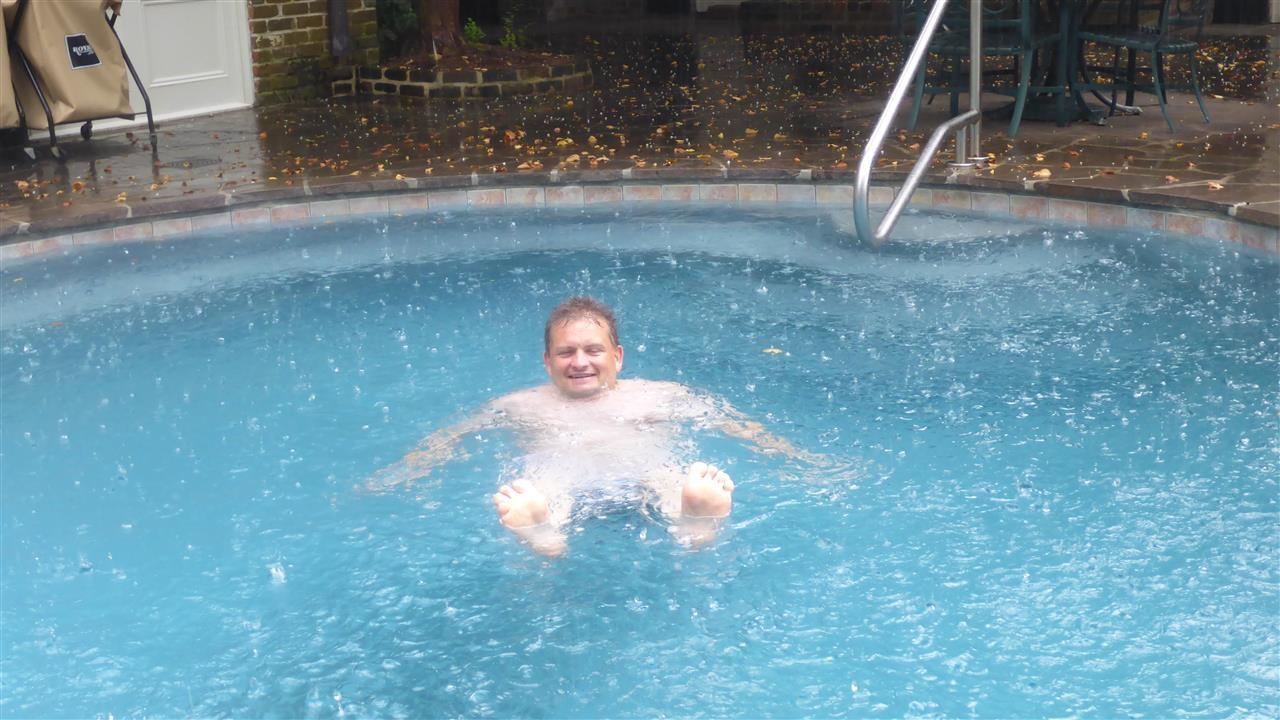 Stupid boy , he will get wet in this rain !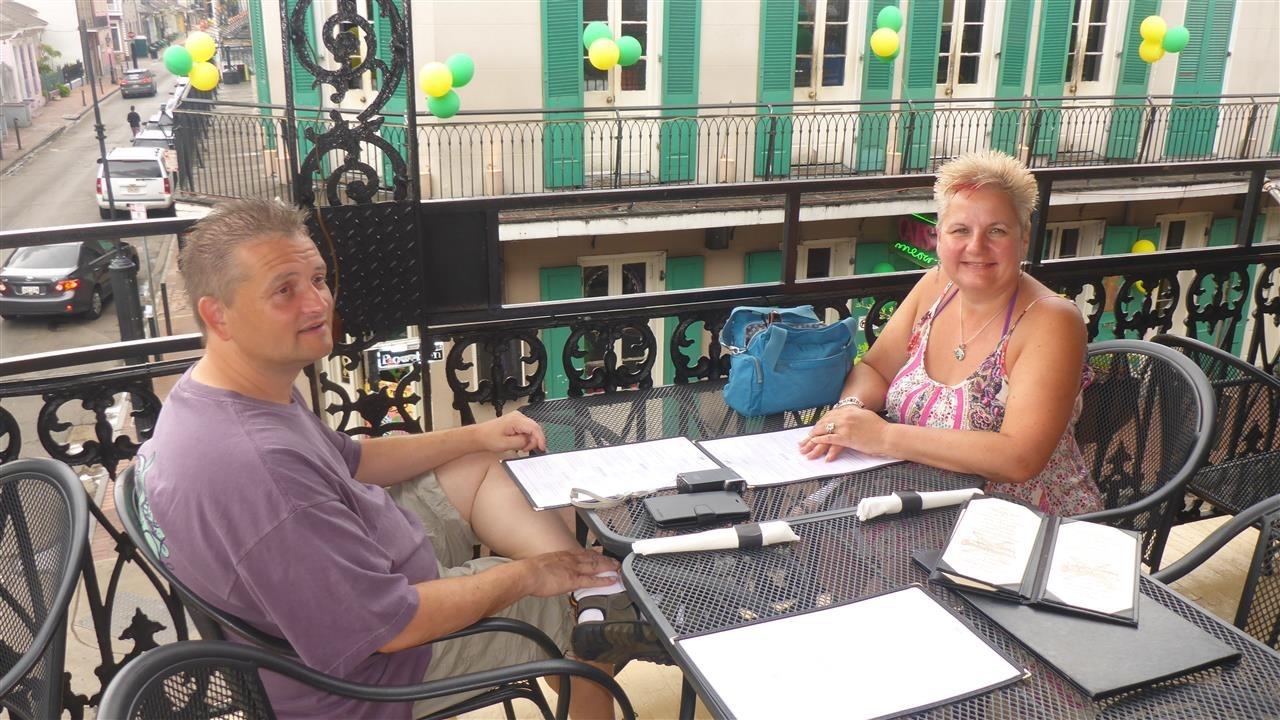 We had a room change today we moved from 316 to 218 , so once that was done we went up to trash it & have some showers.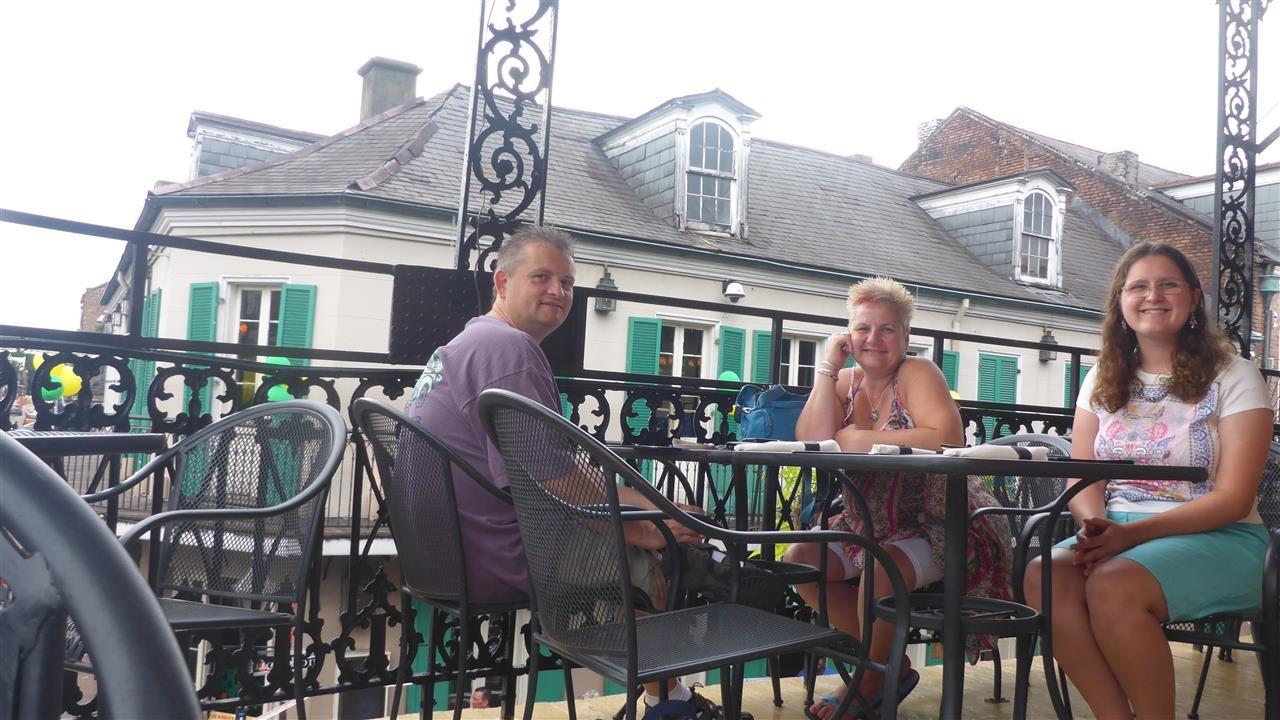 Lunch at the Coronet on Bourbon , hardly Haute Cuisine but a great view of the seedy daylight Bourbon Street.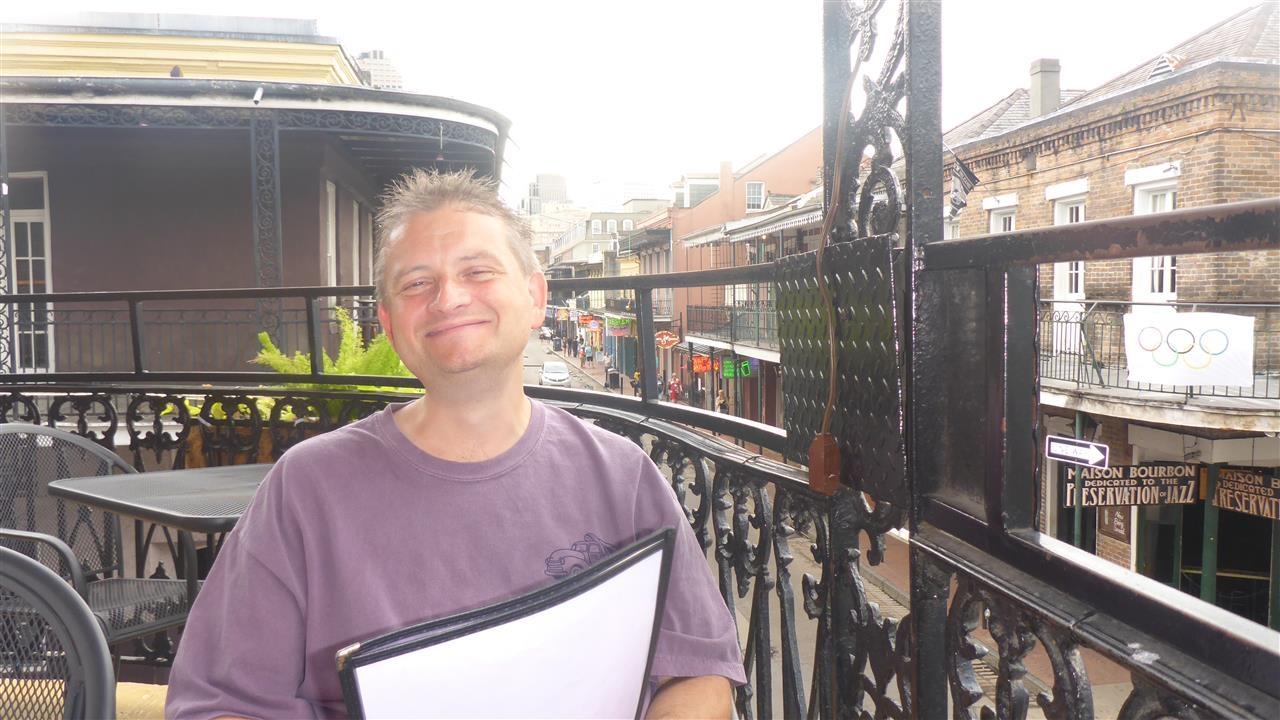 Great place to people watch , they let special people eat here.....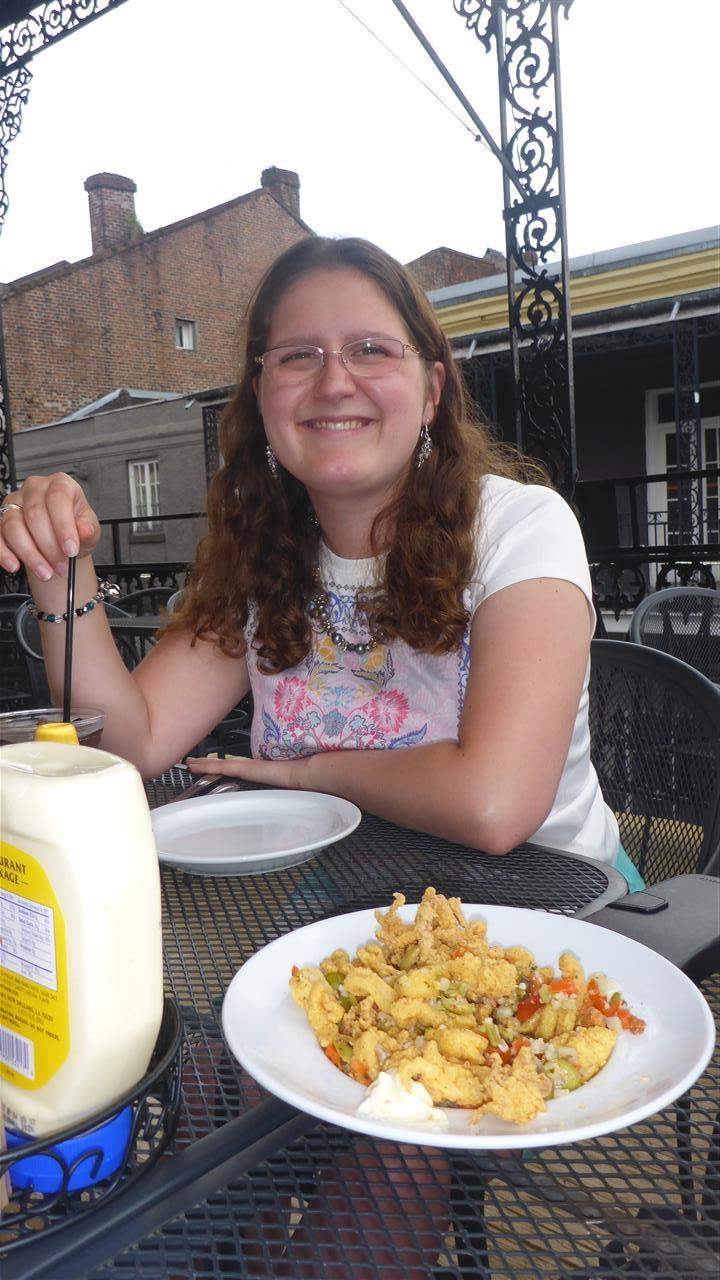 Calamari in itallian salad vegetables, to share.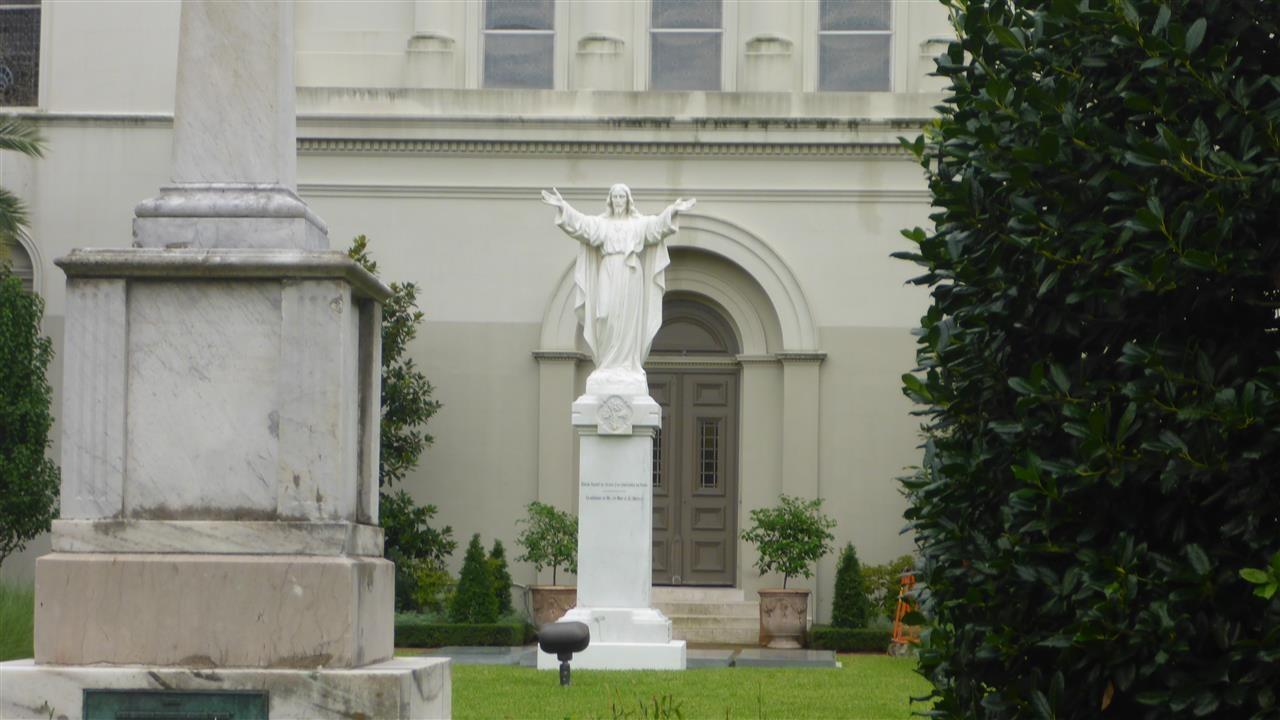 The rear of the beautiful Cathedral , at night a spotlight projects the shadow of this Jesus statue onto the back of the building.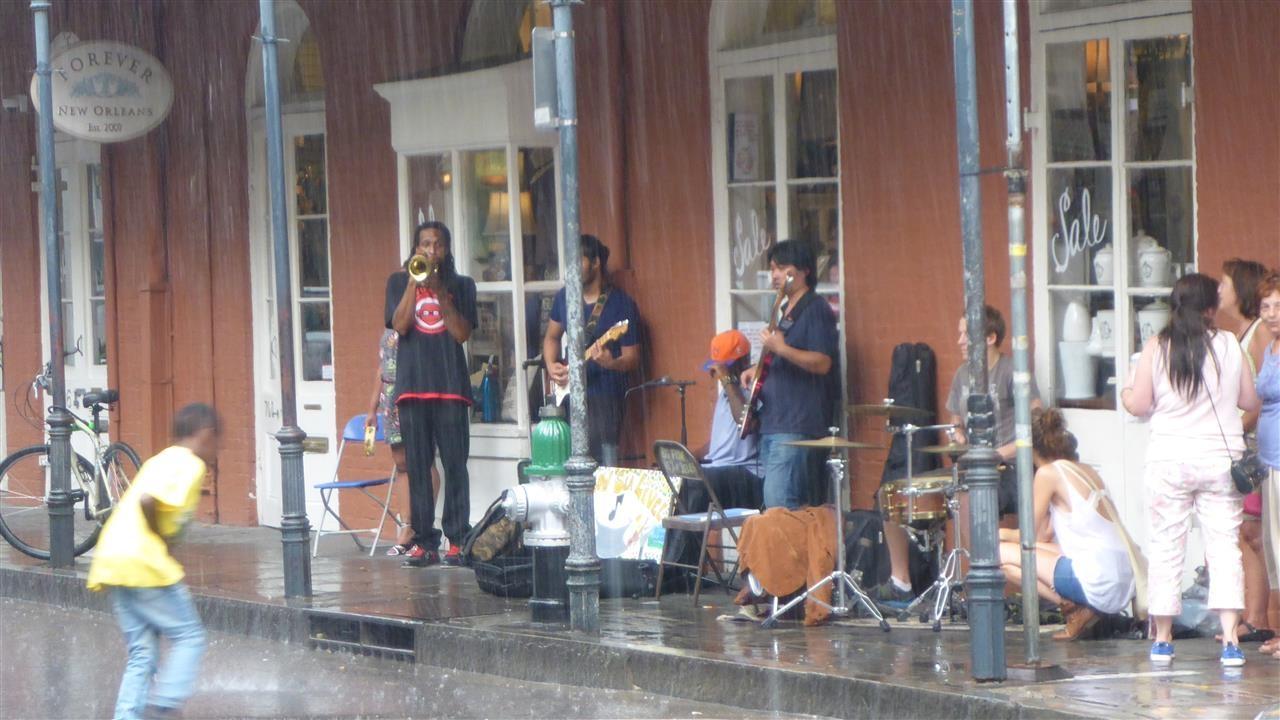 Hollie & I went to do a little shopping , a massive rain storm started. While we were hiding under the balconies these energetic musicians entertained a captive audiance.
Our view into the Cathedral square. A yound man played hypnotic Indian style music which we enjoyed.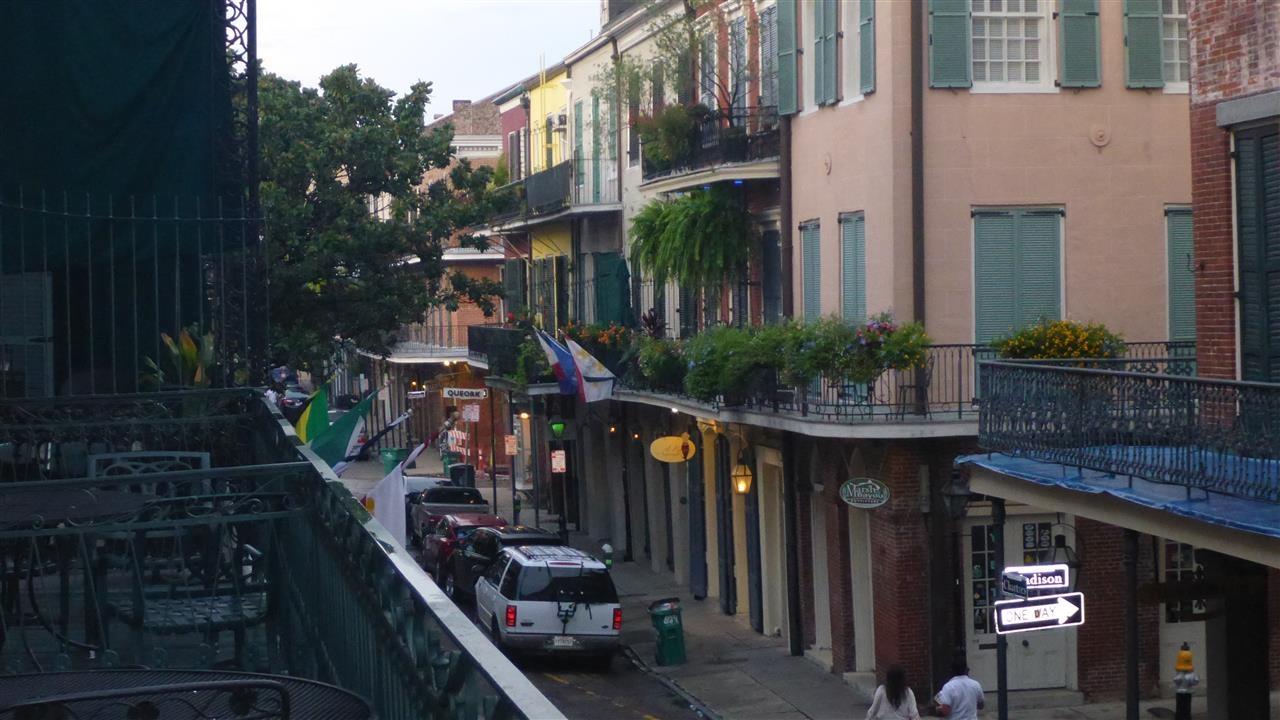 And the other way a view into the maze of streets.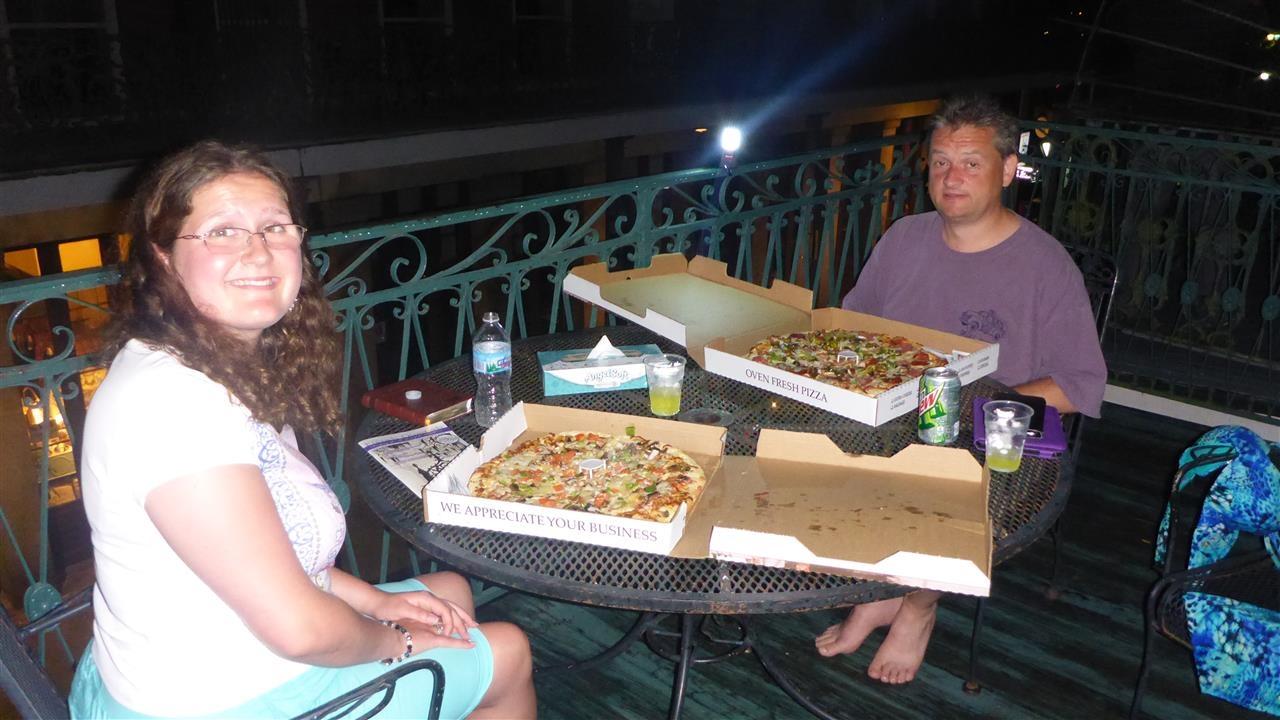 Wanting to make the most of our private balcony , we ordered in pizza & listened to the multiple ghost tours that stopped in front of our building , their spellbound audiances listening to a variety of different versions, of the alledged weird happenings in the buildings flanking ours.

Goodnight dear reader , we hope nothing goes bump in the night xxx
Monday 22nd August 2016
DAY
23

Race to the space shuttle.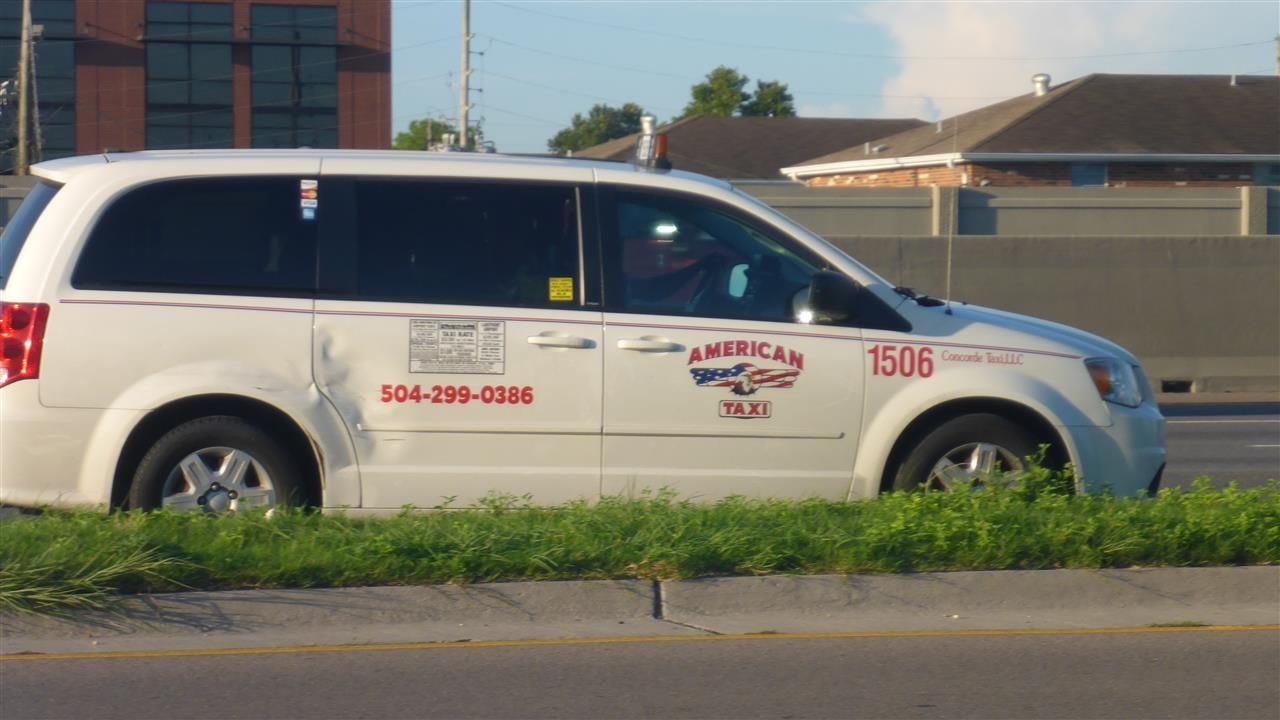 06.30 we left Place De Armes our New Orleans home for the last 4 nights.
We were on the freeway when this taxi pushed us across the carriageway. It emerged from a filter lane into a queue of stationary traffic , clearly going too fast.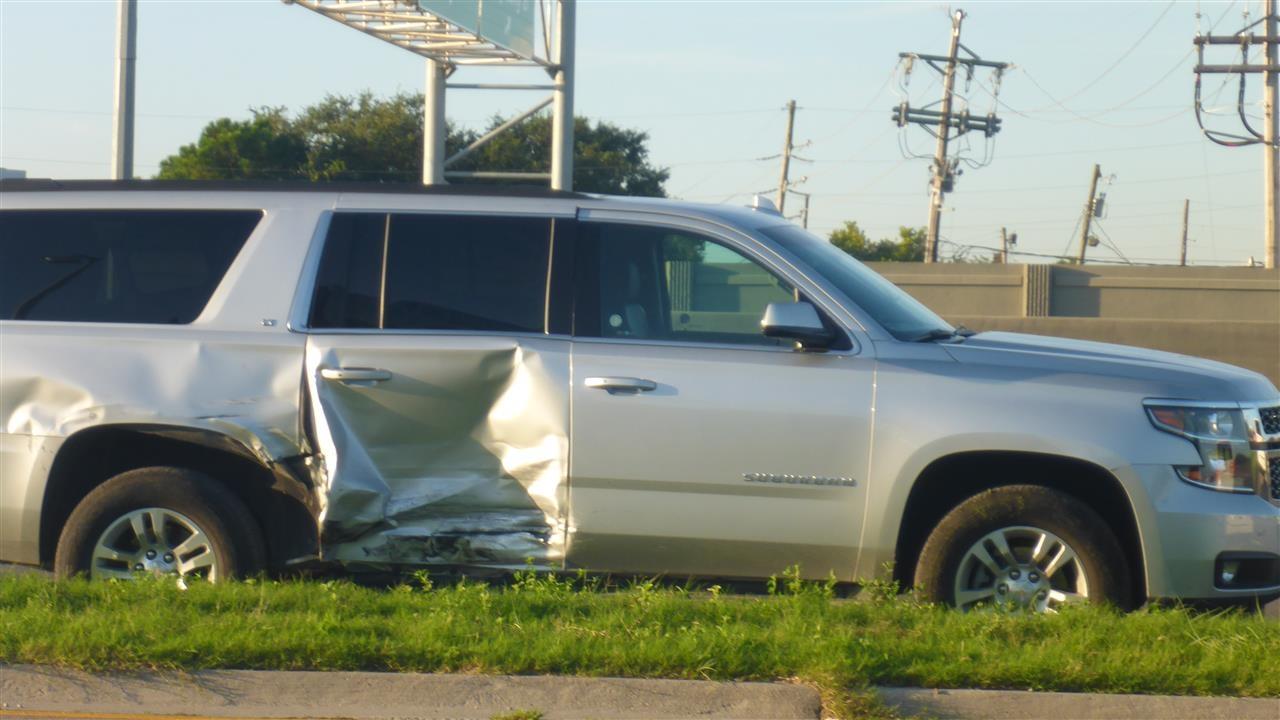 Our car door was severely damaged as you can see, as well as our drivers side front quarter.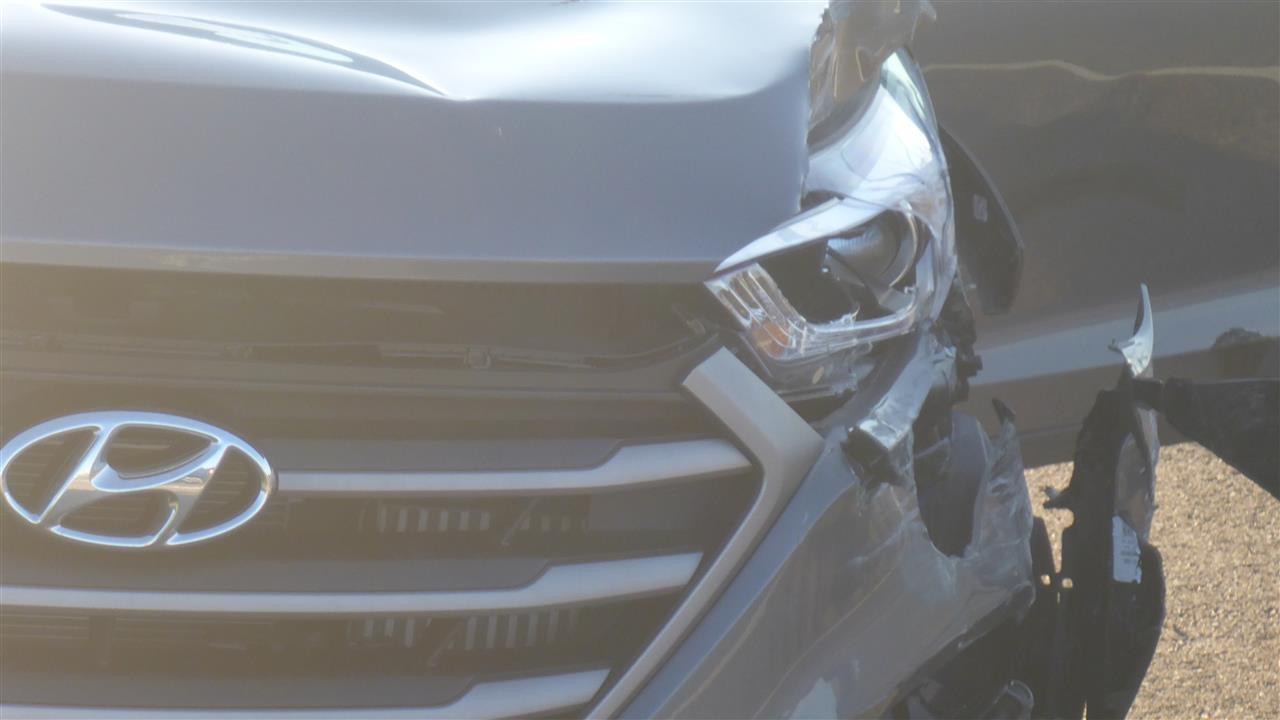 This Hyundai was travelling in the right lane & we were pushed into it , creating the door damage you can see on ours.
We waited on the hard shoulder for a State Trooper to arrive. he quickly got us off the next exit ramp & interviewed all participants in a gas station parking area, which was to be our home for the next 3 hours.
The taxi driver denied responsibility suggesting we had veered one way and then the other , causing all the damage...The Trooper made no secret of the fact he didn't believe a word the taxi driver was saying.
A tow truck eventually arrived, with an unbroken car for us.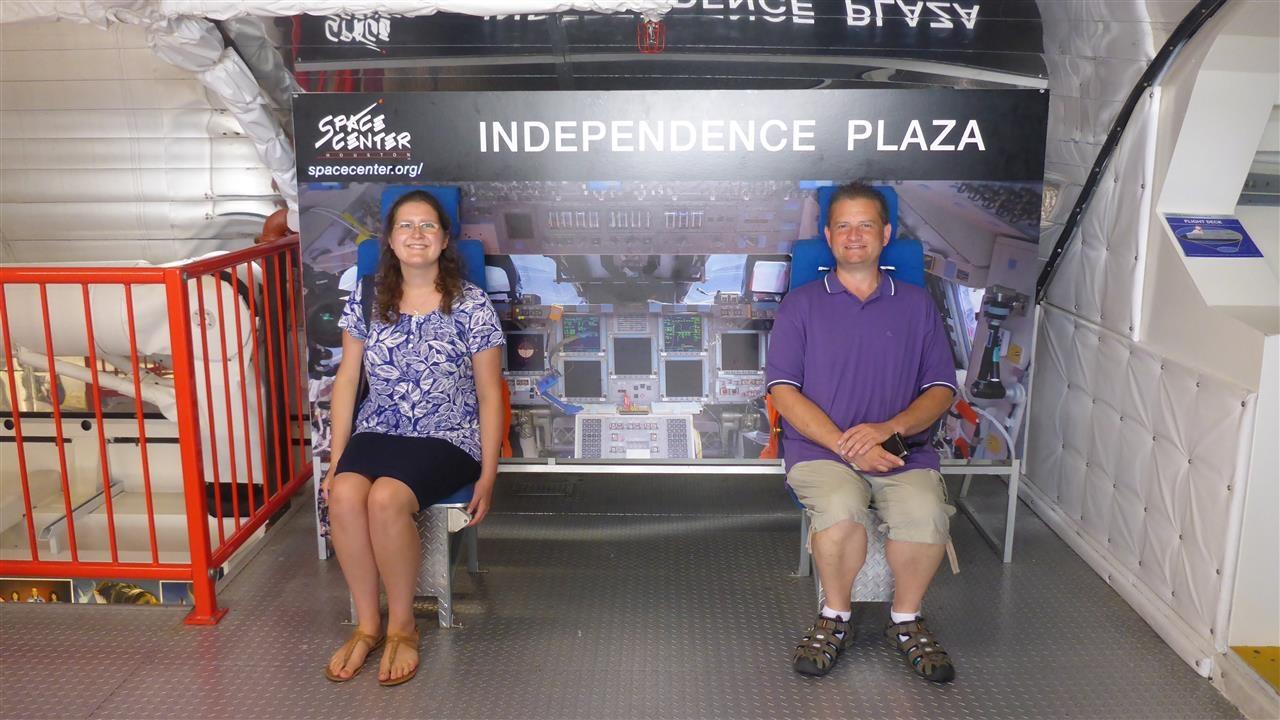 We had no chance of getting to The Space Centre for our pre booked 2pm tram ride.
However the 4pm space shuttle tour was for a while a possibility.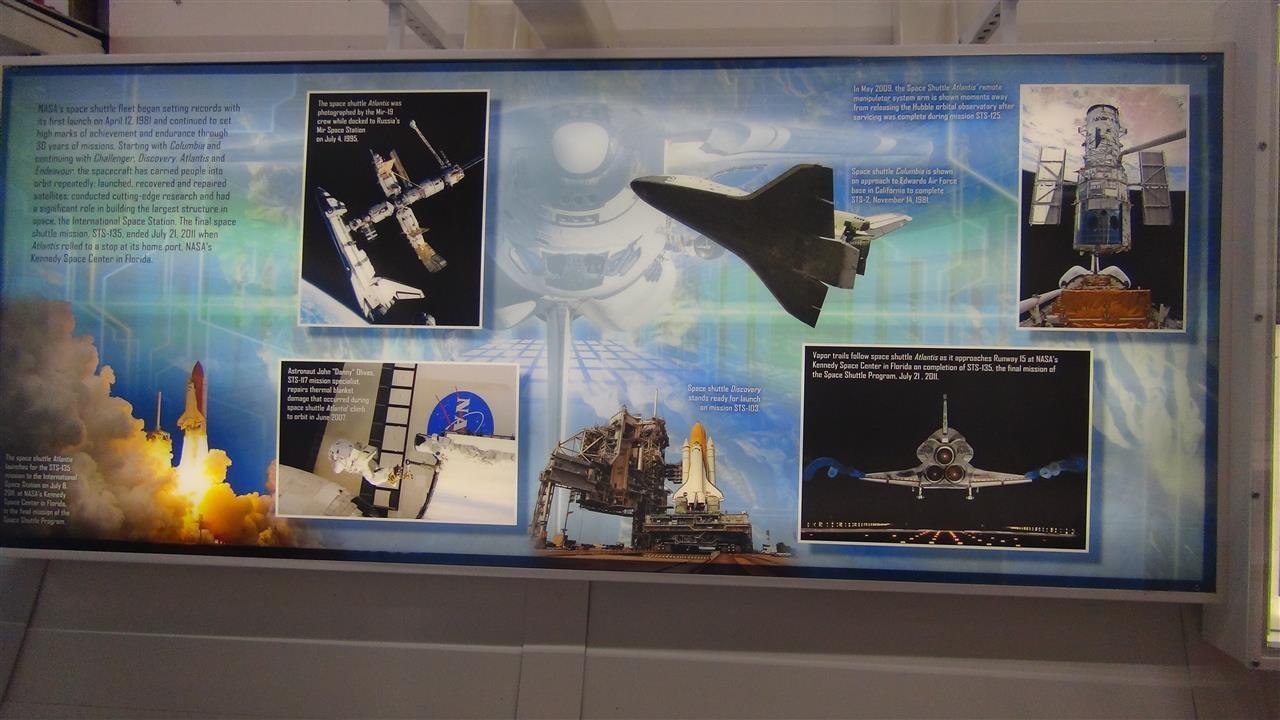 A phone call to the reservation line secured us a spot on the 4.15.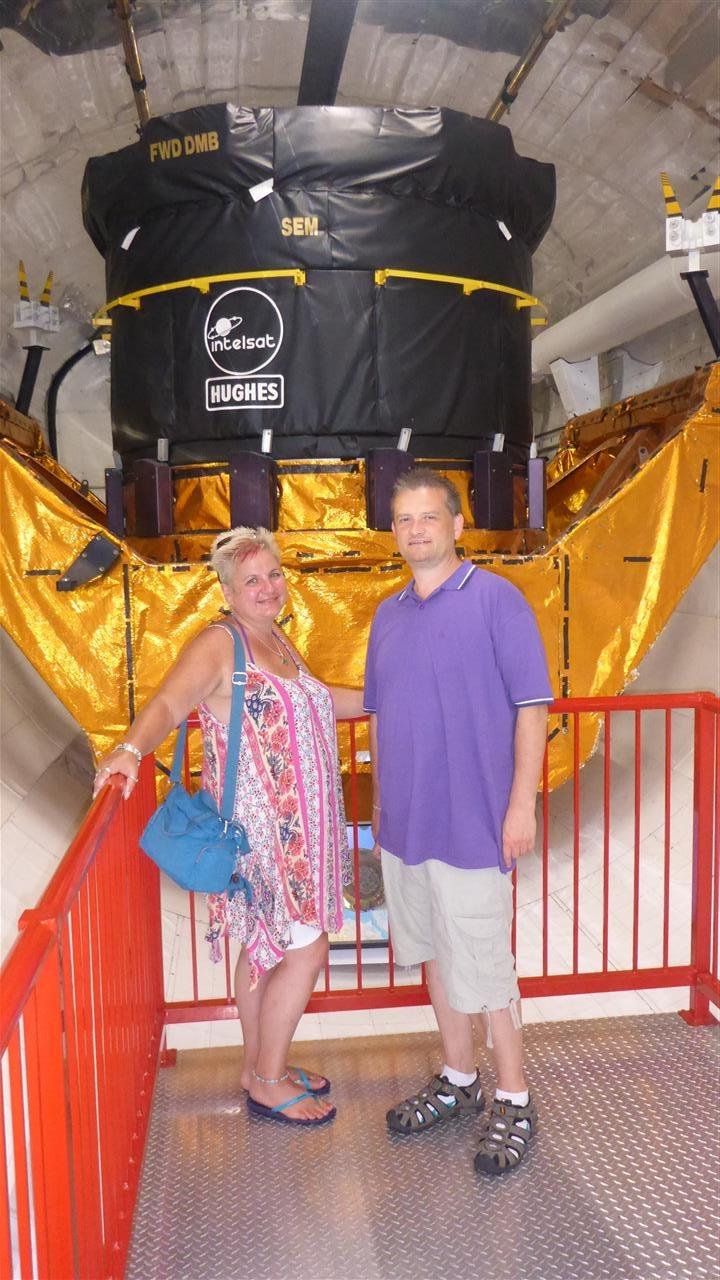 We arrived on site at 4.15 to the second, thanks to Ians fabulous driving.
A well needed space loo... Fortunately we had a moment to go before the exhibit.
The Boeing 747 stripped out & used to launch the " reusable " shuttle, required 7000 pounds of pea shingle to act as ballast.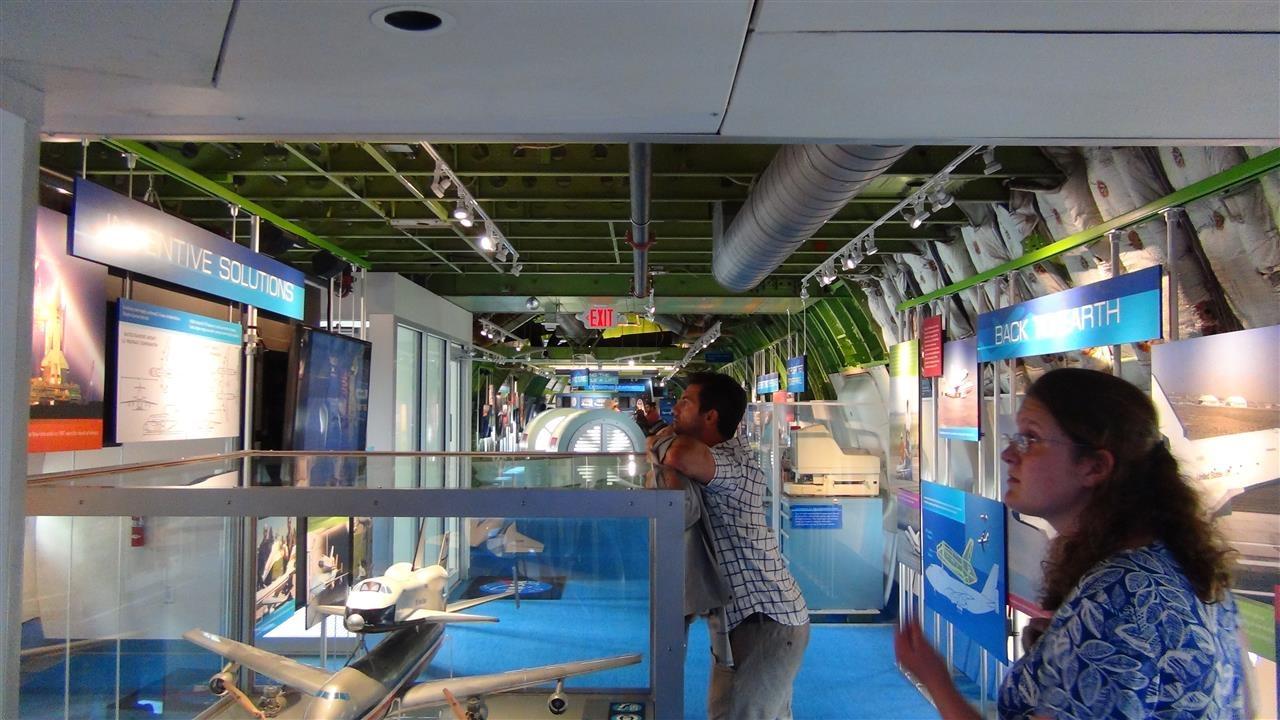 Many of the exhibits offered an insight into the development of the shuttle & its many crew members from 16 countries, to its decommisioning in 2011.
The replica shuttle is the newest exhibit at the space centre.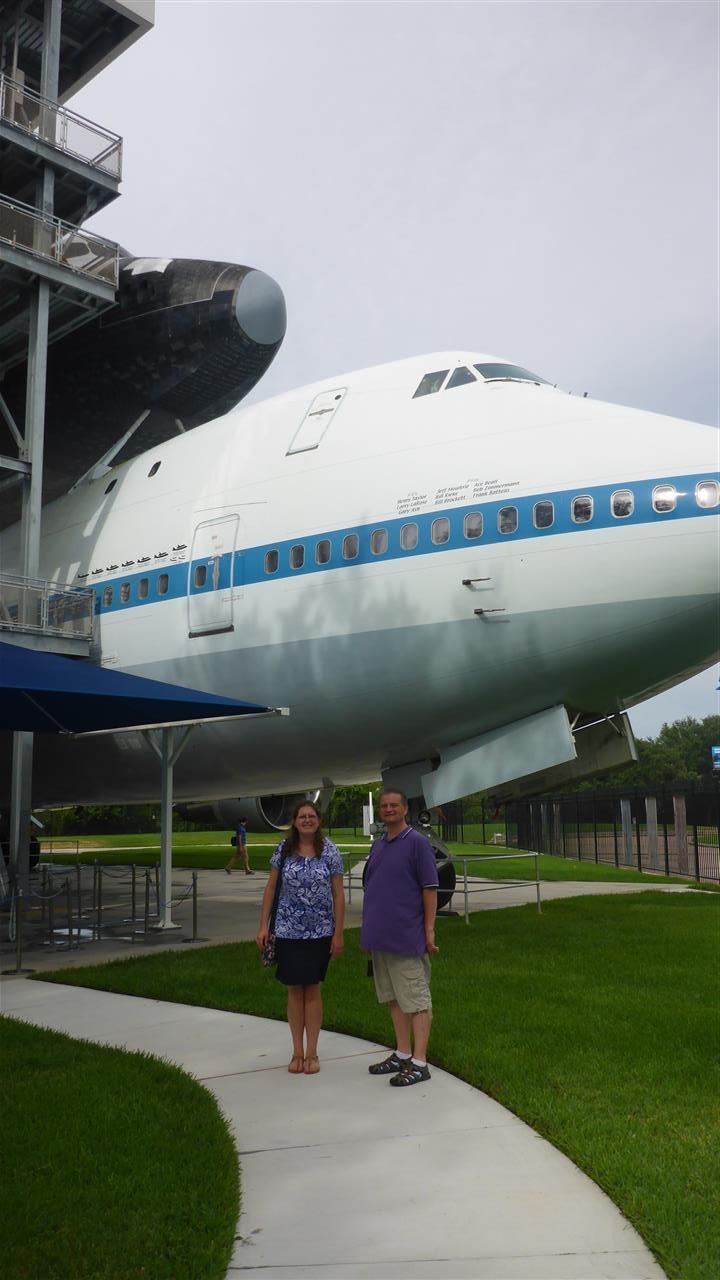 These 2 are a temporary exhibit : )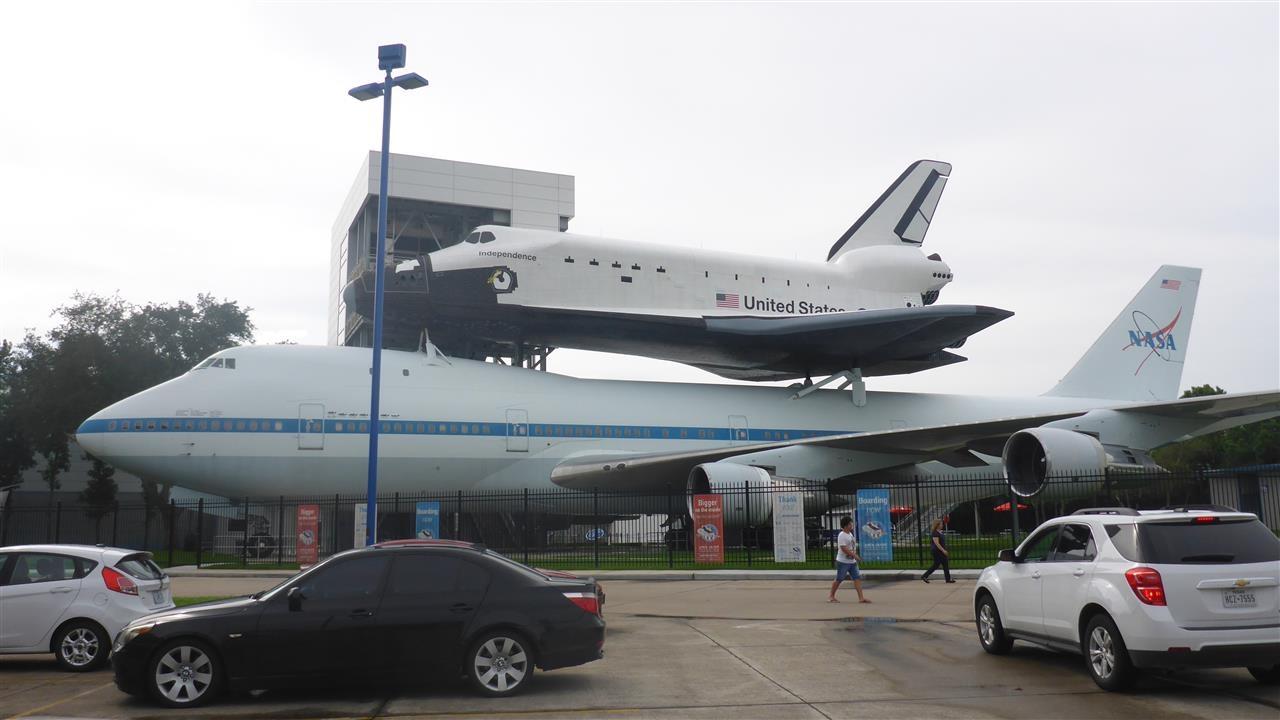 The best view , oddly is from the car park !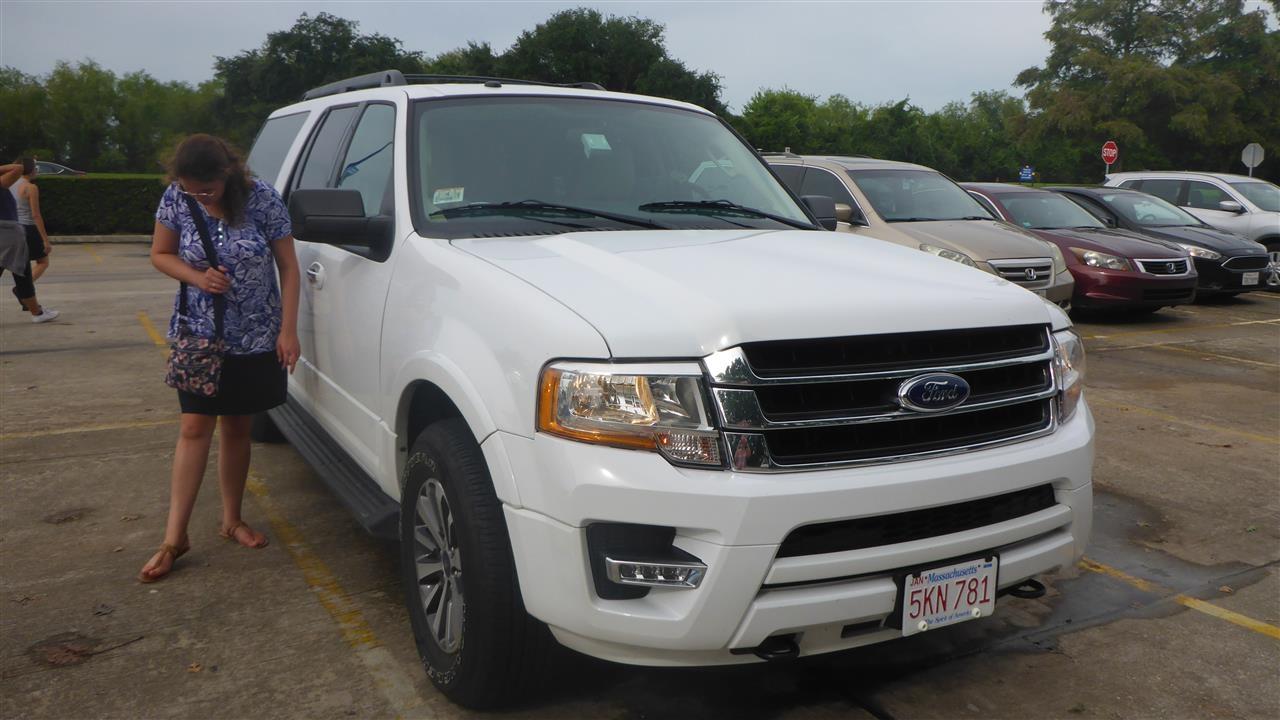 This is our new car.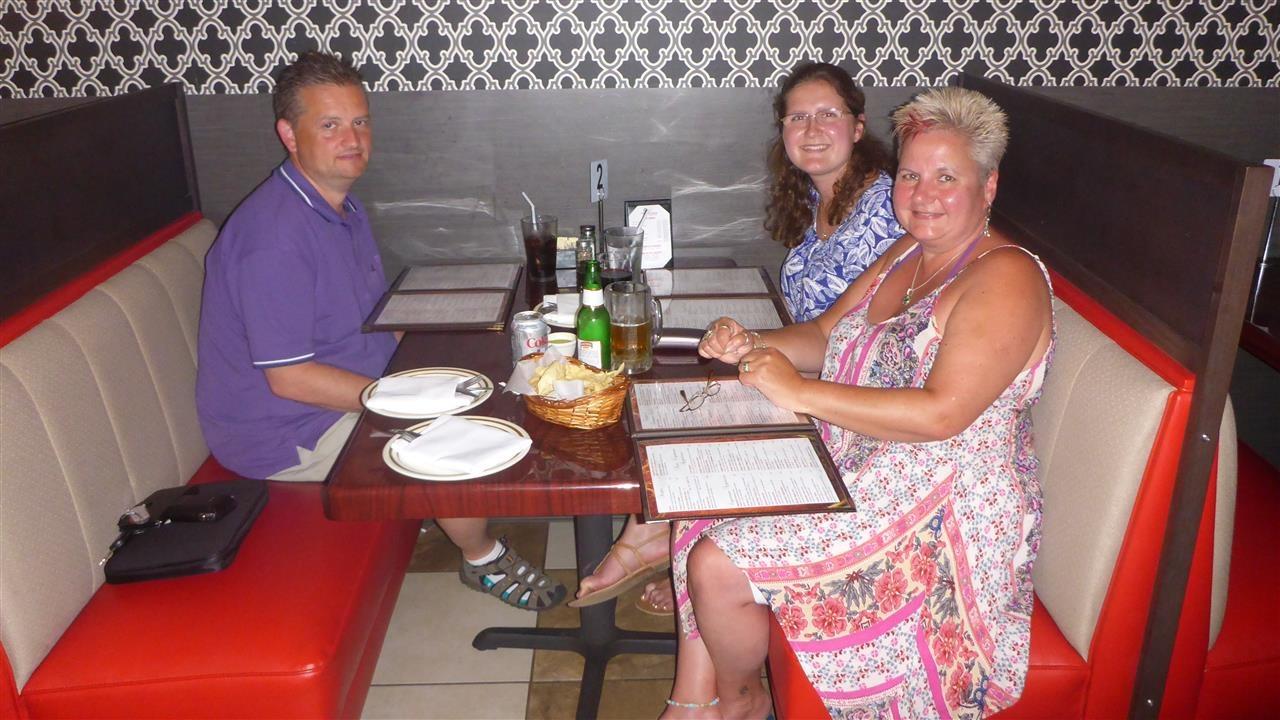 Finally a curry for our hero. Saw a roadside advert for a funeral dirctor today .."Drive carefully , we can wait. " very prophetic !

Thankfully we are all well & have a nights sleep in our Days Inn before the long haul home.

Goodnight all xxxxx
Tuesday 23rd August 2016
DAY
24

A fond farewell from Houston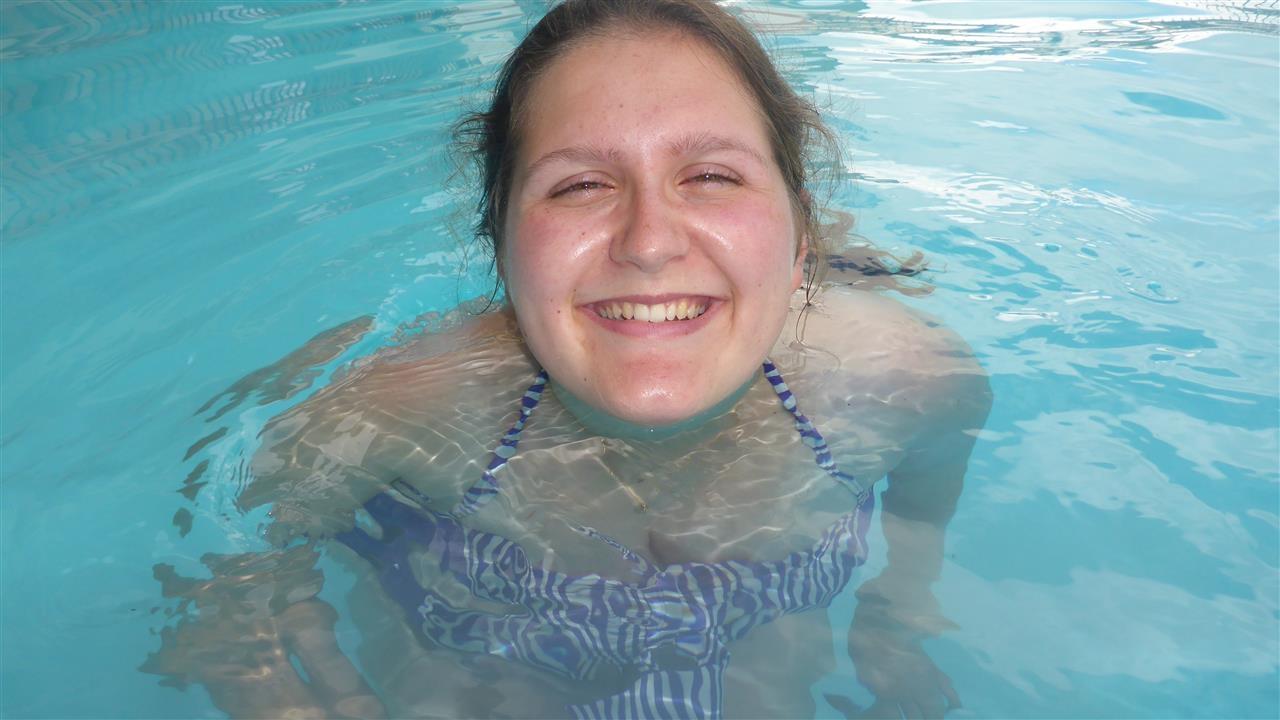 My packing marathon underway, 5 suitcases for the return journey , all boarderline over the allowed 23 kg. Some of Hollies Jesus relics may need to stay here, there is a bloody great cross with Jesus nailed to it , which may scare the beejeezus out of housekeeping when they clean our room.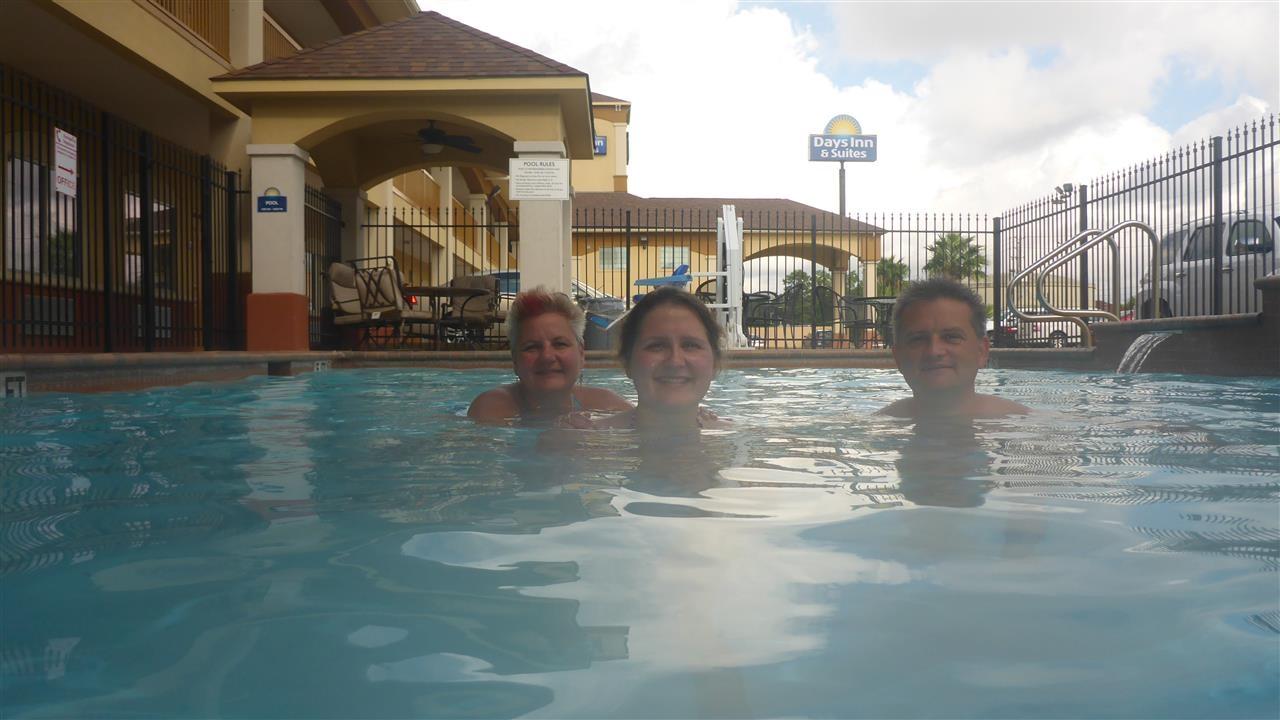 Our cheapest hotel yet at around £56.. A dreaded Days Inn , but no bedbugs !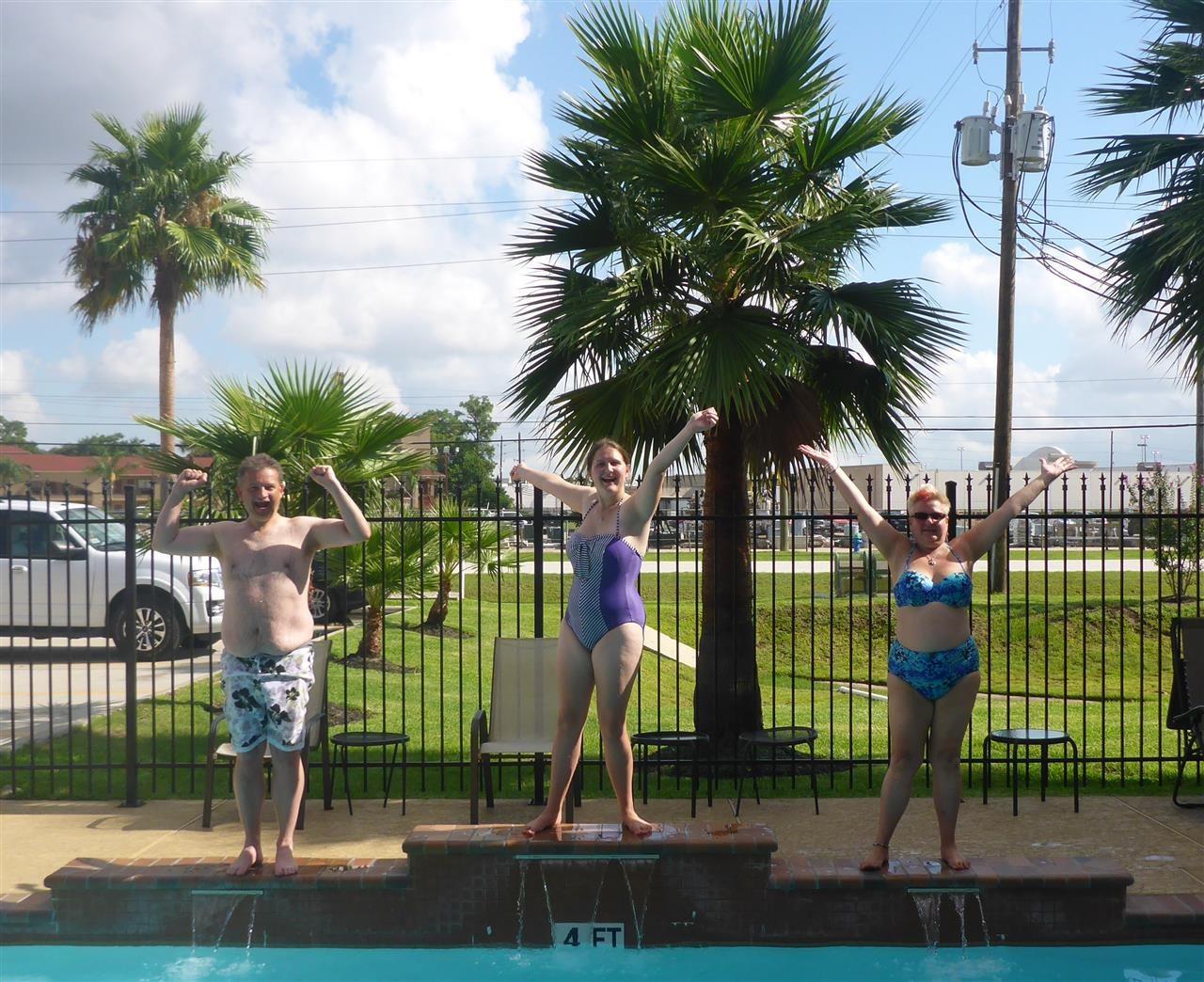 A couple of hours chilling round the pool, The winners of the Houston Days Inn Olympics !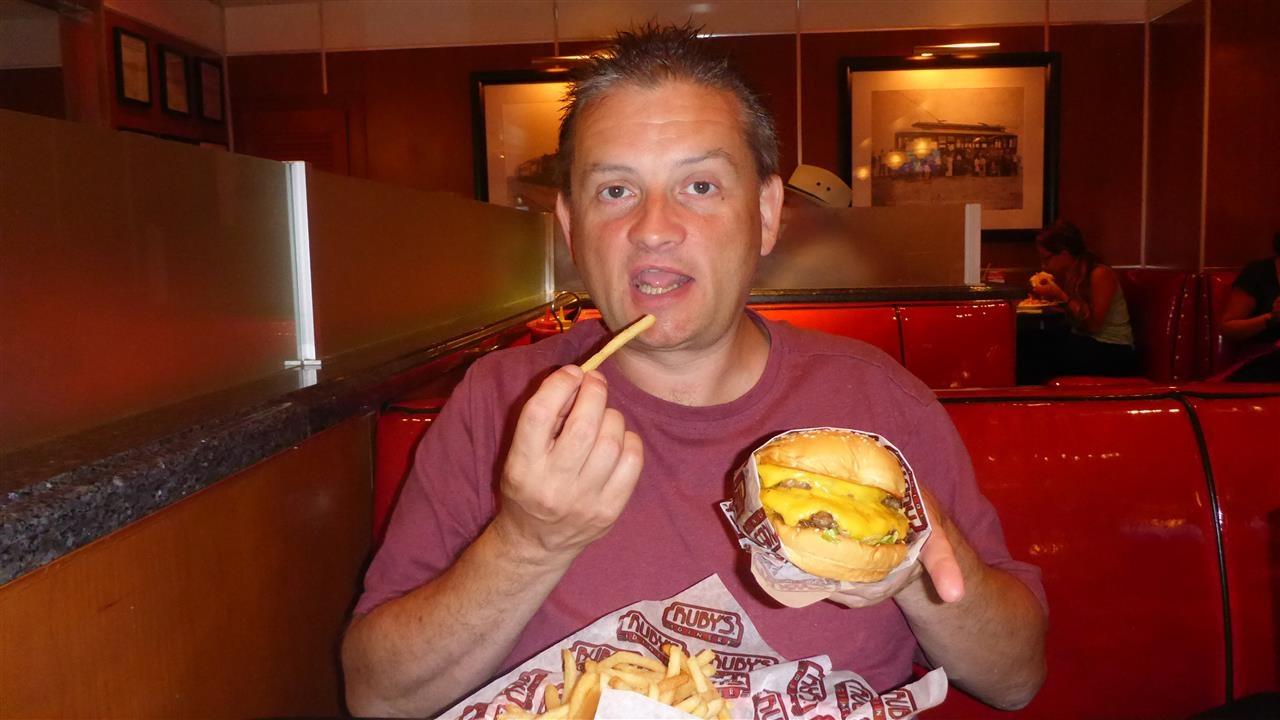 Someone had the massive sooper dooper burger xx Fat git .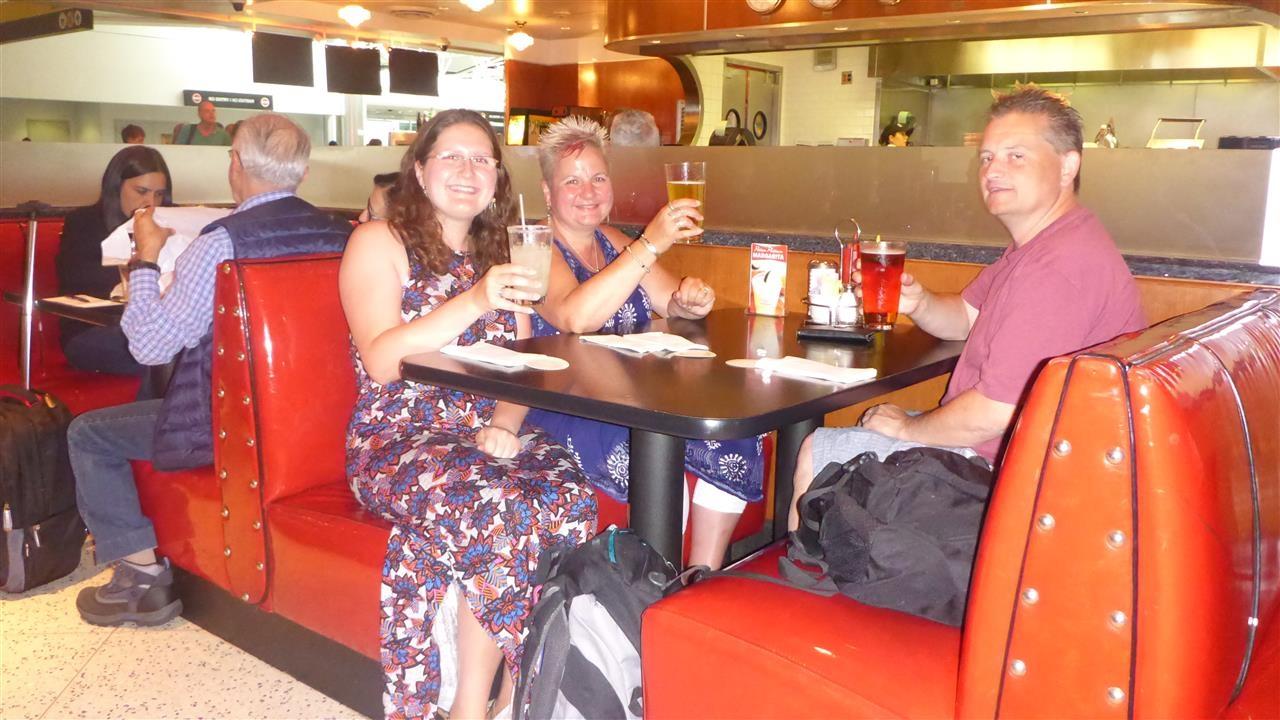 Finally a farewell beer & burger at Ruby's, at the George W Bush Airport Houston.

We will soon be in the air & heading back to those we love.

Wish us safe travels, we will see u when the fog lifts xxxxxxx