Holiday USA and beyond - 2013

Show all days on one page (a long download!)
Day 1 :From Lovedean to Columbus Nebraska in 22 hours! (Tuesday 23rd July 2013 )
Day 2 :Following the The Sandhills scenic route to Mullen.. (Wednesday 24th July 2013 )
Day 3 :Tanking up the Middle Loup..and an Elks penis! (Thursday 25th July 2013 )
Day 4 :Taking the Oregon Trail with prairie dogs, Simples! (Friday 26th July 2013 )
Day 5 :Wind caves & a drive through Bison country. (Saturday 27th July 2013 )
Day 6 :4 years of Marriage..with Calamity Jane & Wild Bill Hickock (Sunday 28th July 2013 )
Day 7 :Bear Country USA to the Badlands.. (Monday 29th July 2013 )
Day 8 :Across the prairies to Bismarck .. (Tuesday 30th July 2013 )
Day 9 :Fracking Hell in Wiliston. (Wednesday 31st July 2013 )
Day 10 :Into Canada without a hitch & a night in Moose Jaw. (Thursday 1st August 2013 )
Day 11 :Moose Jaw to North Battleford and thats about it! (Friday 2nd August 2013 )
Day 12 :Plenty of Moo's but No Moose. (Saturday 3rd August 2013 )
Day 13 :Cabin in the woods .. (Sunday 4th August 2013 )
Day 14 :Doggy day & Rafting through the Rockies. (Monday 5th August 2013 )
Day 15 :Tramway to Heaven & The Athabasca falls. (Tuesday 6th August 2013 )
Day 16 :Bear discovered on Mount Edith. (Wednesday 7th August 2013 )

Day 17 : The Ice fields & a beary good day..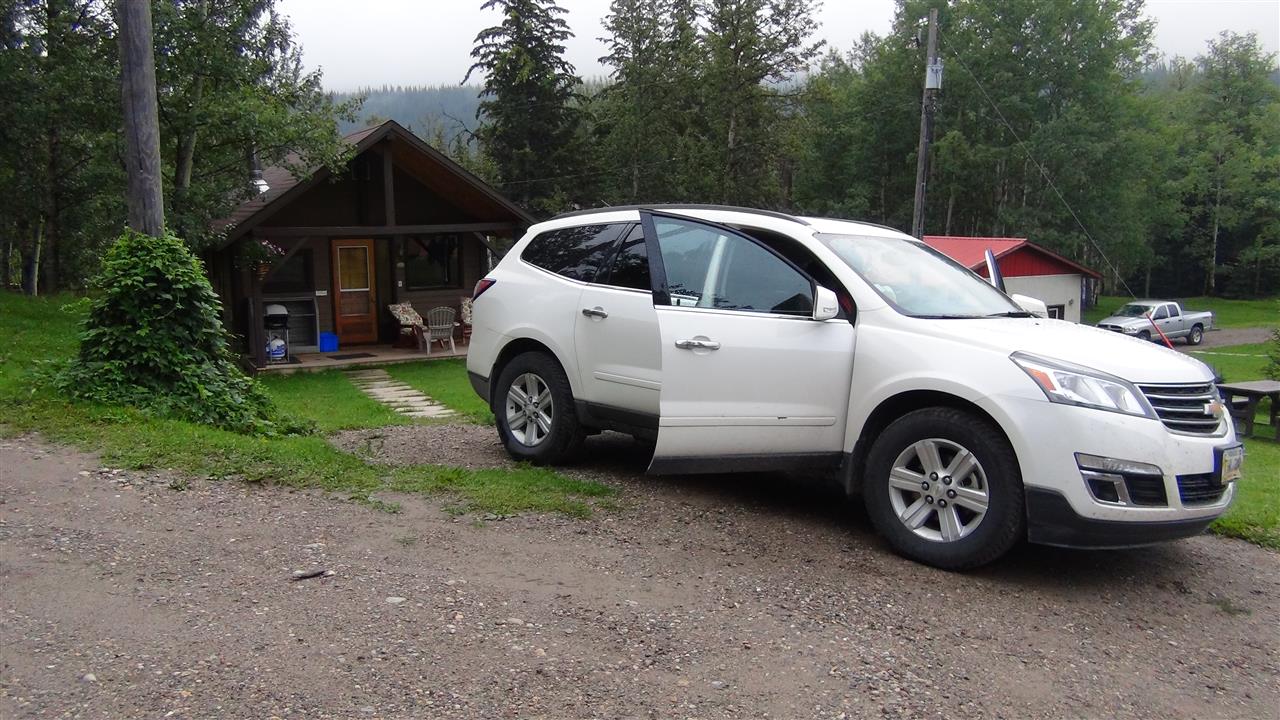 Goodbye Brown Cabin, Today started very wet & gloomy , after a night of rain.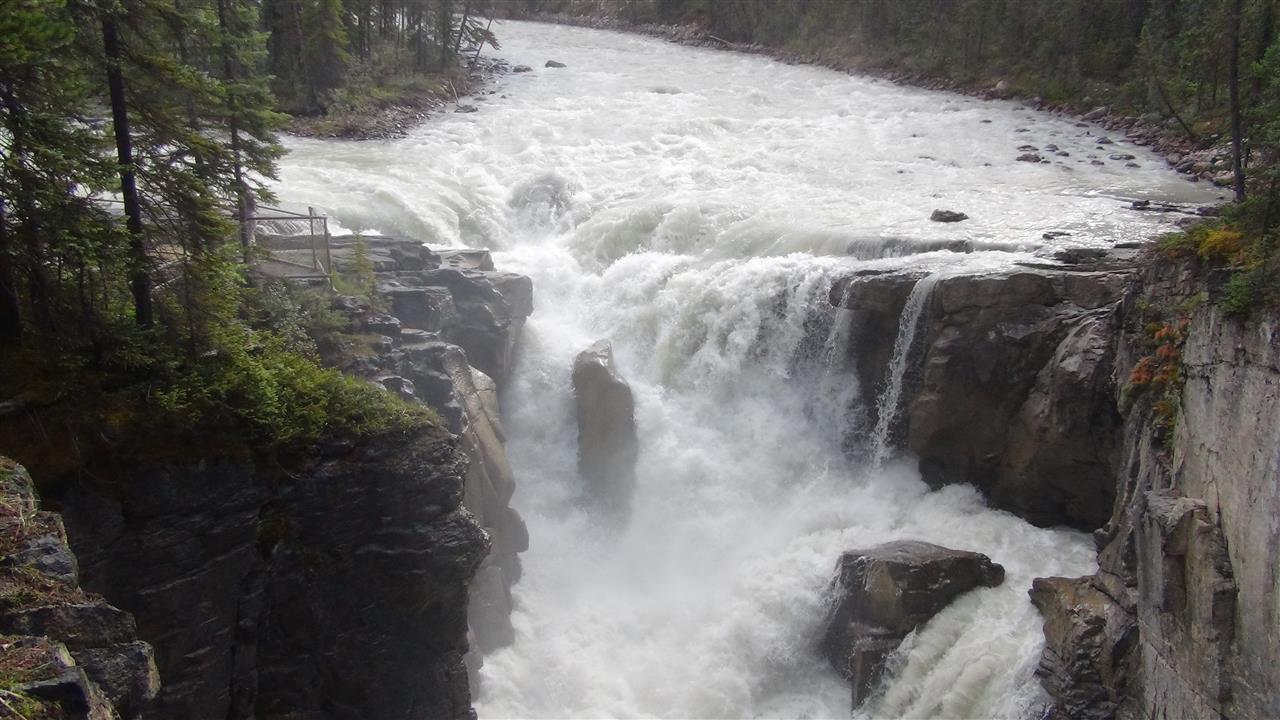 Ian had planned for us to visit Sunwapta falls, enroute to The Ice Fields.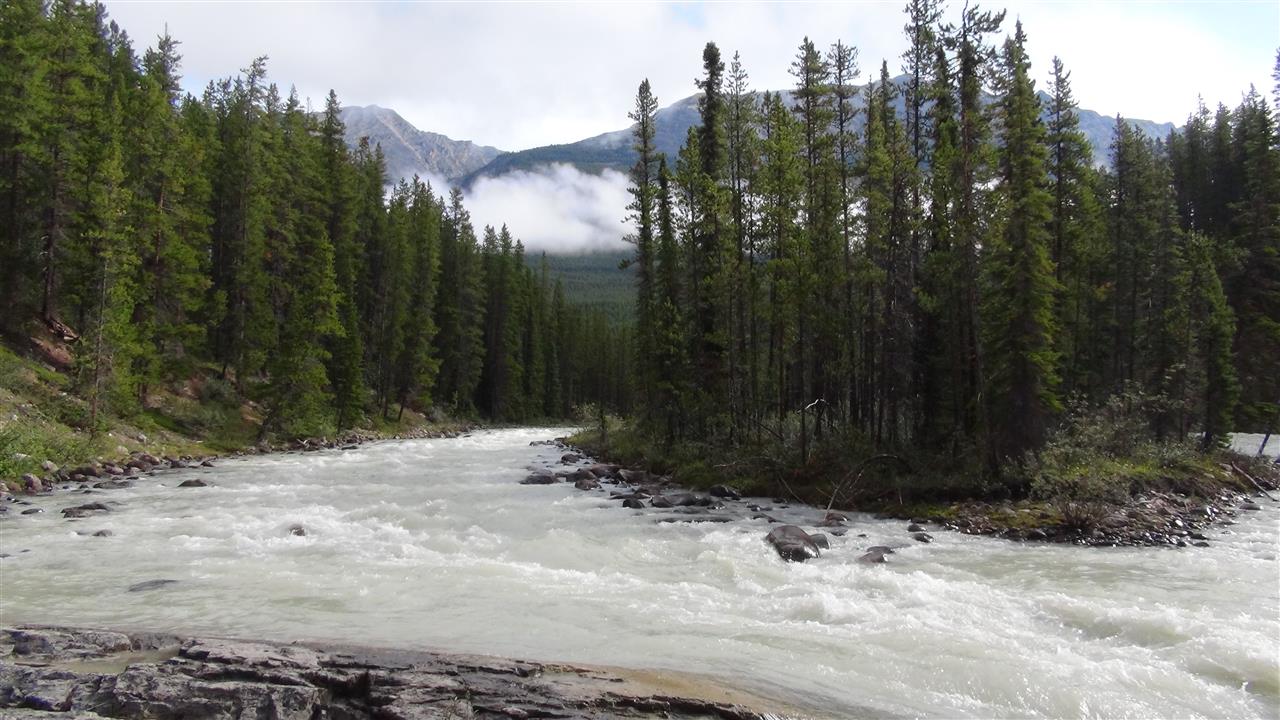 The falls take water to Sunwapta Lake.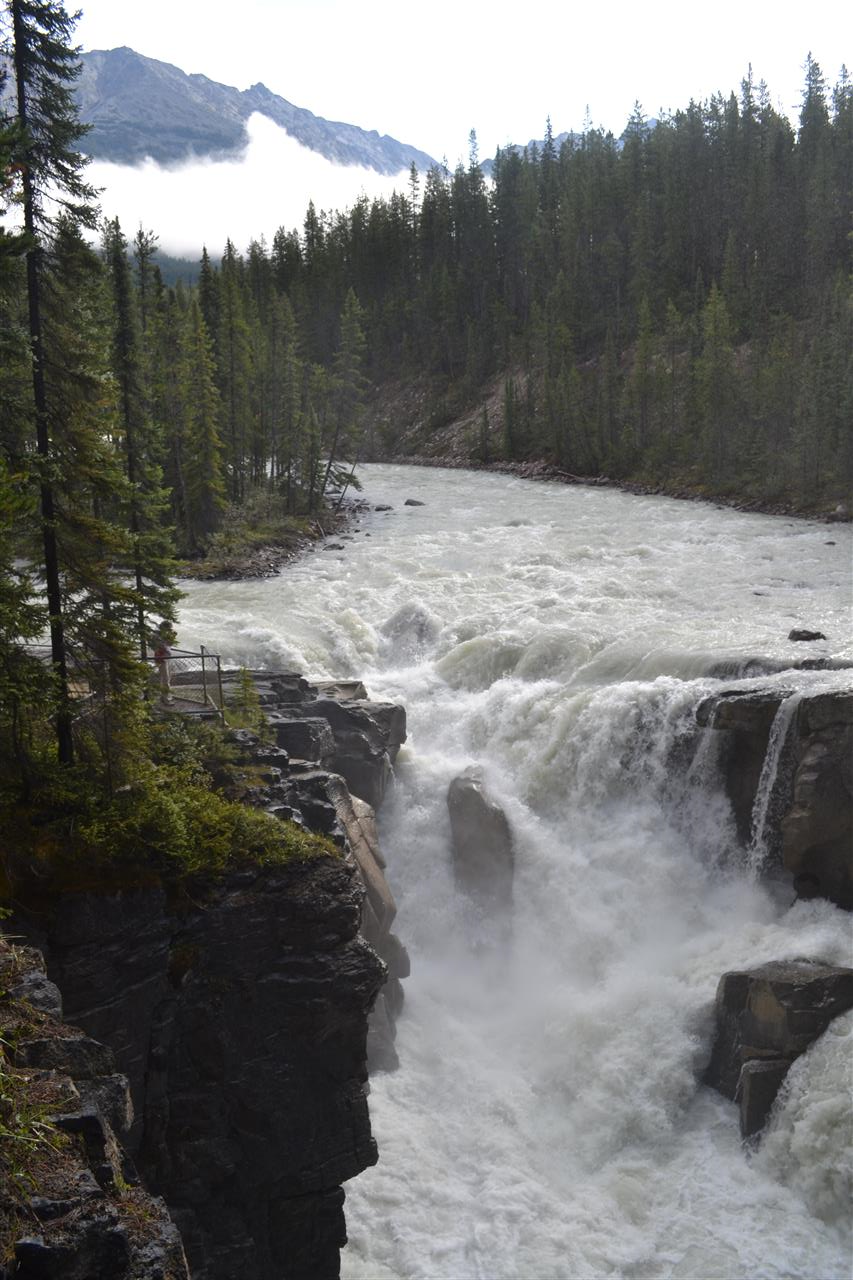 Sunwapta means,Turbulant waters.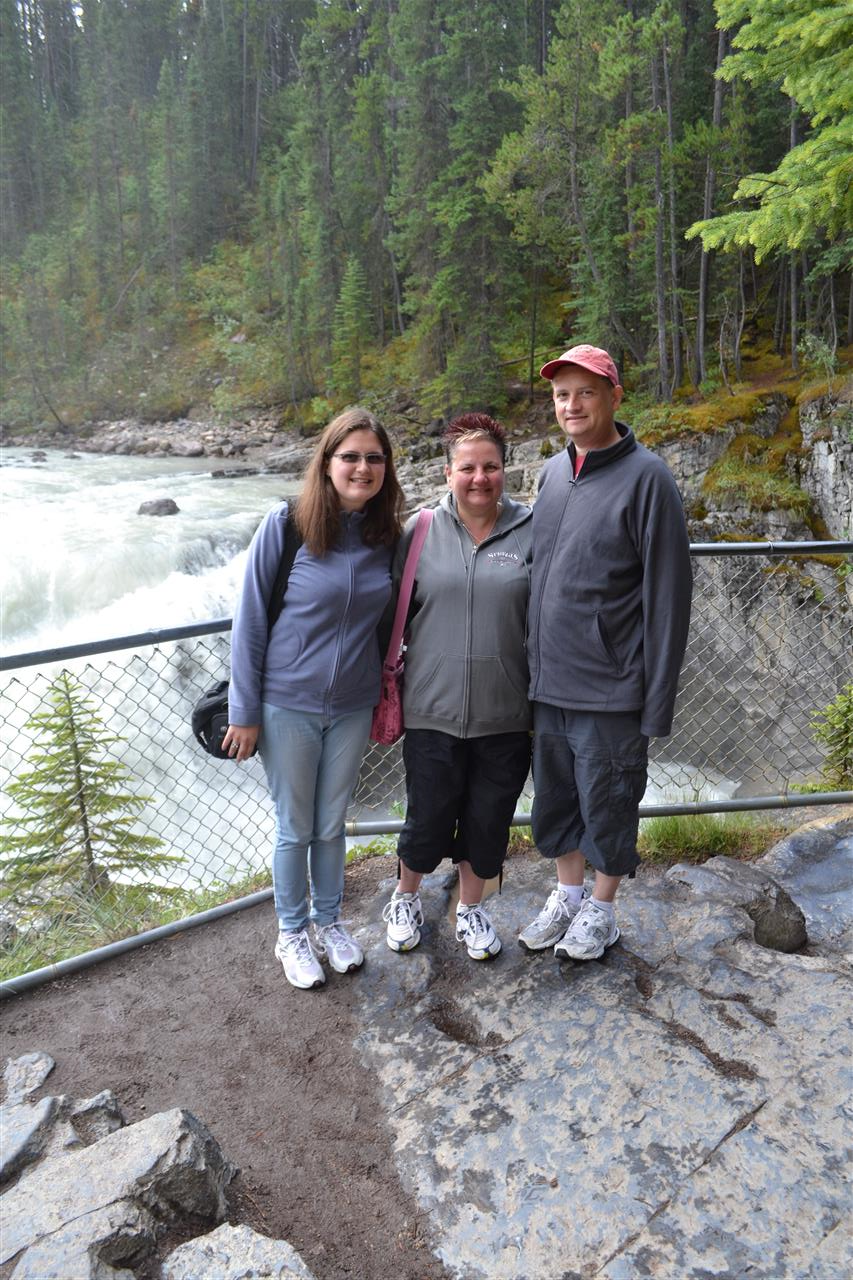 We met some nice lady cousins who took our photo.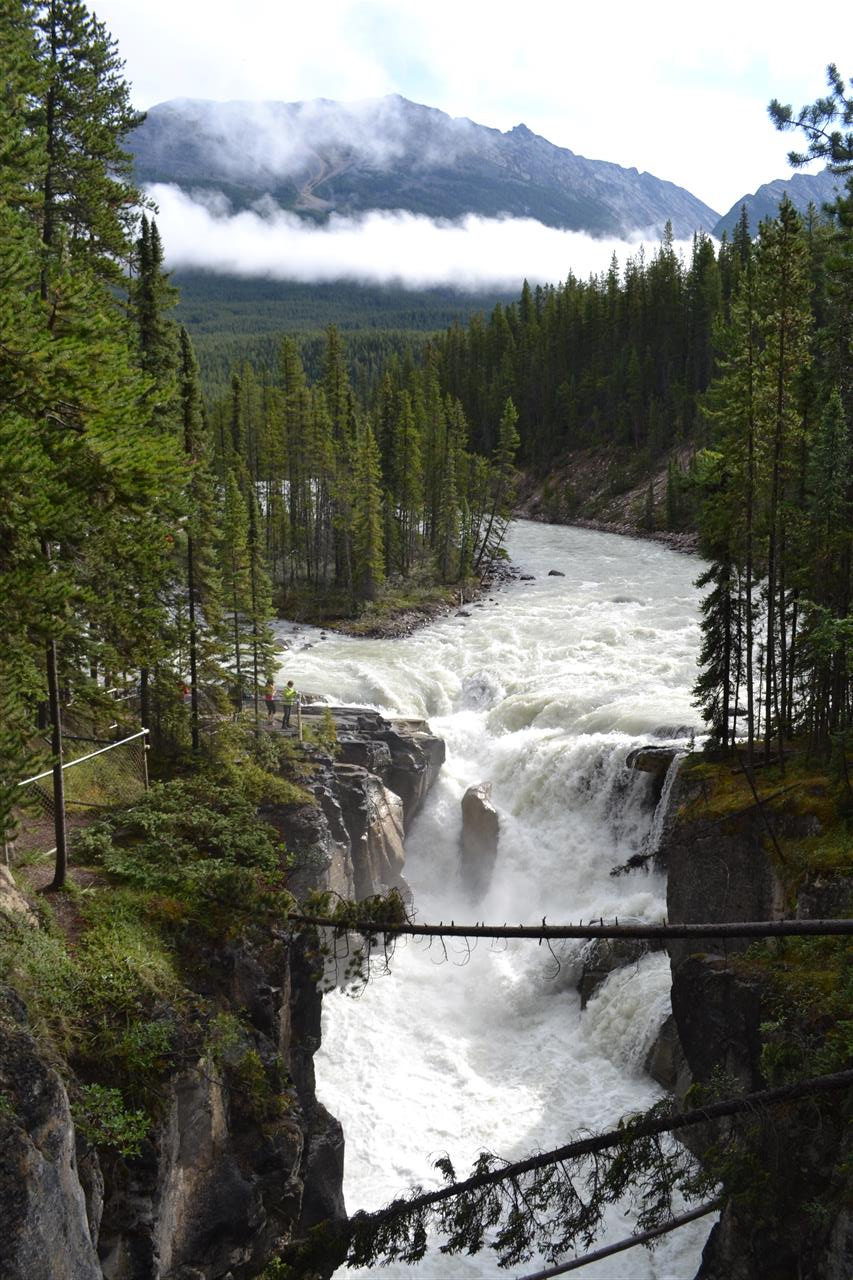 once again the violent falls create a deafening roar as they force their way downhill. Carving the landscape to suit their path.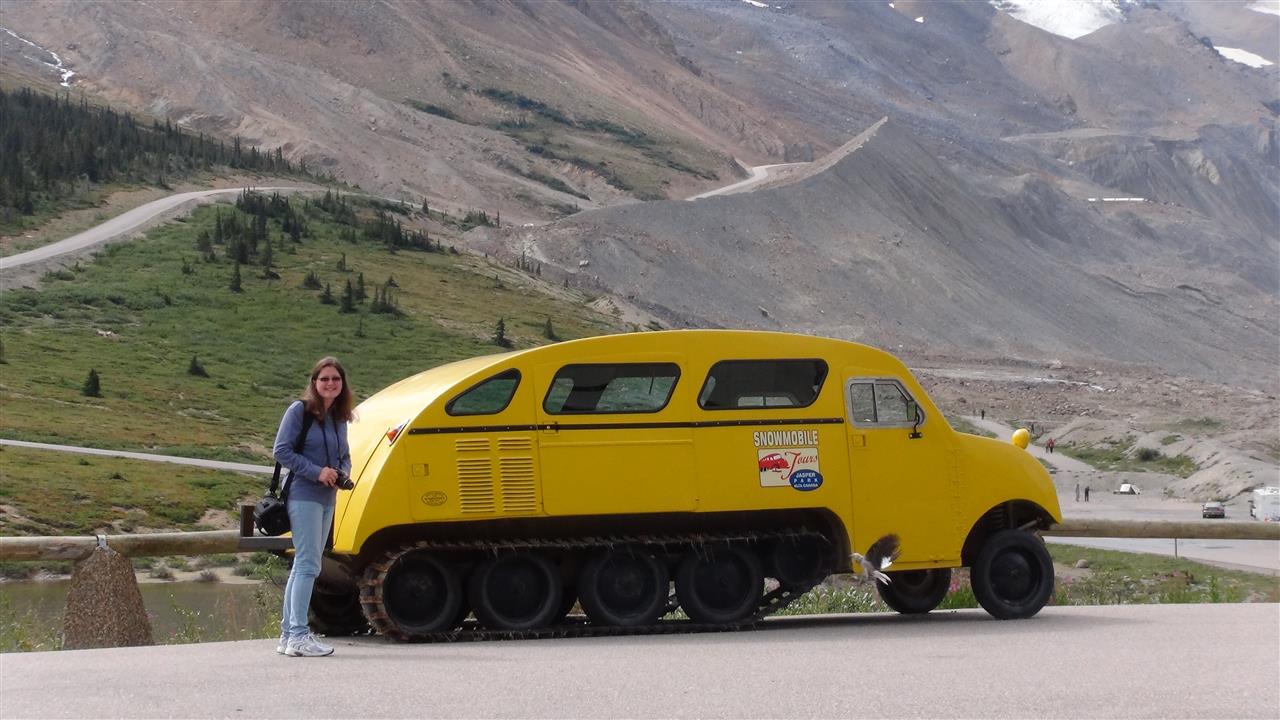 Hollie poses next to an original 1920's Ice explorer, built by snowmobile.
We took a regular bus to The Athabasca Glacier, we changed buses & finished our journey on a 1 million pound, 1981 Ice explorer..its 6 tyres inflated to 15 psi..each tyre 4'6" by 3'.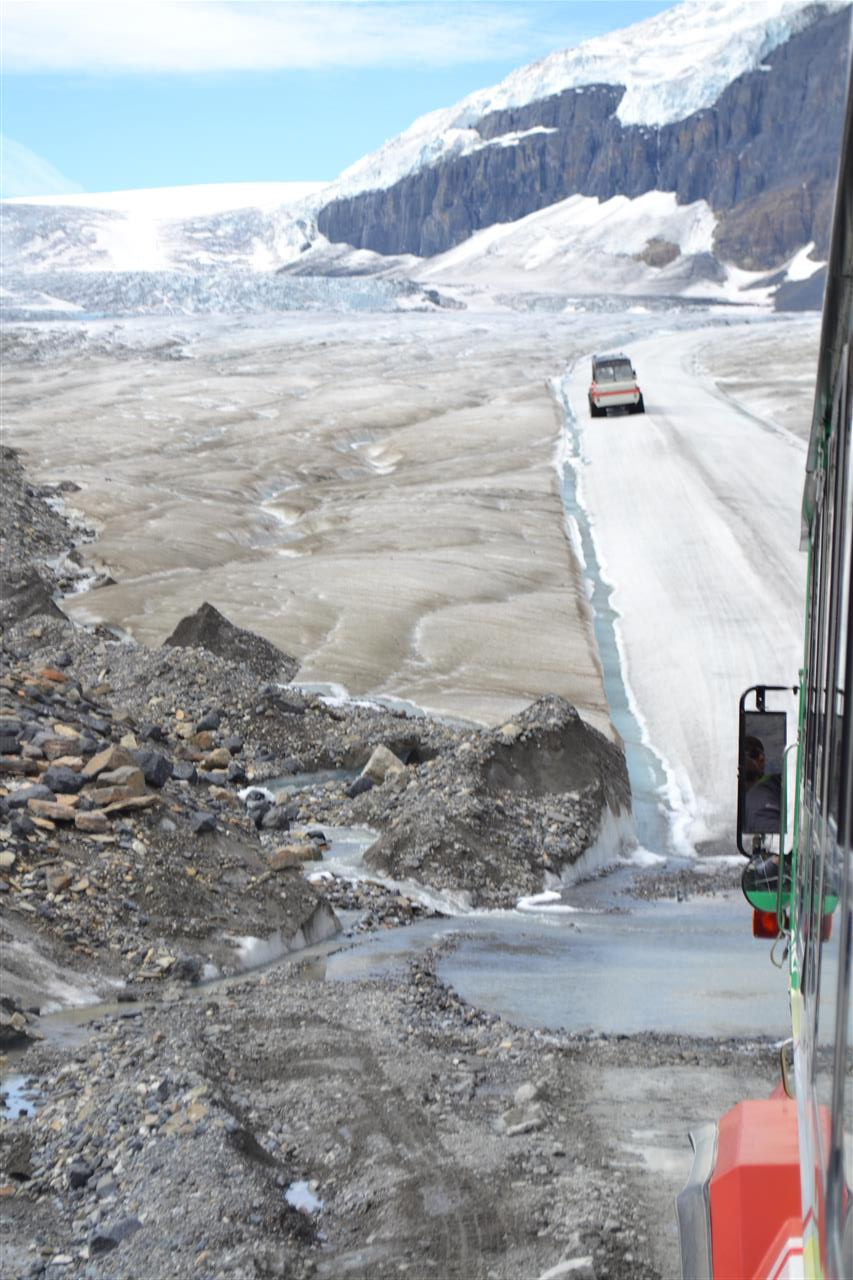 The vehicles are well able to cope with the 35 per cent gradient of the gravel road, which is laid over a 50ft thick slab of glacier.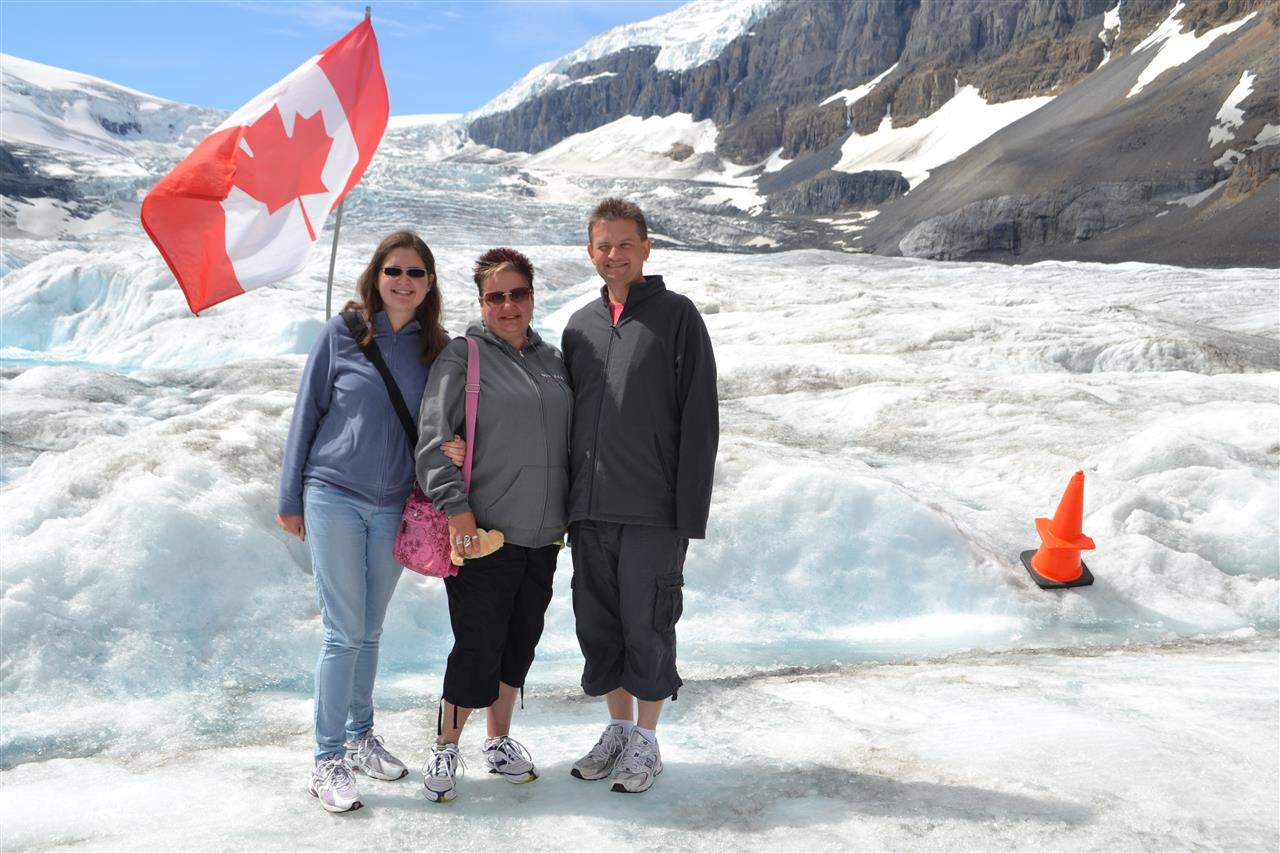 The Veck / Marriott-Veck family claim this glacier for Canada!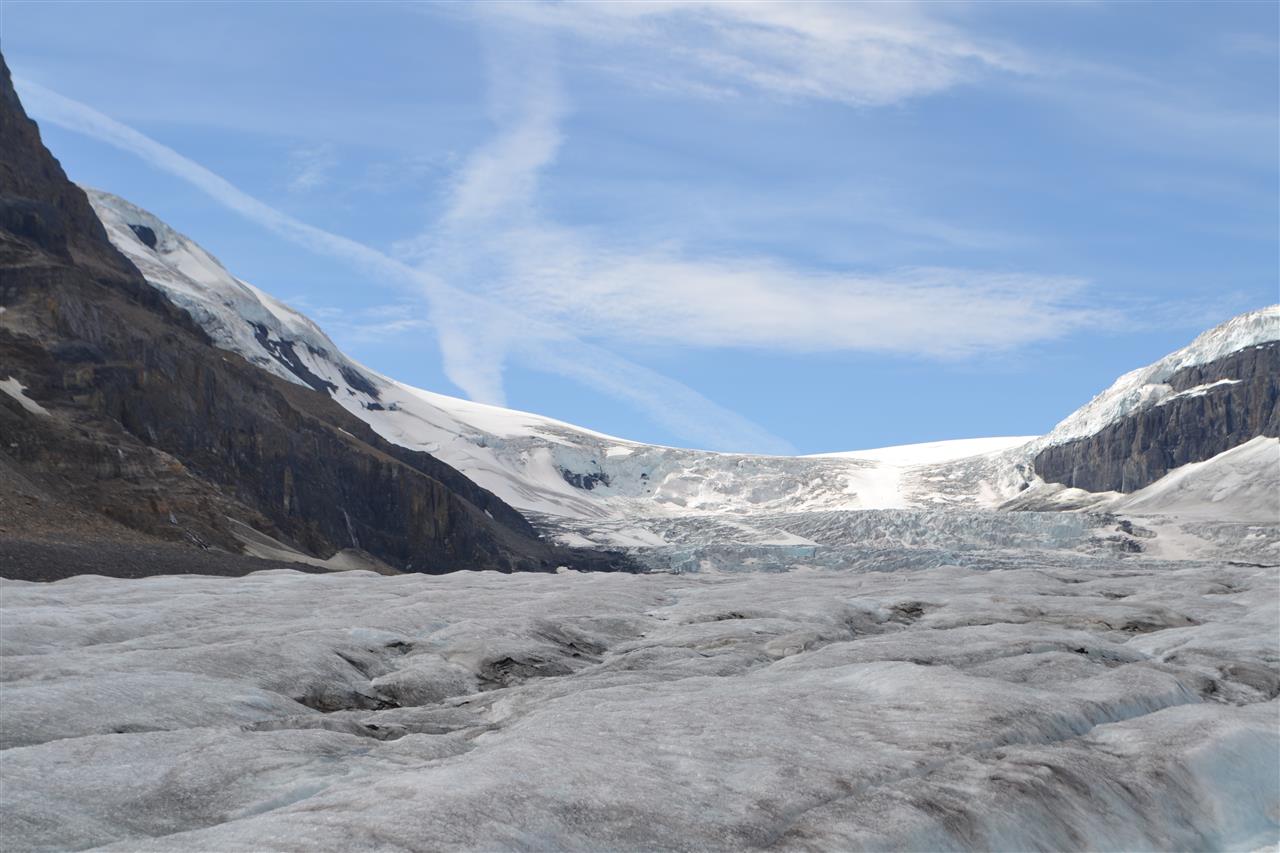 The glacier is shrinking and it is estimated that in 125 years it will be nothing more than a pond.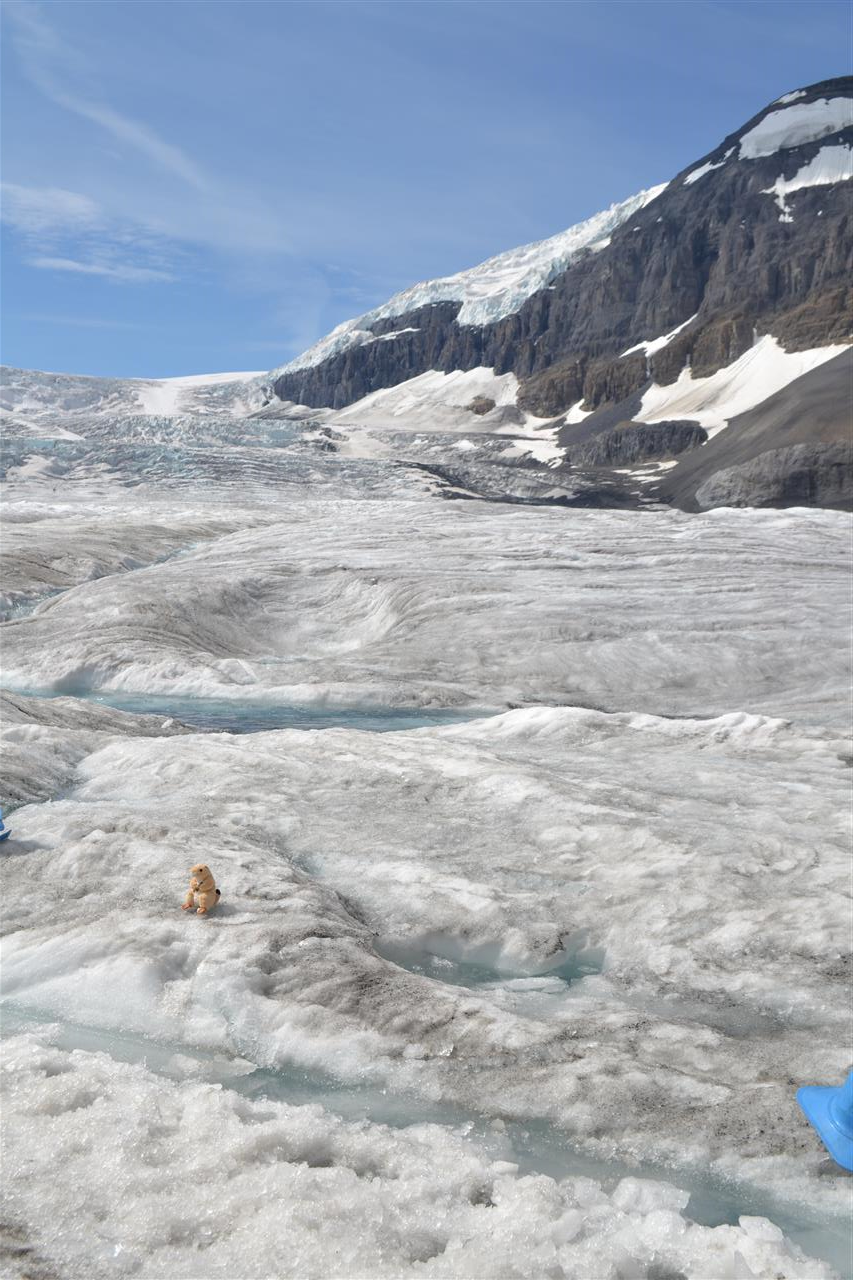 Damned Meer cat / Prairie dogs, have begun to invade this icy wilderness.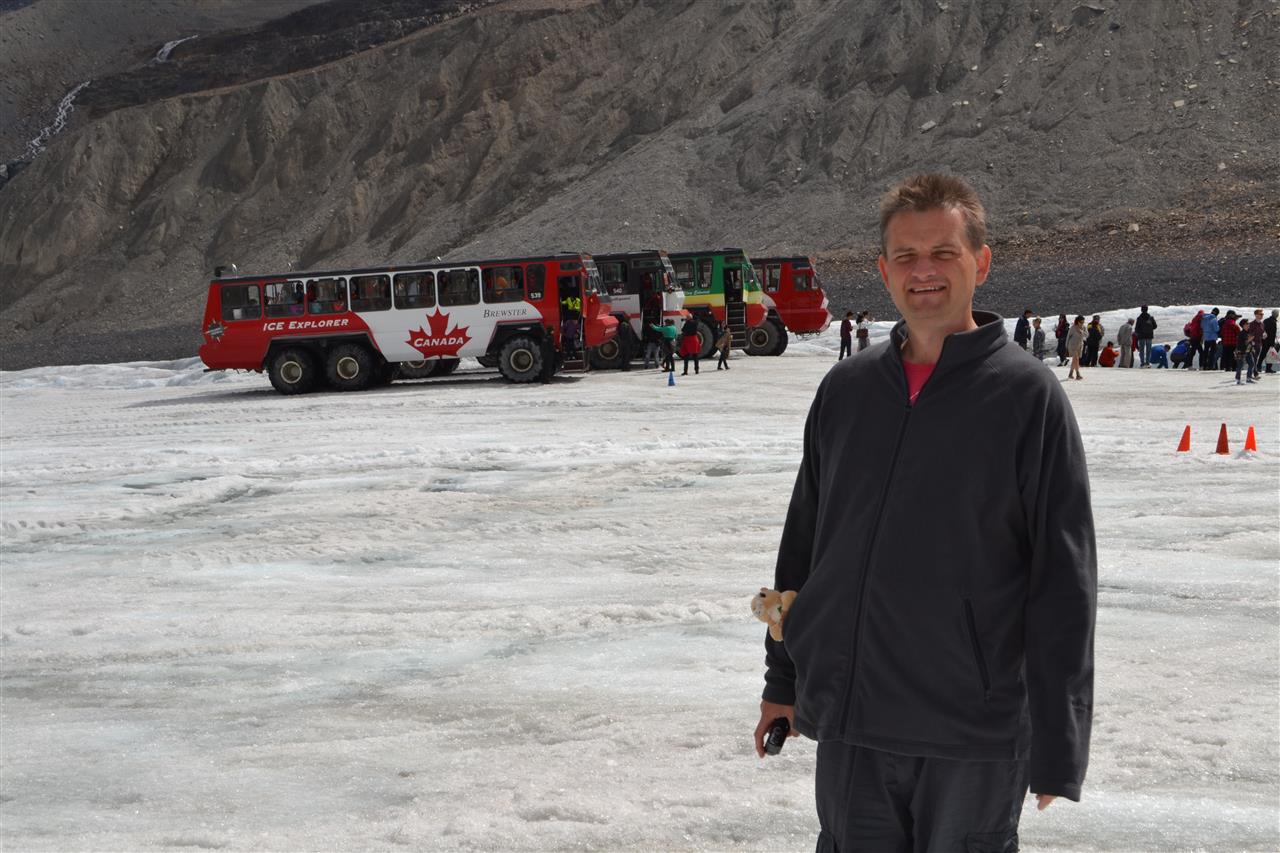 Ours is the explorer with the Rasta paint job.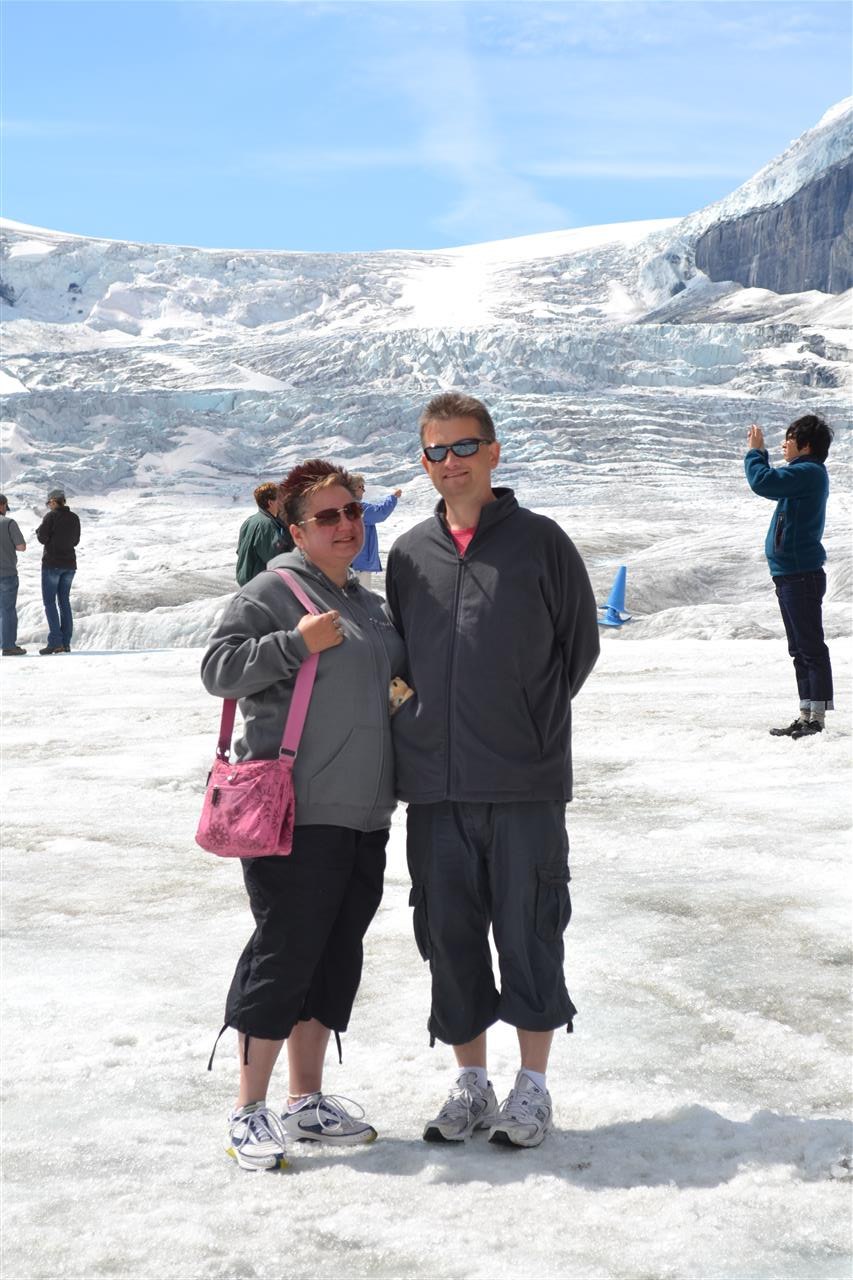 We loved this part of our adventure..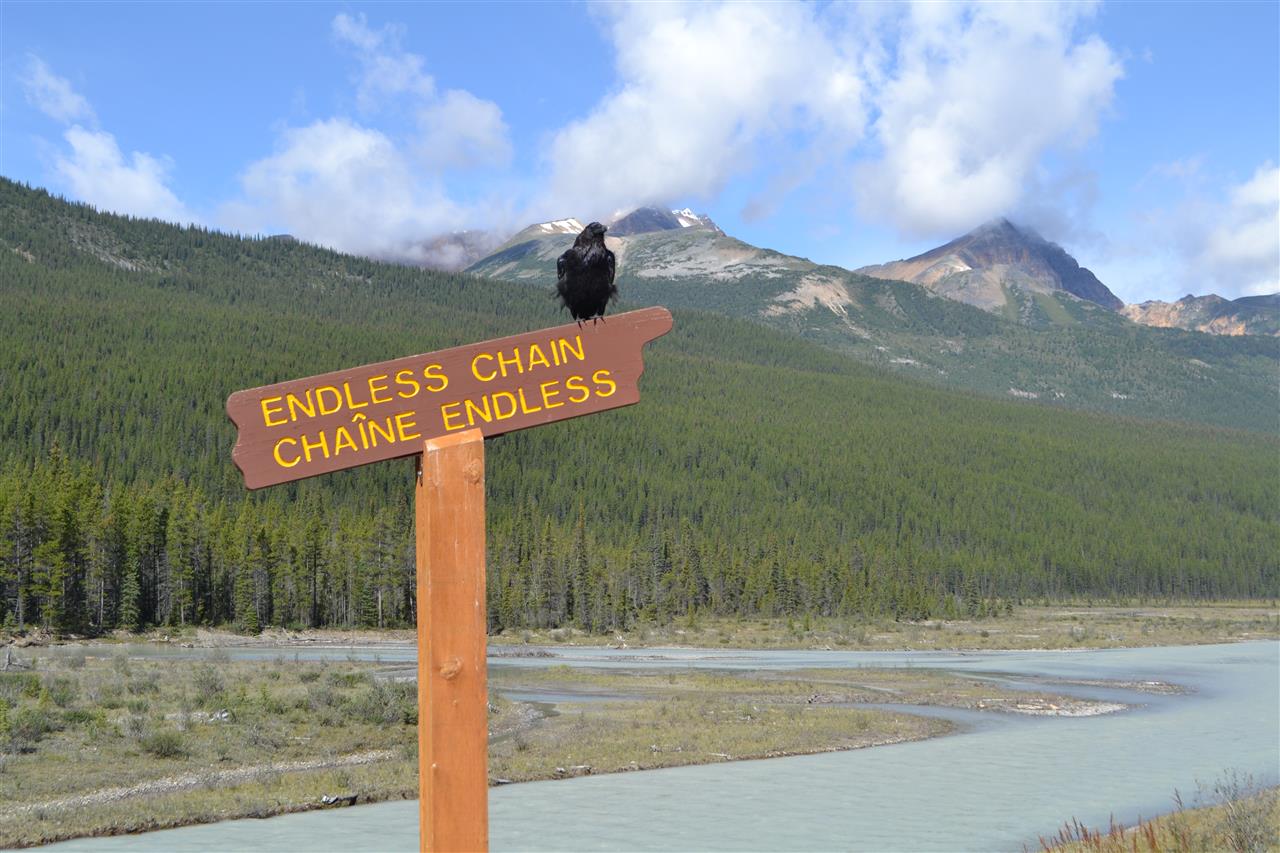 Now for the animal feature, brought to you by Blackie the signpost Raven.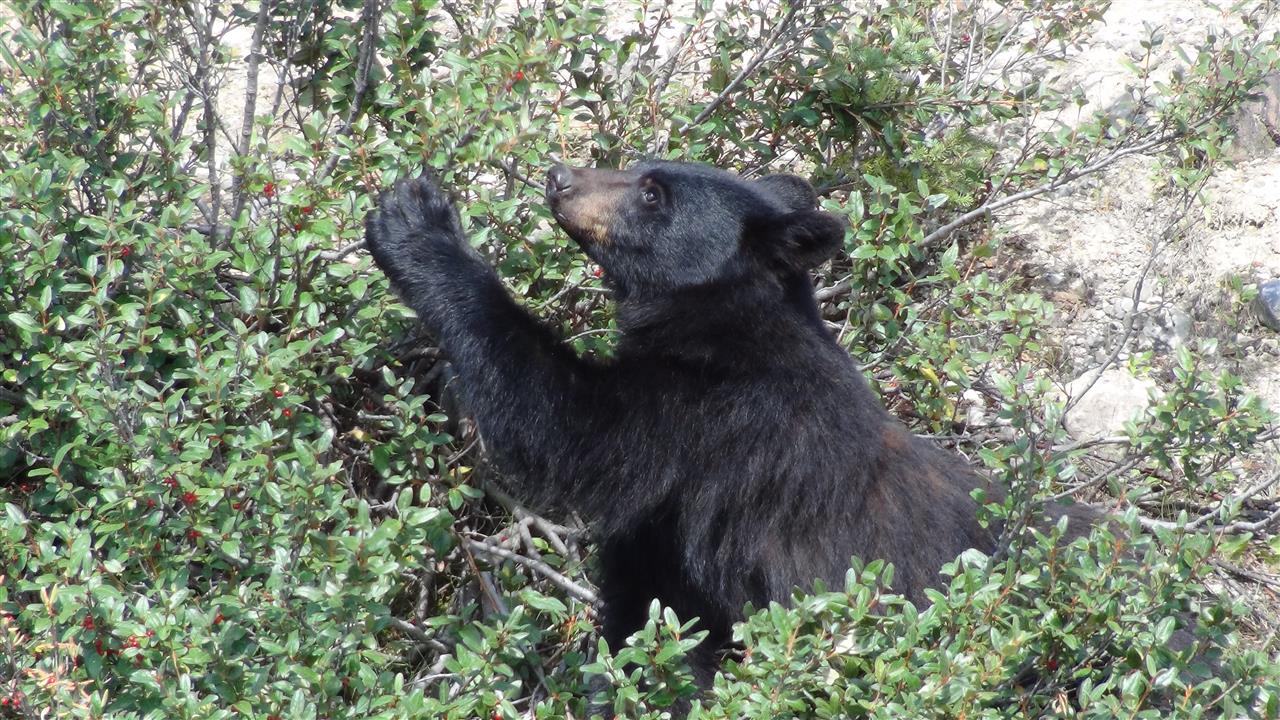 see who we found, entertaining the folks in a traffic jam he'd created !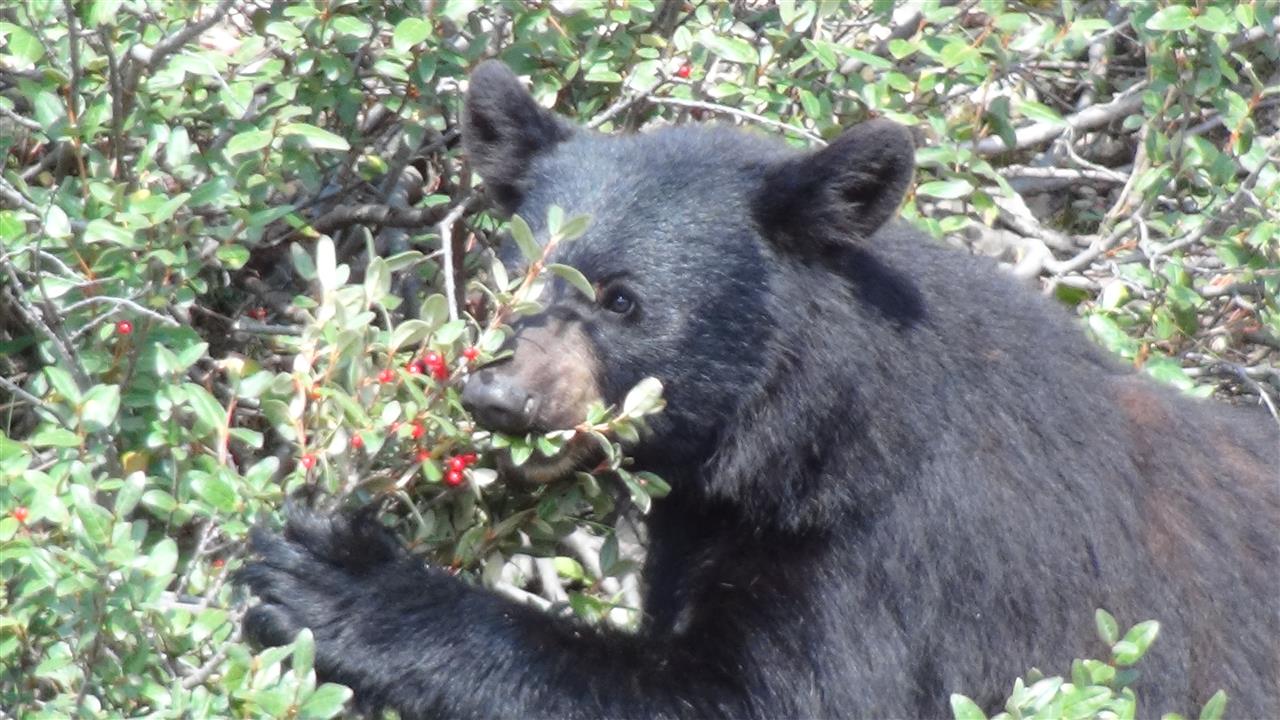 These Berries are Irresistable !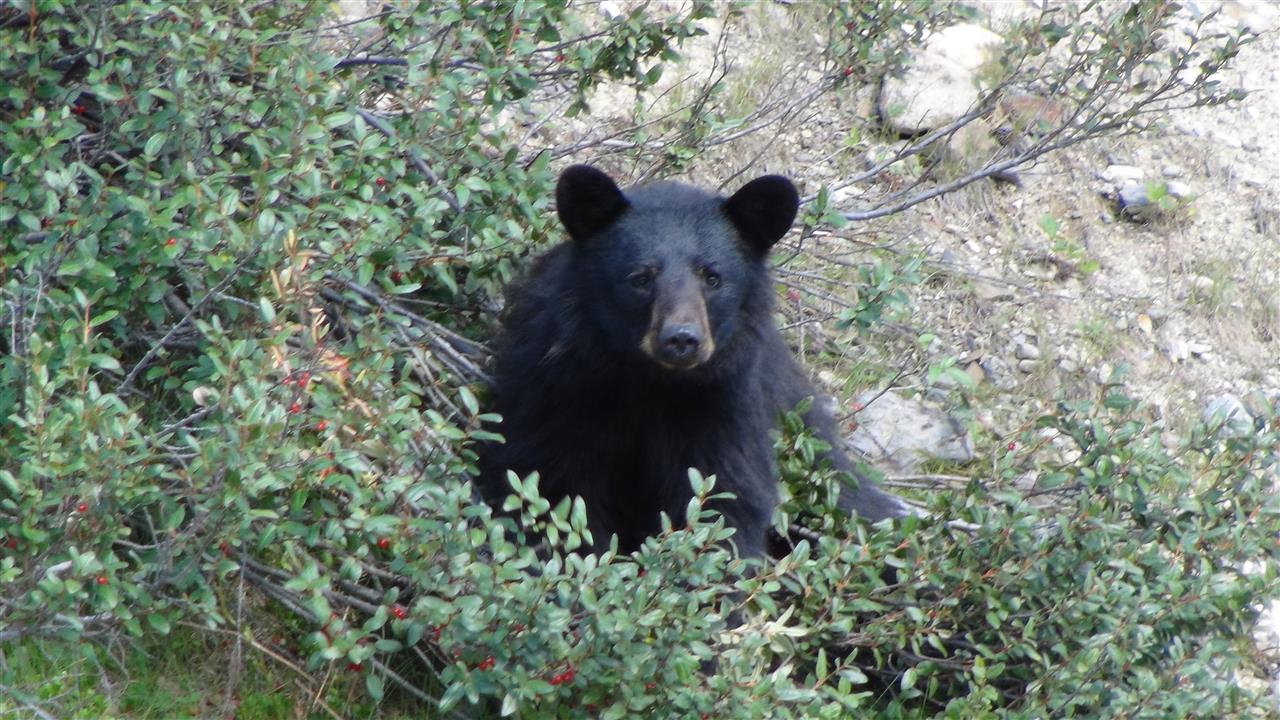 Come any closer and you are desert.
Dinner in The Red Diamond Chinese Restaurant..Best meal yet & we were ravenous.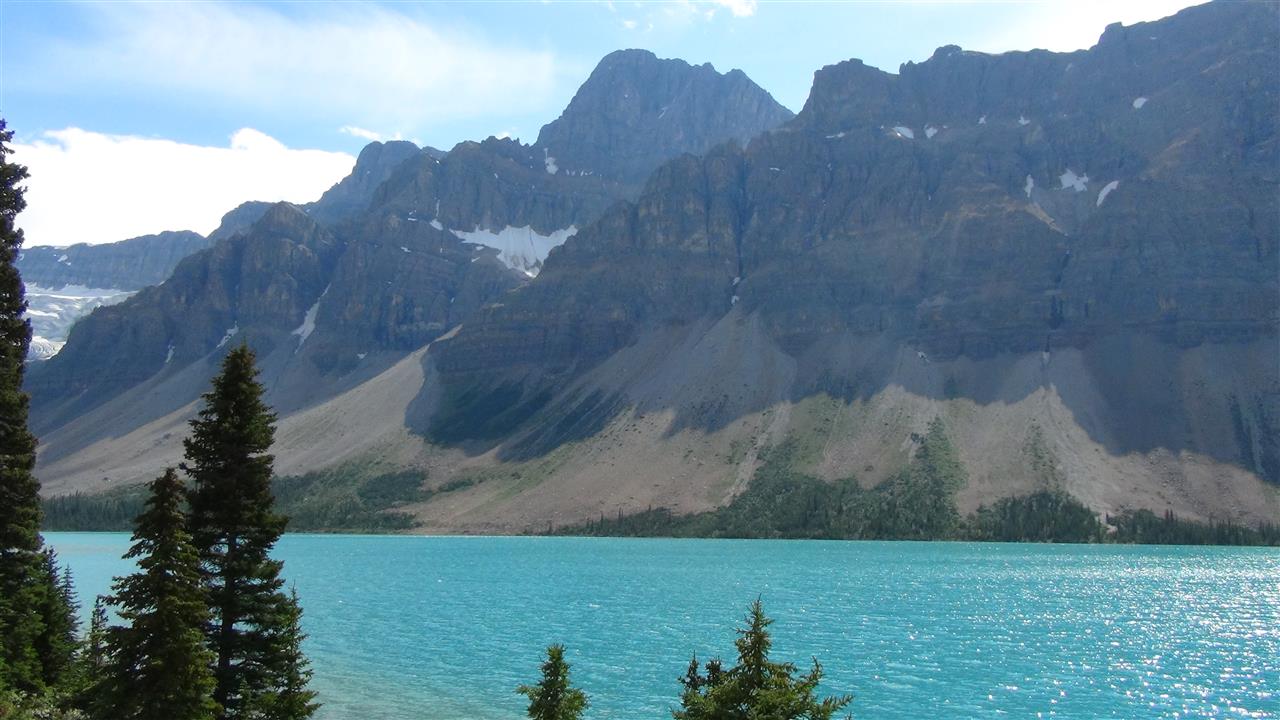 We have taken countless stunning shots in the Rockies..This is among our favourites.

Goodnight dear reader tomorrow more rafting ,so hopefully a good day xxx

Love to all & Yes Liz we have tried Poutine ( Chips , Cheese & Gravy ) yum
---
Day 18 :Kicking Ass on the Kicking horse.. (Friday 9th August 2013 )
Day 19 :Whistlers on the Kettle railroad. (Saturday 10th August 2013 )
Day 20 :Dusty Trails.. (Sunday 11th August 2013 )
Day 21 :Last day ..Canada & Back to good old USA. (Monday 12th August 2013 )
Day 22 :Sad times.. Seattle to Uk via Vancouver . (Tuesday 13th August 2013 )