Holiday USA and beyond - 2013

Show all days on one page (a long download!)
Day 1 :From Lovedean to Columbus Nebraska in 22 hours! (Tuesday 23rd July 2013 )
Day 2 :Following the The Sandhills scenic route to Mullen.. (Wednesday 24th July 2013 )
Day 3 :Tanking up the Middle Loup..and an Elks penis! (Thursday 25th July 2013 )
Day 4 :Taking the Oregon Trail with prairie dogs, Simples! (Friday 26th July 2013 )
Day 5 :Wind caves & a drive through Bison country. (Saturday 27th July 2013 )

Day 6 : 4 years of Marriage..with Calamity Jane & Wild Bill Hickock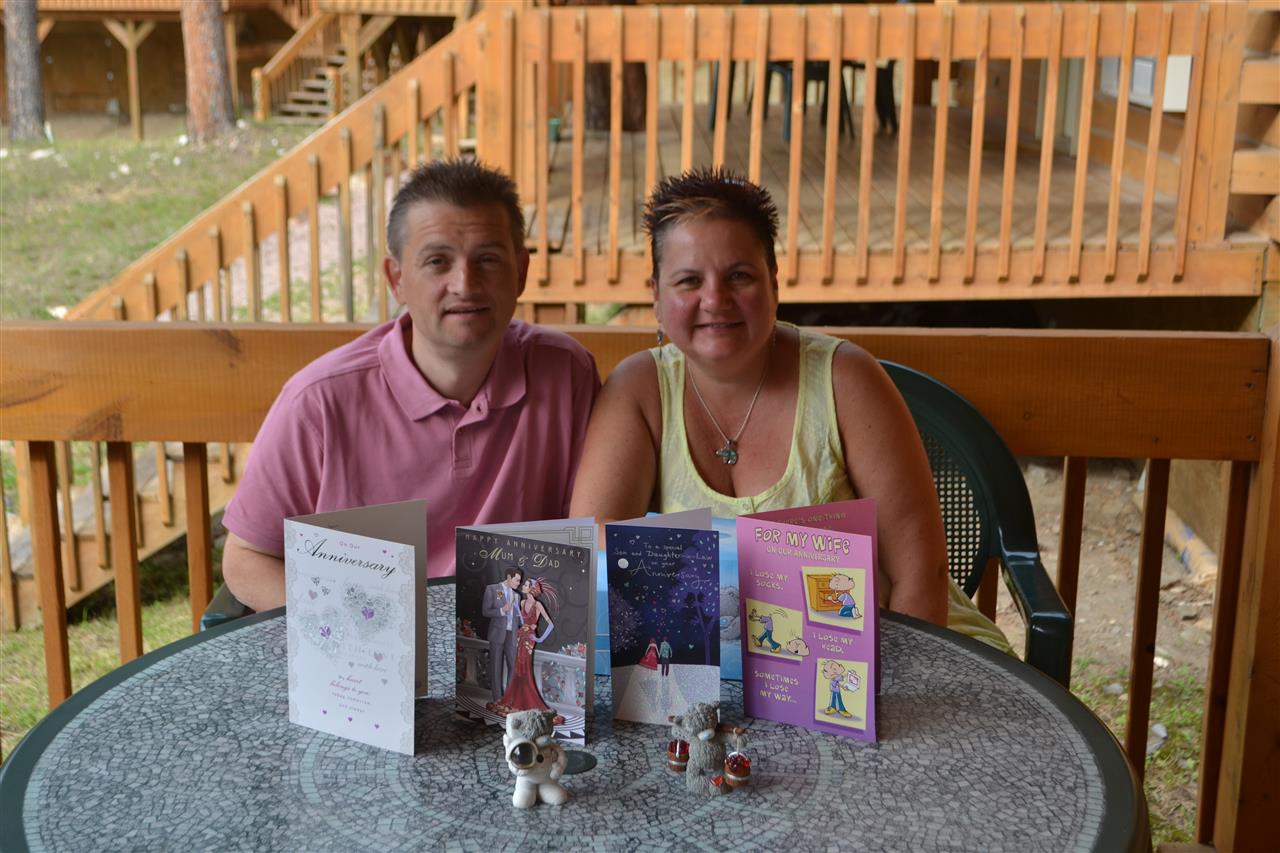 Our morning began with ritual anniversary cards & a wonderful surprise from some themed Me to You bears from Hollie xxx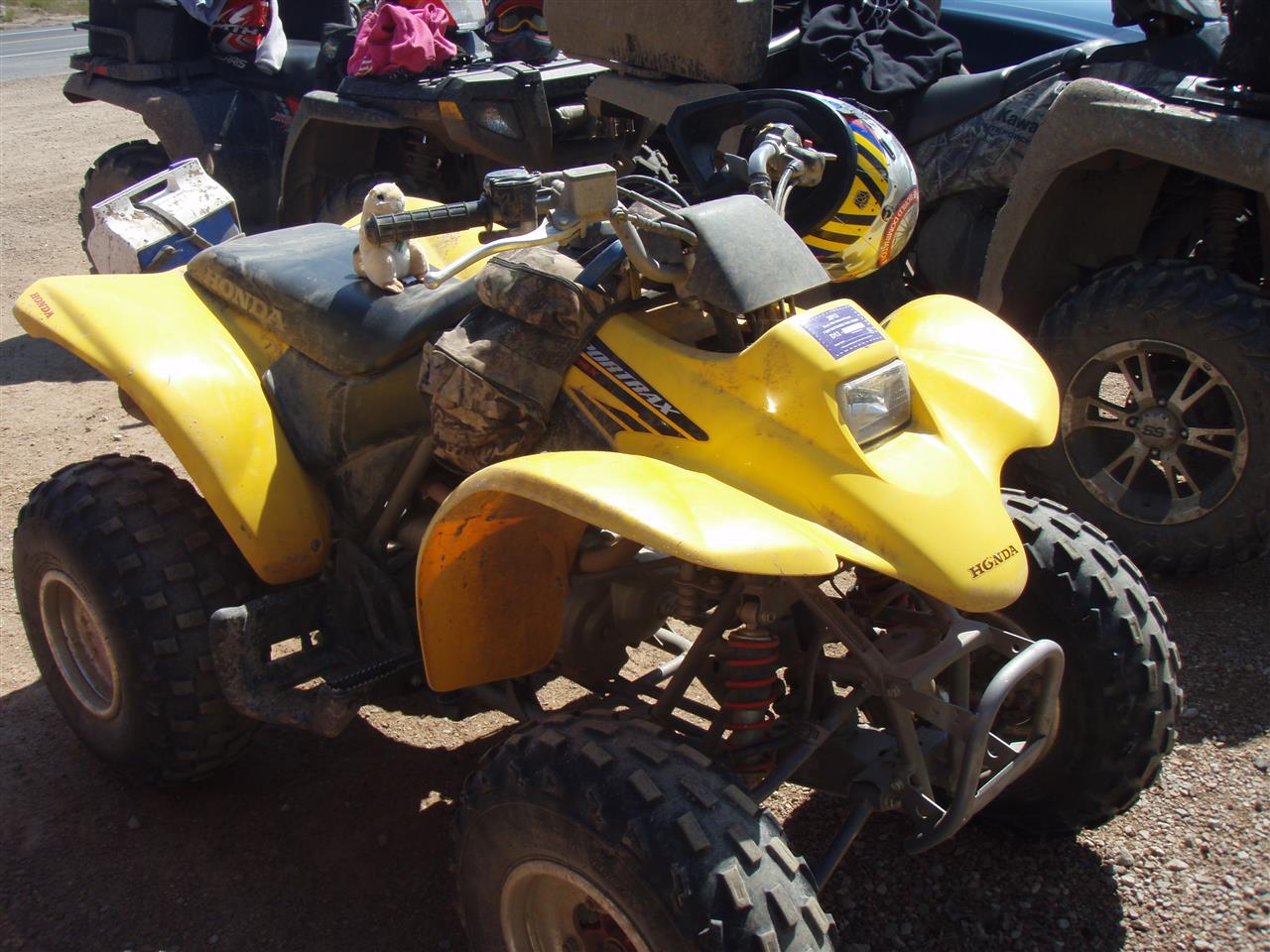 We have figured out how these damned Meer cat / Prairie dogs have managed to keep up with us on our road trip!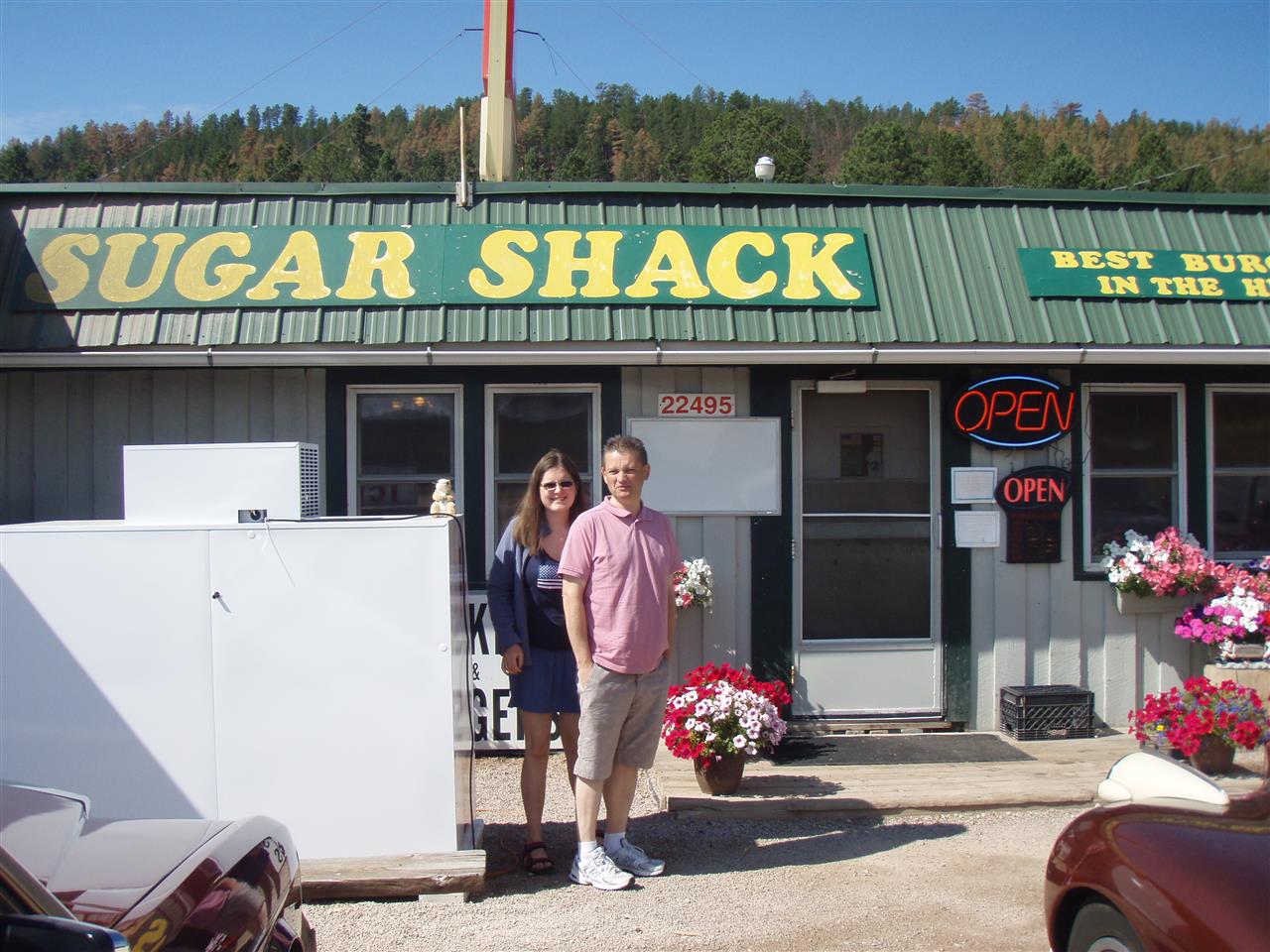 We stopped for a late breakfast at The Sugar Shack..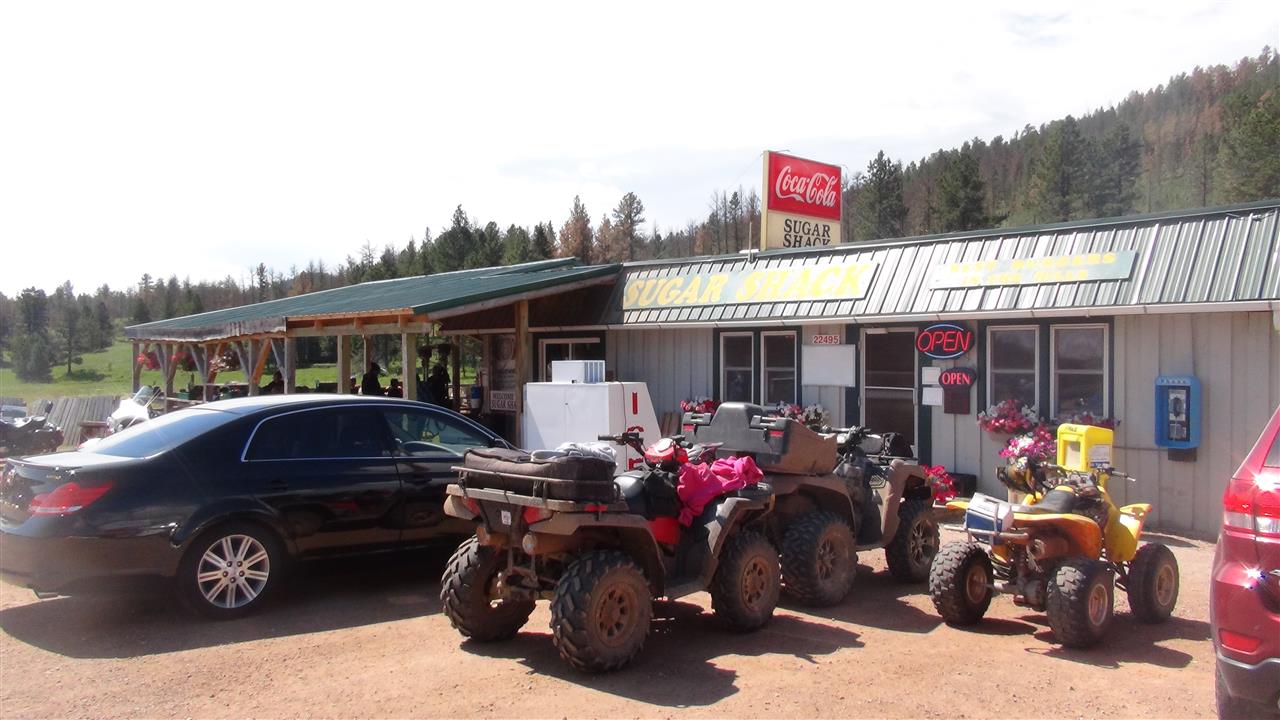 A popular watering hole for the Sturgis Bikers too.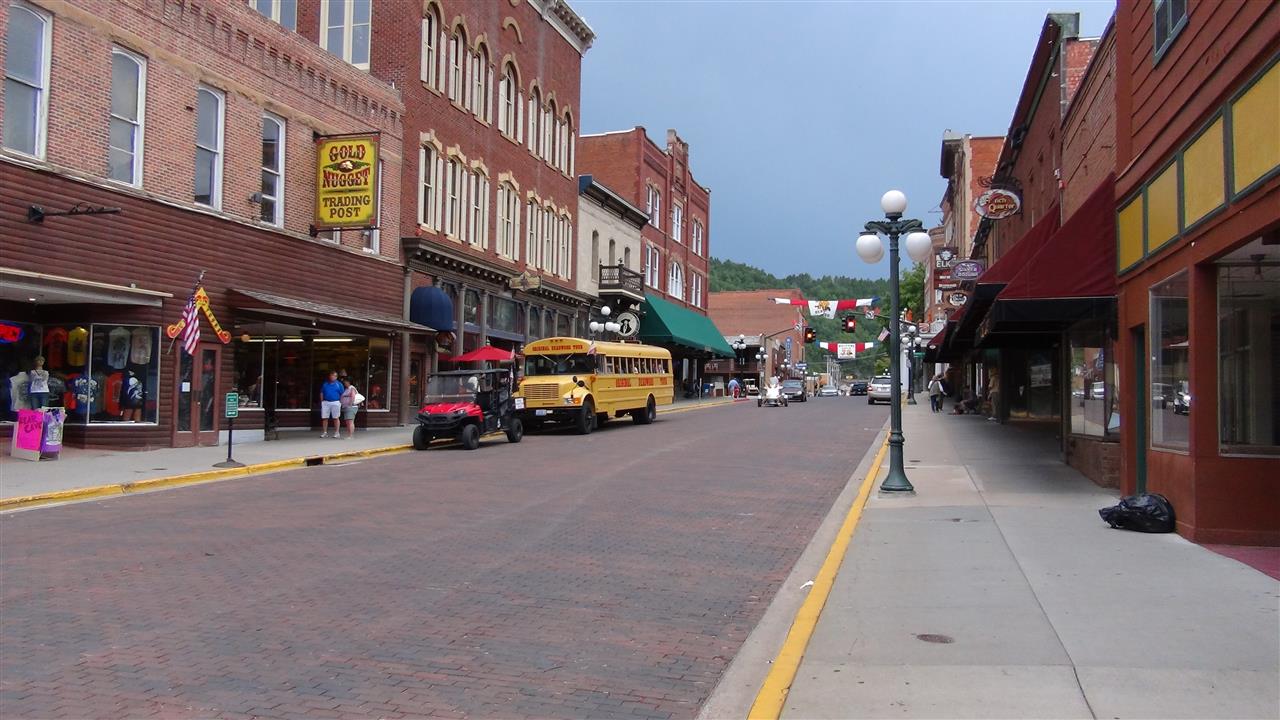 We arrived in the fabled town of Deadwood.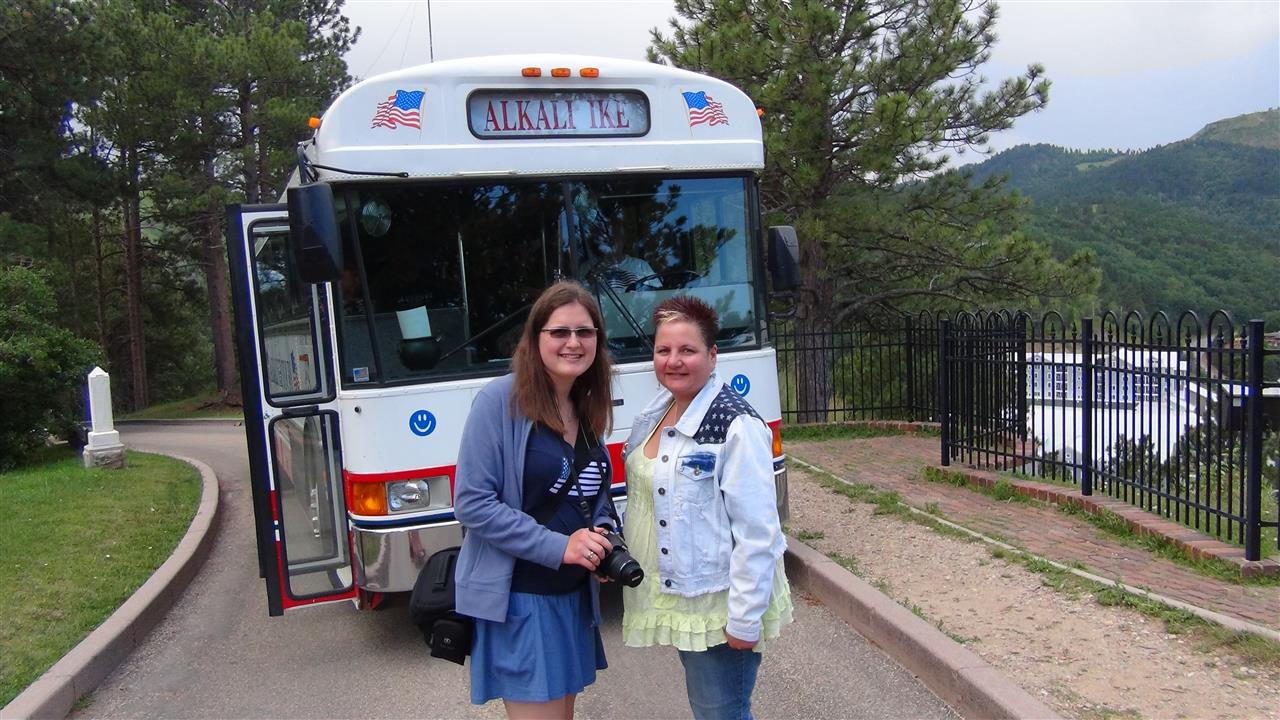 We signed up for a 1.5 hr bus tour, led by the very informative driver ( & fellow Catholic of Hollies ) Mike.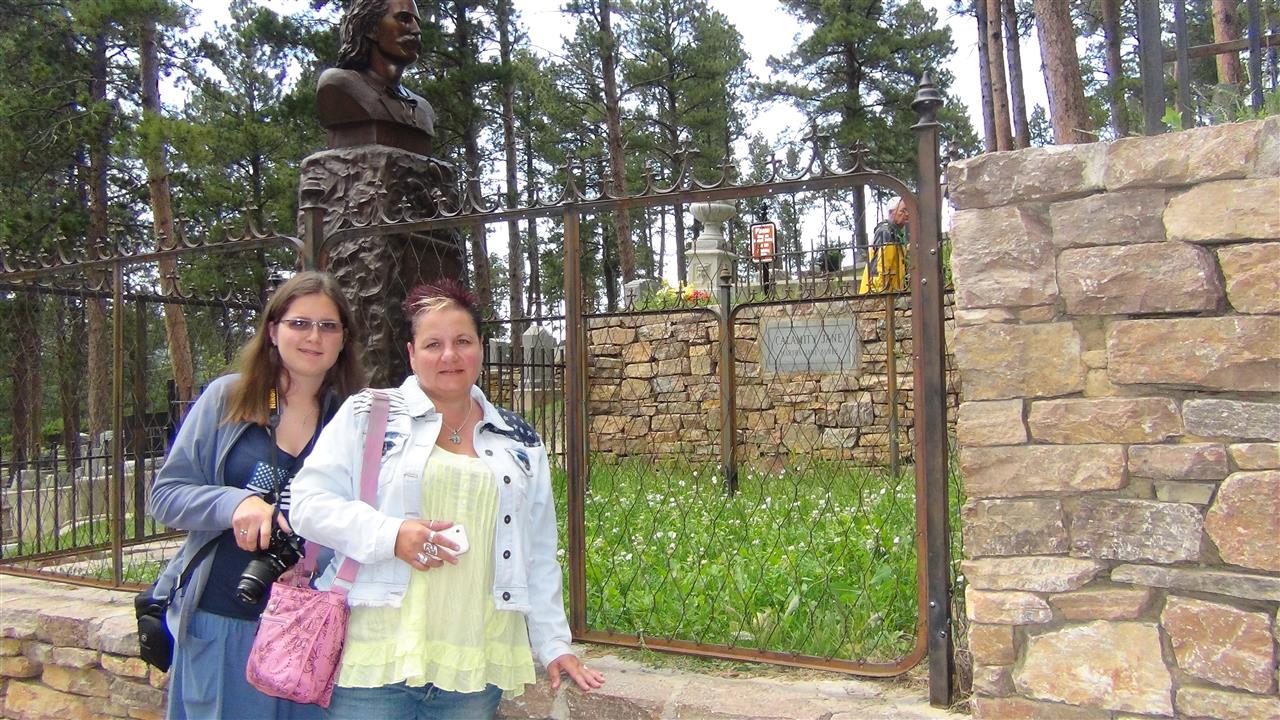 The tour took us around town before heading to Mount Moriah , where you can visit the graves of Calamity Jane & Wild Bill Hickock..
Mike explained that Calamity & Bill knew & respected each other, but were certainly not lovers as portrayed by Doris Day & Howard Keel in the Hollywood movie.
Calamity Janes looks were best described as "Homely " she was 5'10"+ and was often mistaken for a man..
Calamity is known to have stopped her heavy drinking and cussing, to volunteer as a nurse during an outbreak of Tuberculosis. Not one sick person died in her care..This made her well respected with the local gentry.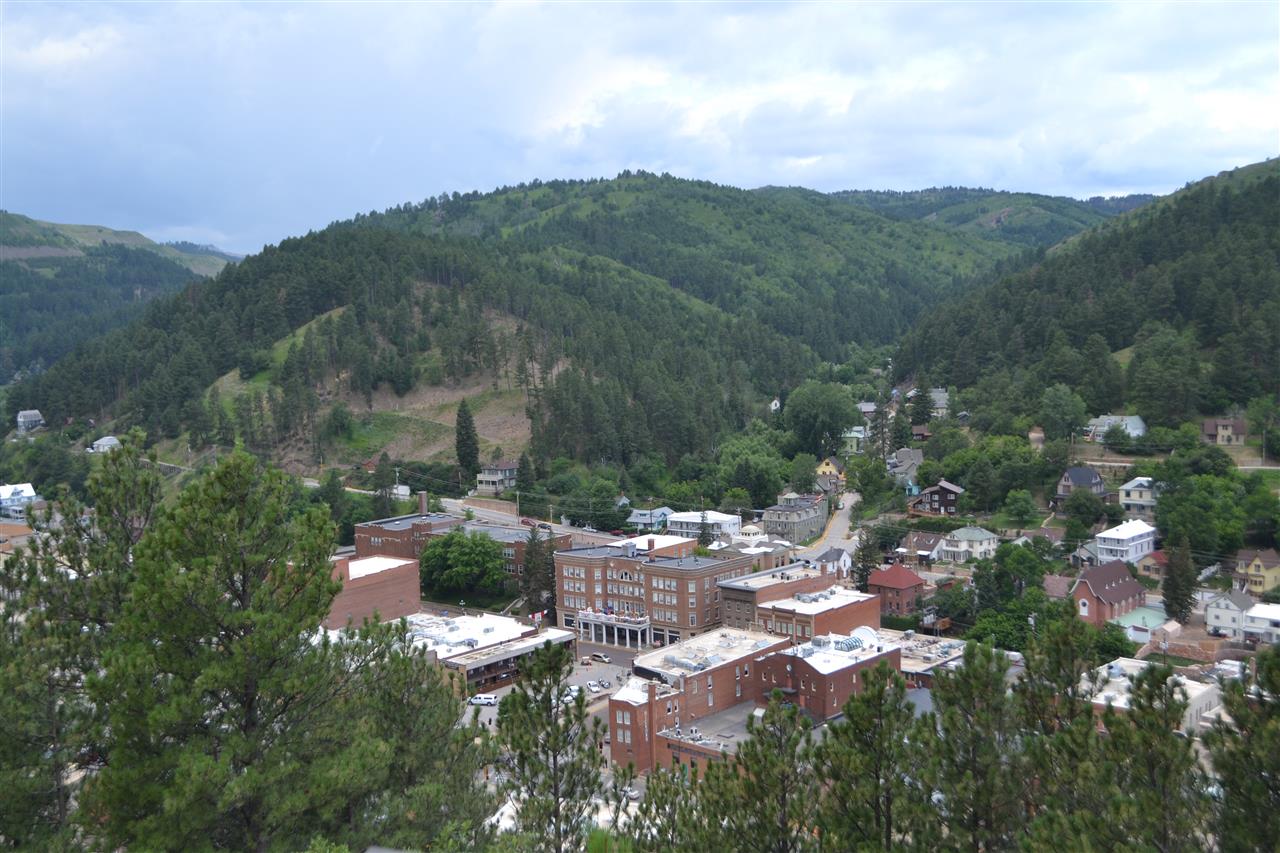 The Cemetery is a mile above the historic town & offers magnificent views.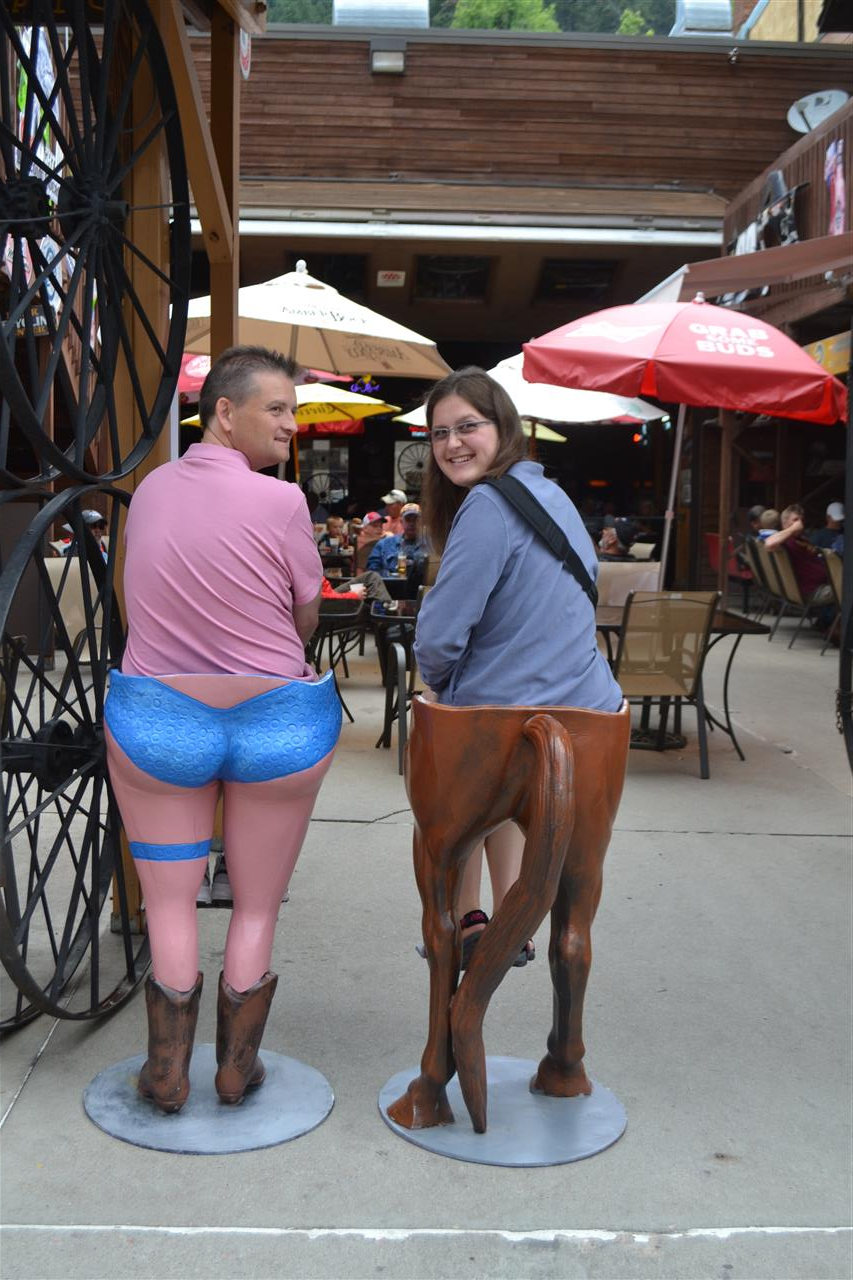 Hollie horses around, While Ian shows the type of underwear he's currently forced to wear!

The local traders are very particular about who gets a discount..seems you make greater savings in certain shops if you declare your Catholicism, Hollie saved 70 cents in one gift shop!!
Next stop number 10 Saloon..Relocated from downtown following a fire at the original site, the actors & some young volunteers re enact , The shooting of Wild Bill.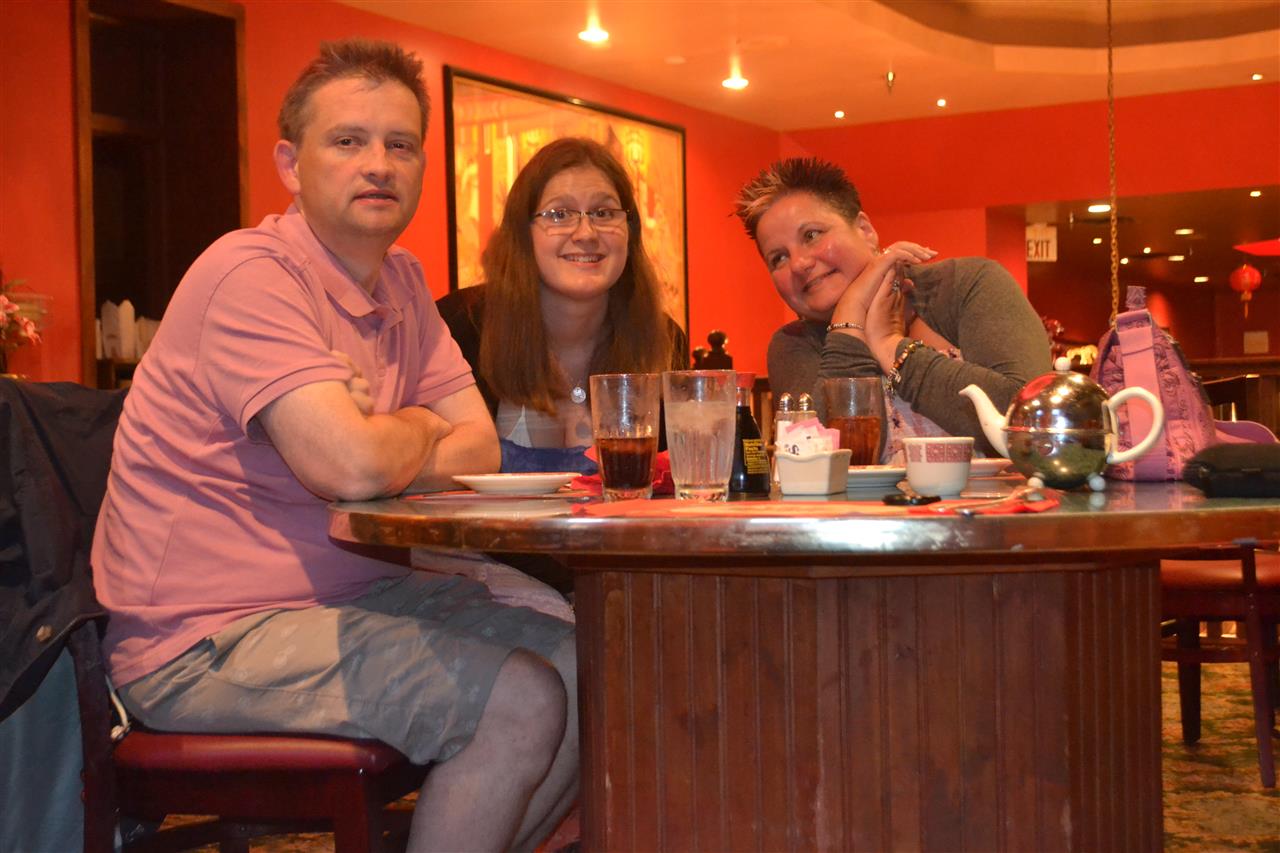 As the day draws to a close , we head off to the China Cafe..Dinner should be with us at some point.
We stroll home to our " Haunted " Hotel & prepare to be terrified by, Seth Bullock walking the halls.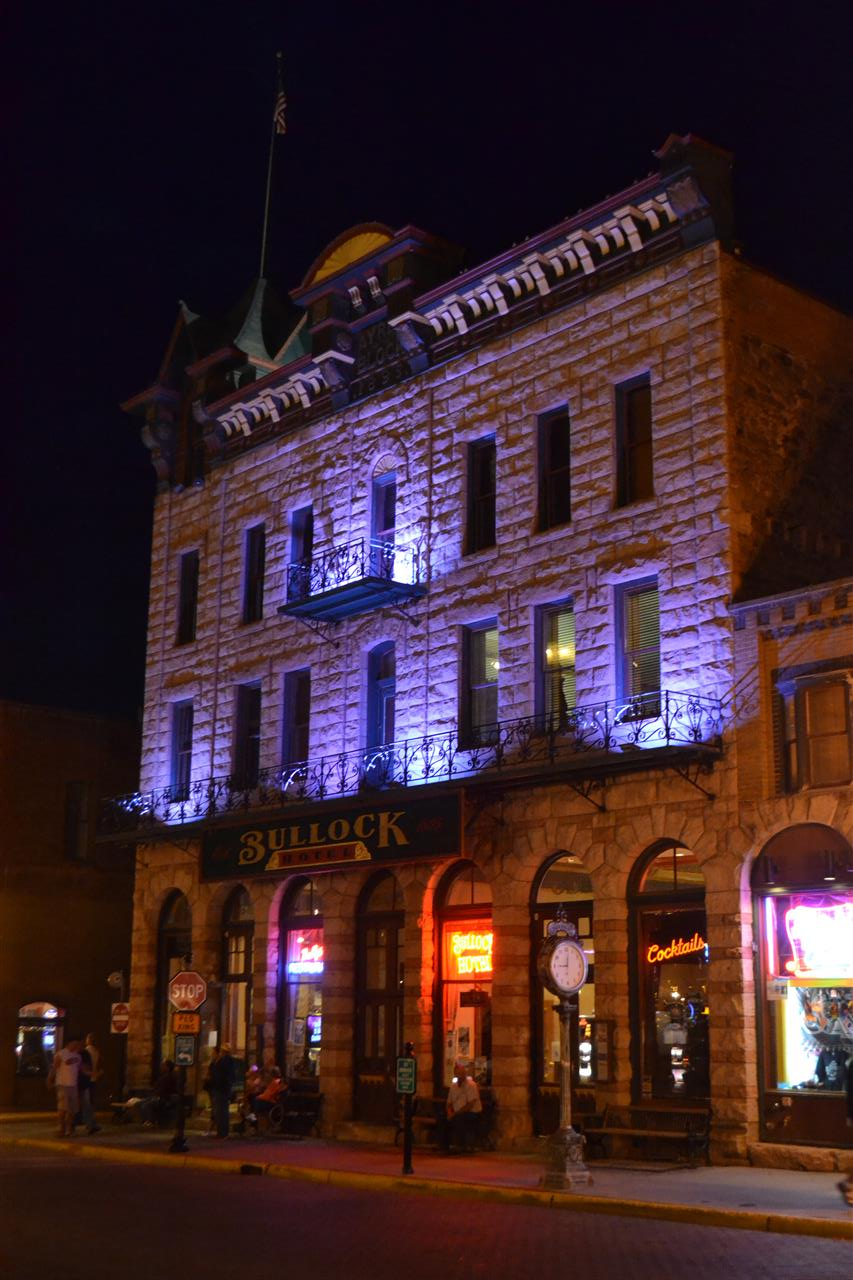 We should be in our beds soon enough, so Goodnight fair reader xx

Ians suitcase is now bound for Beijing..Hopefully it will get better service than us!!
---
Day 7 :Bear Country USA to the Badlands.. (Monday 29th July 2013 )
Day 8 :Across the prairies to Bismarck .. (Tuesday 30th July 2013 )
Day 9 :Fracking Hell in Wiliston. (Wednesday 31st July 2013 )
Day 10 :Into Canada without a hitch & a night in Moose Jaw. (Thursday 1st August 2013 )
Day 11 :Moose Jaw to North Battleford and thats about it! (Friday 2nd August 2013 )
Day 12 :Plenty of Moo's but No Moose. (Saturday 3rd August 2013 )
Day 13 :Cabin in the woods .. (Sunday 4th August 2013 )
Day 14 :Doggy day & Rafting through the Rockies. (Monday 5th August 2013 )
Day 15 :Tramway to Heaven & The Athabasca falls. (Tuesday 6th August 2013 )
Day 16 :Bear discovered on Mount Edith. (Wednesday 7th August 2013 )
Day 17 :The Ice fields & a beary good day.. (Thursday 8th August 2013 )
Day 18 :Kicking Ass on the Kicking horse.. (Friday 9th August 2013 )
Day 19 :Whistlers on the Kettle railroad. (Saturday 10th August 2013 )
Day 20 :Dusty Trails.. (Sunday 11th August 2013 )
Day 21 :Last day ..Canada & Back to good old USA. (Monday 12th August 2013 )
Day 22 :Sad times.. Seattle to Uk via Vancouver . (Tuesday 13th August 2013 )