Holiday USA 2012

Show all days on one page (a long download!)
Day 1 :Up, up and away (Tuesday 24th July 2012 )
Day 2 :Our Nations Capital.. (Wednesday 25th July 2012 )
Day 3 :Laurel & Charlie.. (Thursday 26th July 2012 )
Day 4 :Goodbye Bob ( Or whats left of him ) Hello Chesapeake bay.. (Friday 27th July 2012 )
Day 5 :Happy Anniversary Mr & Mrs Veck.. (Saturday 28th July 2012 )
Day 6 :Bottoms up on the Chatooga ( Paddle faster I hear Banjo's ).. (Sunday 29th July 2012 )
Day 7 :Cheerio Chatooga..Hi Fiddlers Roost.. (Monday 30th July 2012 )
Day 8 :Tubing on New River.. (Tuesday 31st July 2012 )
Day 9 :To Niagara , a nice curry & Ians cave of the Winds ! (Wednesday 1st August 2012 )
Day 10 :We Walked to Canada ( and back ) TWICE.. (Thursday 2nd August 2012 )
Day 11 :Drivin' Miss Hollie (Friday 3rd August 2012 )

We saw nothing of Lake St George as we had a very early start , ( even earlier with Ians self setting phone alarm ).
Vermont was a wonderful verdant state , Which I largely slept through .. Then on to New Hampshire..We found the Littleton Diner & waited an age for a late breakfast.
More snoozing & we arrived at Mount Washington,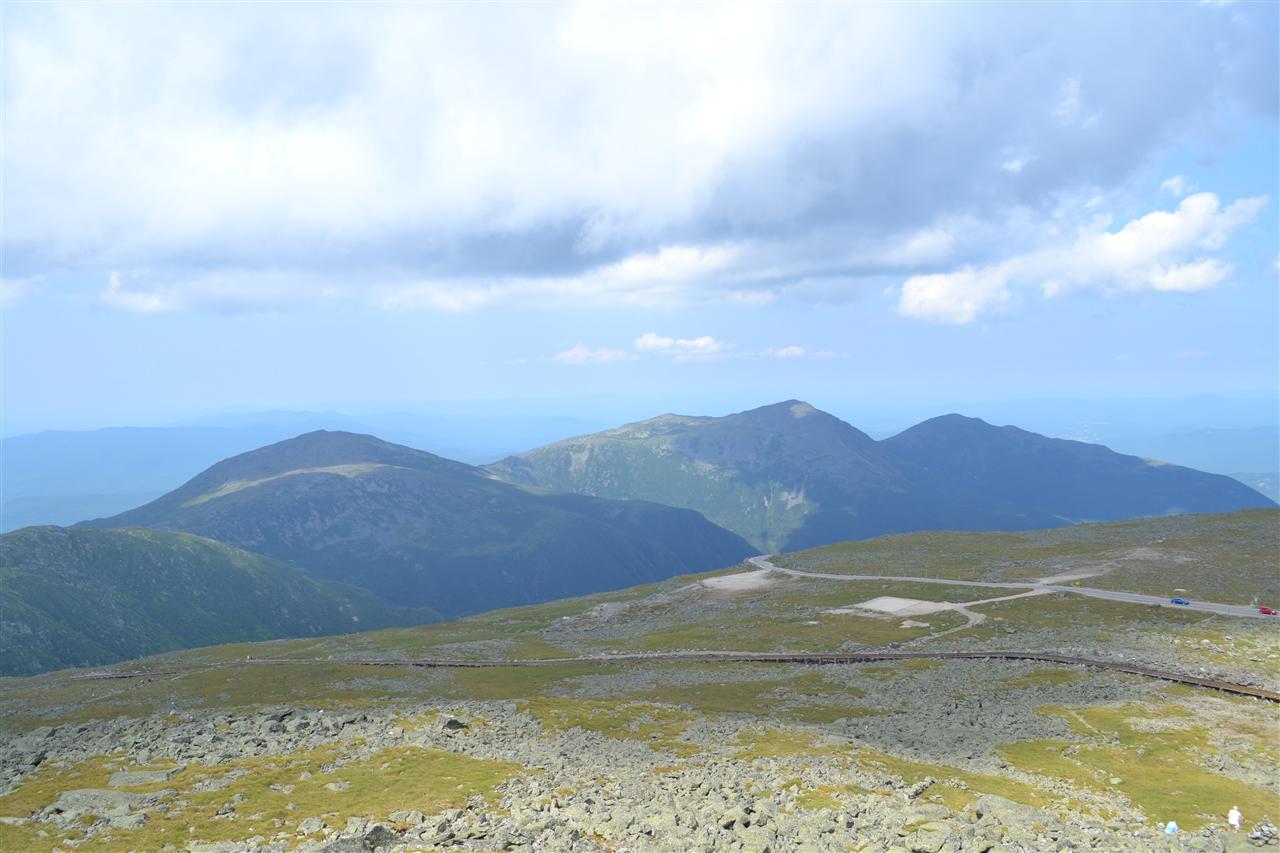 We parted with out $41 & got a very interesting CD audio commentry. Mount Washington contains the oldest roadway in the USA.. From the early travellers on horseback needing a full 4 hours to reach the top. To todays racers going up the 7 plus miles in 6 minutes 42 seconds.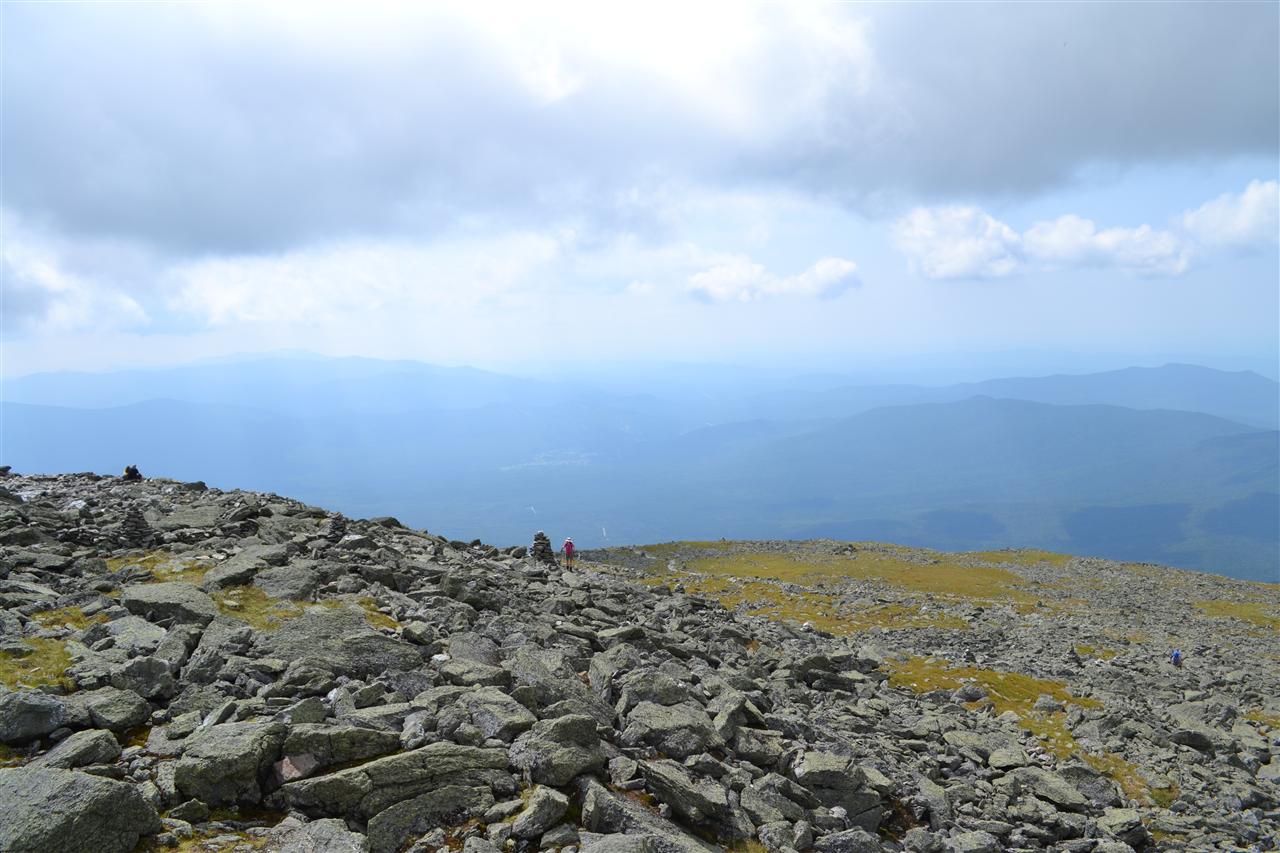 At the mountain top a Victorian weather station is the site where on 27th January 1932 the worlds strongest wind was recorded, an amazing 231miles per hour.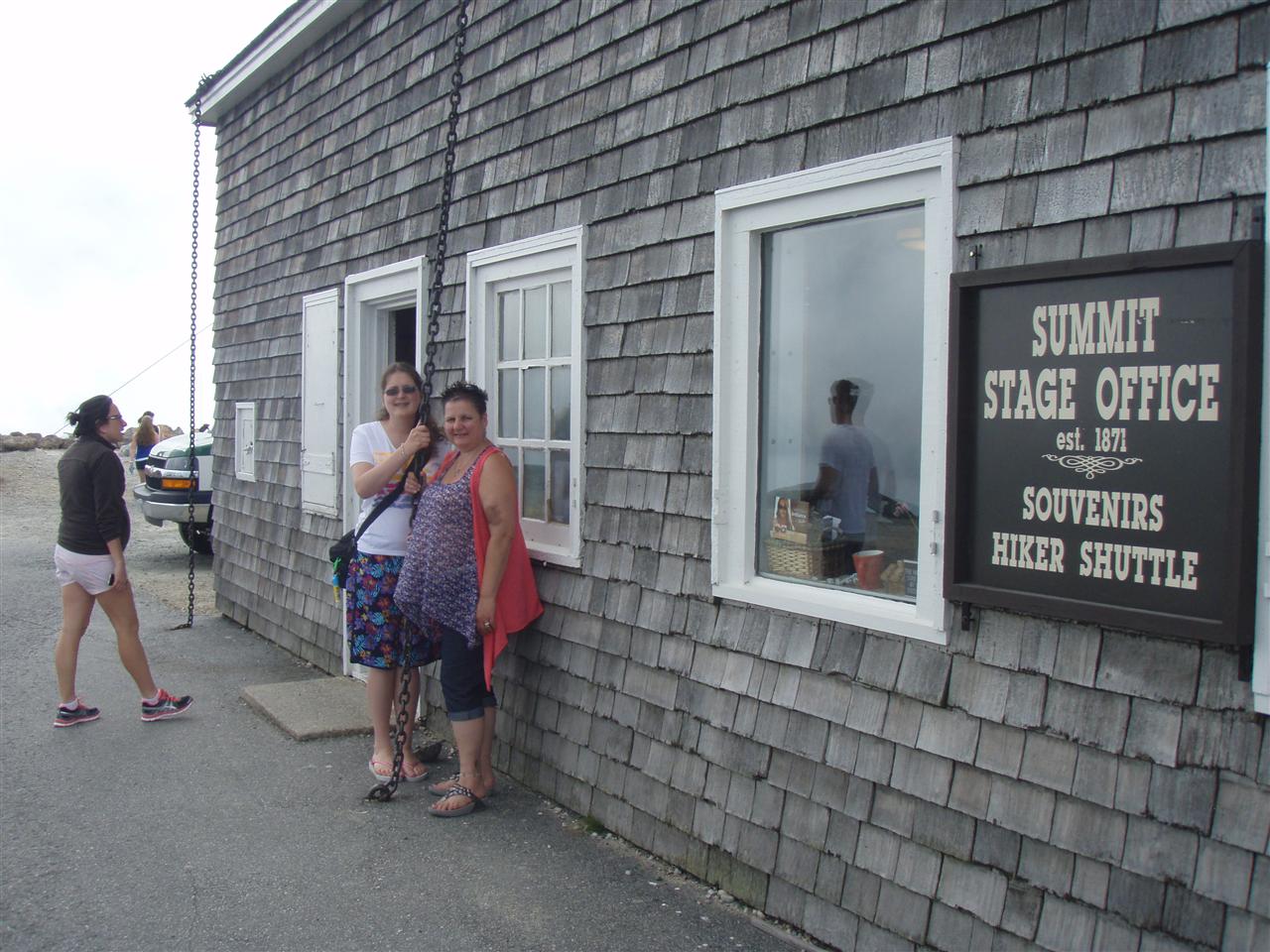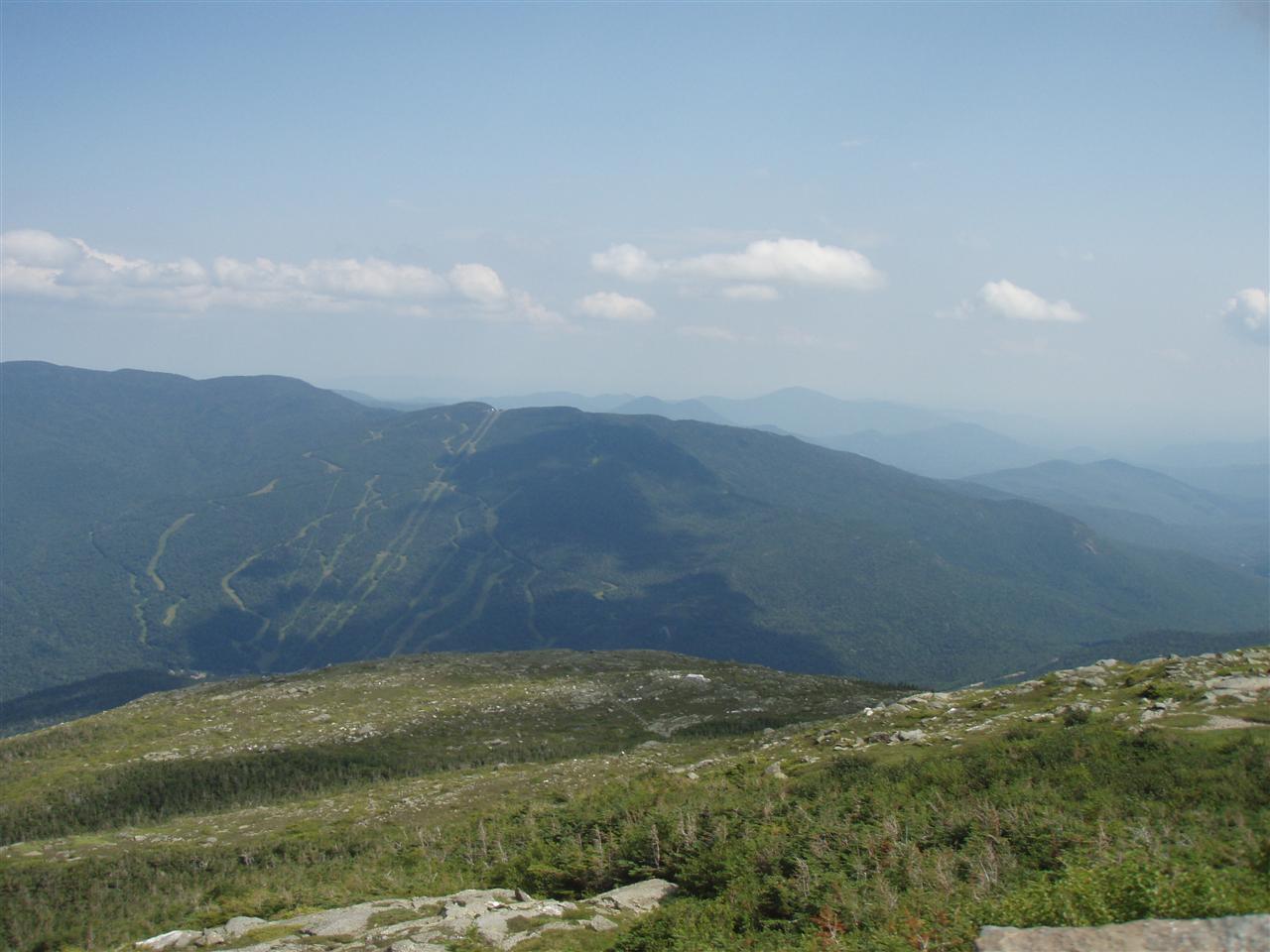 The shack has been chained to the ground to avoid any damage by the savage winds !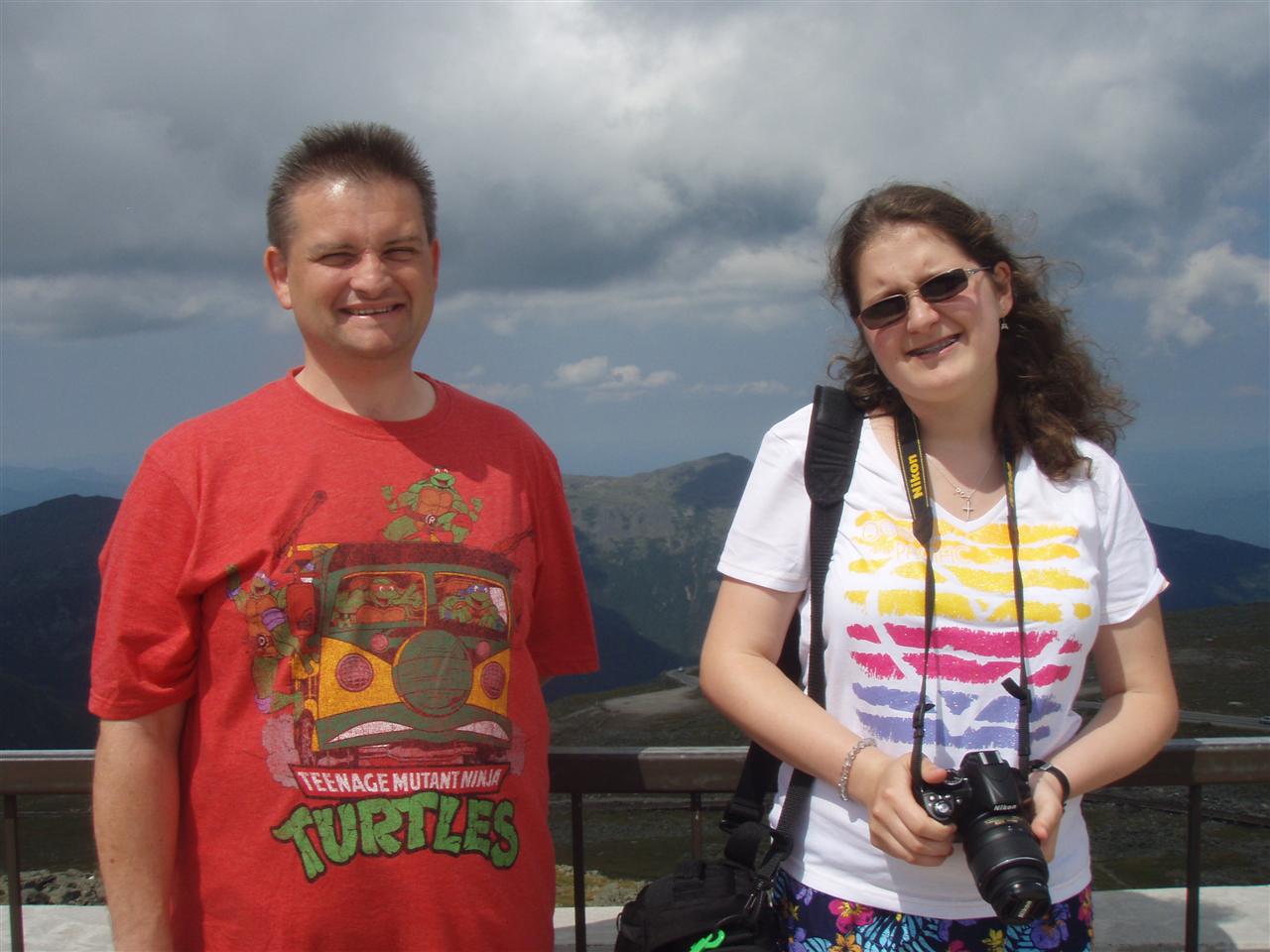 The Journey to the top was rewarded with some stunning , although slightly misty views.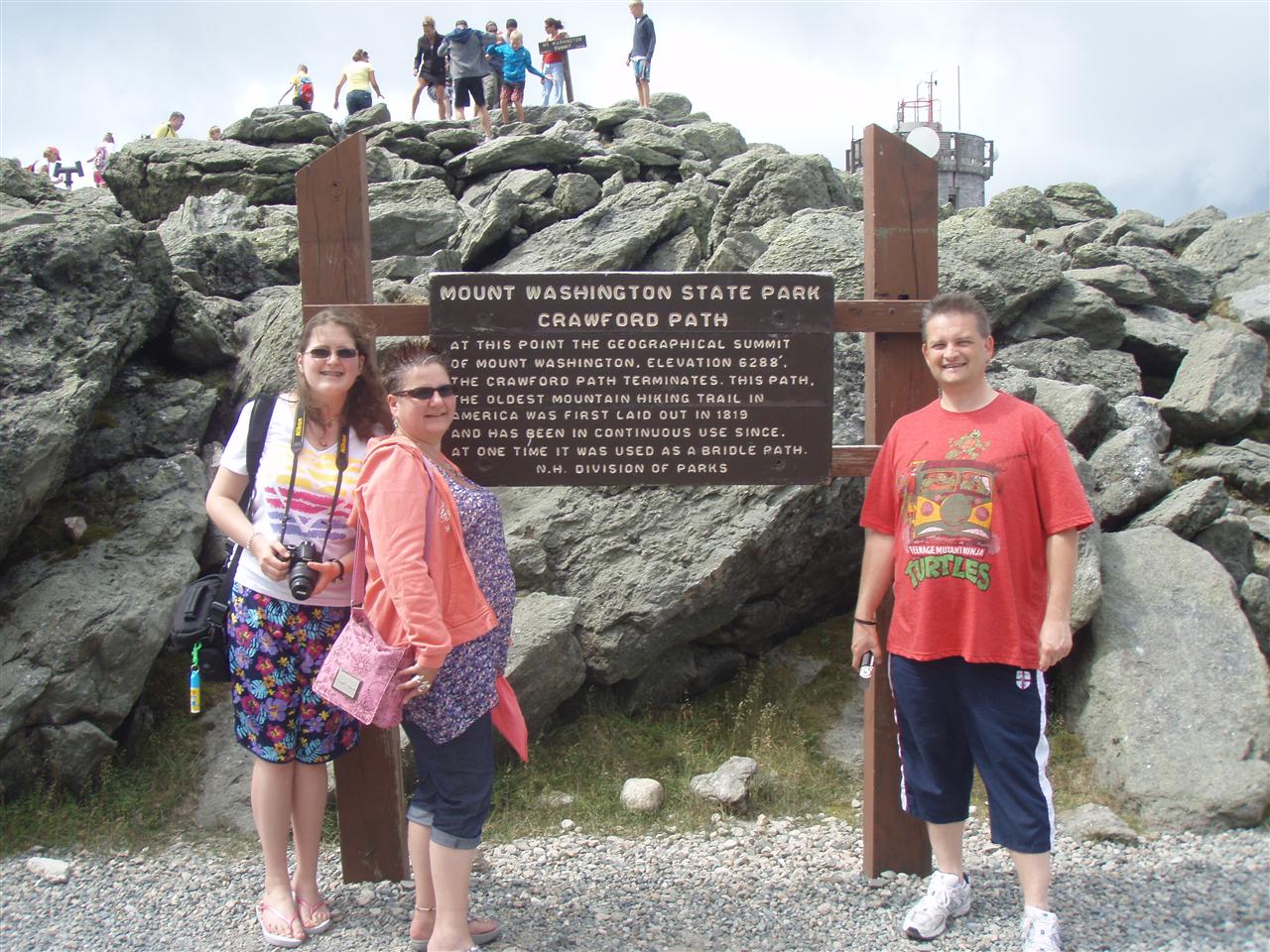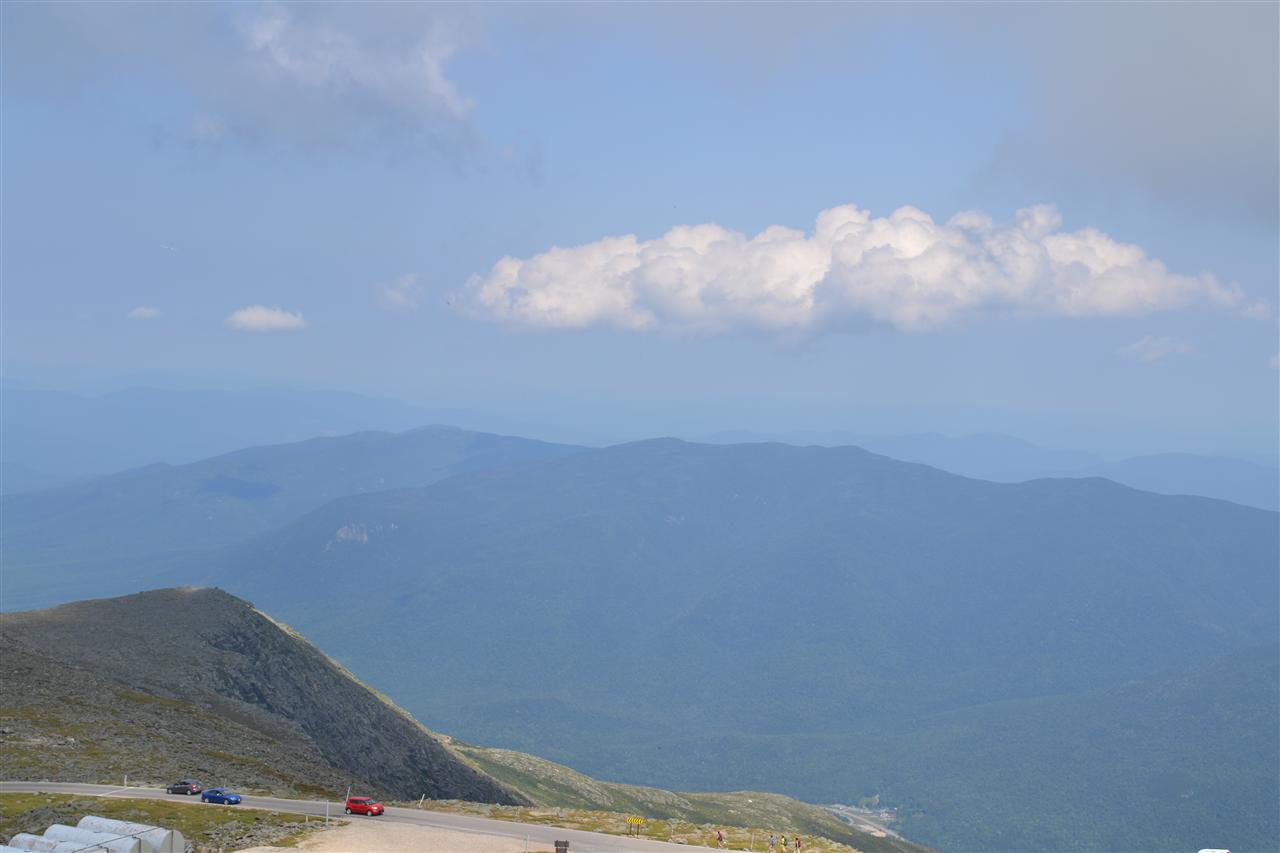 Nearby the diminutive Mount Attitash hosts a theme park style family amusement, Ian & Min took a turn on the Alpine Roller coaster. A track system where the carts hurtle " Free fall "down the mountain with a crude lever system of braking.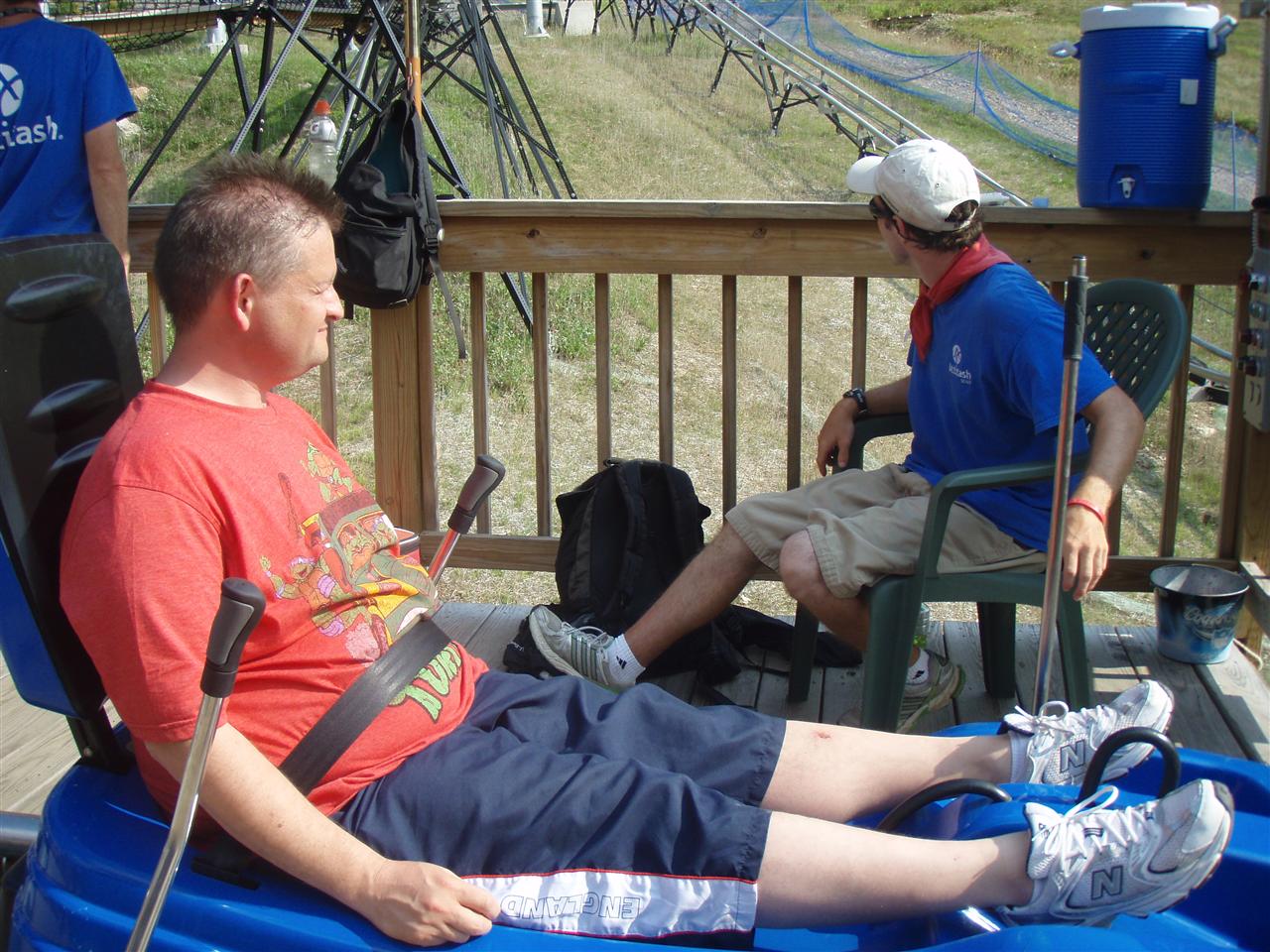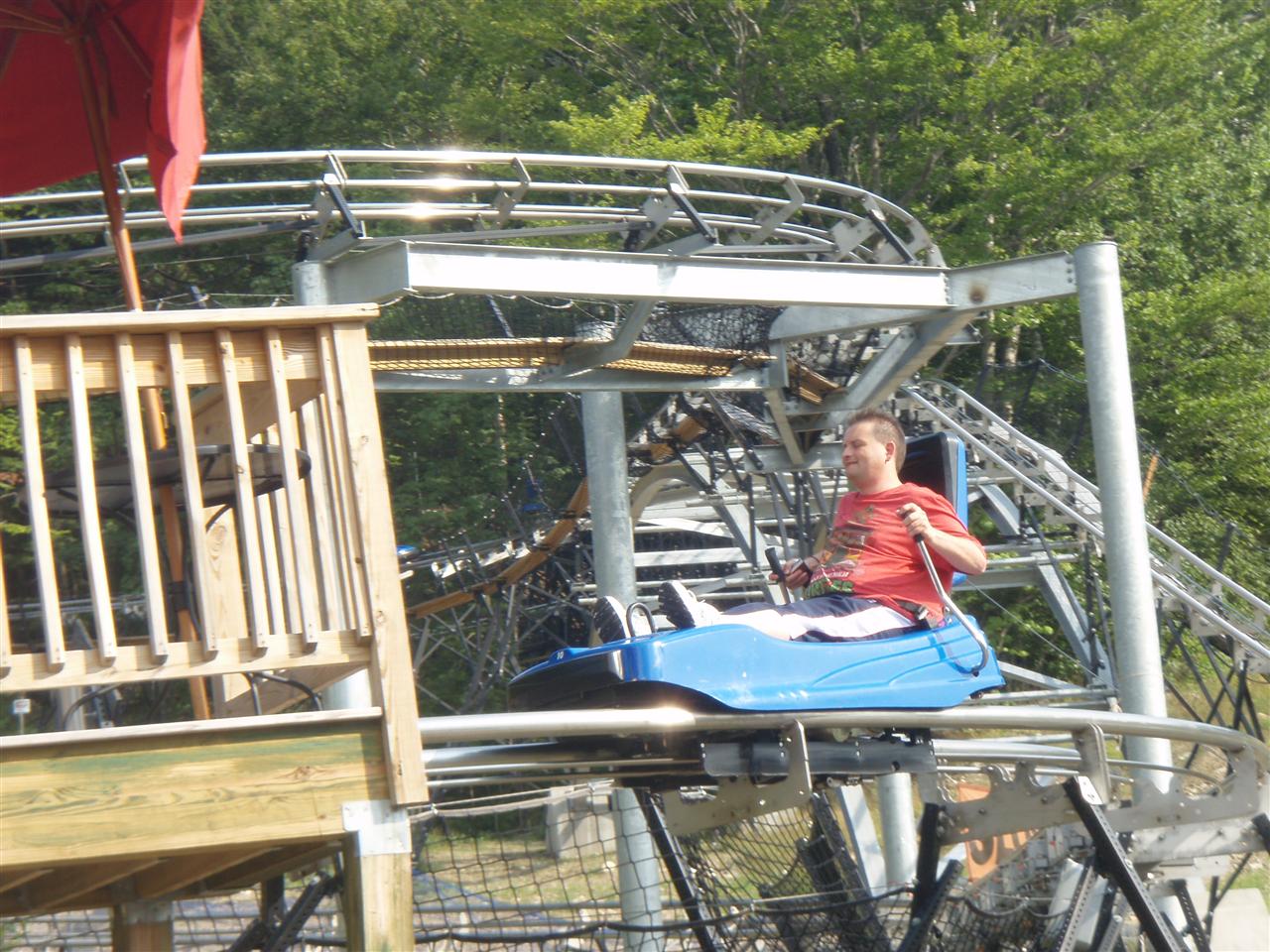 We finally arrived at Sky Valley Motel & Cabins.. The chatty inn keeper talked us thru the ammenities..after a shower we explord the private river side beach, Sadly the river levels are woefully low at present.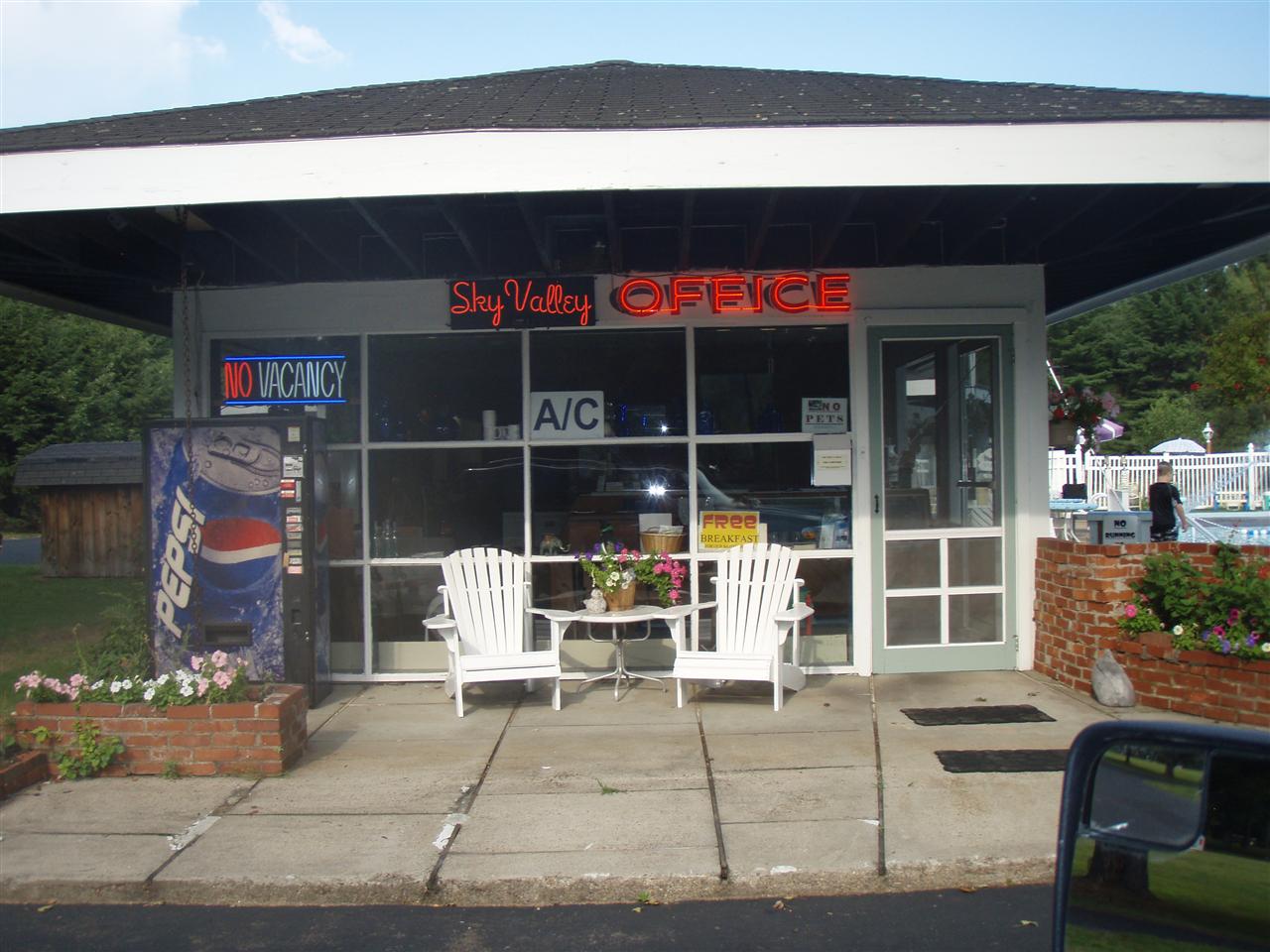 We drove to The Red Parka Steak house..Enroute we encountered a driver who had very novel indicators on his car!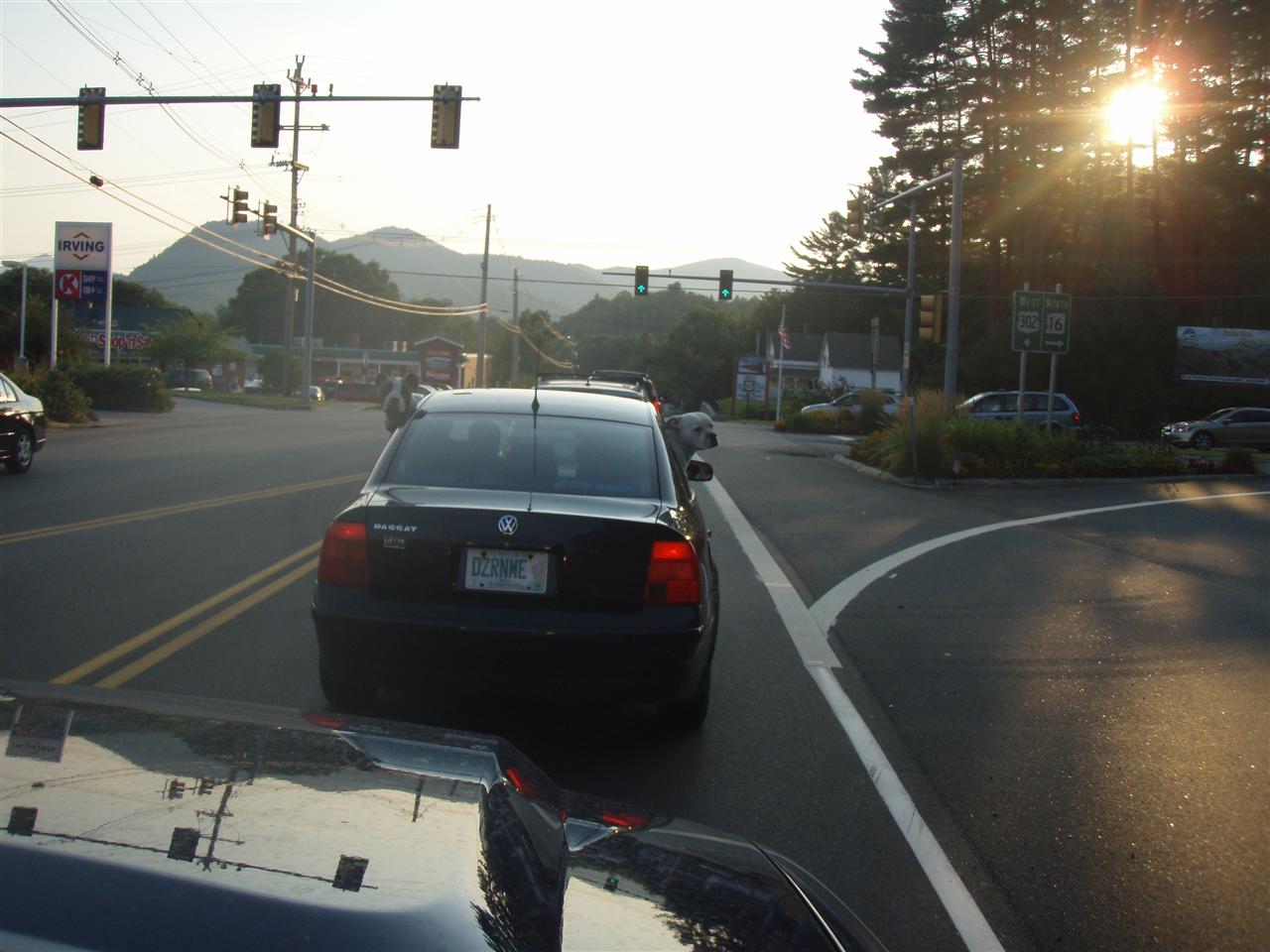 Ian excelled at this evenings gluttony stakes..They will sorely regret offering an all you can eat salad bar ( Looked like a swarm of locusts had visited , apparently I cannot critisise if its salad ???)
Back to cabin no 15 & The curtains that don't quite shut & the door with the dodgy lock..If we do not post again u will know we were dragged off in the night by peeping tom bears : )

Good night Reader xxx
Back to cabin no 15 & The curtains that don't quite shut & the door with the dodgy lock..If we do not post again you will know we were dragged off in the night by peeping tom bears : )

Good night Reader xxx
---
Day 13 :Scooby doo does Lubec maine (Sunday 5th August 2012 )
Day 14 :You did that on Porpoise .. (Monday 6th August 2012 )
Day 15 :Rockin' around the cape.. (Tuesday 7th August 2012 )
Day 16 :Spooky Salem.. (Wednesday 8th August 2012 )
Day 17 :Where is my cup of tea?.. (Thursday 9th August 2012 )
Day 18 :Steam train antics! ... (Friday 10th August 2012 )
Day 19 :The bears go to Bear Mountain & up The Empire State.. (Saturday 11th August 2012 )
Day 20 :A very long wait for Lady Liberty.. (Sunday 12th August 2012 )
Day 21 :Goodbye USA : ( (Monday 13th August 2012 )