Holiday USA 2012

Show all days on one page (a long download!)
Day 1 :Up, up and away (Tuesday 24th July 2012 )
Day 2 :Our Nations Capital.. (Wednesday 25th July 2012 )
Day 3 :Laurel & Charlie.. (Thursday 26th July 2012 )
Day 4 :Goodbye Bob ( Or whats left of him ) Hello Chesapeake bay.. (Friday 27th July 2012 )
Day 5 :Happy Anniversary Mr & Mrs Veck.. (Saturday 28th July 2012 )
Day 6 :Bottoms up on the Chatooga ( Paddle faster I hear Banjo's ).. (Sunday 29th July 2012 )
Day 7 :Cheerio Chatooga..Hi Fiddlers Roost.. (Monday 30th July 2012 )
Day 8 :Tubing on New River.. (Tuesday 31st July 2012 )

We waved a not so fond farewell to wierdy truck stop Ramada & its "ladies " of the night..
We headed into Pensylvannia & experienced tolls, roadworks but no storms..Lunch was had at Browns Country Kitchen , which we found by chance.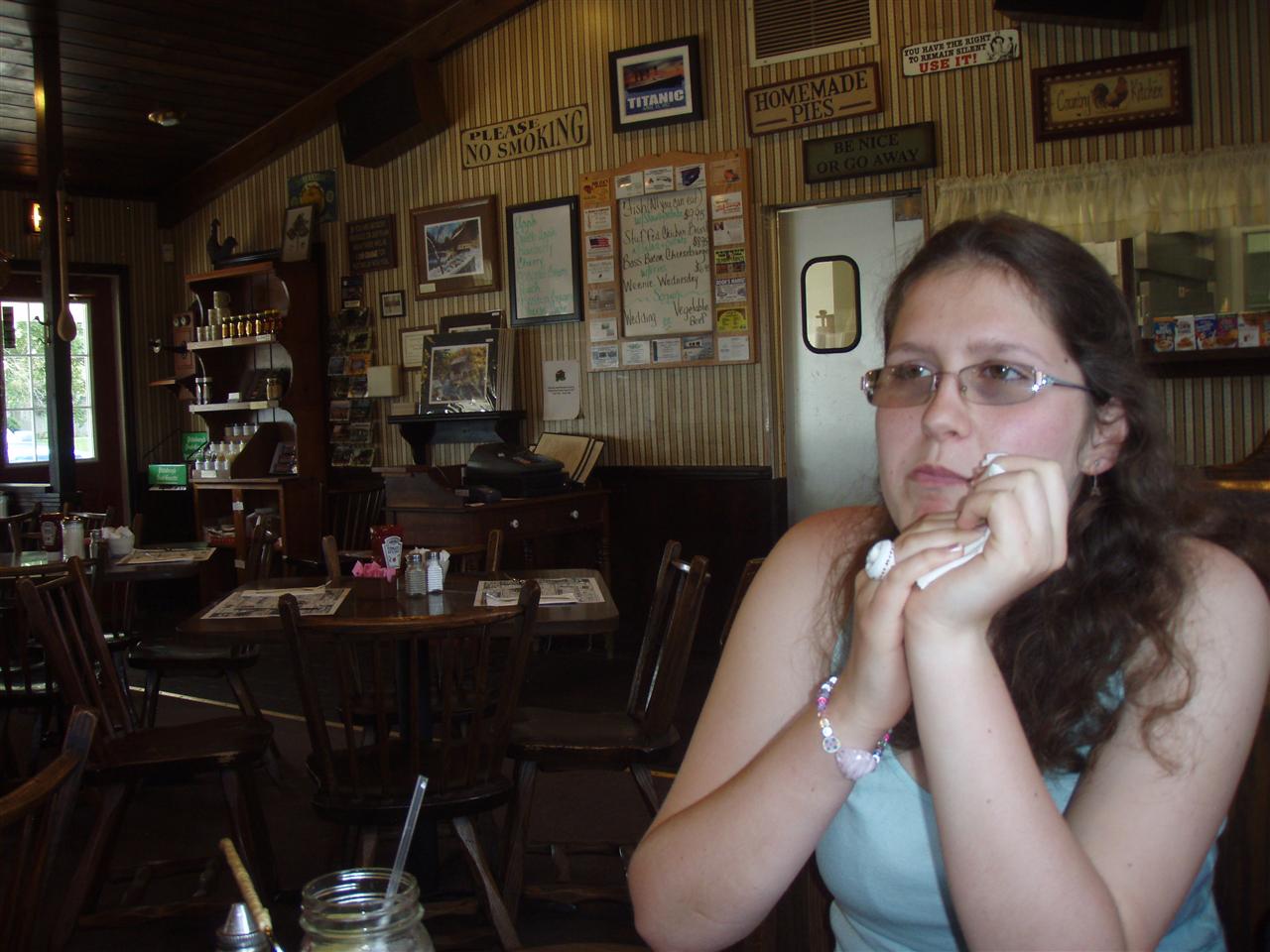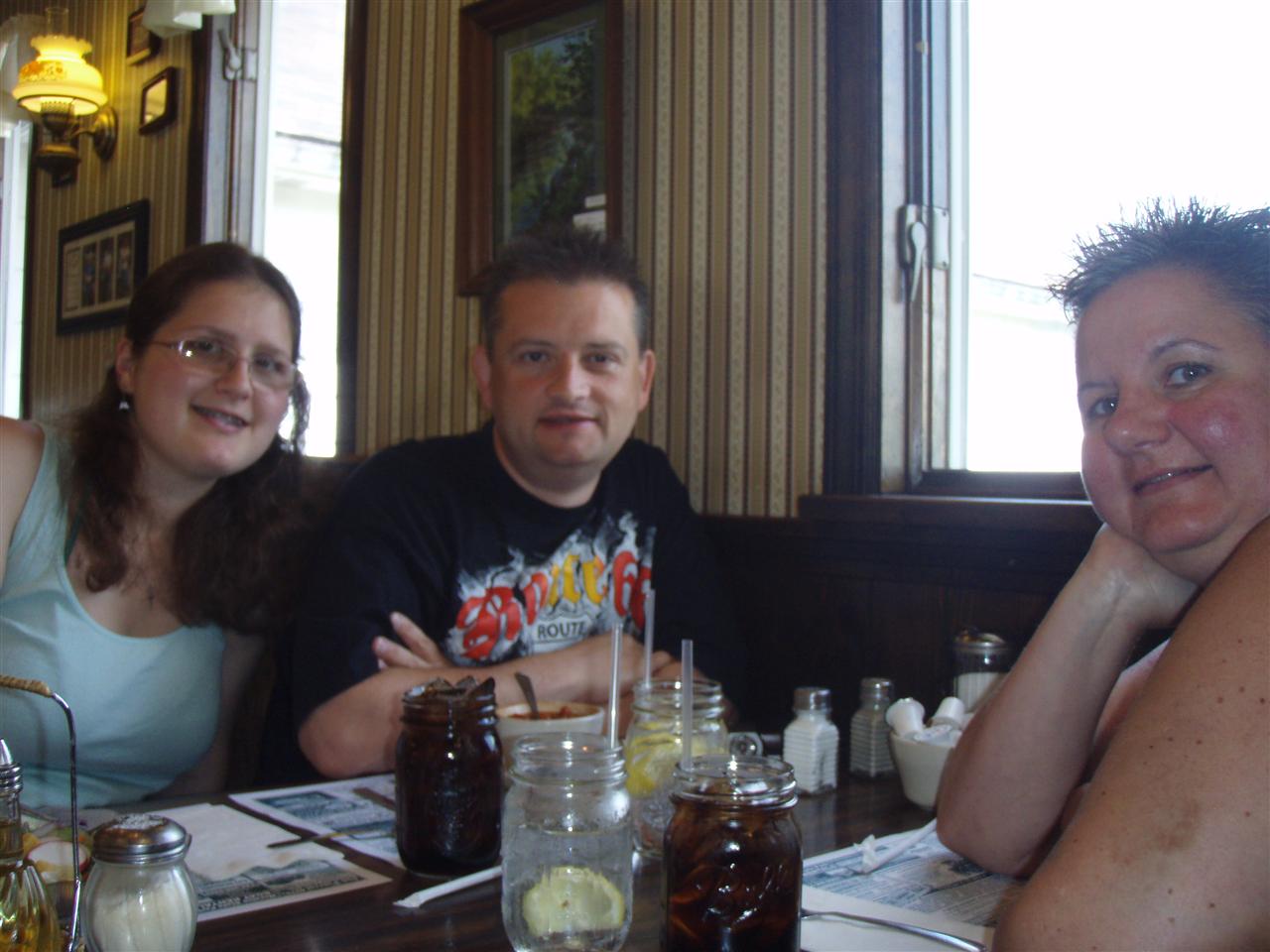 Fortunately we arrived on Senior citizens wednesday, so mum got her dinner cheap - Hollie : )
Back in New York State the City of Buffalo gave way to Niagara.
We checked into the Howard Johnson basic , but cleaner than the Ramada & right beside the Falls & associated attractions.
Once we were settled in off we went , to see what all the fuss is about : )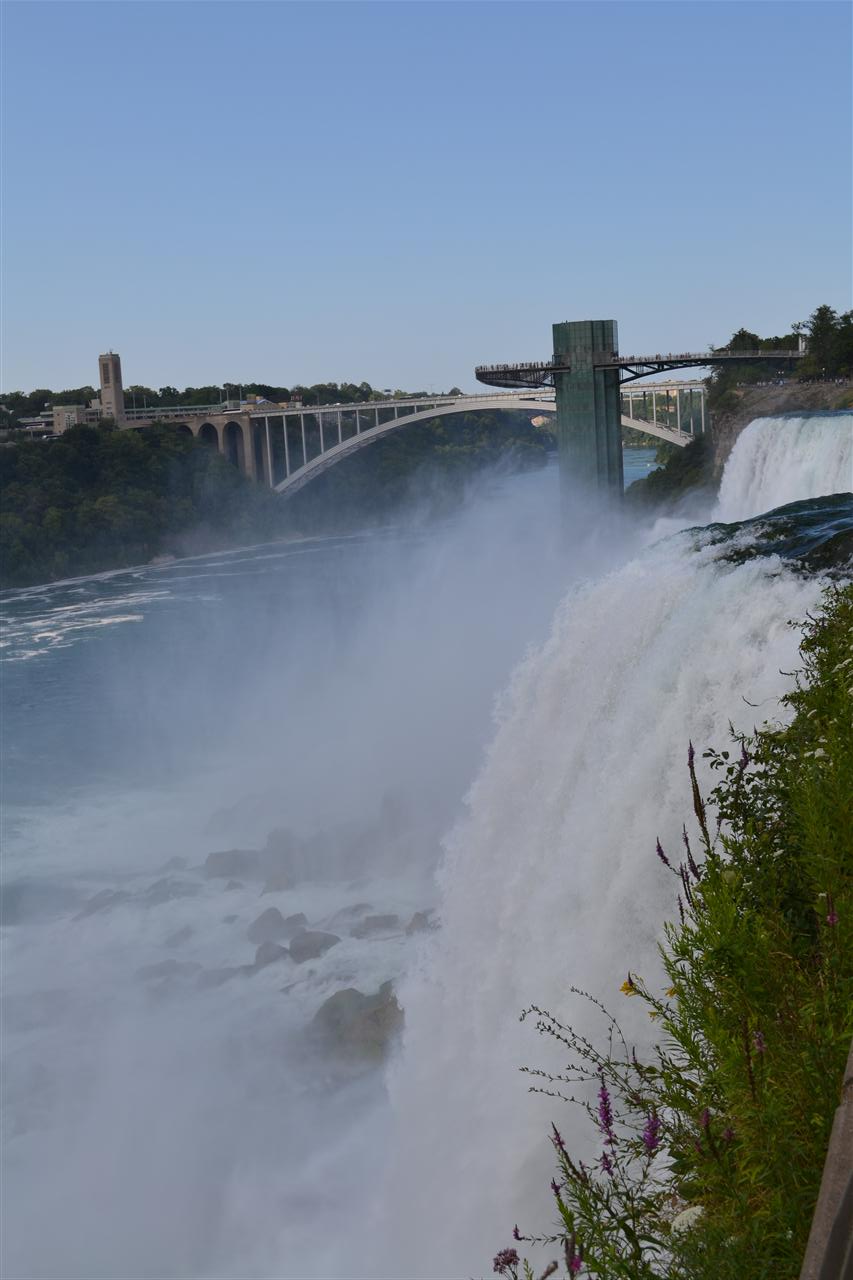 First stop Bridal Veil falls.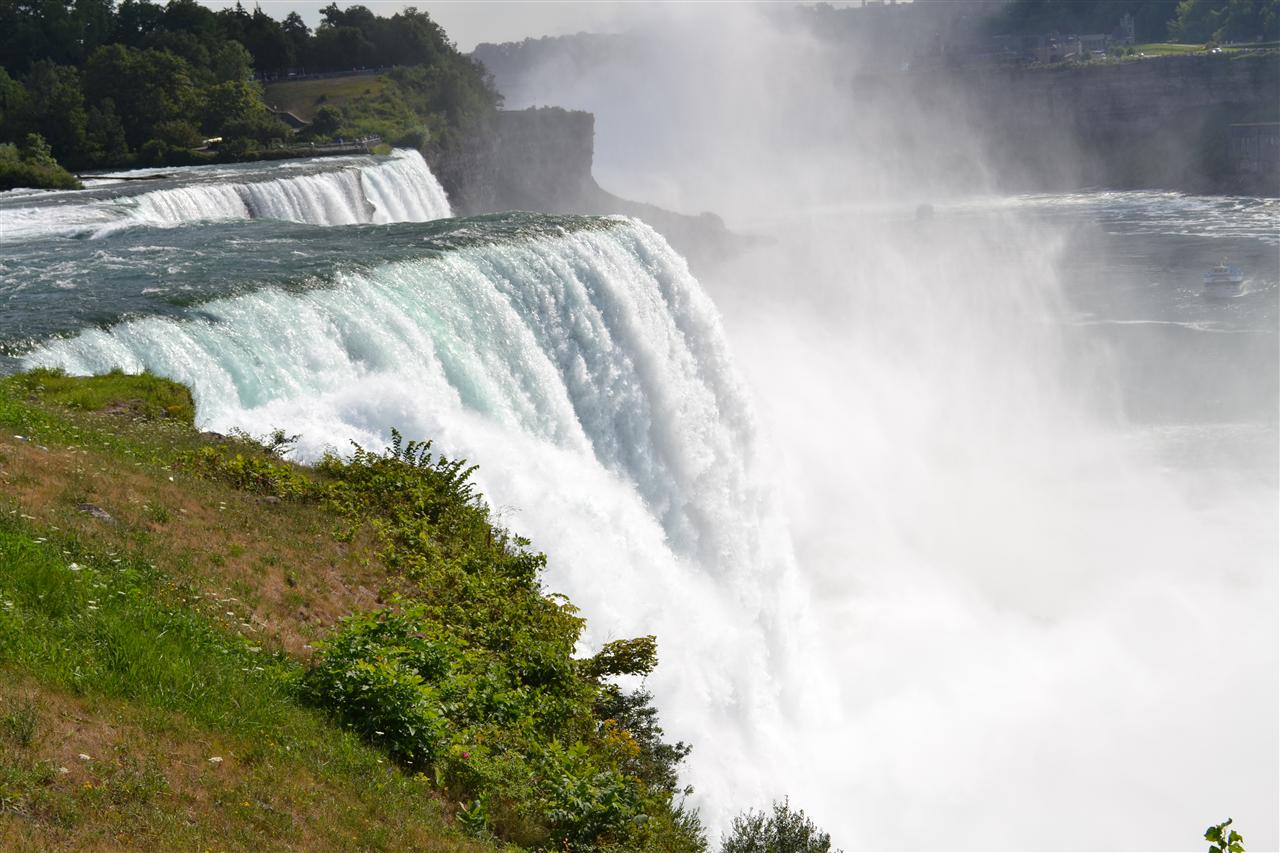 We bought a ticket to the Cave of The Winds.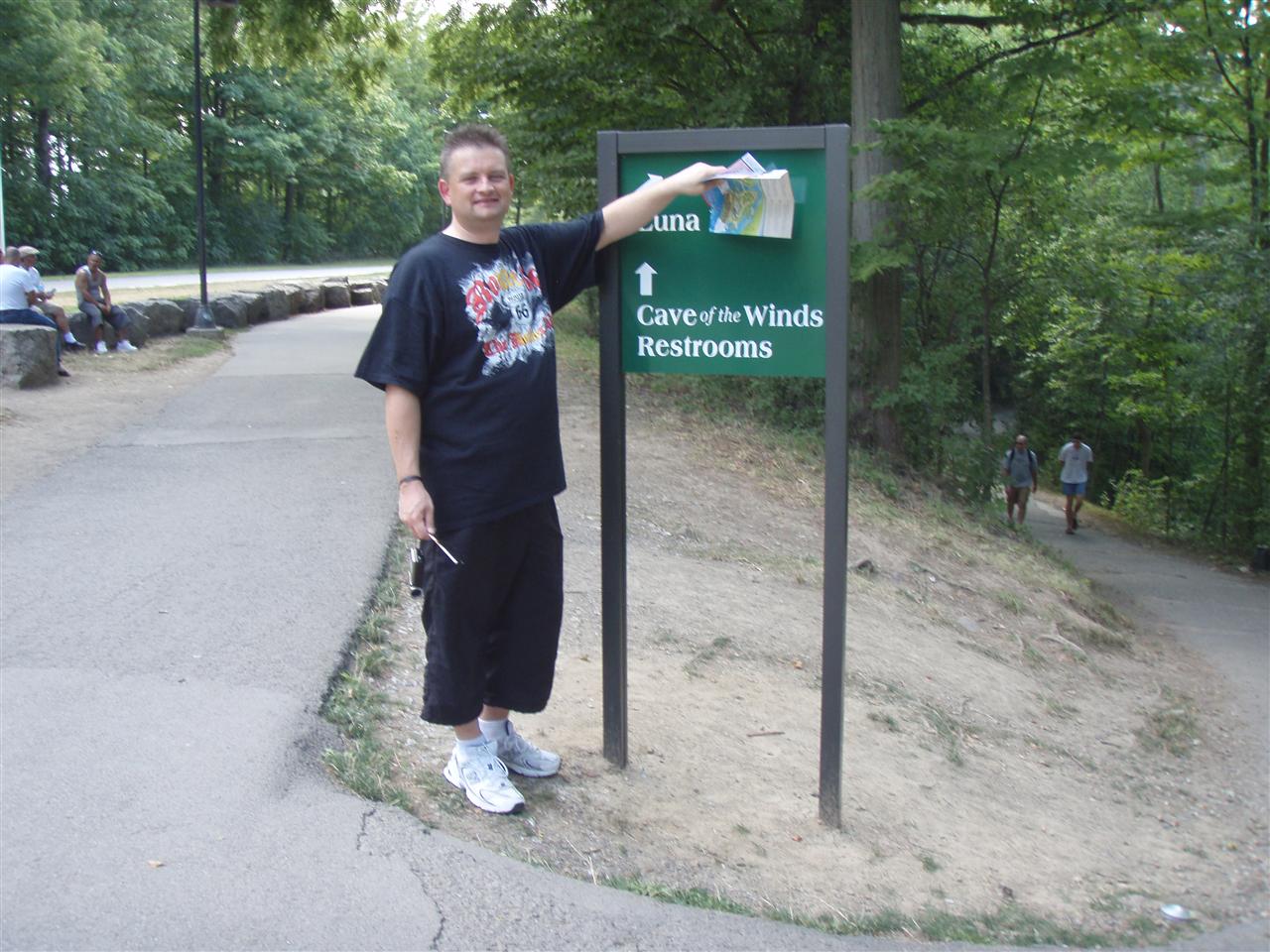 We were issued some funky water shoes which we get to keep..Ian did comment that we were all kitted out in our custom shoes in a matter of seconds, Unlike another shoe shop he's familiar with where it takes the lady MUCH LONGER !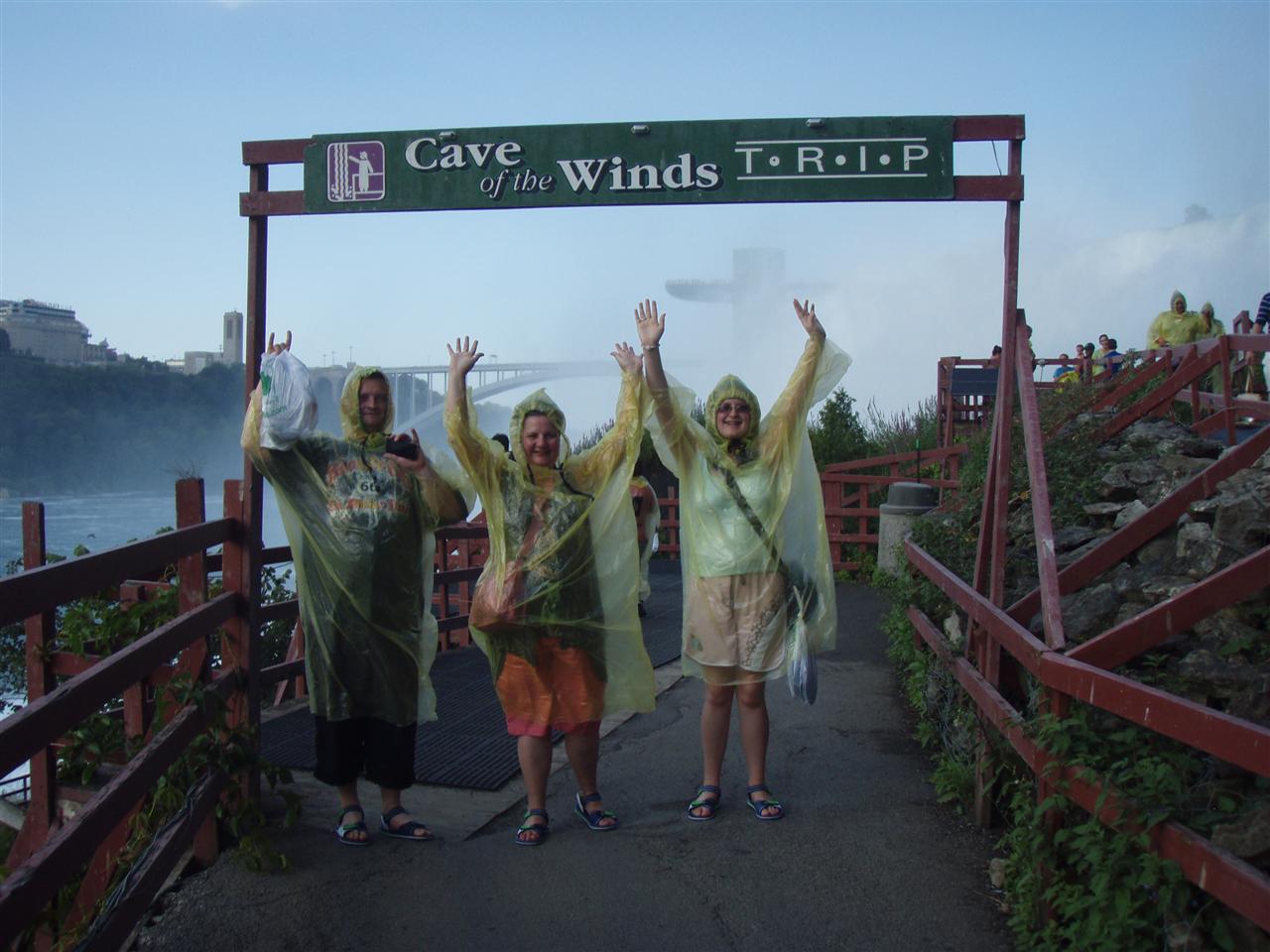 Ponchos are a fashion essential..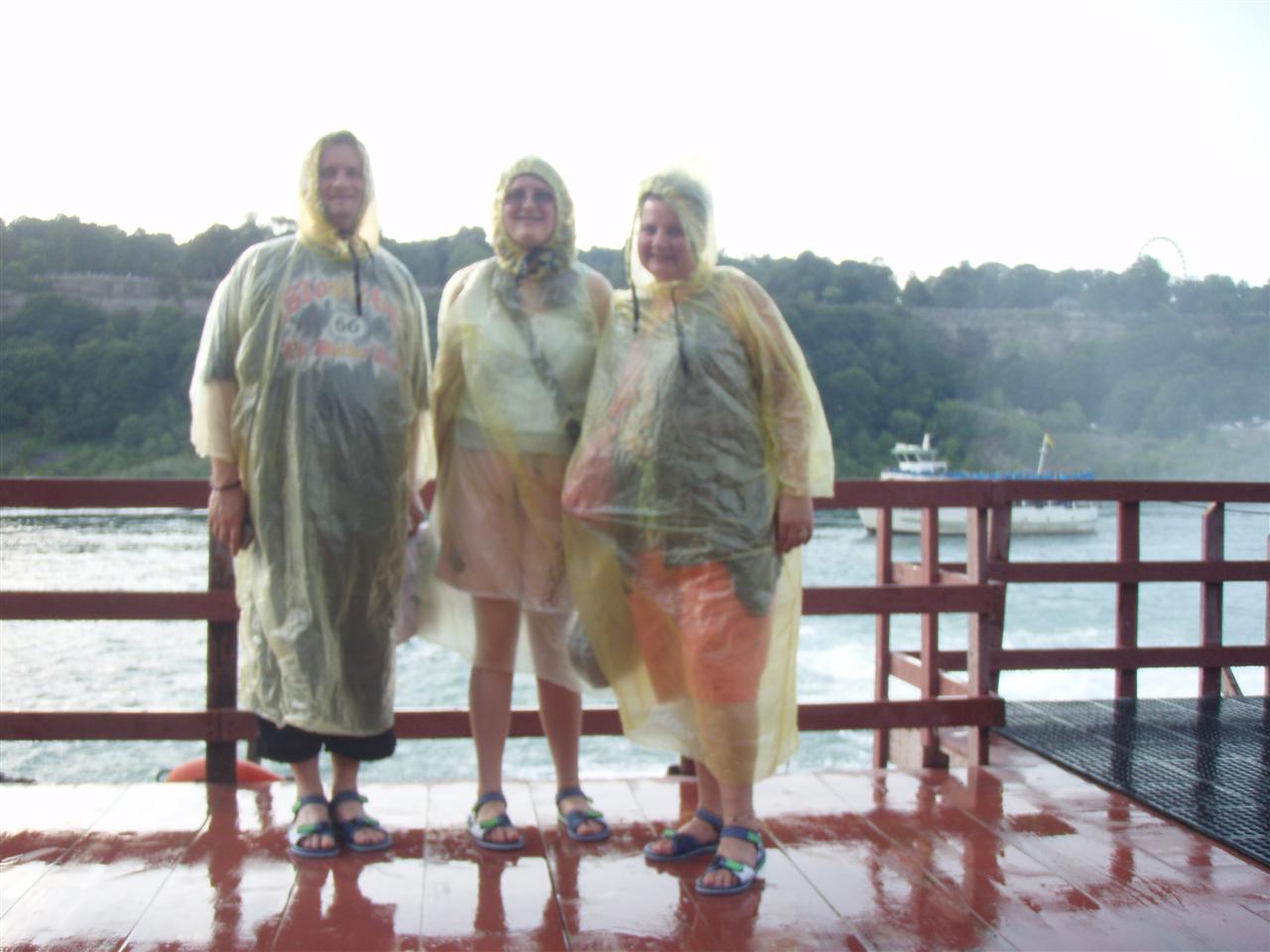 As we moved from deck to deck we became progressively wetter. Some people abandoned the ponchos and got saturated!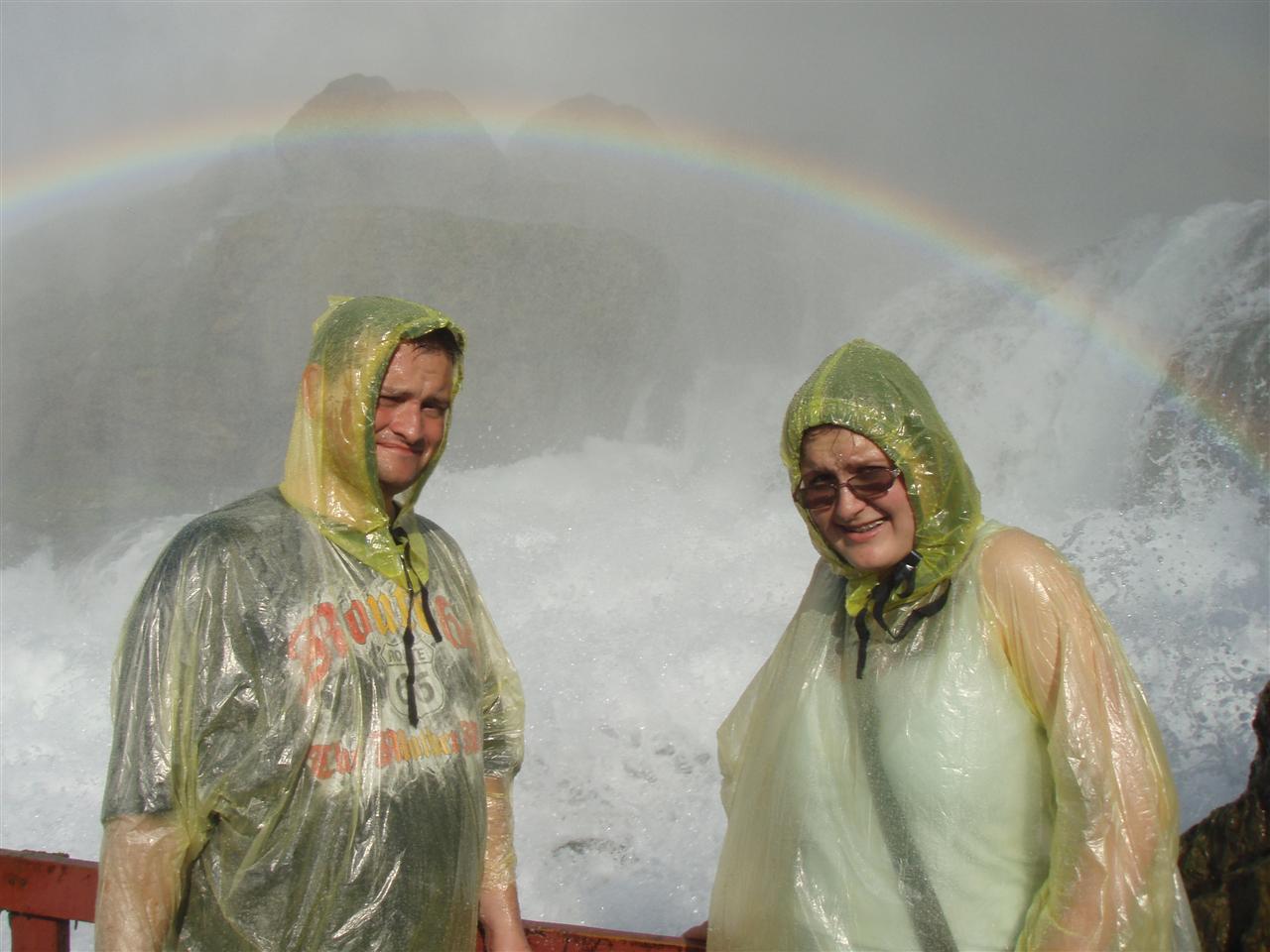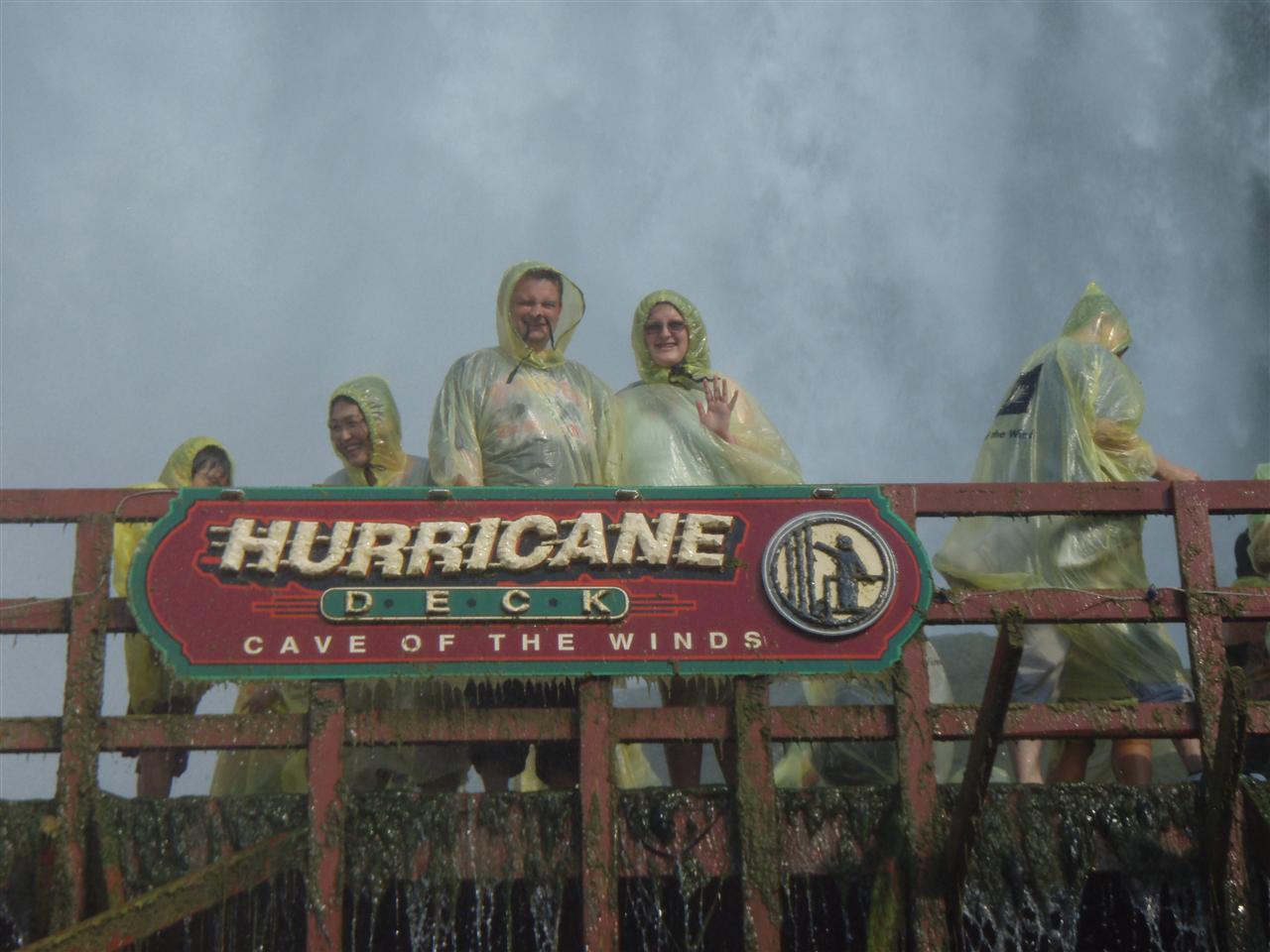 After the cave we trudged across the State park to Horseshoe falls,
A kindly old couple pointed out a tightrope spanning the Skylon tower & its neighbour, apparently a 68 yr old guy routinely walks the wire & he was due at 7pm..7pm came & went but no bonkers guy on a string, so we began our journey back, Minutes later lo & behold there he was..we didn't hang around long enough to see any eventual splats.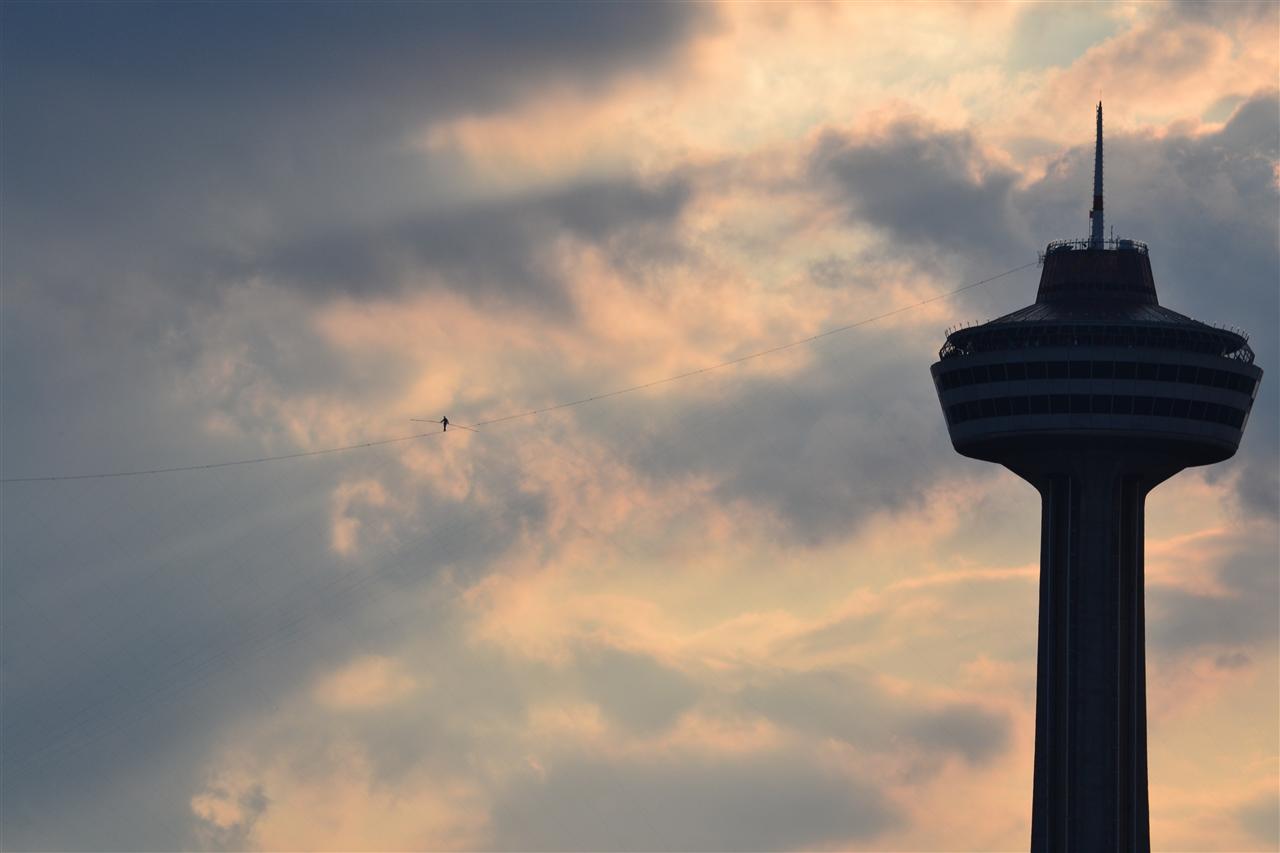 Much to Ians delight Niagara seems to be a mecca for the Indian community.. We set off for the Zaika Indian restaurant & had a super, if slightly salty Indian meal.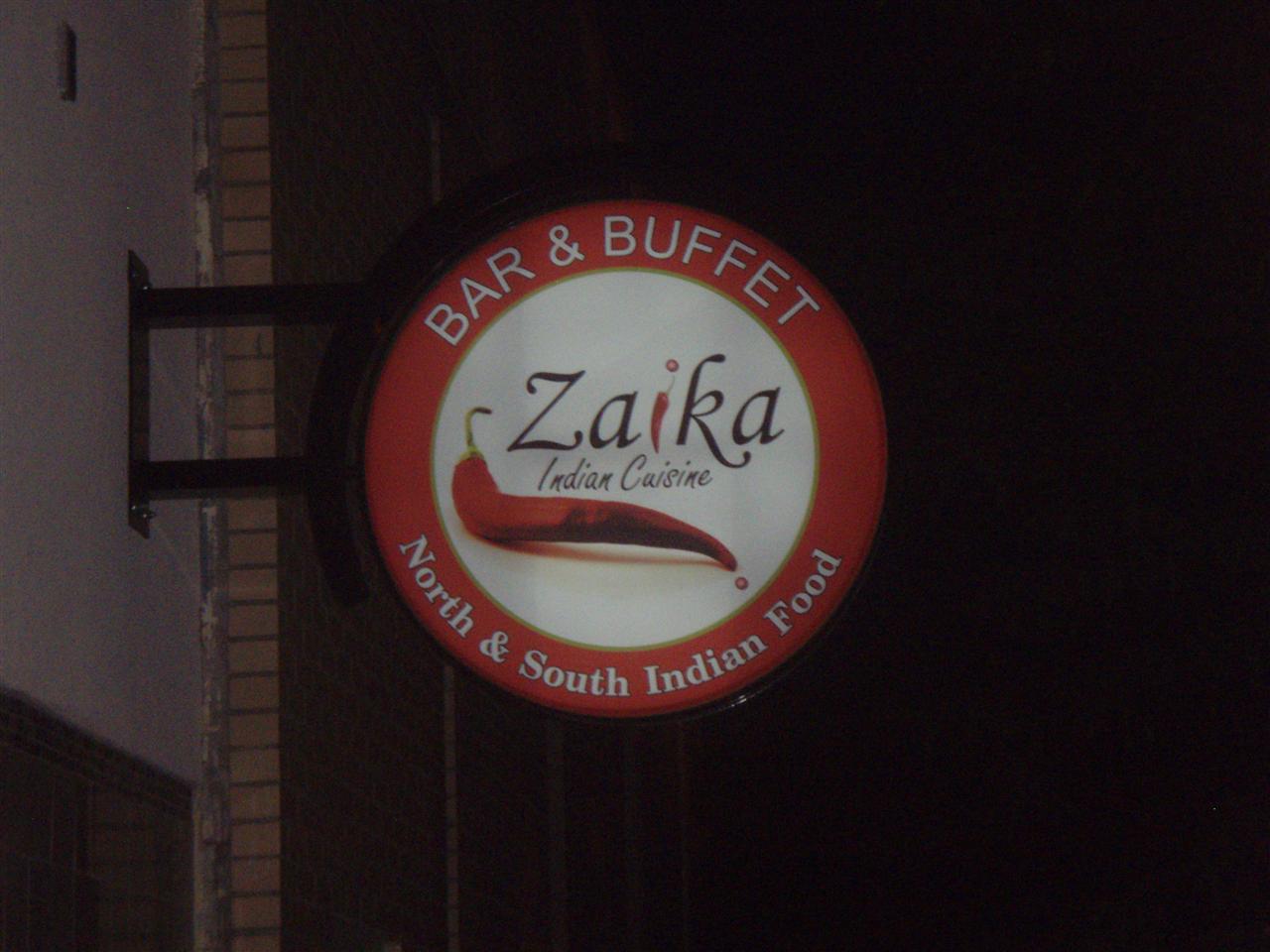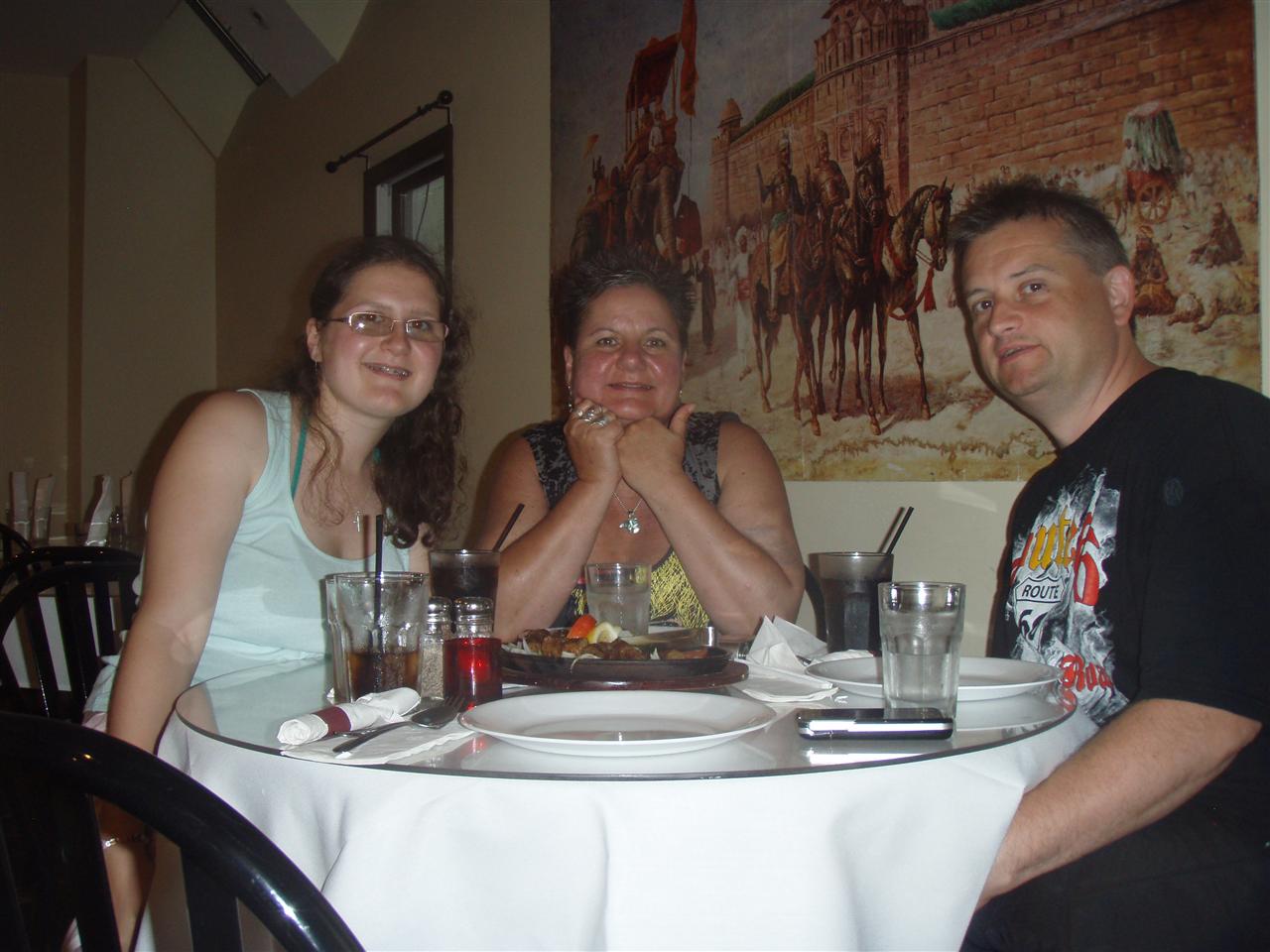 Back at base its baths & bed for us chickens..

Goodnight Reader xxx
---
Day 10 :We Walked to Canada ( and back ) TWICE.. (Thursday 2nd August 2012 )
Day 11 :Drivin' Miss Hollie (Friday 3rd August 2012 )
Day 12 :Washington Mountain & an alpine roller coaster.. (Saturday 4th August 2012 )
Day 13 :Scooby doo does Lubec maine (Sunday 5th August 2012 )
Day 14 :You did that on Porpoise .. (Monday 6th August 2012 )
Day 15 :Rockin' around the cape.. (Tuesday 7th August 2012 )
Day 16 :Spooky Salem.. (Wednesday 8th August 2012 )
Day 17 :Where is my cup of tea?.. (Thursday 9th August 2012 )
Day 18 :Steam train antics! ... (Friday 10th August 2012 )
Day 19 :The bears go to Bear Mountain & up The Empire State.. (Saturday 11th August 2012 )
Day 20 :A very long wait for Lady Liberty.. (Sunday 12th August 2012 )
Day 21 :Goodbye USA : ( (Monday 13th August 2012 )