Holiday Australia

Show all days on one page (a long download!)
Day 1 :Up , up and away..hopefully (Wednesday 22nd October 2014 )
Day 2 :The day that time forgot. (Thursday 23rd October 2014 )
Day 3 :Lifes a Bondi Beach! (Friday 24th October 2014 )
Day 4 :Tea with Auntie Dee. (Saturday 25th October 2014 )
Day 5 :Katoomba to Morpeth via pie country. (Sunday 26th October 2014 )
Day 6 :Skippies in the ( Lighthouse ) Garden.. (Monday 27th October 2014 )
Day 7 :A Carpet Python, Jellyfish , a Shark & Some Horse Flies. (Tuesday 28th October 2014 )
Day 8 :Our day on the Waterfalls way. (Wednesday 29th October 2014 )
Day 9 :Byron Bay Lighthouse & Dracula's (Thursday 30th October 2014 )
Day 10 :Crikey & a warm welcome in Peregian Springs. (Friday 31st October 2014 )
Day 11 :Whistle stop tour with Annette & Ken (Saturday 1st November 2014 )
Day 12 :Surf Club fry up & a ferry to Fraser Island (Sunday 2nd November 2014 )
Day 13 :Navigating Fraser Island's sophisticated motorway system. (Monday 3rd November 2014 )
Day 14 :The long & winding road (Tuesday 4th November 2014 )
Day 15 :Throw another shrimp on the bonfire , Guy Fawkes (Wednesday 5th November 2014 )
Day 16 :Capella to Airlie Beach via the sugar cane fields. (Thursday 6th November 2014 )
Day 17 :SV Domino day (Friday 7th November 2014 )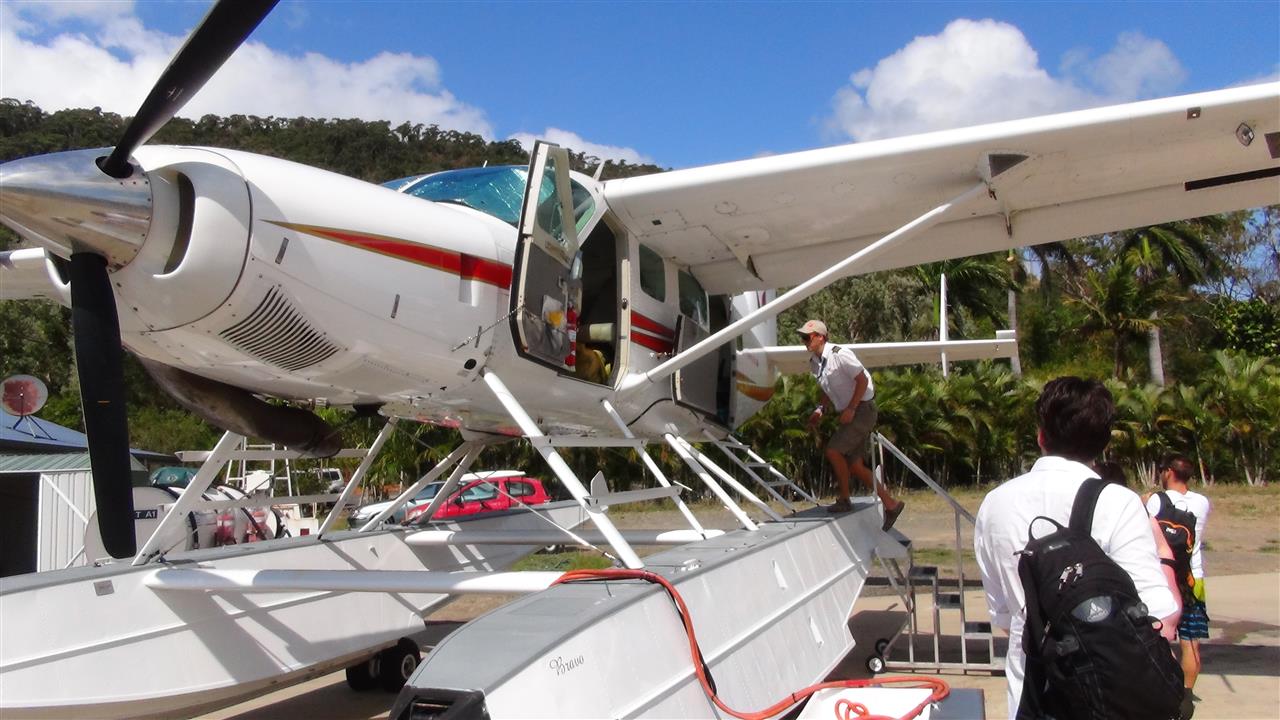 Air Whitsunday welcomed us to their grand sounding " Terminal 1" ..( The 1 relating to the number of staff on duty ).
We met our pilot Dan & climbed aboard our sea plane with our 4 other companions.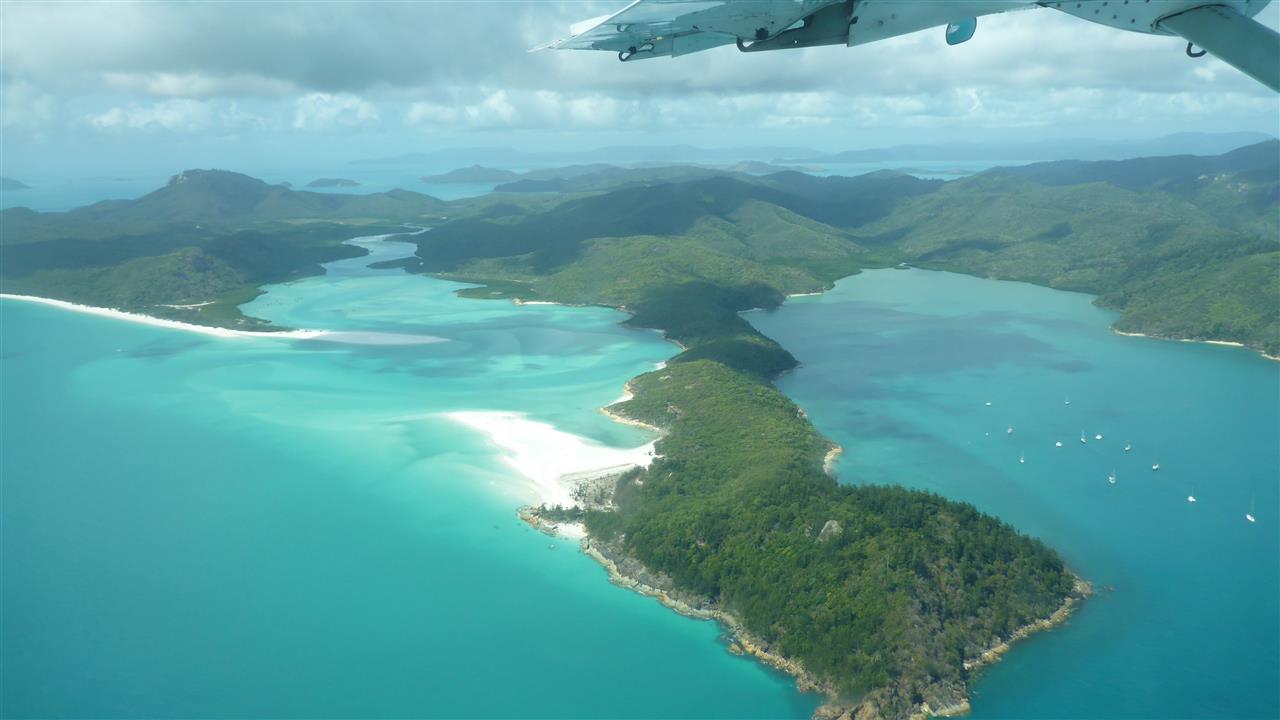 Once airbourne , Pilot Dan took us out over the Whitsundays & informed us the Islands were named by Captain Cook when he arrived on Whit Sunday 3rd June in the 1770's..Had the international date line been around, they would have been called the Whitmondays !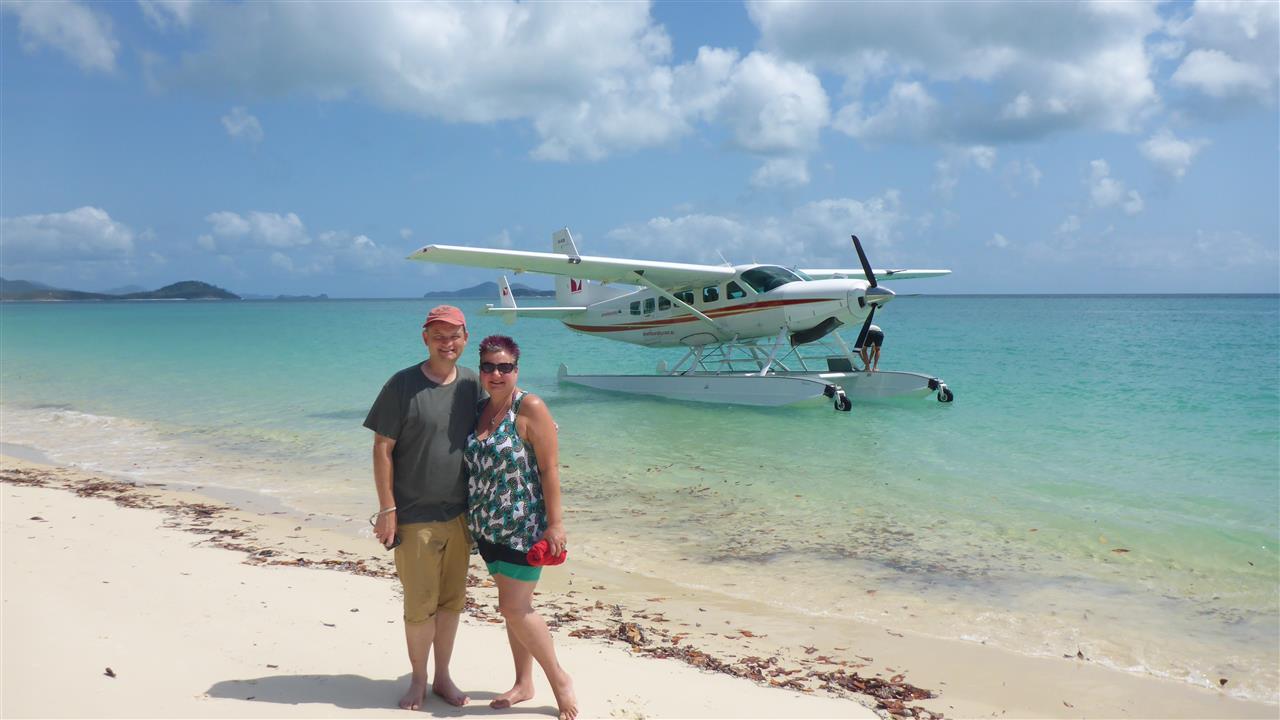 Our stop off at Whitehaven beach for a glass of Champagne , also allowed enough time for me to take a quick dip.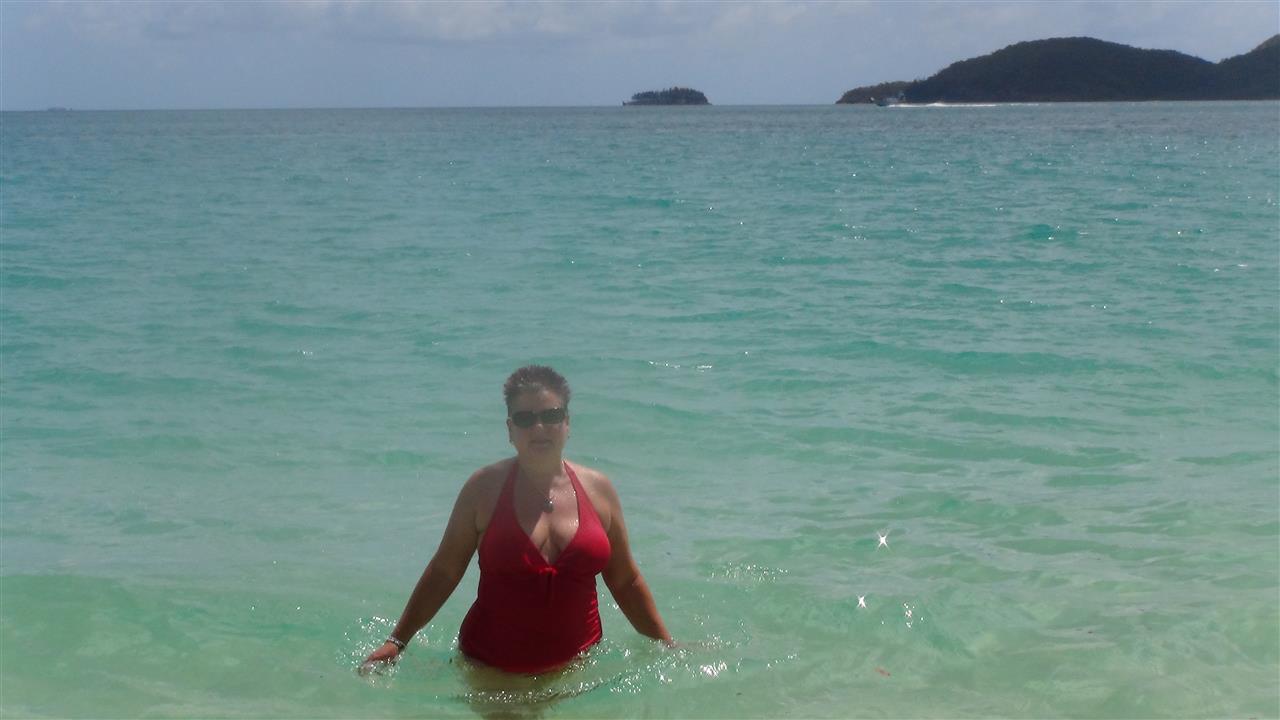 Yes I know, It's like watching bay watch...
The 97% pure silica sand is almost pure white.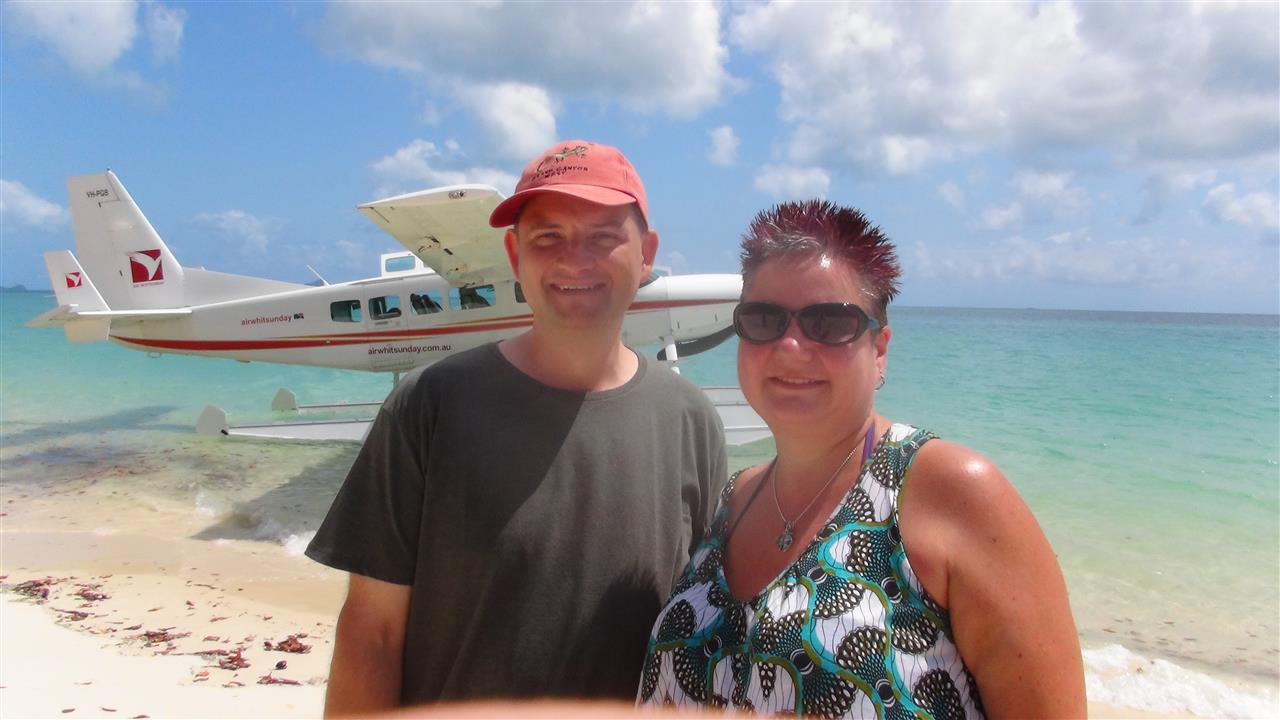 We & our fellow passengers took photo's for each other .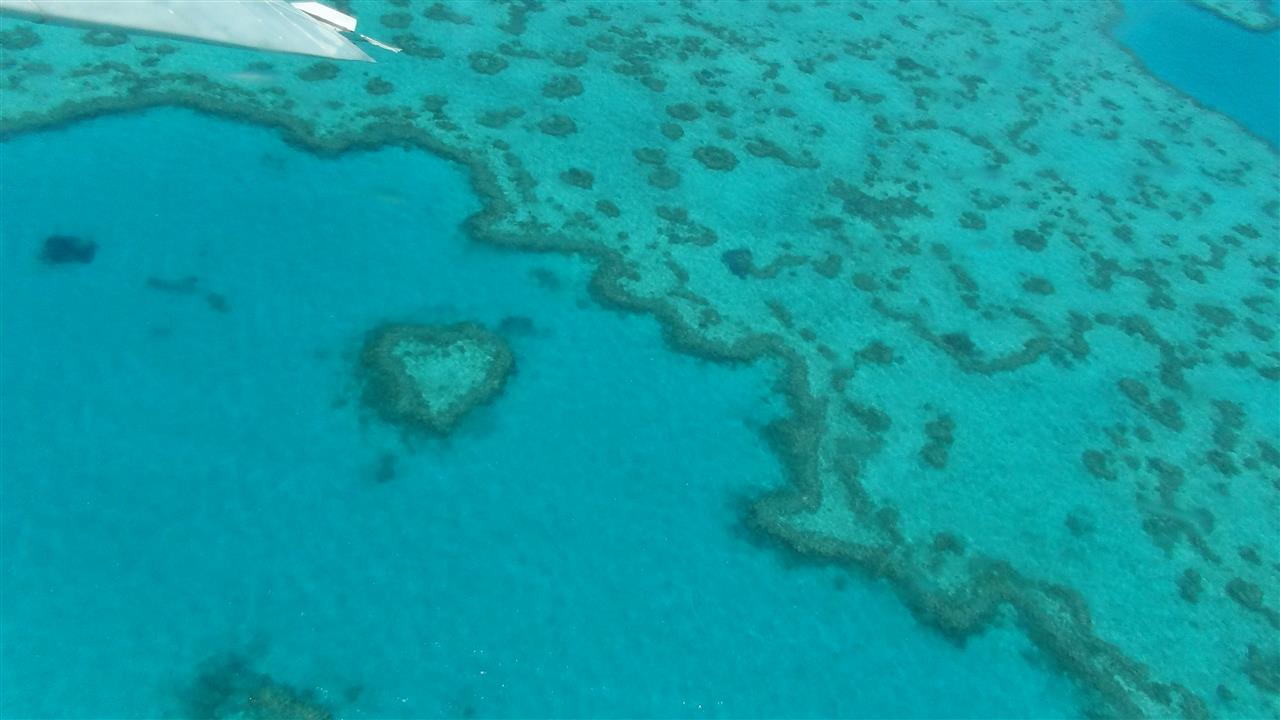 Back on the air & a chance to view " Heart Reef" set in it's own lagoon.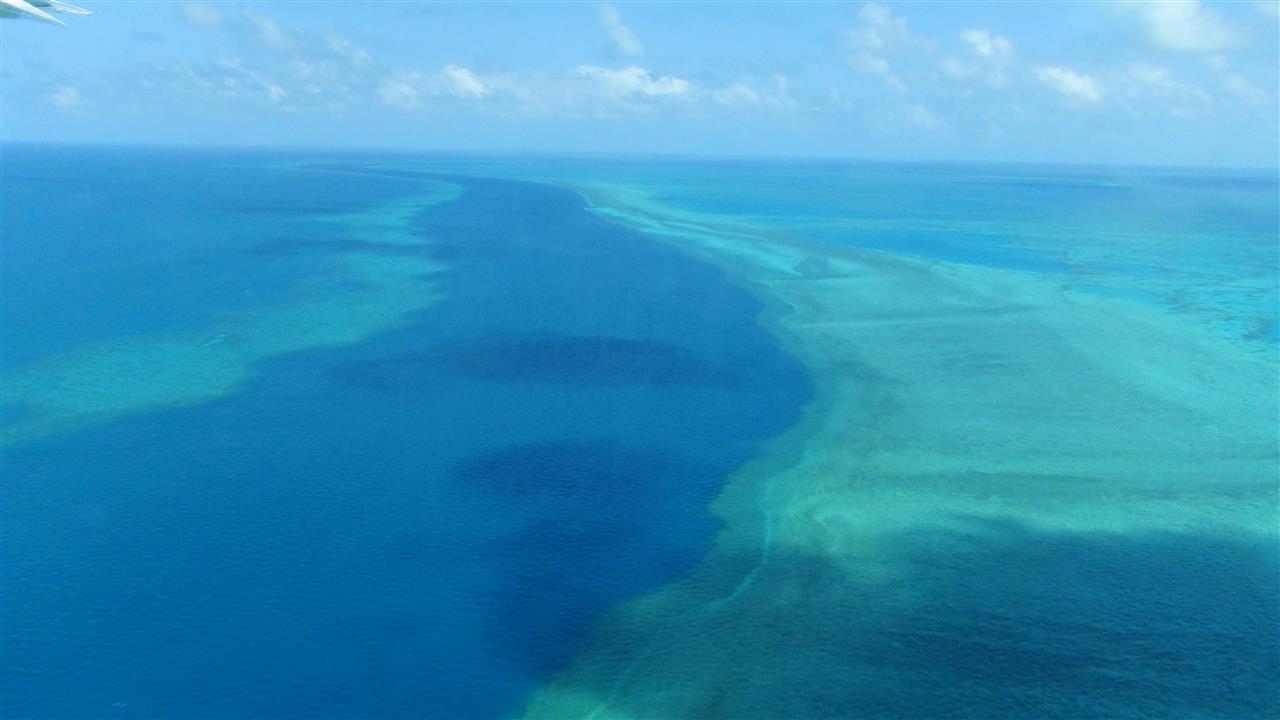 The Great Barrier Reef itself consists of over 2900 individually definable reef's, stretching well beyond the sunshine coast, south & into the Northern Territories.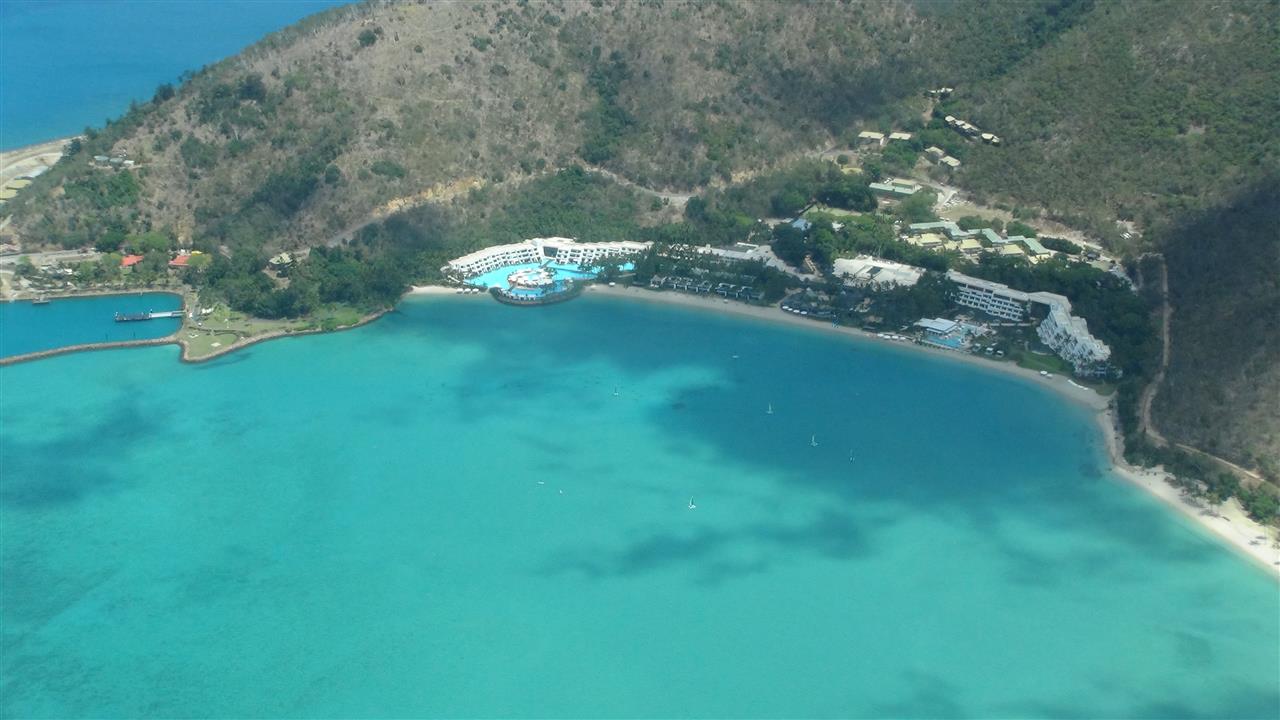 Hayman Island..Exclusive Island retreat for the rich & famous.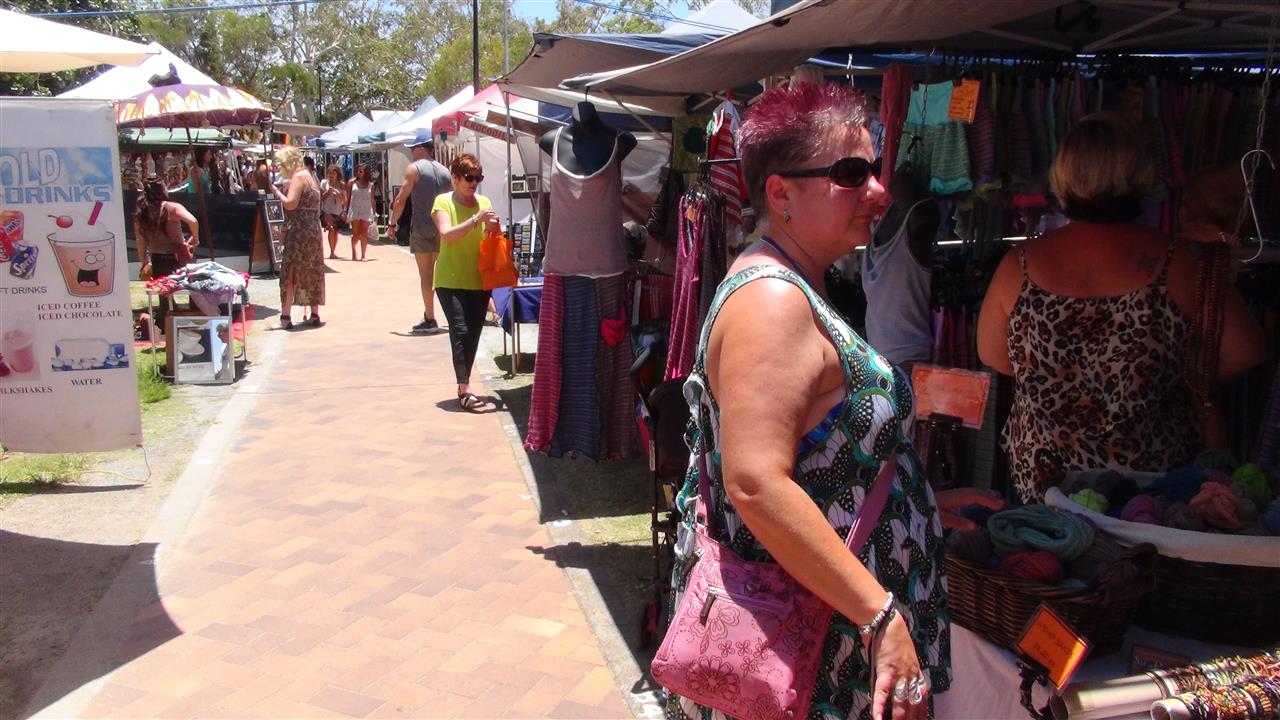 Flight over & a visit to Airlie Beach market.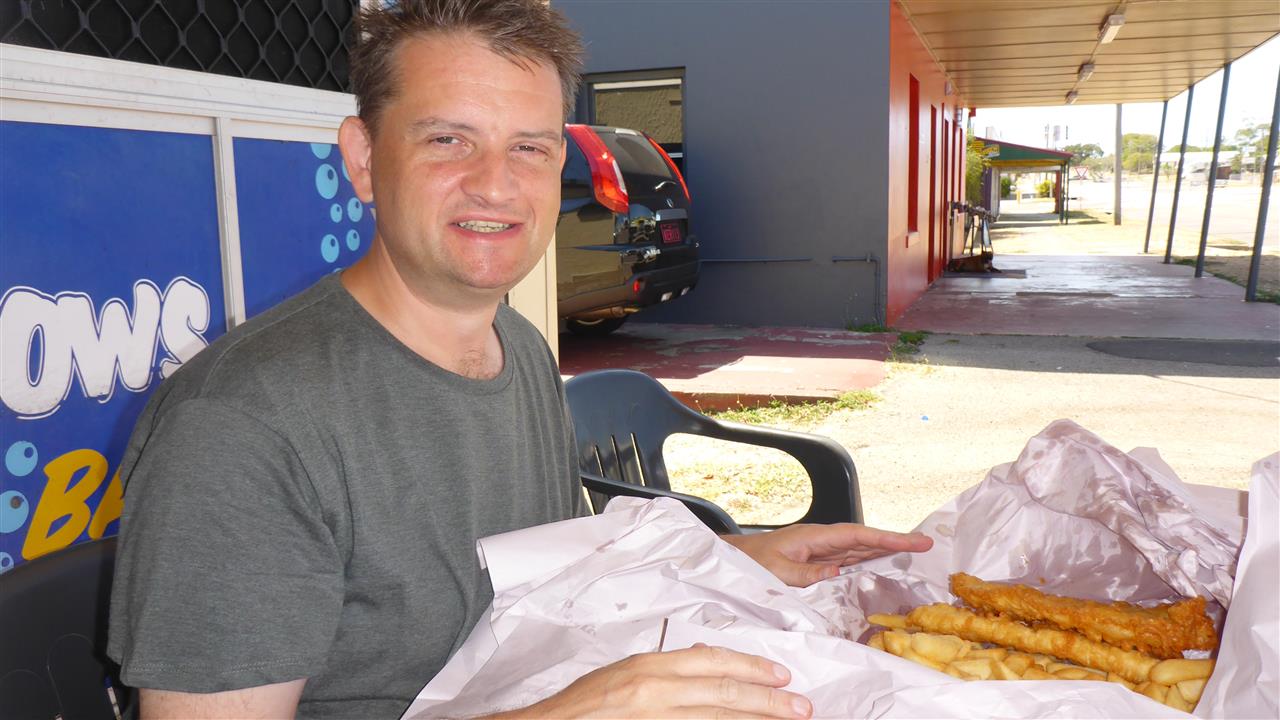 Fish & Chips from paper our Gourmet Lunch, in a place caled Bowen.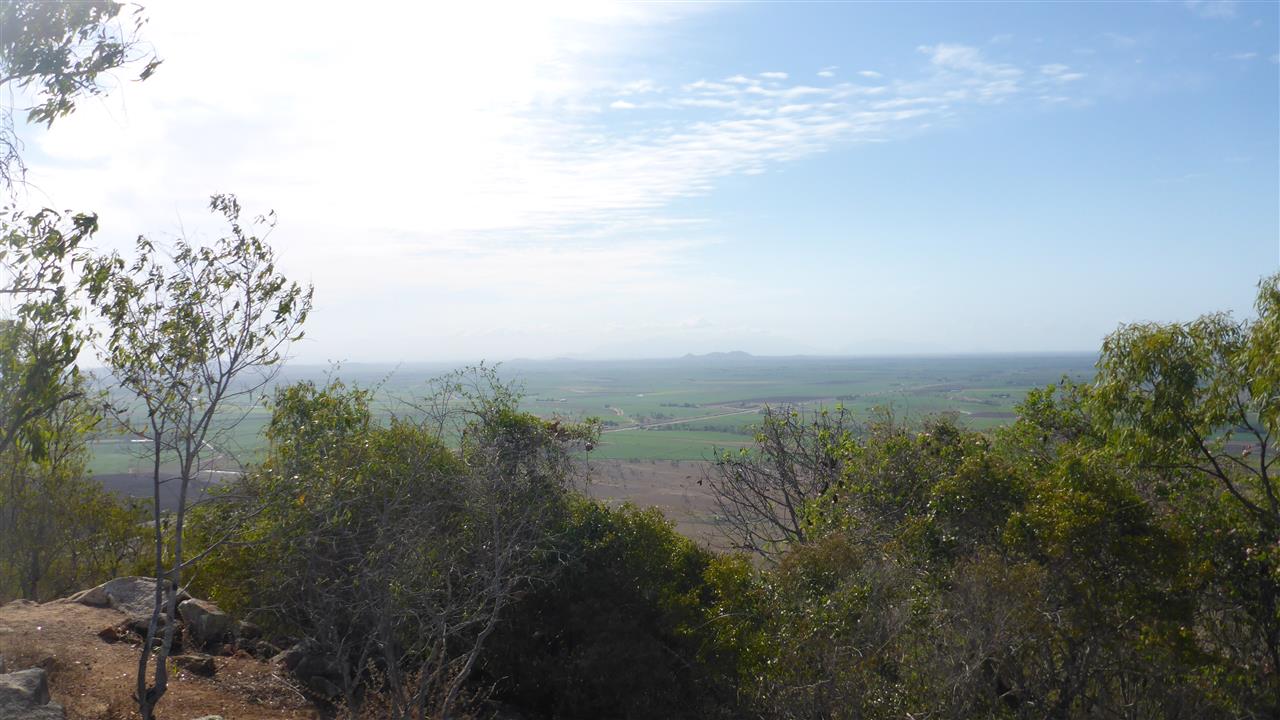 A View of the mountains we are heading for from Inkerman Outlook.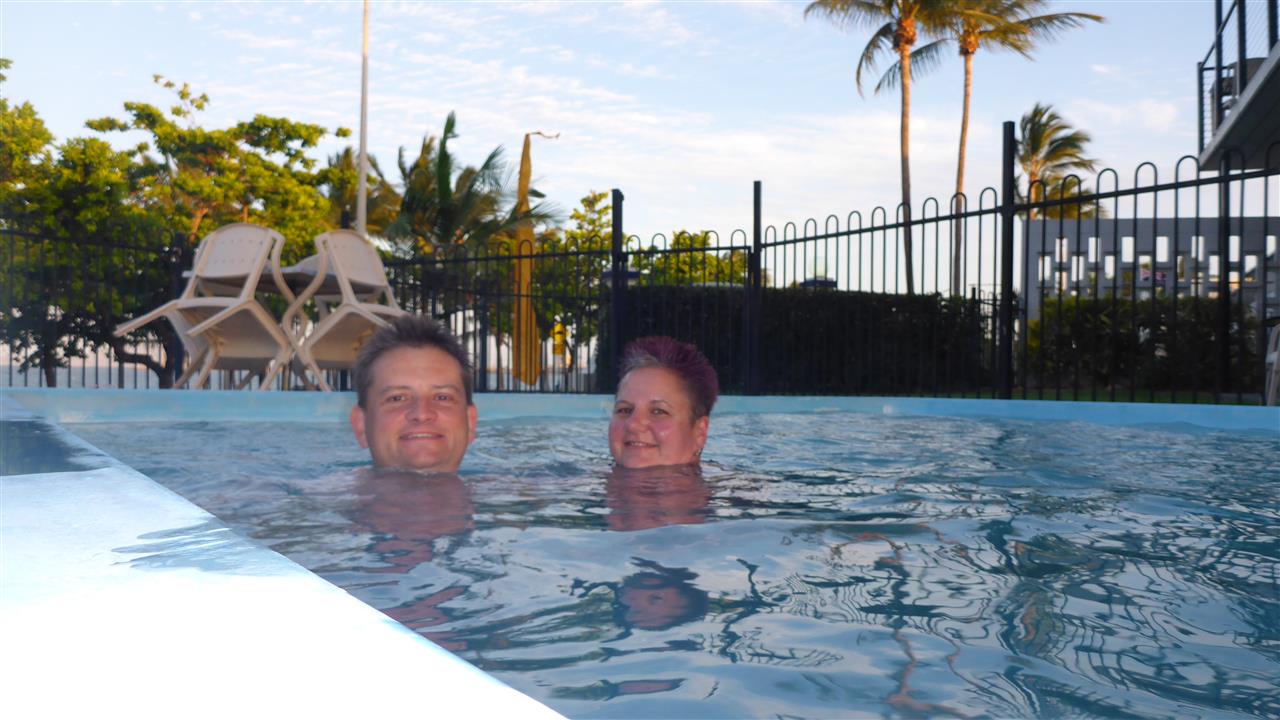 A cool dip at the Shoredrive Hotel pool , while my laundry does its thing.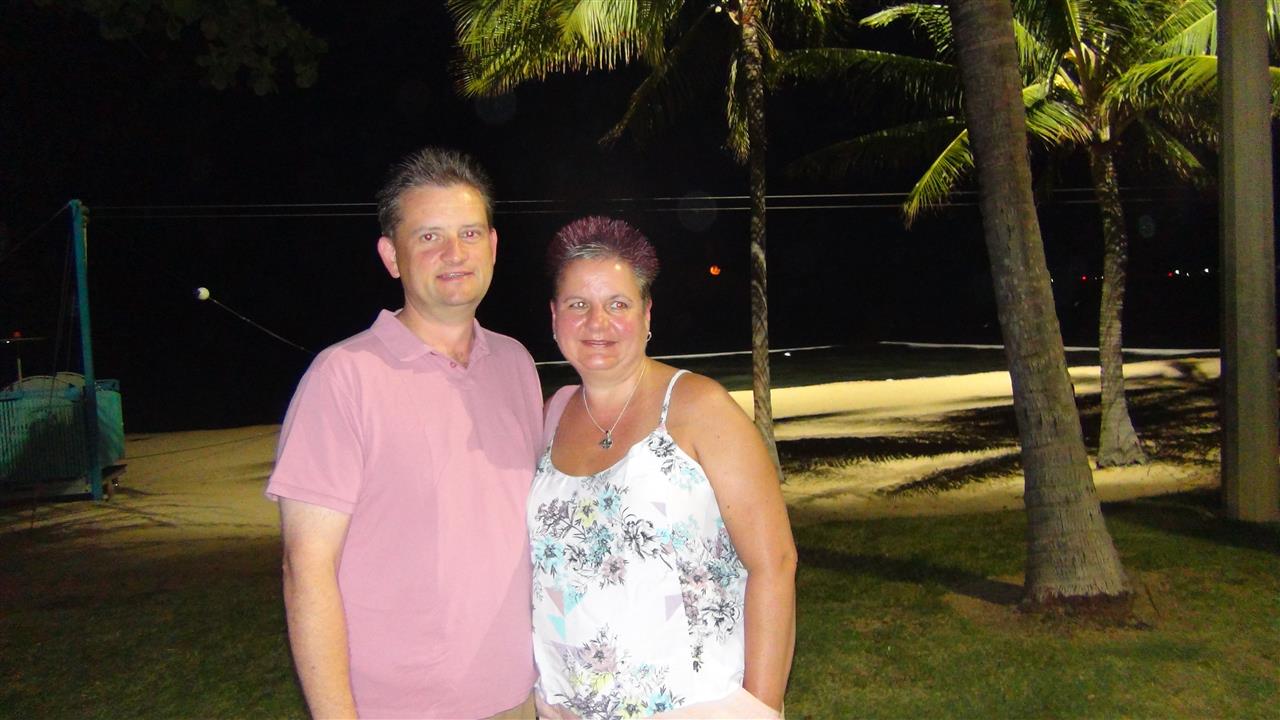 And a final photo during our stroll along The Strand, in Townsville.
Later at Bogarts , the posh eatery attached to our not so posh hotel , Ian opts for a steak while I try ... Homemade Gnocchi with Spinach Prawns & BUGS ( Bugs being a local crustacheon similar to a sweet prawn ).

More driving tomorrow so good night dear reader xxx
---
Day 19 :Waterfall way day (Sunday 9th November 2014 )
Day 20 :My Boomerang won't come back (Monday 10th November 2014 )
Day 21 :Yorkies Knob & Tubing The Mulgrave River. (Tuesday 11th November 2014 )
Day 22 :A surprise concert at Sydney Opera House (Wednesday 12th November 2014 )
Day 23 :Jet boat & the revolving restaurant (Thursday 13th November 2014 )
Day 24 :Bon voyage Sydney (Friday 14th November 2014 )