Holiday Australia

Show all days on one page (a long download!)
Day 1 :Up , up and away..hopefully (Wednesday 22nd October 2014 )
Day 2 :The day that time forgot. (Thursday 23rd October 2014 )
Day 3 :Lifes a Bondi Beach! (Friday 24th October 2014 )
Day 4 :Tea with Auntie Dee. (Saturday 25th October 2014 )
Day 5 :Katoomba to Morpeth via pie country. (Sunday 26th October 2014 )
Day 6 :Skippies in the ( Lighthouse ) Garden.. (Monday 27th October 2014 )
Day 7 :A Carpet Python, Jellyfish , a Shark & Some Horse Flies. (Tuesday 28th October 2014 )
Day 8 :Our day on the Waterfalls way. (Wednesday 29th October 2014 )
Day 9 :Byron Bay Lighthouse & Dracula's (Thursday 30th October 2014 )
Day 10 :Crikey & a warm welcome in Peregian Springs. (Friday 31st October 2014 )
Day 11 :Whistle stop tour with Annette & Ken (Saturday 1st November 2014 )

Thanks to Annette & Ken for an all you can eat Sunday breakfast at the surf club ( Where else ? )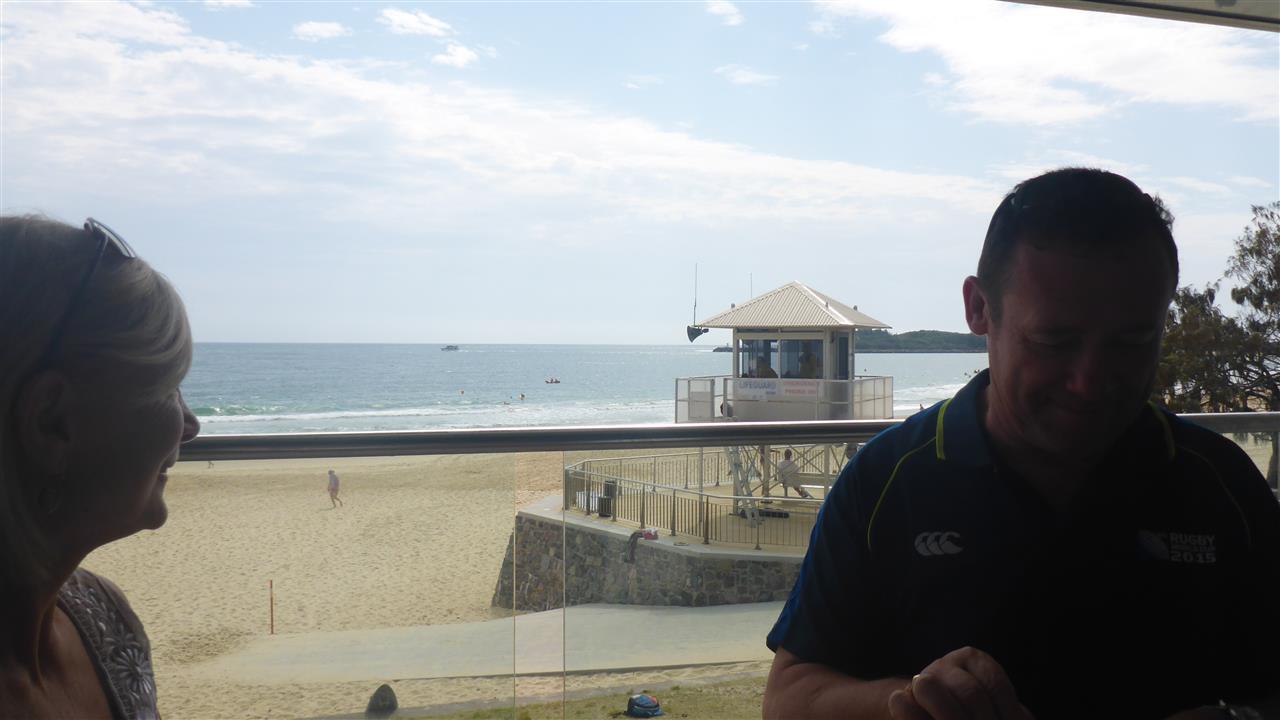 We enjoyed watching the nippers ( The junior life guards) going through their paces, as we tucked into our meals.
After a fond farewell & promises to return our gracious hosts' favour in september next yr, we set off towards Hervey Bay & our ferry to Fraser Island.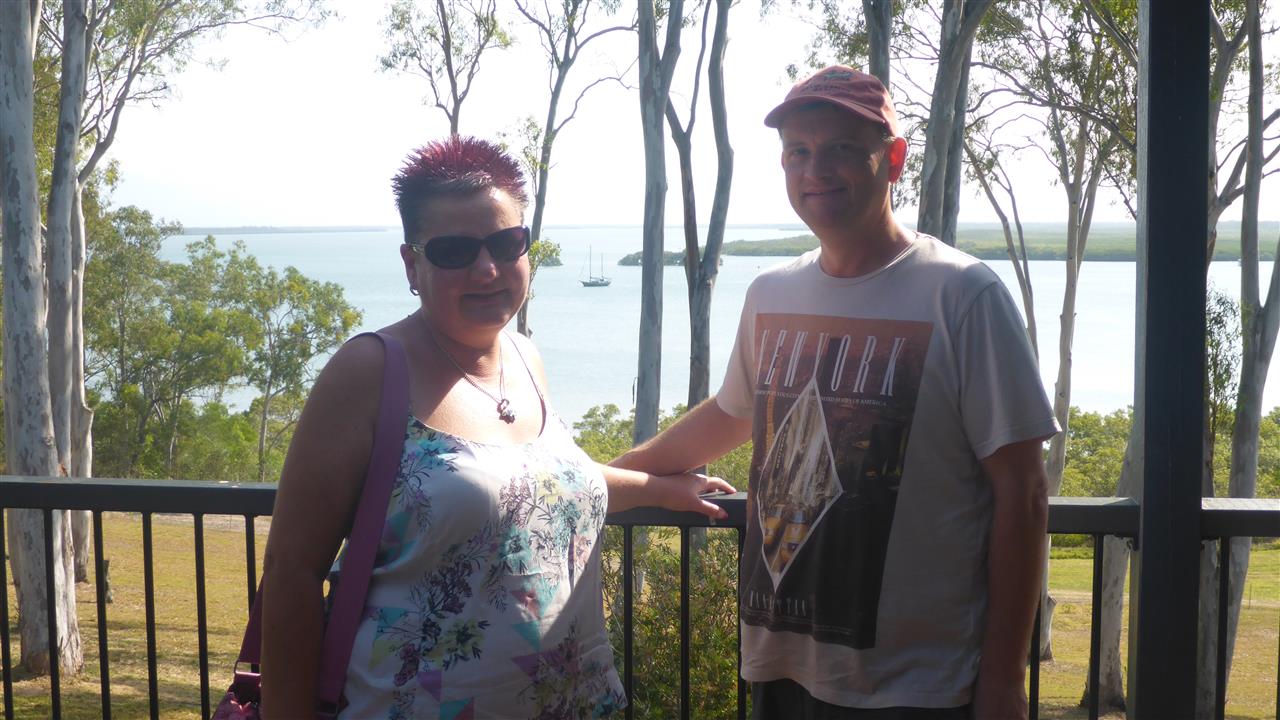 We filled up with fuel in anticipation of Wednesdays super long drive & caught the Kingfisher Bay ferry for a 45 minute journey to the world largest sand Island.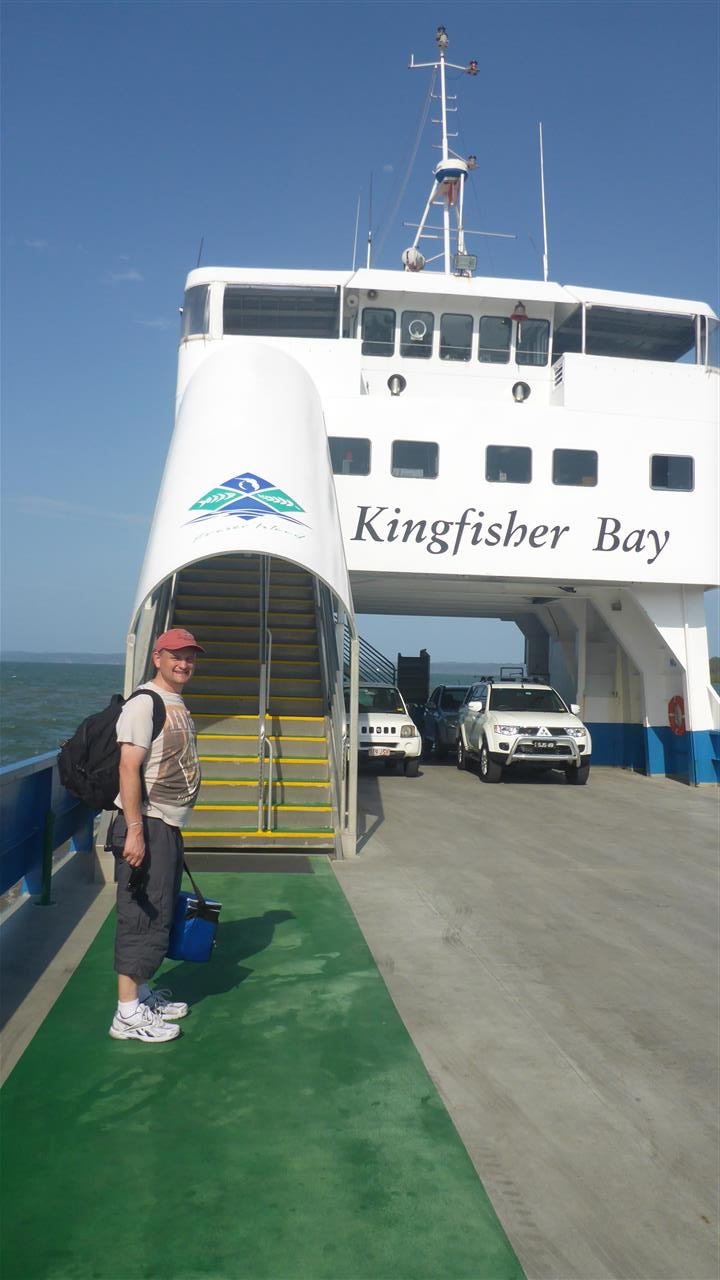 We had bright sunshine & took advantage of the open upper deck.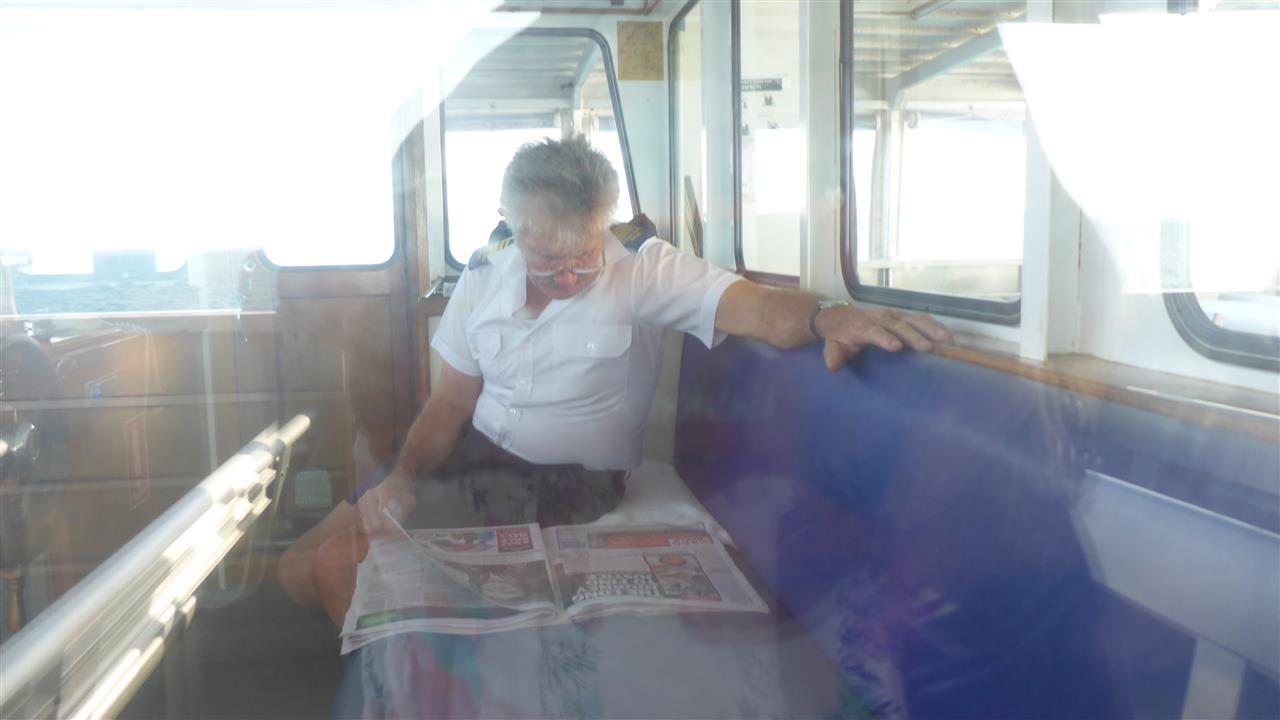 Our vigilent Captain studied the sports pages as our ferry headed towards potential disaster!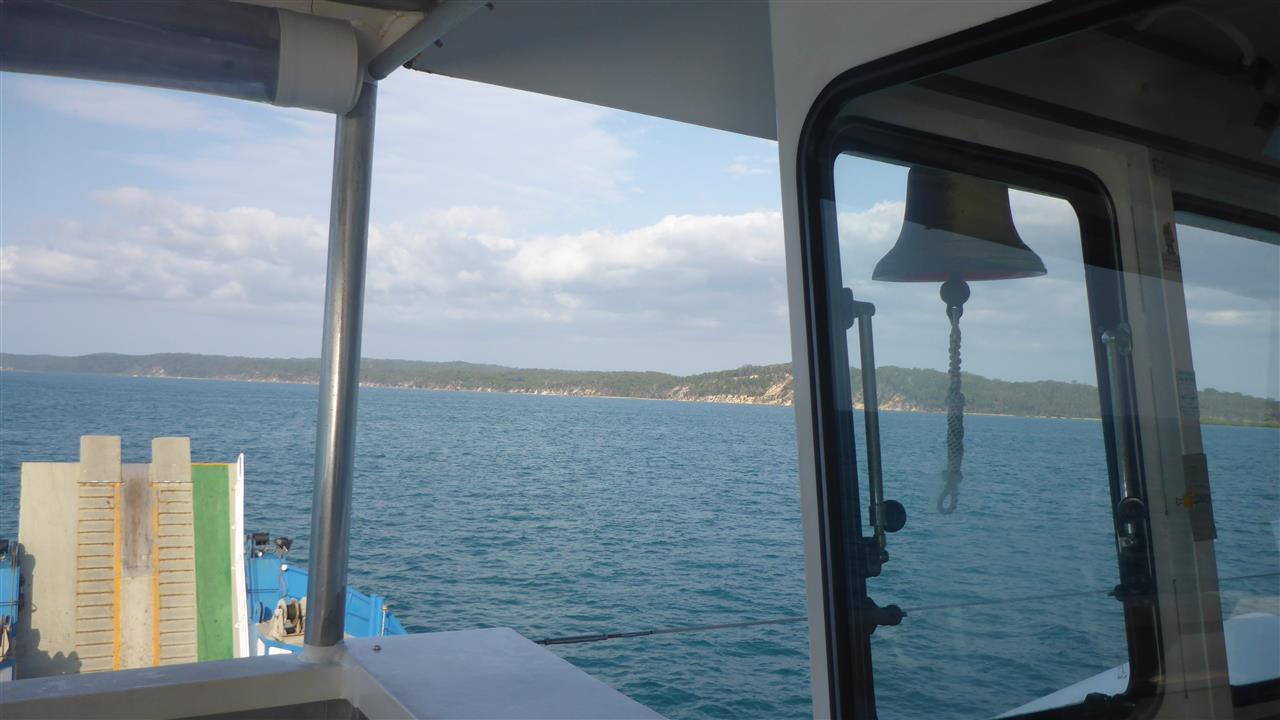 Narrowly missing 2 icebergs & a German U Boat we docked at Fraser Island & a small bus brought us to the Resort.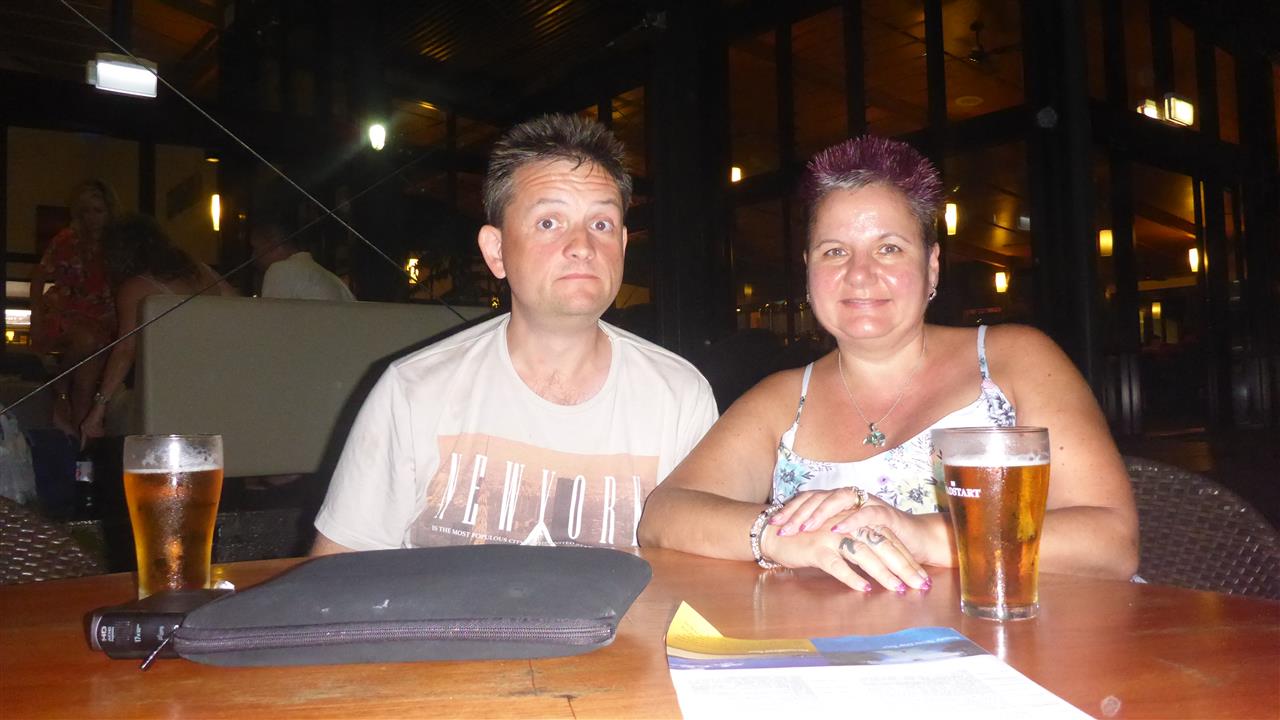 We explored our surroundings & settled into our " Sea view" Room , We visited the car hire area & found Ian's request for an automatic vehicle had not been fed through, Complaints have been lodged !!!

Still smarting from the car episode, Ian attempts to eat a peanut whilst posing for a photo.. The results speak for themselves.

Dinner is to follow then a good sleep, possibly a quick Heimlich to dislodge the peanut too !

Goodnight reader xx
---
Day 13 :Navigating Fraser Island's sophisticated motorway system. (Monday 3rd November 2014 )
Day 14 :The long & winding road (Tuesday 4th November 2014 )
Day 15 :Throw another shrimp on the bonfire , Guy Fawkes (Wednesday 5th November 2014 )
Day 16 :Capella to Airlie Beach via the sugar cane fields. (Thursday 6th November 2014 )
Day 17 :SV Domino day (Friday 7th November 2014 )
Day 18 :Whitsundays & The Great Barrier Reef from the air (Saturday 8th November 2014 )
Day 19 :Waterfall way day (Sunday 9th November 2014 )
Day 20 :My Boomerang won't come back (Monday 10th November 2014 )
Day 21 :Yorkies Knob & Tubing The Mulgrave River. (Tuesday 11th November 2014 )
Day 22 :A surprise concert at Sydney Opera House (Wednesday 12th November 2014 )
Day 23 :Jet boat & the revolving restaurant (Thursday 13th November 2014 )
Day 24 :Bon voyage Sydney (Friday 14th November 2014 )