Holiday Australia

Show all days on one page (a long download!)
Day 1 :Up , up and away..hopefully (Wednesday 22nd October 2014 )
Day 2 :The day that time forgot. (Thursday 23rd October 2014 )
Day 3 :Lifes a Bondi Beach! (Friday 24th October 2014 )
Day 4 :Tea with Auntie Dee. (Saturday 25th October 2014 )
Day 5 :Katoomba to Morpeth via pie country. (Sunday 26th October 2014 )
Day 6 :Skippies in the ( Lighthouse ) Garden.. (Monday 27th October 2014 )
Day 7 :A Carpet Python, Jellyfish , a Shark & Some Horse Flies. (Tuesday 28th October 2014 )
Day 8 :Our day on the Waterfalls way. (Wednesday 29th October 2014 )
Day 9 :Byron Bay Lighthouse & Dracula's (Thursday 30th October 2014 )
Day 10 :Crikey & a warm welcome in Peregian Springs. (Friday 31st October 2014 )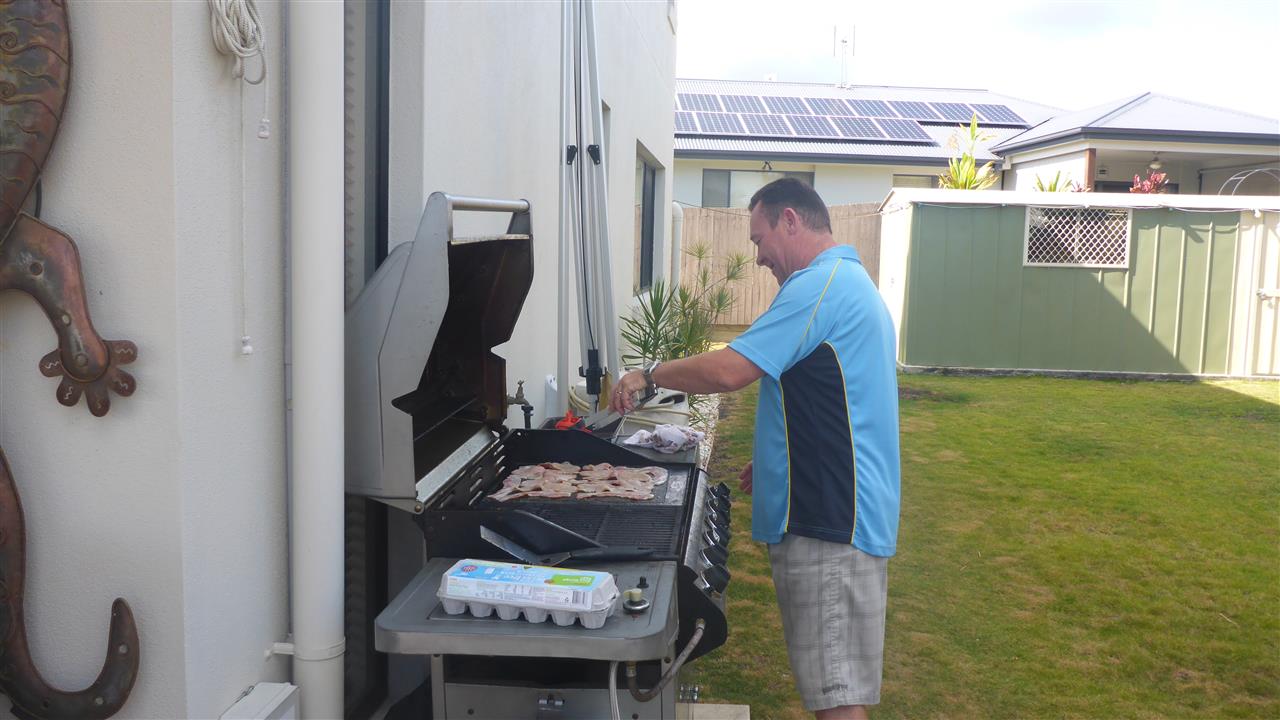 Breakfast Auzzie style !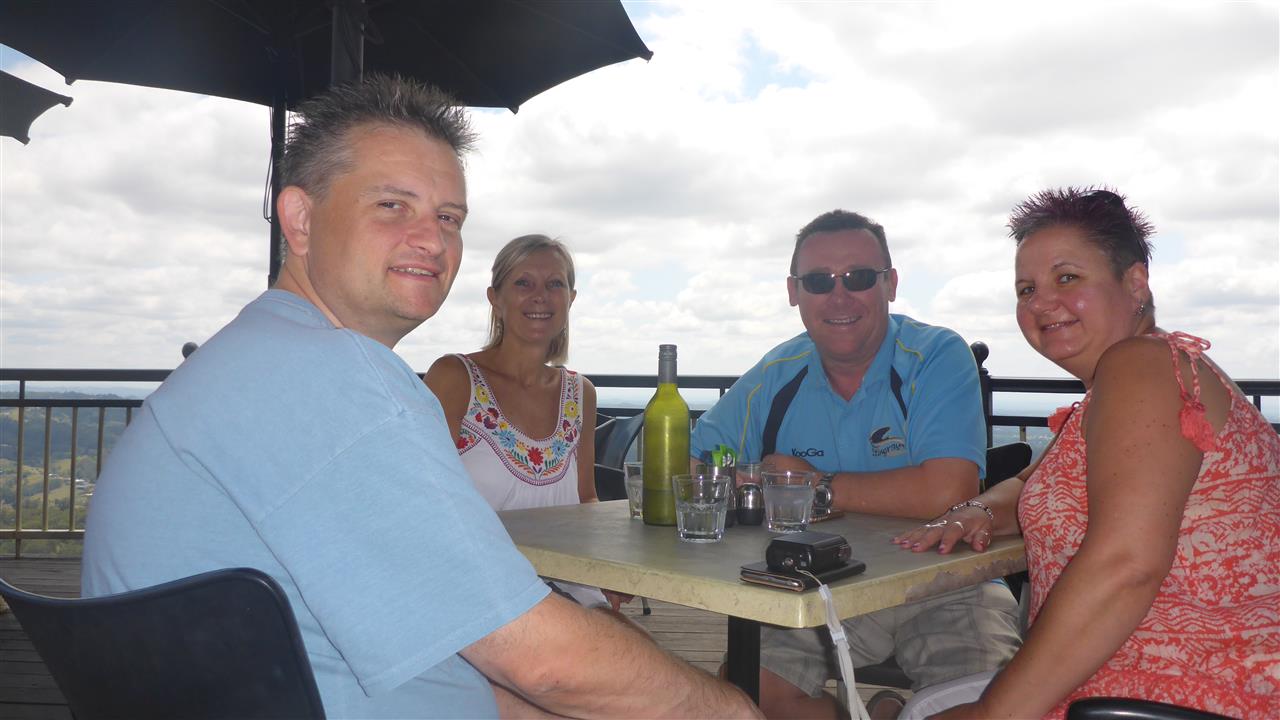 Annette & Ken took us to many of their favourite spots, Coffee in Montville with a magnificent view of the hills & vallies, Slight haze prevented us seeing the distant ocean.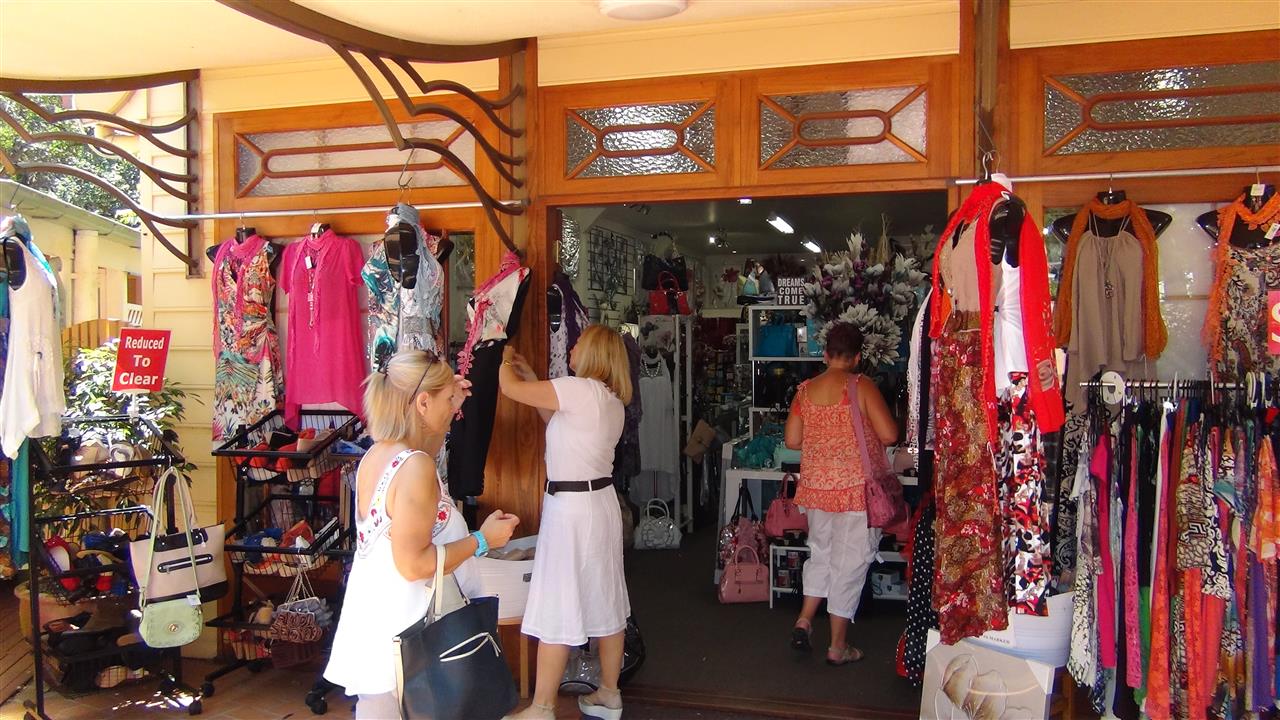 Nothing could stop a little retail therapy in the delightful boutique stores, which lined the small high street.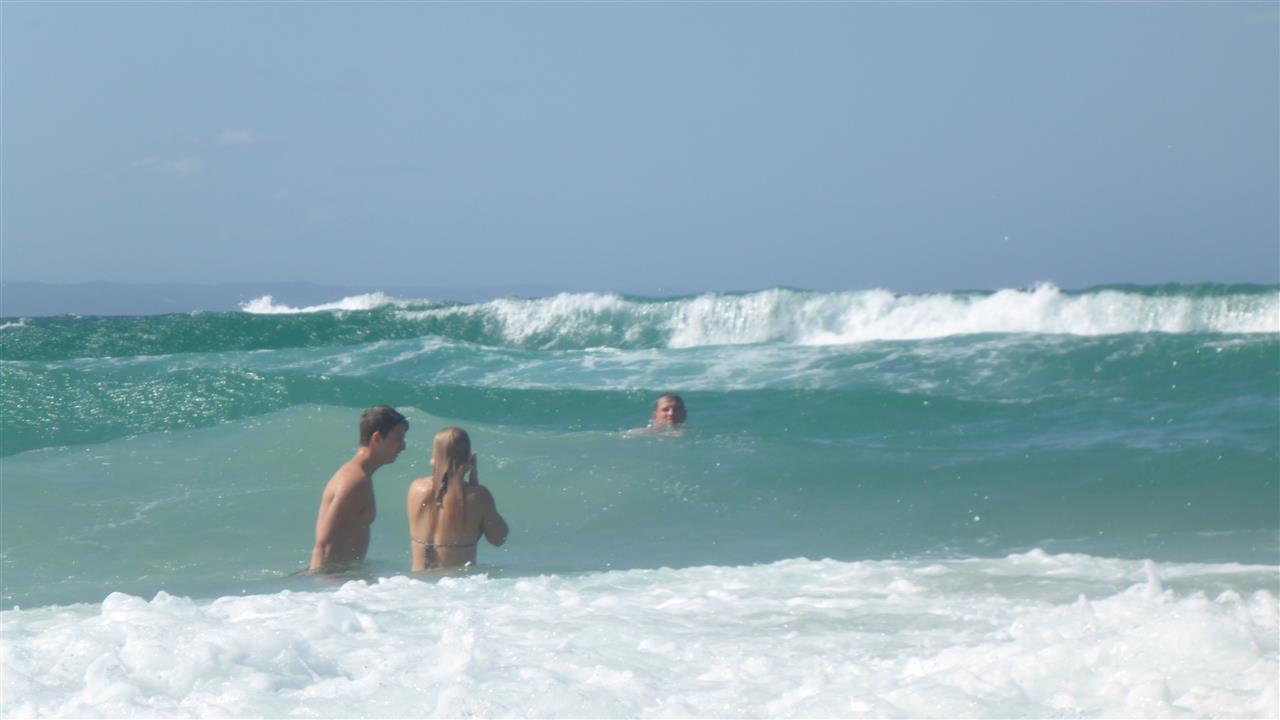 A major triathalon was taking place at Noosa heads, making parking a virtual impossibility, Our hosts were astonished to find a spot in the surf club car park , a stones throw from the tempestuous waters.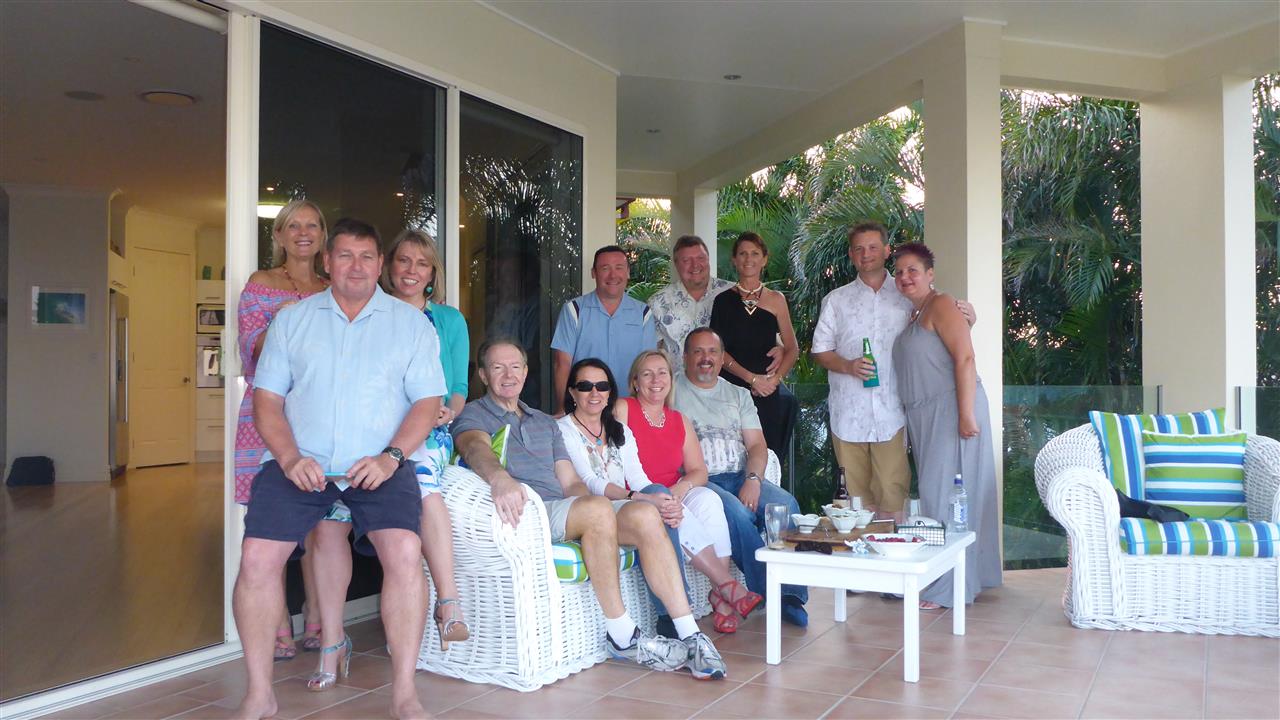 After a quick shower, we were lucky enough to be included in " Andreas surprise Birthday bash" at Grant & Linda's magnificent beach front apartment.
Once again we were made to feel like old friends, Ian & I were delighted by their hospitality.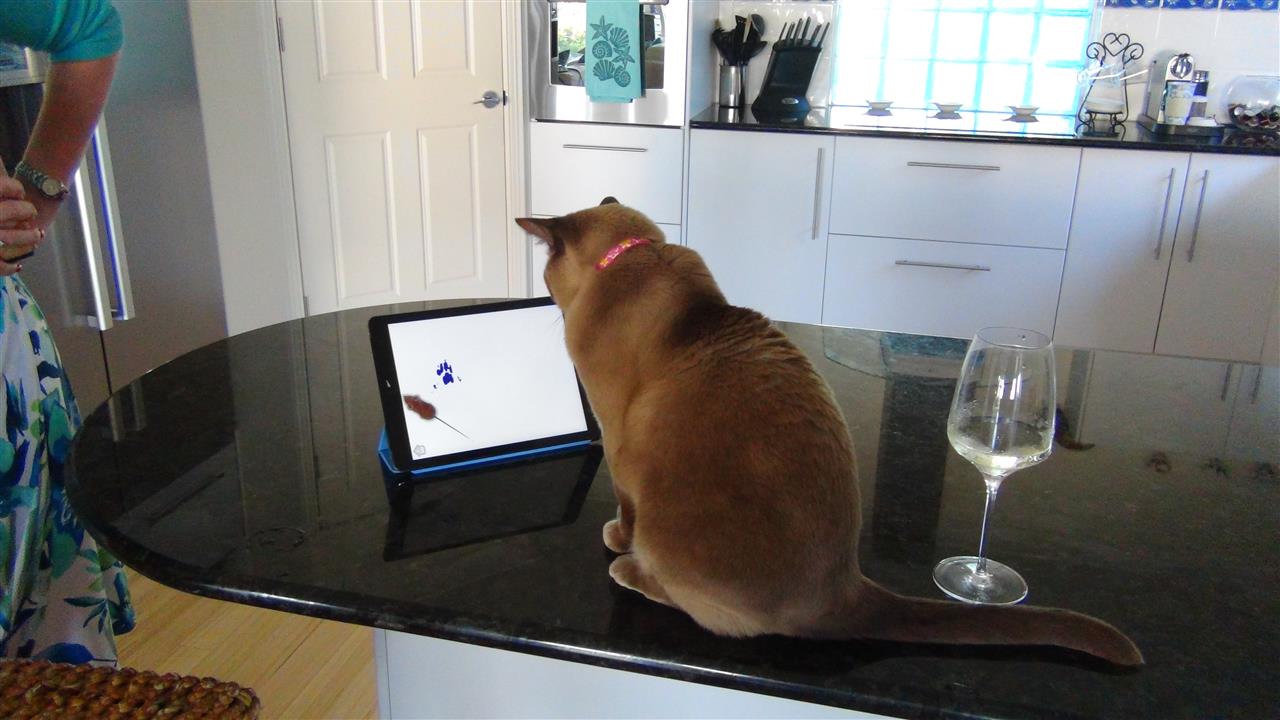 The stunning apartment is ruled over by " Lily " Grant & Linda's cat who not only donned her bat cat outfit in our honour, but demmo'd her artistic skills on her cat painting app for the I pad.
Next & Final stop in this exhaustive adventure, Kaalis Indian Cuisine , Australias finest curry so far,, even met with Ken's seal of approval.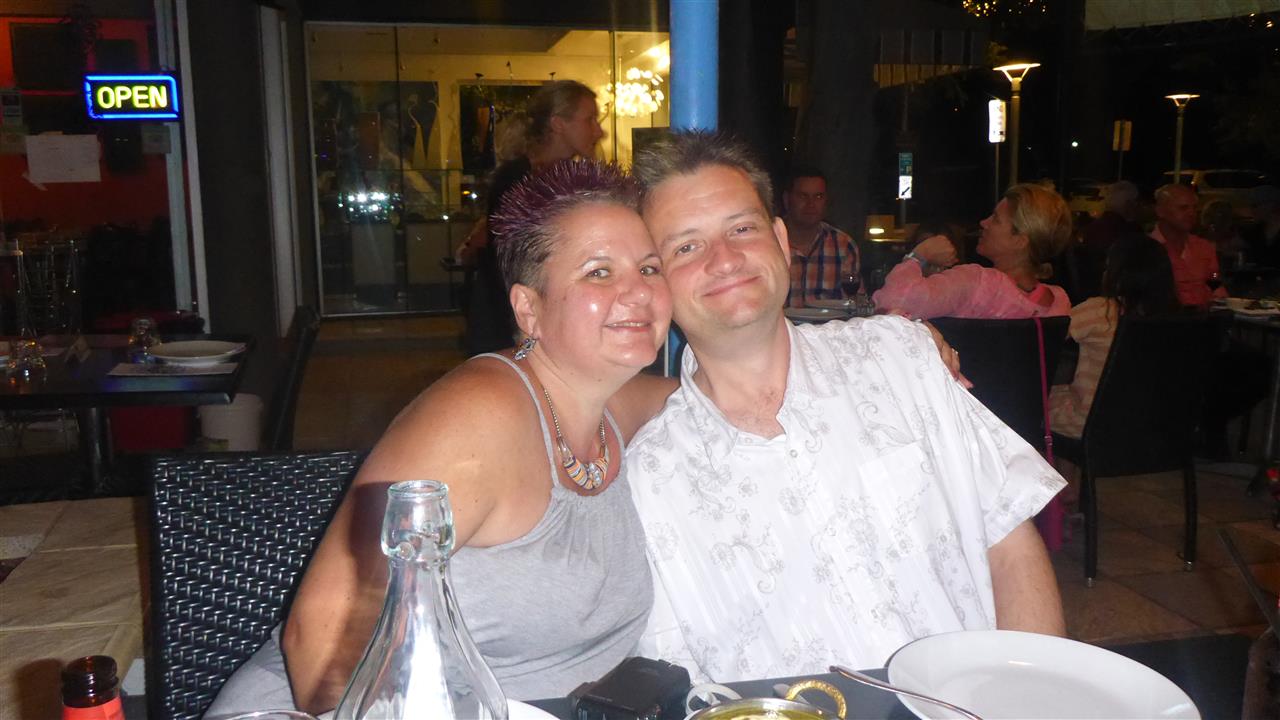 Such a wonderful day , Hard to believe it's 7 long yrs since we all did this, as per Ms Mousdale we really must not leave it this long again to be with dear & valued friends. Annette has not aged a day ..need to get her secret formula : )

Goodnight all xxx
---
Day 12 :Surf Club fry up & a ferry to Fraser Island (Sunday 2nd November 2014 )
Day 13 :Navigating Fraser Island's sophisticated motorway system. (Monday 3rd November 2014 )
Day 14 :The long & winding road (Tuesday 4th November 2014 )
Day 15 :Throw another shrimp on the bonfire , Guy Fawkes (Wednesday 5th November 2014 )
Day 16 :Capella to Airlie Beach via the sugar cane fields. (Thursday 6th November 2014 )
Day 17 :SV Domino day (Friday 7th November 2014 )
Day 18 :Whitsundays & The Great Barrier Reef from the air (Saturday 8th November 2014 )
Day 19 :Waterfall way day (Sunday 9th November 2014 )
Day 20 :My Boomerang won't come back (Monday 10th November 2014 )
Day 21 :Yorkies Knob & Tubing The Mulgrave River. (Tuesday 11th November 2014 )
Day 22 :A surprise concert at Sydney Opera House (Wednesday 12th November 2014 )
Day 23 :Jet boat & the revolving restaurant (Thursday 13th November 2014 )
Day 24 :Bon voyage Sydney (Friday 14th November 2014 )