Holiday Australia

Show all days on one page (a long download!)
Day 1 :Up , up and away..hopefully (Wednesday 22nd October 2014 )
Day 2 :The day that time forgot. (Thursday 23rd October 2014 )
Day 3 :Lifes a Bondi Beach! (Friday 24th October 2014 )
Day 4 :Tea with Auntie Dee. (Saturday 25th October 2014 )
Day 5 :Katoomba to Morpeth via pie country. (Sunday 26th October 2014 )
Day 6 :Skippies in the ( Lighthouse ) Garden.. (Monday 27th October 2014 )
Day 7 :A Carpet Python, Jellyfish , a Shark & Some Horse Flies. (Tuesday 28th October 2014 )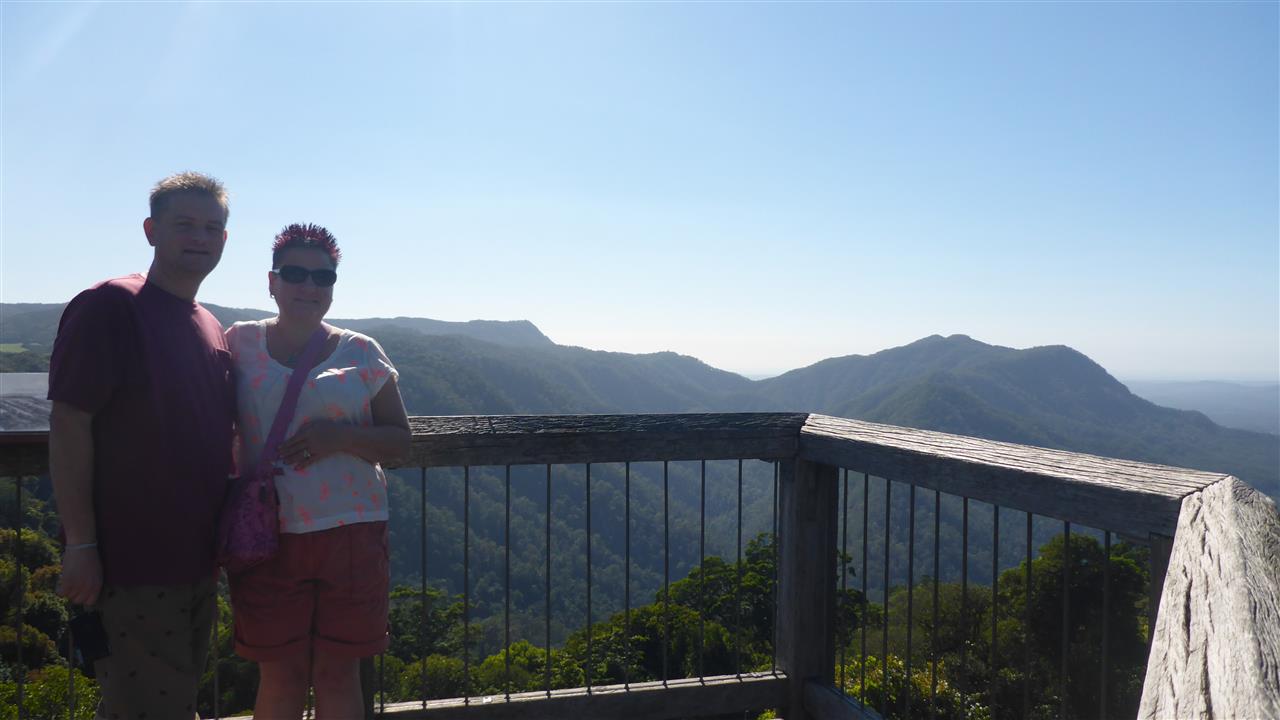 First stop after our "Continental " Hotel breckie, Rainforest Sky walk- Dorrigo.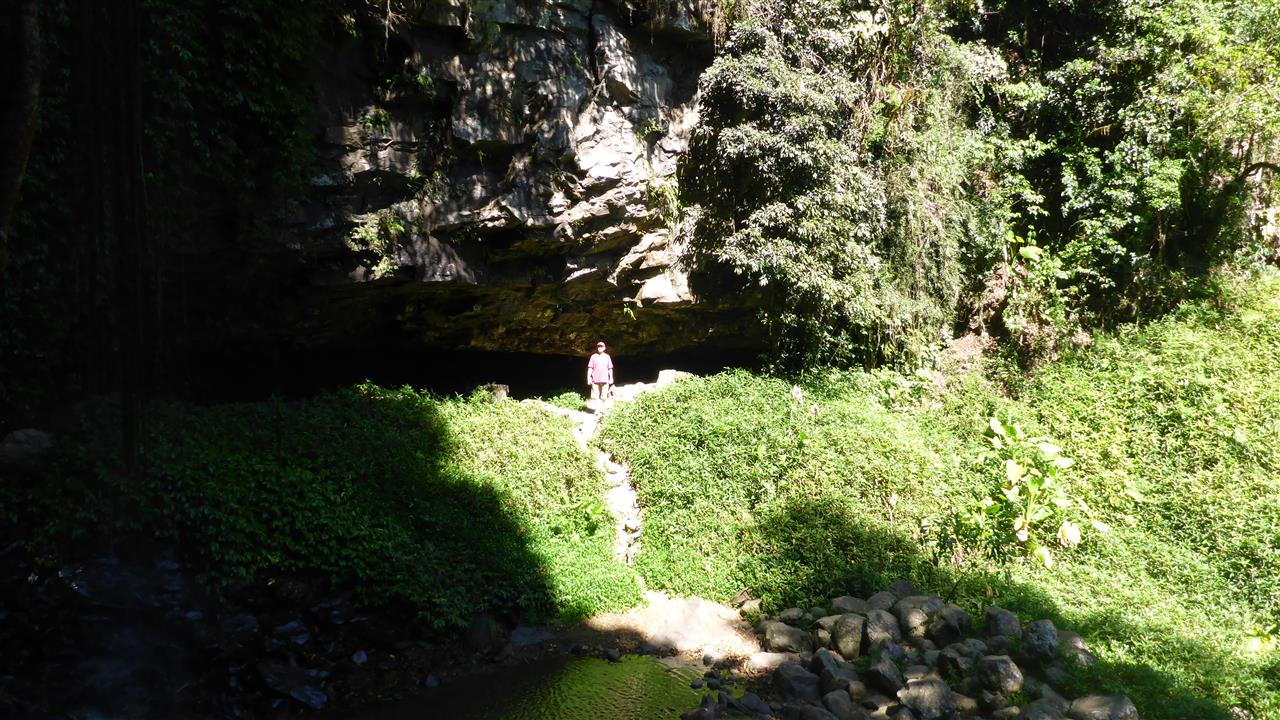 We parked at the Glade area & embarked on our " Crystal Showers Falls " hike.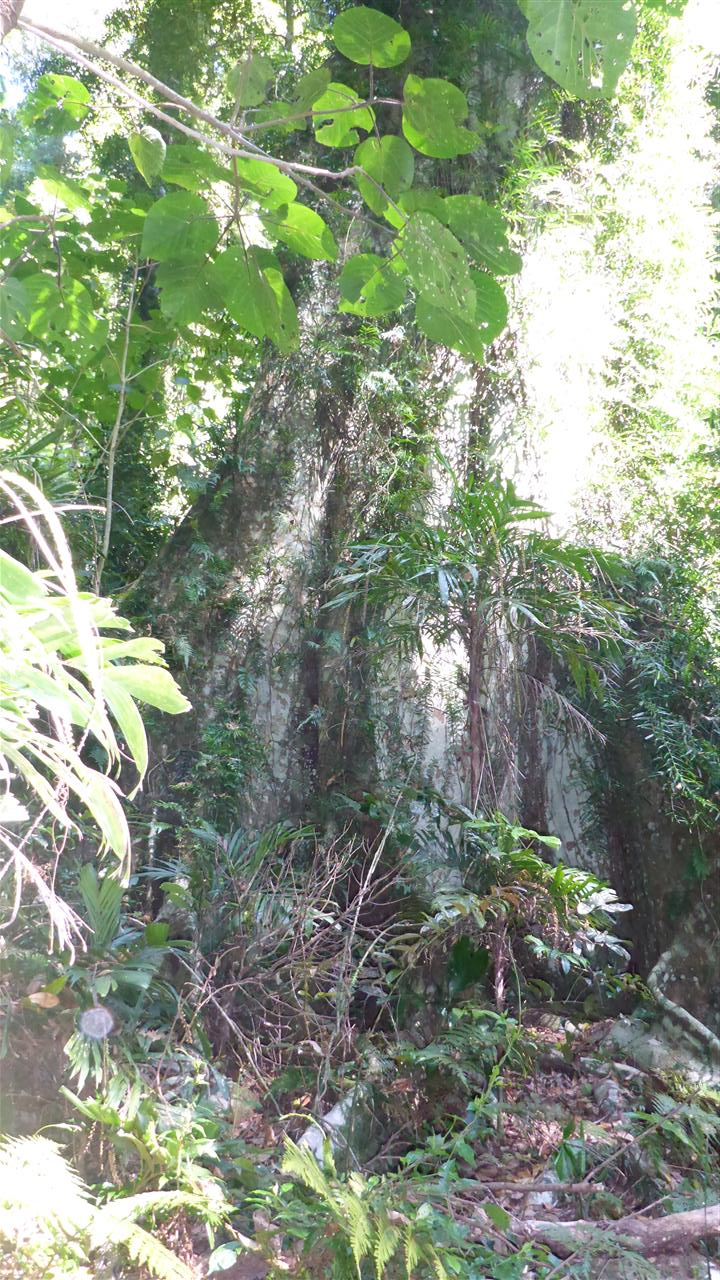 Along the way we learned about the fascinating plant & tree life.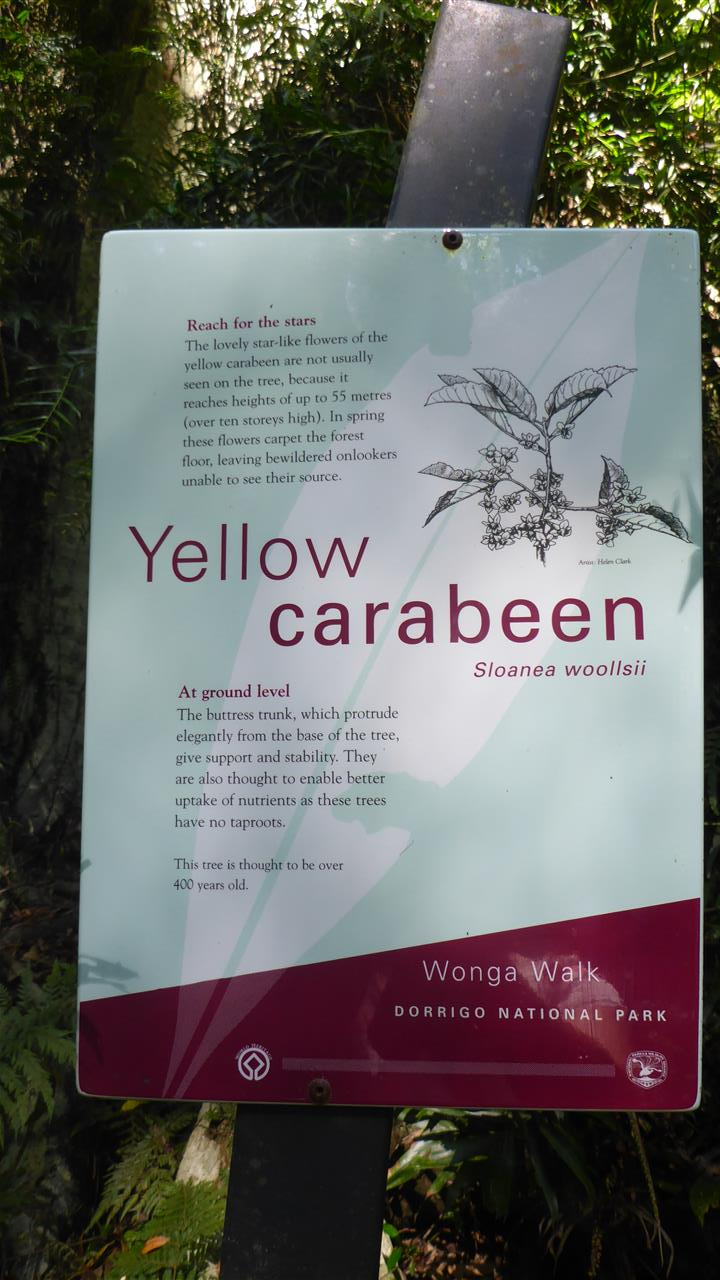 The Yellow Carabeens extraordinary trunk formation & up to 55m growth, is remarkable.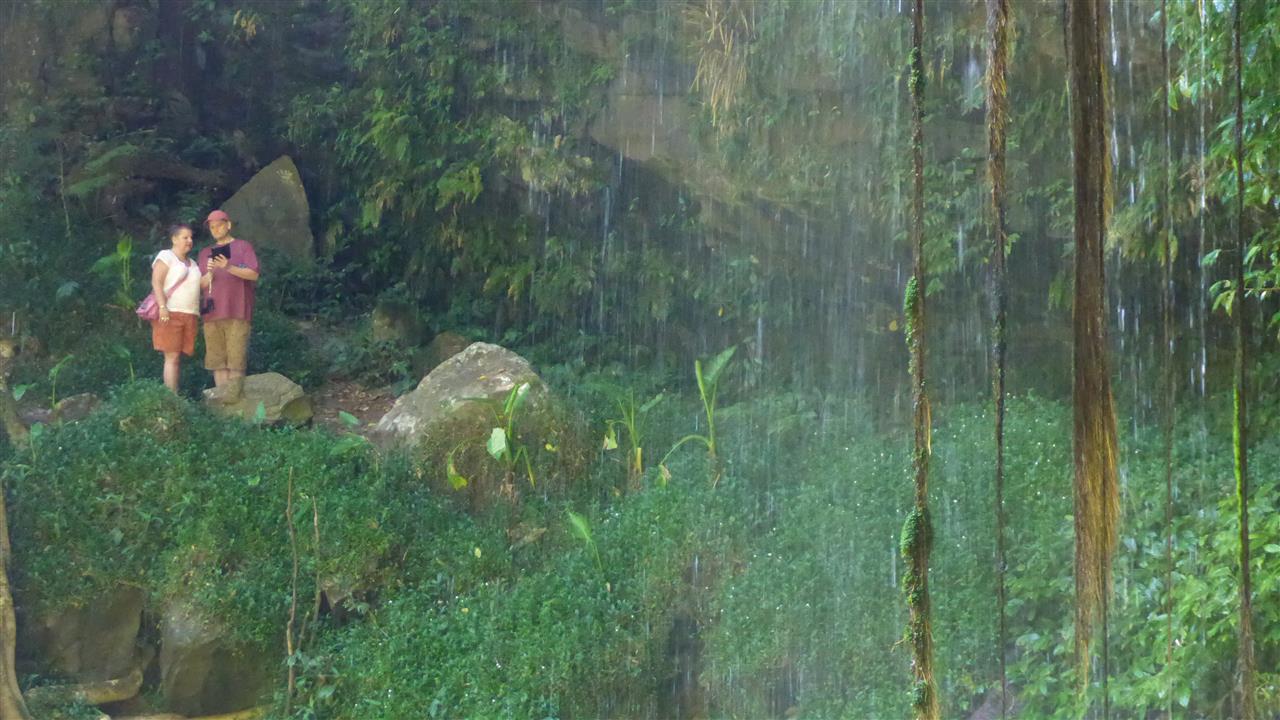 The rainforests' cool canopy made for a pleasant downhill trot.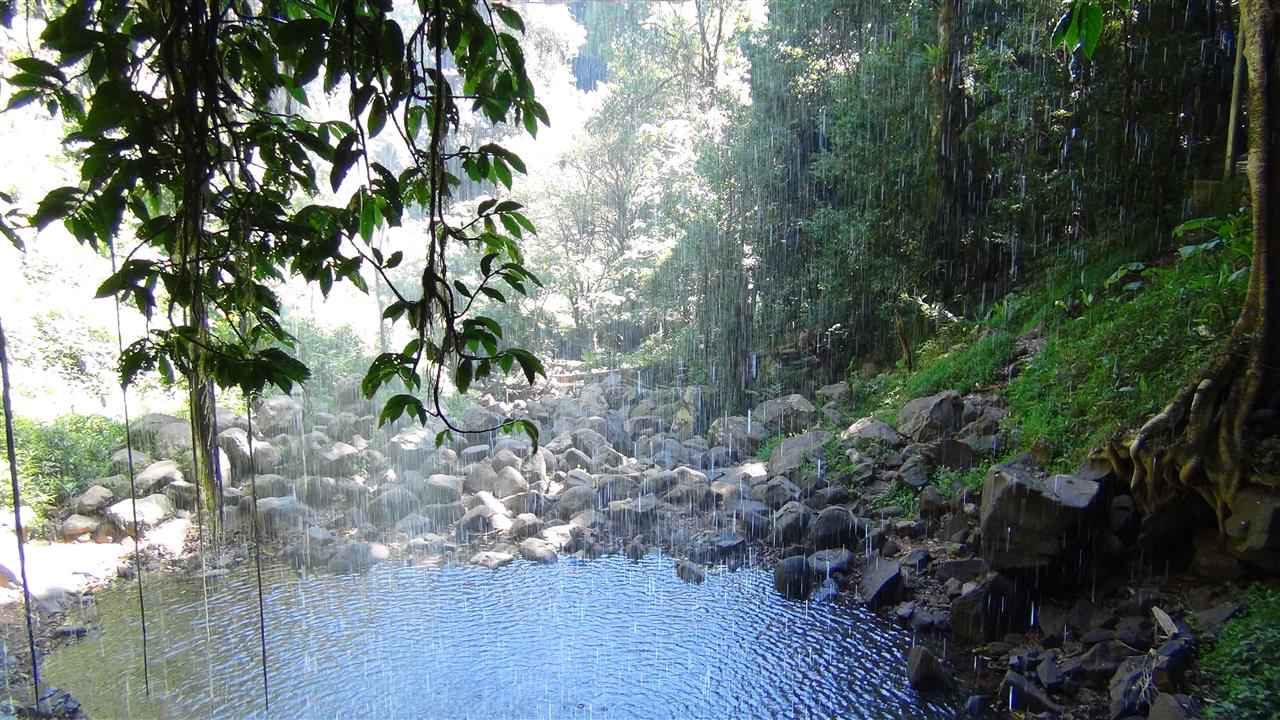 We arrived at the beautiful falls. Like so many of our stops so far we have been lucky enough to be alone & to enjoy the tranquility.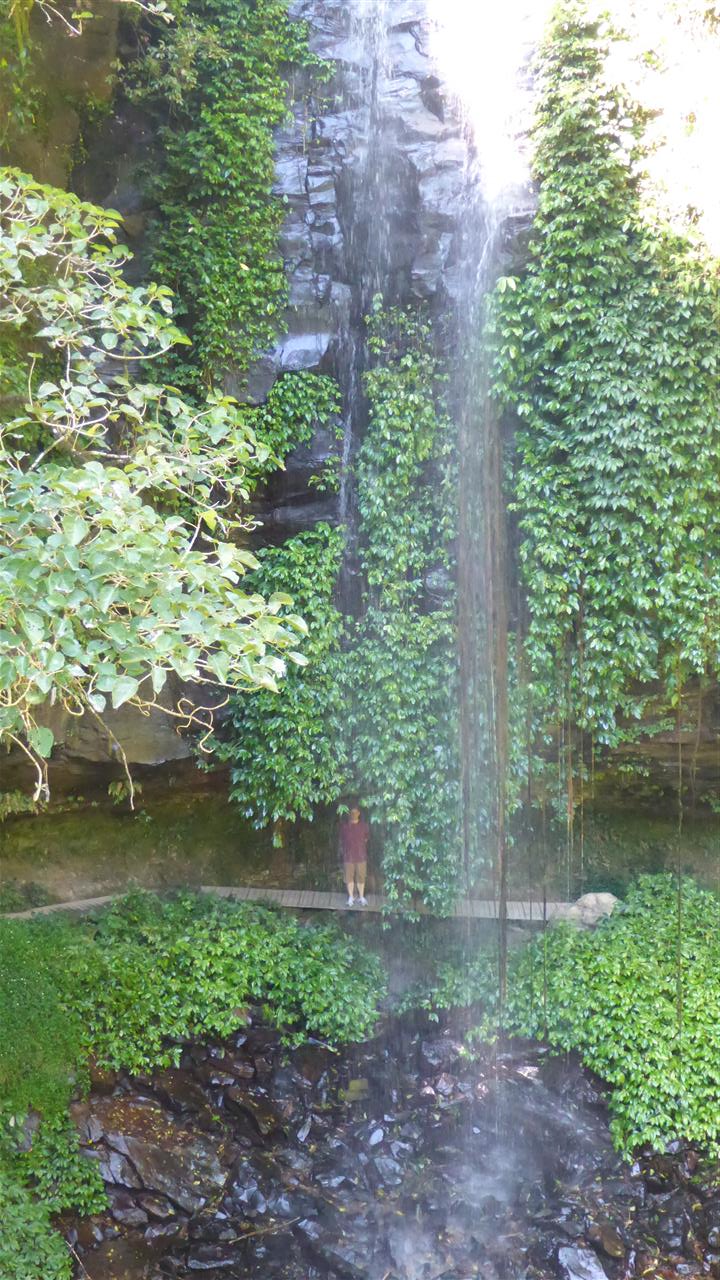 The climb back out of the gorge was more taxing, I paused here & there as if in deep thought, waiting for my heart rate to return to a less terminal level!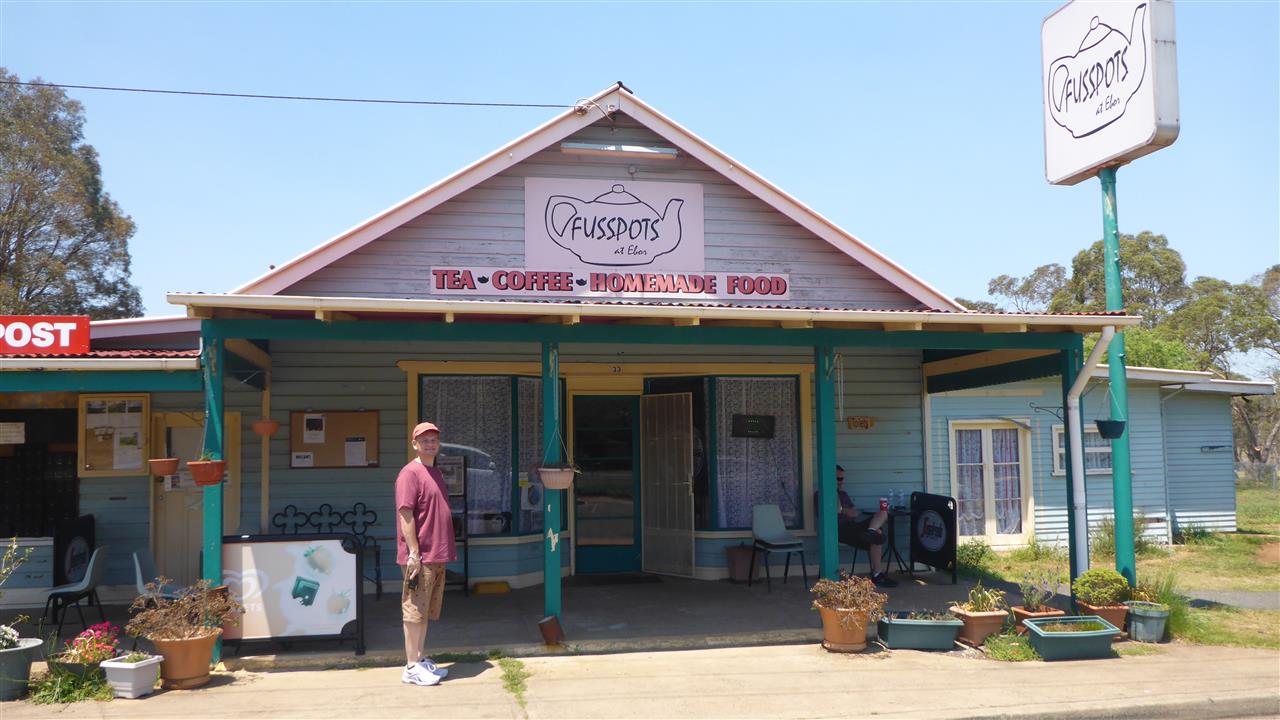 We love a funky lunch venue ...Fusspots did not disappoint, our corned beef sandwiches were delivered in silence as the other diners, concentrated on devouring,mighty portions.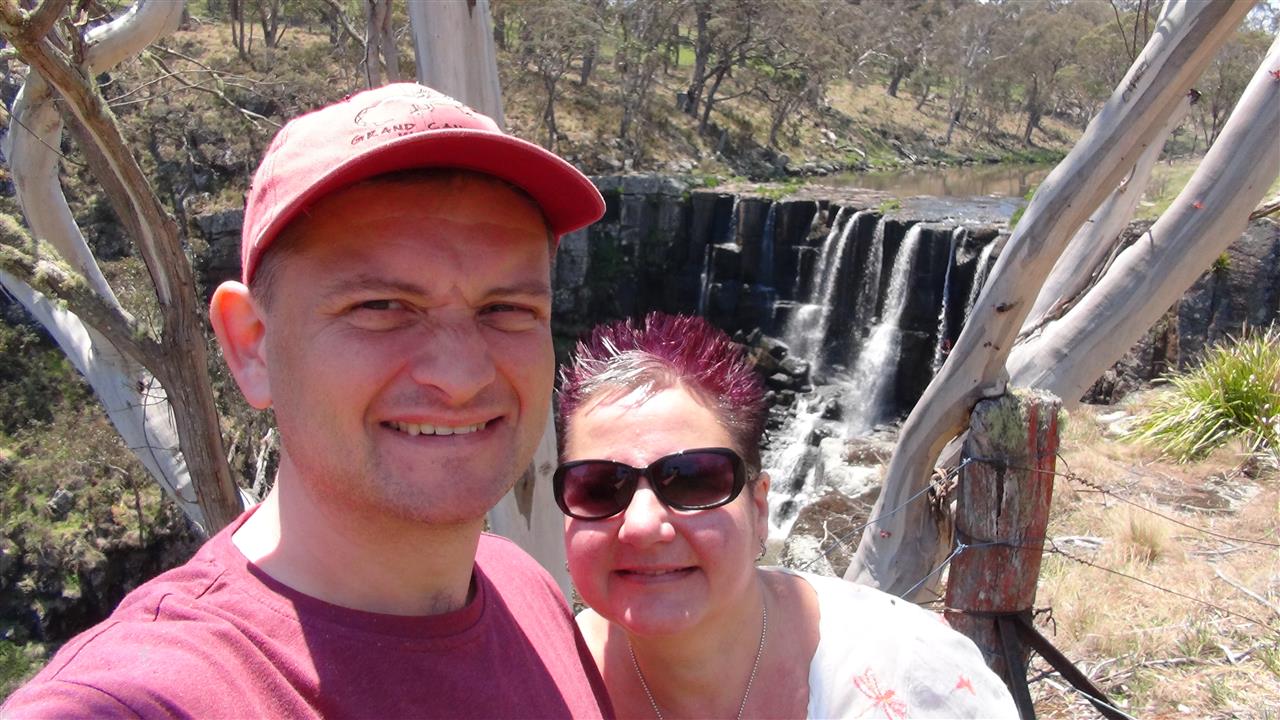 Guy Fawkes National park ( I had no idea the gunpowder plot was replicated in New South Wales ! ) another impressive set of falls , visible without a life threatening hike.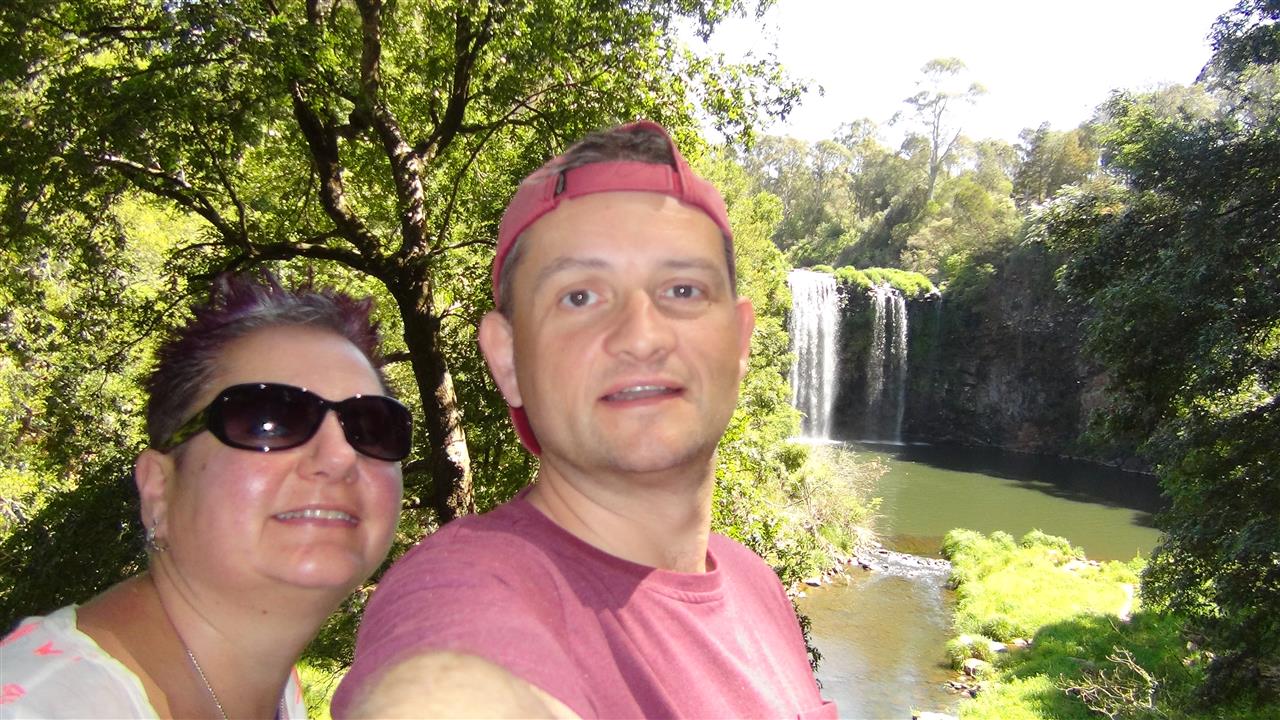 Danger Falls again offered a cardiac opertunity with its countless steps & steep sopes.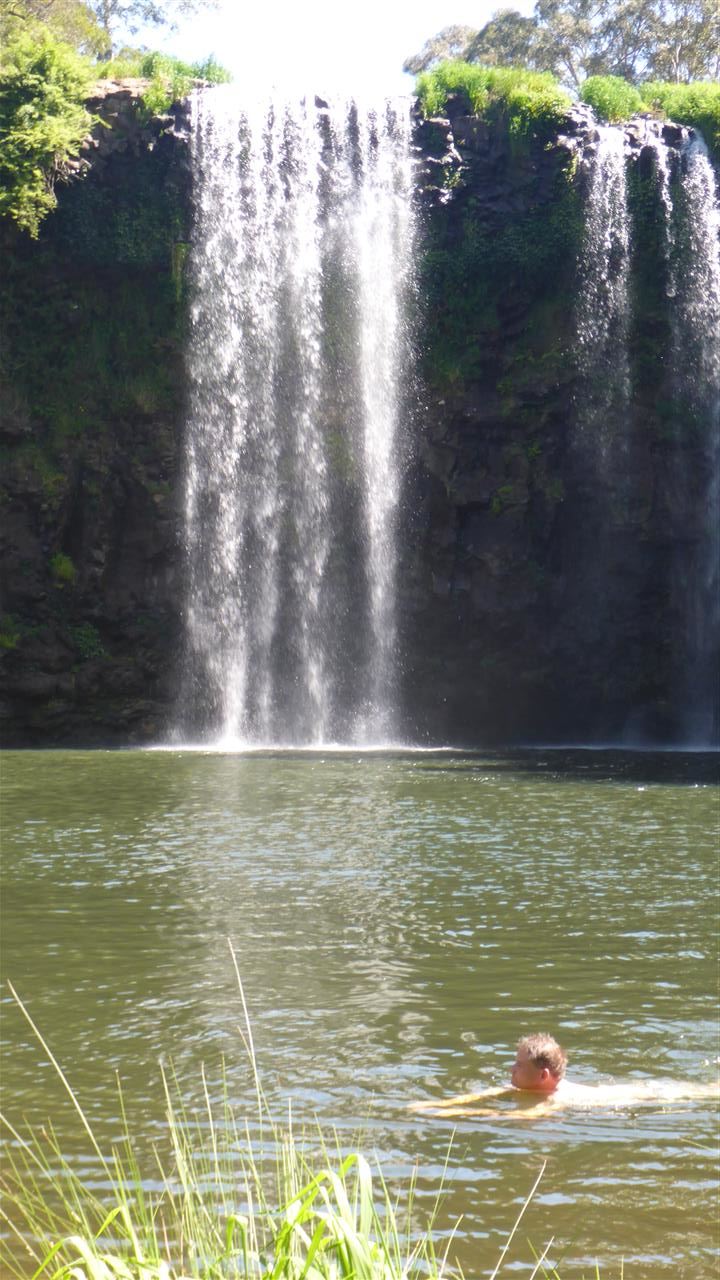 My dear husband chose a refreshing dip, No sharks here, just our very own Loch Ness Monster : )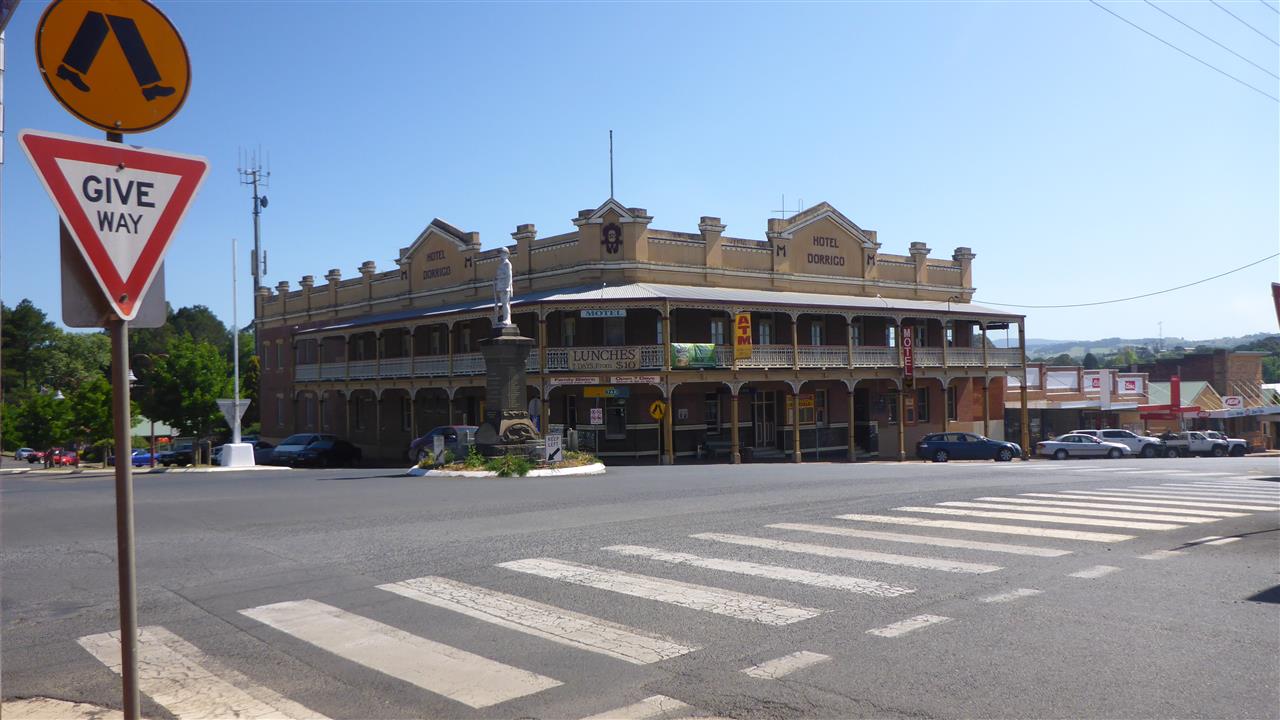 The other places of interest were in a drive-by format, & a chance to browse the little row of shops in Dorrigo, before returning to our Hotel.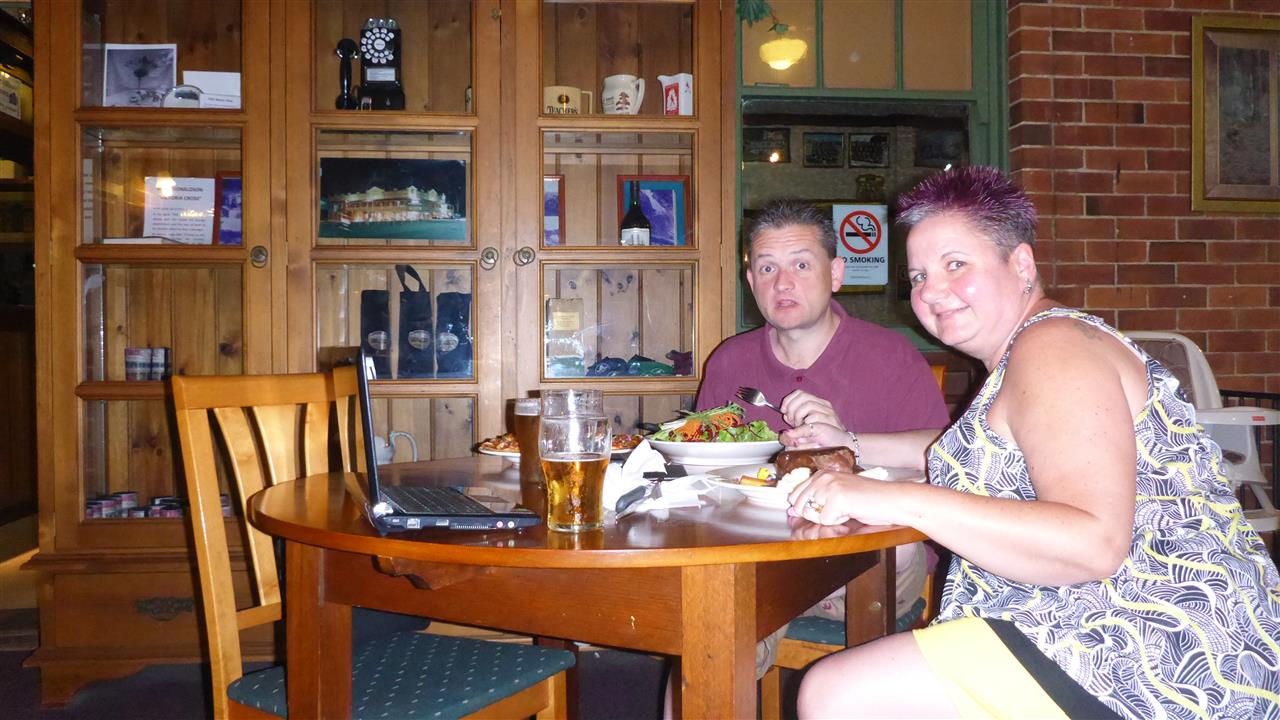 In the absence of a photo of 2 sane individuals, I present you with a fat bird & a bloke who last appeared on crime watch , in association with some cow tipping.

Goodnight reader , may you live long & prosper xx
---
Day 9 :Byron Bay Lighthouse & Dracula's (Thursday 30th October 2014 )
Day 10 :Crikey & a warm welcome in Peregian Springs. (Friday 31st October 2014 )
Day 11 :Whistle stop tour with Annette & Ken (Saturday 1st November 2014 )
Day 12 :Surf Club fry up & a ferry to Fraser Island (Sunday 2nd November 2014 )
Day 13 :Navigating Fraser Island's sophisticated motorway system. (Monday 3rd November 2014 )
Day 14 :The long & winding road (Tuesday 4th November 2014 )
Day 15 :Throw another shrimp on the bonfire , Guy Fawkes (Wednesday 5th November 2014 )
Day 16 :Capella to Airlie Beach via the sugar cane fields. (Thursday 6th November 2014 )
Day 17 :SV Domino day (Friday 7th November 2014 )
Day 18 :Whitsundays & The Great Barrier Reef from the air (Saturday 8th November 2014 )
Day 19 :Waterfall way day (Sunday 9th November 2014 )
Day 20 :My Boomerang won't come back (Monday 10th November 2014 )
Day 21 :Yorkies Knob & Tubing The Mulgrave River. (Tuesday 11th November 2014 )
Day 22 :A surprise concert at Sydney Opera House (Wednesday 12th November 2014 )
Day 23 :Jet boat & the revolving restaurant (Thursday 13th November 2014 )
Day 24 :Bon voyage Sydney (Friday 14th November 2014 )