Holiday Australia

Show all days on one page (a long download!)
Day 1 :Up , up and away..hopefully (Wednesday 22nd October 2014 )
Day 2 :The day that time forgot. (Thursday 23rd October 2014 )
Day 3 :Lifes a Bondi Beach! (Friday 24th October 2014 )
Day 4 :Tea with Auntie Dee. (Saturday 25th October 2014 )
Day 5 :Katoomba to Morpeth via pie country. (Sunday 26th October 2014 )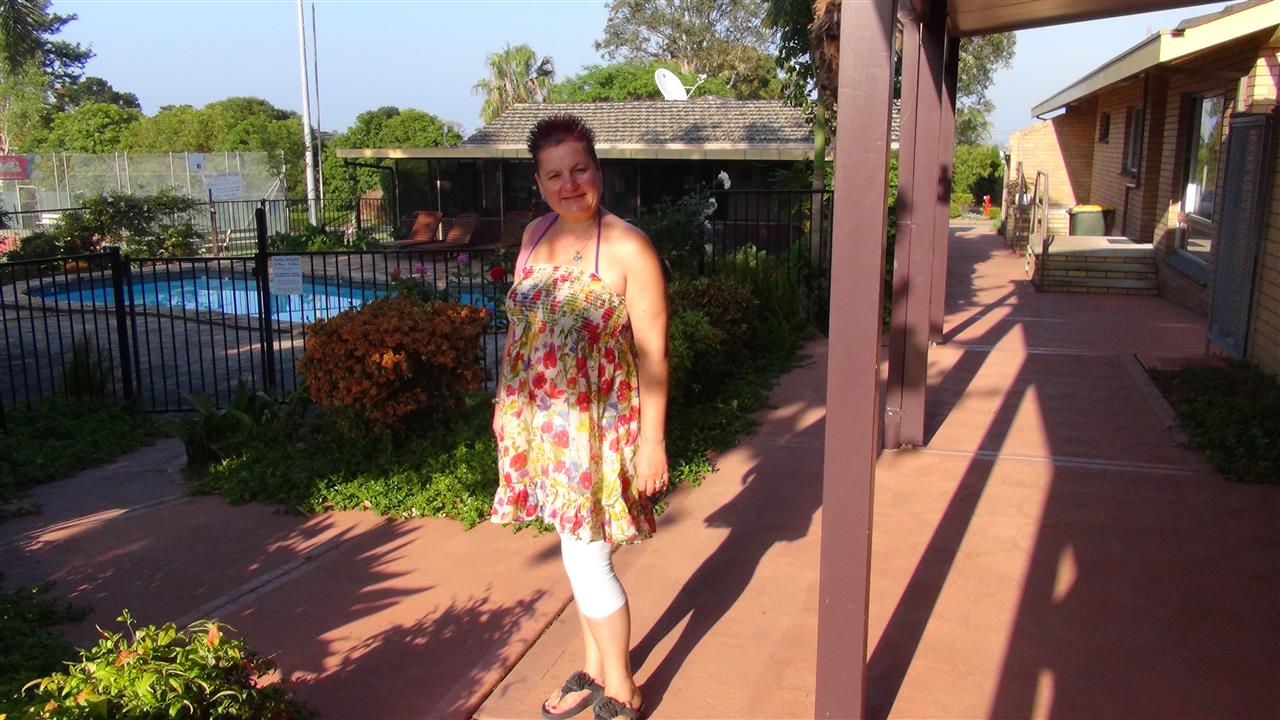 Ian & I were up with the lark & I had a lovely chat with Doris before Ian informed me I'd used up most of my pre paid minutes..Opps!
Bye bye Morpeth motel.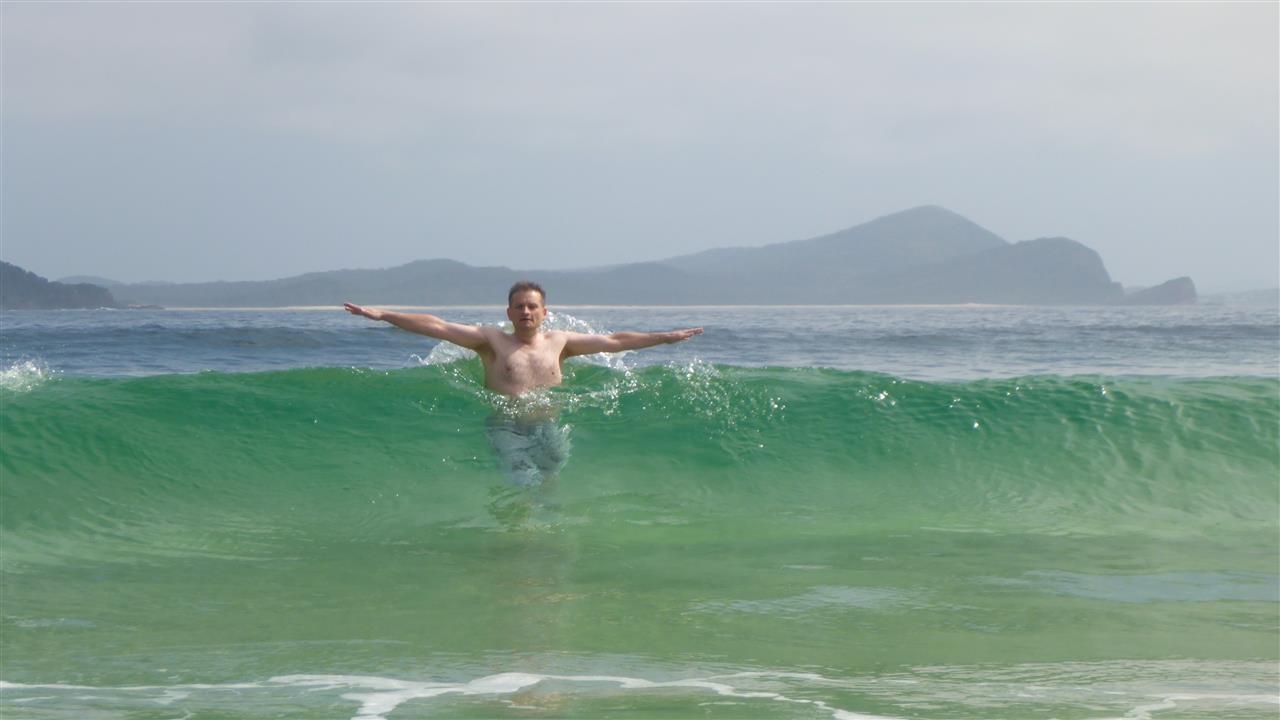 Off to Seal Rocks for a bounce amongst the waves .. Ian was giving it a bit of a Wayne Sleep!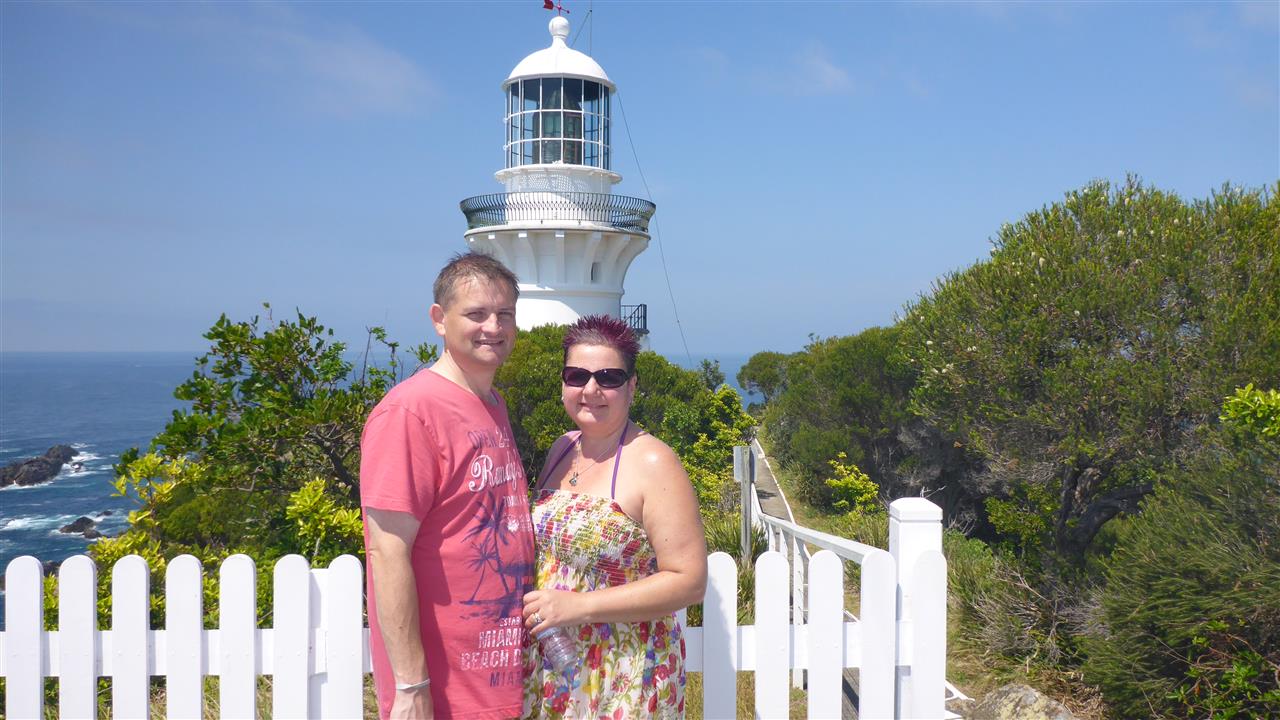 Next we visited Sugarloaf Lighthouse, the first of a series built in the 1870's.
Ians, already sore, calf muscles had another work out as he staggered to the sumit.
Dispite being in the peak of my physical fitness I do admit it was bloody steep!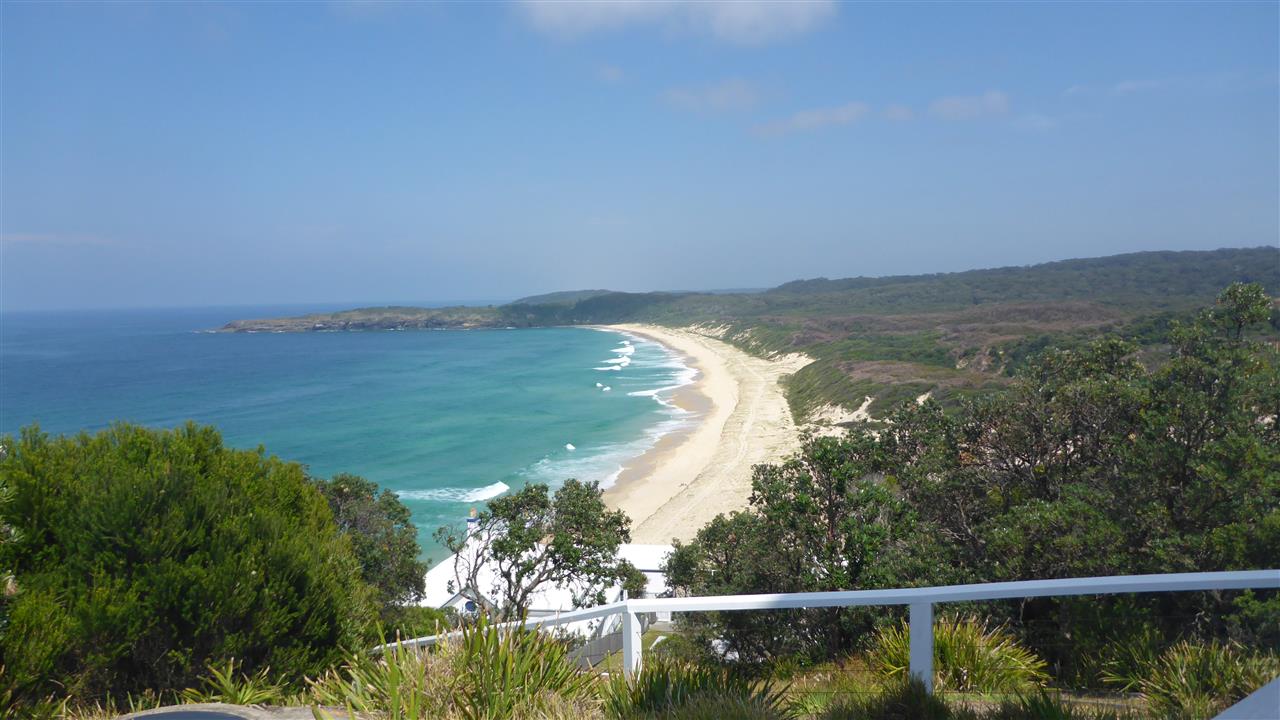 After leaving the Lighthouse Ian & I commented that the , " Kangaroo & Koala " Caution signs were a complete joke, as we hadn't seen hide nor hair of either beast.
Following some lengthy road works, we picked up speed & passed a Roo warning sign..50 m later we saw a young joey , watching the world go by , beside the carriageway.
We eagerly awaited a Koala hanging from a roadside tree in this high speed " Longleat " adventure"..No such luck : (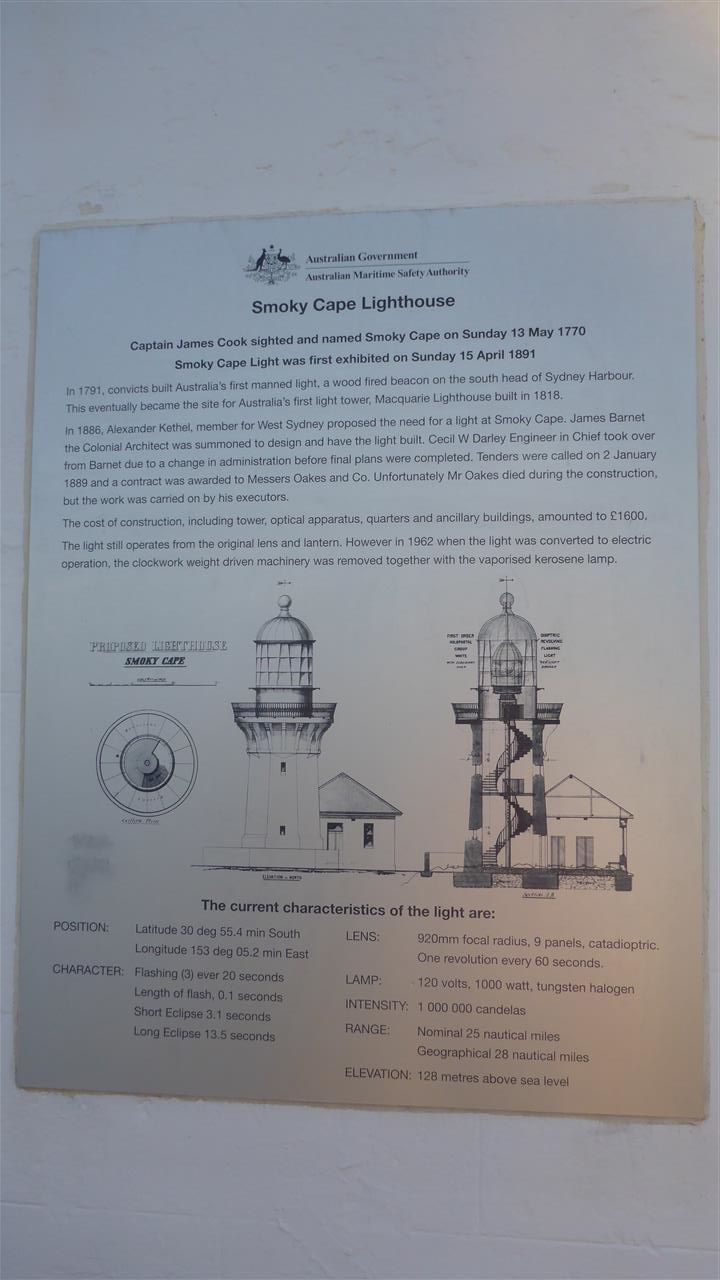 Lighthouse no 2, The Smoky Cape lighthouse , our B&B for the night.
We were met at the base of the cliff by our host Pat, he drove us & our luggage up the steep incline in a converted golf cart ..Our restored 19th century room was a joy & a quick check of the weather , predicts force 9 gales @ 3am !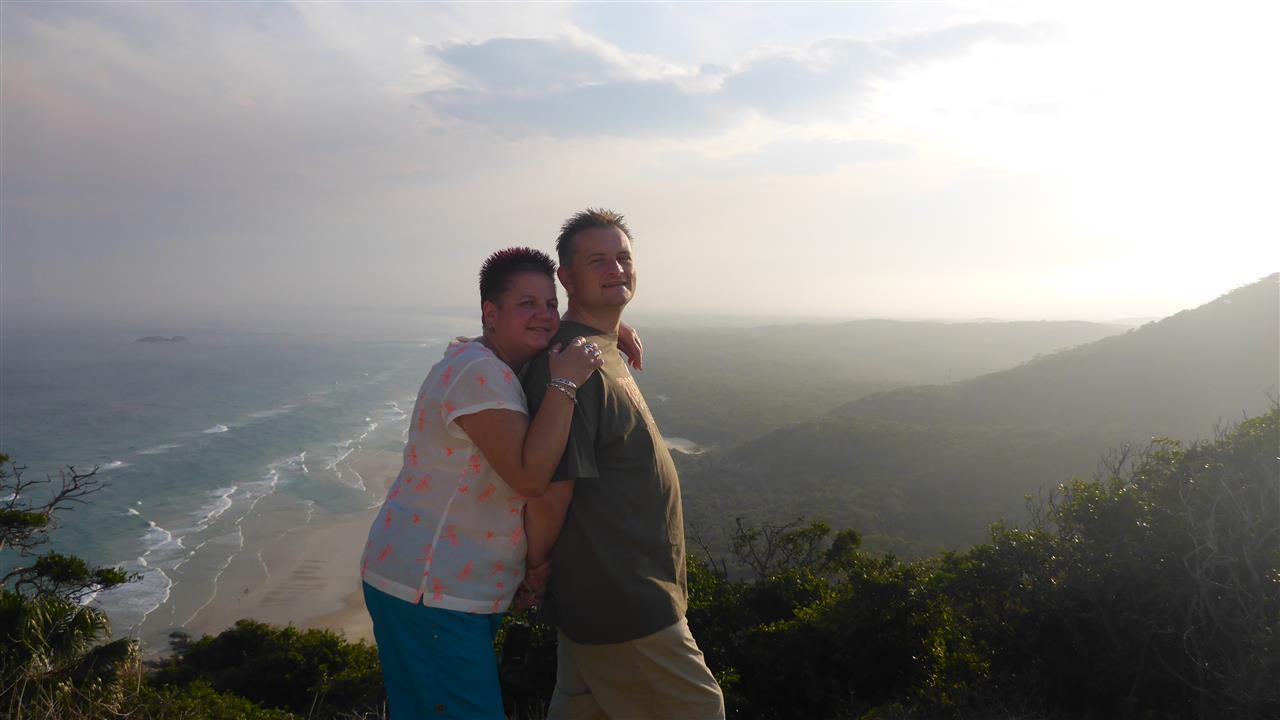 Our cottage has a small rear garden overlooking the beach.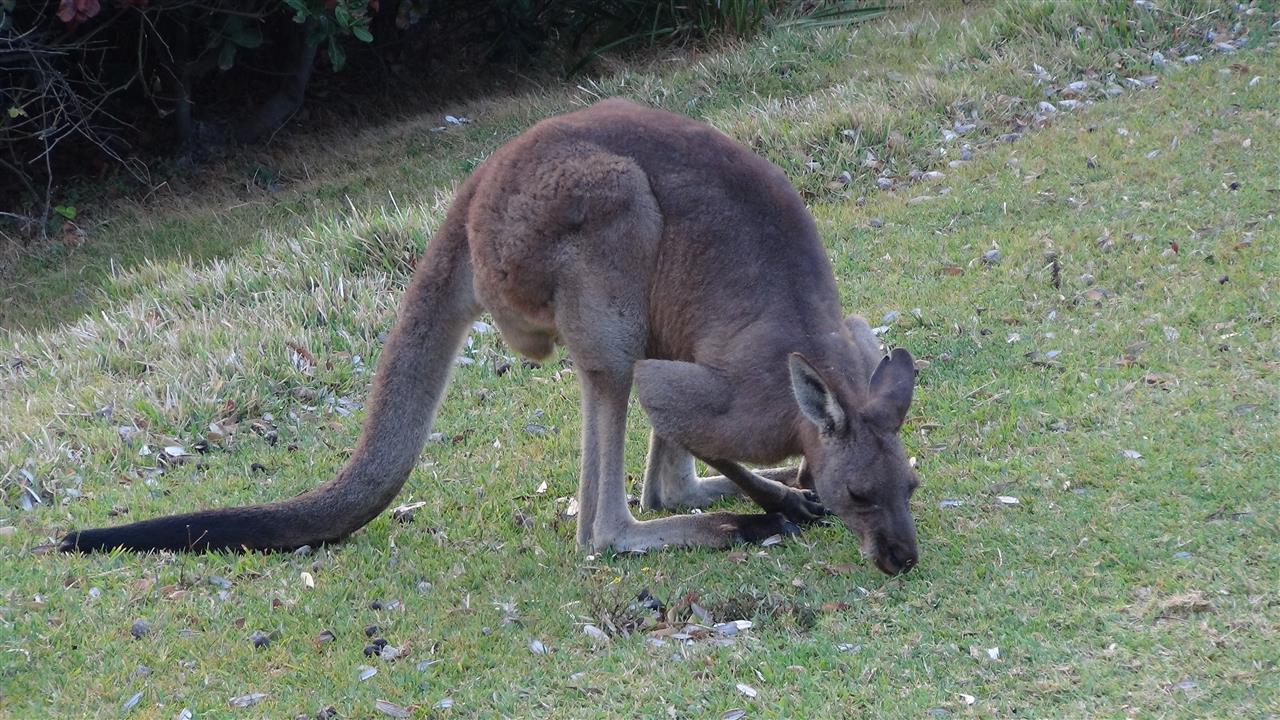 The Garden is home to a retired Kangaroo, Poor fella was injured by a car 2 yrs ago & is now a permanent feature in Pats garden.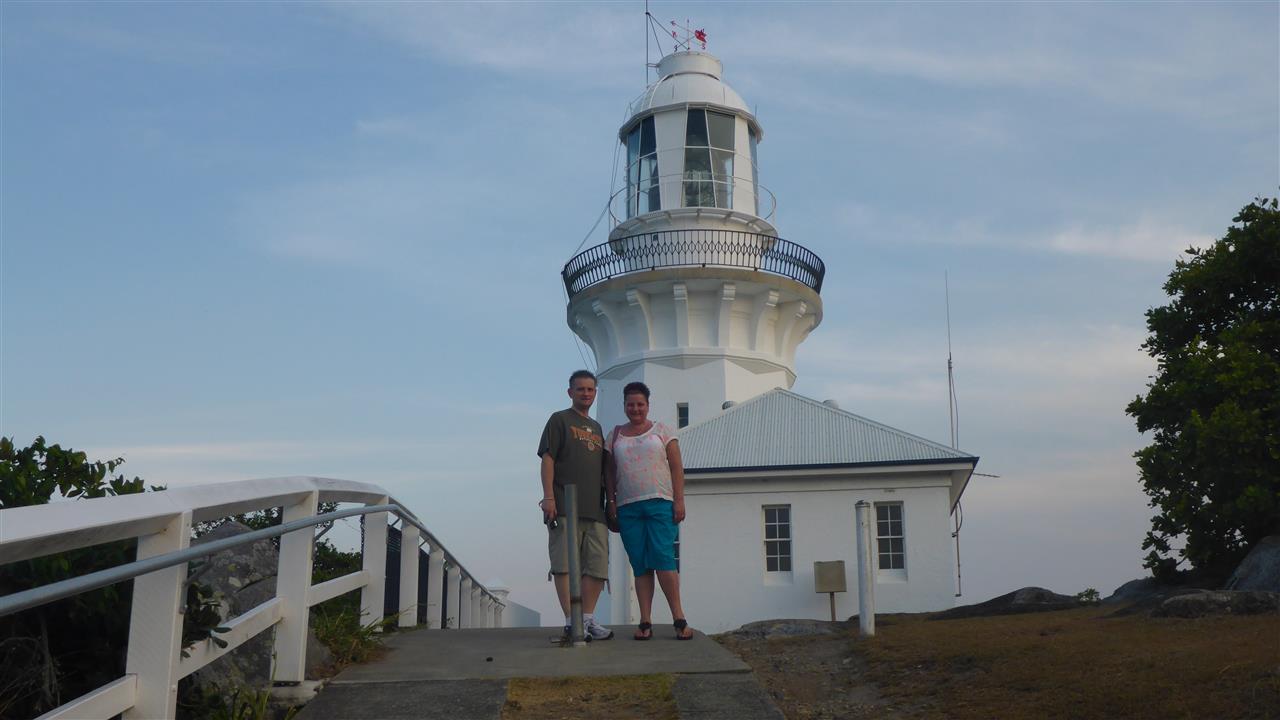 Before heading out we climbed to the lighthouse tower , where a couple of polite tattooed lads took our photo.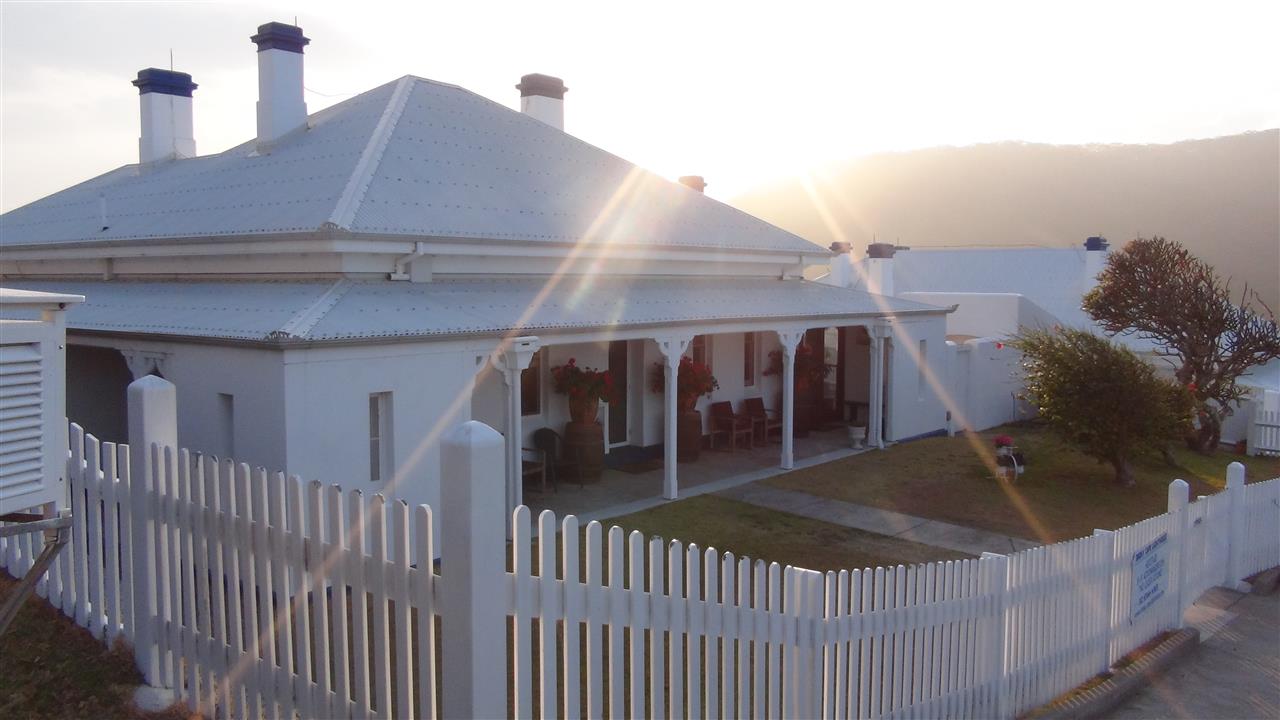 The young men marvelled at length that we were staying on site, in the historic cottage.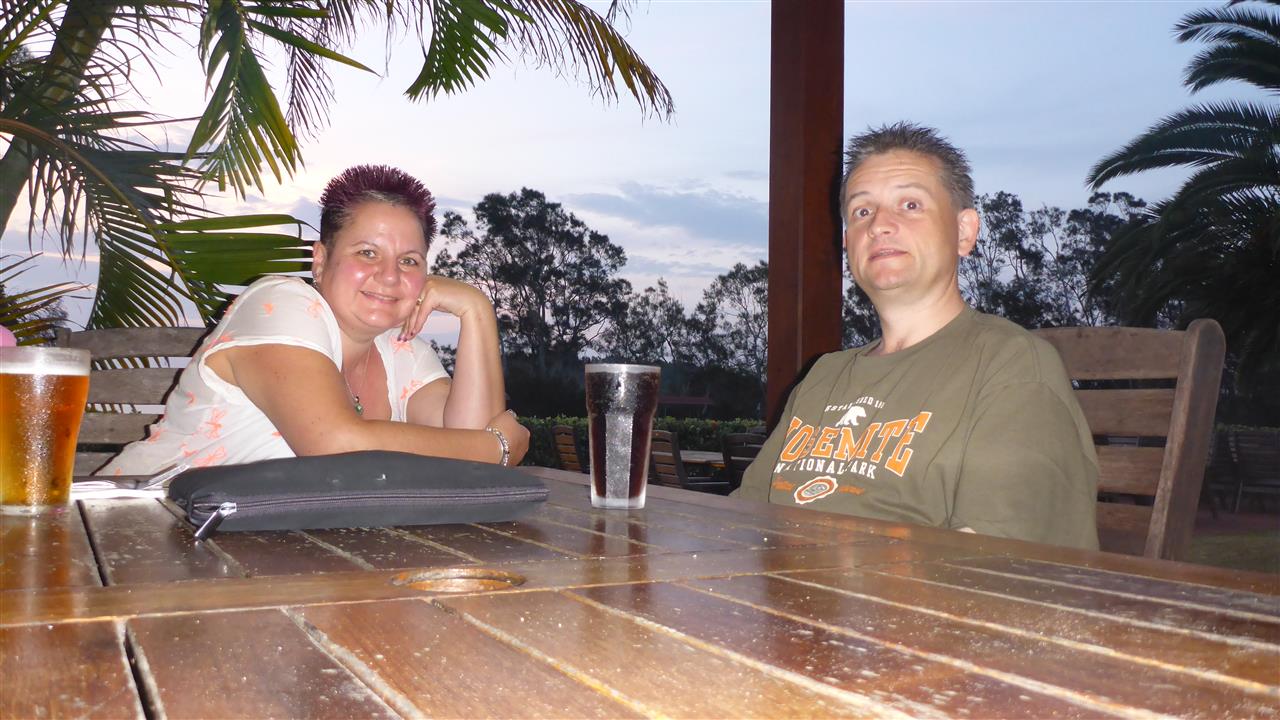 Dinner was at the Riverside Tavern, I shared it with this somewhat startled man.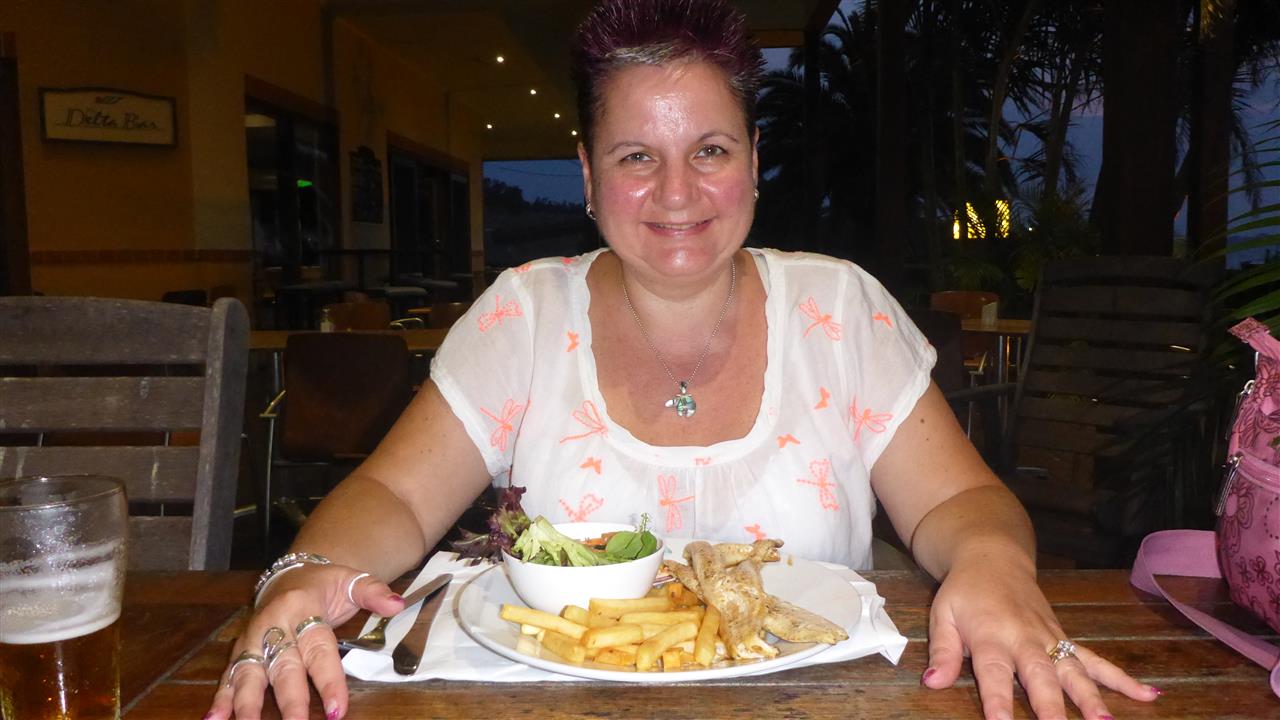 I chose the Flat head with Aoili, a local gent explained its a fish which remained ignored for many years, with its ugly head & skinny body, its possible my dinner was caught on the very river we are now sitting beside !

Anyhow its back to the lighthouse to don a sou - wester & await our shift up on the tower , keeping the candle burning, best we rope ourselves together for the climb !

Goodnight all, xxx
---
Day 7 :A Carpet Python, Jellyfish , a Shark & Some Horse Flies. (Tuesday 28th October 2014 )
Day 8 :Our day on the Waterfalls way. (Wednesday 29th October 2014 )
Day 9 :Byron Bay Lighthouse & Dracula's (Thursday 30th October 2014 )
Day 10 :Crikey & a warm welcome in Peregian Springs. (Friday 31st October 2014 )
Day 11 :Whistle stop tour with Annette & Ken (Saturday 1st November 2014 )
Day 12 :Surf Club fry up & a ferry to Fraser Island (Sunday 2nd November 2014 )
Day 13 :Navigating Fraser Island's sophisticated motorway system. (Monday 3rd November 2014 )
Day 14 :The long & winding road (Tuesday 4th November 2014 )
Day 15 :Throw another shrimp on the bonfire , Guy Fawkes (Wednesday 5th November 2014 )
Day 16 :Capella to Airlie Beach via the sugar cane fields. (Thursday 6th November 2014 )
Day 17 :SV Domino day (Friday 7th November 2014 )
Day 18 :Whitsundays & The Great Barrier Reef from the air (Saturday 8th November 2014 )
Day 19 :Waterfall way day (Sunday 9th November 2014 )
Day 20 :My Boomerang won't come back (Monday 10th November 2014 )
Day 21 :Yorkies Knob & Tubing The Mulgrave River. (Tuesday 11th November 2014 )
Day 22 :A surprise concert at Sydney Opera House (Wednesday 12th November 2014 )
Day 23 :Jet boat & the revolving restaurant (Thursday 13th November 2014 )
Day 24 :Bon voyage Sydney (Friday 14th November 2014 )