Holiday Australia

Show all days on one page (a long download!)
Day 1 :Up , up and away..hopefully (Wednesday 22nd October 2014 )
Day 2 :The day that time forgot. (Thursday 23rd October 2014 )
Day 3 :Lifes a Bondi Beach! (Friday 24th October 2014 )
Day 4 :Tea with Auntie Dee. (Saturday 25th October 2014 )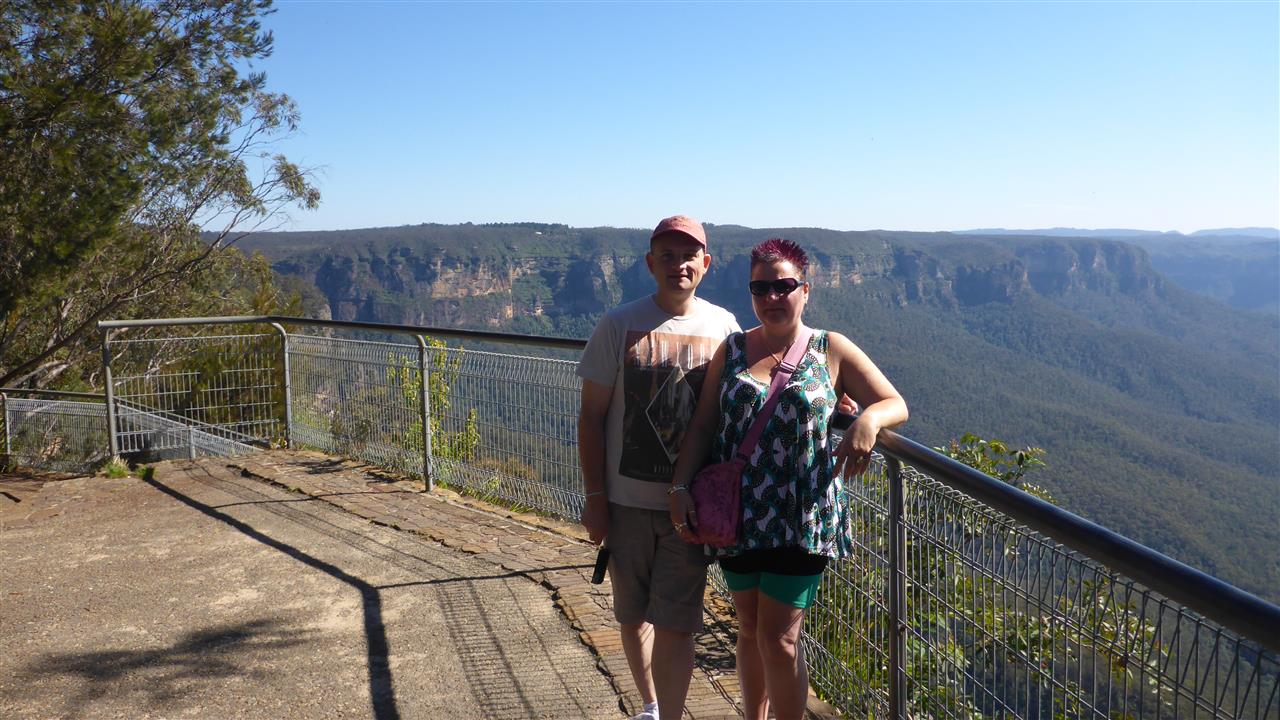 The day began with a little refreshing rain but quickly supercharged to Molten!
We left the skyriders motel & went to a series of lookout points on Ians itinerary.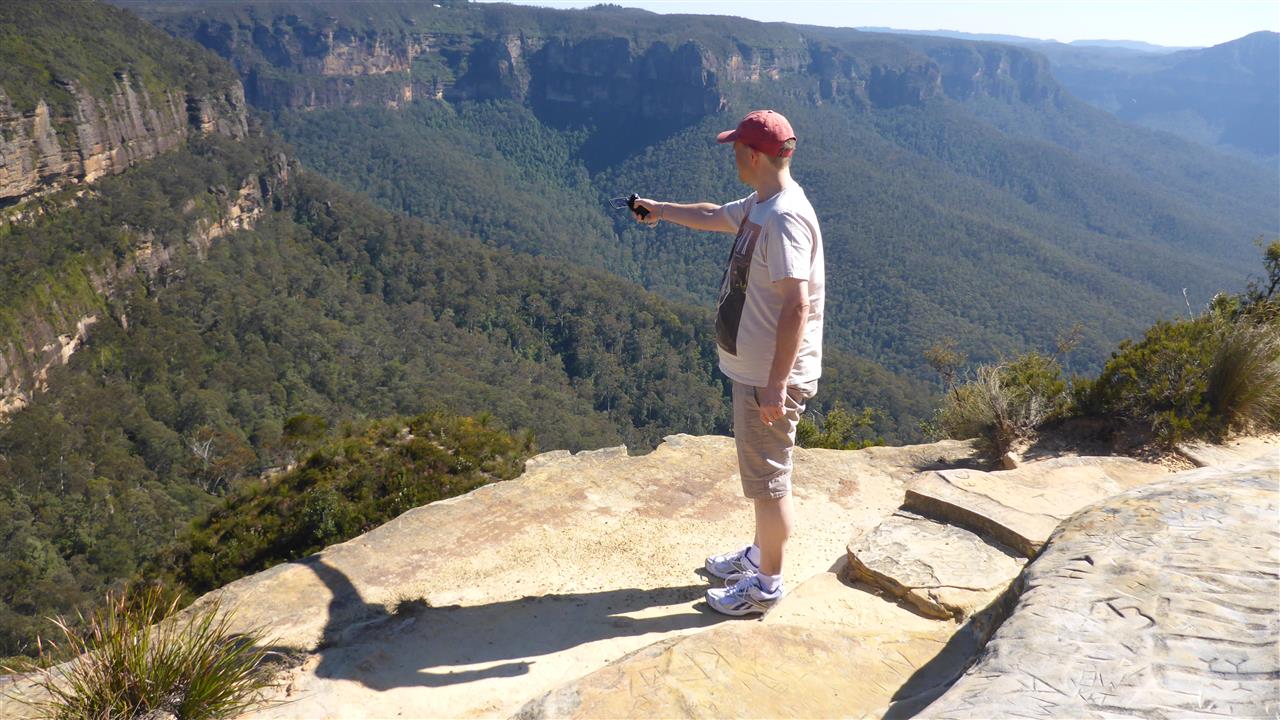 Evans lookout provides a magnificent view over this section of the gorge.
Ian found a track to a slightly different view point at Govatts leap, look mum , no handrail..
Dear insurance company , please accept this photo as evidence he wasn't pushed !!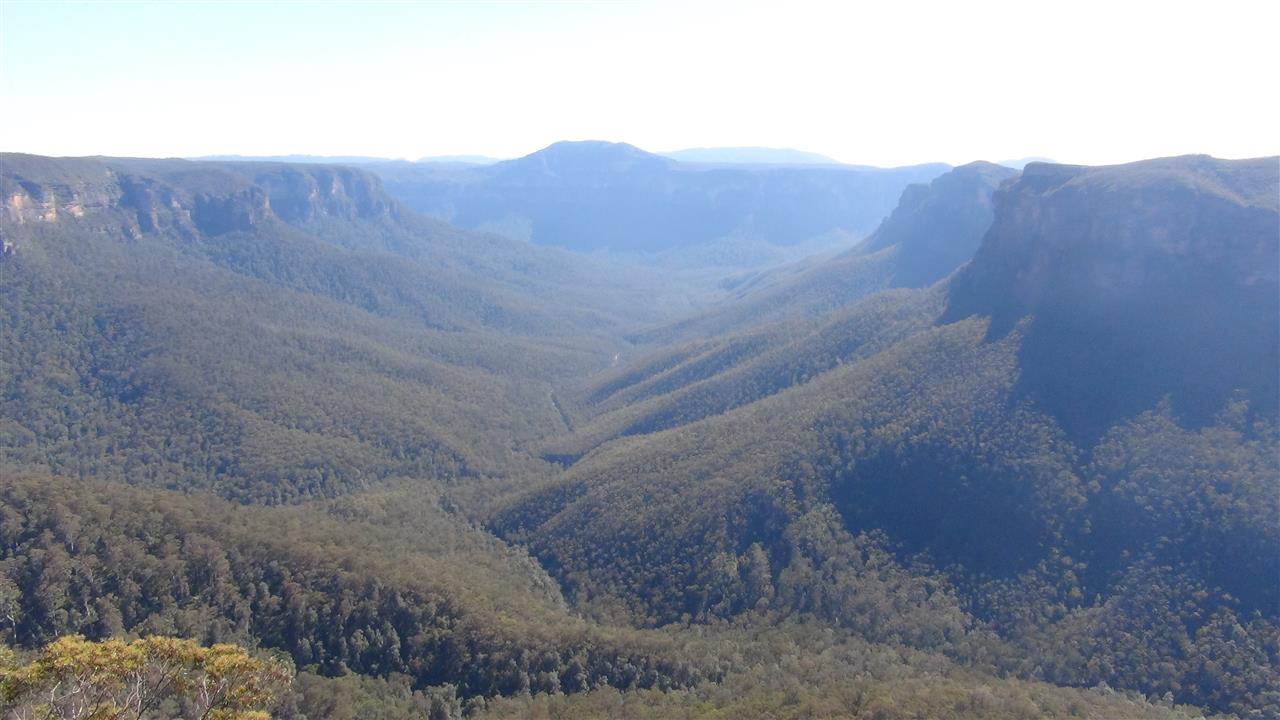 The blue mountains are named after the blue mist which shrouds the skyline..This is caused by the evaporation of the Eucalyptus oil which occurs in the extreme heat.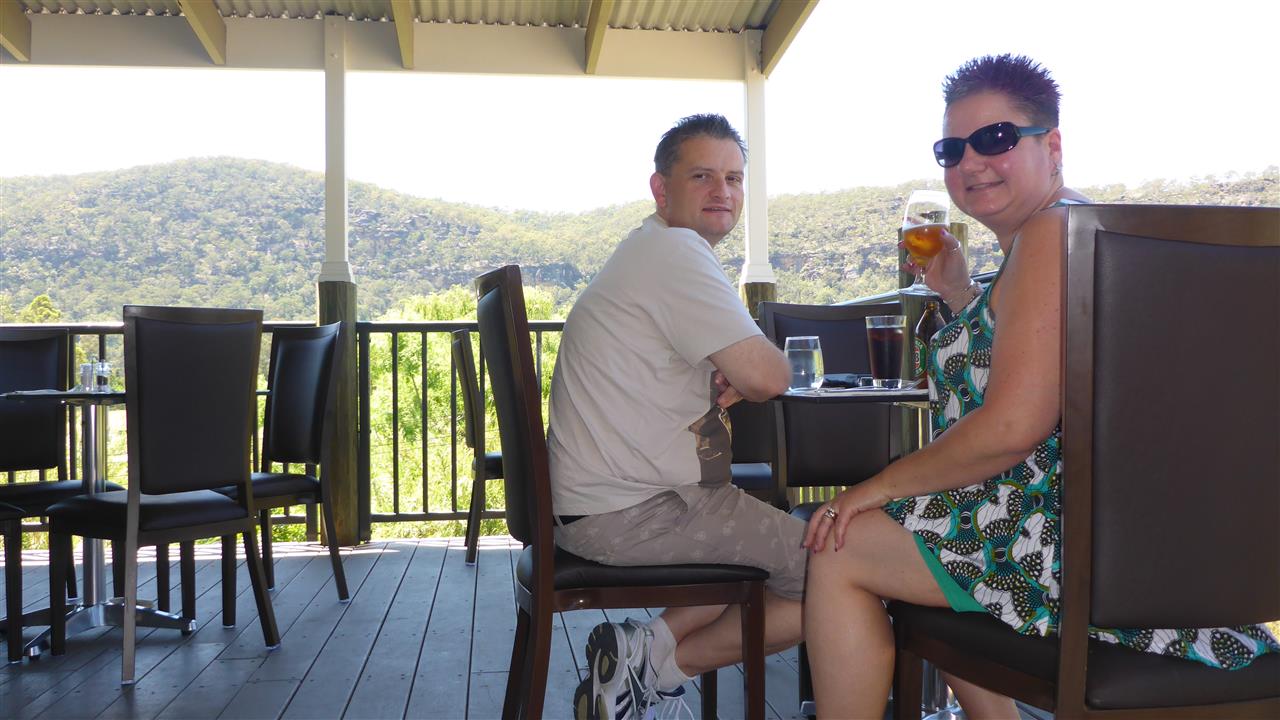 Lunch was at Busbys cafe restaurant at Wisemans Ferry, The temperatures souring to a sweltering 36 degrees we sat on the terrace & enjoyed the occasional breezy moment . We entered Apple orchard country, every farm & store boasting magnificent home made pies, we resisted the urge to sample these tempting wares : )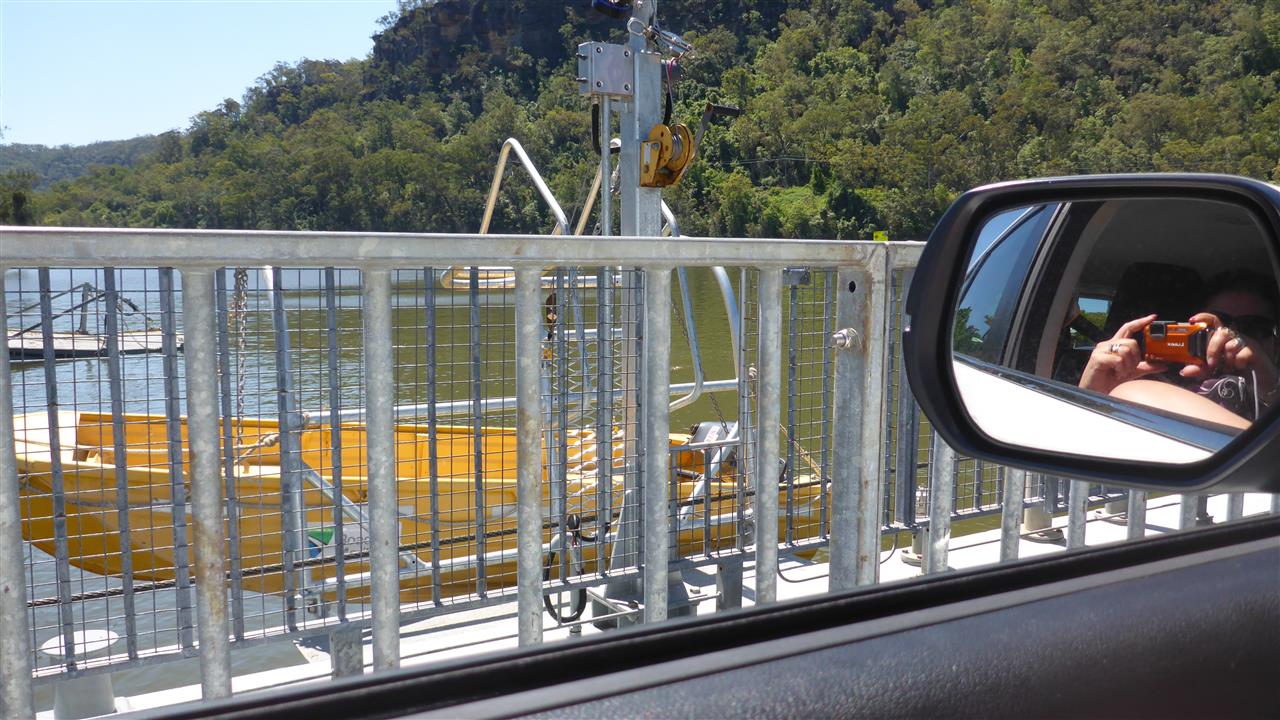 We took a short ferry ride after our meal & continued north towards Morpeth.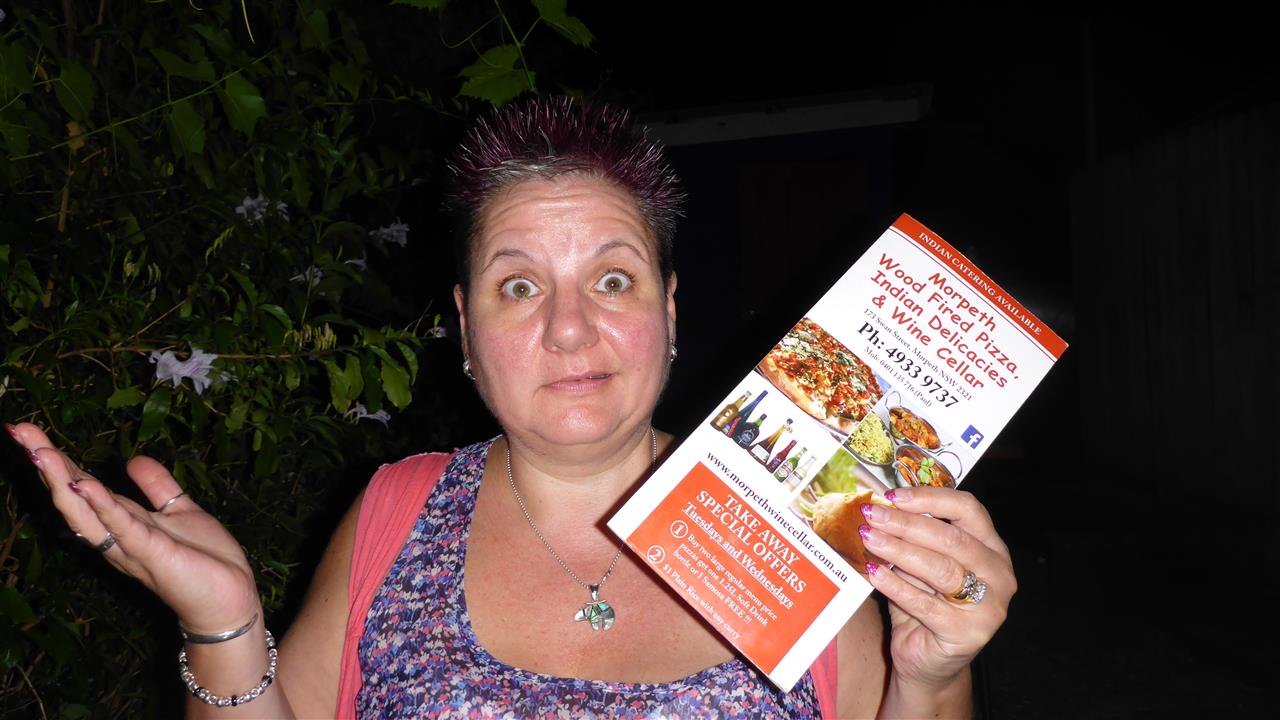 After a dip in the pool while Ian snoozed, we ventured out into Morpeth.
Our motel keepers recco of the local inn for a bar meal wasn't for us, we stumbled upon this little gem.

" Morpeth Wood fired Pizza, Indian delicacies & Wine cellar "

Populated by charming Indian staff, we passed through a wine emporium into an Italian style eatery complete with open pizza oven, to the leafy garden area, an idilic cool sanctuary in which to relax.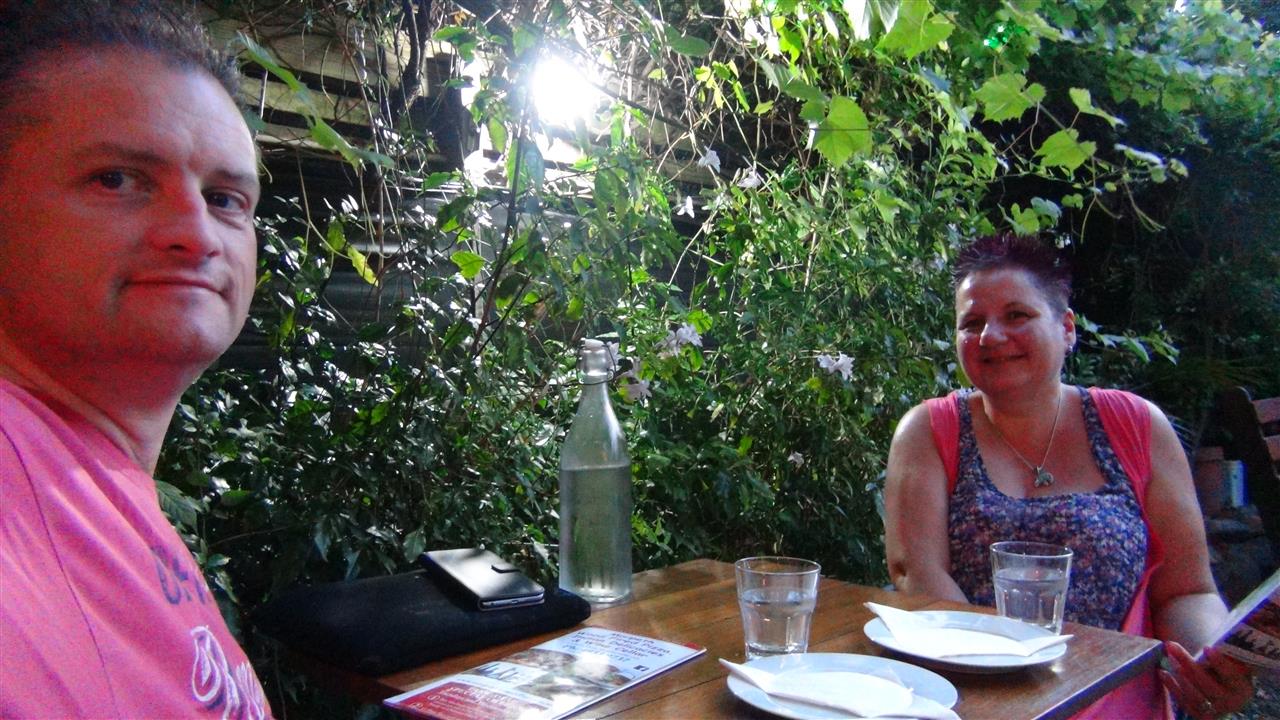 I enjoyed a 2 glass bottle of wine from the attached offy & some beautiful spiced prawns..Never failing to be predictable Ian chose the chicken vindaloo.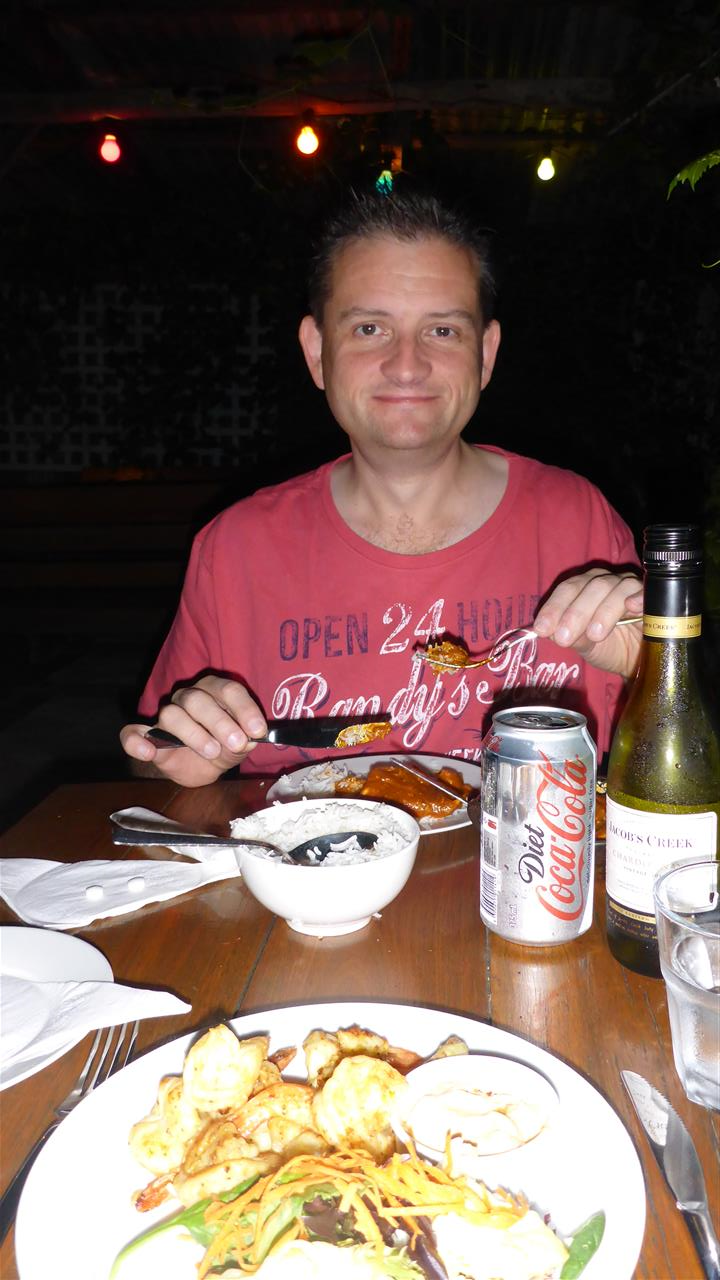 I will be setting an alarm to ensure I get first dibs on the bathroom tomorrow.

Goodnight all & thanks for the comments xxx
---
Day 6 :Skippies in the ( Lighthouse ) Garden.. (Monday 27th October 2014 )
Day 7 :A Carpet Python, Jellyfish , a Shark & Some Horse Flies. (Tuesday 28th October 2014 )
Day 8 :Our day on the Waterfalls way. (Wednesday 29th October 2014 )
Day 9 :Byron Bay Lighthouse & Dracula's (Thursday 30th October 2014 )
Day 10 :Crikey & a warm welcome in Peregian Springs. (Friday 31st October 2014 )
Day 11 :Whistle stop tour with Annette & Ken (Saturday 1st November 2014 )
Day 12 :Surf Club fry up & a ferry to Fraser Island (Sunday 2nd November 2014 )
Day 13 :Navigating Fraser Island's sophisticated motorway system. (Monday 3rd November 2014 )
Day 14 :The long & winding road (Tuesday 4th November 2014 )
Day 15 :Throw another shrimp on the bonfire , Guy Fawkes (Wednesday 5th November 2014 )
Day 16 :Capella to Airlie Beach via the sugar cane fields. (Thursday 6th November 2014 )
Day 17 :SV Domino day (Friday 7th November 2014 )
Day 18 :Whitsundays & The Great Barrier Reef from the air (Saturday 8th November 2014 )
Day 19 :Waterfall way day (Sunday 9th November 2014 )
Day 20 :My Boomerang won't come back (Monday 10th November 2014 )
Day 21 :Yorkies Knob & Tubing The Mulgrave River. (Tuesday 11th November 2014 )
Day 22 :A surprise concert at Sydney Opera House (Wednesday 12th November 2014 )
Day 23 :Jet boat & the revolving restaurant (Thursday 13th November 2014 )
Day 24 :Bon voyage Sydney (Friday 14th November 2014 )